Introduction
In the 2 years we spent researching which RV to buy, one thing became clear - we wanted an RV that we could boondock in. We liked the idea of being able to camp off-grid, on our own in remote places, enjoying nothing but the sounds of nature around us.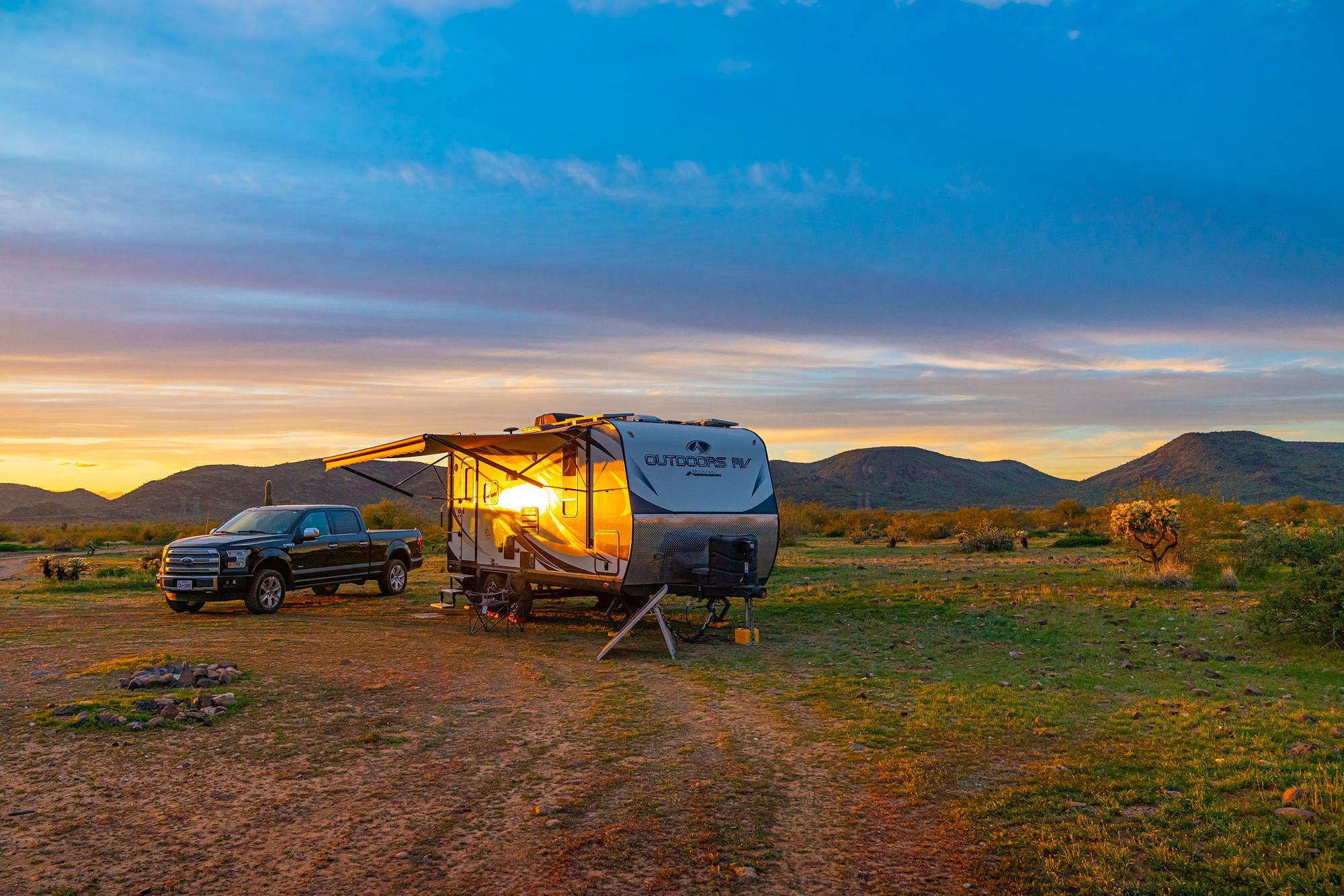 I remember the first time we boondocked in our new RV - near Carlsbad, New Mexico. We were a little nervous, but that soon faded. We fell in love!
Since then, we've been exploring many of the National Park Units in the desert southwest and have taken full advantage of the opportunity to boondock as much as we can.
100 days
We didn't plan on boondocking for 100 days. It just sort of happened like that.
We had full hookups in an RV Park in Casa Grande, AZ over Christmas, and left there on December 30, 2019. That was 100 days ago. We haven't had hookups or stayed in an RV park since then.
With the COVID-19 pandemic, it turns out that our ability to camp off-grid is pretty useful! We're quite happy spending a couple weeks at a time sitting on our own in the middle of nowhere.
Boondocking
Everyone tends to define boondocking slightly differently. Some consider any camping without hookups (or even reduced hookups) to be boondocking.
We define dry camping as camping without any hookups whatsoever - no electric, water or sewer. Whether that's in an RV park with a dry camping section, a friend's driveway, a Walmart parking lot or the middle of the desert - it's all dry camping.
For us, boondocking is partly about the hookups but also about the location. I guess "dispersed dry camping" is probably a close definition - typically it means we're dry camping in a dispersed location on public lands. While there are campgrounds (perhaps with a picnic table, shelter or grill) that are managed by federal or state agencies with no hookups (and sometimes they're free), we don't think of these as boondocking - we call that dry camping.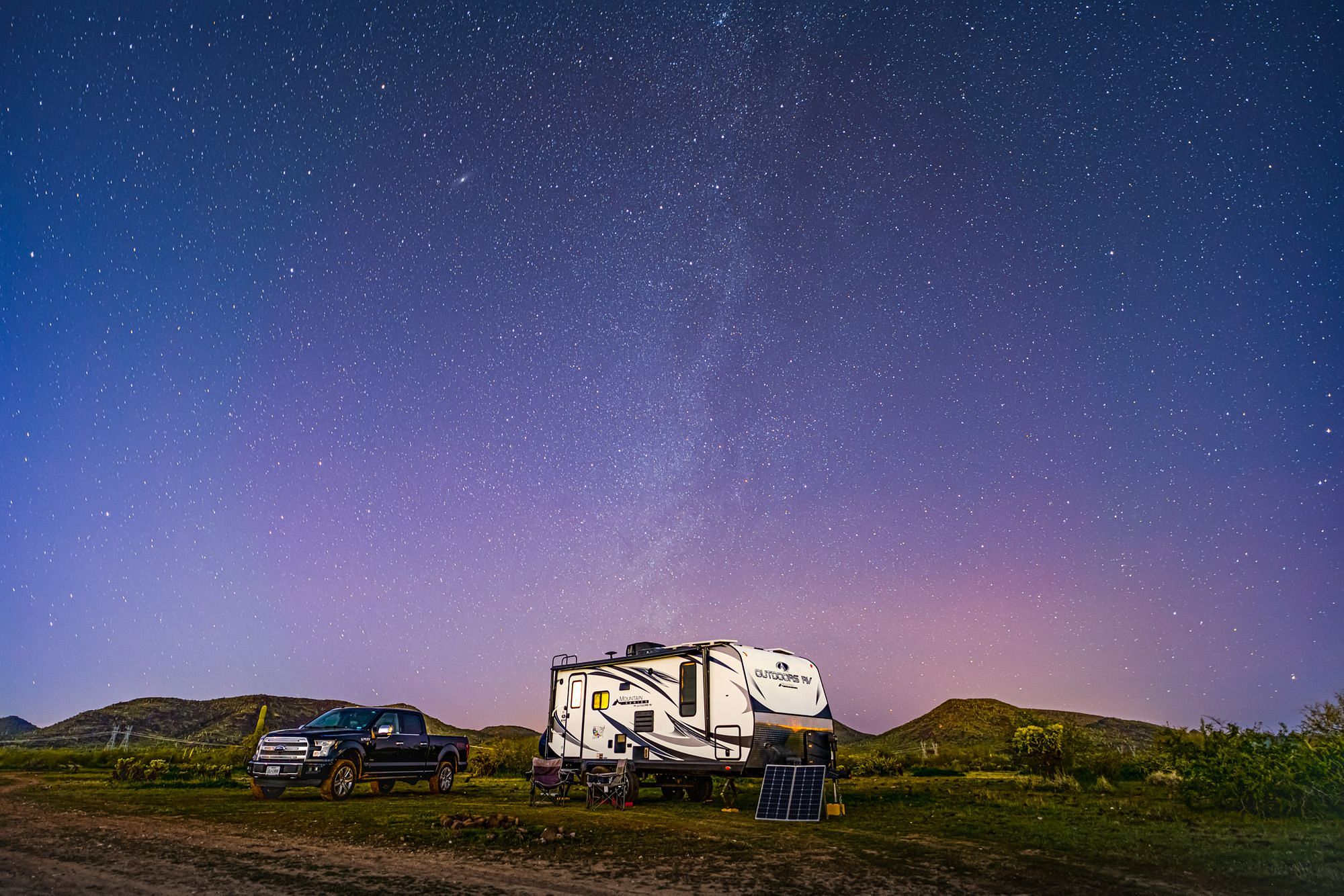 Similarly, sometimes there is a permit to camp on public lands - such as the Arizona State Trust Lands. Even though it's not free, because it is dispersed camping on public lands, we consider that boondocking.
Everyone defines these things differently though, and that's OK!
Technically, according to our strict definition, we did dry camp rather than truly boondock in one spot - at the Rodeo Grounds in Lake Havasu City, AZ while we were at the Xscapers Annual Bash 2020.
Also, we did spend 3 nights in a hotel in Tucson, AZ while we were at Dometic in the Desert, but we spent a lot of time doing rig tours of the RV in the parking lot.
But even with those two minor exceptions, it's been 100 days since we last had hookups, and we're pretty proud of that!
Camping spots
So where did we camp?
While this wasn't the plan, we've ended up staying in southern Arizona the entire time, mainly on the corridor between Tucson and Quartzsite.
We spent much of January with Xscapers - first at their Quartzsite New Years Eve event, then at the Xscapers Annual Bash in Lake Havasu City, and finally with a few friends back down near Quartzsite.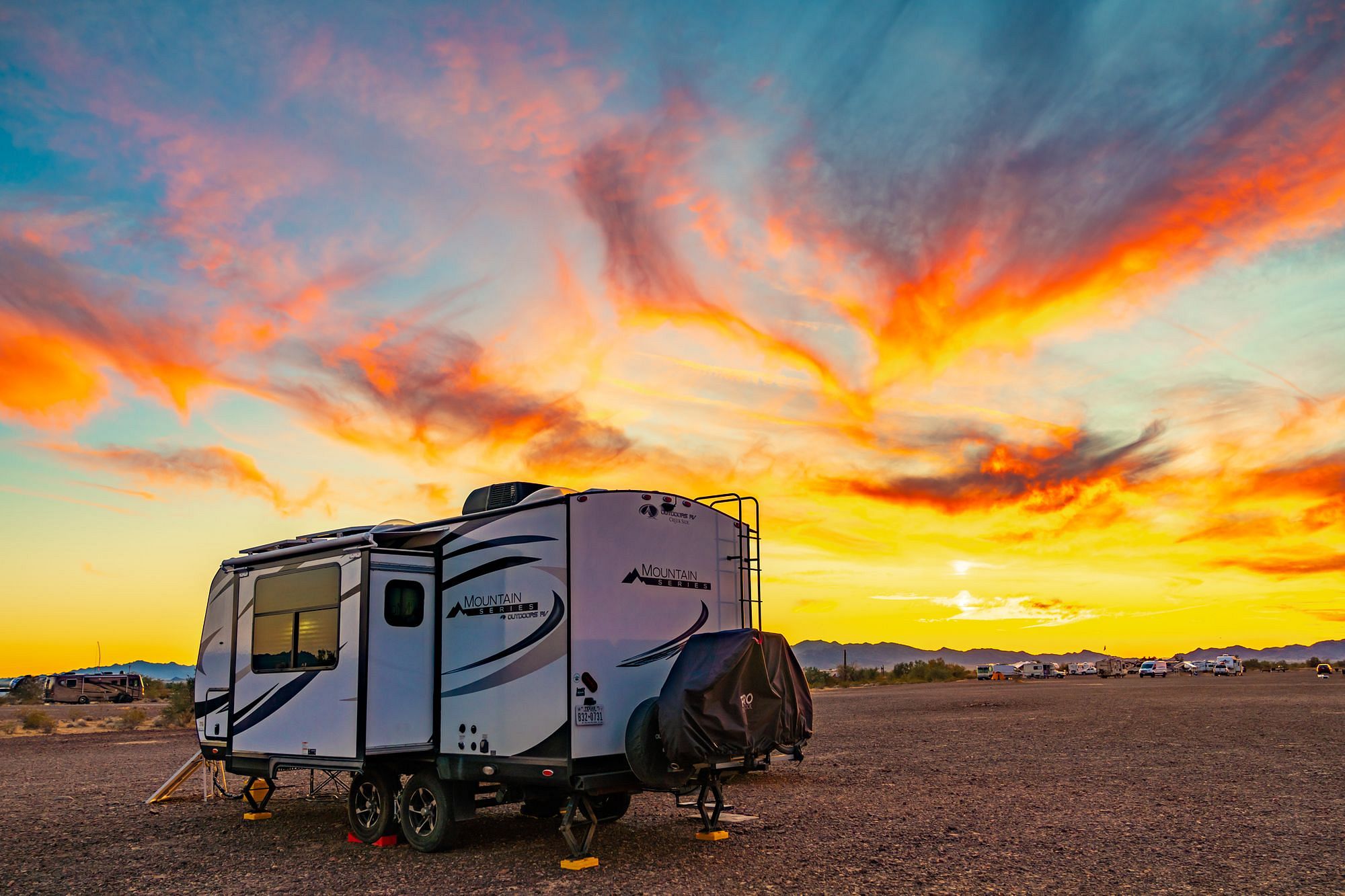 Early February was spent around Tucson, mainly camping at Snyder Hill. While it's not the most scenic boondocking spot, its location just 11-miles west of Tucson is very convenient! Later in the month we moved to a spot north of Phoenix on some Arizona State Trust Land, before a stay at Saddle Mountain near Buckeye, AZ.
Our plan in March was to stop briefly in Quartzsite to camp with some friends before continuing into California - first to the Bay Area to visit old friends, and then on to Bishop, CA to for another Xscapers event. However, the COVID-19 pandemic put an end to that idea, and we decided to stay around Quartzsite with its ample boondocking opportunities.
How long can we stay off-grid?
From the start, our plan with the RV has always been to equip ourselves to camp off-grid for up to 14 days at a time. In particular, that means having sufficient capacity in our holding tanks, and enough solar and battery power to last without hookups.
We chose the 14 day goal for two reasons. First, that gives us enough time to experience and explore an area, and we didn't think we'd often want to stay in one spot for much longer than that. Second, many public lands have a maximum stay limit of 14 days before you have to move.
Despite that, we'd never stayed 14 days in one spot! We'd done 10-12 days several times, but by the end of each stay we were ready to move on - our food supplies were depleting and our holding tanks were ready to be emptied!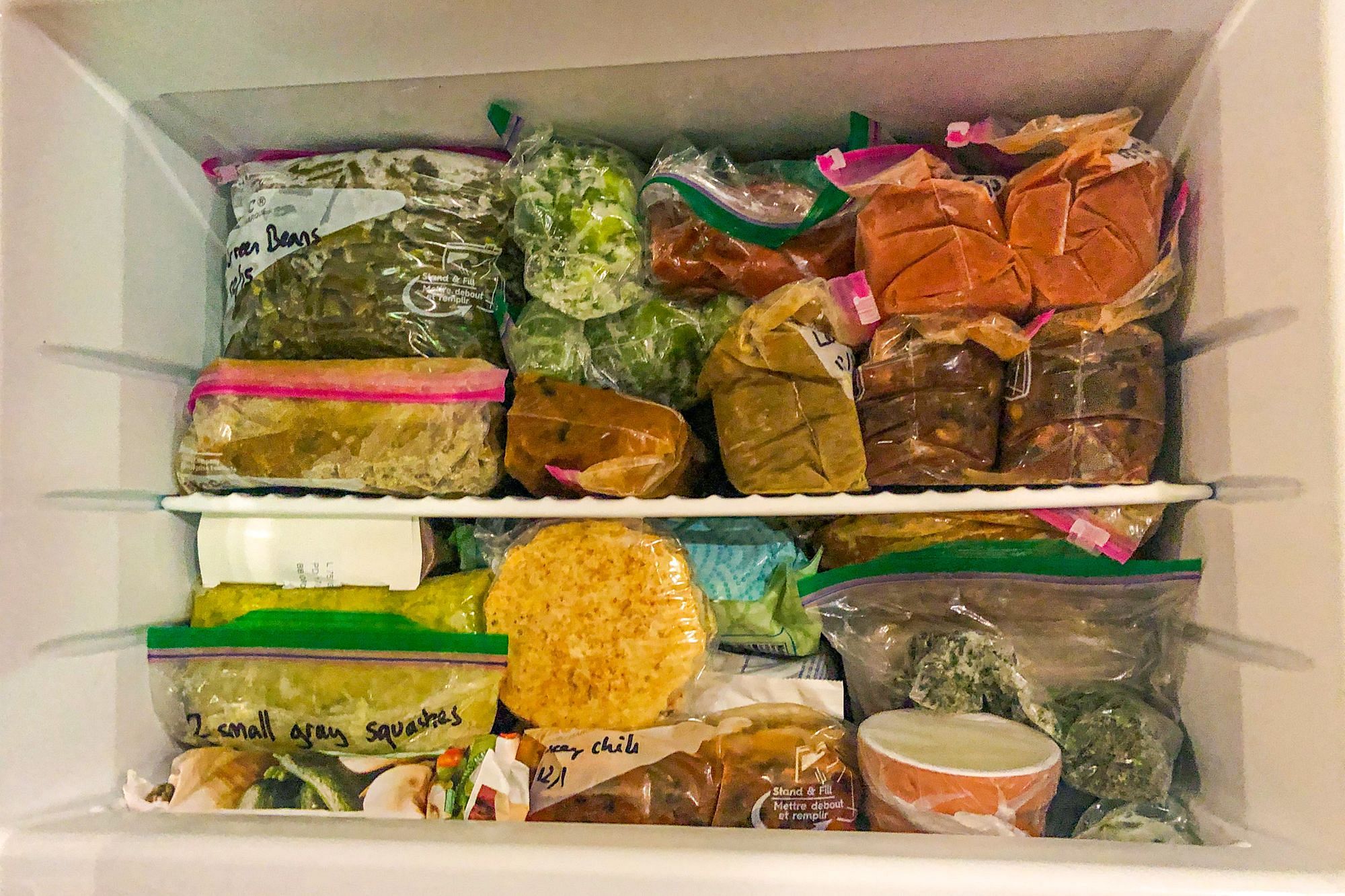 Until last week. Last Thursday marked the first time we'd ever spent 14 days in one spot. With the COVID-19 pandemic, we're trying to minimize our travel while still adhering to the 14-day stay limit.
As an Amazon Associate we earn from qualifying purchases.
Boondocking tips
When we first started living in our RV, there's no way we could have lasted 14 days off grid at once - we were only able to manage 3-5 days, particularly with only our 100W portable solar panel. It took us time to learn some of the tips and tricks to make the most of our resources and stretch them out to last 2 weeks.
We enjoy cooking and prefer to cook in the RV with quality, fresh ingredients rather than eat out all the time. We use our Instant Pot to batch cook and freeze meals to eat later.
We also made a lot of modifications to our RV to extend our capabilities and make it more comfortable while living off-grid.
Here are our top 5 tips for conserving resources.
Slow the flow
For a 25ft travel trailer, our RV came with huge holding tanks - one of the reasons we chose our Outdoors RV 21RBS. We have 78 gallons of fresh water, and 40 gallons each for grey (shower and sinks) and black (toilet).
To last 14 days, that means Diana and I have to each use less than 3 gallons per day - that's not a lot.
So slow the flow! Whether it's washing your hands, washing the dishes or showering, the lower the flow the better. Yes, it takes longer but it saves a lot of water. And having a faucet with flow control is really useful!
When washing my hands, I turn the faucet to the lowest dribble I can get and keep washing until my hands are clean - using maybe 1 cup of water at most. And when showering, I use the switch on our Oxygenics showerhead to slow the flow right down too. I haven't measured it, but I'd guess I use less than 1.5 gallons of water for a shower.
Rinse, repeat
Some people drip their grey water outside - basically slowly emptying their shower and sink water outside. We choose not to do this - in some areas it's just not allowed anyway, and we don't feel it aligns with our desire to tread lightly and minimize our impact on the environment.
This means we really have to reduce the amount of grey water we produce - i.e. the water that goes down our sinks and showers. In addition to reducing the flow, we also reuse water where we can.
A good example of this is washing up. Our RV has two kitchen sinks so we'll wash up in one sink and rinse in the other. If you don't have two sinks then consider using a washing up bowl. By keeping the stopper in the sink we use for rinsing, we save the rinse water to use as the washing up water the next time we wash up. After rinsing one day and washing the next, we'll finally empty the water down the drain.
Watering the garden
There's no delicate way of putting this so I'll just come out and say it: peeing outside will stop you filling up the black tank so quickly!
Unlike grey water that may contain cleaning chemicals and food particles that we don't want to dump outside, human urine is sterile and completely harmless to the environment. In fact, it's rich in nitrogen and phosphorous making it a great fertilizer. If you can help it, avoid peeing directly on a plant since the rich nitrogen concentration can burn plant roots.
Right, enough of that - I think you get the idea!
Turn it off
Thanks to our big RV electrical upgrade project, we have a fairly large electrical system - 300Ah of Battle Born lithium batteries, 600W of solar panels on the roof and a 200W portable solar panel that I made.
While it isn't a small system, it still has limits, and it doesn't take much to quickly drain the batteries.
Fortunately the answer is simple - if you're not using something, turn it off! Whether it's your lights, TV, or laptop, the amount of power saved just by turning things off adds up quickly during the day.
One of the biggest culprits can be your inverter. It's not uncommon for a large inverter to draw ~30W just by being turned on - without even running anything! So when we're not using it, we keep it turned off.
If you want to learn more about how much power your devices draw then check out my RV Electrical Upgrades presentation from the Xscapers Bash 2020, or do an electrical audit in your RV. You might be surprised by how much power some appliances draw!
Keep it cool, naturally
Some of the biggest power consumers in an RV relate to temperature - heating and cooling. An RV air conditioner can draw upwards of 1,500W, and an electric space heater can be about the same. Even those tiny portable heaters can use 750W or more.
Rather than fighting the climate, try to work with it. If we know it's going to be a hot day then we'll try to keep the RV cool in a morning and then open windows to create a cross breeze. Also think about using your awning to shade the side of your RV, and even consider which orientation you park in to minimize hot sun shining in through big windows.
Similarly when it's cold, we try to minimize using the heating. We put Reflectix insulation at the windows and hold it in place with the blinds, reducing our heat loss through the glass. A thick duvet on the bed helps keep us warm, letting us set the thermostat to 55°F overnight. And while our RV has very good insulation already, we found an opportunity to improve it further by insulating our storage bay.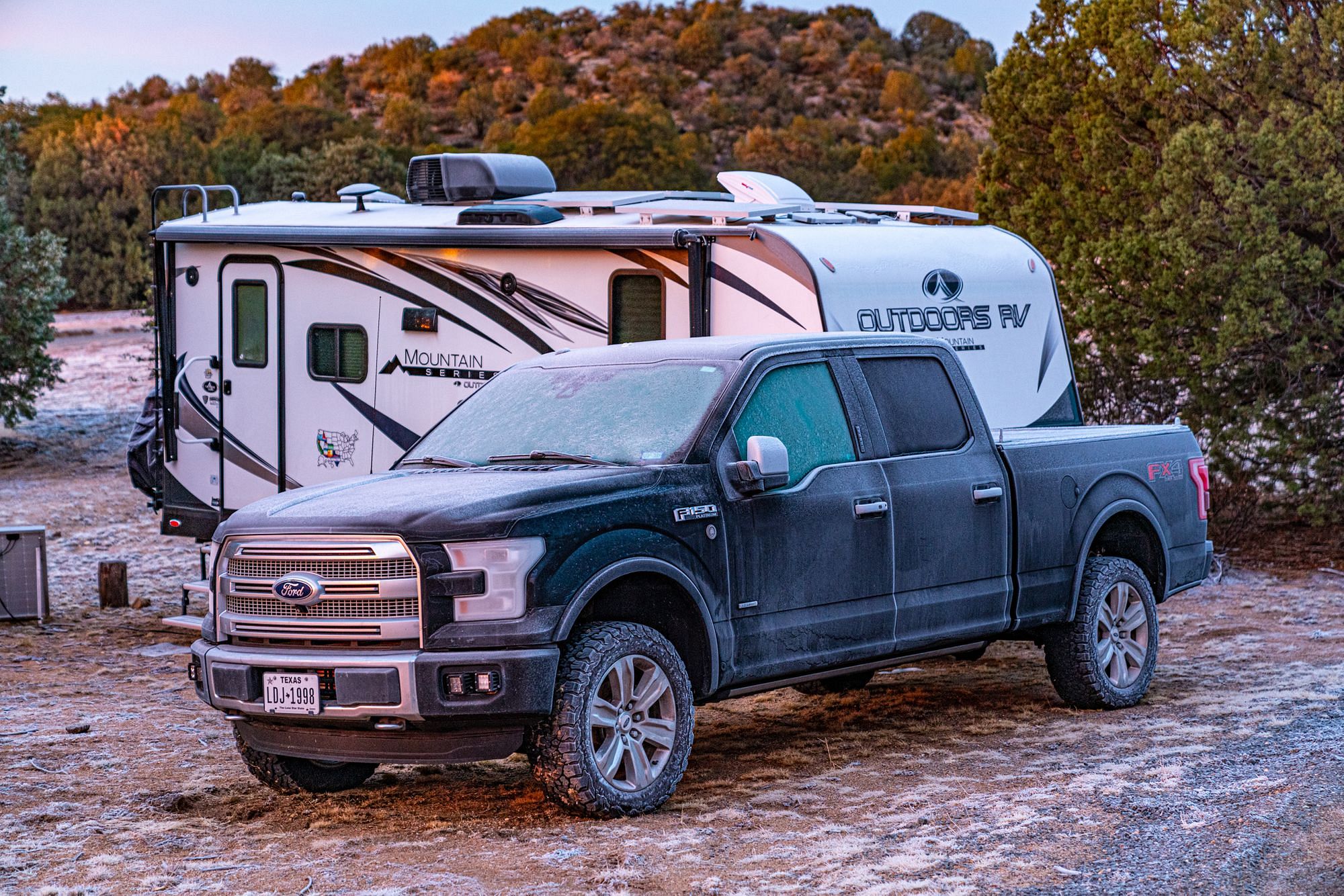 Using these techniques we can be comfortable without running the AC even in daytime temperatures in the mid-80s, and the furnace won't click on overnight as long as the overnight low isn't below freezing.
Where next?
We love boondocking! While many of our full-time RVer friends are seeking shelter in RV parks during these uncertain times, we're keen to stay out boondocking as long as possible.
Not only do we prefer it out here (it's quiet, peaceful and beautiful) but we think it's safer. Our nearest "neighbors" are hundreds of feet away and we don't have any contact them.
So for now we're going to keep boondocking off-grid here in Arizona. But before too long it's going to get too hot to stay here without AC - not something we can run while we're off-grid. We're always re-evaluating our options and when that time comes we'll just have to see whether the best thing to do is find somewhere else to boondock or find an RV park for a while.
But whatever happens in the near future, we're sold on boondocking now! The early apprehensions we had are long gone and we feel completely at home out here now!
Have you tried boondocking? Maybe you're an expert boondocker already, and if so, how long do you typically boondock for?