As an Amazon Associate we earn from qualifying purchases.
Truck Service & New Battery
Last week I dropped the truck in for its routine service, and all went well - the team at Corwin Ford in Nampa, ID looked after me well, including giving me a ride over 20 miles to and from our RV!
Before we hit the road again, there was one last thing I wanted to do - swap out the battery. While the Ford testing suggested there was still life in the battery, my own experience down in Arizona suggested otherwise.
I picked up an Interstate AGM battery from Costco and installed it - nice and easy. After some long drives this week, I'm confident the battery is fully charged so now I can rest assured that the battery shouldn't die on us while we're out boondocking.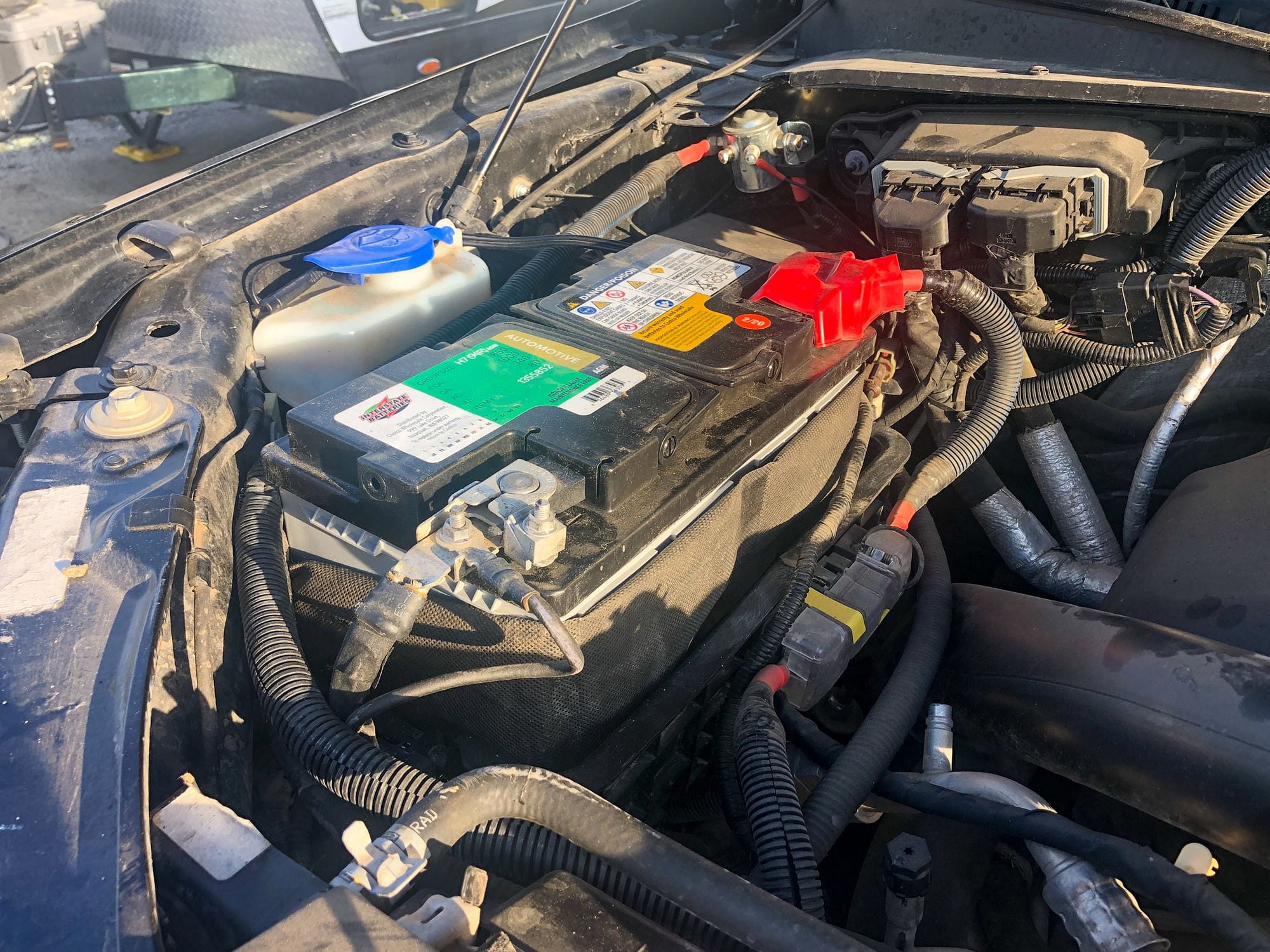 Leaving Idaho
We planned to leave Idaho on Tuesday morning, so on Monday we took the RV on a test drive around the parking area. We wanted to make sure everything was still working fine - particularly since completing the remodel.
Everything looked good inside and out! The next morning, we said goodbyes and hit the road - it was time to leave Idaho after 2.5 months.
Flat Tire
But Idaho had other plans! Just 30 miles down the road, the alarm went off on our Tire Pressure Monitoring System (TPMS).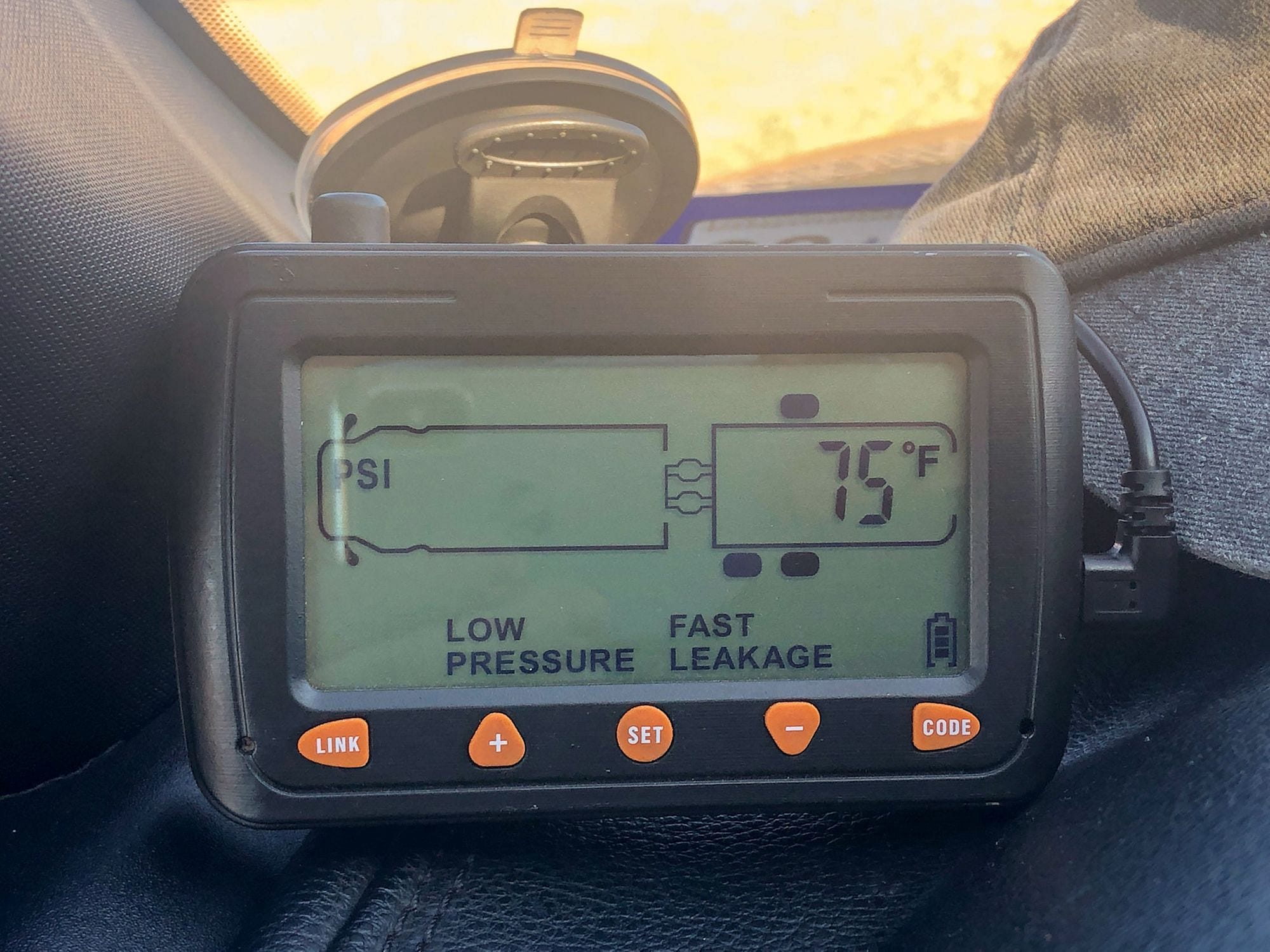 One of our trailer tires had a rapid puncture. As soon as the alarm went off, I pulled over to the side of the road and within the 300ft or so it took me to stop, the tire had gone completely flat.
Despite that, I didn't feel a thing - the truck handled fine and the trailer didn't seem any different. And other than the TPMS alarm, we didn't hear anything either. All four tires had been within 1psi of each other when we set out that morning - right where they should be at 65psi.
It's scary to think what could have happened if we didn't have a TPMS on the trailer. Since I didn't hear or feel anything in the truck, who knows when I would have realized I had a flat tire? If I had continued driving, all that extra weight on the other tire on that side could easily have led to it overheating, causing a catastrophic blowout.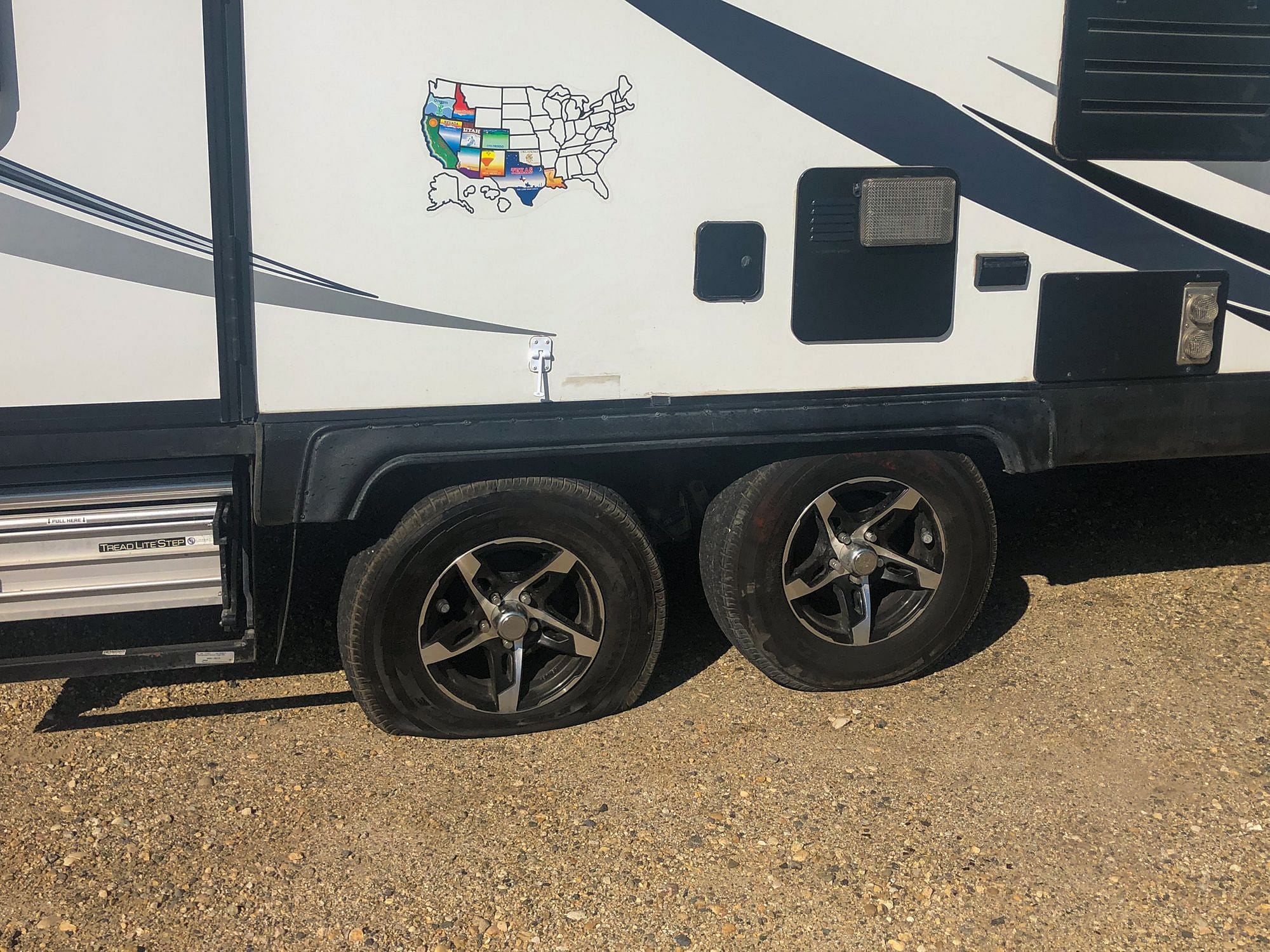 It's not our first time dealing with a flat tire, and I'm sure it won't be our last! Within 30 minutes we had swapped on the spare and were back on the road.
But please, if you have an RV and you don't have a Tire Pressure Monitoring System (TPMS) for it, please consider buying one! This is a perfect example of how it saved us from a potentially far worse situation. We use the EEZTire TPMS with Booster and it's worked great for us.
From what we could tell, it looked like a nail had gone right into the tire. We stopped in at Discount Tire in Richland, WA the next day and it took them less than 30 minutes to repair the tire (free of charge) and reinstall it on the RV for us. Perfect!
Outdoors RV Factory Visit
After leaving Boise, ID and heading north, our first stop (other than to fix the flat tire) was La Grande, OR where we stopped in to visit Outdoors RV.
They're pretty locked down at the moment due to COVID-19, but we had communicated in advance to make our visit as safe as possible. We were there to show Darin (Product / Sales) and Jamie (Design) our remodeled RV.
Darin and I have spoken (and disagreed!) before about the brown interior so I was anxious what he would think about it.
I needn't have been. They really liked both the brighter interior decor and our new ergonomic workspace. They also liked our home automation system with voice control over all our lights, AC and more.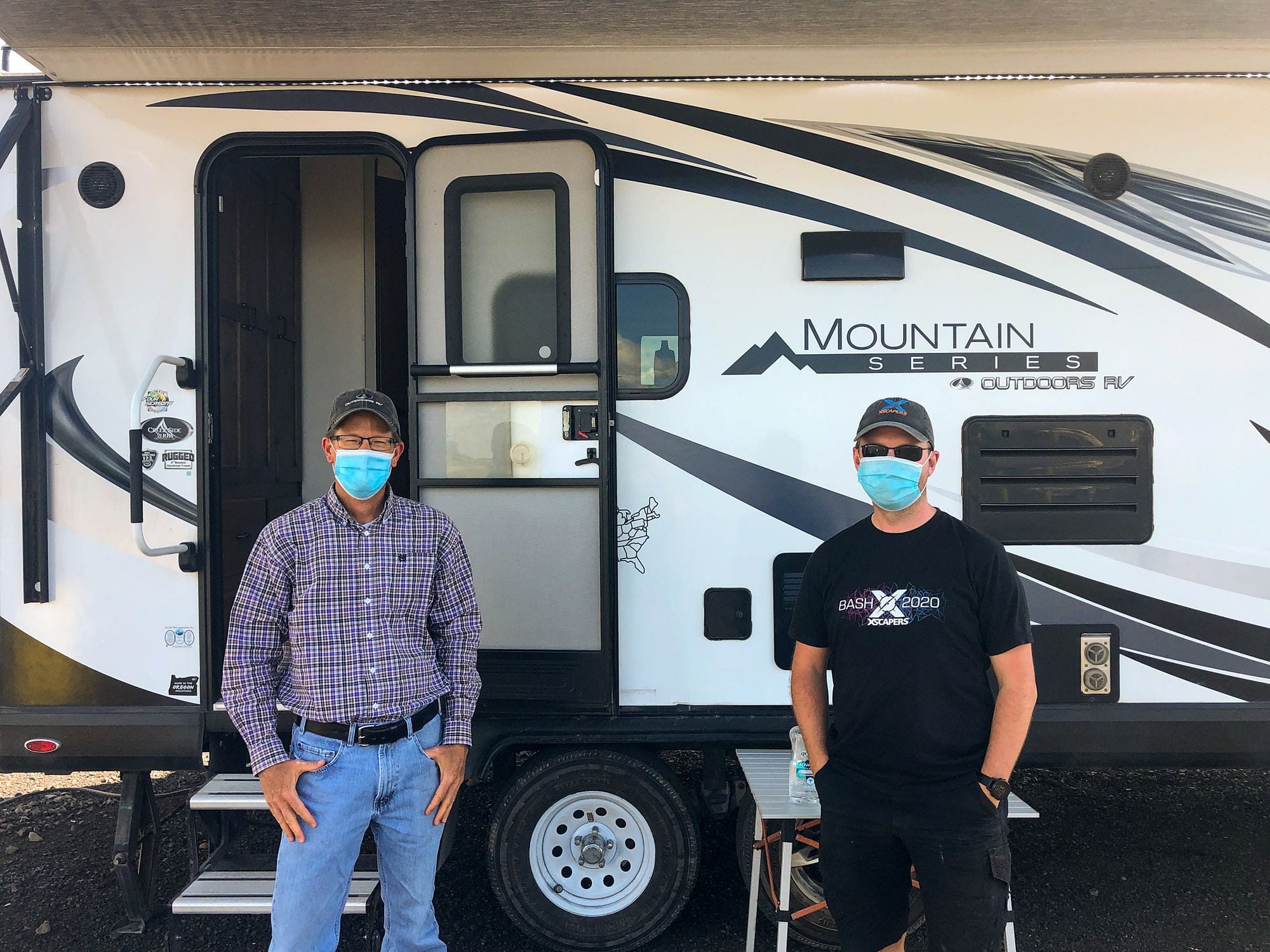 While I couldn't bully either of them into committing to this as a new style for Outdoors RV, I think it did give them some inspiration and ideas for how to brighten up the interior of the trailer without losing the wood cabinetry.
Blueberry Picking
We stayed overnight in the Outdoors RV parking lot and set off early the next morning - rolling out at about 5:30am.
We had an appointment at Discount Tire in Richland, WA at 9am, but on the way we wanted to stop in at K&K Bluberries in Hermiston, OR - a U-Pick bluberry farm. By 7:20am we were picking blueberries, and 40 minutes later we had almost filled our bucket - 11.3lbs of fresh blueberries for just over $25.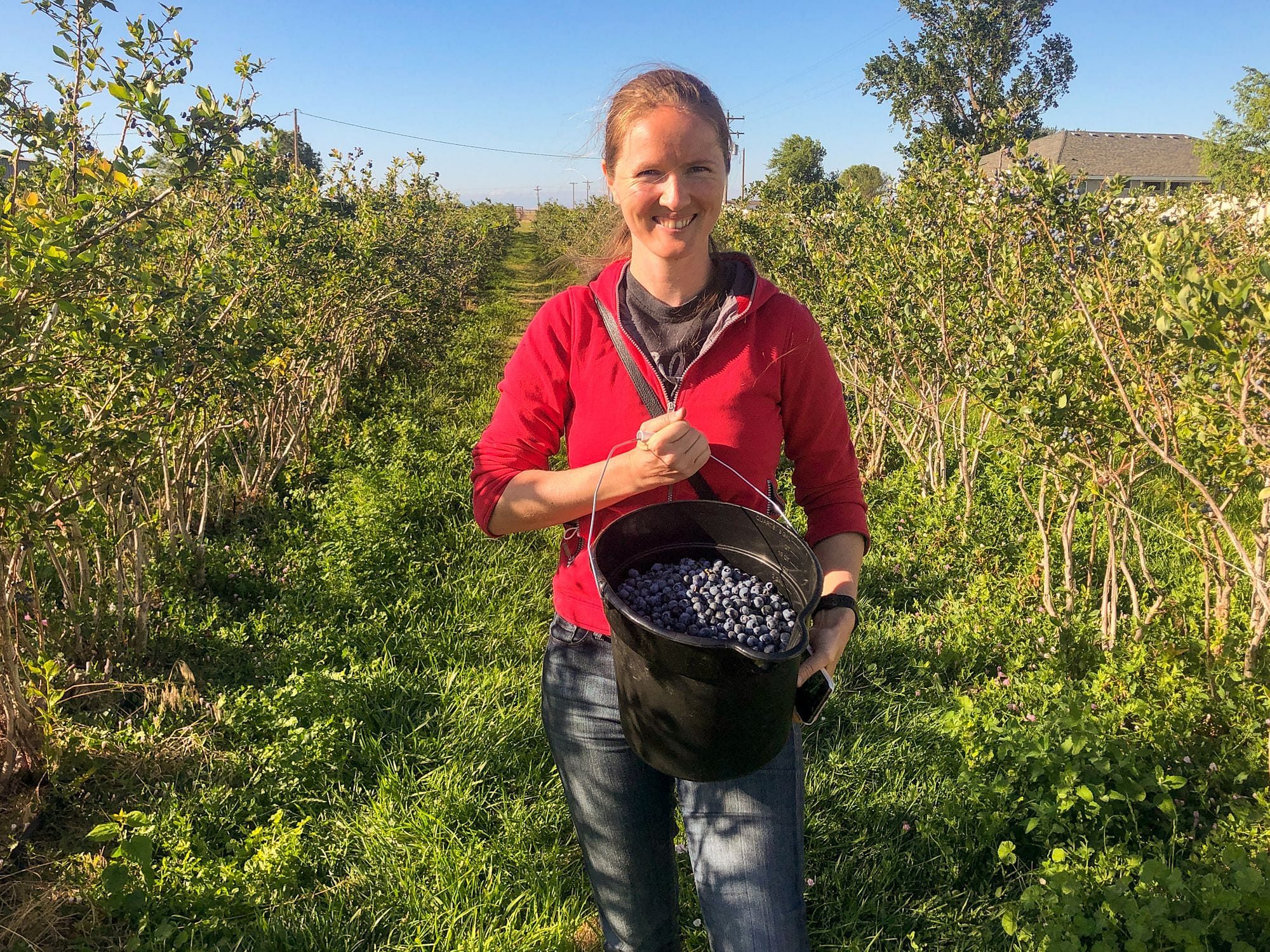 We washed some of them to snack on in the car - others will be frozen and we might even try dehydrating some using our Instant Pot Air Fryer Lid. That is, if Diana doesn't eat them first!
Our New Home
We made it to Discount Tire in Richland, WA right on time and shortly after 9:30am we were back on the road - with a brief stop at Smokiam Park in Soap Lake, WA for lunch (see cover photo). Our destination was northern Washington - up near Tonasket near the Canadian border.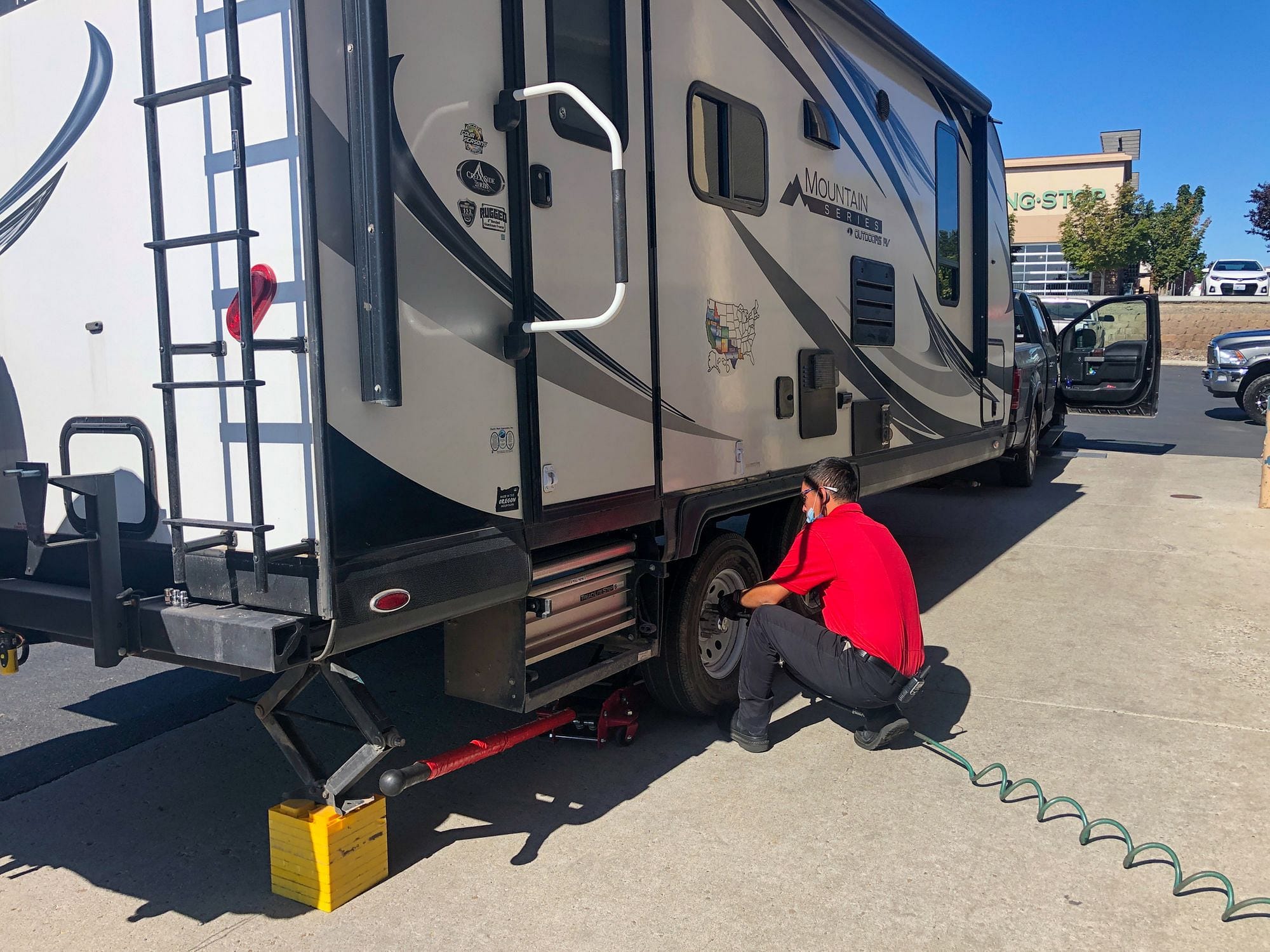 For the next few weeks (and maybe a little longer) we'll be staying with our friends Brian and Leigh - better known as the founders of Campendium.
As well as enjoying the beautiful Washington countryside, we'll be helping them, with a big electrical upgrade on their RV - including 6x 100Ah ReLION Lithium batteries, 600W of solar panels, a Victron MultiPlus hybrid inverter and 2x 50Amp REDARC DC-to-DC chargers!
It's absolutely stunning here but we're having to get used to dry camping again pretty quickly - there are no facilities on their land so we're living off our tanks and solar again!
For the first time in a long time, we're unable to get usable signal on either AT&T or Verizon. We knew that ahead of time, and fortuntely they have internet connectivity via a microwave tower - I didn't even know that was a thing until recently! They're letting us share their connection and we're getting speeds of about 7Mbps but we're hoping some changes in the next few weeks will improve that!
Remodel Complete!
Lastly, we have finally published the blog post about our remodel project, so if you haven't seen that yet, be sure to check it out!