As RVers, we are often faced with a choice - fix something ourselves, or find someone to help us. Finding a repair service may be expensive and slow - and in the meantime, your RV is broken.
In over 3 years of full-time RVing, I've helped out fellow RVers with electrical problems several times. In my experience, most problems can be solved (or at least correctly diagnosed) with a handful of easy-to-use and inexpensive tools.
In this article, I'll share my top 5 basic electrical tools that I think every RVer should own and know how to use.
Square Screwdriver
I would hope that a screwdriver is a basic tool in every RVer's toolbox, but make sure you have one with a #2 square bit. This size is surprisingly common in RVs in general (it's used all over ours for everything from trim to fasteners) but it's also often found in AC breaker panels (always make sure the power is completely shut off before going near your AC breakers with a screwdriver!).
If you don't have one already, the easiest option might be to pick up a standalone screwdriver, like the Klein Tools 8" #2 Square Screwdriver. For something more versatile, the Klein Tools 11-in-1 Multi-Tool includes 8 different screwdriver bits, including a #2 square bit.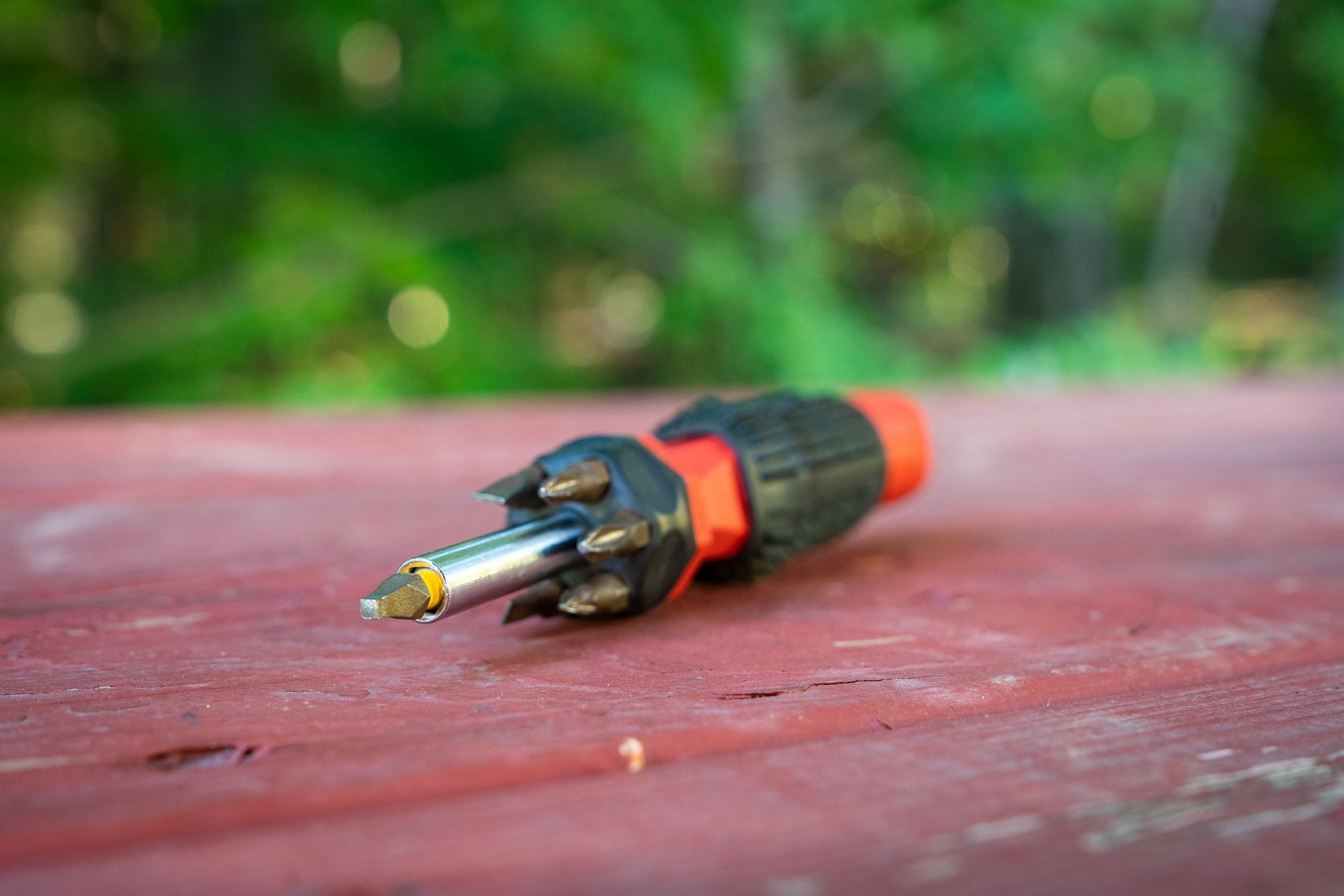 Personally, I like having a screwdriver bit set that gives me lots of interchangeable bits that I can use in either a hex-compatible screwdriver or my impact driver - the Dewalt DW2166 is a 45-piece set with lots of options!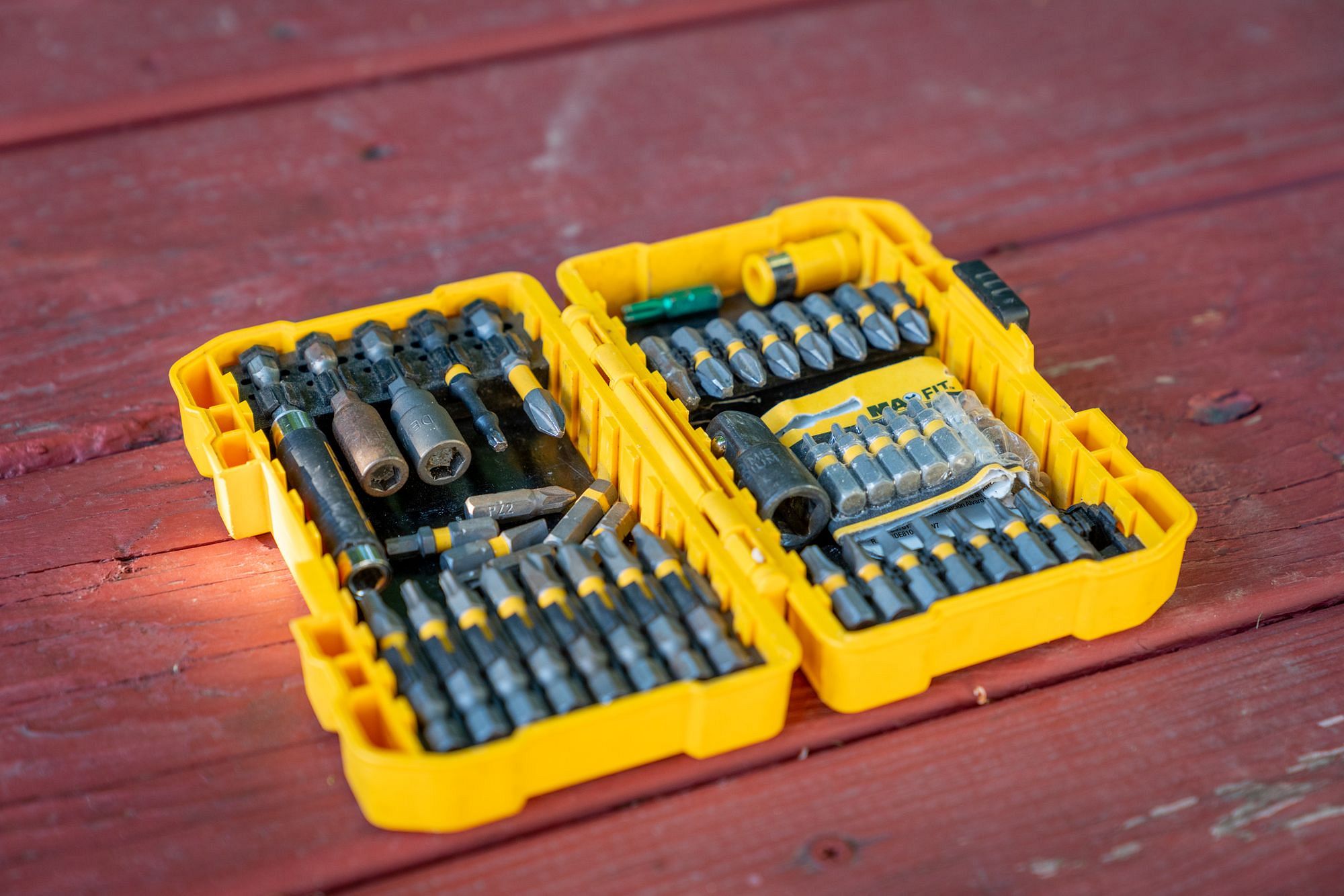 While you're at it, you may also want to pick up a security bit set for those unusual screws - I personally like the Dewalt DWAX200 31-Piece Security Screwdriver Set!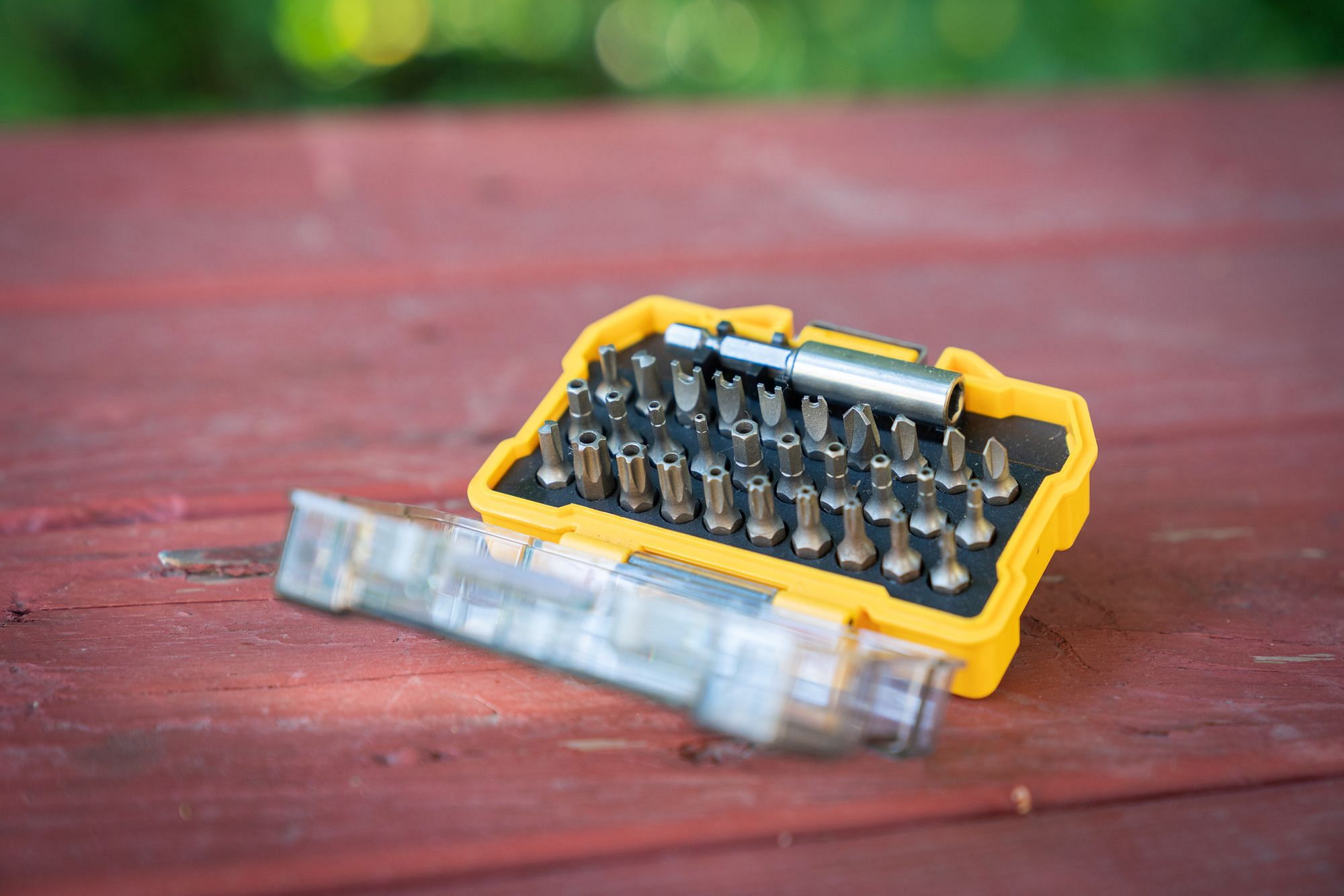 Pro Tip: Look out for screws with an 8-pointed star. These aren't Torx screws but are a perfect fit for a #2 square bit - that's caught me out more than once!
Outlet Tester
An outlet tester or receptable tester like the Sperry Instruments GFI6302 is a small but very useful piece of kit! Simply plug it into any outlet and it'll alert you to most common wiring issues. It can detect open neutral, hot or ground, as well as reversed hot and ground or neutral.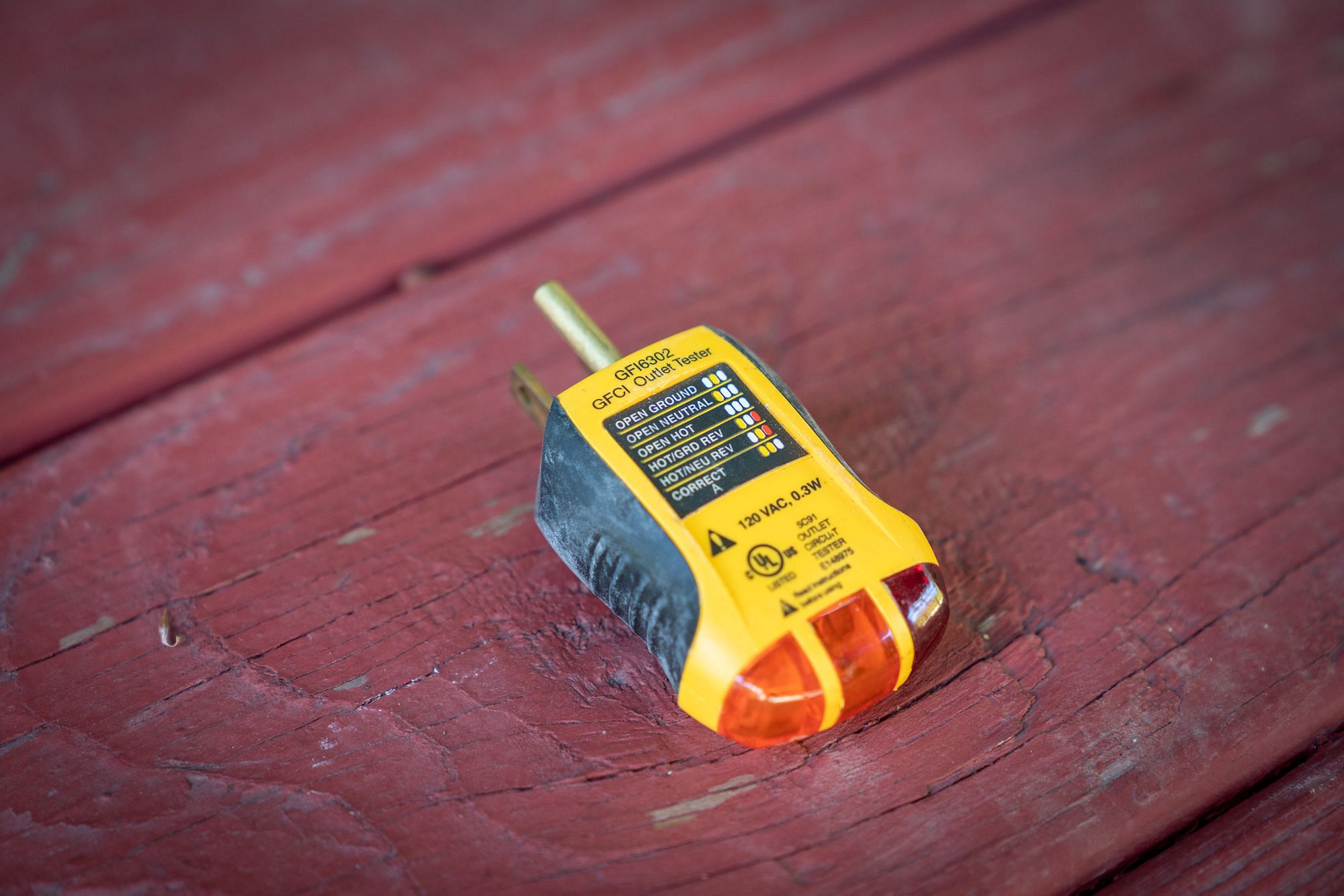 I always use one of these when wiring up a new outlet to make sure everything is correct, but it can also be used to diagnose a questionable outlets in an RV park. Oftentimes this is the first tool I'll turn to if someone is having problems with their 110V power.
Bear in mind that this tester only works on regular 15A and 20A outlets - not the 30A or 50A outlets that you would typically plug your RV into. To protect yourself against faulty shore power wiring (as well as several other potential electrical issues such as surges, low voltage, high voltage, etc) you'll want an Electrical Management System (EMS).
We use the hard-wired Progressive Industries EMS-HW30C but if you want something portable then check out the Surge Guard 44280 for 30A RVs and Surge Guard 44270 for 50A RVs.
Digital Multimeter / Amp Clamp
A basic digital multimeter can be picked up for under $25 and is an invaluable tool for all sorts of electrical diagnosis. Even a very inexpensive model such as this one is still capable of measuring AC and DC voltage, and resistance.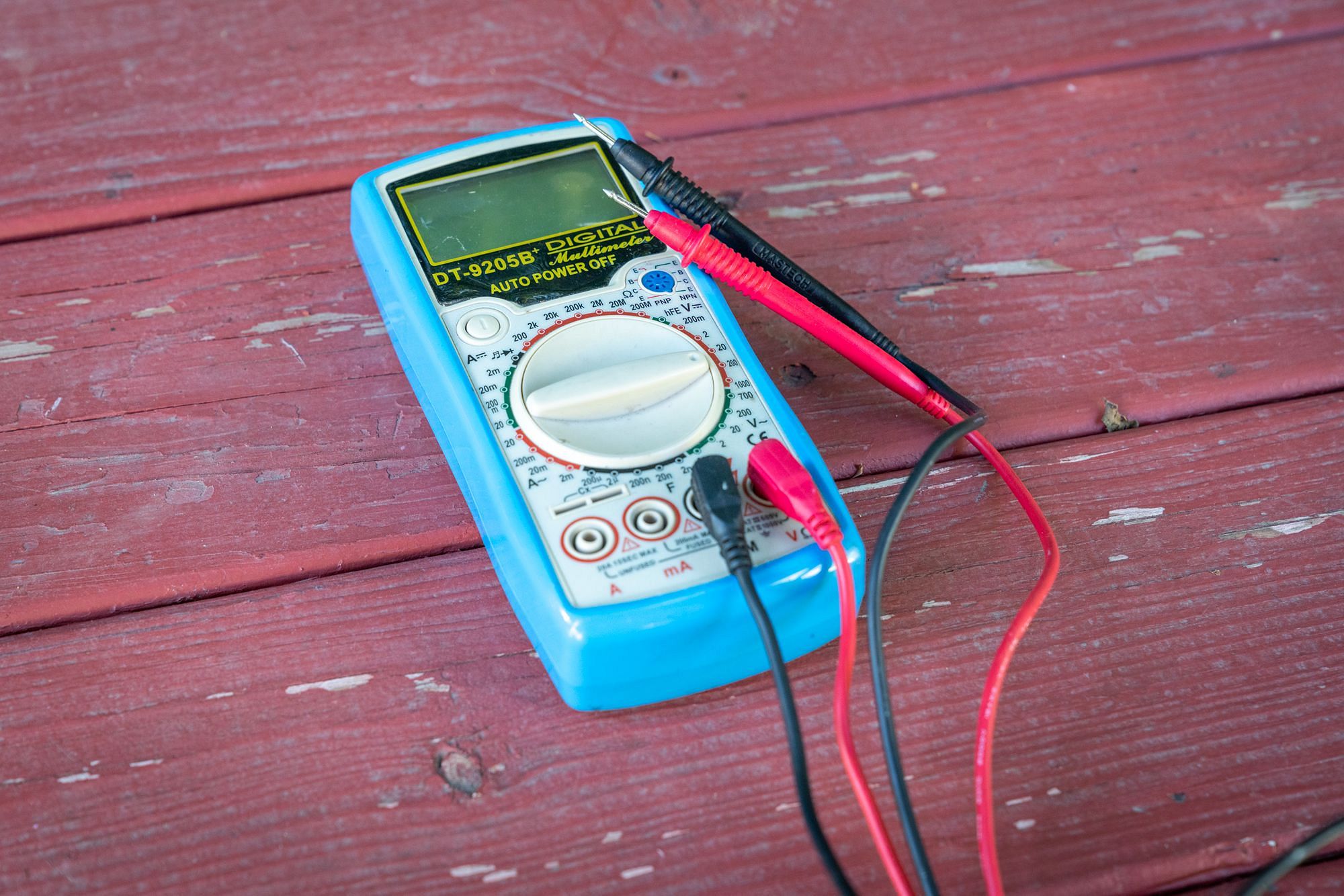 With just these features, you can check that you're seeing 12Vdc or 110Vac where you expect to, and check for loose or broken connections. In my experience, these simple checks are usually a great way to start diagnosing an issue, and more often than not lead me straight to the problem.
If you're looking for a little more capability, I'd recommend the Klein Tools CL390 which is the multimeter I use. This is a professional-grade tool and comes with a couple of features I really appreciate.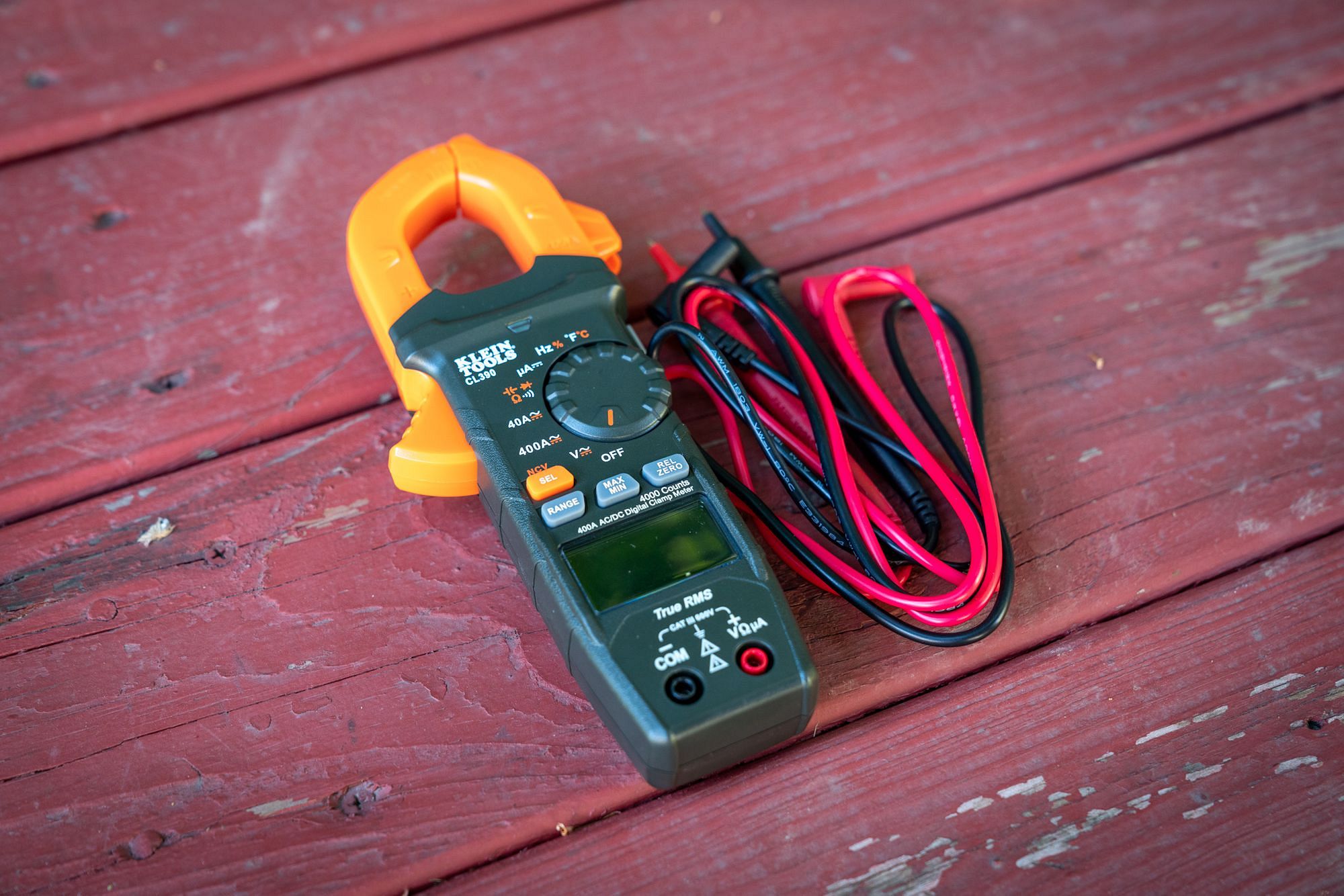 It's a style sometimes known colloquially as an amp clamp, due to the opening jaws that you can wrap around a wire. Using this you can measure DC current in a wire (great for checking battery balance and device current consumption) and even AC current using a line splitter.
Additionally it includes thermocouple for temperature measurements, the ability to measure capacitance, frequency and duty cycle as well as test diodes. One feature I love is the test probe holder on the side which makes it much easier to use on my own in a tight space like an RV.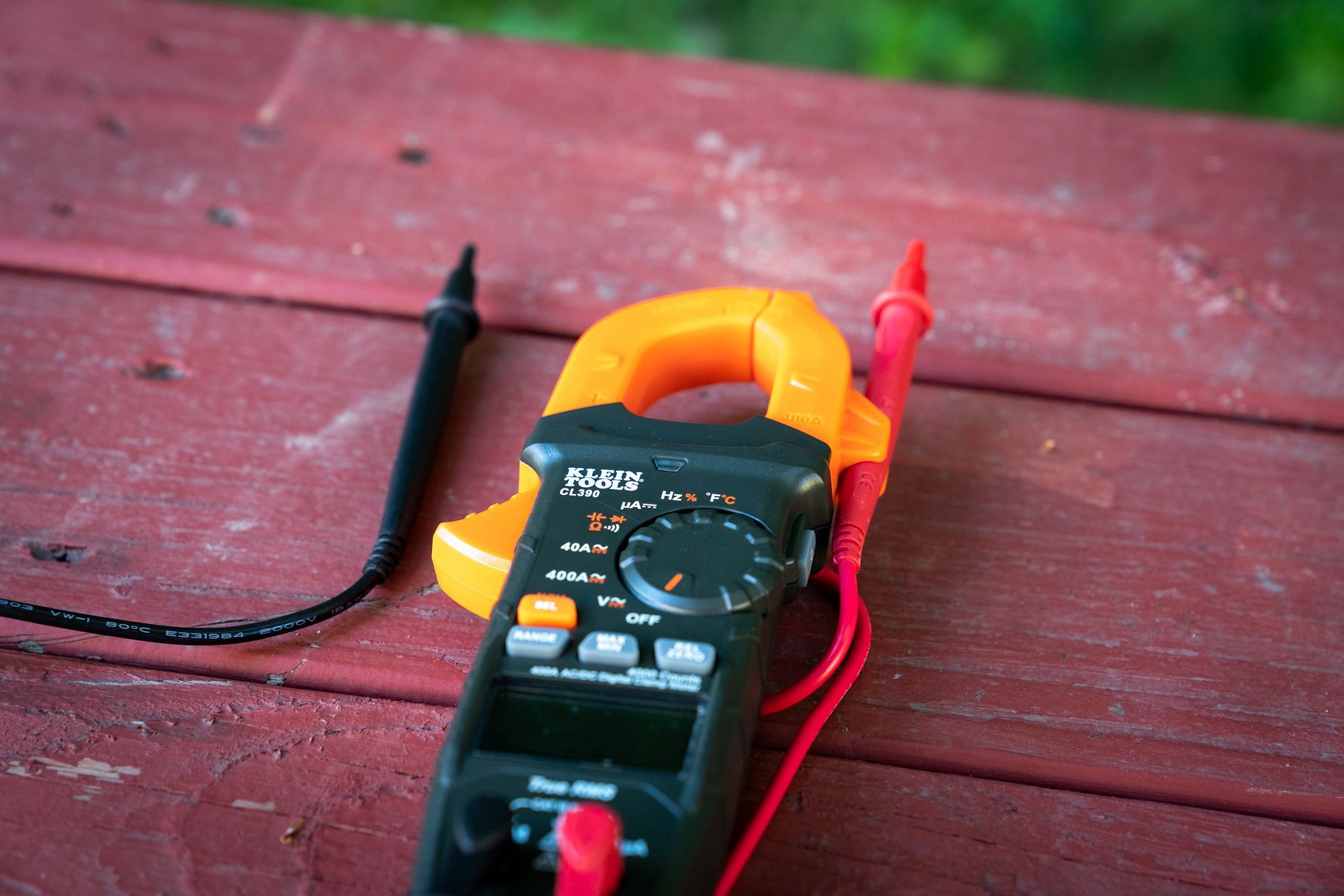 Wire Stripper / Crimping Tool
The tools above are great for diagnosis, but when it comes to repairing a problem, invariably you'll need to cut, strip and crimp wires. You don't need anything too crazy here - if you're crimping anything larger than 10ga wire then you probably already know what tools you need.
Something like this Irwin 8-inch Vise Grip Wire Stripping & Cutting Tool is perfect for the job. It can cut and crimp everything from 10-22ga wires, which covers almost everything you'll find in the average RV. You can also get ratcheting tools which make the job a little easier, especially if you struggle with grip strength.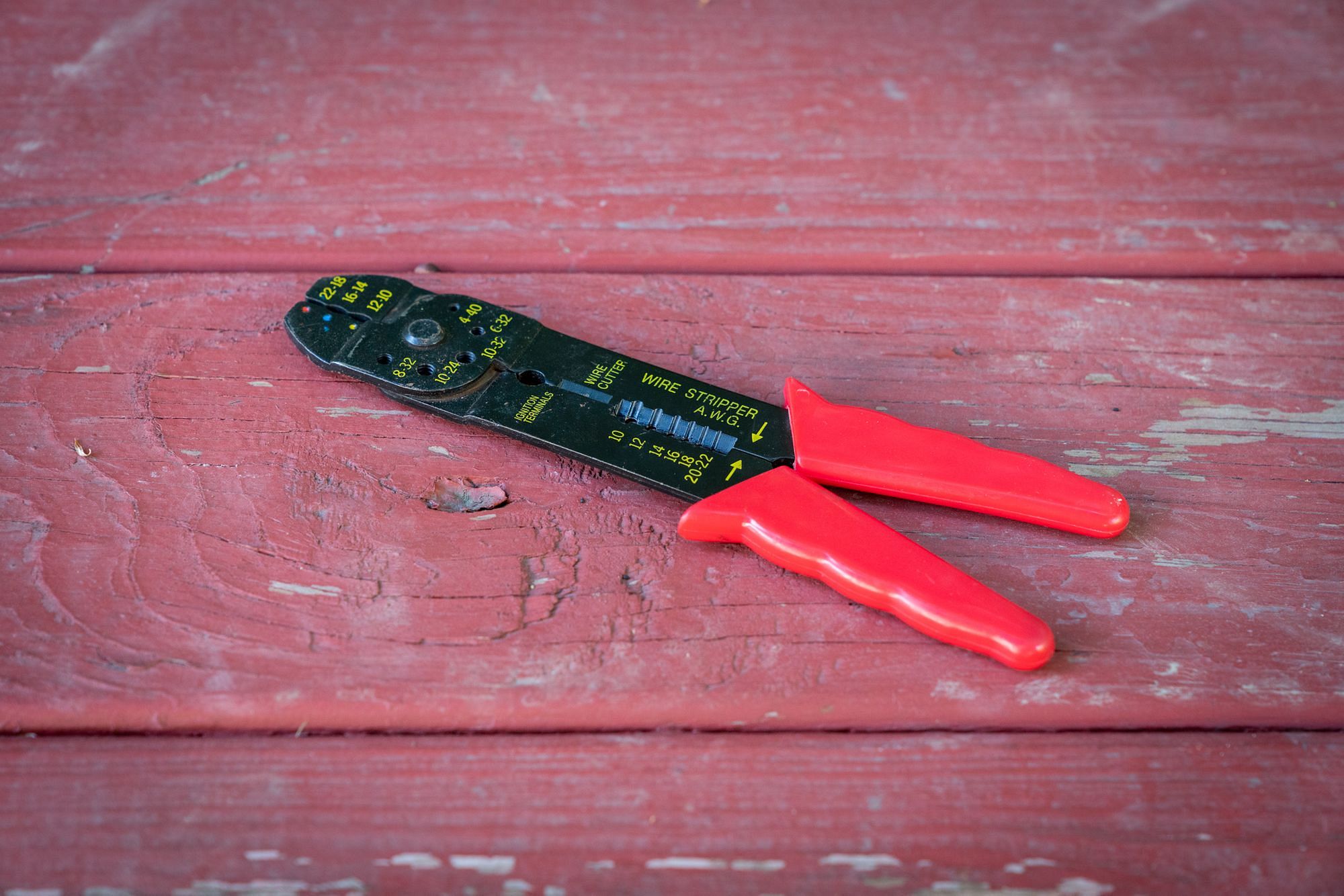 Typically, the only larger wires you'll find on an RV are going to be those directly connected to your batteries, especially if you've done a big electrical upgrade like us.
Pro Tip: If you're stripping stranded wire then go up a size to avoid cutting strands as the sizing is calibrated for solid wire - e.g. for 14ga stranded wire, use the 12ga notch.
In this case, you'll need a much larger crimper - we use a 16-ton hydraulic wire crimping tool very similar to this one. It's huge, and very much a specialist tool - not something I'd expect most RVers to own.
MC4 Crimping Tool
I must confess that it took me an embarassingly long time to buy one of these, but having bought one about a month ago, I can't imagine not having it now - I've already used it over 20 times!
MC4 connectors are ubiquituous when it comes to solar. And not just RVs - they're common in residential panels too. So-named for their Multi-Contact (MC) design with 4mm (hence MC4) pins, they're a robust connector allowing for a weatherproof seal. While specifications vary (and I highly recommend you check carefully), good MC4 connectors should be UL listed and rated for at least 20A at 600Vdc.
If you have solar panels mounted on your RV roof or as portable panels to deploy on the ground, there's a good chance they use MC4 connectors. So why do you need an MC4 crimping tool?
Well, strictly speaking you don't need one. But I'd argue it's a very useful tool! With it, you'll no longer be limited to buying pre-made cables, but you'll be able to make your own custom-length cables, plus tend to any repairs that might crop up.
Crimping the connectors is ridiculously easy - it takes less than a minute for each one. If you do have any solar panels with MC4 connectors, I suggest picking up a crimping tool and some connectors - we bought the BougeRV Solar Crimper Tool Kit with 6 pairs of MC4 Connectors.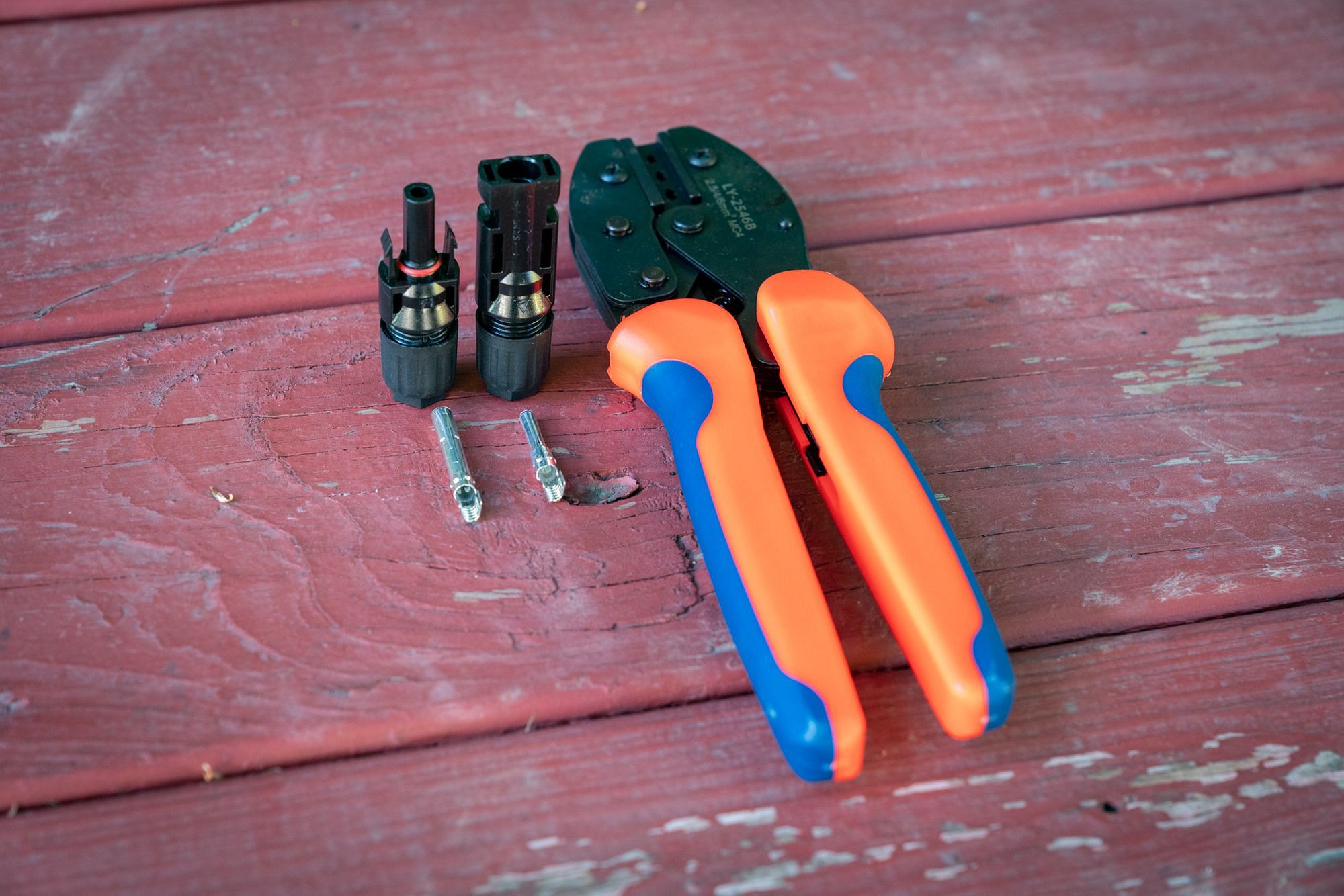 If you run out of MC4 connectors (like we did) then you'll want to pick up a set of 6 MC4 Connectors, or even a pack of 22 MC4 Connectors. I've been impressed with the quality of the BougeRV MC4 crimping tool and connectors - no affiliation, just a happy customer.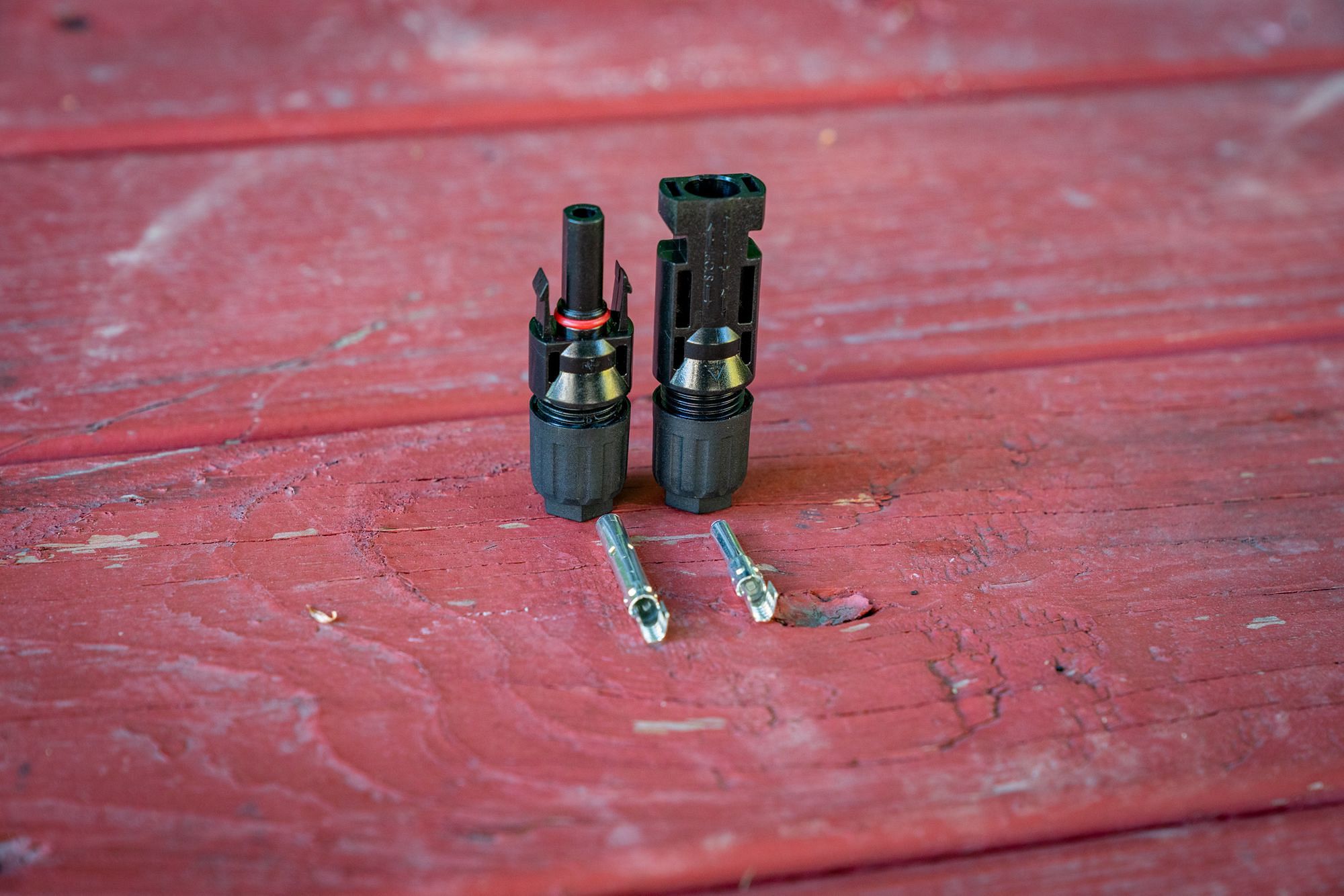 Pro Tip: The metal connectors aren't the same size - don't get them confused! The larger one goes with the positive connector (the male one with the exposed red band) and the smaller one goes with the negative connector.
Bonus: Parts & Supplies
In addition to having some basic tools, I also carry a selection of parts and supplies that I might need for basic repairs (or, I'll be honest, upgrades) on our RV or to help others in need. You may not want or need all of these, but here are a selection of the items I carry around for quick repairs:
12V fuses (work for both the RV and the truck)
Wire of various gauges (mainly leftovers from previous projects)
If there are specific appliances or products that are critical for you, then you might want to carry around some spare parts for those too - or at least have a backup plan in case they fail.
For instance, given our large electrical system, we carry spares and tools for any debugging, repairs or upgrades that might be needed with our batteries, inverter and solar system.
Summary
Not everyone is an electrical expert, nor do they want to be. But for 90% of the issues I've helped people solve, you don't have to be.
A rudimentary understanding of the electrical systems in an RV along with some basic tools and supplies can often be the difference between getting things back up and running quickly, and waiting for an expensive visit from a mobile RV repair person while things are broken in the meantime.
If you want to learn more about RV electrical fundamentals, check out the presentation I gave at the Xscapers Annual Bash 2021 all abour RV electrical basics and RV solar on our YouTube channel.