Introduction
I want to preface this post by saying this is intended as a lighthearted read. In no way am I doubting the severity of the current situation, or diminishing the life-changing impacts it is having on many people.
While there are innumerable negatives and things to worry about, we decided to focus on the positive aspects we could find. So that's what we're going to share today!
Social Distancing
As recently as 4 weeks ago, our plan had been to visit the Bay Area in California last week on our way to the Xscapers Convergence in Bishop, CA this week. Those plans predictably did not come to fruition, and instead we are sheltering in place in the Arizona desert.
Arizona recently announced a lockdown - essential movement only. All around us, states are doing similar things - businesses are closed, and campgrounds are shutdown.
We feel better prepared than most - living off-grid is no problem for us! The public lands on which we camp typically have 14-day stay limits, so today we're forced to move to a new spot. One that hopefully will be just as isolated as the last.
We've been getting pretty good at this whole social distancing thing - our nearest neighbors are about 600ft away from us! But I confess, we've had a little help. Yes, unexpectedly, the local wildlife has decided to help us keep people away.
I first became aware of this when I opened the hood of my truck to check the battery, and found a tarantula sheltering in place in the engine bay. Admittedly it was only a baby, but I think that would still be an effective deterrent for many!
Then, just a couple days ago, we discovered a Western Diamondback rattlesnake lounging on the dirt road near our camping spot. It was a big one - about 4 feet long when straightened out!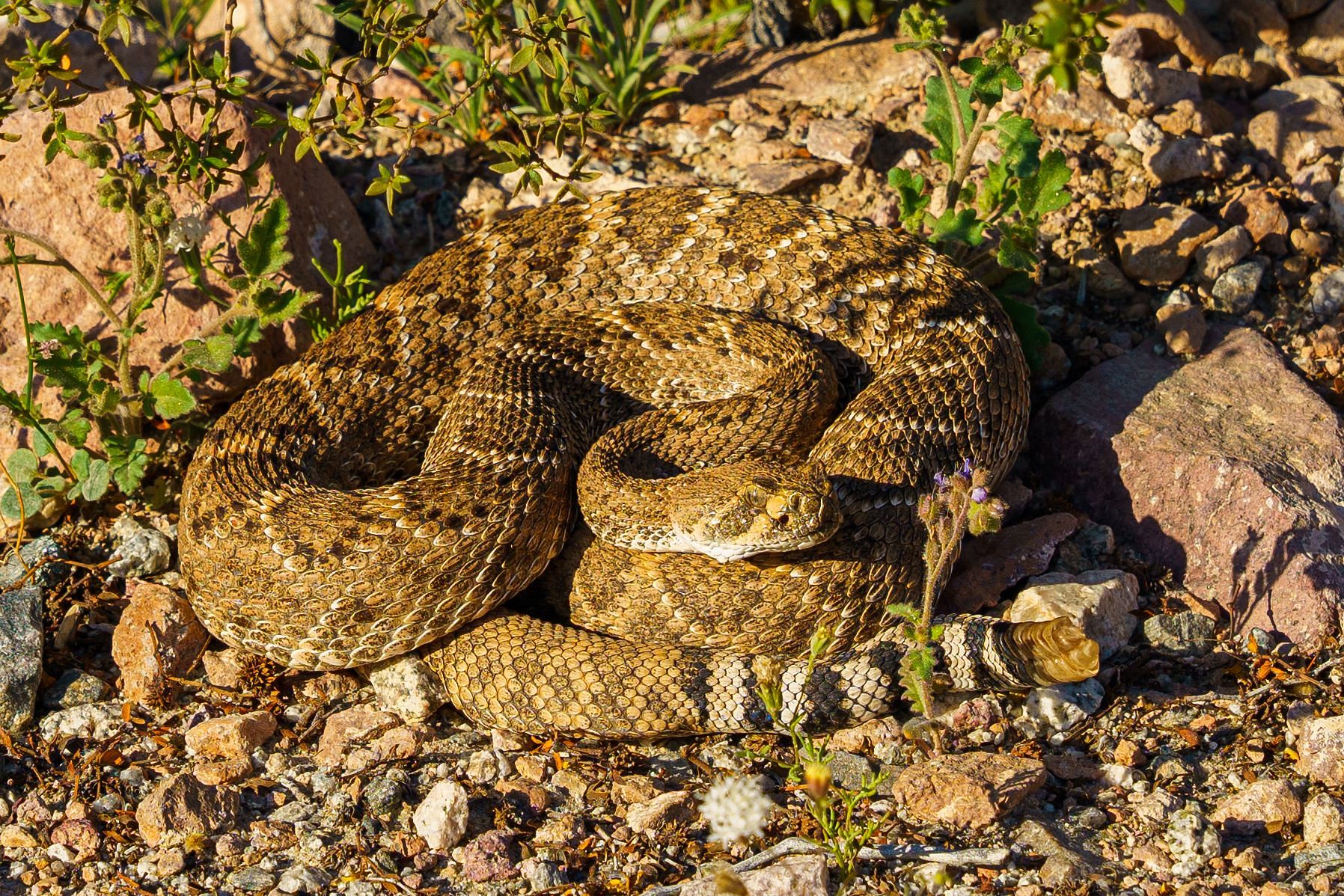 At this point I should share two things:
I don't like spiders (including tarantulas) or snakes;
I've never seen a rattlesnake in the wild before.
So the fact that I handled each situation without screaming like a small child is quite a testament to how calm Diana and I are feeling at the moment!
Cooking
As an Amazon Associate we earn from qualifying purchases.
It's no secret that Diana and I enjoy cooking. Not that I would consider us to be culinary experts, but it's a pastime we quite enjoy. It's fun, it's healthy, and it's a lot cheaper than eating out or buying processed food!
It's been over 2 weeks since we last went grocery shopping, and we think we're well-stocked for several more weeks at least.
Despite the very limited capacity we have for food storage in the RV - particularly our fridge and freezer - we were able to accomplish this feat by focusing on buying raw ingredients, not meals. Not only do raw ingredients often last longer than their processed cousins (preservatives aside), they also offer more versatility in what to make with them.
Baking
For example, if you buy a loaf of bread then all you have to eat is a loaf of bread. But with flour and other basic ingredients you can make pizza dough, cakes and many other things - including, yes, bread.
So this week I took a break from working on the website and decided to bake a loaf of bread. This was a first for me - not only have I never baked a loaf of bread before, but I don't think I've even bought a loaf of bread since moving to the US six years ago!
Unfazed, I found a simple recipe online for whole wheat bread and, if I'm honest, I'm rather pleased with how it turned out! Who says you can't bake in an RV oven?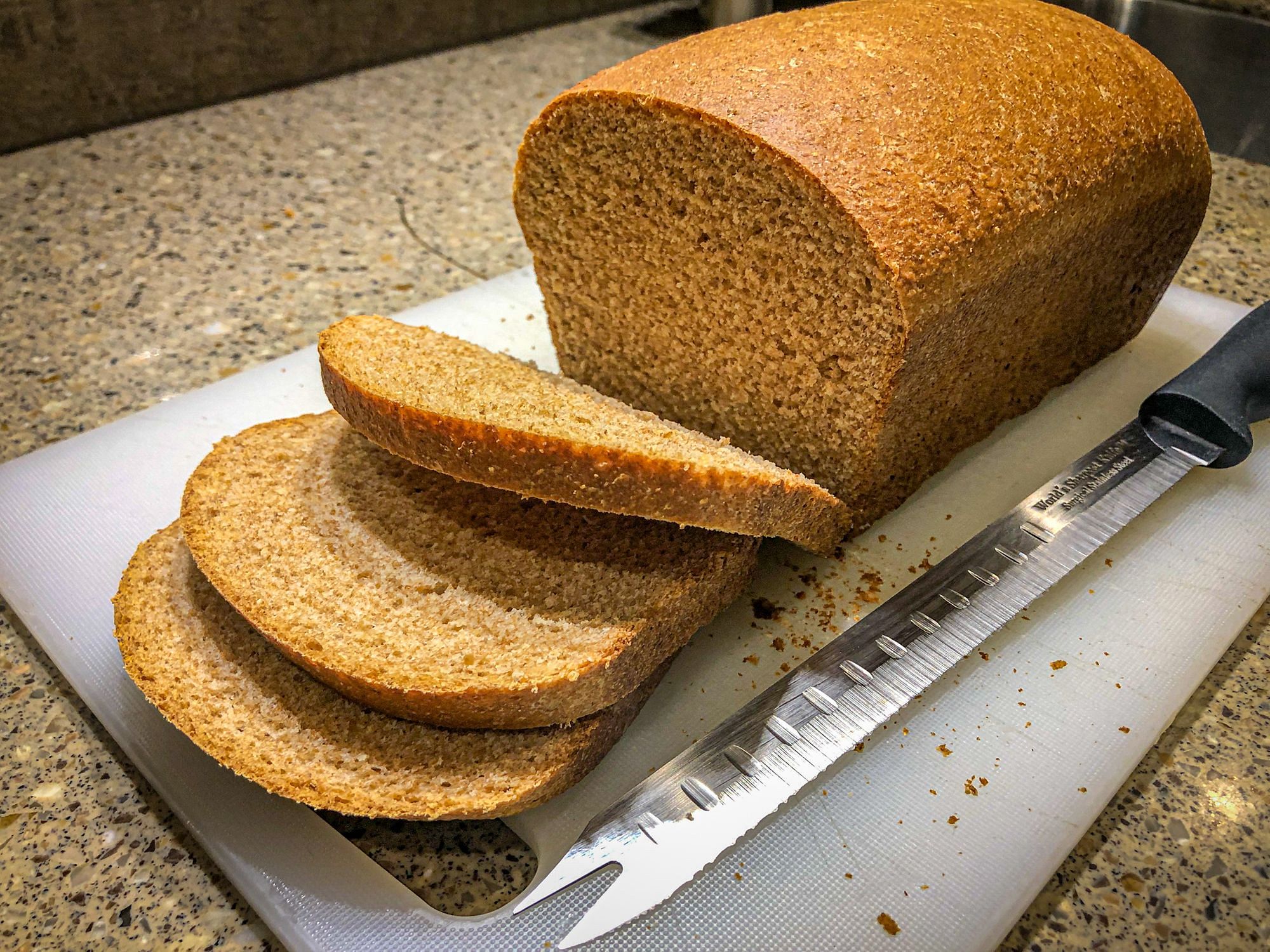 The "trick", as we've said before, is to use a pizza stone to distribute the heat in the oven. This prevents food from burning underneath and remaining under-cooked in the middle, as is the norm in these small propane ovens.
It's nothing particularly fancy, but my very first loaf of bread has been a pleasant accompaniment to our meals this week.
Ninja Chef Blender
On something of an impulse, when we went grocery shopping a few weeks ago, I insisted we purchase a new blender. The food processor attachment on our old blender had broken after 2 years of use, and replacement parts are unavailable.
We decided to buy the most powerful blender we could find in Parker, AZ - and ended up with the Ninja Chef CT800 blender.
Holy macaroni, this thing is a beast! Not only is it huge (I decided we'd worry later about where to store it - we still don't know!), but it is seriously powerful. It's rated to 1500W and I've already seen it pulling over 1000W while running.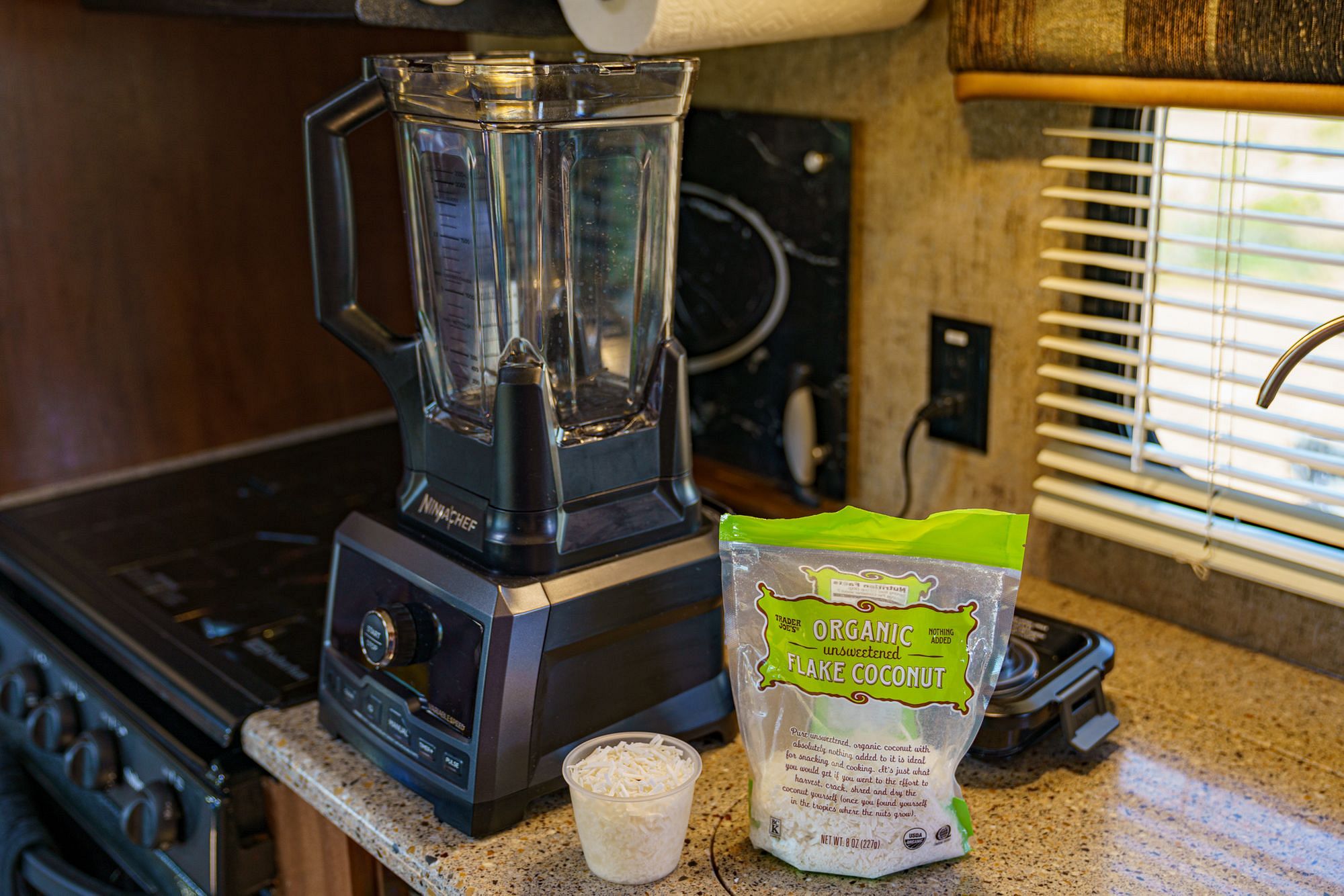 But so far it's made light work of everything we've thrown at it. We've used it almost daily, and so far we've made smoothies, potato pancakes, chocolate cakes, almond butter, coconut flour and hummus. It's really impressive!
I particularly like the fact it can make flour. We used it to "blend" shredded coconut into coconut flour (never done it before) but it can also be used to make other types of flour too.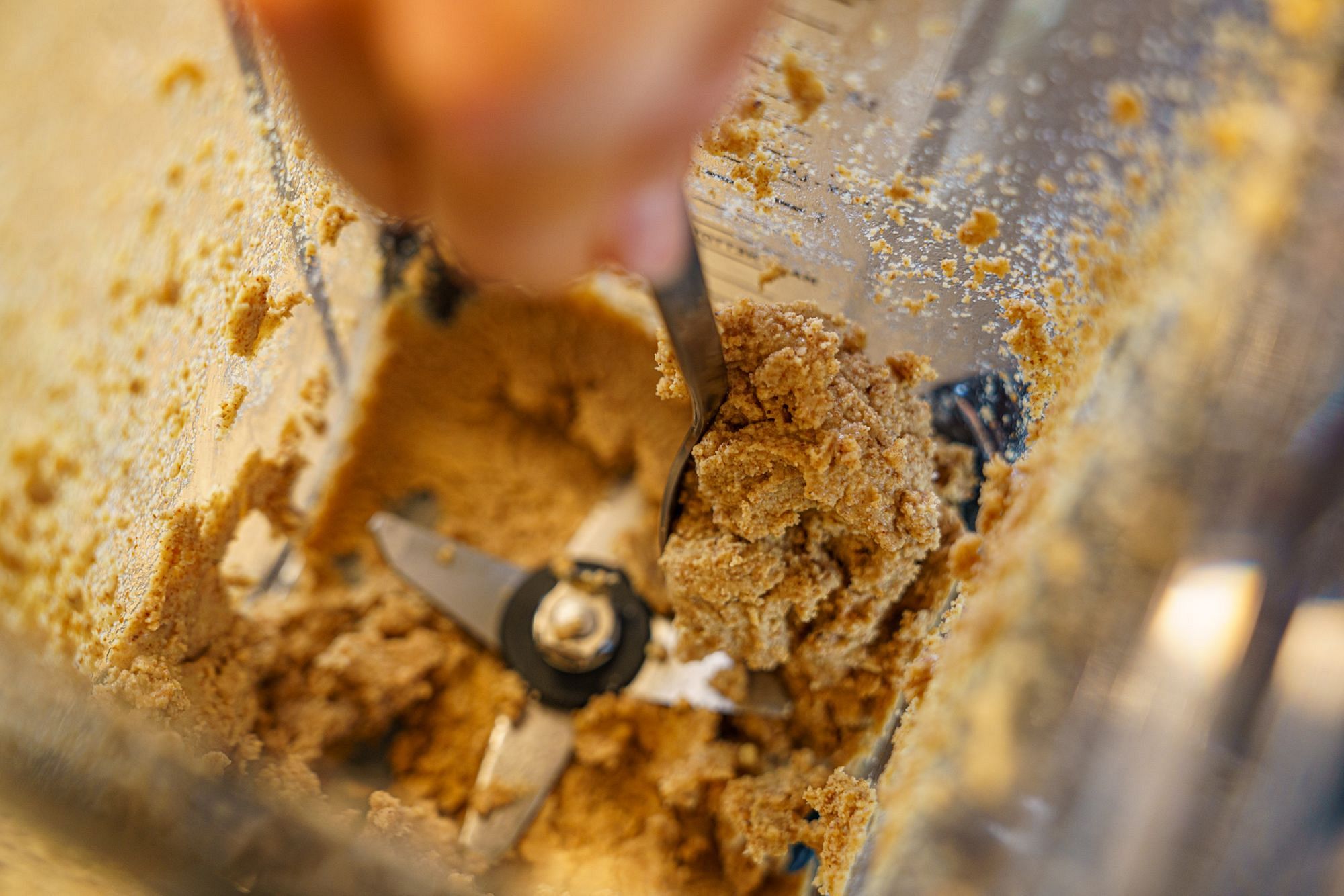 In an RV everything has to justify its presence - and so far so good!
Showering
Let's get personal for a minute.
As much as we enjoy boondocking, we typically move every 7-10 days. We tend to refer to our travel days as errand days, since we use those days to run all our errands - dump and fill our tanks, grocery shopping, etc.
In fact, the longest we've ever stayed in one spot for (without any refilling or dumping of tanks) is 12 days.
Until now.
Most public lands have a stay limit of 14 days. You're essentially only allowed to stay in one place for 14 days in a 28-day period. Then you have to move 25 miles away - technically it varies by location, but 25 miles is the norm.
Which all adds up to mean that if you can stay in one spot for 14 days, then you can move to another spot for 14 days, after which your 28 day timer at the first site is "reset" and you can go back there again. In other words, you can bounce between two places for 14-days in each spot.
Staying in one spot without dumping or filling for 14 days means doing everything we can to conserve water. We know many people will drip their grey water (showers & sinks - basically everything except the toilet) outside - that's not something we've ever done or feel comfortable doing.
So not only do we have to conserve fresh water, we have to make sure we don't fill up our holding tanks too quickly either!
The answer? Don't shower more than necessary! Showers use more water than anything else, and from experience we know 4 showers each is about the limit given our other water uses. So, we've had to spread out our showers - I guess it helps with the social distancing!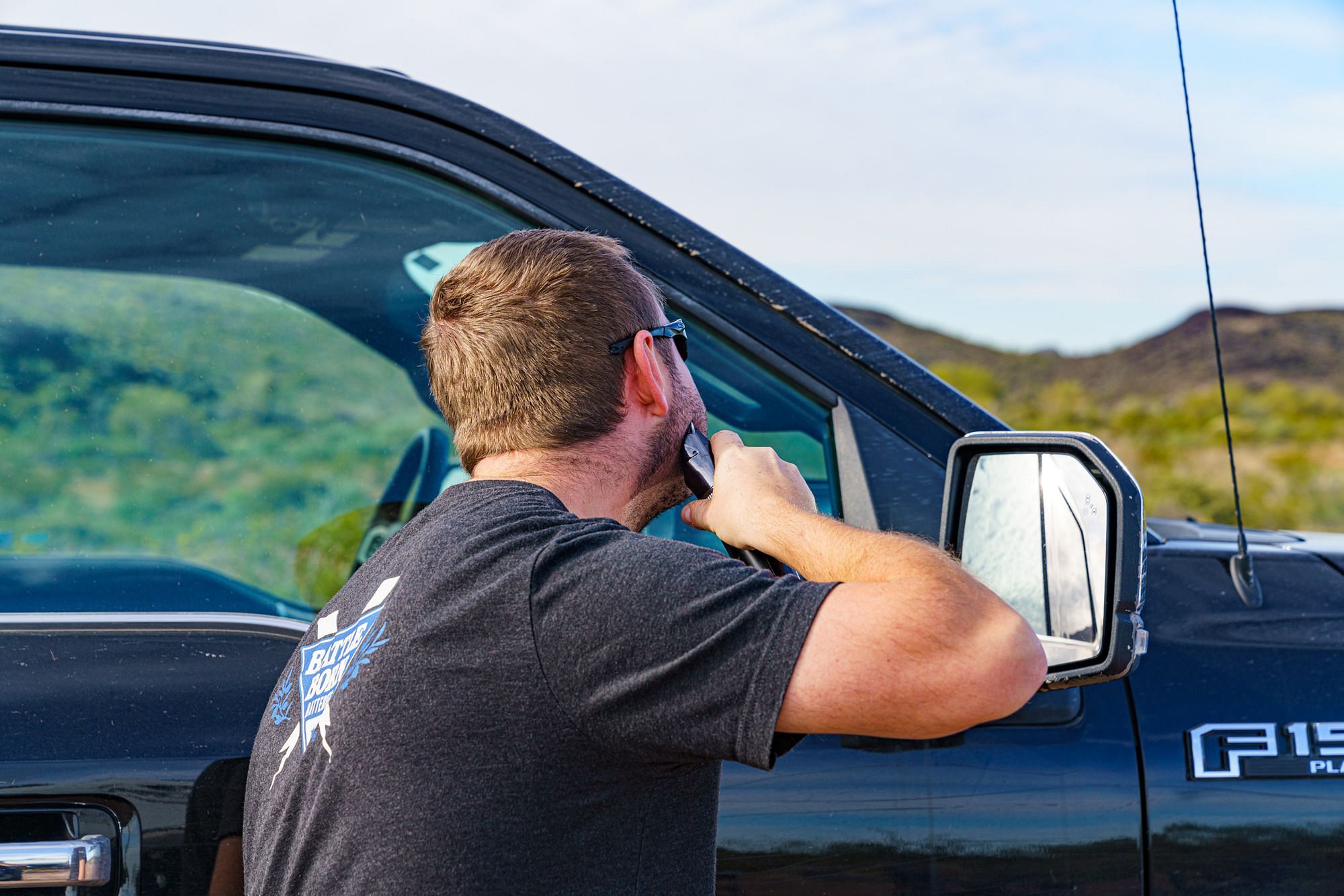 Given we're trying to avoid social interaction, Diana and took a stab (OK, probably not the right term!) at cutting my hair recently too - another first! It actually went surprisingly well. Along with my "boondocking shaves" using the truck side mirror, I think I can stay looking vaguely socially acceptable!
Laundry
While we're on the topic of washing, let's talk about laundry. When RVers talk about resources, they're typically referring to their holding tanks, propane and maybe batteries. We always seem to forget clean clothes!
Much like with showering, we can obviously stretch out our clean clothes (not literally!) to last longer, but with our trimmed-down closet (again, not literally), that's not going to last more than a few weeks.
No, the reality is we need to wash our clothes.
So yesterday, we did! Using some Dr Bronner's 18-in-1 soap, we hand-washed a load of clothes to keep us going for a little longer. We deliberately waited until the day before we were dumping so we knew how much water we had left.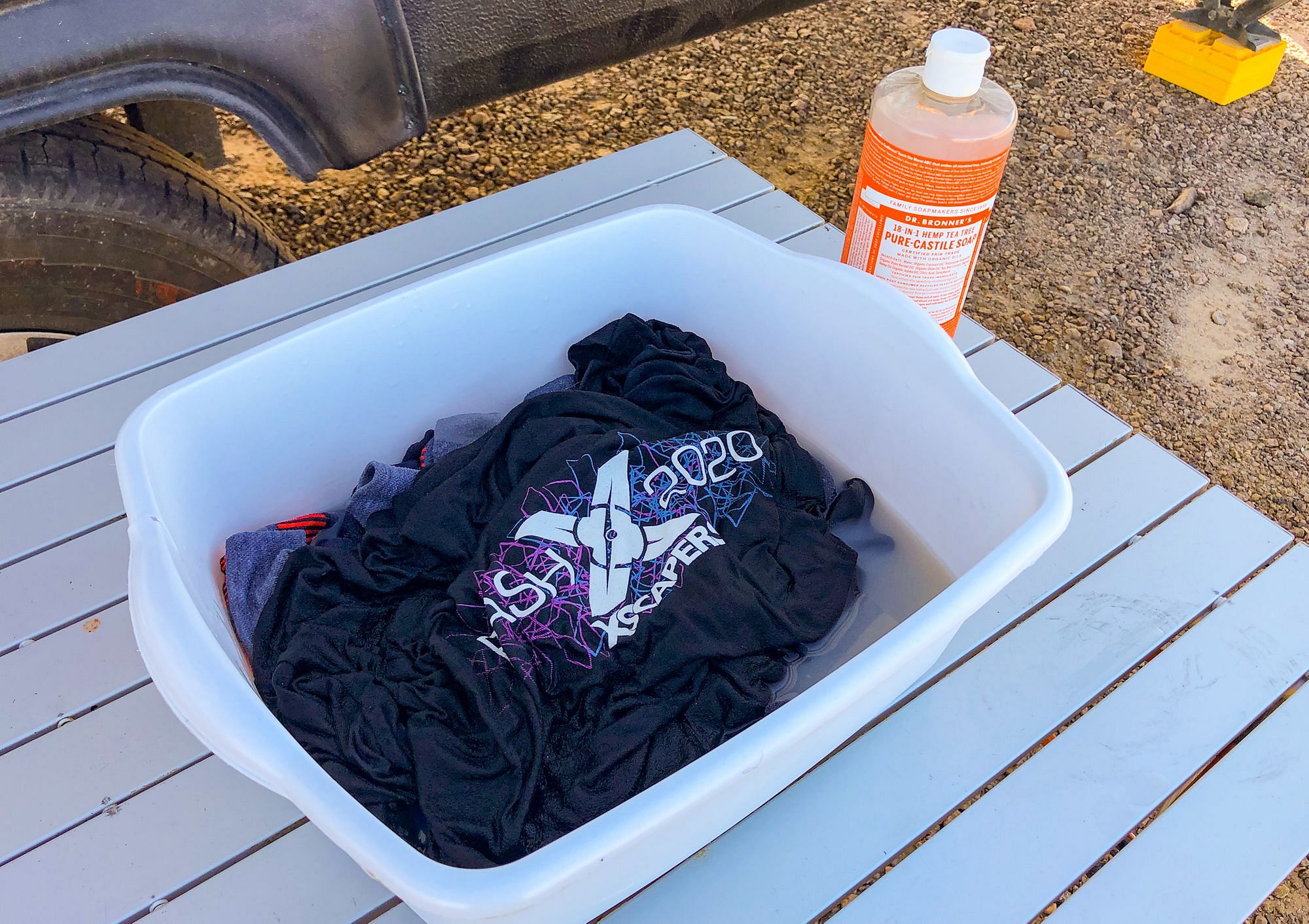 The current conditions of 80°F, 10% humidity and a light breeze are perfect for drying clothes! I don't think this is a habit we'll continue once we're free to travel again, but knowing we don't need to go to a laundromat is a welcome relief!
Conclusion
It's been a strange week - not just for us, but around the world. I know many people are struggling to come to terms with this drastic change to their lifestyle and routine. As RVers, we're used to adapting to change, so that's what we're doing!