As an Amazon Associate we earn from qualifying purchases.
Introduction
This summer, we spent a couple of months staying with our friends Brian and Leigh - better known as the founders of Campendium, our go-to choice for finding boondocking spots and campgrounds.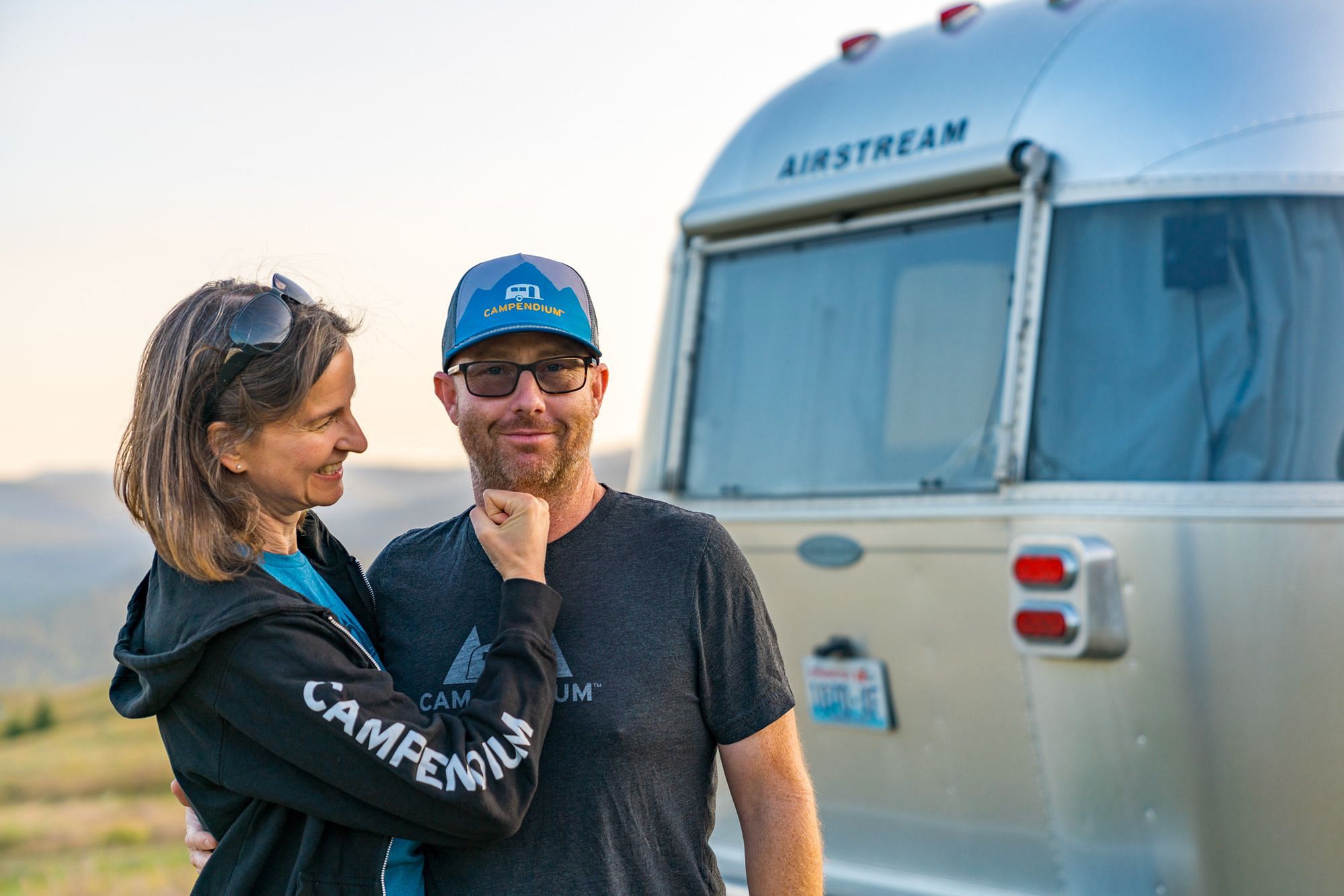 Brian and Leigh first went full-time in their RV over a decade ago, yet despite years of living and working on the road in their Airstream Flying Cloud, they still had a fairly old-school electrical set up - lead acid batteries, 400W of rooftop solar and a small 600W inverter that came with their RV.
While it had served them well for years, it was time for an upgrade! So this summer, I helped Brian overhaul their electrical system. We modeled the upgrade on our own setup, so be sure to check out our RV electrical blog posts to learn more about our RV electrical system.
RELiON Lithium Batteries
At the heart of their new system are six RELiON RB100 lithium batteries. With a total of 600Ah of usable capacity, this gives them almost five times more usable capacity than the two 6V lead acid batteries they had before.
Since there wasn't space to install the new batteries on the tongue, we opted instead to mount them under the bed inside the RV. Lithium batteries are sealed units meaning they don't vent any gas - unlike the old lead acid batteries which had badly corroded the steel battery box on the tongue!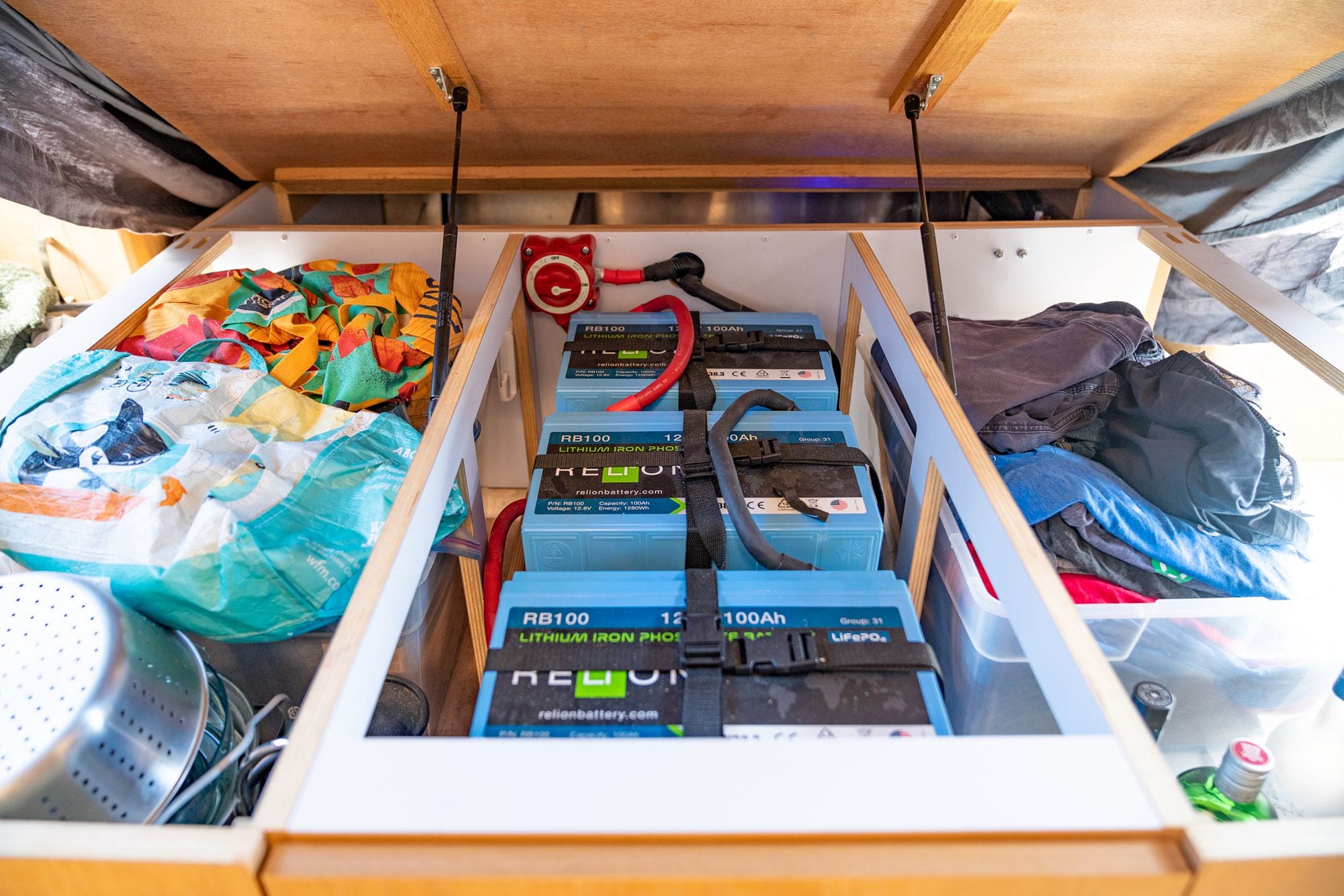 Better yet, the RELiON lithium batteries can be installed in any orientation, so we stacked them up under the bed - it was a perfect fit! We used webbing straps and footman loops to hold them in place - they're going nowhere!
We wired them up in parallel using high quality 4/0 TEMCO copper cables that we cut and crimped ourselves with a hydraulic crimping tool. We further installed a new Blue Sea Systems battery disconnect switch and a 400A Class-T catastrophic fuse.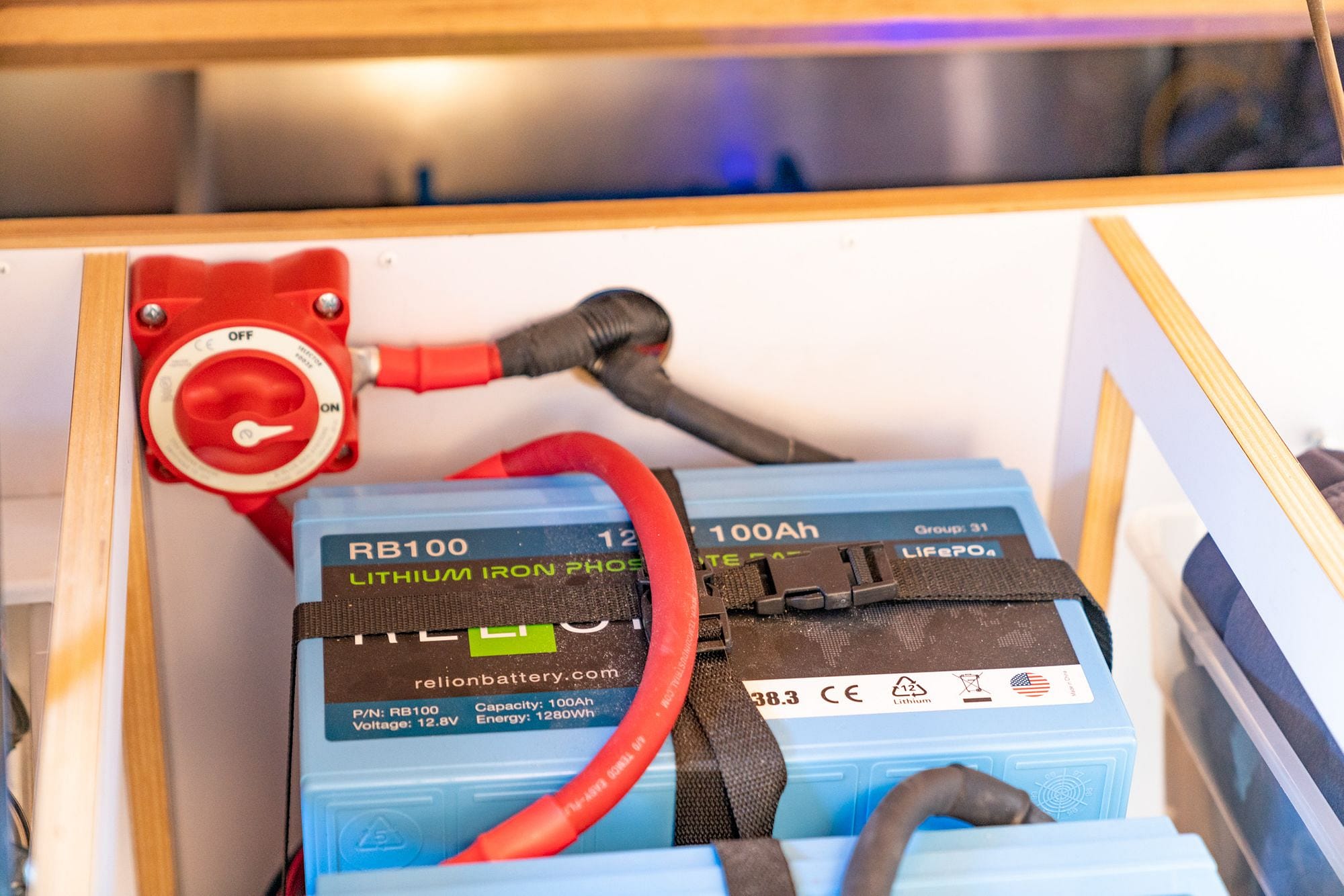 While the batteries themselves were under the bed, we drilled holes into the front-trunk (aka "the frunk") where we planned on mounting the remainder of the system components.
Renogy Solar Panels
While they already had four 100W Zamp panels on the roof, the panels were almost 10 years old and we suspected their efficiency was probably beginning to drop. Furthermore, they wanted more capacity and it's always preferable to use identical panels when wiring into a single charge controller.
So, we removed the existing panels and installed six new 100W panels. They chose to go with Renogy 100W Monocrystalline Compact Panels (Amazon) since the dimensions were a good fit for their roof and the Renogy Curved Z-Mount Brackets (Amazon) worked well on the curved Airstream roof.
For an extra discount, use the code RenogySolar10 at checkout on the Renogy website!
Ideally they'd have installed more panels but this would have been incredibly challenging given the space available and existing roof fixtures.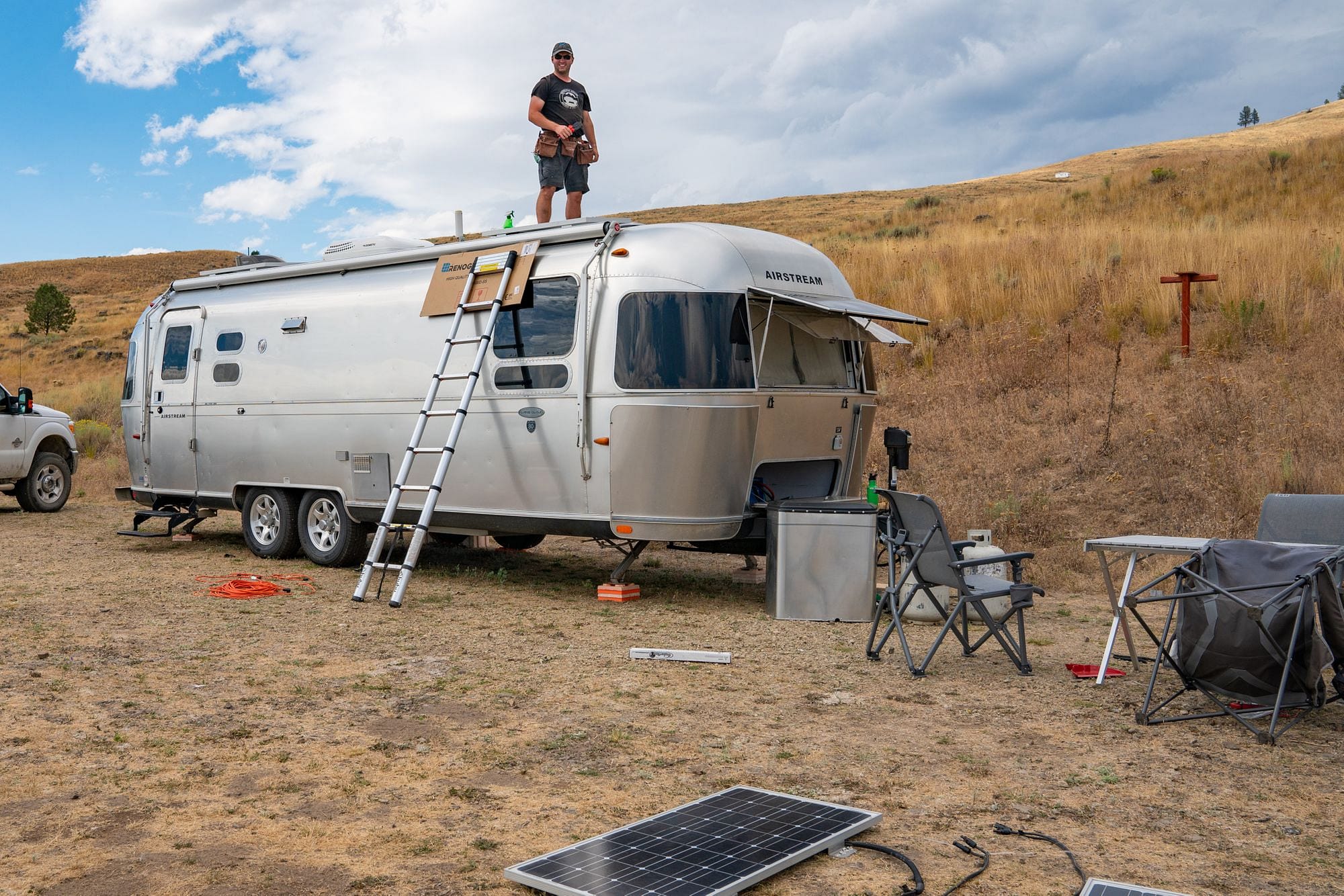 The existing panels were installed with a mix of rivets and screws and took some effort to remove. Removing them did damage the roof in a few places, but nothing that some Eternabond couldn't fix! The panels didn't go to waste - we reused them later!
We assembled the panels with their mounts on the ground, then lifted them up onto the roof where we (well, Brian) drilled four holes for the screws in each bracket. Some butyl tape underneath and plenty of Dicor to cover the screws gives a very strong and weatherproof seal.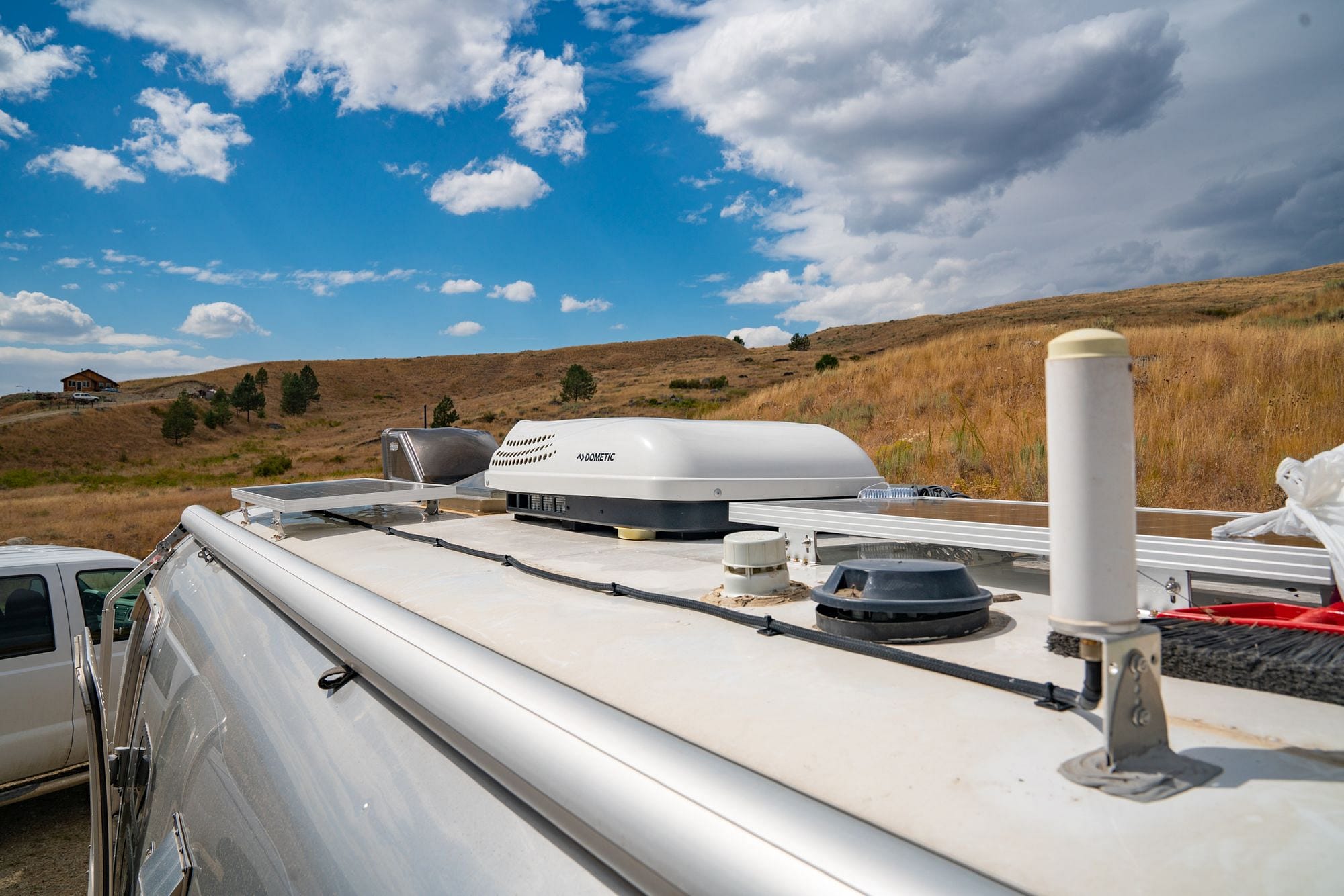 The panels were wired in series-parallel (3 parallel strings, each with panels in series) which allowed us to use some of the existing wiring without exceeding 48V and hence needing special high-voltage breakers. We used Renogy MC4 inline fuses (Amazon) and crimped on MC4 connectors to complete the rooftop wiring - this was much easier than the approach we took on ours with butt splicing everything! Lesson learned.
The previous installation had located the Victron BlueSolar 100/50 MPPT charger (Victron now has a newer version, the Victron SmartSolar 100/50 which is what we have in our RV) near the fridge, and the wires from the roof dropped down through the fridge roof vent. We wanted to reuse the existing wiring but wanted to move the solar charge controller closer to the batteries. We spliced the wires together near the fridge, allowing us to remove the solar charge controller.
These wires went directly to the DC panel under the pantry, so we spliced in some new wire and ran it in under the bathroom cabinets and then in conduit along the base of the bedroom wall. We didn't feel comfortable dropping into the belly pan, and this approach worked out well.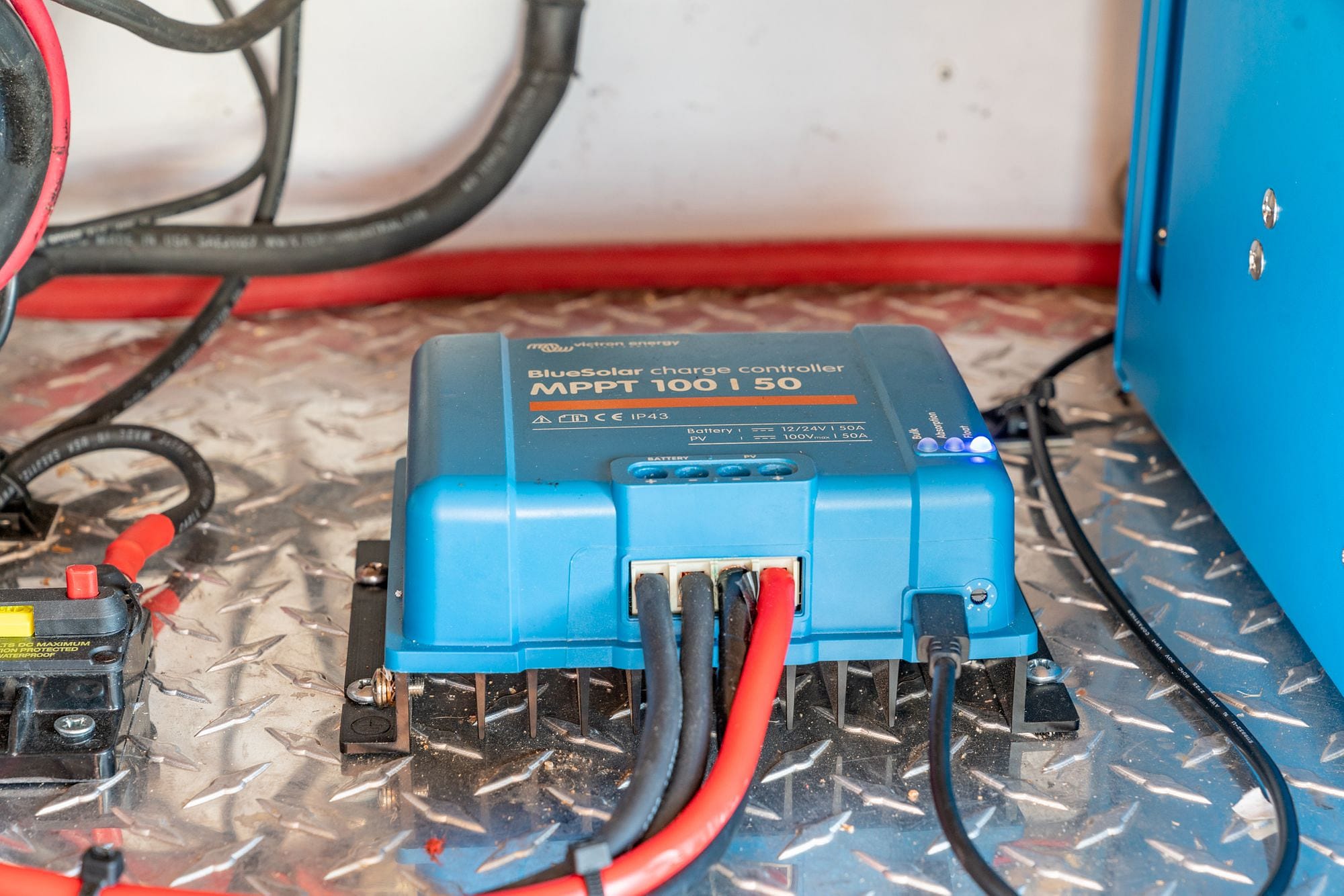 We reinstalled the Victron BlueSolar 100/50 MPPT charge controller in its new location in the frunk - much closer to the batteries where it'll be much happier!
Victron MultiPlus Hybrid Inverter
Brian and Leigh don't have a generator, so the only way they could run 110V appliances when dry camping was using their RV's built-in inverter. Unfortunately, the inverter that their RV came with is only 600W which means it's fine for charging laptops, but not larger appliances like an Instant Pot, blender or the Air Conditioning.
Somewhat strangely, it was also wired into its own set of outlets throughout the Airstream. So they had one set of outlets that only worked on shore power and another set that was limited to the inverter's output.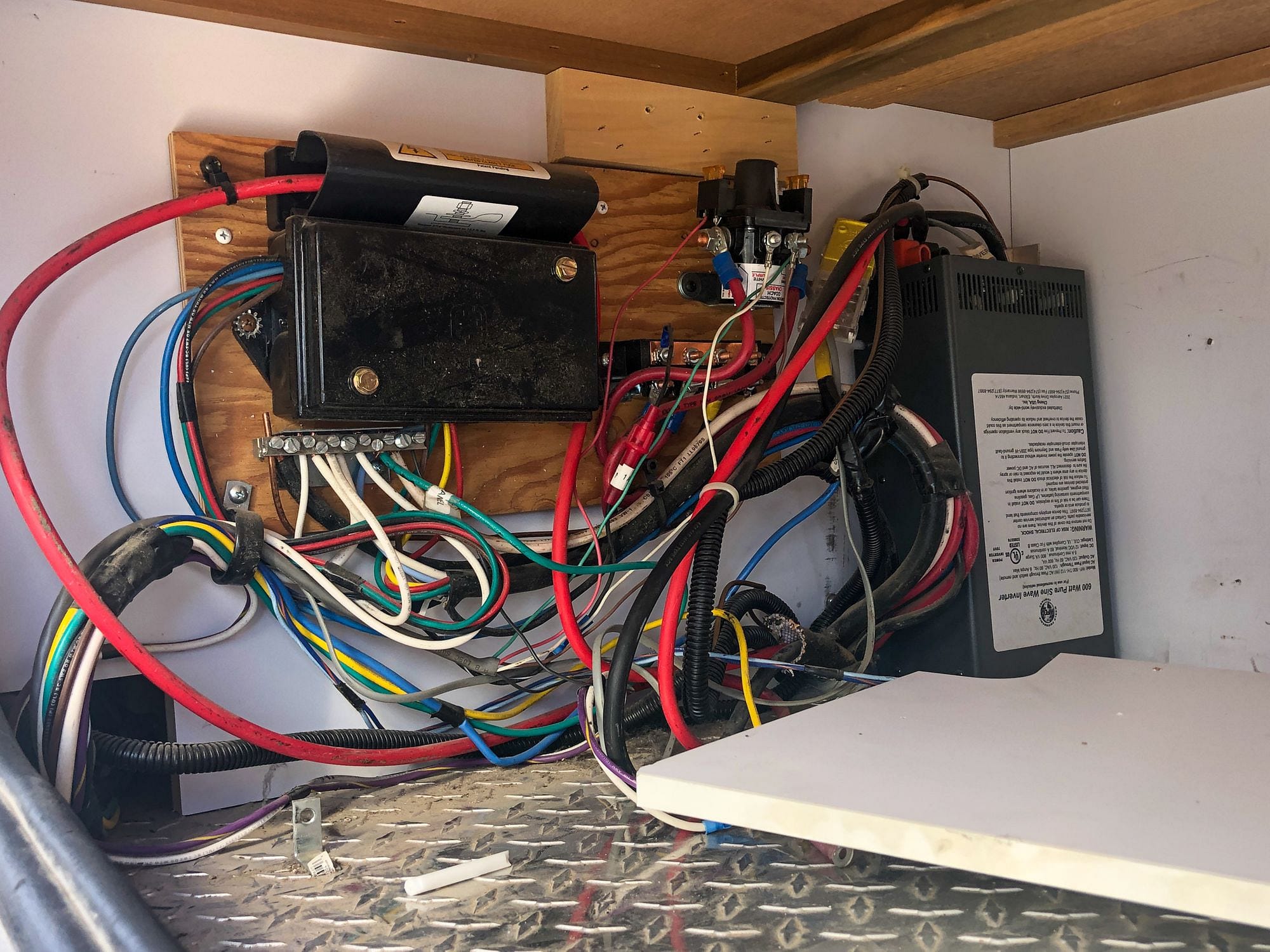 We removed the old 600W inverter and replaced it with a Victron MultiPlus 12/3000 Hybrid Inverter, rated to 3,000VA (or 2,400W) - plenty for their needs!
By running some new 10/2 Romex from the frunk, through some conduit, under the bathroom cabinets and back to the AC panel, we connected shore power to the inverter's input and connect the output to the main AC panel breaker so that all 110V devices in the RV can operate from the inverter.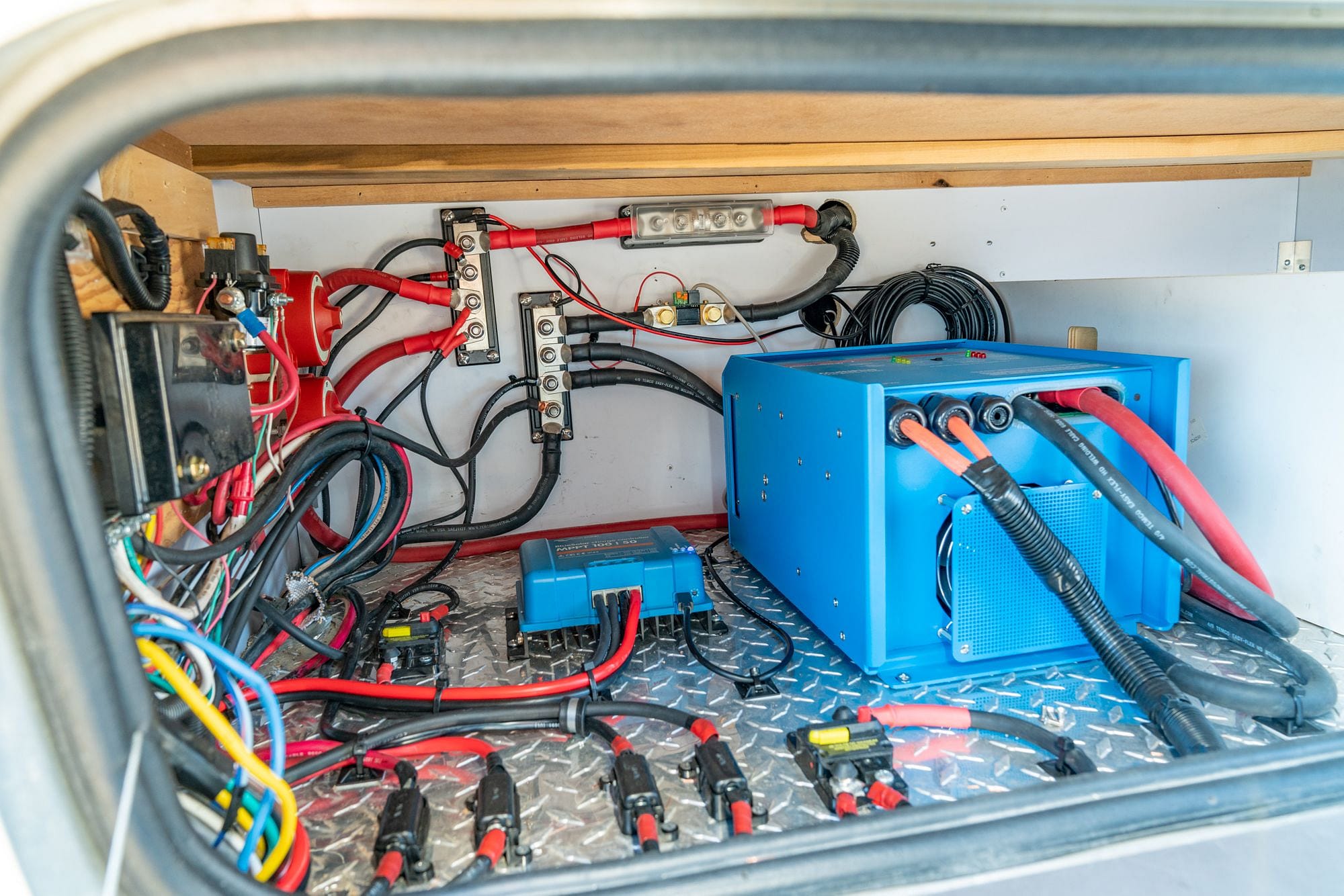 Better yet, we made use of an unused breaker (intended for the microwave which they didn't have) to wire in the outlets previously powered by the old inverter. The end result is that all outlets and appliances can now be run even while off-grid! Yes, that includes the Air Conditioning - we tested it and it worked fine!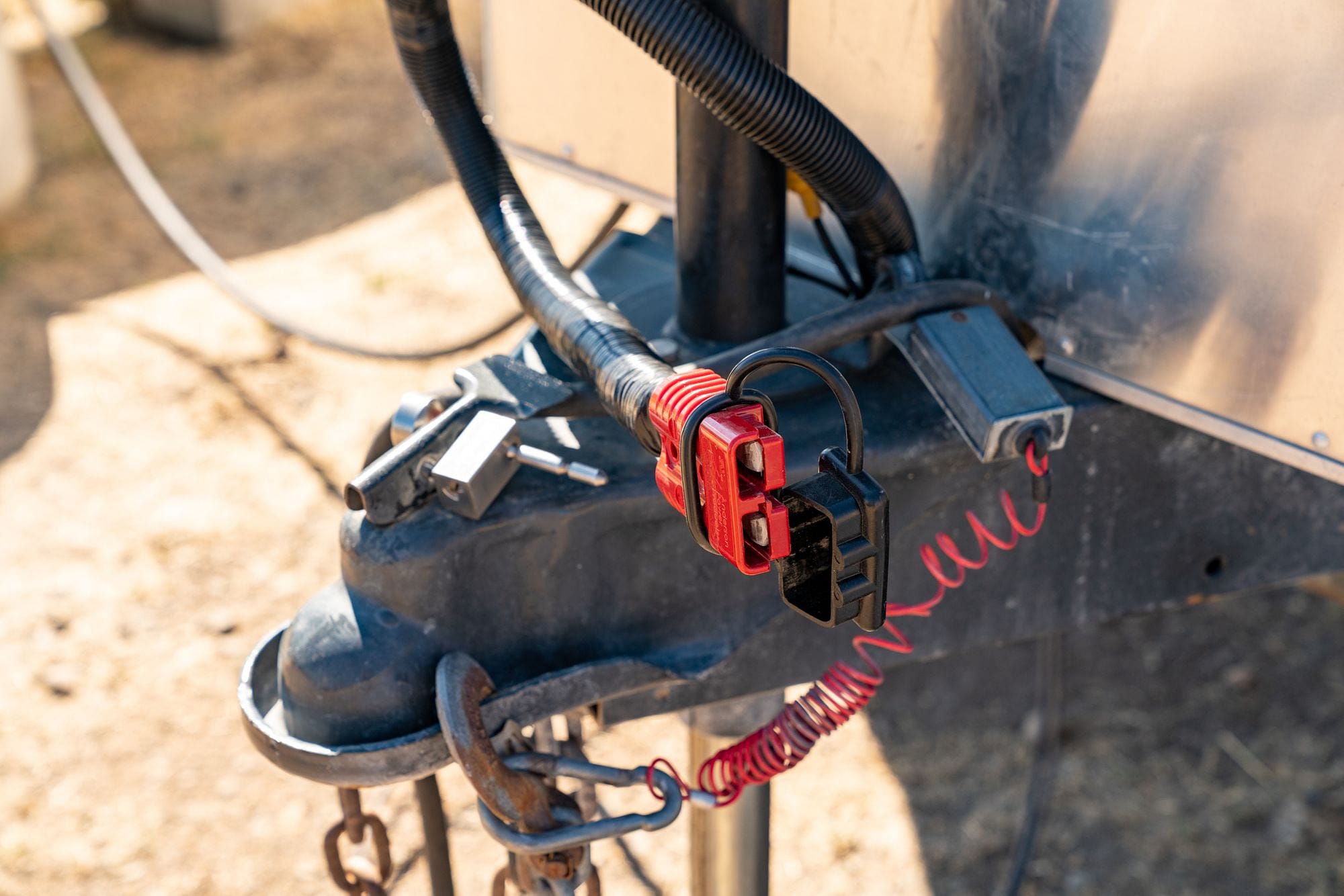 Progressive Industries EMS
Unfortunately, shore power in RV parks isn't always safe to connect to - the most common issue being low voltage which can seriously damage electrical appliances in your RV.
In fact, they had previously had to replace an AC unit that died after their RV had been plugged into a shore power hookup that was unable to provide a sufficient voltage.
To protect not only their new electrical equipment but also all onboard appliances against all sorts of shore power electrical issues, we installed a Progressive Industries EMS-HW30C. We were able to remove the existing converter-charger from beneath the DC panel (since the Victron MultiPlus would fill this role now) and install the new EMS in this space.
We installed a similar EMS on our own RV, and our blog post provides more details on the installation process.
This will protect their RV regardless of which of the two shore power hookups they use (at the front or on the side) and the HW30C display will alert them to any errors that it has protected them from.
Dual REDARC DC-to-DC Chargers
One of the most distinctive parts of their system is their dual REDARC BCDC1250D DC-to-DC chargers mounted on the tongue.
We have a single REDARC BCDC1240D charger on our trailer which gives us 40 Amps of charging power from our tow vehicle whenever we're towing. This was the largest model that REDARC made when we did our install, and is enough power to easily run the fridge on AC (so we can turn off the propane) while happily charging our 300Ah of Lithium batteries.
But Brian wanted to go big! So we installed not one but two 50 Amp chargers for a cumulative total of 100 Amps of charging power! Assuming nothing is running inside their RV, that's enough to charge their batteries from empty to full in just 6 hours of driving!
The REDARC chargers are resin-filled units that are completely weatherproof and are ideally mounted on a metal surface with good airflow. We installed them on the sides of the battery box on the tongue - the metal will provide good heat dissipation while airflow during travel will help keep them cool. We wired them in using REDARC's provided fuse kit.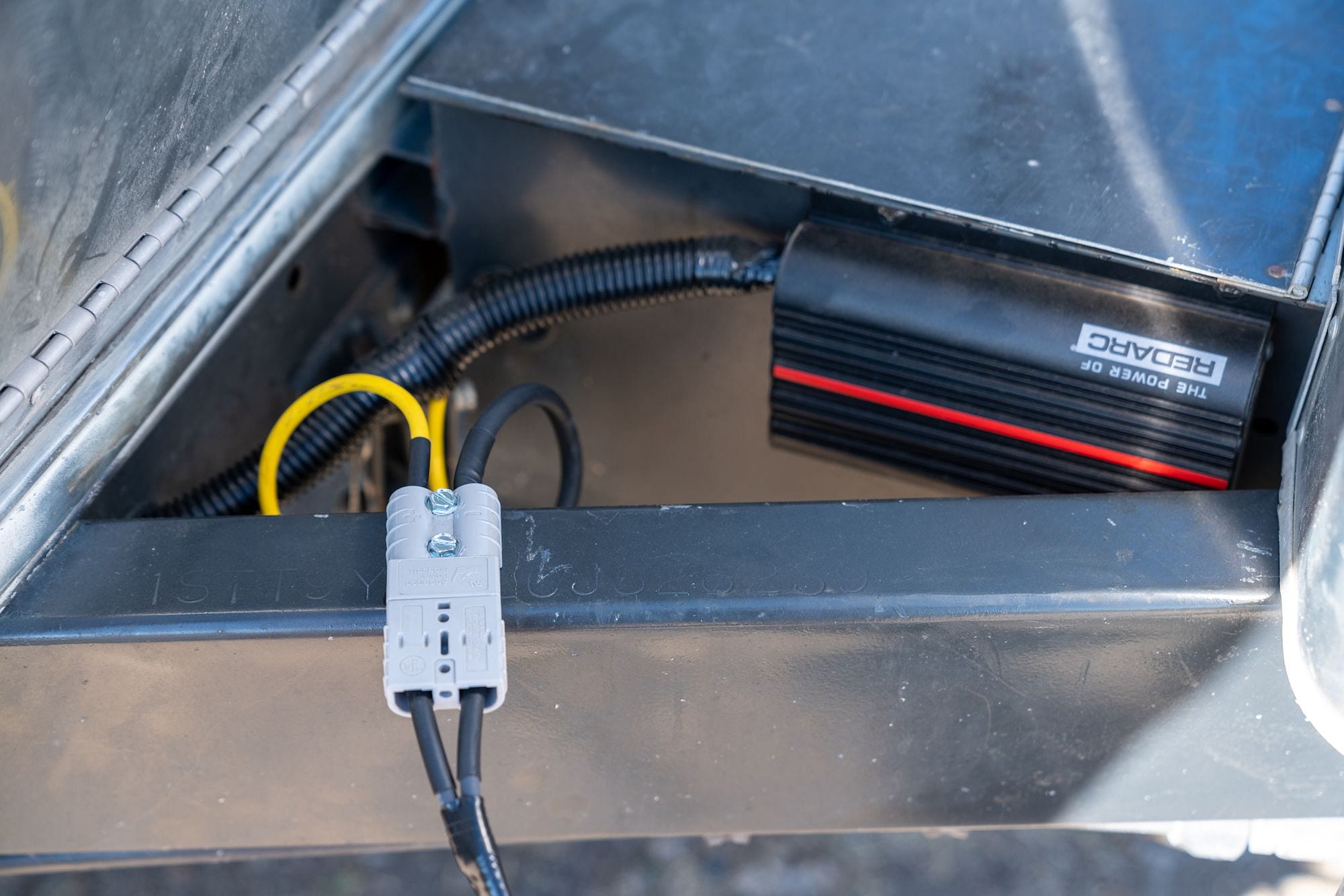 To provide power to them, we created a pigtail with an Anderson SB175 connector on the trailer. This plugs into a corresponding Anderson SB175 connector on their truck - mounted on the bumper and wired into the truck's 12V system with some 2ga wire and a 125A fuse. It also runs through a solenoid to ensure it is only powered when the engine is running so it doesn't drain the truck batteries.
Want to know more about how it's wired up? Check out the installation I did on our truck as it was almost identical.
While their Ford F-250 already has a 260 Amp alternator which should be sufficient to power the dual REDARCs, they're also planning to upgrade the alternator to a larger unit in the near future too.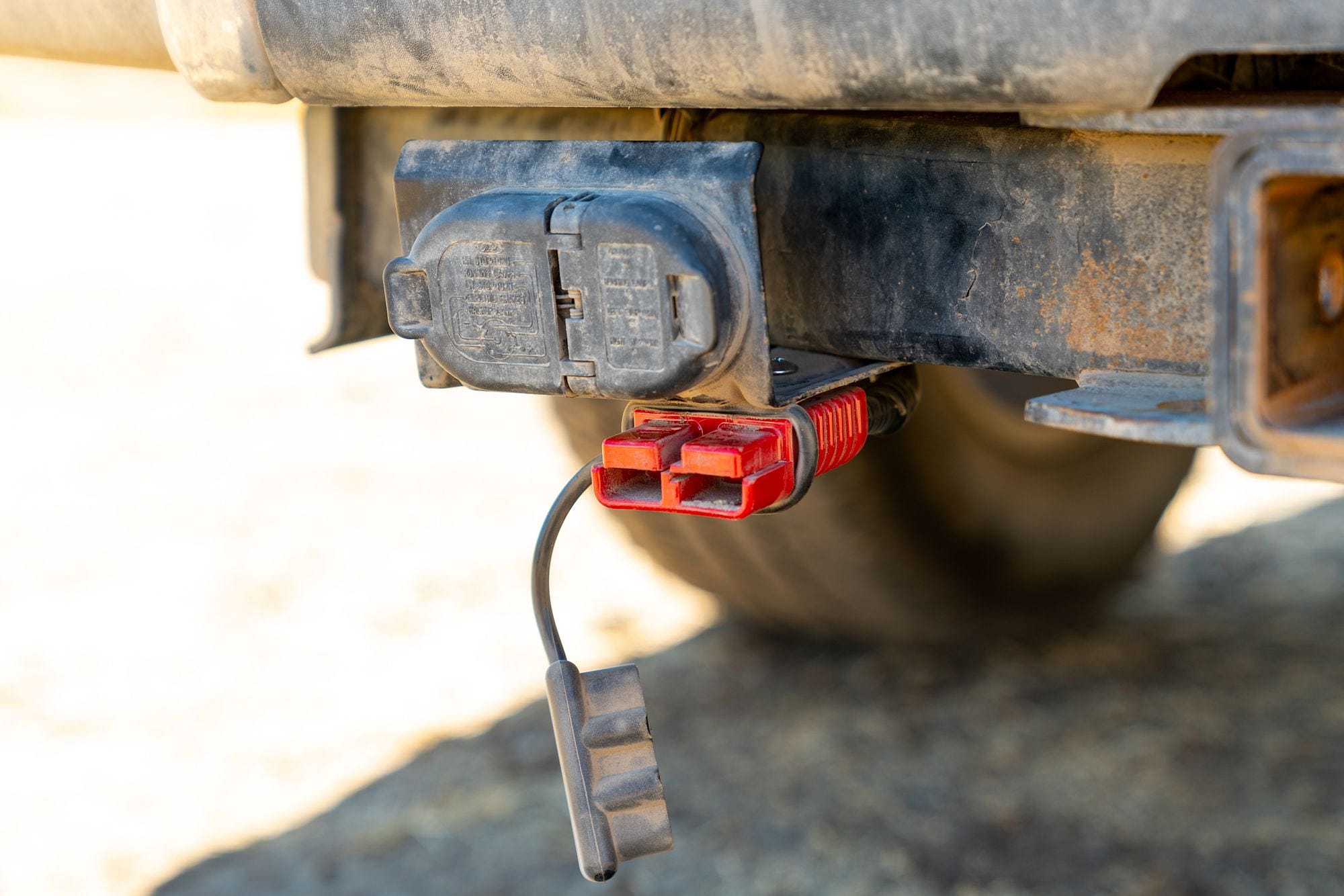 Remember the four 100W Zamp solar panels we removed from the roof? They've been redeployed as portable panels, connected with MC4 connectors and then plugged in to one of two Anderson SB50 connectors on the tongue with an MC4-to-Anderson SB50 extension cord I made. These connectors are wired to the MPPT input on the REDARC chargers, which can handle up to a theoretical maximum of 1400W of ground deploy panels between them!
Victron BMV & Victron Color Control GX (CCGX)
Last but not least, they need a way to monitor their new system. With lead acid batteries you can just look at the voltage, but that doesn't work with lithium batteries.
To monitor the batteries, we installed a Victron BMV-712. We put the shunt as close as possible on the main negative cable coming from the batteries - this is then connected to a negative bus bar to which all other negative cables are wired.
The BMV-712 provides a Bluetooth interface via the Victron Connect app available for iOS and Android.
We also installed a Victron Color Control GX (CCGX) which, when connected to the Victron MultiPlus, Victron BlueSolar and Victron BMV-712 gives a complete overview of the electrical system - how much solar is being produced, the state of the batteries, control of the inverter, etc.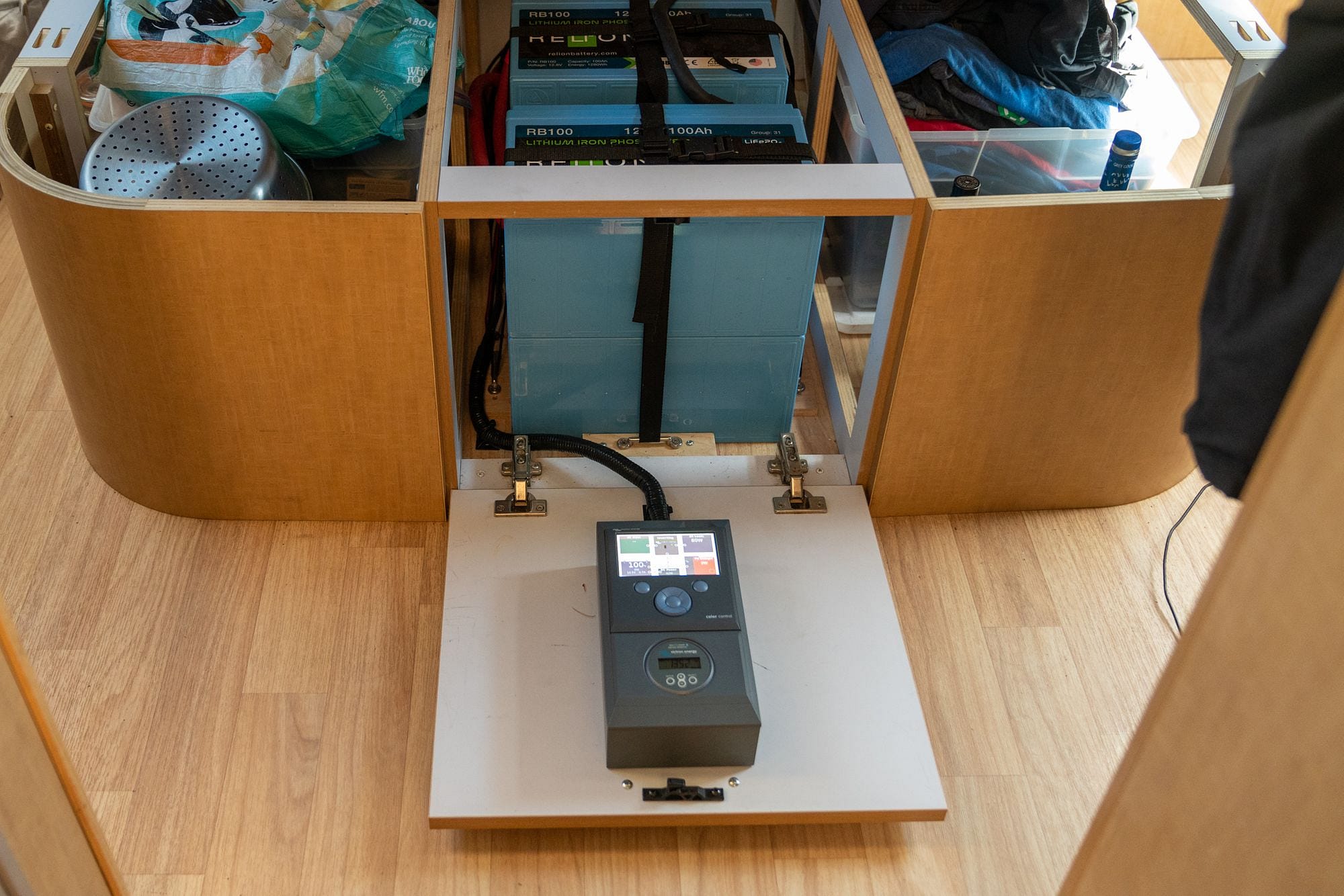 We struggled to find somewhere we could easily run wires for the CCGX, so we eventually decided to mount both the CCGX and BMV on Victron's wall mount enclosure on the door at the end of the bed.
While a somewhat unconventional location, this was a compromise between convenience and ease of installation. Furthermore, with the WiFi USB dongle connected to the Victron CCGX, they can remotely access the CCGX interface from their phones or laptops as necessary. Plus, we configured the CCGX to connect with the Victron Remote Management (VRM) portal giving them usage stats and remote control of their system from anywhere in the world!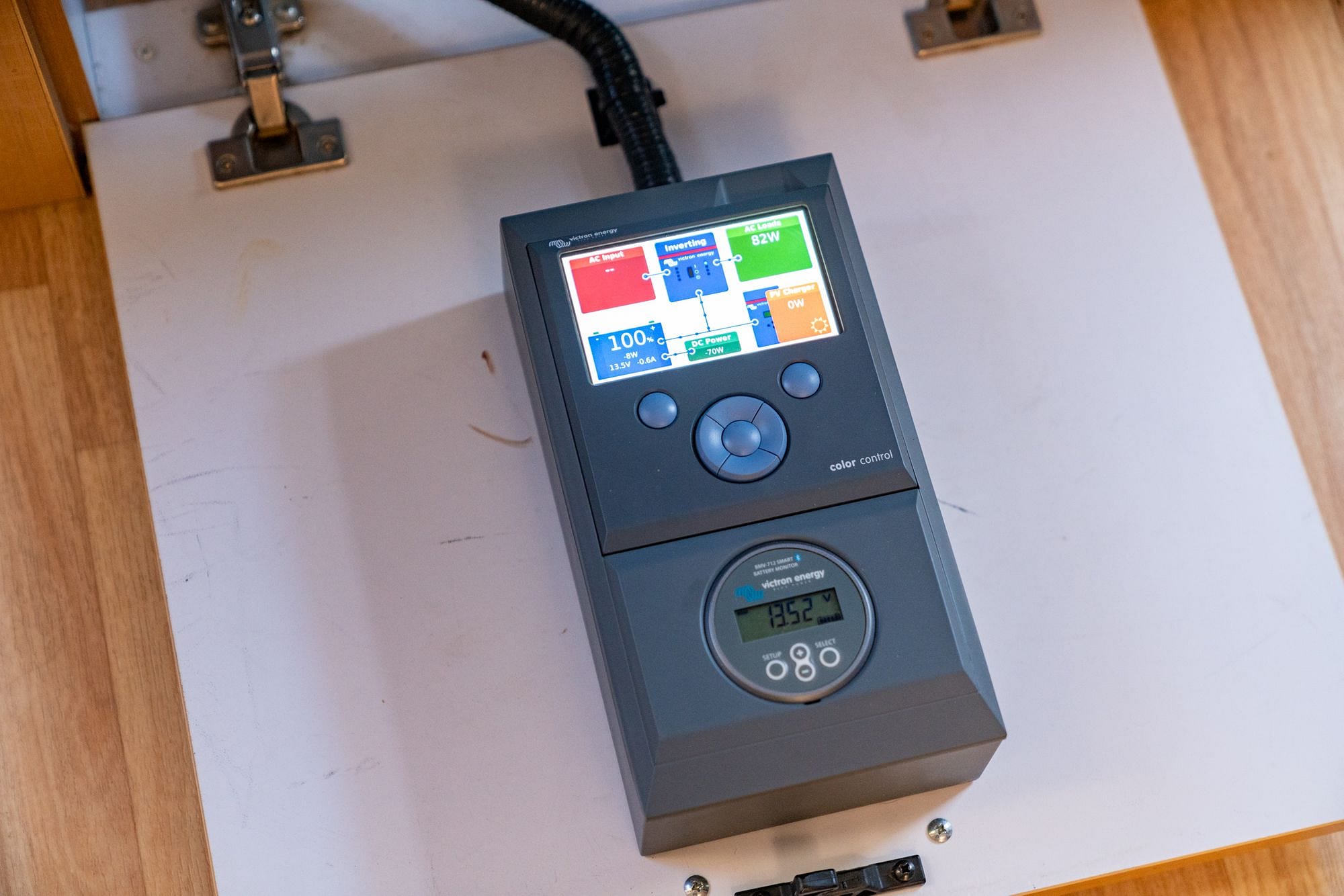 Summary
Brian and I spread out the installation over a couple of weeks - finding a few hours here and there where we could. We managed to do it with minimal disruption inside the RV, and did the whole thing while dry camping too - it was nice when we reached the point that we could run the heat gun from their RV rather than ours!
The end result is a massive upgrade in off-grid capability for them. While 600Ah of lithium batteries would be more typically seen paired with ~1,200W of rooftop solar, that would have been a much more complex install given the available space on the roof.
Instead, the 600W of Renogy solar panels on the roof already offers them an upgrade vs the 400W they had before, and in fact those panels are in use as a ground deploy giving them 1,000W total solar.
The Victron MultiPlus 12/3000 hybrid inverter charger will be a game changer for them, giving them the ability to run everything from the Instant Pot to the AC without hookups. And when they do hook up their truck to move to the next location, those dual REDARCs will provide an insane amount of charging capacity!
I was nervous about such a big electrical upgrade on an Airstream, but we really didn't run into too many issues and it went very smoothly! I'm very jealous of their new system and maybe next time we camp with them, we'll plug into their RV if our batteries need a boost!