As an Amazon Associate we earn from qualifying purchases.
Our big project this year is to construct a utility building on our new property, and install all the utilities - a septic system, well, electrical and fiber internet. While we build, we're going to be living on our land in our RV, and since there aren't yet any utilities, that means we'll be dry camping.
One of the reasons we chose our Outdoors RV 21RBS travel trailer is its comparatively large holding tanks for a 25ft trailer - 40 gallons grey, 40 gallons black and a massive 78 gallons of fresh water! This is enough for us to dry camp for up to 14 days before having to dump and fill our tanks again.
But once we get the RV onto our land this year, we don't really want to be moving it every couple of weeks - not just because it's a pain, but because during mud season the unpaved road to our property will likely be impassable with the RV in tow.
Our solution for refilling our fresh water was to purchase the Aquatank II portable water bladder.
Disclaimer: We purchased the Aquatank II and all the other products referenced in this article at full retail price with our own money. We have not been sponsored for anything in this blog post, and all opinions are our own.
Specifications
The Aquatank II is available in a number of different sizes:
Until you start hauling water, it's easy to forget just how heavy water really is!
Even though our truck bed is large enough and has enough payload to accommodate the 150 gallon bladder, we opted for the smaller, 60 gallon version for a few reasons.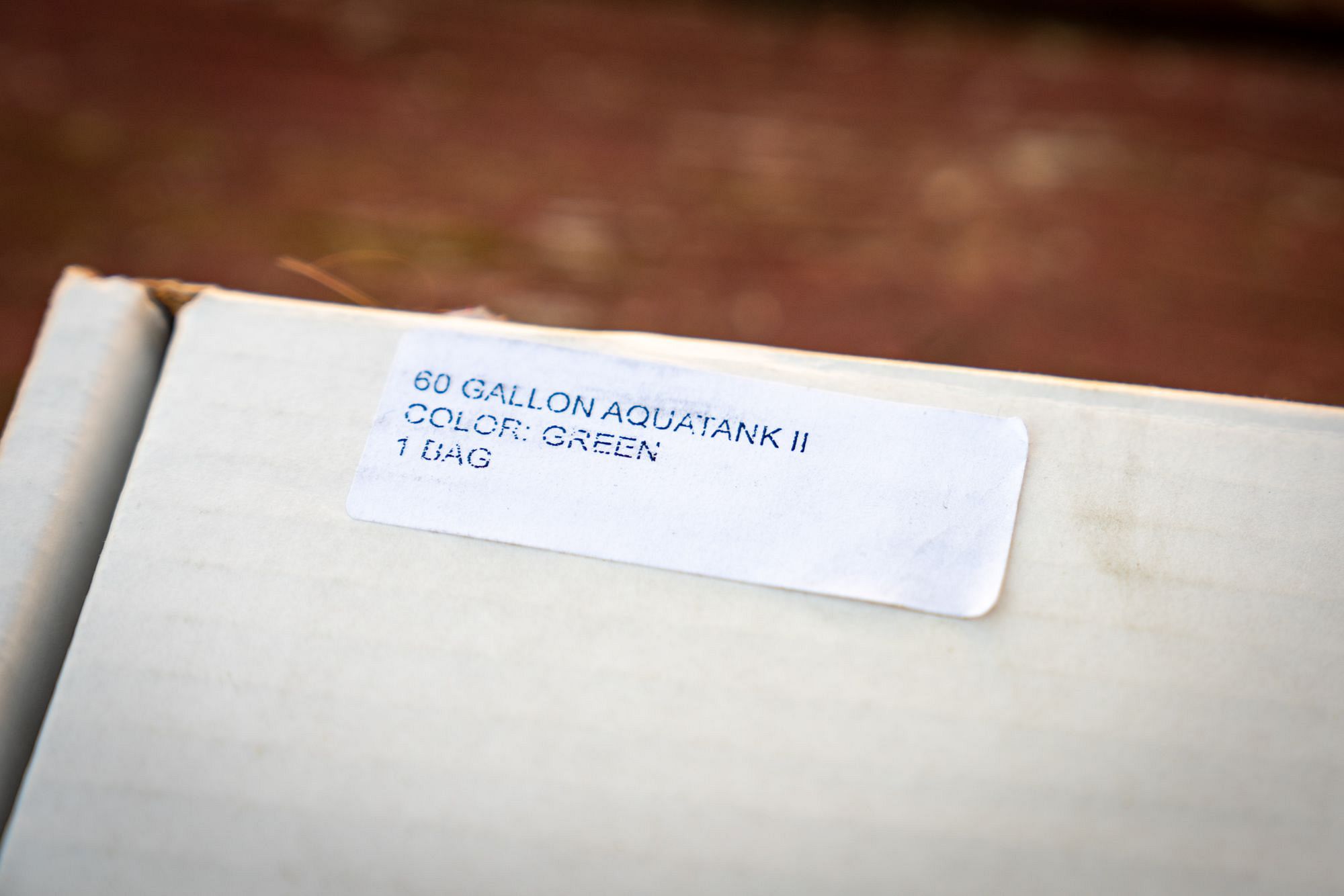 First, 60 gallons is more than 75% of the capacity of our fresh tank, so as long as we don't let it get completely empty, we'll be able to almost fill it in a single trip with the bladder.
By comparison, filling the 150 gallon tank would be enough to fill our fresh tank almost twice over which is totally unnecessary. We then either need to discard the excess or store it in the truck bed (rendering it useless for anything else), and particularly for the next month or so we'll have to worry about it freezing in the Vermont climate.
Also, consider just how large these water bladders are - the 150 gallon bladder is 4ft wide by 6ft long and 1ft high. That's big! If that's what you need then go for it, but I'd prefer something a little smaller and more manageable.
At half the size, just 3ft by 4ft, the 60 gallon bladder seems like a better fit. Not only will it easily fit inside the truck bed without completely filling it, but it's also small enough that we could carry it on a pallet using our tractor (with a lifting capacity of ~1,100lbs, the 150 gallon bladder would be too heavy for our tractor to lift when full).
A partially full water bladder seems to want to do nothing other than move around, so rather than buying an oversized bladder and part filling it, I'd rather make full use of the smaller bladder.
Fortunately we won't be traveling far with the bladder - a nearby neighbor has offered us access to fill up as often as we need.
Unboxing
Despite its large dimensions when full, the bladder being a flexible bag rather than a rigid plastic tank packs down very small. Deceptively small in fact - ours arrived in a box measuring 12" x 13" and just 3" high!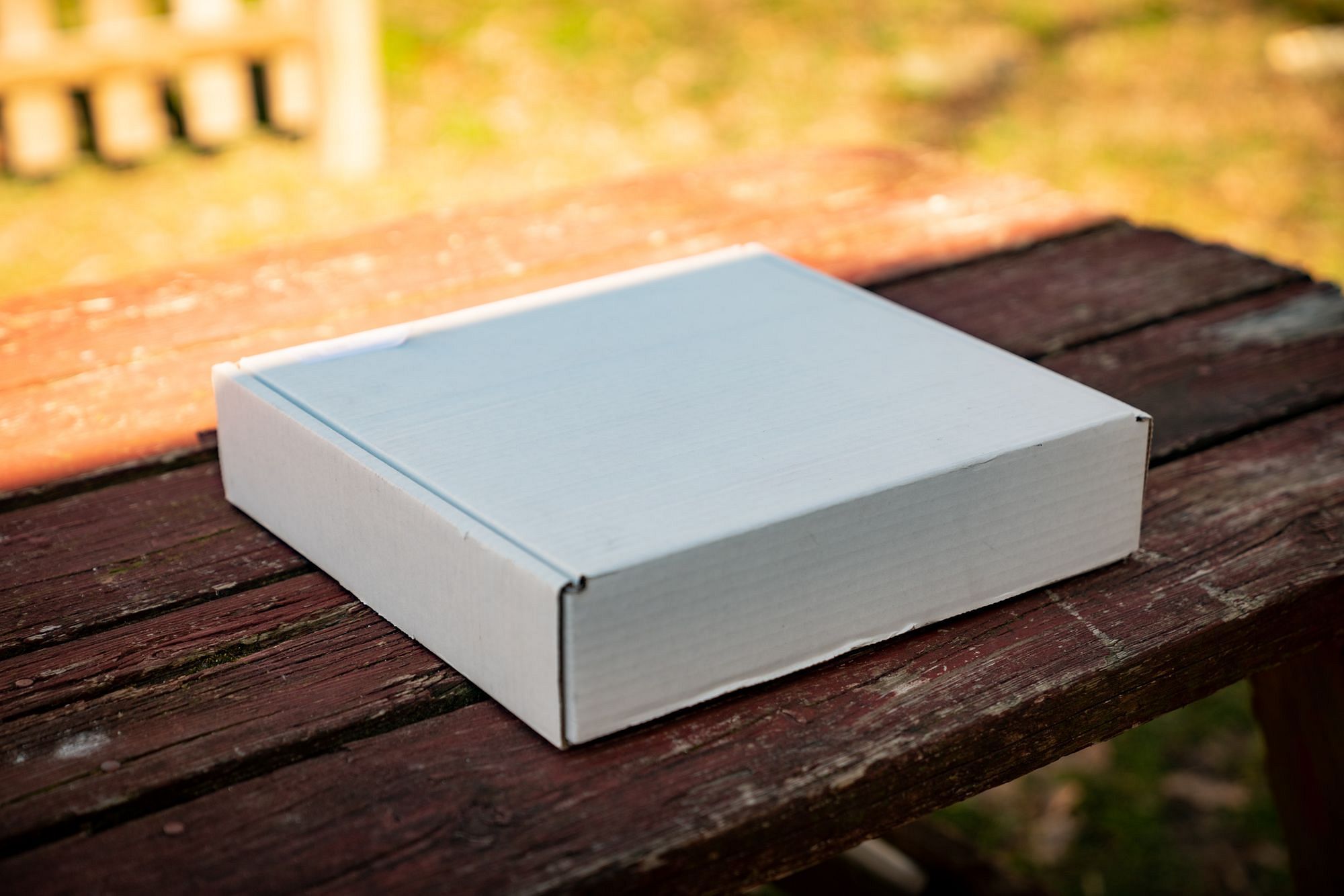 On opening the box, the first thing you see is a small plastic bag containing a sample of the material used in the bladder's construction, and a message encouraging you to test the strength and durability of the material prior to opening the plastic packaging on the bladder itself.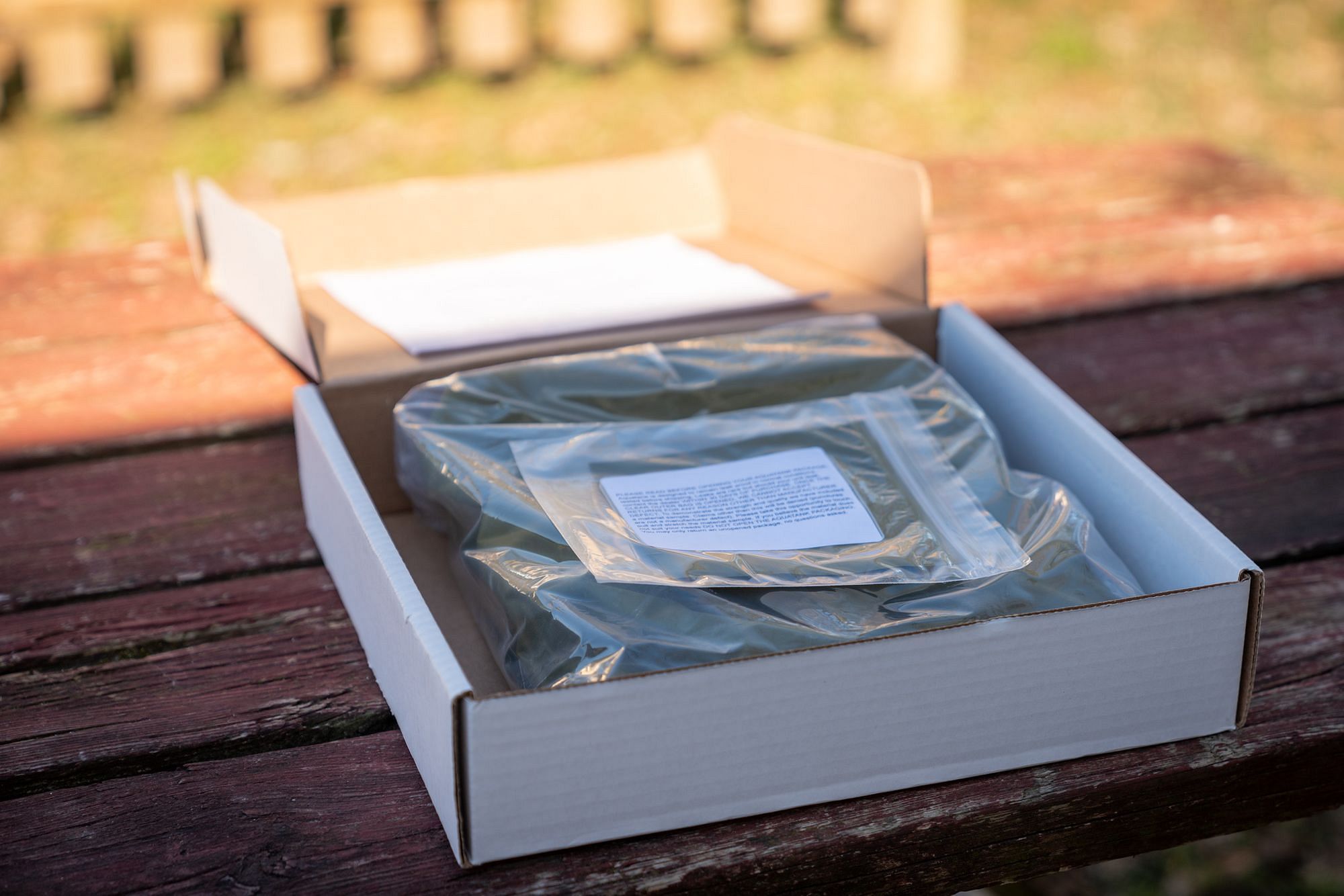 We took them up on the offer, pulling and stretching the material sample. We were both surprised at how thin it was, but after a minute or so of stress testing the fabric, we understood the manufacturer's confidence in its strength!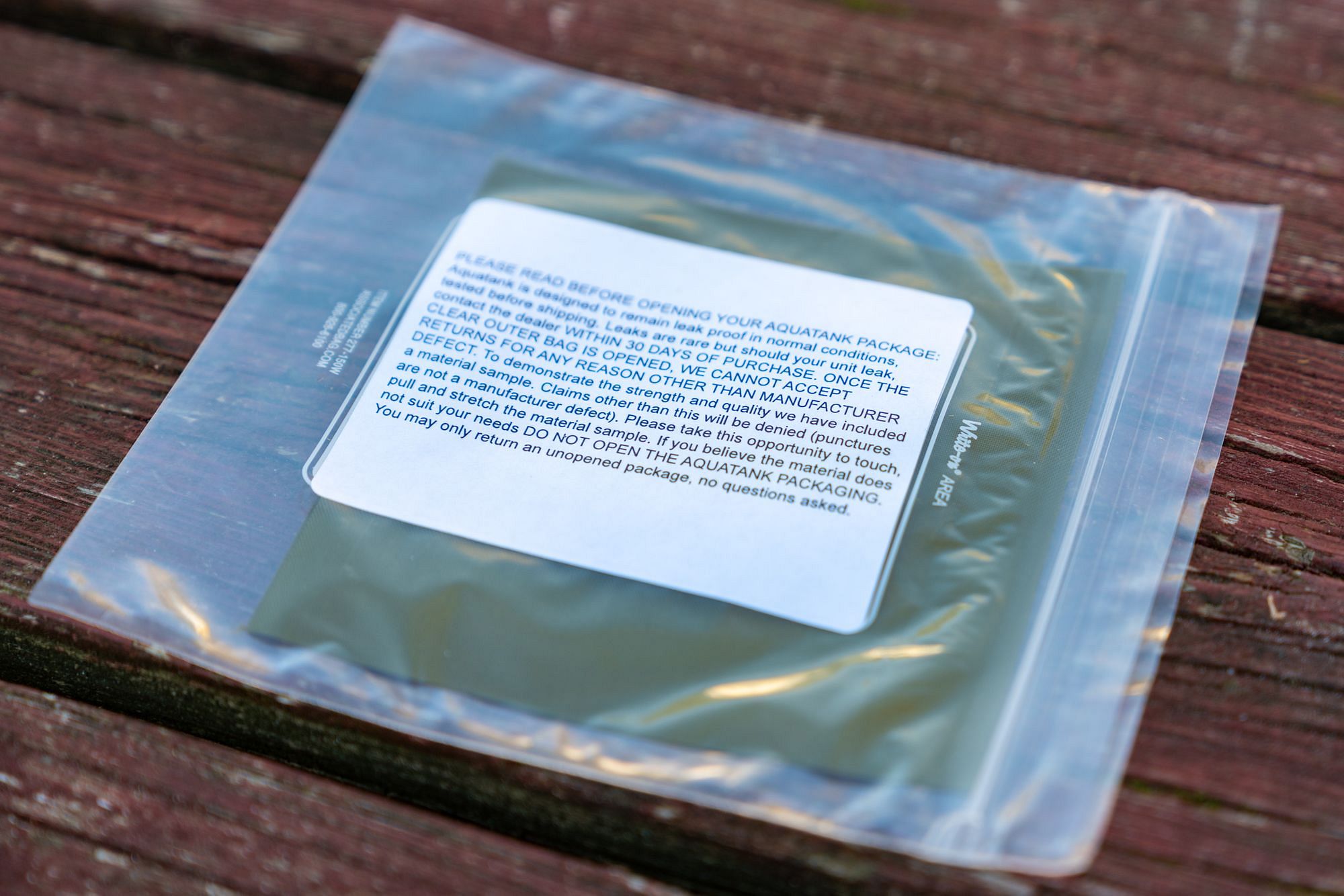 We even tried using a key to puncture the fabric and while I'm sure we'd probably have torn it eventually, it was significantly more resistant than we had expected!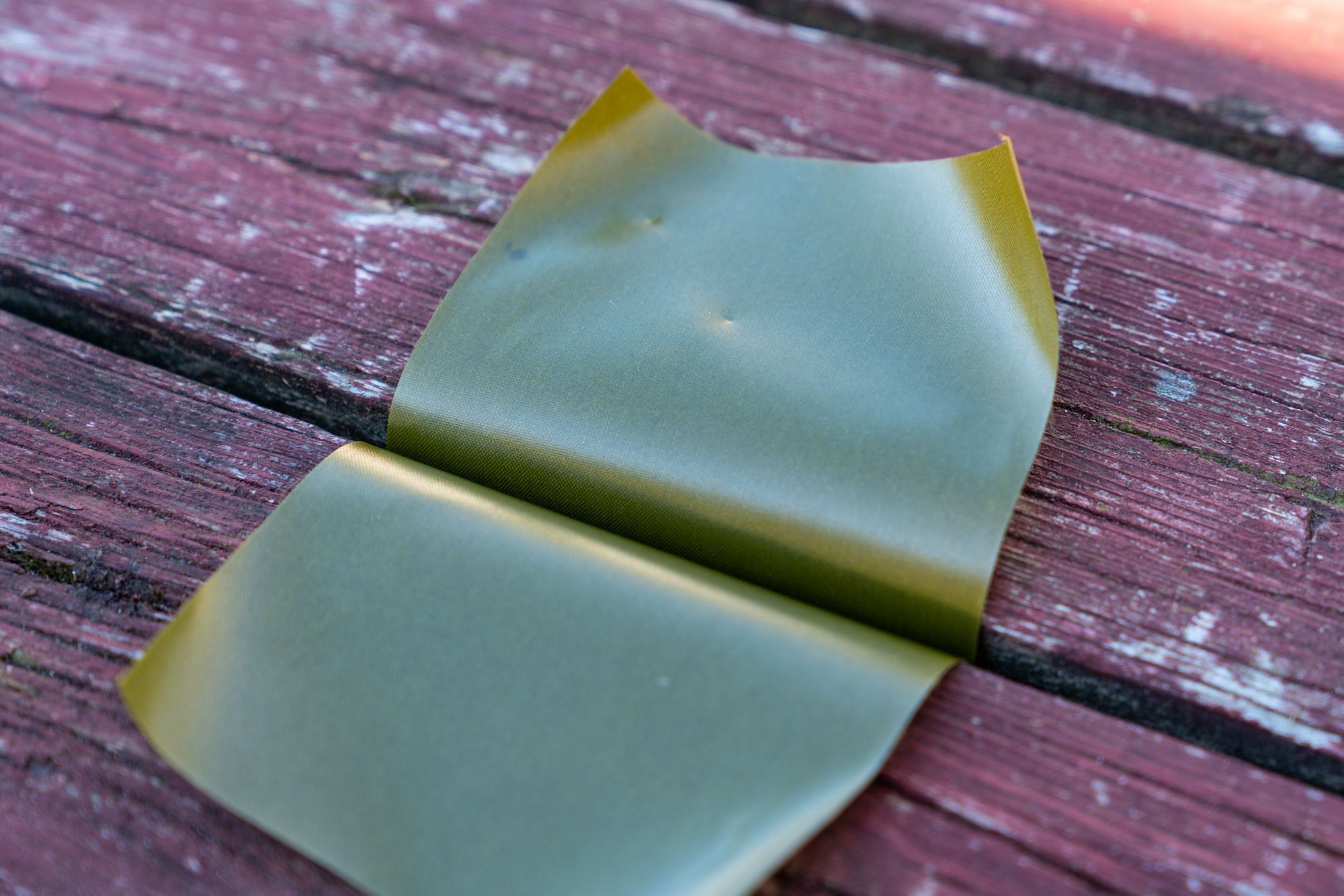 The bladder itself was in a sealed plastic bag, presumably so that one can be confident the bag is clean and safe to use given we'll be using it to transport potable water. It didn't appear as though there was any water inside so if they do leak test it as part of a QC stage, they must thoroughly dry it too - my suspicion is that the construction is simple enough that a leak test is unnecessary which is why the bag is dry.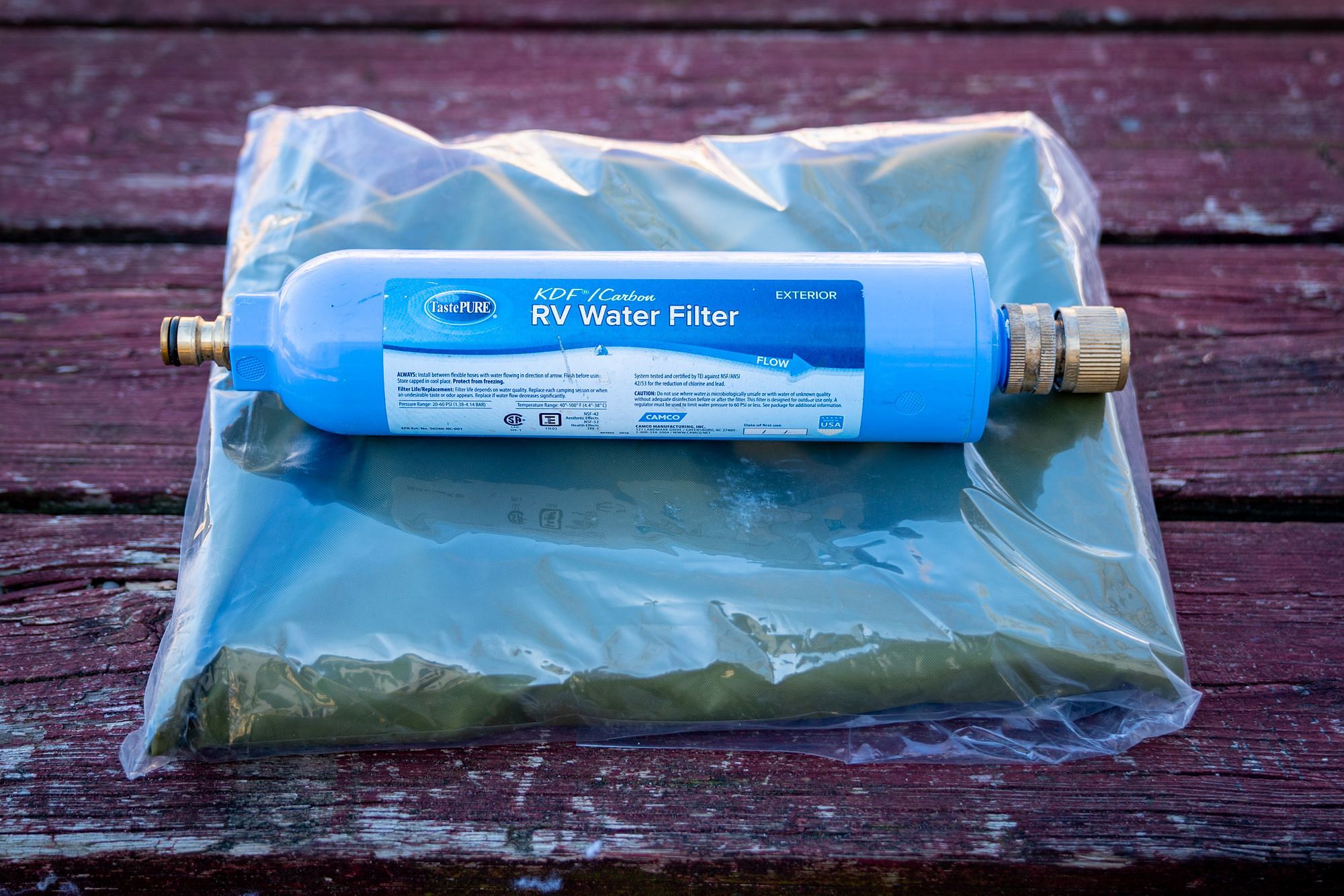 There are two short hoses sticking out of the bladder - an inlet hose that goes on top and an outlet hose underneath. The inlet hose has a female threaded connector with a male threaded cap installed, while the outlet hose has the opposite.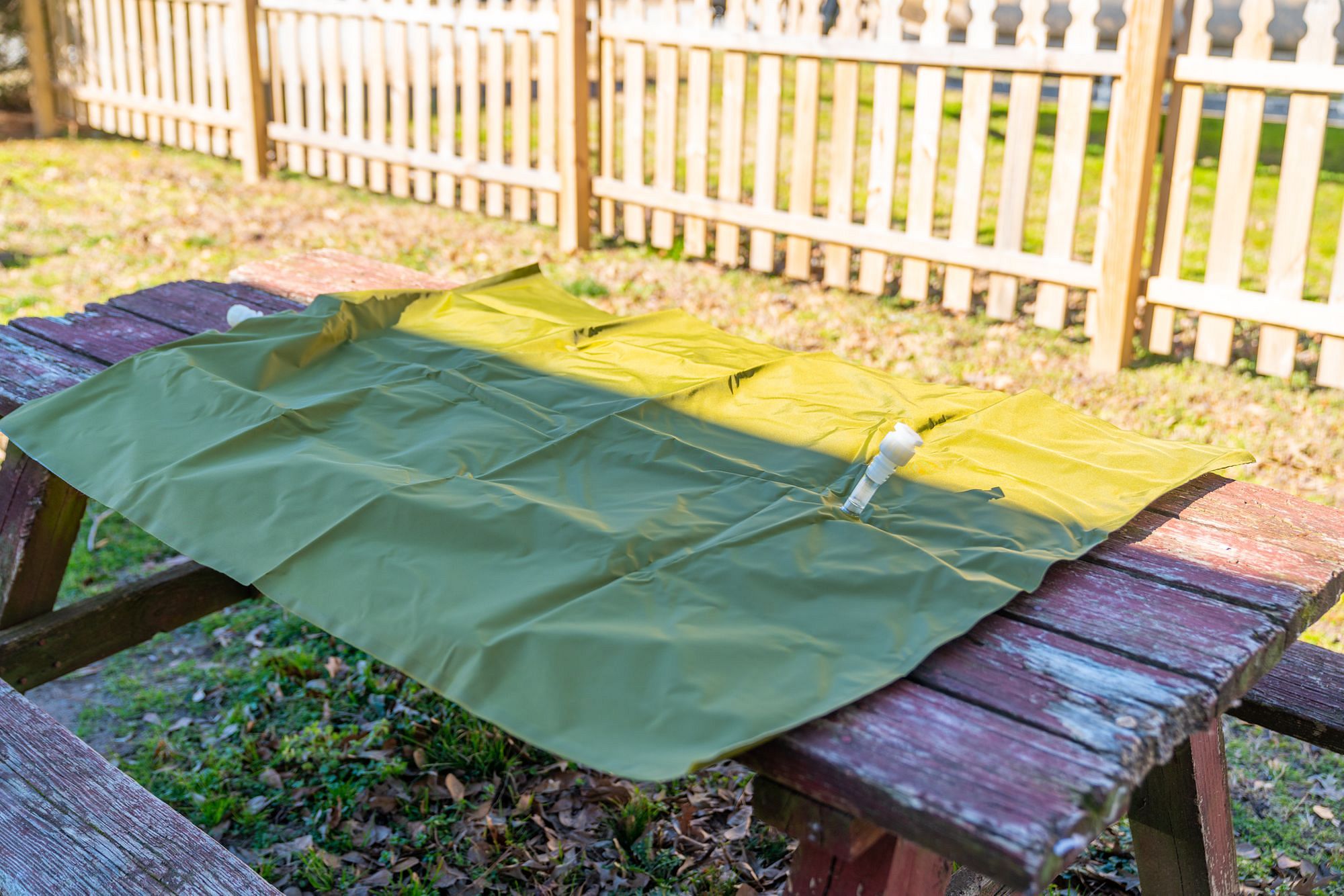 Along with the bladder the only other part is a black plastic shut-off valve. With both male and female sides, it can be connected to either the inlet or the outlet, but the outlet is the more useful application since the inlet is on top of the bladder anyway.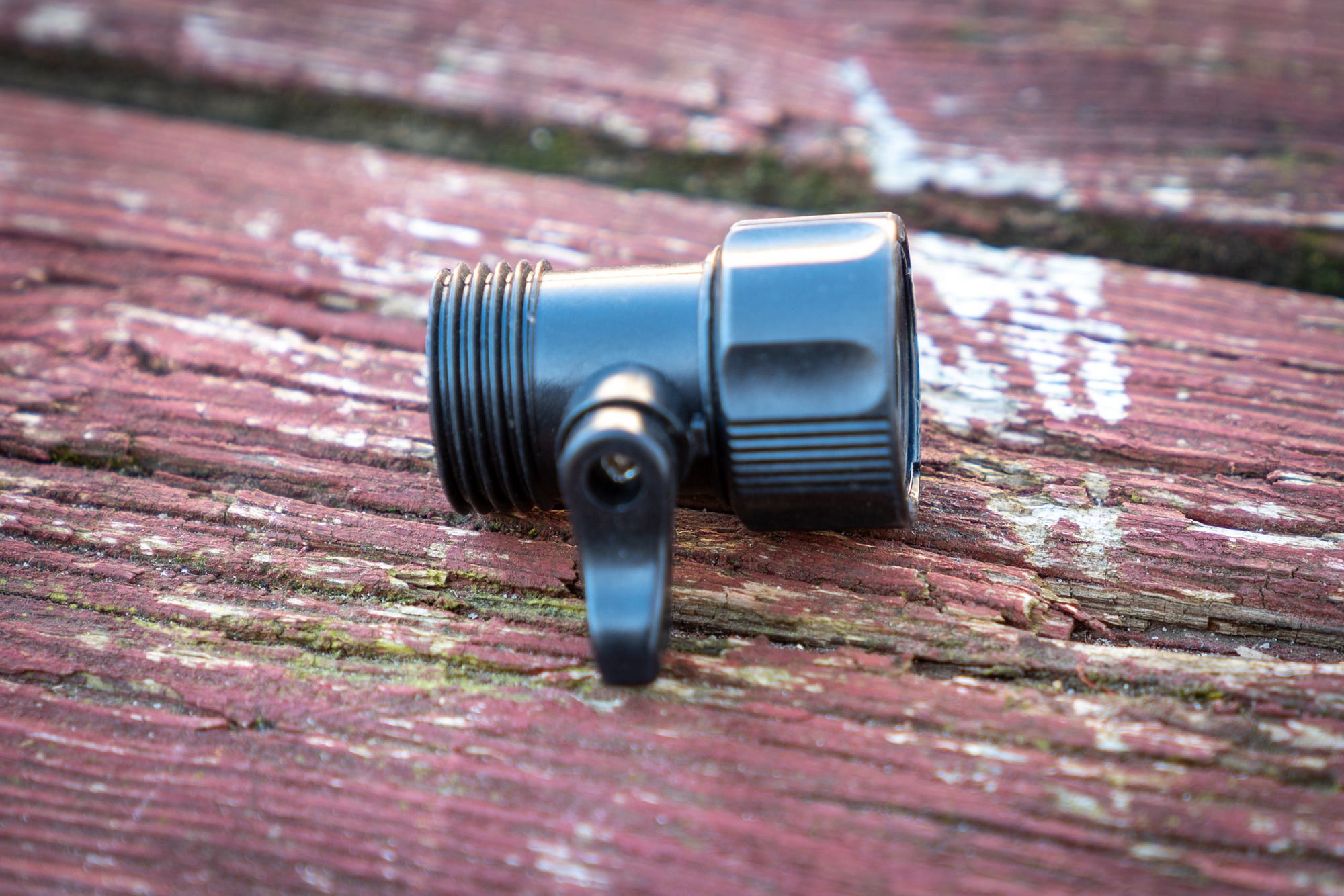 Initial Rinse
The included instructions advise cleaning the Aquatank II before first use by adding 3-5 gallons of water and about 8 drops of bleach per gallon. The bladder will only ever be as clean as what you put in it, so we elected to use our RV water filter on the hose while filling the bladder.
We laid the bladder out on our campsite's picnic table to fill it, checking there were no exposed screwheads or any other sharp items that might damage the bladder - the instructions advise to lay down a tarp first if the surface you're putting the bladder on isn't smooth.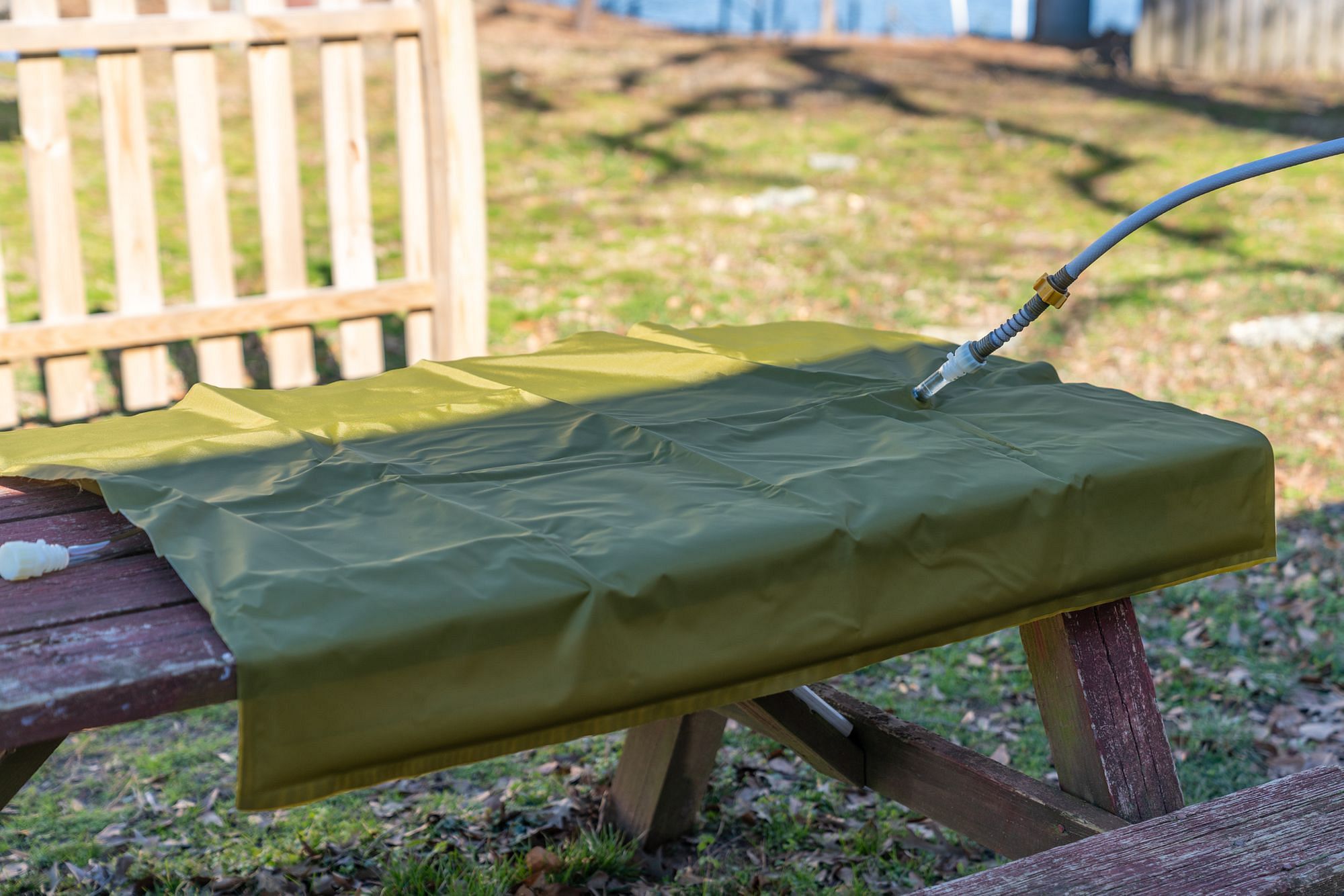 We added several gallons of water, and used a small funnel to pour in the correct amount of bleach, before capping the inlet and sloshing the water around inside to make sure everything was disinfected.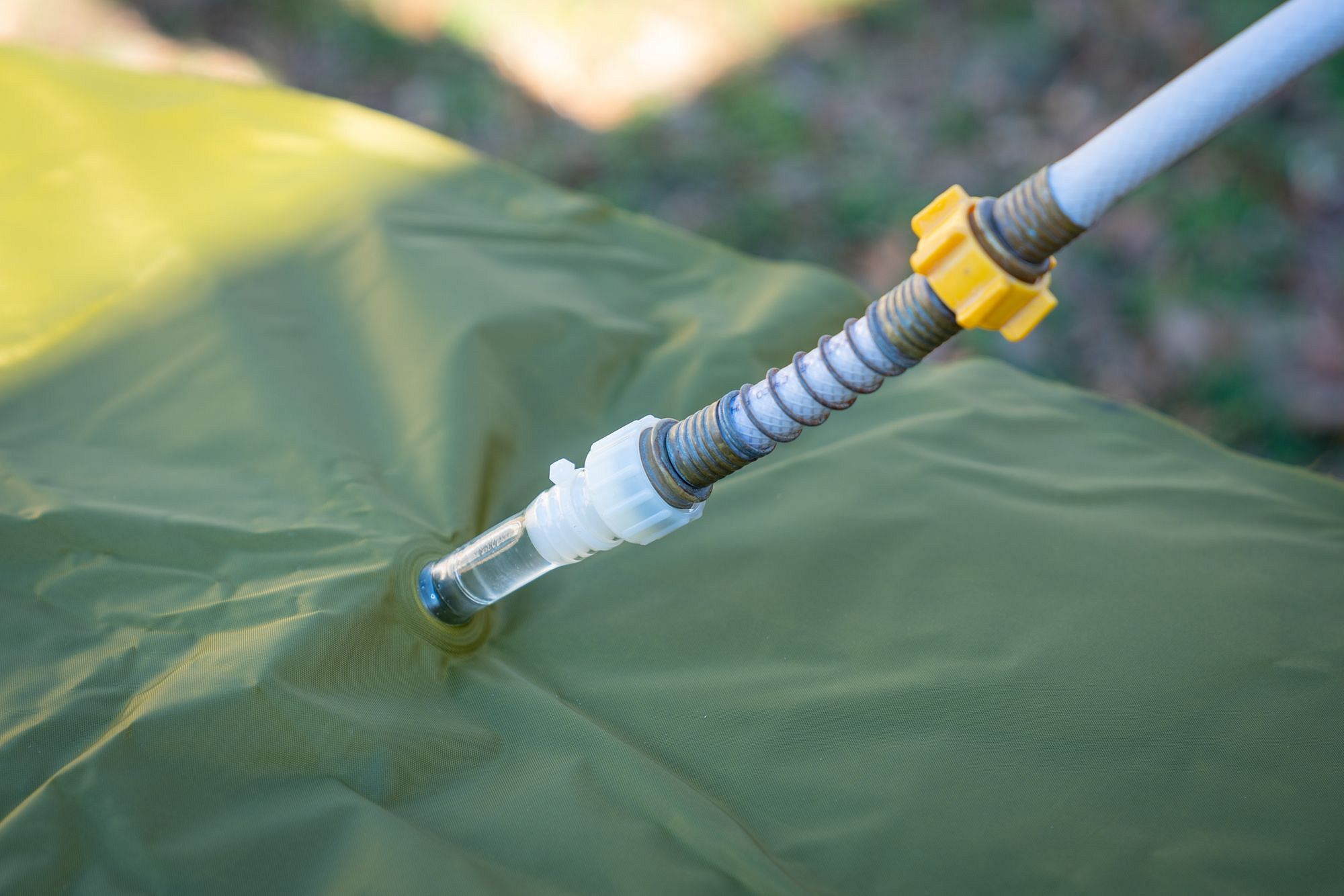 Since the picnic table we were using was a little narrower than the bladder, all it wanted to do was roll off the table - a testament to my earlier concerns about partially filling a bag! It took two of us to keep the bag from falling off the table as we sloshed the disinfectant solution around.
Once we were confident the Aquatank II was adequately disinfected, we carried the bladder inside and poured the contents down the drain in the shower.
With the bladder now ready for use, we folded it up back into the box until we need it in a week or two once we're back in Vermont.
Transfer Pump
We'll be filling our bladder, either in the truck bed or on a pallet on our tractor forks, from a pressurized hose. We did a similar thing when we were staying with friends in Washington back in 2020 - once a week or so, Brian and I would head into town and fill a water bladder to take back to the RVs.
How long it takes to fill really depends on the water pressure of the hose you're filling with, but I'm expecting it to take somewhere around 5-10 minutes to fill from a residential water supply.
Getting the water from the Aquatank II into the RV at the other end is a different story. While the truck bed is slightly higher than the fill point on our RV, draining it by gravity alone would be a slow process.
To speed this up, we have also bought a 12V water transfer pump that we can power either from our portable 12V battery pack, or from the 12V Anderson connector on the back of our truck - this again is exactly the same process Brian and I used back in Washington.
The pump has a theoretical maximum flow rate of 300 gallons per hour, or about 5 gallons per minute which means it would take about 12 minutes to drain the 60 gallon bladder when full. In reality it may be a little slower, but this is still substantially faster than gravity flow alone, and gives us more flexibility about where we position the truck to fill the RV tank.
In addition to refilling the RV, the transfer pump also means we can use water directly from the bladder elsewhere - e.g. for rinsing dirt off logs we're going to mill, or even with a hose attachment to rinse our trailer down (although we're not expecting much pressure).
Wastewater Disposal
Filling our fresh water tank is all well and good, but what about emptying our grey and black holding tanks? Well, we have a couple of solutions in mind for that.
Our preferred option is simply to have a local septic pumping company empty our tanks once a week or so.
If that isn't an option, we have also bought a 50 gallon gravity feed bag designed for toxic waste cleanup and a macerator pump. This combination will allow us to empty the tanks and take them to a dump station off-site without moving the RV.
We'll share more about that setup and how well it works if and when the time comes to put it to use, although secretly I'm hoping we won't have to use it!
Summary
One of our first priorities this year will be to have a well drilling company come and drill a well for us so we can begin pumping fresh water on our own property. Until then, we're reliant on hauling in water from off-site, and the Aquatank II portable water bladder combined with a 12V transfer pump are the perfect solution.
Hopefully we'll have our new well some time this summer, but I expect the Aquatank II to have a useful life for far longer - perhaps hauling water for irrigation around our property, or even just for us when we go on RV adventures in future!
Its strong and durable construction give me confidence that this is a product built to last, while its compact size means we can easily pack it away when not in use.
If you're not already, make sure to subscribe to stay up-to-date with the latest news and product reviews, as we'll share updates on our experience over time with our new Aquatank II portable water bladder.