As an Amazon Associate we earn from qualifying purchases.
Welcome to Vermont
Last week, we finally got around to updating the map on the side of our RV with all the states we've been to recently. Everyone does this differently, but we put a state's sticker on once we've stayed there overnight since we've been RVing. We don't need to have been there with the RV though - otherwise Hawaii and a few others might get a little tricky!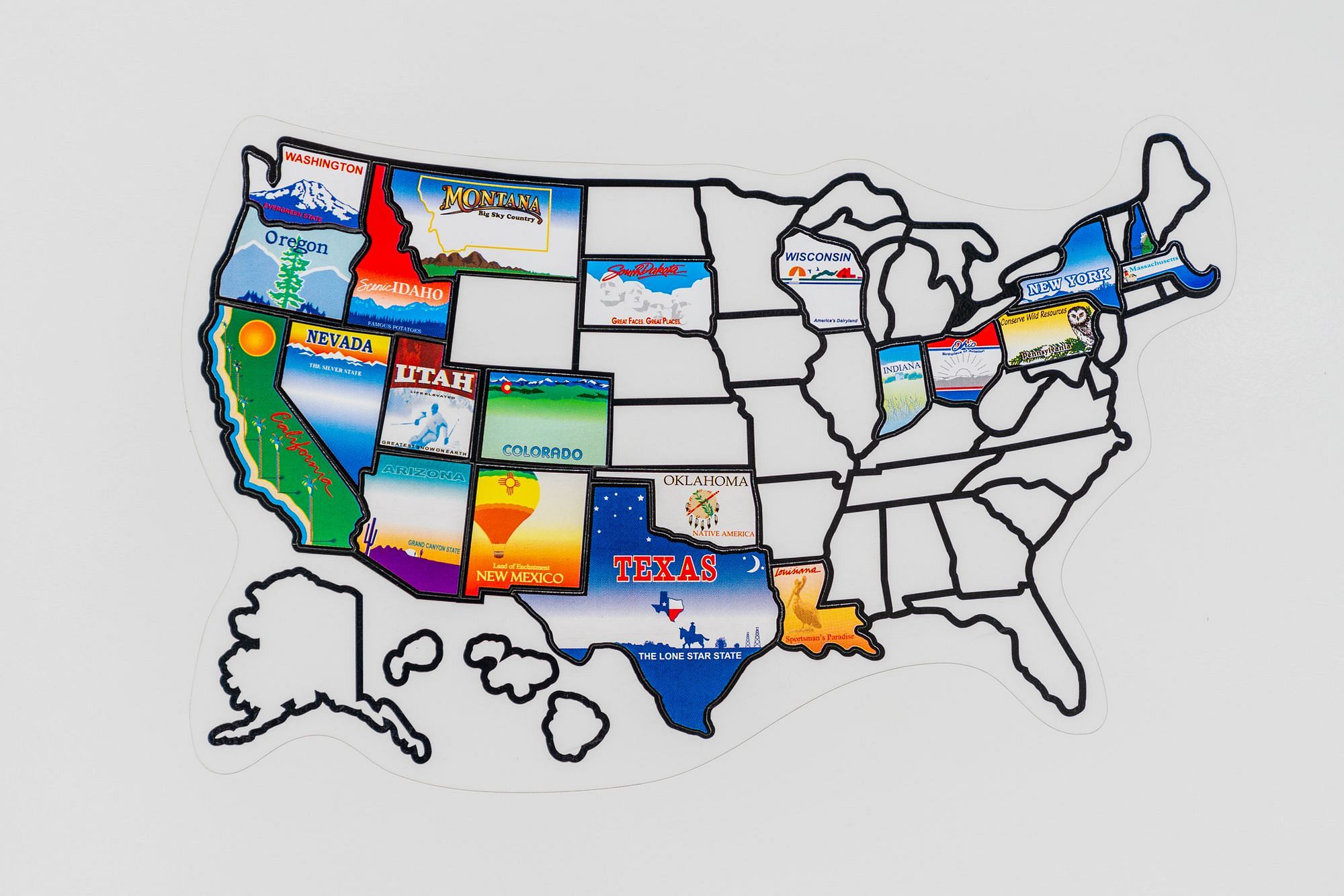 After spending about 6 weeks in New Hampshire exploring the fall colors, last weekend we were back on the road.
Our destination was Vermont, where we'll be camping for the rest of the winter. While the weather will be (very) cold, we're looking forward to a new experience - and of course, skiing!
Quarantine
Vermont still has some fairly strict travel restrictions, and we have to quarantine on arrival for 14 days. Quarantine here means no travel whatsoever, so before we left New Hampshire we stocked up on groceries and supplies to comfortably get us through 2 weeks - we're getting pretty good at that now!
We made it safely to our new destination, and have been getting settled in our new winter spot. The campground is beautiful, the sites are nestled among the trees and we've been waving hello to our new neighbors who all seem really friendly.
There's a real sense of community here - everyone preparing for winter and looking out for one another.
RV Skirting
The freezing conditions of the past few weeks have temporarily receded, giving way to some very nice weather. The last few days have been around 70°F, and I've been back wearing a t-shirt and shorts again! While it won't last long, it's been much appreciated as a major focus for us has been getting our RV skirting installed.
Skirting an RV means covering the gap between the bottom of the RV and the ground. This stops cold air blowing underneath the RV, helping not only to protect the plumbing, but also creating a slightly warmer bubble of air under the RV and keeping us warmer inside.
There are many ways to skirt and RV, and after a lot of research, we decided to install foam boards. We'll be in one place all winter and didn't really need something to last us multiple years (we'll worry about that next time!), and foam board seemed to be the cheapest and most effective solution.
So on our drive up here, we stopped in at a Home Depot in New Hampshire and picked up five 8ft x 4ft boards of 1½-inch thick pink foam insulation board.
Fun fact: it turns out we can fit exactly five of these boards inside our trailer - although we did have to put the slide out initially to get them inside! With the slide back in, they were all nice and secure.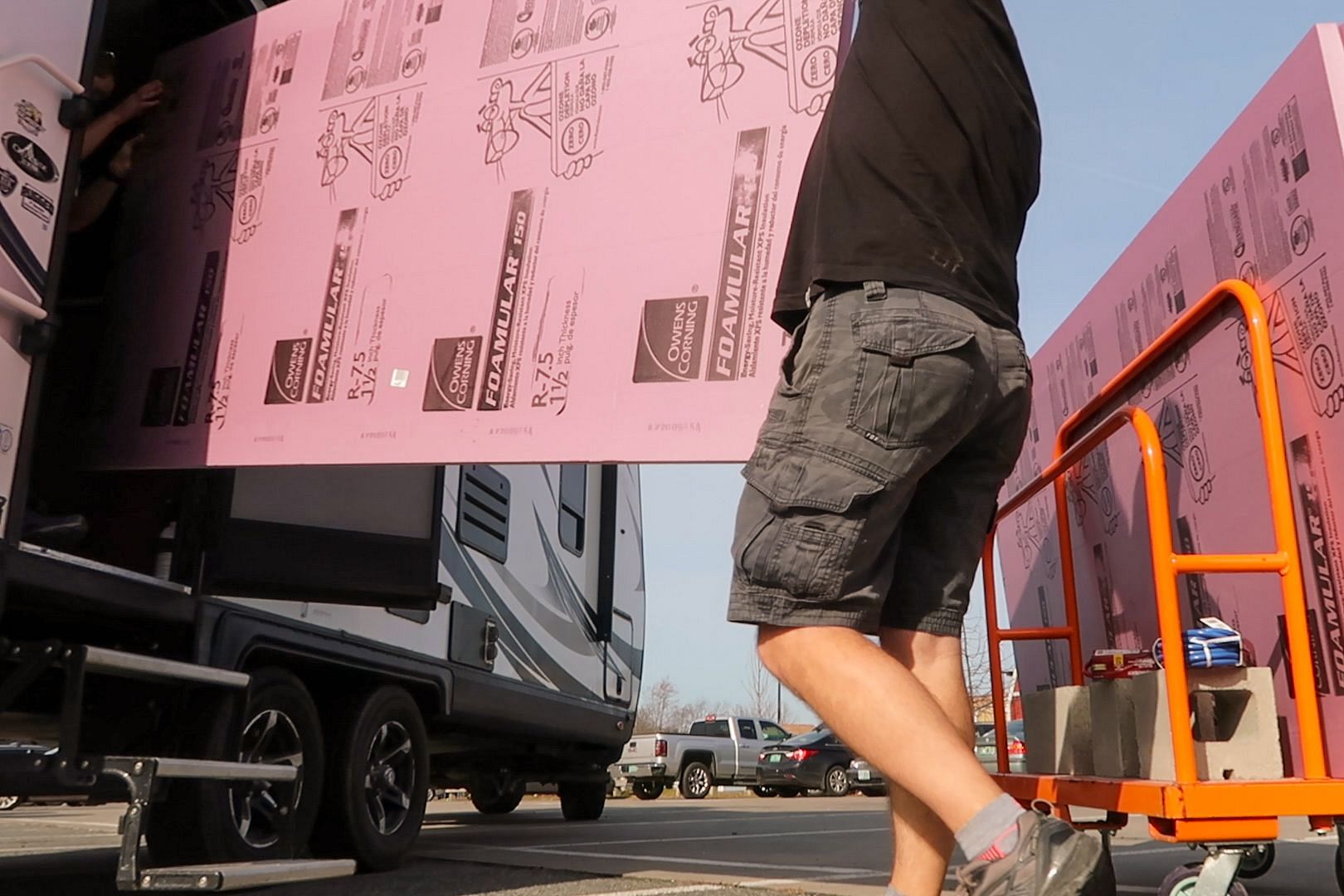 The board is really easy to cut with a utility knife and snap. We found that unlike with conventional DIY where the recommendation is "measure twice and cut once", it worked better to "measure once and cut four times" - we were able to trim pieces to fit perfectly. We sealed it with some Nashua Extreme Weather Foil Tape which worked really well, but the foam boards are held in so snug that they'd pretty much hold without tape anyway!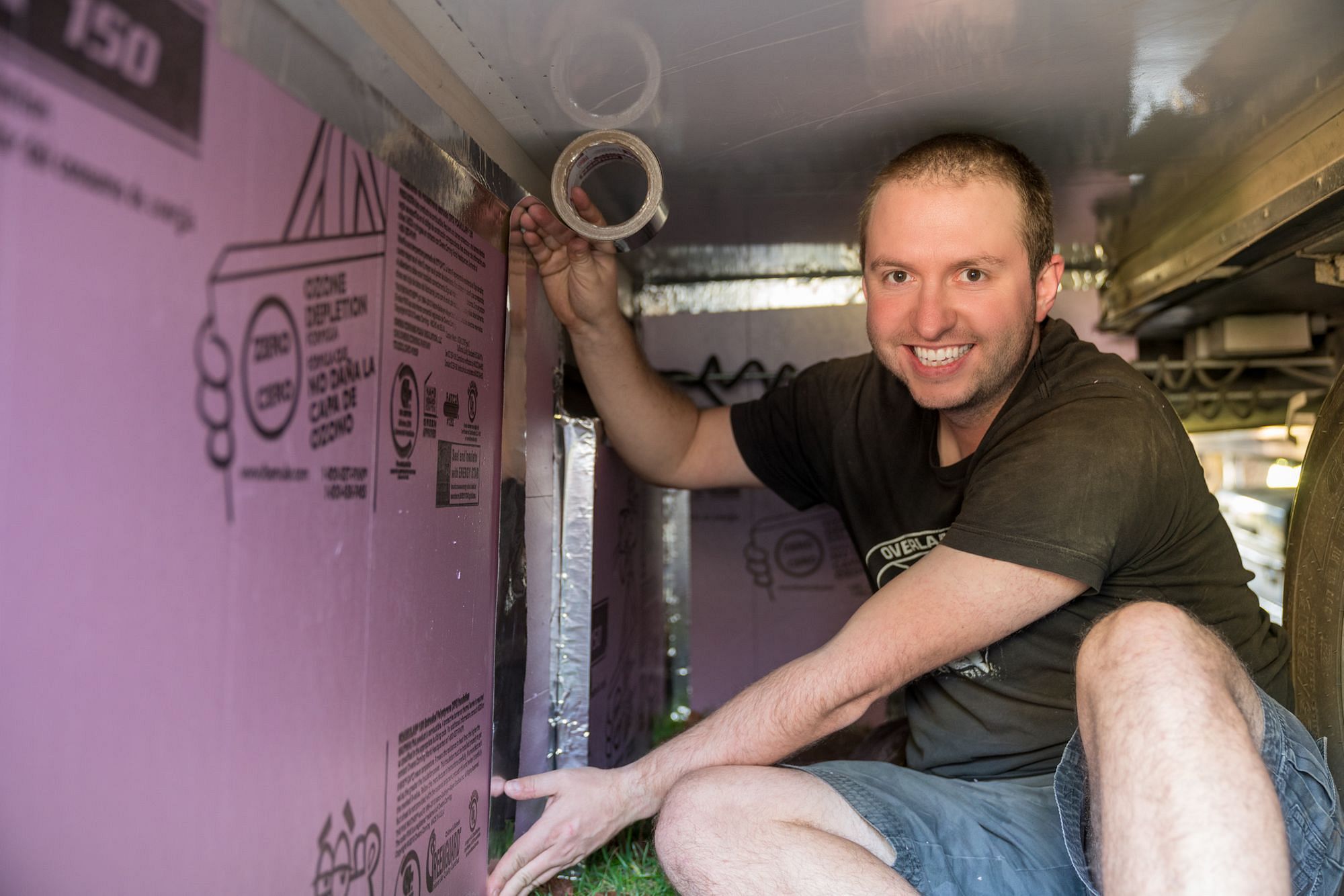 We still have one board left to install where our sewer hose connects. We installed our NoFreezeWaterHose fresh water hose and it's all working, but we need an adapter to finish installing the sewer hose. They reached out to us this week as well to offer our readers a 5% discount using the coupon code: ADVENTUROUSWAY.
We'll be doing a full review of our hoses once we have them both installed and working, plus we'll keep you posted with how well they work when temperatures drop this winter.
We also had a big sort out of our truck bed and storage bay, moving anything we won't need this winter (like our hitch) underneath the RV, raised up on our plastic leveling blocks to keep them dry.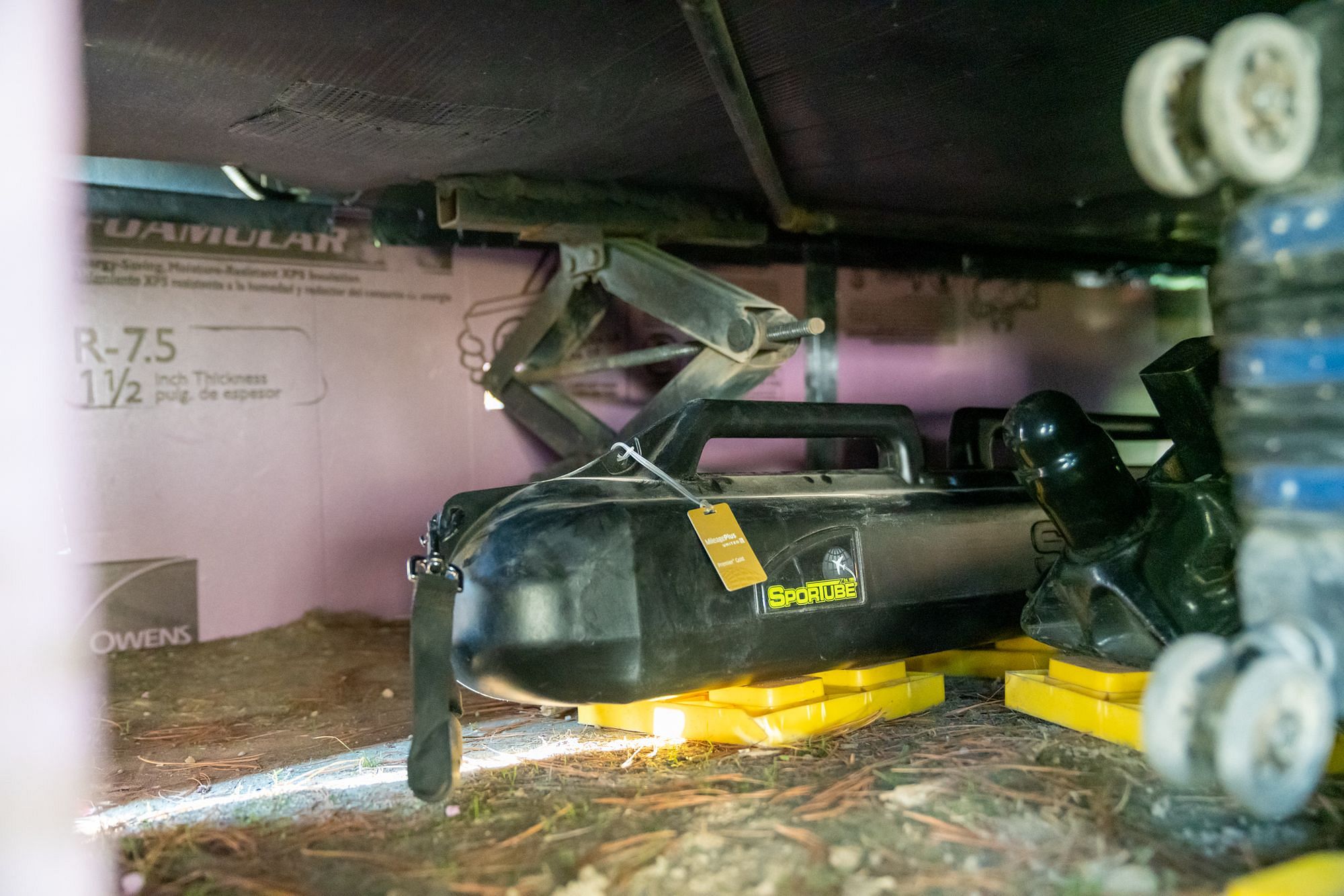 Look out for an upcoming video and blog post with more details about our RV skirting.
Birthday Baking
It was my birthday this week, and we weren't going to let quarantining stop us celebrating! Although we couldn't leave the RV, we could still bake a birthday cake!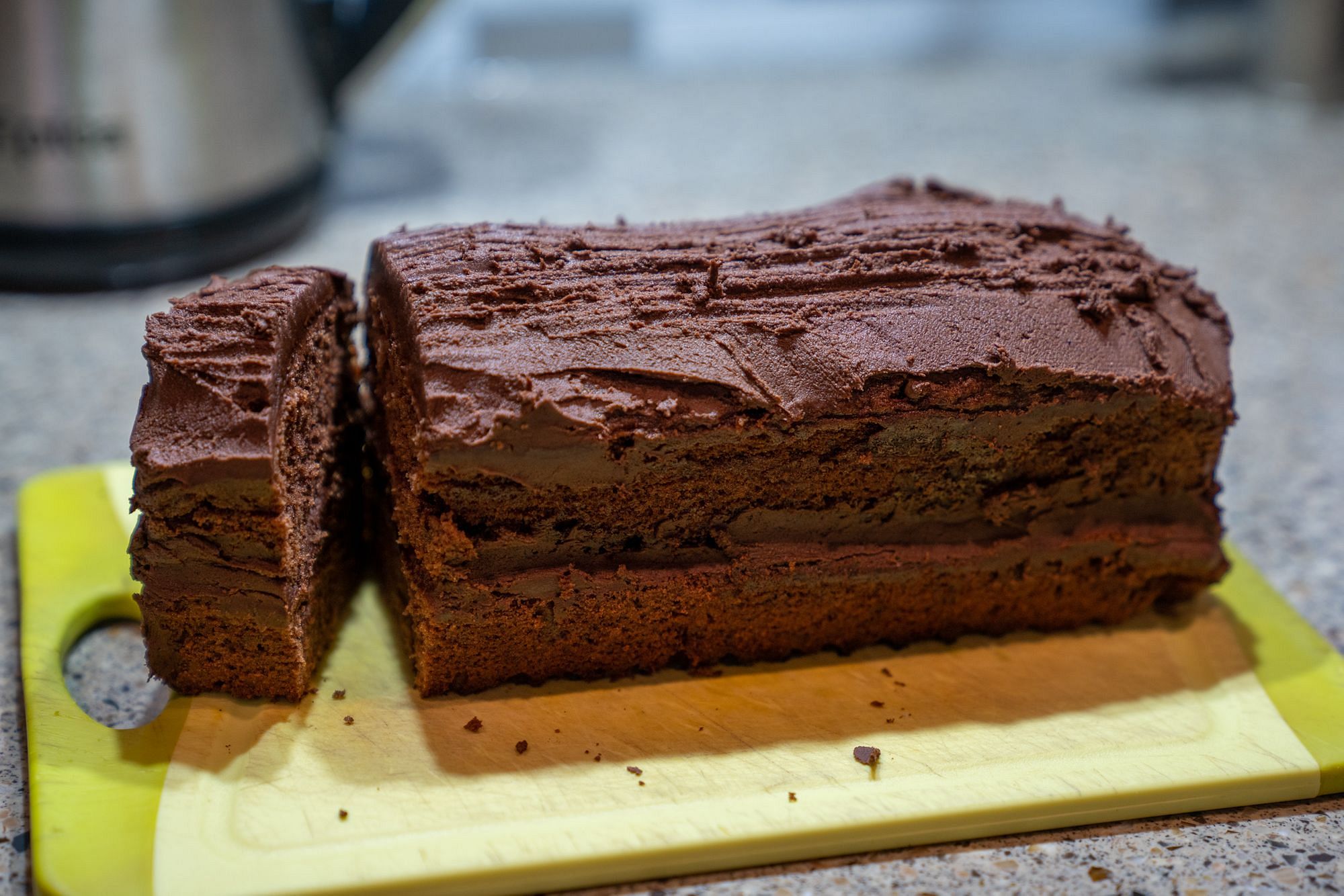 Since we're quarantined, we can't share it with anyone else - I guess we'll have to eat it all then!
Plus, we've been working on making our own sourdough starter recently, and baked our first rustic loaf of sourdough bread - it came out pretty nicely!
Internet
We've written before about how we stay connected to the internet in our RV.
Back in September, we actually stopped by the RV park here to visit and make sure it was somewhere we wanted to spend the entire winter. One of the things we did was a speed test on both Verizon and AT&T to see what the cell signal was like.
It was pretty good. About 15Mbps down and 5Mbps up on both AT&T and Verizon. However, since arriving, we've found the situation not quite as good.
We're a pretty long way away from the cell tower, right at the furthest extent of its range. Our site has trees around it which, while beautiful, don't help the cell signal situation. We've also found the cell towers seem to get really congested in an evening so while speeds are fine and usable during the day, they grind to a halt later on in the day.
While we could manage like this, given we're going to be here for almost 5 months, it's not ideal. But, we have a solution.
We can get cable internet at our site! The only option is Xfinity, but hardwired internet will be a big improvement on our current situation. Our neighbors have 100Mbps and they offer speeds all the way up to 1Gbps!
It's been over 2 years since we last had wired internet, so this is a real novelty for us....stay tuned!
10,000 Subscriber Q&A Video
Last, but definitely not least, today we published the Q&A video we promised after we reached 10,000 subscribers on our YouTube channel. In it, we tried to answer as many of your questions as possible, so be sure to check it out!