As an Amazon Associate we earn from qualifying purchases.
Introduction
After years spent out west, we're quickly being reminded that not everywhere is dry and sunny every day! It's rained more days than not in the past week - a few heavier showers but mostly just light rain. I'm sure this is just the start - we're likely due for a lot more inclement weather this winter!
We don't really mind to be honest. We both grew up in rainy climates, and you just learn to make the most of the good weather when it comes along.
We really enjoyed our visit our to explore Table Rock in northern New England, but the colors were changing rapidly and we wanted to see more!
We planned to head south from our campground to Echo Lake near Franconia, NH and hike up to Artists Bluff. Unfortunately the first dry day was Saturday, and everyone else apparently had the same idea as us!
Artists Bluff Trail
We drove a little over 40 miles from Timberland Campground near Gorham down to Echo Lake. Normally we try to avoid Saturdays and explore during the week to avoid the crowds. Our first sign that things were going to be busy was when we arrived at the parking lot - it was almost completely full!
This wasn't a small pull out parking area. This parking lot had about 150 spaces! Fortunately, we managed to snag a parking spot fairly quickly.
With so many people around, we were unsure what to do. Even at the best of times we prefer to hike alone, but with COVID we were even less comfortable about the situation. In the end we decided we would head to the trailhead and see. If it seemed OK then we'd continue on with the 1.5 mile hike around the Artists Bluff trail.
We took our masks and set out. The trailhead was a few hundred feet down the road and when we got there, it seemed OK. There were people around but most were wearing masks and we felt comfortable that we could maintain a safe distance.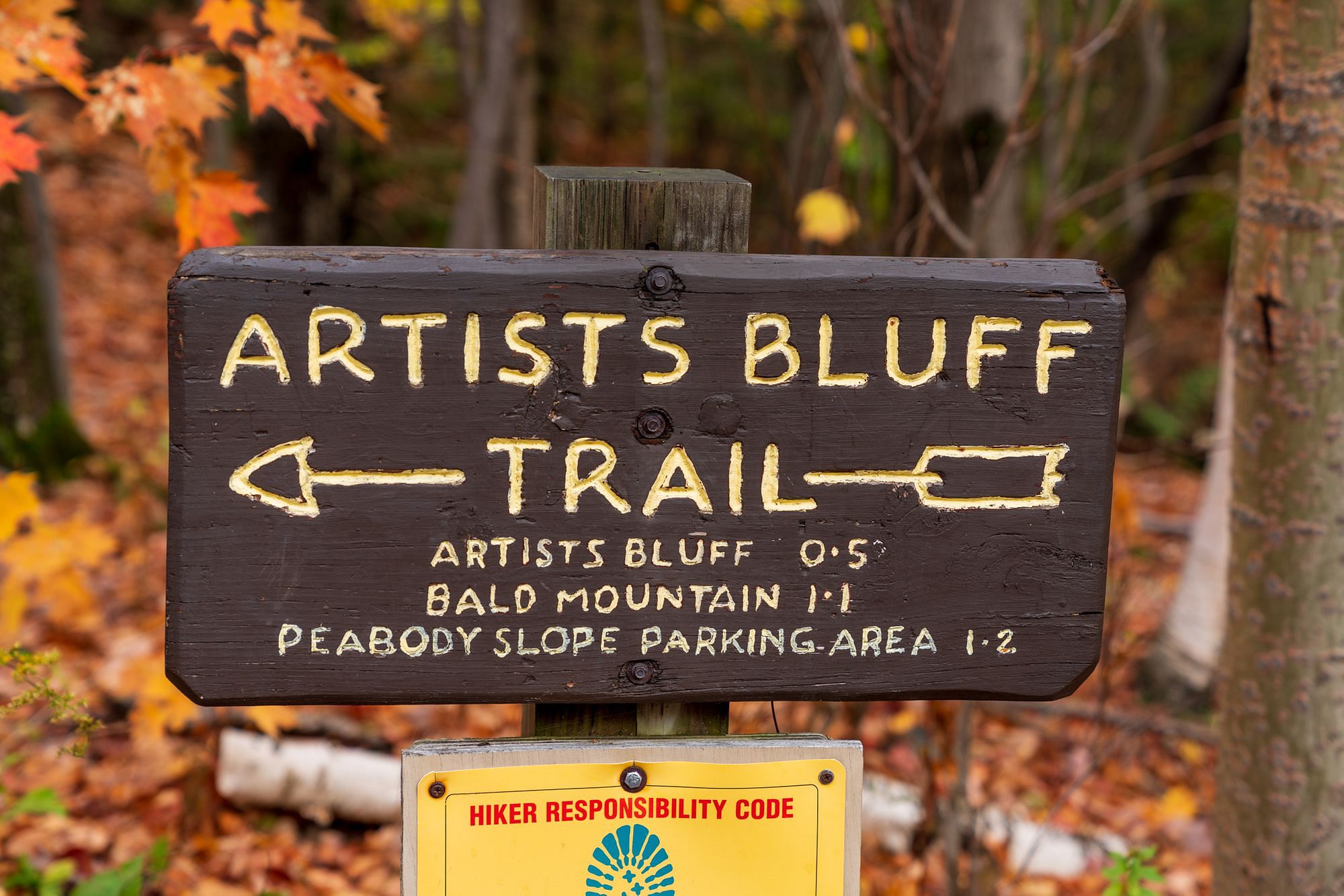 The trail was very tranquil as it wound its way through the trees, and while there were others on the trail, most were heading in the same direction and it was easy for groups to maintain distance between themselves. When people did need to pass on the trail, most were making good attempts to step back away from the trail.
We reached the summit of Bald Mountain, a short detour from the main trail. The blue skies from the previous week were gone, but the views were still fantastic!
We stayed for a while, soaking in the views!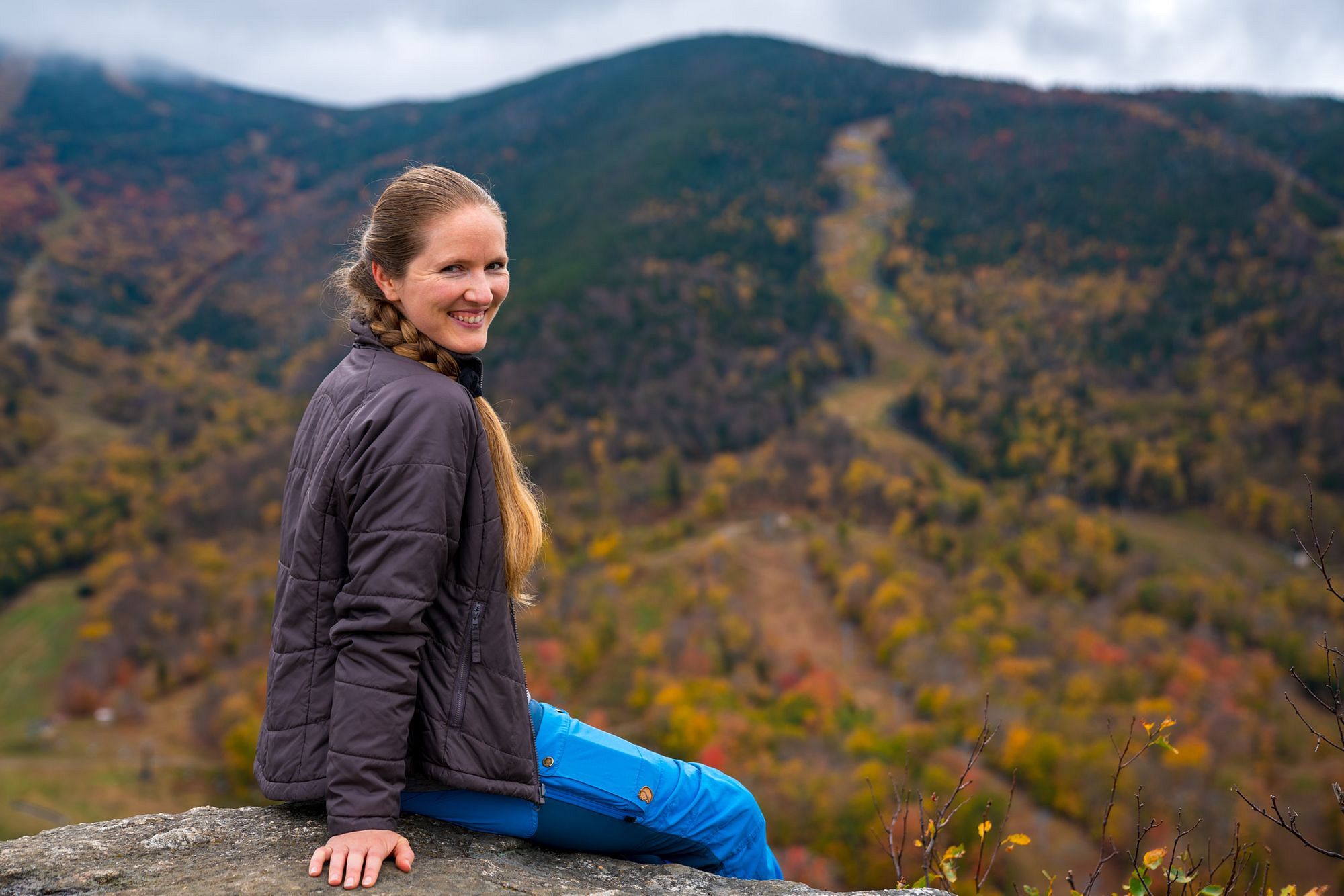 We rejoined the main trail and climbed towards Artists Bluff lookout. We were close to the lookout when we saw two men stopped on the trail. Assuming they were just resting, we passed carefully.
They must have seen our camera as they asked if we were wanting to take some photos. They explained that the lookout was incredibly busy - they were actually waiting for the line of people just around the corner to clear! But, they said, there was a little side trail just a few feet back on the main trail that we could take to another lookout - with the same views but none of the crowds!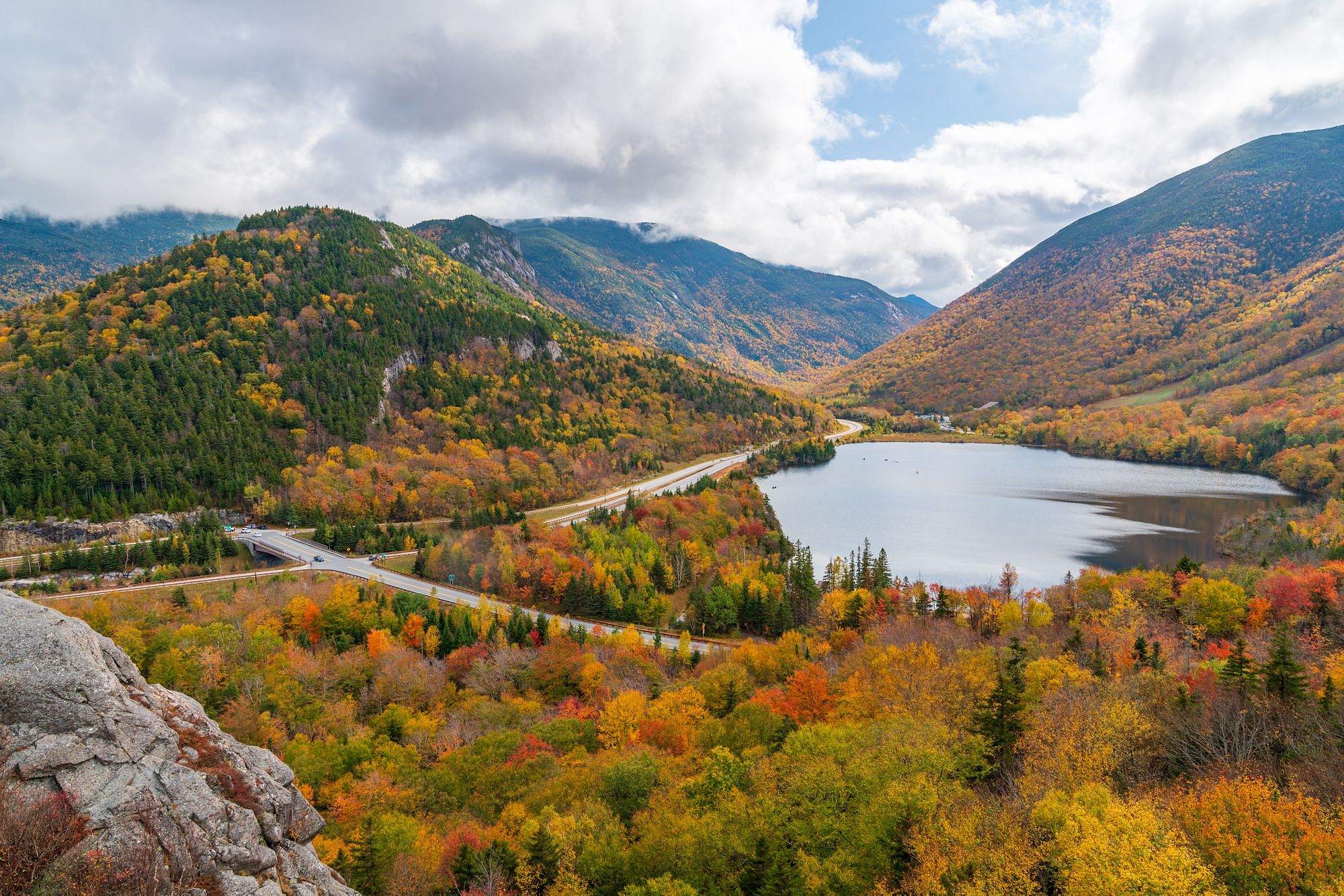 Yup, they were right! The views opened up and we could see the valley extending into the distance beyond Echo Lake.
Not just that, but we could also see the line of people along the trail, and the crowds at Artists Bluff!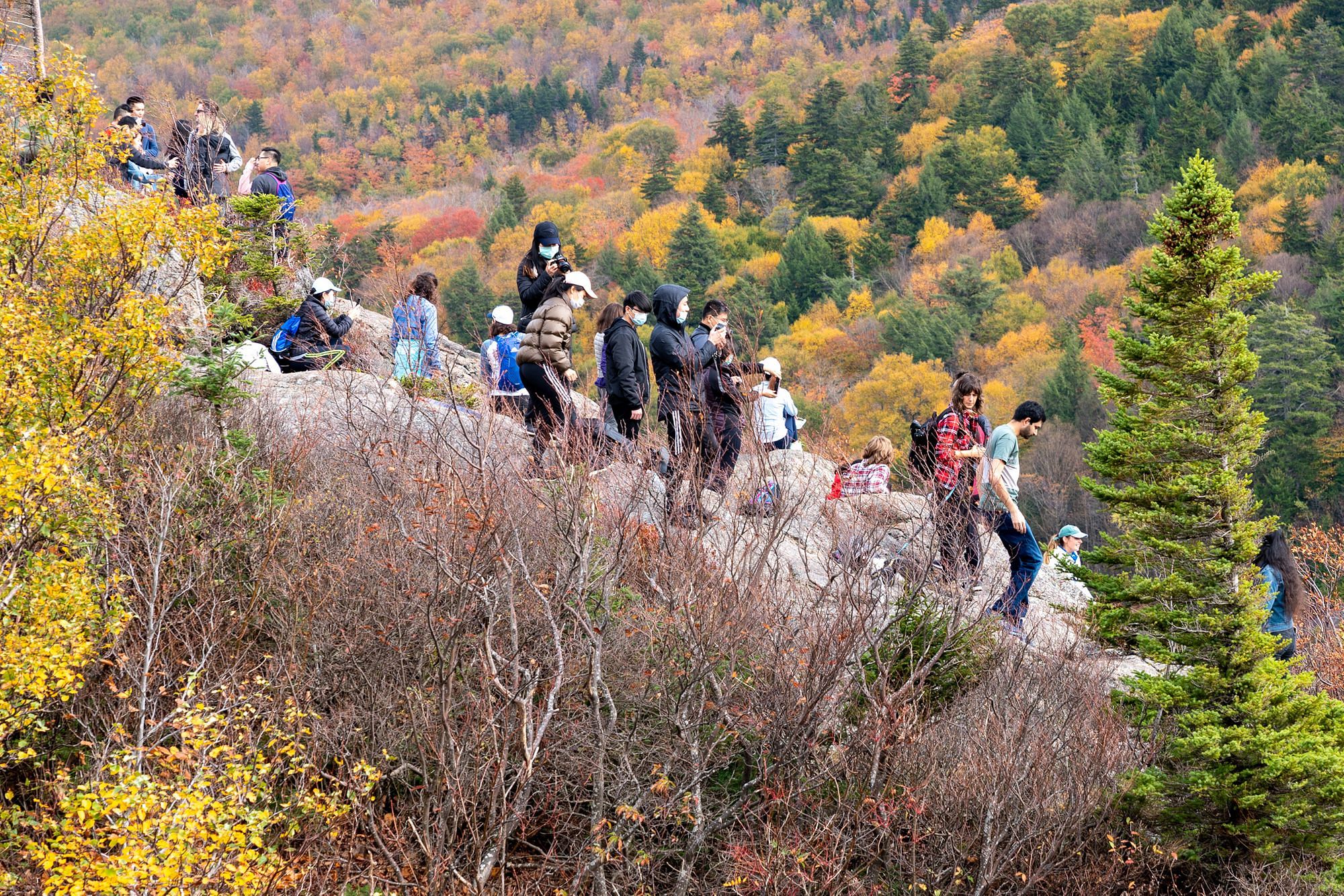 After taking our photos, we rejoined the trail. Artists Bluff was just a short distance from the trail but we chose to skip it - we had seen the views and the crowds of people didn't appeal!
It only took us about 10 minutes to get from the trail near Artists Bluff back to the car, but it felt like much longer. We had to keep stopping and letting groups of people passed on the trail.
Artists Bluff was a nice hike - a few steeper sections, but with around 750ft of elevation gain it wasn't too bad. I realize that we are just as much a part of the crowds as anyone else, so I can't really complain, but we look forward to going back when it's a little quieter - not on a Saturday this time!
Kancamagus Highway
Our next stop was the infamous Kancamangus Highway - a 34.5 mile scenic drive through beautiful scenery in the White Mountain National Forest.
We joined US-93 and headed south. Within minutes, the traffic coming the other direction was solid - almost at a standstill! Every parking lot was overflowing, and police were trying to manage the traffic.
We reached Lincoln, NH, and the traffic in town was gridlocked trying to head north onto US-93. We had to assume that traffic all along the Kancamagus Highway would be equally bad, so we ditched our plans.
It was already well after lunchtime and we were getting hungry - we hadn't brought food with us and were planning to stop somewhere. We stumbled across Smiley's Produce in North Woodstock and stopped in to pick up a few items - and maybe grab a cheeky burger and fries from the food truck outside!
We were chatting to one of the staff there and he said the traffic was the busiest he had seen in 5 years. Apparently the news had said this was the peak weekend for foliage so everyone had flocked to the area. Actually, the peak had passed a few days prior, but I don't suppose people cared much - it was still beautiful!
After lunch we decided to take the scenic route home - west along NH-112 and then north up through Franconia, Littleton and Bethlehem. There are some really pretty villages and towns around here - and in many ways they remind me of being back in Europe!
While our day didn't quite go as planned, we still had fun and we got to see a few more places in the area. We're really excited about spending the winter in New England now, and having the chance to explore more of the area!
Internet in our RV
One of the questions we get asked most often is how we stay connected to the internet in our RV. A few days ago I published a blog post about how we do it.
This isn't to say it's the best way for you, but it's what works for us and maybe it'll inspire you with a few ideas!
But we're always looking to improve things, so this week I've been building out some more advanced technology in our RV. While it won't necessarily change the way we connect to the internet, it will improve the security and performance of the network inside our RV. Given I expect we'll be inside our RV a lot this winter, I want to make sure we're well set up to be comfortable.
The key new parts are a Ubiquiti UniFi Switch 8 60W and a Ubiquiti UniFi nanoHD Access Point. Along with some work I've been doing on our Intel NUC, these will give us blazing fast WiFi speeds in the RV and help keep our Smart RV system safe.
We're moving to a new campground today, and over the next month or so we'll be getting our RV ready for winter - including a few more mods and upgrades, including some clever heating systems! Stay tuned!