As an Amazon Associate we earn from qualifying purchases.
While we were vacationing in late September in Portland, Maine, we received an email to say that our sawmill order was being processed. We had been eagerly awaiting this update for a long time! From this point, it would take another 2 weeks or so to ship, and then about a week for it to arrive with us in Vermont.
It was back in mid-July that we ordered our sawmill. After much research, we had decided to buy a Woodland Mills HM126 Woodlander XL - a trailer-mounted band saw mill with a 14hp Kohler gas engine and a track extension allowing it to cut logs up to 16ft 11in long.
Disclaimer: We're not sponsored or affiliated with Woodland Mills in any way. We paid full price ($6,521) for our saw mill, some accessories and delivery. All opinions in this blog post are our own.
Delivery & Unloading
The mill was shipping from Buffalo, NY to our location in central Vermont. We had been in touch with the shipping company several times over the previous days to arrange a delivery appointment.
On the morning of the delivery, as agreed, we received a phone call when the delivery driver was about half an hour away. The delivery was flagged as being to a residential address and included lift-gate service but since we had the tractor, we were able to unload the two crates directly from the back of the truck.
The Woodland Mills website has a lot of really useful content on, including diagrams showing the size and weight of the packages we were expecting. I knew that the crates were going to be pushing our tractor front-end loader to the maximum, but we had a backup plan in the form of a neighbor and their larger tractor if necessary.
Fortunately, our tractor just managed to lift the heavier of the two packages! Our Kubota LA525 loader can theoretically lift 1,135lbs at a position 20 inches in front of the bucket pivot pin at a height of 5ft above the ground. Weighing in at 1,112lbs, it was a close call with that heavy crate! I'm glad we have loaded tires and a rear ballast box!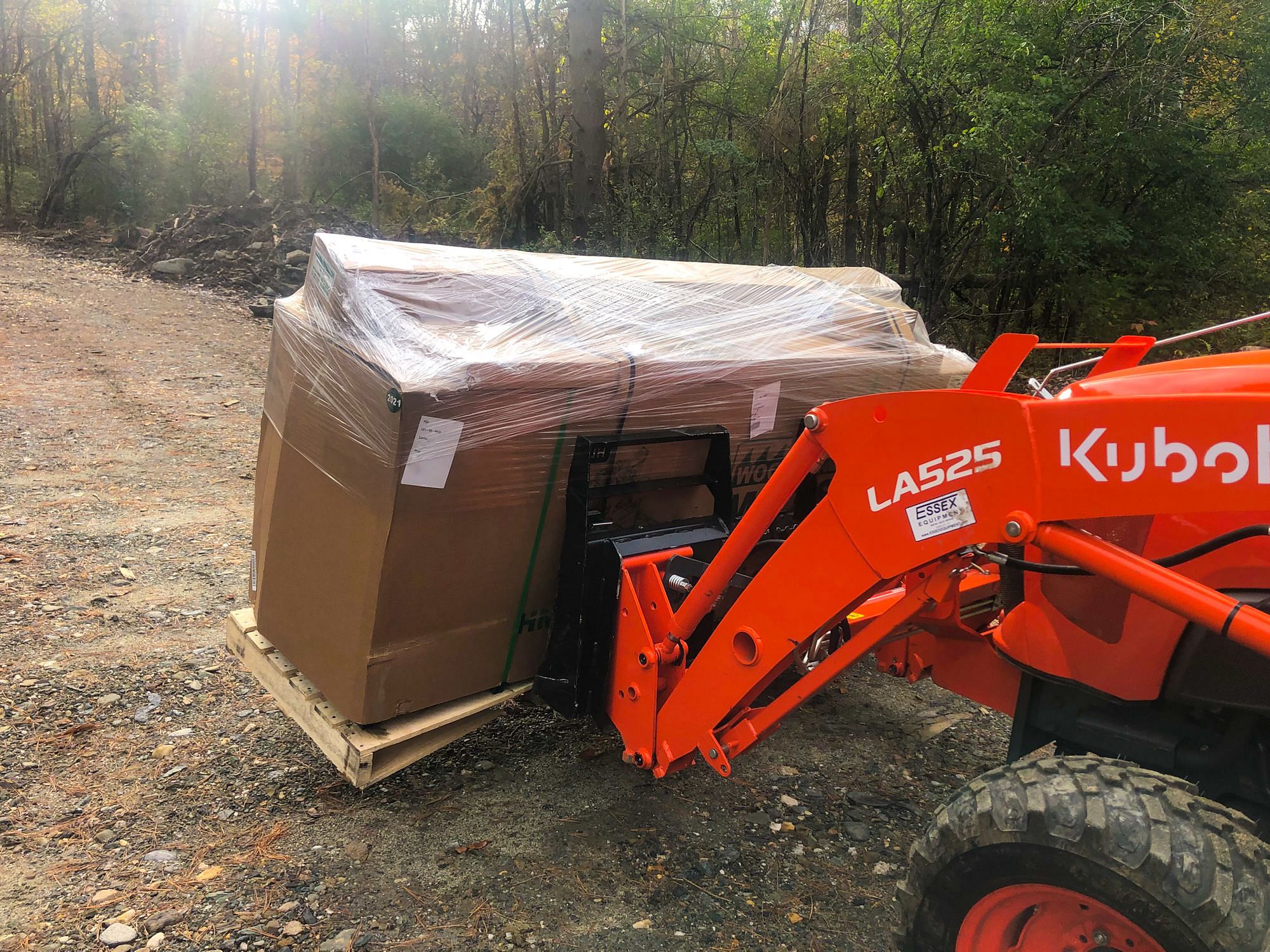 Still, we managed to get it lowered down to the ground safely. As we placed them both down on the ground, it was clear that they had been knocked around pretty badly during transport - the wooden pallets were falling apart and one of the crates was falling off the pallet.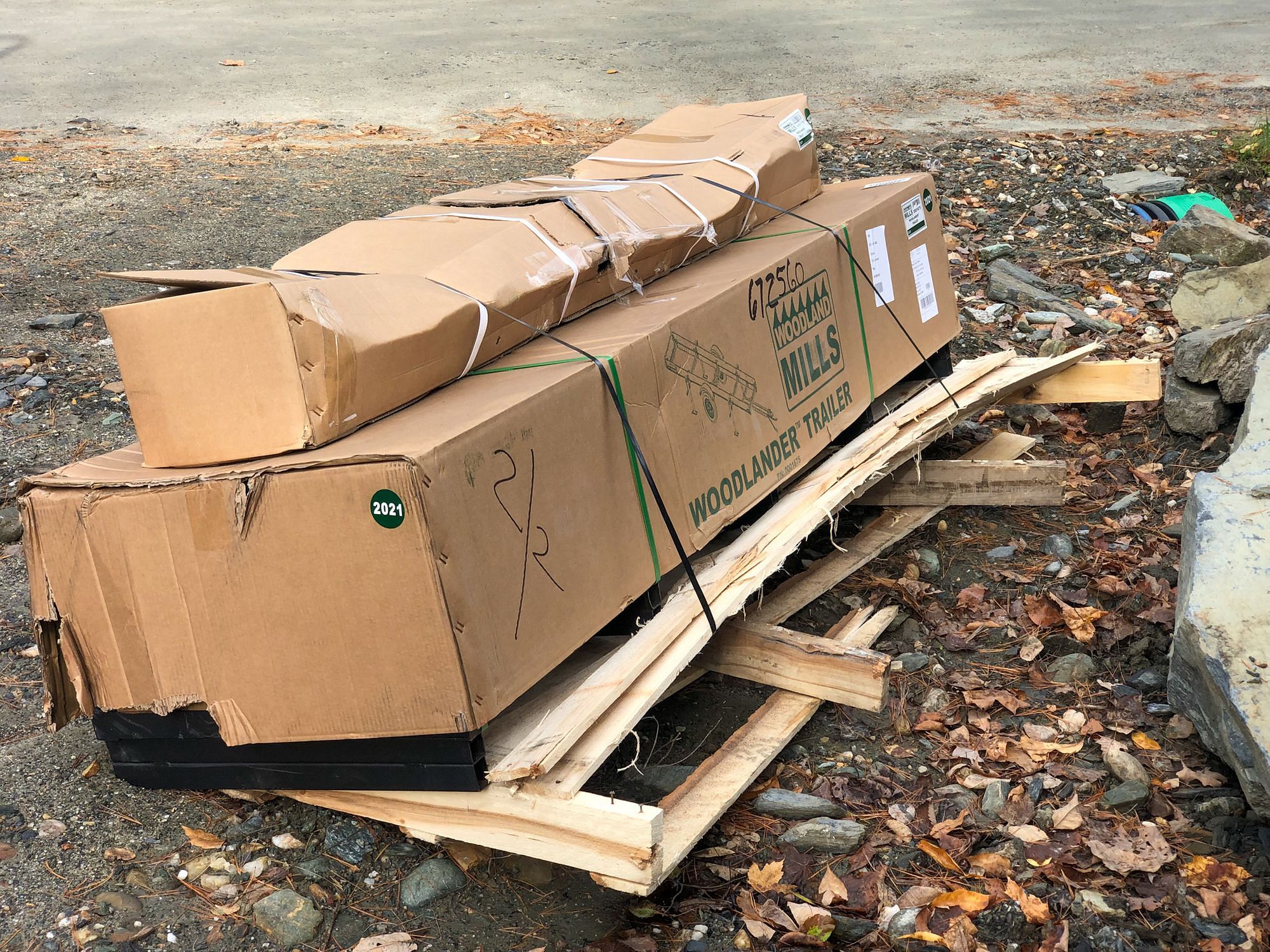 However, the contents were well protected inside a thick cardboard box which itself contained another steel pallet. We took a load of photos just in case, but after careful inspection everything seemed to be fine so we signed for the delivery - after all, we had waited more than 3 months for this!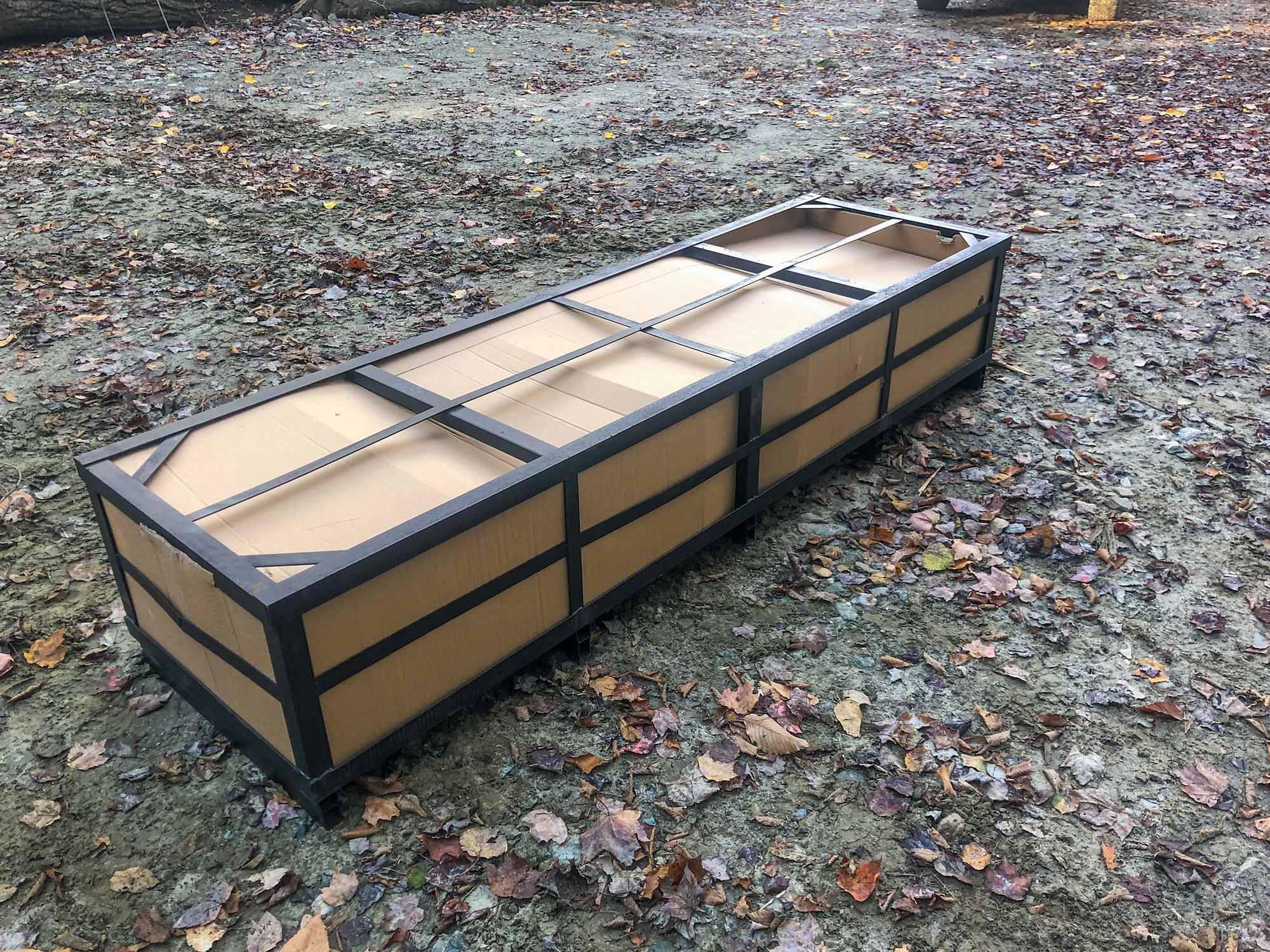 Unfortunately the weather was less cooperative, and it was a couple of days before the rain stopped and we were able to get back to the site to unpack and assemble our sawmill, so we packed the crates in our shipping container in the meantime.
Unboxing
Once again using our Kubota L3901 tractor, we moved the sawmill crates up to the assembly location near our future house-site and began unpacking the boxes. Since we had bought the sawmill with its counterpart trailer, the instructions required us to assemble the trailer first.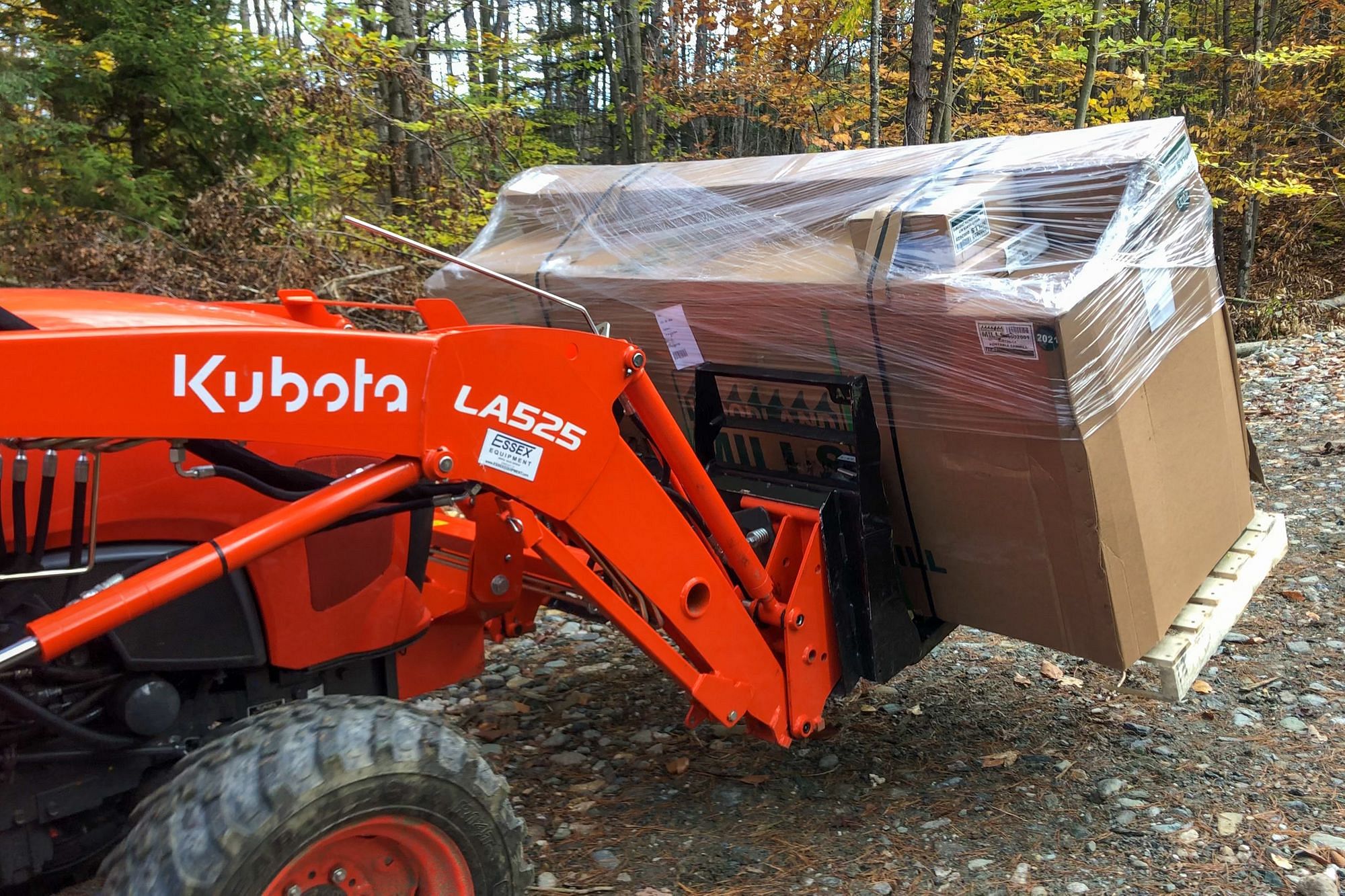 We thought we could get away with just unpacking the trailer box to begin with, but it quickly became apparent that we'd need parts and fasteners from the sawmill box too.
There are specific instructions for unpacking the sawmill, including partial disassembly of one of the steel crates - this is all well documented in the instructions which I had downloaded from the Woodland Mills website and read through several times before the sawmill had even arrived!
Inside the boxes, we didn't see any signs of damage despite the outer condition of the box from transport. We unboxed the parts and spread them out on the ground, using the cardboard itself to put them on.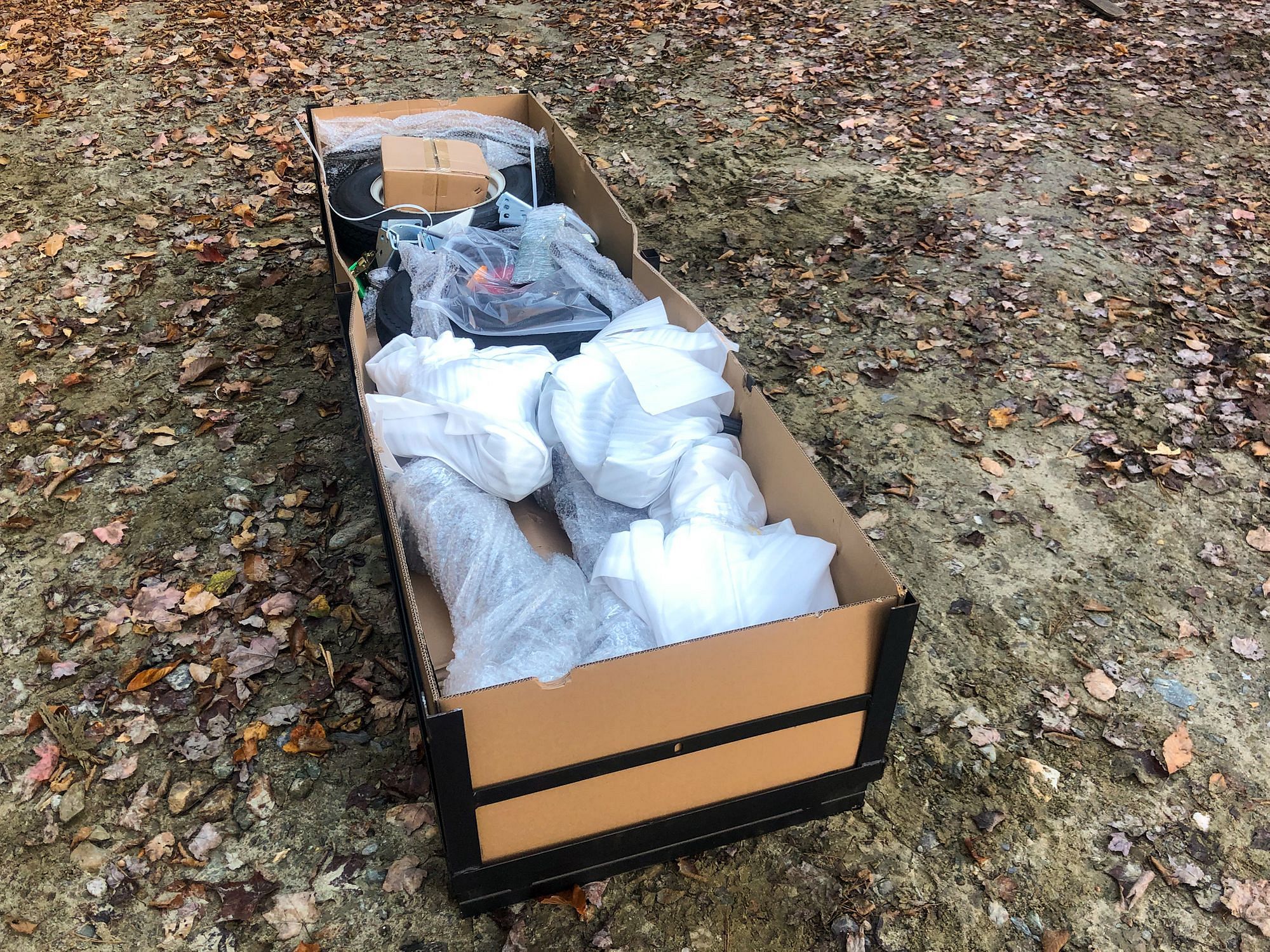 Tools
We had two separate manuals to follow - one for the sawmill and one for the trailer. Each of these had a list of required tools and supplies, so we had made sure to have all of these ahead of time - including waterproof grease and WD-40 Specialist Water Resistant Silicone Lubricant.
Most notably, assembly required installing a LOT of nuts and bolts, and since Woodland Mills is a Canadian company they were all metric. While I had a pretty comprehensive metric socket set, we also picked up a set of metric wrenches too.
Additionally, it's important that everything is torqued correctly so we bought a torque wrench - this is also useful later when setting the blade tension.
One of the most important things with the sawmill is to get it level, flat, straight and square so we also used a long level and tape.
In terms of power tools, we used our trusty Dewalt DCF885 impact driver for most of it, but switched to our brand new DCF850 impact driver which arrived part way during the installation - this is Dewalt's brand new brushless compact driver and is a lot more powerful! That said, my socket set isn't impact rated so we just used the impact driver to get the bolts snug and then tightened everything with the torque wrench.
One of the final instructions in the trailer assembly required use of a drill. A 10mm drill bit was provided, but we found it dulled very quickly. Fortunately I had a 3/8" (~9.5mm) drill bit that worked well with our cordless drill to get the job done.
Also, a hammer was useful for some fine adjustment (I promise!) while getting everything perfectly lined up.
Assembly
I was really impressed with the quality of the assembly instructions. Despite the process being split across two manuals (trailer and sawmill), the process was clear and well explained.
Each step began with a list of parts, so we collected those into a box each time to make sure we didn't miss anything. Most fasteners were well labeled, but there were a few assorted bags and boxes we had to sift through to find what we needed.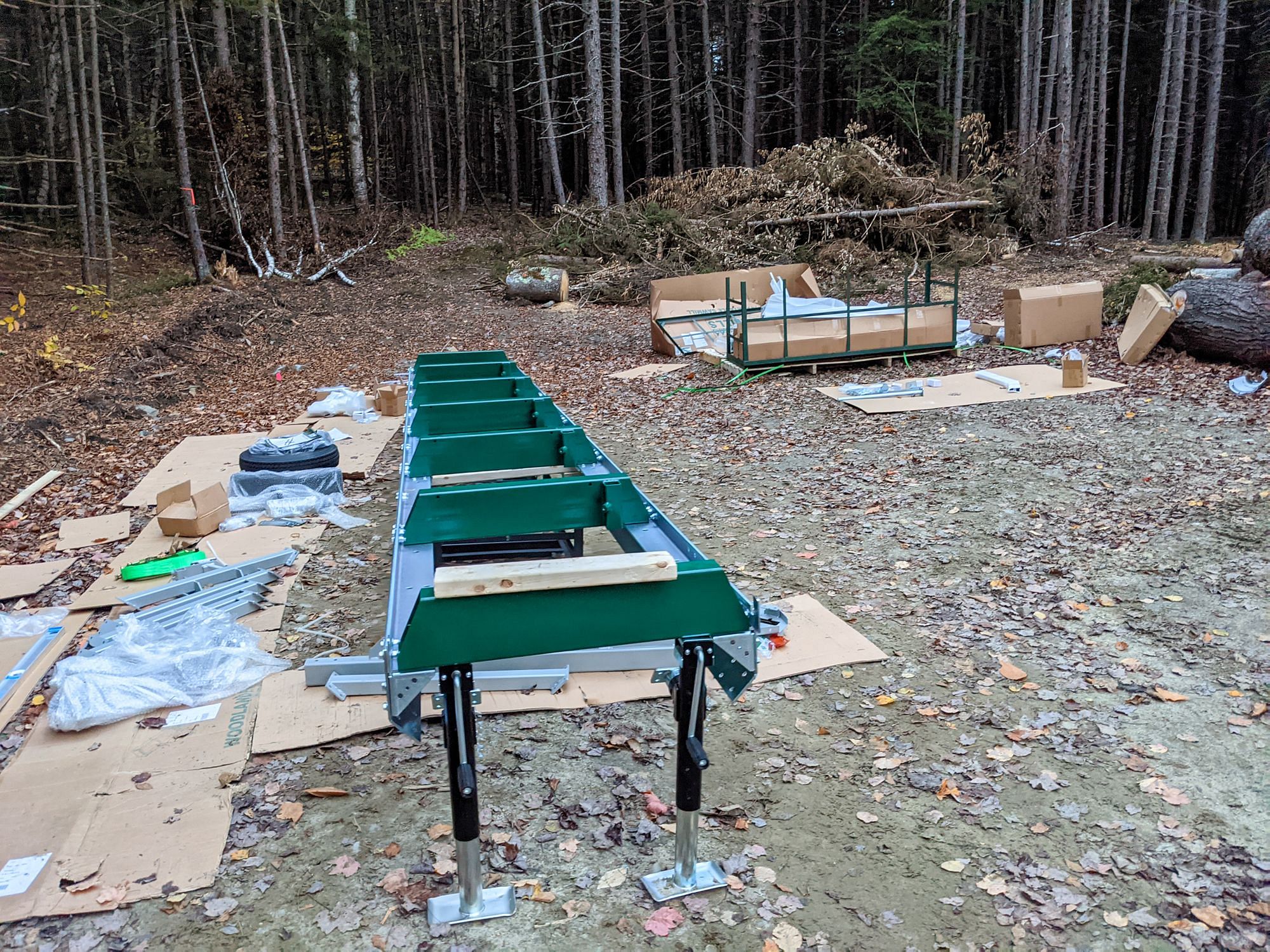 I won't regurgitate the full process here as the instructions honestly do a good job - clear step-by-step guides and good, clear exploded diagrams. I would recommend reading through the instructions a few times before starting though.
We took our time, working through each step carefully to make sure bolts were tightened correctly (we used the torque wrench for every single one), that things were level and square (not easy when building it in a forest!) and that we didn't miss anything.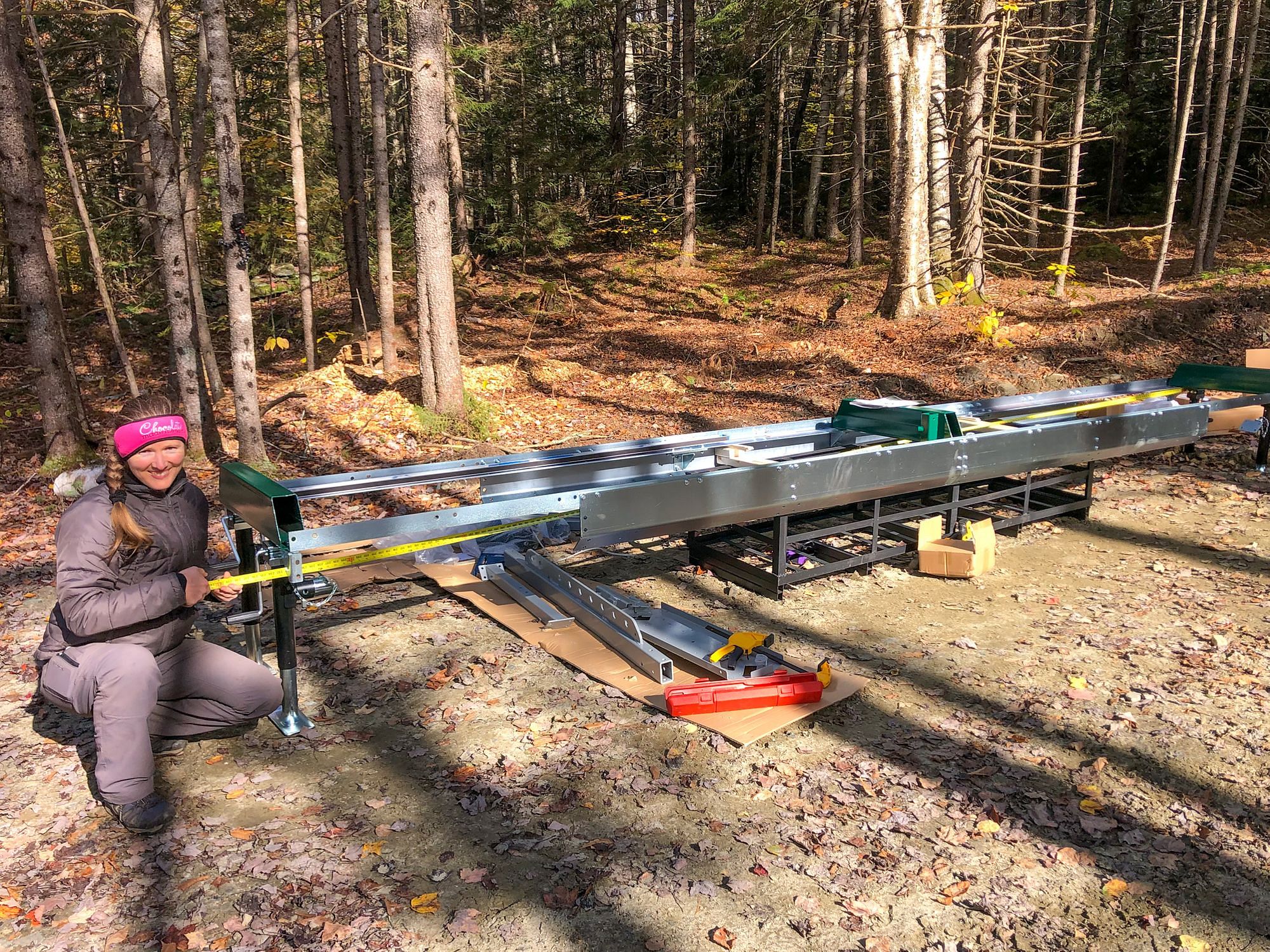 When the time came to tighten everything down, we measured the diagonals to check for square and found that we were within 1/32" - not bad for a 17ft long track being assembled outdoors by two people doing it for the first time!
From what we had read online, we expected assembly to take about 2 days. In the end, it took us just over that - 2 long days, starting at about 8 or 9am each morning and working until it was dark, with about 2 or 3 hours of final preparations and checks on the third day.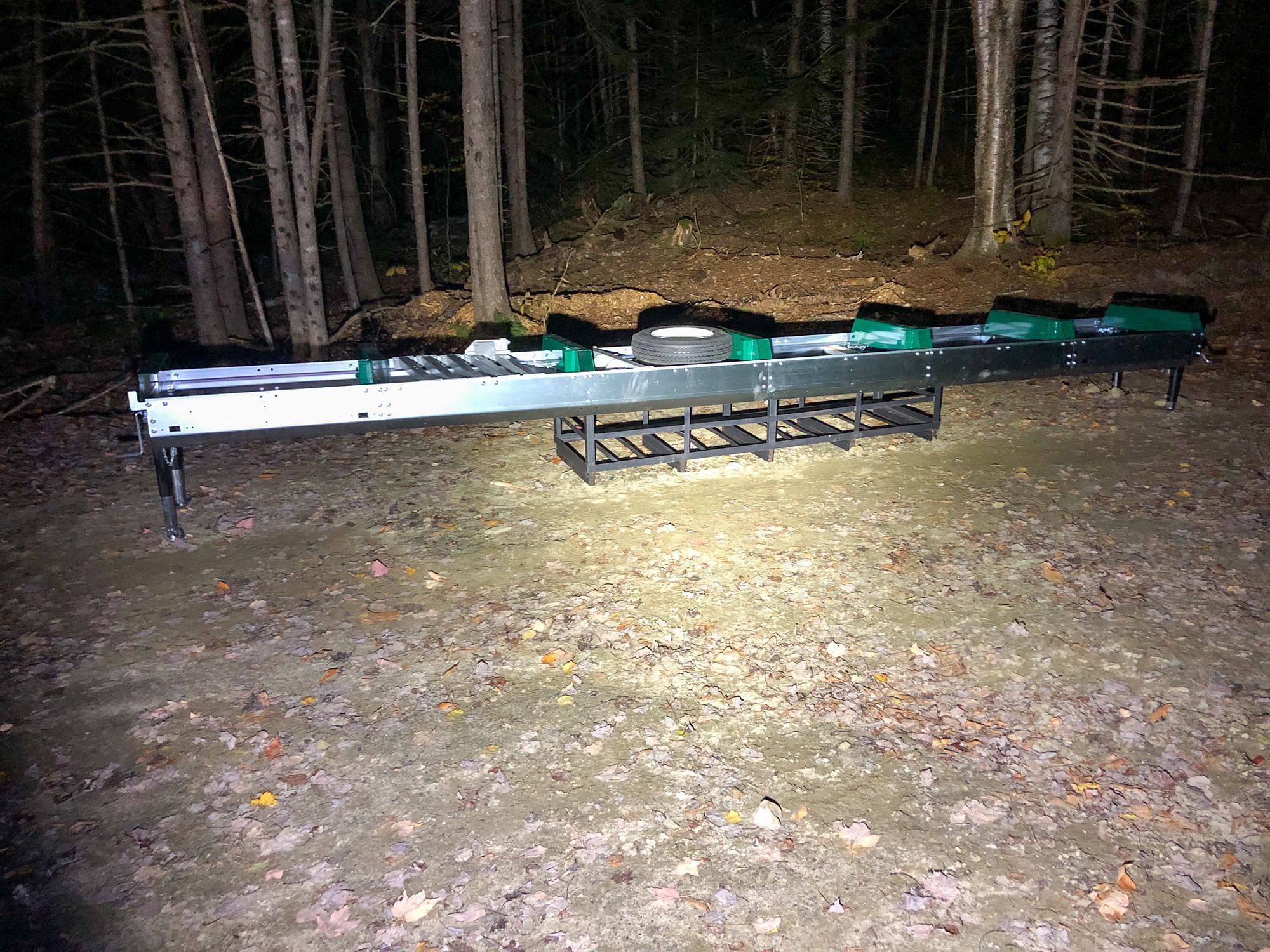 The most exciting (and nerve-wracking!) step was lifting the assembled saw head and lowering it onto the sawmill tracks. Doing this without a tractor would be a real challenge since the trailer-mounted tracks are quite high - in fact, we just about maxed out the lifting height of our tractor to do it!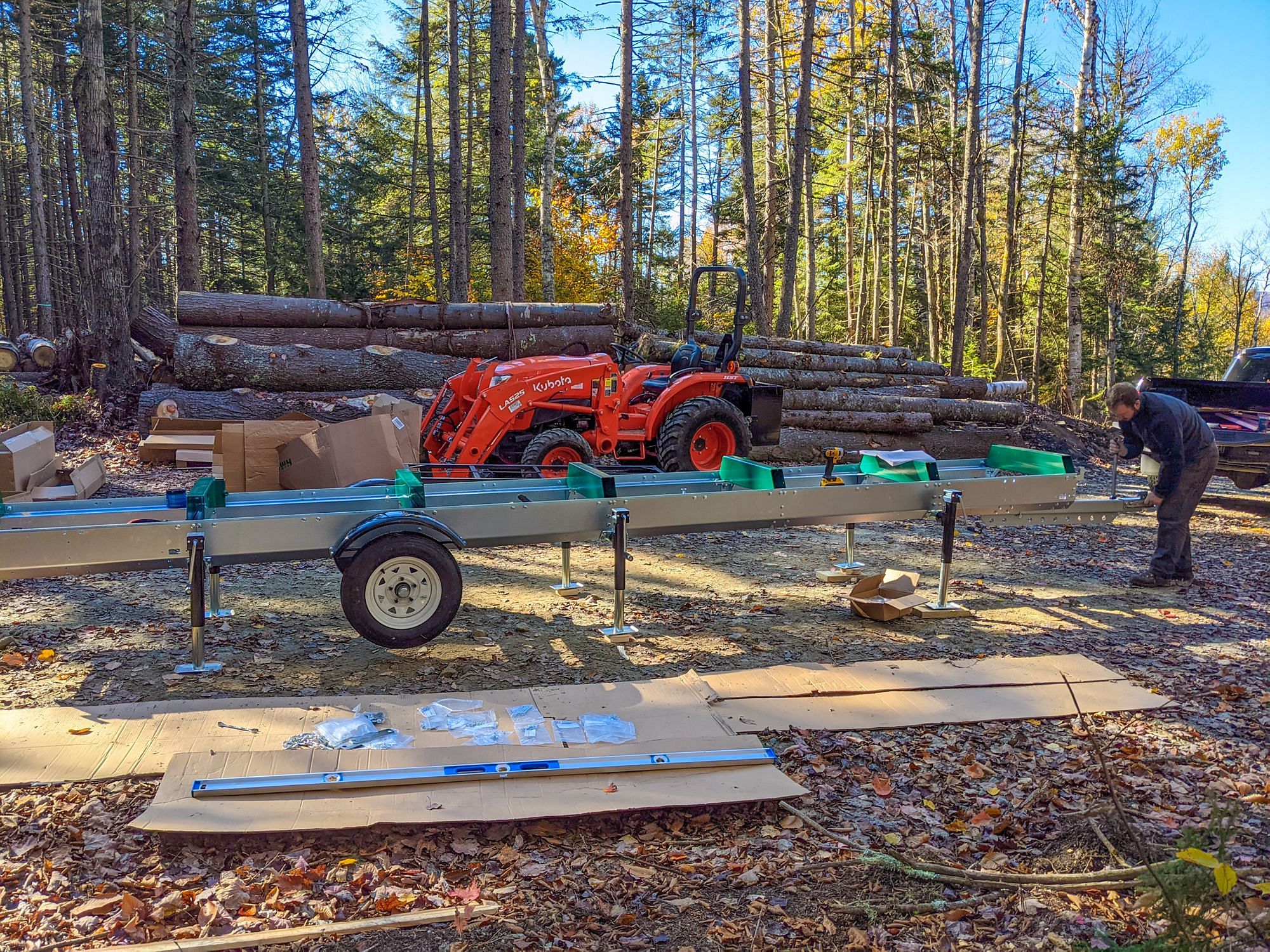 We lowered it in place and after a quick shake down, it rolled perfectly smoothly back and forth along the tracks.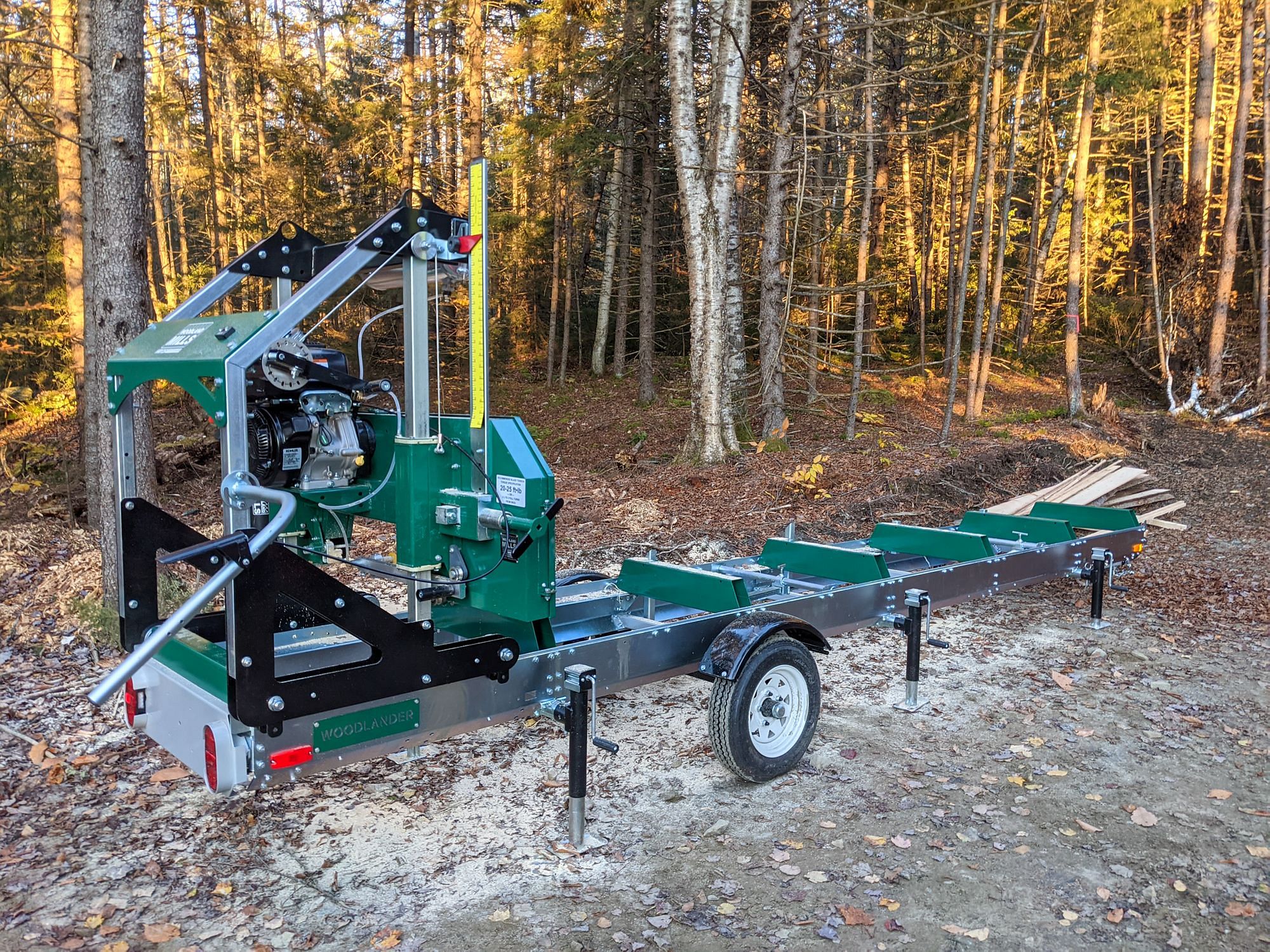 After following all the instructions, we filled the engine with 10W-30 oil and ethanol-free 93 octane gasoline. We ran it without any blade lubricant for the first half an hour and then added some partially diluted windshield washer fluid per the instructions.
Summary
We had been really looking forward to the day that the sawmill arrived because we were eager to start milling our logs! But we knew that it was important that we took our time during the assembly - if it's not square and level now, nothing that we mill ever will be either!
You don't need to be an engineer to assemble the sawmill, but you do need to take your time. Don't rush, don't skip ahead, and keeping checking for square and level!
In the end it took us just over 2 days to get everything assembled, but we're really happy with the end result. The instructions were clear, the parts were (mostly) well labeled and nothing was missing (we had a minor scare but later found a locknut hiding in Diana's coat pocket).
With so many trees to clear on our property, we're really excited about the possibilities that this sawmill will unlock for us - milling spruce for some construction projects, pine for siding, maple and ash for hardwood floors, and cherry, birch and more for furniture.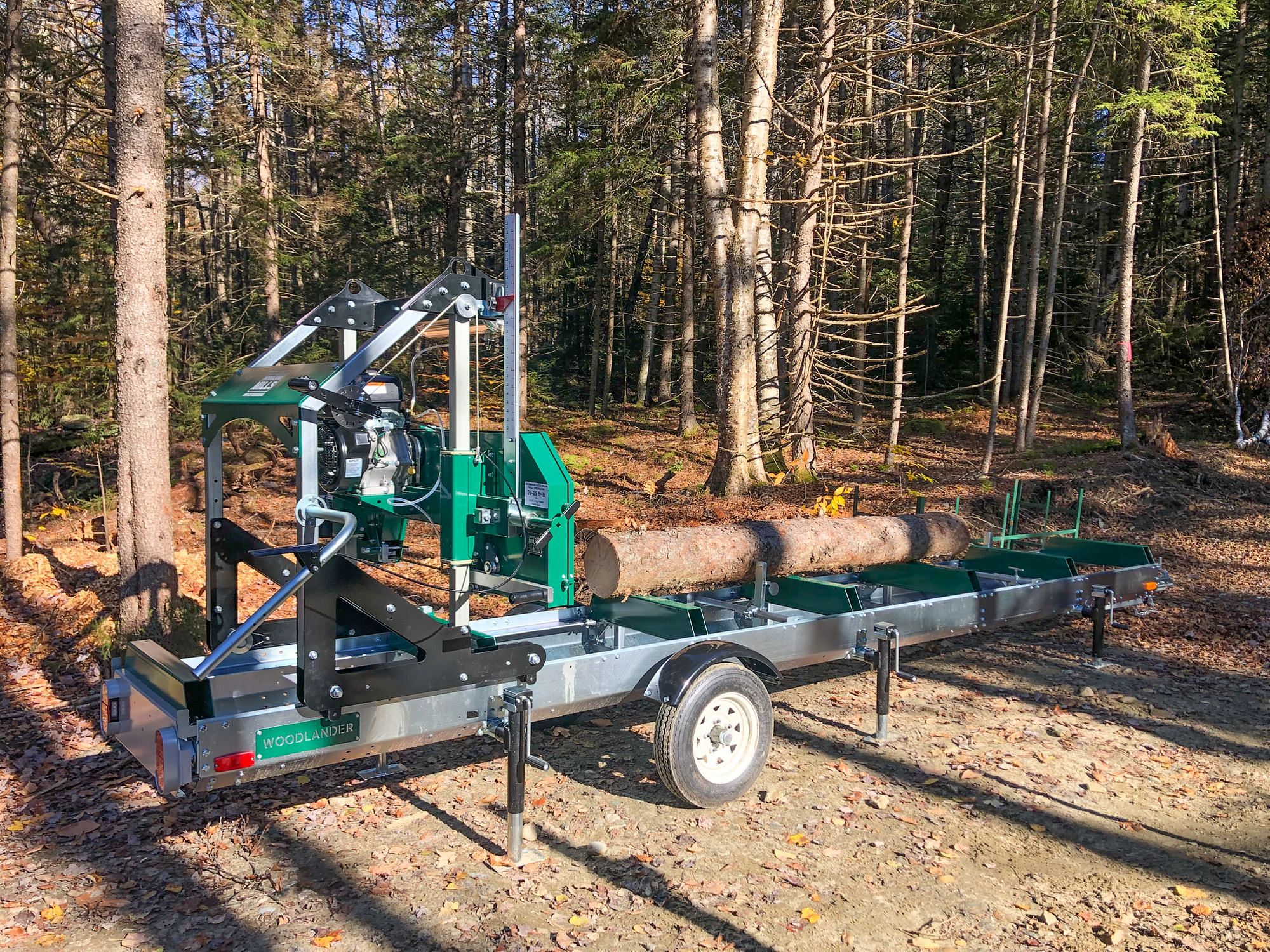 But we're going to be starting simple...ish! Keep following to find out what we get up to with our brand new Woodland Mills HM126 Woodlander XL band saw mill.