It's been a little over three weeks since we announced that we had officially become Vermonters, and since then we've been going through the process of switching everything over from Texas and getting set up in Vermont - everything from library cards to bank accounts, insurance to driver licenses.
Vehicles & Licenses
In normal, pre-pandemic times, a trip to the DMV often meant standing in a long line and queuing up. Nowadays, at least here in Vermont, an appointment is required for any DMV visit - and these are usually booked up weeks in advance.
A few weeks ago we scheduled our appointments, and last Monday morning we headed to Rutland, VT to fill in countless forms to move our vehicles and driver's licenses from Texas to Vermont - plus (spoiler alert!) register our new (to us) equipment trailer!
Although there were a lot of forms, the process was otherwise straightforward - within an hour we had everything done. We were given new Vermont license plates for our 3 vehicles (truck, RV and equipment trailer) and temporary driver's licenses until we receive the real ones in the mail - those arrived this week!
It's been almost 2 years to the day since we left Texas last, so it feels great to finally have Vermont plates on our vehicles - we're officially Vermonters now!
Equipment Trailer
Picking up on the spoiler from the previous few paragraphs, yes, we've bought a new equipment trailer! Well, new to us - it's actually 23 years old but has been immaculately restored by the previous owner.
If you want to learn more about our 20ft equipment trailer, why we bought it, what we plan to use it for and how much we paid for it, check out our blog post: Buying a Used Equipment Trailer.
Sawmill
The equipment trailer isn't the only new vehicle we've acquired in the past few weeks - last week our Woodland Mills HM126 Woodlander band saw mill arrived too!
It arrived in two big steel crates on pallets, and we had to push our tractor's loader to the max to lift the big 1,112lb crate off the delivery truck and carry it up our driveway. We put the crates in our shipping container for a few days (they fit by inches) while we waited for some dry weather, then spent all of Saturday and Sunday assembling it.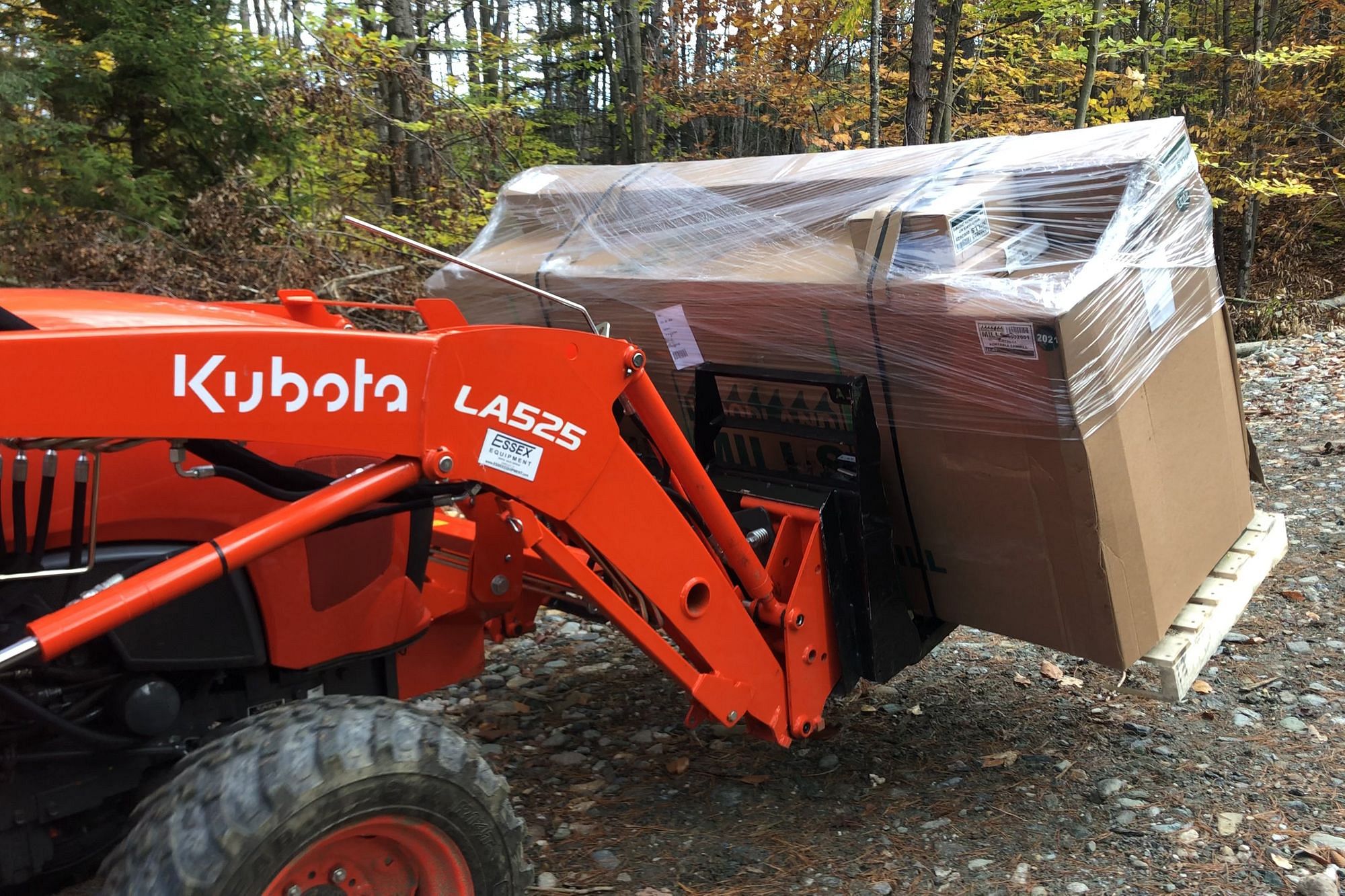 After two long days of carefully following the instructions, getting it completely square, level and straight (not easy since we don't have any perfectly flat surface on the property!) and precisely torquing literally hundreds of bolts, we're almost done.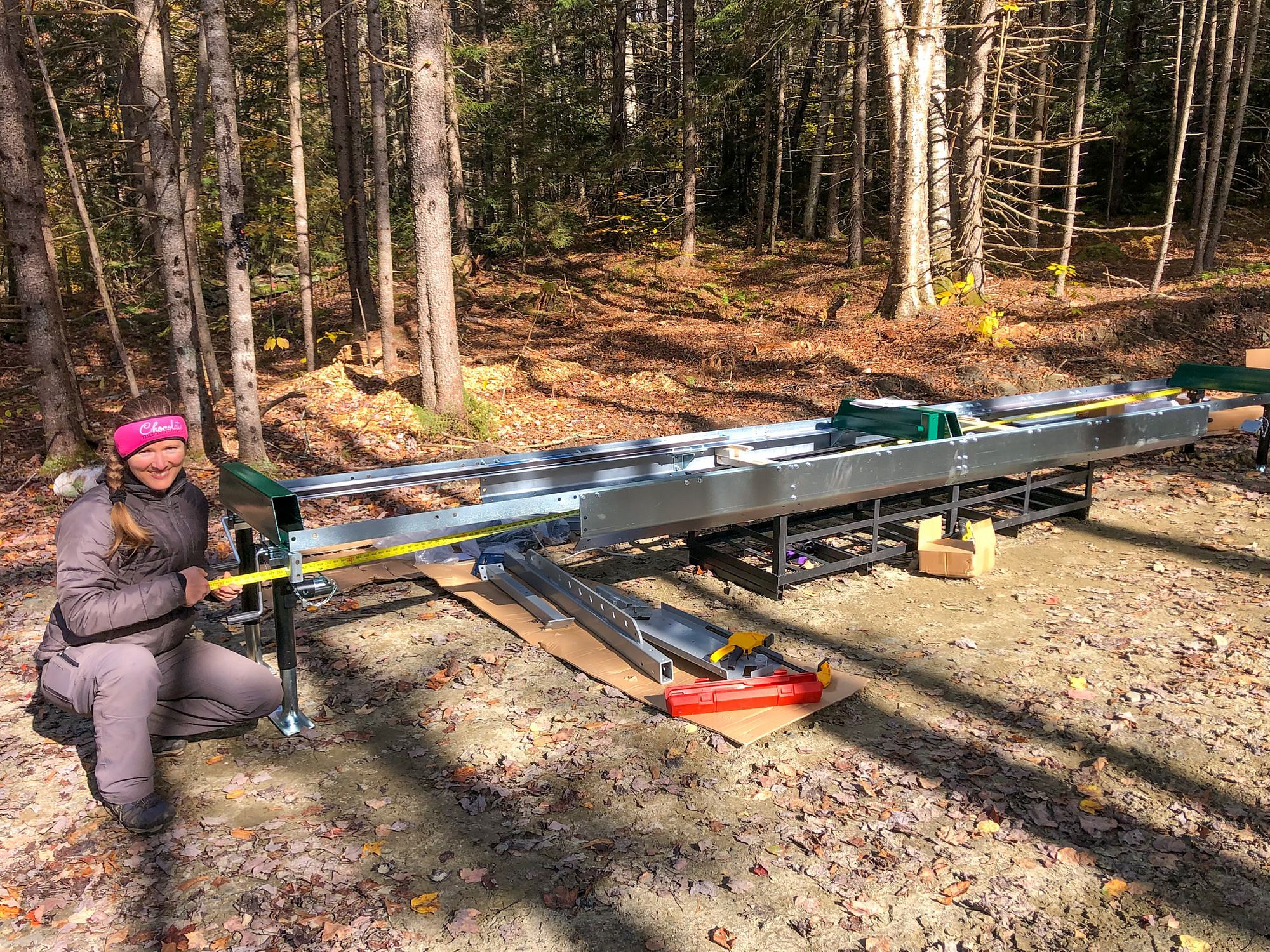 We're heading back to finish it off this week and hopefully mill our first few logs. Stay tuned for more updates about the sawmill - why we chose this model, the assembly process, and our experiences using it.
Solar Kiln
Probably our final project on the property before we leave for winter is to build a solar kiln. Well, start building it at least.
Working on it is somewhat dependent on good weather and there are only going to be so many dry days between now and when we're planning to head south - plus we've got a few things to get ready with the RV before then too.
At the moment our plan is to head south to Virginia for the winter on December 1st - that's just 5 weeks away! Where has this year gone?!
The design for our solar kiln is based on the plans from Virginia Tech, but we've made a few modifications to it. Dimensionally, we're going to make it a few inches narrower to fit on our equipment trailer, as well as about 4ft longer so that it can accommodate 16ft boards (or two 8ft boards end to end) - our mill can cut boards up to 16ft 10in long, so it makes sense to have a kiln that can fit those too.
To make it more easily movable, we'll be building it on wooden skids, in the same fashion as Diana did with their buidings on her course at Yestermorrow.
We're also planning to build it as much as possible out of our own milled lumber - including the framing as well as board and batten siding rather than plywood sheathing on the outside.
It's unlikely that we'll have enough time to get it all built in the next month, so instead our focus is going to be on getting the floor structure built. We'll be using pressure treated wood for this, as well as hopefully reusing some of the foam board insulation we used to skirt our RV last winter.
If it goes to plan, that'll give us a sturdy, flat and level surface about 6.5 x 18 feet which we can use to stack and sticker some of our lumber over the winter. Then, come spring we'll finish the solar kiln and use it to dry the remainder of our lumber.
Once it's fully operational, the kiln should be able to dry a load of lumber in as little as a month - it'll also help kill off any bugs in the wood and set the pitch in our spruce and pine. We can even use the kiln to accelerate the drying of our newly cut firewood.
Cutting Firewood
Speaking of firewood, one big project we've completed in the last couple of weeks has been to turn a whole load of the logs that had been produced from the driveway clearing into some beautiful stacks of firewood (if I may say so myself)!
I've never lived somewhere where we depended on firewood as a primary source of heating so cutting, splitting and stacking firewood is a whole new experience for me!
That said, it was a lot of fun and really educational too - I learned a lot not just about the process of cutting the firewood, but also getting better at identifying the wood species.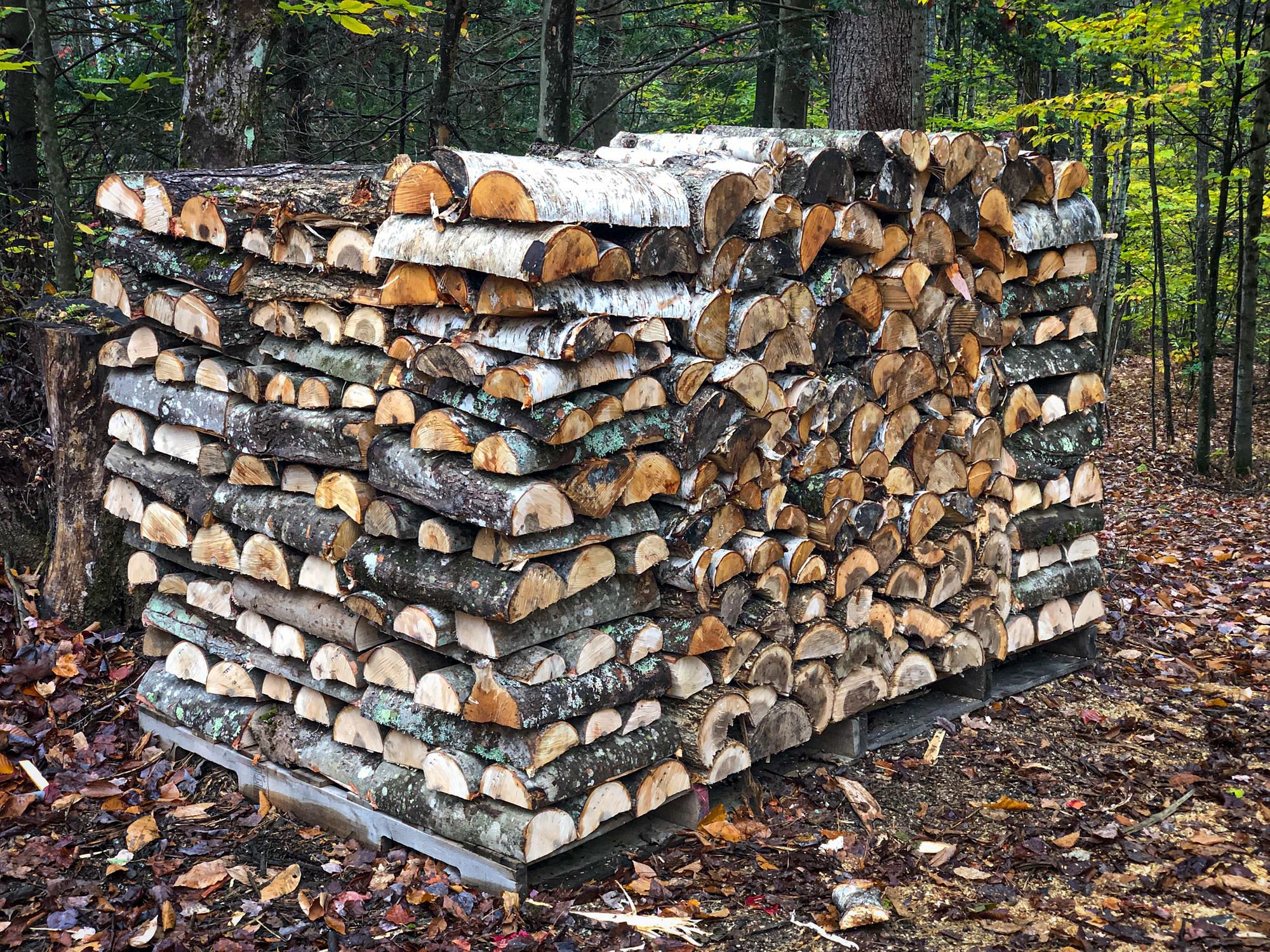 And the end result is incredibly satisfying - more than a cord (that's 128 cubic feet or about 3.6 cubic meters) of 16" firewood logs neatly stacked and drying. Since our only use for firewood is campfires, this should last us a very long time.
COVER Home Repair
About a month ago, I stumbled across a non-profit organization based out of White River Junction, VT called COVER Home Repair.
Their goal is to organize volunteers to help make urgently needed repairs for qualifying low income homeowners in central Vermont - including roof repair, building ramps and stairs, and weatherization.
I've previously volunteered with Habitat for Humanity and really enjoy the experience of learning new skills and working with like-minded individuals to support people less fortunate than ourselves.
I was keen to help out on a roof repair job and for obvious reasons they don't do roof repair projects over winter, so I jumped on one of the last of the season. Over the past couple weeks I have spent several days volunteering and learning how to build my first ever roof!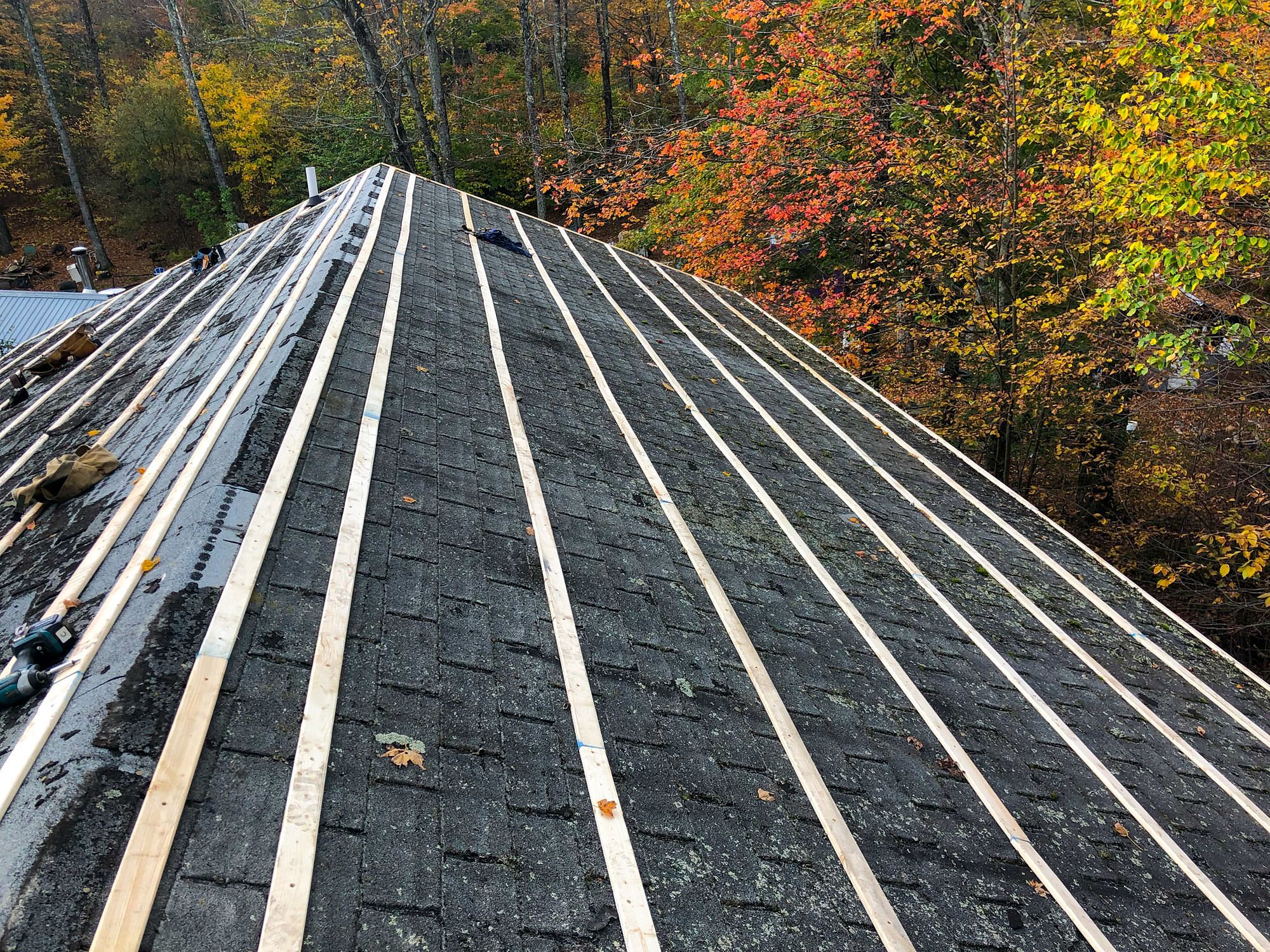 It should have been a fairly straightforward project - laying strapping and metal roof panels over an existing leaky shingle roof. Unfortunately supply chain issues and inaccurate weather forecasts complicated things, but in the end everything worked out - the new roof looks great and the homeowner is excited to be able to remove the buckets dotted throughout their home to catch the leaks.
If you haven't done so before and are able to help, I highly recommend looking to see if there are similar organizations in your area. In my experience they're very rewarding, educational and provide much-appreciated support for people in need.