Introduction
I had my first flat tire in the US almost 2 year after moving here. It happened while we were on a long weekend vacation. In Death Valley National Park, on West Side Road - a 40-mile long dirt road. On a Sunday.
Not the best time or place to get a flat.
Fortunately we were close to the end of the dirt road, so we took it slow and reached the pavement. Changing the tire was easy, but our Ford Escape SUV at the time had a space-saving spare - with a 50mph maximum speed rating. Not ideal when you're in the middle of Death Valley, about 165 miles from the nearest tire shop.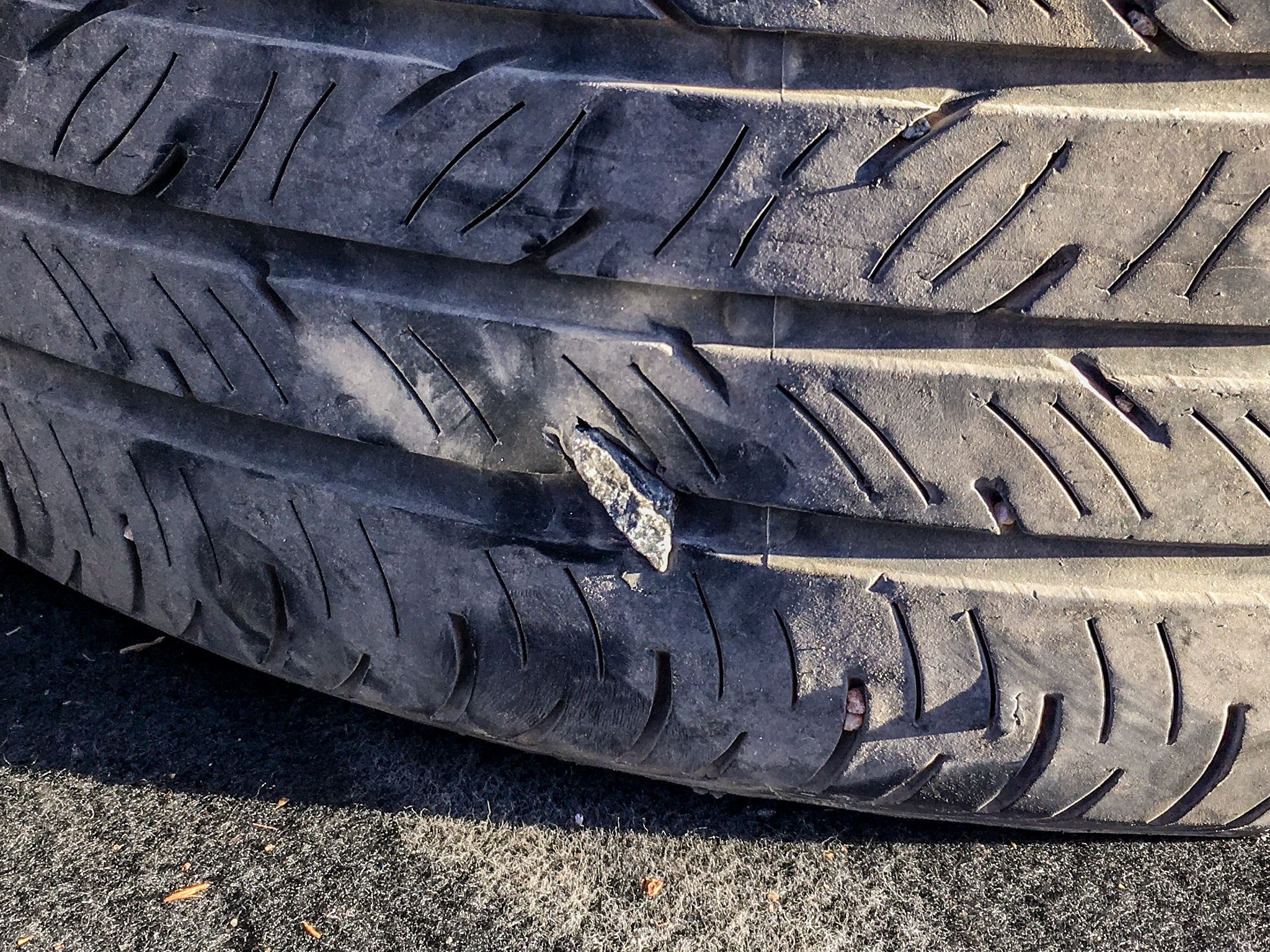 But honestly, that was about the only time I ever thought about my tires before we bought an RV. Tires were something I didn't really worry about day-to-day.
All that changed when we started off-roading, and more recently, RVing full-time.
Original Tires
Our truck came with 20" wheels - larger rims are actually good for stability while towing, but the thinner tire sidewall tends to mean lower load ratings and isn't so good for off-roading. But wheels are expensive, so we've stuck with them.
Our truck came with Hankook Dynapro AT-M tires. I don't know how to describe them other than to say that they were very "meh". Nothing bad, but nothing particularly good. Apart from off-road where they were useless - but then they were a road tire, so no surprises.
With a slightly heavy right foot, I was able to ensure they needed replacing at 19,000 miles - excellent. Just in time for our plan to road-trip across the Mojave Road, a 150-mile dirt road through the Mojave Desert. From my online research, I chose the BFGoodrich All Terrain T/A KO2 tire, keeping the same 275/55R20 tire size that I had before.
Wow. What a difference! These tires were an incredible upgrade!
The review that follows is purely my own unbiased opinion, but I hope it's useful anyway!
On Road
As much as we enjoy off-roading, the reality is that the vast majority of our driving is on pavement. When it comes to driving on pavement, there are a few many areas I think it's worth talking about:
Road / tire noise
Ride comfort
Fuel economy
Wear
You know when you have something added or changed on your vehicle, you become acutely aware of everything, as though you're desperate to detect a change? No? Oh, maybe that's just me then!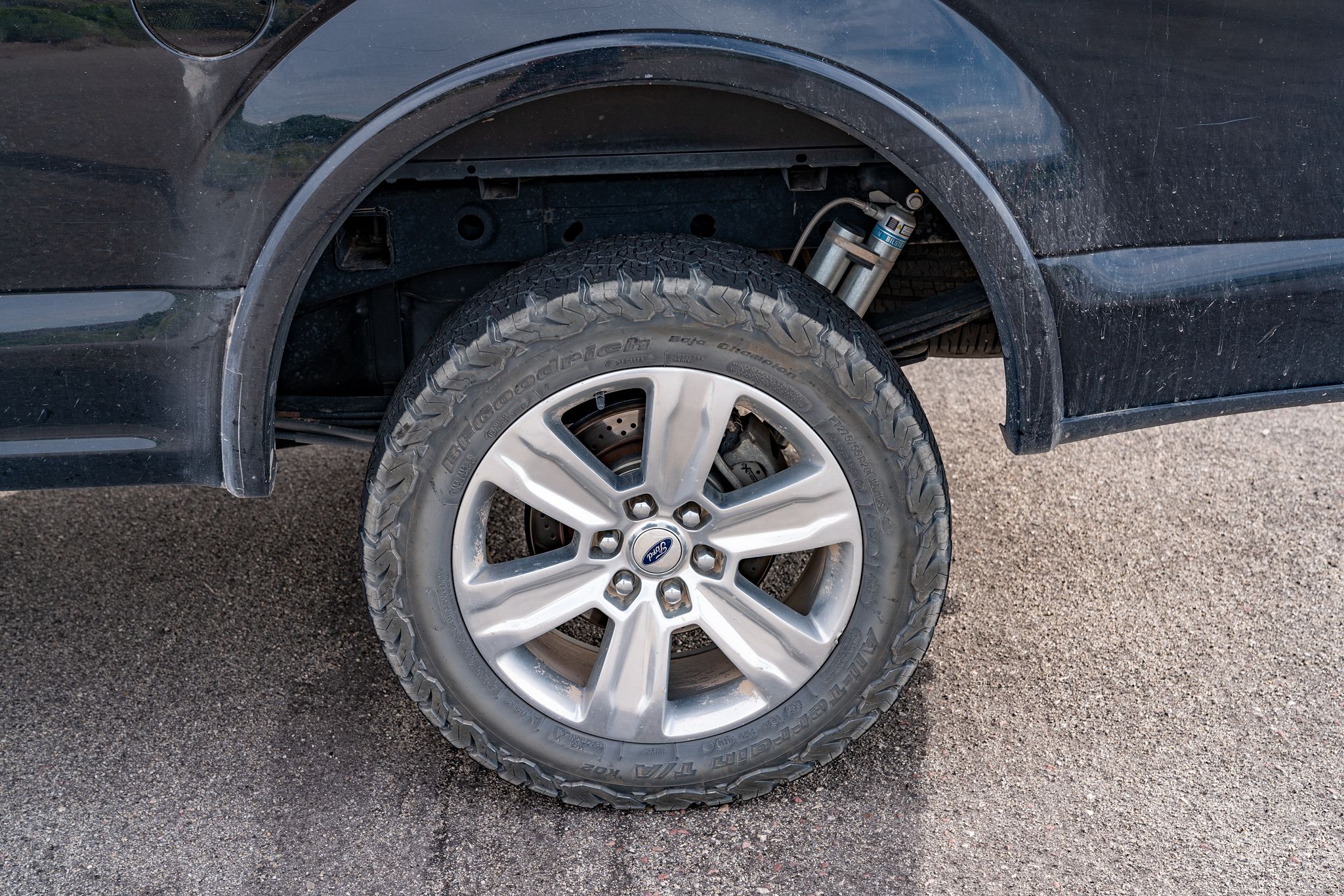 Road Noise
Regardless, as I drove the truck away from the tire shop with its new shoes on, I rolled the window down. I had never had an aggressive tire tread like this before, and I was a little anxious about tire noise - that would quickly grow tiresome!
At first I was concerned. At every intersection, I could hear a humming sound coming from the tires. It only seemed to happen at low speed (<10mph) and on tight turns - mainly intersections. Fortunately, the noise disappeared entirely after a couple hundred miles - I guess it was just the sharp edges of the tires from the mould.
Other than that, I couldn't detect any difference in road noise as I was driving along. Admittedly our truck, being the Platinum trim, has plenty of sound insulation, but even with the windows down, I can't say that road noise from this tire has ever been an issue.
Ride Comfort
I honestly can't say I noticed any change in ride comfort at all with the new tires. The BFGoodrich KO2 seems to ride absolutely fine!
As you might expect, changing the tire pressure does change the ride - riding at 35psi is softer than at 50psi - but the same is true of any tire. And particularly given the fact that we have 20" rims, there's so little sidewall anyway, there's not much opportunity for the tires to improve, or degrade, the ride comfort.
Fuel Economy
The story is the same again here. Some people have claimed they see a slight reduction in fuel economy when they move to the KO2 tire from a less aggressive tire. But if there was a reduction, it was so slight that we couldn't see it.
Wear
OK, the big one - how long will these tires last? I have some good news for you - the tire wear is excellent!
We had the KO2s installed in October 2017, and the truck had 19k miles on it. After an off-roading incident (more on that later), one of the tires needed replacing - that was January 2019, and the truck had 40k miles on.
I was concerned that I was going to have to replace the tire on the opposite wheel too, as it's typically not a good idea to pair an old and new tire together on the same axle.
I needn't have worried. I took it down to Discount Tire, and their tread depth gauge showed it had 11/32nds of tread left - it only started with 15/32nds! A tire is considered completely worn out when it only has 2/32nds of tread left, and Discount Tire recommends replacing the tire at 4/32nds.
In other words, after 21k miles (including 6k miles towing a trailer, and plenty of off-road trips), the tire still had 60% of its life left. In fact, if you run the math on that, those tires should have been good until 57k miles - and even longer if you have a lighter foot than I do! That's 3x the 19k miles I managed on my original Hankook Dynapro AT-M tires, by way of comparison.
Towing
I can't compare this tire to anything else, since it's the only tire we've had since we've had our trailer. But I also have no complaints - it rides well, and as I wrote about above, doesn't seem to have suffered undue wear with the extra load.
Prior to towing, we ran the tires at about 35psi, but with the extra load of the trailer, we now run them at 45psi.
Speaking of which, the 275/55R20 tire is only load range D, but that still allows up to 2,680lbs @ 65PSI - more than enough for our truck with a GVWR of 7,050lbs, even when towing our 7,500lb trailer.
The load range varies by the tire size, and some sizes of the KO2 have much higher loads. For example, the 295/75R16 is load range E, with a maximum load of 3,970lb @ 80psi.
Off Road
All this on-road information is interesting, but you don't buy a BFGoodrich All Terrain KO2 tire to drive on pavement all the time. OK, well at least I don't!
We wanted a tire that would perform off-road. Something that would let us get out into the wilderness - and get back again!
BFGoodrich claims its their toughest All Terrain tire.
When I hear a claim like "toughest tire", bad things happen in my head - I have to test that! So I'm now on my second set of these tires....more on that later!
But it's a testament to how much I like these tires that I chose to fit the same tire again - they work really well for us given our driving habits.
What I can say though, is that even with my heavy right foot, propensity to go off-roading, and half our miles spent towing a trailer, even after 20k miles, the tire tread was looking great. In fact, based on the remaining tread depth, they would probably have been good for another 30-40k miles!
Traction
Obviously, one of the main characteristics you're looking for in a tire when off-road is how much grip it provides. This is where this tire shines! In lieu of objective, scientific data, let me try and explain by way of a few examples.
We typically try to off-road with others - it's both safer and more fun! But there aren't always people around when we want to go, so sometimes we go alone. Such was the case back in April this year when we wanted to cross the Mojave Road - a 150-mile dirt road through the Mojave Desert.
When we off-road alone, we typically stay in "road mode" as long as possible. This way, if we get into a more difficult situation, we have lots of aids to rely on, for example: airing down tires, switching to 4WD, switching to 4L, engaging the rear locker, using traction mats, etc.
So we drove across the Mojave Road, almost the entire way in 2WD without airing down. The sandy desert floor, rocky climbs, rutted Joshua Tree forest roads, and even the sand dunes - all in 2WD. The only time we had to do anything different was for Watson Wash, a very steep and rutted, sandy descent - I engaged 4L for the additional engine braking control.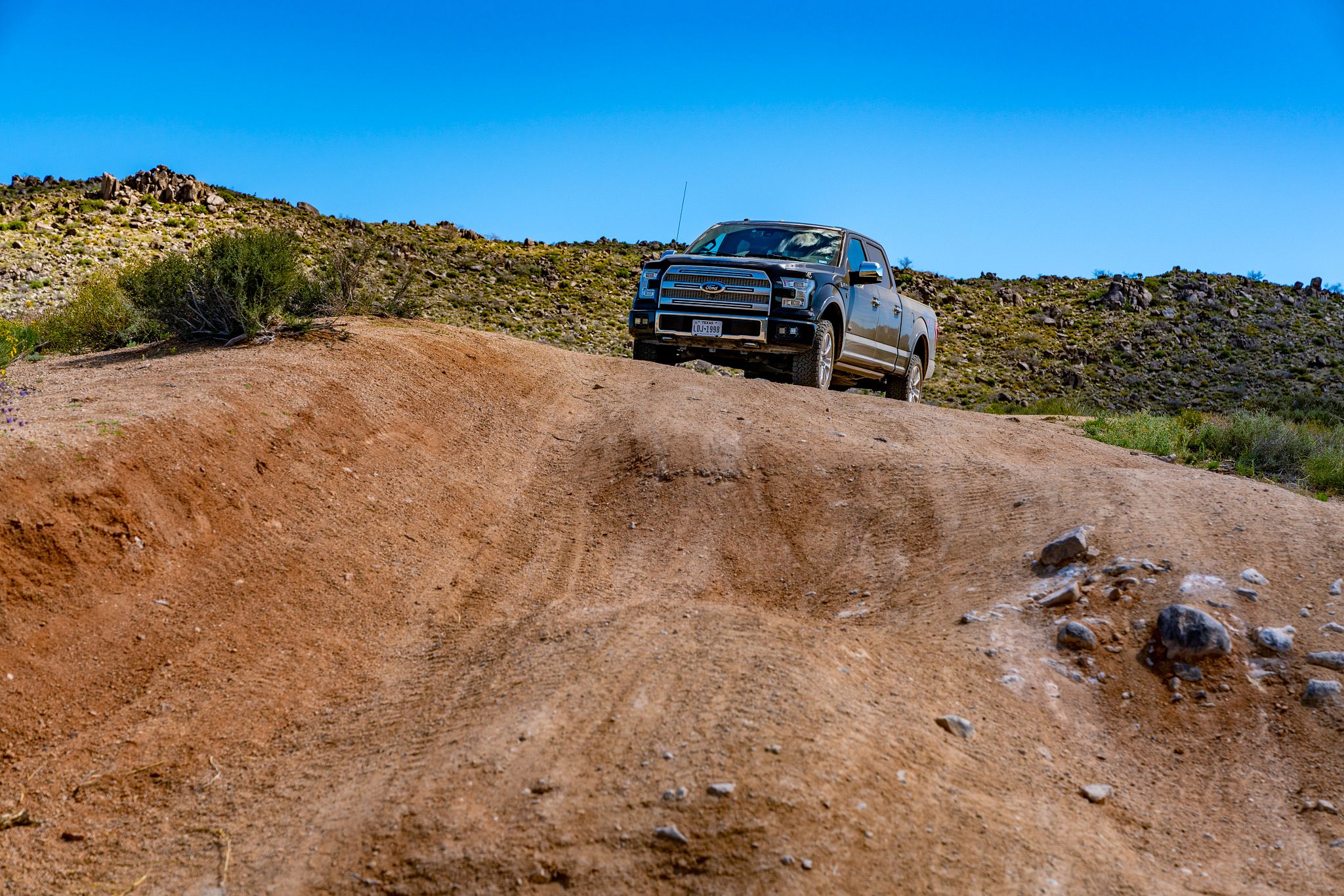 Still not convinced? OK, how about a towing example.
If you've been following us for any length of time, you've probably gathered we're a little bit crazy. Correction, I'm a little crazy and Diana is the voice of reason and common sense. Except sometimes my hearing is selective, so I do some crazy things.
Such was the case recently when I decided to tow our trailer up a crazy steep hill to a beautiful camping spot overlooking Twin Lakes, CO. A friend of ours who had been there recently said that in the couple weeks he was there, he only saw an overlanding rig and a couple dirt bikes make it up.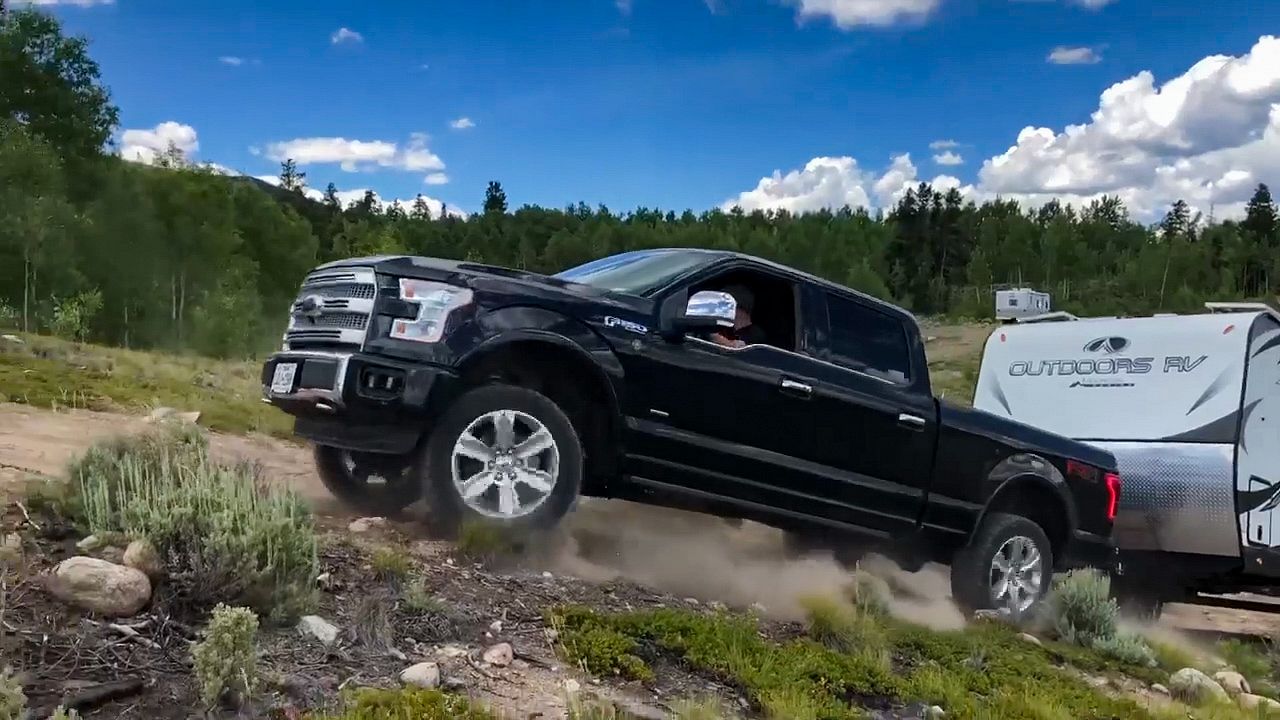 It took three attempts with 4L and the rear locker engaged, but we made it to the top. We didn't even air down. Somehow, from somewhere, the tires managed to find traction. Totally worth it!
Flat Tires
BFGoodrich markets the KO2 as their toughest All-Terrain tire. But how tough is it really?
We went off-roading near Lake Havasu with a group of about a dozen rigs - mainly Jeeps and their ilk. There was a rock climb obstacle shortly after lunch that several vehicles couldn't clear - particularly some of the 5-door Jeeps. Somehow, with some expert assistance in spotting, we got the F-150 over the obstacle. However, a little while later, one of our off-roading buddies pointed out I had a lump missing from the sidewall of one of my front tires.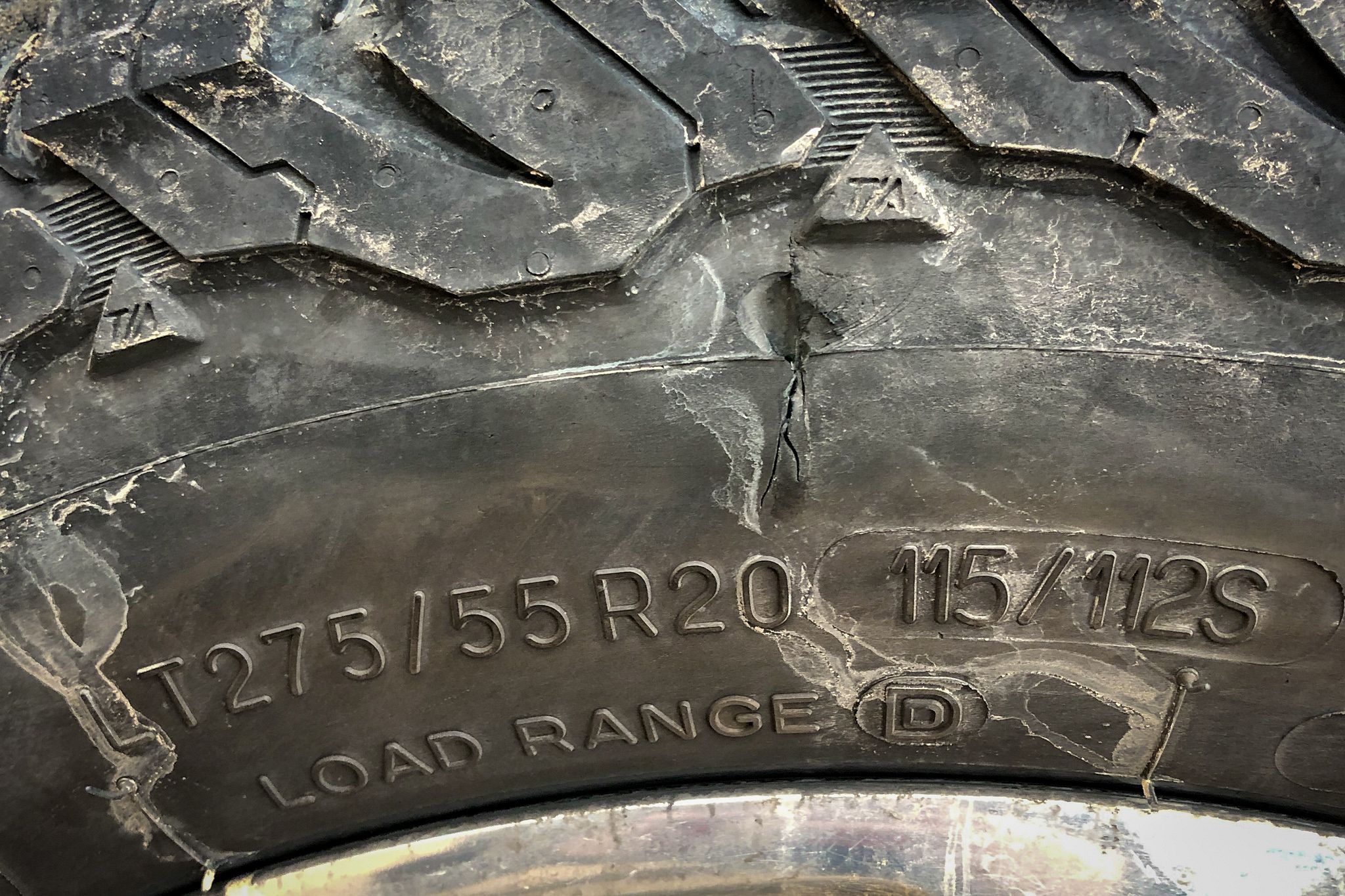 We don't know when it happened. The terrain all day had been rocky, and there had been ample opportunity for a stray rock to lash out.
Regardless, I took it into a local Discount Tire, and they confirmed it had cut all the way down to the threads in the sidewall, so the tire needed replacing. But, the tire hadn't blown out or even lost pressure! We had driven home on it, and Discount Tire said we were OK to tow our RV with it. I was impressed by that.
Unfortunately they didn't have the tire in stock, so they ordered some in. A few days later, I took my truck back in and had the tire replaced. That was at about 1pm.
By 3pm, we were back out on the trails - this time, taking the back way to Oatman, AZ. It was just two vehicles this time, ours and Kelly's (aka RV Chickadee) beautiful Ford Raptor - both full with passengers though. We both aired down to about 25psi.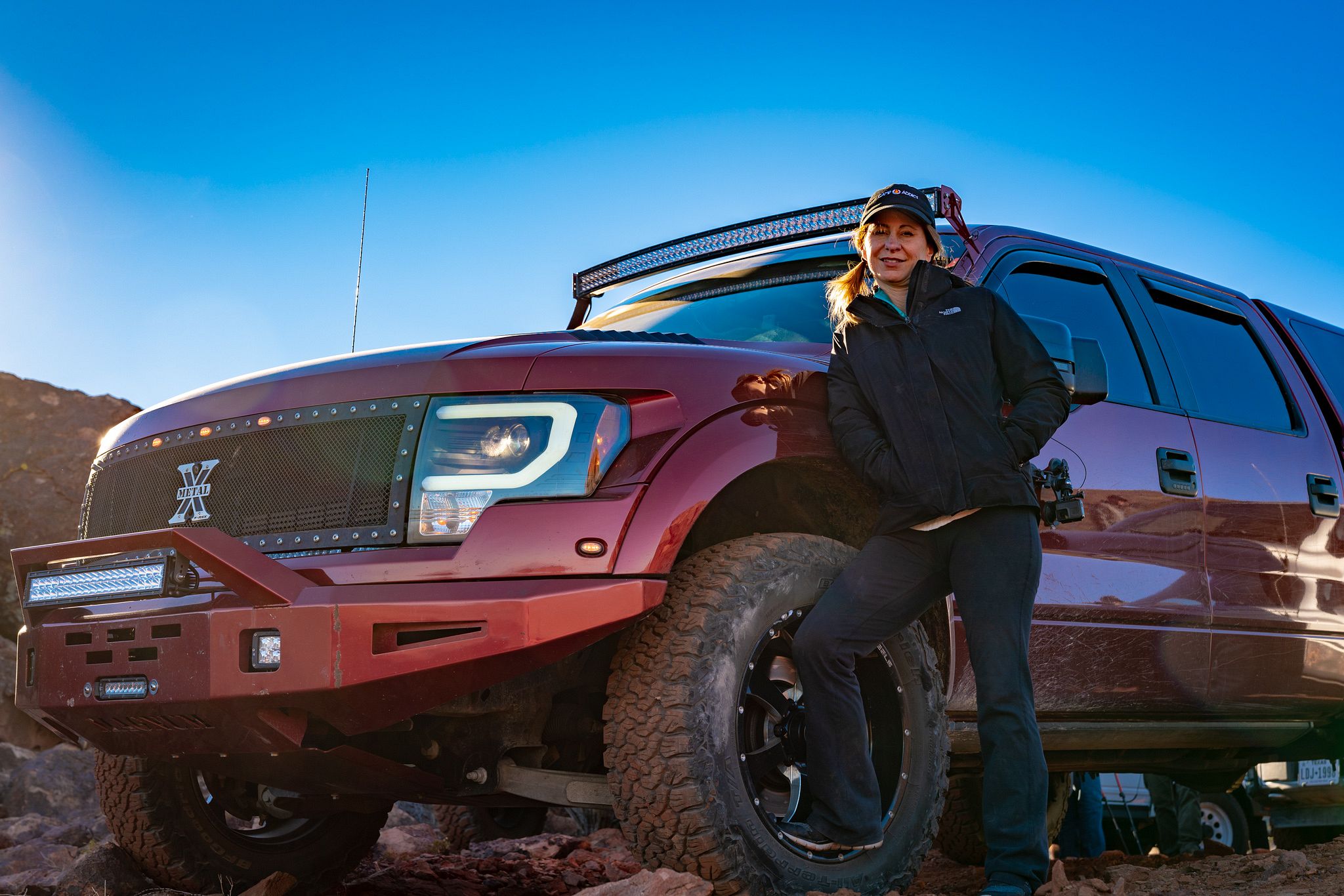 I messed up. It was entirely my fault. I saw the rock but didn't react in time and hit it. I watched the tire pressures on my truck dashboard. The front passenger tire pressure dropped rapidly to about 5psi. Then so did the rear passenger tire. The same rock had cut about a 2" gash in both tires.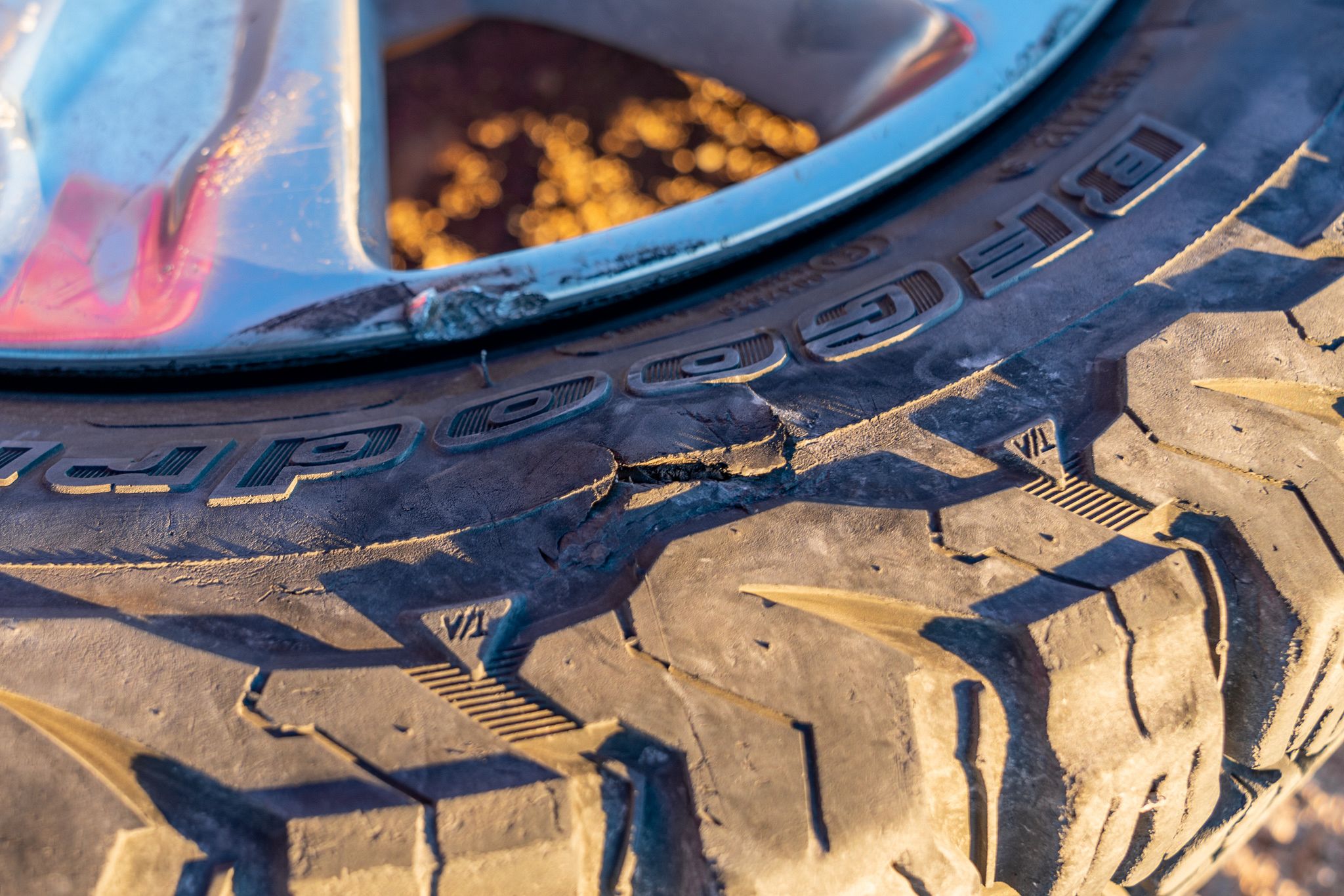 We were miles out on the trail, and I only carry one spare!
Fortunately, the 33" spare from Kelly's Raptor had the same lug pattern, so we put it on the rear, unmatched alongside the rest of my 32" tires. I drove slowly on the way back, with my assortment of tires - two KO2s on the left side, one factory spare on the front right, and Kelly's spare on the rear right.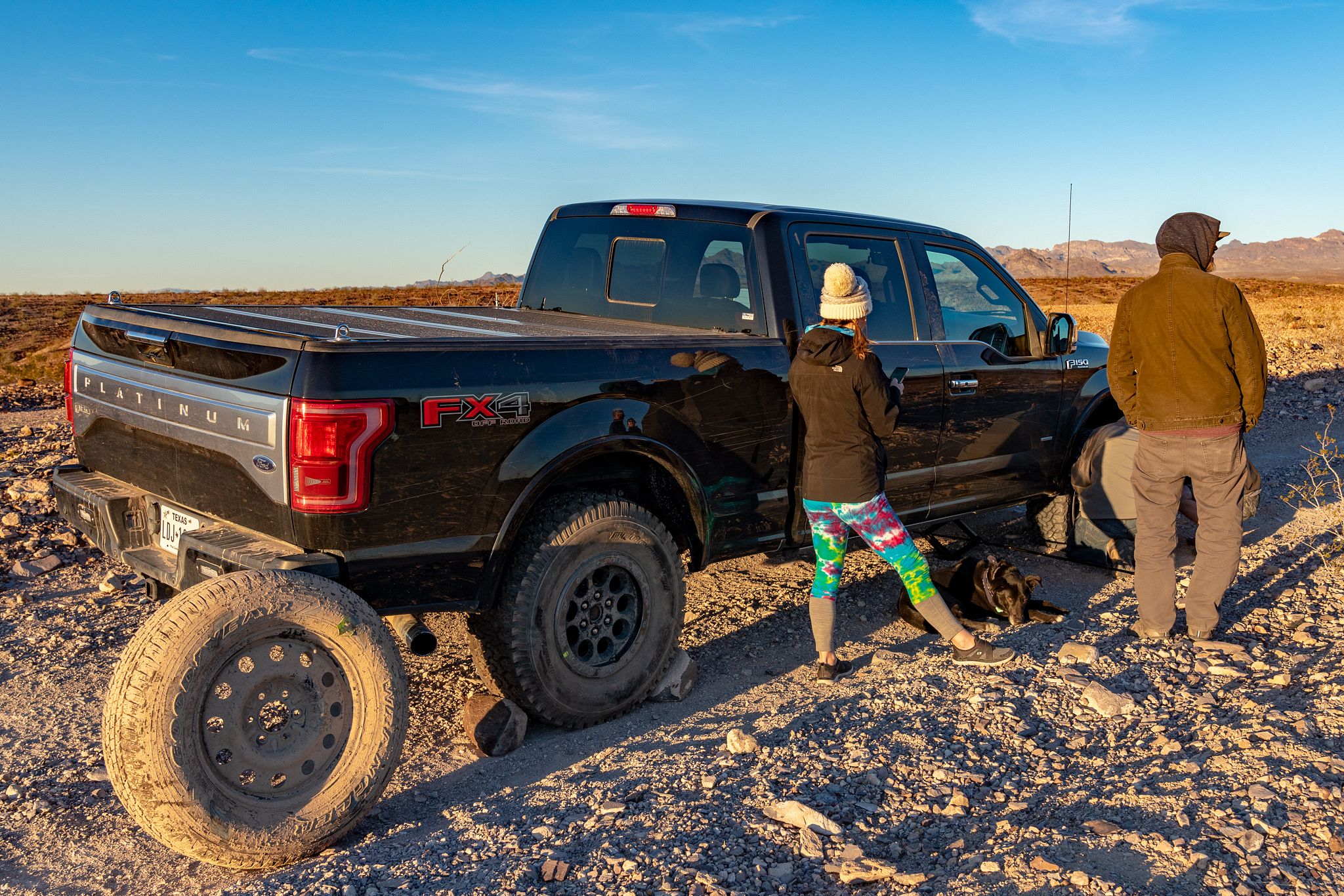 At 4:50pm, from the car, we called Discount Tire in Lake Havasu.
"Hey, how many of those BFGoodrich KO2s did you order in the other day?"
"4" comes the reply.
Phew! I asked them to hold 2 for me, and said I'd be along first thing the next morning.
Even though I damaged 3 tires while off-roading, that didn't actually dampen my enthusiasm for them. Let me explain.
In neither situation did the tires blowout, nor cause me to struggle to control the vehicle. In the first example in fact, the tires never lost pressure. In the second, both tires on one side of the vehicle lost all pressure in seconds, but it still wasn't a catastrophic blowout. I was able to slow down and stop quickly and under control.
Also, in the second situation, I'm pretty sure it was my fault. I was going faster than I probably should have been - I won't say exactly how fast (my mother reads this too...), but suffice to say, hitting a sharp rock directly on the sidewall is always likely going to damage the tire.
Discount Tire
I've mentioned Discount Tire a few times in this article, and let me explain why.
Discount Tire was the shop that first installed my BFGoodrich KO2 tires back in October 2017 - actually, it was America's Tire as that's what they're known as in California. I'd honestly never heard of them before, they were just the only shop in the area that had that tire in stock, and I'd left it a little late to get the new tires put on before our Mojave Road crossing.
They asked if I wanted to buy their extra warranty - the Discount Tire Road Hazard warranty.
At first I was reluctant - I have a mild allergic reaction when it comes to "value adds" like those. But we were about to drive the Mojave Road on brand new tires. Maybe it was worth it! I can't remember the exact price, but I think it was around $40 per tire - not too bad when each tire cost $247.
Buying the Discount Tire Road Hazard Warranty turned out to have been a great decision. Here's how they describe it on their website:
In a nutshell, if a tire that is covered by Discount Tire's "Certificate for Repair, Refund or Replacement" fails for any reason – whether it's due to a factory defect or a non-repairable road hazard and still has legal tread (3/32nds of an inch) remaining across the tire, and it has been in use for less than 3 years, we'll give a refund of the full purchase price.
But we don't stop there. We'll also throw in the applicable sales tax and give you the option to purchase the same new or comparable tire at the refunded price, with the payment of any new applicable sales tax that may have increased between now and when the tire was purchased.
No prorating, no disqualifications (for any reason) and no mileage adjustments similar to those you might have to deal with under the terms of a traditional tire tread warranty.
Let me simplify that further.
If you accidentally damage a tire beyond repair within 3 years, they'll replace it for you free of charge.
The only cost you'll incur is the cost of a new Road Hazard warranty on the new tire, or about $40 per tire (and maybe a small state fee for disposal of the tire).
So when I managed to destroy 3 tires, the total cost to me was just $119.25 (including $6 in state environmental fees). Not bad considering I had just replaced tires with 21k miles on worth around $700 when new!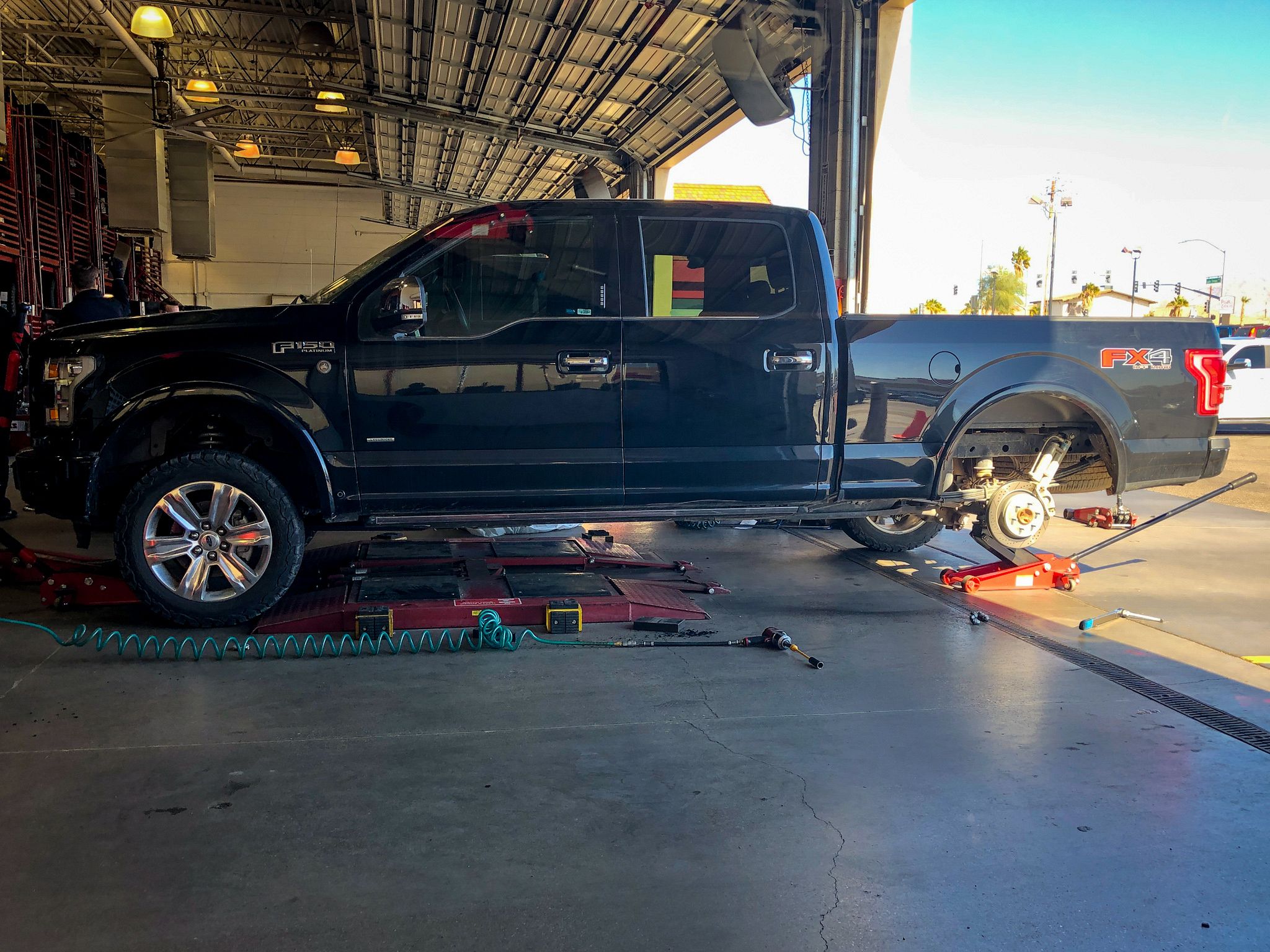 Given my apparent aptitude for damaging tires, I actually chose to buy a new, 4th tire for the truck. That way, all the tires would be the same age which would make things easier for rotating them in future.
We carry around the worn 4th tire in our truck bed, just in case we ever find ourselves needing it. Although it has no wheel on, it would mean that any tire shop would be able to swap it on if necessary - without having to wait for them to order in a new tire for us.
Conclusion
So would I recommend the BFGoodrich All Terrain T/A KO2?
Absolutely I would!
Without these tires, we would not have been able to explore the places we have - both with and without our trailer.
And when we're not being quite so adventurous, the tires are quiet, comfortable, don't degrade fuel economy and seem to wear really well! If you want a tire that will do it all, you would do well to take a look at the BFGoodrich All Terrain T/A KO2.