Within the 40 acres of land, our chosen house site is set back about 1,000ft from the road. We chose this site for a number of reasons - including maximizing the solar opportunity and views from the house.
The property, like many in the area, has a network of logging roads running through it. Although the property hasn't been heavily logged for many decades, many of the trails are still visible, if a little narrow for our truck!
One of the first things we did when we bought the property was clear the logging trail enough that we could drive our truck up and down.
Being able to get the truck up to the house site was great, but this was only a temporary solution. Longer term, we needed a real driveway.
Choosing a Route
The first challenge was deciding on the route.
The logging trail joins the road at a very acute angle - ideally we wanted to join the road almost perpendicular to it. From there, the trail winds its way up the property, cutting narrowly through some bedrock near the bottom, around some tight corners and up some steep sections. The topography is terraced - flatter sections interlaced with steeper climbs.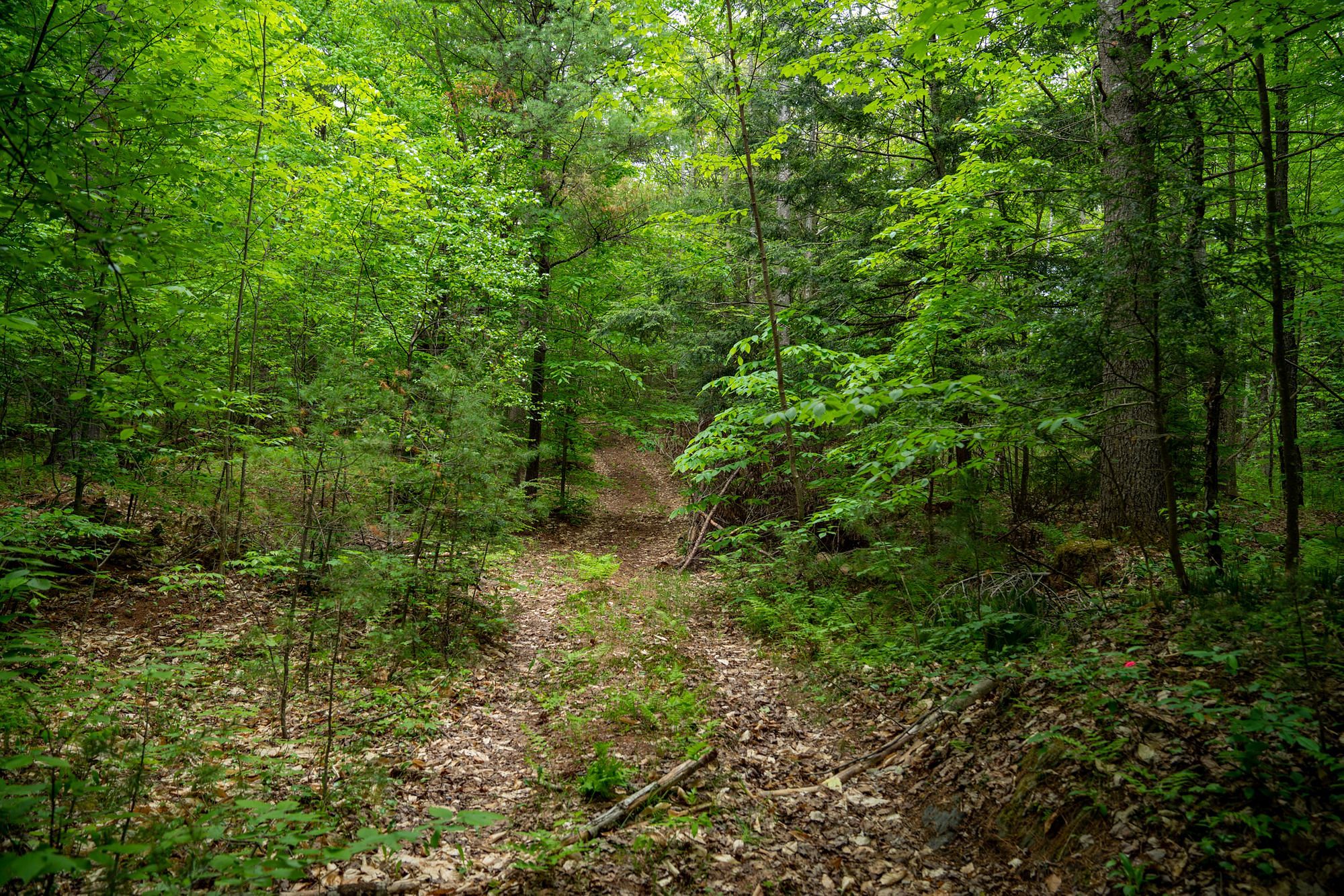 As well as having a driveway suitable for construction vehicles (delivery trucks, concrete trucks, well-drilling trucks, etc) we also need it to be suitable for RVs - both our own travel trailer as well as friends visiting. And of course, we have to make sure the driveway will be navigable in winter - easy to plow and drive on.
There's no getting away from the fact that our house site is about 100ft higher than the road - our driveway will have to climb uphill. This is OK, as long as the grade is steady, the road is wide, and the corners not too sharp.
After speaking with multiple construction companies, we opted to work with Hilltop Construction who serve central Vermont. The owner, Kolbey, visited the site a couple of times with us, and with his help we identified a route for our new driveway.
It involved moving the entrance about 100ft down the road, closer to a utility pole and away from a big piece of exposed bedrock. The driveway would then cut a new path through the forest, joining up with the existing logging trail about 400ft up from the road.
Road Access Permit
Before we could do anything else, we had to apply for a Road Access Permit, often known as a "curb cut". In essence, this is an application for a new entrance onto the road surface, and ensures that the entrance will be built in compliance with state regulations.
Diana and I measured out the exact location of our proposed entrance in relation to neighboring properties, drew a simple diagram on the form, and submitted it.
A few weeks later, we had our Road Access Permit in hand, along with a document explaining the state requirements. There two primary concerns are that you can enter and exit the driveway safely (e.g. good visibility in both directions, slope, etc) and water management (e.g. culverts under the entrance, drainage ditches, etc).
Clearing a Path
With the Road Access Permit approved, we were good to go. Hilltop Construction were booked out for a while though, so it would be almost 2 months before work could start.
Rather than sit around and do nothing, we spoke with Kolbey to see what we could do to help get things ready for them. We agreed that we would clear as much of the brush and smaller trees from the road up to the existing logging trail.
I'm not going to lie: it was hard work. The terrain was too uneven for us to feel comfortable that we could safely get the tractor in, so we were clearing the land by hand. Over the course of about 6 days, we cleared a trail all the way through - check out our video above to see more.
We knew that what had taken us almost a week would have taken the construction crew a matter of hours with heavy equipment, but we were pleased we had done the work nonetheless. It really helped us to visualize the route the driveway would take, and we even made a slight change to the initial plan after finding one particularly wet section.
During the clearing we built several large piles of brush - we rented a 6" chipper from Essex Equipment and filled three large yard bags with wood chips that we'll later use as mulch. Logs were kept separate and sorted into piles for firewood and milling.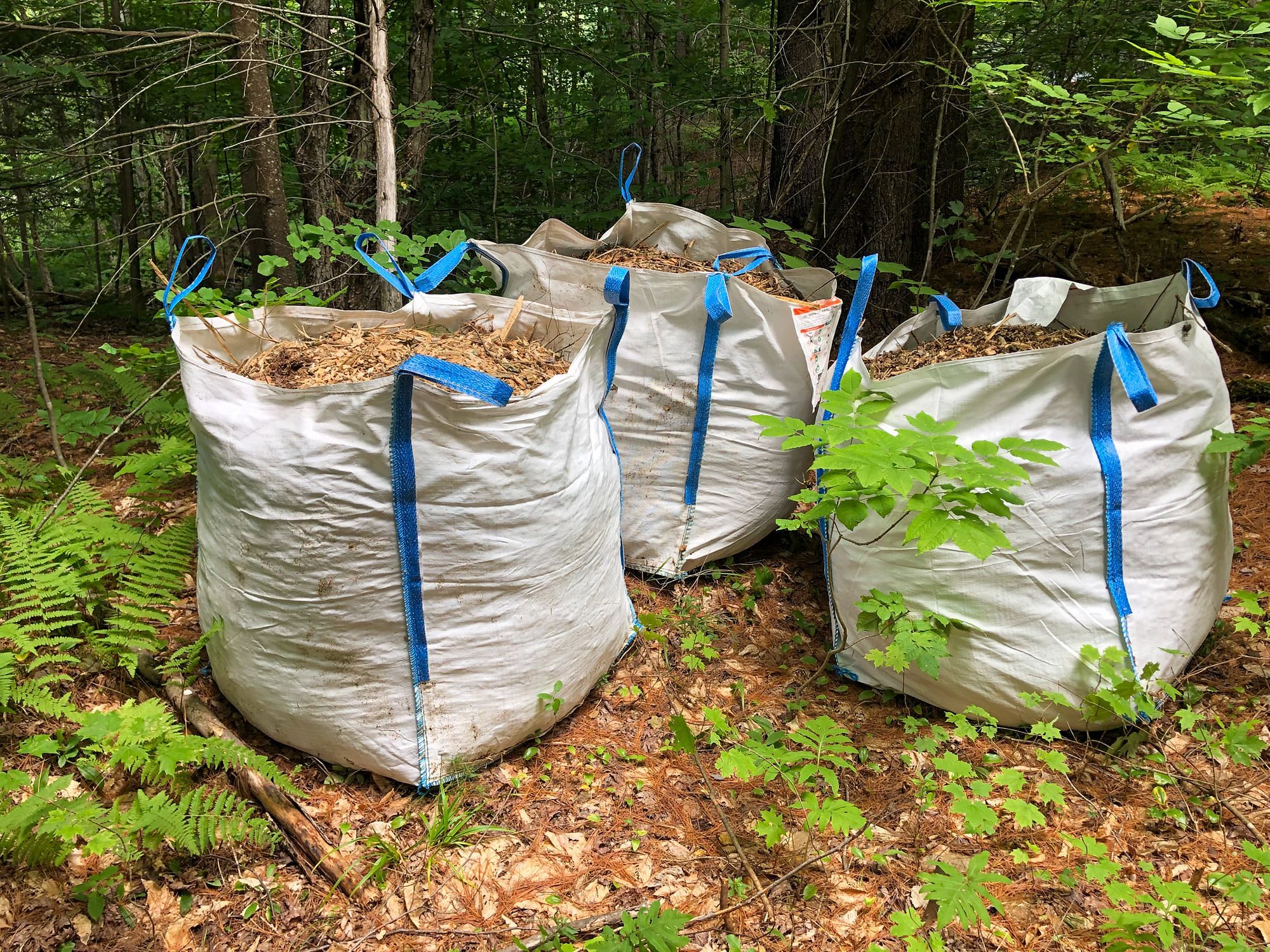 We also removed a section of the stone wall down near the front of the property so that the crew would be able to get their heavy equipment off the road as quickly as possible.
Road Construction
The day before construction was due to start, we met with Kolbey for a final walk-through. Everything was looking good - except for one thing. The weather forecast for the next day included very heavy rain, in excess of 2", as Hurricane Henri passed by.
Building an Entrance
Despite the forecast, we decided to press on regardless. As it turned out, we got lucky and the hurricane moved past us with almost no impacts - just a brief rain shower in the afternoon.
The Hilltop Construction crew weren't messing around - they brought the big toys! By the time I arrived at about 9:30am on the first day, they had already made huge progress. The 18-ton John Deere 160LC excavator was on site and had removed the remainder of the wall, felled several trees, and begun clearing the remainder of the brush.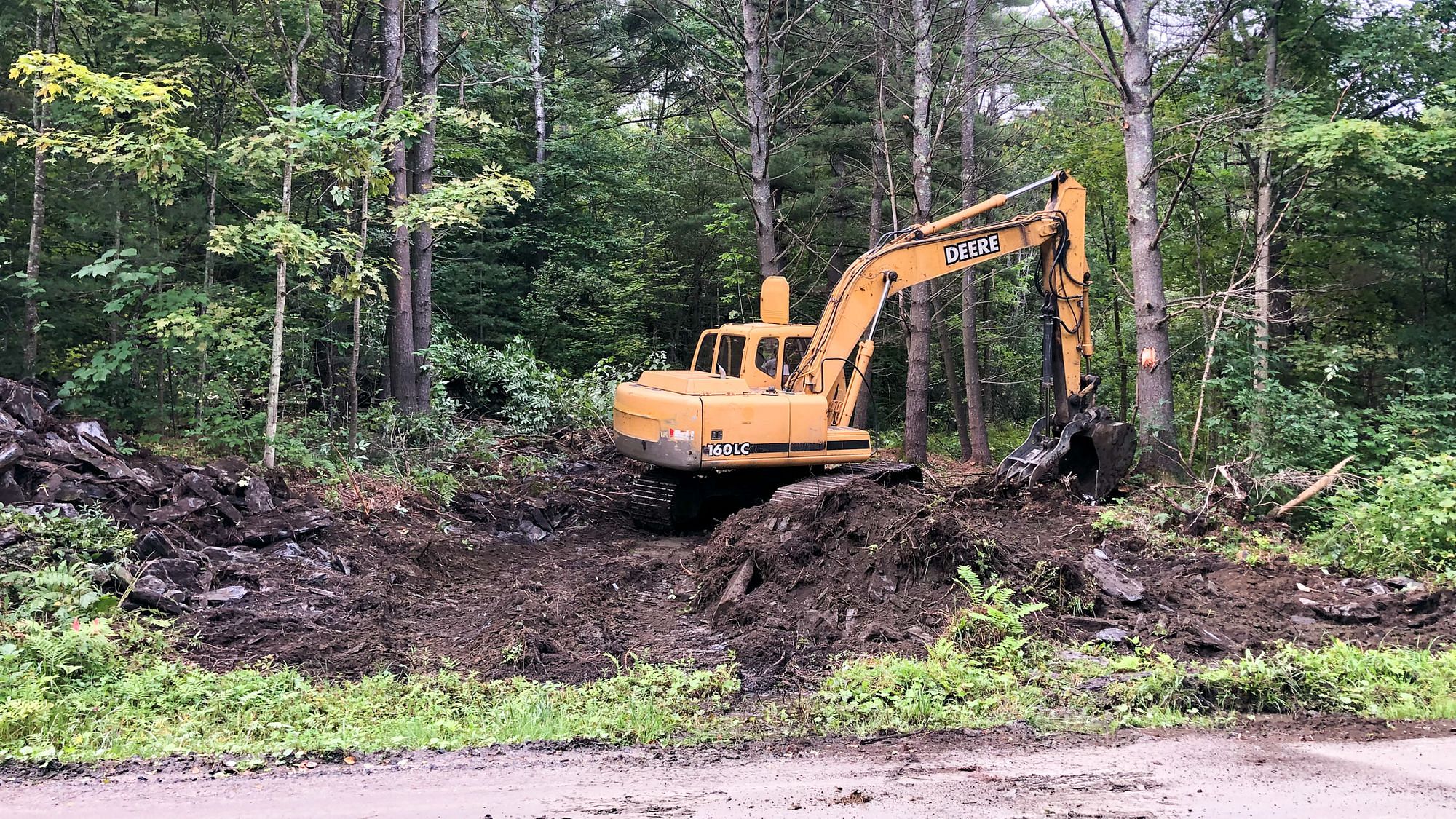 Excess top soil was being removed and loaded into three 16-ton dump trucks as the excavator worked alongside a mini excavator and Bobcat skid-steer to clear the area. They also dug a ditch at the front and installed a temporary culvert to avoid damaging our real culvert with all the heavy machinery driving back and forth across it during the construction.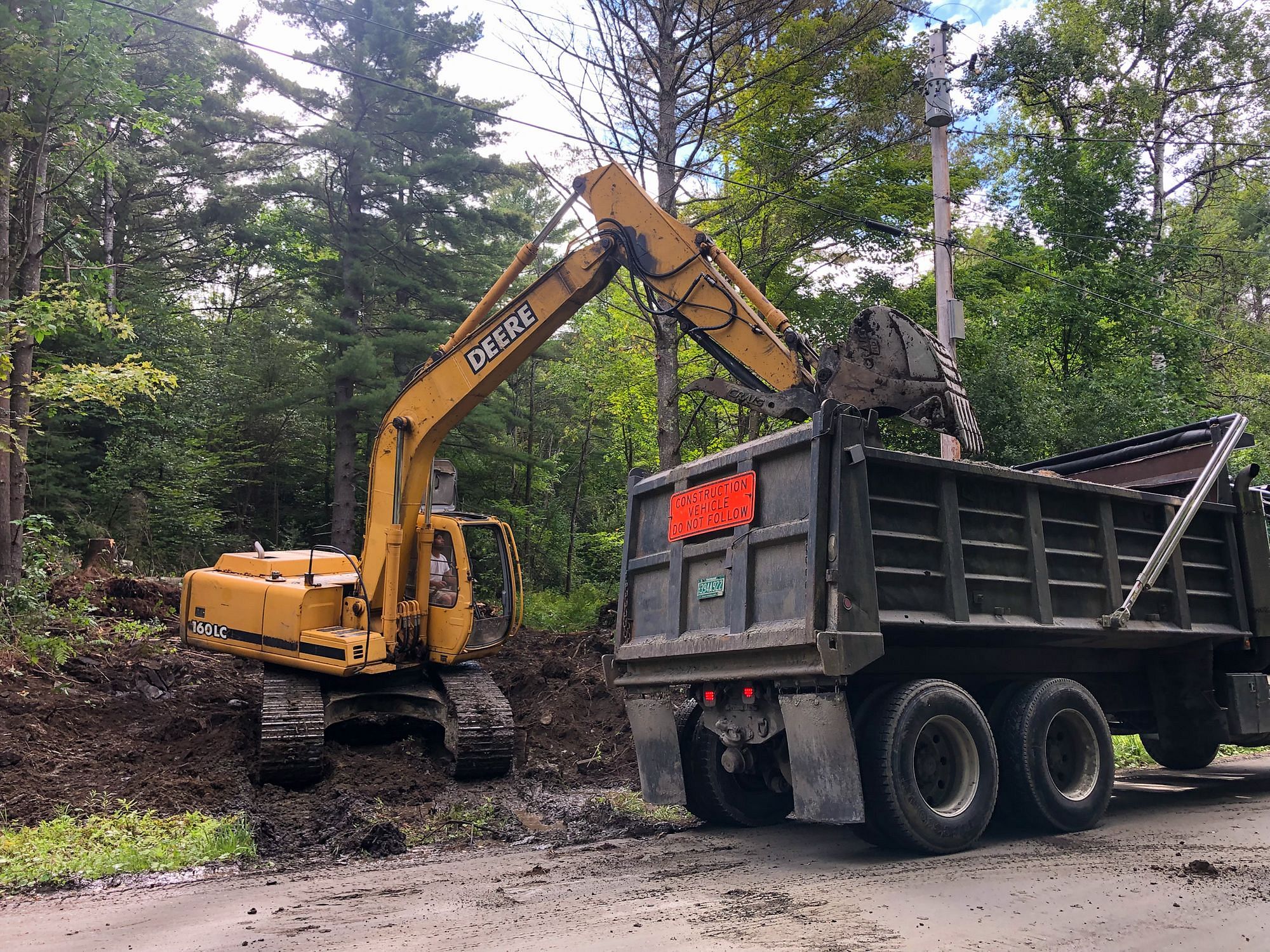 Hitting Bedrock
We expected to hit bedrock during the driveway construction. But we didn't expect to hit it so quickly! The bedrock was just inches beneath the surface at the front of the property.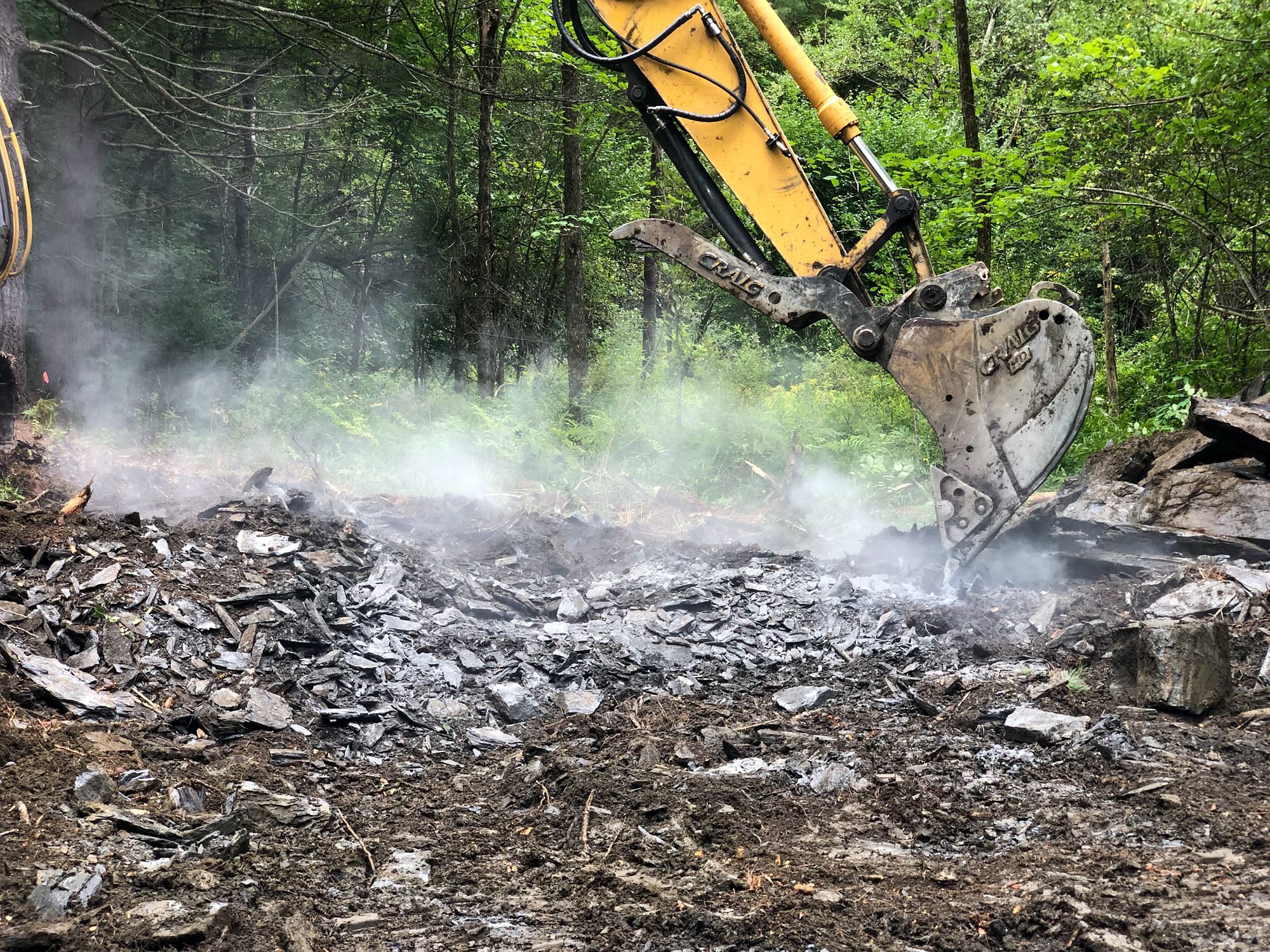 Ordinarily bedrock wouldn't be too much of a concern while building a driveway, but in this case the surface was too high and we needed to lower it to create a steady grade at the entrance to the road.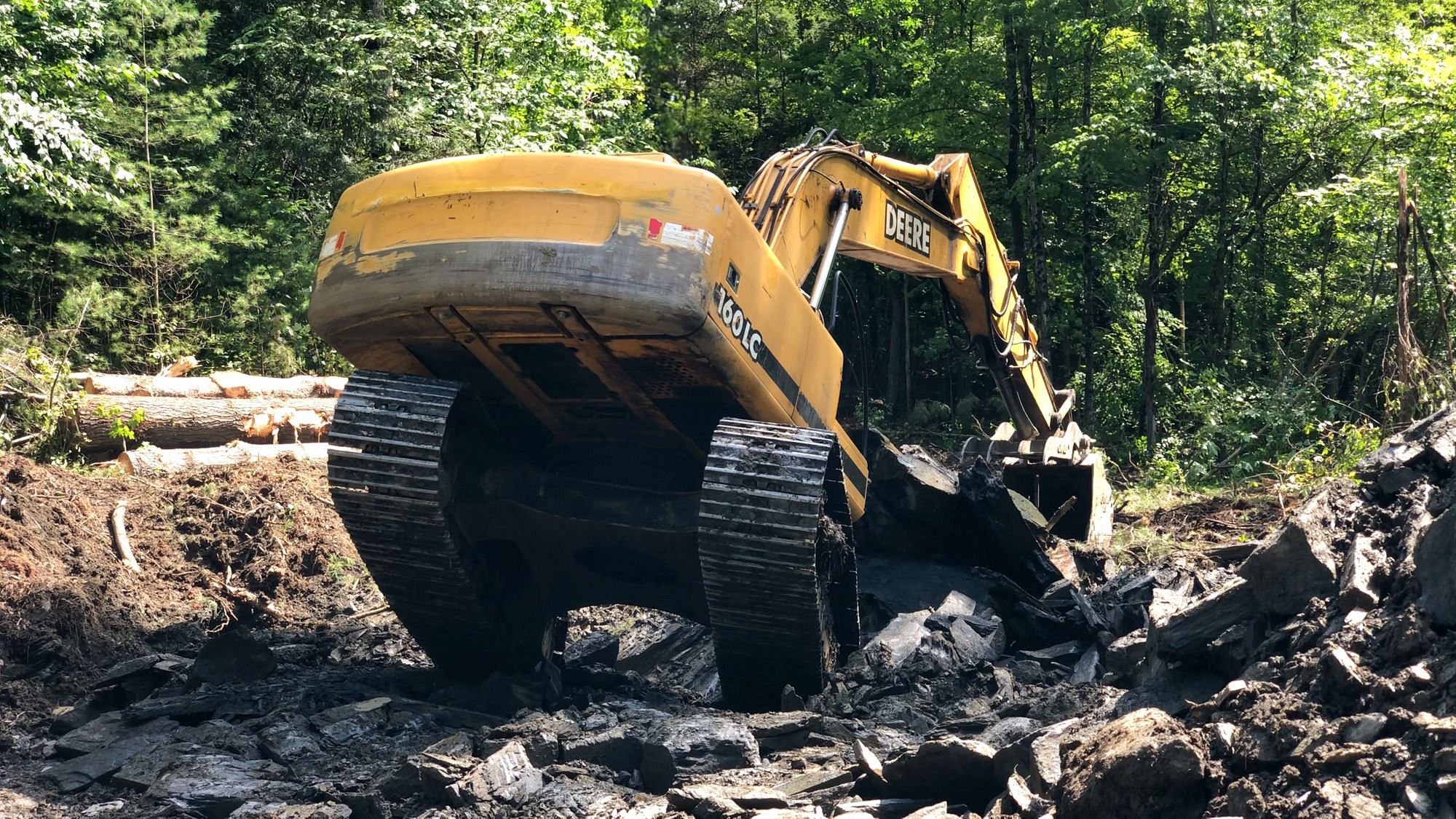 Using a hammer attachment on the skid-steer, they began to break up the ledge. Fortunately the ledge was breaking into layers that the excavator was able to peel apart. The crew later told me that they're used to hitting bedrock in construction jobs but ours was the nicest bedrock they'd hit all year - it broke apart much more easily than most.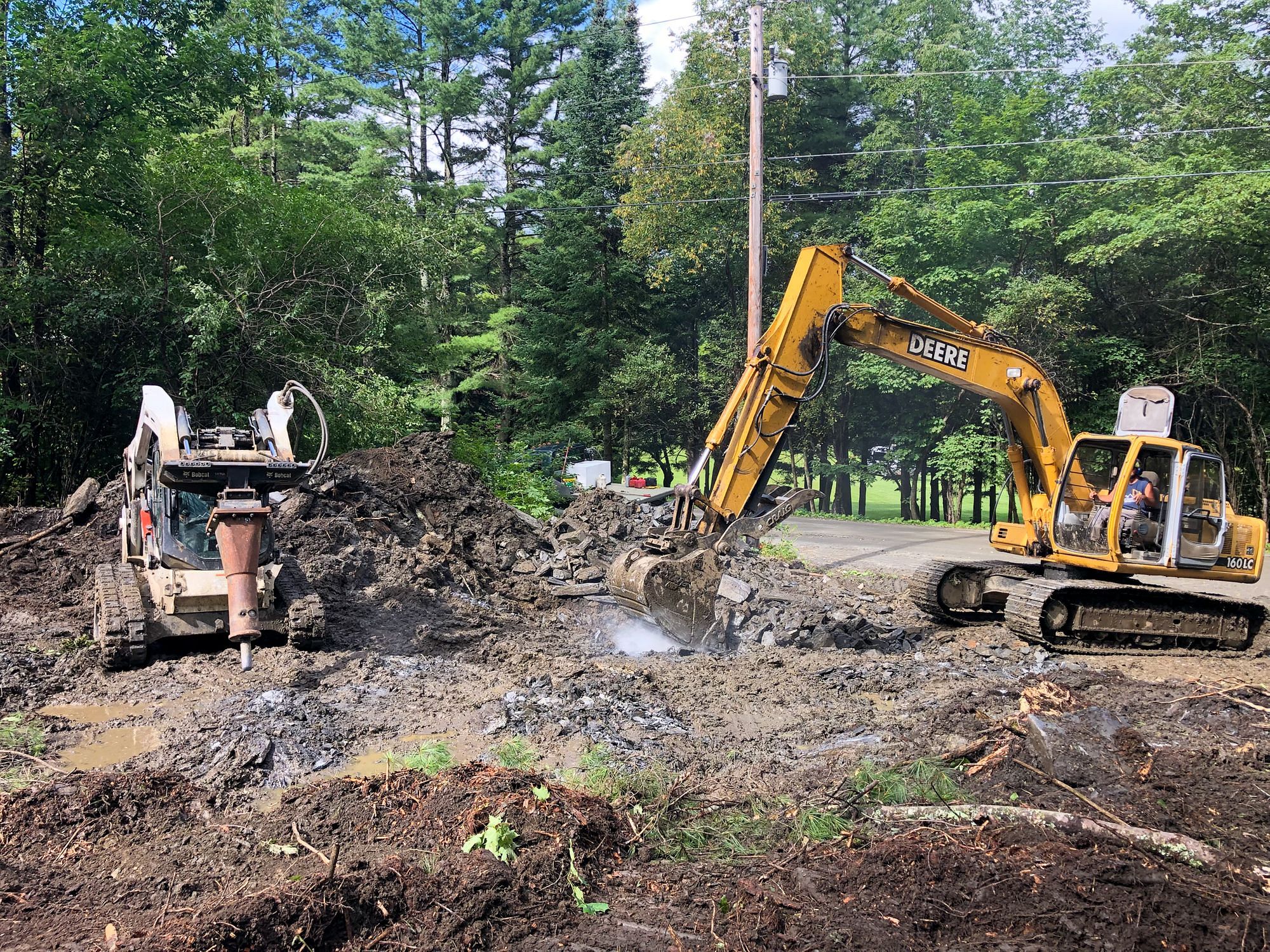 Felling Trees
While we had felled some trees during our clearing, there were many more that needed to come out to make space for the driveway. Rather than felling them with a chainsaw, they simply used the excavator to push them over.
It was pretty incredible watching the excavator push over a 100ft tall pine tree that measured over 30" in diameter! We saved as much of the wood as possible, bucking it into 17ft logs that we can mill later. The speed at which they were able to fell, limb and buck a tree was pretty incredible!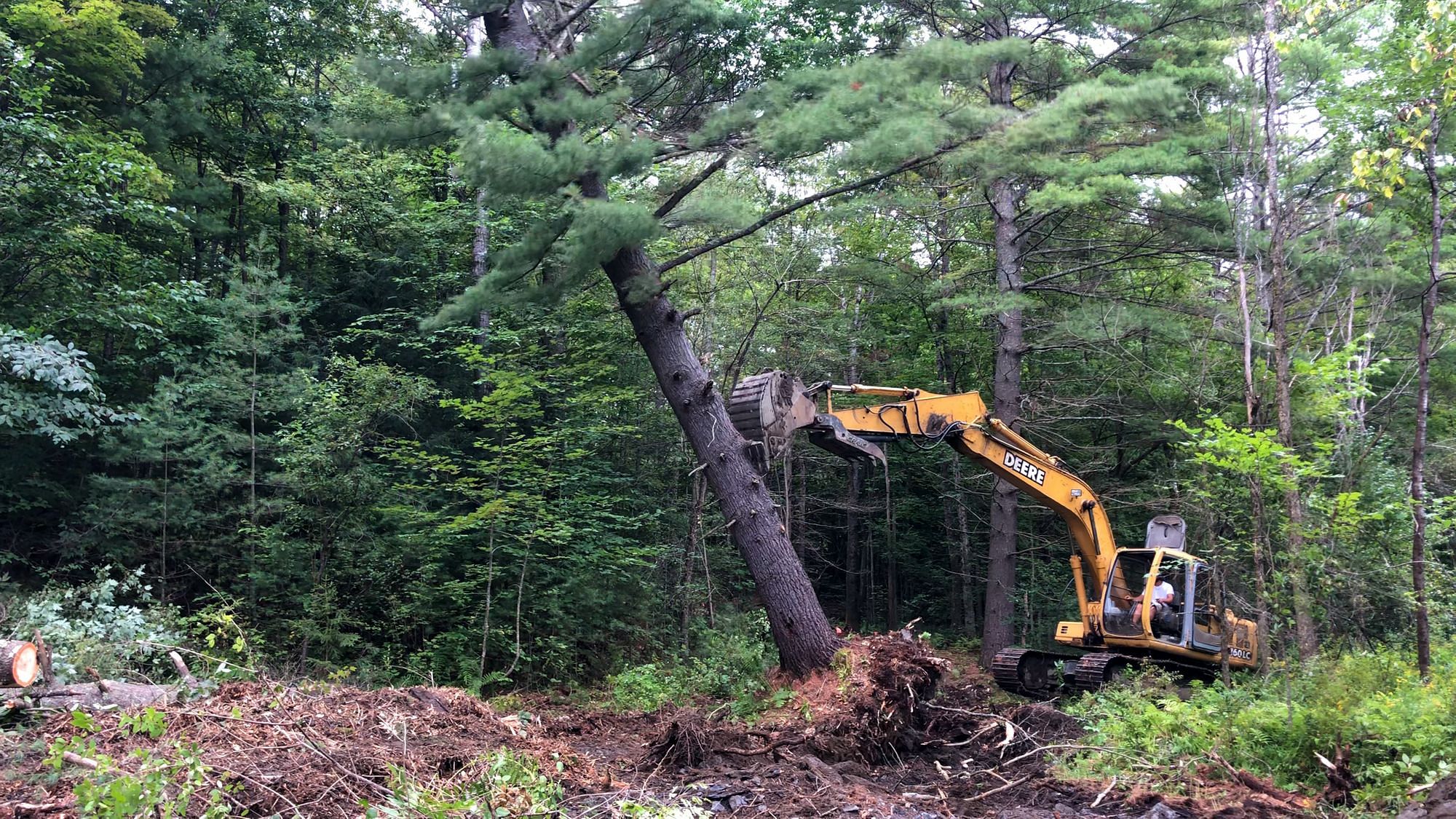 I should also note that we asked Kolbey and his team to just pile up the logs and brush at the side of the driveway, and not try to tidy everything up - that's something we can manage later. They did however remove most of the larger stumps - ones that will be too large for Diana and I to take down to the stump dump.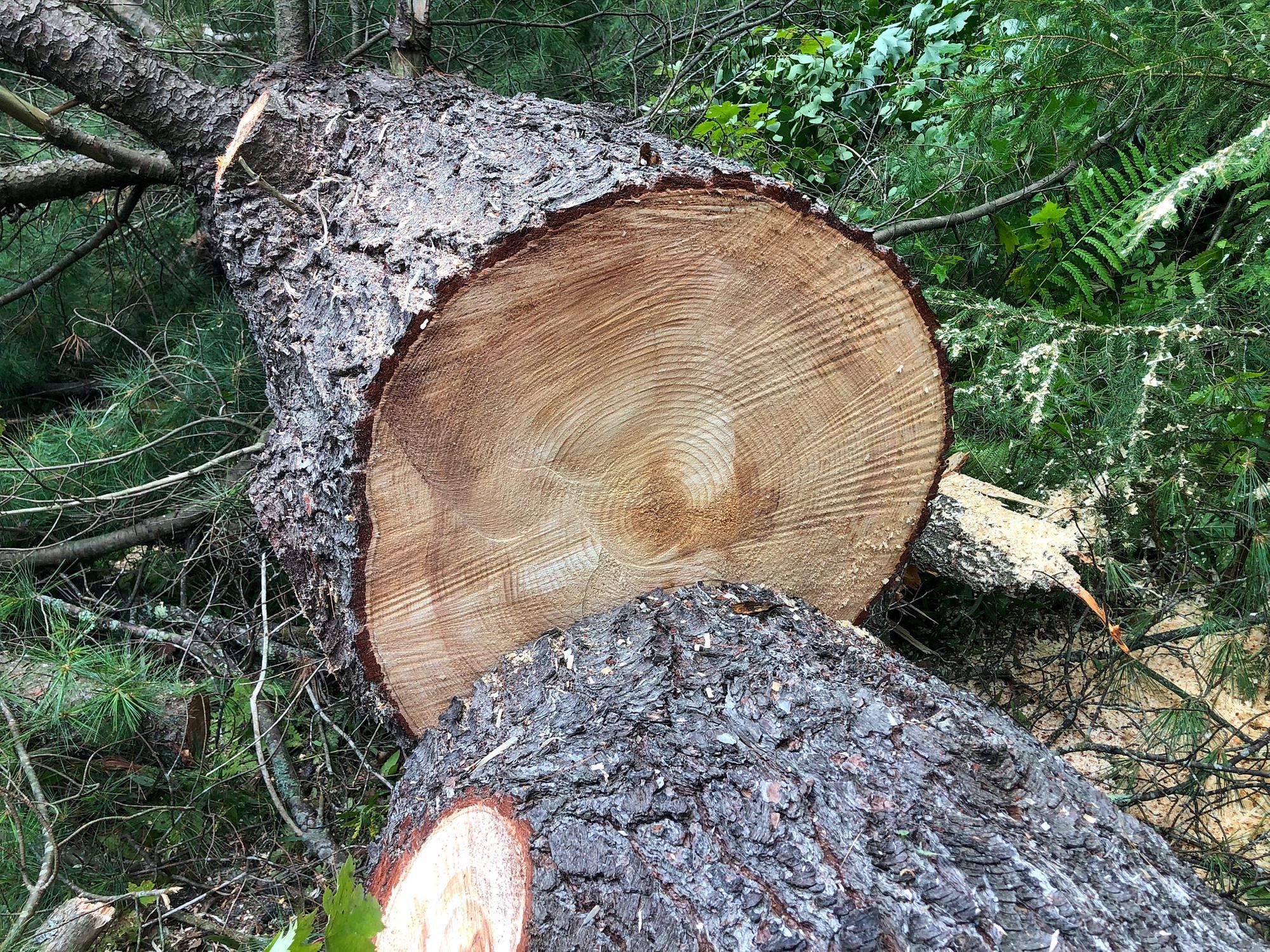 Road Specs
Because for the next couple of years there will be construction traffic driving up and down the driveway, we chose not to put the top surface on yet - instead just installing the sub-base. The sub-base we used is particularly aggressive - mainly 4-5" crushed rocks that Hilltop Construction make themselves at their own gravel pit. In total they brought in 45 truck loads of crushed sub-base.
Kolbey had truly taken on-board our need to drive large vehicles, including our RV, up and down the driveway. Honestly, to call it a driveway is a bit unfair - it's more like a 2-lane highway!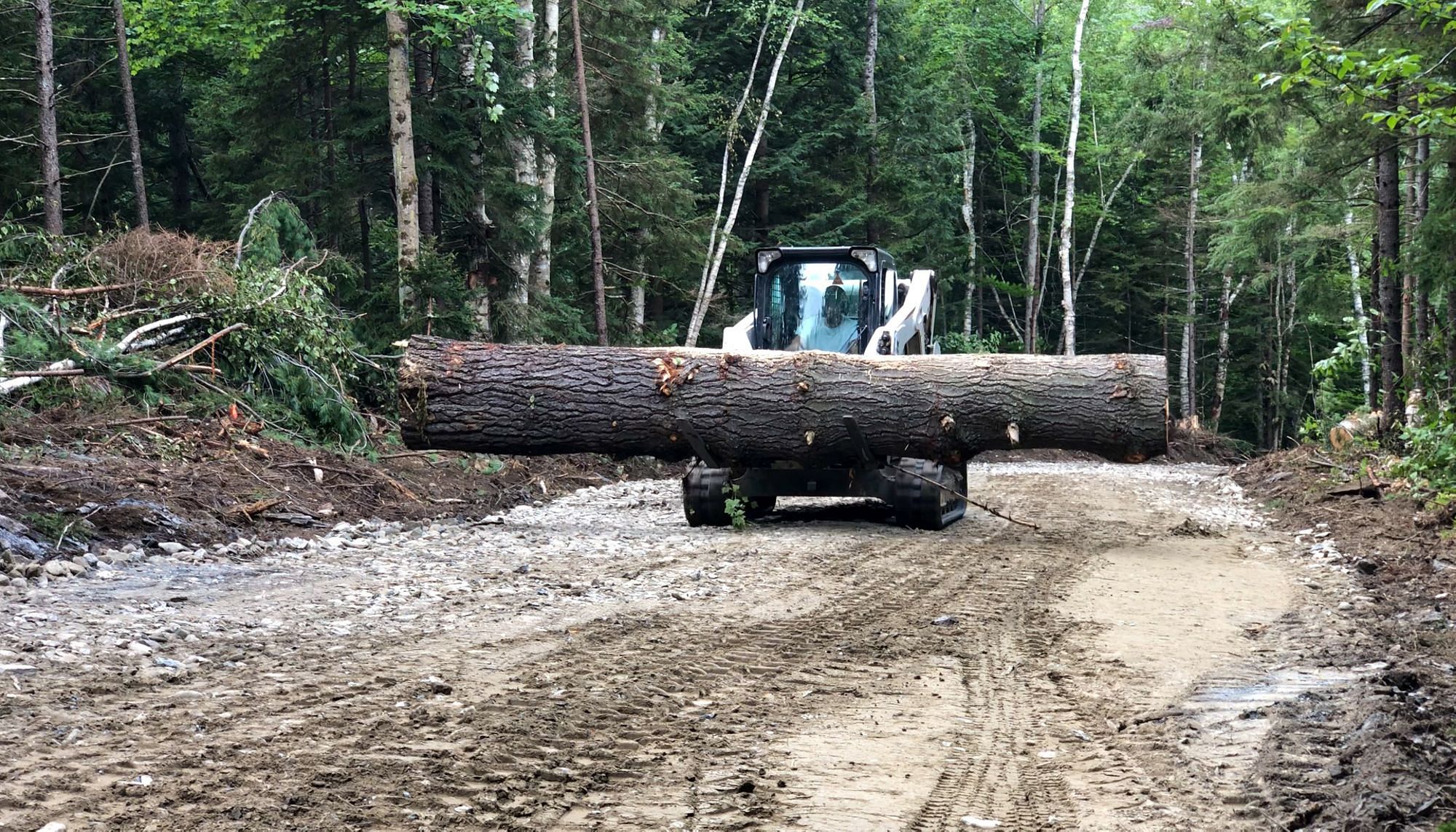 Honestly, the road was far wider than we were imagining, but we are really pleased with it. The road surface itself is about 20ft wide, and most areas are cleared about another 5-10ft on each side.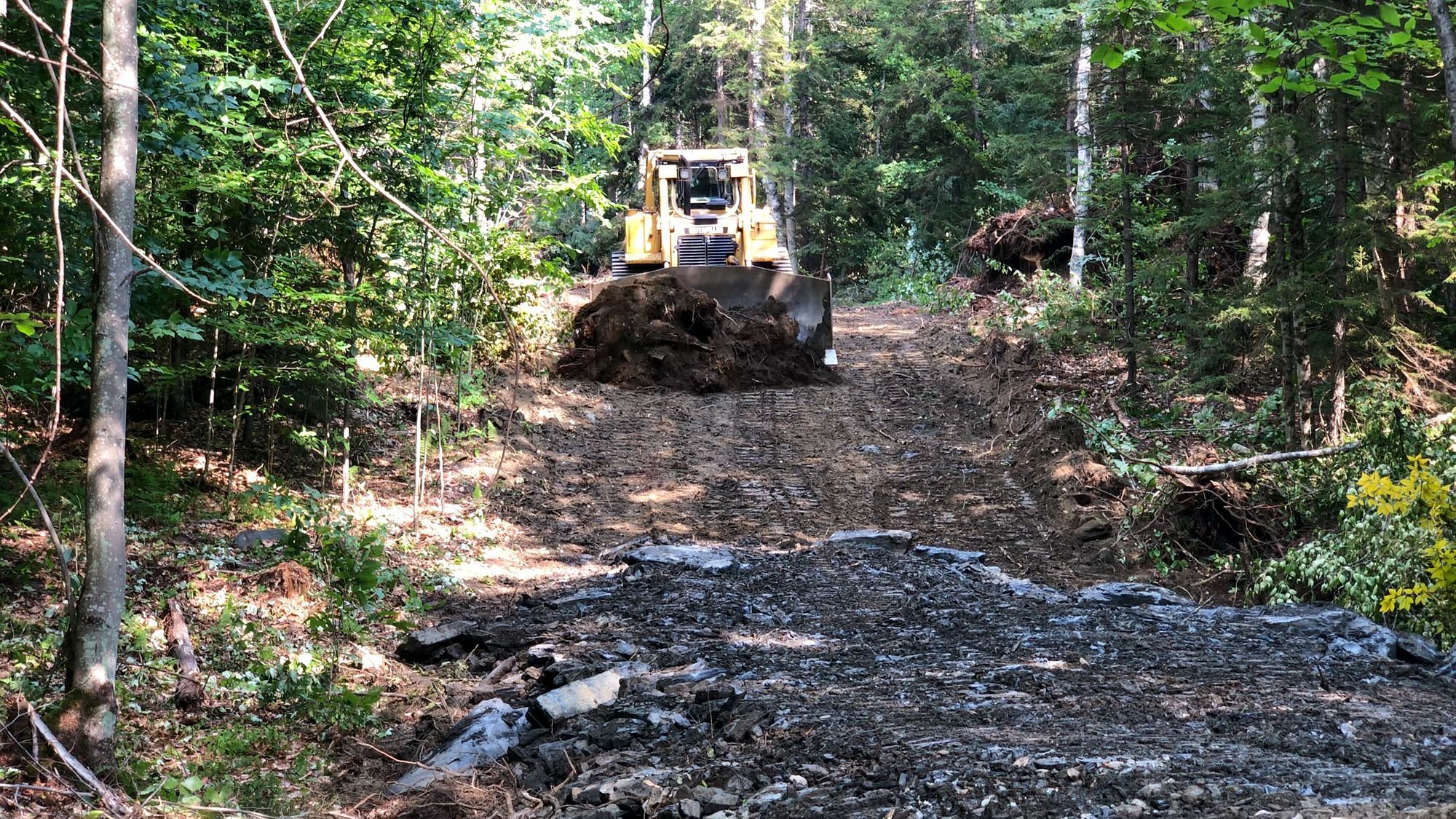 As I mentioned earlier, the property is terraced so there was a lot of earth moving required to smooth out the grade. To do this, they brought in yet more equipment - in particular a vibratory roller and a 24-ton Caterpillar D6T dozer. The D6T is huge - it's basically a tank with a giant bulldozer blade on the front.
Filling the Gap
There was one area in particular where the existing logging road descended before a short but very steep climb. The solution was to fill the low point and build the road surface up.
They were able to use all the rock that had been unearthed at the bottom of the road, truck it up to this section and fill it in. Some of these rocks were over 3ft long so this is a seriously solid base. Despite all that material, they still had to truck in another 5 loads of fill as well!
The result is a road surface that is about 7ft higher than the ground underneath in that section! And thanks to careful planning and execution (and some BIG machines), the road is absolutely solid!
They created a smooth slope on each side, and we're going to keep putting more fill either side to build it out even wider, and seed it to help prevent erosion.
Finishing Touches
With so much heavy machinery driving back and forth up the driveway, it was already very well compressed. But just to make sure, they made multiple passes up and down with the vibratory roller to pack it down really hard.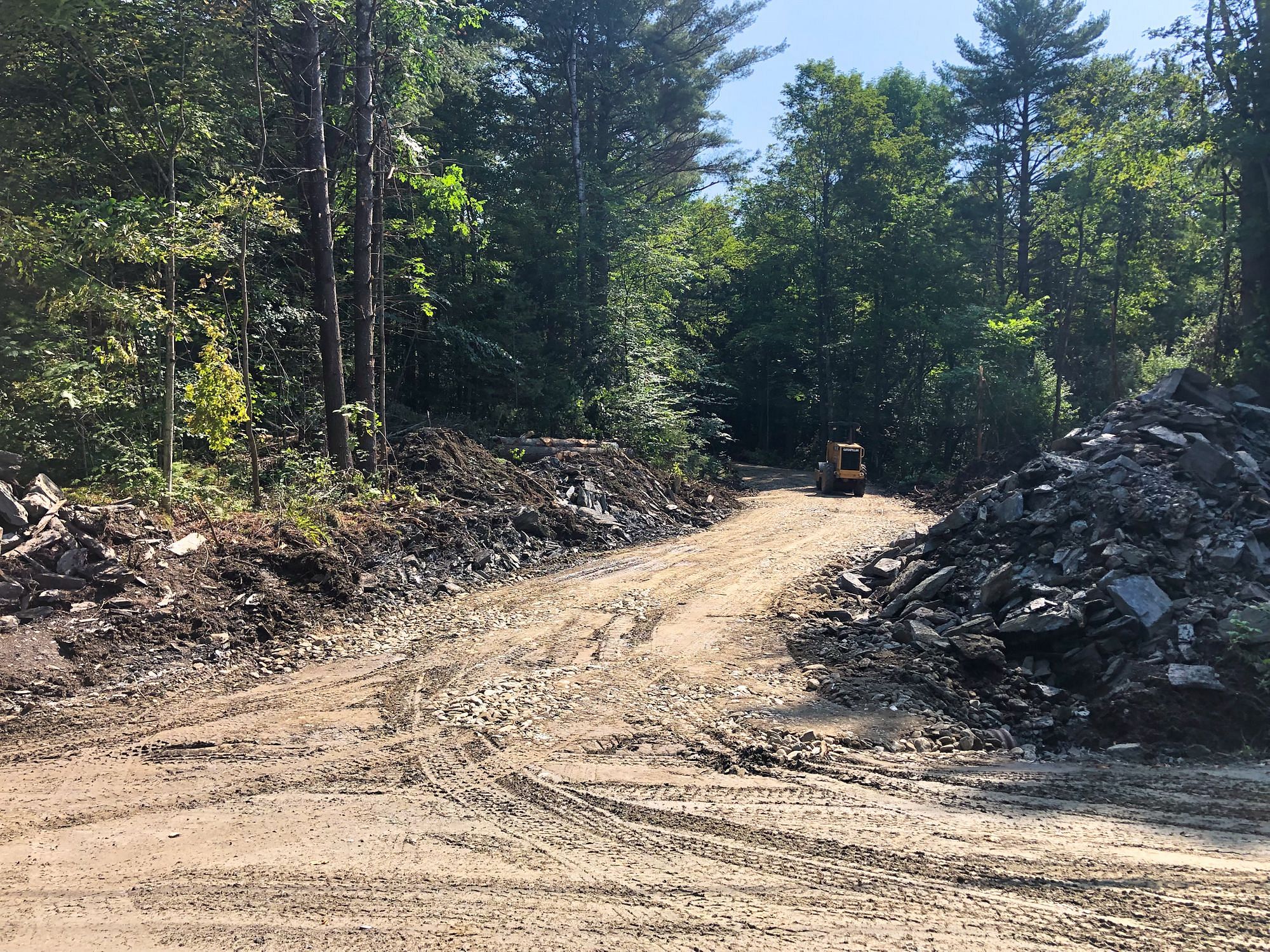 While they had been considering water runoff throughout the construction, the last step was to add in drainage ditches along the side.
At the bottom of the driveway they removed the temporary culvert and replaced it with 2x 20ft lengths to give us the 40ft culvert as specified on our Road Access Permit.
We also asked them to flatten and level an area near the top where we could put a shipping container - yes, I know we said we weren't getting one but things have changed a bit since then!
Last, at the bottom near the road, Kolbey showed us his artistic side, building an awesome stone wall out of some of the biggest pieces of rock. I think it looks fantastic, and we have a few ideas in mind for finishing it and adding some landscaping.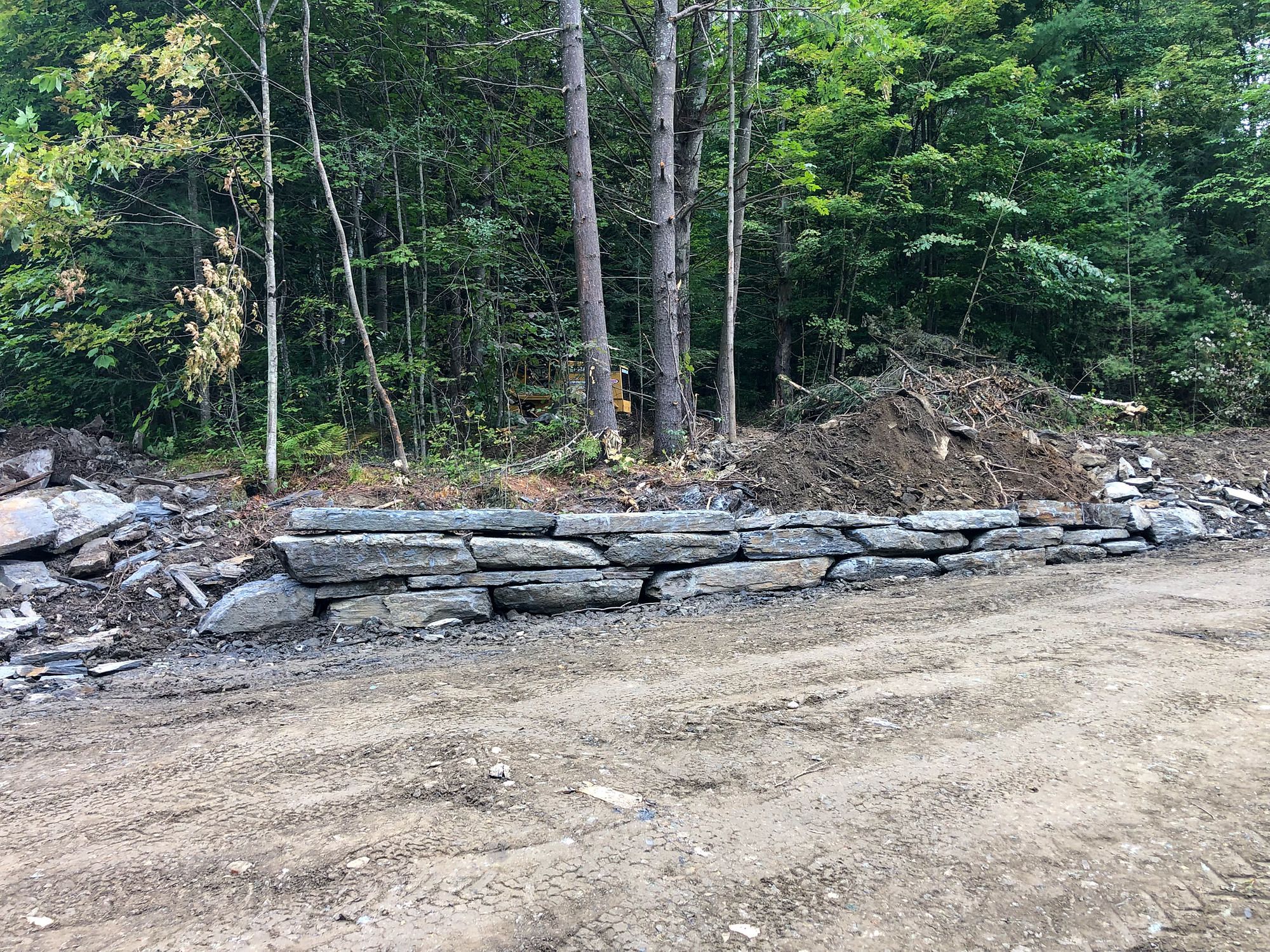 Clearing Up
As agreed, the construction crew didn't remove all the logs and brush from the site - although they did make sure it was all piled up neatly in locations that we could easily get to with the tractor.
So now it's back to us - lots of work to be done limbing, bucking, chipping and sorting through the logs. That should keep us busy for a little while.
Conclusion
If you stand and compare the logging trail to our new driveway, there's really no comparison. Kolbey thinks that our driveway is the best and most durable road they've ever built - and honestly, I think he might be right! It's far more substantial than Diana and I had envisaged, but it's exactly the driveway we need.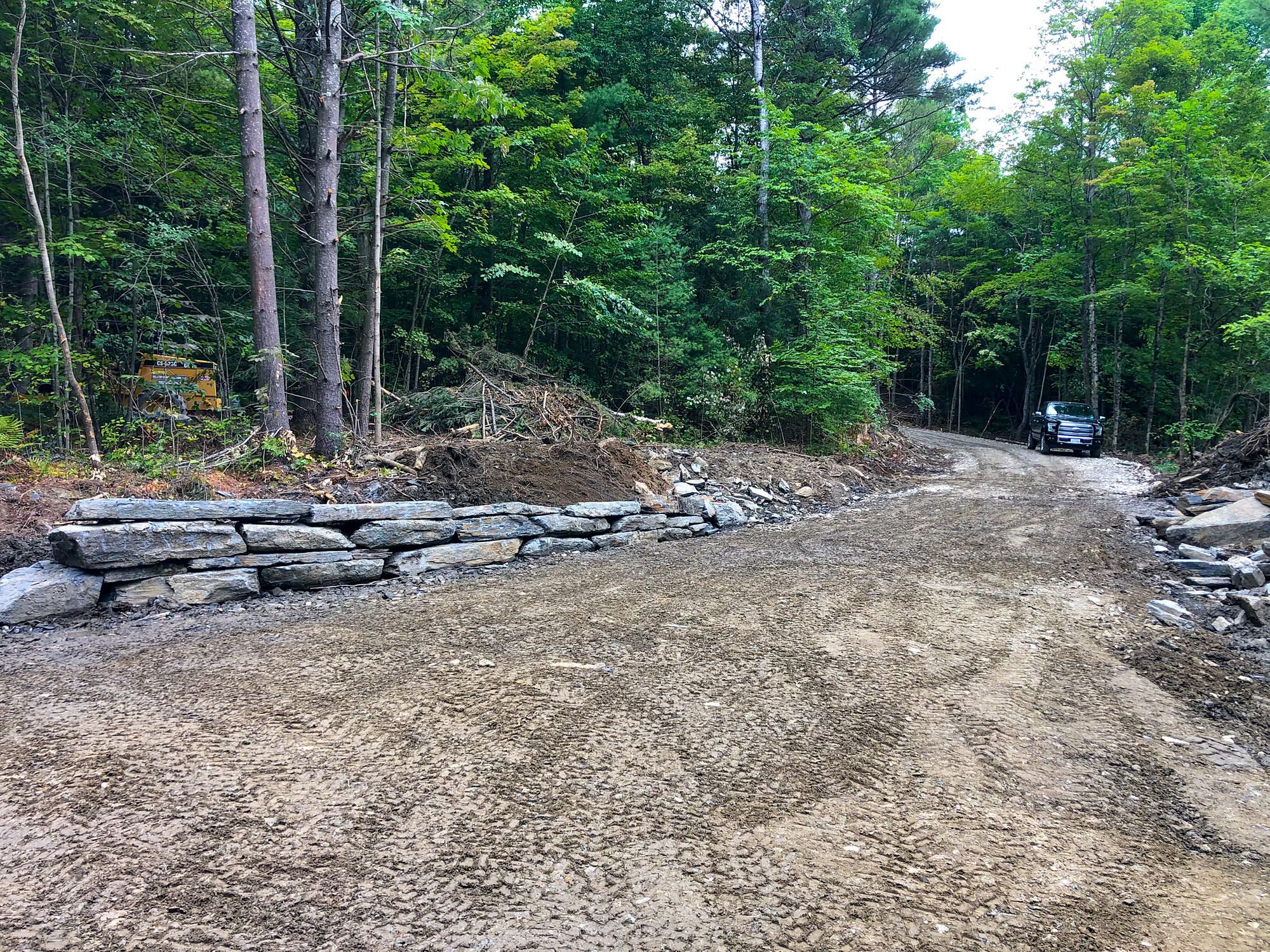 We had been budgeting on about $60 per foot for a driveway, including the cost of running utilities. While our driveway doesn't yet include utilities (we need our Zoning Permit before we're allowed to do that), we think we're roughly on budget - the cost of our new driveway was around $36,000 - plus some sweat equity from us!
Although it wasn't cheap, we think it's built really well. With an incredibly solid sub-base, a wide road surface, steady grade and sweeping turns, we honestly could not be happier.