As an Amazon Associate we earn from qualifying purchases.
A few weeks ago, we had some friends visiting, and while showing them around the local area, we happened to pass an equipment trailer with a For Sale sign on it. It caught my eye, and later that day I drove back to look at it more closely. Less than 48 hours later, we bought it.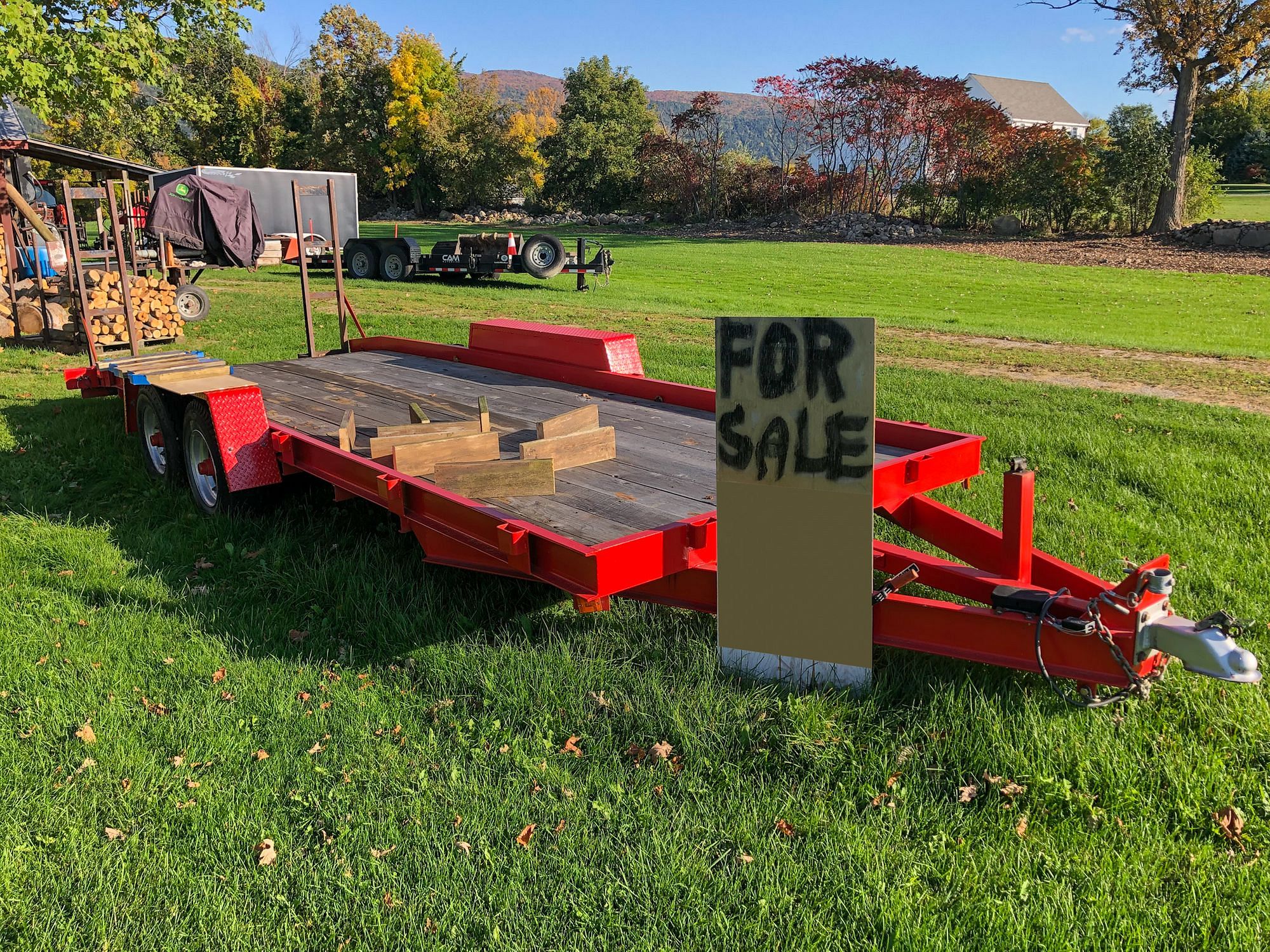 Why do we need a trailer?
Several people have commented to us that we should buy a trailer, and it's something we've been thinking about for a while too. I think we'll find a lot of ways to put a trailer to use - some that we can imagine now, and others that will present themselves in future, as has happened with our tractor.
If we didn't own a trailer, when we need to haul something large we'd really have a handful of options:
Use the truck with a hitch-mounted load extender or ladder rack;
Rent a trailer - either from U-Haul or an equipment rental location;
Pay for delivery.
Load extenders & ladder racks
The first option would be our de facto go to - if something is too big for the truck bed then we'd look at buying a load extender. This would allow us to carry larger (particularly longer) loads like lumber - potentially up to 16ft long. But we'd still be limited by the weight capacity of the truck.
A ladder rack is a little more complex for us - we'd have to find one that would be compatible with our tonneau cover and we'd probably want to remove it when we go traveling with the RV.
Renting a trailer
Having been full-time RVers for over 3 years now, we're no strangers to towing. We've rented U-Haul cargo and utility trailers several times in the past, and $35 is all it costs to rent a 6x12 utility trailer for a day. Honestly, this is a great option if you don't need anything larger than that, but with a payload of ~3,700lbs, it's a little limiting. The high sides also make it harder to load and unload bulky or heavy items with pallet forks.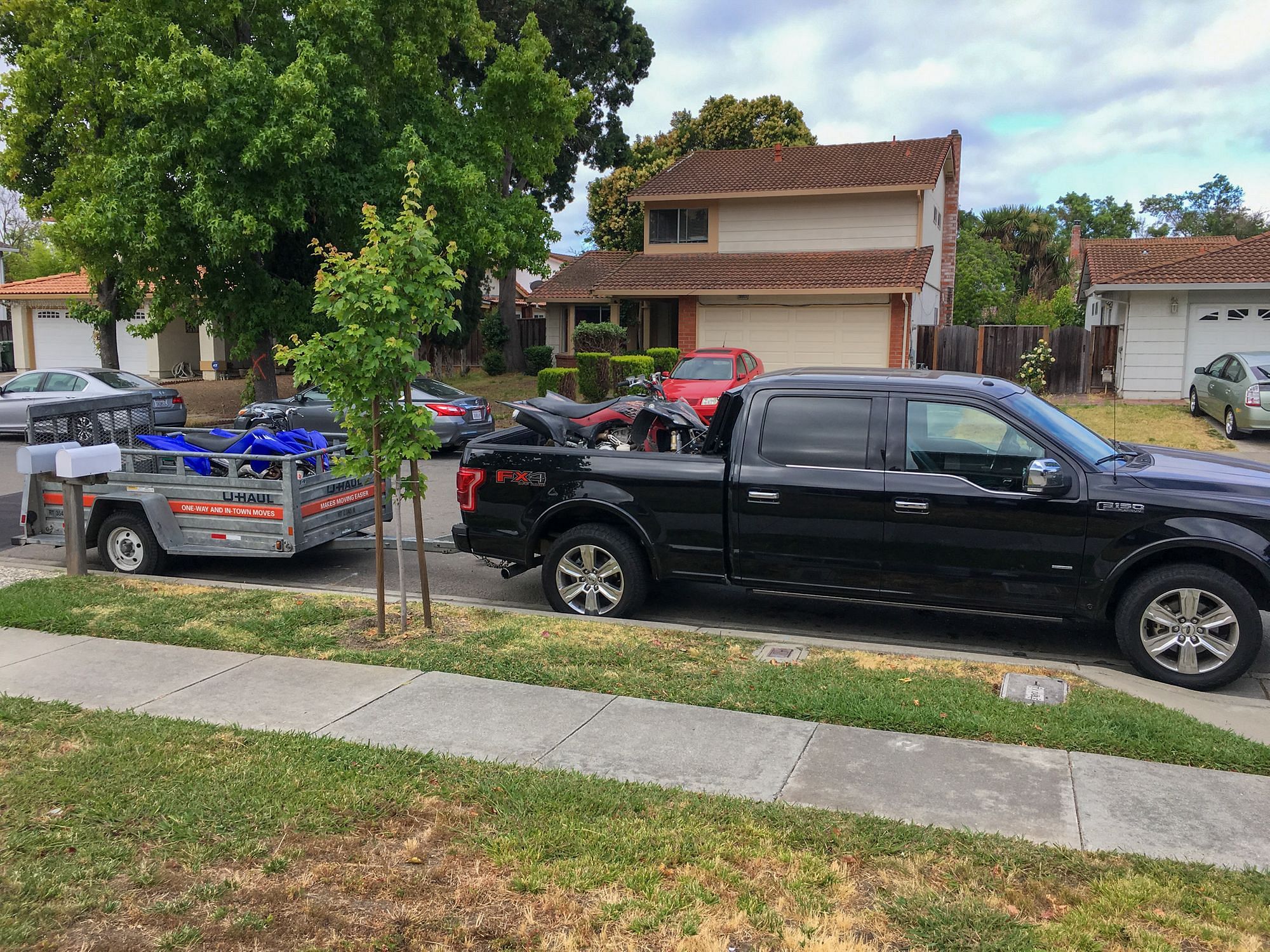 The next step up from that is renting a large trailer from an equipment rental location. These are typically much larger, with a GVWR of 14,000lbs or more. These trailer are so heavy by themselves that they don't leave a lot of cargo capacity for me to stay within the 11,000lb towing limit on my Ford F-150.
Plus, in order for me to tow a trailer weighing more than 5,000lbs with my truck, I need to use a Weight Distribution Hitch. While we have one on our RV, it's not very practical to install on a rented trailer each time!
Delivery
Oftentimes, the simplest and easiest solution is just to pay for delivery - big box stores, lumber yards, equipment rental locations and more will usually all deliver.
But there are a couple of gotchas. First is obviously cost - while some places like lumber yards will deliver for free, delivery for heavy equipment can end up costing more than the daily rental price. Having a 7,000lb skid steer loader from a nearby equipment rental place dropped off and then collected would cost us $300 just for delivery! Clearly for some heavy equipment we'll still need this, but reducing the number of times we have to pay for delivery is nice.
Second is convenience. While in some respects delivery is convenient, it usually means having to be around to receive the shipment. We're not always around so in some ways, it's easier for us to pick something up than have it delivered.
Last is access. With a trailer we can bring materials or tools to exactly where we need them on the property, as opposed to a large delivery truck that may just want to unload at the street. And we can leave things on the trailer for as long as necessary - no need to unload straightaway.
What will we use a trailer for?
Well, to put it simply, hauling stuff!
The trailer we've bought is an equipment trailer - this means it has a flat deck and no sides. This makes it perfect for hauling equipment, vehicles and large, bulky loads - with the appropriate securing of course.
The obvious use cases we have for the trailer are for hauling building supplies, materials and likely some equipment for the tractor - e.g. a rental brush hog. We also plan to use it if we need to move the tractor itself - for example to take it to the dealer to have them install wheel spacers so we can put snow chains on the rear tires.
But we have a few other ideas as well.
For instance, our sawmill comes on a trailer assembly, but it has relatively small 12" wheels and isn't necessarily designed for long highway drives. Now we'll be able to put the sawmill up on our equipment trailer and transport it that way!
We're also planning to build a solar kiln, and it will be built upon wooden skids. We've designed it such that it will fit on our equipment trailer so we can move that around the propery too if necessary!
And honestly, there are probably tons more ways we'll find to use the trailer that we haven't even thought of yet!
Buying a used trailer
After the trailer initially caught my eye, I went back later in the day to check it out more closely. The trailer was made by a company called On The Road Trailers based in Maine. It's a 20ft equipment trailer with a 77-inch wide deck, and has a 2ft cleated dovetail and two steel ramps at the back.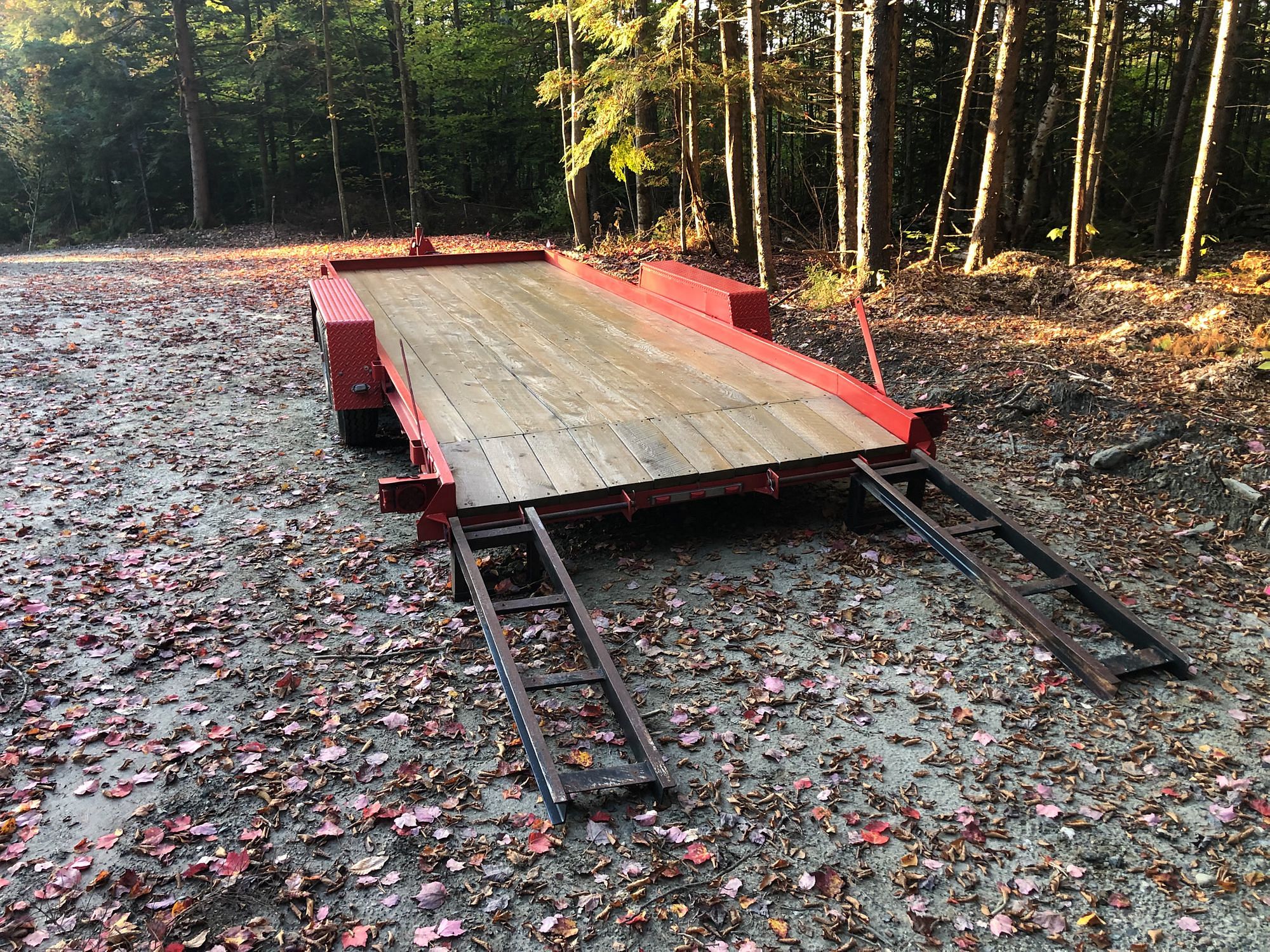 It was originally built in 1998, making it a 23 year old trailer, but the owner has completely restored it so it looks almost brand new. He stripped it right back down to the bare metal chassis, removed any rust, cleaned it up, then primed and painted it.
The trailer is a tandem axle trailer with brakes on both axles - the axles, brakes and bearings are all brand new, but the hubs and wheels (more on these later) are original. He also redid all the wiring and installed a brand new deck.
I thoroughly inspected the trailer inch-by-inch, and took it for a test drive (tow) to make sure the lights and brakes work, and that it handled well - all was great!
After some negotiation, we settled on a price of $3,750 for the trailer. I've not bought a used vehicle in Vermont before, but the process was simple - we completed a Bill of Sale document, gave the seller a check, and printed off a temporary registration on the Vermont DMV website. We made the exchange on Sunday afternoon, and the next morning I picked the trailer up and took it to our property.
Demountable rims
My biggest concern with the trailer was the wheels - they're not your average wheels! They're a style called "demountable rims" or sometimes referred to as mobile home wheels. While they're pretty rare these days, they used to be used for vehicles needing to carry very heavy loads.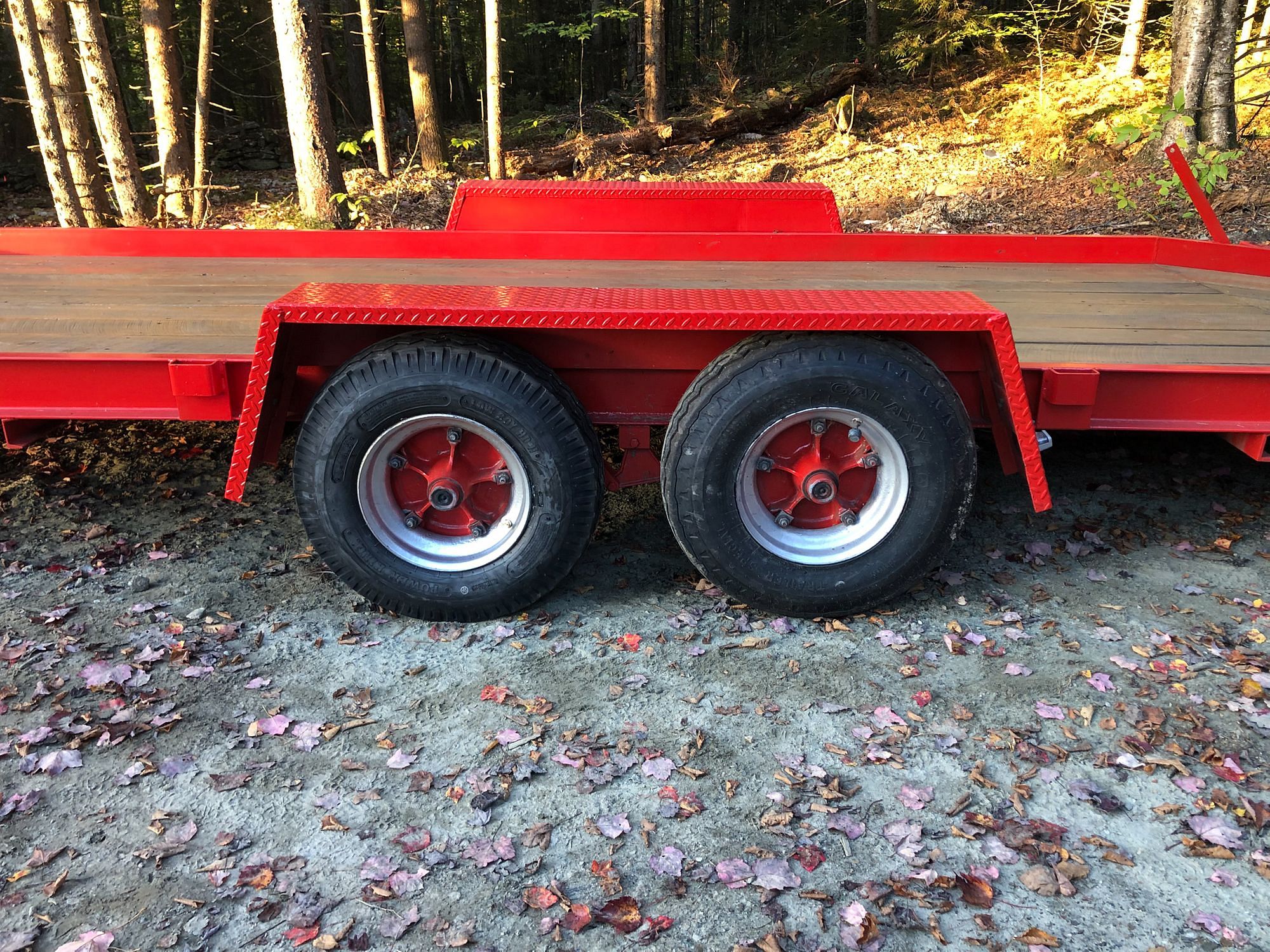 The two tires on the rear axle had been replaced by the previous seller - they had a DOT date in late 2020 and were essentially brand new. The front axle's tires were somewhat older though - more than 13 years old!
So on the way to our property I stopped in at several tire shops. The first one had never seen that type of wheel, the second one knew what they were but couldn't order any, and the third one could replace them but I'd have to wait a few weeks.
However, I spoke with the owner at the third tire shop, who came out to look at the trailer. He gave it a good look over and was really impressed - the trailer was sturdily-built, in great condition and he thinks I got a good deal. I even asked if I should consider replacing the axles and wheels with more modern ones and he was quite insistent that I'm better off with what is on there now!
Fortunately after some more calling around, I found a tire place not too far away that not only had the tires in stock, but could fit them later that same day - as long as I took along just the wheels, so that's what I did. The trailer now has new tires all round, plus a brand new spare as well.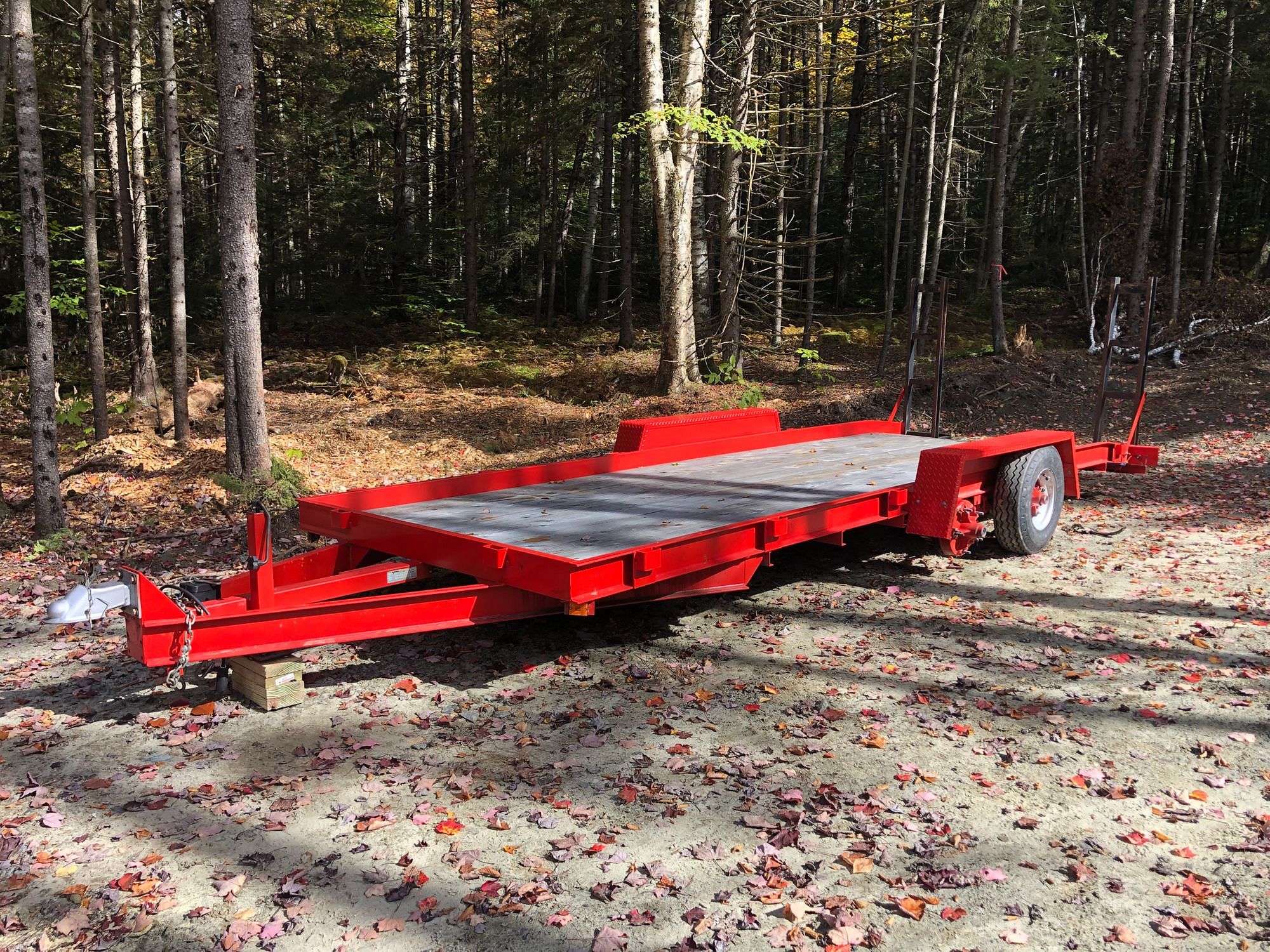 Painting the deck
Although the deck was brand new, it hadn't been treated. I don't particularly enjoy painting but Diana loves it, so we picked up some Behr Premium Cedar Naturaltone Semi-Transparent Penetrating Oil-Based Exterior Waterproofing Wood Stain (catchy name!) from Home Depot and Diana put two coats on the trailer deck.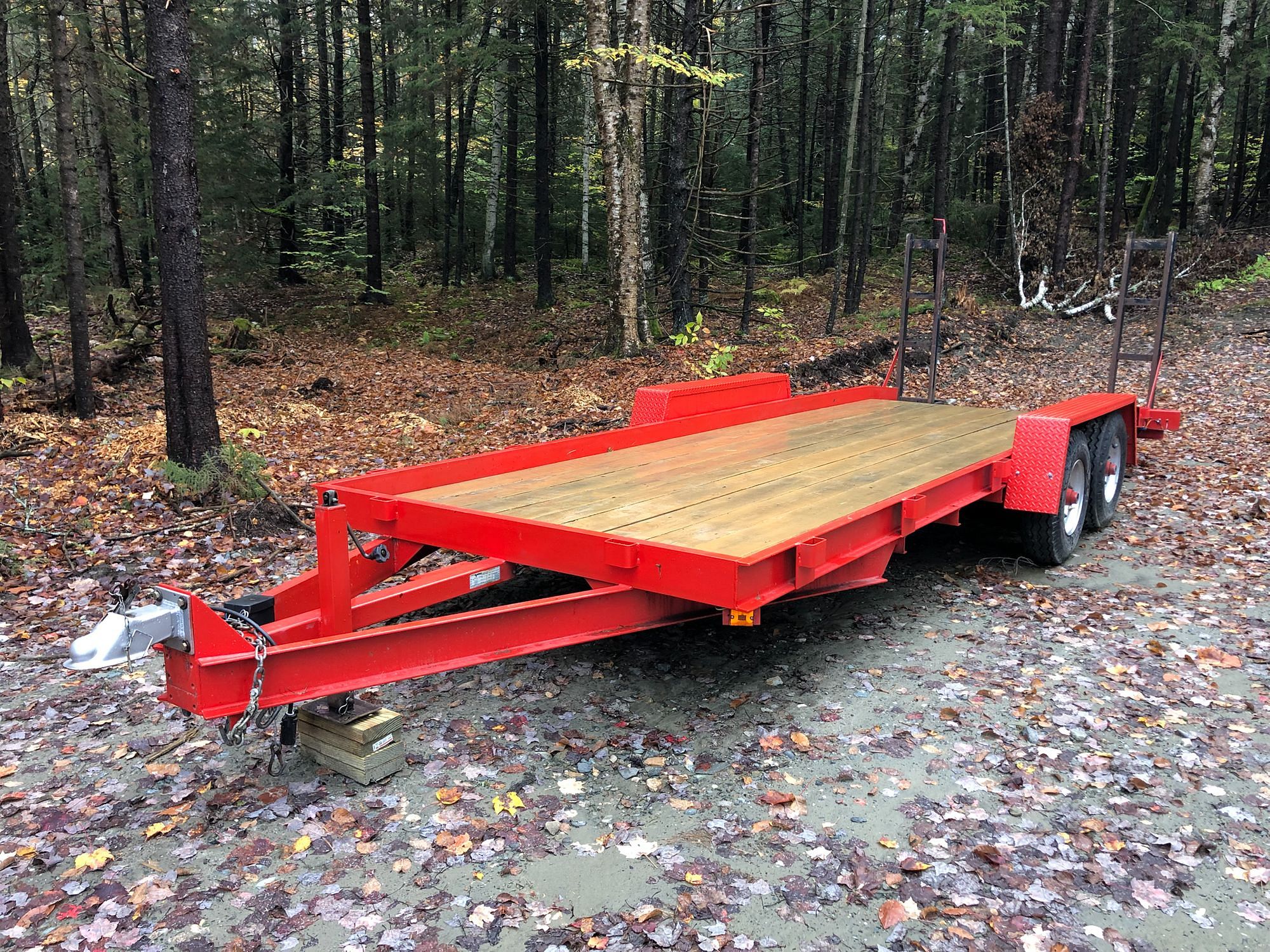 The end result is really nice - the color looks good and the surface texture is slightly rubbery in feel now, so it should have plenty of grip.
Tie downs & ratchet straps
There were two notable features about this trailer that I really liked.
The first was that the deck sits below the frame, so it's not a completely level deck. Although this makes using pallet forks a little trickier, it has two advantages - first that the load will set lower down and hence be a little more stable, and second that it gives me a short side wall to help secure things.
The second was that it has a whole load of stake pockets - the brackets around the outside designed to fit a 2x4.
For securing loads inside the trailer, I bought a pack of four heavy duty ratchet straps (red of course, to match the trailer). These are rated to over 5,000lbs each which is plenty for our intended use case.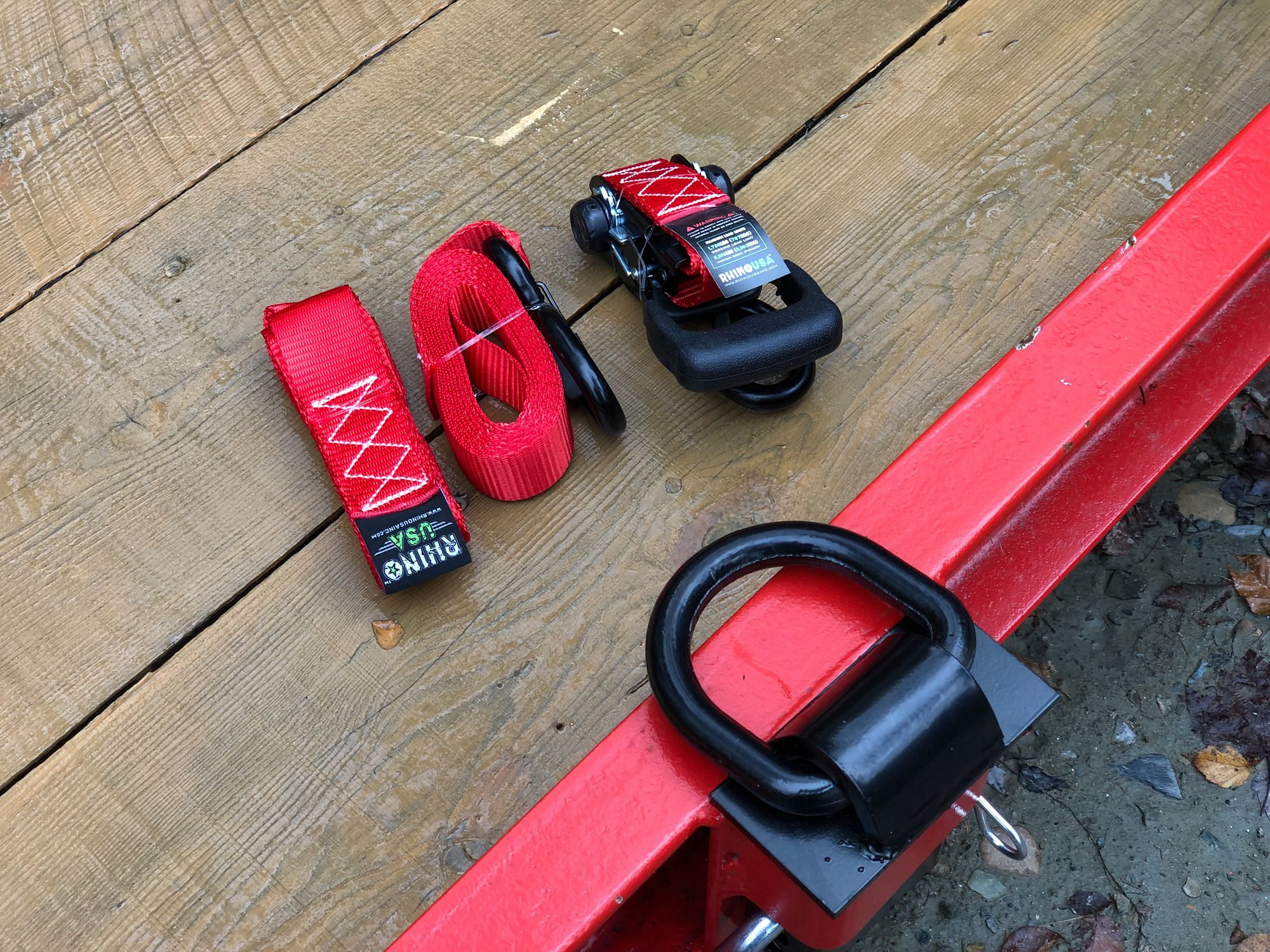 While I could just attach these hooks to the sides of the trailer frame, I opted for something a little more secure. I bought a pack of four stake pocket tie down D-rings, each with a working load limit of over 5,000lbs. Between the tie downs and the ratchet straps, we should be able to secure any loads we haul on the trailer.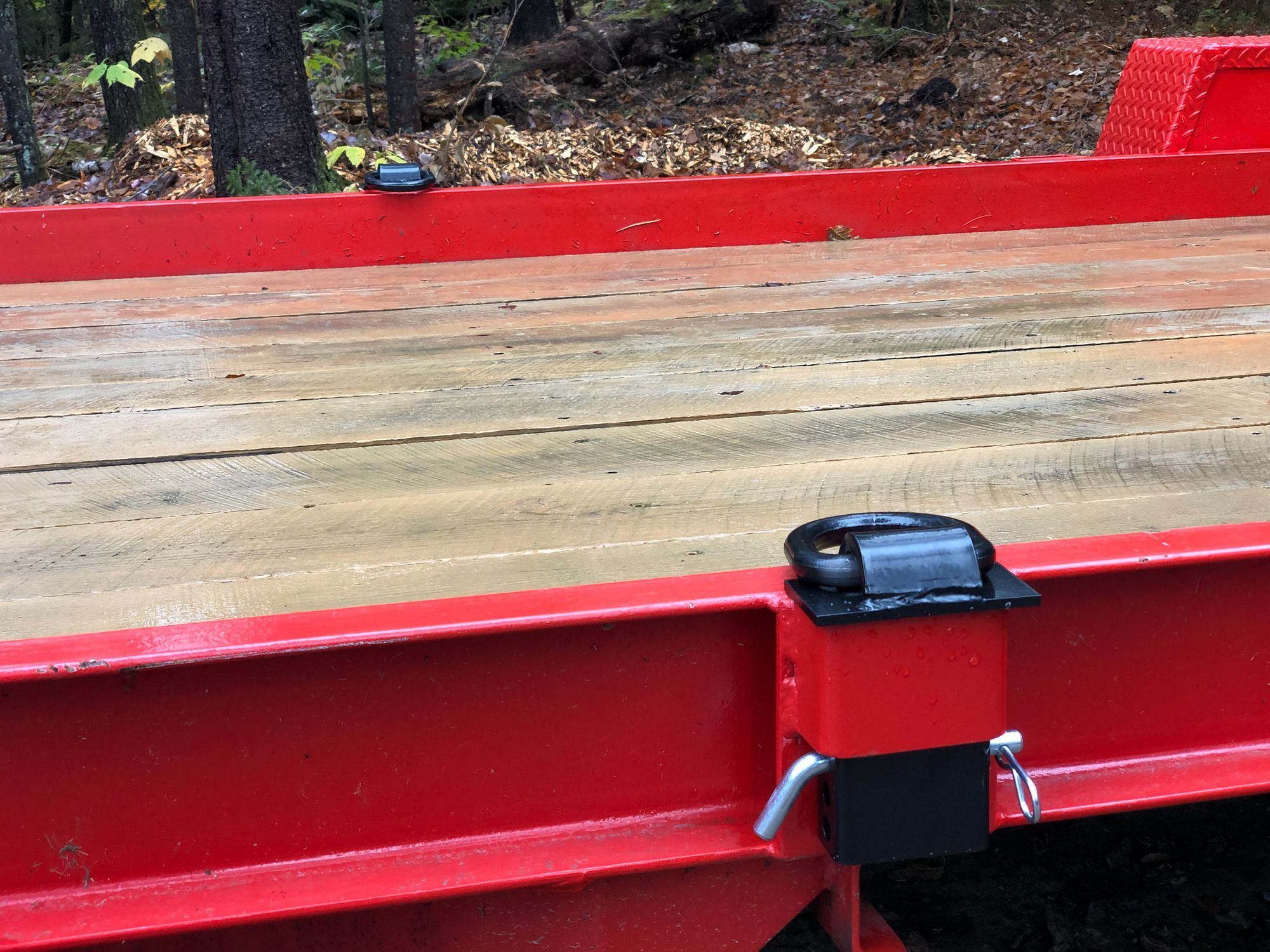 Future plans
We've been joking that the 20ft deck on the trailer is the only flat space we have available on the property right now!
One of our upcoming projects is to build a solar kiln so that we can dry wood that we've milled - not only is it much quicker than air drying, but it also helps kill off any bugs that might be in there and set the pitch in woods like spruce and pine.
The design we're using for the solar kiln is based on one from Virginia Tech, but we've made some minor modifications to allow it to fit on our equipment trailer. This means that not only can we use the flat deck to actually build the solar kiln on if we want to, but we will build the solar kiln on skids so we can drag it onto the trailer and move it around the property if necessary.
Using some of the lumber we mill (and dry), I also want to build some removable side rails for the trailer - at least on the front and sides. I'm thinking of making these about 18" tall, and they'll attach using the stake pocket holes - giving us an easy way to partially enclose the contents of the trailer, protecting it from road spray while driving and giving us more ways to secure the load.
One of the skills I really want to learn is welding - it would unlock so many potential projects! I'm thinking a good early project might be to weld a 2" hitch receiver to the tongue of the trailer.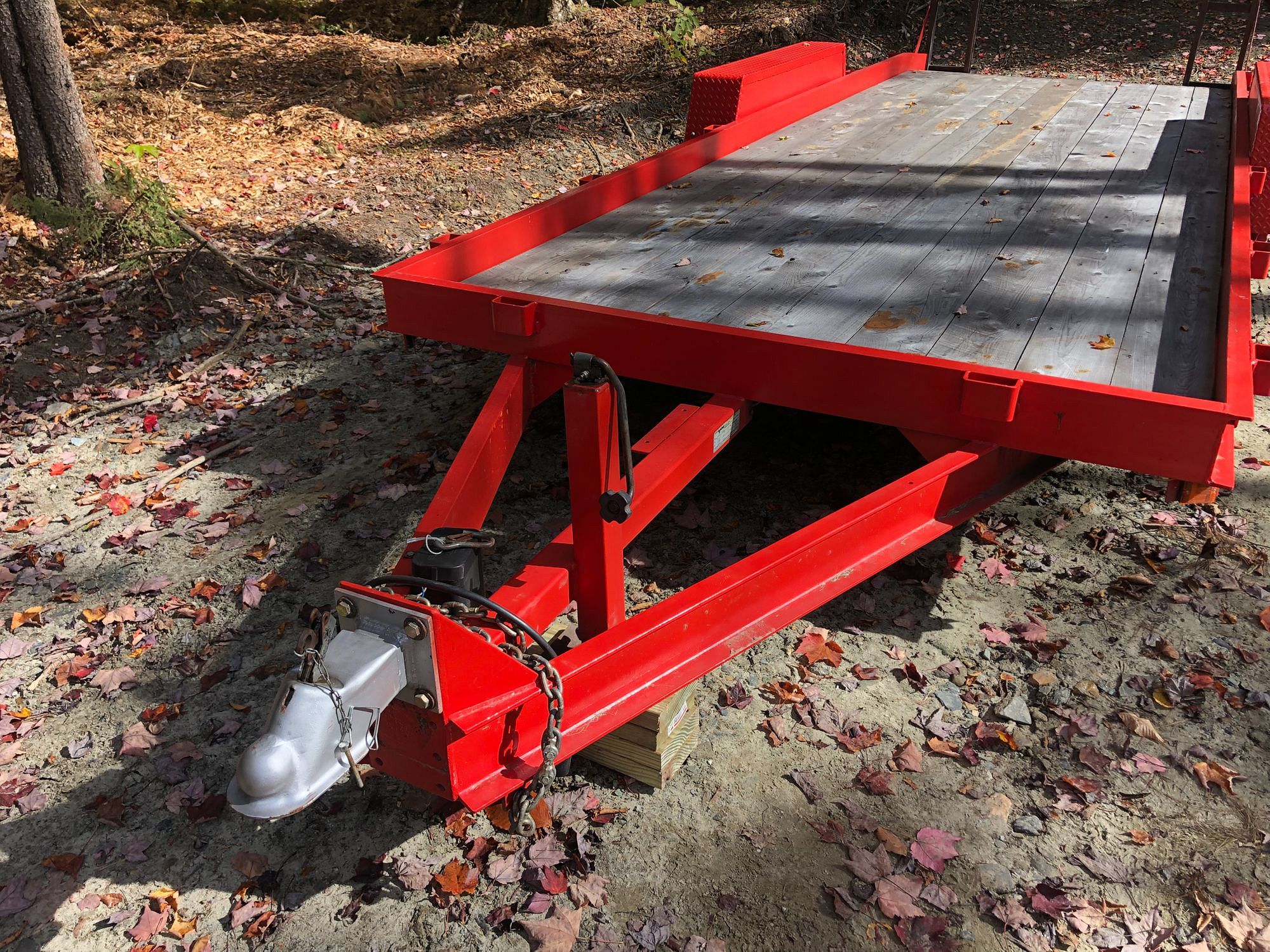 This will allow us to attach a winch (such as this one) to the front of the trailer to winch items up onto the deck - anything from vehicles to materials to logs. Because the winch will be on a hitch mount, we can easily move the winch from the trailer onto our truck or even the tractor for even more versatility.
Summary
Every vehicle (trailers included) registered in the state of Vermont has to be inspected once a year, and this week I took the equipment trailer along for its inspection at a specialist trailer service center.
It came back with a completely clean bill of health - the service mechanic was very complimentary about the quality of the trailer. He said everything was in perfect condition, no issues whatsoever, and the trailer is good to go!
In the short term, I expect the trailer is going to be incredibly useful for hauling equipment and materials, as well as serving as a flat platform for working on. Longer term, I have no doubt that it will be a very versatile tool, and is one of those things that we'll use more and more because we have it.
I should probably add that the trailer is too wide (and long) to fit down the hiking trails on our property, so we won't be able to use it to haul wood chips around or for pulling logs out of the forest. We're still on the hunt for a small dump trailer - the Detail K2 is looking like a strong contender for a new trailer.
Honestly, I'd prefer a used trailer for this (it'll never go on the road, just on our property towed behind the tractor), so I'm keeping a close eye on places like Craigslist and local yard sales, but I haven't seen anything yet.
Let us know in the comments below what you would use the equipment trailer for and if you have any recommendations for a small trailer for our tractor for hauling wood chips and logs around.