As an Amazon Associate we earn from qualifying purchases.
It's been just over a year since we rented the 40ft shipping container and had it delivered to our property, so last week we sat down to revisit that decision.
Renting
When we rented the container, we initially expected to have it for about 6-12 months, largely just to get us through the winter and until such time that we had the utility building that we could use for storage instead.
However, in the past 12 months, two things have become very clear:
The utility building isn't going to be finished until next year;
There won't be anywhere near enough space in the utility building to replace the shipping container.
In short, the shipping container has become invaluable to us as a storage and workspace.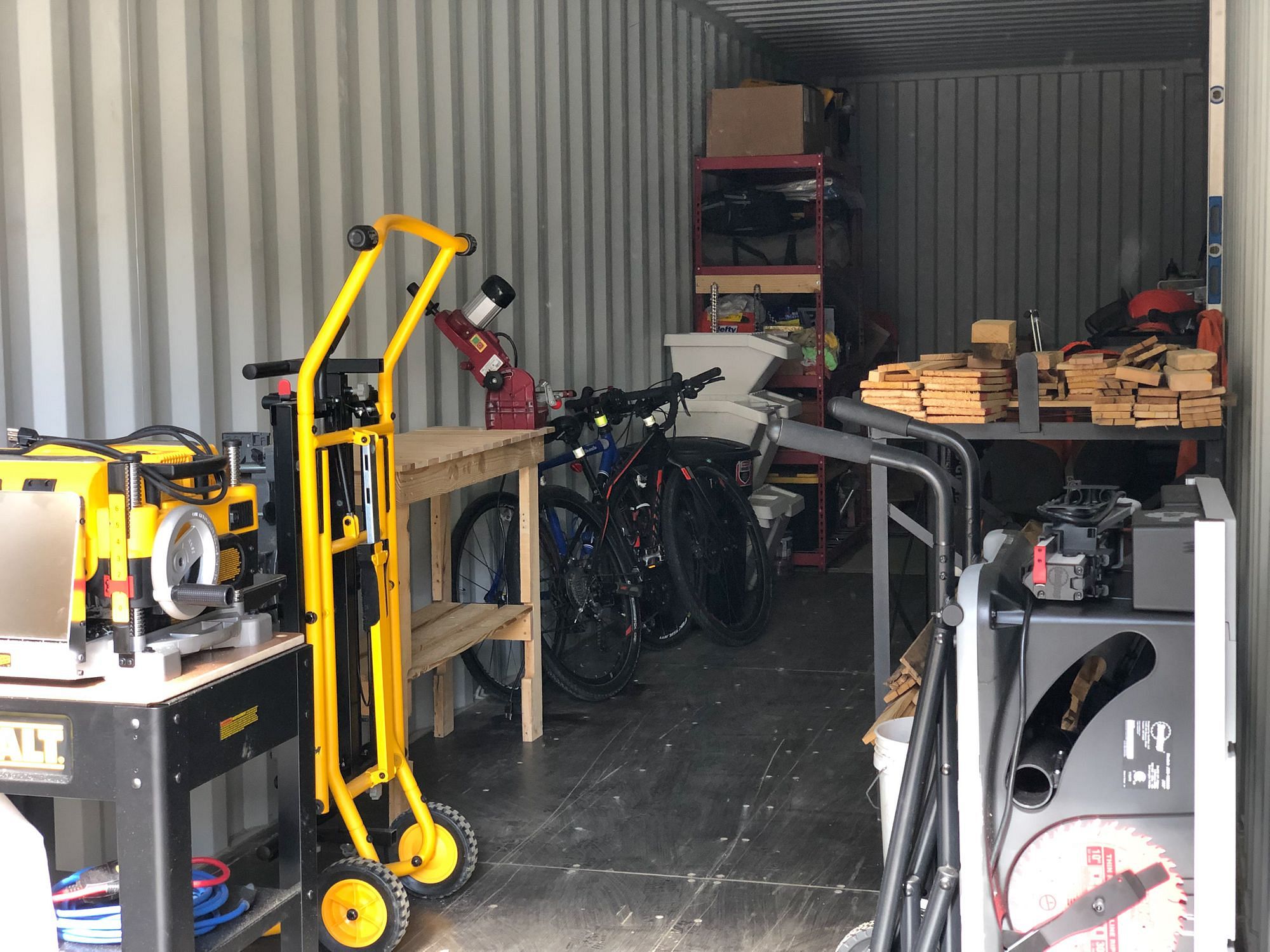 When we looked at getting one last year, purchase was not an option. Prior to the pandemic and the transport logistic chaos that ensued, a new, 40ft shipping container might have cost in the region of $3-5,000. Last year, we were quoted $10,000 - not that they were actually prepared to sell it anyway, such was the scarcity of the containers that they had moved to a rental-only model.
Used shipping containers
Of course, used is always an option but we preferred not to go that route for a variety of reasons:
You don't know what's been stored in them - could include nasty chemicals
There is usually visible (albeit cosmetic) damage - not a big deal in a construction yard, but given this is our home we want it to look somewhat nice (as nice as a shipping container can!)
Used units are likely to have some big logos or branding on the side - again with the aesthetic consideration
Your decision may be different, but that's why we chose to stick with new.
As an aside, new isn't actually new - it usually means "one trip", in other words it's been used for just one trip from where it was made (usually China) to the US. When our supposedly new container arrived fresh from the port, there was an empty pack of cigarettes inside!
Buying
Since getting our shipping container, we've spent around $2,000 in rental costs, so we called the company and asked for a quote on buying the container outright. They quoted us $8,000 plus tax - still much higher than prices were a few years ago, but less than we would have paid had we bought last year (and by about the amount we've spent renting it so far).
We did shop around and managed to find a few quotes that were cheaper - somewhere around $7,000 or so. But given the hassle of having to empty out our (very full) container, store everything somewhere dry and safe while it is taken away and a new one is brought in....we decided it wasn't worth the hassle.
There's also a risk in the unknown. We know that our shipping container is in perfect condition, we know the drive can position it exactly where we want, and we know that we won't have any delivery issues (because it's already here).
We also looked at used containers, but honestly the price difference wasn't huge, and going used has some big tradeoffs. After much deliberation, we made the decision to buy our shipping container - it's ours!
This gives us a few benefits:
It would have cost us just as much to rent it for 4 more years as it did to buy it - and we expect to get at least 4 years of use from it;
We can make modifications to it - beefing up the locks (although we really like the lock we have), welding hooks inside, securing things to the walls, etc;
Once we're finished using it as our construction workshop, we can sell it or even repurpose it for something else - storage, a she-shed, sugar shack or even guest accommodation!
So, we're now the proud owners of a shipping container, and no more rent payments!