Introduction
Southern California has some truly spectacular areas of natural beauty, not least Anza-Borrego Desert State Park where we had spent 5 nights boondocking en route from Organ Pipe Cactus National Monument on our way to visit Cabrillo National Monument.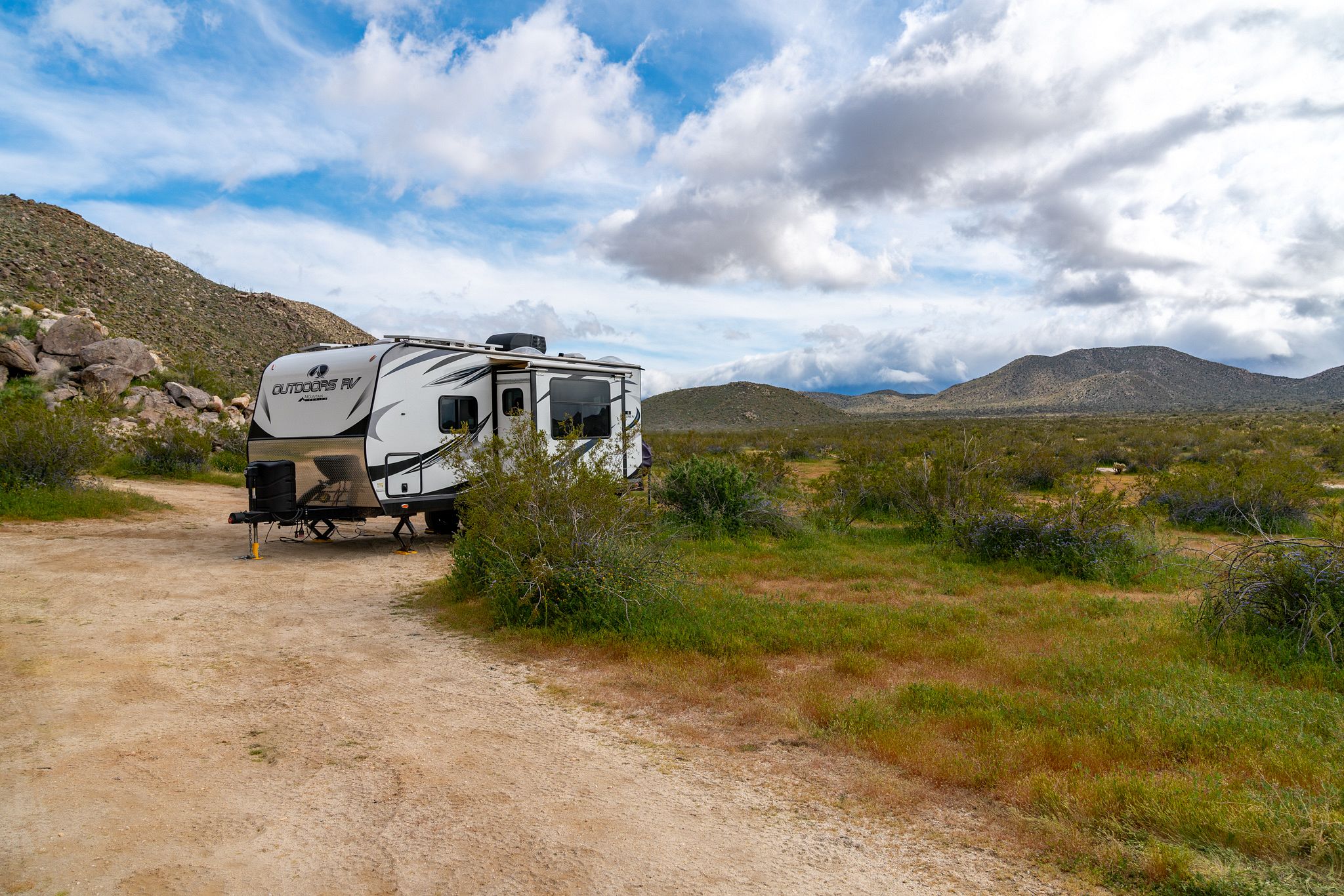 With boondocking options near San Diego, CA very limited and paid camping very expensive, we stopped in at Cabrillo with the trailer, as we drove through to our next camping spot just north of Los Angeles, CA.
We visited Cabrillo National Monument in April 2019, and given we had the trailer in tow, we arrived as soon as they opened on the Tuesday morning. Actually, we arrived about 10 minutes early and had to sit and wait for the gate to open!
Knowing we still had several hours of driving (plus associated errands like dumping the tanks and grocery shopping), our time at Cabrillo was limited, so we headed straight for the Visitor Center to get stuck in!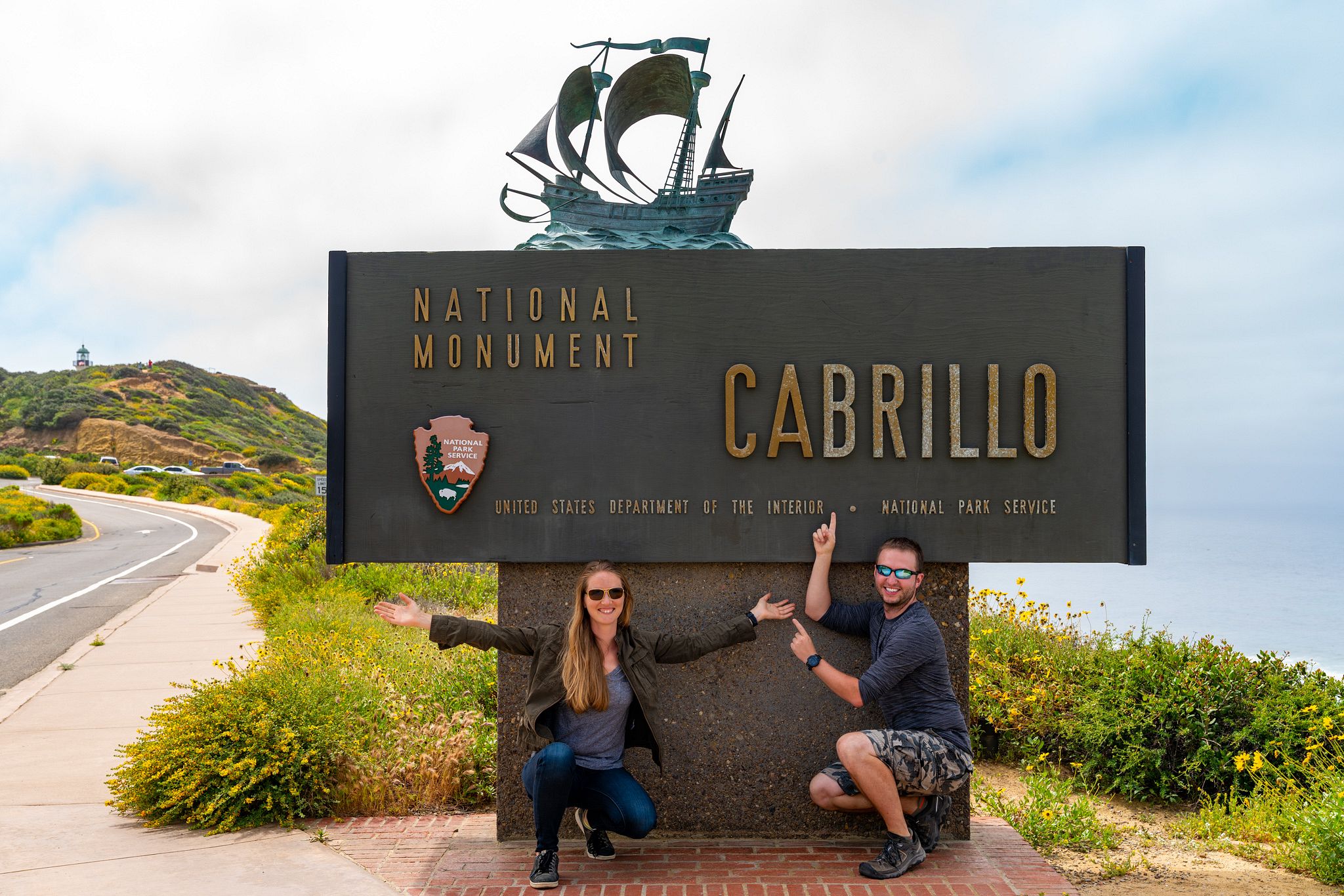 Video
Location
Cabrillo National Monument sits at the southern tip of the Point Loma Peninsula, west of San Diego, CA. From this vantage point, visitors are afforded panoramic views across the San Diego harbor and city skyline.
History
Although designated a National Monument, the site commemorates the landing of Juan Rodríguez Cabrillo on September 28th 1542.
History describes Cabrillo as an Iberian explorer - whether he was Spanish or Portuguese is debated. But when he set out in June 1542 with three ships, his expedition would become the first European expedition to land on what was to become the west coast of America.
Cabrillo owes its protection to several presidents. Originally designated a National Monument by President Woodrow Wilson on October 14th, 1913, just half an acre of land was reserved for a statue of Juan Rodríguez Cabrillo. 13 years later, in 1926, with no statue having been erected, President Calvin Coolidge instructed the Native Sons of the Golden West, a Californian fraternity, to perfect a monument. They also failed.
Cabrillo Statue
In 1935 as part of major renovations, the Portuguese ambassador to the United States presented a bronze plaque, honoring Cabrillo as a "distinguished Portuguese navigator".
Then in 1939, the Portuguese government commissioned a sandstone statue, stand-ing 14ft tall and weighing 14,000lbs. The statue was destined for the Golden Gate International Exposition in San Francisco, CA, but arrived late. After a brief time in an Oakland, CA garage, it was brought to San Diego where it was stored in the Naval Training Center before finally being installed at Cabrillo National Monument in 1949.
Around the same time, the Monument was significantly enlarged by Presidents Eisenhower and Ford, such that now it currently spans almost 144 acres.
In 1988, the sandstone statue had to be removed due to severe weathering because of its exposed position, and was replaced by a limestone replica that still stands today.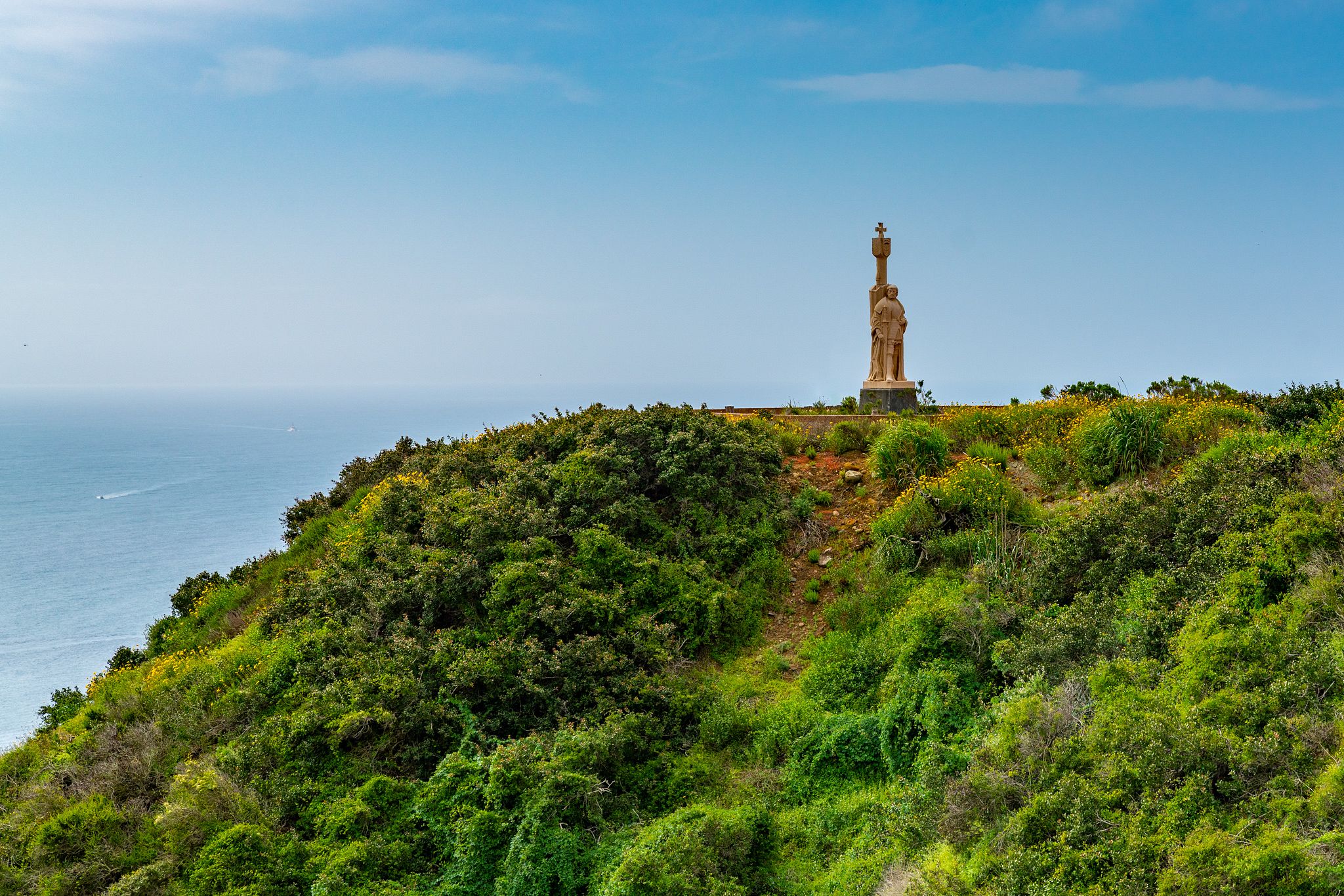 Itinerary
Arriving on a cloudy morning in April, we hadn't timed our visit very well for some of the flora and fauna that Cabrillo National Monument has to offer. Speaking with the staff inside the Visitor Center, we quickly learned that we were there very much in the off-season!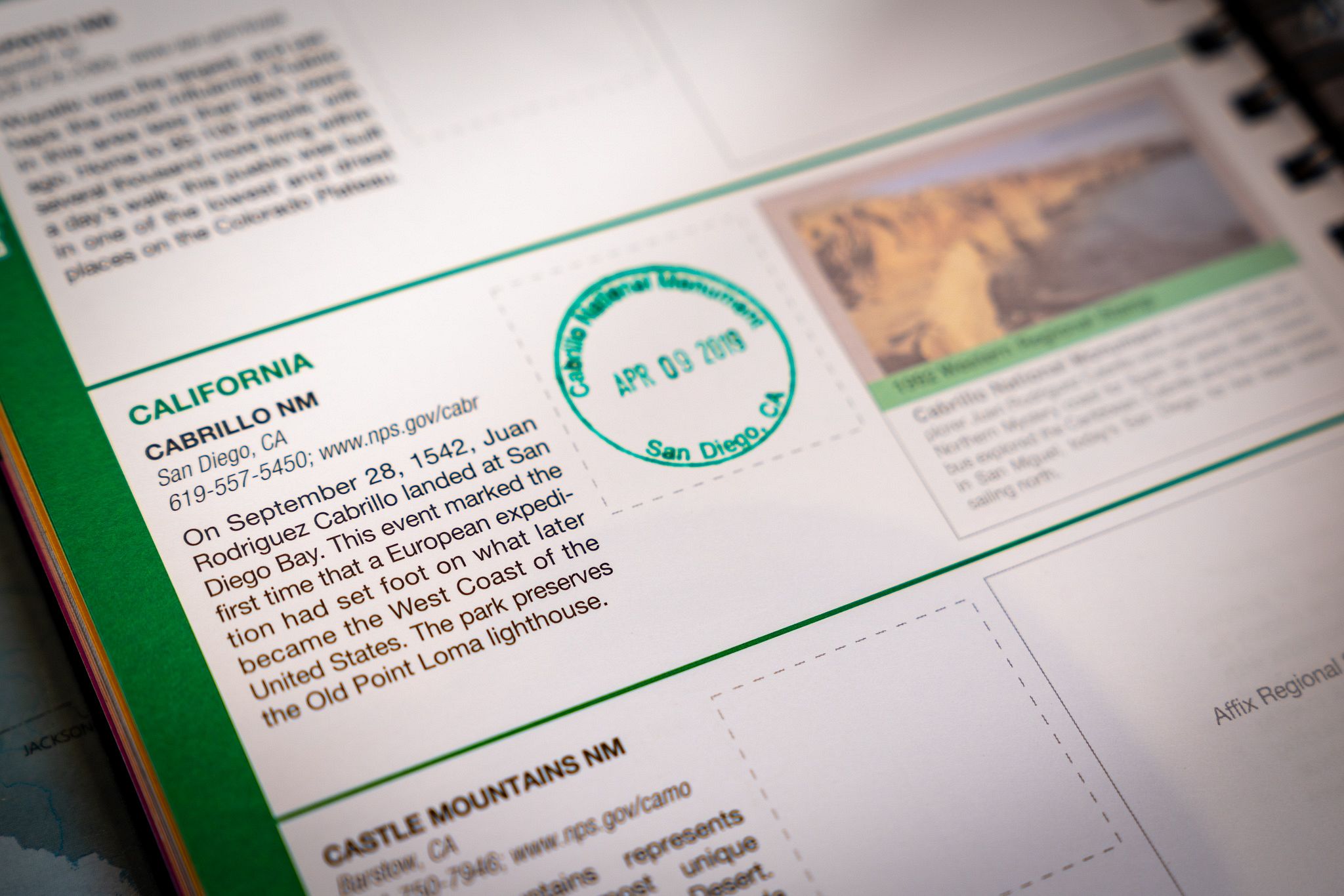 Flora & Fauna
Cabrillo is home to an amazing diversity of marine animals who live in the intertidal zone and tide pools down along the coast. However, these areas are only accessible at low tide. Not only were we nearing a high tide, but tides are generally higher during the anyway during the spring. Ooops!
Bear this in mind when planning your visit - according to the staff, the best time to visit is in the late fall or winter when the tides are at their lowest during the daytime.
Another popular wildlife-related activity is to look for migrating gray whales passing by from the Whale Overlook station. Unfortunately, these migrations happen during the winter months - December through March - so we were too late for that!
Ah well, I guess we'll just have to go back another time! Frustratingly, we had visited San Diego in February a couple years ago and had no idea about Cabrillo - else the timing would have been perfect!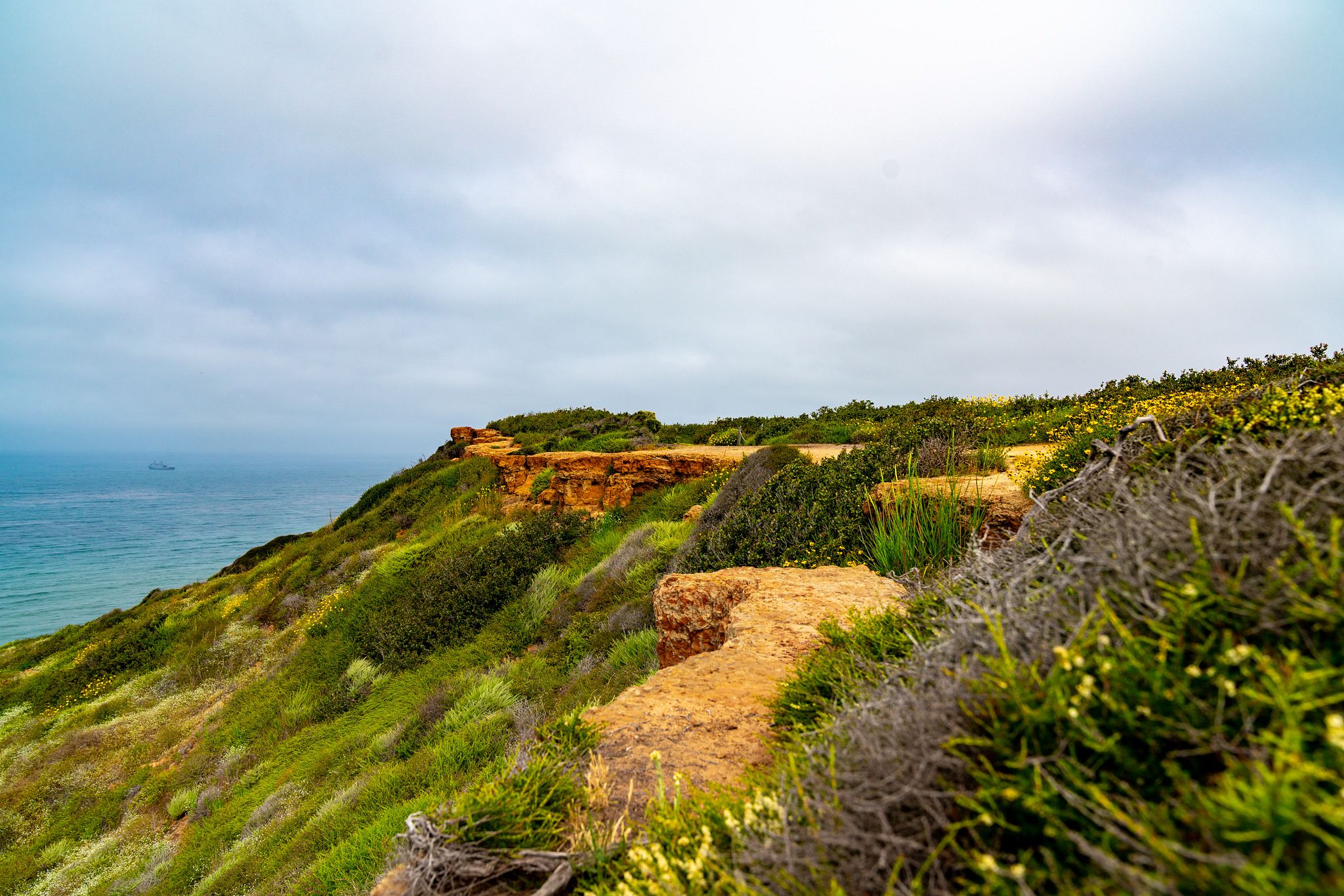 Auditorium
In lieu of being able to see all this wildlife for ourselves first hand, we instead chose to watch a film inside the Auditorium. Every hour, on the hour, they show one of a selection of short films.
We were just in time for a showing of the short film "On the Edge of Land and Sea". Perfect!
The film was genuinely interesting, and taught us about the different zones inhabited by marine life down near the shoreline.
Lighthouse
Aside from the flora and fauna, Cabrillo National Monument has several buildings to explore - particularly the Old Point Loma Lighthouse.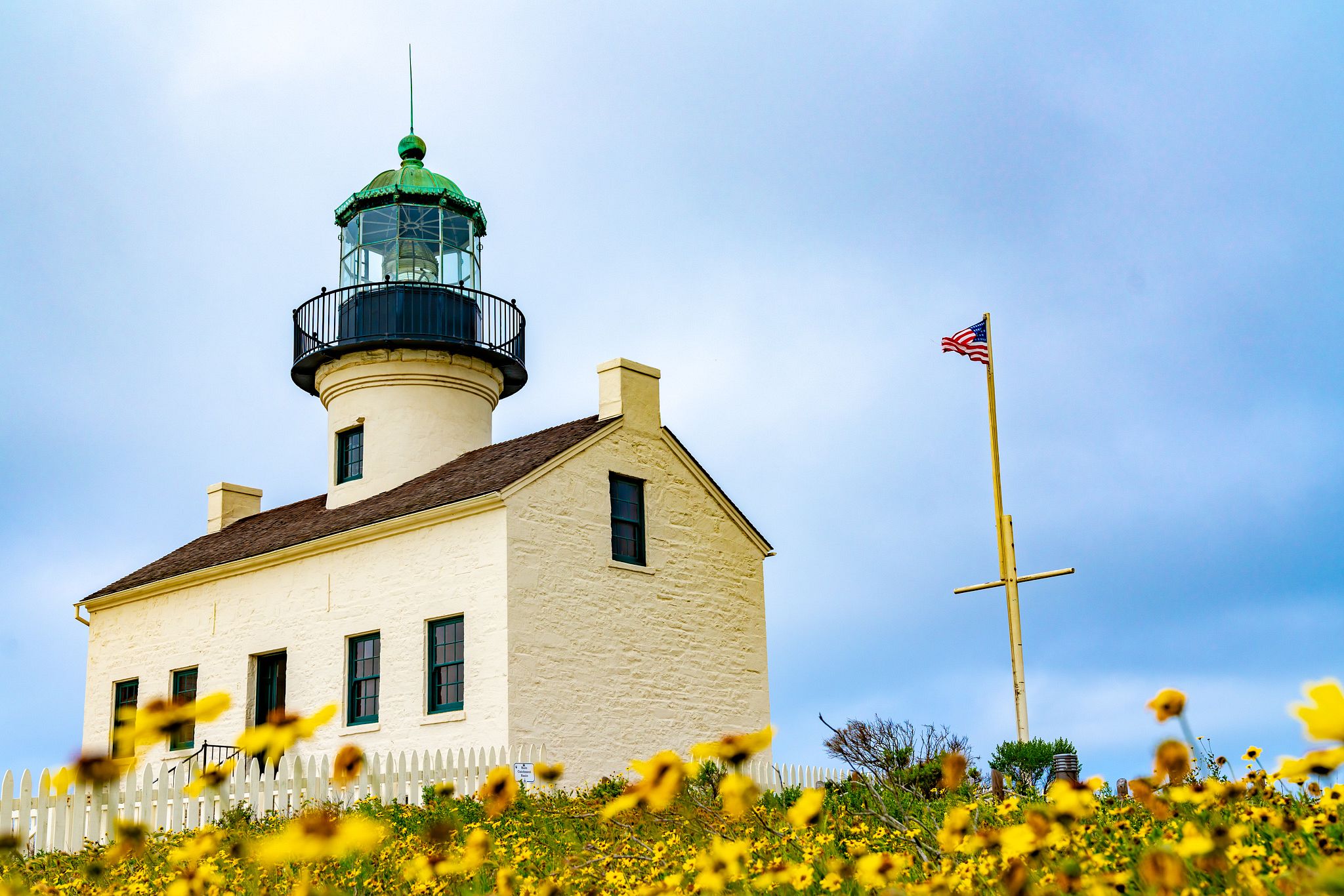 Just 19 days after California joined the Union on September 28th 1850, Congress appropriated $90,000 to construct lighthouses along the California coast. The following year, the US Coastal Survey chose a site near the summit of Point Loma as one of six locations to construct lighthouses.
Construction began in 1854 using materials from San Francisco, although the lantern and lens had to be made in Paris and arrived in August 1855. Construction was completed in October 1855 and it was lighted for the first time to illuminate the peninsula on November 15th 1855.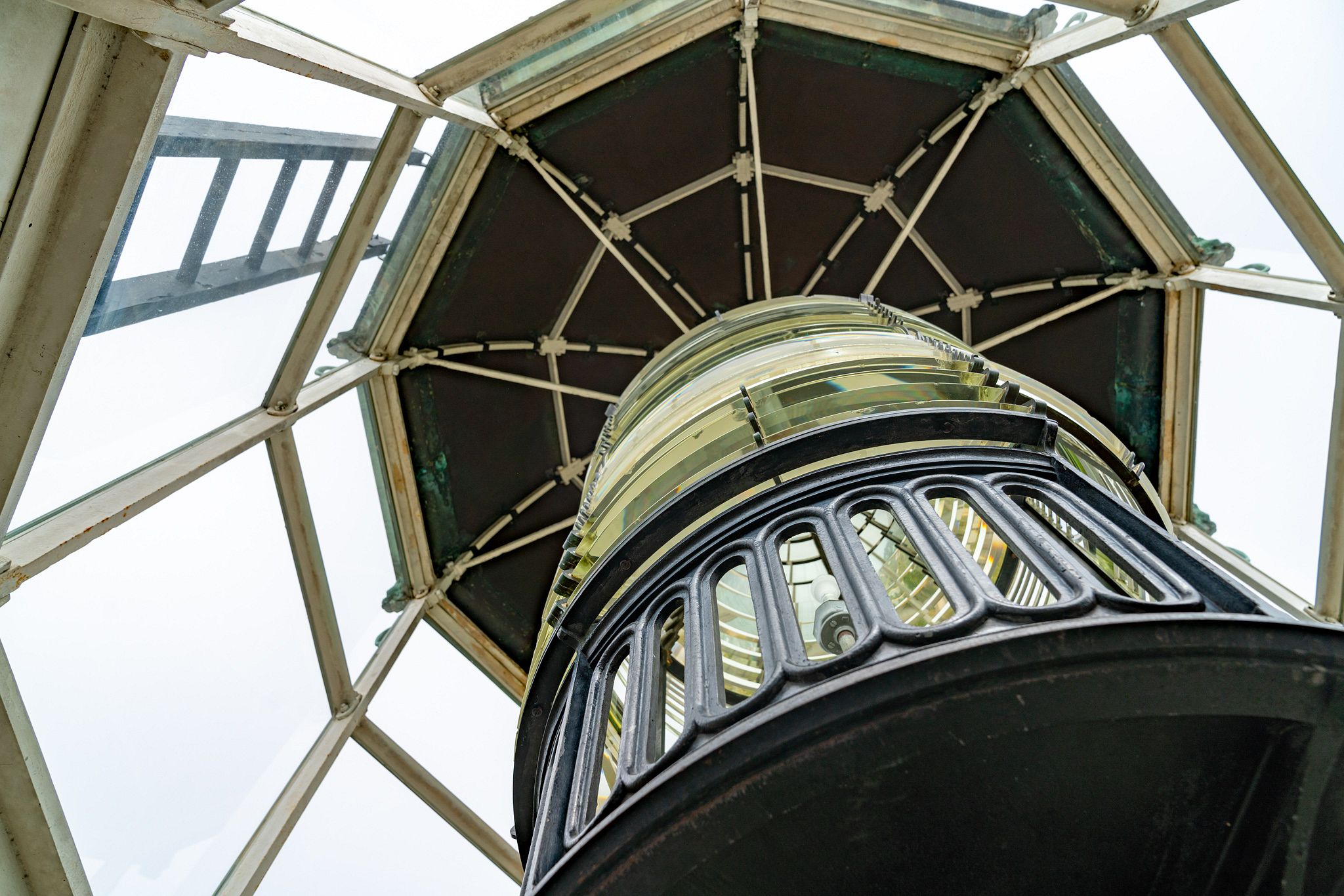 Standing atop a cliff of 422ft, its light shone from a height of 462ft giving it the highest elevation of any lighthouse in the US at the time it operated. However it transpired that this elevation was less of an advantage than initially thought - its bright light often obscured by fog and low clouds.
On March 23 1891, its flame was permanently extinguished. The tower of the lighthouse, now known as the Old Point Loma Lighthouse is only open to visitors twice per year - August 25th (National Park Service birthday) and November 15th (the lighthouse's birthday). Aside from these dates, visitors are able to look around inside the lighthouse building, but not ascend the tower.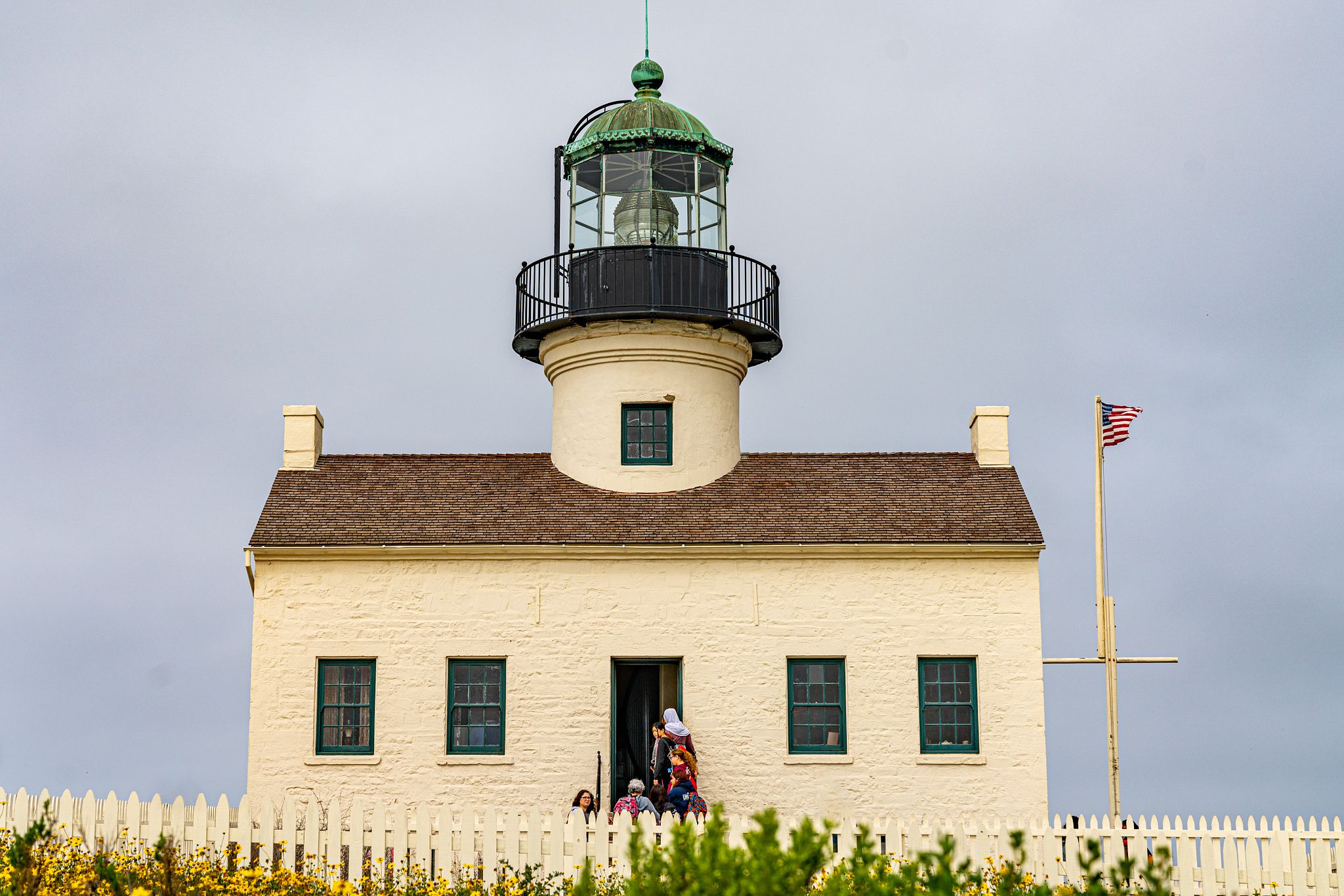 The lantern house adjacent to the lighthouse exhibits a 3rd order fresnel lens, however this is on loan from Mile Rocks Lighthouse outside San Francisco, CA.
The successor to Old Point Loma Lighthouse, the aptly-named New Point Loma Lighthouse, sits just 88ft above the water. Still operational today, its light was automated in 1973 and upgraded to an LED bulb and can be seen from up to 25 miles away.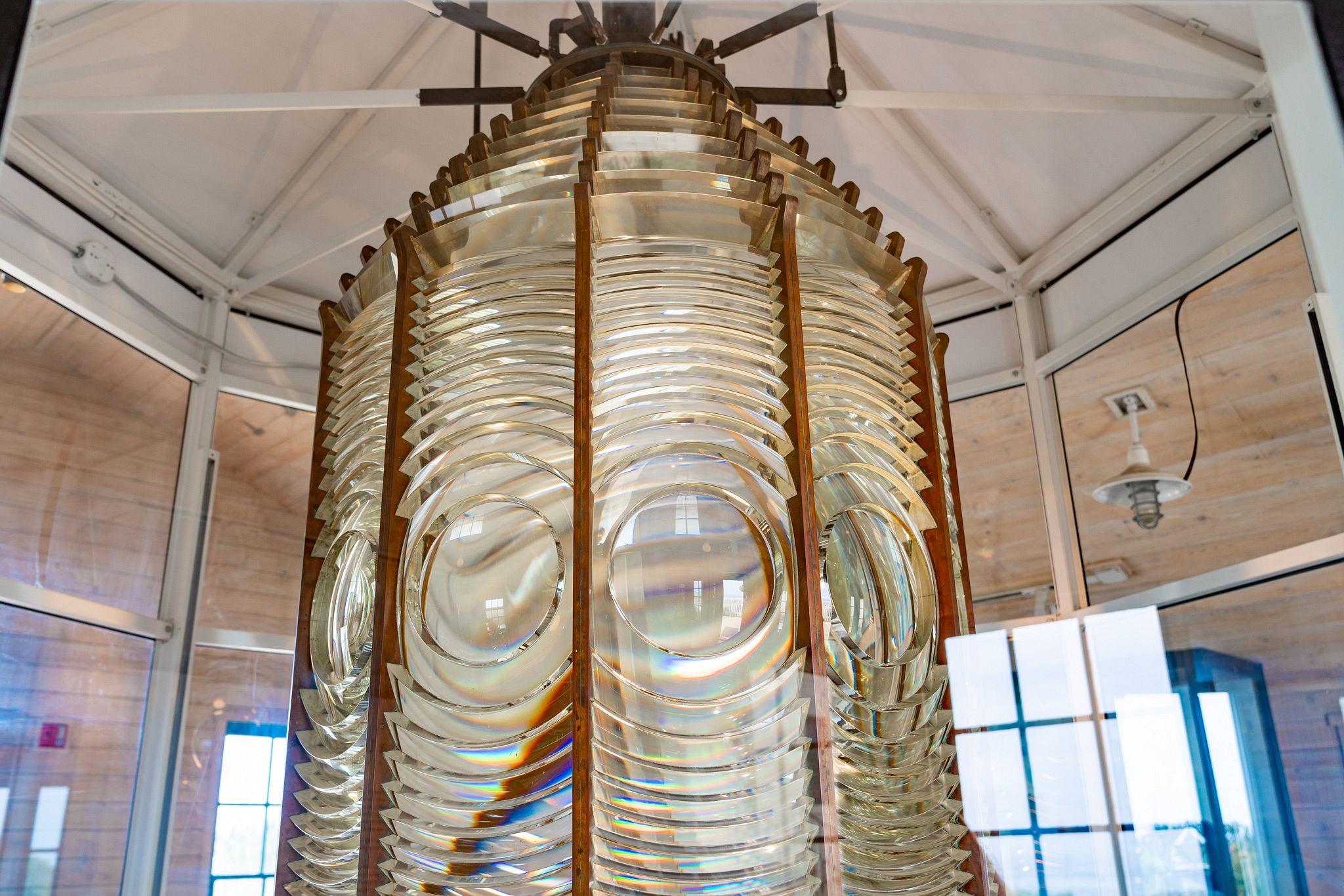 We walked up to the lighthouse and enjoyed looking around both the lighthouse itself, as well as the lantern house next door. It has been restored as a museum showing what life would have been like for the lighthouse keeper and his family in the 1880s.
Although we often beat the crowds by visiting mid-week, in this case our visit coincided with several school groups - meaning lines of children snaking their way through the buildings. However, they and their teachers were incredibly courteous and respectful - it was actually endearing to see how excited they were to learn the history of Cabrillo.
Cabrillo Statue
From the lighthouse, we walked over to the Cabrillo statue and took some photos. It was strange standing there, overlooking the harbor of the 8th largest city in the US and wondering whether Cabrillo could ever have imagined what the future might hold for the land he had found.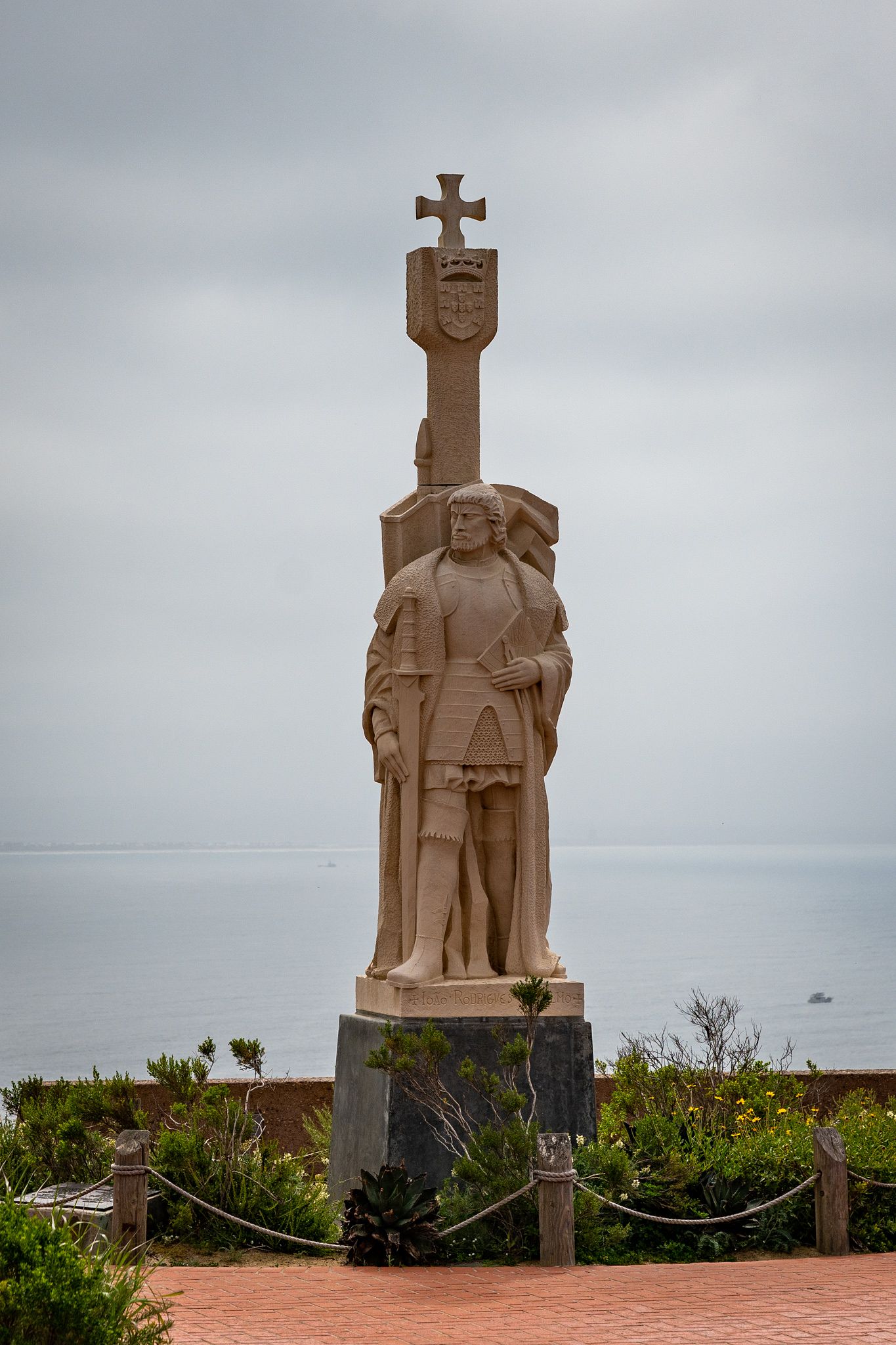 Parking
Wherever possible, we try to avoid visiting places with our trailer in tow - it just complicates everything. However, if it's unavoidable then we always check the NPS website and Google satellite view in advance to see what the RV parking options are.
In the case of Cabrillo National Monument, they have loads of parking - I presume it gets very busy during peak season because (fortunately) the parking lot was almost empty while we were there.
Interestingly, although the satellite view shows several spaces for buses and RVs, these had been removed when we arrived. Rather than taking up lots of spaces, we decided to unhitch and park in two adjacent spaces.
In fact, you can see exactly how we did it because coincidentally, Google's Street View car happened to be driving through as we were there and caught our truck and trailer on camera! And if you scroll back towards the Visitor Center, you can just about make out the two of us walking back towards the car.
Conclusion
During high tide, a couple hours is all it takes to explore Cabrillo National Monument. You can learn about both the history of the original Cabrillo expedition, as well as the lighthouse that now sits on the Point Loma summit.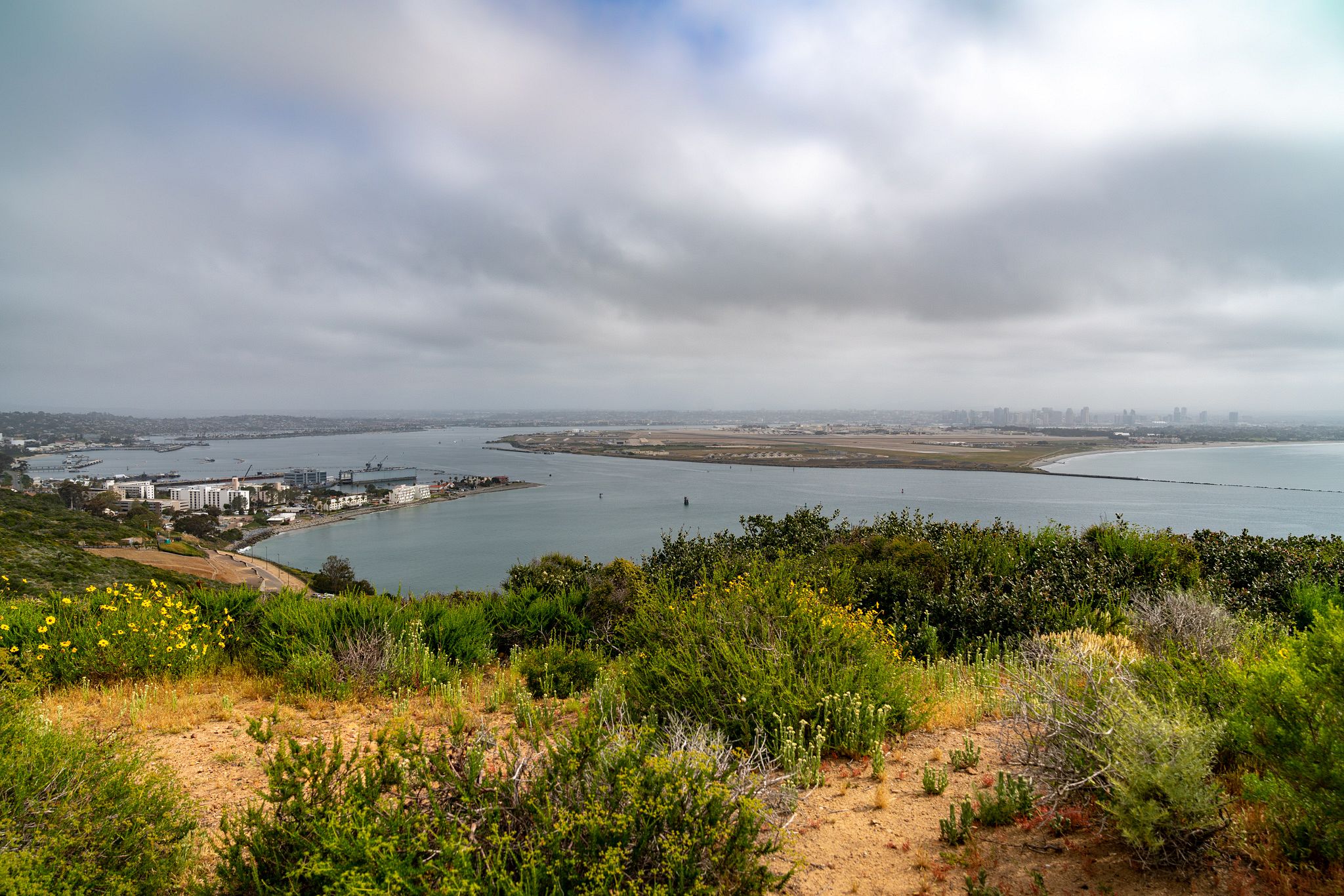 But the real lure is the chance to explore the shoreline and its intertidal zones during low tide. Supposedly the best time for this is late fall and winter, so if you can handle the cooler temperatures, I suspect there are hours of fun to be had exploring the tide pools.
We definitely feel like we missed out on this, so we've made a note to make sure we visit Cabrillo National Monument again if we find ourselves back in the area during the winter months.
From here, we'll be heading a little further north up the coast to explore Santa Monica Mountains National Recreation Area.