When we left you last week, we were about to head to Durango, CO to take our truck into the dealer to repair the two blown exhaust manifolds.
Durango Motor Company
As full-time RVers who travel a lot, we have the flexibility to take our business where we want. Something felt off about Summit Ford after they had diagnosed my truck with two blown exhaust manifolds - first, they wanted to remove the entire cab from the frame to do the repair, and second I couldn't find any good camping spots near Silverthorne which made me feel uneasy. Plus, they couldn't get the work scheduled until August 15th, two weeks after the original diagnosis!
But they told me it was OK to continue driving the truck. So, we decided to drive to Durango, CO to have Durango Motor Company do the work - they were great last time I worked with them.
So last Thursday, we drove 250 miles from Leadville, CO to a boondocking spot about 25 miles west of Durango (more on that later). The plan was to stay here for about a week, so that Durango Motor Company could work on my truck Monday and Tuesday.
We stopped in at Durango Motor Company as we drove through Durango last Thursday, to confirm the appointment was all good. Yup, all good. They had everything they needed, and they would give me a ride to and from our boondocking spot when I dropped the truck off and when it was ready to collect.
Bright and early at 7:30am on Monday morning, I drove the truck over to Durango Motor Company. Tim checked the truck in, and within 10 minutes, I was sitting in a car with Dean who drove me 25 miles back to our camping spot! Dean was telling me that Durango Motor Company is happy to go above and beyond to help people out who need it - in this case, giving me a ride 30 minutes out of town. He said people come from as far away as Pagosa Springs, Farmington and Bloomfield to bring their vehicles to Durango Motor Company - their reputation is that good. Undeterred by the final 1.5 miles of rough dirt road, Dean brought me right to the front door of our RV in his Toyota Camry - thanks Dean!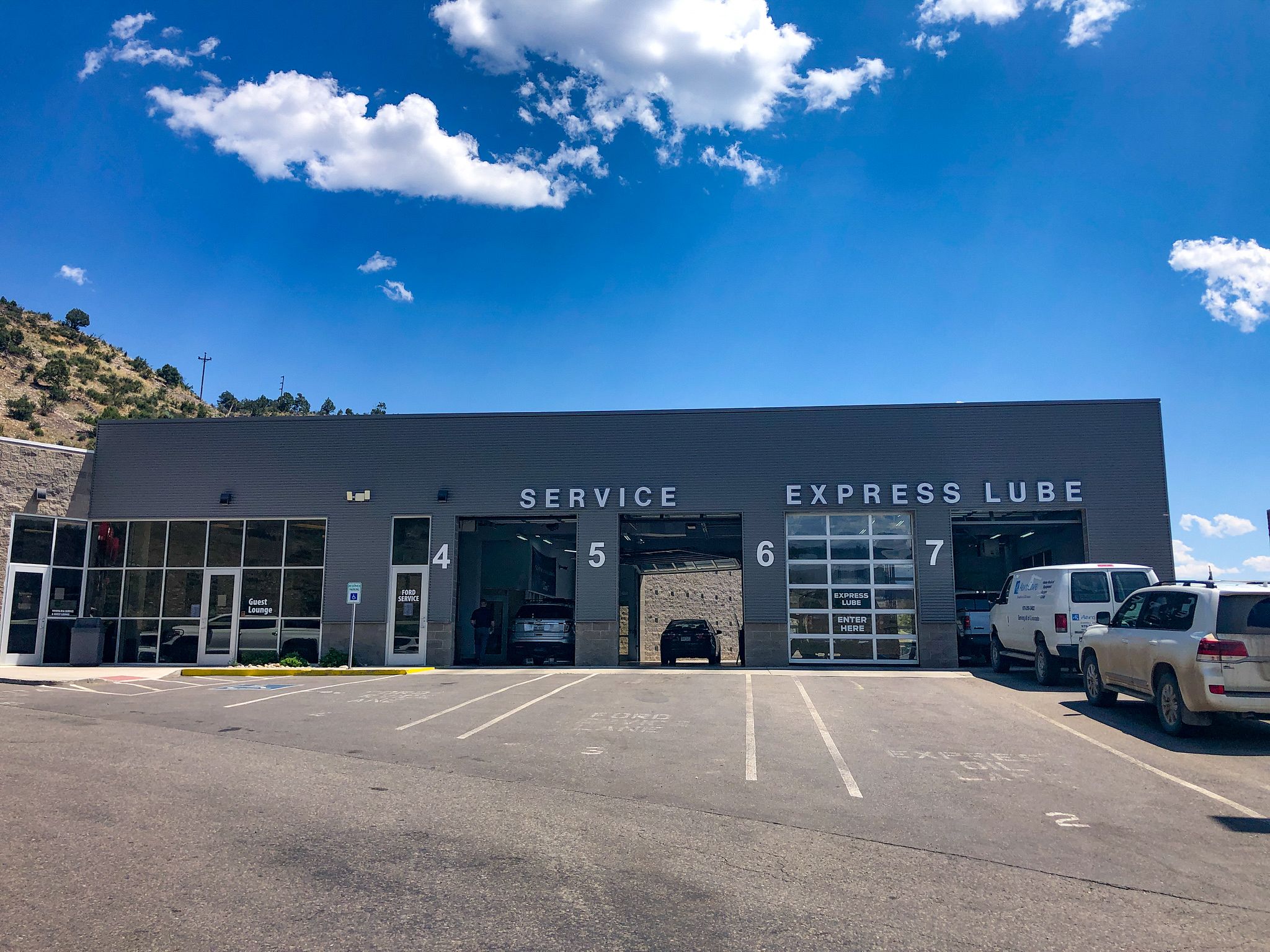 About 11am I get a call; it's Tim at Durango Motor Company. They don't have one of the parts they need, so they'll order it but it won't arrive until Wednesday and my truck probably won't be ready until Thursday. Argh! This was disappointing - I had confirmed twice in advance that they had all the parts. But what could I do? We were OK without the truck for another couple of days, so I told him to go ahead - but explained it was awkward for us to be stranded in the middle of nowhere without our truck for another 2 days. He promised me a phone update at the end of the day.
At 5:45pm I get another call; Tim again. They've been able to source the part from another Ford dealer nearby, and my truck will be ready on Wednesday. Excellent news! They had already started disassembling the truck and would replace the broken exhaust manifold as soon as the part arrived.
Hang on...."the" broken exhaust manifold? Summit Ford told me both exhaust manifolds needed replacing. Tim checked with the technician. Yes, the right exhaust manifold needed replacing, but the left manifold was fine - perfect condition, no signs of damage, and definitely didn't need replacing. Hmmm....
Then at lunchtime on Tuesday, Tim calls again. Uh-oh, what's wrong that he needs to call me? The truck is ready - all done! What?! I don't know what strings he pulled, but they had the part they needed and had repaired the broken exhaust manifold. My truck was ready to collect and Dean would be with me in a couple hours.
I collected my truck that afternoon - all the work was complete, the ticking noise had stopped and the whistling under load was no more. It was all covered under warranty so it cost me $0.
I wanted to double check what Summit Ford had told me, so I called them. I asked them to check the service notes for my appointment 10 days prior. Sure enough, the technician there had diagnosed that I needed both exhaust manifolds replacing as both were damaged. As I said earlier, something felt off about Summit Ford, and now it was confirmed. Durango Motor Company had replaced the single damaged exhaust manifold by going in through the wheel well, whereas Summit Ford wanted to remove the entire cab from the frame and replace both exhaust manifolds - a much bigger job than it needed to be. I won't be going back to Summit Ford.
As for Durango Motor Company though, I can't say enough good things about them. Sure, there was some confusion about a part, but mistakes happen, and it's how you recover from them that I think is most telling. Tim kept me informed, and obviously went out of his way to try and resolve the issue as quickly as possible. Personally, if I needed work on my truck and I were anywhere near Durango (by which I mean within ~250 miles if this time is anything to go by), I wouldn't hesitate to visit Durango Motor Company.
And in case you were wondering, it's called Durango Motor Company not Durango Ford, because they don't just do Ford - they sell and service Ford, Lincoln, Toyota and Kia. So if you have one of those vehicles and need work doing, I would definitely recommend Durango Motor Company. Great work, excellent customer service, and easy to deal with. Thank you guys!
New Ford Trucks
I think it's physically impossible for me to be in a car dealership without looking at the new vehicles there. Last time I was at Durango Motor Company, I spoke with Bryan in sales who took me out for a test drive in a 2019 Ford F-250 Lariat with the 6.7L PowerStroke diesel. It was 4x4, had the short bed (6¾ ft) with a GVWR of 10,000lbs and was fairly well loaded with options.
It was my first time driving an F-250 or a diesel, and it was really nice! The ride was smoother than I expected, and the engine was surprisingly punchy. I liked it.
Except the payload. The payload was just 2,054lbs, meaning the truck weighs a staggering 7,946lbs. That's only 522lbs more payload than my fully-loaded F-150 Platinum.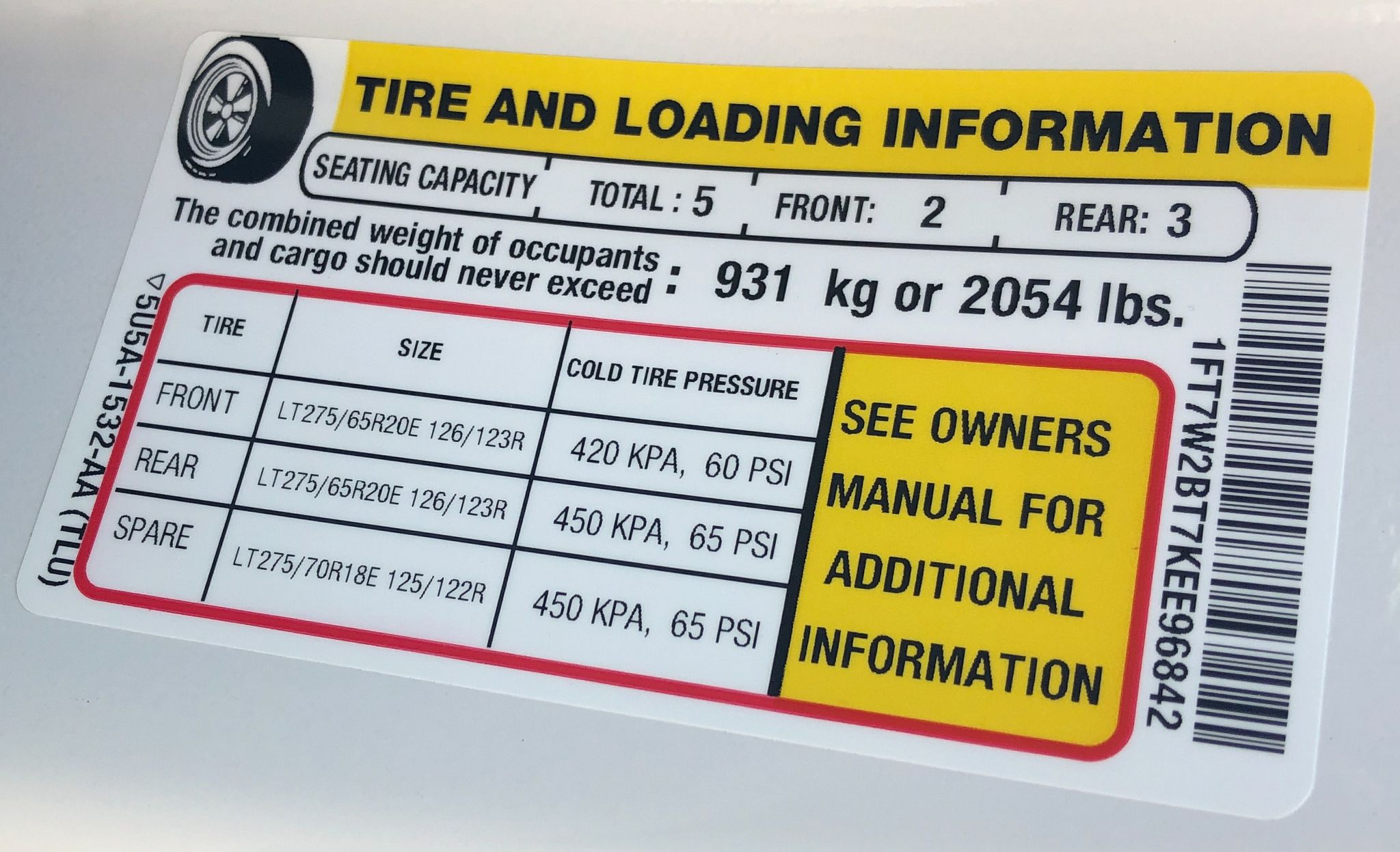 So this time, I found Bryan again and asked him if he'd let me check the weights and payload on an equivalent gas F-250. We found one - a 2019 Ford F-250 Lariat with the 6.2L V8 gas engine, 4x4, a short bed and a GVWR of 10,000lbs. The only difference would be in some of the options.
I was shocked. Its payload was a staggering 3,152lbs - almost 1,100lbs more than the equivalent diesel F-250 and over double what my F-150 has.
I had naïvely assumed that the diesel would be the best engine for us as full-time RVers. In reality, the answer is no. When the time comes to buy a new truck, we want one with enough payload to build out as an overland vehicle - camper shell, rooftop tent, etc. The diesel F-250 probably doesn't have the payload for that, but the gas one...no problem!
Except I wouldn't buy the 6.2L V8 gas engine.
Because this week, Ford announced the specs on the new 7.3L V8 engine, codenamed Godzilla - the second largest production automotive engine after the 8.0L quad-turbo W16 in the Bugatti Chiron!
The specs were lower than many (myself included) had anticipated - 430 hp and 475 lb-ft torque. But according to a Ford spokesperson: "The focus for the 7.3-liter was total capability as delivered in vehicle. We have class-leading peak torque, but we valued capability from 1,500 rpm on up over obtaining an even larger advertised peak torque. All versions of the 7.3-liter are capable of delivering over 400 ft-lbs from 1,500 rpm on up. We believe this large amount of torque from low engine speeds is exactly what a heavily loaded vehicle needs for good drivability."
In other words, Ford has designed the engine to behave like a diesel, albeit with lower torque but significantly lighter weight and significantly cheaper - the diesel engine is currently a $9,000 option on the F-250.
When the time comes to upgrade our truck, we'll be taking a serious look at the new Ford F-250 with the 7.3L V8 gas engine - and maybe their new Tremor package too!
Boondocking with friends
One of the reasons we chose to have the work on the truck done in Durango, aside from previously good experience at Durango Motor Company, was that we knew a good boondocking spot in the area. It's about 25 miles from Durango, the scenery is beautiful, there are plenty of spaces to camp, and the cell signal is great. There's also a dump station on the way - although this time we chose to dump in Poncha Springs, CO to reduce the trailer weight for climbing Wolf Creek Pass, and then fill with fresh water near Durango.
We first stayed here when we met up with Cass from Tails of Wanderlust, and came back later when Diana's brother, Jānis was visiting. Third time's a charm!
We arrived Thursday afternoon, and found our favorite spot was vacant! The views overlooking the valley below are breathtaking, and we oriented the trailer so we could see that view through our dinette. Actually, we messed up a bit and parked too close to the tree, so our solar panels were in shade for an hour or two around lunchtime - no biggie, but it was a newbie mistake!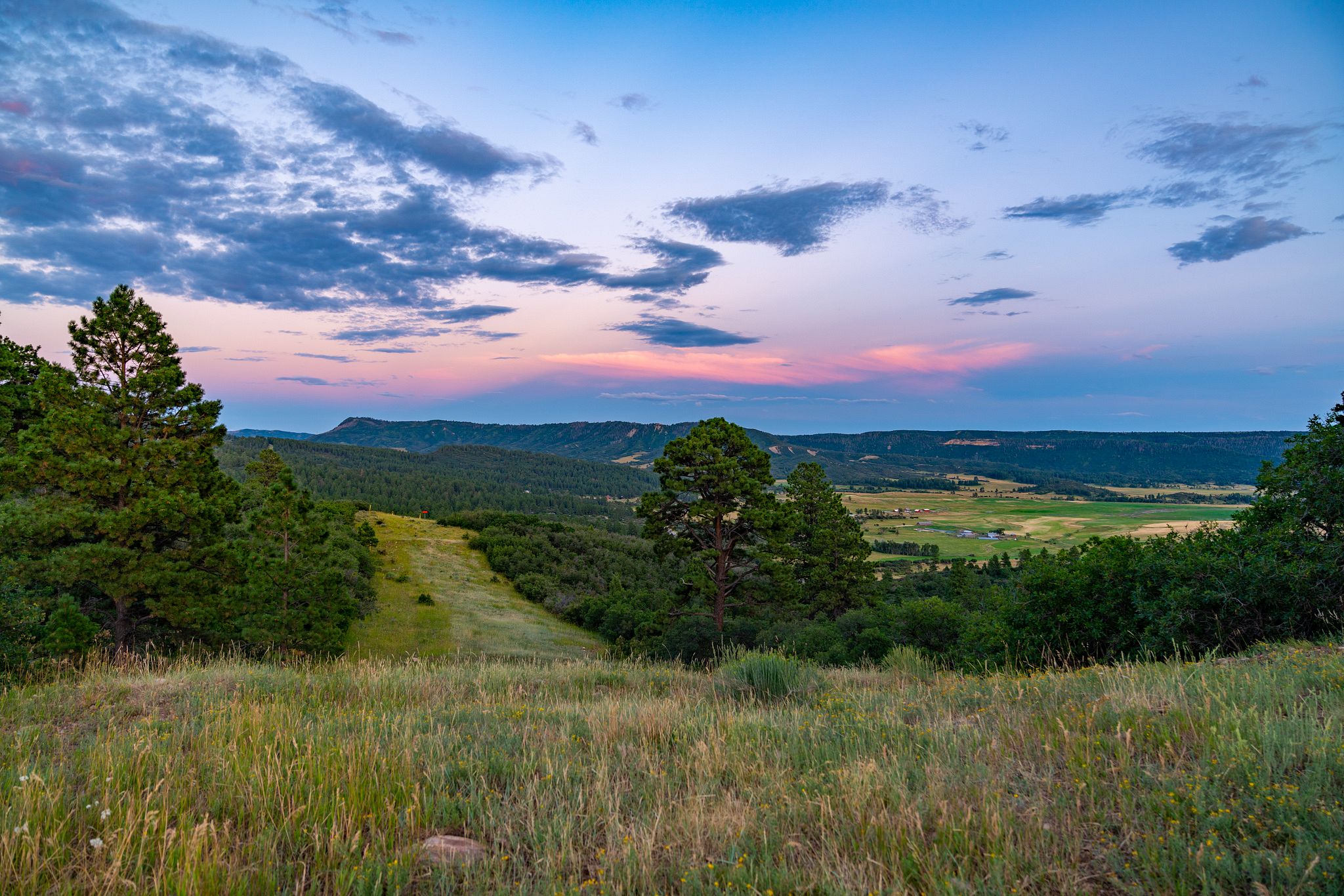 And even better, there was another Outdoors RV parked nearby in another spot. I can't resist, so I went and introduced myself to Matt (great name!) and Jenna. We chatted for a while, and have had good fun with them the past week or so. It turns out that not only did we have mutual friends in common, but we've also seen inside their trailer before....
When we were researching our electrical upgrades, we came across an article by Precision RV where they had installed Lithium batteries under the bed in an Outdoors RV - that's what inspired us to do the same. It turns out that the RV in that article was Matt and Jenna's!! Small world!
The next morning, the world got even smaller. One of the mutuals friend that we share with Matt and Jenna, Marshall from Camp Addict, sent me a text - some of our other friends had arrived at the same spot late the previous night. Sure enough, Brian and Leigh from Campendium had left Silverton at 8pm the previous evening because the whole area had lost cell signal. They had arrived at our Durango boondocking spot in the dark and seen someone had already stolen their favorite spot (that'd be us) - so they had found another spot nearby, just a couple hundred yards away.
So when Diana went out for her run, she went straight over to their RV to say hello. A couple hours later, they relocated over to near us (there's space here for a few rigs), and we've been camped together since. We arrived here expecting to be alone for a week, and ended up camping with friends - it was great to catch up, but also good to know we weren't completely stranded here while our truck was in for repair.
Next...
While camped here near Durango, we've been hard at work, cranking through blog posts and videos - there's a lot of exiting stuff coming through the pipeline, so make sure you're subscribed to our weekly newsletter and YouTube channel for all the latest updates!
We're leaving this spot now though, and headed out on a road trip towards Oregon. Along the way, we're hoping to visit 8 National Park Units - a couple that we've been to before, but most will be brand new!
That update turned out a lot longer than I intended, oops! We love sharing what we've been up to, and we love hearing from you too. Safe travels!