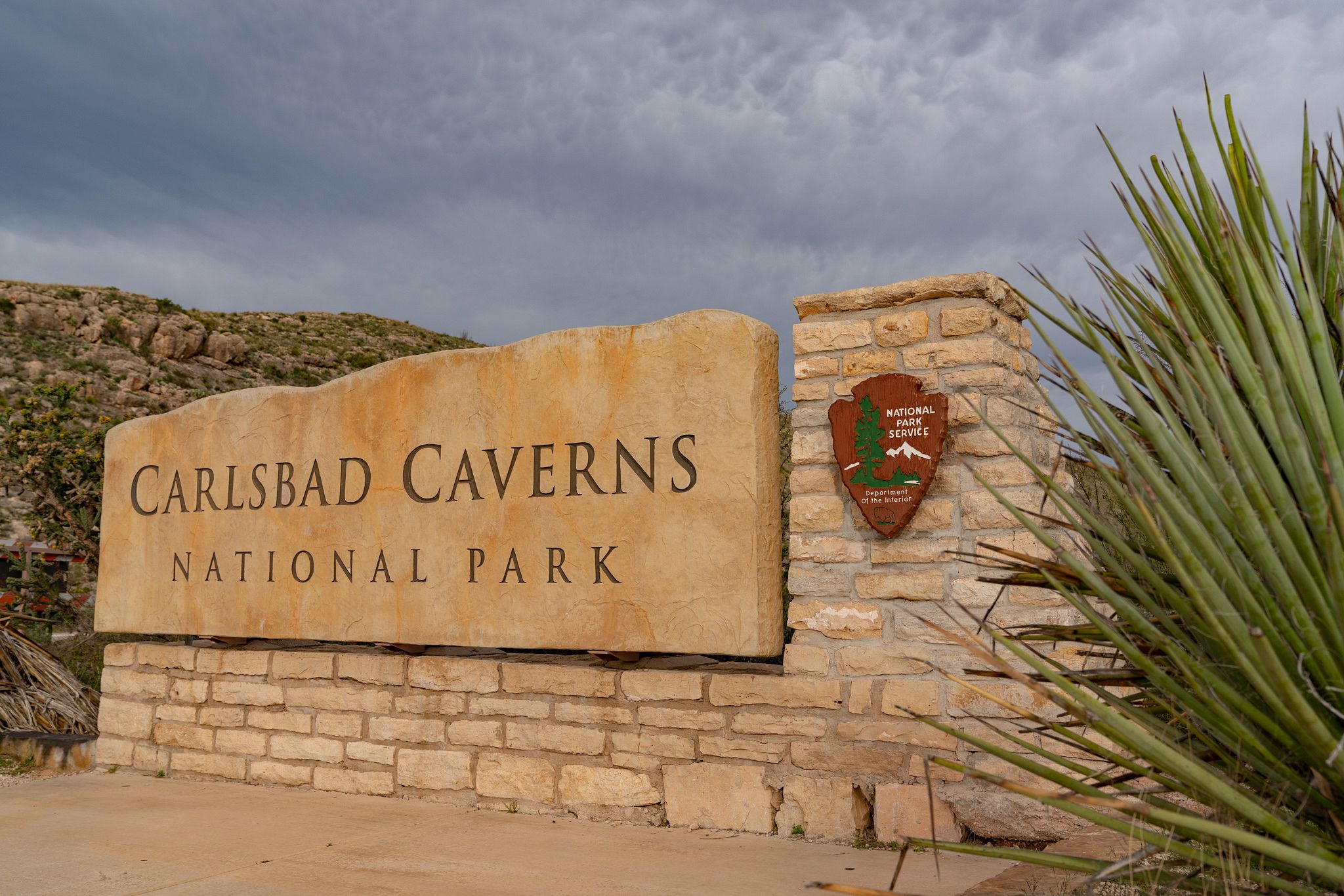 Introduction
On our mission to visit all 400+ US National Park Units, Carlsbad Caverns National Park was our very first one - National Park Unit #1! Our visit, starting on October 30th 2018, was action packed - we were determined to fit in as much as possible during our time there. As usual, we had planned out an itinerary in advance, but as soon as we arrived at the Visitor Center, we checked with a Ranger to make sure we hadn't missed anything - it all looked good!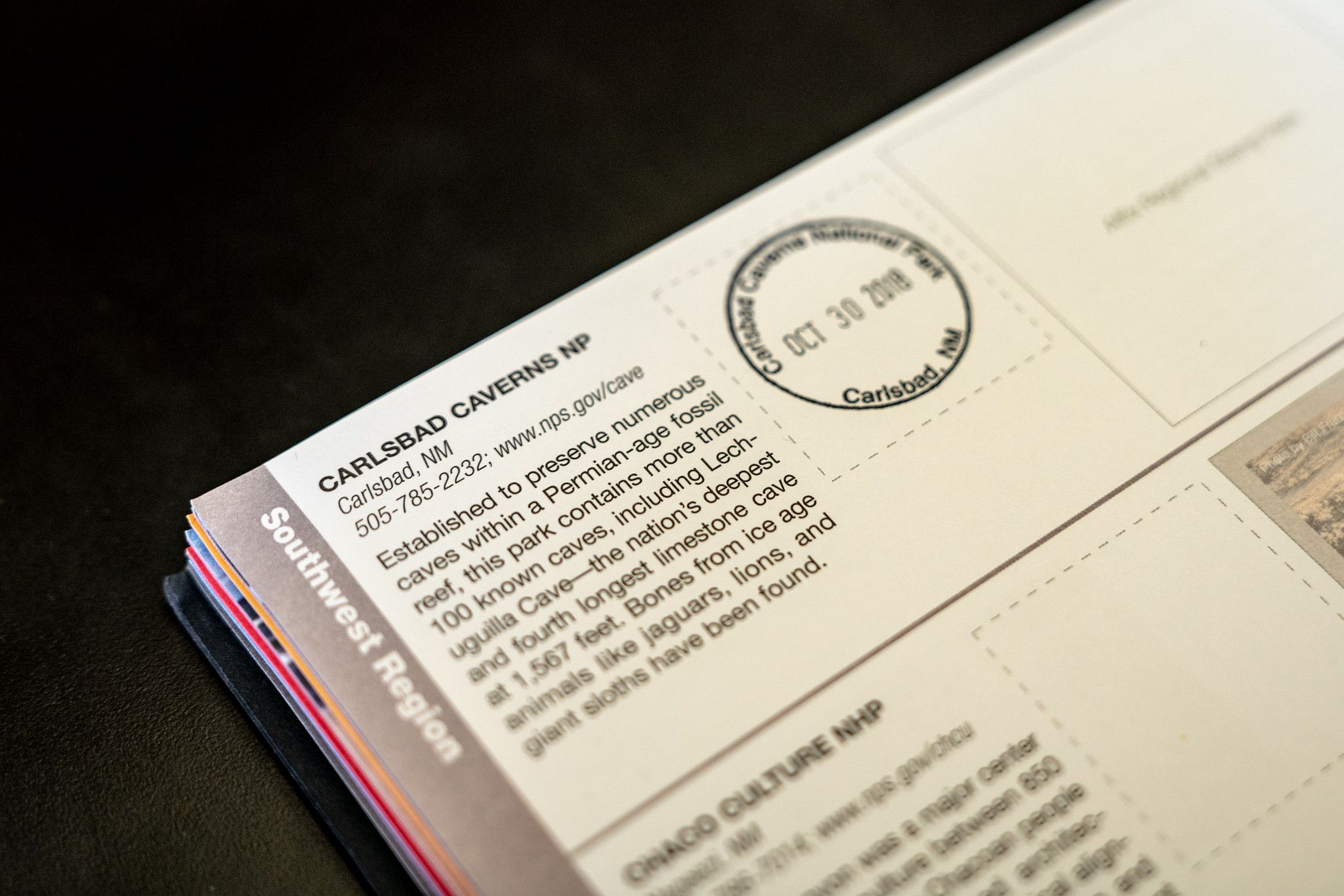 Whereas you can wander around the main cavern and explore on your own, there are other areas that can only be visited as part of a Ranger-led tour. Late October is in the low season for Carlsbad Caverns NP (one day whilst we were there they had just 400 visitors, whereas they can get over 3,000 daily visitors in peak season), but we still had to book the tours online ahead of time - more on this later. Our itinerary started with hiking down the Natural Entrance of the cave, with ranger-led tours on our other days there.
Location
Photography
Before we jump into our exploration, let's touch on the issue of photography. We love taking photos in the National Parks - they're stunning and photography is fun.
There's nothing stopping you taking photos at Carlsbad Caverns. But taking photos in caves is hard. Really hard. Even the renowned photographer Ansel Adams reportedly found it very difficult; he said Carlsbad Caverns is "something that should not exist in relation to human beings. Something that is as remote as the galaxy, incomprehensible as a nightmare, and beautiful in spite of everything." Gosh.
It's the light. Or more specifically, the lack thereof. And don't think you can just use a flash and solve all your problems - your flash might work for close-ups a few feet away, but it won't illuminate the Big Room! Plus, you have to stay on the walkways, so your options to compose the shot are limited.
Adventurous Tip: Take the widest aperture (lowest f-number) lenses you have and set your camera to the highest ISO you feel comfortable at. Most of our photos were taken with a Sony α7R III at f/2.8 and ISO between 800-6400 - even then, shutter speeds were 1/30th to 0.4s!
Even if you can get enough light for the photo itself, you may find your autofocus struggles. I had good success using my Canon Speedlite 430EX III-RT flash as an AF Assist light (it created a barely-visible red hatching pattern that the camera can use to focus) so consider that too if you have a compatible DSLR.
I say this mainly to excuse some of the photos we took - despite the tough conditions, we did our best. I hope you can forgive us!
White-Nose Syndrome
If you've been to other caves before, you may have heard of White-Nose Syndrome. It's a fungal disease that first arrived in the US in 2006, and has now spread to over half of the country - leaving millions of bats dead. It kills the bats by waking them during hibernation, when food is unavailable, and they starve to death.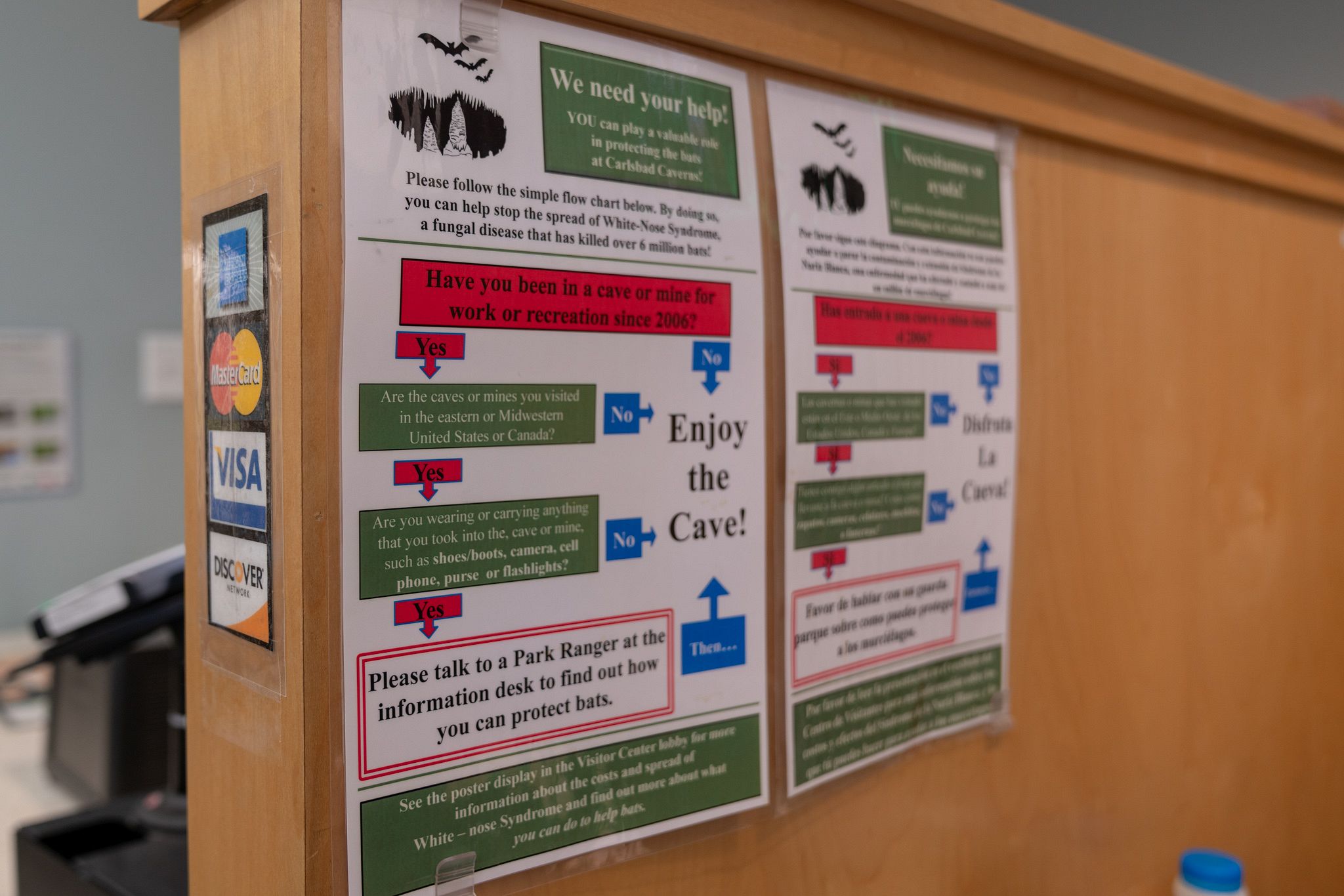 To protect the bats at Carlsbad Caverns National Park, if you have been to a cave any time since 2006 then let the rangers know. Don't worry, they're not going to ban you from entering! We told them, and they gave us a couple antibacterial wipes to clean our shoes and anything else (our cameras, for example) that we had taken into other caves. Please do your part to help save the bats!
Natural Entrance Self-Guided Tour
From the main road entrance to Carlsbad Caverns up to the Visitor Center is a 7-mile drive that takes about 12 minutes. The Visitor Center is situated right on top of the cavern, and is the starting point for all of the tours including the self-guided tour. Here you can find a shop, cafe, book store, information desk, ticket desk and an area with more information about the caves.
There are two ways to get down into the cave - hike 1-¼ miles down the steep path through the Natural Entrance, or take the elevator down 755ft. We obviously chose the hiking route.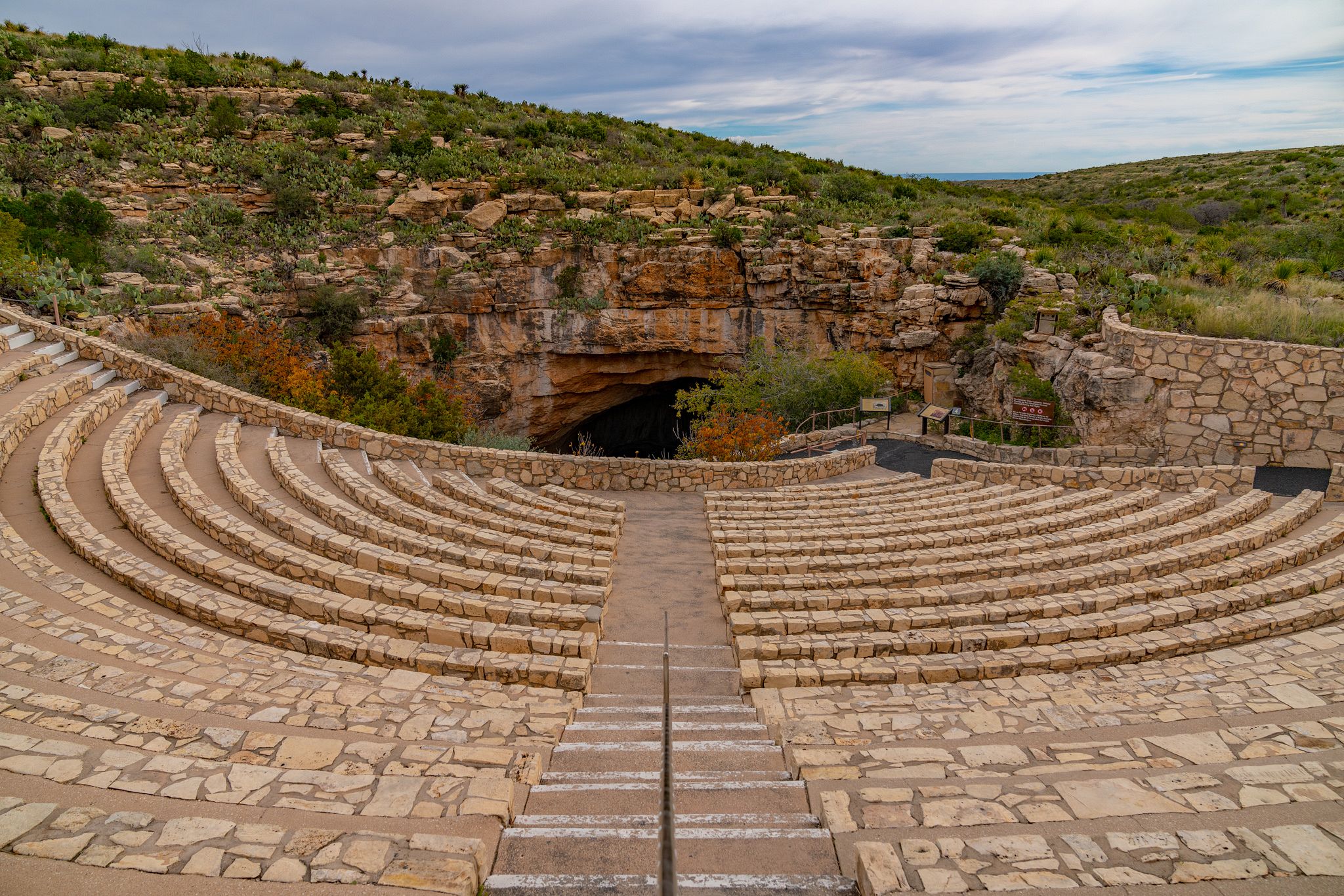 After an orientation briefing from one of the Rangers (in particular, no food or drink except water is allowed in the cave), we began our descent. The paved path into the mouth of the cave winds past the amphitheater - this is where the evening Bat Flights happen. As you enter the cave, the natural light disappears quickly as the magnitude of the cave hits you - it's a magical experience, descending into the heart of the mountain.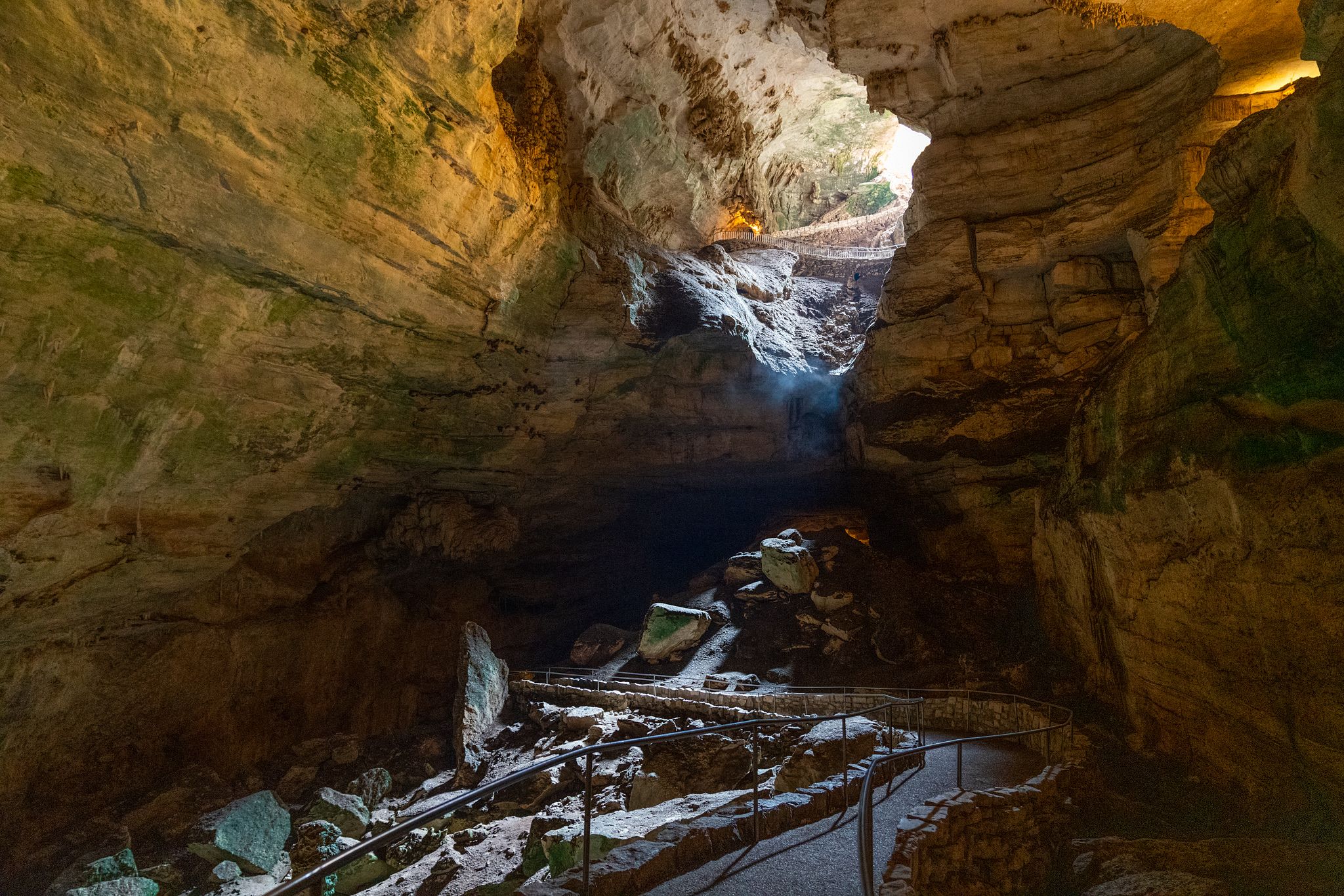 Ordinarily at this stage in the post, we'd be sharing GPS tracks of our hike so you can see the distance, elevation change, etc. However, since GPS signals are often thwarted by heavy leaf coverage, it should come as no surprise that the same GPS signals were unable to penetrate several hundred feet of solid rock. Sorry!
As the Rangers will inform you, sound carries a very, very long way in the cave - speech at normal volume can be heard almost a quarter-mile away. We had purchased the audio-tour - for $5 we had a small handset that you could punch numbers into at signposts along the way. Our cunning plan was to share one handset between us. However, as quiet as the cave was, the clever engineers who designed the audio-tour handset have found a way to create the world's quietest speaker. We tried both listening at the same time, but honestly, it didn't really work very well, and it's only really intended for one person to listen to at a time.
Adventurous Tip: Consider getting one audio-tour handset each unless you have super-human hearing, or be prepared to stop for twice as long at each point along the tour.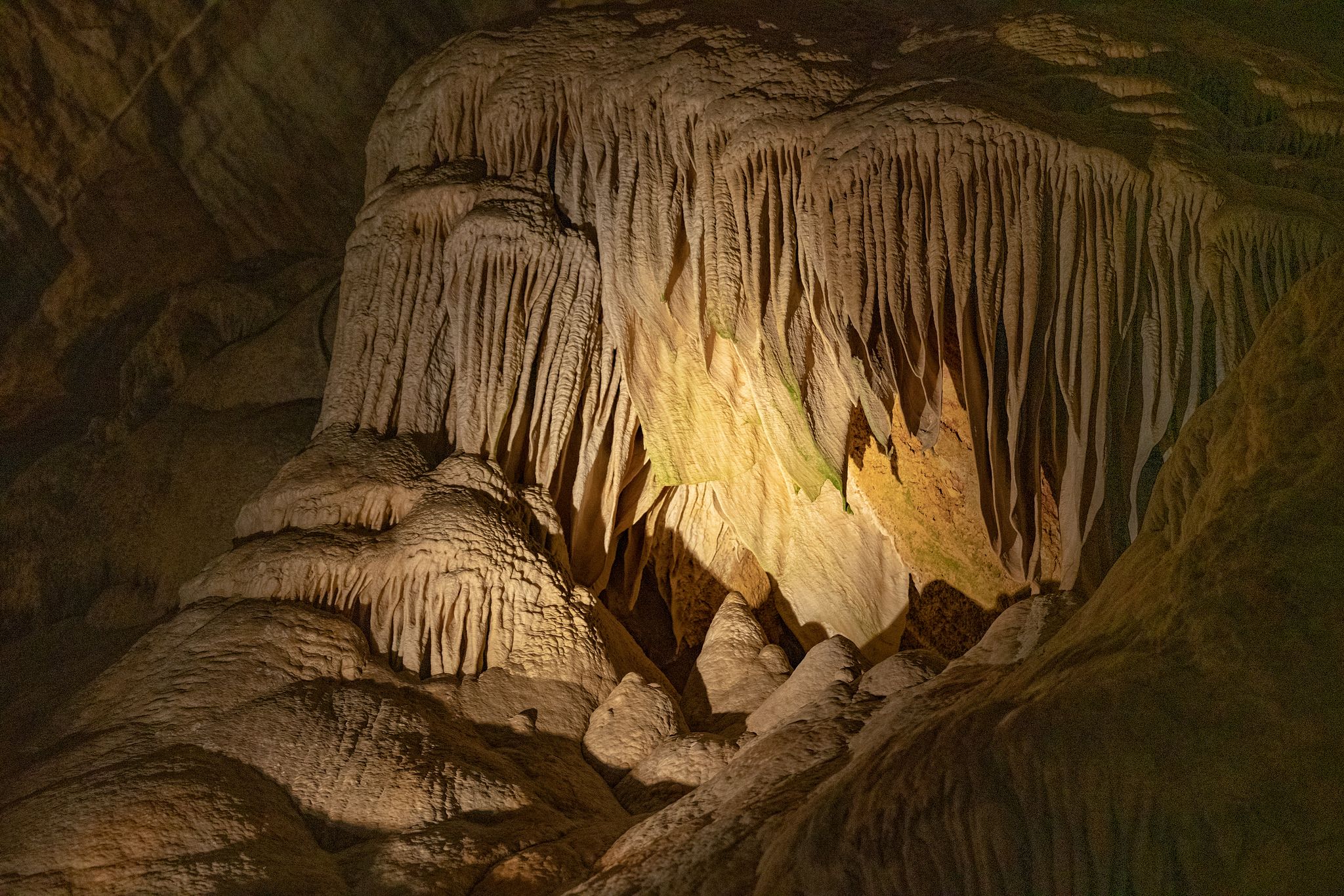 All being said, the audio-tour (narrated literally decades ago, so a few things are outdated - like not being allowed to hike back out of the Natural Entrance) was a good overview about the cave system - its history, geology and wildlife.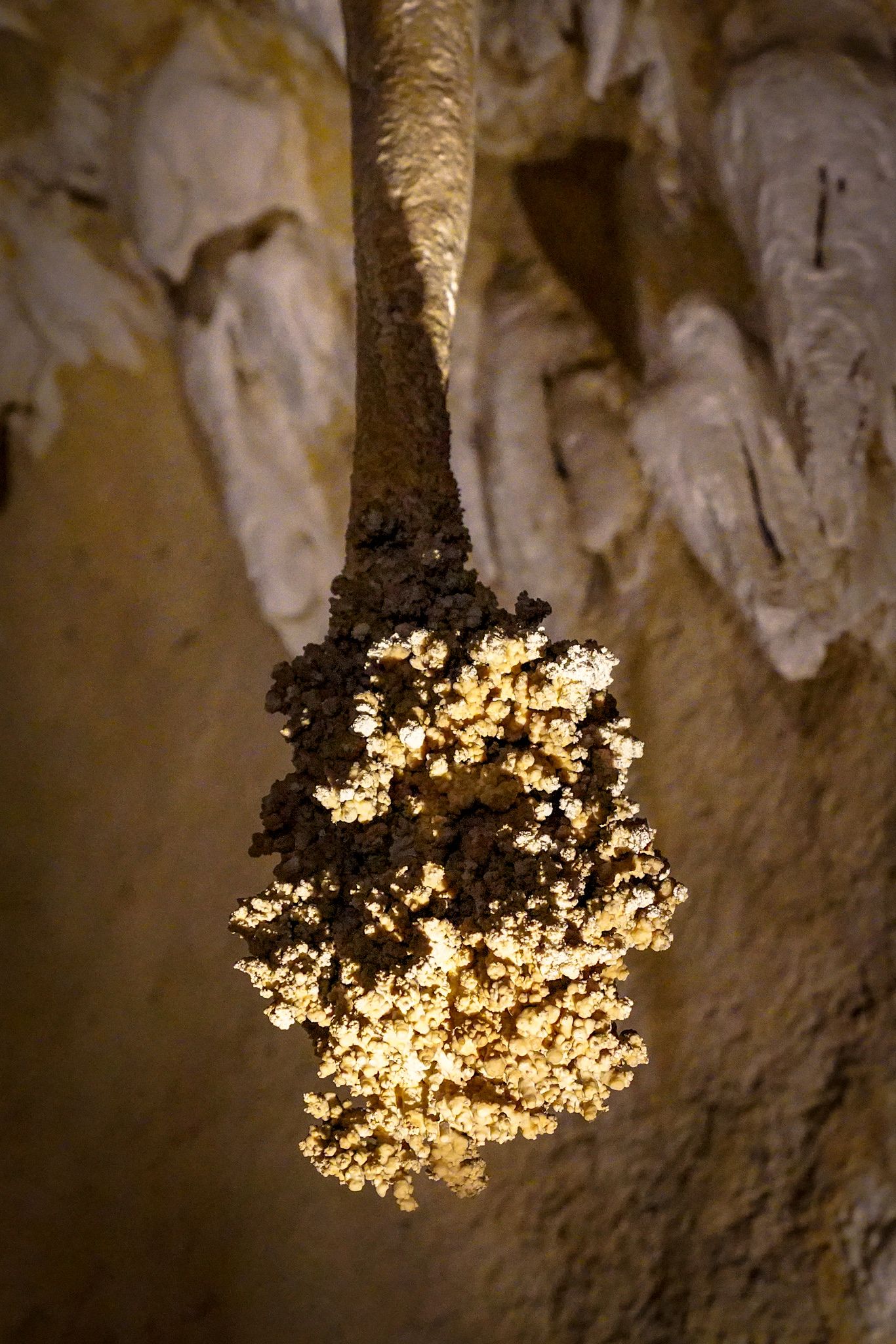 Taking our time (we tried really hard to take photos!), it took us a little over an hour to descend all the way to the bottom. The trail is paved all the way, but it is steep so bear that in mind.
Big Room
At the bottom of the trail from the Natural Entrance, you'll reach a fork in the path - you can choose to walk just another couple minutes ahead to reach the elevators and head back up to surface, or turn right to enter the Big Room. The Big Rooms is, well, big - it is the largest single chamber by volume in North America - and the 1.25 mile trail took us just over an hour to hike (the NPS website says it takes 1.5 hours but we were getting hungry!).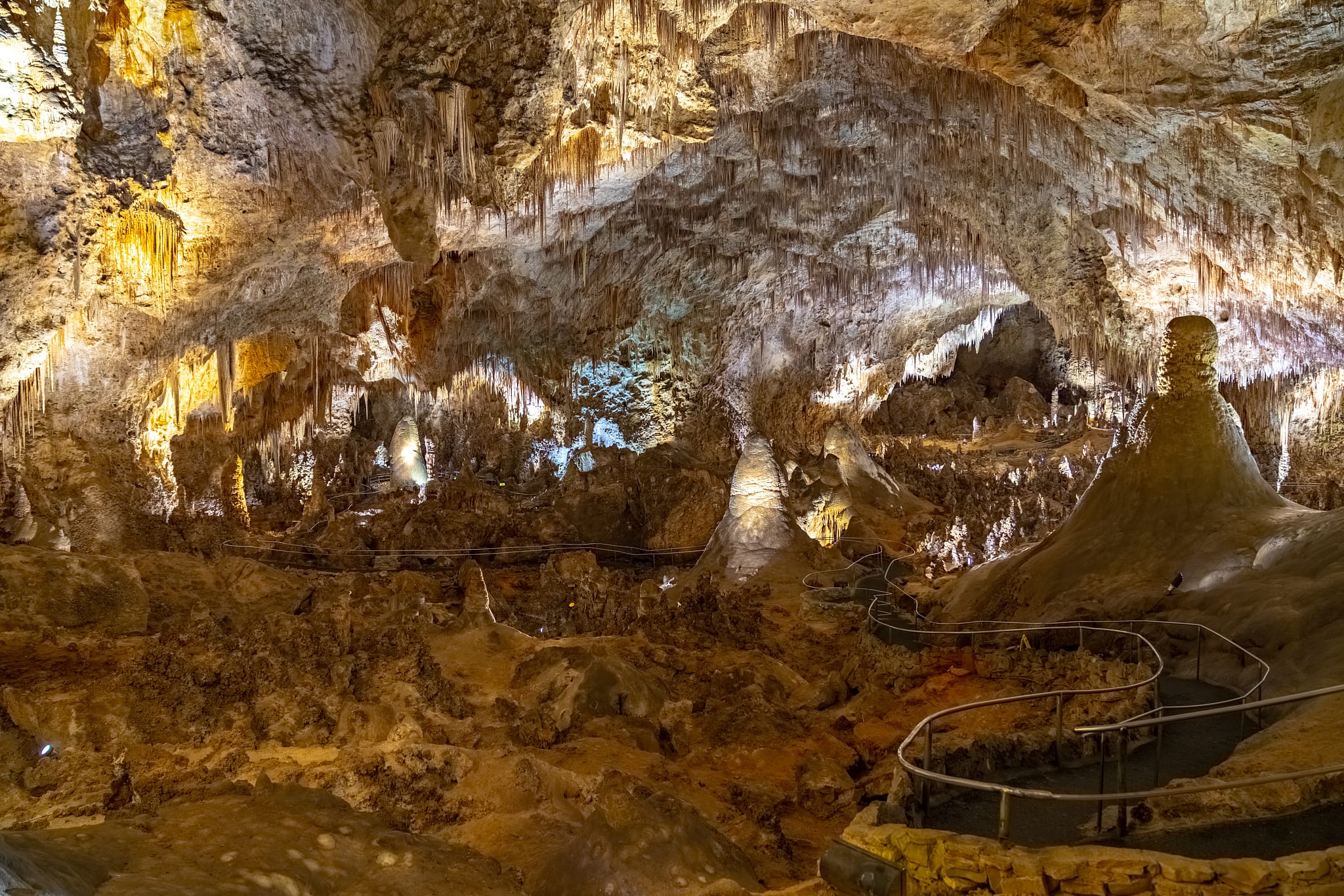 The Big Room plays host to a number of the National Park's most famous speleothems (the posh word we learned that means "cave formations") such as the Rock of Ages, but everywhere you look there are just incredible formations.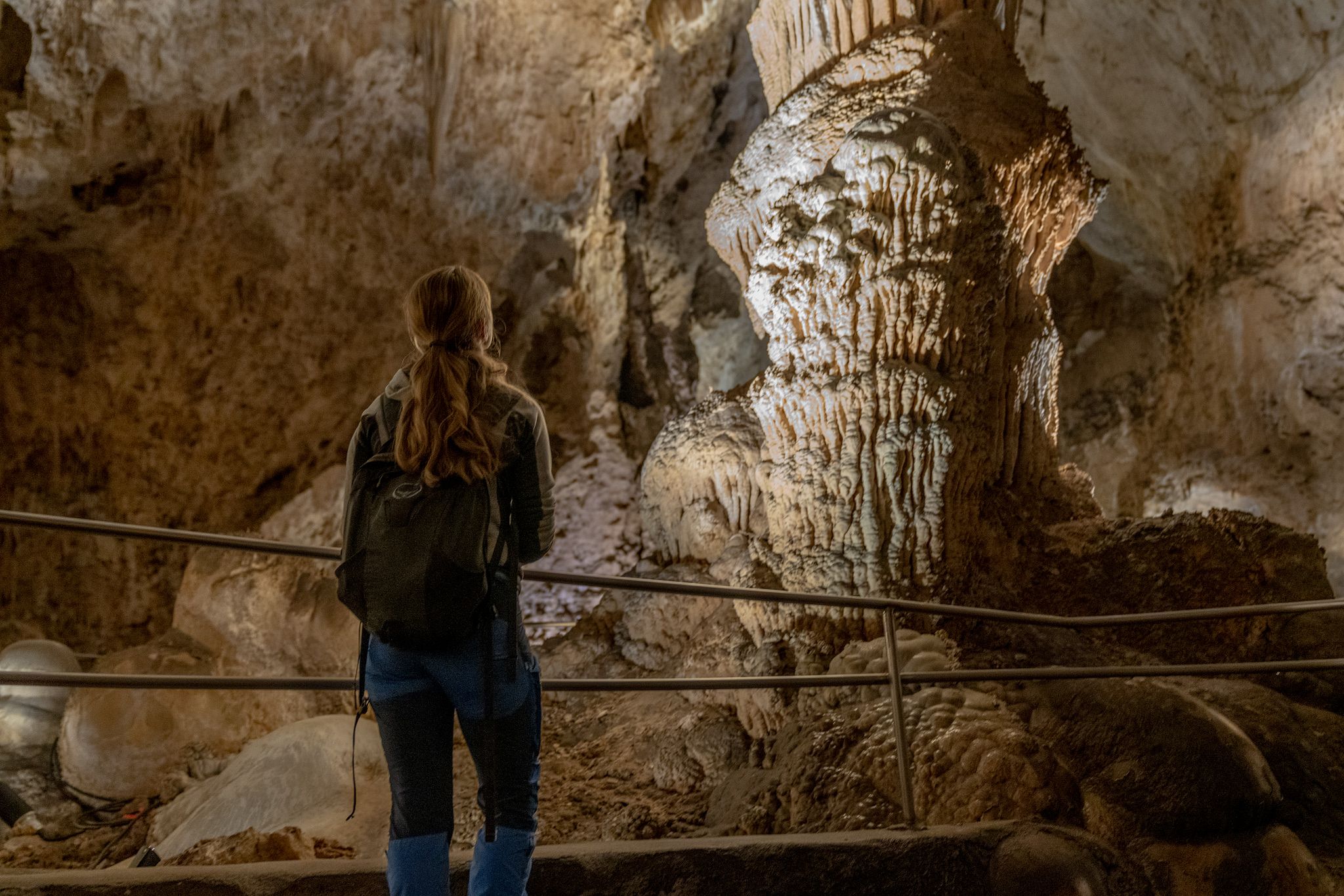 Carlsbad Caverns is very different from most caves around the world for several reasons. First, it was formed by Sulphuric Acid (as opposed to the Carbonic Acid that formed most caves) created when Hydrogen Sulphide from nearby oil reserves reacted with groundwater. Second, it's almost completely inactive - cave formations are no longer growing, nor are new ones being created. This is noticeable inside the cave as it is, for the most part, very dry - there are very few pools of water or areas where water is dripping. Water from the surface can take years to percolate through the rock to the cave itself!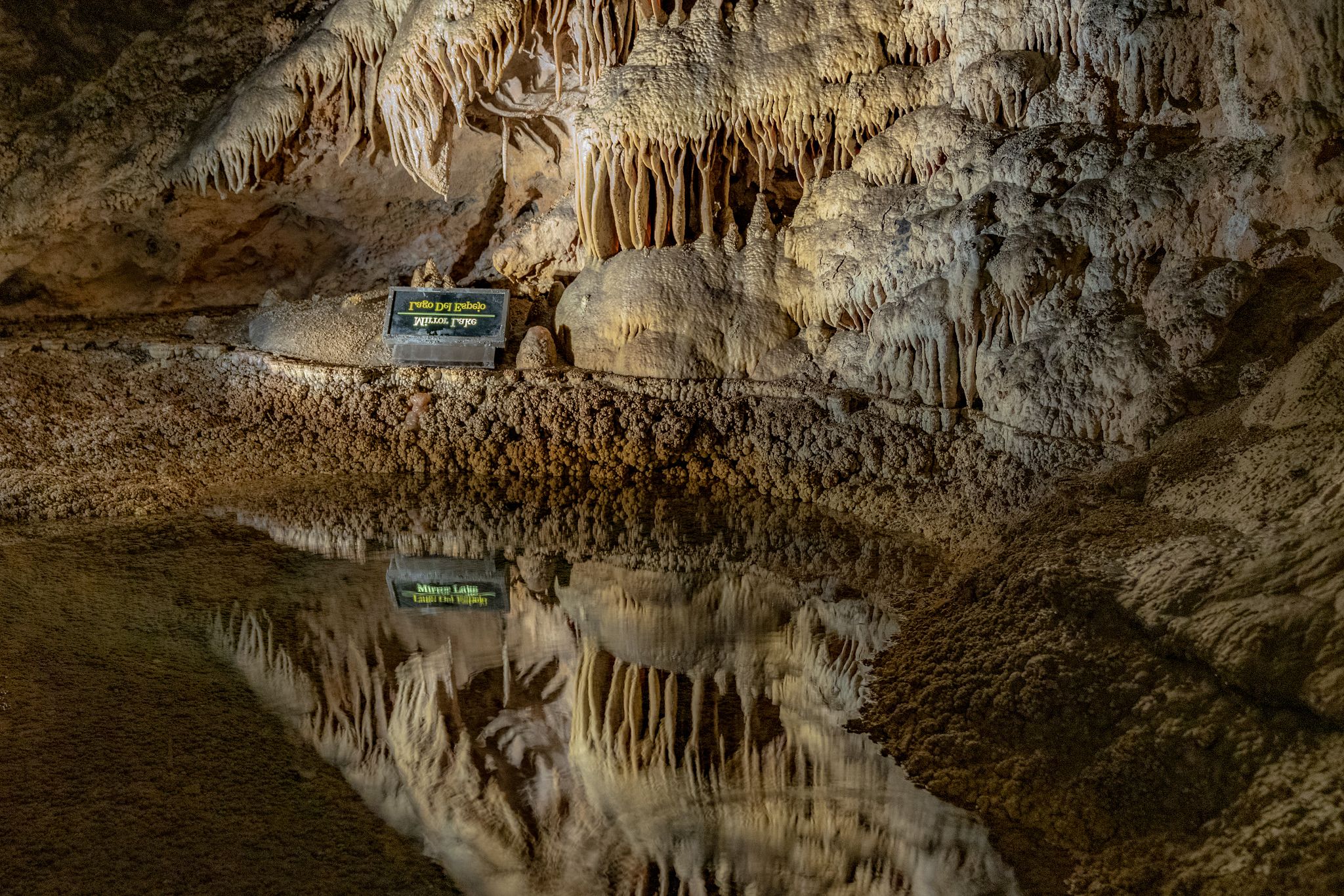 After our circular hike around the Big Room Trail, we headed to the elevators. At the base of the elevators, there is also an area with restrooms, a shop and even food. For many years, there was a full restaurant at the bottom serving, amongst other things, fried chicken. The staining on the roof of the cave in this area is bacterial growth from the fat particles released from that food - yum!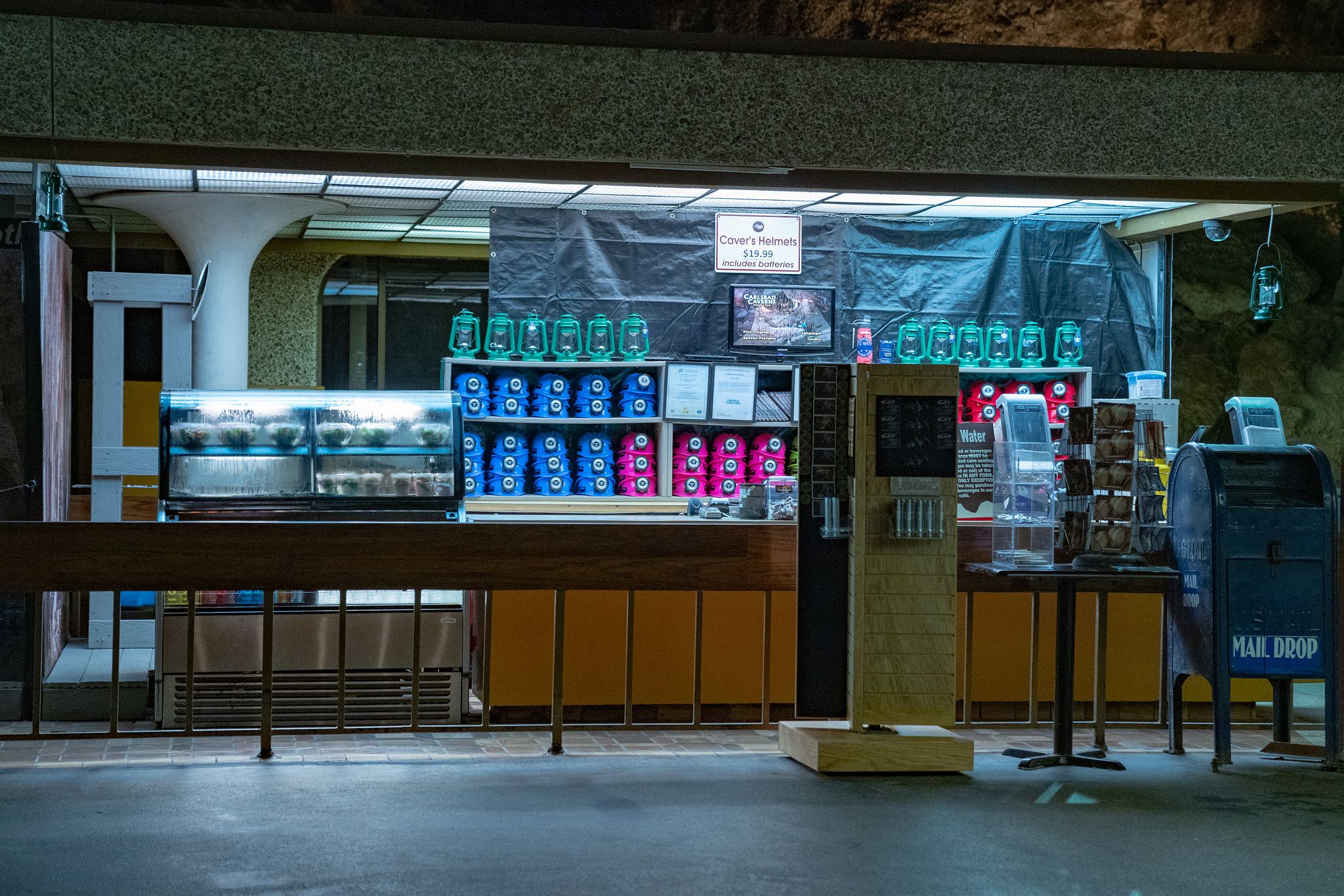 Ranger Led Tours
Most of the really cool places in Carlsbad Caverns are only accessible on guided tours led by the Rangers. Although this might seem frustrating at first, I think it's the right decision. Several of these tours are technically more challenging (involving rope climbs and ladders, for example), and they take you into very sensitive areas - keeping these areas to Ranger-led tours helps protect them for future generations.
Adventurous Tip: Take all your trash out with you. Every day, Park Rangers fill entire trash bags with rubbish that visitors leave in the caves. Don't be those people.
The Rangers are also incredibly knowledgeable about the caves, providing great narration throughout and patiently answering all our questions. We signed up for all 4 tours that were available at the time of year we visited. Although we were worried that there would be overlap in the content, that turned out not to be the case for the most part - each Ranger shared new and interesting information as well as their own perspectives.
You can book the ranger led tours online at recreation.gov
If you don't have the time or can't afford to do multiple tours, definitely try to do one of them. Each tour is great in its own respect, and both Diana and I have our own favorites (for Diana it was Lower Cave and for me it was Left Hand Tunnel) - read our descriptions below to see which one you'd enjoy most. And if you've done any of these tours, leave a comment at the bottom and let us know which was your favorite and why!
Previously, the National Park Service has had a focus on talking about the geography, geology and wildlife of its National Parks. However, in a bid to help people connect with the parks more closely, a more recent approach is to incorporate the so-called "people-story" in addition to information about the park's natural elements. We really enjoyed hearing this side of the story at Carlsbad Caverns National Park, and we're pleased to know the National Park Service is looking to incorporate this into their narrative at other parks too.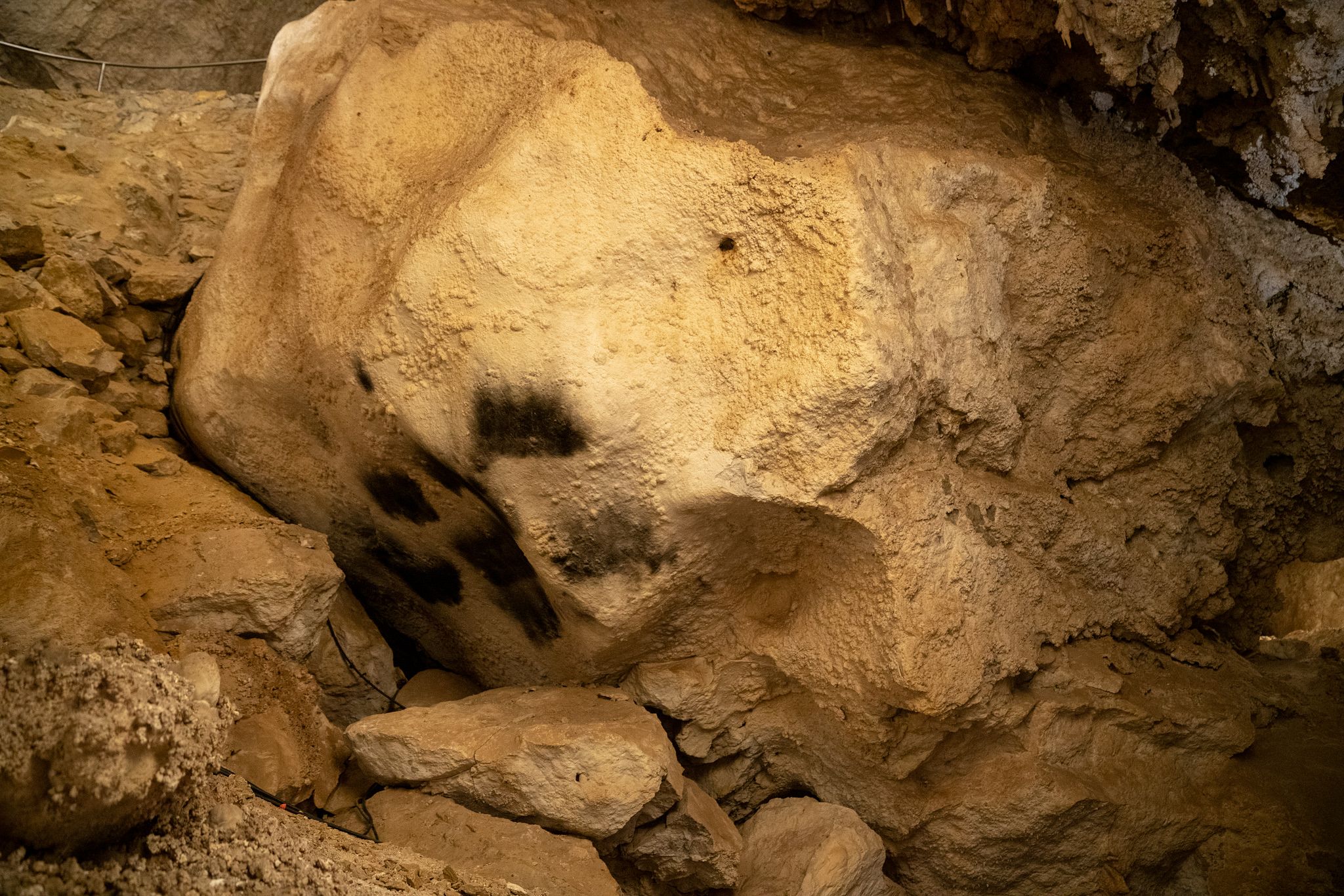 King's Palace
This was our first tour - in the morning on the day after we had hiked down from the Natural Entrance and the self-guided tour around the Big Room Trail. The King's Palace Tour is a 1 .5 hour walk into the deepest part of the cave open to the public - 830ft below the surface!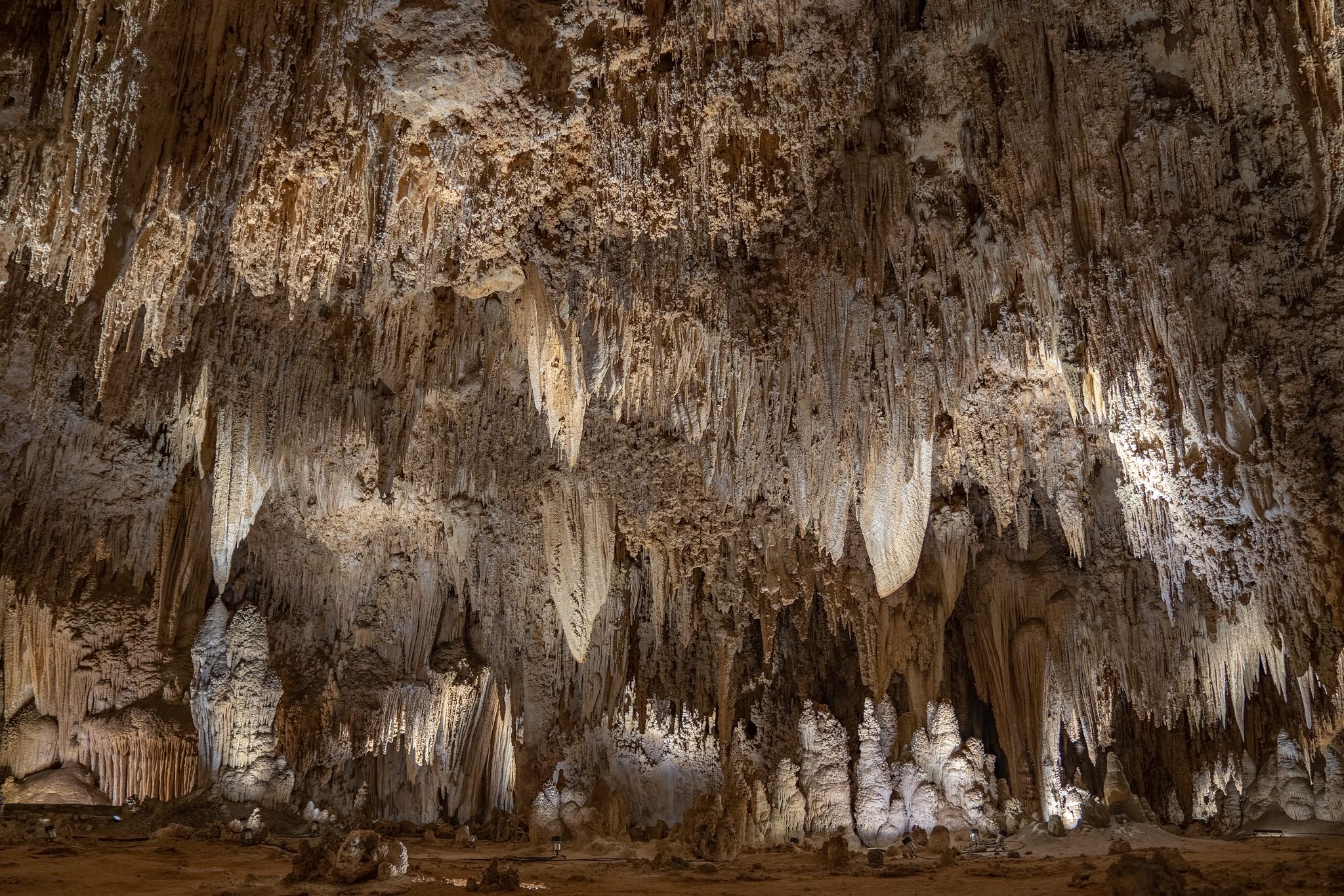 Although we've been to caves before, I think what sets Carlsbad Caverns apart is the sheer quantity of cave formations. Everywhere you look, there are countless speleothems - stalactites, stalagmites, helictites, draperies, columns and soda straws. The King's Palace is the epitome of this - prepare for your jaw to drop constantly as every turn on the trail reveals more stunning beauty.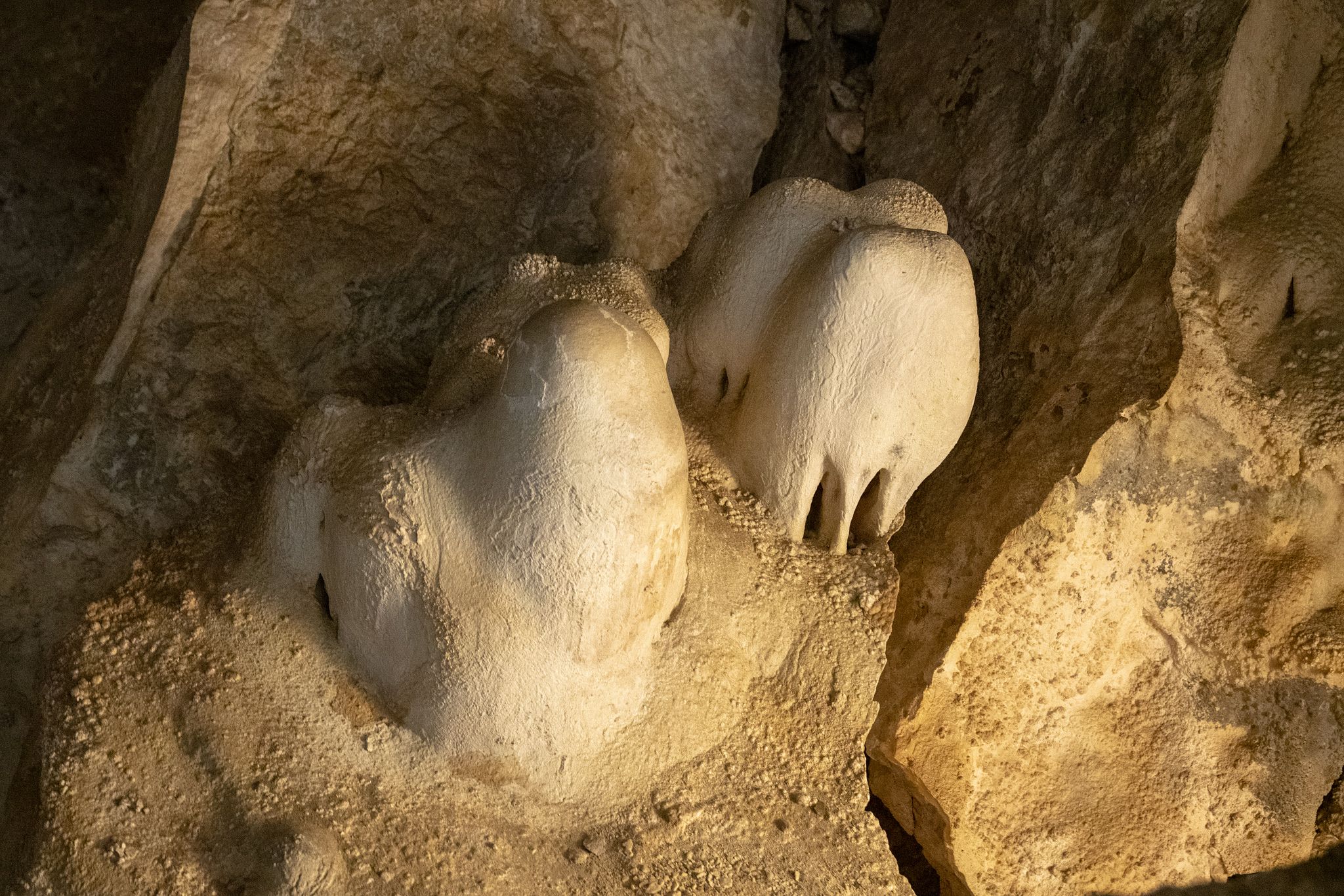 As we walked, Park Ranger Emily explained how the cave was formed, and told the story of its discovery by 16-year-old cowboy Jim White in 1898. She also showed us innumerable named cave formations and explained why they were so-named. She also treated us to the customary "black-out" - an experience we had on each tour where the ranger turns off all lights and you sit in silence and total darkness for a minute or so. Definitely a unique experience!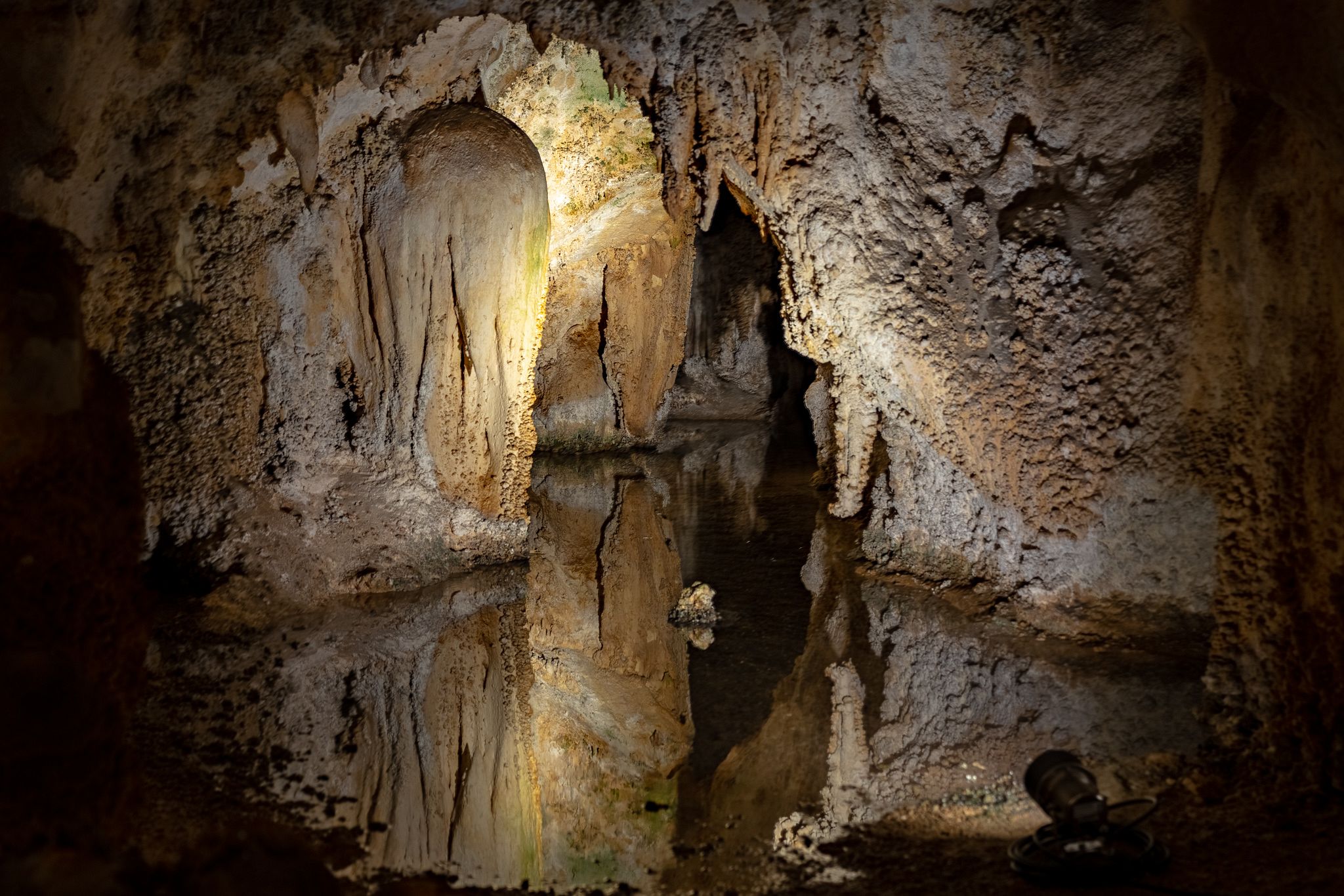 At $8 per person, King's Palace is the second cheapest of the tours we did, and is a great overview of Carlsbad Caverns. I'd definitely recommend this tour if you want an easier trail (no rope climbs or ladders on this one) and want to see some spectacular cave formations.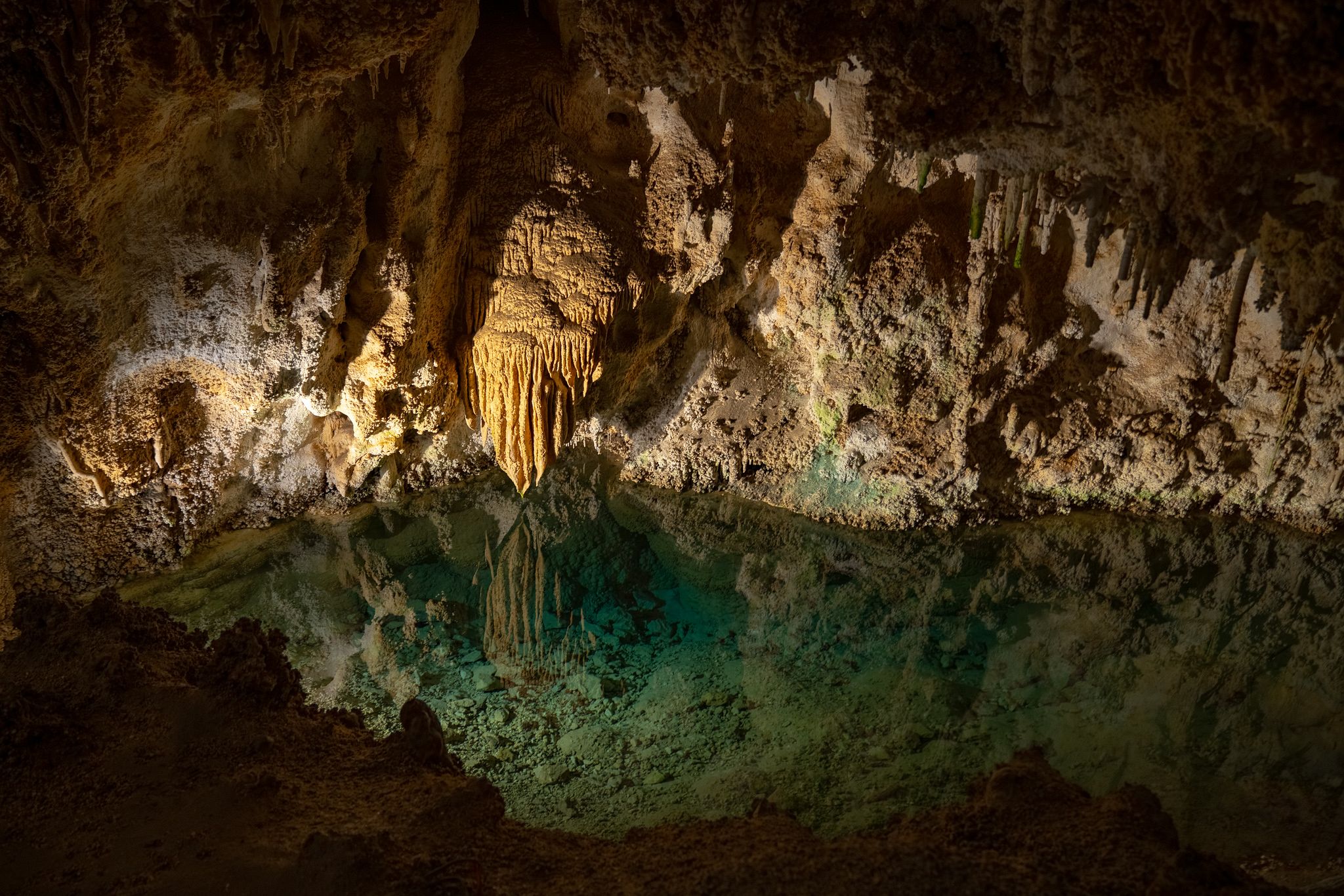 Left Hand Tunnel
In the afternoon, after the King's Palace Tour in the morning, we joined the Left Hand Tunnel Tour - this was my favorite tour as it was so different to the experience you get on the self-guided tour.
For 2 hours, Park Ranger Dan led us through Left Hand Tunnel, an undeveloped section of the cave by candle lantern! That's right, since there are no lights in this section of the cave, we each carried a candle lantern. We used these exclusively on the walk down the tunnel - seeing the cave lit by candle gives a real sense for what it must have been like for early explorers. The Left Hand Tunnel Tour is an "in-and-out" route, and on the way back we used modern-day LED headlamps to light our way.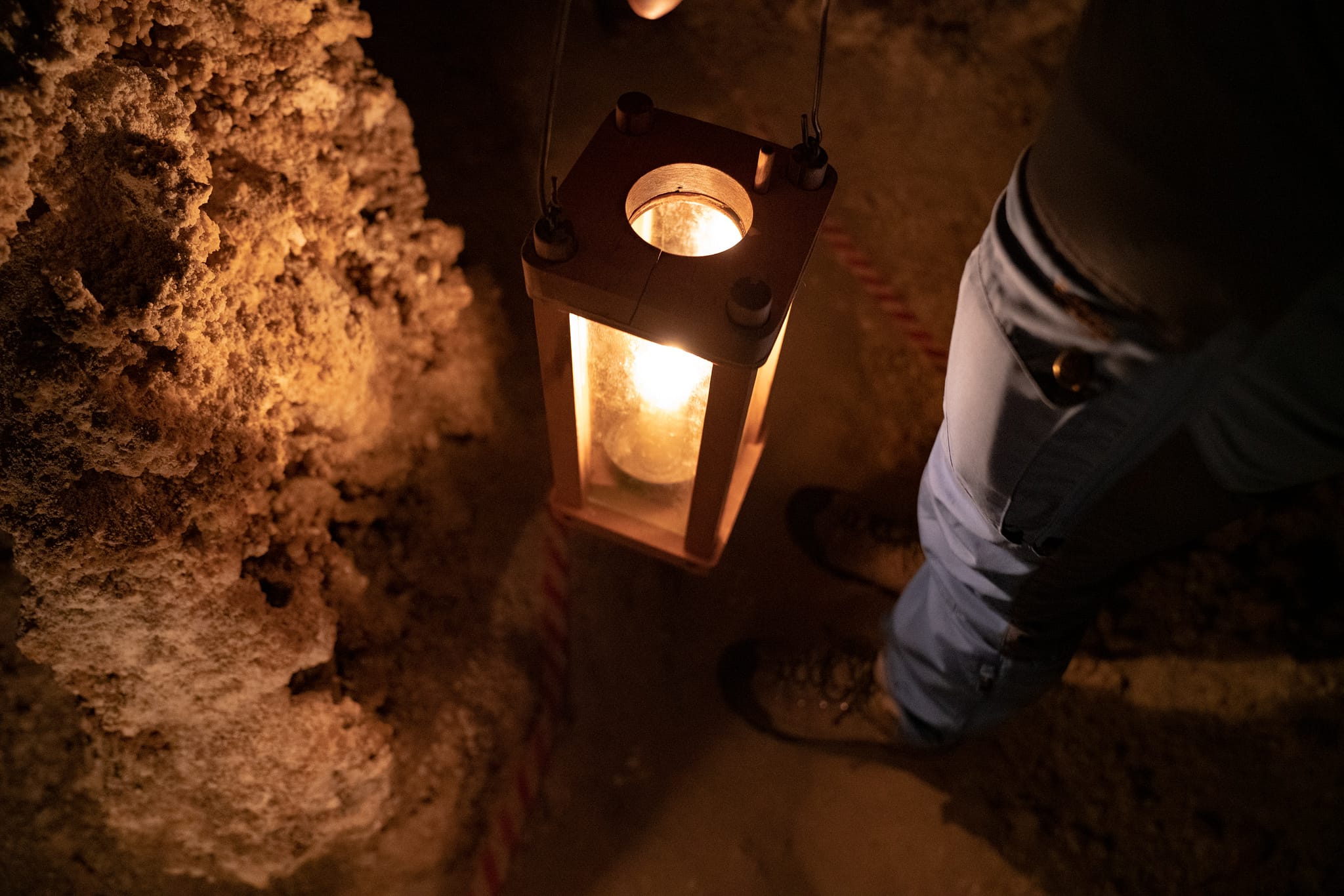 The Left Handle Tunnel is unlike most other parts of the cave in that it lacks the rich cave formations. Carlsbad Caverns was formed in two distinct phases - first the creation of the cavity, and then the formation of speleothems. Left Hand Tunnel shows how the cave would have looked at the end of that first phase, before cave formations had appeared. As a result, this tour focused extensively on the formation of the cave, and Park Ranger Dan taught us loads about the cave's geological history.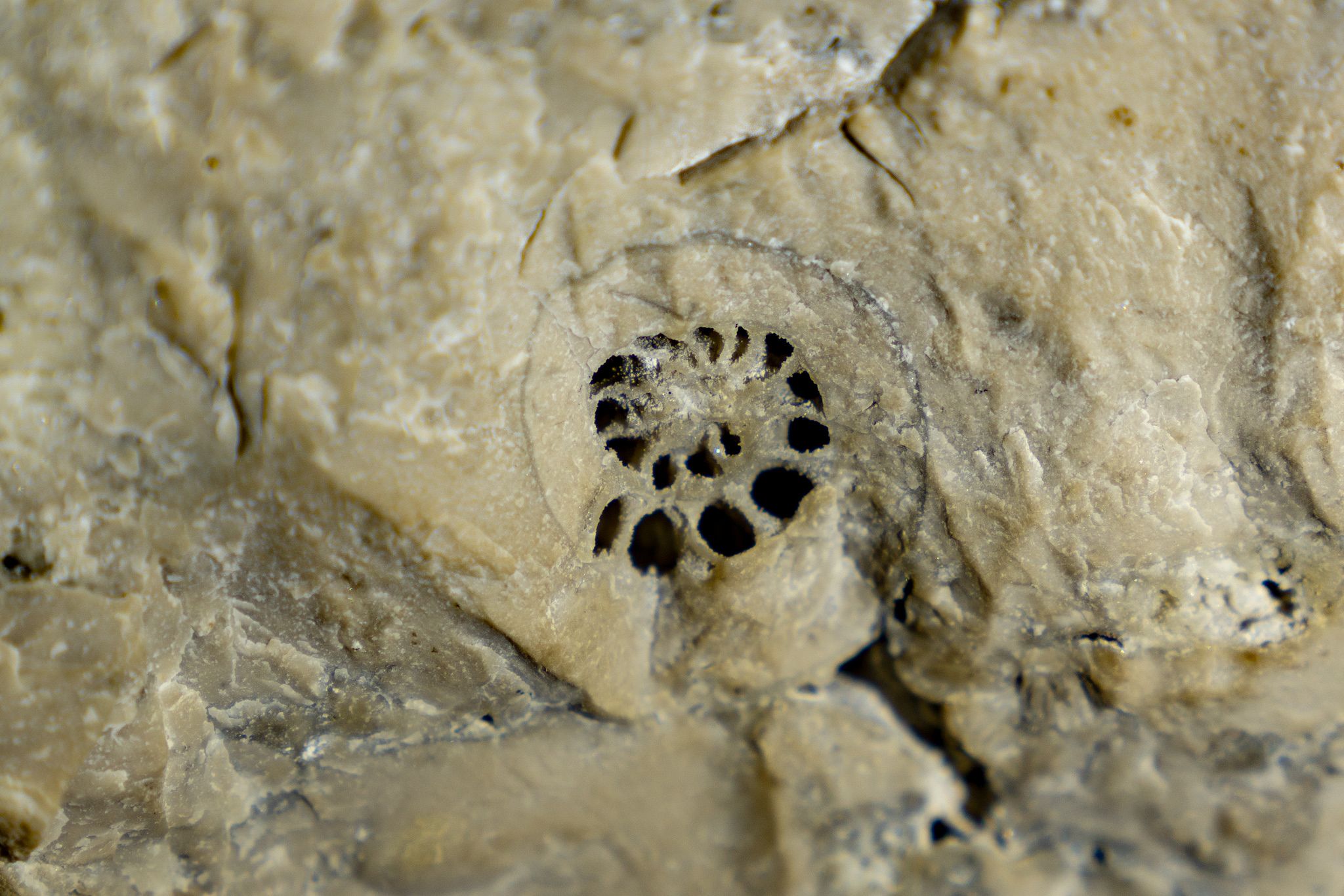 Left Hand Tunnel is the cheapest Ranger-led tour at $7 per person, but was my personal favorite. If you want to experience the cave by candlelight to put yourself in the shoes of early explorers, and learn about the cave's geological formation, then this would be a great tour for you.
Lower Cave
The Lower Cave Tour is a 3-hour journey into some of the least visited areas of Carlsbad Caverns, starting with a 60ft descent down a knotted rope and metal ladders. Several of the Park Rangers we spoke to said this is their favorite part of Carlsbad Caverns, and of the ones we did, it's Diana's favorite tour.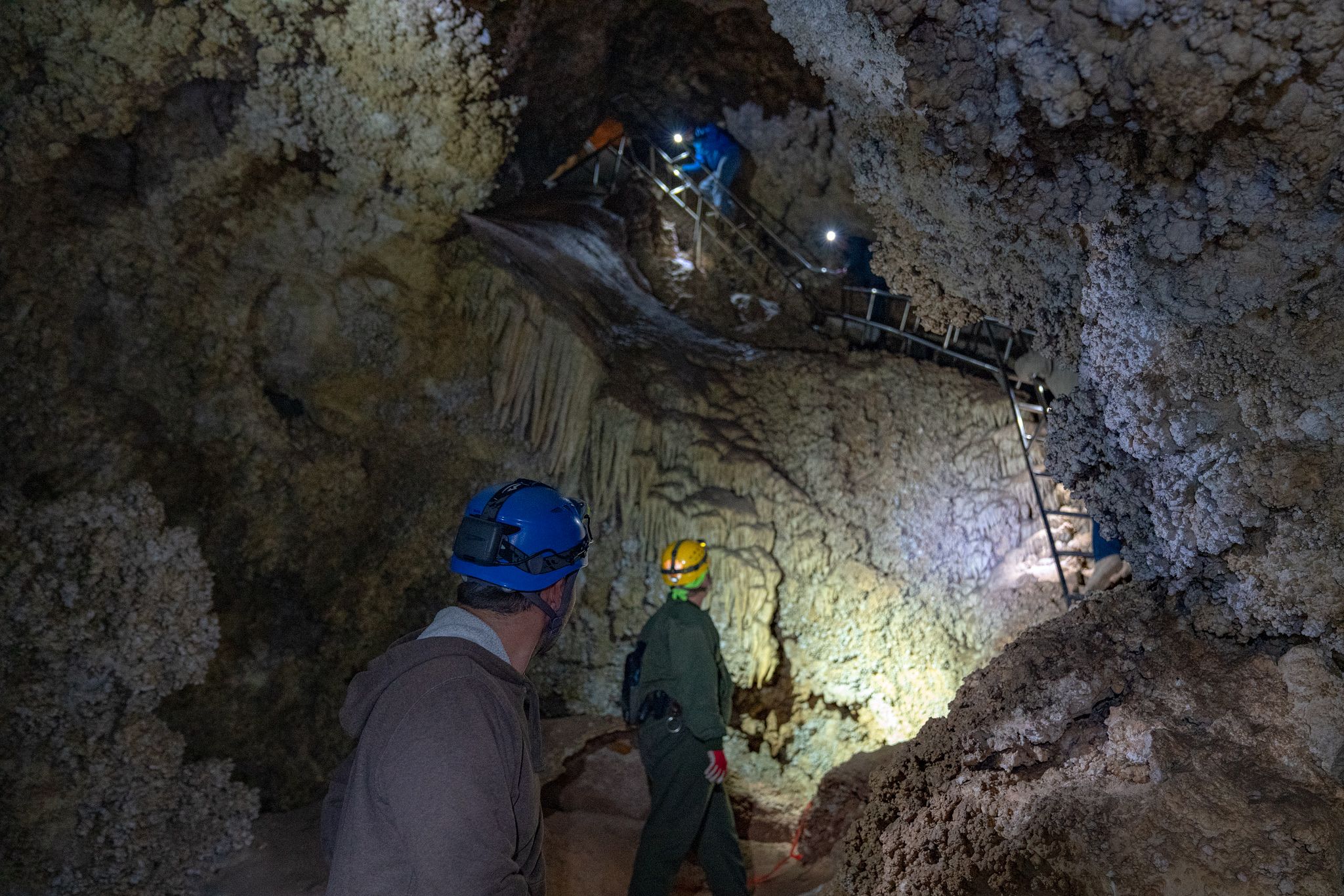 Led by Park Rangers Dustin and David, we were guided through a trail first explored by a National Geographic expedition in 1924 - evidence of their expedition is still visible in the ladders and marks on some of the cave formations. Everywhere we looked there were stunning formations, some rarely seen elsewhere such as the cave pearls. Much of this area has been carefully restored by volunteers, seeking to repair damage from years of exploration before more modern approaches to conservation were implemented.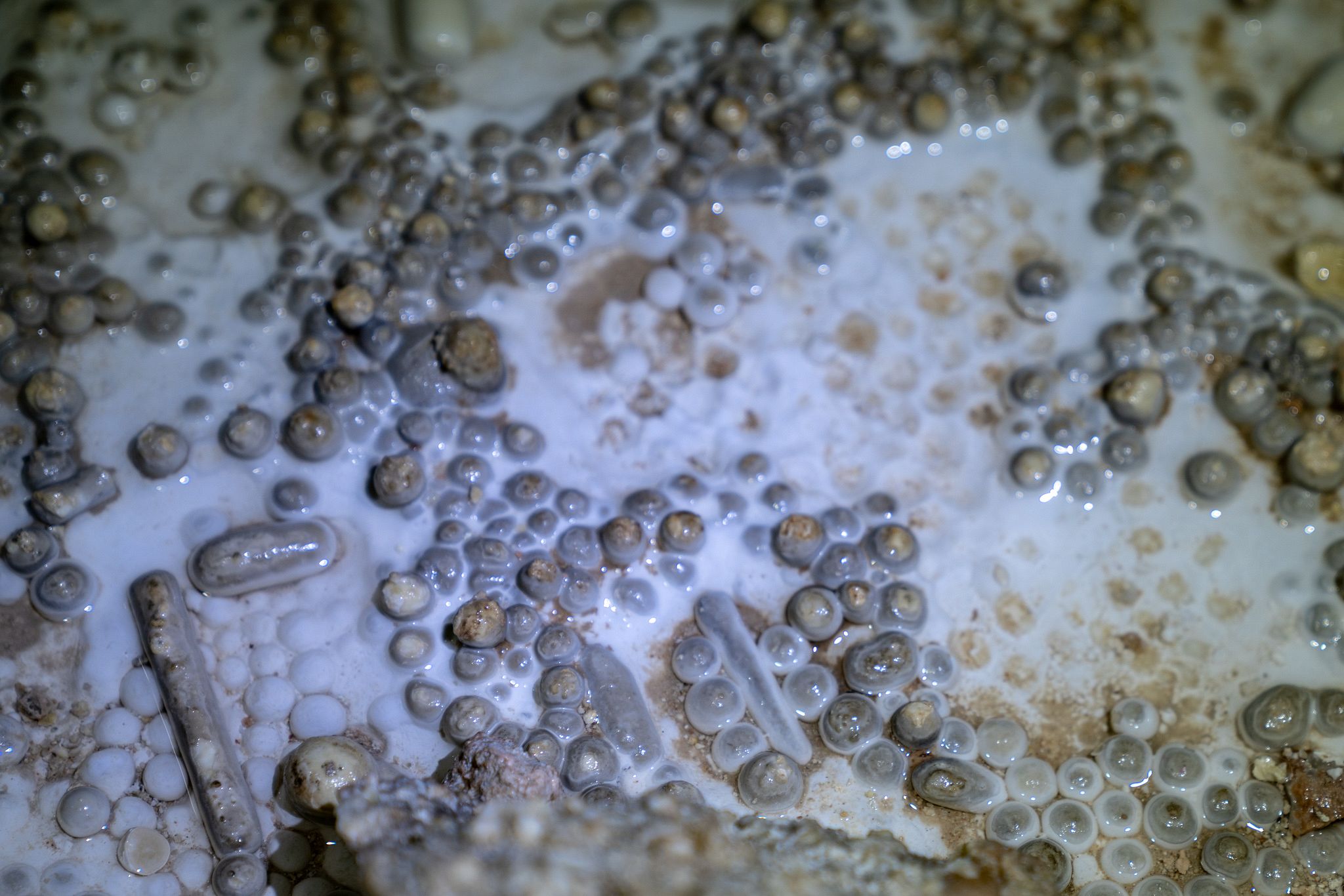 Despite the low light conditions, we took hundreds of photos - trying to capture just a sense of what we were seeing. As we hiked single-file along the dirt trail, crossed small bridges, and even had the (optional) opportunity to crawl through a very narrow section of tunnel, the Park Rangers told us more about the story of the cave's discovery by Jim White and its subsequent exploration over the decades.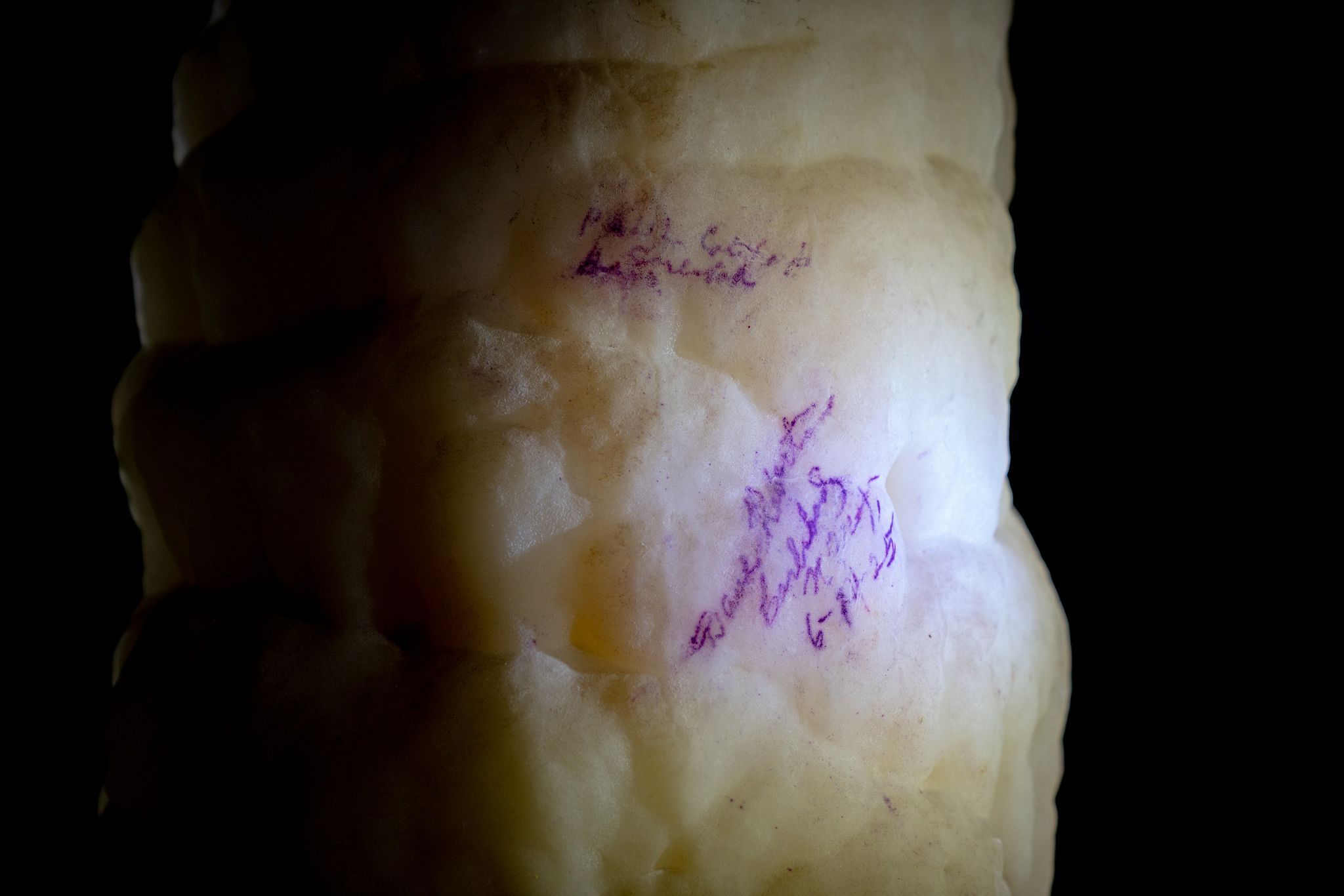 Adventurous Tip: If you want to take a camera, think twice about using a neck strap. You'll need both hands for the steep ladders and the camera could easily knock against the ladder. My belt-clip holster worked great for me.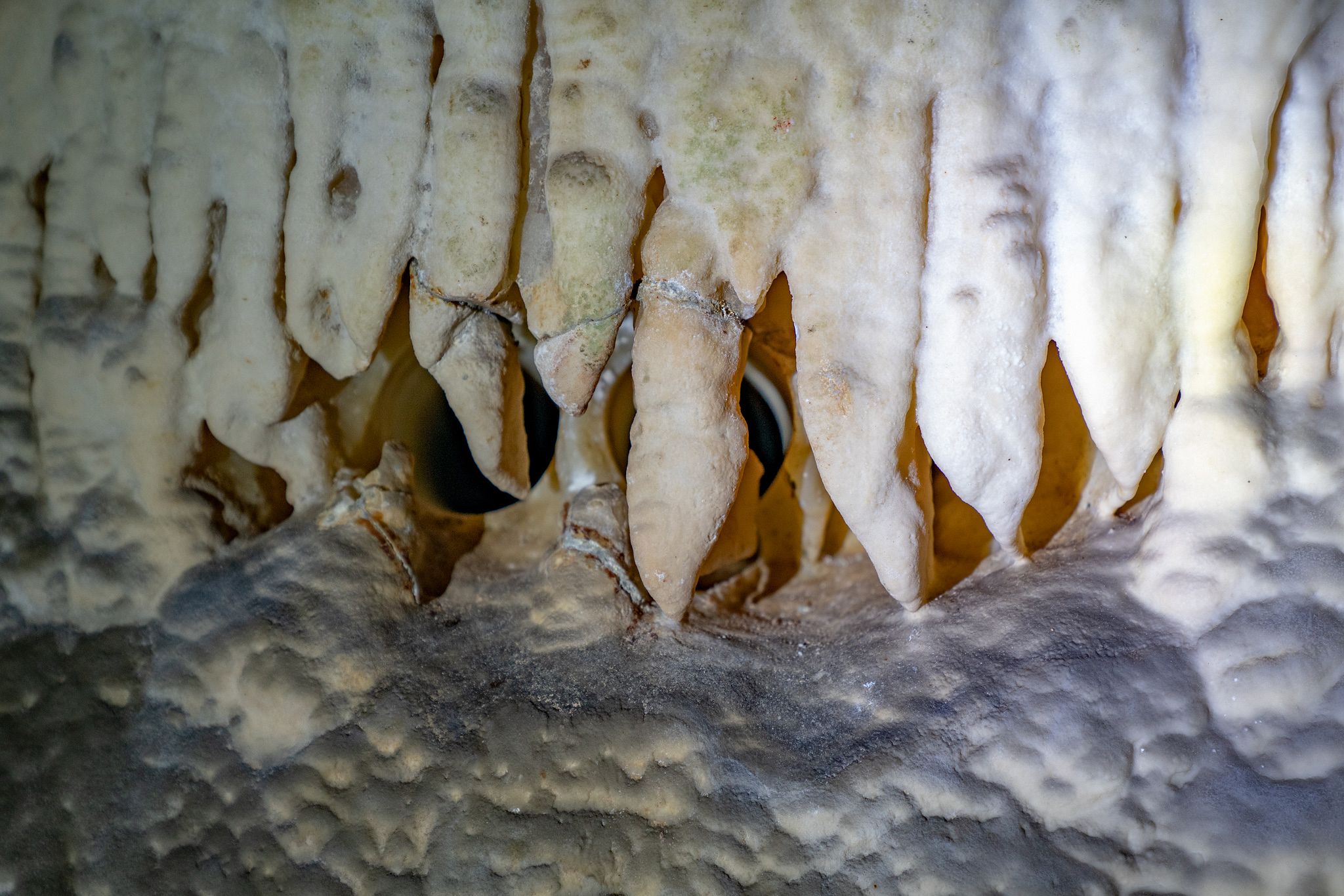 Undeniably one of the most stunning areas of Carlsbad Caverns, the $20 per person Lower Cave Tour is also the most expensive of the Ranger-led tours. With the knotted-rope and ladder climb, it's also the most technical tour. If you're interested in seeing areas that very few people get the opportunity to see, and trying your hand at some slightly more technical aspects of cave exploration, then the Lower Cave Tour is the one for you.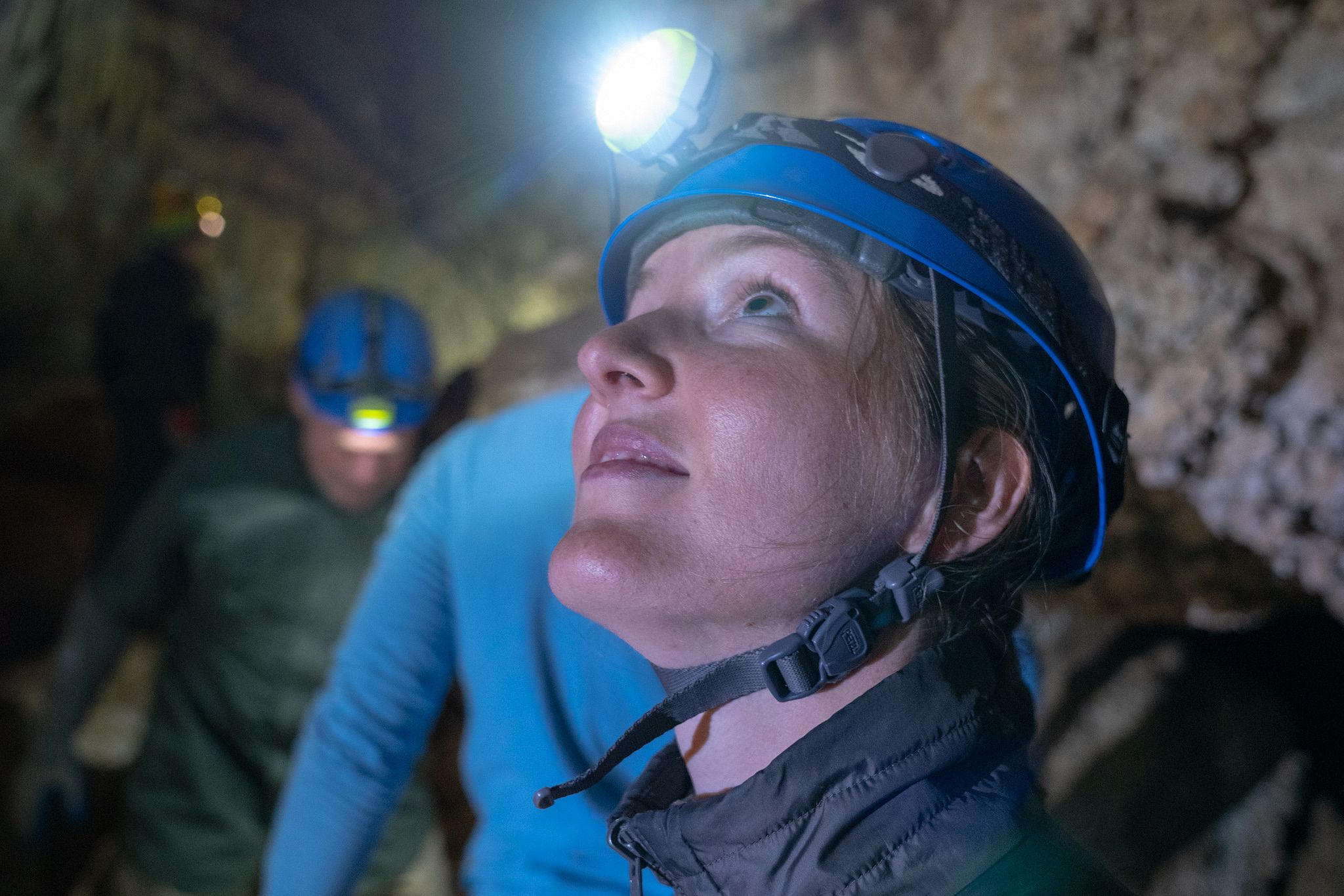 Slaughter Canyon
Slaughter Canyon is a totally separate cave system from the main Carlsbad Caverns system. After meeting Park Rangers Kelsey and Andrew at the Visitor Center for an orientation and equipment collection, we all followed their truck in a caravan for about 45 minutes to the trailhead 24 miles away. The 5.5 hour tour begins here with a strenuous 0.5 mile hike (which took us about 45 minutes) up to the cave entrance.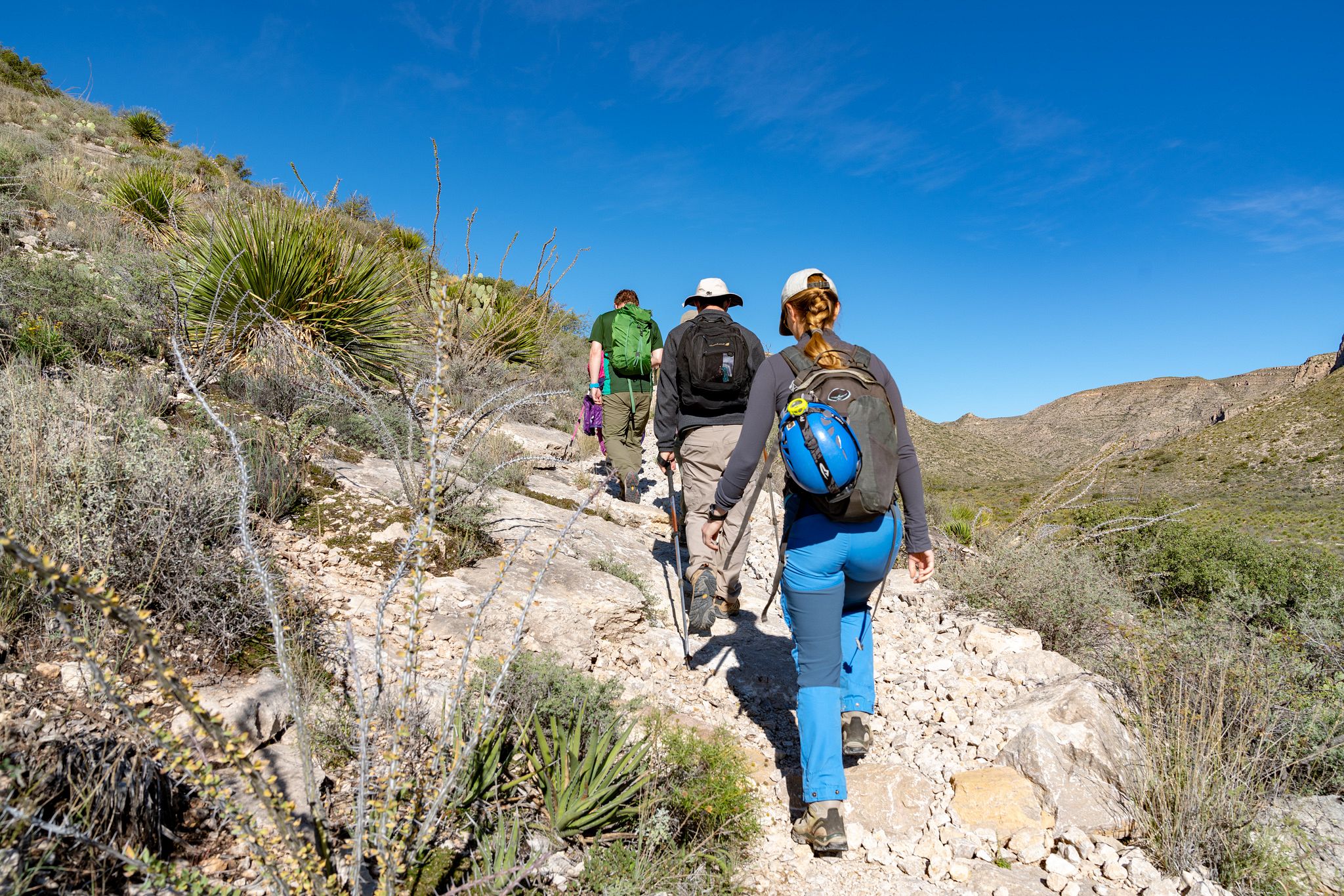 Adventurous Tip: Make sure you have enough gas in your tank for the 50-mile round trip to the trailhead and back.
Park Ranger Andrew unlocked the gate at the mouth of the cave and led us down inside. In the upper parts of the cave is evidence of its use for mining guano (aka bat poop) for fertilizer - we saw remnants of equipment as well as paths cut and areas that had been excavated.
Further down, you descend into the heart of the cage. Nearly everything in Slaughter Canyon cave is big, really big! We saw an 89-foot tall column called the Monarch, one of the tallest in the world, and another column known as the Christmas Tree. Slaughter Canyon is also home to a formation called the Chinese Wall - an ankle-high rimstone dam that's used in textbooks as the prototypical example due to its vertical structure and excellent condition.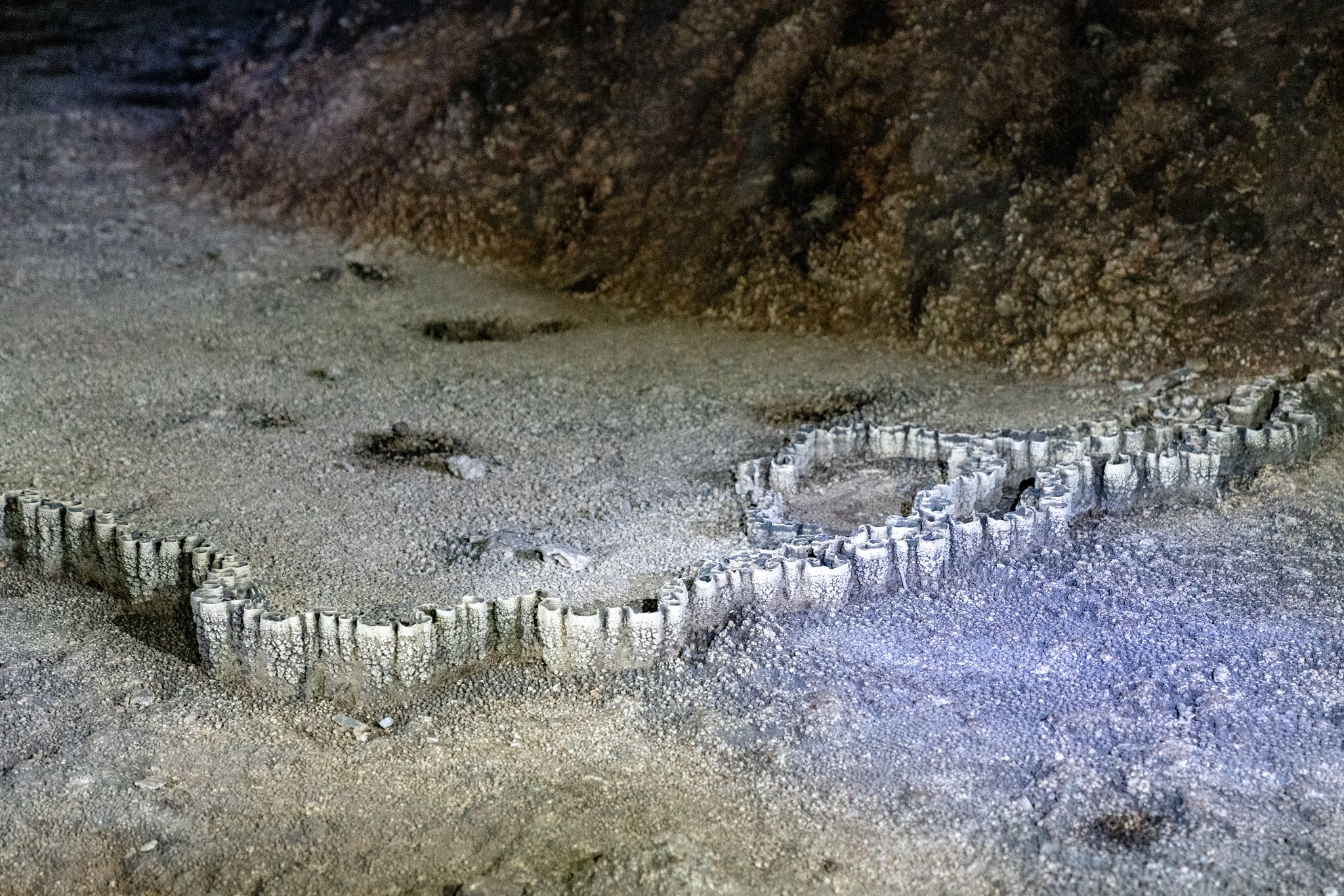 Adventurous Tip: Leave your camera flash at home and bring the widest-angle, widest-aperture lens you have. Everything here is big and your flash won't fill the scene anyway!
A short rope climb led us deeper into the cave as the Rangers continued to tell the story of its history, and we saw parts of the cave that had been used in movie filming.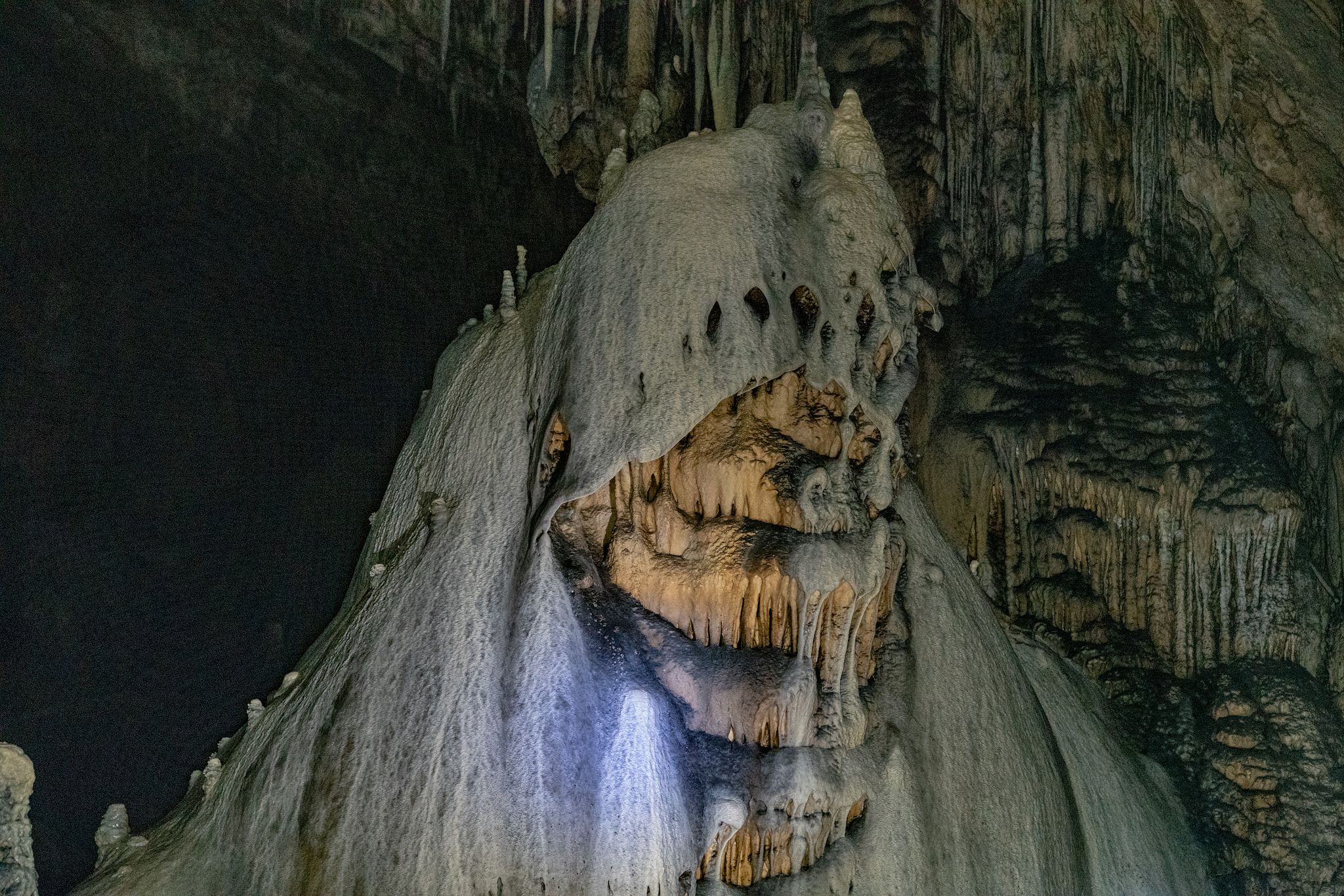 Slaughter Canyon cave is just one in a series of caves that it's thought used to form a huge network within the surrounding mountains. The tour costs $15 per person but is the only tour that takes you away from the main cave to see something different. If you have a little more time (this tour is 5.5 hours in total) and want to see some truly huge cave formations, then I can definitely recommend the Slaughter Canyon Tour.
Bat Flight
From late-May to October each year, the National Park operates a daily Bat Flight Program. This free event takes place at sunset each day in the Amphitheater by the Natural Entrance and affords visitors the opportunity to watch colonies of Brazilian free-tailed bats spiral upwards out of the cave mouth.
We were there on 30th October, very late in the year to see this, but we were fortunate enough to see a bat flight. Park Ranger Dan who hosted the event that evening thinks that the cave's host colony may have already left to head south and we were witnessing a bat flight from a migrating colony using Carlsbad Caverns as a stop-over on their own journey south.
Regardless, sitting in silence and watching thousands of bats swarm up and out of the cave was an experience unlike anything else we have ever done. We were even able to hear the sounds of individual bat wings as they flew directly over our heads.
Adventurous Tip: We heard from one of the Rangers that if you sit in the far back-right of the Amphitheater, you'll have the best chance of the bats flying directly overhead - it worked for us!
The National Park Service has a strict "no electronic devices" policy at the event, since people can't be trusted to keep their devices silent and not flashing which could disturb the bats. Therefore we don't have any photos or videos to share - so I guess you'll just have to visit and experience it for yourself! I'm glad to see that the National Park Service is prioritizing the welfare of the wildlife above the whims of visitors though!
Other Activities
Although the highlights of Carlsbad Caverns National Park are, predictably, underground, there is also a scenic drive called Walnut Canyon Desert Drive. We had planned to include this during our visit, but unfortunately it had recently been washed out by heavy rain. However, speaking with the Rangers, we heard that the 9-mile drive is not recommended for low-clearance vehicles even in good conditions, so check with the Rangers before heading out if you do decide to do this one.
Carlsbad Caverns is also home to the world-famous Lechuguilla Cave, a stunning cave system already mapped out to nearly 140 miles since its first proper exploration in 1984. However, this cave is totally off-limits to visitors and is only accessible to research scientists. Although initially disappointing that we wouldn't have the opportunity to see this cave, I think it's great that this cave is being preserved in pristine condition for scientific research - scientists have already found antibiotic-resistant bacteria inside!
If you really want to see Lechuguilla Cave, then I'd recommend watching the Caves episode of the amazing BBC documentary Planet Earth that aired in 2007. For reference, it took the BBC two years to obtain permission to film inside Lechuguilla Cave!
Camping & Accommodation
Whilst visiting Carlsbad Caverns National Park, we camped at Parks Ranch Campground - a primitive campground located on BLM land about 14 miles from the Visitor Center. We had originally planned to park on some BLM land that Jenni from Fate Unbound had blogged about on their website. However, when arrived, all of these sites had been explicitly posted as "no camping" or had been physically blocked off with large rocks.
However, there's a dirt road that leads further into the BLM land (not the one that goes past the "no trespassing" sign) to Parks Ranch Campground. The road is rough - we needed 4WD in the dry to tow our trailer down there, and heavy rain covered it in about 6" of standing water whilst we were there! If you do choose to drive down there, be sure your vehicle can get through (and back!) and expect some desert pin-striping (aka scratches on your vehicle from desert bushes).
At the end of the road are a handful of roughly level, cleared patches of dirt that you can park on. Although basic (obviously no hookups at all), it was perfect for us - we're well set up to boondock in locations such as these and we love the peace and tranquility.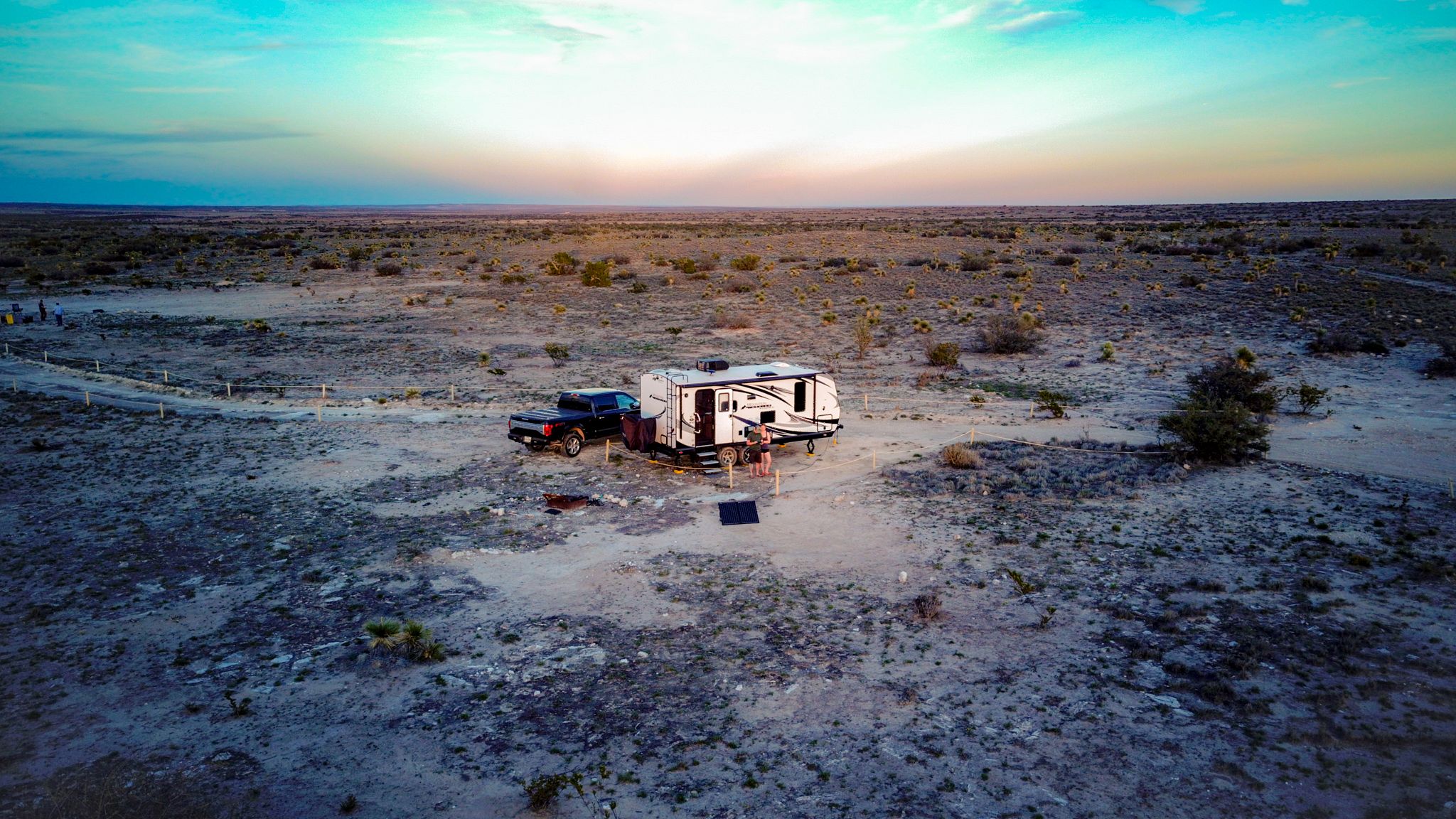 We stayed there for just under a week and had several "neighbors" appear during that time - including a family who took us caving in some of the gypsum caves next to the campsites. These caves are open to the public but you are warned that you enter at your own risk - the family who took us down had been inside them before which is the only reason we were brave enough to enter!
Carlsbad itself is incredibly expensive due to the oil boom in the area, so expect to pay a lot for hotels and RV parks in the area! The city was designed for a population of around 30,000, but currently has a population of over 100,000 people! We paid $44.30 (including our AAA discount) for one night at White's City RV Park to dump and refill before we left the area. One of the Park Rangers told us that even 2* hotels can be over $300 per night, and they're paying more for their apartment in Carlsbad than they were in downtown Chicago!
If we return to the area, we'll definitely be staying at the Parks Ranch Primitive Campground on the BLM land again! We also heard that apparently the BLM is looking to create a new boondocking spot in the area too, but we don't have any more specifics on that.
Conclusion
Carlsbad Caverns National Park was stop #1 on our mission to visit all 400+ National Park Units in the US. We had an amazing time visiting and exploring the cave itself as well as the surrounding area.
I'd particularly like to give a shout-out to all the Park Rangers we met and spoke with during our visit - not just those who led our tours, but also those who helped us at the information desk with question; thank you!
From Carlsbad Caverns we'll be following the mountain range west to their sister park, Guadalupe Mountains National Park so make sure you subscribe to our newsletter and follow our journey on Facebook, Instagram and YouTube.