As an Amazon Associate we earn from qualifying purchases.
Introduction
Although we live full-time in an RV, that was never our goal. Our goal was (and is) to visit and explore the National Parks. The key part there is "explore" - we don't just want to "tag" the visitor center and move on. We want to spend time to see what the park has to offer, and experience it the best we can.
In some places, that means touring museums. In others it means hiking. Or scenic drives. Or kayaking. Or, cycling. We had bikes before we hit the road, and we wanted to bring those with us.
Diana had a Kona cyclocross bike, and I had 2 bikes - a Giant Defy 1 road bike and a Genesis Core 40 mountain bike that I had brought over from the UK. We decided I didn't need 2 bikes on the road, so I sold them both and bought a 2018 Giant ToughRoad SLR 2 instead. Both Diana's cyclocross and my new bike are great for road cycling as well as some light trail use.
But the question is, how should we transport them?
Thule Bike Rack
Several years back, long before I bought the truck or the trailer, I had purchased a Thule T2 Classic bike rack (ours wasn't called Classic back then, but they've since renamed it). This is a hitch-mounted bike rack that stores 2 bikes. Although not cheap, we liked it.
It's quick to fit and remove from the vehicle, and putting the bikes on is very simple too. The hitch pin has a lock built in, and it has integrated cable locks for each bike.
But there's a catch - if you read the manual (you do read the manuals, right?), there's a clause that says "Not for use on trailers or towed vehicles". And if that wasn't enough, the Warnings section of the manual also says "DO NOT INSTALL on a trailer or other towed vehicle" - emphasis is original!
Hmmm….
So why can't it be used on a trailer? To the forums! The consensus online seems to be that the problem is the significant movement that a trailer hitch receiver is subjected to, as compared to that on a vehicle. In other words, it'll get shaken around a lot. So can we do it anyway?
Failure to follow these guidelines or the product's instructions will void the warranty.
The rack was already over 4 years old, so that warranty probably isn't good for much. Let's look at the risk.
According to the manual, the Thule T2 rack is rated to carry a maximum load of 120lbs. Our 2 bikes, with various accessories on them, total around 50lbs. Good, we're well under the limit there then. What about the hitch? Outdoors RV are renowned for making their hitches more sturdy than most - it's welded securely to the frame, and has a maximum load capacity of 250lbs. Since the rack itself weighs 50lbs, and the bikes add another 50lbs, that's a total of 100lbs - well within the hitch rating.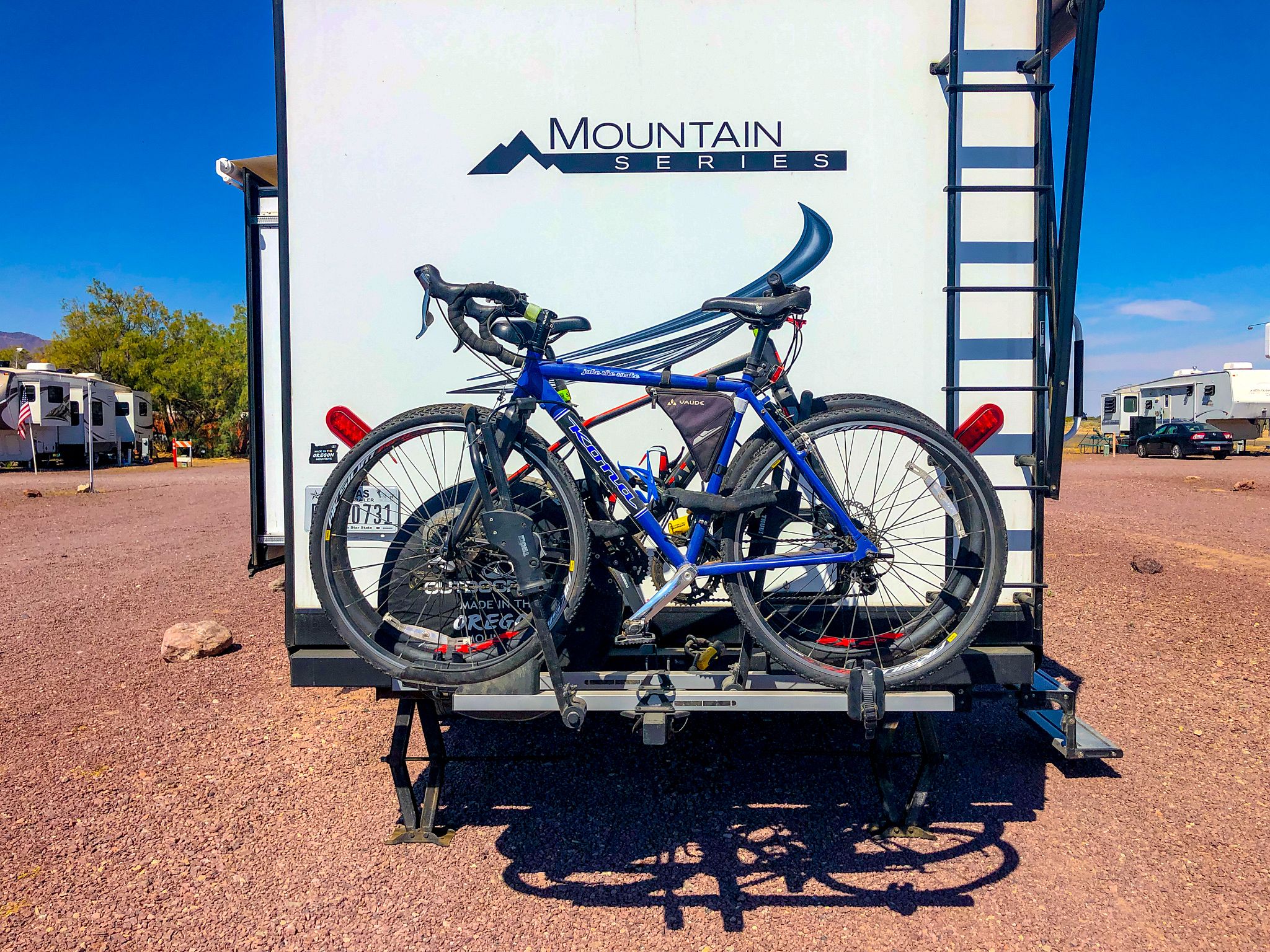 So we tried it! And you know what, it seemed to work OK!
However, watching the rack in our rear observation camera as we were driving, there was a little big of wiggle. How do we stop that?
Hitch Tightener
After some reading, we purchased a product known as an Anti-Rattle Stabilizer, or more simply, a hitch tightener.
This device fits around the hitch and wedges into the hitch receiver. When you tighten it down, it completely eliminates any movement from the hitch.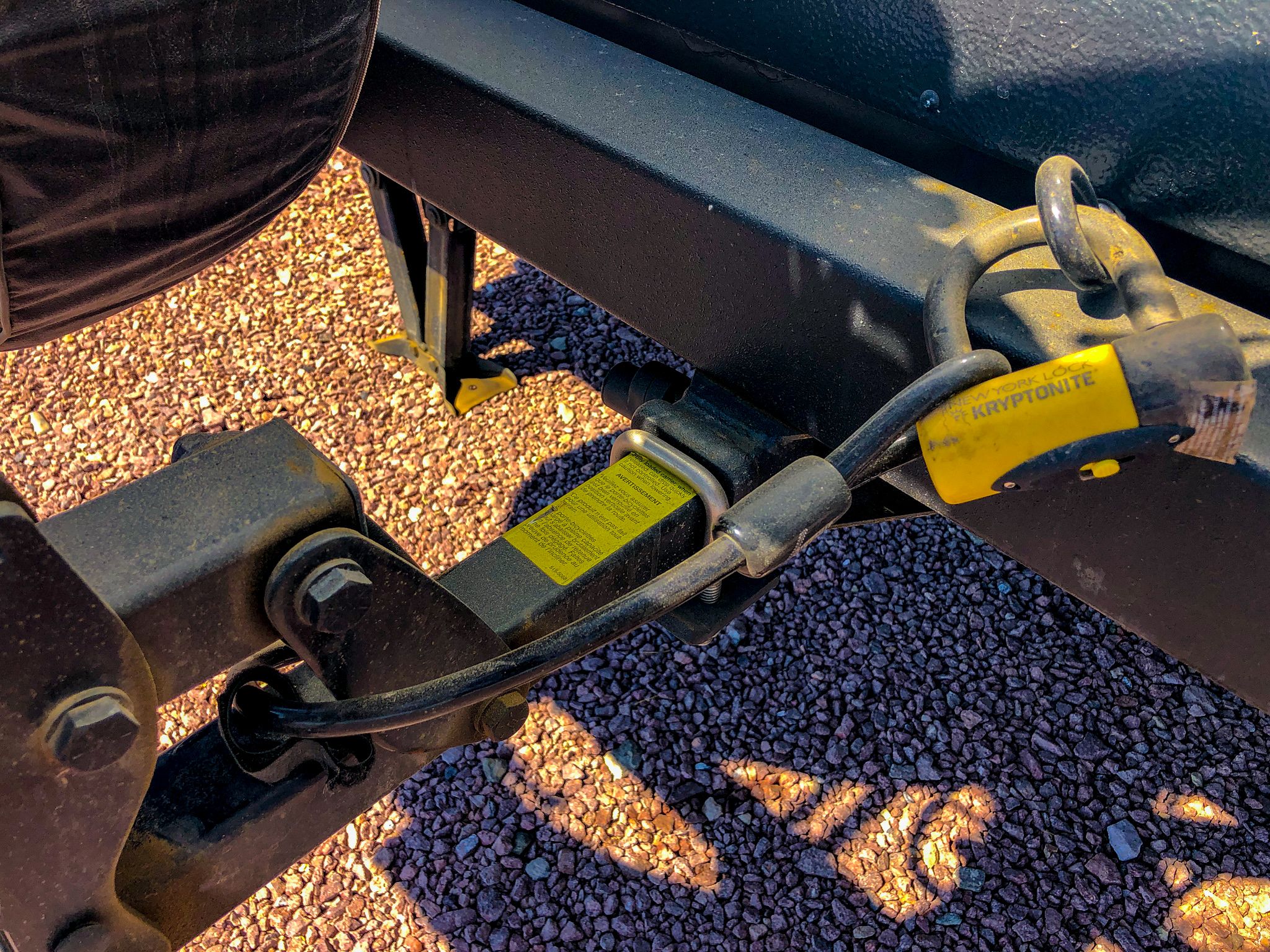 Installation was trivial (although I've just realized it's on backwards - oops!), and it works great. To test it I shook the bike rack as hard as I could - no movement in the hitch, but the entire trailer moved! Great!
Adventurous Tip: It's worth noting that there will be a lot of torsional forces applied to the hitch receiver - if you want to do something similar, make sure your trailer's hitch receiver is up to the task.
I make sure to check ours regularly for any signs of cracks or similar. So far, after 8 months and 7,000 miles on the road (and plenty of off-roading to boondocking spots), it's still tight and no signs of cracks.
Lock
How about security? Although our bikes aren't crazy high-end, they're still not cheap - and we certainly don't want them to be stolen!
I mentioned earlier that the bike rack has a locking hitch pin and 2 integrated cable locks. We use the cable locks to lock the bike front wheels and frames to the rack. These won't stop a determined thief but are a good deterrent to an opportunist. The hitch tightener arguably adds a little more security, but nothing significant.
To add more, I used a cable lock to lock the bike rack to the trailer bumper - securing it with a Kryptonite New York Bicycle Disc Lock.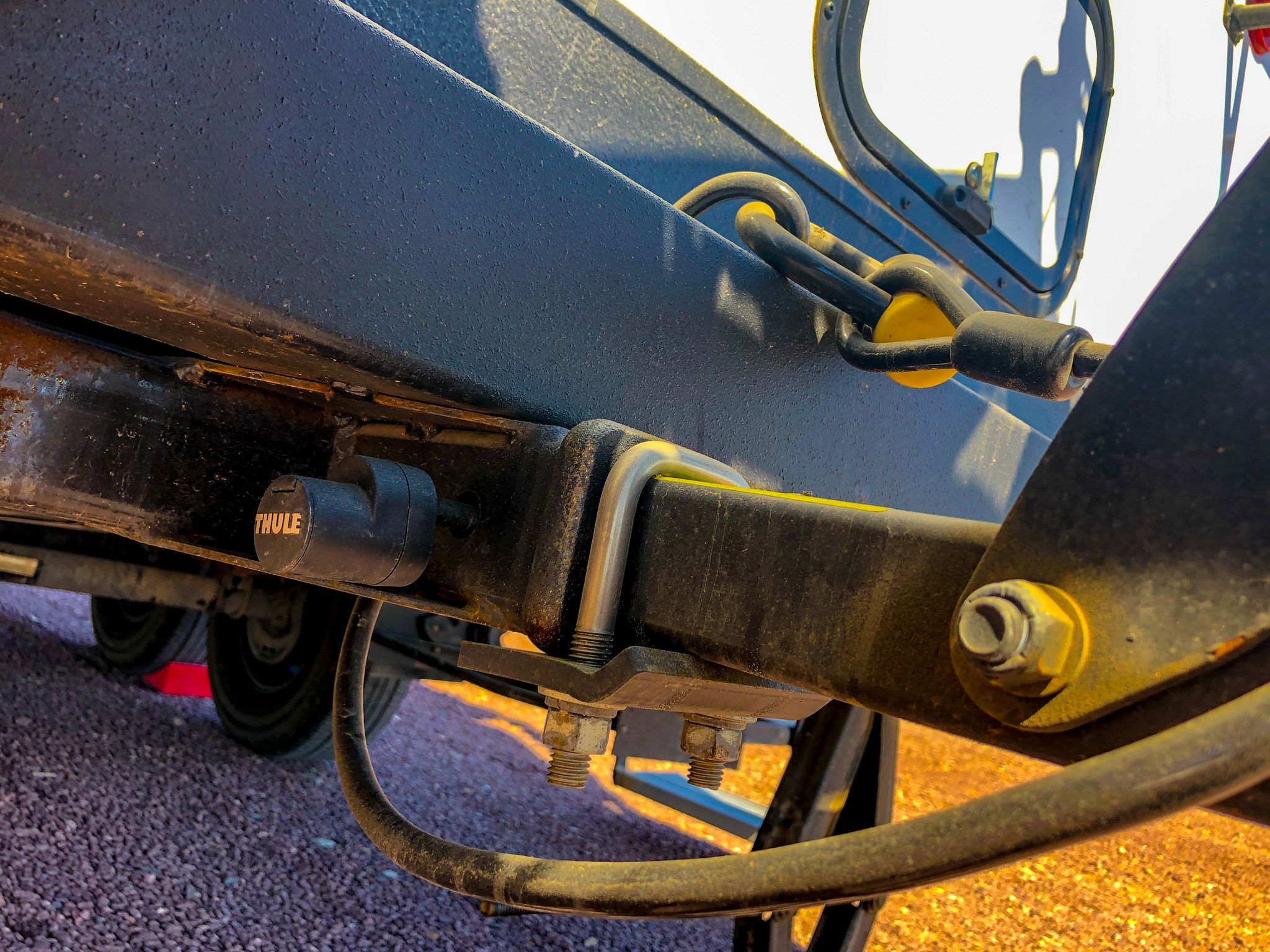 We then lock the two bikes together using a Kryptonite New York Fahgettaboudit Chain and New York Disc Lock. At 5ft long, this is just long enough to lock both bike frames and rear wheels. No lock is perfect, but this is a seriously heavy duty chain. And I mean heavy - it weighs in at around 15lbs!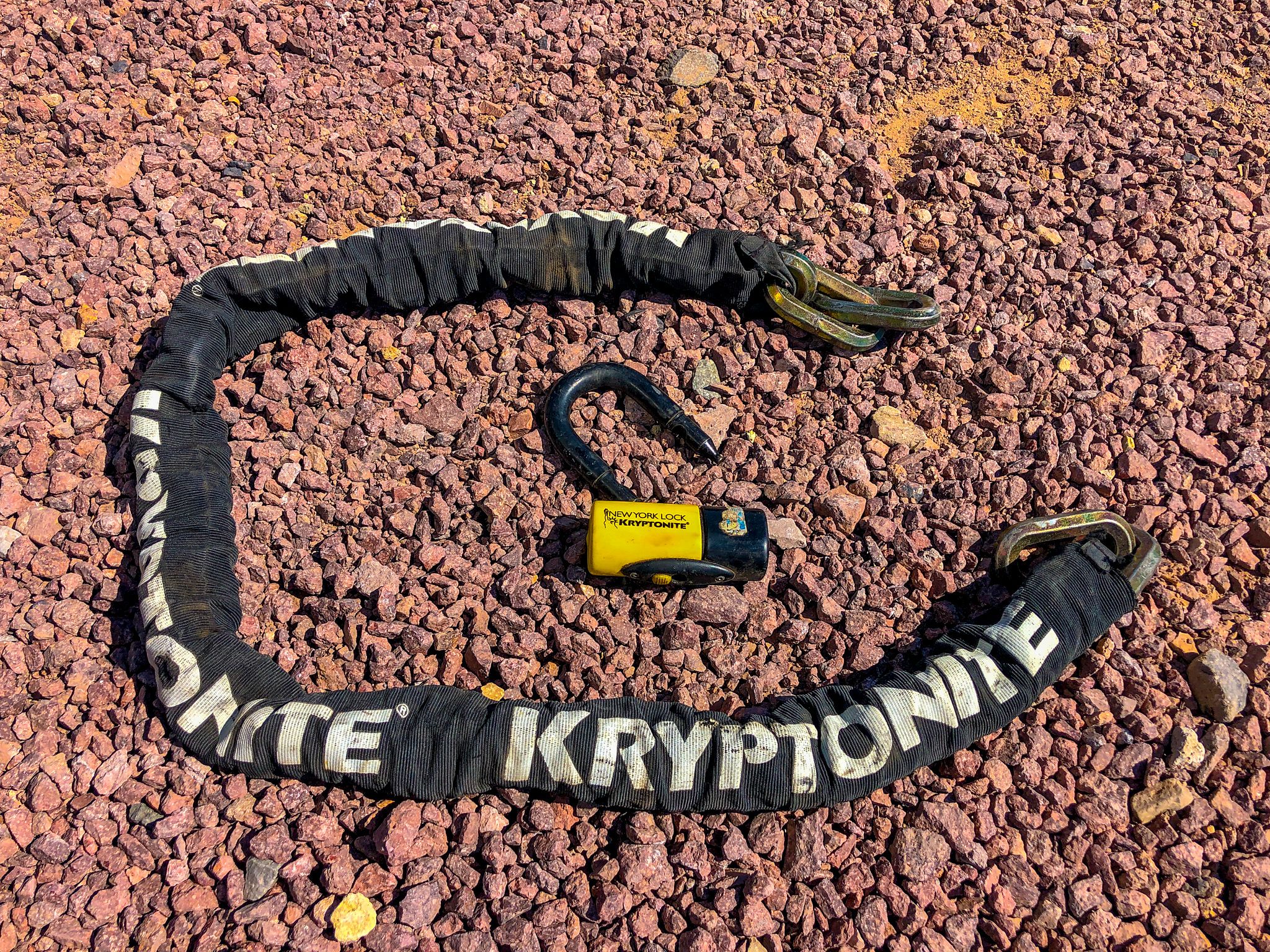 Adventurous Tip: Some of the reviews on that chain lock are hilarious and well worth a read!
In other words, stealing the bikes is going to be a pain, and they're both locked together until you can angle grind through that big chain!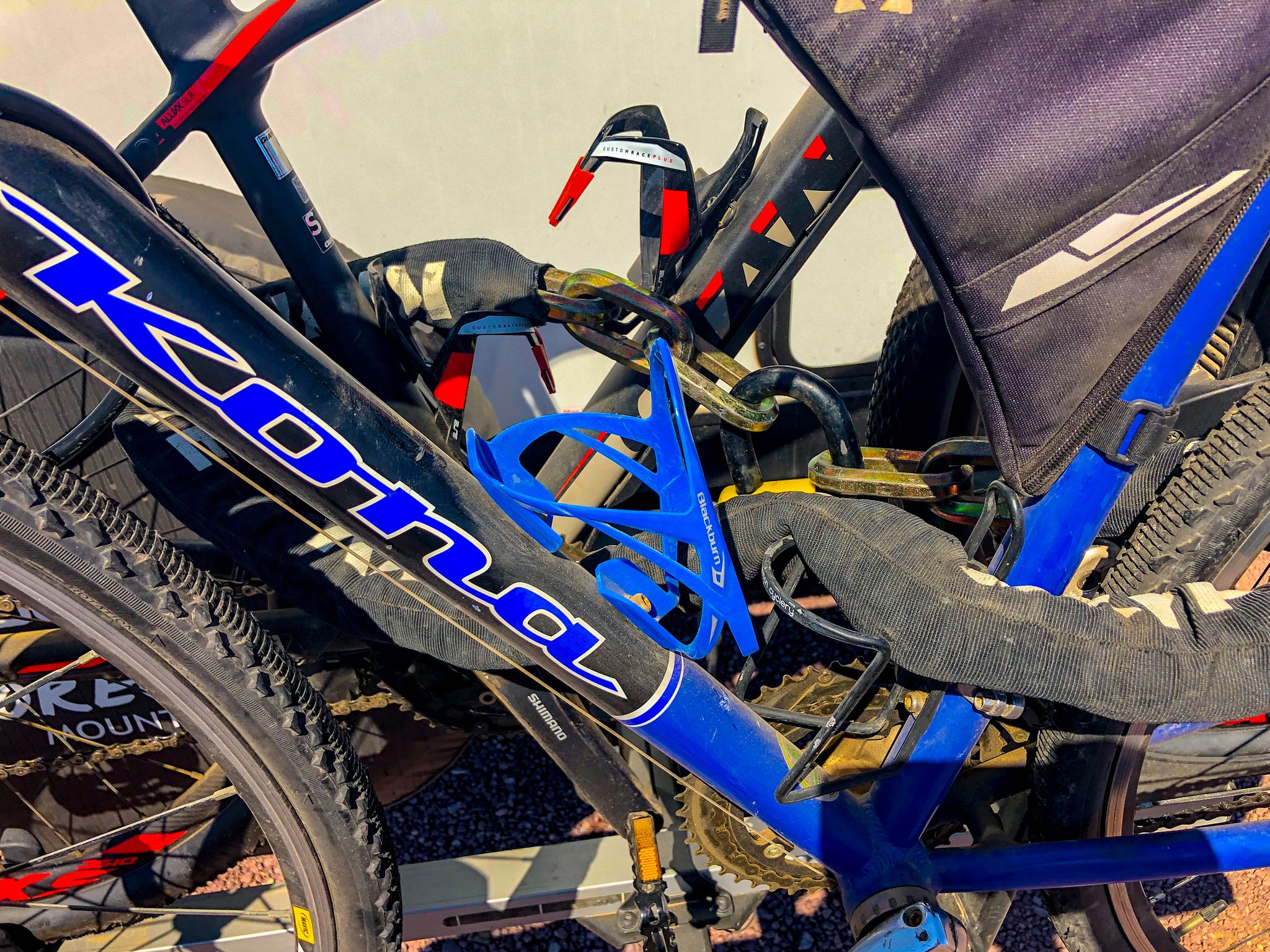 Our plan is to get a D-loop welded to the hitch receiver itself, and then we can lock the bikes directly to that with the chain.
Cover
We wanted to cover our bikes, both as a deterrent to thieves by removing temptation, but also to keep dust, rain and dirt off the bikes.
We found that the XXL Pro Bike Cover comfortably covers both our bikes, and you can probably get away with the XL version too.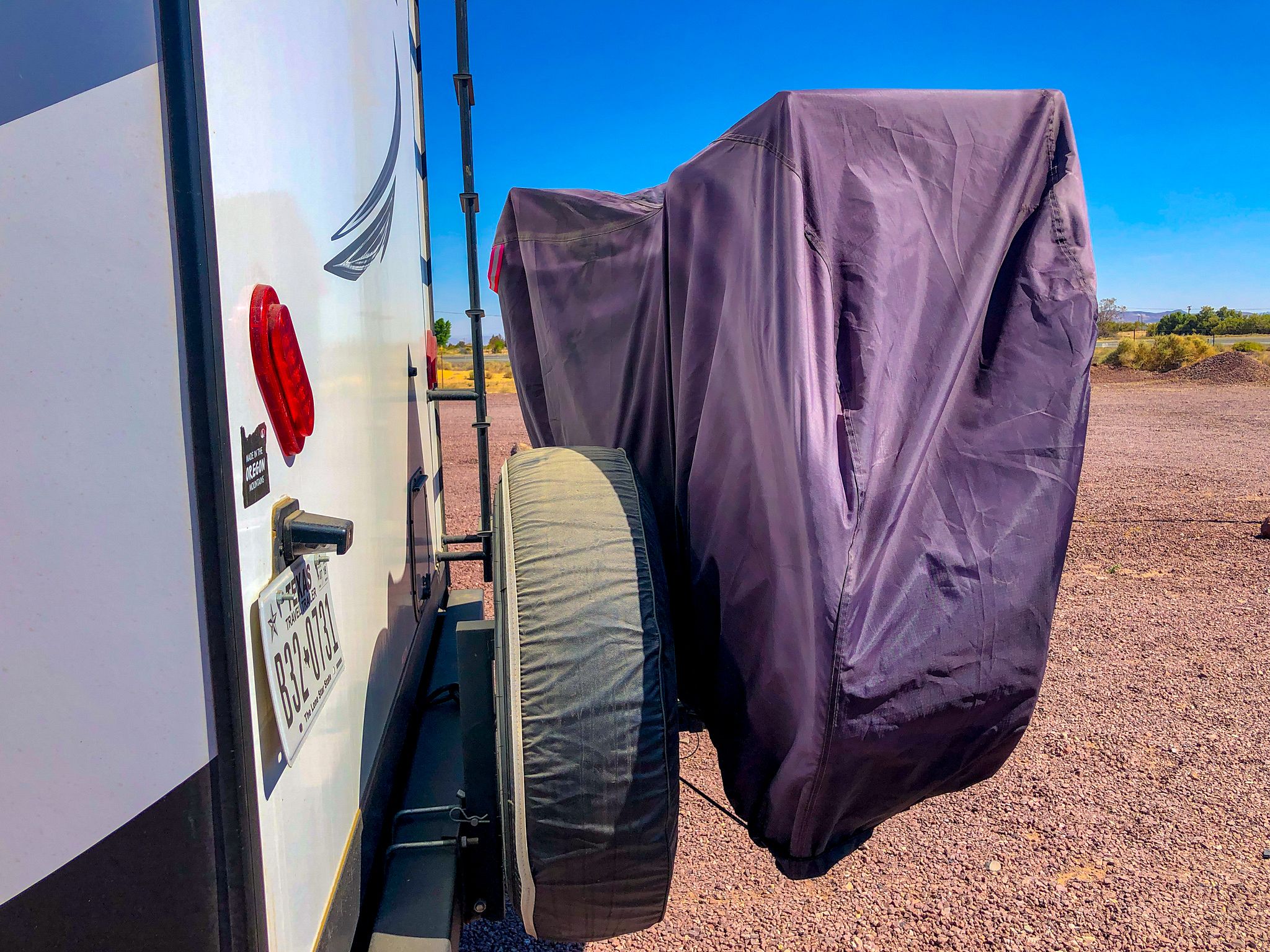 This has elastic toggles to tighten it at the bottom, and straps to secure everything in place.
Conclusion
When we're driving down the road, I know that our bikes are safe and secure on the back of our trailer. When we're parked up somewhere, we don't have to worry about our bikes when we go into a store or off for a hike. Sure, a determined thief could steal them, but it'd take time and make noise.
Although the Thule T2 Classic bike rack isn't rated for use on trailers, when used in conjunction with the hitch tightener, it's working great for us.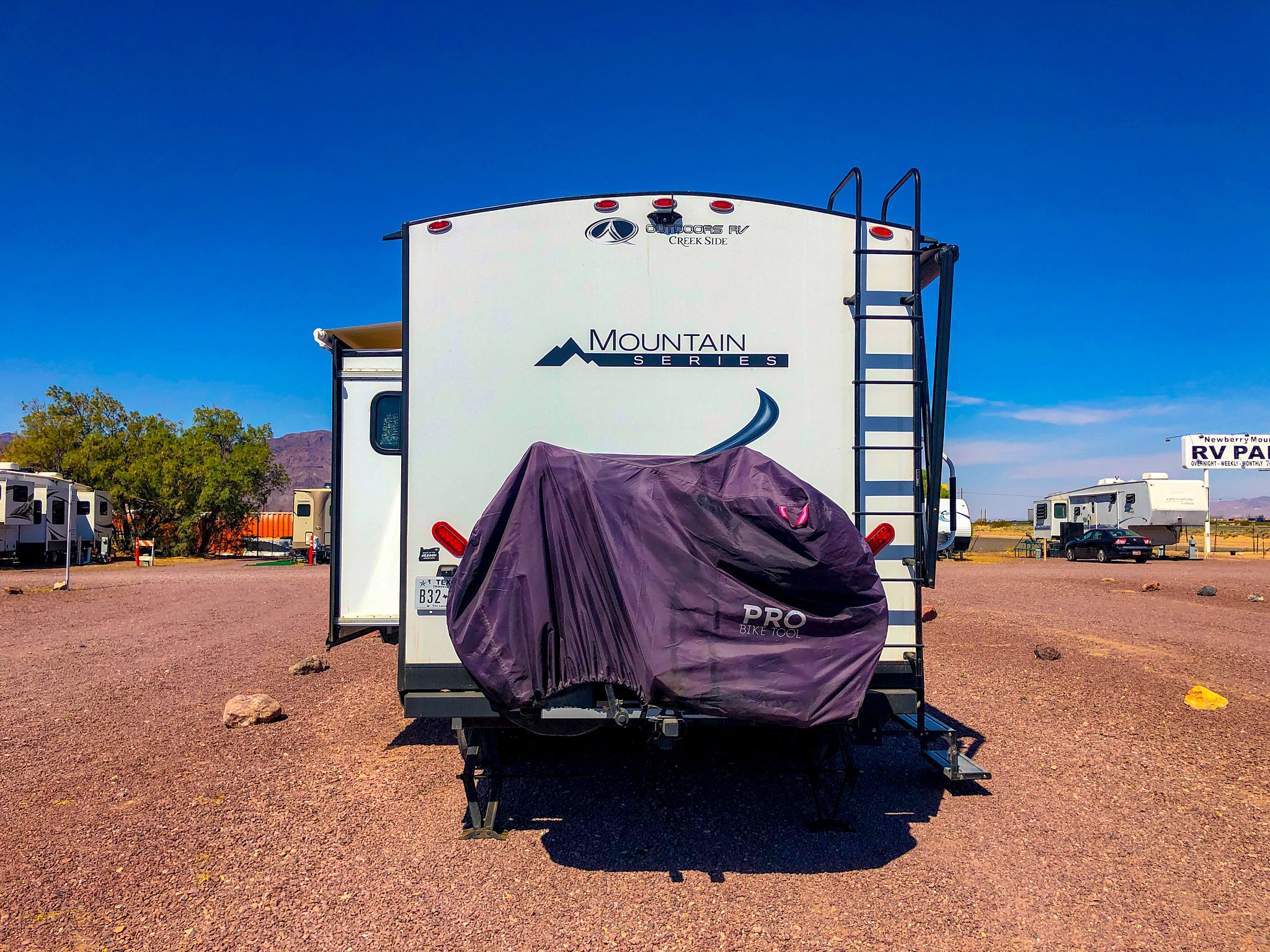 Maybe if we hadn't already owned this rack we'd have research dedicated RV bike racks, but you won't find us upgrading any time soon.
It takes about 10-15 minutes at a leisurely pace to unlock and remove the bikes, or put them back on again - for us, that's plenty quick enough.
As with everything, there are loads of options for carrying bikes. Let us know in the comments how you transport yours!