Introduction
After leaving the Tucson area where we had been for several weeks while exploring Saguaro National Park, the next stopping point was Phoenix, AZ. On the drive there, we dropped in to explore Casa Grande Ruins National Monument, the 11th unit on our journey to visit all 419 National Park Units in the US.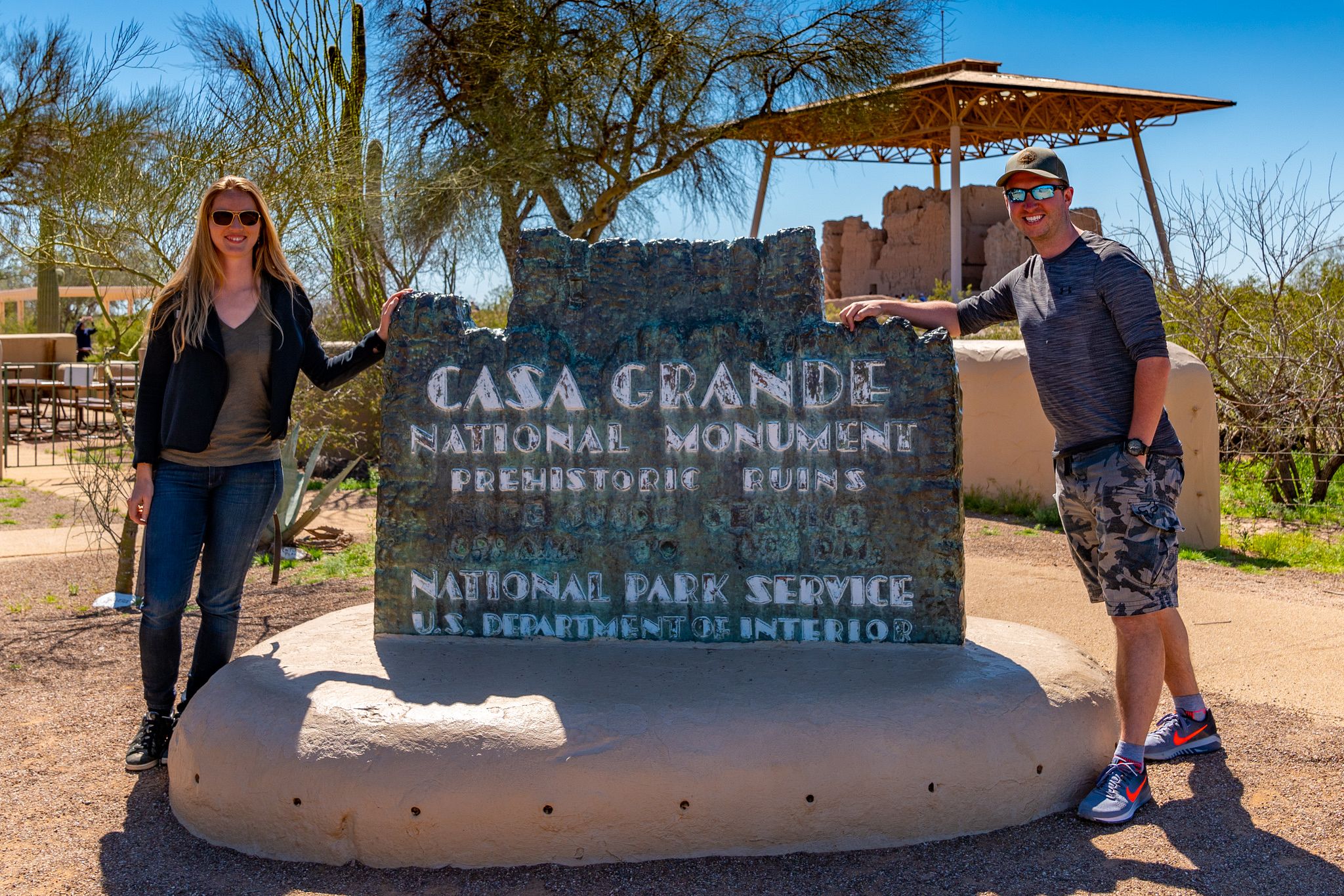 Video
Location
Casa Grande Ruins NM is located in Coolidge, AZ, about 20-miles northeast of the city of Casa Grande, AZ which bears its name. Less than an hour's drive southeast of Phoenix, Casa Grande NM is easily located for a short day trip.
History
The first written accounts of Casa Grande are from the journal entries of Padre Eusebio Francisco Kino who visited the ruins in 1694. Kino arrived in the Santa Cruz River Valley in 1691, where he established the Mission San Cayetano de Tumacácori in what is now Tumacácori National Historical Park. He is credited with naming the ruins "casa grande", Spanish for "great house" in his description of the prehistoric structure he found.
By the time Kino arrived, Casa Grande was long since abandoned. The ancestral Sonoran Desert people who built the structure left no written language behind, so much is still unknown about the ruins. However, it's believed that Casa Grande was part of a larger compound and may have been built around 1350CE - but why remains a mystery.
Archeological evidence from the surrounding area suggests significant activity in the area - extensive irrigation farming and trade routes. The area may have been populated for around 1,000 years until, just 100 years after Casa Grande was built, the entire area was abandoned around 1450CE. Modern experts refer to this period as the Hohokam period, even though this is neither the name of a people nor even a word in any the languages of the O'odham, Hopi or Zuni people.
In the centuries after Kino wrote his account of Casa Grande, more became known as Juan Bautista de Anza visited the ruins during his expedition of 1775, and Brig. Gen. Kearny brought a military detachment to the area in 1846. Sadly, the increased public awareness coupled with improved access thanks to a railroad 20 miles west and a connecting stagecoach route to the ruins, led to huge damage during the latter half of the 19th century - artifact gathering, graffiti and vandalism all took their toll.
Fortunately, amongst those who visited were anthropologists and historians, who documented the deterioration but also the significance of Casa Grande. A successful petition to the US Senate in 1889 led to reparation and preservation efforts, and in 1892, President Benjamin Harrison designated one square mile around Casa Grande Ruins as the Casa Grande Reservation - the first prehistoric and cultural reserve in the US. On August 3, 1918, President Woodrow Wilson re-designated it as Casa Grande National Monument, and it was listed on the National Register of Historic Places on October 15, 1966.
The history continues however, as in the later 1930s, the Civilian Conservation Corps (CCC) built several adobe buildings within the National Monument to serve as housing and administrative buildings. These buildings, still in use today, are themselves now listed on the National Register of Historic Places!
Itinerary
Since we were stopping at Casa Grande Ruins NM on our way from our previous camping spot near Tucson, AZ to a new camping spot near Phoenix, AZ, we arrived with our trailer in tow. We had checked on Google Maps satellite view in advance and confirmed they had RV parking - although it's no guarantee there would be a spot available, at least there was RV parking!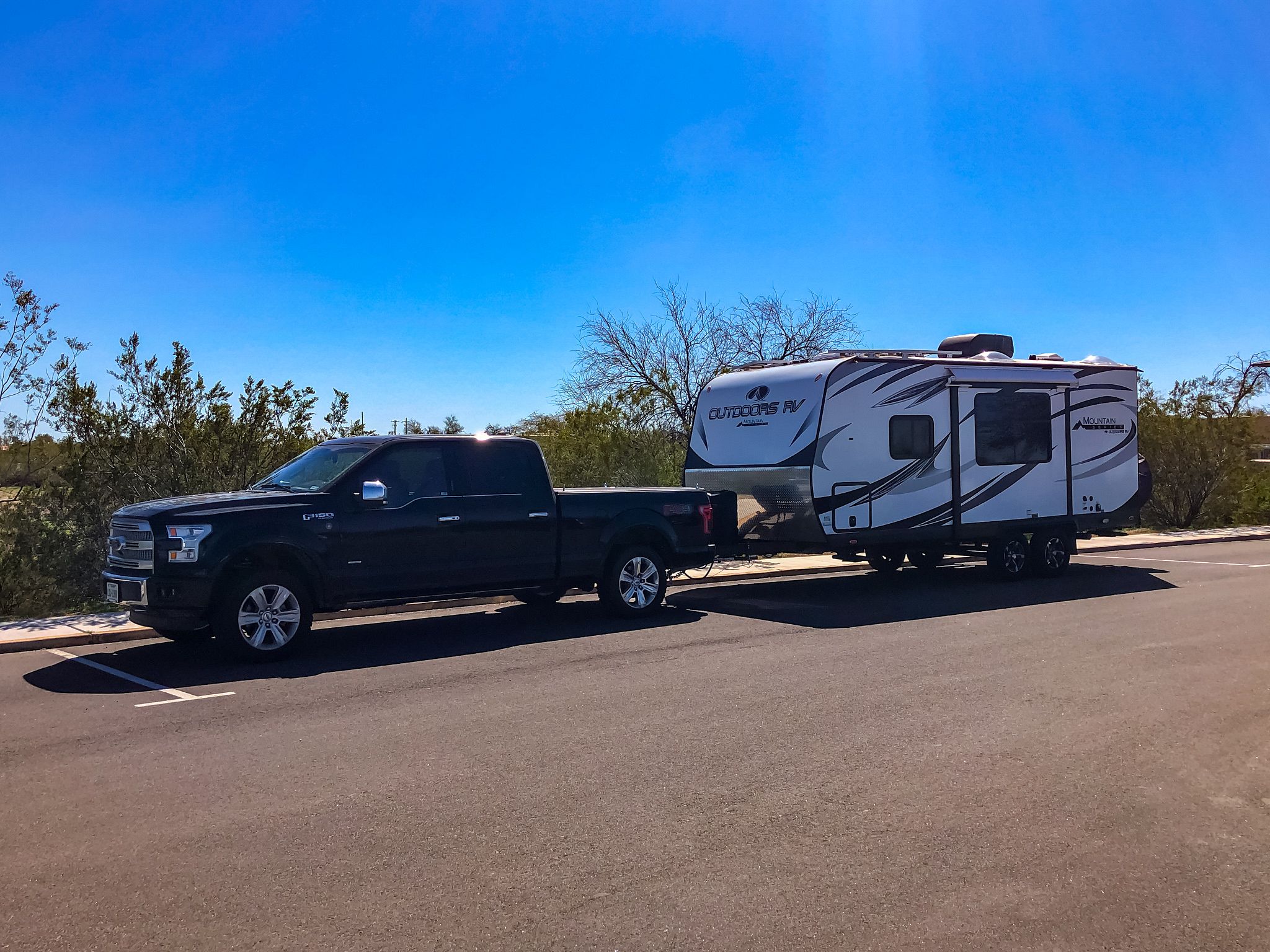 Fortunately, Thursday mornings in mid-March aren't too busy, and there were plenty of spaces free for us. We parked up and headed inside the Visitor Center to get our National Park Passport stamped. But when we walked inside, we found that a guided tour was just starting outside; we quickly joined the group.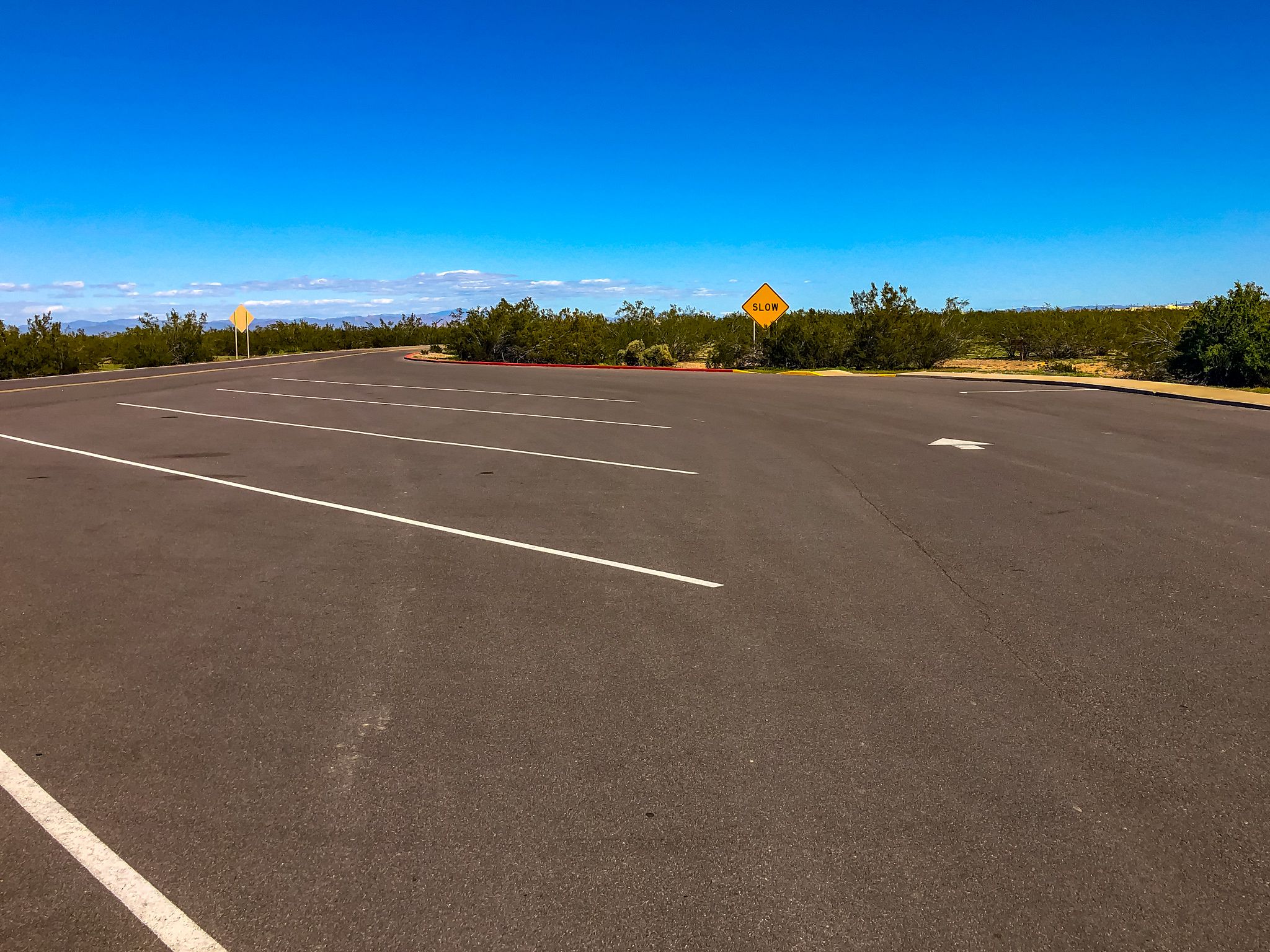 Guided Tour
The tour started with our guide, Pam, talking us through the history of Casa Grande - or at least, what we know of it. She shared with us how its construction from caliche, a natural cement found locally, had helped the buildings survive over 7 centuries. The large house consists of an inner structure four stories high, surrounded by outer rooms three stories high.
To protect the structure from the elements, a wooden structure was built in 1903. This was later replaced by the current ramada - designed and built by Boston architect Frederick Law Olmsted, Jr in 1932 - which now houses not only Casa Grande, but also a pair of great horned owls! Visitors are no longer allowed inside the structure, but Pam guided us around the outside, highlighting key areas of interest.
As we walked around the outside, our guide helped us understand the layout of walls and rooms, helping us to interpret how it may once have been used. We were able to easily see the construction with wooden beams that support clay walls. Nowadays the structure also contains numerous modern additions - reinforcing beams, metal ladders and measurement equipment used by researchers.
Visitor Center
In addition to the great house itself, there are numerous other ruins littered around the area. After the guided tour ended, we headed into the Visitor Center - both to escape the hot midday sun and see the exhibits inside. As with so many of these cultural sites, the Visitor Center was a wealth of information, guiding us through not only the history of Casa Grande, but illustrating how this site fits into the larger network of these ancestral people.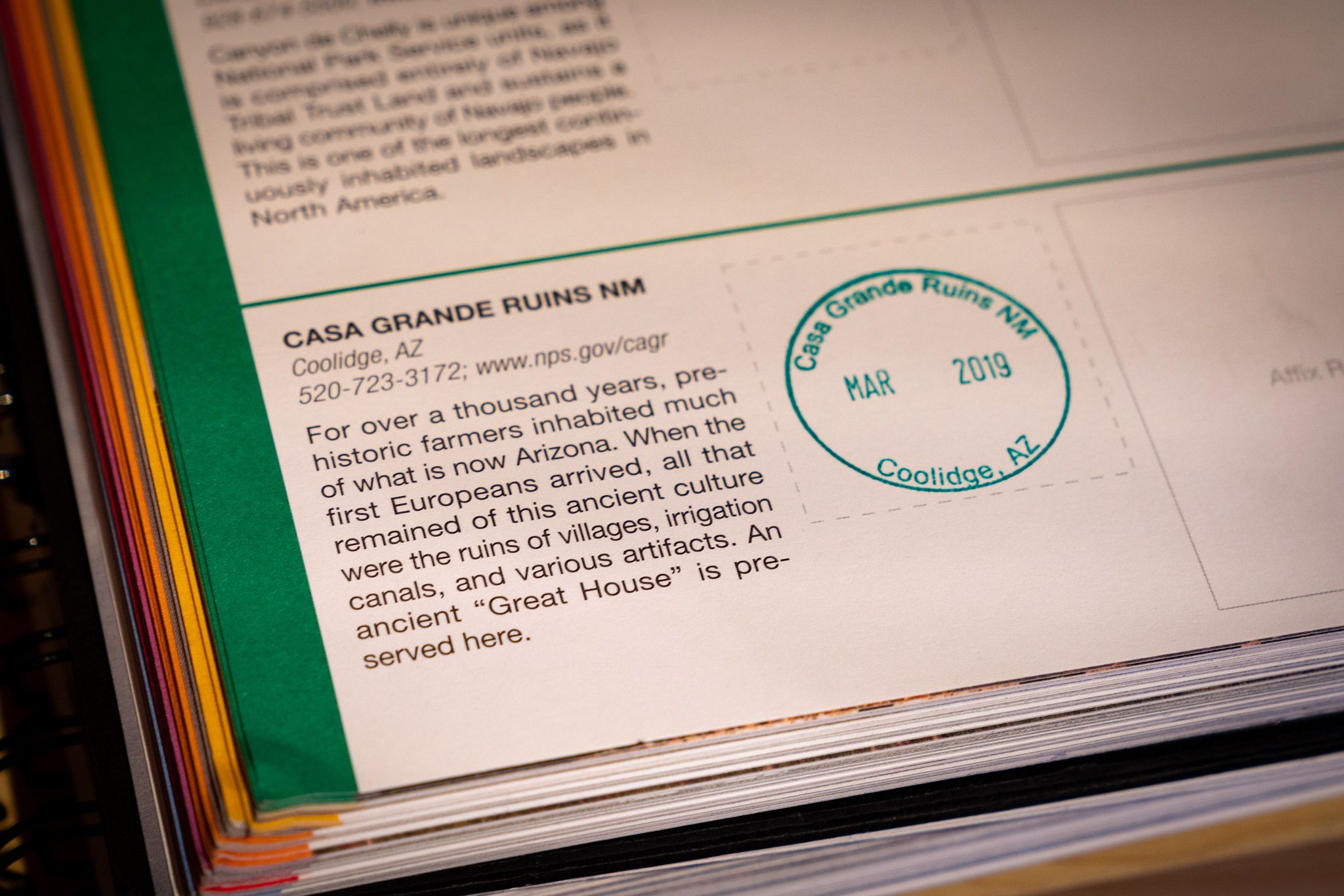 Self-Guided Tour
Although we joined a guided tour when we arrived, people are free to stroll around the grounds and explore for themselves - although again, exploration is largely limited to observing from the outside. So after cooling down inside for a while, we ventured back out into the heat!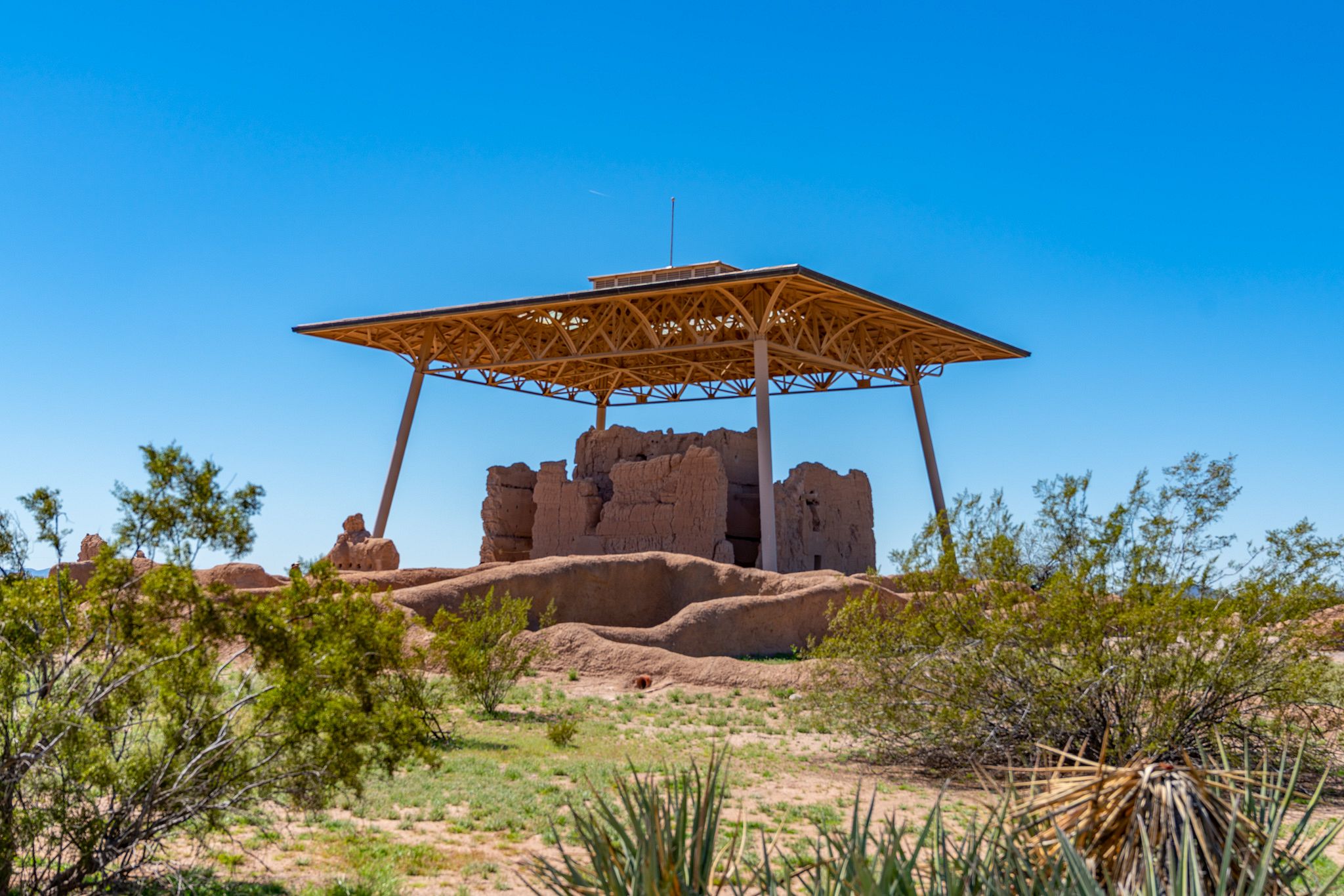 In addition to the great house itself, there are several other ruins scattered around the site. These buildings were the successors to earlier pithouses that people had built in this area thousands of years ago. The pithouses evolved not only to above-ground buildings, but eventually into walled compounds such as Casa Grande itself.
Although the ruins of buildings are the key attraction, the open spaces were an important part of daily life - these plazas were busy spaces where people would have prepared food, made pottery, weaved and crafted baskets. Buildings and ramadas would have provided shade in summer, while in winter the sun would have been welcomed in the open space.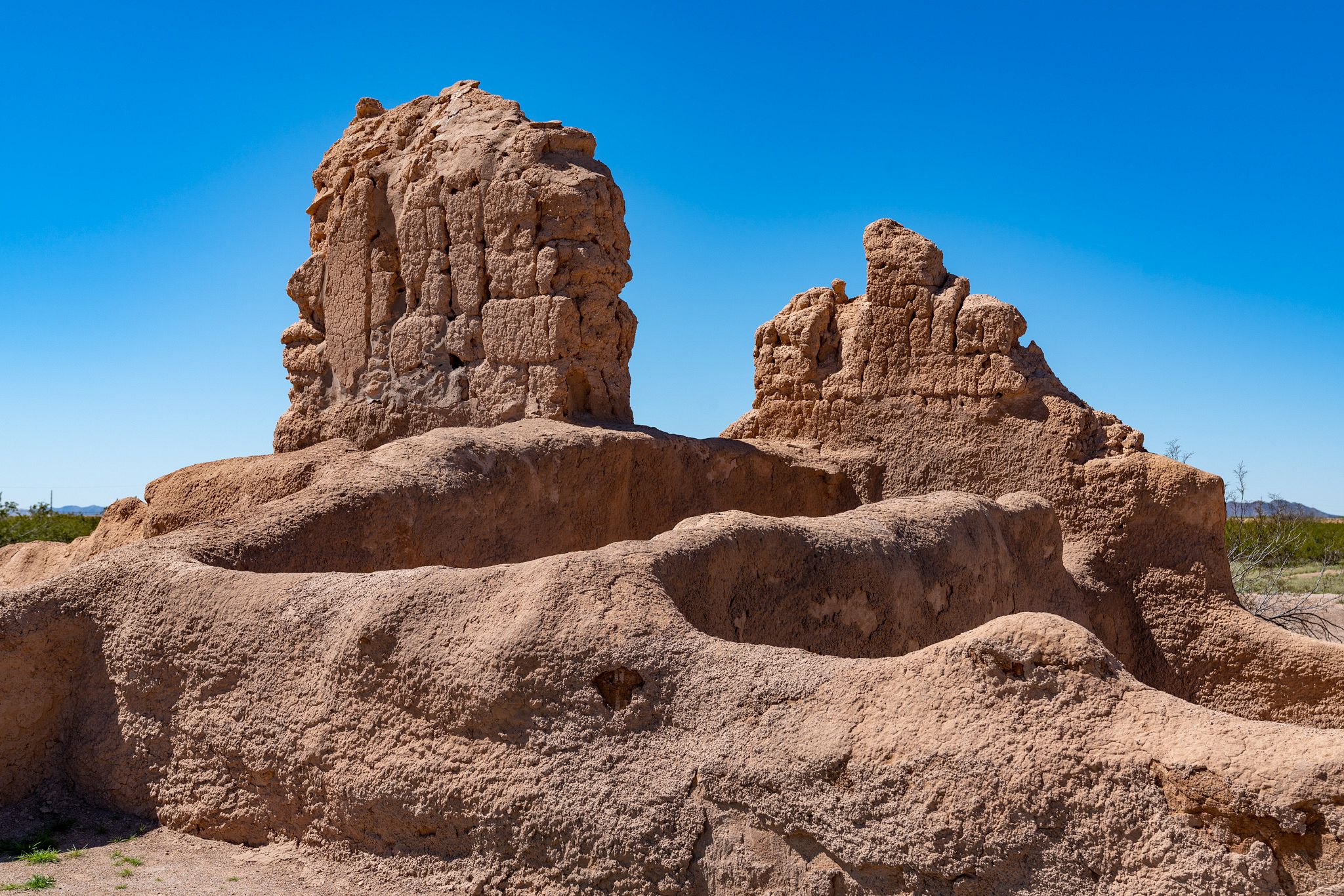 The buildings themselves would likely have been used for sleeping, storage and ceremonies. Some rooms would have been accessible through doors in the walls, whereas others could only be entered by climbing down a ladder in a roof hatch.
Picnic Lunch
Exploring ruins is hungry work, so we headed back to our RV in the parking lot to make a salad for lunch. But rather than eat in the RV, we took the opportunity to have lunch in the Picnic Area just across from the parking lot.
This place is AWESOME!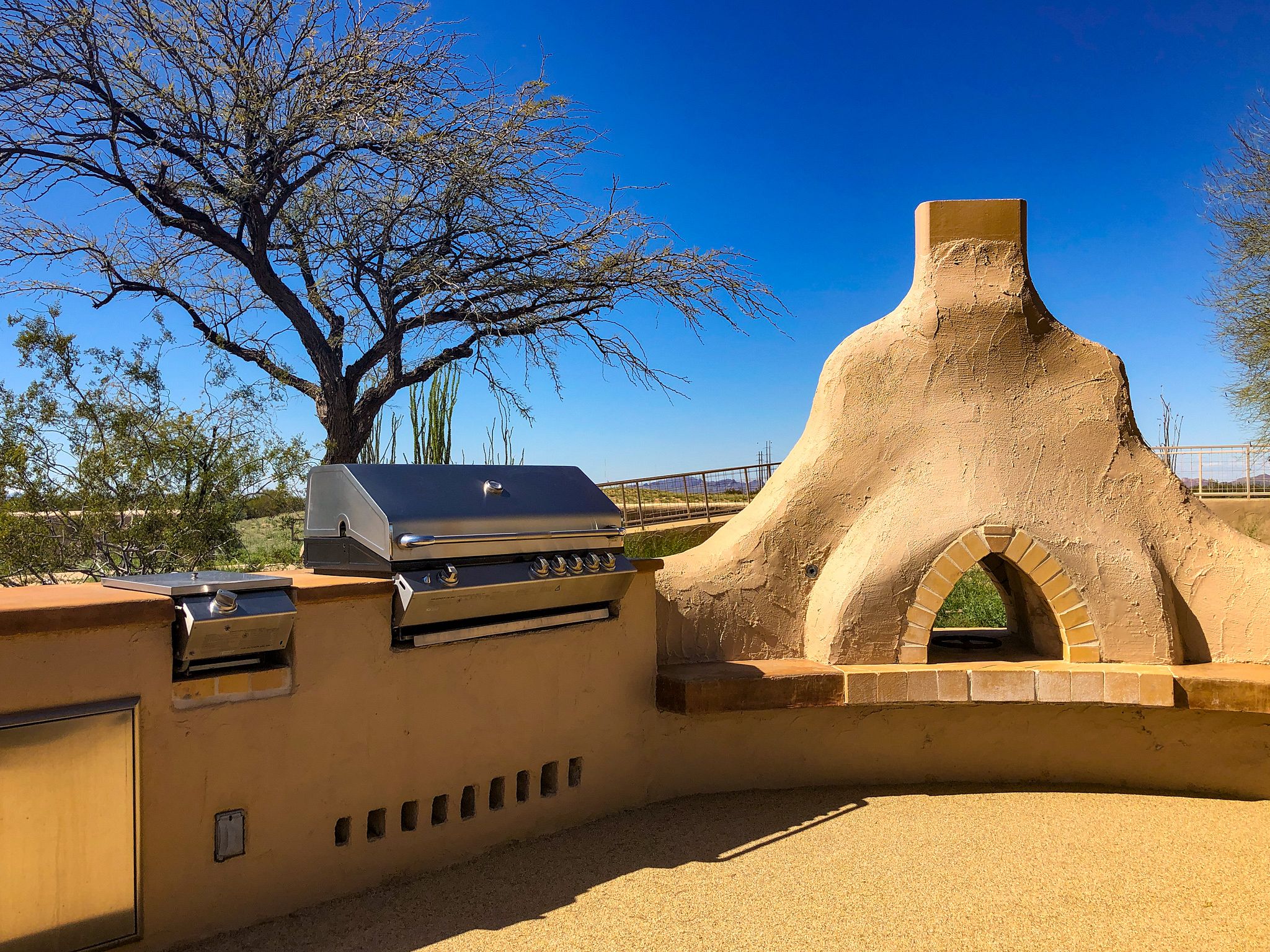 The picnic area has loads of seating plus an outdoor kitchen - including grills, hot plates sinks and even a pizza oven! This area can be reserved - contact the National Park Service for more information.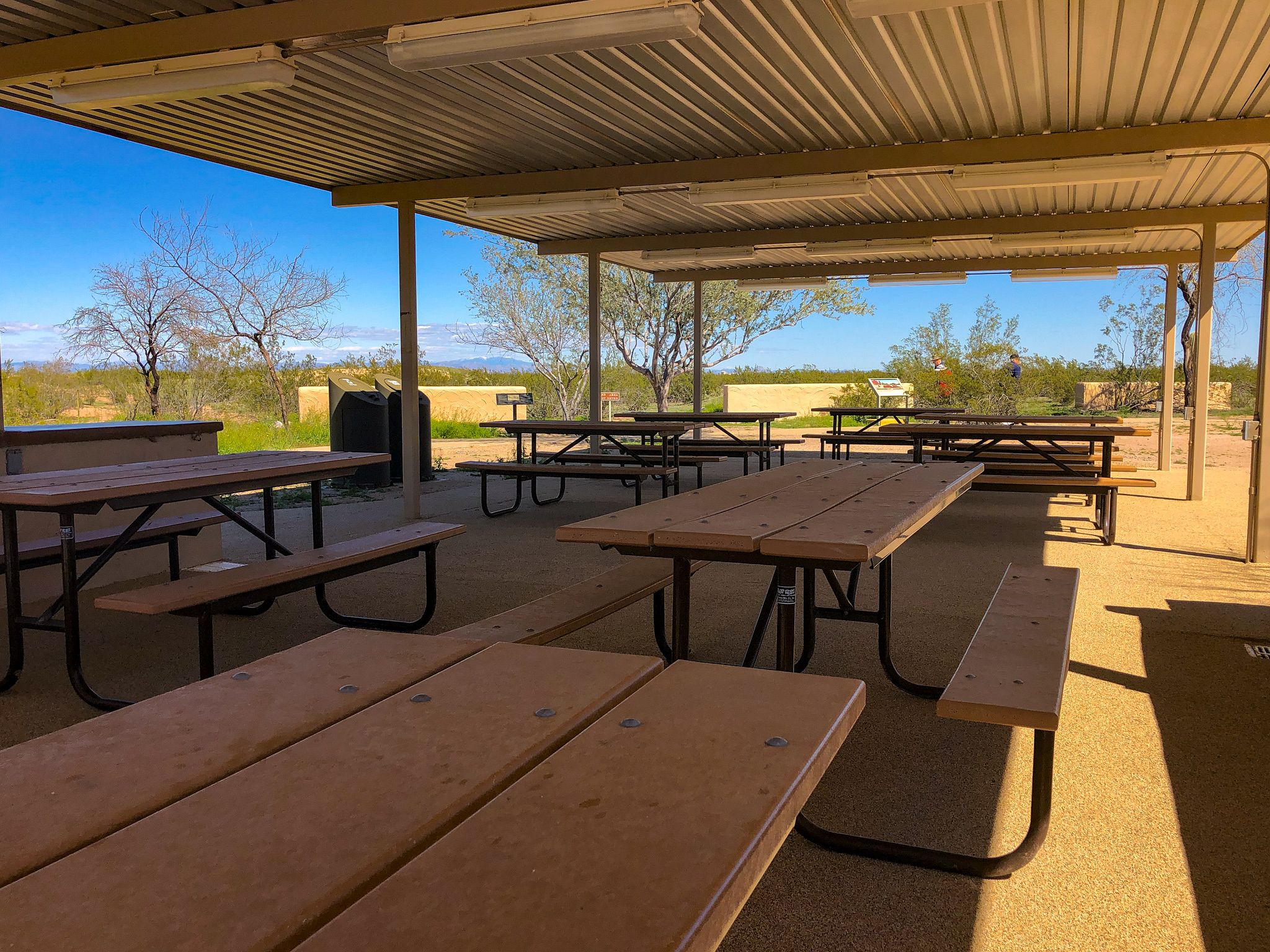 We just took advantage of the picnic tables to eat our lunch. Afterwards, we took a short stroll along the trail to see the ancient ballcourt, thought to have been a major social center for the ancestral people, before making our way back to the RV to continue our journey towards Phoenix, AZ.
Conclusion
Although we only spent a few hours exploring Casa Grande Ruins National Monument, we learned a lot about the history and culture of the people who once lived here.
If you're in the area around Phoenix, AZ then this would make a great day trip - especially if you can time your visit to coincide with one of the free guided tours.
Having recently visited Gila Cliff Dwellings National Monument and Tumacácori National Historical Park, it was fun to continue learning more about the ancestral people who lived in the area around modern day Arizona and New Mexico. We'll be spending a little time in the Phoenix area to explore Tonto National Monument and Hohokam Pima National Monument.