Introduction
A city of over 650,000, El Paso has a huge range of museums and attractions to choose from. With just 86,000 visitors in 2017, Chamizal National Memorial isn't going to top any visitation charts, but don't let that undermine the importance of its story. The 55 acres of park in the heart of El Paso include walking and cycling trails, picnic areas and a cultural center.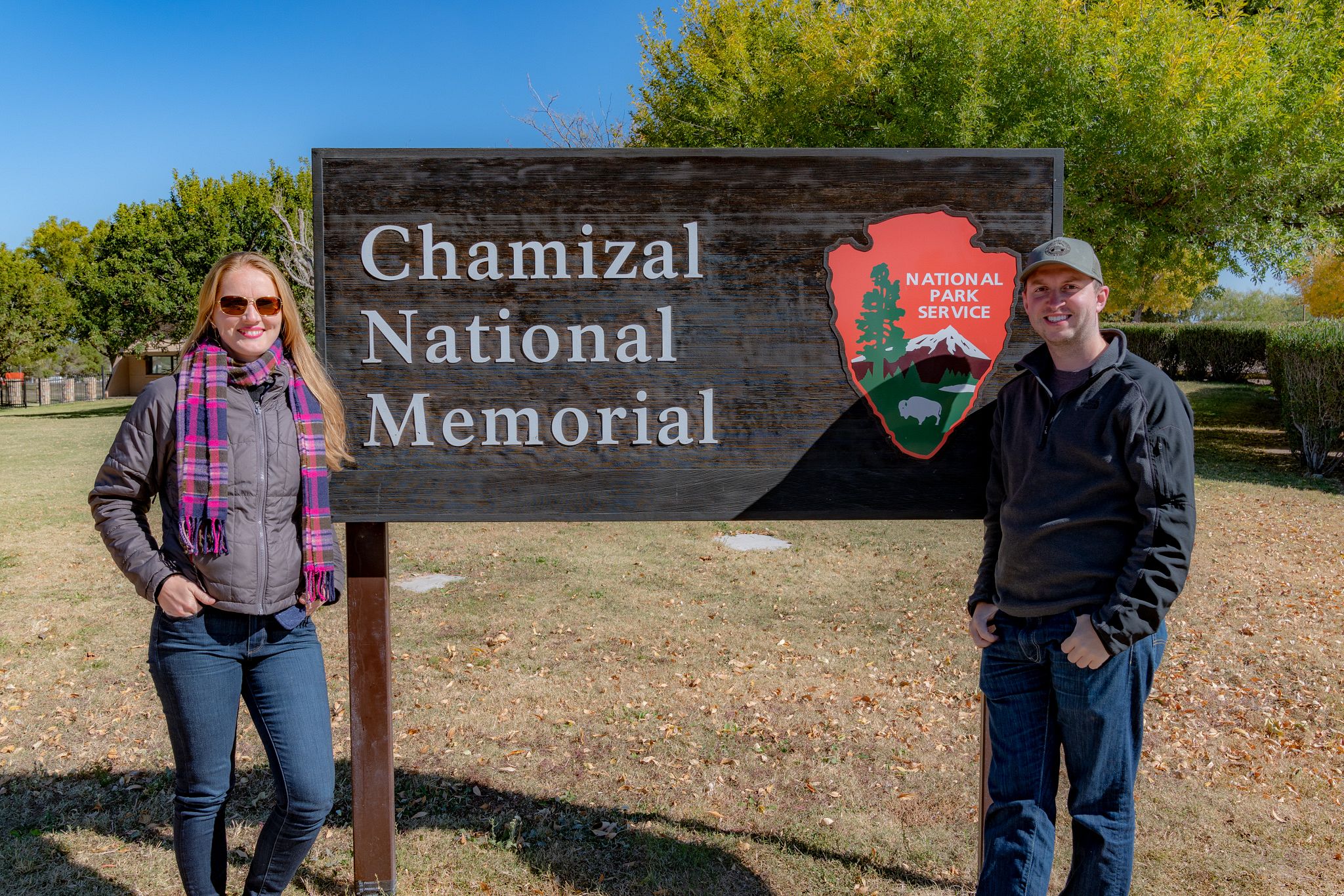 For us, Chamizal was our 3rd National Park Unit on our journey around the US to visit all 400+ units. We arrived in El Paso, TX after dry camping in Guadalupe Mountains National Park, re-energized after a week of hiking in the fresh mountain air, but needing to resupply. El Paso was a convenient stopping point for us - we refueled (our fridge and our truck) at Costco, stocked up on fresh groceries at Sprouts, had an Amazon delivery sent to an Amazon Locker, and dumped our tanks and charged our batteries at the El Paso Roadrunner RV Park.
Our truck was also due a service, so we took it into the Shamaley Ford Dealer for an oil change, tire rotation and some recalls. Unfortunately, despite them promising to have my truck ready by the time we needed to hit the road, the service was distinctly lackluster. They were unable to pick me up afterwards so I had to walk a mile to get back there, and I was unconvinced by their assessment - in particular they said the truck tires were wearing abnormally, but it's quite clear to see (and I had confirmed by another Ford dealership later) that the tires are fine. They did report that the brakes were in need of maintenance, but I chose to wait and find somewhere I felt more confident with to do that work.
Regardless, if you're visiting National Parks in and around the area, El Paso is a useful hub. There are a couple of boondocking opportunities in the area, but given we had been dry camping for a while, we chose to splurge with a few nights in an RV park with full hookups. The El Paso Roadrunner RV Park is nothing amazingly special, but the sites were clean, the staff friendly, the rates good and the location perfect for what we needed - we don't ask for anything more than that.
Location
Know Before You Go
Chamizal National Memorial is a small NPS Unit, and a couple hours is plenty of time to explore inside the cultural center and take a stroll around the grounds. There is a large parking lot outside, so you shouldn't have any issues with parking.
Be careful driving there though - Chamizal National Memorial is very close to the international border, so one wrong turn may find you en route to Mexico!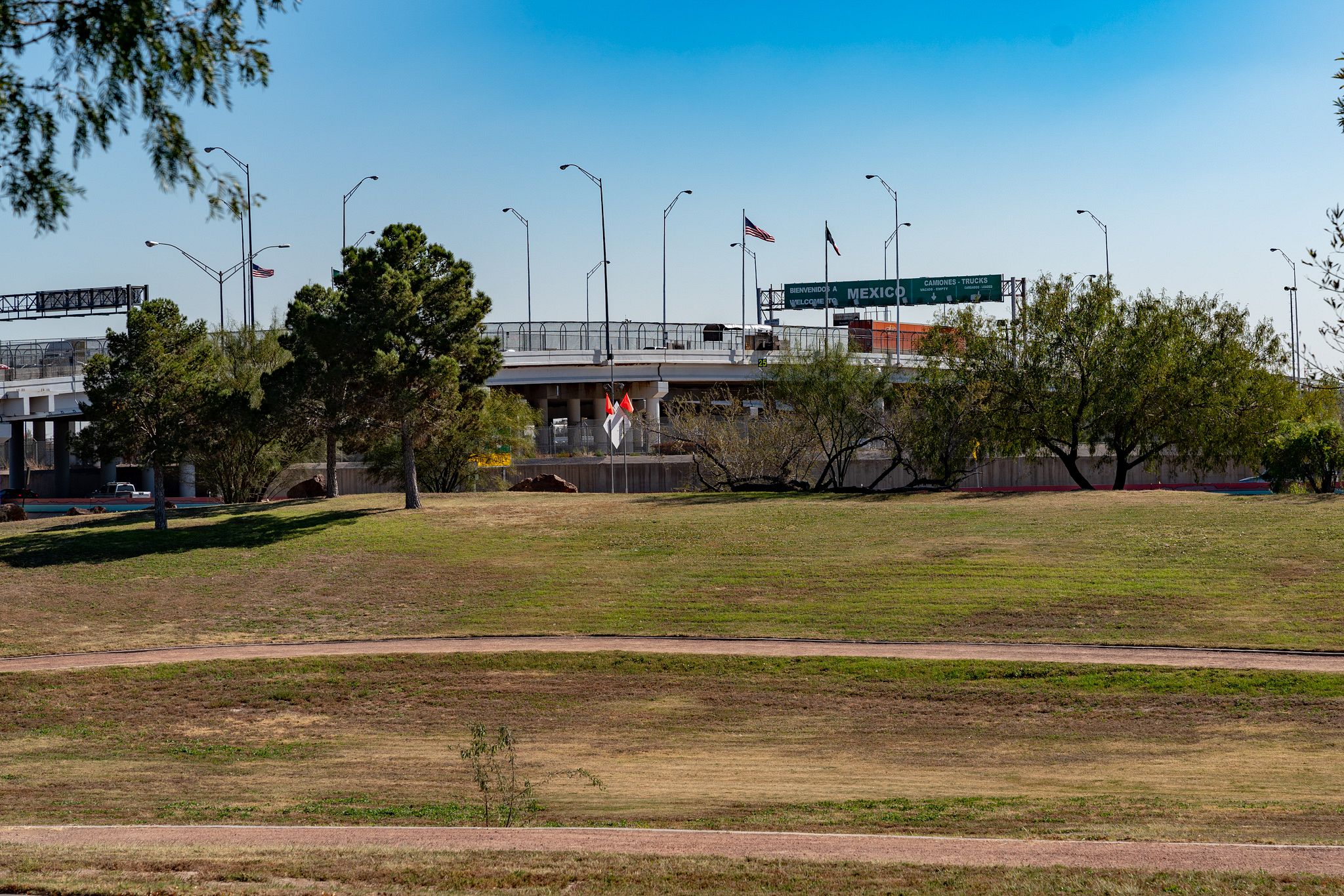 Adventurous Tip: We were using Waze to navigate there and its directions were a little off - it tried to park us alongside the memorial rather than take us to the entrance. Make sure to double check!
Based on what we saw, it looked as though you could park an RV in there (daytime use only), but if you're planning this I'd recommend phoning and asking ahead of time.
Chamizal Dispute
The origin of the Chamizal Dispute were the Treaty of Guadalupe Hidalgo (which ended the Mexican-American War) and the Treaty of 1884 - these designated the Rio Grande as the international border between the US and Mexico. As a natural feature, the Rio Grande's course is ever fluid, and between 1848 and 1873, its steady migration south resulted in nearly 600 acres of land that had previously been in Mexico, legally becoming US territory. As a result of further natural and man-made changes, in 1899 a 385-acre tract of land known as Cordova Island became a Mexican island within the United States borders.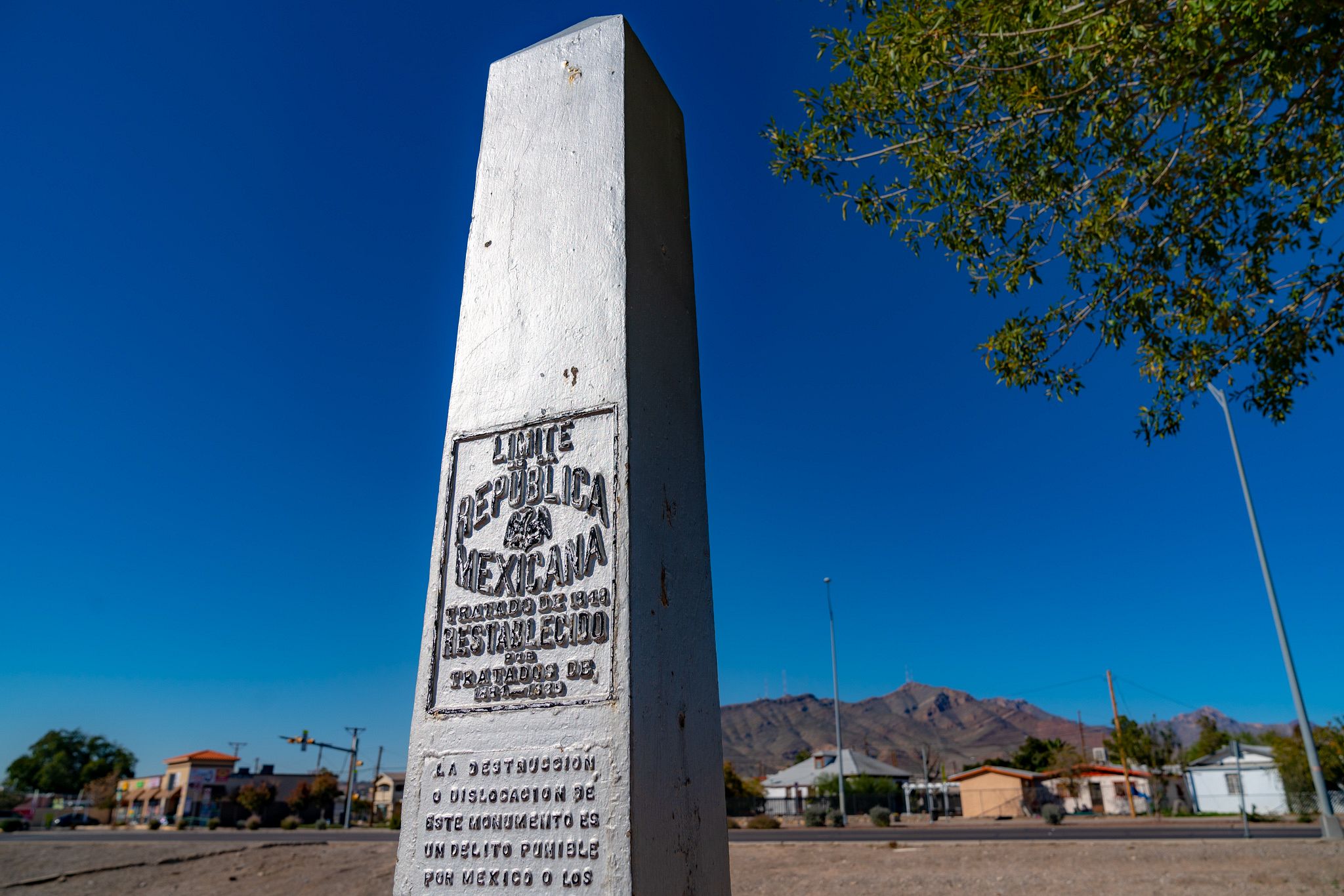 What followed were decades of dispute and controversy, with multiple efforts failing to resolve the issue. In the end, the dispute was formally settled on 14 January 1964 when US President Lyndon B. Johnson ratified a treaty with his Mexican counterpart Adolfo López Mateos. Amongst its many terms, a key element of the Chamizal Convention was the construction of a concrete channel through which the Rio Grande would flow, fixing its path and the international boundary it defines.
Cultural Center
On arrival, we headed into the Cultural Center. They often have art exhibitions in here, and the facilities also play host to regularly scheduled theatrical performances. The event timetable changes regularly, so it's best to check their website for up-to-date information.
After speaking with the Park Ranger, we enjoyed a short orientation video giving us some great background on the border dispute and its ultimate resolution with the Chamizal Convention in 1964. Chamizal National Memorial was authorized in 1966 and established as a National Park Service unit in 1974 to promote cooperation, diplomacy and cultural values as effective means to resolve conflicts.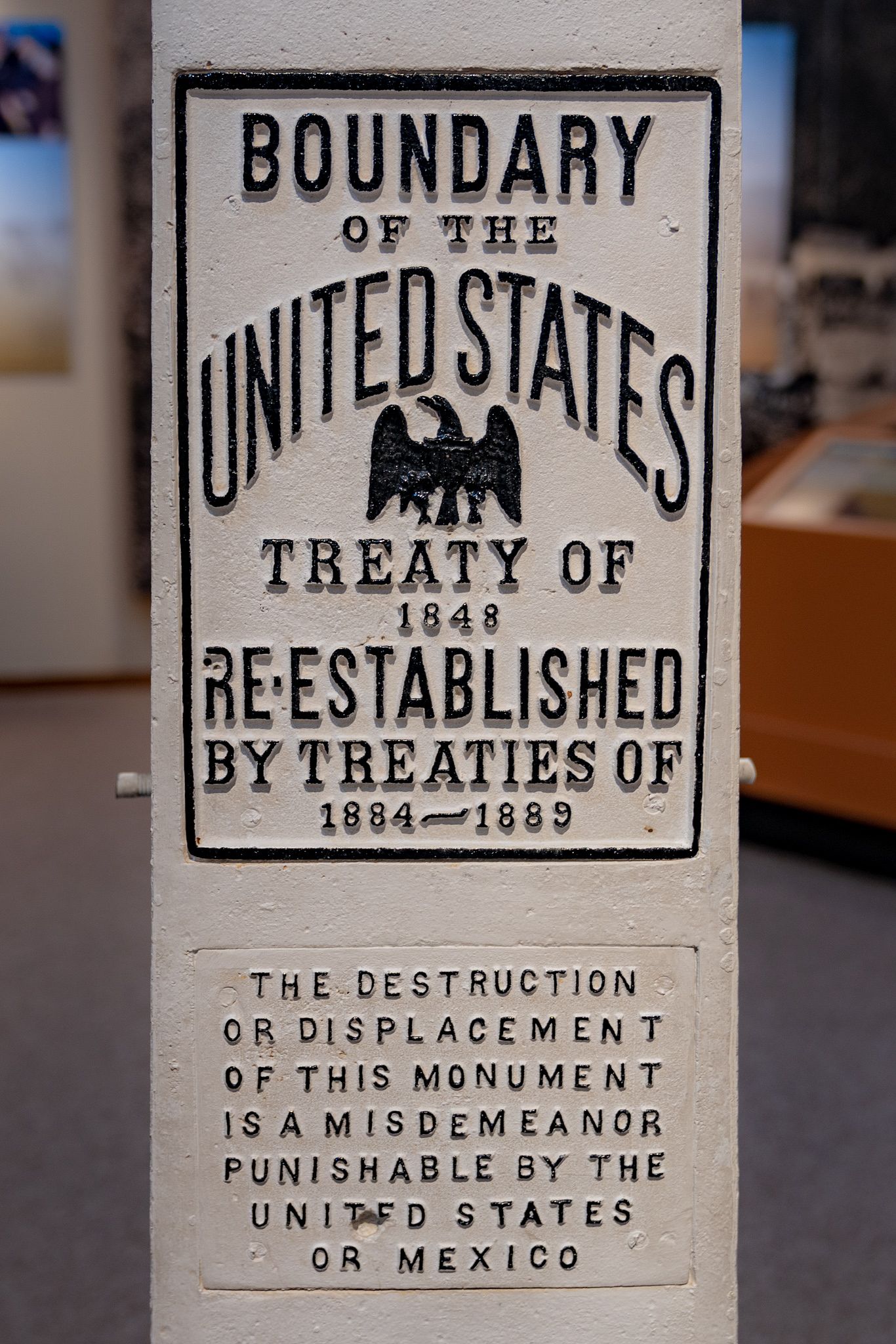 The Cultural Center has a small museum containing displays and artifacts to tell the complex story of the Chamizal dispute. It was fascinating to see how historical survey attempts had repeatedly tried, and failed, to find a resolution.
Trails
Chamizal National Memorial sits on the very ground that was the subject of the dispute, and its trails encourage visitors to reflect on the history that was written here. In fact, Chamizal National Memorial is intended as a venue to share and celebrate different cultures.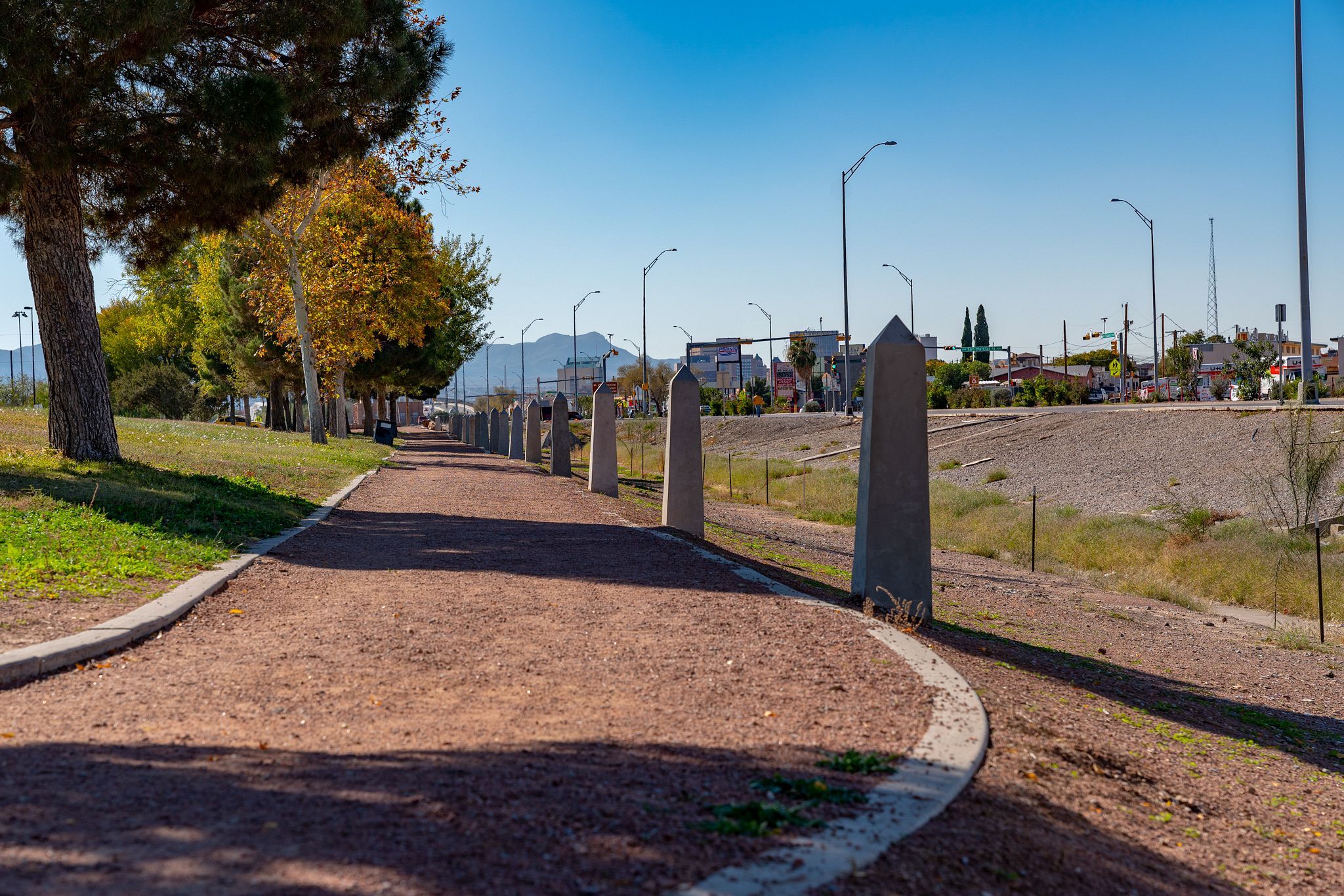 We picked up a guide from the information desk inside, and followed the short trail around the grounds. Along the way, numbered markers on a map in the guide highlight things to see - covering history, wildlife, culture and geography. The hike just loops around the main building, so you're never more than a few minutes away from it, but we had nice weather so it was a pleasant stroll.
Conclusion
This is definitely one of the smaller, lesser visited National Park Unit sites. Although I wouldn't likely travel to El Paso specifically to visit it, we learned a lot about the local area and its history - I'm glad we took the time to go along and visit. El Paso itself was a good stopping point for us as we journeyed through the area - and as our last stop in Texas, we couldn't leave without some BBQ at Rudy's!
From El Paso, our journey takes us north, out of Texas and into New Mexico to visit White Sands National Monument so make sure you subscribe to our newsletter and follow our journey on Facebook, Instagram and YouTube.