Introduction
As we alluded to in our Santa Monica Mountains National Recreation Area blog post, our next stop was the Channel Islands National Park. The Channel Islands are just off the Californian coast, and in fact visible from the Santa Monica Mountains!
Since they're separated from the mainland by over 20 miles of open water in the Santa Barbara Channel (hence the name), I hope it goes without saying that we didn't take our RV there!
Channel Islands National Park is the only National Park in California that we have never visited before - if you include National Parks we visited before we hit the road with our RV in 2018. It's fair to say we were more than a little excited!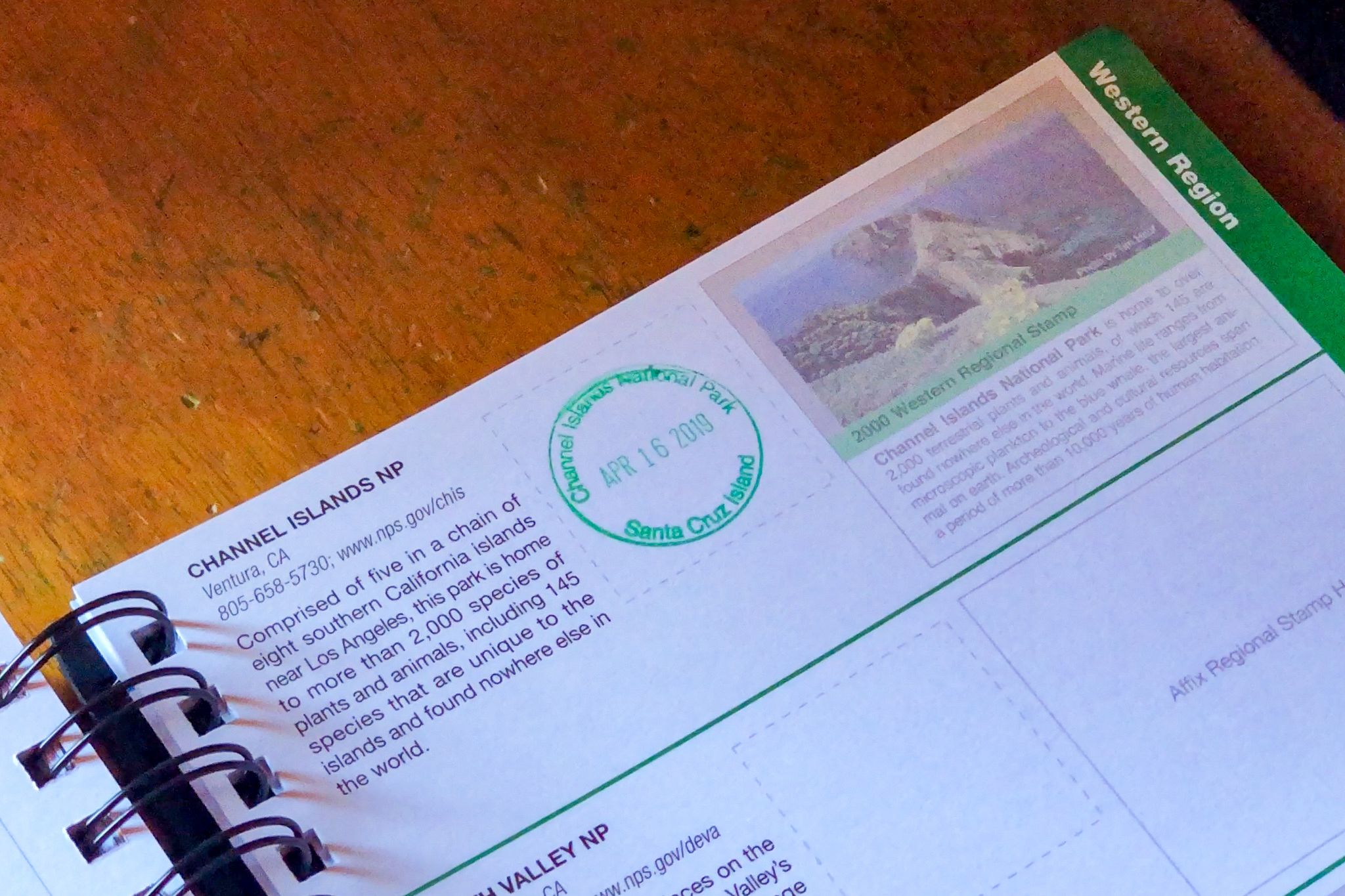 So keep reading and find out why the Channel Islands National Park ranks amongst our favorite National Parks!
Location
The Channel Islands are located off the coast of California. Scorpion Anchorage on Santa Cruz Island is about 20 miles across the Santa Barbara Channel from Ventura, CA.
Video
History
Despite their proximity to the densely populated area of Southern California, their remoteness has helped to keep them relatively undeveloped - almost.
Although they weren't known about by modern explorers until 1542 when Juan Rodríguez Cabrillo (of Cabrillo National Monument fame) sailed through, he found the islands inhabited by 2-3,000 Chumash people in 21 villages across the three Northern islands - Santa Cruz, Santa Rosa and San Miguel.
Radiocarbon dating of fire areas, burned bones and fire pits shows human habitation dating back as far as 37,000 years ago!
Rolling the clock forward to the 20th century and two of the islands, Santa Barbara and Anacapa, were designated as a National Monument in 1938. On March 5th 1980, the Channel Islands National Park was formed by combining the existing National Monument with three more islands: San Miguel, Santa Rosa and Santa Cruz.
The area is further protected by the Channel Islands National Marine Sanctuary, an area which extends out 6 miles around the islands.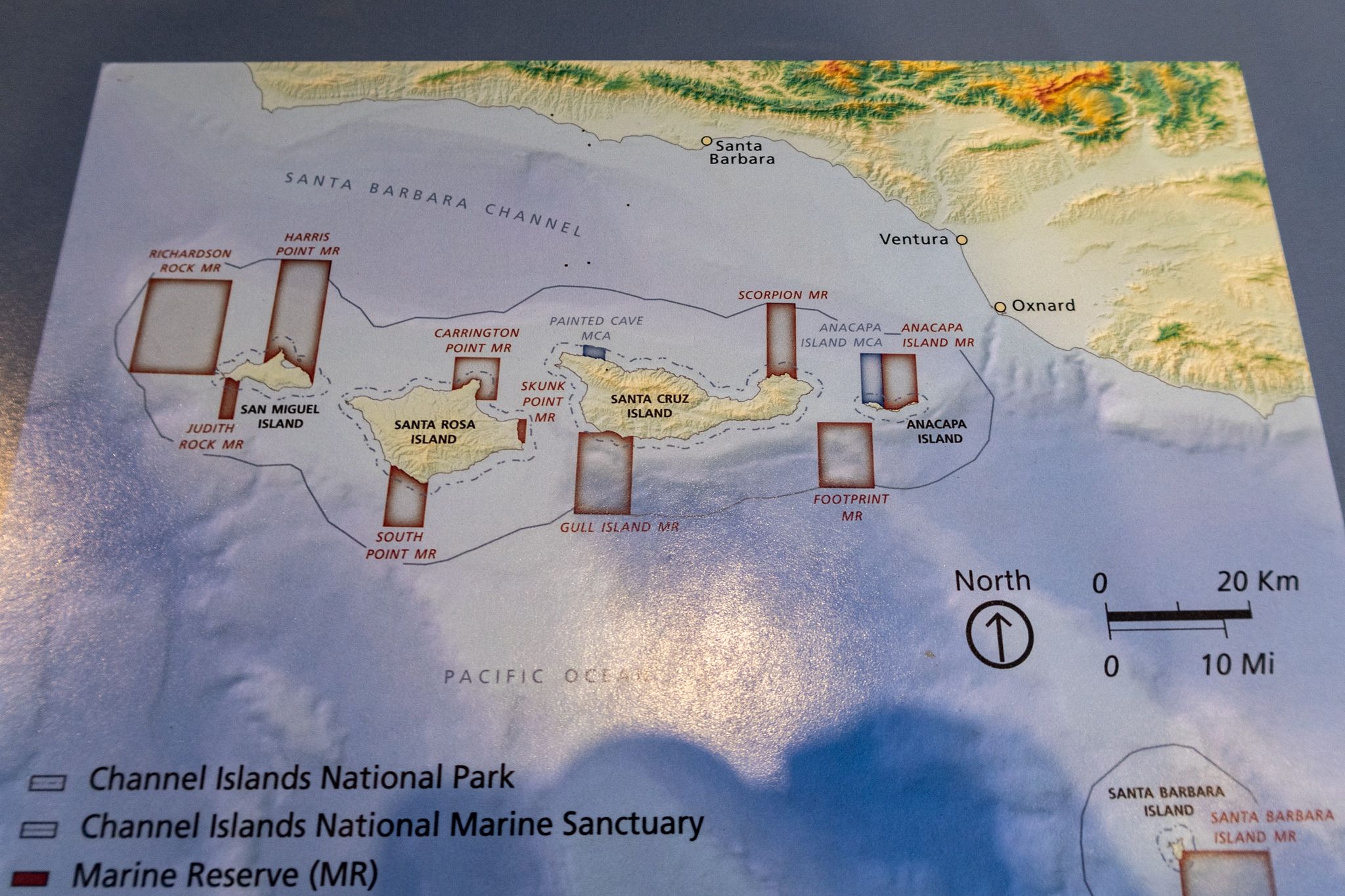 And as if that wasn't enough, the entire Channel Islands National Park, plus the remaining three Channel Islands were designated as a UNESCO Biosphere Reserve (like Organ Pipe Cactus National Monument) in 1976.
Incidentally, in case you were interested in visiting all 8 islands, then you should know that San Clemente Island and San Nicolas Island are operated by the US military. There are thought to be just a few hundred people in the world who have set foot on all 8 islands - making the so-called "All Eight Club" one of the most exclusive recognized geographic clubs in the world!
Flora & Fauna
With over half of the Park's 250,000 acres underwater, the waters around the islands are rich in biodiversity - including sharks (great white sharks, bull sharks and tiger sharks), sea lions and orcas.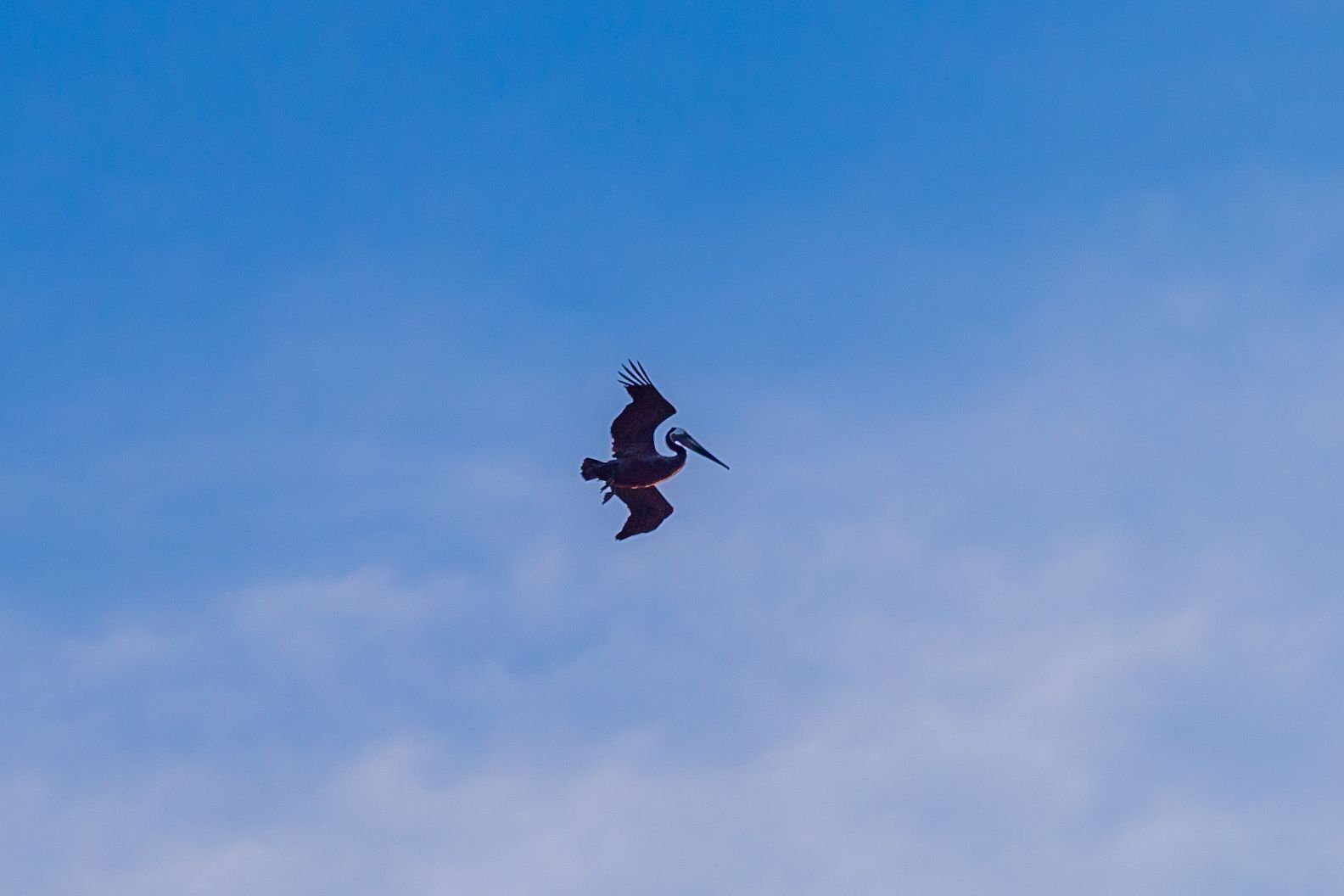 The isolation of the Channel Islands provides an environment in which over 2,000 species of plants and animals can flourish on land.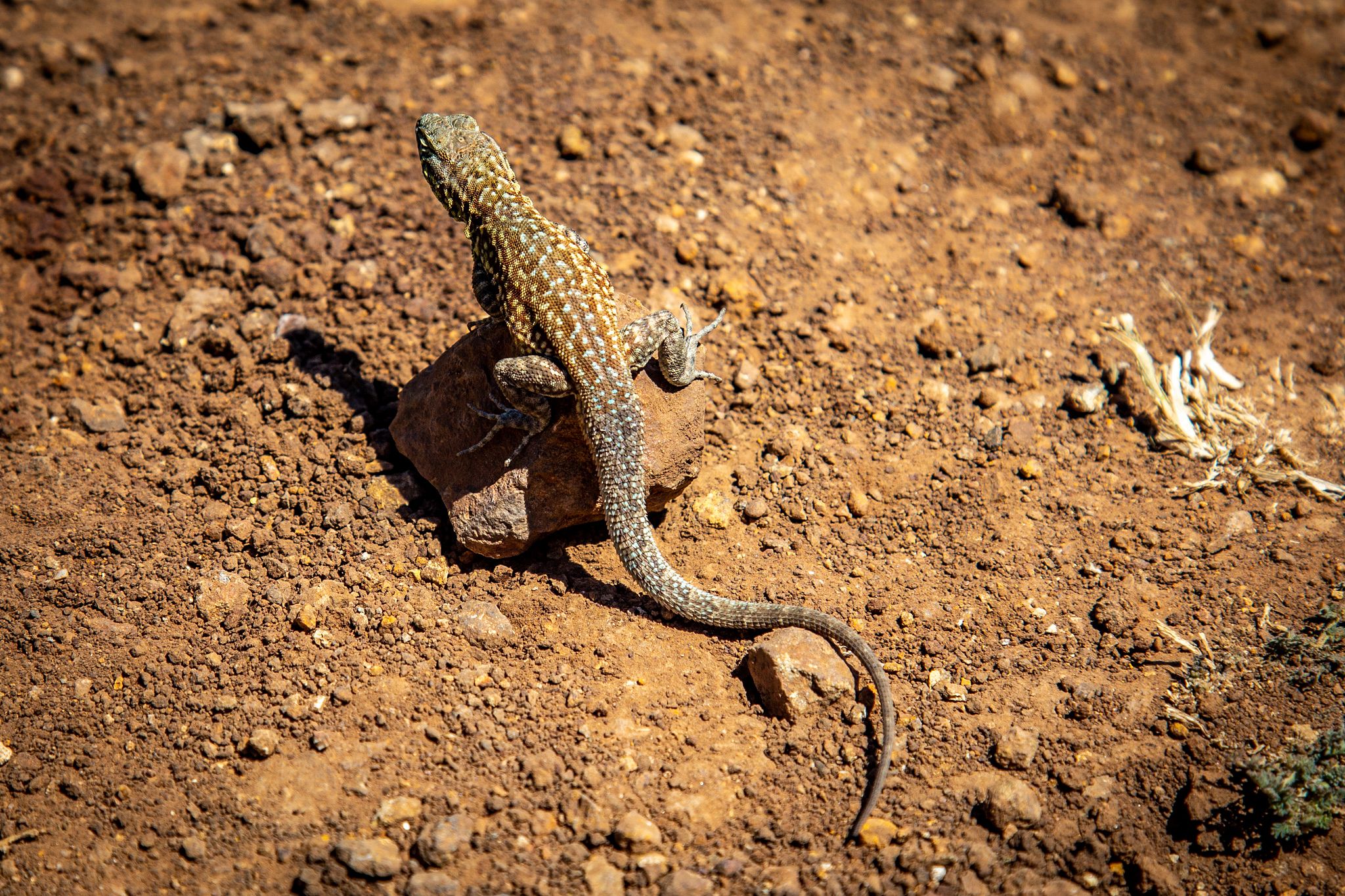 Of these, 145 species are endemic - in other words, unique to the Channel Islands and not found anywhere else in the world.
The most famous of these is the Island Fox - the smallest canine in California - which nearly became extinct in the 1990s but whose population has rebounded thanks to conservation efforts. In fact, there are six species of Island Fox in the Channel Islands - each unique to the island it lives on (2 islands have no foxes). It's now almost impossible to visit the Channel Islands without seeing an Island Fox - as we would soon learn...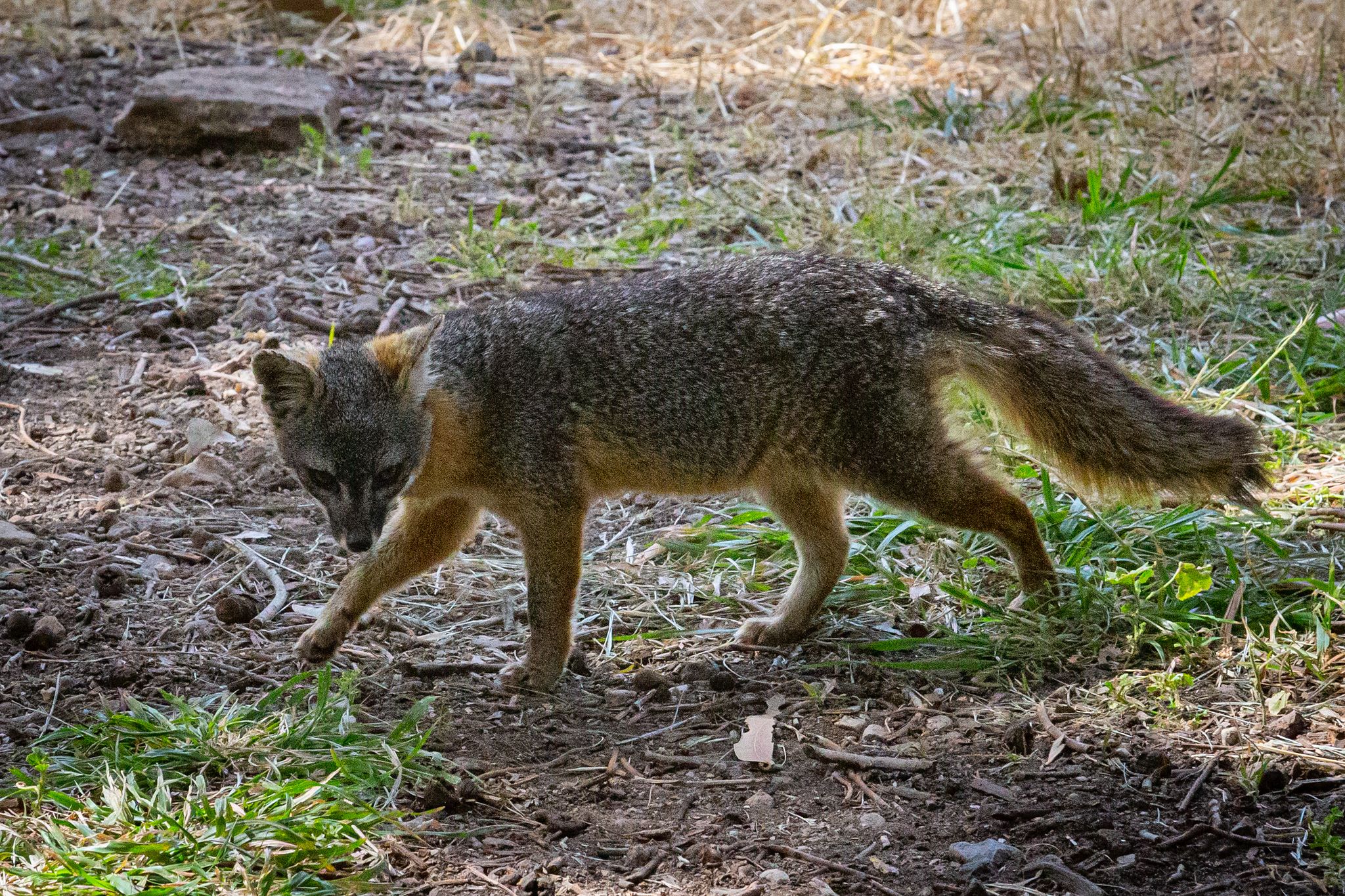 Oil Spill
On January 28th 1969, the Santa Barbara Channel played host to an unwelcome event - a huge blow-out that spilled around 200,000 gallons of grid oil into the waters around the Channel Islands.
The environmental impact was catastrophic. An estimated 3,600 birds were killed, and a plethora of marine life including dolphins and seals washed ashore.
The Santa Barbara oil spill, the largest in California and 3rd largest in the US, was pivotal in the formation of the Environmental Protection Agency (EPA).
Getting There
Whilst the Robert J Lagomarsino Visitor Center is located on the California mainland, the islands themselves are accessible only by boat (or plane) - either operated by the Park or privately run.
Further, there is no transportation on the islands - prepare to walk or kayak!
We chose to take the 1-hour long Island Packers ferry ride from Ventura Harbor to Santa Cruz Island. Be aware though that you can't book a multi-day ferry trip without a camping reservation, so take care planning.
There's plenty of parking at Ventura Harbor, and we were able to leave both our truck and trailer there. We were told that the parking lot has a 24/7 security patrol, but we tried to park somewhere very open so it would be obvious if anyone tried to break in. We also parked the truck blocking the door to the trailer to further discourage people.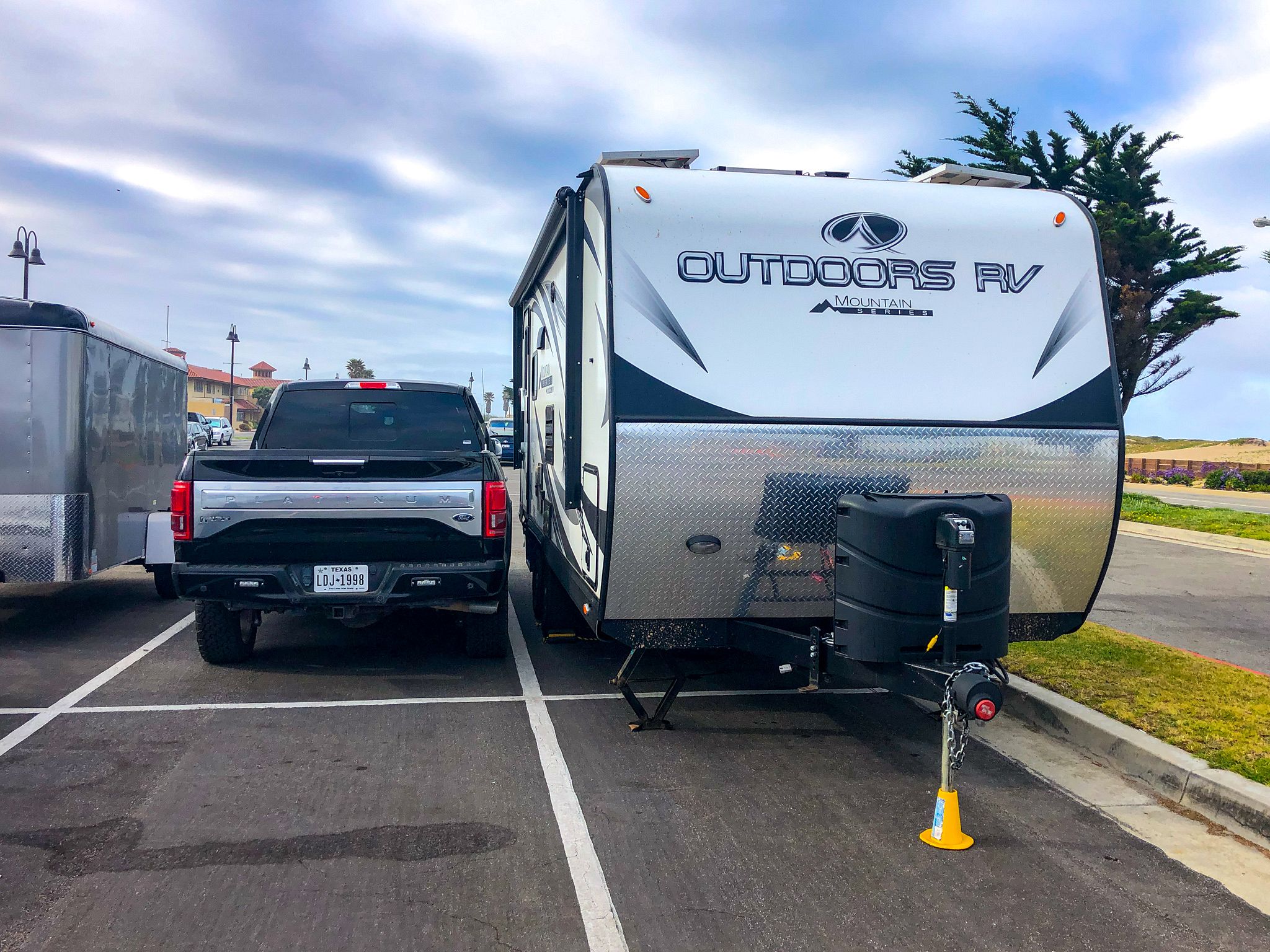 It all worked out fine - our truck and trailer were safely unharmed when we returned!
Itinerary
Our plan was to camp on Santa Cruz Island for 2 nights. Camping on the islands requires booking a specific campsite, and reservations do fill up so plan accordingly.
Camping
In fact, when we made our reservation, we couldn't find a site available for 2 nights when we wanted to visit. Instead, we booked 2 separate campsites - one for the first night and another for the second night.
The campsites are very close together, and each one has a locker. So on the morning after the first night, we packed up our tent and spoke to the person who was in our new campsite and she kindly let us leave our tent and other camping items in the locker for the day while we went out exploring.
It's also worth noting that you have to pack in and out everything on the island - and I mean everything. There is potable water available in the campground, but otherwise you need to take your own.
There are strict limits on how much gear you can take, and they did weigh everything before we boarded to check. When we traveled, the limit was 60lbs per person (excluding water), and no single item over 45lbs. I highly recommend familiarizing yourself with the rules ahead of time though.
We have all our backpacking gear in our RV, so we packed up as though we were going backpacking - our tent, sleeping pads, sleeping bags, fuel stove, etc.
Although we camped on Santa Cruz Island at Scorpion Canyon Campground, there are campgrounds on Anacapa, Santa Rosa, San Miguel and Santa Barbara. Scorpion Canyon is the largest with 31 campsites - others have between 7 and 15 campsites. Access to the other campgrounds varies - anything to up a 1-mile steep uphill hike - so it makes sense to do your research.
Ferry Ride
The ferry ride over was reassuringly uneventful - a smooth sailing. On board, we kept an eye out for seals, dolphins and whales - and had a couple possible sightings!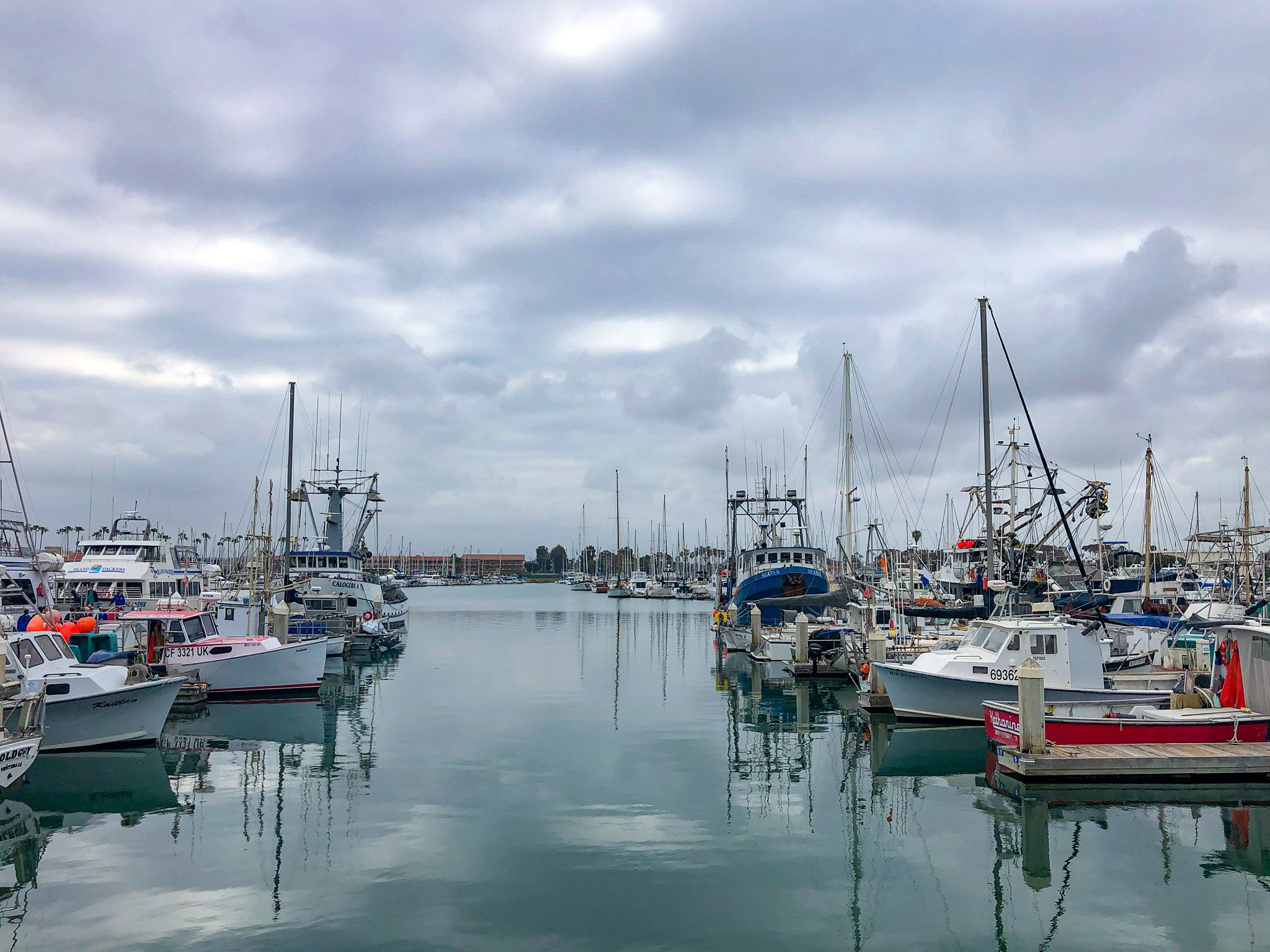 Taking a ferry to the Channel Islands made the whole experience feel very different to our normal National Park visits. As millennials who run an online business, we're used to being connected 24/7. As the ferry sails further and further away from the harbor, we watched as the signal dropped away on our phones.
Eventually we were completely disconnected and truly able to enjoy our time on the islands.
Our ferry docked at the Scorpion Anchorage on Santa Cruz Island. We waited a few minutes to collect our belongings - gear, water and fuel are all stored separately for the crossing - and climbed the ladder onto the shore.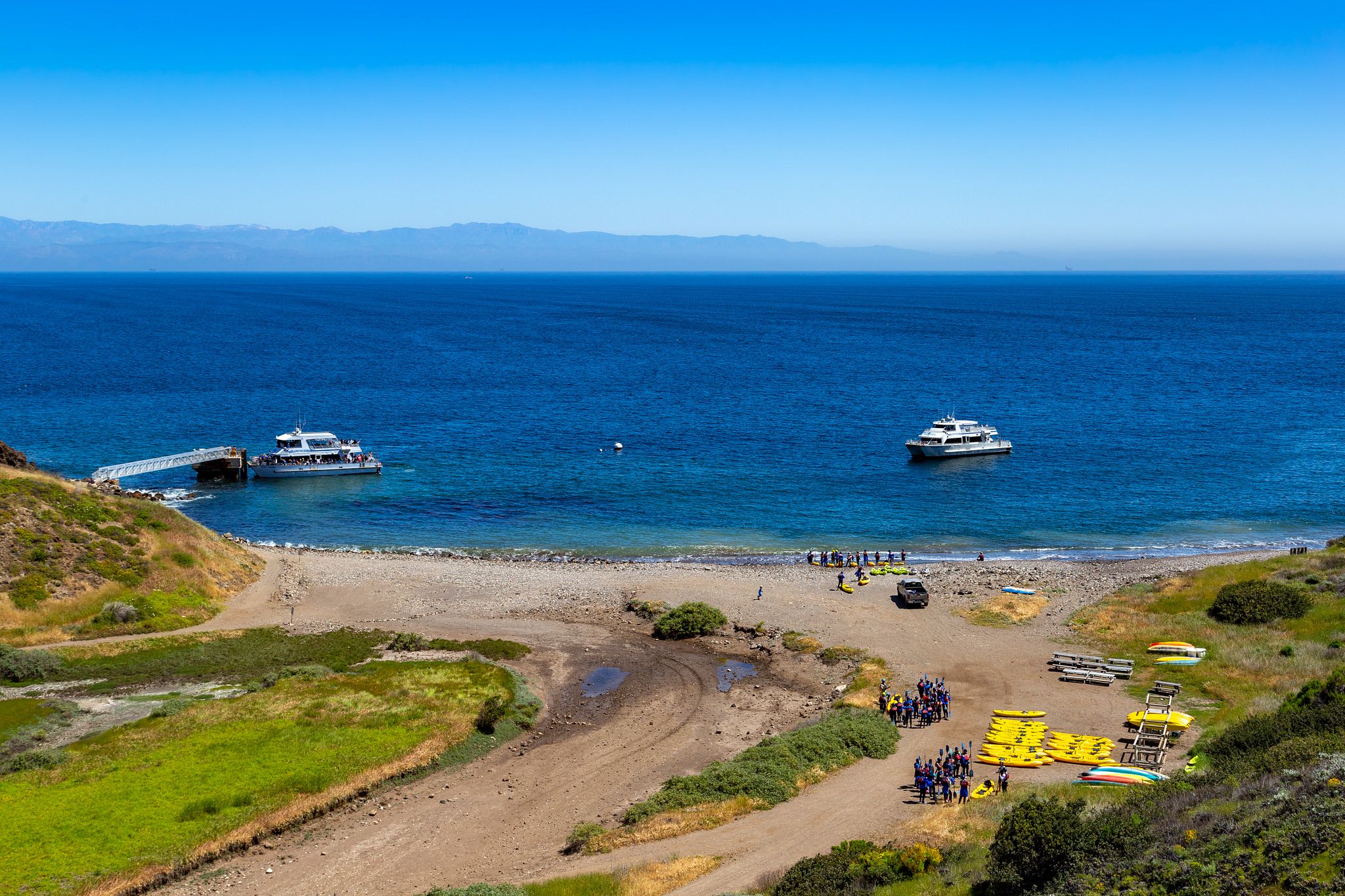 We had no time to waste, as we had booked onto a kayaking trip with Channel Islands Adventure Company and most people were day-trippers so hadn't had to wait to collect gear. We lugged all our gear (we had tried to pack light, knowing we'd have to carry everything!) the short 5-minute walk to the kayaking area.
Kayaking
Our goal is to explore, not just visit, every single National Park Unit in the US. That means trying to find ways to experience each National Park the best we can - and at Channel Islands, that means kayaking!
They provided all the kit we needed, including clothing and kayaks - most people, like us, were in tandem boats. We even managed to find a helmet that a previous visitor had attached a GoPro mount to.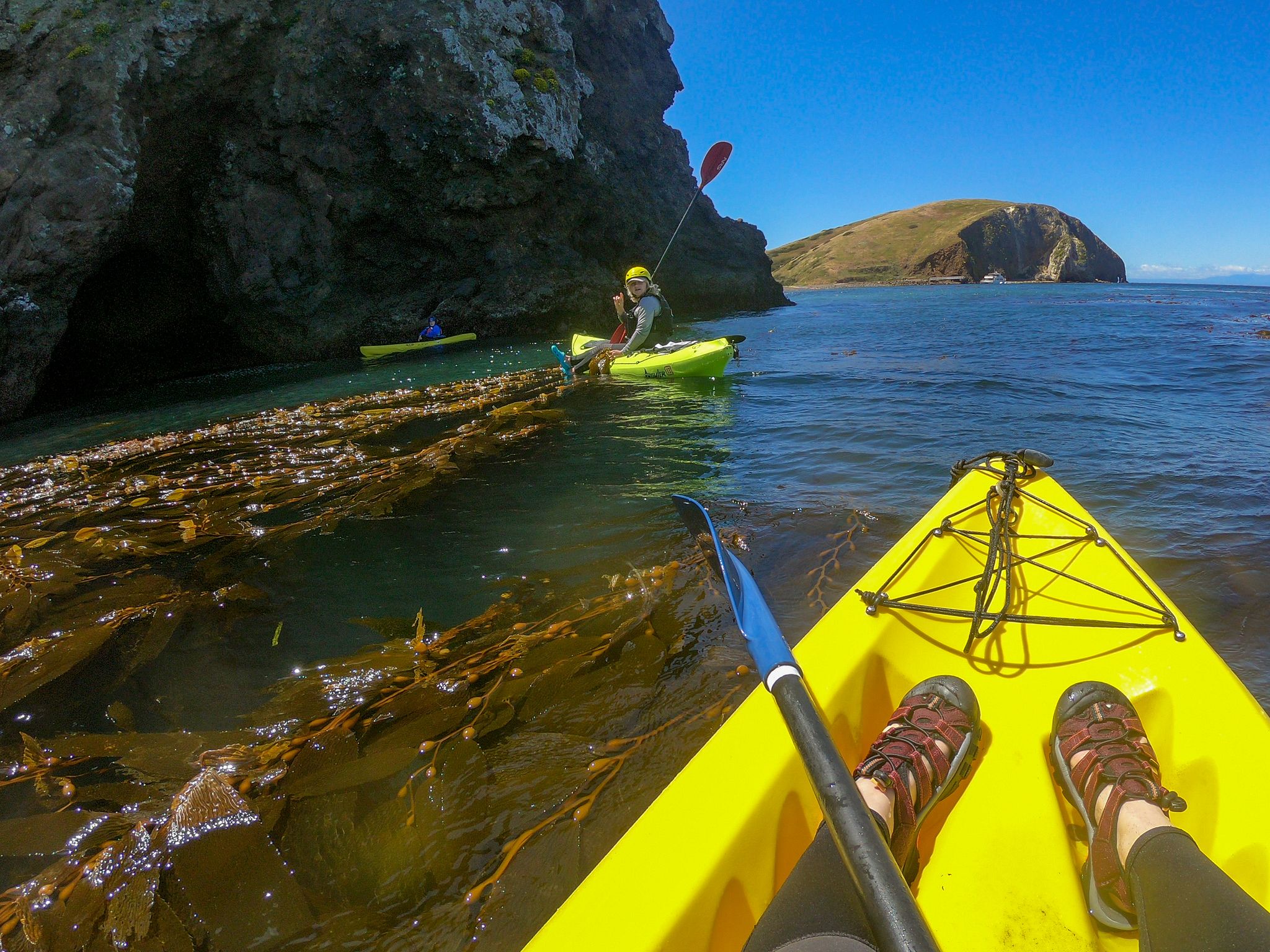 With two guides and around a dozen or so other people, we carrier boats down to the shore line and launched into the water back down near the Scorpion Anchorage where we had arrived shortly before.
Sea Caves
Our kayak tour was 3-hours long, and that was just about a perfect time to explore the rugged coastline. We set off west around to Cavern Point, with our guides sharing information about the Channel Islands and the flora and fauna that live there.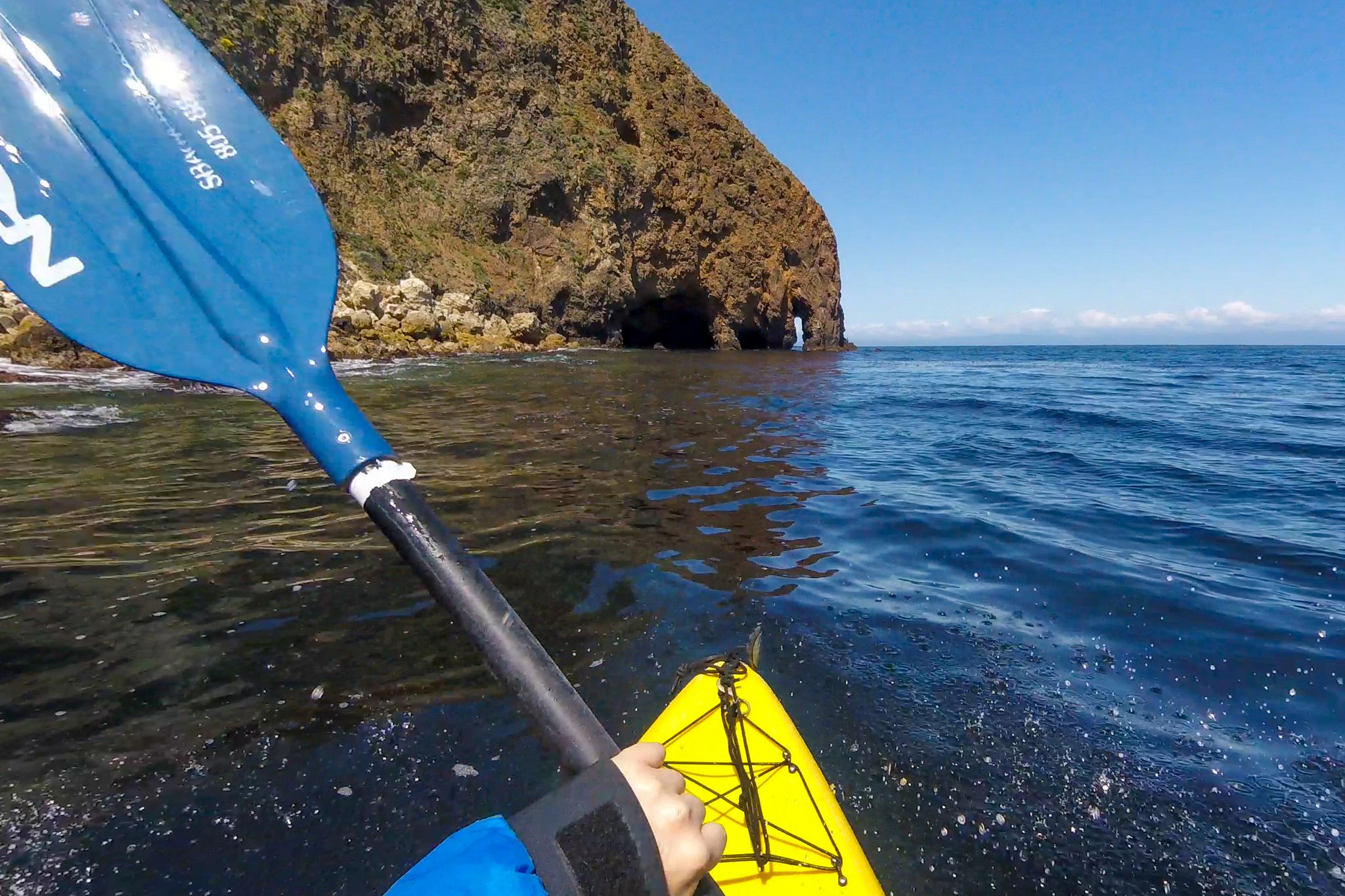 While we didn't see any marine life swimming around us in the kayaks (which, given there are several species of shark in the area, I was very OK with!), we did kayak through 3 sea caves. On its own this was really good fun, but even better was there were seals resting on a small beach inside one of them! We were careful not to get too close and give them their space, but it was a memorable experience!
Kelp Forests
There are some large kelp forests along the coastline - and the kelp floating on the surface has a nasty habit of wrapping around the paddles. But we got revenge!
As our guides informed us, kelp is edible (and is considered by some to be a superfood). As you might expect, it tastes a little bit salty, but was otherwise pleasant!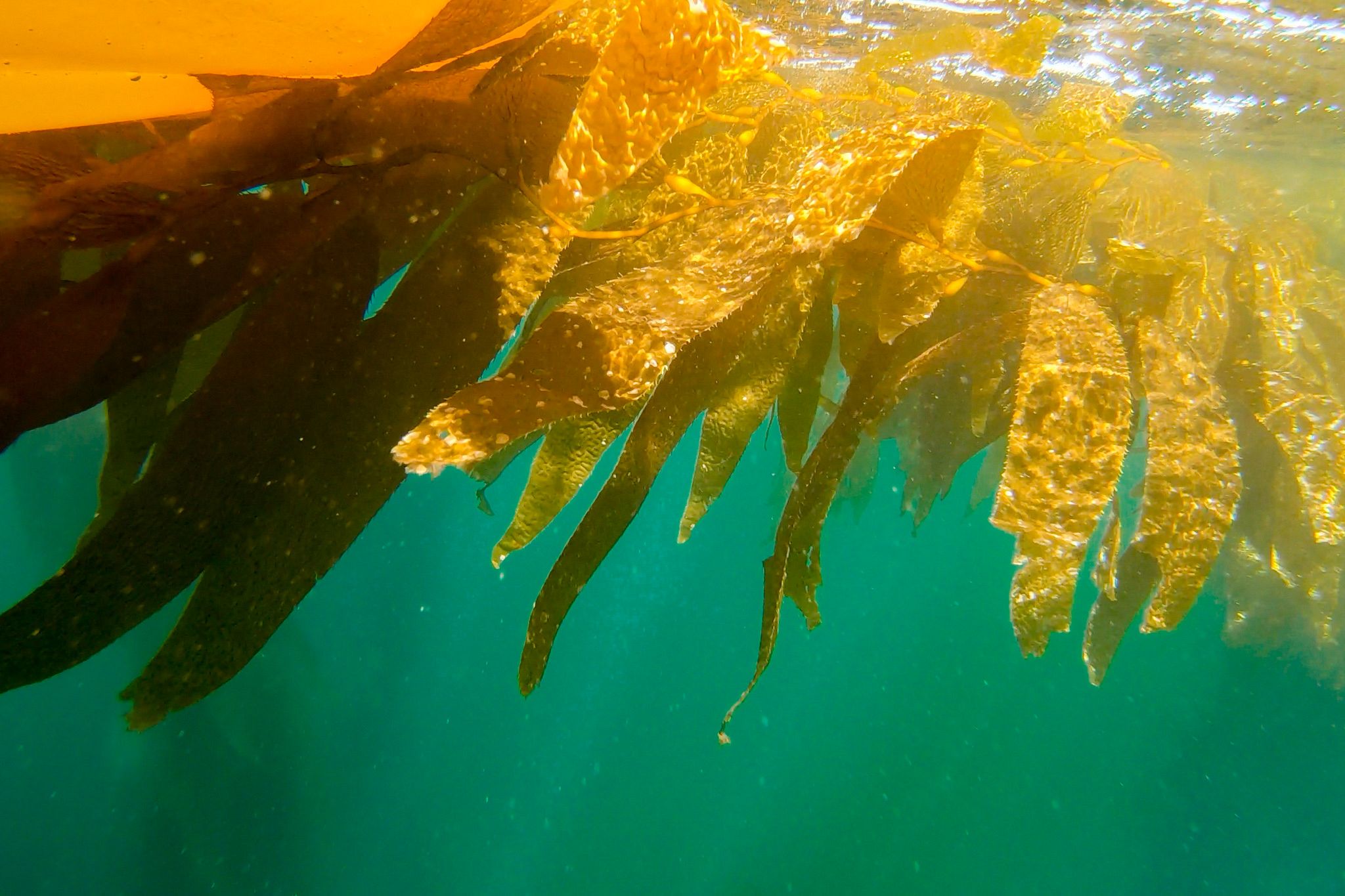 Scorpion Marine Reserve
Heading back past Scorpion Anchorage, we paddled a little further East, but still stayed within the Scorpion Marine Reserve.
We stopped at a little rocky outcrop, separated from the Island by a thin stretch of water. Except it wasn't.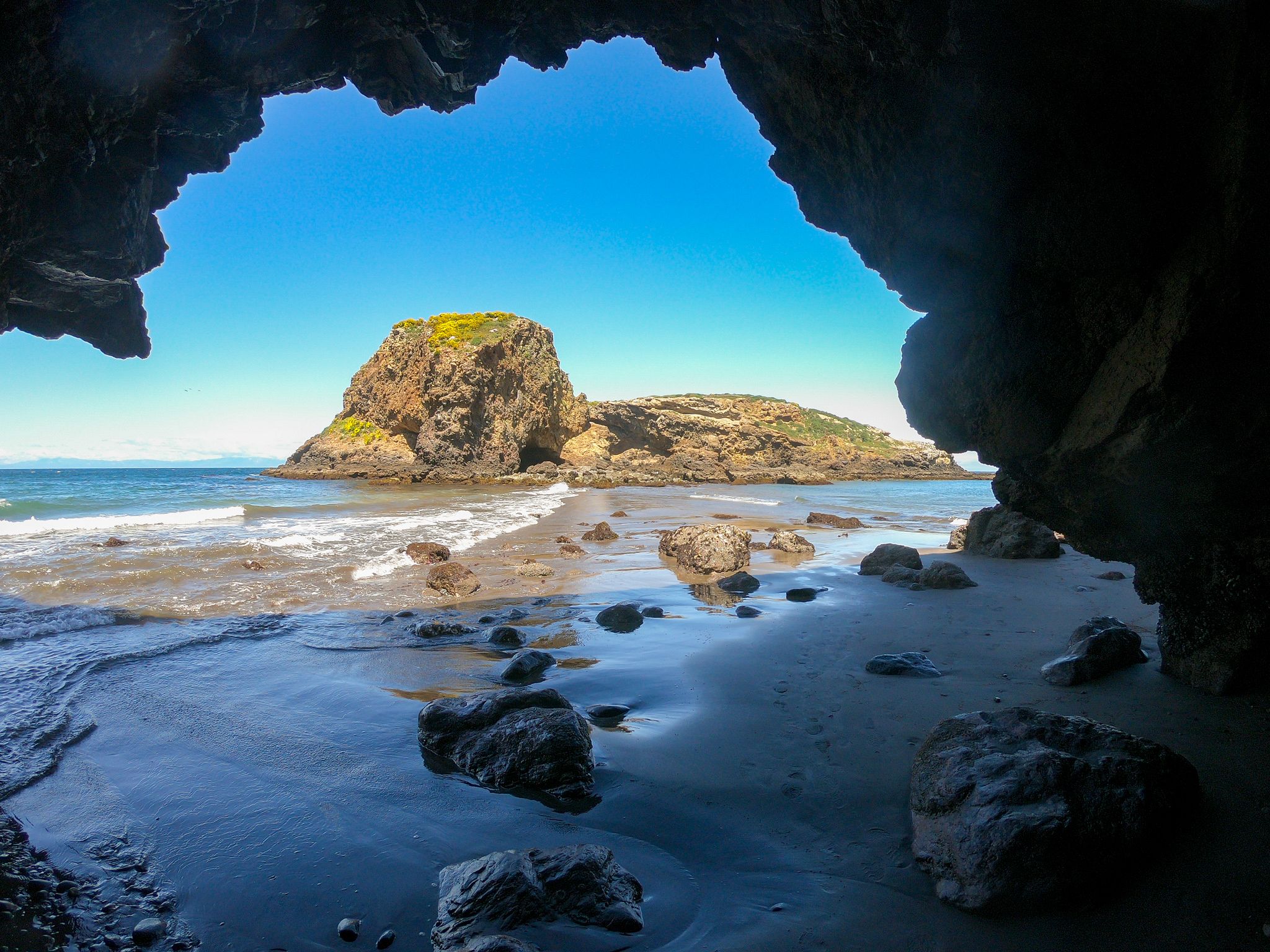 Our guides said they had never seen the sandbar forming a land bridge to the island - yet the tide was evidently so low that it was there! We landed our kayaks on the beach on the main island, and stepped ashore.
In the rock pools along the shoreline we found lots of marine life - including sea anemones and starfish!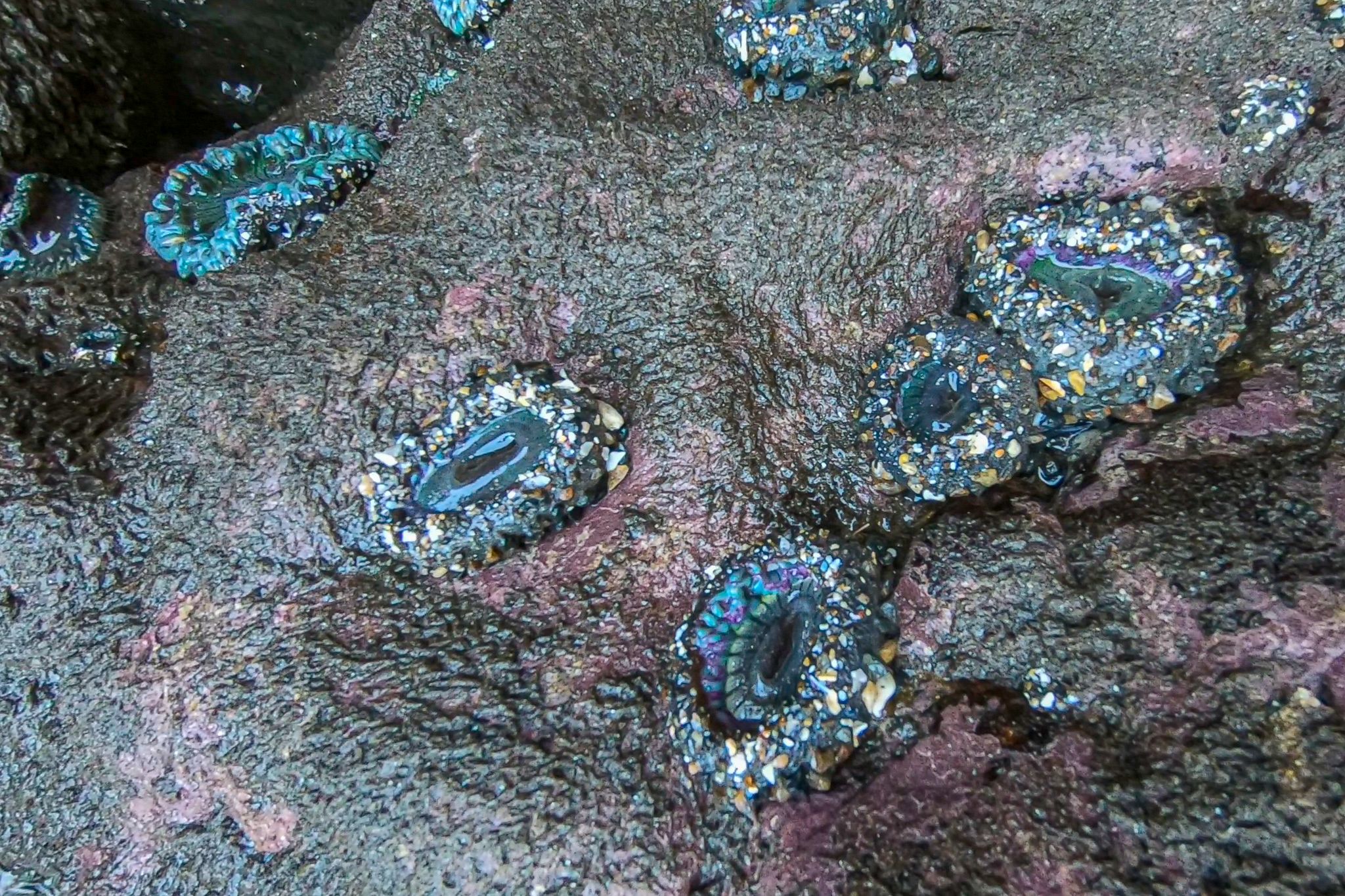 The rocky outcrop is a protected area for wildlife, so although we stepped onto the sandbar, we didn't cross it to the other side. We must never forget that the National Parks are home to diverse and sensitive ecosystems and we are just visitors.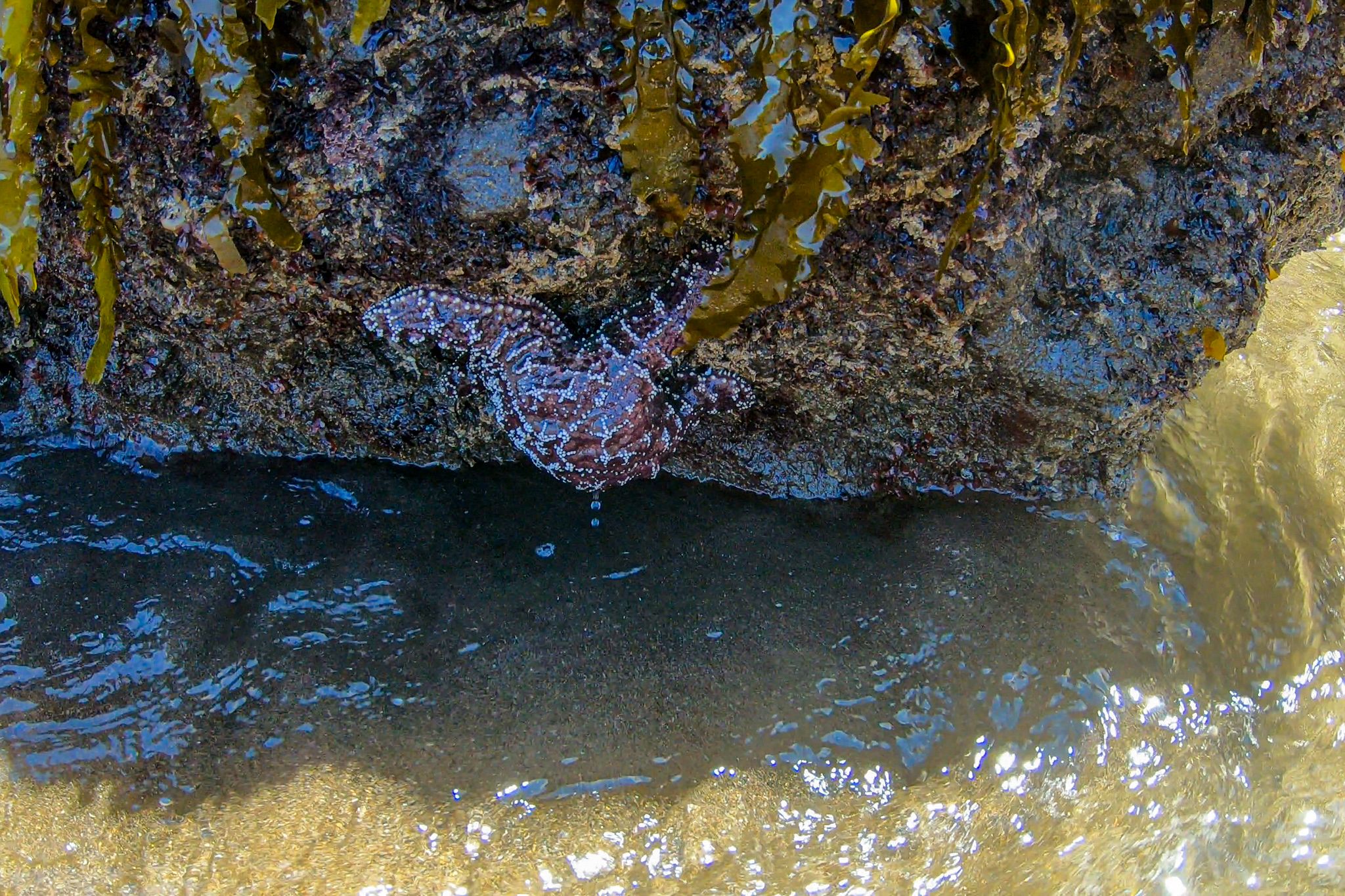 From here it was a short paddle back to Scorpion Anchorage to land the kayaks and get changed.
Scorpion Canyon Campground
The only water available on Santa Cruz Island is potable water in Scorpion Canyon Campground, so no post-kayak shower.
We had left our gear in some big storage bins while we went kayaking, so we still had to carry it up to the campground. It wasn't too far - another 5 minutes or so - but just bear that in mind when you're packing.
It was late afternoon already, so we started setting up camp. Each of the 31 campsites has a picnic table, bear locker and space to pitch the tent. There are no fire rings since neither campfires or charcoal fires are allowed due to the extreme fire danger. All the sites are located fairly close to one another, but it didn't feel at all claustrophobic. It looked like there were lots of families enjoying a family camping trip!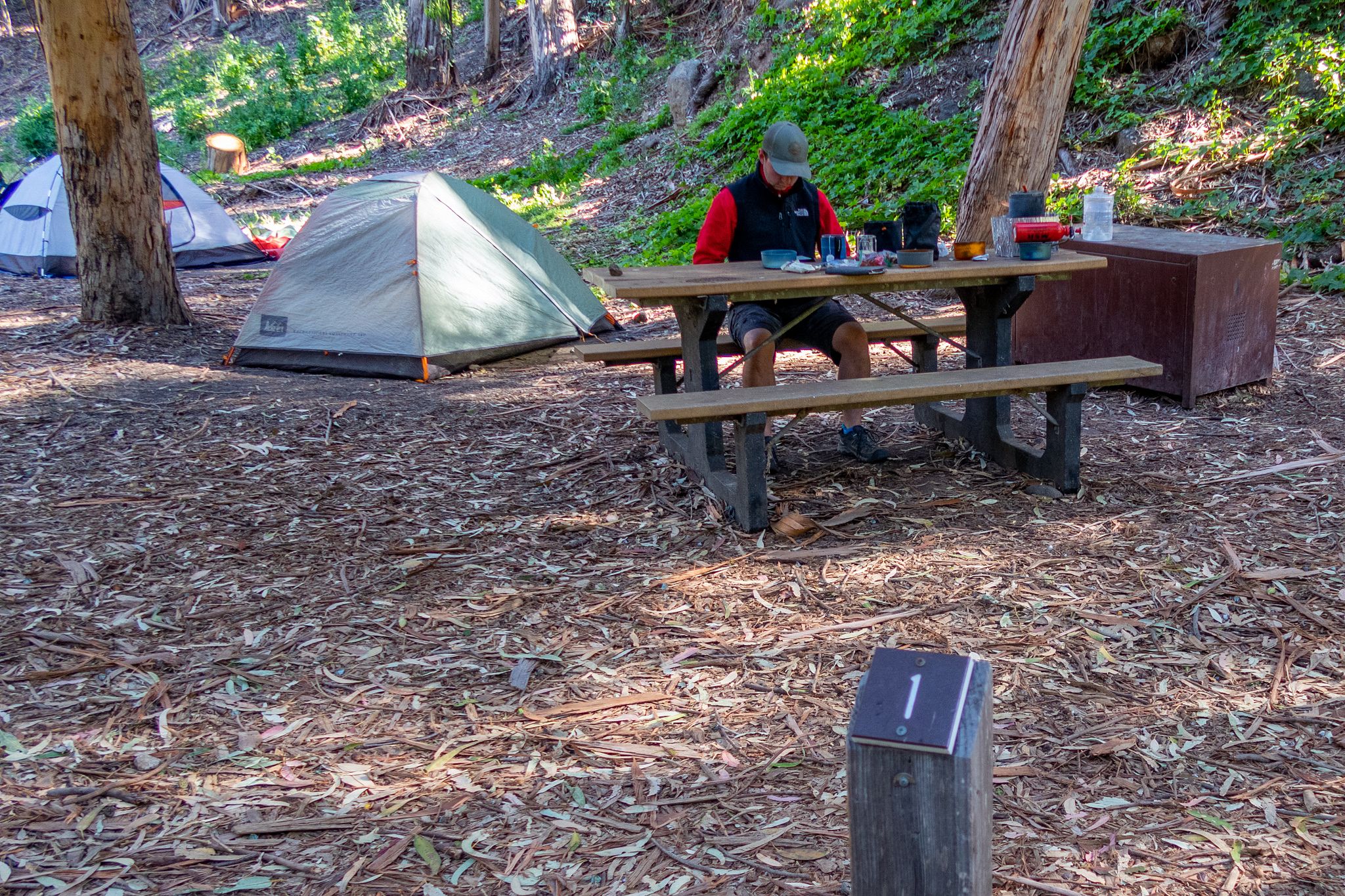 Our tiny 2-person (well, so Diana claims - I think it's a 1-person) tent is quick to erect, and within no time at all we had the tent set up and water boiling on the stove for a cup of tea!
It would be remiss of me to talk about camping in the Channel Islands without again mentioning the Island Foxes. Living up to their reputation, these are cunning animals! They seemingly have no fear of people at all, and will sniff around looking for food within feet of you.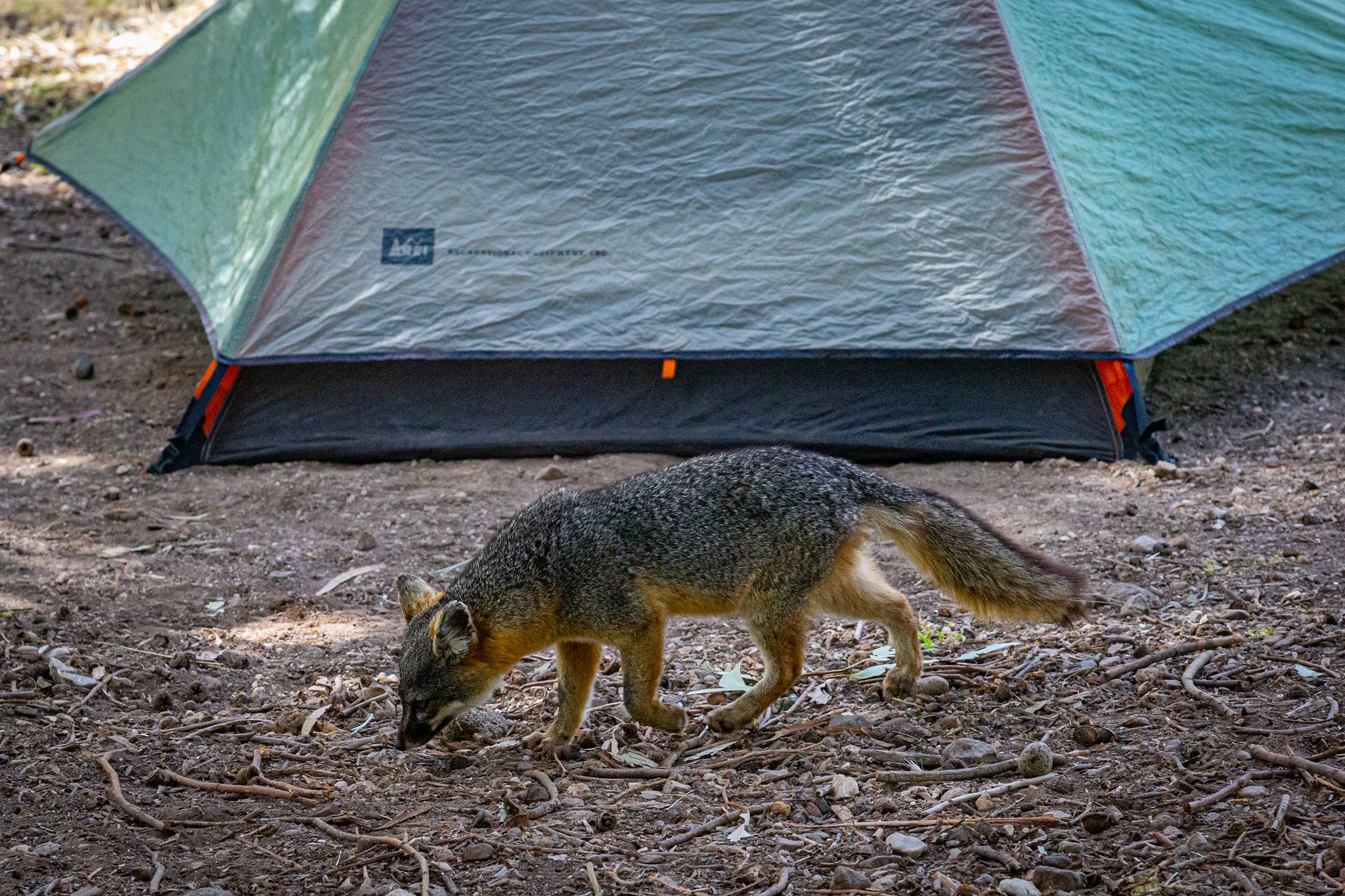 The NPS is very clear - do not leave ANY food, trash or scented items unattended. Not even for a few seconds. Use closed storage boxes and the bear locker to keep everything secure.
In fact, the Island Foxes and ravens on Santa Cruz Island are capable of opening zippers!
That night we slept great - the quiet rustling of the leaves in the wind the only noise we could hear.
Smuggler's Cove Hike
We had a leisurely morning the next day - taking our time to enjoy a quiet breakfast and pack up our tent ready to move to our new site.
Around 11am we set off on our hike for the day - Smuggler's Cove Hike.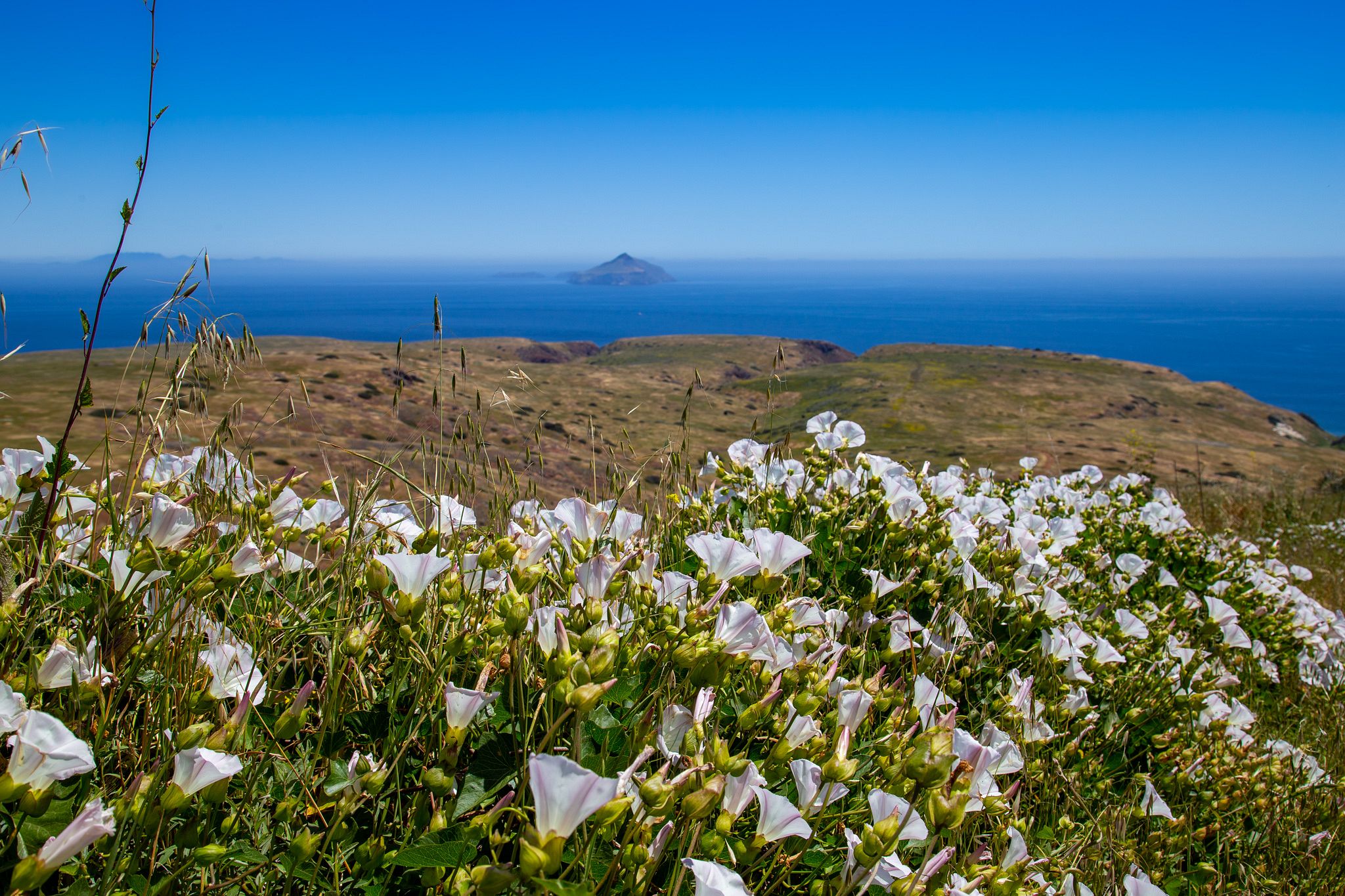 The hike leads down towards the beach before climbing up onto the ridge along Smugglers Rd - offering beautiful views out across the sea towards Anacapa with fields of wildflowers in the foreground.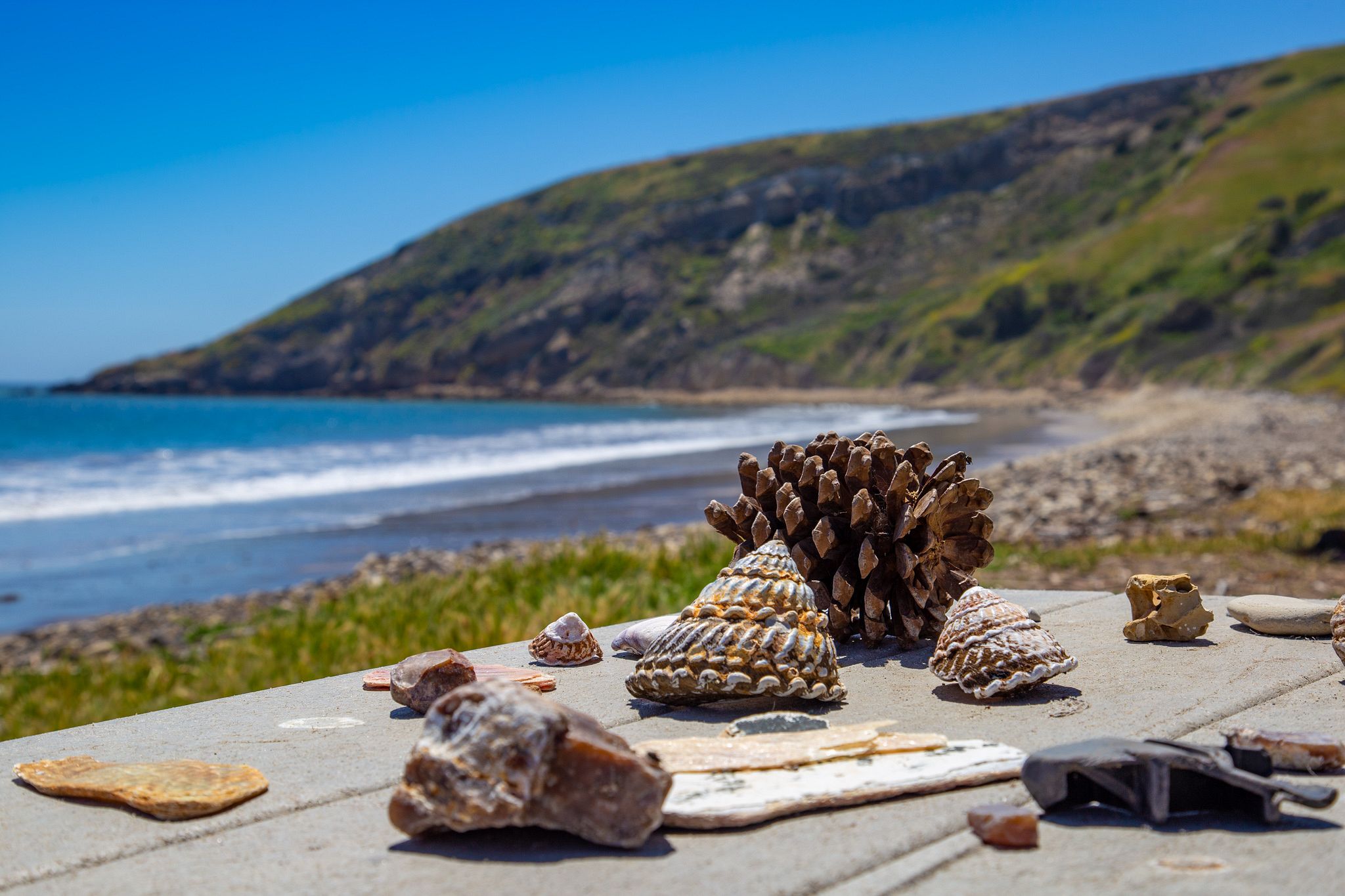 Climbing from sea level (obviously!) up to around 730ft, we hiked 3.7 miles to reach Smugglers Cove. The beach was absolutely beautiful, and we enjoyed our packed lunch at one of the picnic tables. There's even a sign on the beach, welcoming visitors who land by private boat.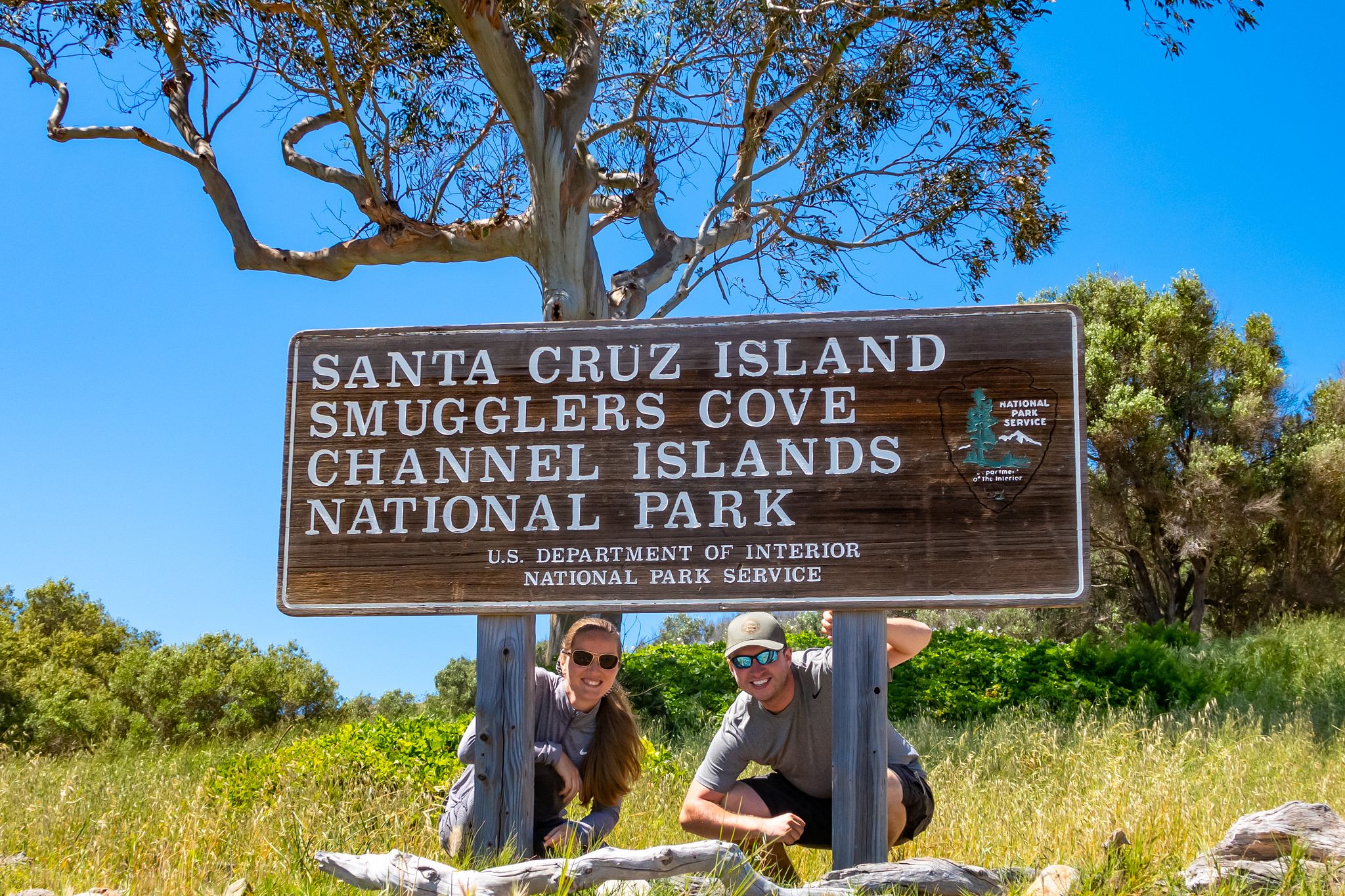 Less than a quarter-mile away is Smugglers Ranch. As interesting as it was to see, the fields of wildflowers stole the show for us!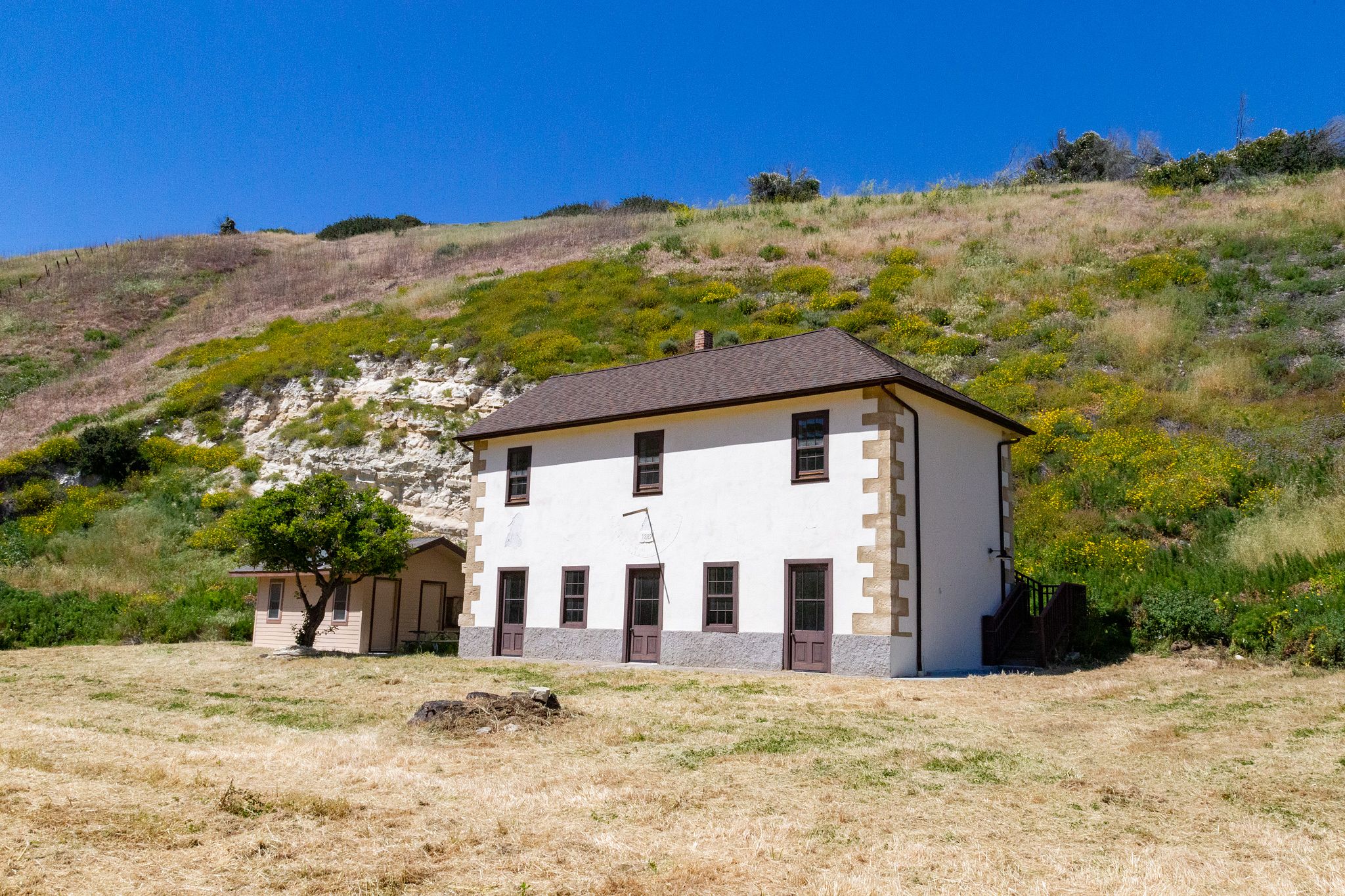 We followed the trail back towards camp for about 2 miles before taking a slightly different route home. This had been recommended to us by a Ranger in the campground.
While it was nice to see some new scenery, it was incredibly overgrown. Concerned that some of the plants may have been poisonous, we tried to keep our bare skin from touching them as we pushed through. Fortunately, we checked later and none were poisonous, but the overgrown trail wasn't particularly fun to hike.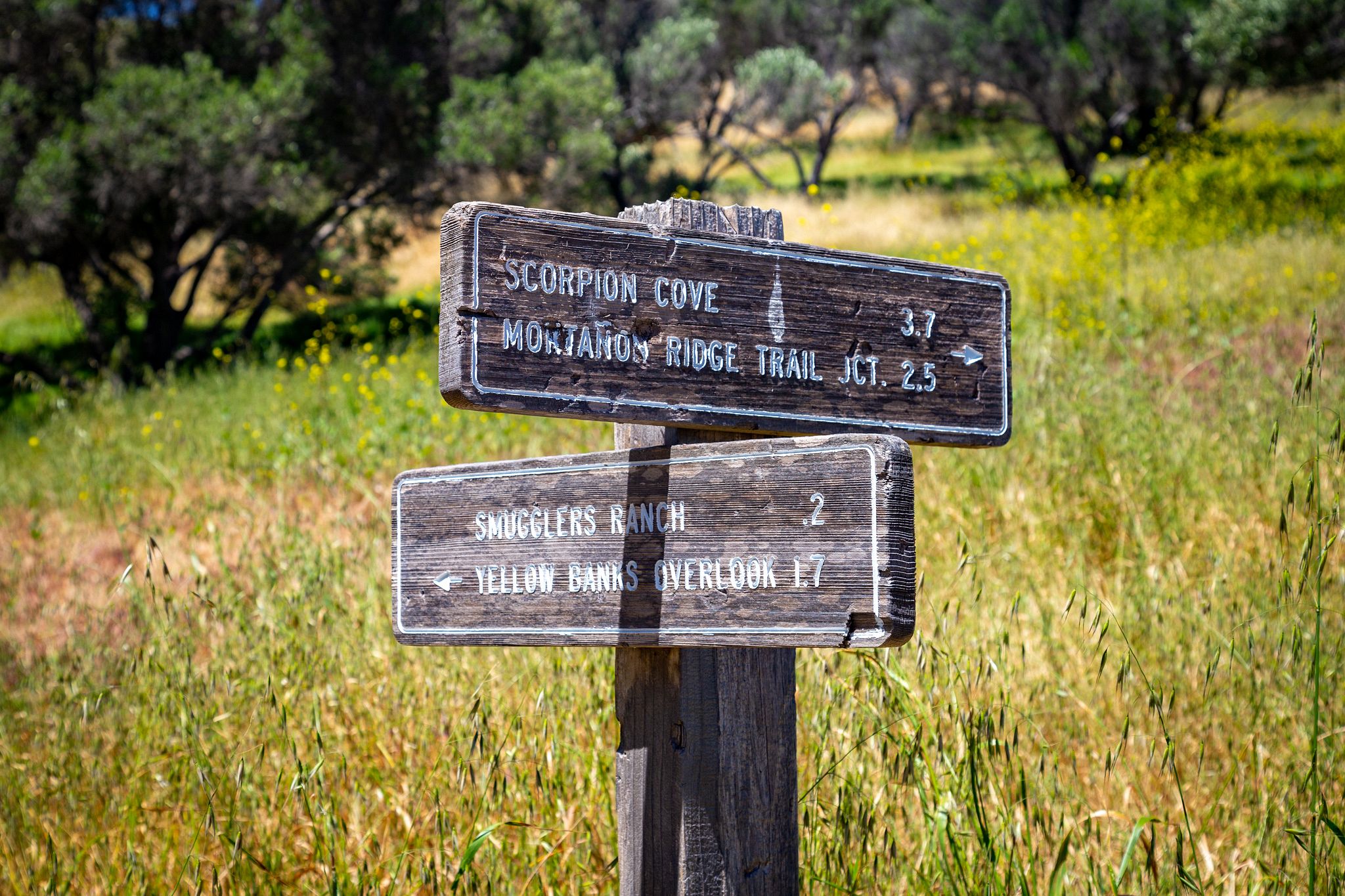 Check the conditions ahead of time if you can, and if in doubt, hike back the way you came instead - the views are still incredible!
In total, the Smugglers Cove Hike was an 8-mile hike with 1,545ft of elevation gain. If you're planning a day-trip to Santa Cruz, it's doable but you'll have to move pretty quickly to make your return ferry!
Sunset
We were in something of a rush to get back because we wanted to set up our new campsite before dark. And we wanted to go and spend sunset up at Cavern Point - just a 15-minute hike or so from the campground.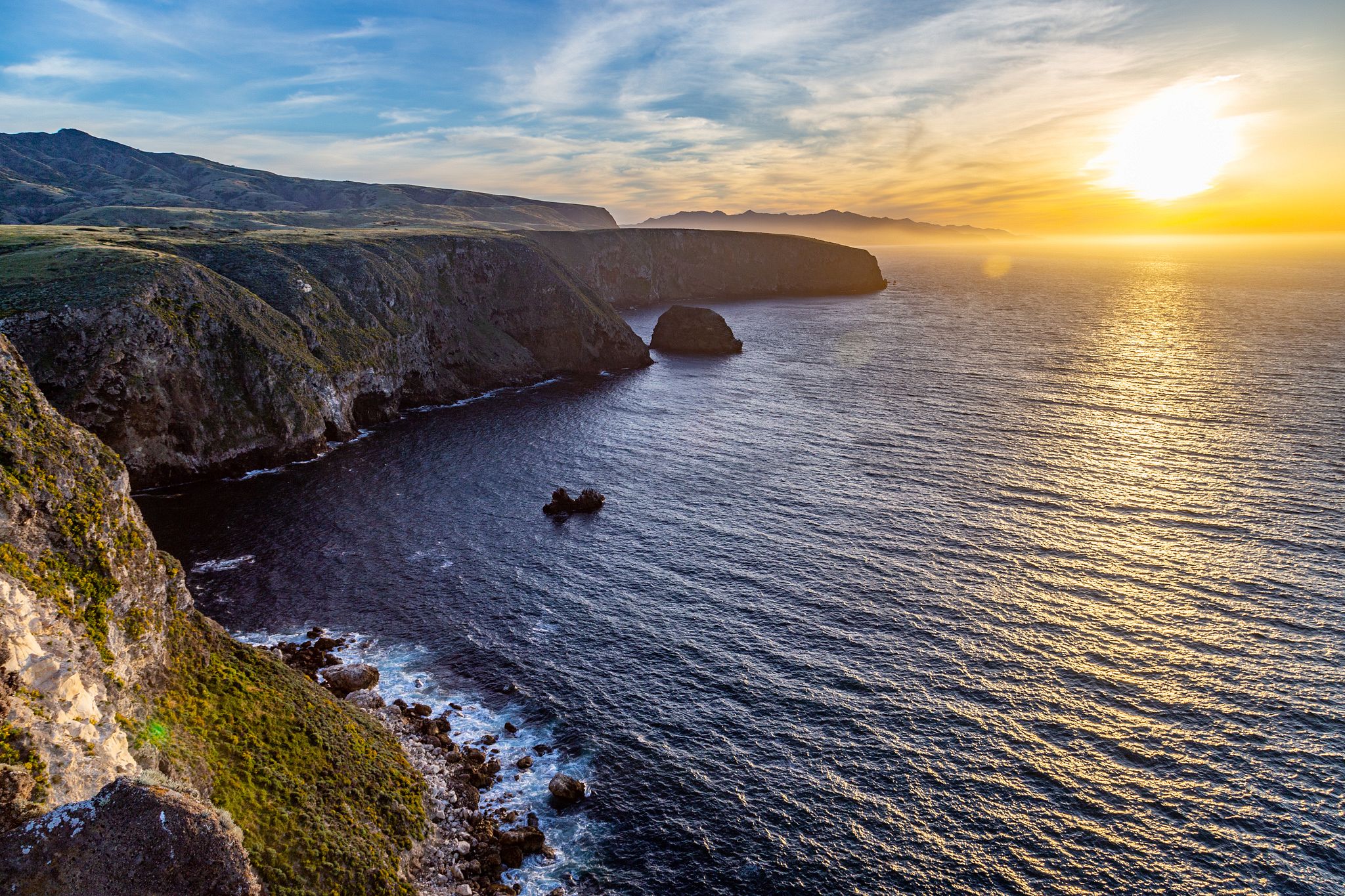 Wow. I make no apologies for the photos that come next...!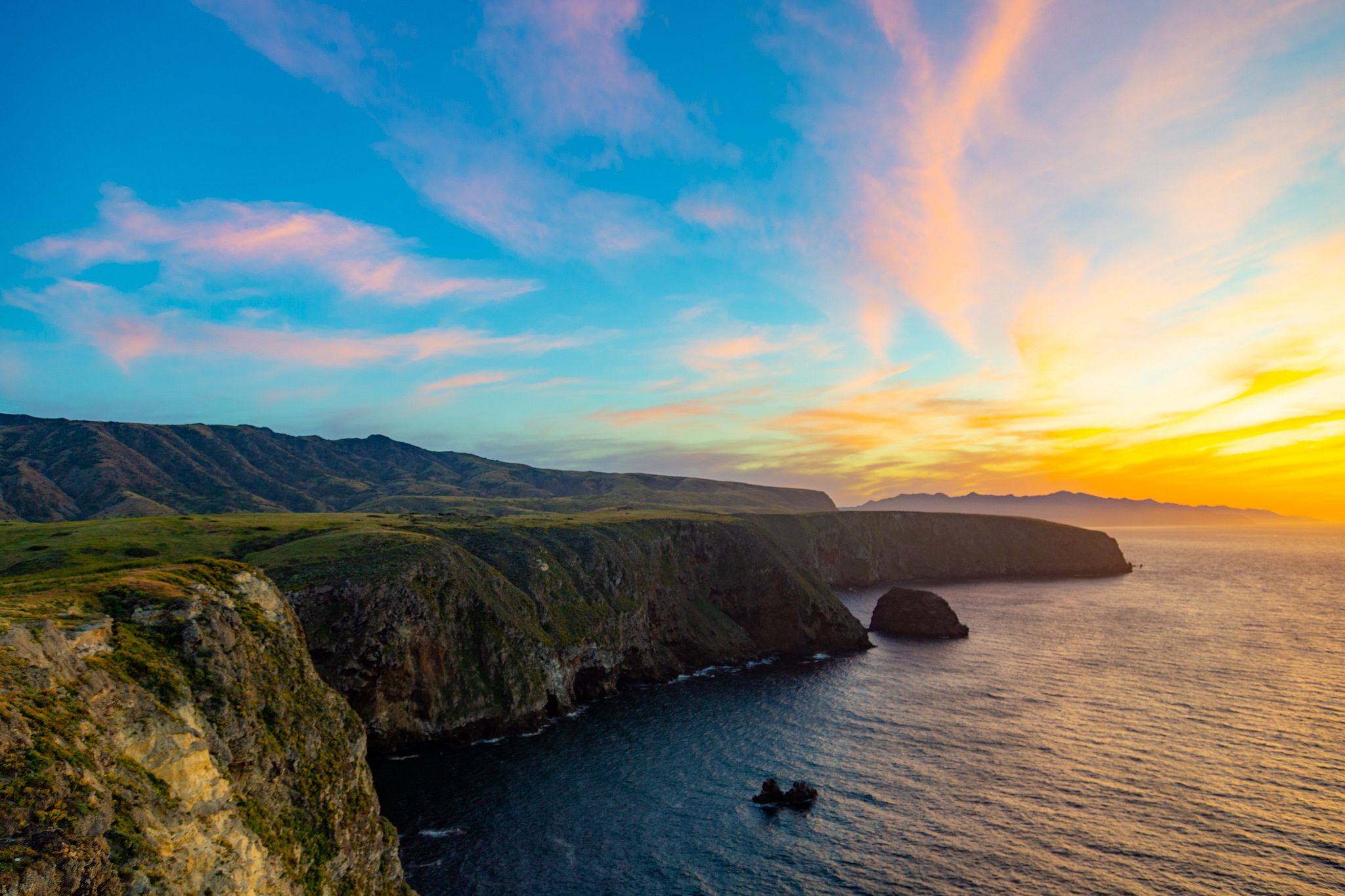 Boondocking in beautiful remote places as we often do, we're no strangers to incredible sunsets. But that sunset was one of the best I've ever seen; nature at its absolute finest!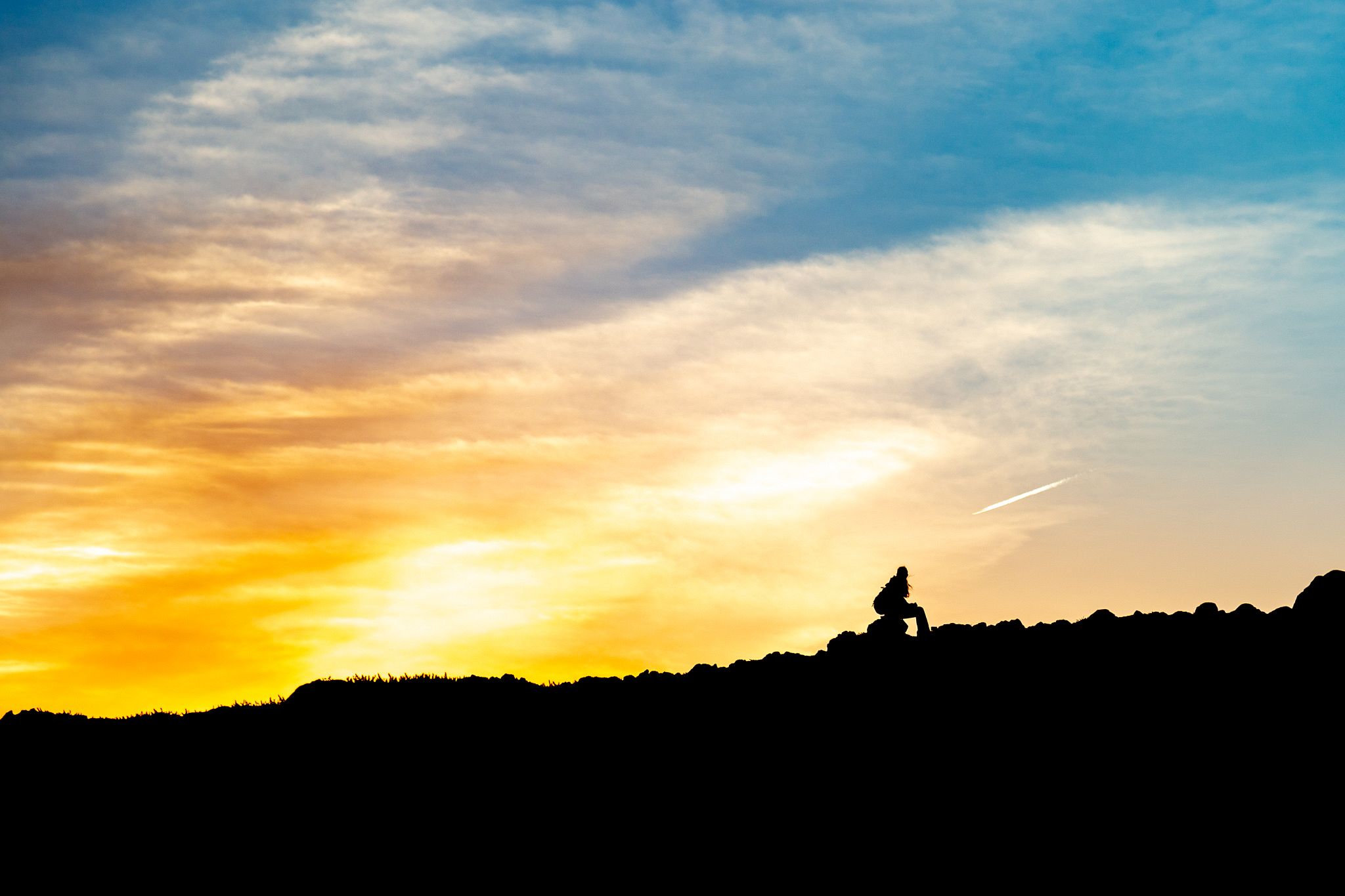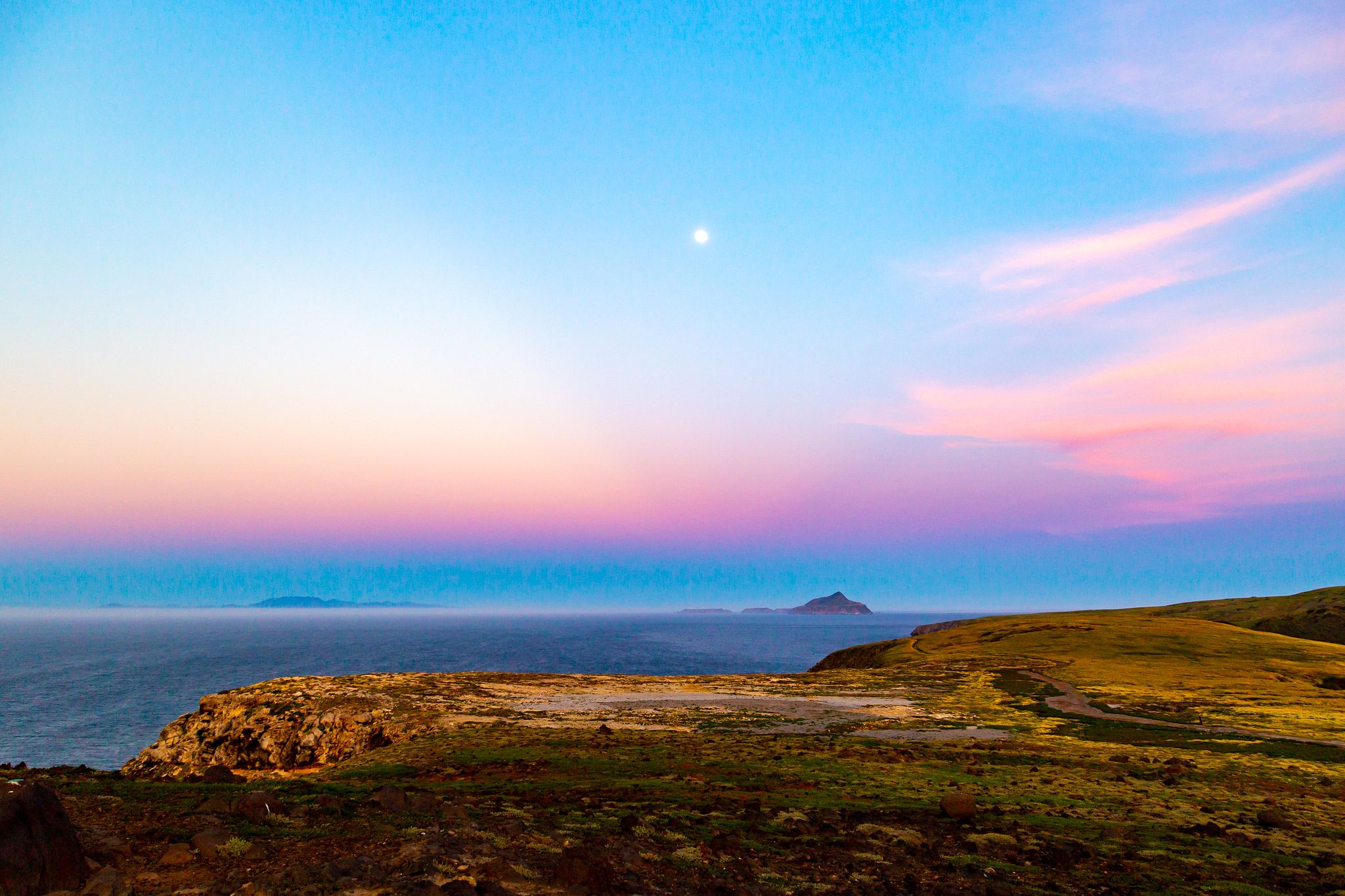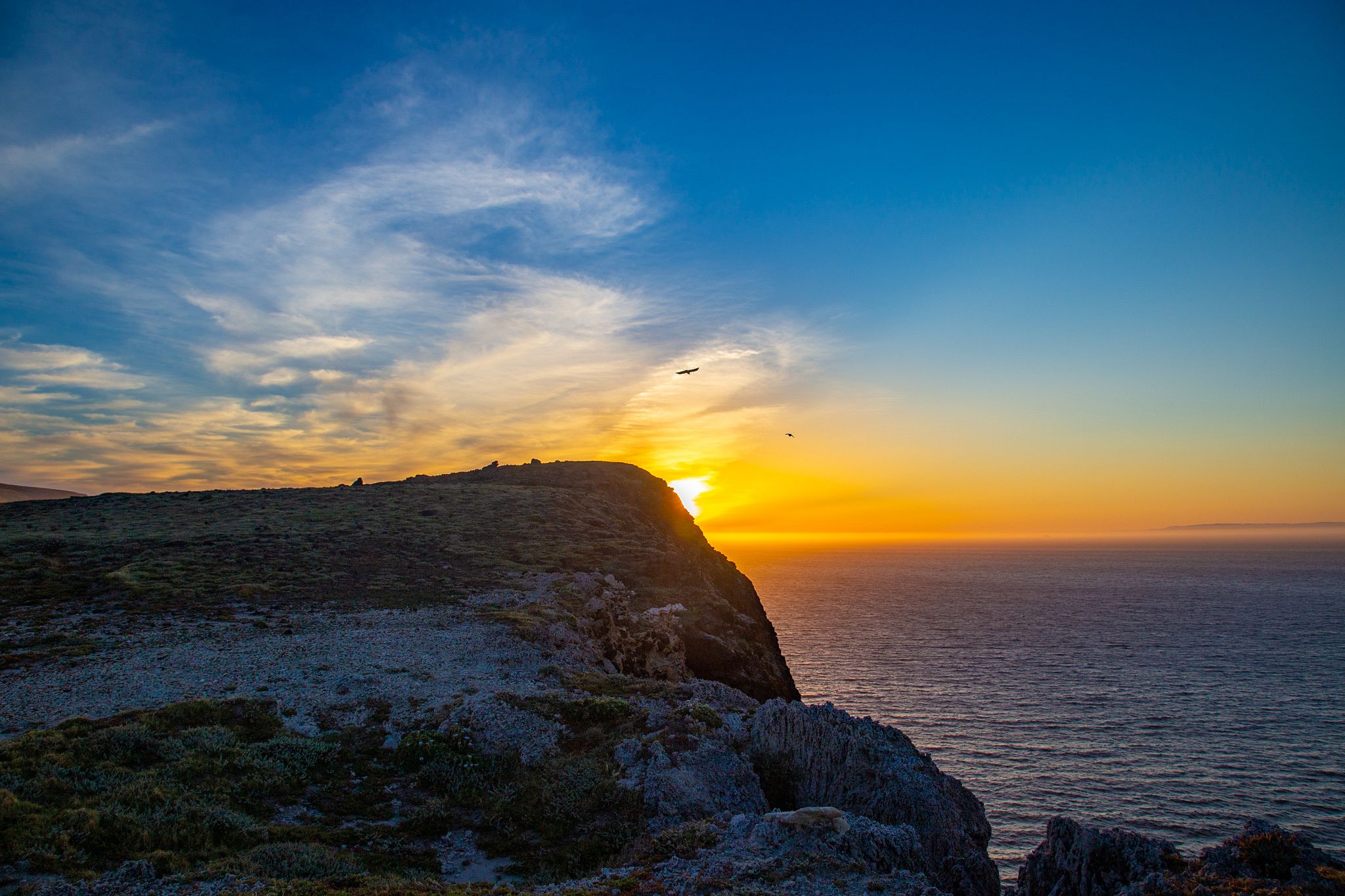 Out on the headland we had panoramic views looking out across the Santa Barbara channel as the sun slowly set in the distance.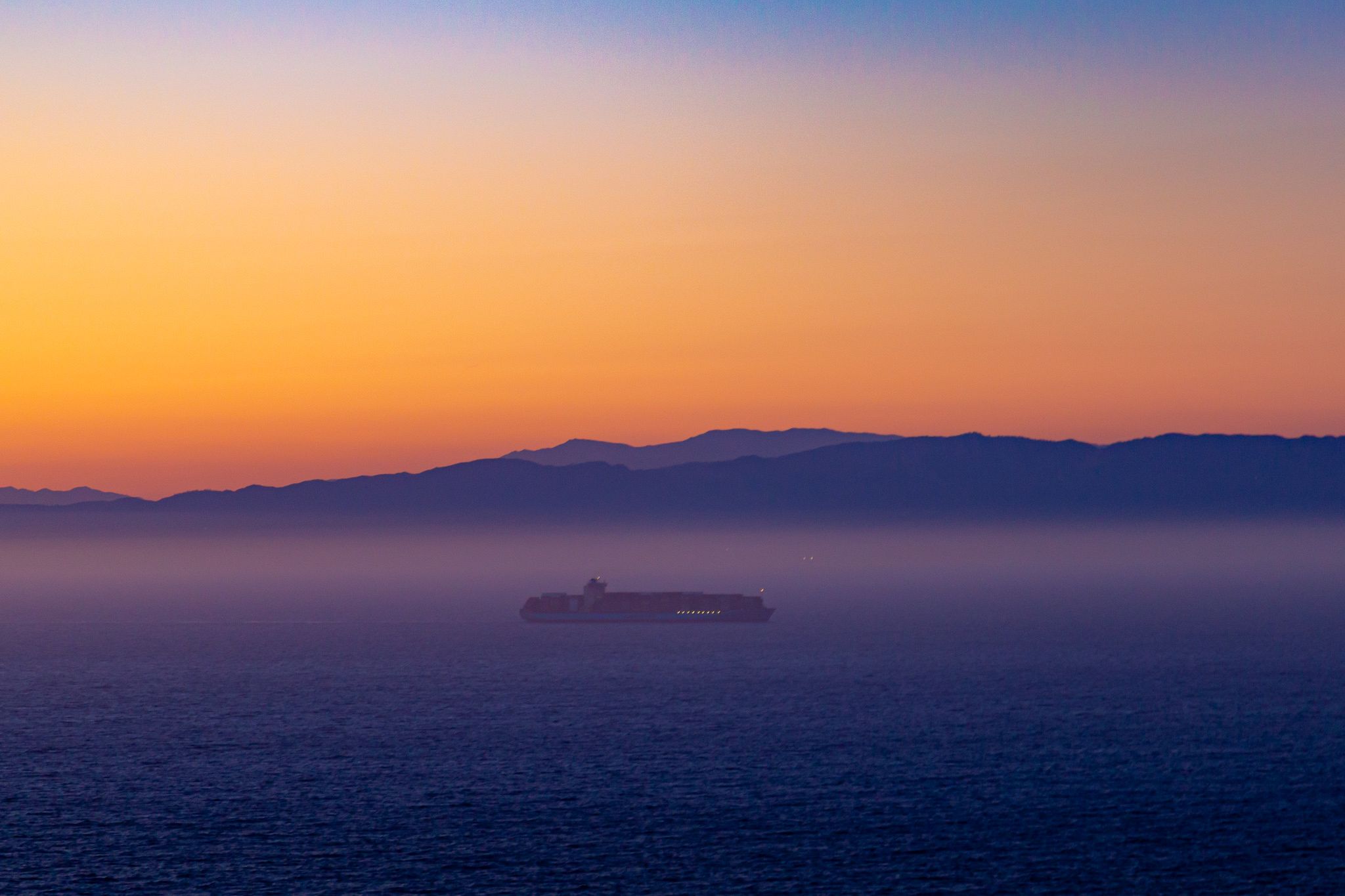 It was incredibly windy, but we were bundled up in layers and just enjoyed the atmosphere.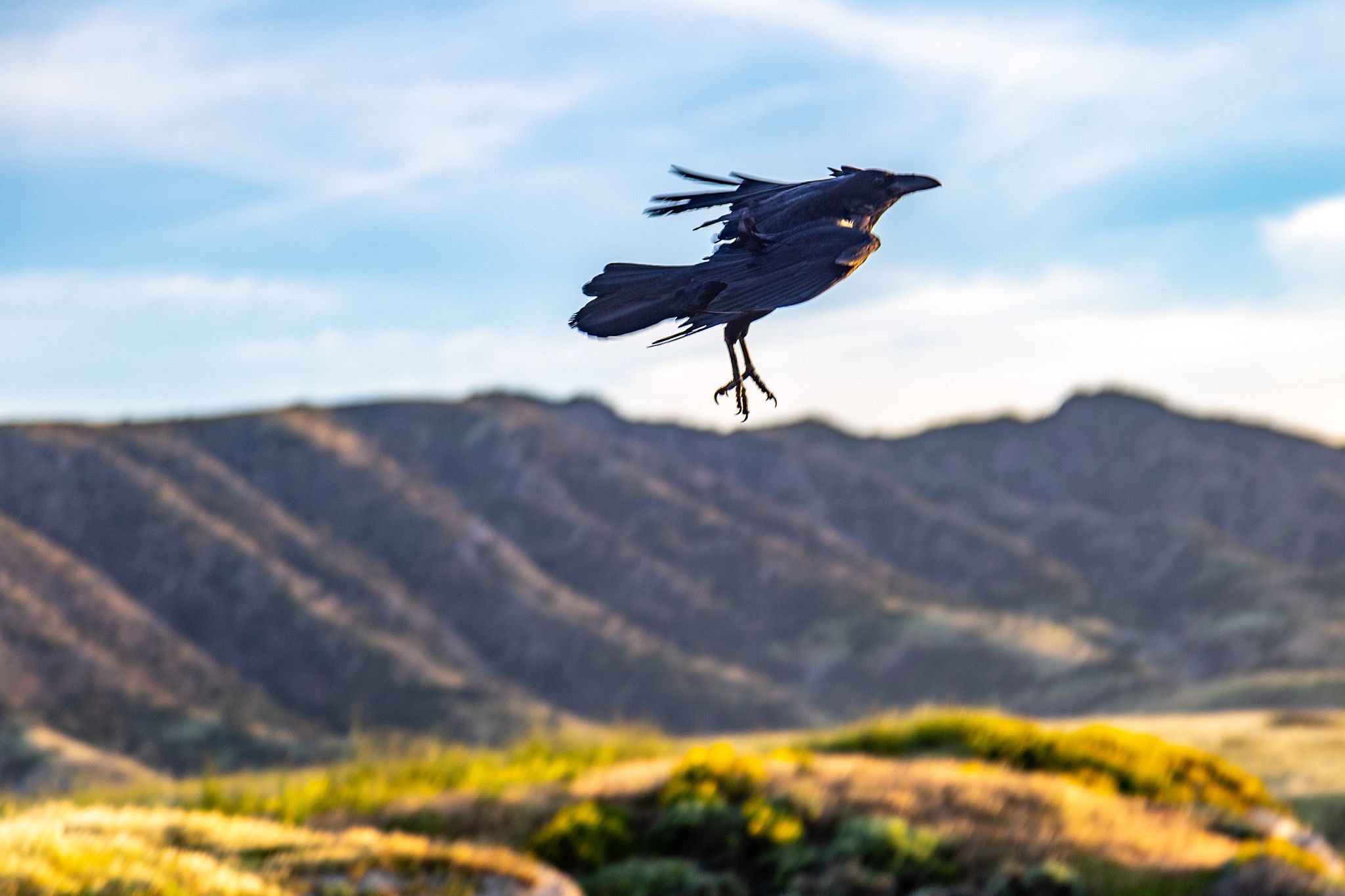 Far below us, we could see some of the kayaking guides playing in the sea caves along the coastline.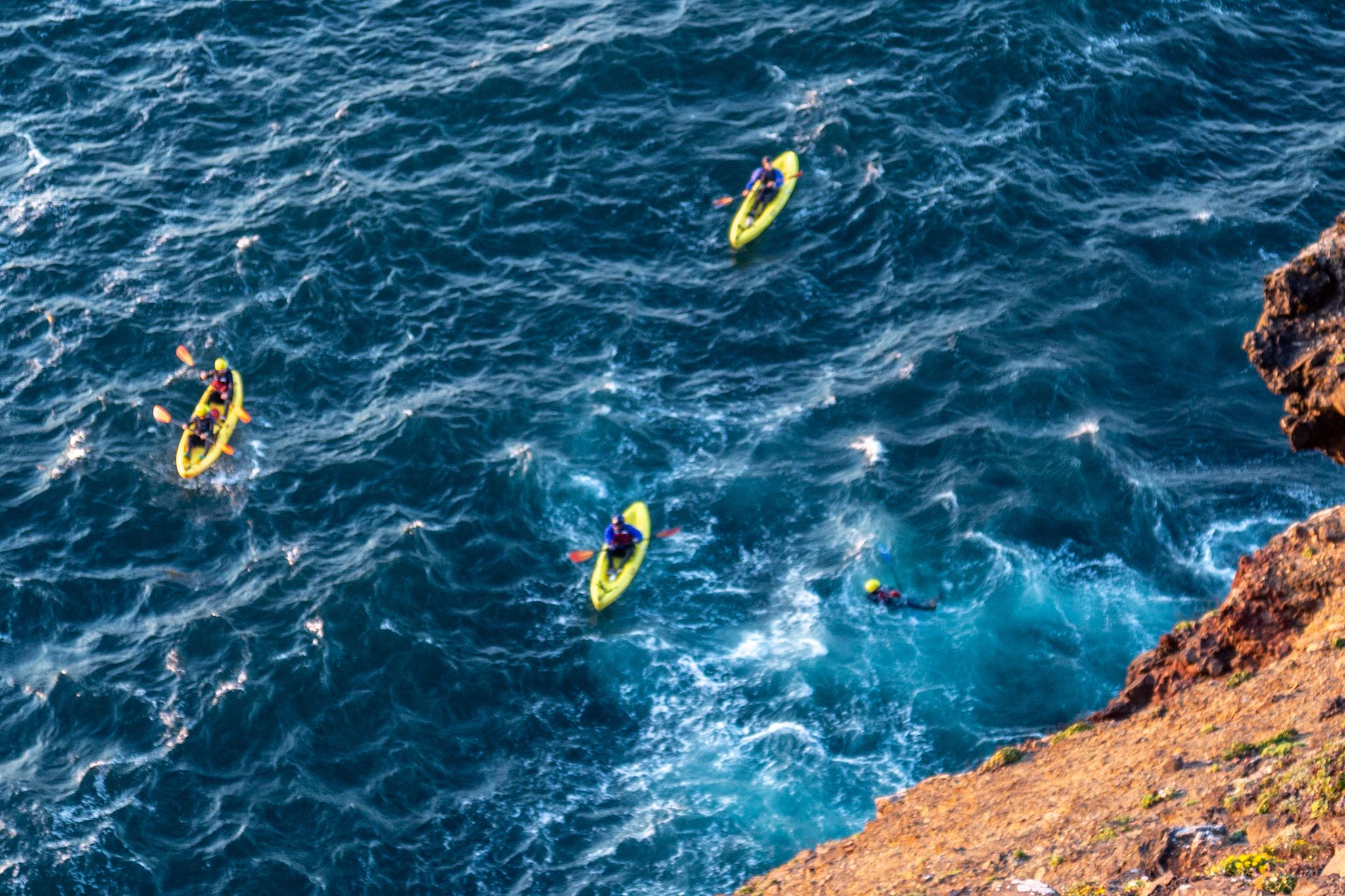 Under the light of a full-moon, we walked the long way back to the campground - along the ridge, down to Scorpion Anchorage and up the trail to the campground.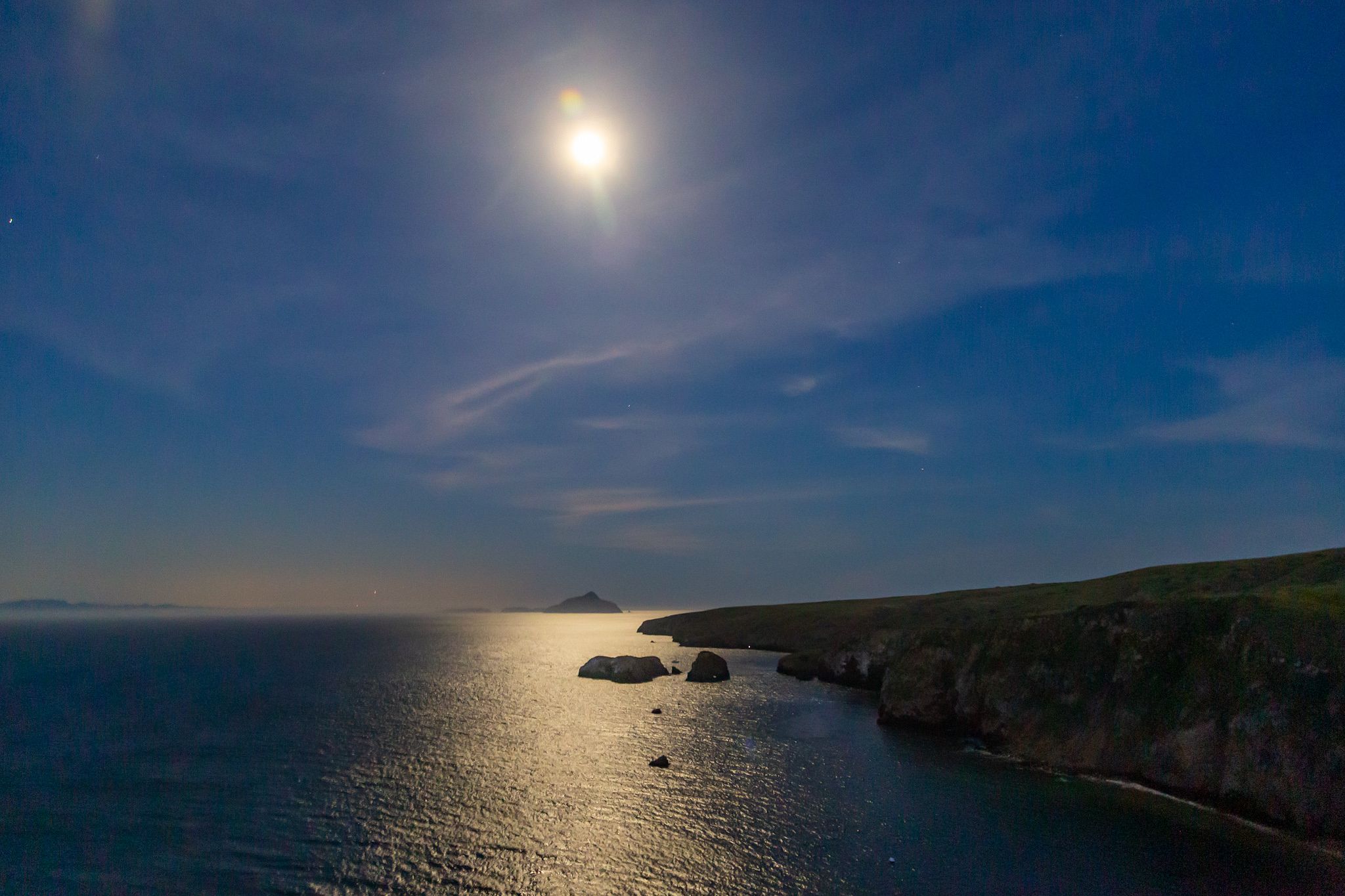 After a day of hiking and a magical sunset, we slept well that night - our last night on Santa Cruz.
Heading Home
The next morning we packed up camp and wandered down to the beach for a morning of people-watching and reading!
Our ferry arrived on time and we boarded with all our gear - including the trash we had packed out.
An hour later and we were back on the California mainland - our phones were buzzing and we had re-entered civilization after an all-too-brief excursion to the Channel Islands.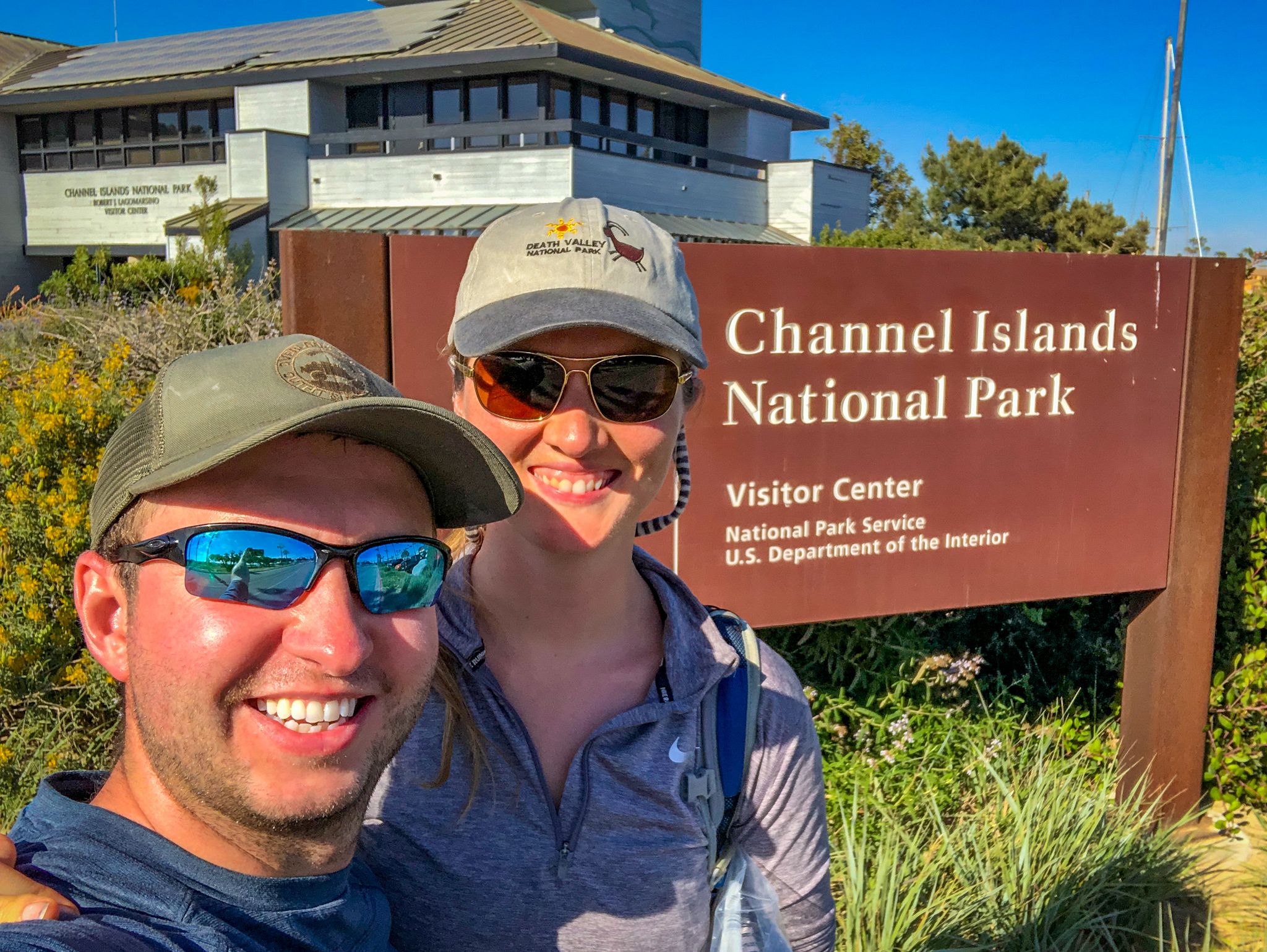 We found out truck and trailer parked safely where we had left them. Our last port of call was a quick trip to the Visitor Center.
Conclusion
When every National Park Unit has something unique to offer, it's hard to pick favorites. But the Channel Islands National Park is a strong contender.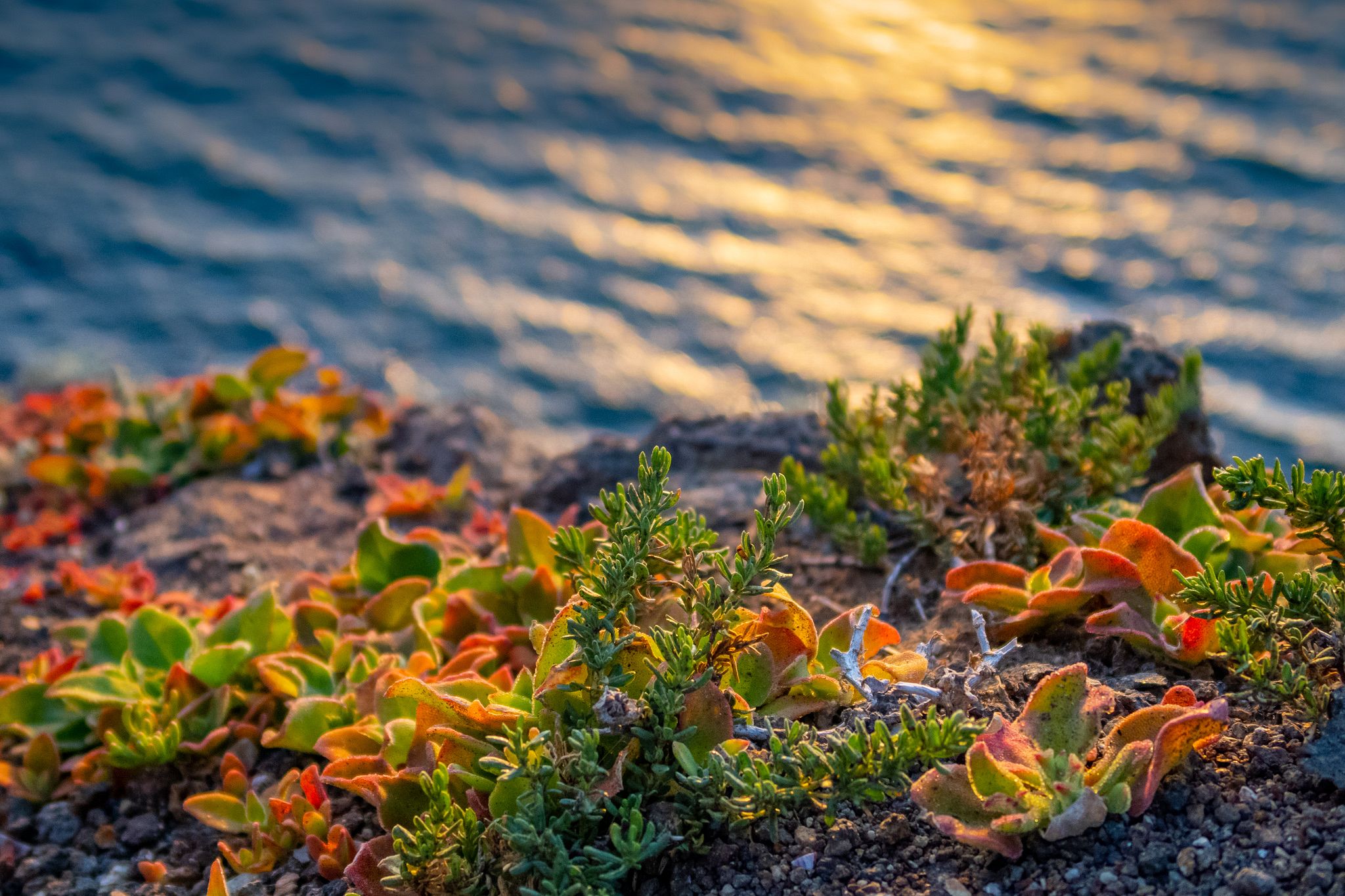 We barely scratched the surface of what the Channel Islands have to offer in our 2-day visit. We can't wait to go back and explore more of Santa Cruz and the other islands.
Despite their remoteness, they're incredibly accessible for a weekend camping trip or even just a day-trip from LA. So what are you waiting for? Go and explore one of the most undeveloped and beautiful National Parks we've ever been to!