As an Amazon Associate we earn from qualifying purchases.
It's been a couple of weeks since our last update....
For a week or so, there wasn't much to report. We enjoyed some local July 4th celebrations, then it rained almost every day for a week. Fortunately the weather cleared up just in time for some friends to come and visit us - camping in their tent next to our RV!
And then everything seemed to happen at once!
Chipping Wood
A few ago we had spent about 4 days limbing and bucking all the fallen trees, as well as felling some dead-standing trees in one area of our property. We had created a nice clearing - our cordless Dewalt chainsaw and tractor did great!
This left us with several giant piles of slash, as well as lots of logs - most too small or rotten to be of much use to us. Our plan was to chip them - we could use the wood chips to cover the ground we had cleared to help stop weeds taking hold and hopefully prevent it from turning into a mud pit!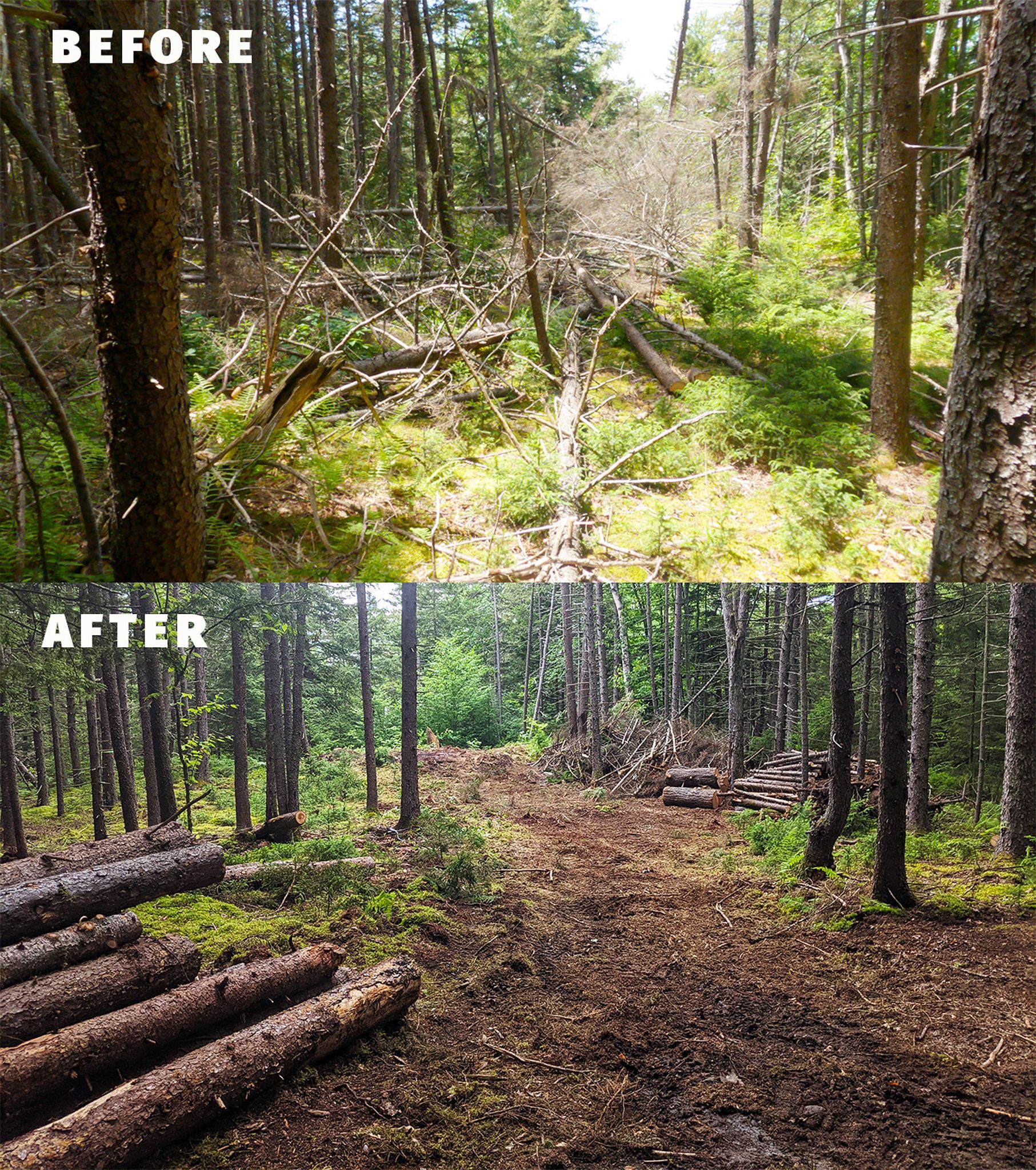 Earlier this week we rented a beast of a wood chipper - the Vermeer BC900XL. This isn't your average backyard brush chipper - weighing in at 3,100lbs, this towable 35hp gas-powered chipper can handle logs up to 9" in diameter!
Not knowing what to expect or how long it might take us, this was a bit of an experiment. We rented the chipper for 2 days but managed to complete the job in just 6 hours - producing probably 8-10 yards of wood chips in the process!
We spread some of these wood chips around the clearing as planned, and I graded them as best I could with the tractor - I think a rake would have made our lives much easier!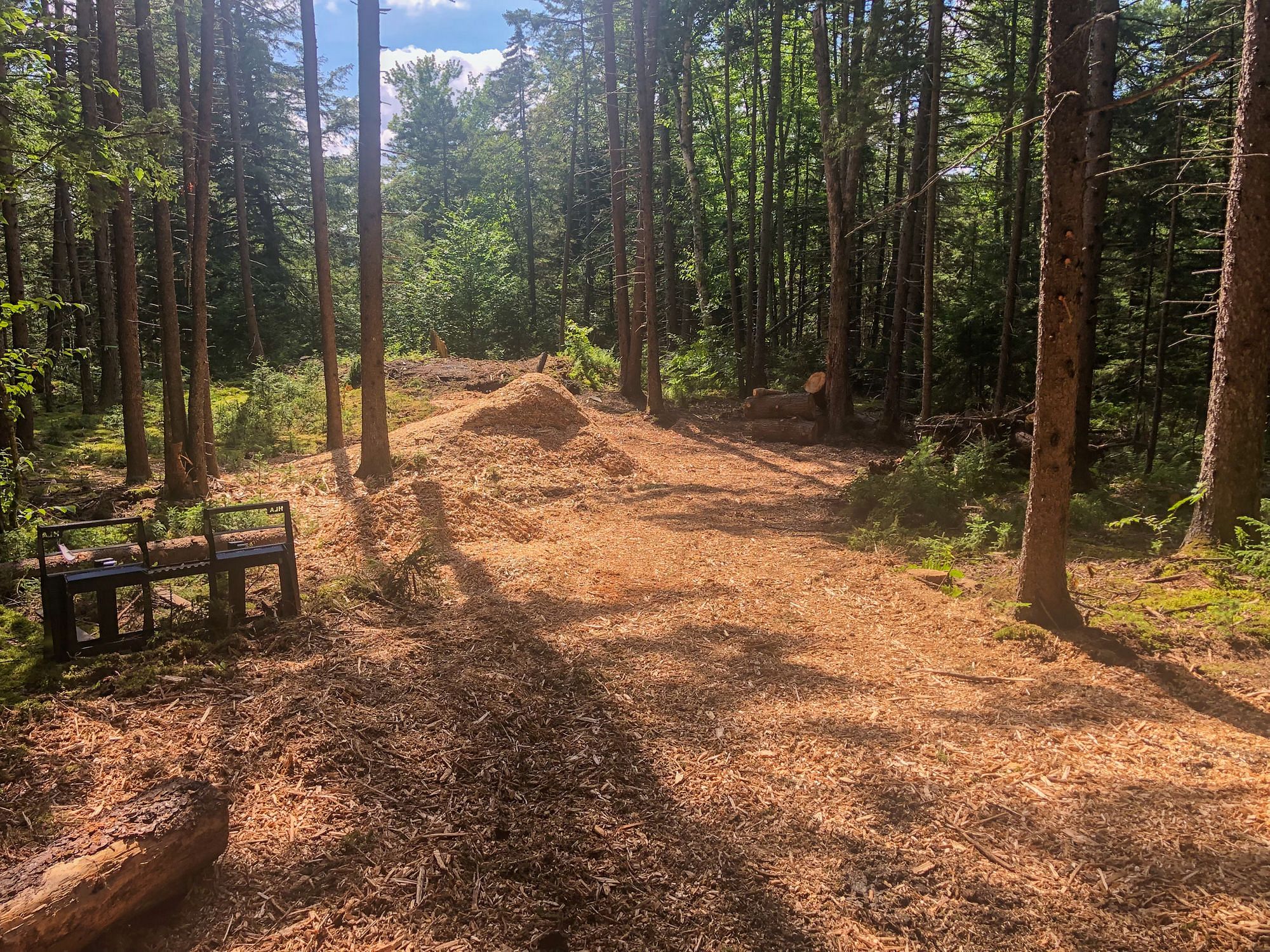 We also went and dropped a (tractor) bucket-load on our trails to see how they would look with wood chips on. Even without clearing the brush underneath first, I think it looks awesome - a natural path that doesn't look out of place but will provide a nice hiking trail.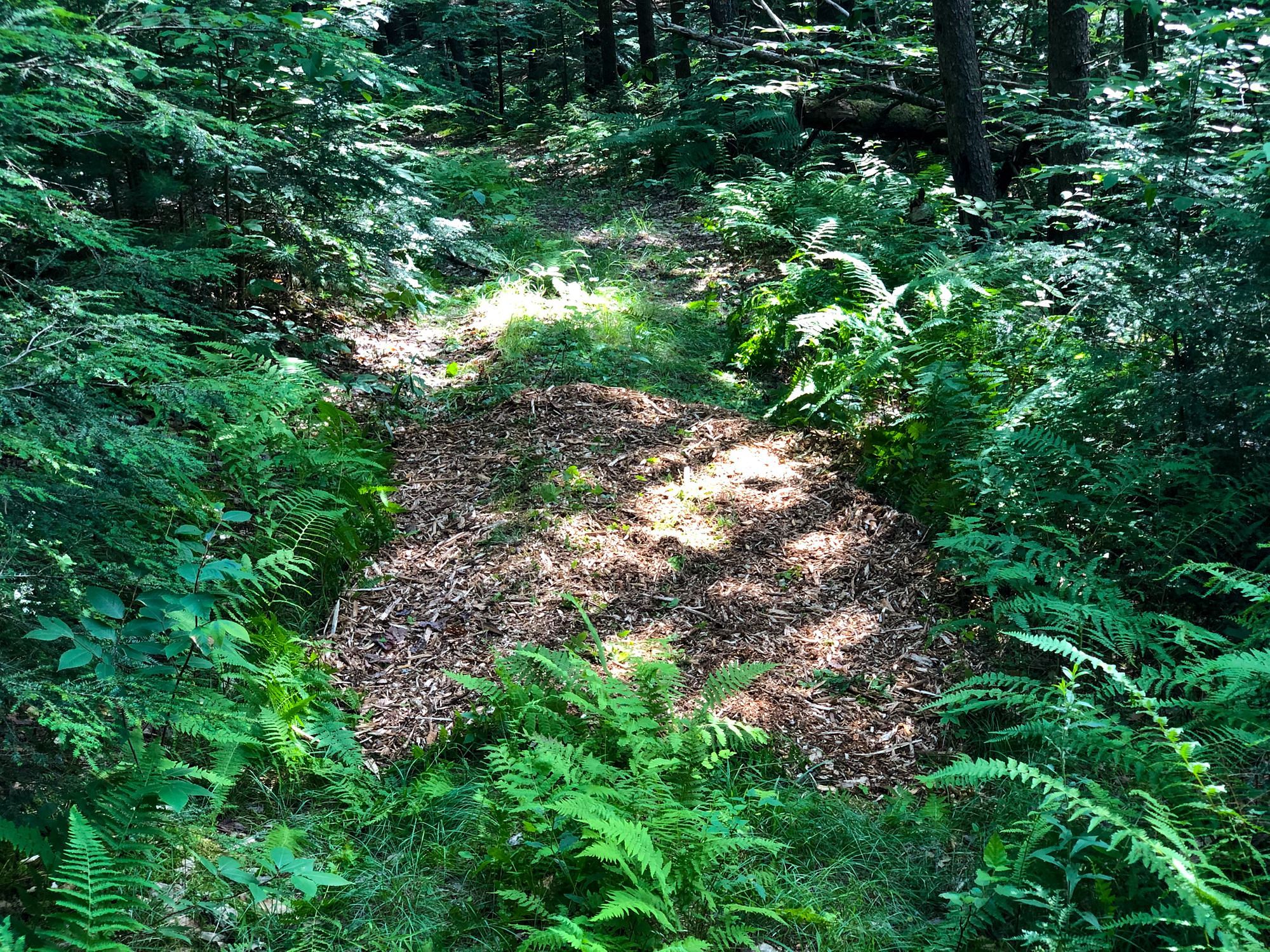 While the tractor can make it down the trails, they're a little too narrow for the truck. And that's OK, these are intended to be hiking trails so we don't want to make them any wider than necessary. On the flip side, that means a lot of back-and-forth trips with the tractor to move the wood chips!
We've taken a couple of days off this weekend to let our bodies recover (it'll take a while to get used to this manual labor) but we'll be back out there this week to clear the trails and spread the remaining wood chips.
Milling Lumber
In our recent video we discussed what we were going to do with the trees we'd have to clear for our house site.
We followed up on recommendations from our architects, engineer and foresters for local mills, and have a few leads. We also spoke with several local people who could bring their portable mills and mill on site with us.
The prices are reasonable and we have every expectation that they'd do a good job. The challenge is timing - everyone is so busy right now that it'd likely be a couple of months at least before anyone can fit us in. And honestly, that situation is unlikely to change any time soon.
We know that longer term we're going to be felling more trees - we're only clearing what we absolutely have to this year for the driveway and mechanical building, so there'll be more trees coming down when we clear the house site. Not to mention that longer term we'll need to fell more trees as part of our forest management.
So...we've ordered our own portable saw mill! As with so many things right now, there's a little bit of a lead time so it'll be a few months before it arrives, so you'll have to wait a little to find out what we're getting!
Survey, Site Plans & Current Use
As with any project like this, so much of the work, particularly at the beginning, is behind the scenes - researching, planning, design, permitting, etc. The way things work in our part of Vermont means that once we have a handful of initial permits approved, there's very little else along the way we'll need to do - no building inspections are required, for example.
The big focus for us right now is the site plan - working with our architects to understand how we're going to lay out the mechanical building, house, barn and driveway. We've been through about half a dozen iterations, each time refining the plan more and more - we're really happy with how it's looking.
Before we can finalize the site plan however, we need to survey the land. The survey team was out this week and hopefully next week we should have the final survey document necessary to complete the site plan.
Once the site plan is finalized we'll know exactly which part of the property we need to remove from Current Use - a Vermont state program to preserve forest land. When that's done, we'll be able to start clearing more trees!
Driveway
Our house site is set back about 1,000ft from the road, and while there's a logging road running through the property, it's too steep in places to follow exactly for our driveway.
While we plan to do much of the house build ourselves, constructing a 1,000ft driveway is a little more than we feel comfortable taking on. Our contractor was hoping to have this done by the end of July, but his timings have slipped into August.
To help things stay on track and reduce the amount of work they have to do, we're going to start clearing some of the brush and small trees (<6" diameter) along the path that the driveway will take.
This means cutting a new path from the road, up through the dense undergrowth and weeds into the forest. Even when the path is cleared, it'll still need a fair amount of site work so it's unlikely we'll be able to get our tractor down there to help with the work just yet - I see a lot of manual labor for us over the next few weeks!
Trail Cameras
It's been about a week since we installed three trail cameras on the land. Although in person we've seen deer and a porcupine, and signs of bears and coyotes, our cameras haven't caught anything yet.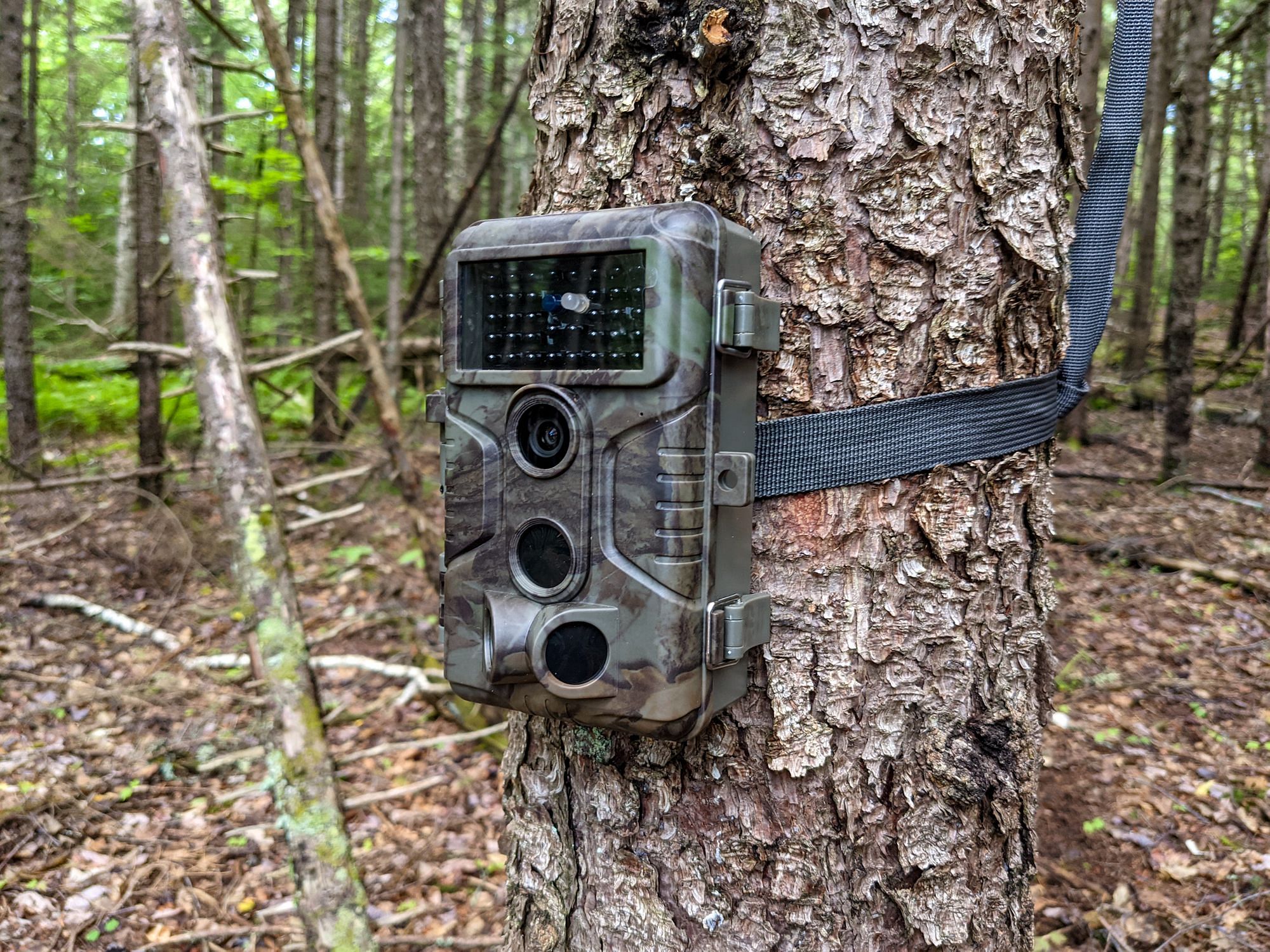 The only thing they've seen so far is the survey crew, who very professionally presented their business card to our camera so we'd know it was them.
All the site work and machinery is probably doing a good job of scaring most wildlife away, but we'll keep the cameras up and see if they spot anything.