Introduction
After exploring Fort Bowie National Historic Site on Friday, we drove the short distance down to Chiricahua National Monument. Before we arrive at each new National Park Unit, we make sure to research where we'll stay and what our itinerary will be whilst we're there. With Chiricahua, Diana had done all the research (isn't she awesome?!) so I must confess I wasn't sure what to expect.
Wow.
One of the most common questions we get asked is which National Park Unit is our favorite? It's a hard question to answer as each place has something different to offer. But Chiricahua has secured itself a place on the list of National Parks we recommend people visit.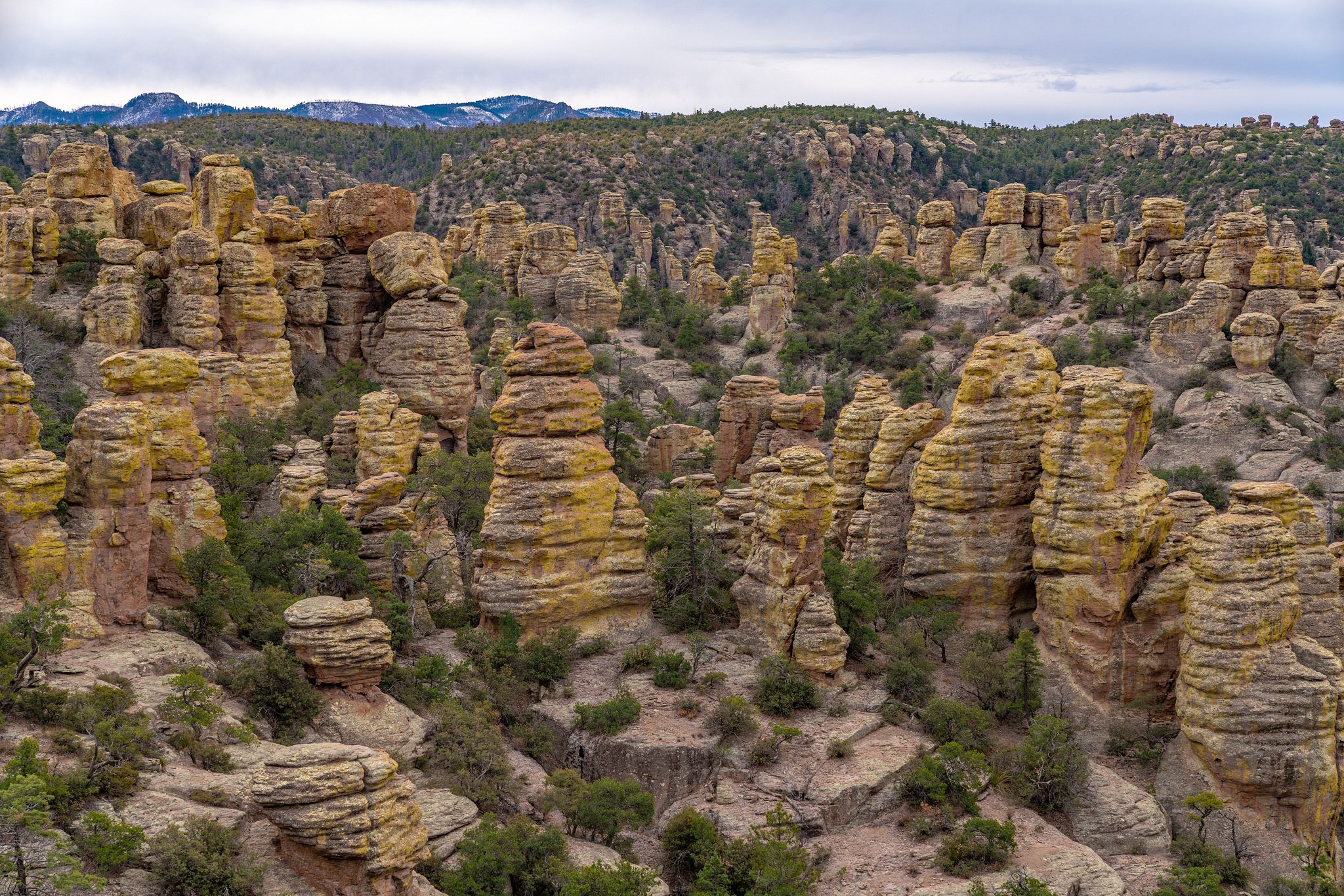 Pronounced "cheer-i-cow-ah" (you're welcome), Chiricahua National Monument was established on April 18, 1924 to protect its rhyolite pinnacles, hoodoos and balanced rocks. Although the Wonderland of Rocks is likely the monument's most popular attraction, Chiricahua National Monument also now protects the Faraway Ranch which visitors can visit on a Ranger-led tour.
Location
The 22-mile drive from Fort Bowie National Historic Site took us about 40 minutes since the road from Fort Bowie is unpaved for the first 10 miles or so and we had the trailer in tow. Chiricahua itself sits approximately 36 miles southeast of Wilcox, AZ, and the Visitor Center lies just a few miles off AZ-186E.
Know Before You Go
Chiricahua is as remote as it is beautiful. The nearest Walmart, a universal indicator of population centers, is 65 miles away and the nearest gas station is 28 miles away. So make sure you bring everything with you that you'll need, including a full tank of gas!
We visited in December, a relatively quiet time of year for Chiricahua, and it was amazing. The weather was cool but dry - in fact, perfect conditions for much of the hiking we did. We had the trails almost to ourselves and the campground was half empty.
There is an 8-mile scenic drive up through the Monument, but vehicles over 29ft are not permitted past the Visitor Center. You know sometimes you see those signs and figure "hey, we're only a bit longer than that, we'll be fine". Yeah, not here - the roads have some very tight corners and it's just not worth it. You've been warned!
Adventurous Tip: If your rig is over 29ft, now is not the time to be adventurous! Stay out, you will get stuck!
Bonita Canyon Campground
Since visiting the first National Park of our journey in October, Guadalupe Mountains National Park is the only place where we have camped at the official park campground. Although we enjoy boondocking, when possible we also like to camp at the National Park - not only does it support the park, but they're typically very well managed and clean. Chiricahua is no exception.
We had made a campground reservation in advance for 3 nights at Bonita Canyon Campground. There is a full list of campground regulations on the NPS website, but in essence we paid $20 per night for dry camping - not cheap, but the money supports the park and the campground is stunning!
Nestled in amongst the trees, the sites aren't large. In fact, that same 29ft vehicle length restriction applies, and you *really* don't want to test that! Inside the campground is a really nasty dip that's sure to remove the back from over-length vehicles. Our truck is 21ft long and the trailer is just under 25ft long. We made it….just! The sites are fairly small too - our trailer was tight against the back of the site with just a few feet clearance to the road, and we managed to squeeze our truck alongside.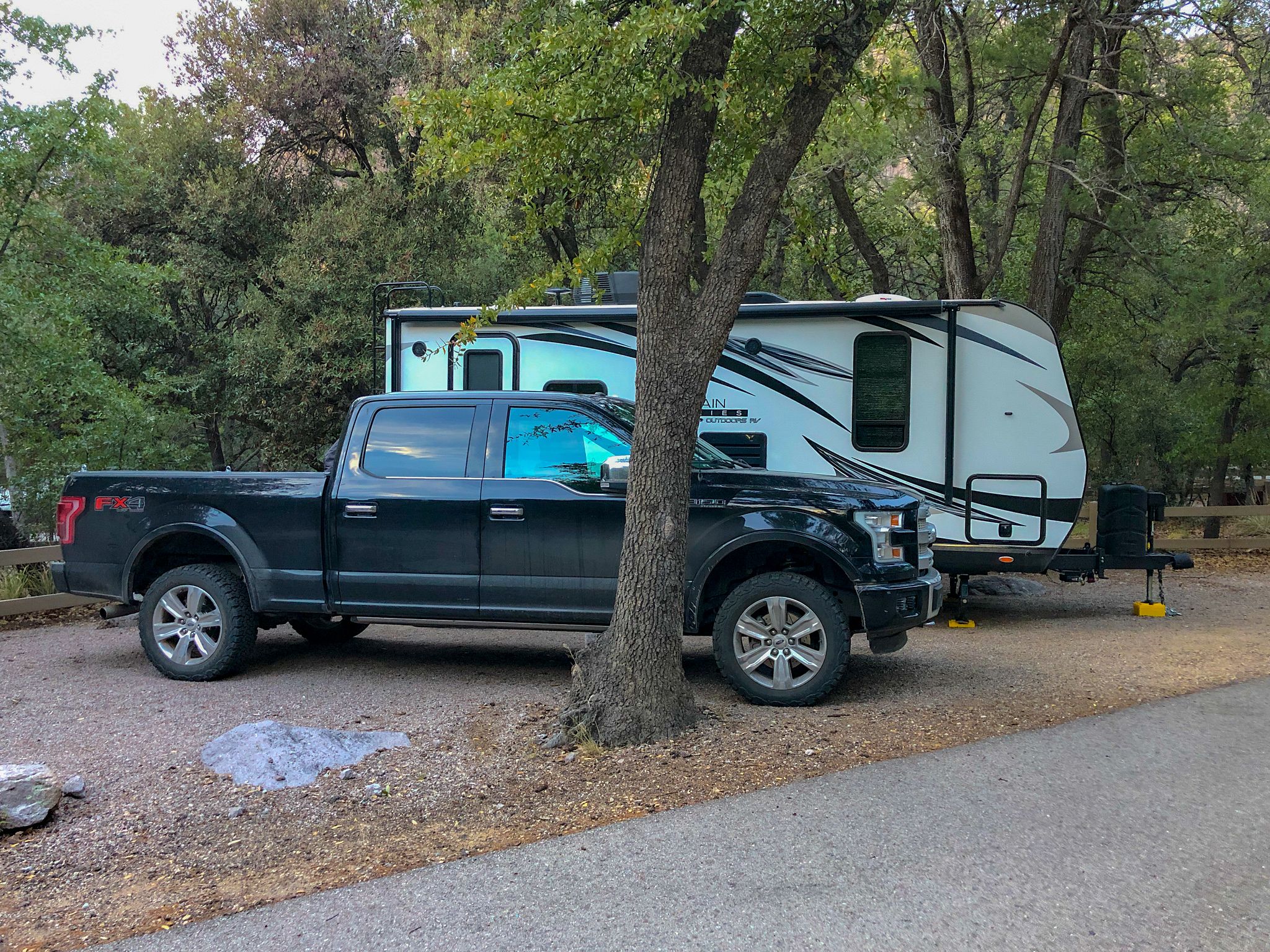 Given the tree cover, don't expect to get much out of your solar panels - we deployed our portable panel, but between the clouds and tree cover, saw almost nothing from it! Quiet hours are 8pm to 8am with generators not allowed during this time - we managed to last the 3-night stay on our batteries with no charging. Although there are no electric, water or sewer hookups, there are water spigots located throughout the campground so you don't have to go far to fill up bottles with drinking water.
But all of this is exactly why we chose the trailer we did - small, self-contained and able to stay off-grid for several days at a time without running a generator or relying on solar. On the first morning when I opened the door shortly after sunrise, I watched happily as 3 deer were foraging less than 30ft from our RV - so beautiful! Since several of the hikes we did were short - just a few hours - having the RV so close was very convenient and allowed us to come back to the RV for lunch or to get snacks.
When (it's a when, not an if) we return to Chiricahua National Monument, we'll definitely be looking to camp at the Bonita Canyon Campground again!
Hiking
Chiricahua National Monument is a very hike-able park unit - there are several short hikes with trailheads along the scenic drive. But there is also a shuttle service that takes hikers from the Visitor Center up to Echo Canyon from where they hike back down to the Visitor Center.
Adventurous Tip: Wear sturdy hiking boots - the ground is rocky and you'll appreciate thick rubber soles to protect your feet from the sharp rocks.
With just 2 days to explore Chiricahua National Monument, we chose to start with the full-day hike from Echo Canyon back to Visitor Center on Saturday, and then do two shorter hikes on Sunday.
Chiricahua is also part of the I Hike for Health scheme, which awards a pin to visitors who hike more than 5-miles in the park. It goes without saying, but we had to get one of those pins! As always, we went to the Visitor Center as soon as it opened on Saturday morning to check our plans with the Rangers (we got the thumbs-up!) and book ourselves onto the shuttle to Echo Canyon.
The Big Loop
The NPS describes this as the hike for people "wanting to do everything" and that sounded just like us so it seemed like a no brainer. The website describes this as a 9.5-mile hike - unfortunately my GPS watch died before the end, but Diana managed to record it and showed it to be 9.88 miles.
Although the one-way hike ends 1,200ft lower than it started, there are still some ascents along the way. The loop leads around all the main highlights of Chiricahua National Monument - including Echo Canyon, Upper Rhyolite Canyon, Sarah Deming, Heart of Rocks, Big Balanced Rock, Inspiration Point, Mushroom Rock and Ed Riggs trails. Wow!
We rode the shuttle up to Echo Canyon where we all set off - with people at their own pace, we soon spread out although we did meet some people again during rest stops, etc. The hike starts by leading you right through the heart of the pinnacles and hoodoos - a magical experience of being so close. It really reminded me of Pinnacles National Park in California.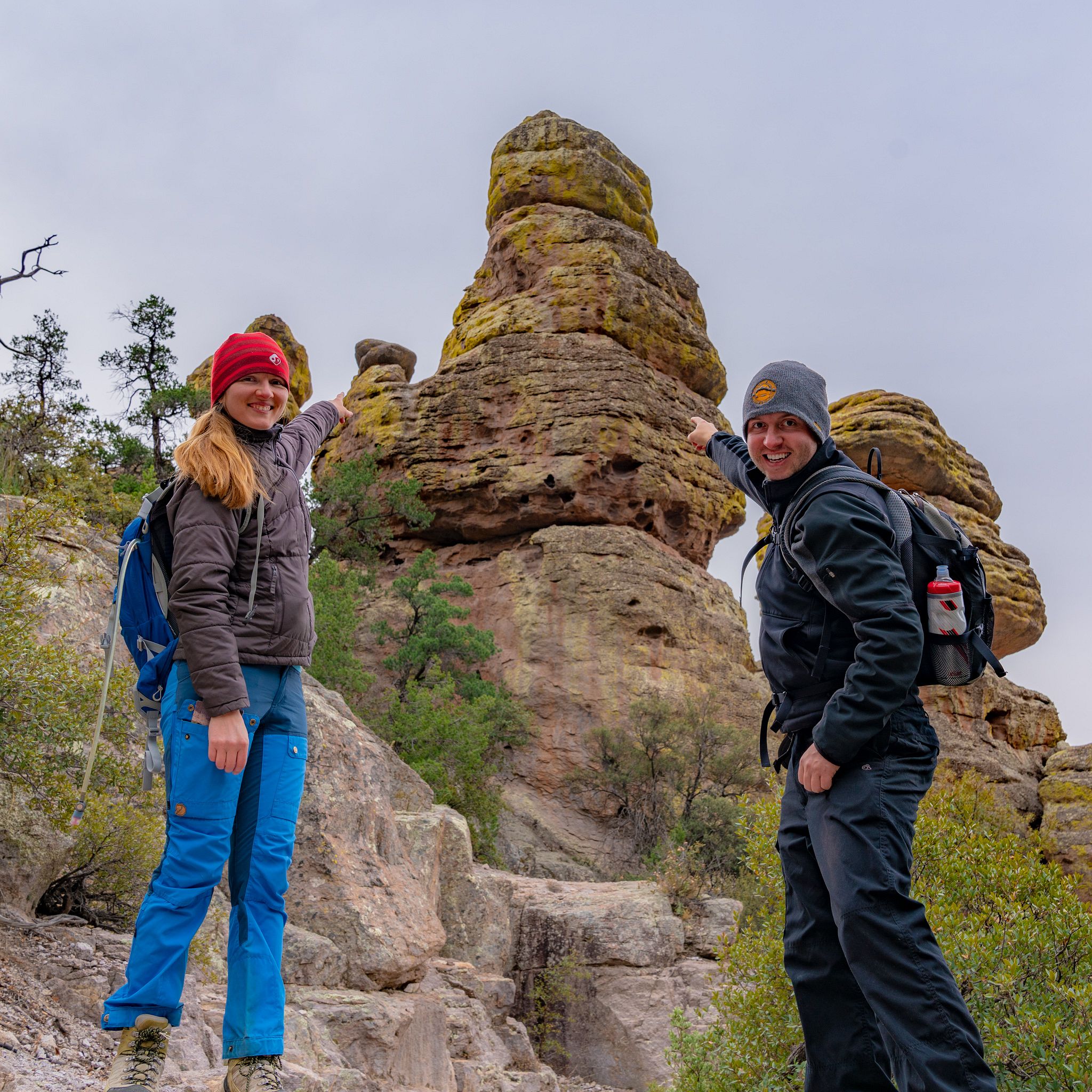 We chose to stop for lunch at Inspiration Point - which inspired us to count how many places we'll find at National Parks called "Inspiration Point"! The views from here were stunning - as we'd soon learn, this was something of a trend at Chiricahua!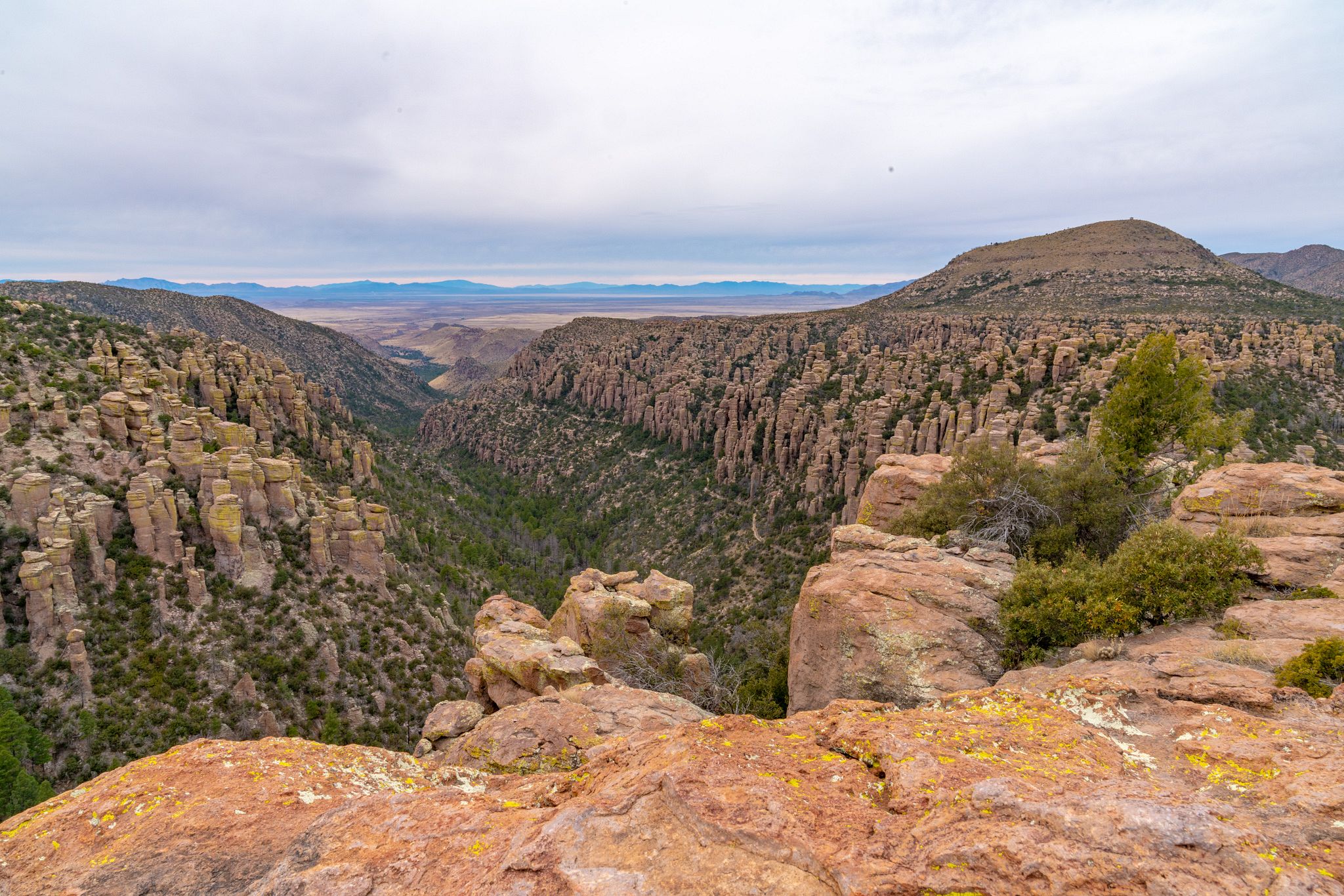 After lunch, the next highlight was Big Balanced Rock. We thought we'd found it when we found a rock that was undeniably big and balanced, but alas that wasn't the Big Balanced Rock. It didn't take long before we found that too though!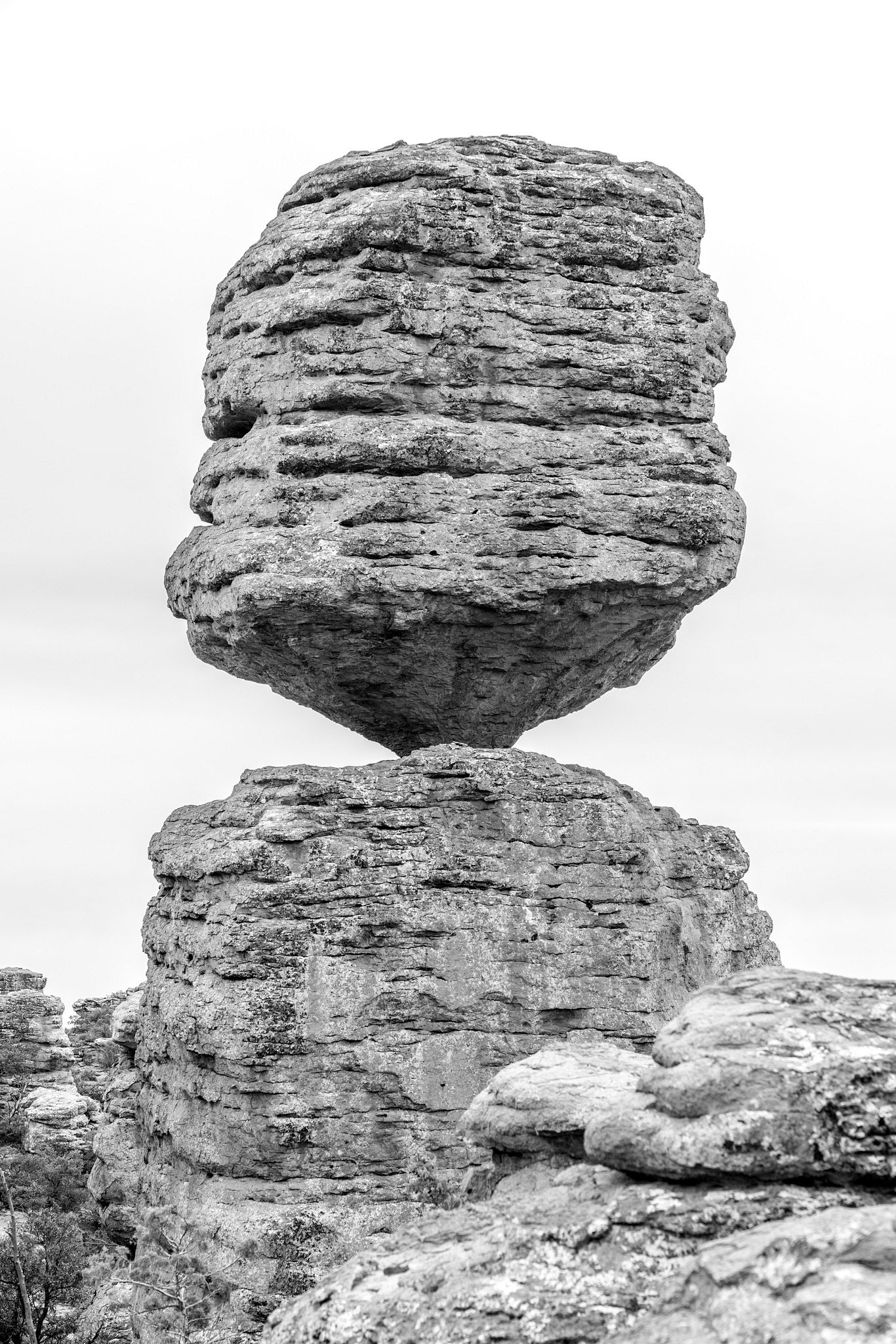 Within the Wonderland of Rocks, there are dozens of rhyolite rock structures that were formed when the surrounding rock was eroded away, leaving precariously balanced rocks in their wake. Many of them have fun and interesting names too!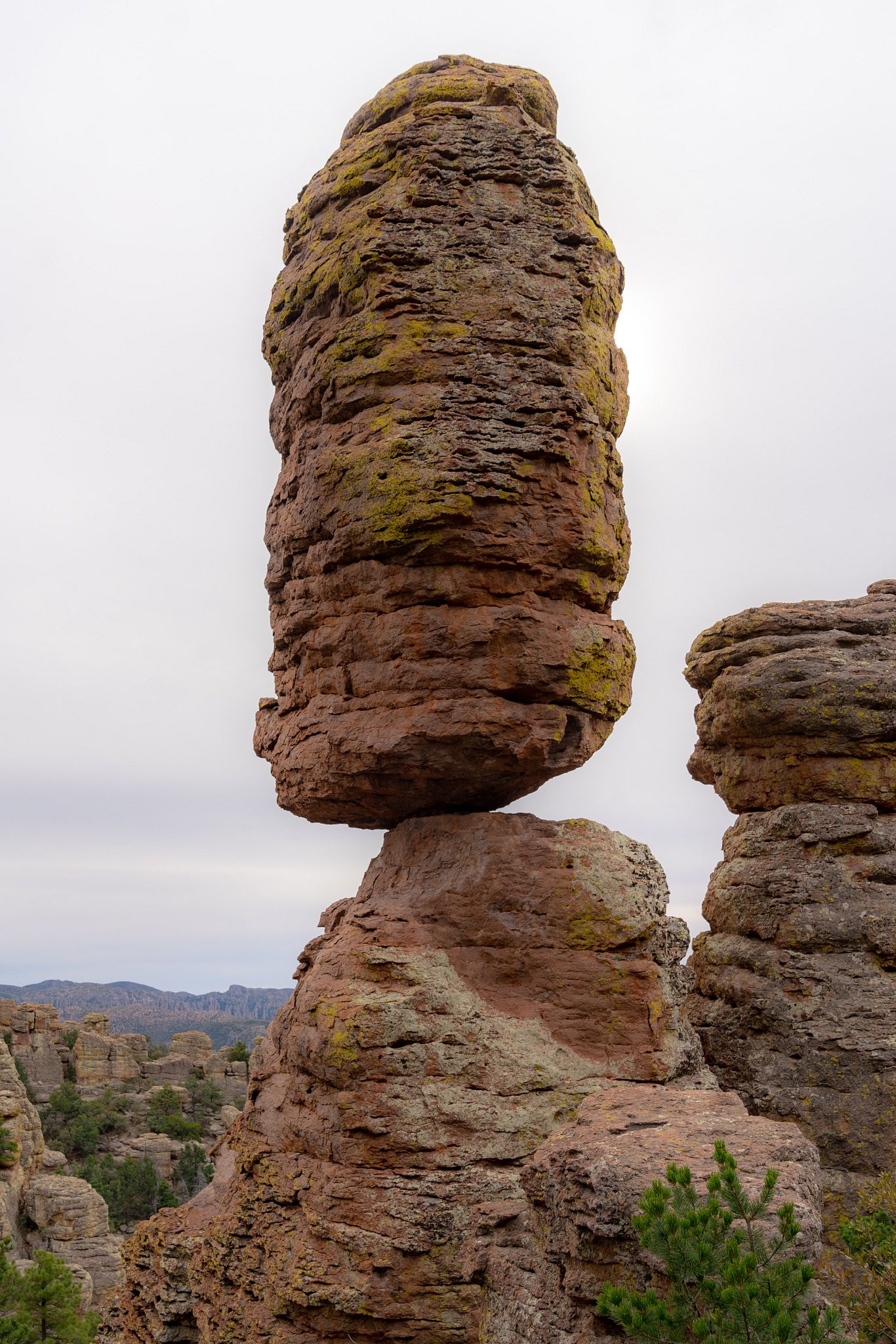 From here, the trail leads gently back down the canyon to the Visitor Center. The NPS website describes the hike as strenuous, but I'd classify it as moderate - nothing is too technical, you just have to remember to look where you're going and not become too distracted by the stunning vistas!
Overall, I'd fully endorse the NPS view that this is the hike for people "wanting to do everything". From up-close-and-personal encounters with giant rock formations, to panoramic views across the fields of pinnacles, this hike showcases the best that Chiricahua National Monument has to offer.
Natural Bridge Trail
Following a relatively early start on Sunday morning, we were at the trailhead for the Natural Bridge Trail by 8:30am. We were hoping to see some wildlife on the trail, but sadly this turned out not to be our day.
This hike winds up through oak and juniper woodlands to the ridge where we were afforded panoramic views. The trail then drops back down into the Apache pine forest of Picket Park - still scarred from big fires several years ago.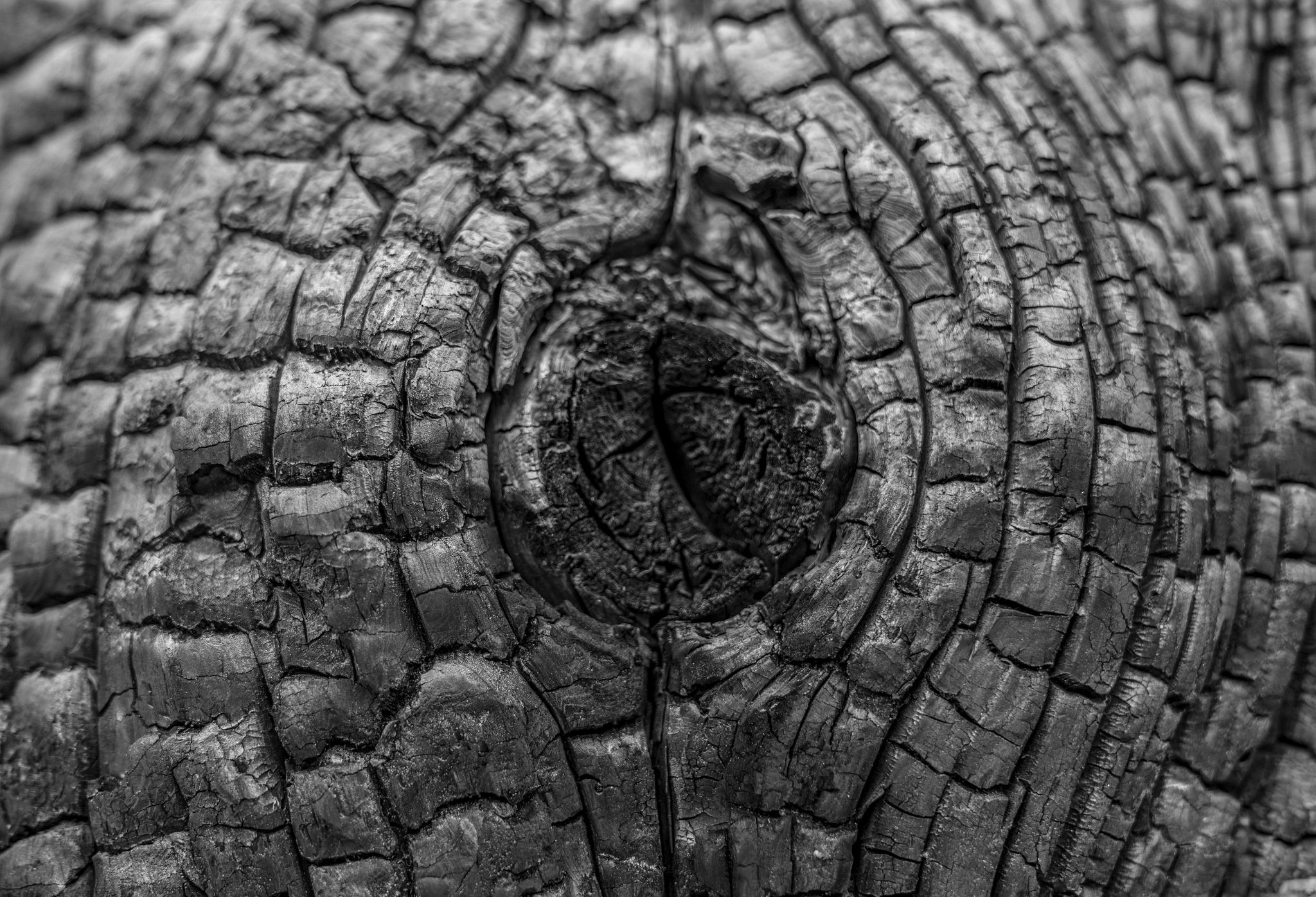 After 2.4 miles, the trail ends abruptly at an overlook where we could see the Natural Bridge, formed by running water, on the other side of the canyon.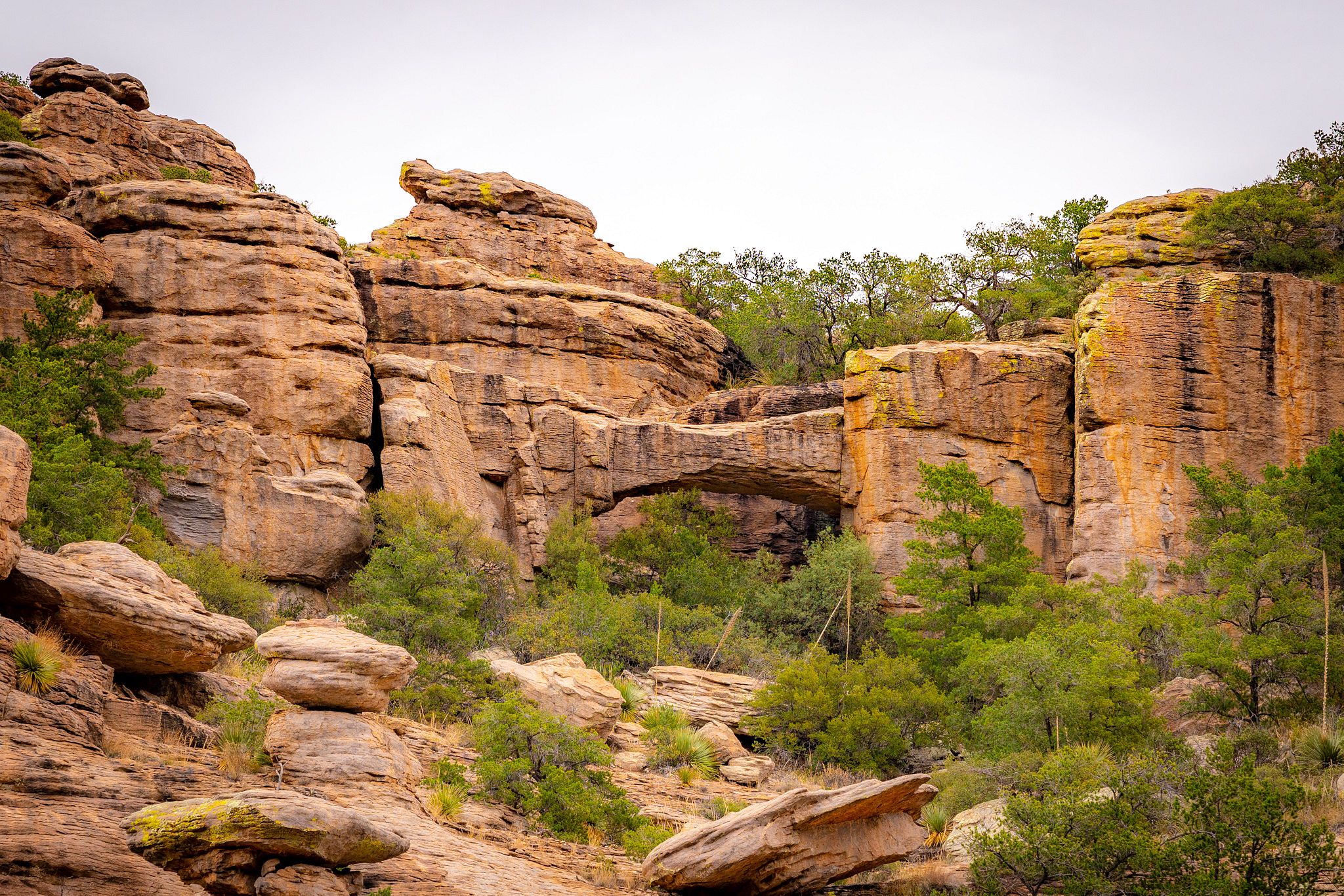 From here the trail leads back the same way to complete the 4.8-mile round trip. With 1,073ft of total elevation gain, this is a short, punchy hike that takes you through the wilderness to see a different side of Chiricahua National Monument.
[strava src="https://www.strava.com/activities/2022278821/embed/ff4bc00ff9a42aaf0710b4e1a47c9863b78e8f88"][/strava]
If you've seen the Wonderland of Rocks and want to see something different, I can definitely recommend this trail. Hiking through the wilderness was almost eerily quiet and so serene - hiking it in the early morning I think really added to the experience.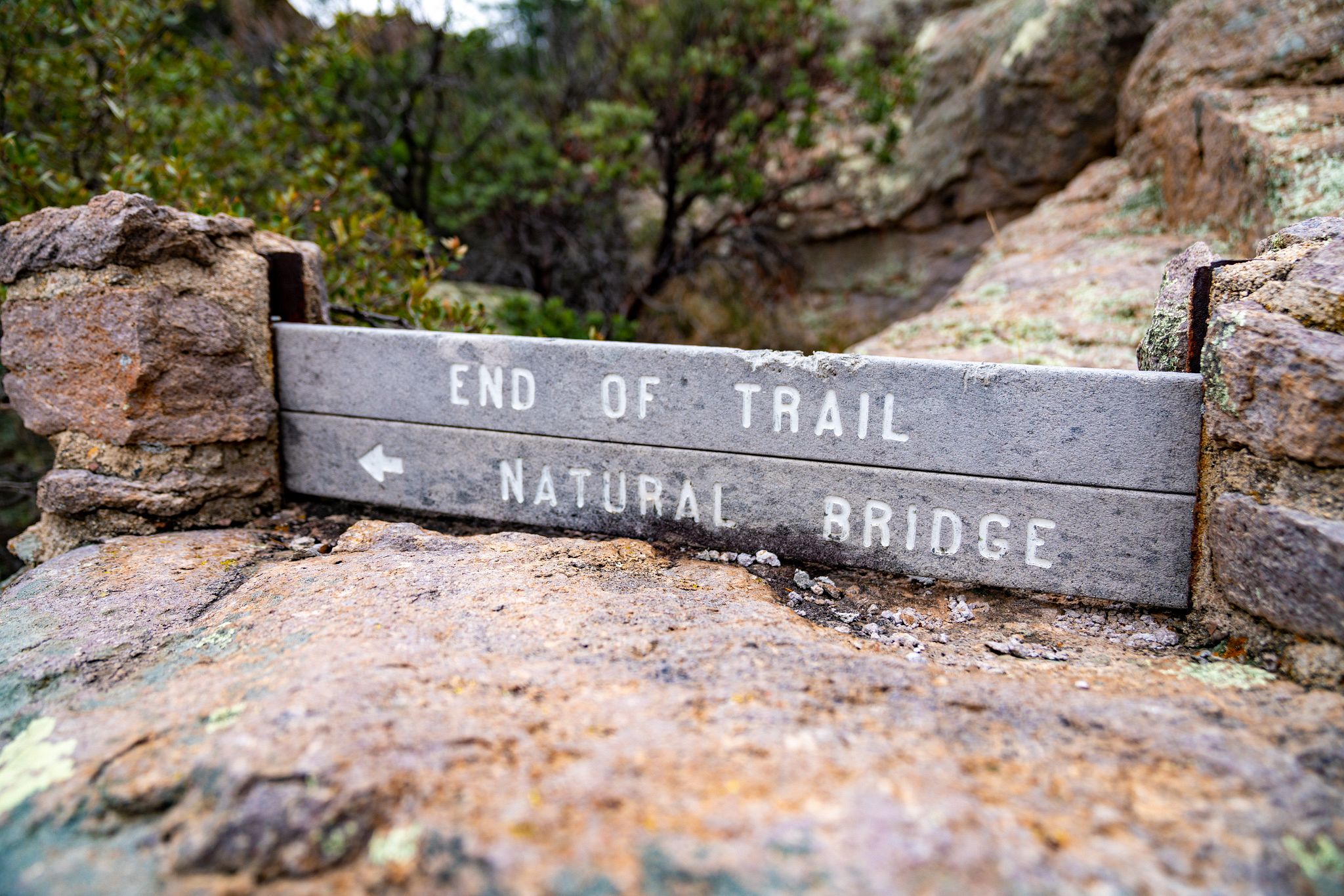 Sugarloaf Mountain Trail
Standing tall at 7,310ft, Sugarloaf Mountain is one of the highest points in Chiricahua National Monument. Our plan had always been to head up here for sunset, and despite the heavy cloud cover, we decided to do the hike anyway.
[strava src="https://www.strava.com/activities/2022279591/embed/47fdcdc096631cbabe5f598836442e55770c38bb"][/strava]
And I am so pleased we did! The views are, well, I'll just leave this photo here…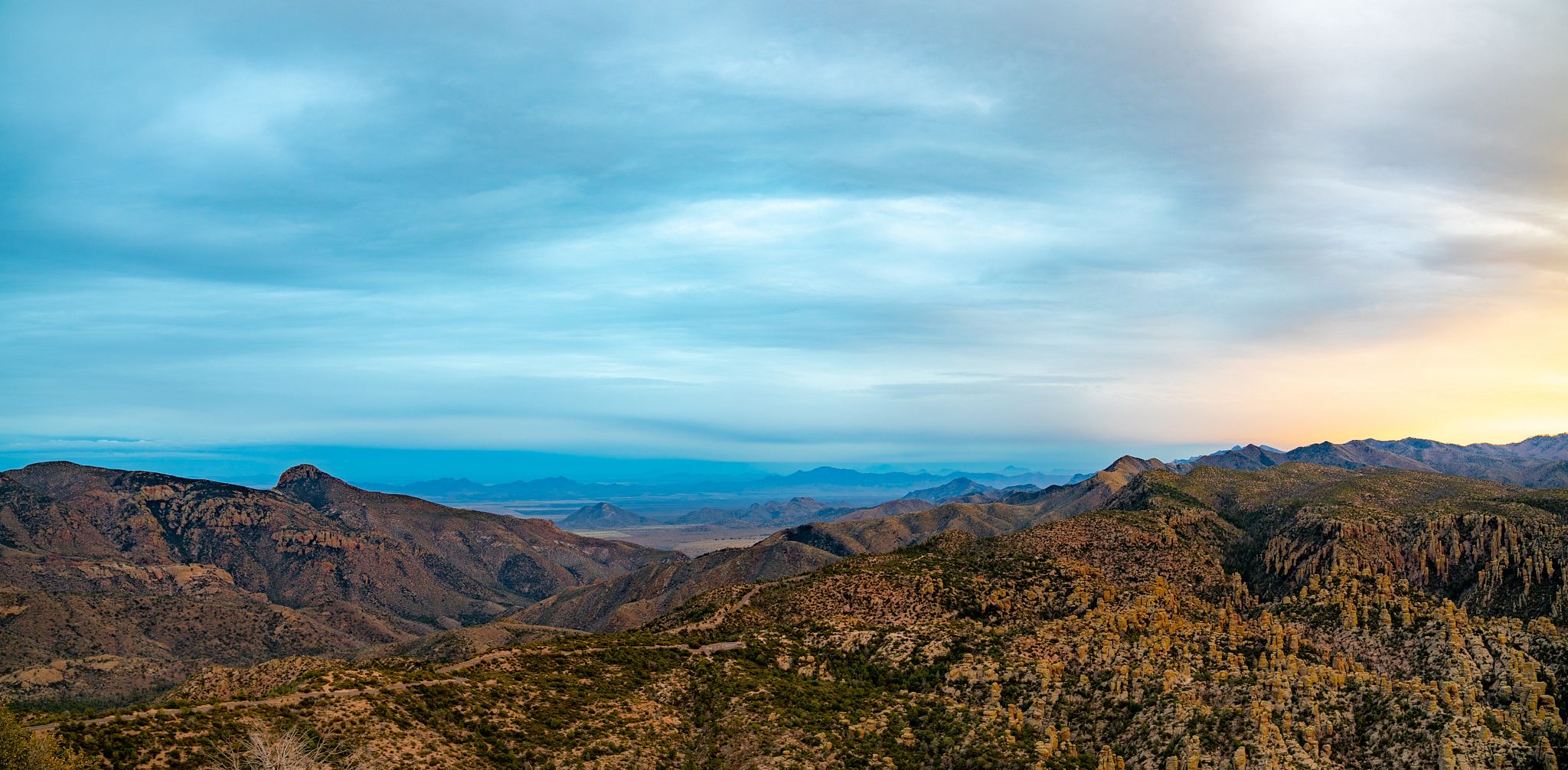 Shortly after we started the 2.1-mile round-trip hike from the Sugarloaf Mountain Trailhead, the clouds started to clear - not completely, but enough for the setting sun to wave goodbye for the day!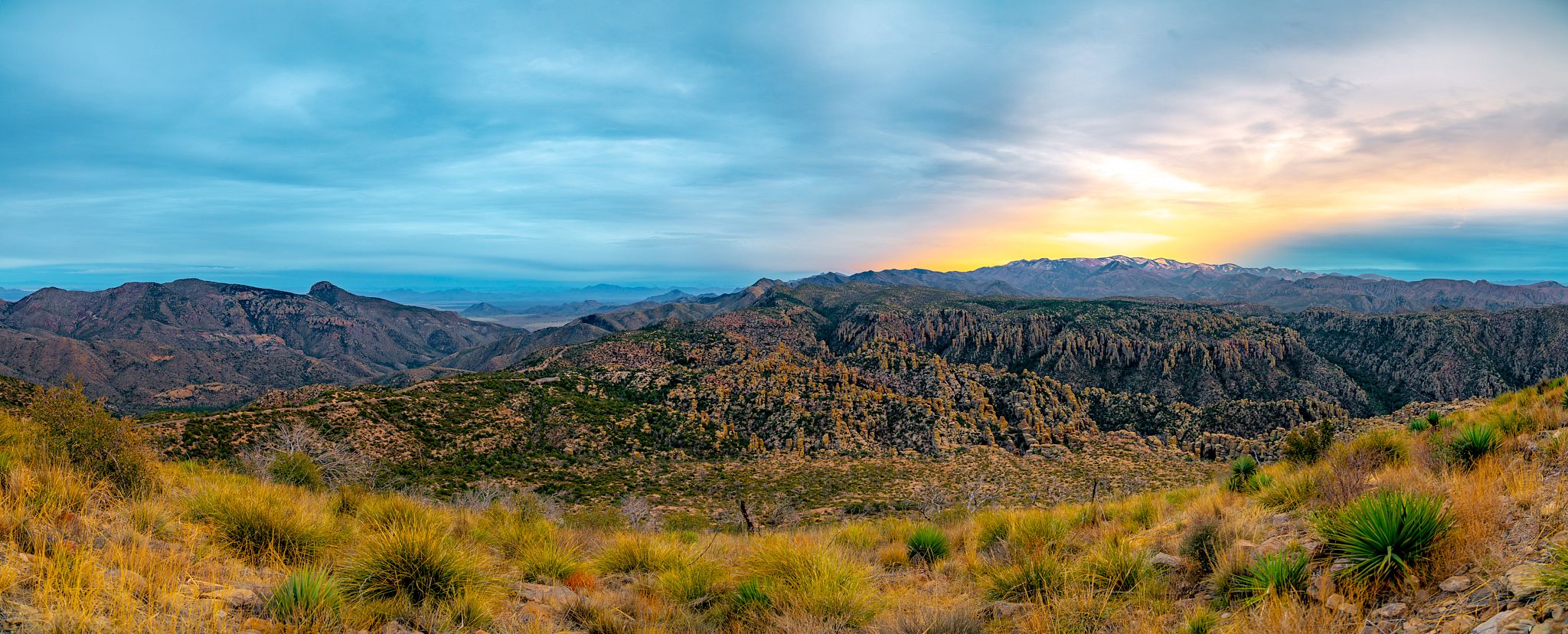 As it did, it bathed the canyon in an orange glow, while the slightly hazy air turned translucent blue as if to balance out the colors. It was one of the most magical sunsets we have seen in a long time.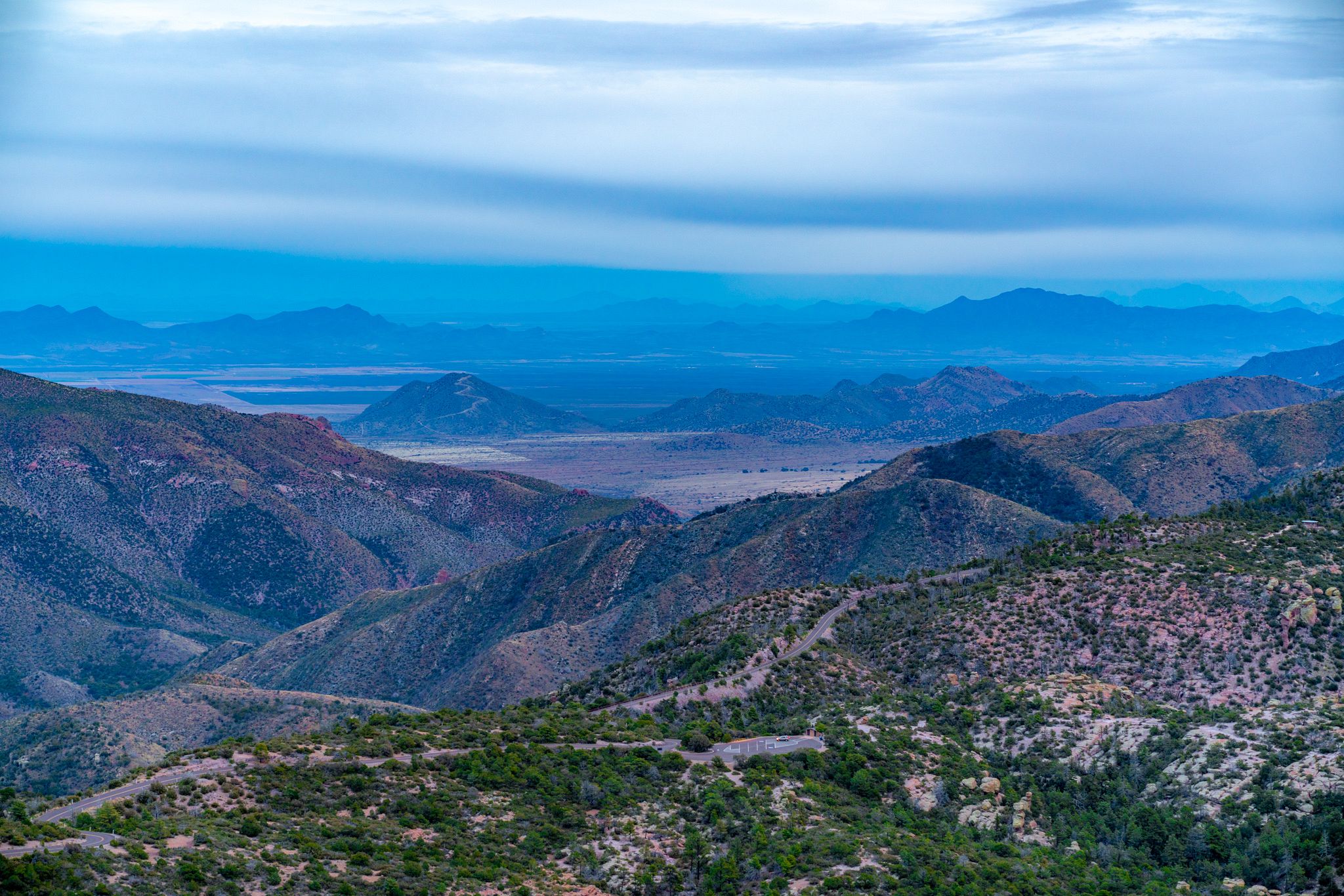 With about 500ft of elevation gain in a little over 1-mile, this hike is short and steep. But the 360-degree views from the top are unparalleled and need seeing to believe. If you can, time your hike to coincide with either sunrise or sunset like we did, and if the weather gods are looking down favorably, you will be rewarded with breathtaking panoramas.
Faraway Ranch
On Sunday afternoon, before we hiked up to the top of Sugarloaf Mountain to watch the sunset, we joined the Ranger-guided tour of the Faraway Ranch. Previously the home of Swedish immigrants Neil and Emma Erickson, it was their daughters Lillian and Hildegard who decided to turn the family homestead into a guest ranch that would later become known as the Faraway Ranch. Lilian and her husband Ed Riggs discovered the Wonderland of Rocks and turned it into a tourist attraction - offering horse rides up to see the pinnacles, hoodoos and balancing rocks.
The guest ranch operated until the early 1970s, before being sold to the National Park Service in 1979. The entire contents of the house was preserved, and much of it is still there now, a museum of what life was like decades ago.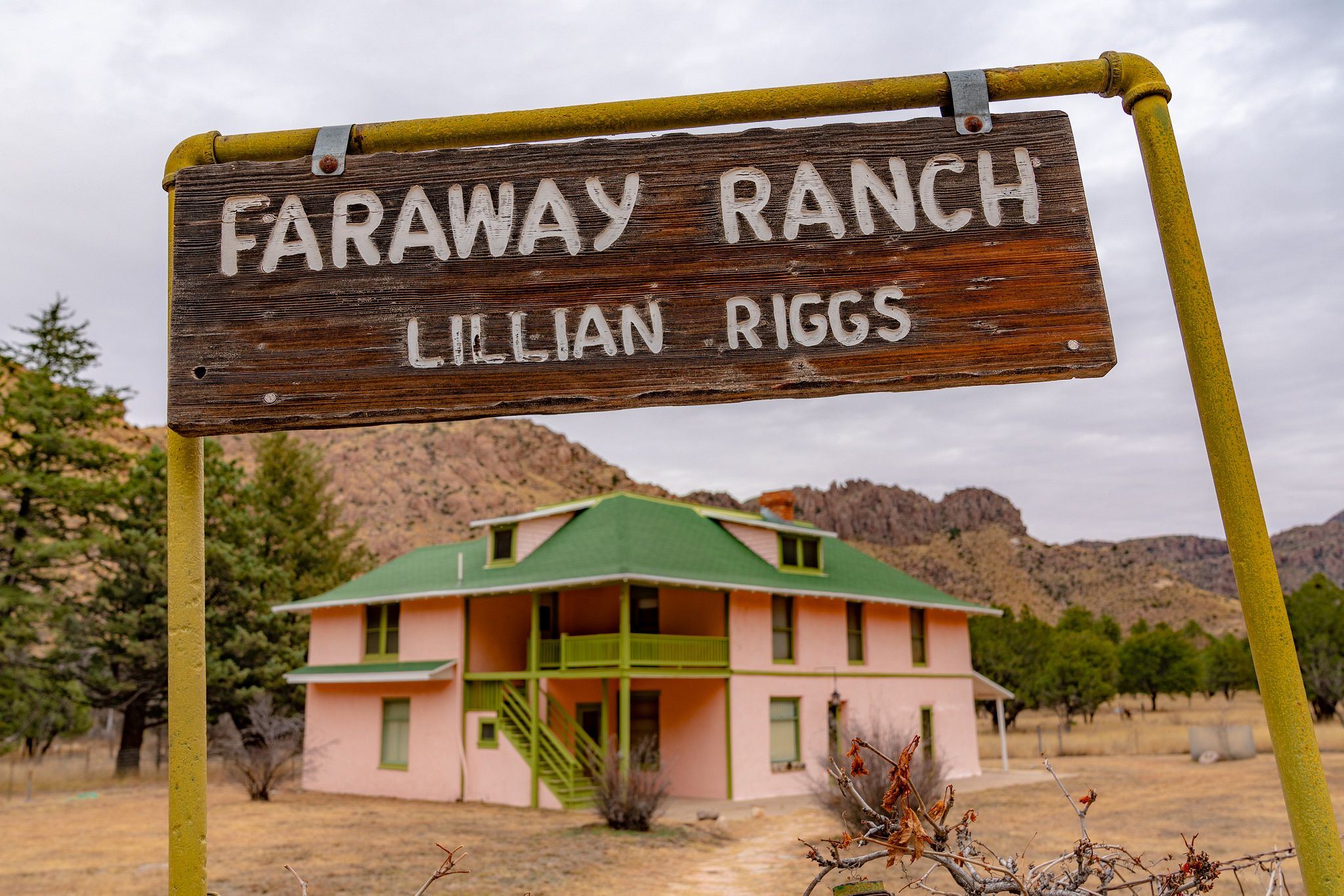 We were the only people who turned up for the Ranger-led tour on Sunday afternoon (like I said, December is a quiet time for Chiricahua, but that worked out great for us) so we had a private tour! It's very surreal, as someone in their 30s, to walk around a house that's considered a museum, but seeing items that I'm very familiar with - brands and products that I remember from my childhood in the UK!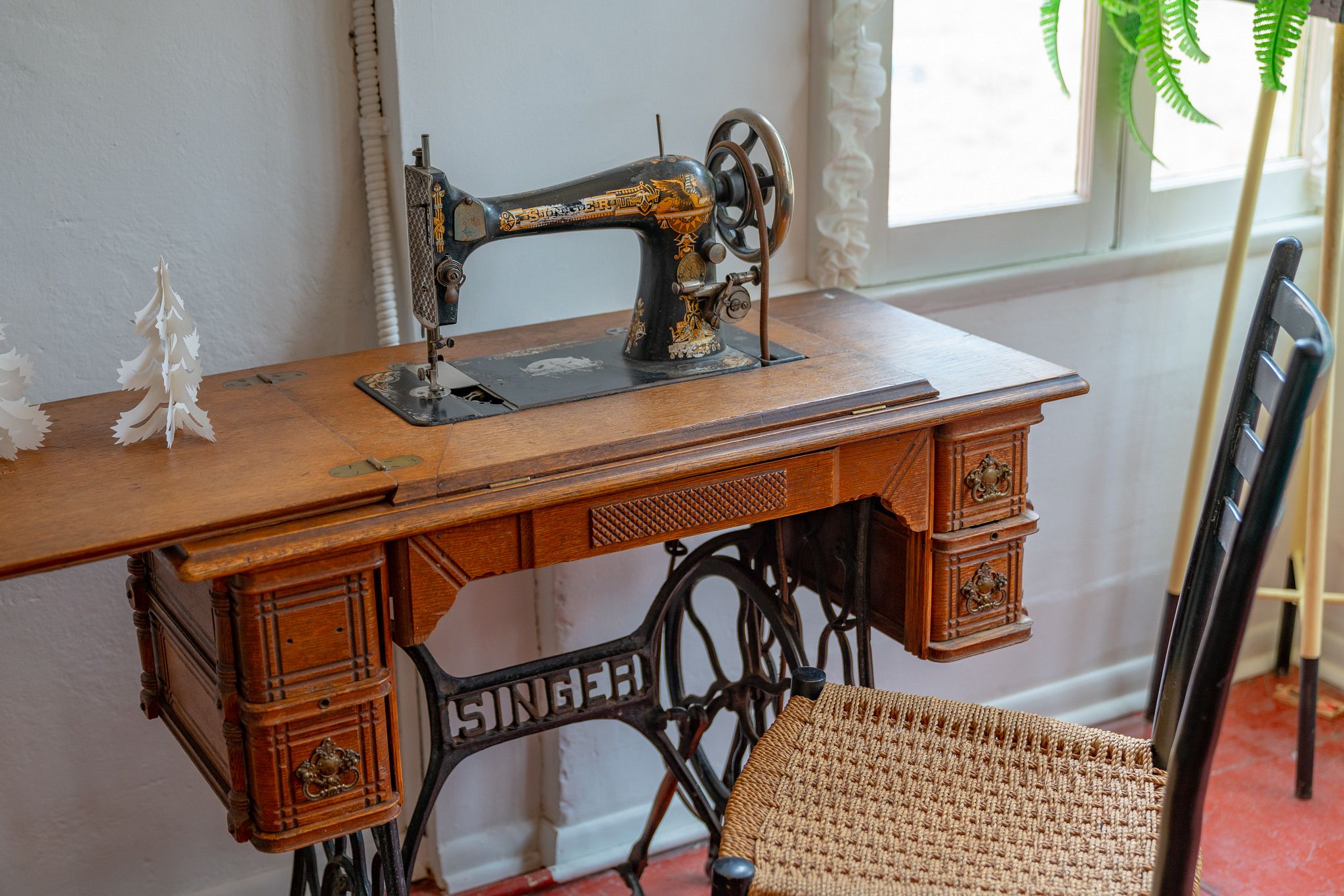 Tours take place every Saturday and Sunday, with more tours available during the busier spring period. If you're in Chiricahua and your dates align (or you can time your visit accordingly), it's an interesting step back in time where you can learn, like we did, the history of Chiricahua and how it became a National Monument.
Conclusion
If there's one trend we're noticing already, it's that the National Monuments are the hidden gems of the National Park Service. Everyone knows the National Parks, but many National Parks are former National Monuments - Pinnacles National Park, etc. And as with White Sands National Monument, there is local pressure to "upgrade" the status of Chiricahua to a National Park.
But here's the real secret: there's really not much difference between a National Monument and a National Park in terms of natural beauty and historical significance - National Parks are established by Congress whereas National Monuments are established by presidential proclamation. In reality, the National Parks are just better known and hence busier. So take our advice: keep an eye out for National Monuments as you might just stumble upon a hidden gem! We can't wait to find more now!
From Chiricahua National Monument, our next stop will be Coronado National Memorial (our first National Memorial since Chamizal National Memorial), so make sure you subscribe to our newsletter and follow our journey on Facebook, Instagram and YouTube.