As an Amazon Associate we earn from qualifying purchases.
We became full-time RVers in summer 2018, and despite much preferring dry camping in the middle of nowhere (aka: boondocking) to RV parks, we have never owned a generator.
The secret to this was our off-grid electrical setup - a custom self-installed system consisting of roof-top solar panels, DIY ground deploy solar panels, Battle Born lithium batteries, a DC-to-DC charger for our truck and a Victron hybrid inverter that meant we could run anything from our Instant Pot to our air conditioning on battery power alone.
And out west, in the desert, this worked great. We could live happily on the power we were freely generating from the sun alone - the entire electrical system paid for itself in saved campground fees in barely 12 months.
But in November 2020, everything changed when we arrived in Vermont.
Solar won't cut it
Our electrical system, well-suited to the clear, sunny days of the desert south west would be no match for a Vermont winter where our solar generation would plummet as our electrical demands soared. So we did the only sensible thing and booked into an RV park - where we unexpectedly then spent the following 12 months!
As I write this in January 2022, we're once again sitting in an RV park with full hookups - this time down in Virginia where we've chosen to spend winter this year. But in less than 2 months time we're planning to head back to Vermont, not to an RV park but directly to the property we bought last year where we're self-building our own dream home.
Just one problem: the property currently has no utilities whatsoever - no water, no sewer, no internet and, critically, no electricity. While we've been preferring battery tools thus far, those batteries still need charging and there'll be some tools that will need 120V power.
What type of generator?
I'm very comfortable working with RV electrical systems - I've even given talks about it both at the Xscapers Annual Bash in 2020 and the 2021 Online RTR.
RV electrical basics & RV solar explained (RV Electrical Upgrades talk at Xscapers Annual Bash 2020)
But the area I know least about is generators, so I reached out to my good friend Marshall at Camp Addict for some help. If you haven't checked out their site before then I highly recommend it - so much good information on there!
Powering the RV
Thanks to our Victron MultiPlus hybrid inverter, we can run anything we want in our RV. It's just like we're connected to 30A shore power - well, except that eventually our batteries will run out!
So the reason we need a generator for the RV isn't to run big appliances like our AC or Instant Pot - it's just to give our batteries a boost when our solar panels aren't generating enough power to keep up with our demands.
Our Victron MultiPlus 12/3000/120 has a maximum charge rate of 120A for our 12V batteries, which means that we need a generator capable of ~1,800W running power (give or take for battery state of charge, charger losses, etc) to charge our batteries at full power. At that rate, assuming no solar generation and no other draws, our 4 batteries would take about 3-4 hours to fully charge from empty.
Job site tools
Because we had no power on-site last year when we were working at the property, we invested in a collection of battery-powered tools so that we could rapid charge the batteries at home (i.e. the campground) to use on-site.
Now, not only will charging those batteries require power from our RV (see above), but there are also some tools we're planning to buy that don't work on batteries and need AC power. Specifically, we're looking to buy a Sawstop Jobsite PRO table saw which requires 15A at 120V.
While cordless table saws do exist, we think the safety and quality benefits of the Sawstop model outweigh the downsides of needing AC power. And as it happens, 15A at 120V is also 1,800W - the same as we'd need for full-speed charging our RV batteries.
Other considerations
So we know that we need a generator capable of at least 1,800W of running power (not peak), but what else matters? Should we just buy a big 5,000W contractor generator and not worry any more?
Not so fast.
In addition to the house build, we'd also like the generator to be portable enough that we could take it with us when we go RVing - particularly if we go somewhere like Alaska and need a backup option for solar. As a result, we want one that's lightweight (ideally under 50lbs) and quiet (no specific limit, but the quieter the better) so it's easy to move around and doesn't disturb us (or our neighbors!) any more than necessary.
Additionally, we want to make sure that it's an inverter generator. A traditional generator relies on the RPM of the engine to set the AC frequency, which means it always has to run at full speed - cheap to build, but loud and inefficient. Instead, an inverter generator uses an inverter to create a clean AC output regardless of engine speed so it can throttle up and down depending on the power output required.
Last, we'd like one that can be run in parallel with a second generator - just in case we decide we need more power to give us a full 30A in the RV (e.g. running the AC all day long) or to operate more tools.
So in summary, we want a small, lightweight, portable inverter generator that can produce at least 1,800W running power and can be paralleled with a second one for increased output.
Honda EU2200i ... or not?
The flag bearer in this class has, for a long time, been Honda. Their class-leading Honda EU2000i was replaced a few years ago by the new and slightly more powerful Honda EU2200i.
Despite being hit by a recall of 200,000 units in March 2019, and another recall of 340,000 units in March 2020, it's generally very highly regarded.
Although on paper it's comparable to many of its competitors, one difference does stand out - its engine size of 120cc compared to a norm of around 80-90cc should give it an edge, particularly at high altitudes, and some claim make it more reliable.
But there are two problems with the Honda EU2200i.
First, is the price: expect to pay $1,299 MSRP! That's more than double (or triple) the price of some of its competitors!
Second, availability: it's like a unicorn horn! I've been looking everywhere for one for weeks - retails stores don't have any in stock and online retailers either show out of stock or back-ordered until as far out as May this year (4 months away).
Until yesterday. On a whim, we stopped in at Home Depot in Williamsburg, VA for a browse around (yes, we lead exciting lives) and their generator shelves were totally empty ... except one generator, a Honda EU2200i. The app didn't show the store as having any, and in fact, the store SKU for this particular model variant wasn't listed on the app at all.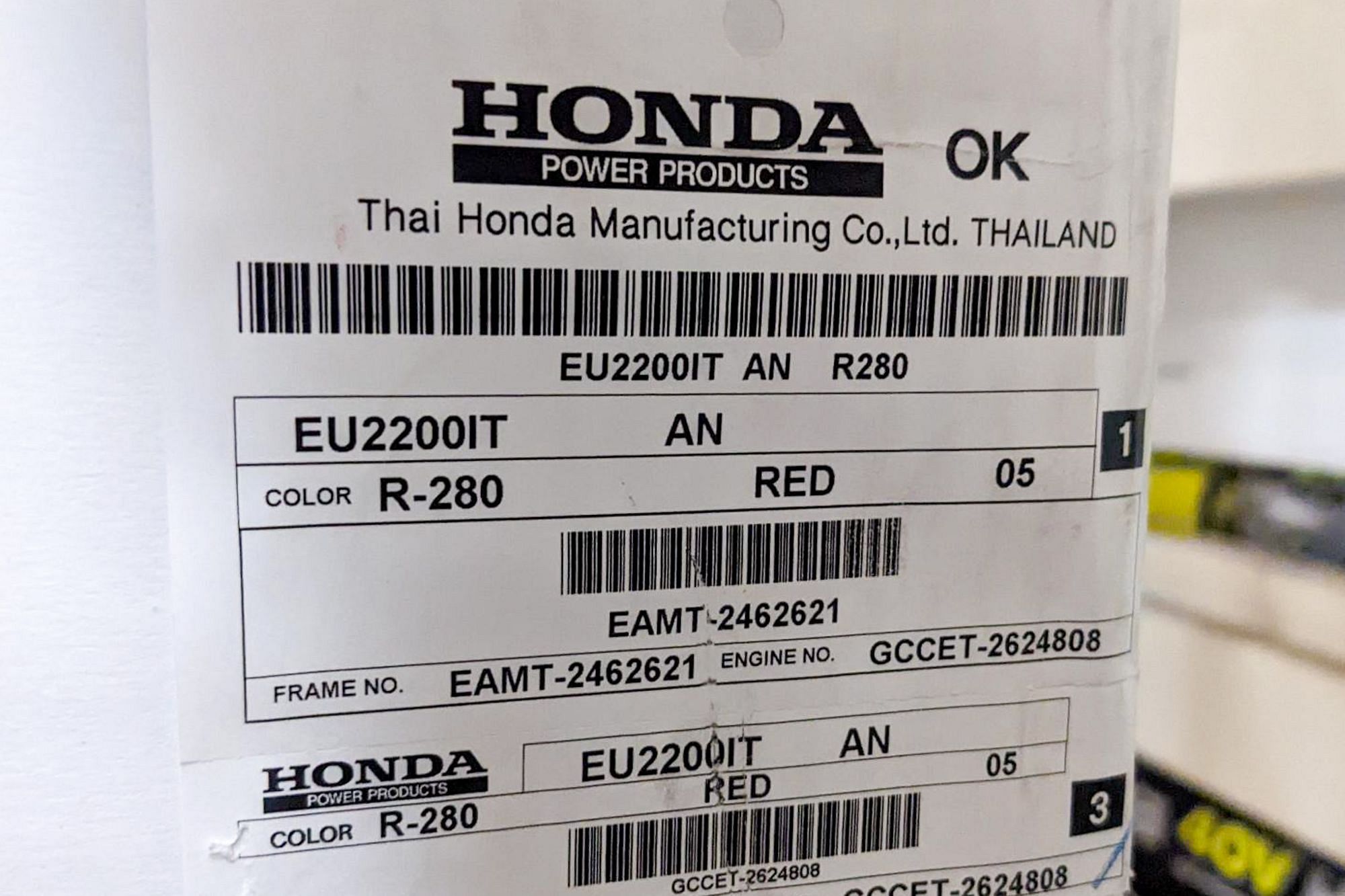 We checked the serial number and confirmed it was not impacted by the recall.
So then the question: should we buy it? We knew if we walked away, it'd almost certainly be gone soon and the chances of us finding another one in stock somewhere were exceedingly slim.
Two is better than one
Weighing up our options, we called our friend Marshall at Camp Addict, as well as Andrew Pullen from Pullen Solar to seek some extra opinions.
Both are full-time RVers, and both are long-time generator users. Both have also been using WEN generators for several years, and both said that if they had to go out and buy a portable generator tomorrow, they'd choose another WEN over anything else. Strong testimonies!
On paper, the WEN 56235i compares very favorable against the Honda EU2200i:
Price (MSRP): $430 (WEN) vs $1,299 (Honda)
Weight: 39lbs (WEN) vs 47lbs (Honda)
Noise (@ 1/4 load): 51dB (WEN) vs 48dB (Honda)
Rated Output: 1,900W (WEN) vs 1,800W (Honda)
Max Output: 2,350W (WEN) vs 2,200W (Honda)
So in essence, the WEN 56235i is cheaper, lighter and more powerful than the Honda, which only wins in the noise category being 3dB quieter. But as we talked about it more, a new strategy emerged. Don't buy a generator, buy two generators!
For the cost of one Honda EU2200i we could buy two WEN 56235i generators and a parallel kit and still save over $350 compared to the Honda!
If we bought the Honda and it broke (or was subject to another recall), we'd be without a generator. If we bought the Honda and needed to parallel a second, not only would it cost us a lot more money, but there'd still be the issue of availability - would we be able to find one?
By contrast, buying two WEN generators has a lot of benefits:
If one breaks, we have a spare immediately available;
If we need to parallel them for more power, we have both generators already;
Run time will be split between the two generators, reducing wear and tear;
We can leave one generator connected to the RV, and the other at the house-site about 1,000ft away, so less moving generators back and forth;
We save over $350!
Summary
One big concern for us is reliability - the Honda name is synonymous with reliability (well, until the two major recalls!) yet WEN is definitely a budget-choice.
Will the WEN generator be as reliable as the Honda? Honestly, probably not, but the friends we spoke to use their generators hard and in the one case where there was a problem, WEN dealt with it quickly and efficiently, shipping out a replacement free of charge. And for the price savings, we could almost afford to buy another one (excluding the parallel kit, three WEN 56235i generators would cost $9 less than one Honda EU2200i at MSRP)!
So that's what we decided to do. We walked way from the Honda EU2200i at Home Depot, and will look for two WEN 56235i generators instead.
Although we haven't found anywhere locally with them in stock, they are readily available for "ship to store" at Home Depot and Target, or we can order direct from the WEN website.
As well as the two generators, we'll probably also buy the WEN 56421 30A parallel kit so we have it available, as well as a couple of covers to help protect the generators when they're not in use.
Thanks again to Marshall at Camp Addict and Andrew Pullen of Pullen Solar for their help!