New Mailbox
Back when we used to live in California, we used a service called Traveling Mailbox - a virtual mailbox that we use to receive all our physical mail. When mail arrives, they scan the envelope, add it to our account and notify us via email and the mobile app. We can then choose to have them open it and scan the contents, shred it or forward it.
It worked really well for us - we find it much easier to manage our correspondence digitally than dealing with physical letters. It also meant that we could still receive mail when traveling which is a huge advantage for us.
When we hit the road full-time as RVers, we moved our mail service to Escapees in Texas. While Traveling Mailbox was great, the Escapees mail service is designed specifically for RVers and allowed us use the address not just as a mailing address but as our legal domicile too.
Now, as we look to create our home base in Vermont, we've signed up with Traveling Mailbox again. We'll use it as our primary mailing address for as much as possible - basically anything except packages!
But since we do want to be able to receive packages at our address, we still need a mailbox. So last weekend we picked up the supplies to install one, having identified a location for it with our mailman.
Despite having a 40ft wide driveway, it was actually quite a challenge to find a location for the mailbox due to the drainage ditch running along the front of the property. We were able to build up an area for it just adjacent to the driveway, and then set the post on some gravel and surrounded it with Quikrete fast-setting concrete mix, per our mailman's recommendation.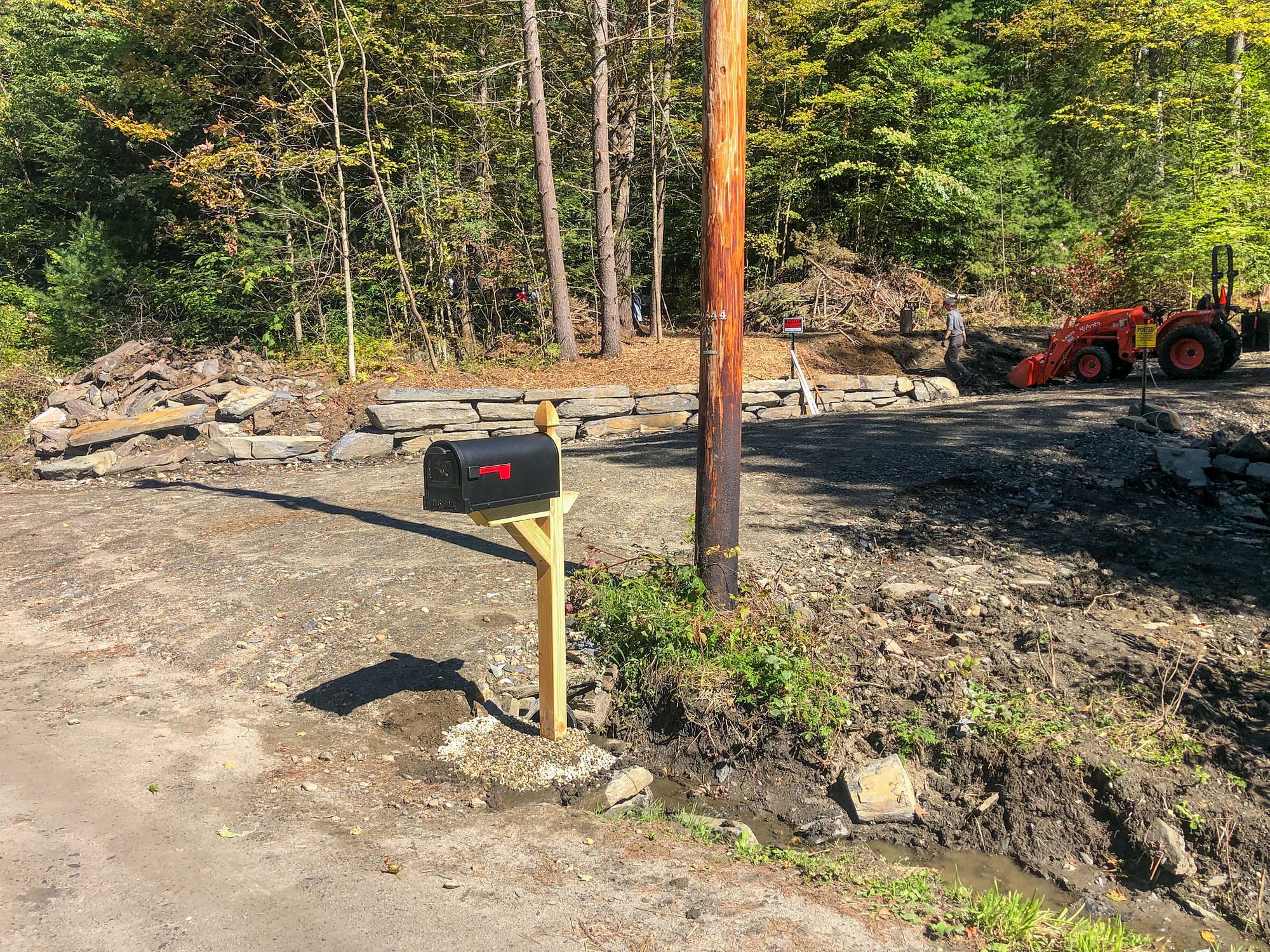 Installing the mailbox didn't take long at all, and I think it looks really good. But I am concerned with how close it is to the road. Hopefully passing vehicles won't be a big problem, but I'm a little worried about snow plows. We might remove the mailbox itself this winter (we'll be away anyway so any mail will be held at the post office or forwarded) and see if the post survives. If not, we'll have to find a new location, or a snow-plow resilient mounting method!
Shipping Container Preparation
Earlier we had considered buying a used 20ft shipping container but rejected the idea due to the eye-watering prices at the moment - over $5,000 to get a used 20ft container, almost 3 times what it was a year ago!
But, now we have the driveway in, it's much easier for a truck to deliver one for us, and that means we can rent a container (we'd have had to skid it up the old logging road with an excavator before and no rental company would be happy with that!).
So next week our shipping container will be arriving. We've chosen a 40ft container to give us as much dry and relatively secure storage space as possible.
Our contractor had cleared a space for it up near the house site - we checked it for level and it has just a small slope down towards where the doors will be, so it should work great!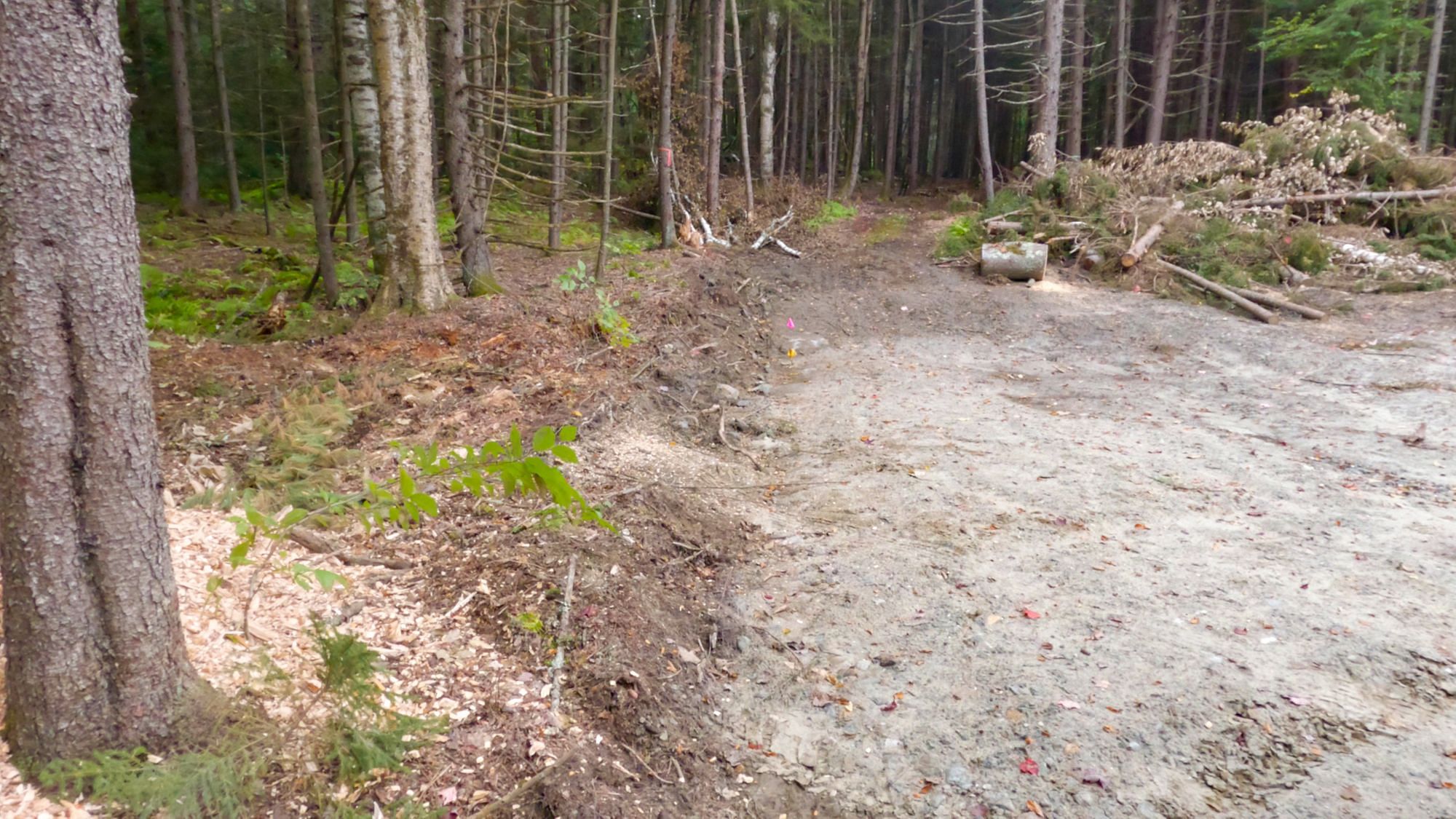 But before the shipping container can be dropped off, we needed to clear the big slash pile behind it. This means one thing - chipper rental! After previously renting both the 6" chipper and 9" chipper, we decided to go with the bigger of the two this time, not knowing exactly what was in the piles of slash that the construction crew had assembled.
On Wednesday we rented the 9" chipper from Essex Equipment in Berlin, VT who gave us a discount to support our project, and set to work on the pile of slash. The pile had been created with an excavator, so everything was tangled up and it was hard work pulling branches and logs out. But we kept at it, using our new Husqvarna 550XP Mark II gas chainsaw to free up or buck down the more troublesome logs!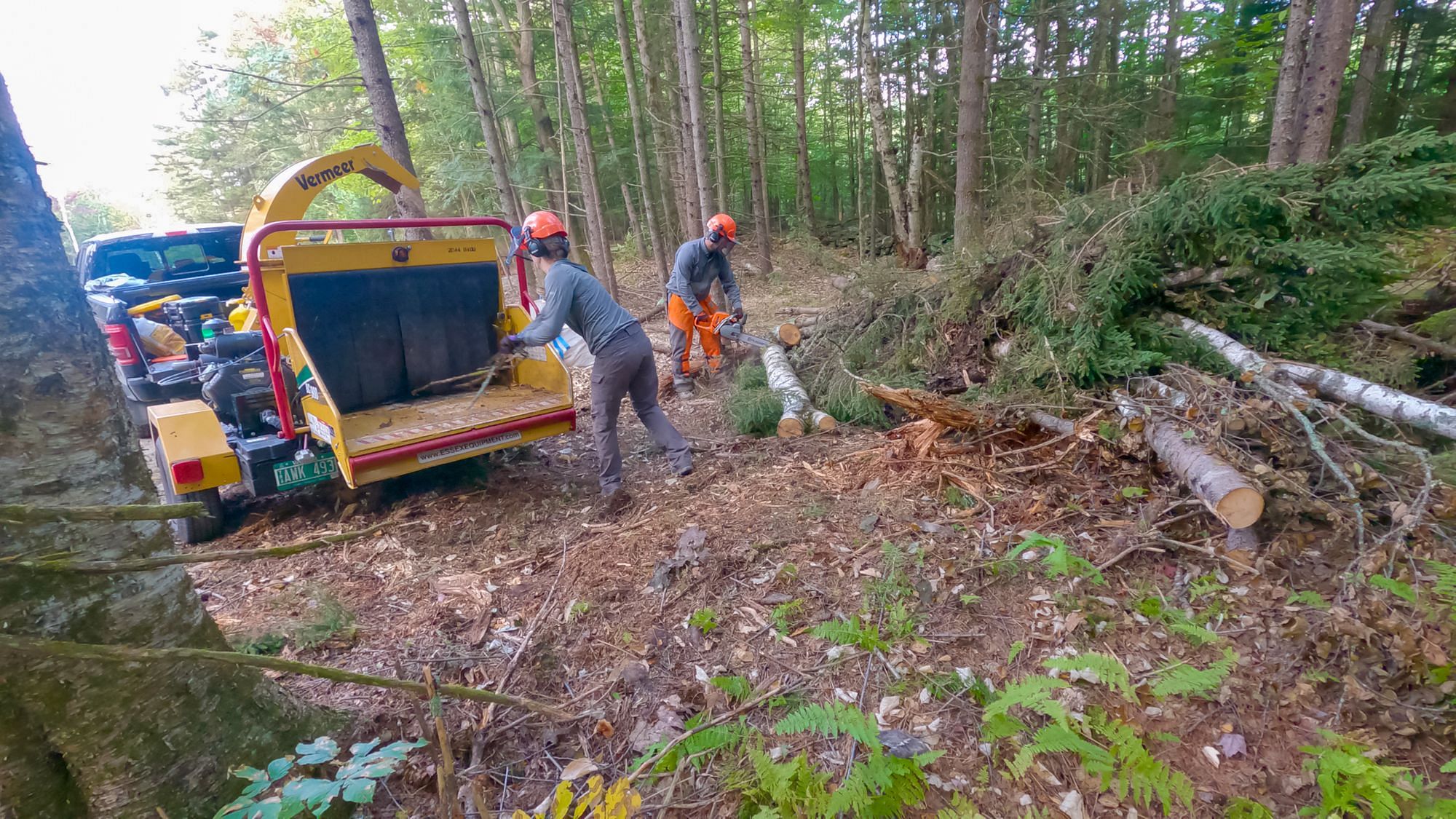 Within an hour, the pile had been reduced to chips, more than filling two of our big yard bags with wood chips. The rest that spilled over we'll leave in place and let it compost down into the forest.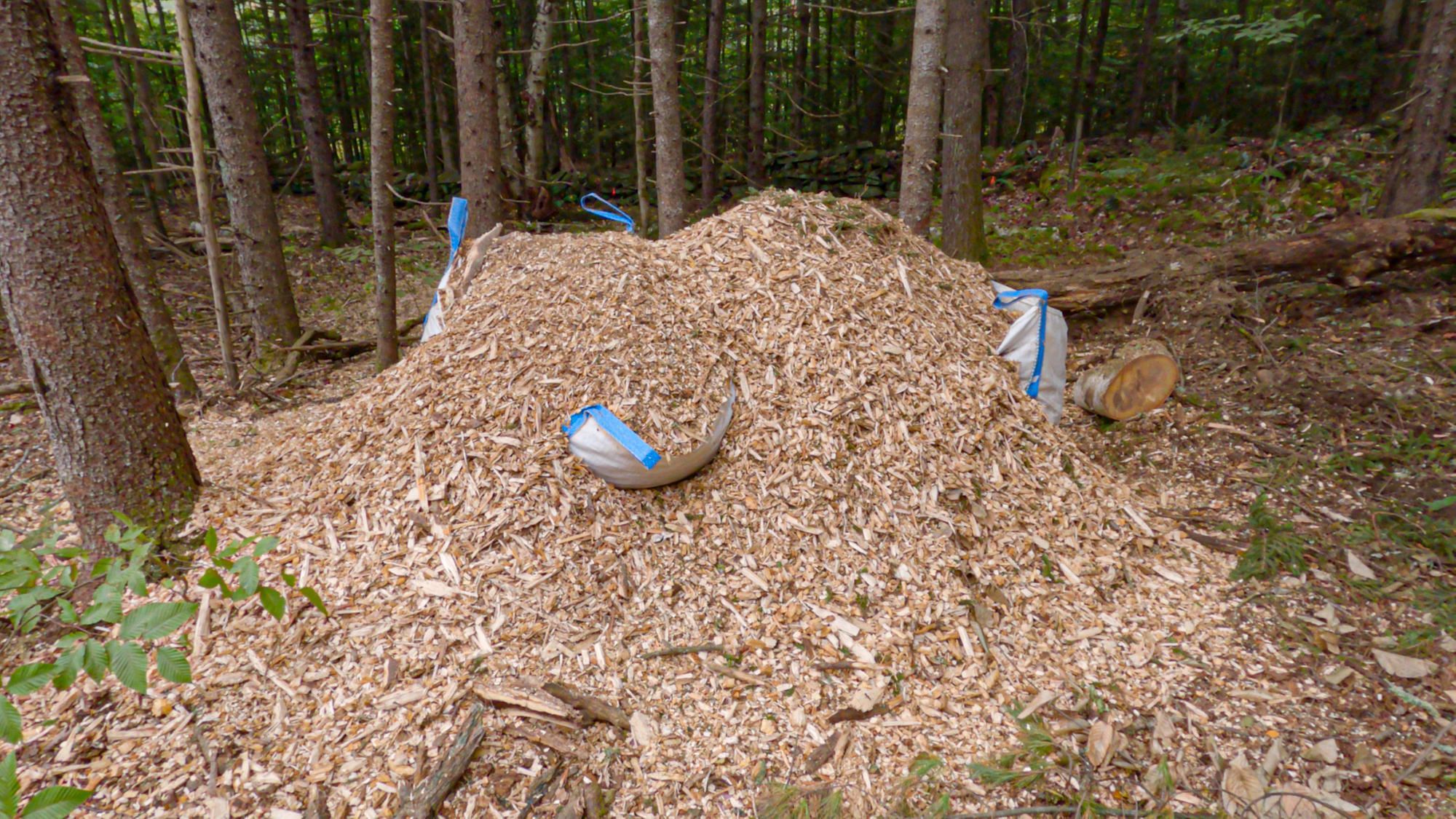 Landing Zone
Afterwards we moved the chipper down to the bottom of the property, to clear the two huge slash piles - mainly full of branches from the big pine trees that had been felled during the driveway construction.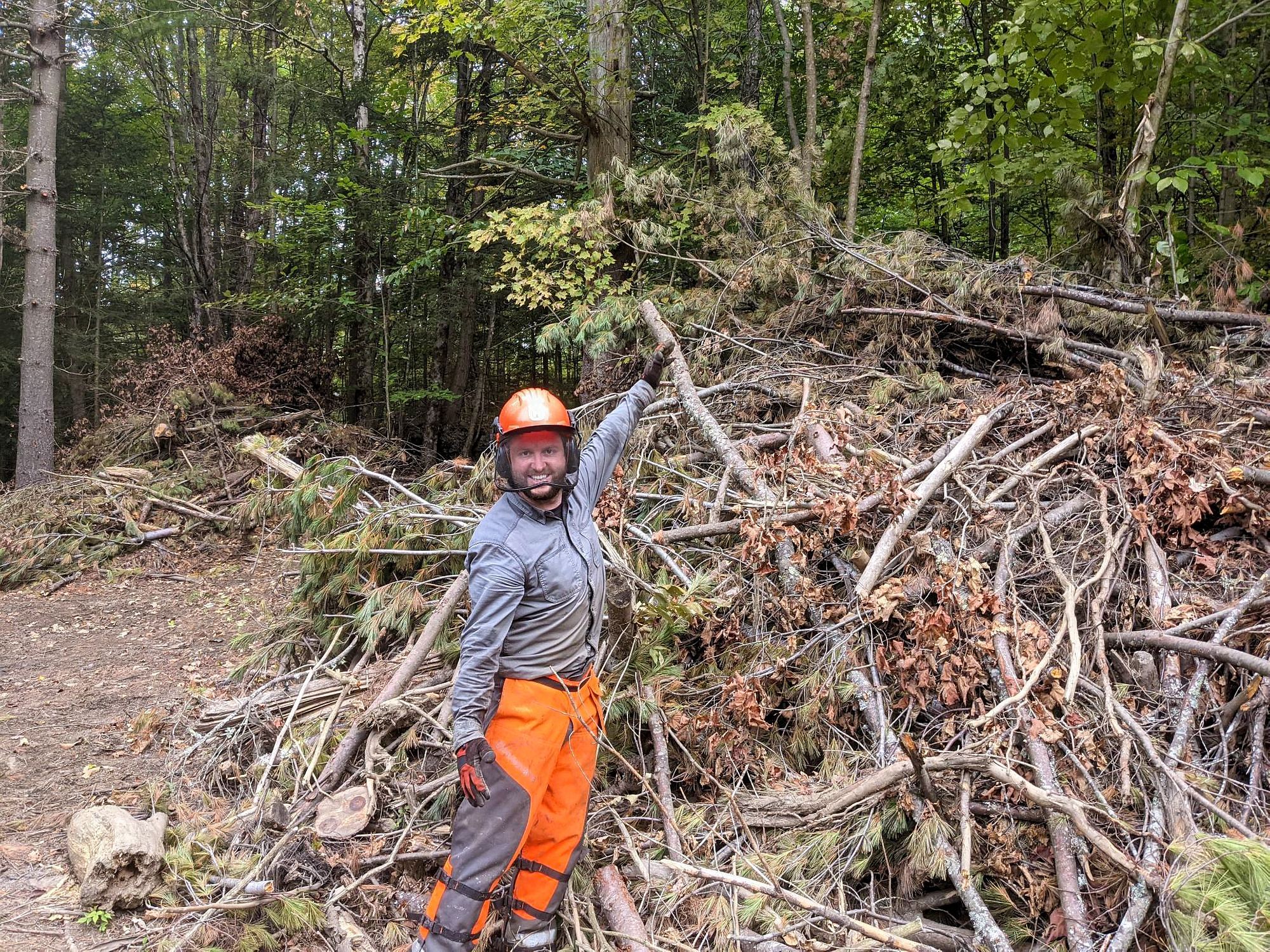 Next weekend we're taking our RV to the property and parking it in the area near these slash piles, so we wanted to clear the piles to give us some more space (and make it look prettier!).
These massive piles were much harder work to chip - the logs and branches were packed in so tight that we could barely free them by hand and ended up using the tractor with the pallet forks to pull out sections at a time.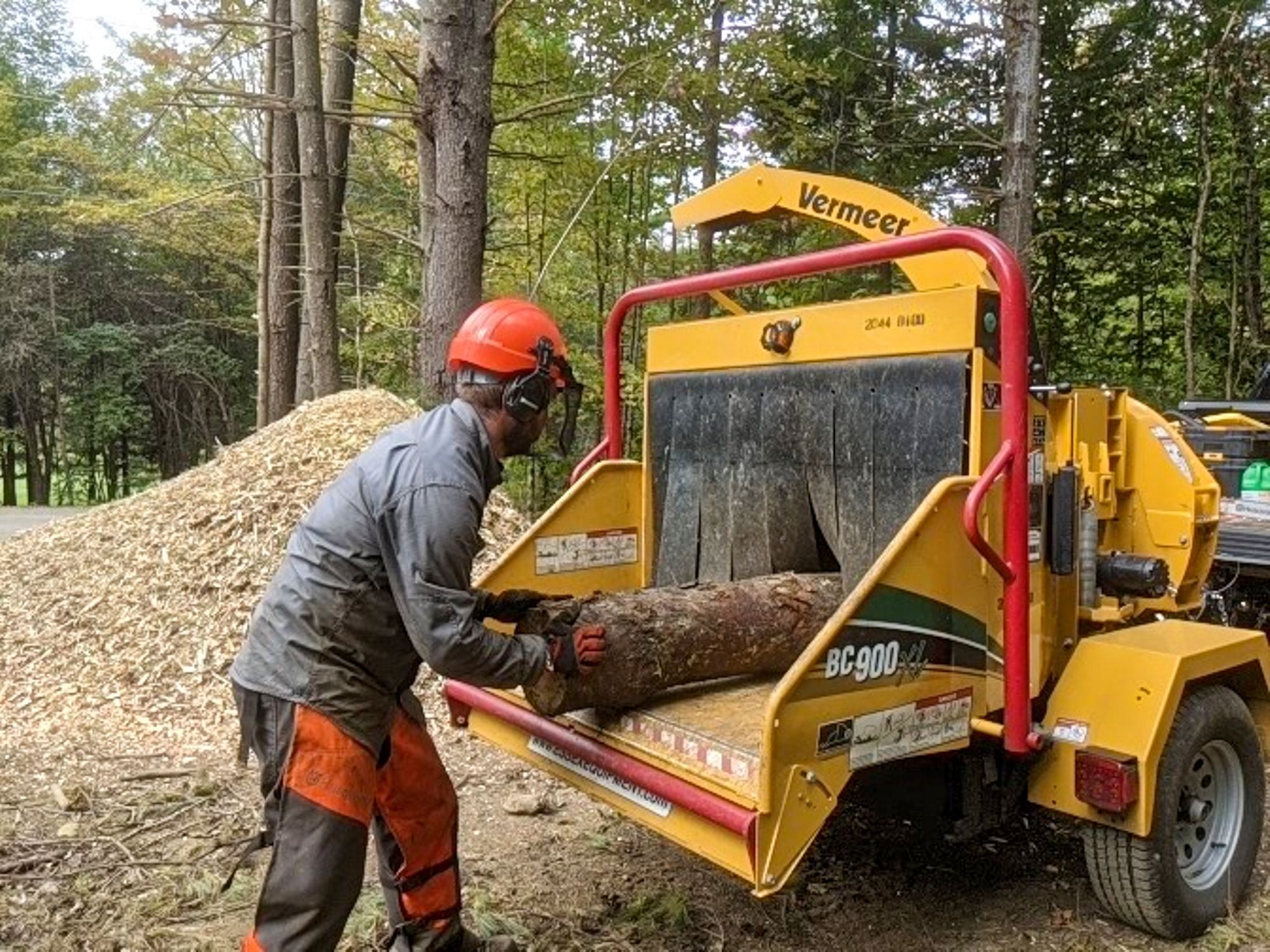 In the end we spent about 6 hours almost non-stop, just pulling branches out and loading them into the chipper.
The chipper, as previously, is an absolute animal, swallowing almost anything and everything we could throw at it! We did manage to block it once - when the partially decomposing butt end of one log became lodged inside - but within 15 minutes we were up and running again.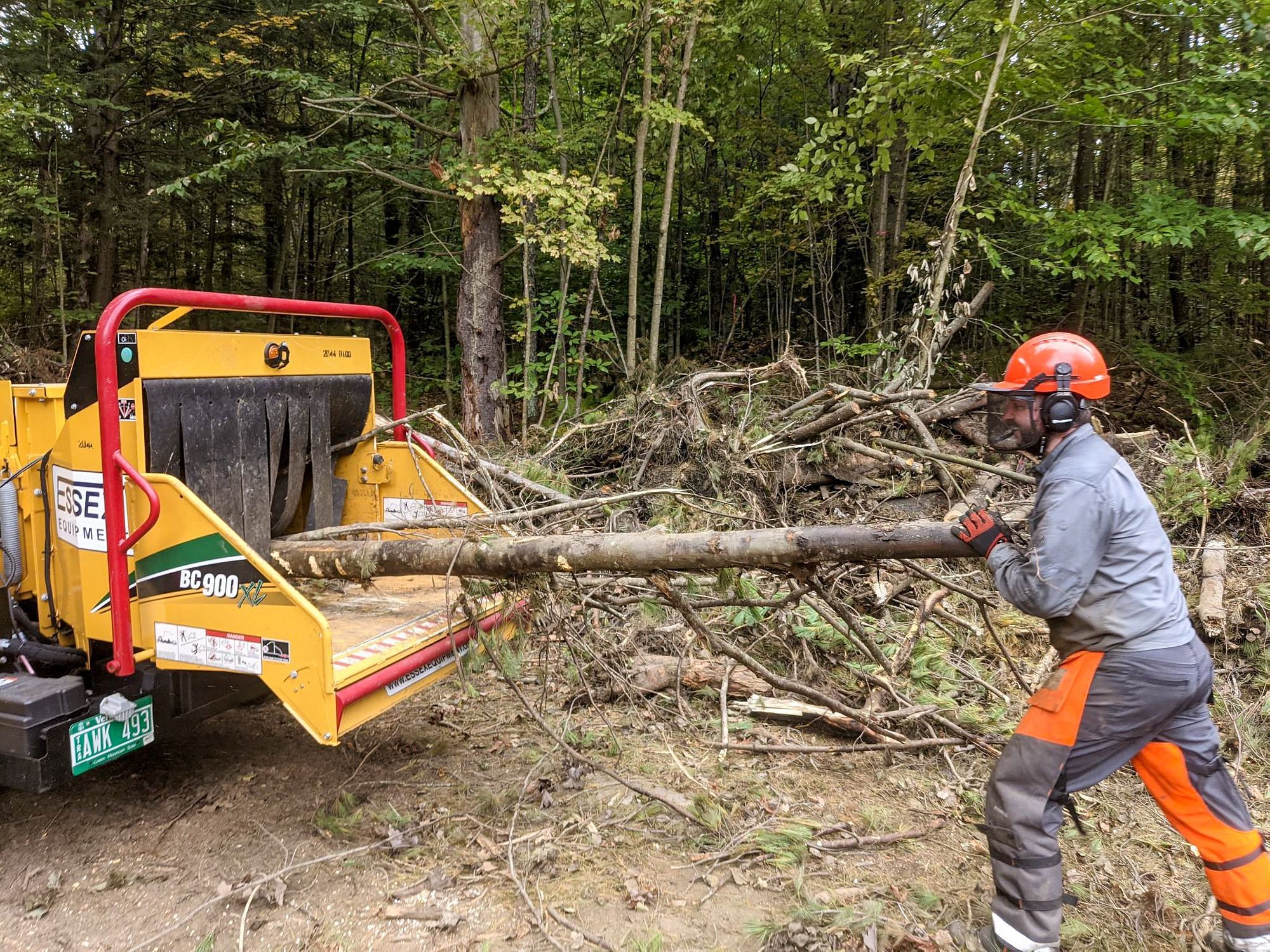 The result is two huge piles of woodchips. One, we'll use to spread around the landing zone so it can decompose down and help fertilize the soil before we seed it next year with a conservation mix of grass seeds and some wildflowers. The other we chipped into the middle of the old logging trail to help block off that entrance to any unwanted visitors.
It was a long, sweaty day and it won't be our last time renting the chipper (there's lots more to clear up along the driveway) but we really love seeing things start to take shape!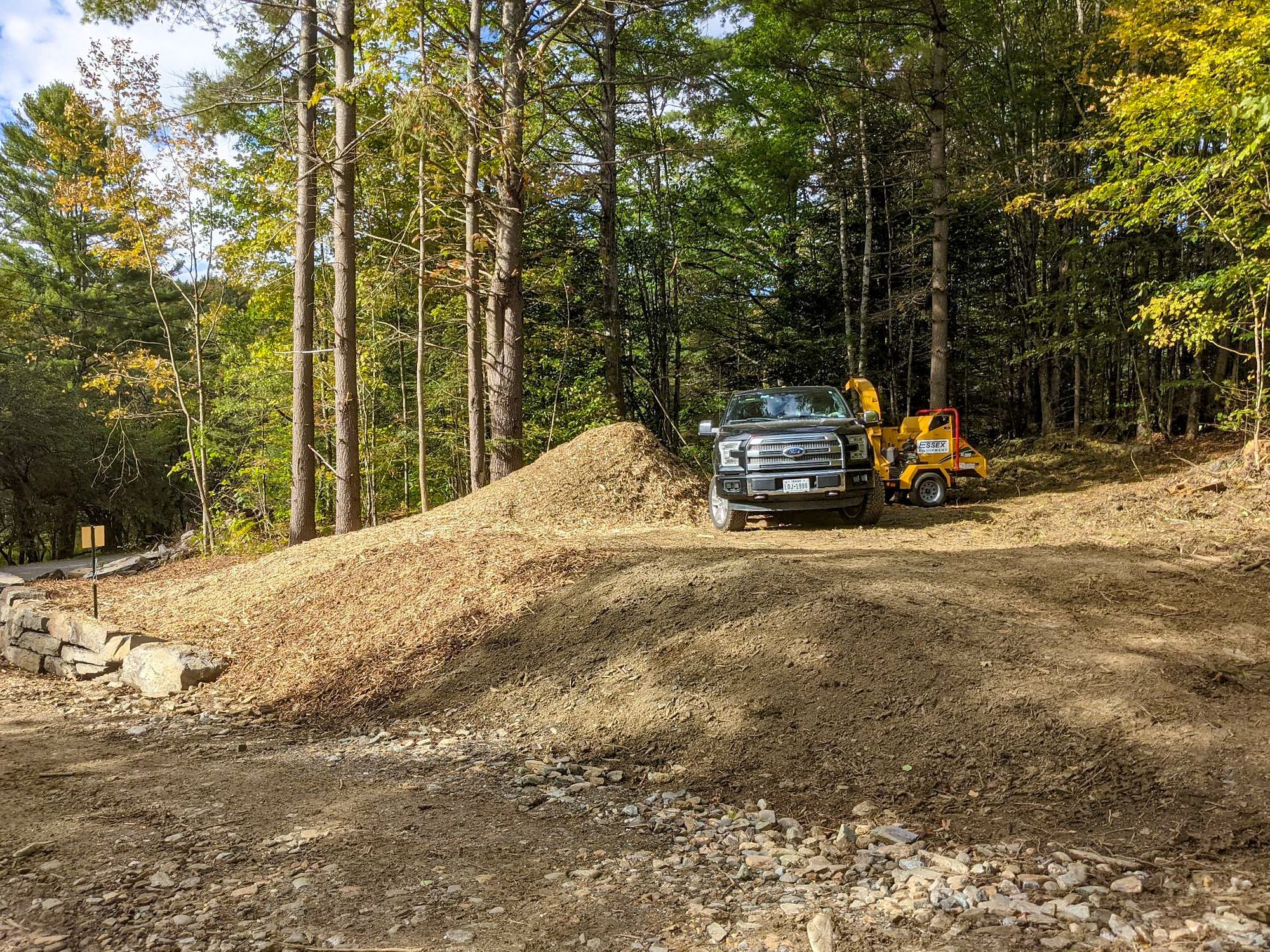 Maine Weekend Getaway
Next Monday we have an appointment in Boston, so we decided to take the opportunity to have a weekend getaway! We have some free hotel nights that expire at the end of the year, so we're using them to visit Portland, Maine.
We had hoped to visit Maine this time last year but were unable to do so due to travel restrictions. This weekend is pure vacation - we have very few things planned and will just see what takes our fancy when we're there. Let us know if you have any recommendations!
Winter RVing Preparation
Last week we shared that we're planning on heading south, down to Virginia, this winter. While it'll still be cold down in Virginia with lows down around freezing, that's positively balmy compared to the brutal cold in Vermont!
That said, even winter in Virginia needs some preparation in an RV. If you're thinking of taking your RV somewhere with possible freezing temperatures this winter, make sure to check out our blog post with tips about preparing for winter RVing.