As an Amazon Associate we earn from qualifying purchases.
The weather has been reasonably cooperative over the last week, and we've managed to get out to the property most days. It's really exciting to see the progress we're making, and even though it's exhausting work, we're having a lot of fun!
Blazing Trails
Last week I started work on moving the wood chips from the big piles we had created to spread out on the trails.
Unfortunately, the weather was working against me and I had to stop halfway through as the tractor was tearing up the trails. However, things dried up and last Saturday we were able to finish the job. We've cleared the entire pile of wood chips and spread them on about 400ft of trail, plus cleaned up our staging area!
It was slow going, moving the wood chips one bucket-load at a time and raking them by hand, but we're really happy with the end result. Check out our blog post Blazing Trails for lots more photos!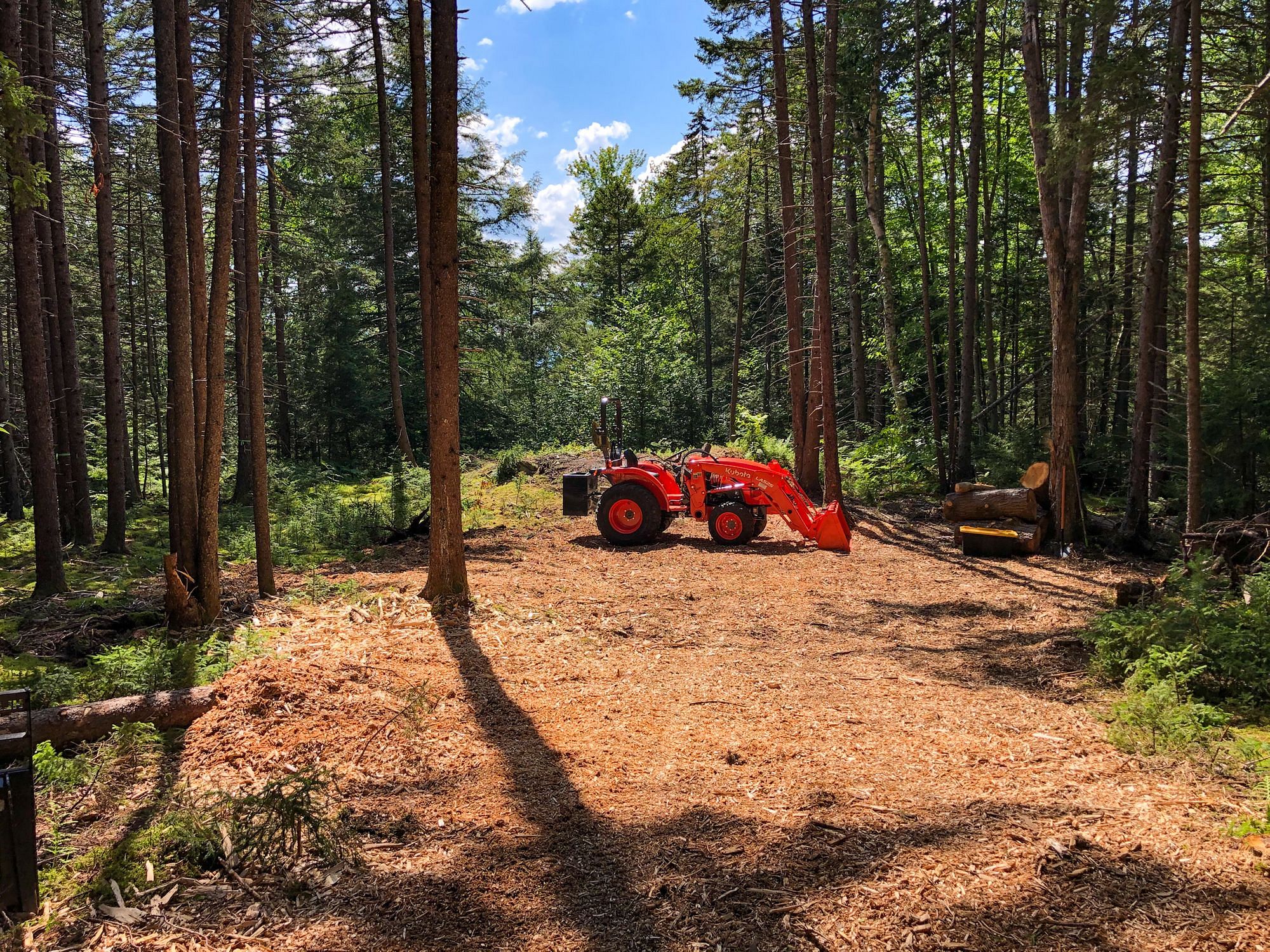 Clearing the Driveway
After working on the trails, our attention turned to the driveway.
Although the property has a logging road at the moment, we need a real driveway - something less steep and with a better surface so that we can get large vehicles (e.g. concrete trucks, etc) up and down to the house site.
A couple of weeks ago we spoke with the contractor who's going to be helping to build our driveway. With his help we identified a path for new driveway to take.
While we'd be reusing the upper section of the logging road, we'd be creating a brand new entrance on the road, and then clearing about 400ft through the forest before it joins up with the existing logging road.
We asked our contractor what we could do to make things easier for them when they arrived on site. He asked us to clear as much of the brush and smaller trees as possible - so that's what we've been doing this week!
Look out for a blog post coming soon with more details.
Sawmill
In last week's blog post I dropped a little teaser that we had ordered a saw mill so we can mill our own lumber. As we clear the land for our driveway and house site, we'll be felling lots of trees and we want to be able to reuse as much of this material as possible.
Just one problem - neither of us have ever used a bandsaw mill before!
I reached out via some online communities last week and a local sawmill owner, Gerald, very kindly invited me to visit last weekend to see his setup and help him off-bear some lumber for a job he was working on.
His mill is seriously impressive - much larger than the one we're getting with a powerful diesel engine and hydraulic controls for lifting and turning the logs.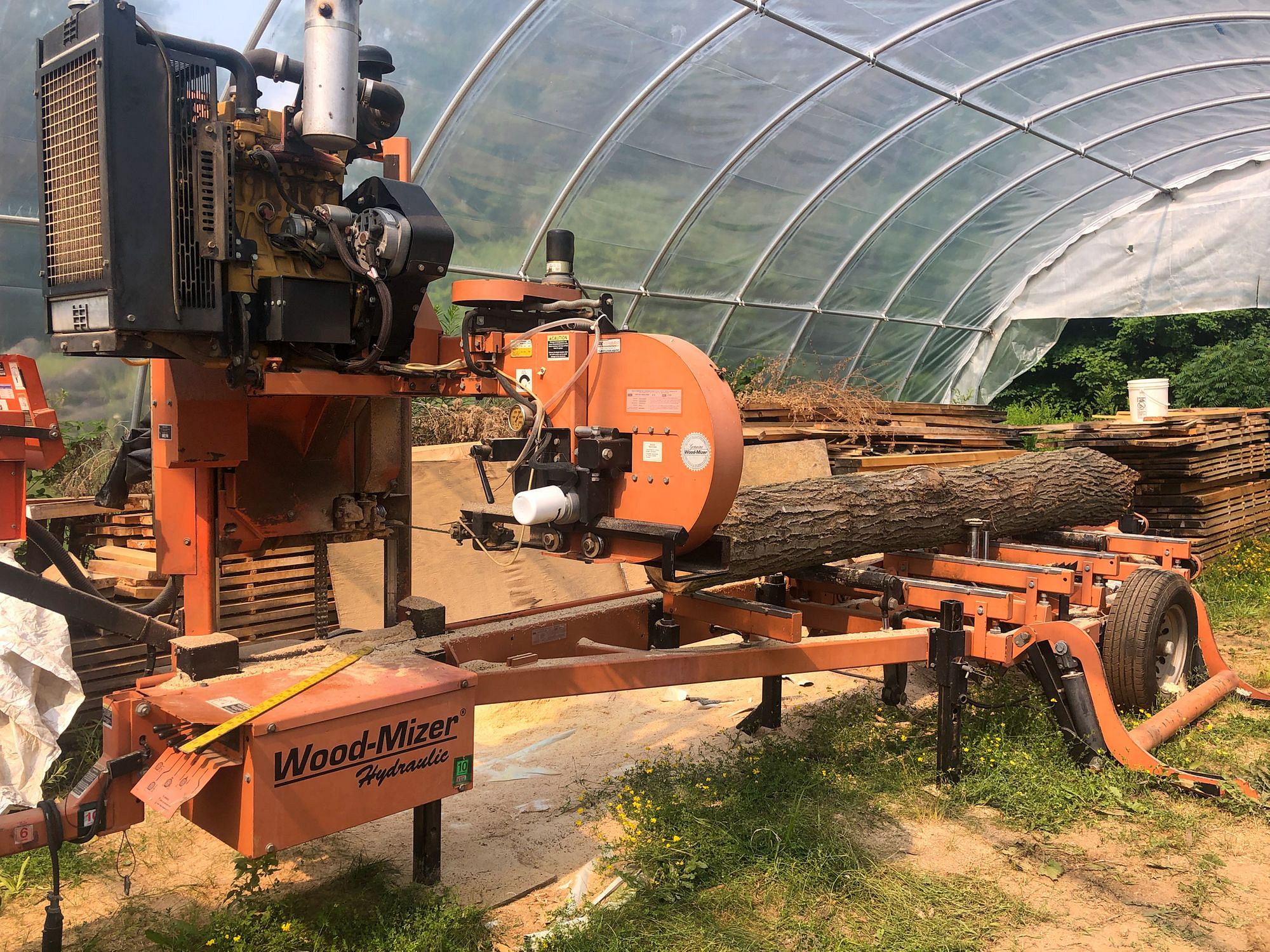 I spent almost 5 hours with him as he shared his experience with me and I helped him work the mill. Learning first-hand like this is such a great opportunity, and I'm now more excited than ever to get our new mill!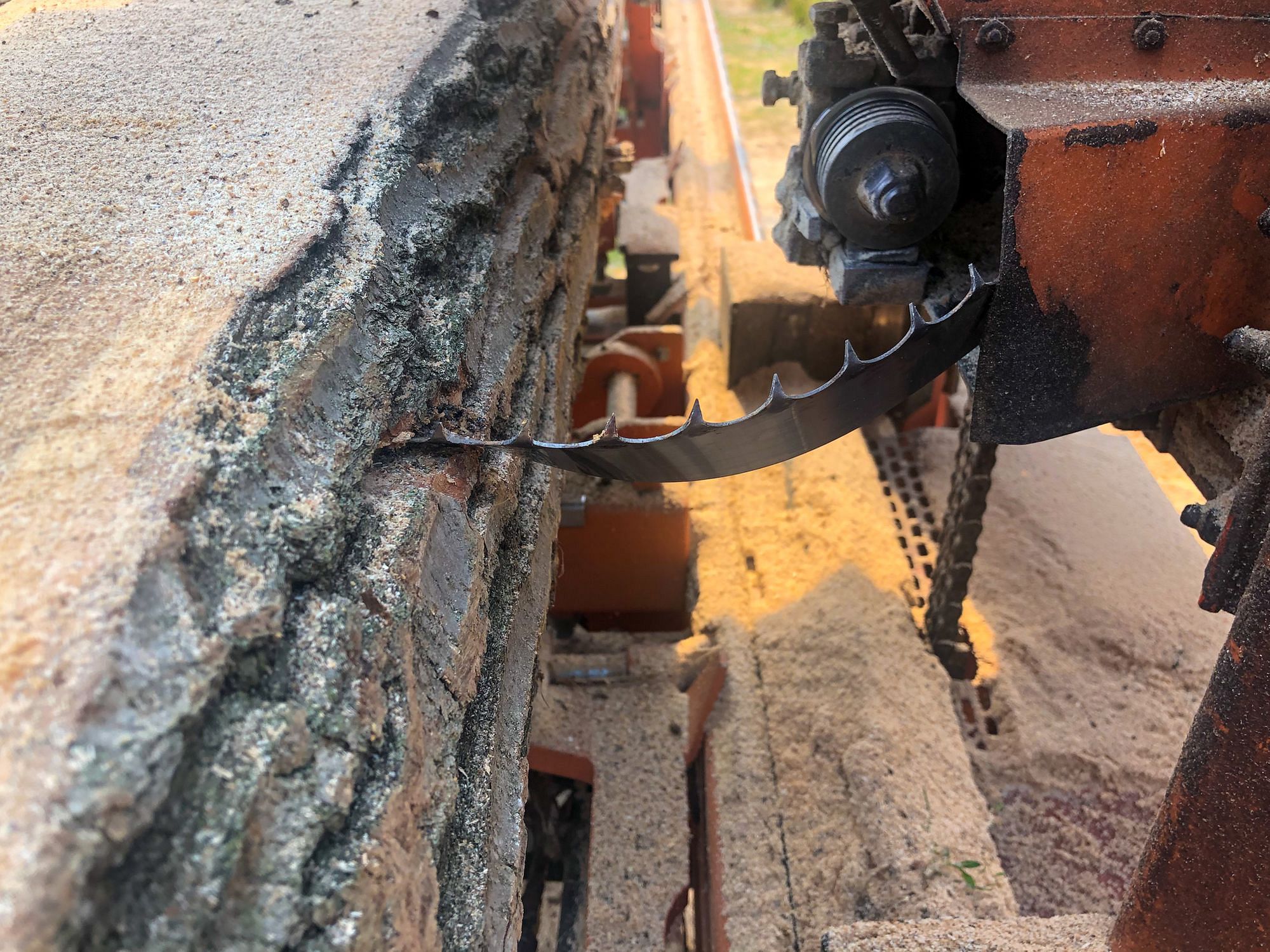 We were milling some heavy red oak logs into a couple of large cants and some heavy 2-1/4" slabs. At one point during the milling we hit a screw deep inside the log that completely destroyed the blade - not good for Gerald, but a good experience for me to see!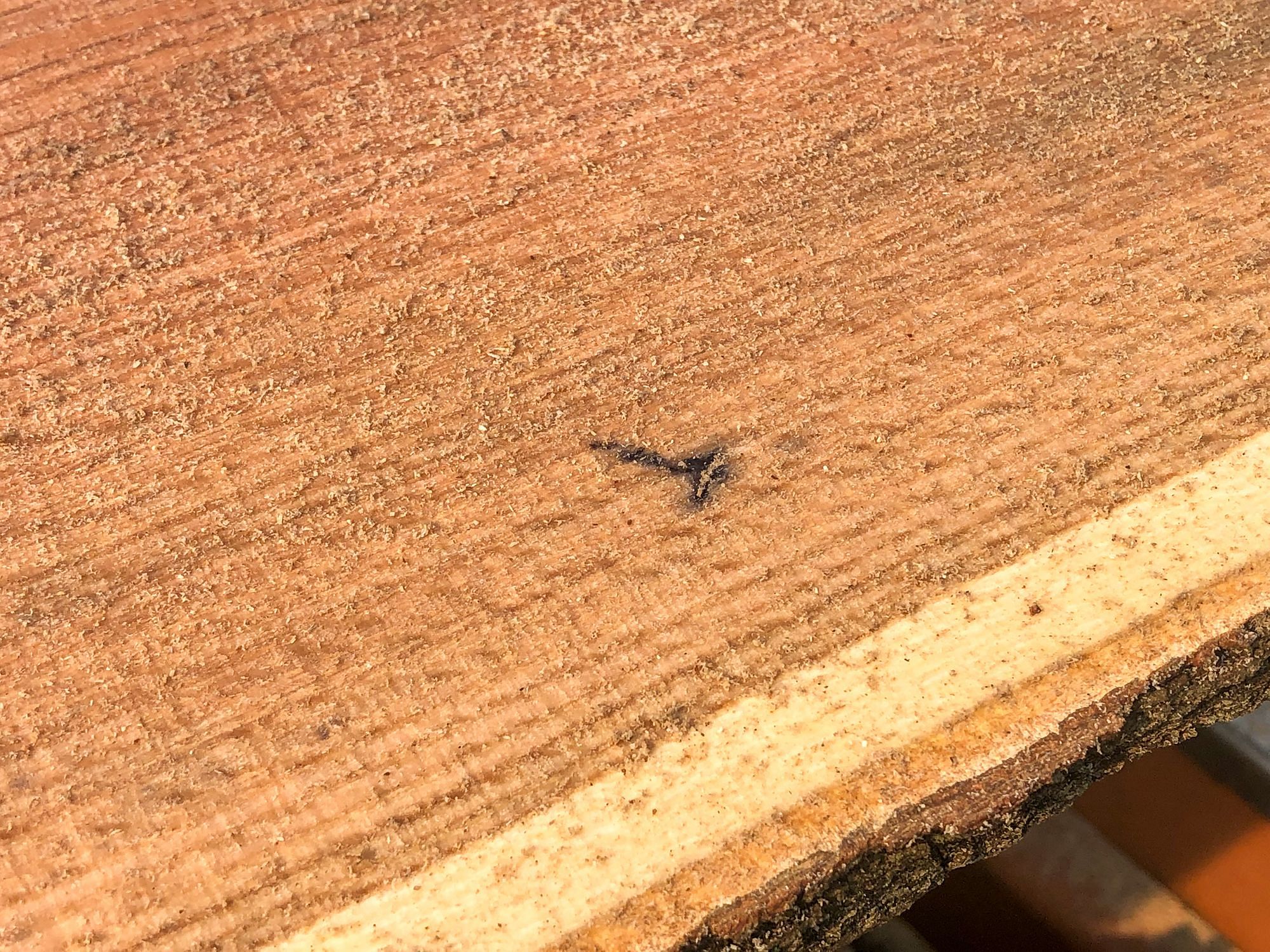 Shipping Container
On a video a few weeks ago, we shared that we were thinking of buying a 20ft shipping container to put on our property to use as dry and (relatively) secure storage. Our newly-cleared staging area would be the perfect spot for it.
After researching it some more, we've decided not to go ahead - shipping containers are eye-wateringly expensive right now!
Last year I was looking at shipping container prices, and you could generally by a used 20ft shipping container that's watertight and wind-proof for about $1,500-$1,800 plus delivery. We got quotes from a few local companies and right now the same used shipping container would be about $5,000! That's almost a 3x increase in price!
The problem is limited supply, so we'll be watching the prices closely and if they come back down to more sensible levels then we may still go ahead, but for now we're going to have to manage without.
BattleBorn Battery Upgrade
One consequence of not buying a shipping container is that we're going to be upgrading the battle bank in our RV!
Wait, what on earth does a shipping container have to do with our RV batteries?
Well, a few months ago we won a new BattleBorn battery in a raffle put on by RV Love. While deciding what to do with it, one option was to put it in the shipping container along with the old solar panels from the roof of our RV and give us a small amount of power on-site.
But now with the shipping container idea on pause, we're instead going to add the battery to the existing three batteries we already have. It's going to be a tight squeeze but it should just fit.
BattleBorn say that you can add new batteries to your existing bank for up to 3 years...our battery bank will be 3 years old in just 2 weeks' time so we'd better get moving!
RV Water Quick Connects
We've had a few questions lately about whether we are going to be stopping RVing, or at least stopping sharing RV content on our YouTube channel and website.
Although our priority is the house build, we're going to be living in the RV until the house is built. Plus, we still love RVing and now that more things are opening up we're looking forward to getting out on some more adventures.
But just living in the RV there are always going to be little mods and tweaks that we're working on, and we intend to keep on sharing those - just like the battery upgrade above.
One such mod we did just today was to install quick connect hose fittings on all our hoses and water connections. A pet hate of mine is messing around with water fittings - it's difficult to get them tight and they invariably want to leak.
Honestly we should have done this years ago! If I could roll back the clock, this would be one of my first mods. The pack of 6 connectors arrived earlier this week and this morning I installed all six of them on various fittings on our hoses. I used PTFE tape on each one, tightened them snuggly with a crescent wrench and not a single one has any sign of a leak.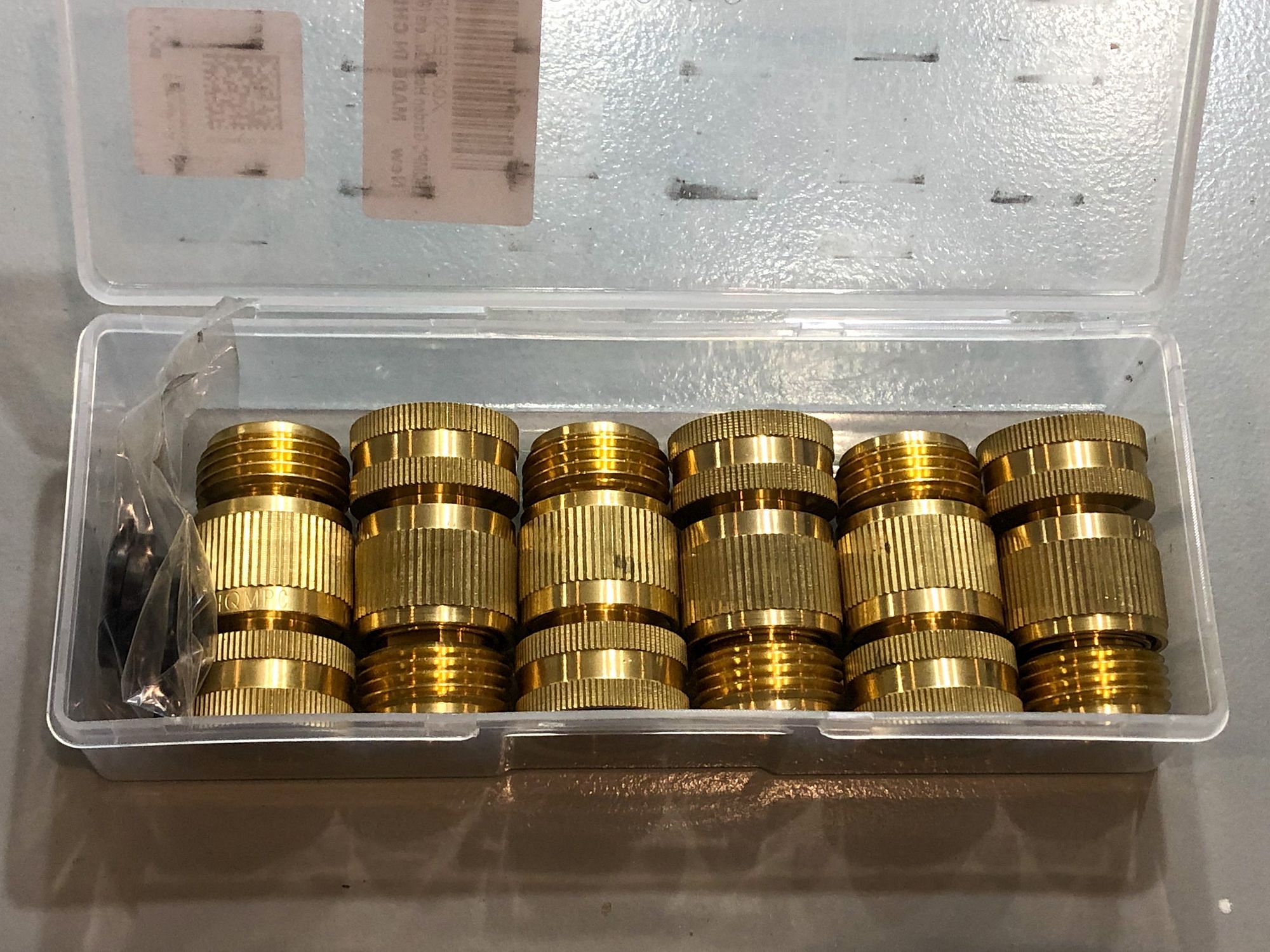 This will make it so easy to replace the water filter or even just switch our secondary hose between the spray nozzle for watering our tomatoes and the hookup on the RV for the San-T-Flush.
So do yourself a favor and pick up a pack of these now. I'm tempted to pick up another pack and add them to the rest of the connections next time we unhook!