Our property is covered with trees, with just the logging trail cutting through them. One of our first jobs was to widen the logging trail just enough for us to drive the truck onto the land, but we still don't really have anywhere to stage vehicles, equipment, materials or tools.
We're working with our architects on a site plan, and until that's done we don't want to do any major land clearing. But there's one spot on our property, in an area that will likely need clearing anyway, where a bunch of trees have fallen.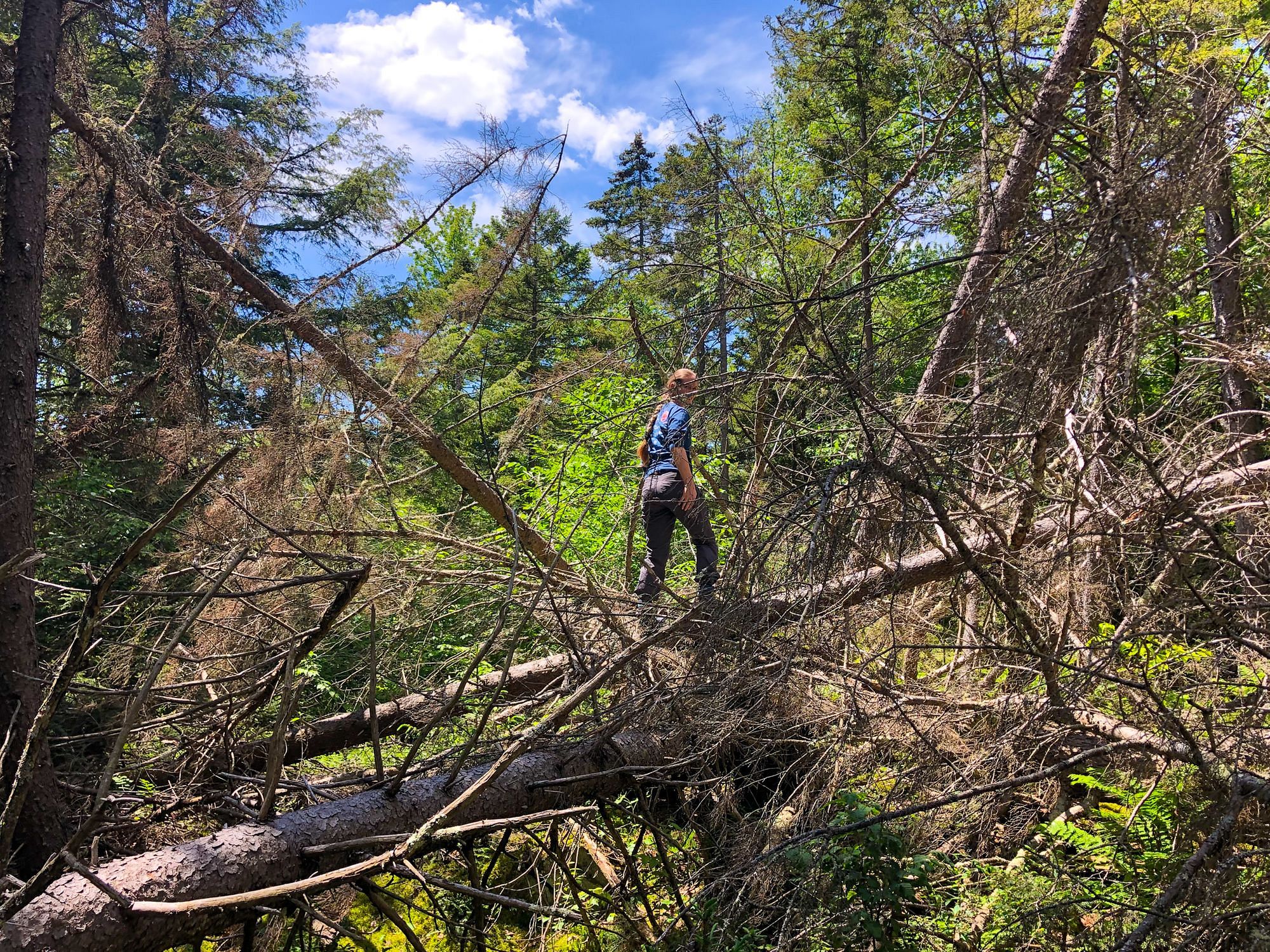 Better yet, the area is adjacent to the road, and relatively flat. Time to clear it up!
Kubota Compact Tractor
As well as the chainsaw and my newly acquired skills from the Game of Logging chainsaw training course, we have something else to help us this week - our new tractor!
Yes, last Wednesday we got our new tractor from Essex Equipment - a Kubota L3901!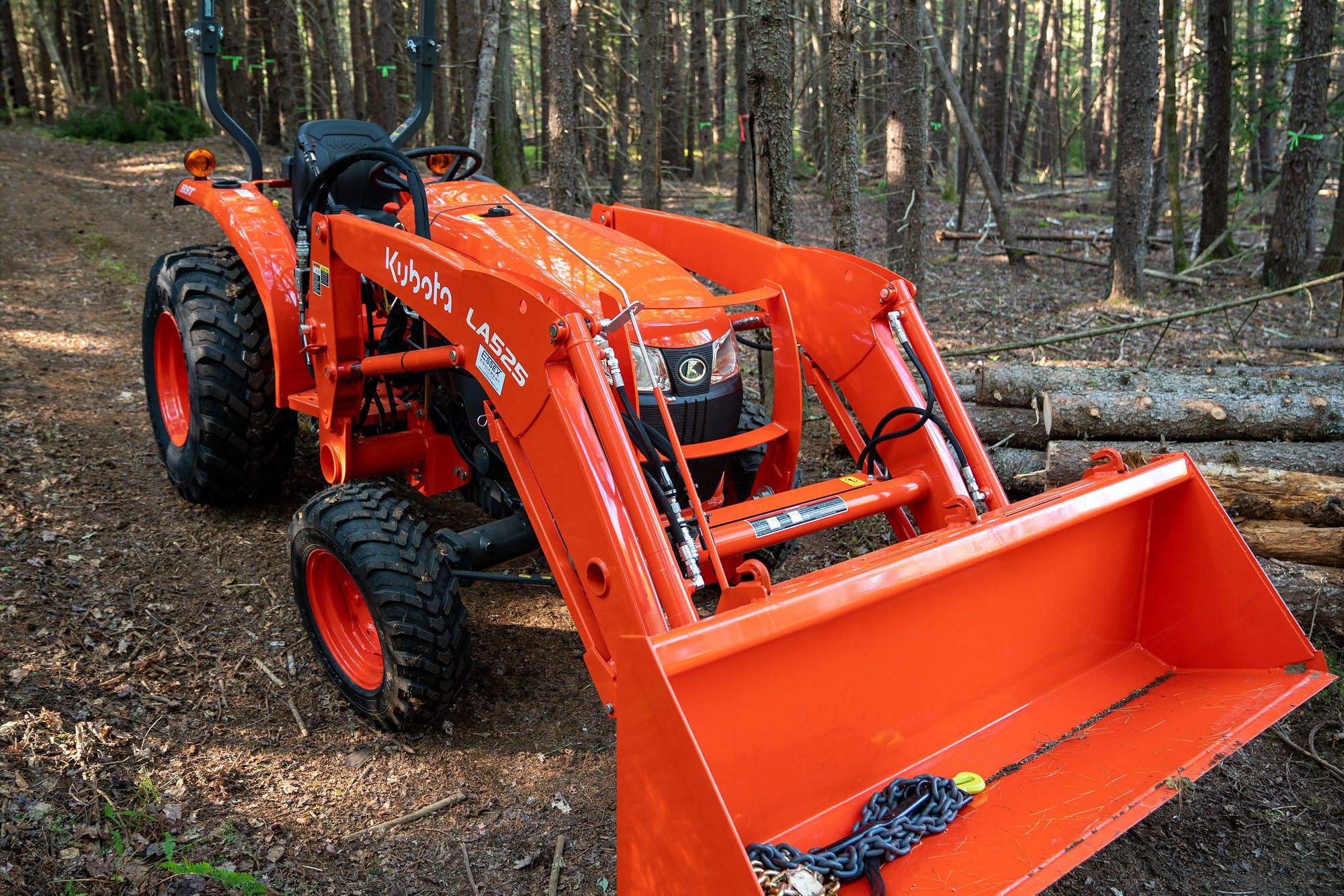 On Wednesday morning we headed up to Essex, VT where the salesperson, Chris, spent well over an hour with us doing a thorough orientation with our new tractor. We filmed the entire process and will be sharing that very soon!
Demand for tractors and attachments is insane right now, so we were very lucky to have been able to get the tractor we wanted so quickly. Our tractor is a Kubota L3901 (39hp) 4WD tractor with hydrostatic transmission and R14 tires loaded with beet juice (yes, really!).
It has a 3-point hitch on the back and a universal loader on the front with a bucket and pallet forks. We asked them to add three hooks onto the front bucket that we can use to attach chains to, and a bucket level indicator rod on the loader arm.
Separately we purchased a Titan ballast box - it arrived on Monday and we'll be installing it on our tractor very soon. We've also ordered a grapple but that's not scheduled to arrive until September.
We'll do a full blog post all about why we chose this tractor, the attachments we selected, and how we plan to use it - but those are the highlights!
Clearing Trees
After our orientation, the tractor was transported to our property. Meanwhile we picked up a twisted clevis hook and some logging chains, and by the time we arrived at our property the tractor was there waiting for us.
That afternoon we spent just driving the tractor up and down our property, getting used to the controls and how it feels.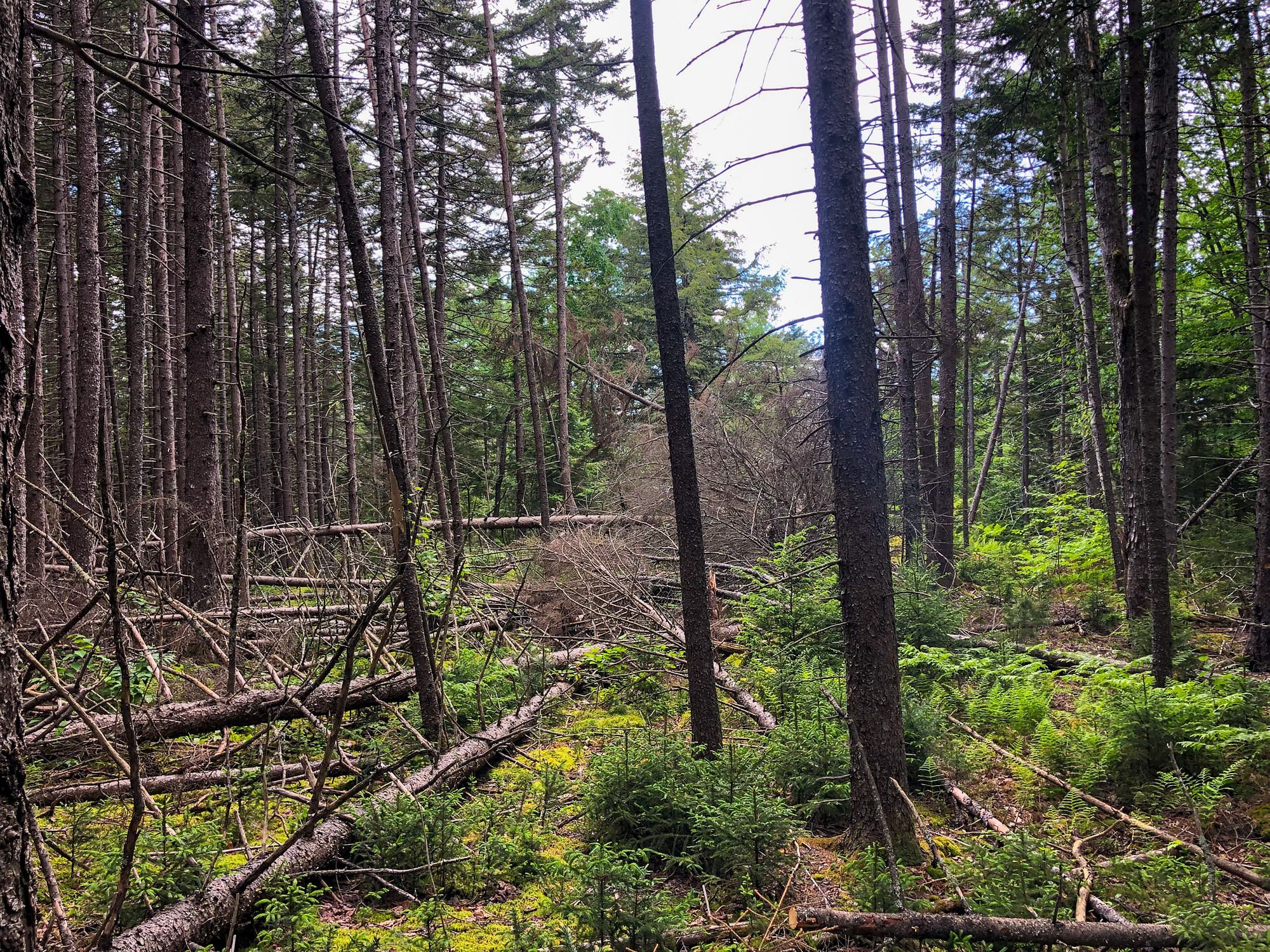 Since then, we've spent three half-day sessions working on the property, cutting the fallen trees with the chainsaw and then using the tractor to pile up the logs and form some slash piles. Our plan is to rent a chipper next week and chip anything that's not suitable for milling.
The tractor has been a game changer! Using the logging chains we've been able to pull logs out, cut them down to size with the chainsaw and then move the logs around with the pallet forks.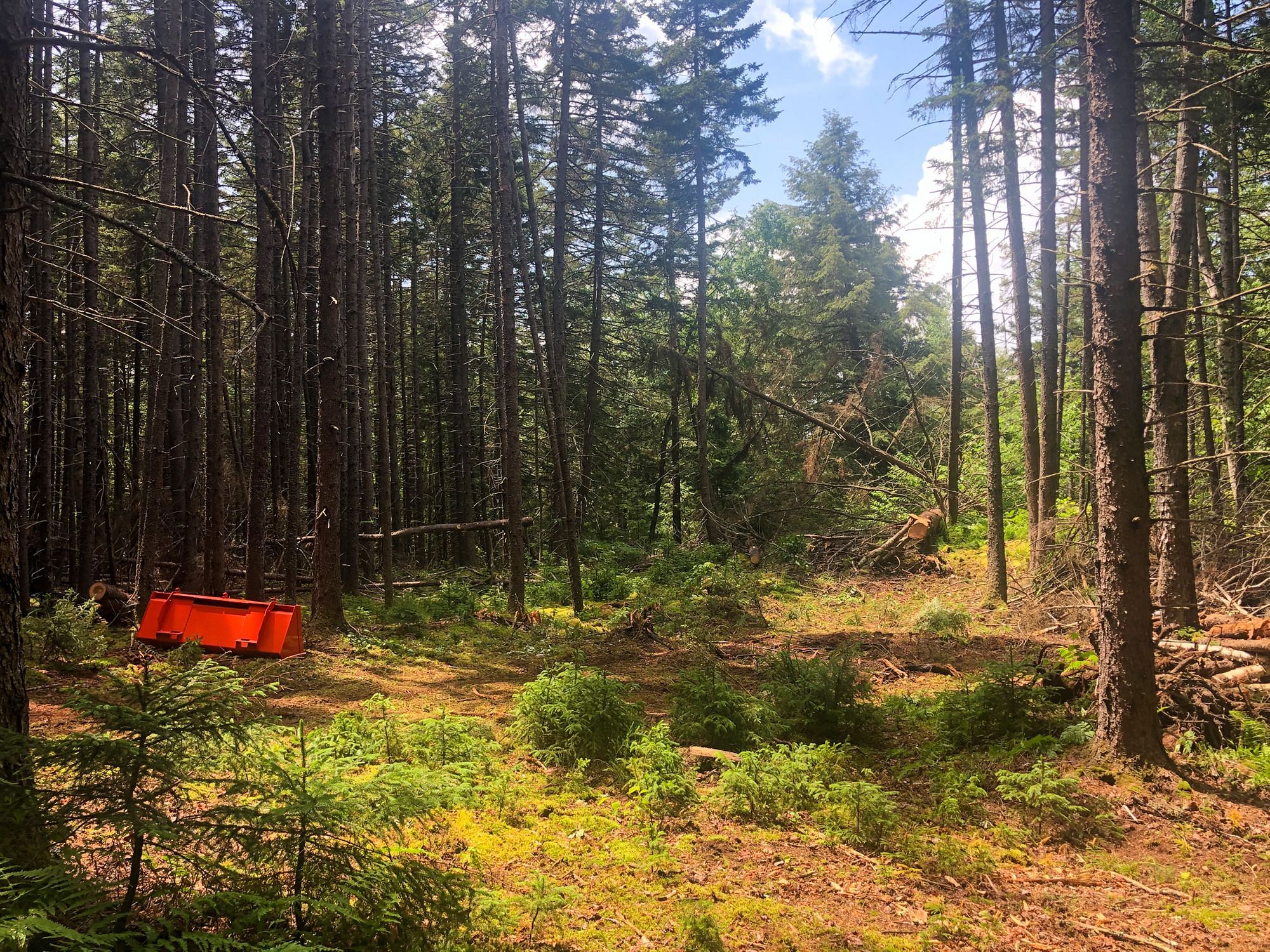 We're taking it steadily, learning how to use the equipment as we go, and there's still more work to be done, but it's so rewarding to see the progress we've made already!
Behind the Scenes
Other than work on site, there's a lot happening behind the scenes too. One of the first things we've been working on with our architects is the site plan.
A site plan shows how the different components of the build will be laid out on the property - roads, buildings, gardens, etc. We were really impressed with the first draft of the site plan that our architects shared with us - it nailed many of the things we were looking for, but also gave us a few things to think about.
We're now working with the architects to iterate on the plan. Even at this stage, there are lots of things we're trying to consider - e.g. where are the best views, how should we lay out utilities, how will we maneuver RVs and other large vehicles on the property, etc?
Our engineer is lined up to survey the area of the property where the house site will be, and once we have that we'll be able to finalize the site plan - hopefully in the next month or so. He's also working on the design for the septic system so we can apply for our wastewater permit.
Meanwhile our foresters are working on a new management plan which will factor in the location of the house, but also give us a solid plan for helping ensure our forest is as healthy and productive as possible.
One of the biggest blockers for us right now is the lack of a proper driveway - we're hopeful that our contractor should have that all done in the next month or so which is very exciting!
Last, this week we met with a local Passive House Consultant who is going to help with all the energy modeling not just for our house, but for the mechanical building too! My academic background is in theoretical physics, so I love being able to design highly efficient buildings using computer modeling!