Introduction
I'm going to be honest with you: we messed up.
With Diana's brother Jānis still traveling with us, we were trying to move quickly. Having spent just one night at Black Canyon of the Gunnison National Park, we drove a little under 50 miles to Curecanti National Recreation Area, our 3rd stop of Season 3 and our 29th stop on our quest to visit ALL the National Park Units in the US.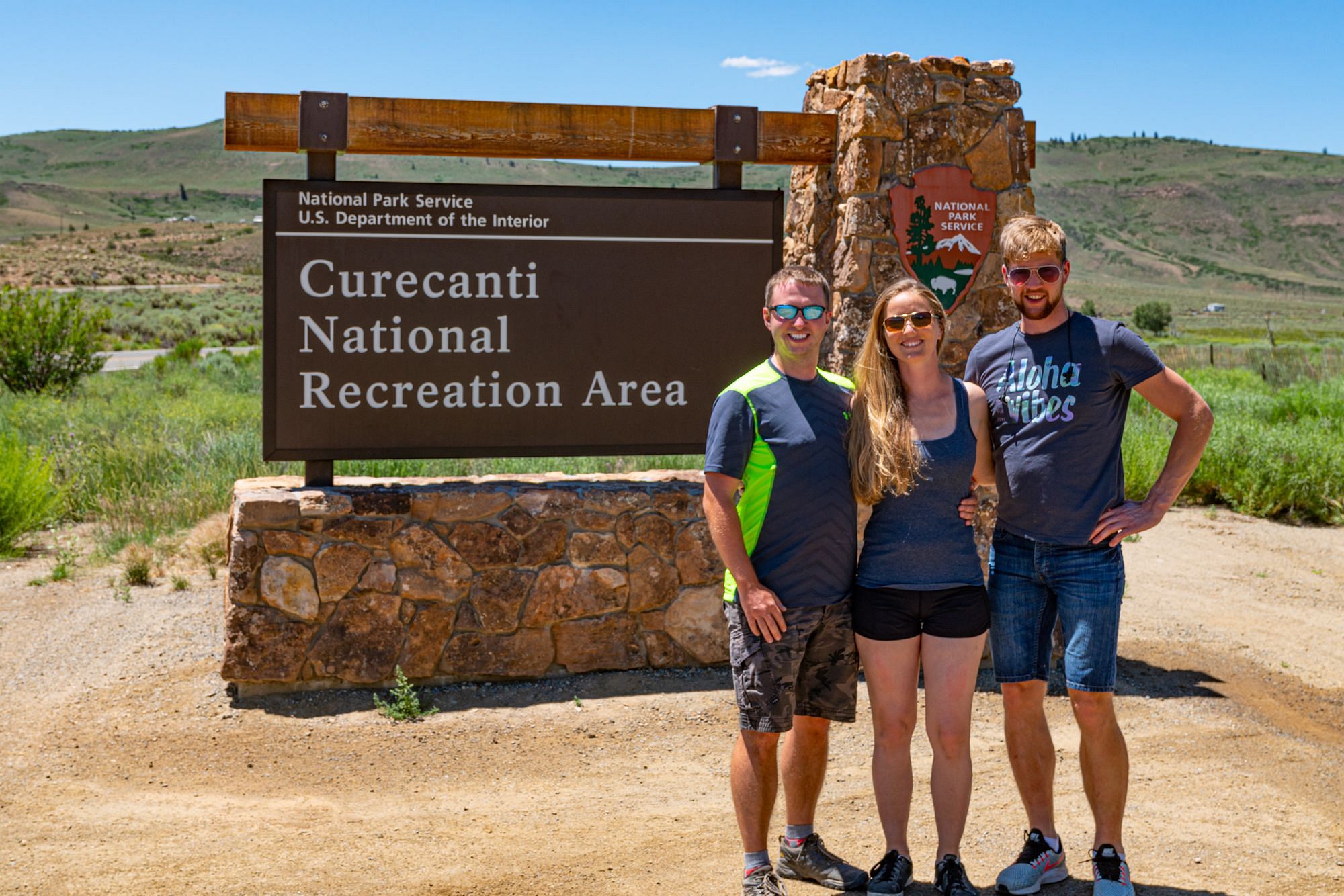 We visited Curecanti National Recreation Area in July 2019. With clear blue skies and sunny weather, we were looking forward to renting some kayaks and getting out on the water.
It wasn't to be.
Location
Video
Background
With almost 1 million visitors per year, there's no denying that Curecanti National Recreation Area is a popular place to visit.
Reservoirs
Spanning over 43,000 acres, Curecanti National Recreation Area manages the recreational facilities and the area around three reservoirs: Blue Mesa Reservoir, Morrow Point Reservoir and Crystal Reservoir.
All three lie along the upper Gunnison River, upstream from Black Canyon of the Gunnison National Park.
At the far western end, Curecanti National Recreation Area actually joins up with Black Canyon of the Gunnison National Park, right near the Gunnison Diversion Dam which is technically just inside Curecanti.
All three reservoirs were built in the 1960s and 1970s by the Bureau of Reclamation. As well as creating water storage, the reservoirs also produce hydroelectric power and provide recreational opportunities.
Blue Mesa is by far the largest of the three reservoirs at 20 miles long with 96 miles of shoreline. With its twin 43 Megawatt generators, the hydroelectric plant at the 390-foot tall Blue Mesa Dam generates a staggering 203 Gigawatt-hours of electrical energy each year! That would power a lot of DeLoreans!
Recreation
Most visitors are drawn to Curecanti National Recreation Area for the water-based recreation opportunities.
While it's best known for salmon and trout fishing, there's much more to do! The reservoirs themselves offer kayaking, boating and swimming, while the surrounding hills offer hiking, bird watching and more.
There are 10 campgrounds within the park, most situated very close to the water.
We had reserved one night at Elk Creek Campground - by far the largest with 160 sites available.
National Park Designation
The creation of the three reservoirs was instigated by the Colorado River Storage Act, passed by Congress on April 11, 1956.
This authorized the Colorado River Storage Project, formerly known as the Curecanti Project, to build three dams on the Gunnison River. Their primary goal was to facilitate water management, since Colorado (along with Utah, New Mexico and Wyoming) was obliged to send prescribed water volumes downstream in the Colorado River, regardless of seasonal fluctuations.
However, a welcome side effect of the project was to create recreational opportunities, and the National Park Service was given responsibility of the area.
In 1965, the National Park Service established the Curecanti National Recreation Area to design and manage all the recreation opportunities. This involved planning and building campgrounds, marinas and lake access points while balancing the need to protect the natural environment, local history and wildlife populations.
Itinerary
We arrived at the Elk Creek Visitor Center at around lunchtime on a Friday in July 2019. Before heading to the campground we had to check in at the Visitor Center itself - a perfect time to orient ourselves and get our Park Passport stamped.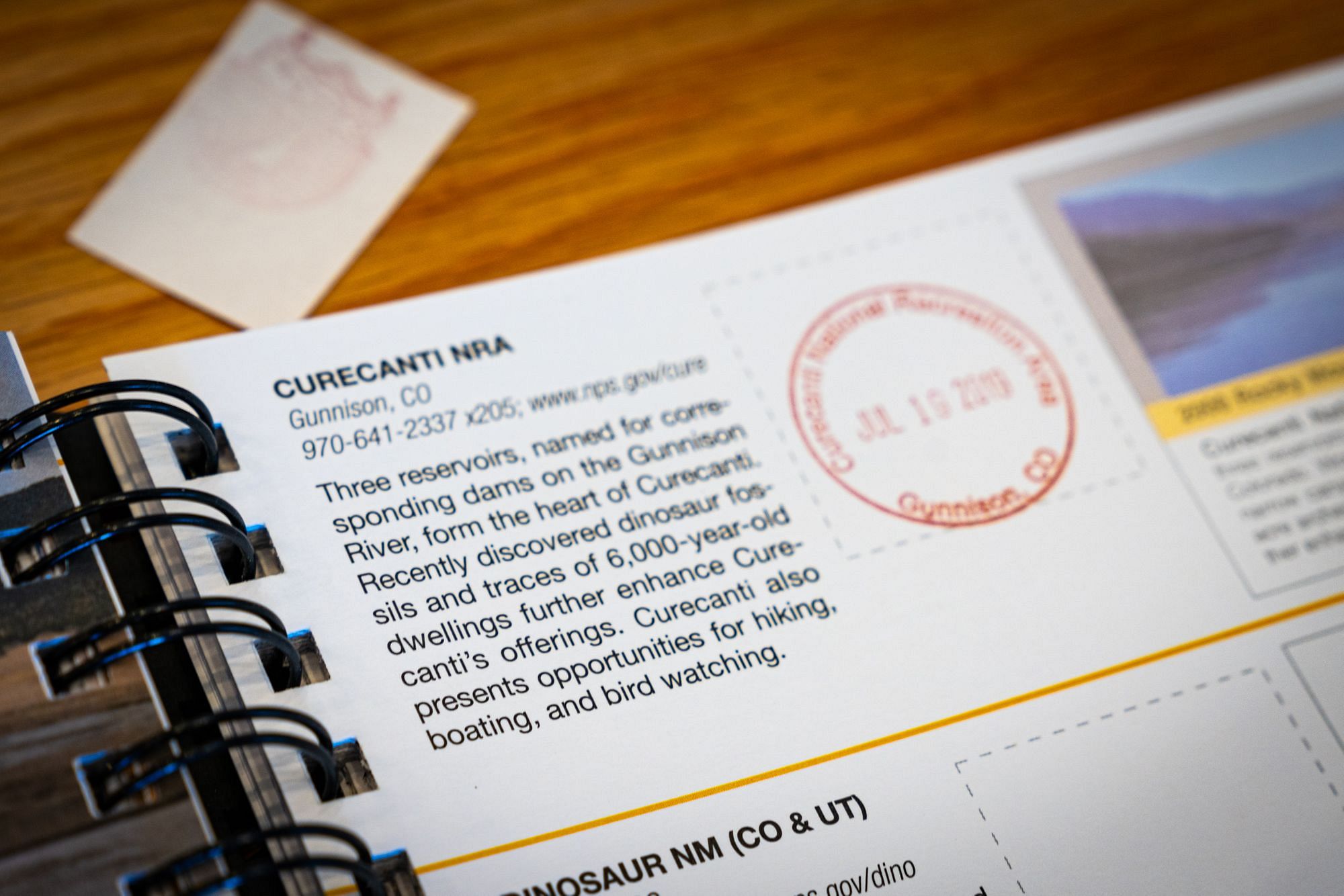 There really are an impressive number of recreation facilities in the park so it's well worth stopping in at the Visitor Center to check out the information and pick up a map.
Elk Creek Campground
We checked in for our camping spot and headed over to get set up.
The sites at Elk Creek Campground are basic but pleasant - they're open and spacious, with views of the water from almost everywhere. Our site had no hookups but they do have electric hookups at some sites. There was a bathroom block with potable water faucets outside.
We parked up the trailer, disconnected and made ourselves some lunch.
We had only spent one night dry camping at Black Canyon of the Gunnison National Park since dumping when we left Rocky Mountain National Park, so we had no concerns whatsoever about camping with no hookups.
We typically go 10 days or more between dumping and filling, and we planned to use the dump station on the way out the next day, so we had plenty of capacity!
Kayaking
After a quick lunch, we headed off to the Elk Creek Marina, down by the water on the other side of the Visitor Center.
We walked out on the pier to the equipment rental building in the middle of the water to rent some kayaks.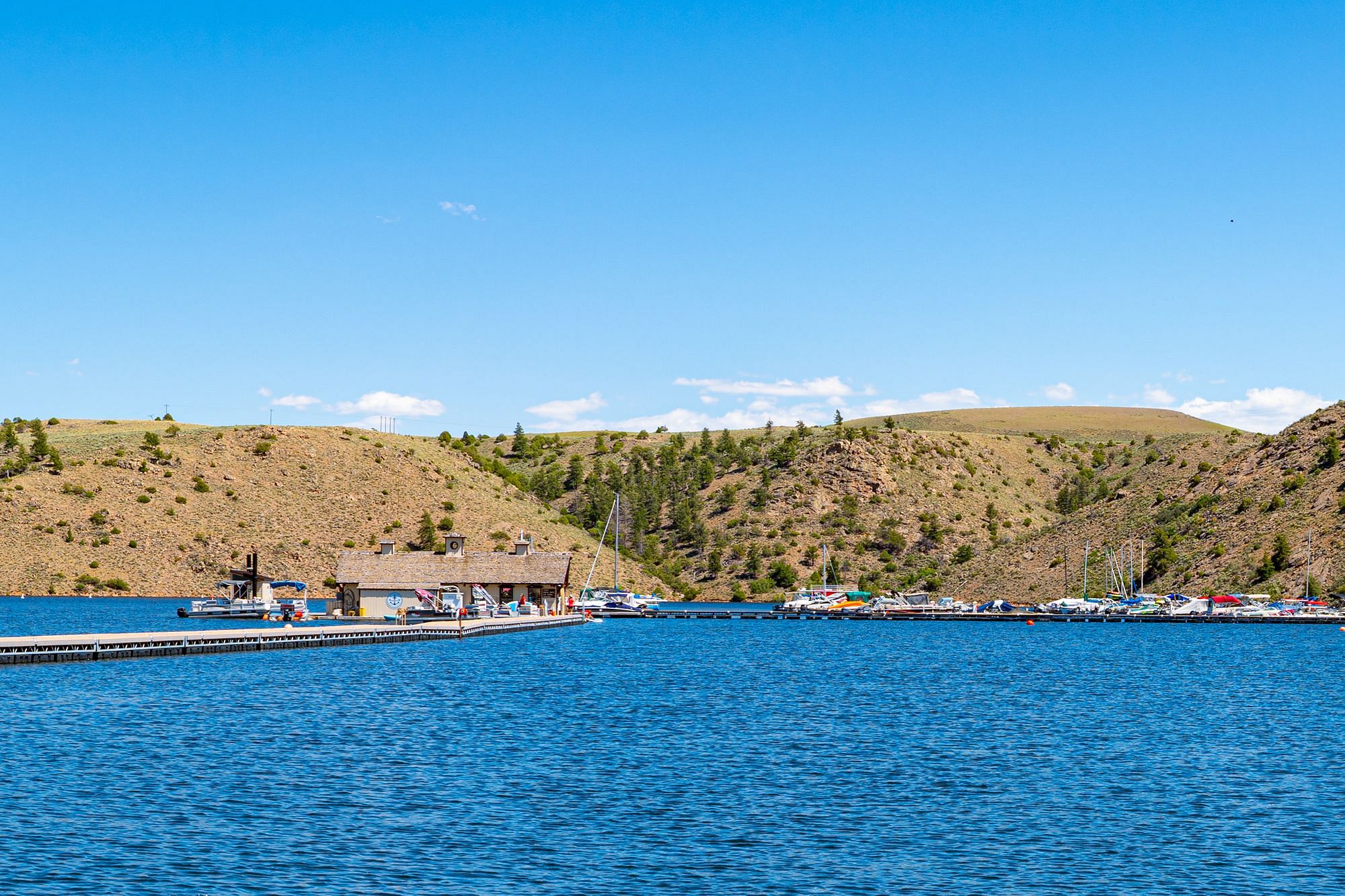 We arrived and asked to rent some kayaks. We were told no.
Wait, what?!
The staff member told us that although they're open until 5pm, they don't allow any new rentals after 3pm. In our research looking at their website, we had never found (and still can't find) this vital piece of information. It's their policy though, so it's up to them. Fair enough.
But you want to know what really frustrated me? It wasn't even 3pm yet!
It was 2:59pm according to all our GPS-synchronized watches and phones. So even with their 3pm last-rental cut-off time, we should still have been OK!
He wasn't having it.
My guess is that there was some other reason and he was using this as an excuse. Maybe they were short-staffed, maybe they wanted to go home early, or maybe they had no other customers out on the water and it wouldn't have made financial sense to stay open just for us.
Whatever the reason, we left feeling deflated. We had been talking all day about how much we were looking forward to taking some kayaks out on the water.
Somewhat ironically, when we first hit the road we had considered buying kayaks to bring with us - either rigid kayaks on the roof of the truck, or inflatable kayaks we could store in the truck or RV. We decided not to buy kayaks until we knew how much we'd use them - in the meantime, we'd just rent. If only we had our own kayaks now, huh? Oh well!
Swimming
It was now mid-afternoon, but we still wanted to enjoy our time at Curecanti and, if possible, get out on the water.
We jumped in the truck and had a drive around to some of the picnic sites and lake access points nearby. First we drove west - stopping at Bay of Chickens, Dry Gulch and Red Creek, before heading east and checking out Dry Creek.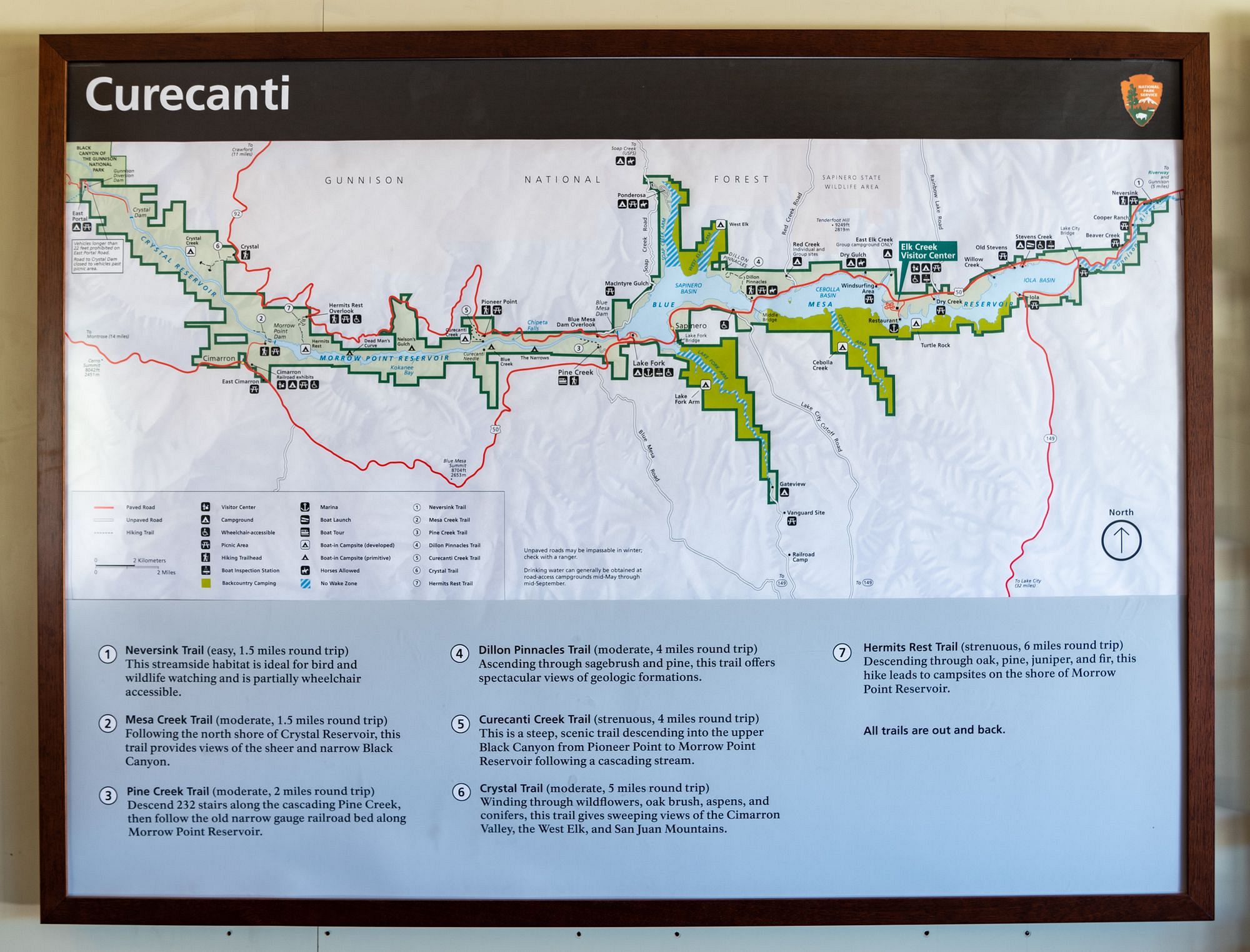 But nothing seemed suitable. The water level in the reservoir was very high, meaning vegetation around the shore was partially submerged. None of the places seemed to have somewhere we could easily get into the water without wading through thick mud or vegetation.
In the end, we found a lake access road near Elk Creek Campground. At the bottom was a small beach with access to the lake. While some areas were overgrown, there was still space to get into the water.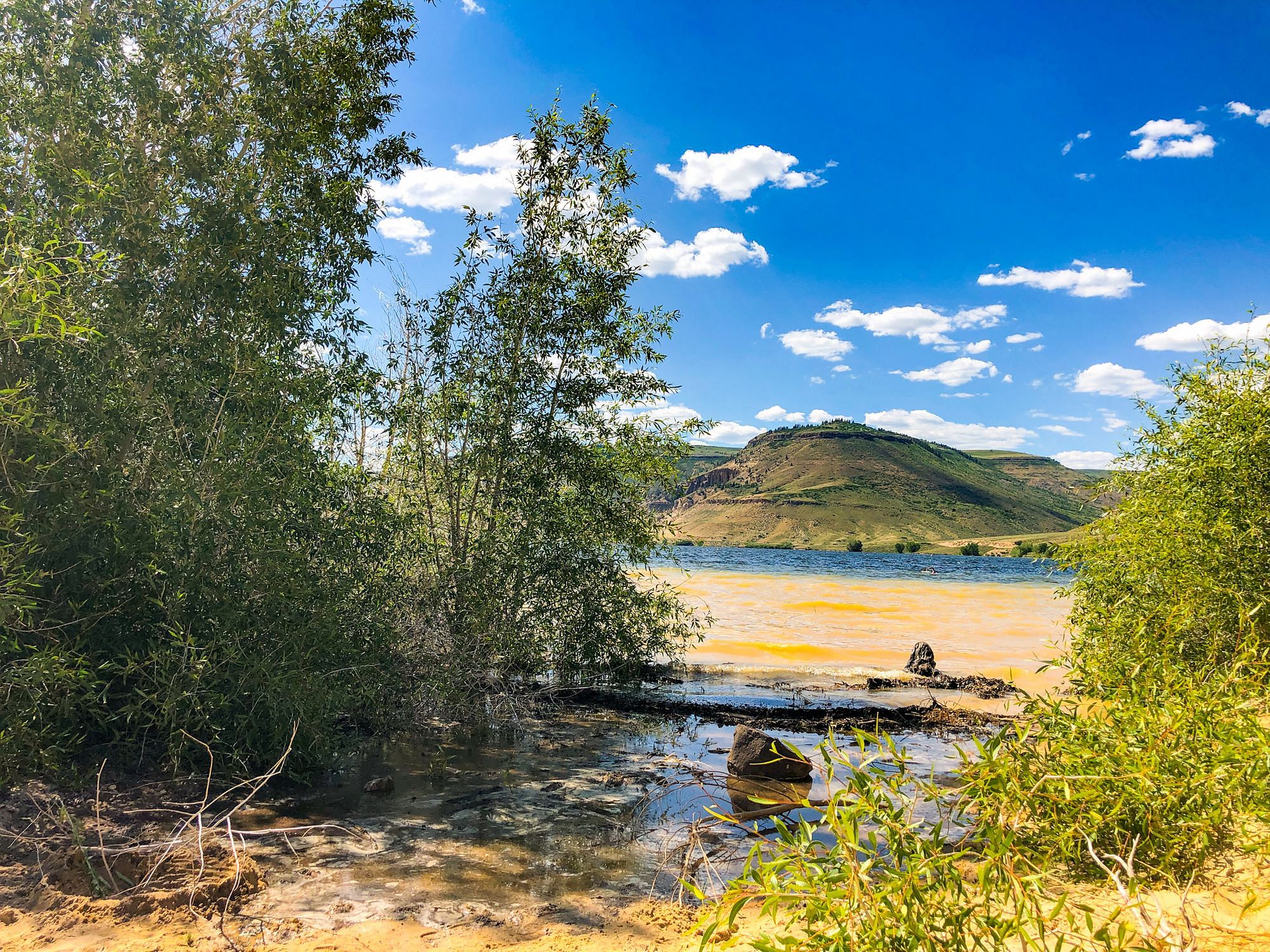 Diana and Jānis went for a swim while I sat on the beach and read my book (despite being a good swimmer, I'm not a fan of open water).
We didn't stay long - after half an hour or so, Diana and Jānis were ready to head back and shower!
Million Dollar Highway
The next morning we had an early start. Since we would be boondocking for the next few days, we made use of the dump station at Elk Creek Campground on the way out. We had dumped and were on the road by 6am.
Our destination was a boondocking spot we have stayed at before (and since!) about 20 miles west of Durango, CO - almost 180 miles away from Curecanti National Recreation Area.
We had two options for getting there - a beautiful route through Ouray and Silverton along the Million Dollar Highway, or a detour around the famously steep and twisty mountain road.
After checking with a few RVer friends who were familiar with the area, we decided to drive the Million Dollar Highway - considered by many to be one of the most beautiful roads in the world.
Wow!
Yes, there are sheer cliffs, a distinct lack of guardrails and steep sections of both ascent and descent with tight hairpin curves. Traveling south put us on the outside edge of the highway for large sections which made everything that bit more nerve-wracking.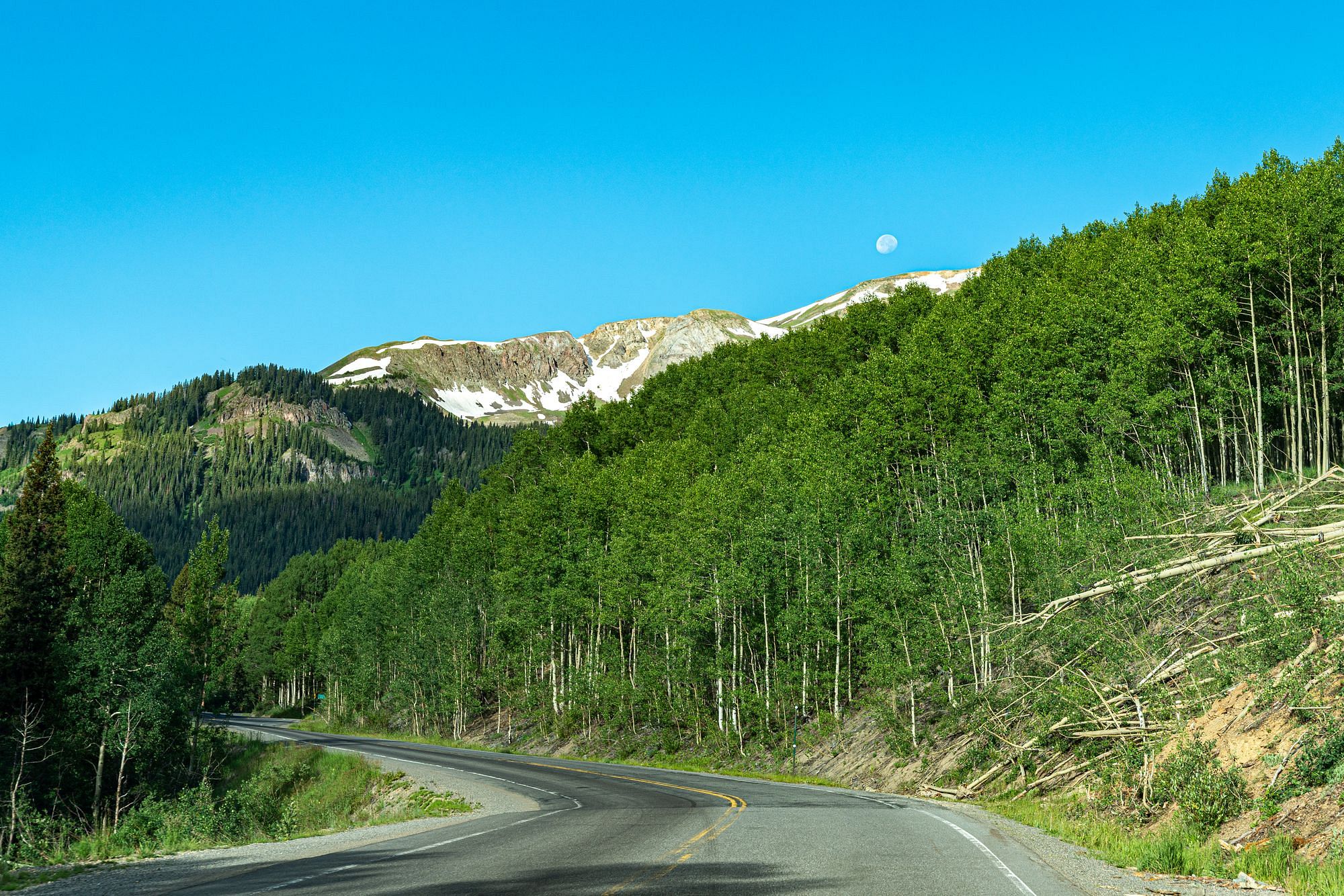 But the views were indeed incredible!
Along the way we stopped for a wonderful breakfast at the Kendall Mountain Cafe in Silverton, CO. We eventually made it safely and without incident to our next camping spot - one of our favorite boondocking spots in all our travels so far, and one we've been to several times.
Conclusion
We always knew that our visit to Curecanti National Recreation Area was going to be too brief to let us explore what the area has to offer. However, we had been looking forward to kayaking and getting out on the water, so to not have even managed that was disappointing.
But, we try to always look on the bright side! Now we've seen how beautiful the area is, we know we'll have to go back in future when we're not in such a rush and spend some more time there.
The last few days we had traveled a lot faster than normal, but we were looking forward to slowing the pace a little. We'd be camping in our new spot for 3 nights while we explore Mesa Verde National Park.