As an Amazon Associate we earn from qualifying purchases.
For many people in Vermont, wood is a primary source of fuel for heating their homes during winter and they have to buy firewood each year. Our property is 40+ acres of raw land, covered in nothing but trees, so we have a never-ending supply of firewood on hand.
In fact, even without felling any trees specifically for firewood, dead trees and branches from site clearing and general forest maintenance would provide plenty of raw material for firewood.
However, we plan to build an all-electric Passive House that won't use any form of combustion for heating or anything else inside the house - that means no wood, coal, oil or gas. We do however want to have some firewood on hand, mainly for campfires (and I secretly harbor dreams of a wood-fired pizza oven one day).
While clearing for the driveway, we stacked up several piles of logs that were too small or crooked to mill, but perfect for cutting into firewood.
Last week, I set about the task of making the firewood - cutting the longer logs into rounds, splitting the rounds, and stacking the resulting firewood into piles. I didn't grow up using firewood as a primary heat source (just small amounts of wood for a cozy fireplace in winter), so this whole process is brand new to me. It was hard work, but I found it really educational, rewarding and I had fun too!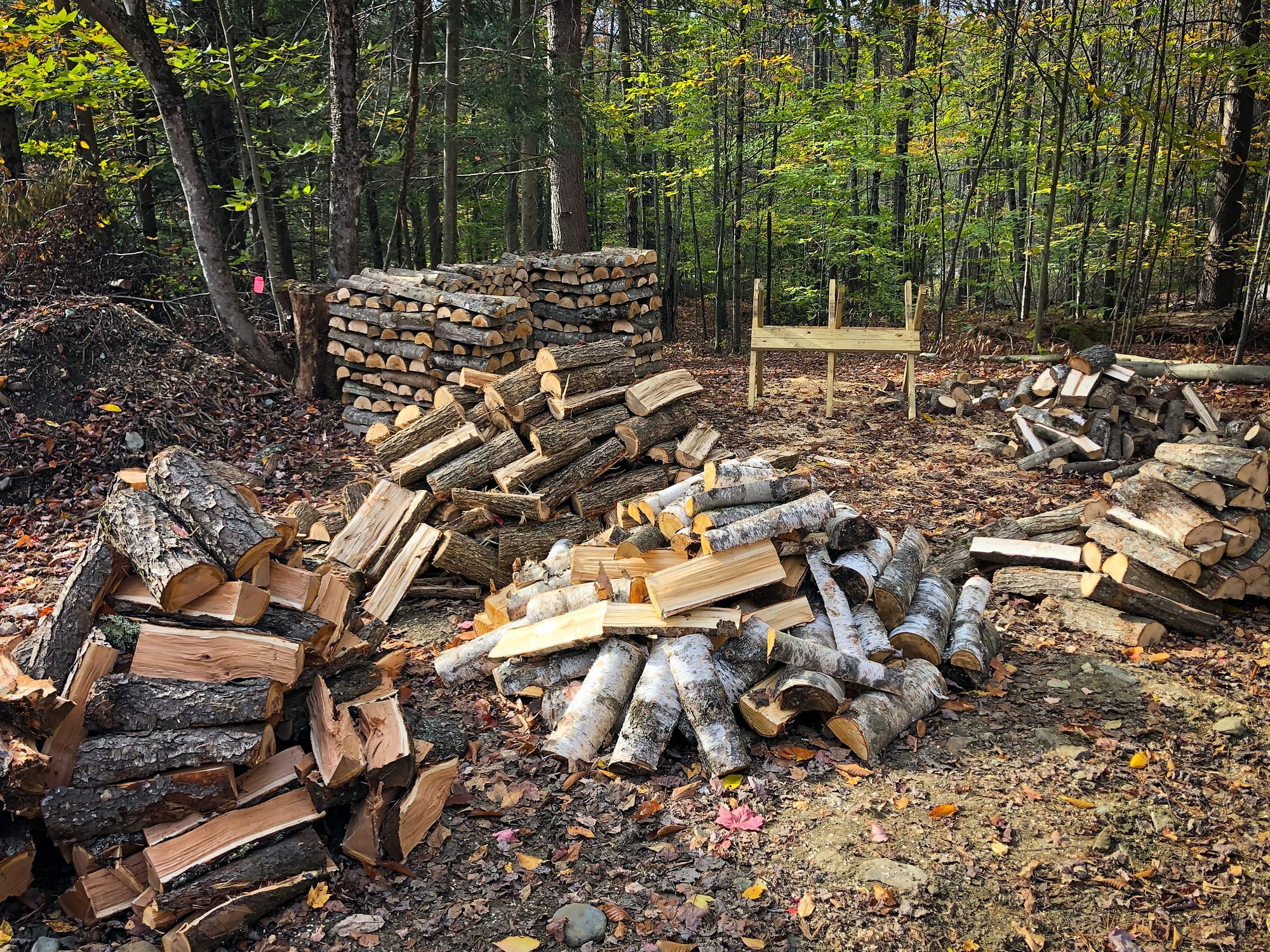 Sawbuck
The first problem I had to solve was how to support the logs while cutting them into rounds. Cutting them on the ground isn't ideal as there's always the risk that the chainsaw will hit the dirt and that will dull the chain incredibly quickly.
Since we have the tractor, one option is to support the logs on the tractor forks, but it's not especially ergonomic and I was really nervous about accidentally hitting the metal forks with the chainsaw.
Instead I found some online plans to build a simple sawbuck using some pressure treated wood, screws and bolts. It was a good excuse to buy a new circular saw - we opted for the Dewalt Flexvolt 7¼-inch 60V DCS578 Circular Saw. Having previously owned a 20V circular saw, this is a big step up in power and made quick work of the cuts in the 2x4 pressure-treated wood.
It only took about an hour to build, but it's really sturdy. I can use it to hold a long piece of wood while I cut 16" sections, loading the logs either by hand or using the tractor forks - I can also pick the whole sawbuck up with the forks and move it around the property, and the sawbuck even folds down for storage.
Husqvarna 550 XP Mark II Chainsaw
If you've seen our video about building our driveway, you'll know that we decided to replace our Dewalt DCCS670 cordless chainsaw with a more powerful, professional-grade Husqvarna 550 XP Mark II gas chainsaw.
While we loved the benefits of the cordless battery-powered chainsaw, it just wasn't cut-out for the amount of cutting we had to do. Our new 55cc Husqvarna 550 XP Mark II chainsaw is in a different league, and makes quick work of felling trees and cutting up firewood.
To go with it, I made a simple attachment for the blade using a magnet, some superglue and a 16" length of PVC pipe that worked really well to help me quickly and easily measure off consistent 16" cuts.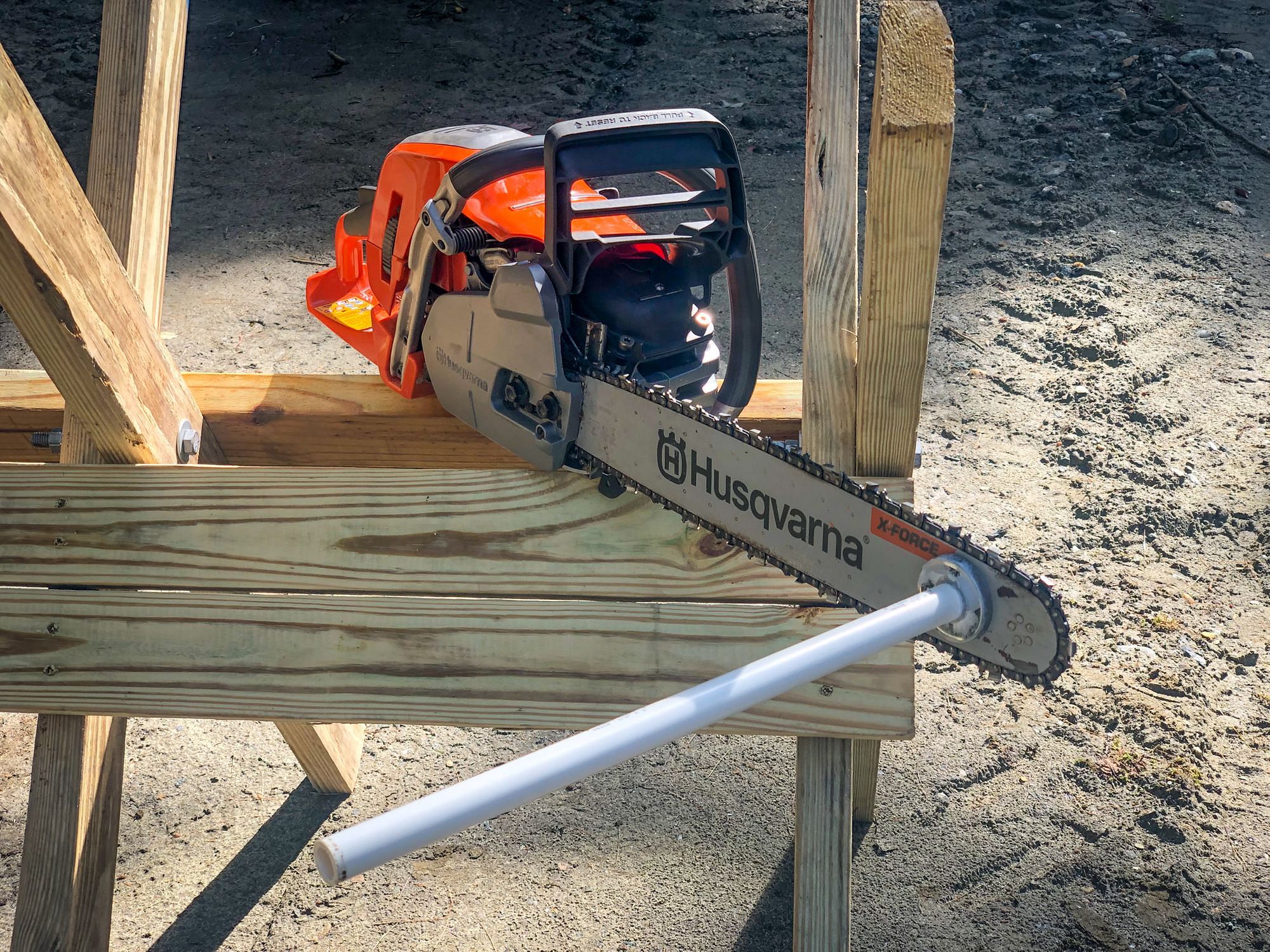 My process was simple - use the magnetic blade attachment to quickly mark the each log at 16" intervals, then remove the marker and cut the rounds. Having never cut firewood before, I started slowly but in no time I was flying through the logs and soon enough I had cut a giant pile of firewood ready to be split!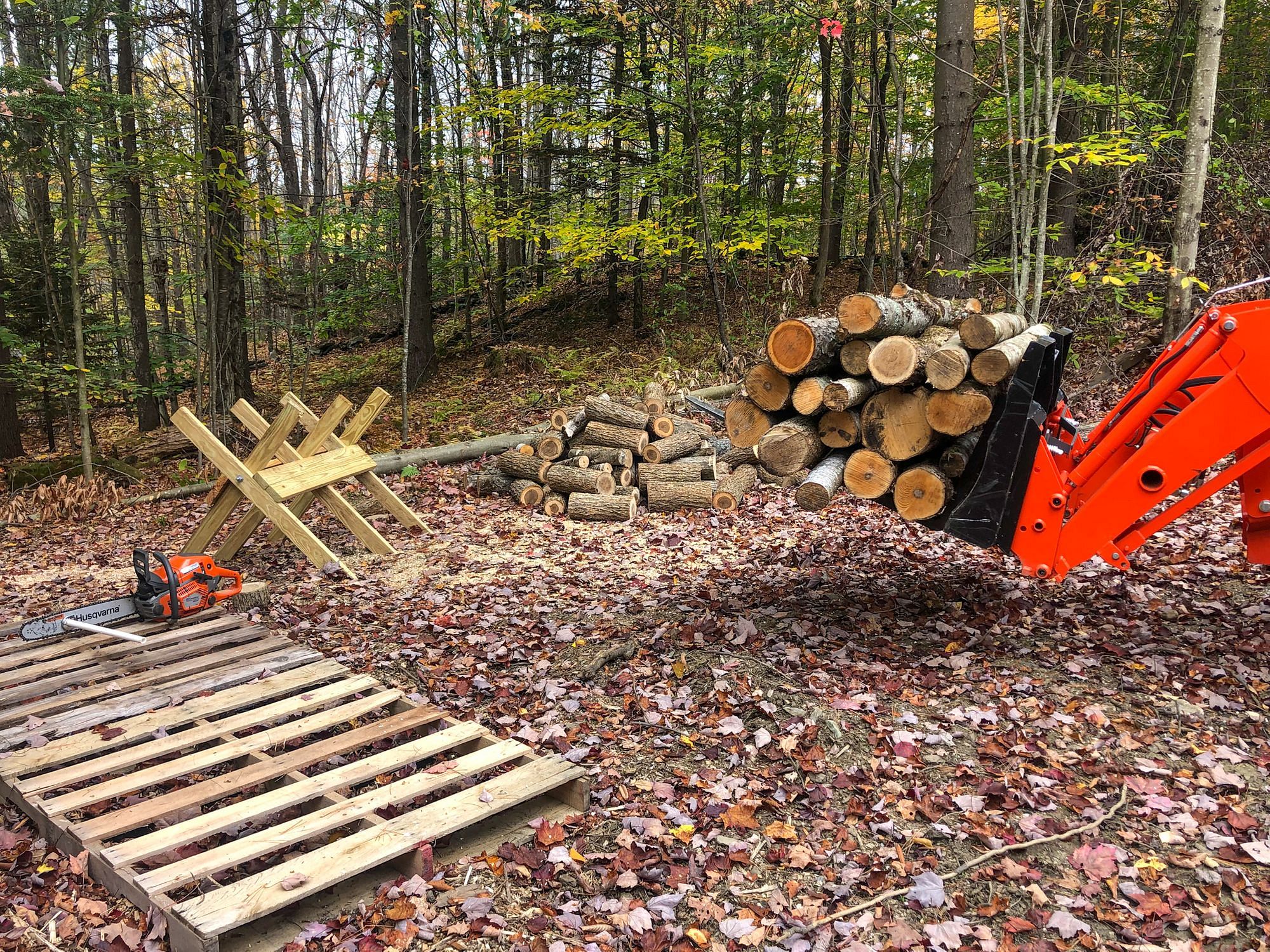 By my estimate, I think we have a little over a cord of wood (128 cubic feet or around 3.6 cubic meters).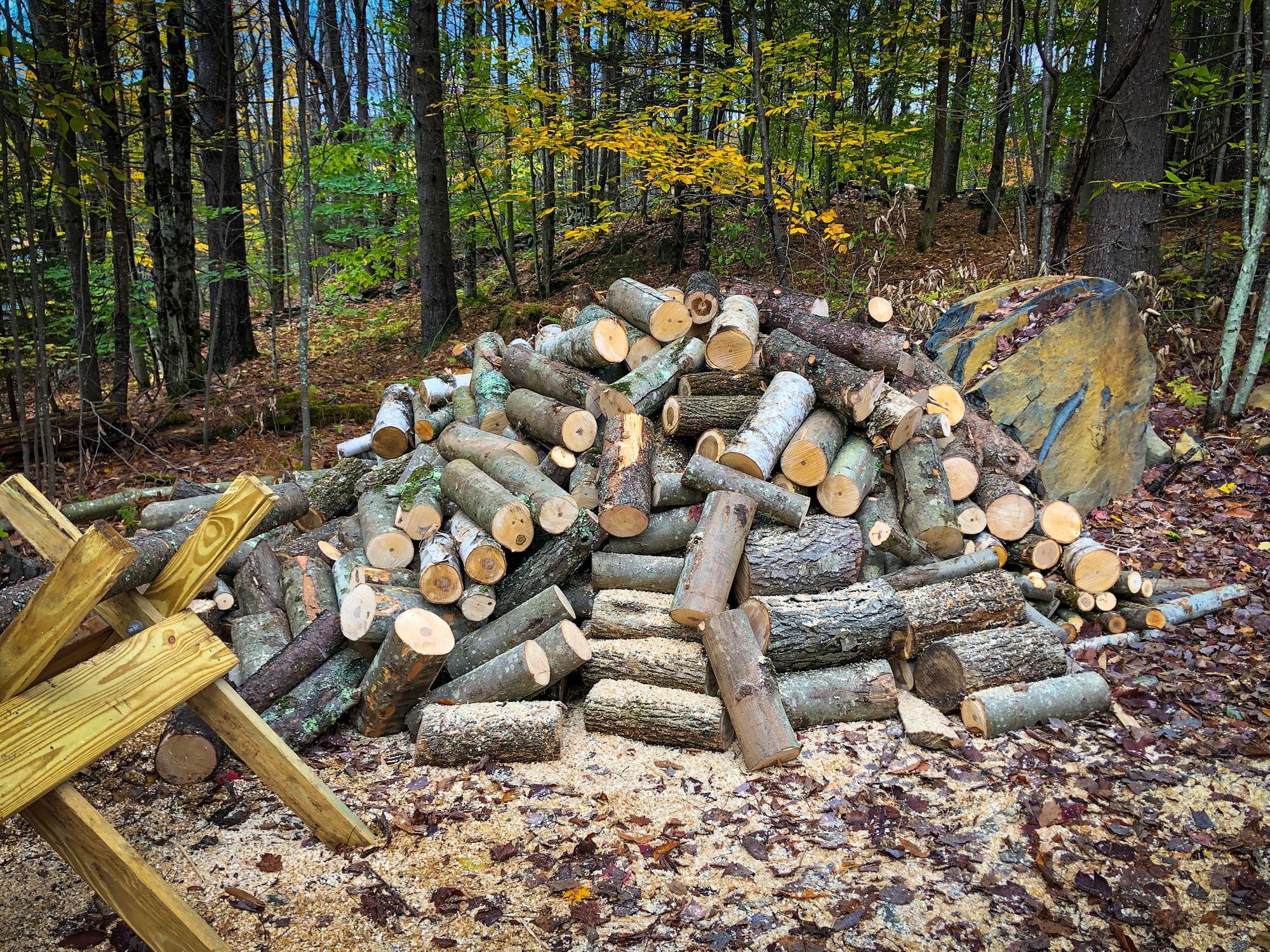 Hydraulic Log Splitter
The conventional way of splitting firewood is to use a splitting axe or maul to break down each log into smaller pieces so that they will dry more quickly and fit more easily into your fire.
I decided to cheat.
Instead of splitting by hand, I rented a hydraulic log splitter from Essex Equipment. This 270cc gas-powered, tow-behind log splitter can exert up to 30 tons of force on a splitting blade to efficiently split anything you put in front of it.
Weighing in at around 700lbs, this is a pretty solid log splitter. That said, towing it behind the truck was terrifying! With its tiny wheels, it's limited to a maximum speed of 45mph so I had to take the back roads and it's so small that I couldn't see or feel it behind the truck while towing! Fortunately it made it to the property and back without incident.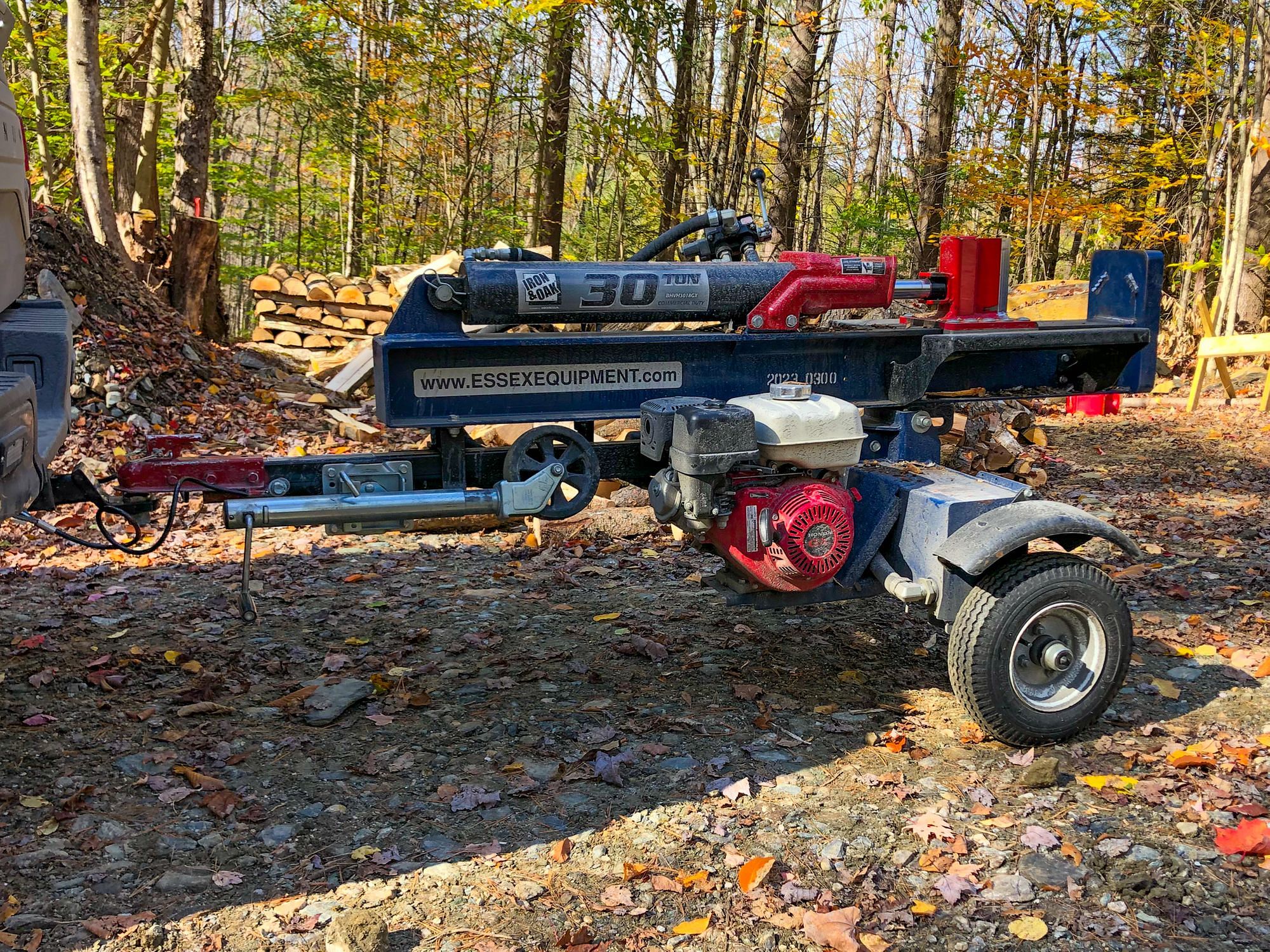 Fearing that I wouldn't be able to easily identify the different wood species, I started by picking logs from the front of the pile, splitting them and then throwing into a new big pile of split wood.
But I quickly realized that splitting the logs was a great way to learn about the wood species - picking up each one in turn was an opportunity to inspect the bark, the color of the wood, the size of the growth rings, and its weight, as well as how it split. So I separated out my large pile and began throwing each log in turn on its respective pile.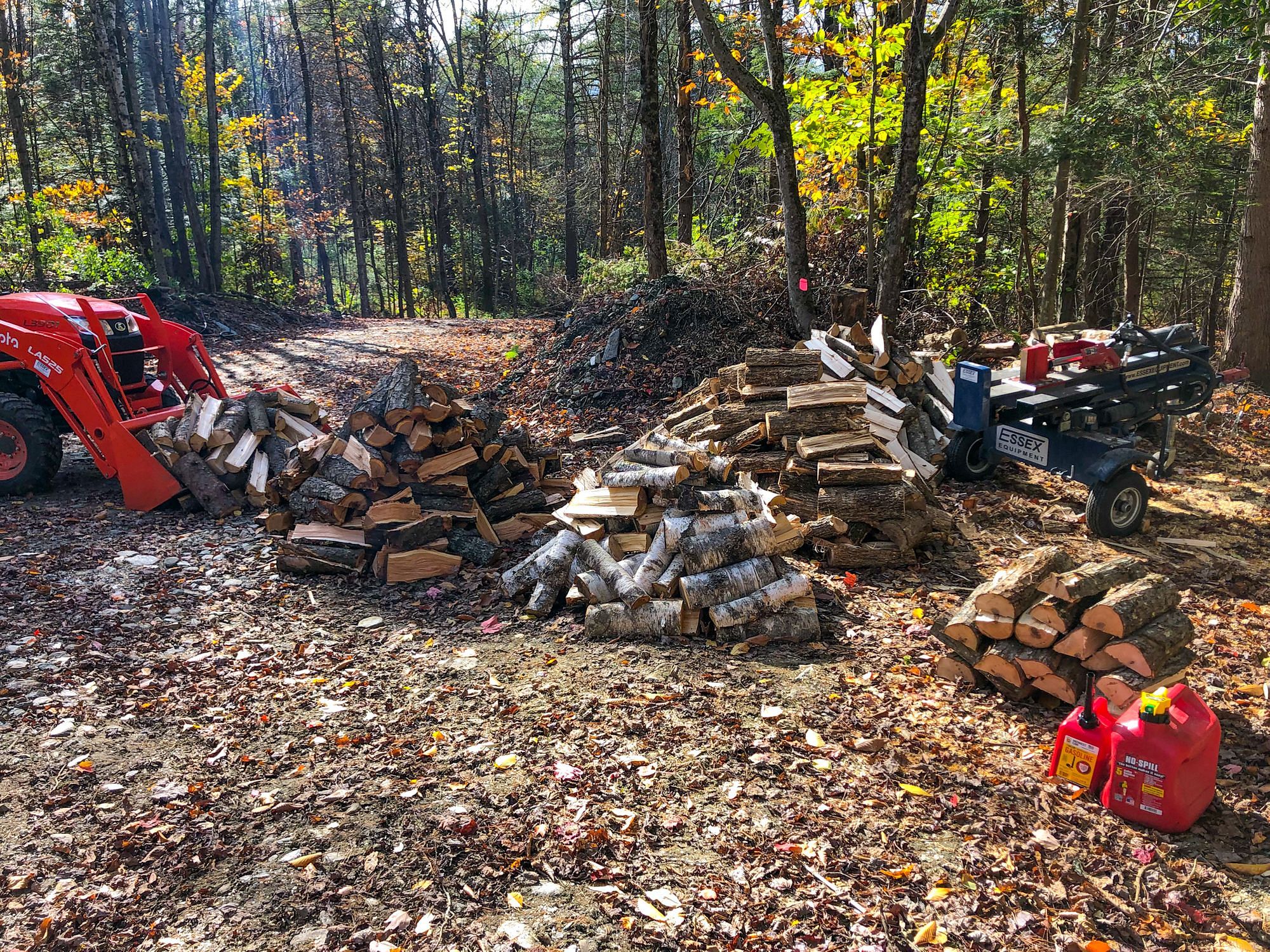 Maple for example is a relatively heavy, pale colored wood with predominantly smooth bark, subtle growth rings and would split cleanly.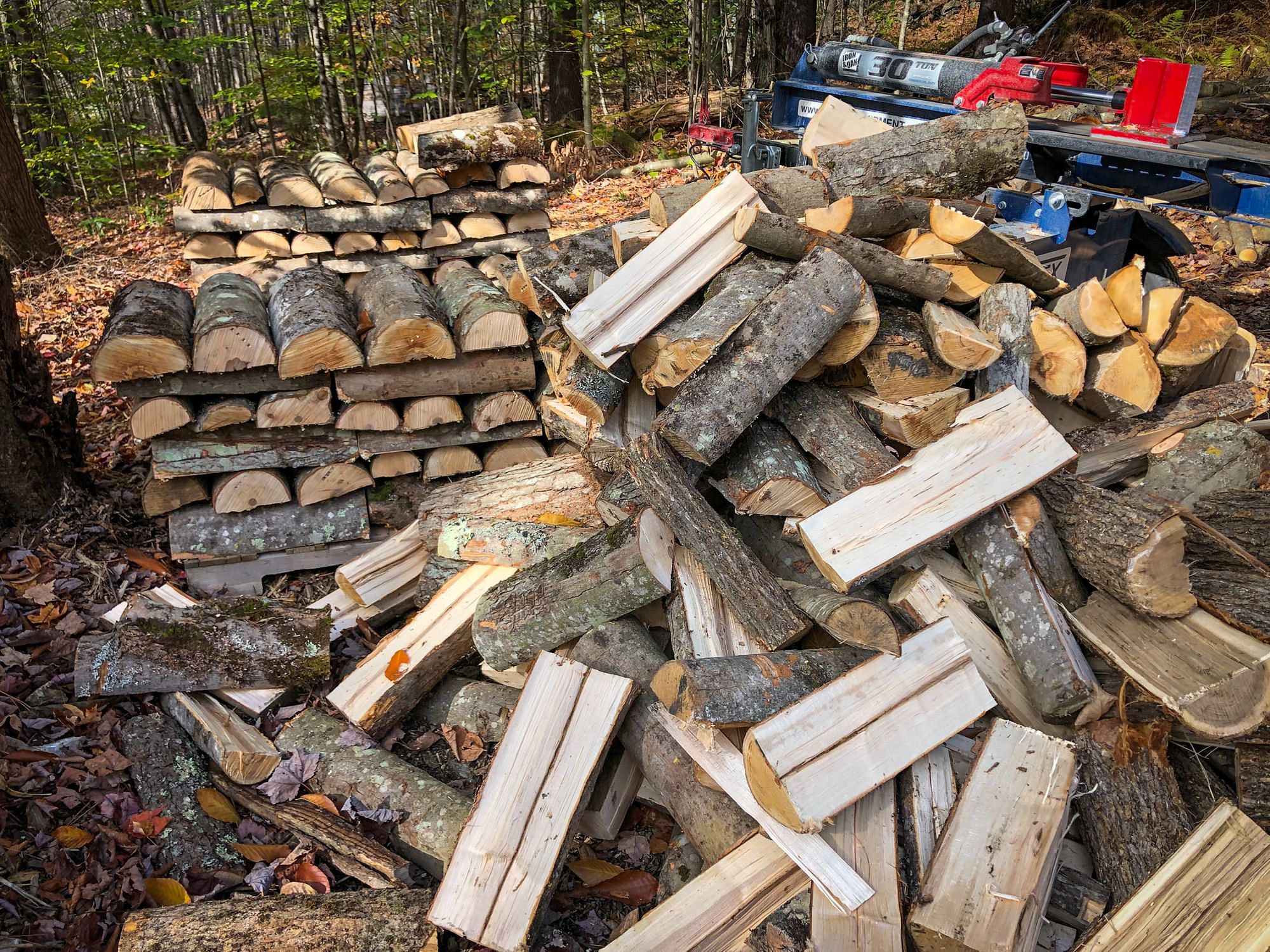 By contrast, ash has a distinctive bark texture, a darker color inside, and it's stringy when split.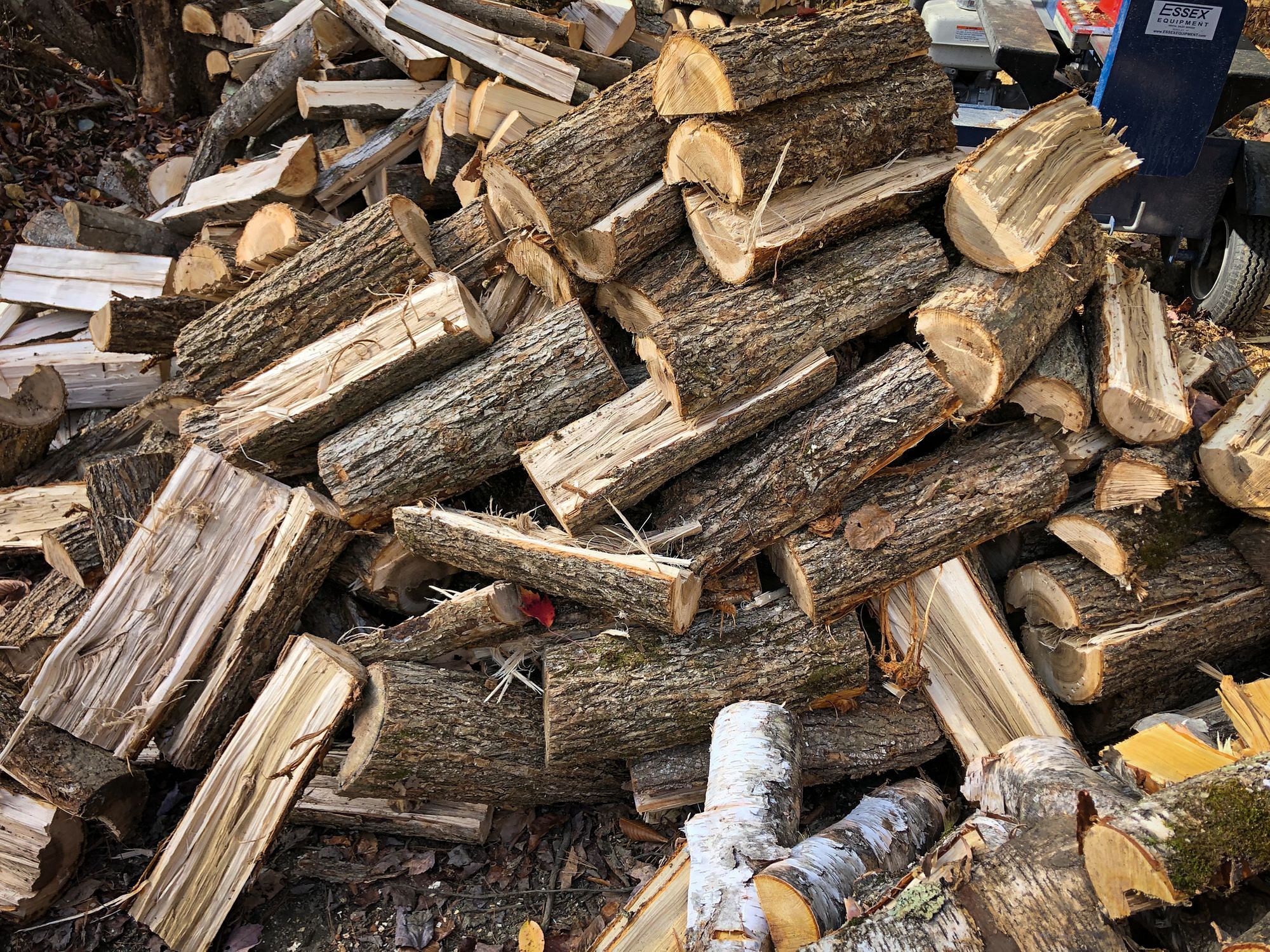 Birch is clearly identifiable with its distinctive, peeling bark, though I didn't bother to separate out the yellow birch from the paper birch - they're fairly easy to spot in the pile.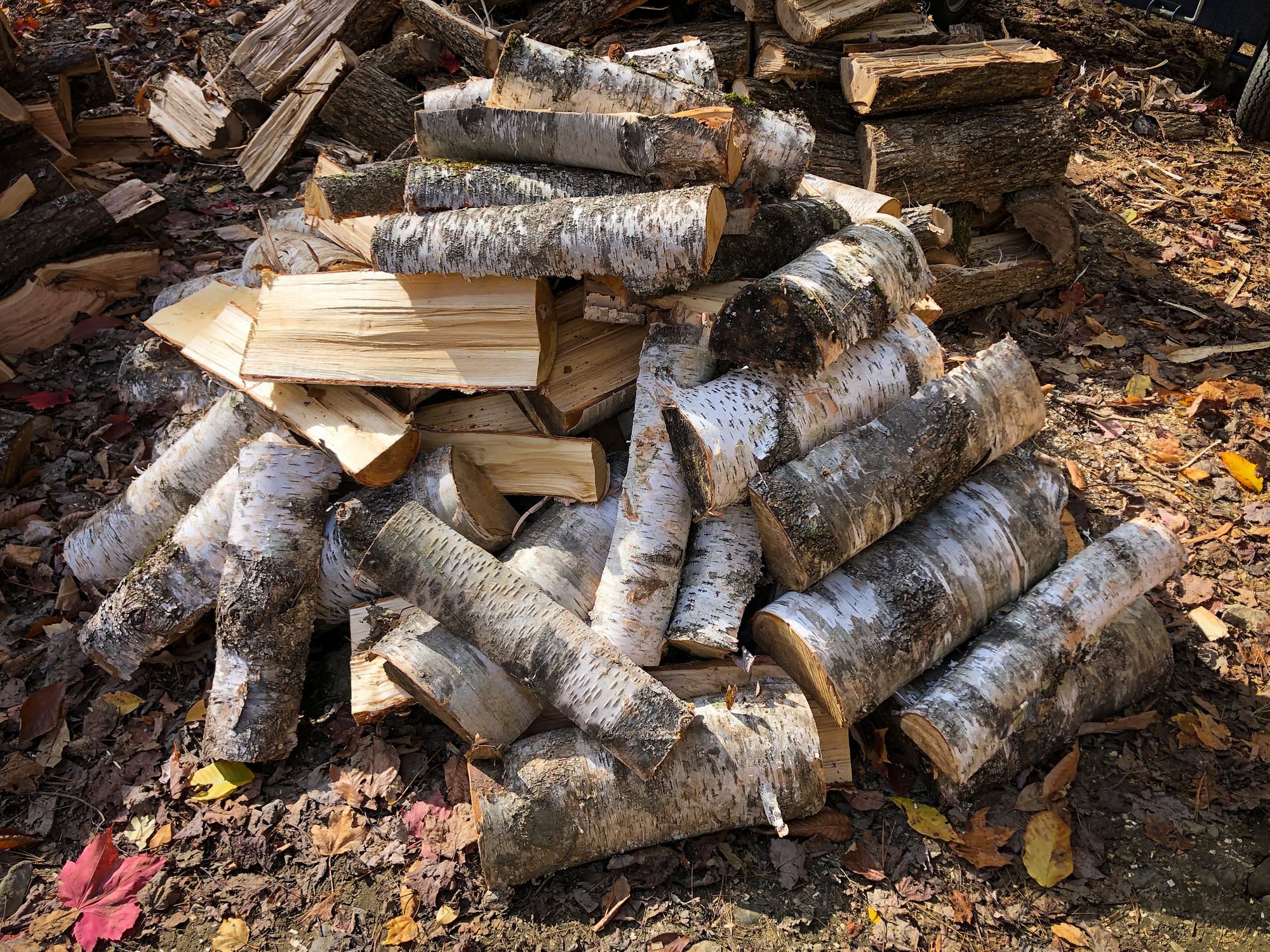 In general, we want to use our cherry for milling but some of the pieces were too small or crooked to use. The wild black cherry has bark that looks like scales, a much darker color than the other wood species I was cutting, and would split into any shape except straight!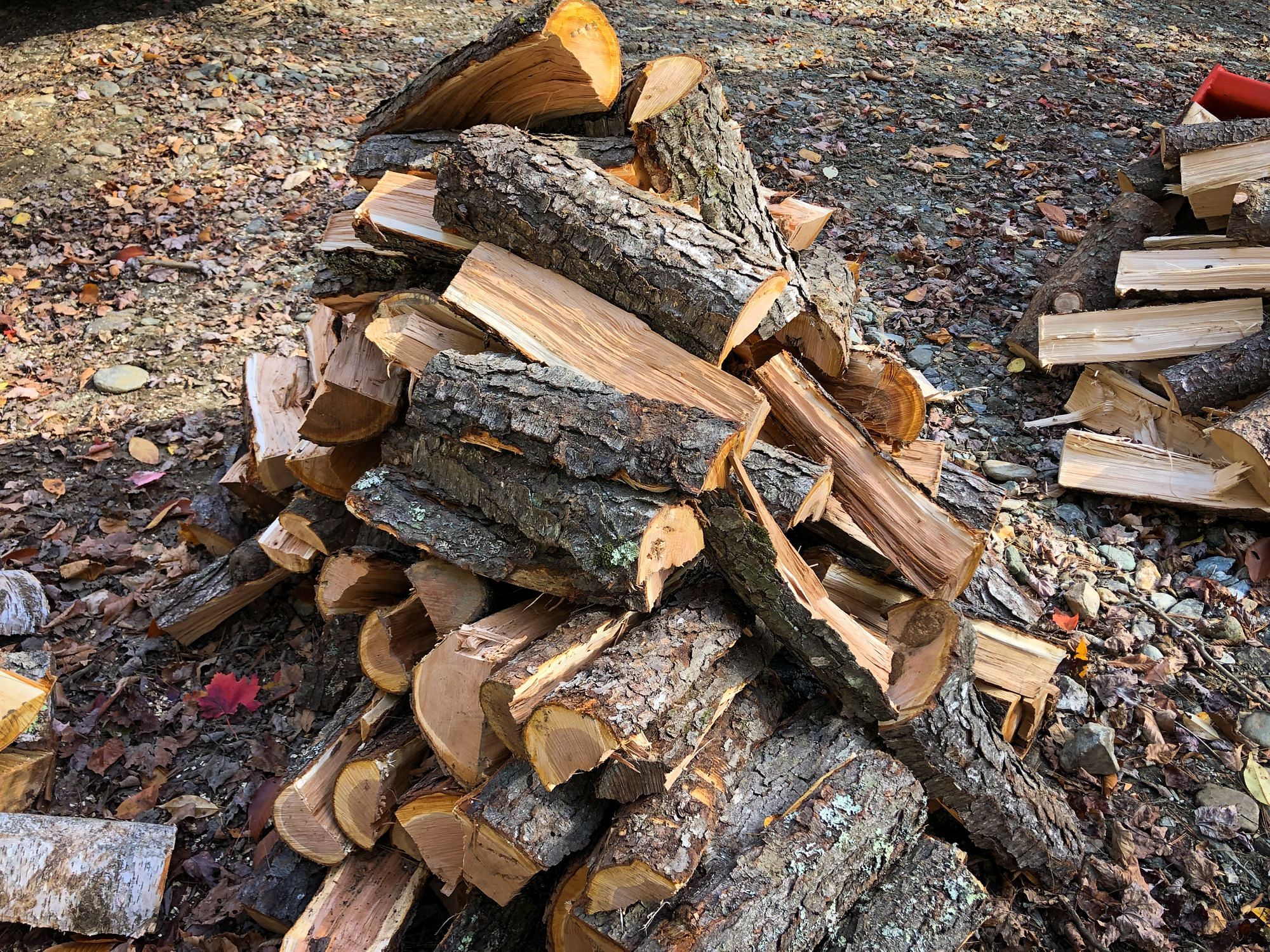 In addition to the maple, ash, birch and cherry hardwoods, we also had some spruce - not something you'd typically want to burn for firewood, but in small quantities it'll be fine for campfires one it's thoroughly seasoned.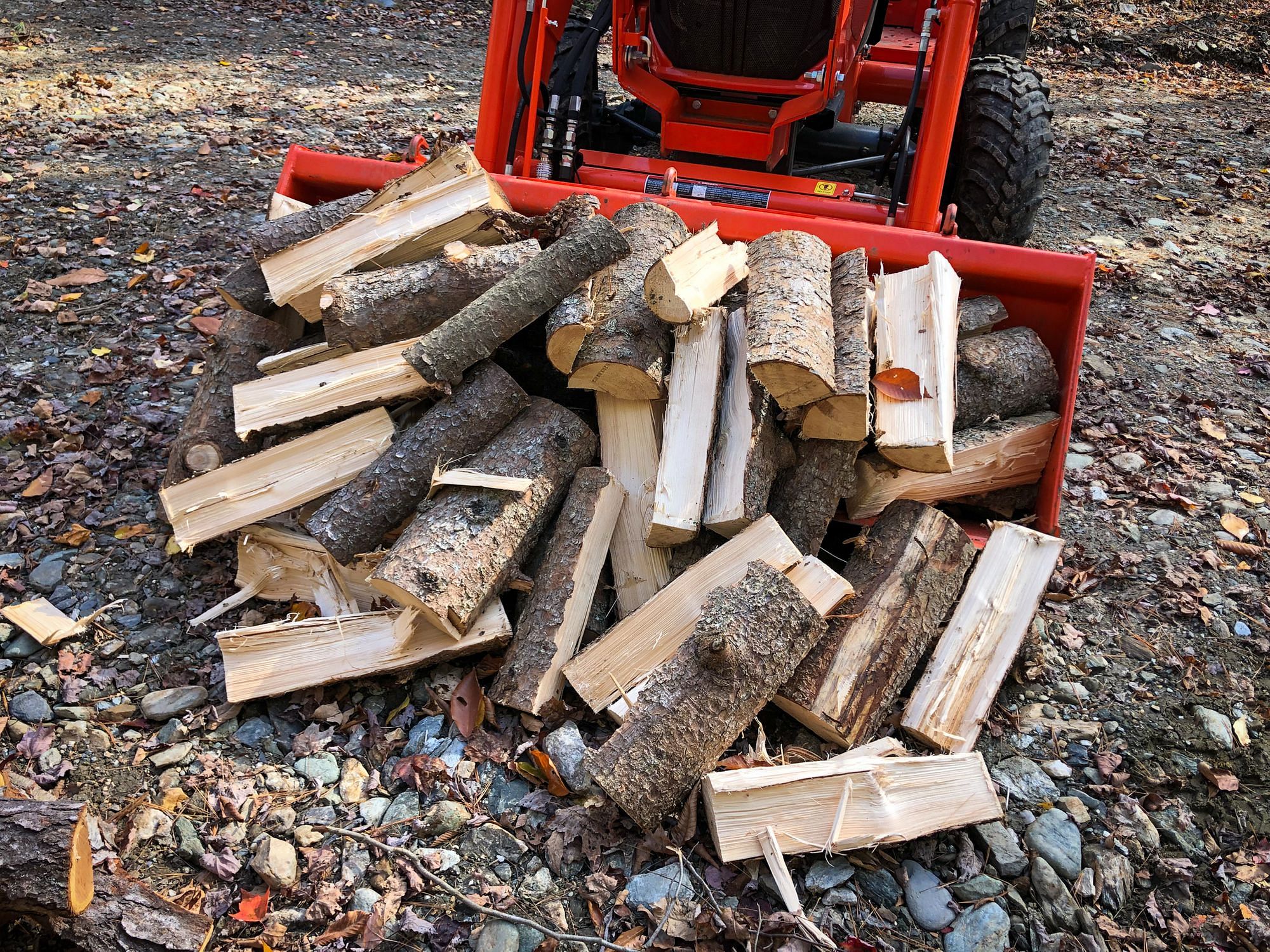 Even as a complete novice who had never used a log splitter before, working alone, it took just 3 hours to get through the whole pile. I'm sure with more experience (and a helper) it could probably be done in an hour or less, but I was happy with my achievement.
Given our modest firewood demands, it's just not economical for us to buy a log splitter which can easily cost $1,500 or more when we're able to rent one for under $100 for a day and produce enough firewood for probably 100+ campfires! That said, I think next time I'd like to try using a splitting axe such as the Fiskars X27 36-inch Super Splitting Axe - leave us a comment below if you have recommendations!
Stacking Firewood
The last step in our firewood preparation was to stack it. A month or so ago we picked up some free pallets from a Craigslist ad we had seen, planning to use them for firewood. Although the pallets aren't in perfect condition and may not even be treated, they should be suitable for stacking the firewood on and raising it off the ground for the time being.
I began stacking the firewood on the same day as splitting it, but ran out of time and decided to return with Diana a few days later to finish the task - in fact, she did most of the stacking in the end!
Rather than attempting any elaborate approach, we chose simply to create columns made of logs in alternating directions at either end of the crate, and then fill in the center with rows of stacked logs. From an airflow perspective, it's not ideal (especially for the logs in the center) but we're not in a rush to dry them so it should be fine.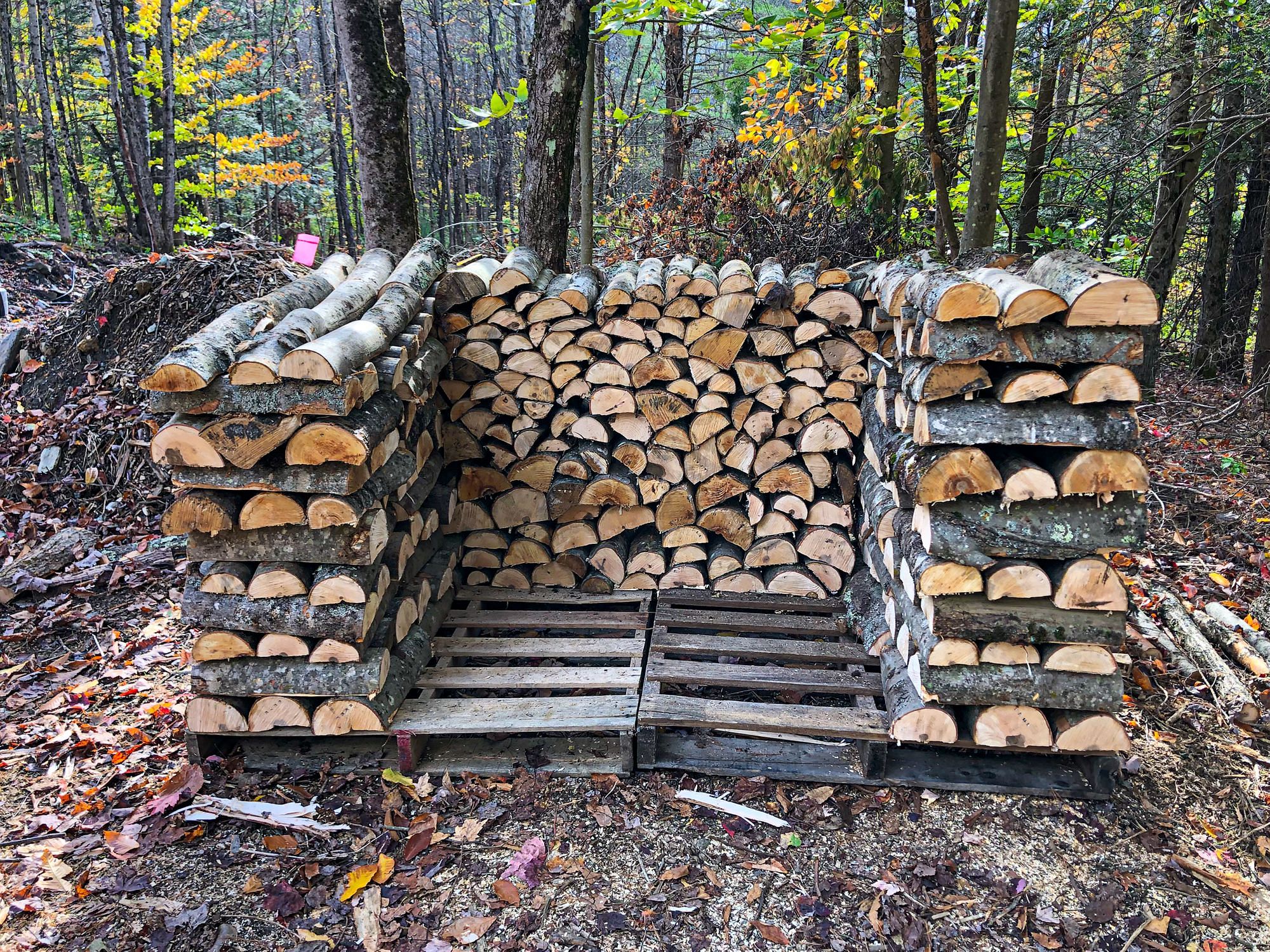 We completely filled two pallets with one big stack of firewood (the pile is a little under 4ft x 4ft x 7ft so just under a cord) and another smaller stack. We plan to cover the tops of the piles before we leave them for winter.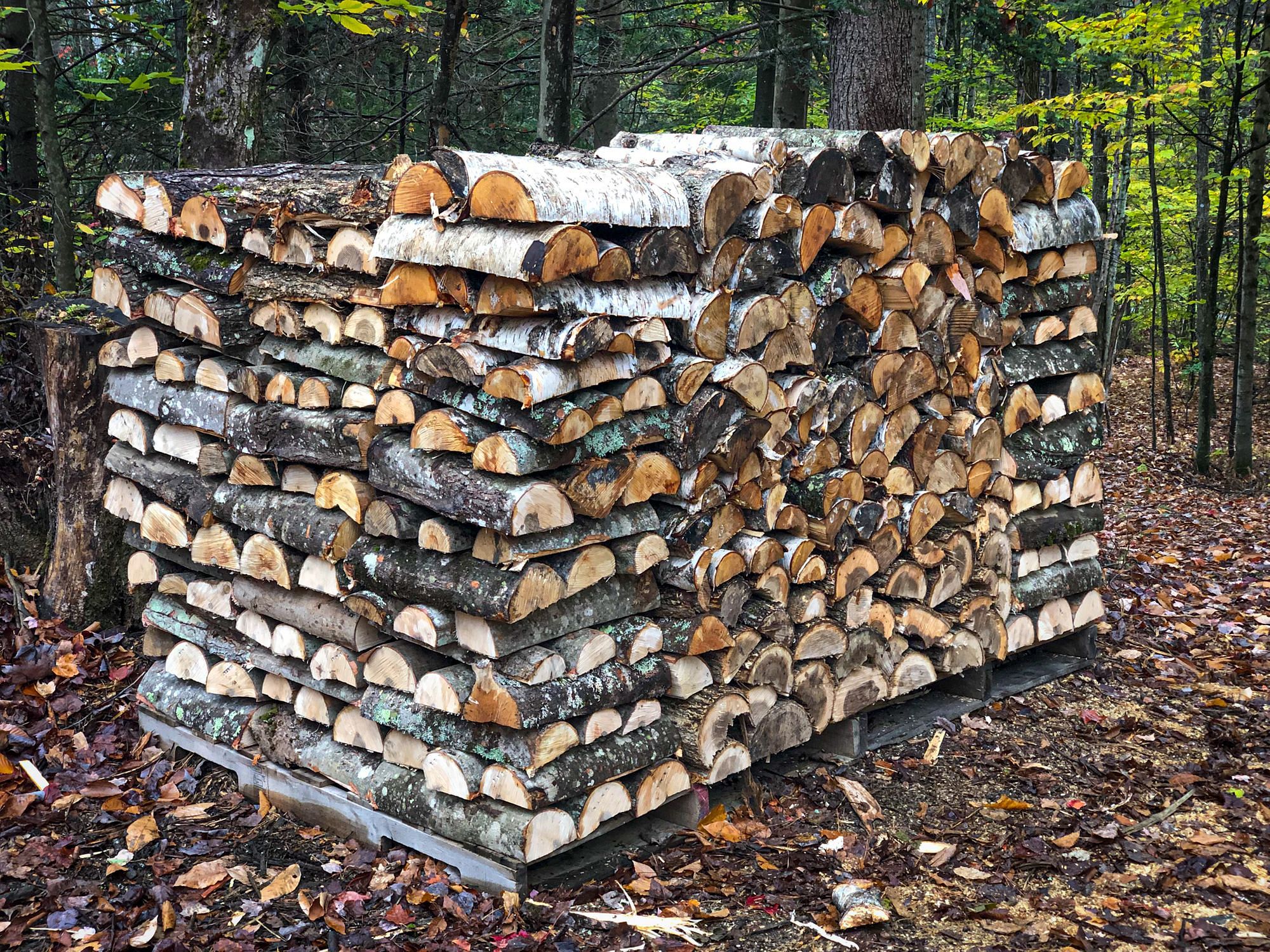 We tried to keep wood species together so it'll be easier for us to select the wood we want - hard maple or ash when we want a hot-burning log, cherry when we want some fruity scents, or spruce to get a fire started and don't mind so much about the smoke and heat output.
Preparing our own firewood was a very rewarding experience. Not only is it nice to be able to use the smaller and crooked logs that were created as a by-product of our driveway clearing, but there's an enormous sense of satisfaction in looking at the firewood stacks and thinking "we made those".
We're already looking forward to future campfires fueled by our own firewood!