Introduction
After melting in the sweltering heat as we visited Colorado National Monument, we were pleased to be heading further north to higher elevation for our next stop.
This is another place we visited in December 2017, albeit a fleeting visit at the least popular time of year. We were heading to Dinosaur National Monument near Dinosaur, CO, our 34th stop on our quest to visit ALL the National Park Units across the US.
Dinosaur National Monument sprawls out over a fairly large area, and we decided to park ourselves on one end - prioritizing high elevation and cooler temperatures over shorter driving distances.
We visited Dinosaur National Monument for a few days in mid-August 2019.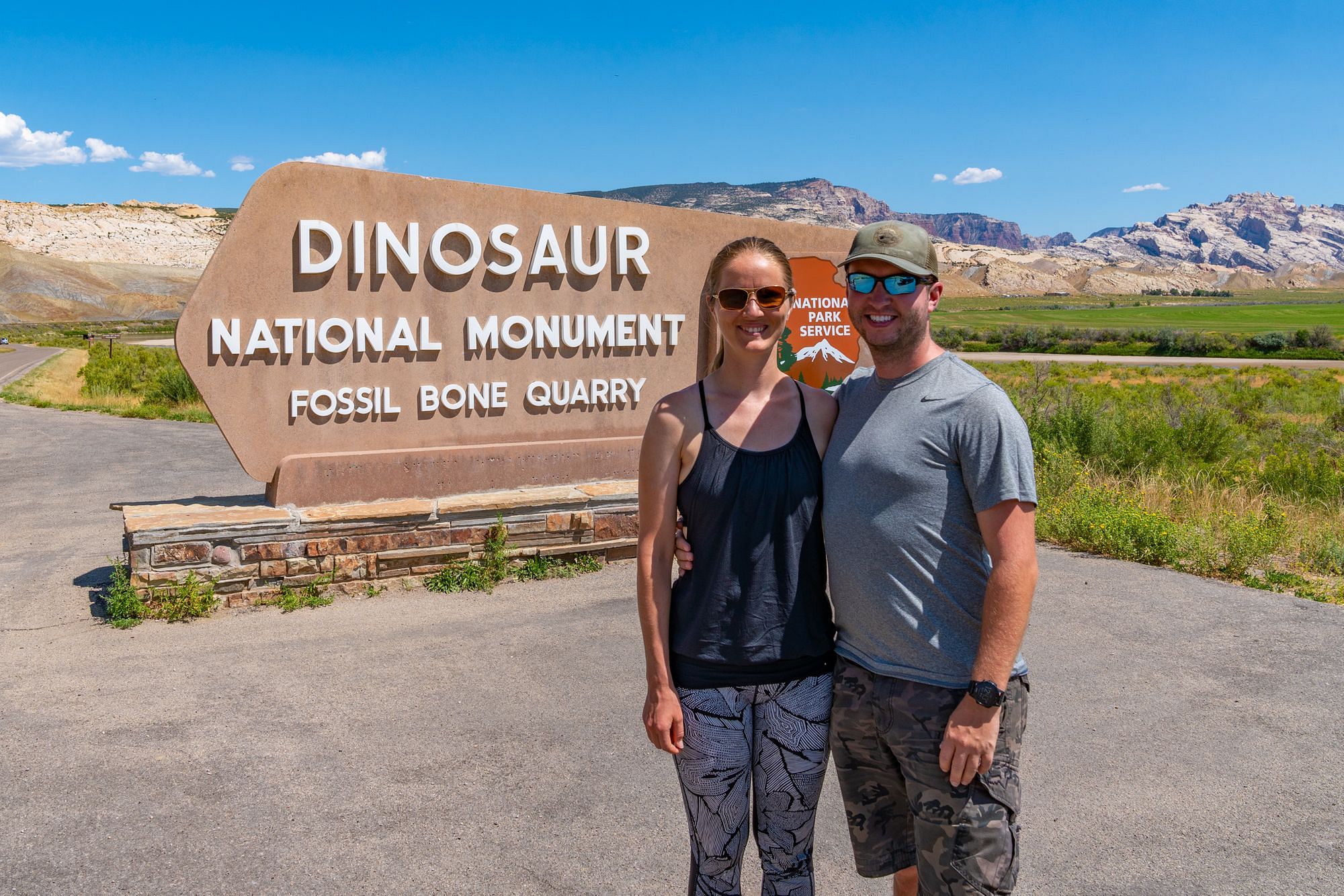 Location
Spanning the Utah and Colorado state boundary, the nearest towns are Jensen, UT and Dinosaur, CO. Neither have many facilities and the nearest city is Vernal, UT.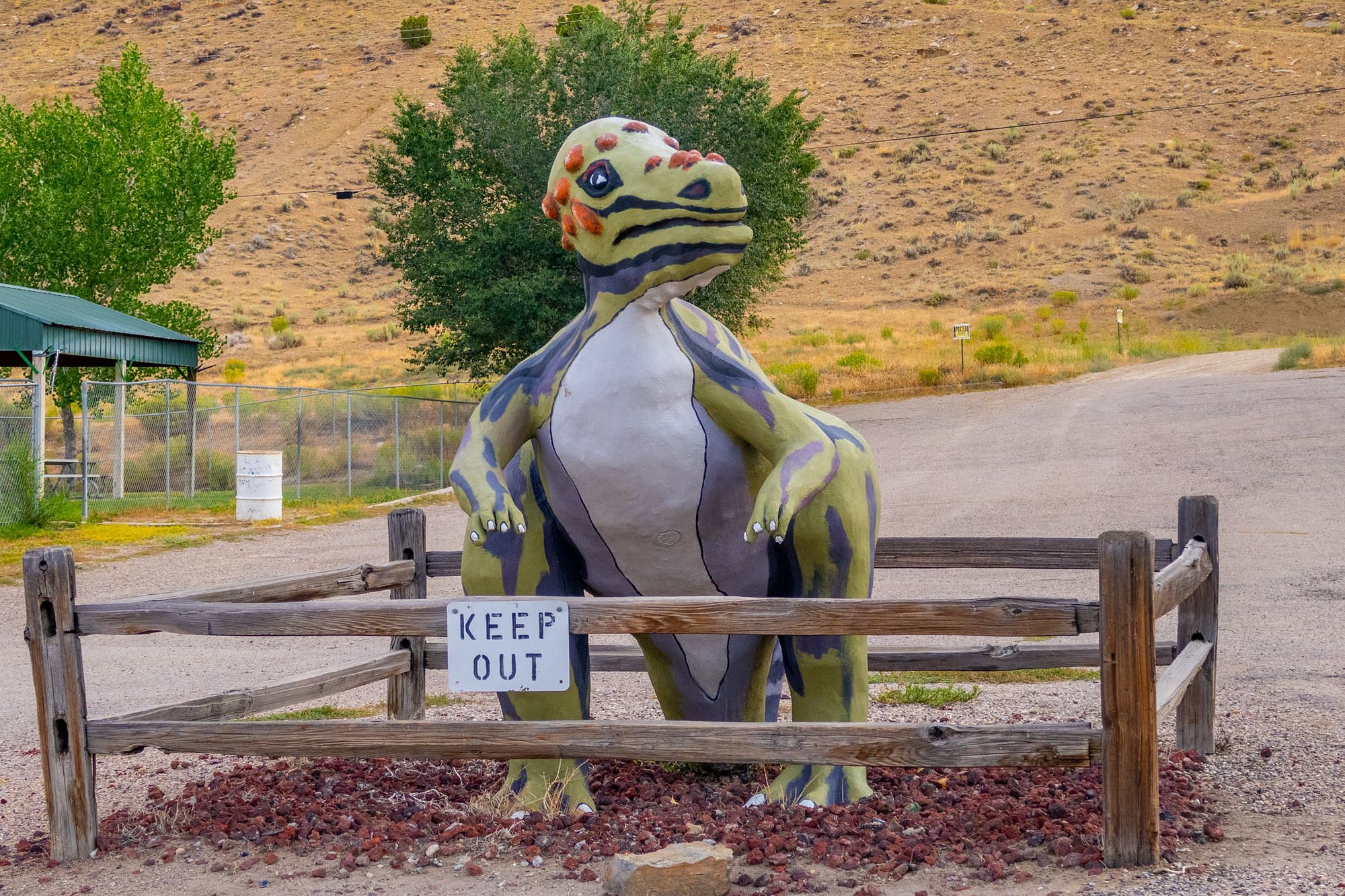 Video
Background
As its name suggests, Dinosaur National Monument preserves an area rich in fossilized dinosaur remains.
Dinosaur Fossils
The significance of the area was first realized in 1909 when Earl Douglass, a paleontologist working for the Carnegie Museum of Natural History, was sent to "dig up dinosaur bones east of Vernal".
His initial search was disappointing, turning up "fragments of bones but nothing especially promising". Days later, having refocused his search on an area with thick sandstone beds, he made the discovery of a lifetime.
What started with just 8 tail bones on top of a ledge, turned out to be the most complete Apatosaurus skeleton every discovered. It was named Apatosaurus louisae in honor of his wife, Louise.
The Carnegie Quarry that held the Apatosaurus skeleton had many more surprises buried within, and turned out to be one of the richest Jurassic quarries ever found. Over the next 13 years, more than 700,000 tons of material was sent to the Carnegie Museum!
History
Long before modern-day explorers began excavating the area, it was inhabited by the Fremont People. Archaeological evidence suggests that small bands of people lived in rock overhangs, caves and small villages along the Fremont River from around 200CE to 1300CE.
While they didn't leave large permanent dwellings for archeologists to find, they did leave petroglyphs and pictographs on rocks in the area. These small artifacts offer a tantalizing glimpse into their lives, culture and even world events - as we found our later!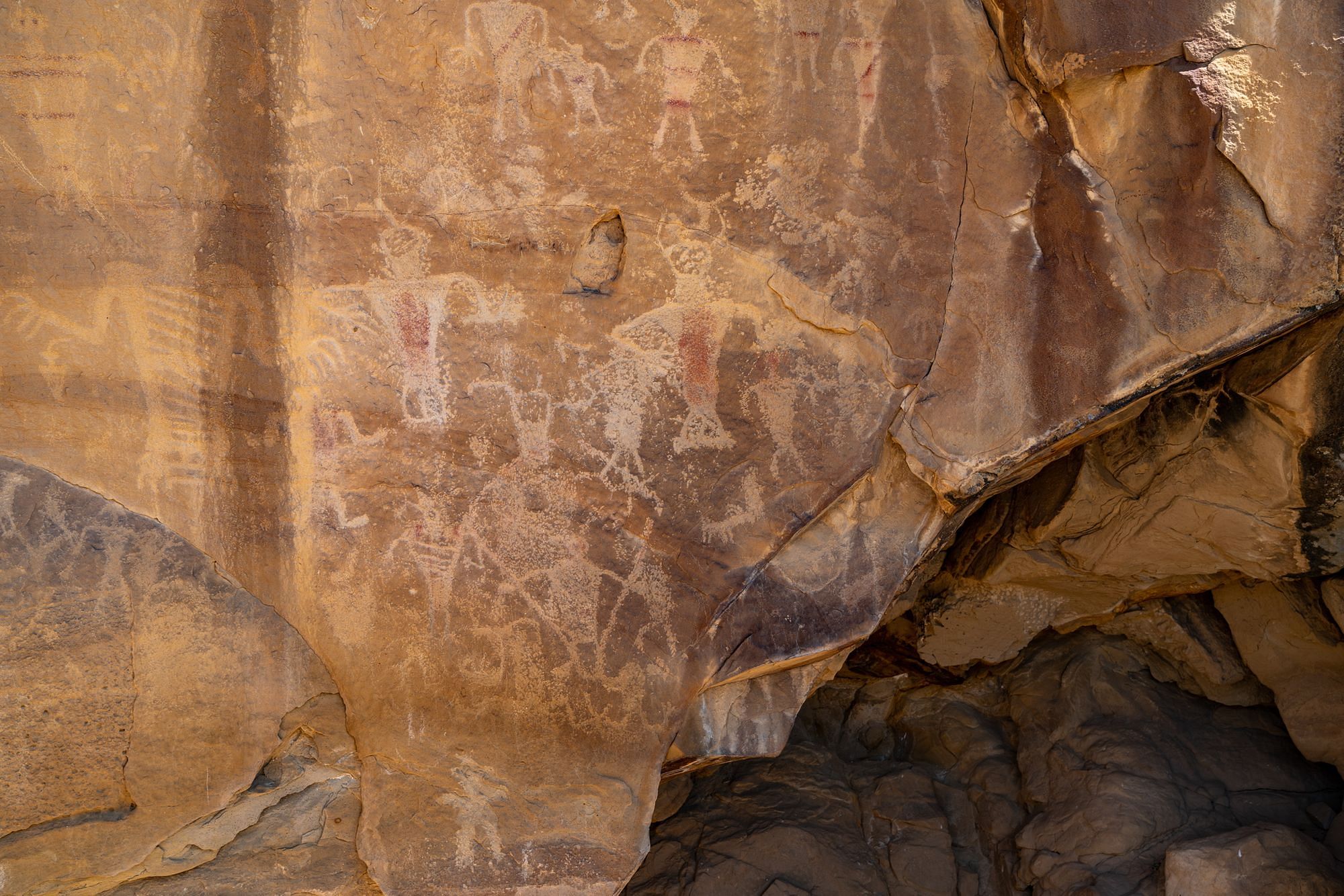 National Monument Designation
Dinosaur National Monument was designated as a National Monument on October 4, 1915 by President Woodrow Wilson, to preserve "an extraordinary deposit of Dinosaurian and other gigantic reptilian remains of the Juratrias period".
He declared that "the public interest would be promoted by reserving these deposits as a National Monument, together with as much land as may be needed for the protection thereof". That land was an area of just 80 acres surrounding the original Carnegie Dinosaur Quarry.
In 1938, the Monument was expanded by President Franklin D Roosevelt to cover over 210,000 acres (329 square miles), encompassing the Green and Yampa River canyons.
Itinerary
The drive from our boondocking spot near Grand Junction, CO was around 130 miles. We had left in the morning to escape the worst of the heat, eager to avoid another day of temperatures well above 100°F.
Camping at Harpers Corner Road
We climbed 11 miles up the long hill from US-40 and arrived at our camping spot around lunch time, finding we had it all to ourselves!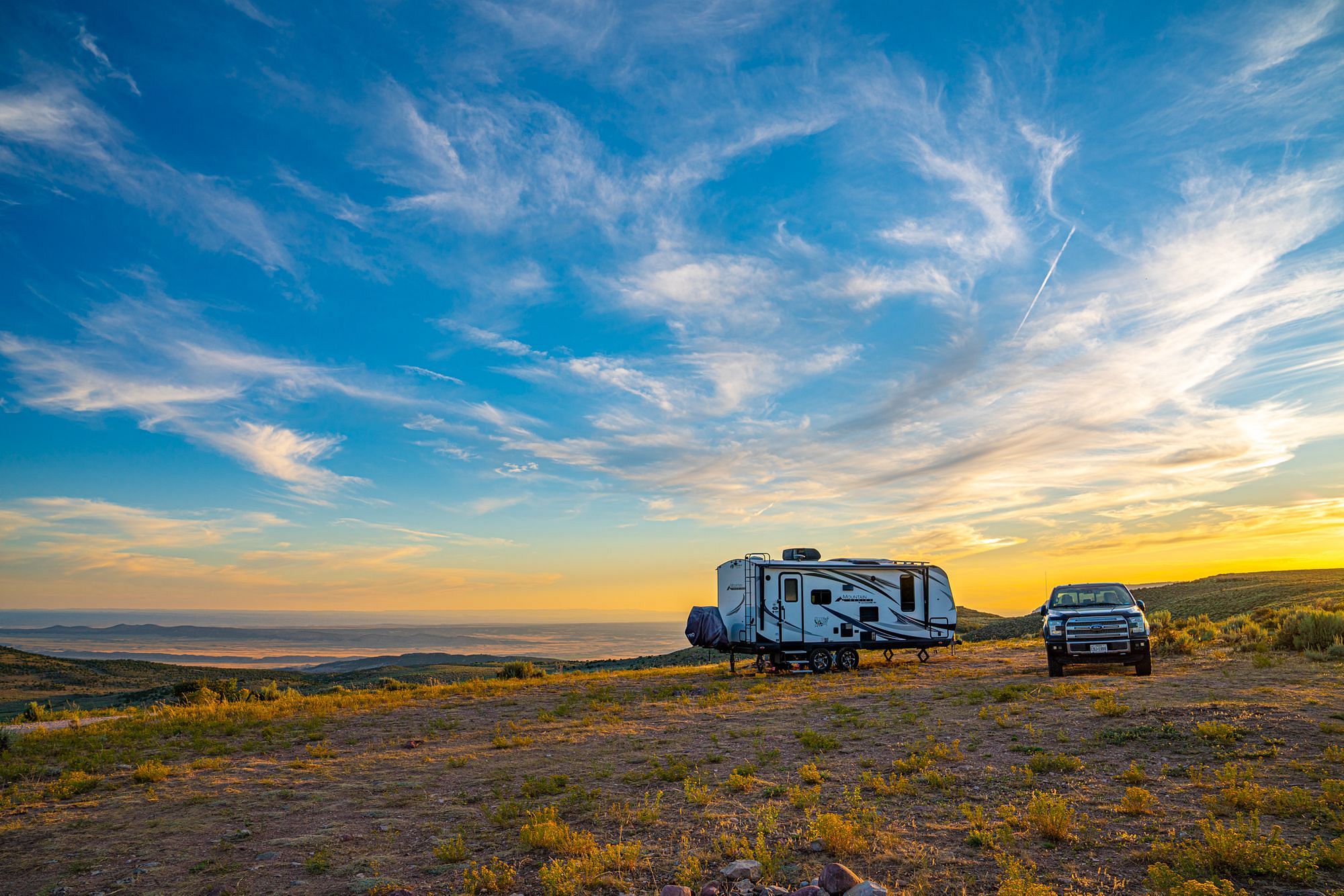 Our location of choice was a small patch of land just off Harpers Corner Road where it intersects Blue Mountain Road. Sitting just outside the park, this is dispersed camping at its finest - quiet and isolated with vast panoramic views of the valley below.
Exposed high up on the ridge there was a light, cool breeze blowing through, a welcome respite from the hot, still air of the past few days.
Better yet, cell signal was blazing fast on both AT&T and Verizon. Perfect, since while we were there we would also be recording a podcast with Sam Nuerminger, host of Camping World's Stories from the Road podcast.
Rafting
We started our exploration of Dinosaur National Monument the next day. Ordinarily we'd drive to the Visitor Center to start our exploration, but not this time! This time we were going to be arriving on the water!
We signed up for a rafting tour with Adrift Dinosaur, a company that offers rafting tours into the Monument. They're based in Jensen, about a 40 minute drive from where we were camped, so on Tuesday morning we headed out nice and early - we arrived with plenty of time to get ready before the 9am departure.
The rafting itself is one-way downstream, so they shuttled us down to the river by minibus and picked us up later at the other end. Since we weren't taking our own vehicle, we just took a GoPro with us and hence don't have many photos - but check out our video on YouTube with lots of cool footage!
The trip itself was amazing! It was mid-summer when we visited so water levels were low and rapids were relatively gentle. But the views were no less spectacular!
Our exploration started on the shuttle ride down to the river - we stopped and hiked a short trail up to some petroglyphs. These were absolutely extraordinary - some of the best I've seen.
Down on the river we were in a boat with a young French couple and their children. We had a great time paddling 9 miles down the river, soaking in the incredible views and just generally having a lot of fun!
By the end of the day, we were exhausted - a fun-filled day of rafting under the hot Colorado summer sun. We eventually made it back to our RV at about 4:30pm.
Quarry Visitor Center
The next day we headed back to Dinosaur National Monument for a more typical day of exploring. Per our normal modus operandi, we first stopped at the Quarry Visitor Center to stamp our Park Passport.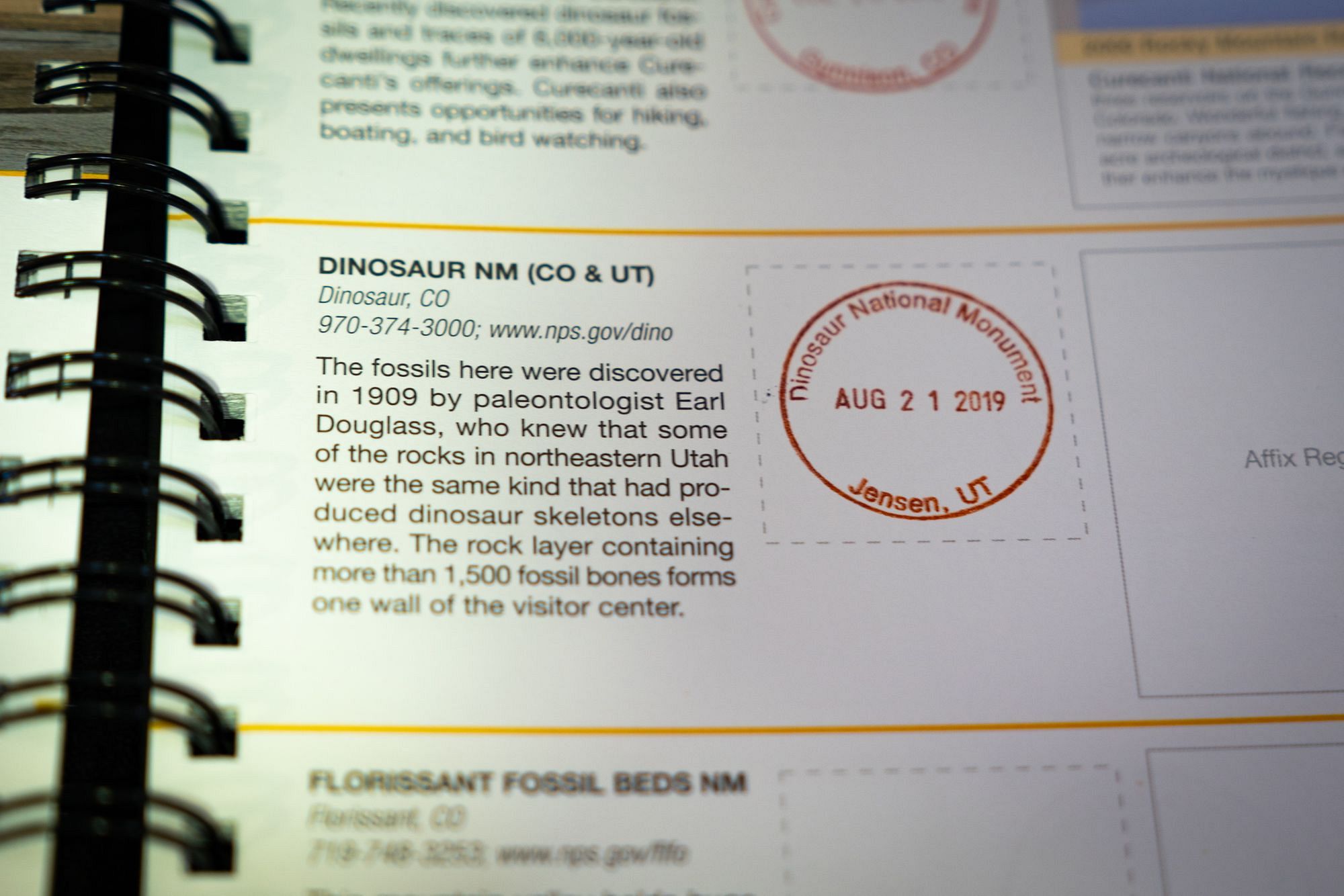 The Visitor Center also has some great information displays too, with information about the history, geology and paleontology of the area.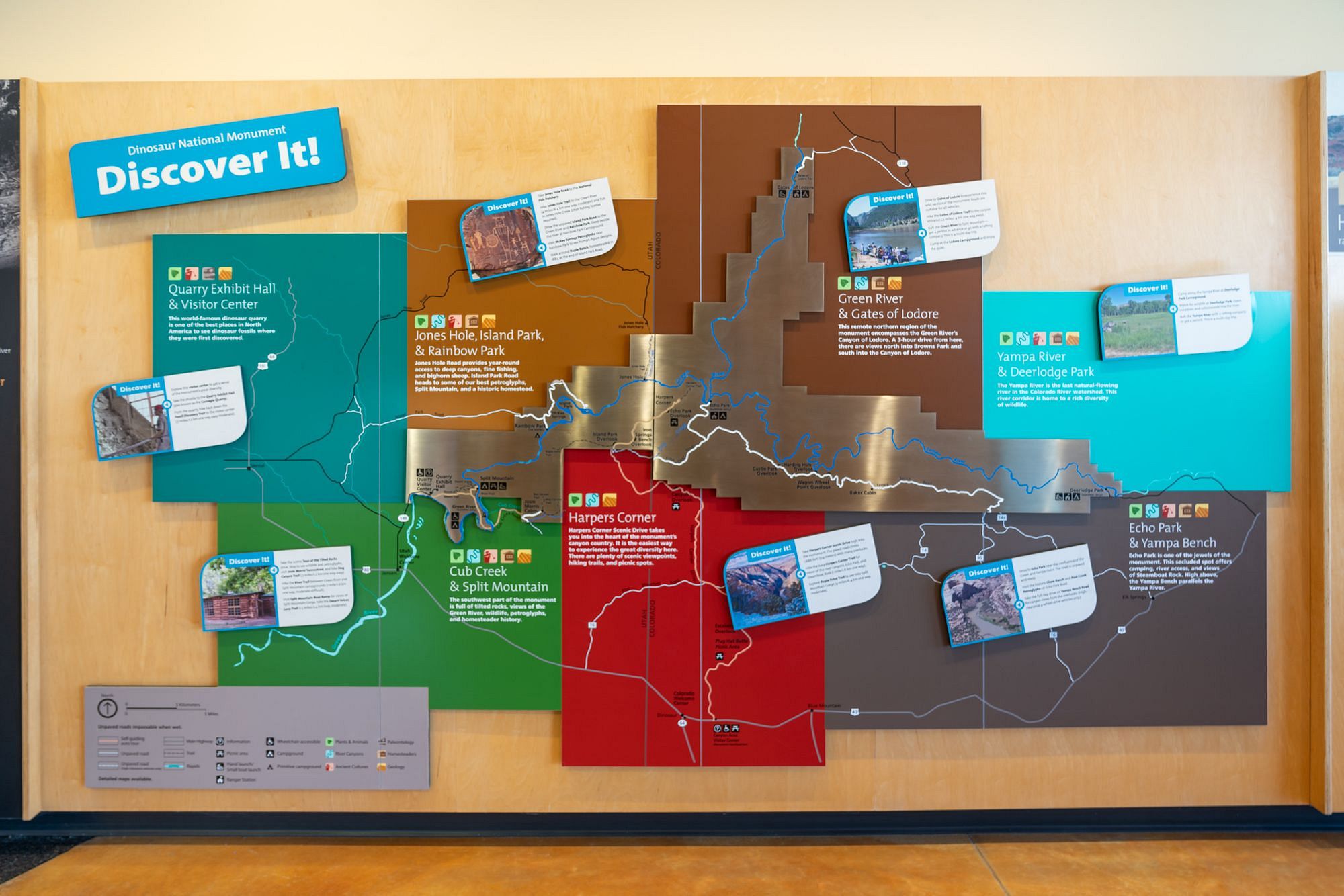 From there, we took the free shuttle up to the Quarry Exhibit Hall - arguably the feature attraction at the Monument. Last time we visited we were able to drive our truck up to the Quarry Exhibit Hall but during busier times the shuttle runs between the Visitor Center and Exhibit Hall.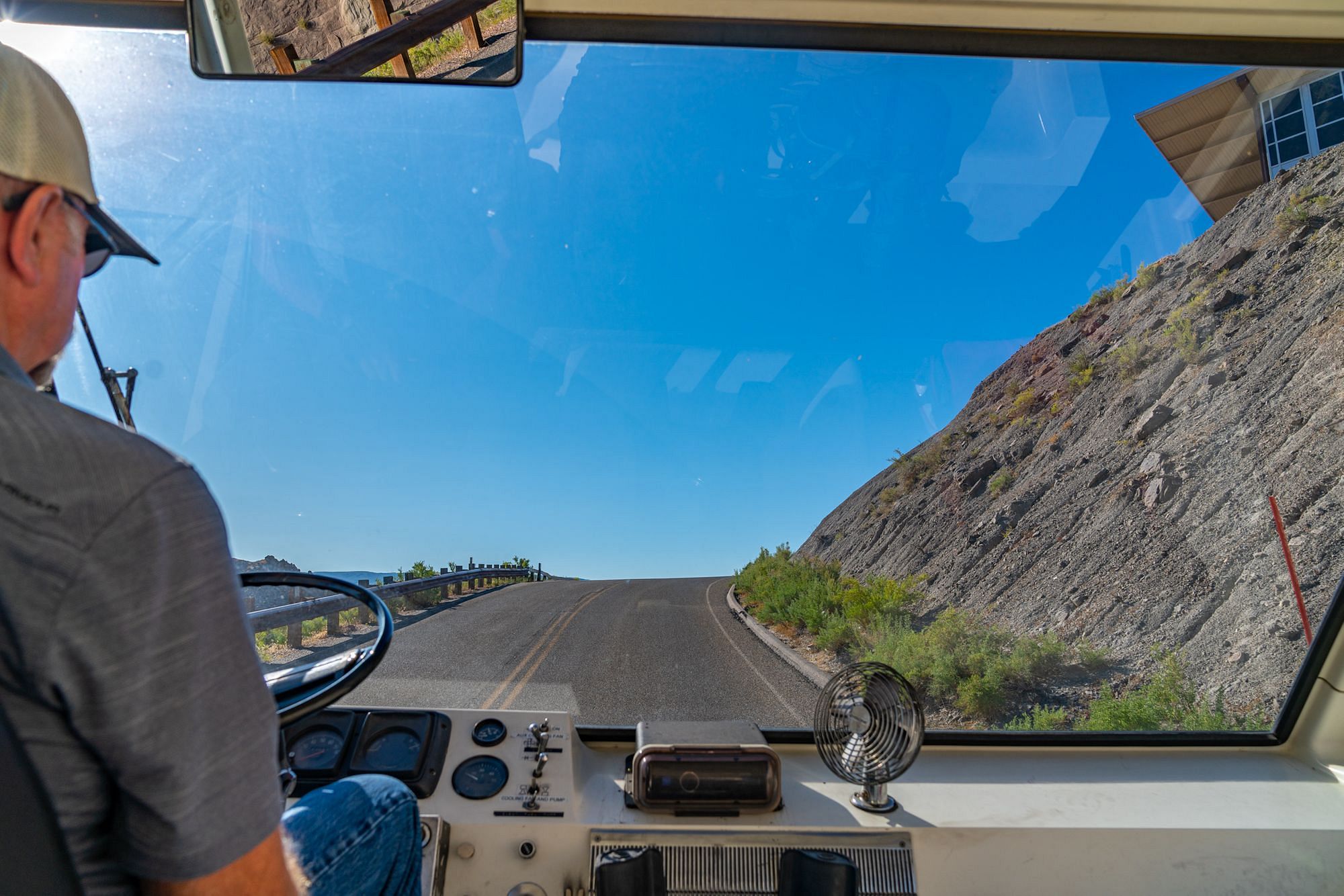 Quarry Exhibit Hall
What makes Quarry Exhibit Hall so spectacular is its giant exposed wall containing around 1,500 fossilized dinosaur bones. Even though we'd seen it before, it's no less breathtaking the second time. Everywhere you look there are more fossils.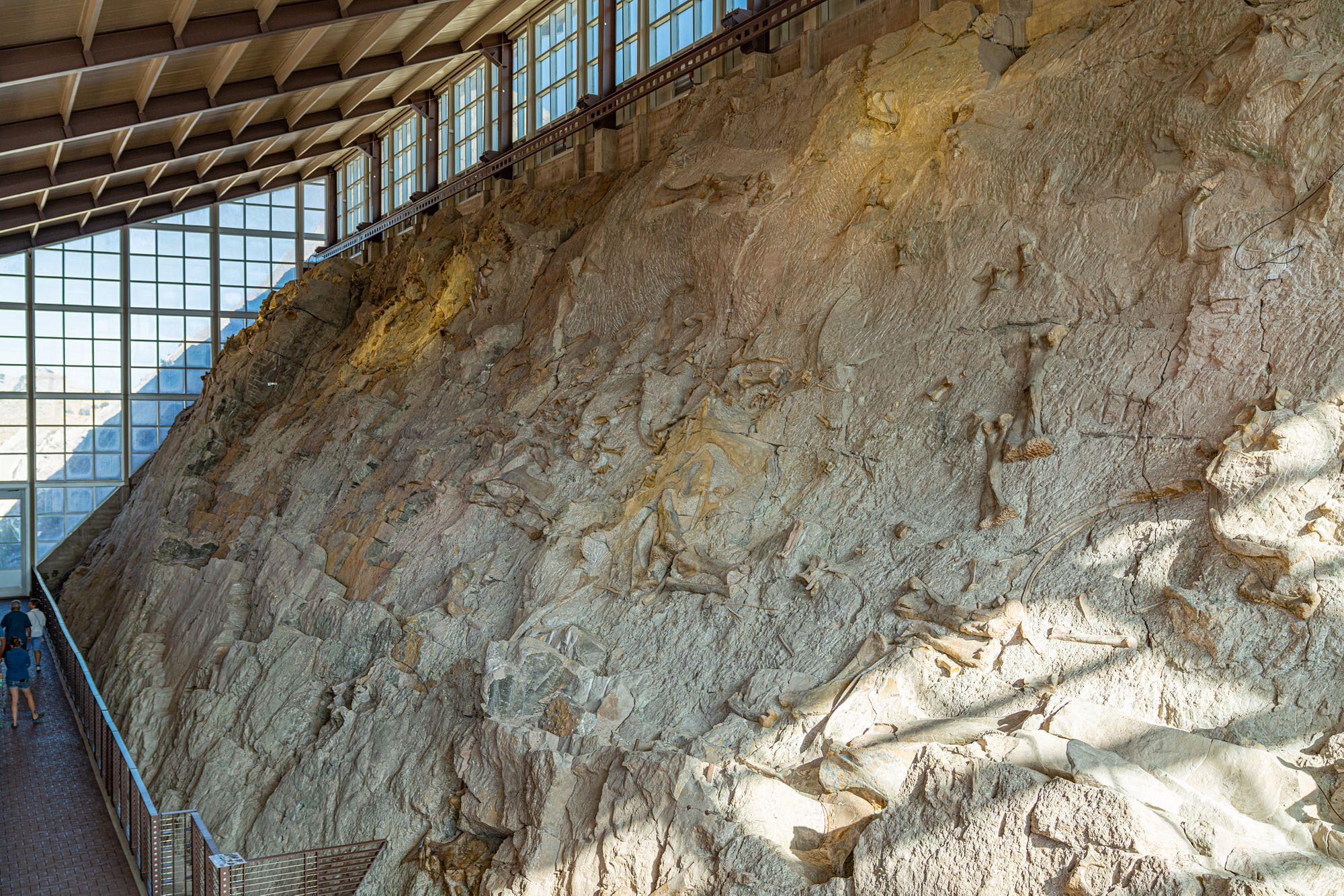 The entire building is environmentally controlled to preserve the fossils and the stability of the wall. If you look closely, you can even see measurement instruments that researches have installed on the wall to monitor it for changes over time.
Information displays throughout the exhibit hall help explain what each fossil is and the dinosaurs they belonged to. Among others, the wall includes remains of Allosaurus, Diplodocus, Stegosaurus and of course the Apatosaurus that started it all!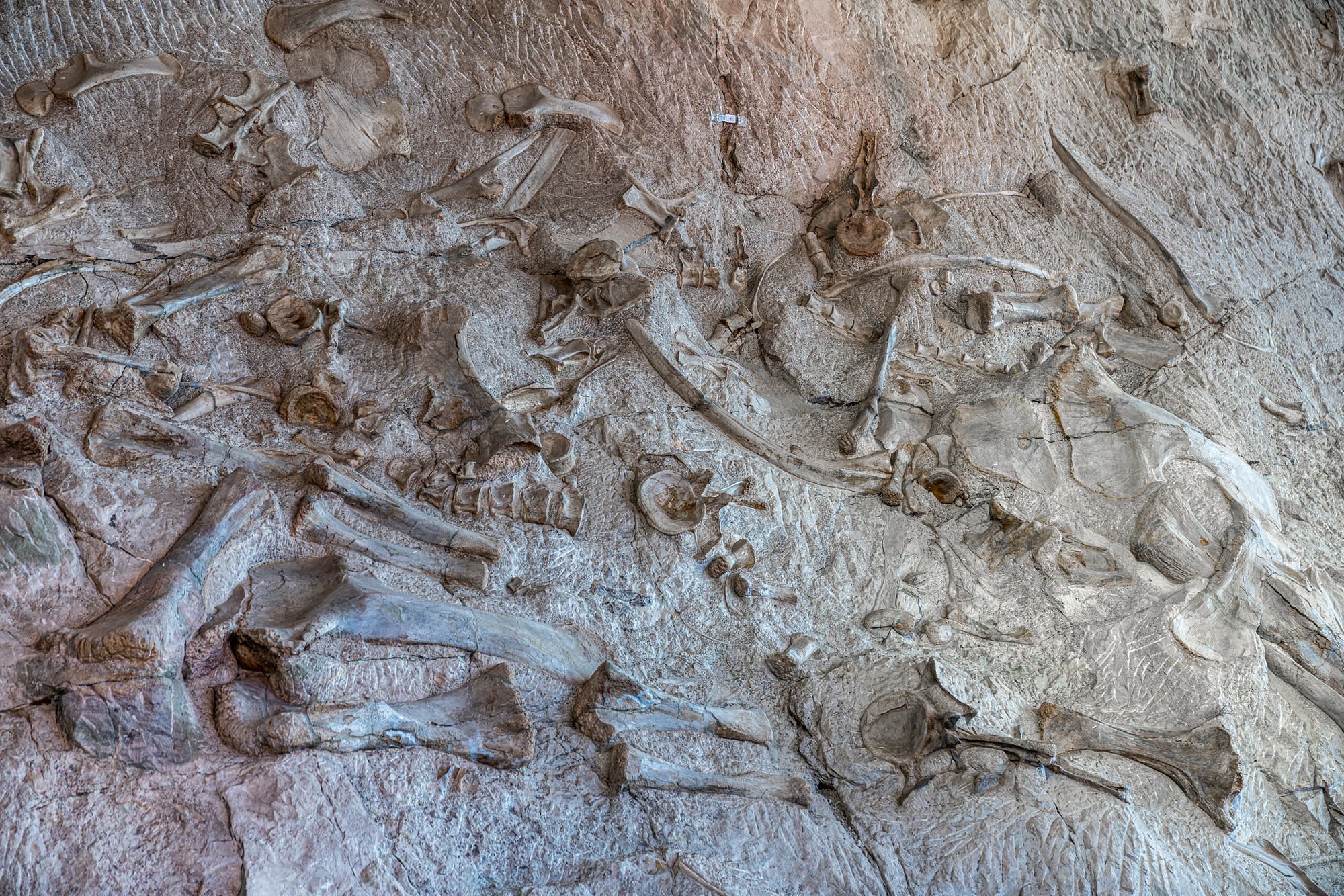 As an extra little bonus for us, there was a film crew shooting footage for an upcoming TV documentary. They're in a whole different league from what we do for our YouTube channel, but nonetheless it was cool to see some of the behind-the-scenes activity. I may have had a bit of a case of camera envy though!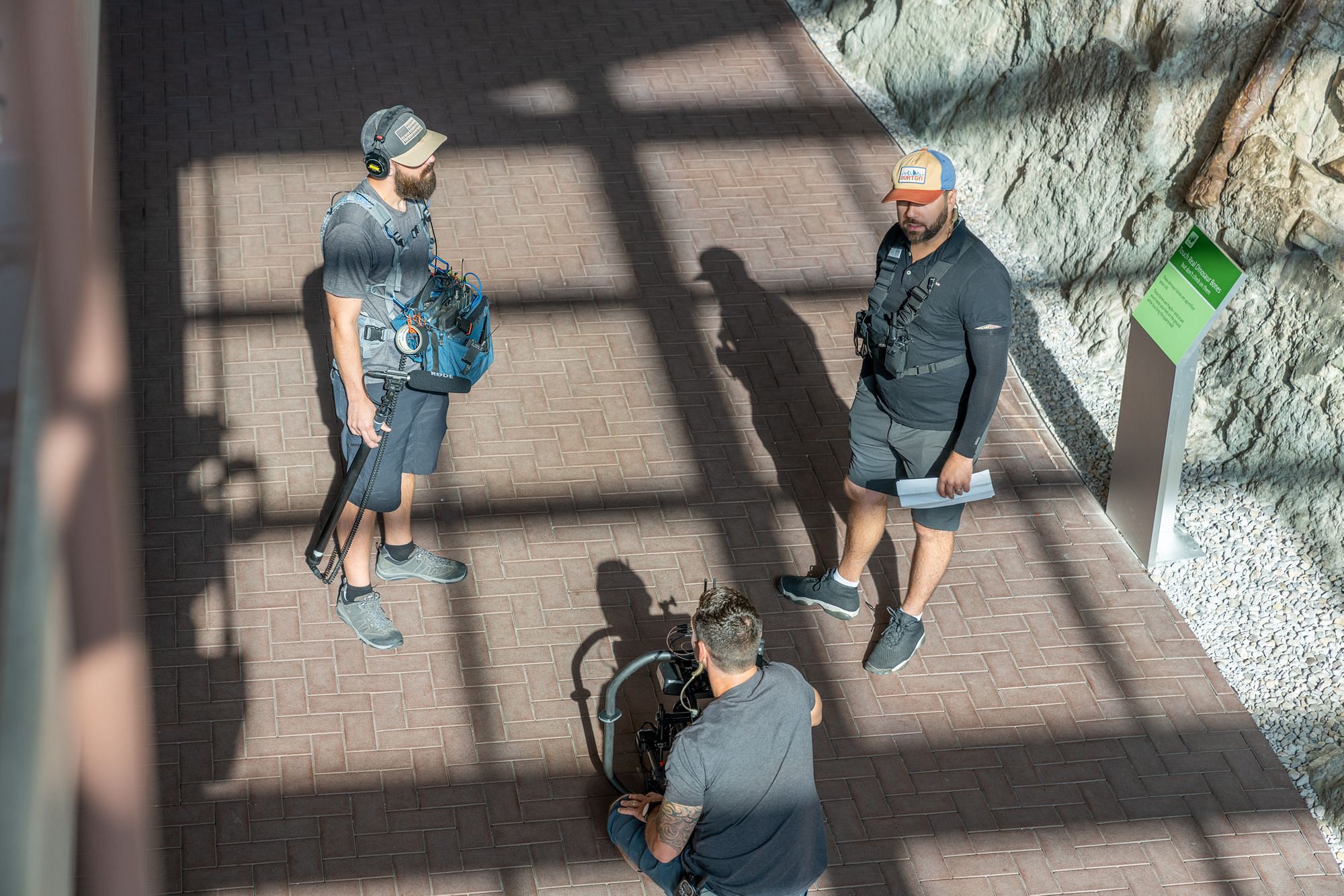 Fossil Discovery Trail Hike
After exploring the Quarry Exhibit Hall (and yes, watching them film!) for a while, we headed outside to rendezvous in the parking lot for a Ranger-led Guided Tour - the Fossil Discovery Trail Hike.
This was a 1.5 hour, 1.2 mile hike that starts at the Quarry Exhibit Hall and ends at the Quarry Visitor Center. Along the way, our Ranger guide taught the group of a few dozen people about the different rock layers found in the area, and pointed out some of the fossils in the rocks around us.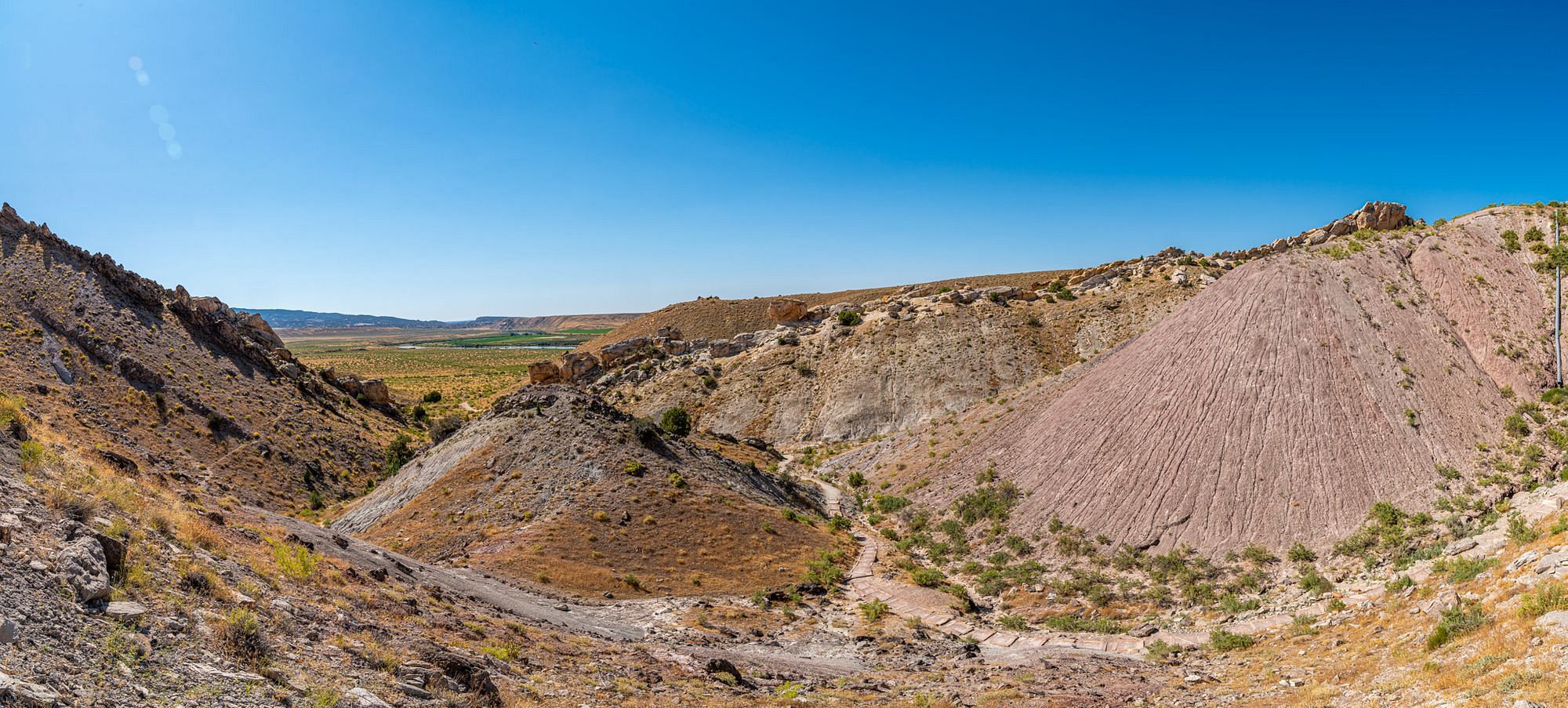 Thanks to natural erosion processes, new fossils are constantly appearing.
We really enjoyed the hike, and learned a lot of new things along the way! There were several families with young children in the group too, so as long as you're OK with plenty of steps then I'd highly recommend this hike.
Cub Creek Road
Cub Creek Road is a 10 mile road through the Cub Creek area from Quarry Visitor Center to Josie Morris's Cabin. We picked up a $1 guide book from a little roadside stand near the Visitor Center.
The guide book has lots of great information about the area you are traveling through and the things you can see. There are several stopping points along the way, including numerous stops to see petroglyphs.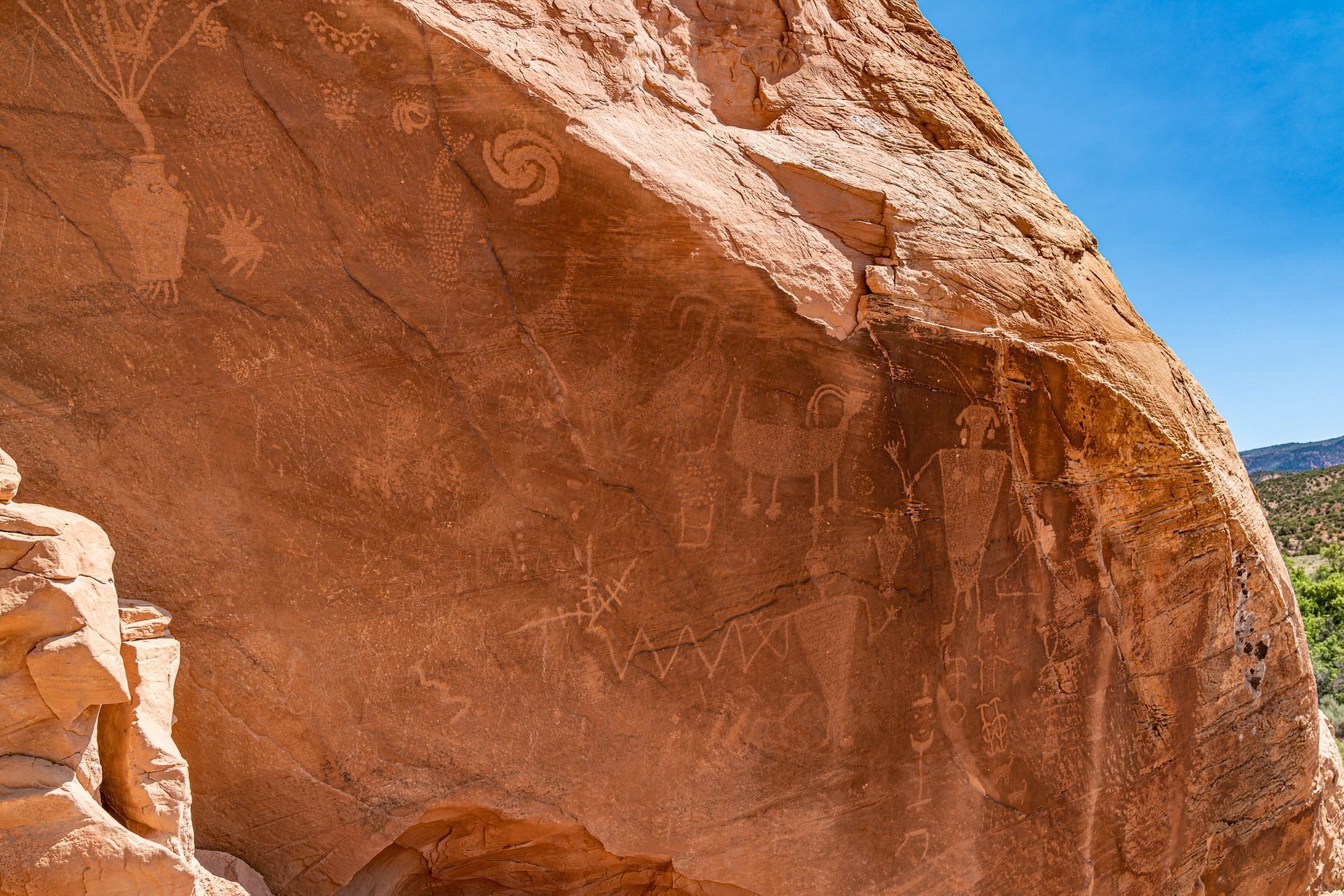 We took our time driving through the Monument, enjoying the views and stopping frequently to see the petroglyphs.
One of my favorites is the spiral-like petroglyph which is thought to depict the supernova that resulted in the Crab Nebula we see today. The supernova was visible for three weeks starting on July 4, 1054 CE and was so bright that it could even be seen during the day!
Josie Morris's Cabin
Much of Cub Creek Road is paved, but the paving stops where the road forks after about 10 miles. We turned left and headed up towards Josie Morris's Cabin.
Josie Bassett Morris lived most of 90 year life in this area. In 1913, before the area around the quarry was designated a National Monument, she decided to homestead in Cub Creek. She built a cabin here and lived there for over 50 years.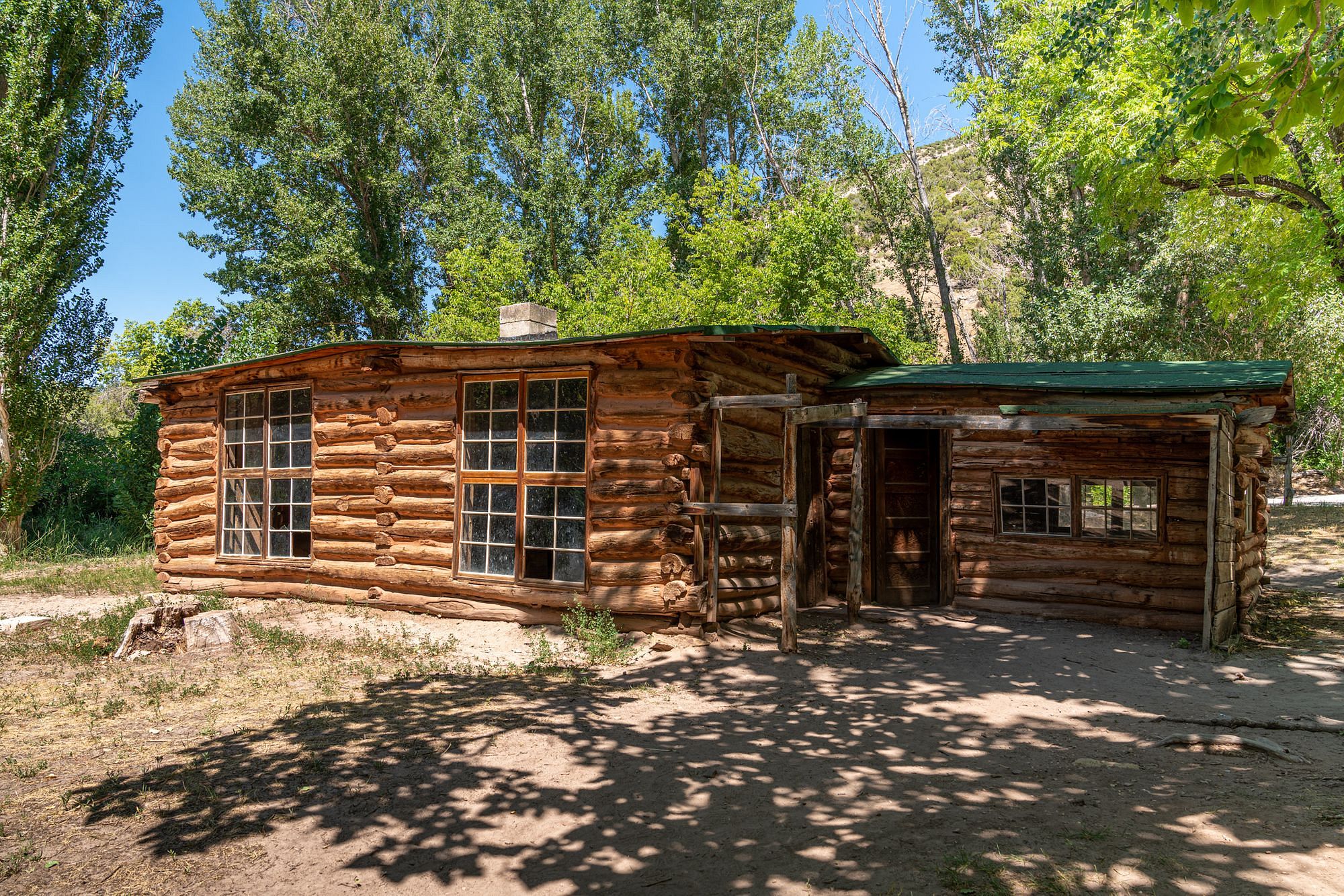 She was an independent woman, but her hospitality and generosity meant she hosted many guests in her home, including the infamous Butch Cassidy!
What I love the most is some of the stories about her. During the Prohibition era she brewed apricot brandy, and in her 60s she was tried (and acquitted) of cattle rustling...twice!
My favorite though is about an argument over water rights. Her cabin was well positioned to take advantage of springs in Box and Hog Canyons, but the law prevented someone using water from any spring that fed a larger stream - like Cub Creek in this case.
By the letter of the law, Josie couldn't use the water as the rights belonged to the owner of Cub Creek. So instead, she irrigated her entire property with the water from the spring so thoroughly that not a single drop reached Cub Creek - hence it was no longer a spring feeding a larger stream! She kept the water and had a wonderfully irrigated ranch!
After several hours of exploring under the hot sun, we headed back to our RV for a late lunch.
Harpers Corner
Our camping spot was just off Harpers Corner Road on the Colorado side of the Monument that leads to Harpers Corner which offers some dramatic panoramic views out across canyons.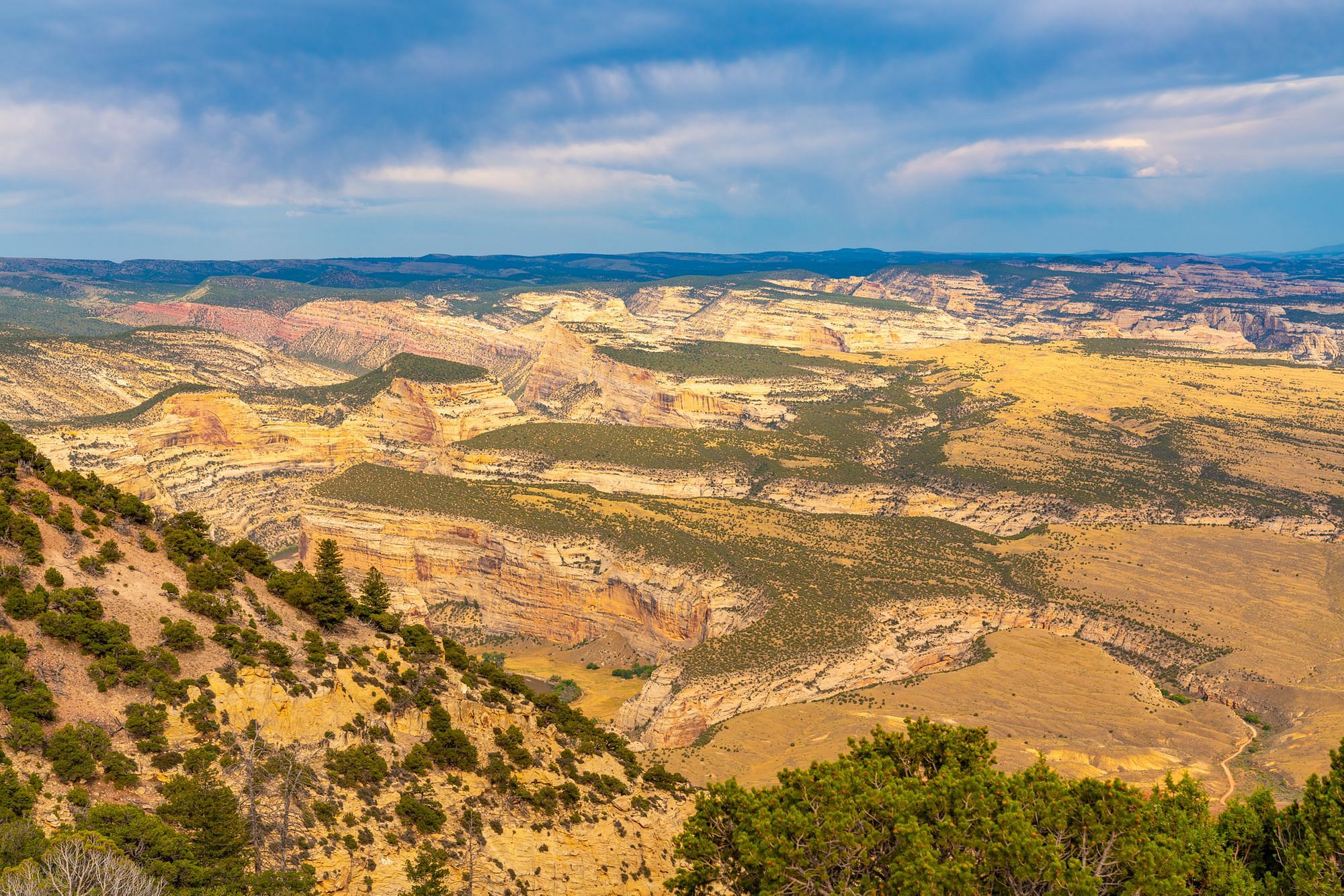 So later that afternoon, we drove about 20 miles further along Harpers Corner Road from our camping spot, to check it out.
Along the way, we stopped at the Echo Park Overlook. The views here were stunning, but it could have looked very different! Echo Park was proposed as the site of a dam by the US Bureau of Reclamation in the 1950s.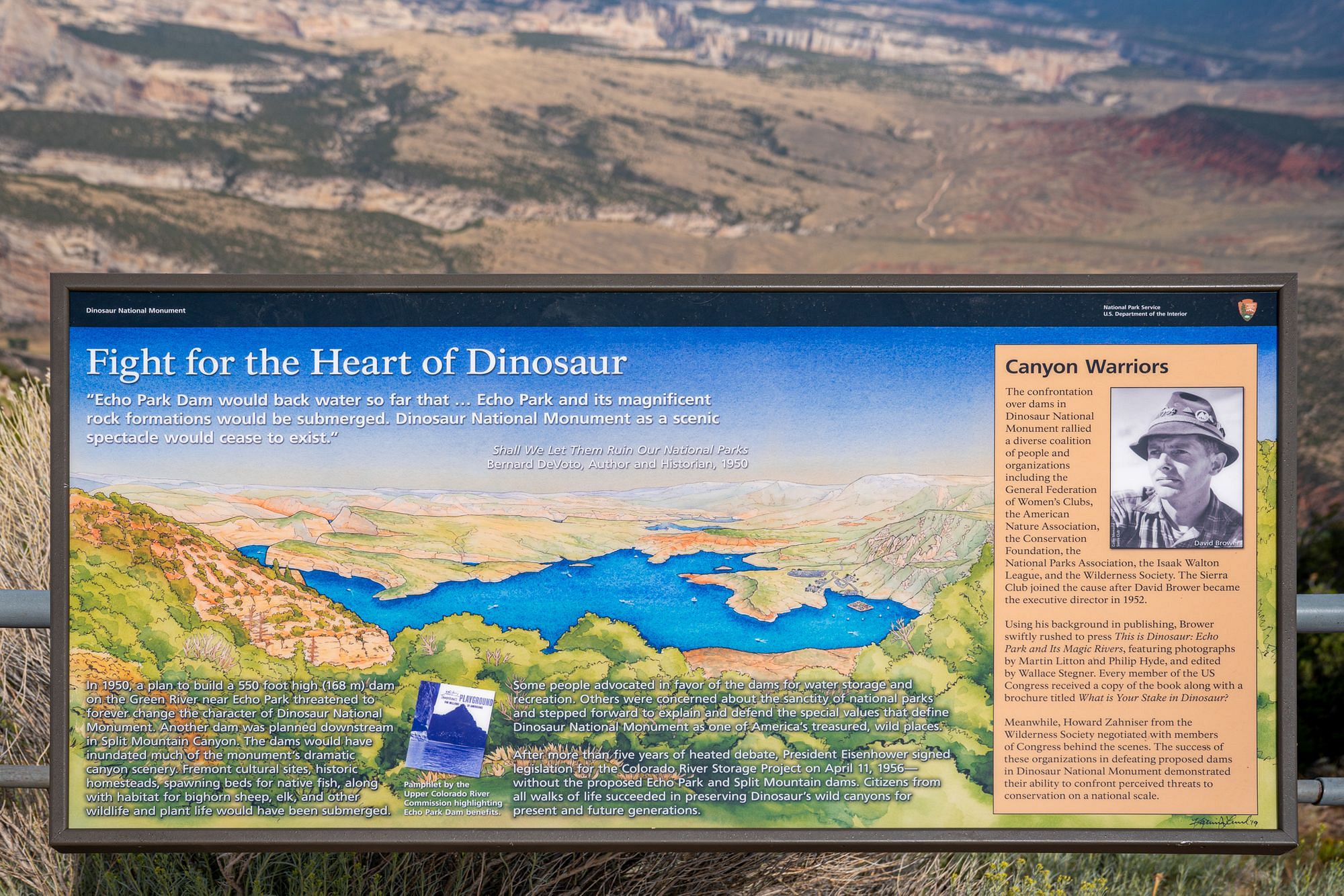 A huge controversy ensued, ultimately culminating in the Colorado River Storage Project Act of 1956 containing specific language to ensure no dams or reservoirs could be constructed within any National Park or Monument. This is the same act that led to the creation of three dams within Curecanti National Recreation Area.
Nowadays, the Echo Park area offers hiking and camping opportunities for visitors.
Conclusion
Dinosaur National Monument is pretty remote - it's not necessarily somewhere you'll happen upon by chance. But that doesn't mean it's not worth the detour!
If you only have a couple of hours, there's still plenty you can see. Stop by the Quarry Visitor Center to learn about the area before checking out the dinosaur fossils in the Quarry Exhibit Hall. If you have a little longer, then a short drive along Cub Creek Road to see the petroglyphs and have a stroll around Josie Morris's cabin is a good way to stretch your legs.
But the highlight for us was rafting down the Green River and seeing the immense geologic formations from the water. We've long said that our goal is not just to visit the National Parks but to truly explore them. While we only spent a couple of days at Dinosaur National Monument, I can't think of a more unique perspective than we saw from our boats.
For us, our next stop will be Golden Spike National Historical Park north of Salt Lake City, UT.