As an Amazon Associate we earn from qualifying purchases.
What are bulk bags?
Bulk bags, also known as yard bags, builder bags, contractor bags or landscaper bags are large bags made of flexible woven plastic designed to carry heavy loads. We like them for filling with wood chips around the property with our tractor, but they can also be used for sand, dirt, yard waste and more.
These inexpensive bags can often be found at hardware stores, or you can buy them online as we do. The ones we buy are about 3ft wide, 3ft deep and 3½ft tall, with a volume of about 200 gallons and can hold over 2,000lbs.
Last year we rented a huge wood chipper a couple of times, and it made short work of chipping some big logs!
At first we just chipped into piles on the ground, but soon we realized chipping into bulk bags would be much more efficient.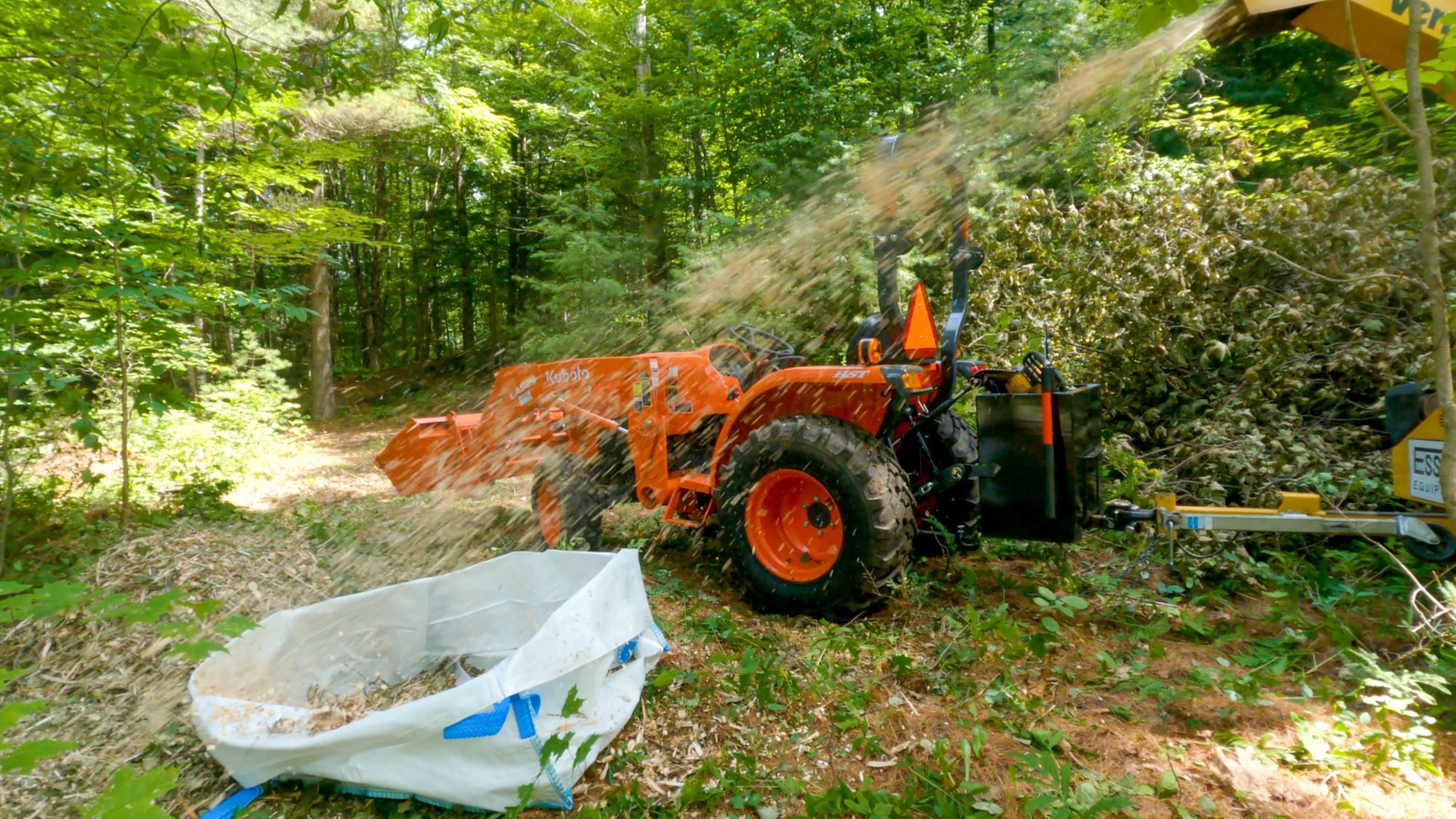 Just one problem - the bags are made of flexible material, and combined with the force of wood chips flying at them, they just don't want to stay open!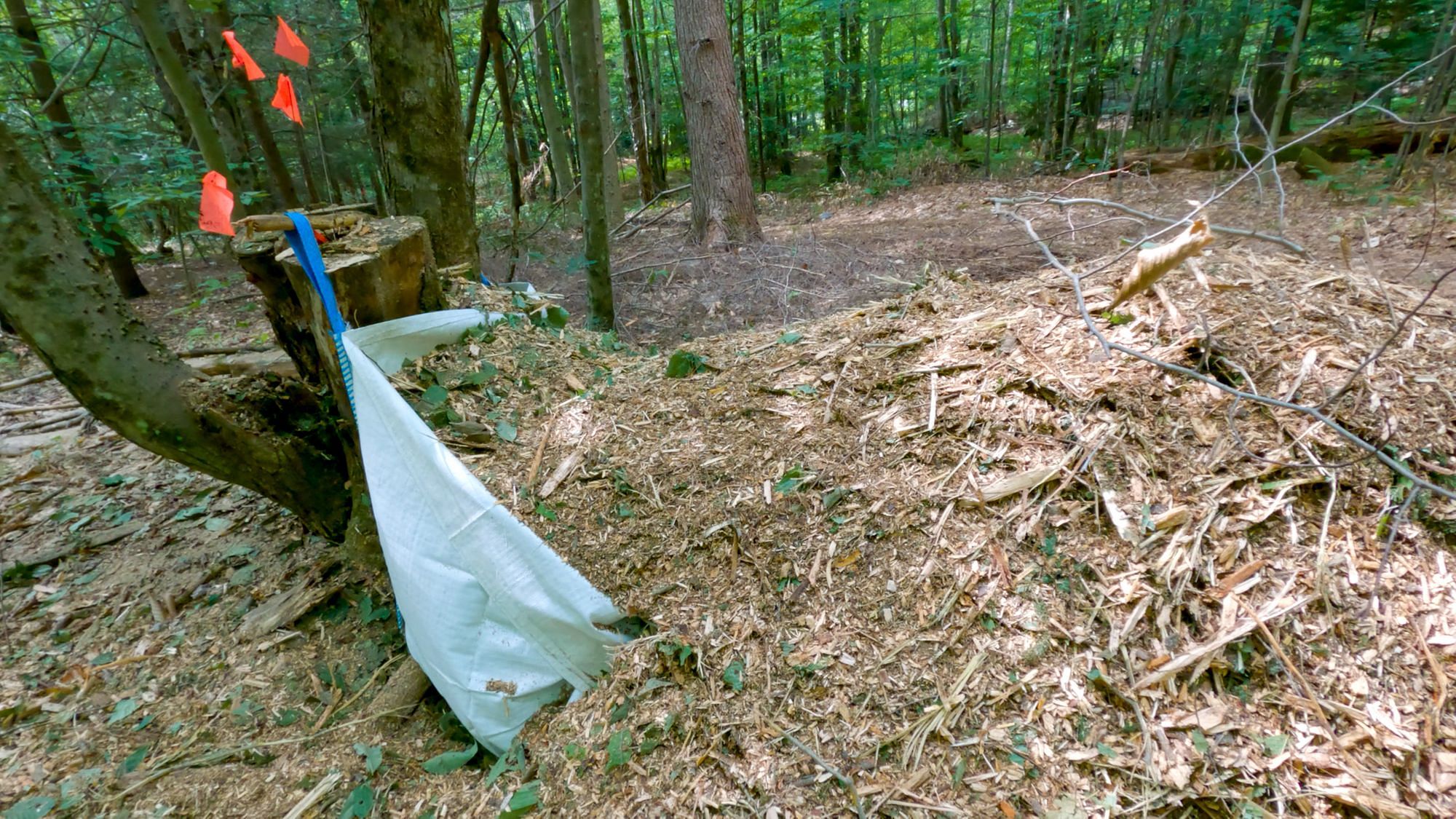 We needed a bulk bag support stand.
Bulk bag stand design
I looked around online for something that would fit the bill, and stumbled across the Bulk Bag Buddy from the UK. This is a metal stand that holds a bulk bag open for easy filling, but there were two issues.
First, I couldn't seem to find availability anywhere in the US (and even the link to Amazon UK from their website didn't show availability). Second, and more importantly, the design is a cage that holds the bag within - this makes it bulky and cumbersome for us to move around on the property.
I decided to design my own.
My idea was simple - create a 4-legged structure that could slip inside the bulk bag, holding it open. Once the bag was full, we could simply lift the support out of the bag so we could reuse it, therefore meaning one support can be used for lots of bags.
I mocked up a design in SketchUp using full-dimension 1x2 lumber (more on that later), and played around with bracing until I found a design I felt would work.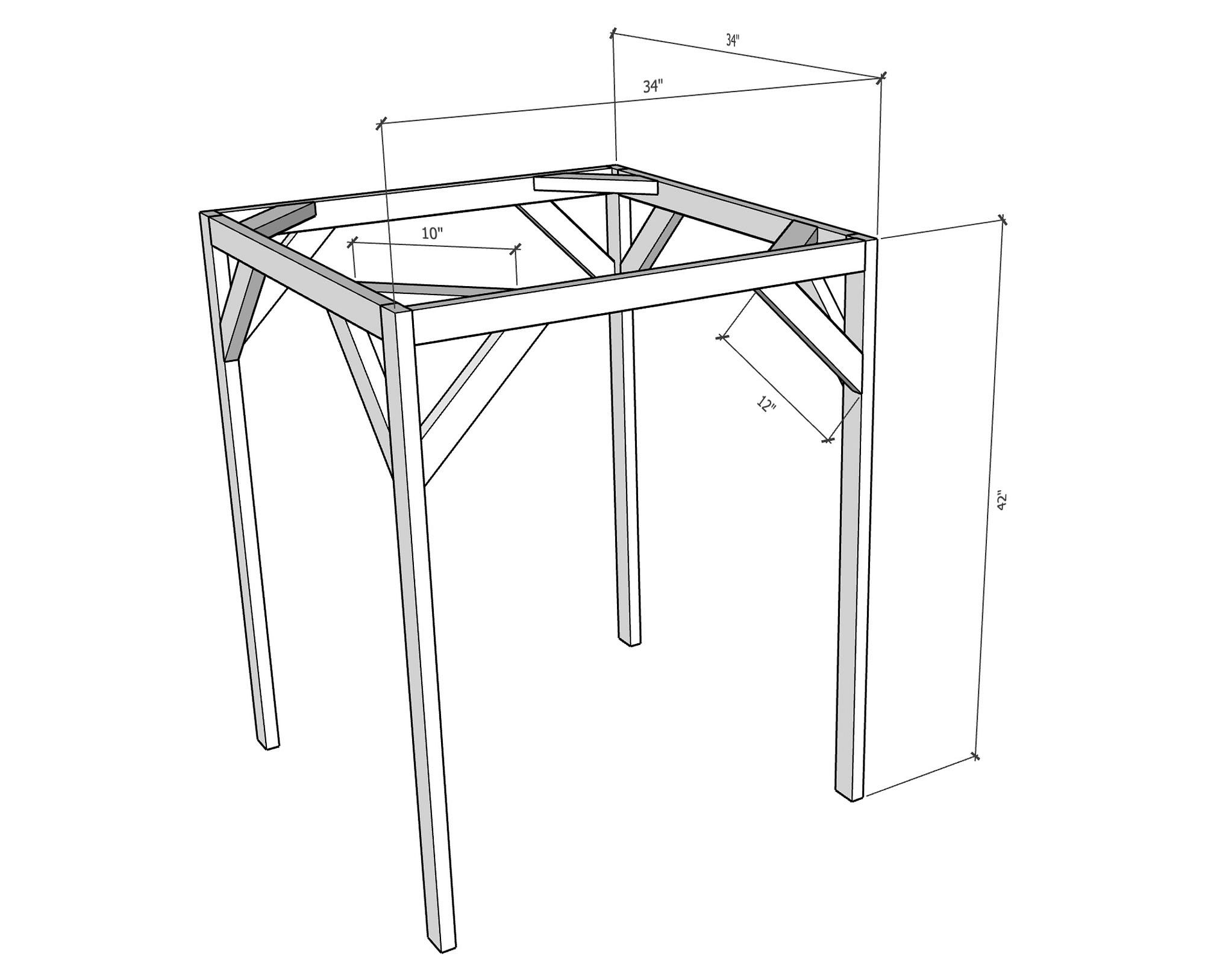 The design is simple - a square structure measuring 34" wide by 34" deep (that's an inch less than the 35" width and depth of the bag itself) and 42" high (a little taller than the 40" height of the bag). I used 12" braces on the legs and 10" braces on the top to maximize the size of the top opening.
Cut List
Note, these dimensions work for full-dimension lumber. If you're using store-bought 1x2s (which are actually 0.75" by 1.5") then your build will be about 0.5-1" narrower unless you modify the dimensions.
| Part Name | Quantity | Dimensions | Notes |
| --- | --- | --- | --- |
| Leg | 4 | 1 x 2 x 42 | |
| Horizontal 1 | 2 | 1 x 2 x 30 | |
| Horizontal 2 | 2 | 1 x 2 x 32 | |
| Leg Brace | 8 | 1 x 2 x 12 | 12" on long edge, cut at 45° both ends |
| Top Brace | 4 | 1 x 2 x 10 | 10" on long edge, cut at 45° both ends |
Construction
From our sawmill, we have lots of off-cuts of wood that is imperfect - usually it has some bark on one edge or some other defect.
Rather than just discarding this lumber, we put it to one side to use in side projects where those defects don't matter. Projects just like this one.
As a result, I had a stack of about half a dozen full-dimension 1x2 pine boards (i.e. actually 1 inch by 2 inches, not the reduced dimensions you find in store) over 8ft long that I could use to build this with. I wasn't sure if 1x2 lumber would be strong enough, but figured it'd be good for a prototype.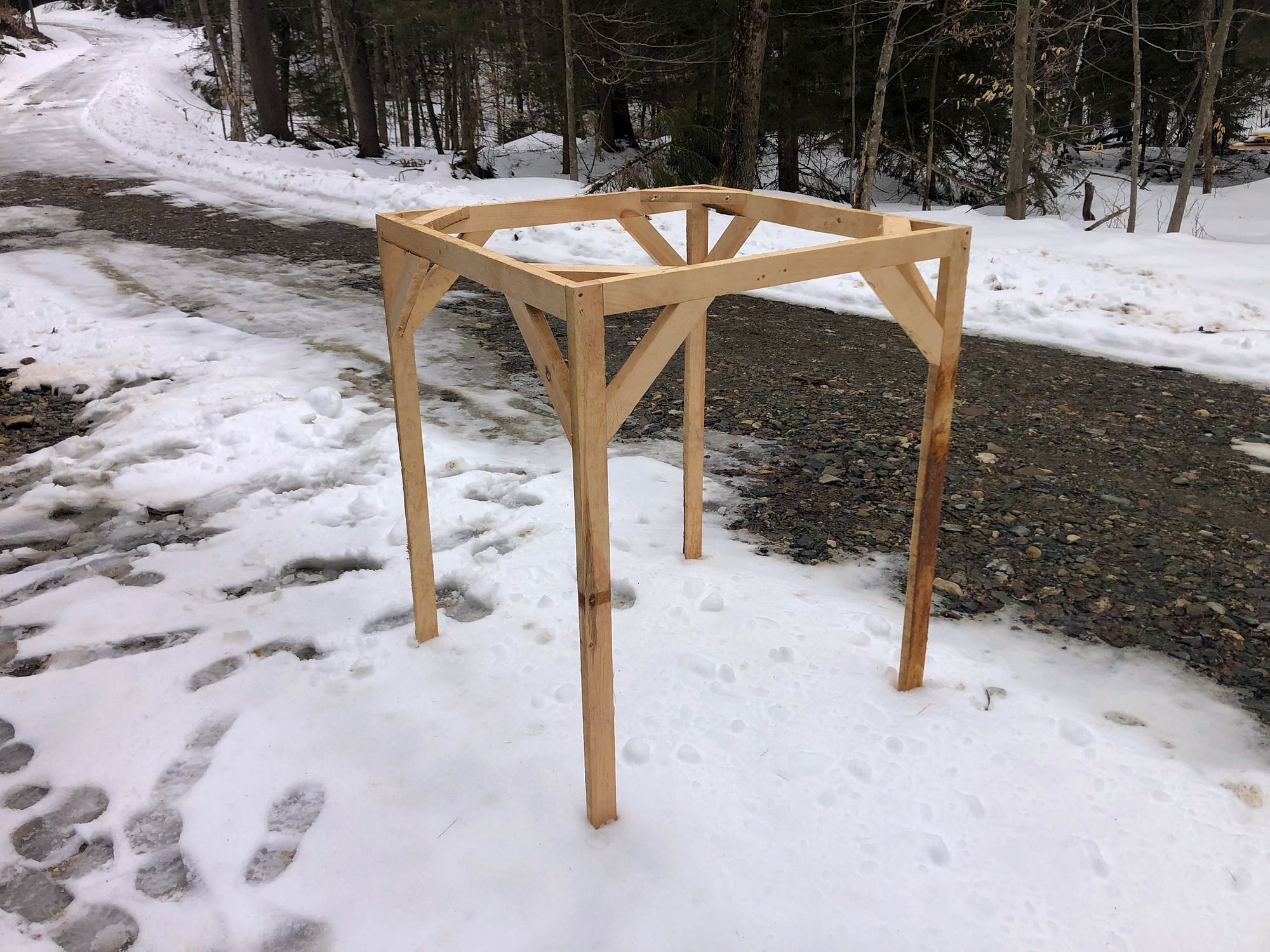 After cutting all the parts, I began assembling. I used whatever screws I had lying around, and for most of the joins I just pre-drilled and screwed them together. For the joints where the legs meet the shorter horizontal boards, I used pocket hole screws, but you could just use 3" screws instead.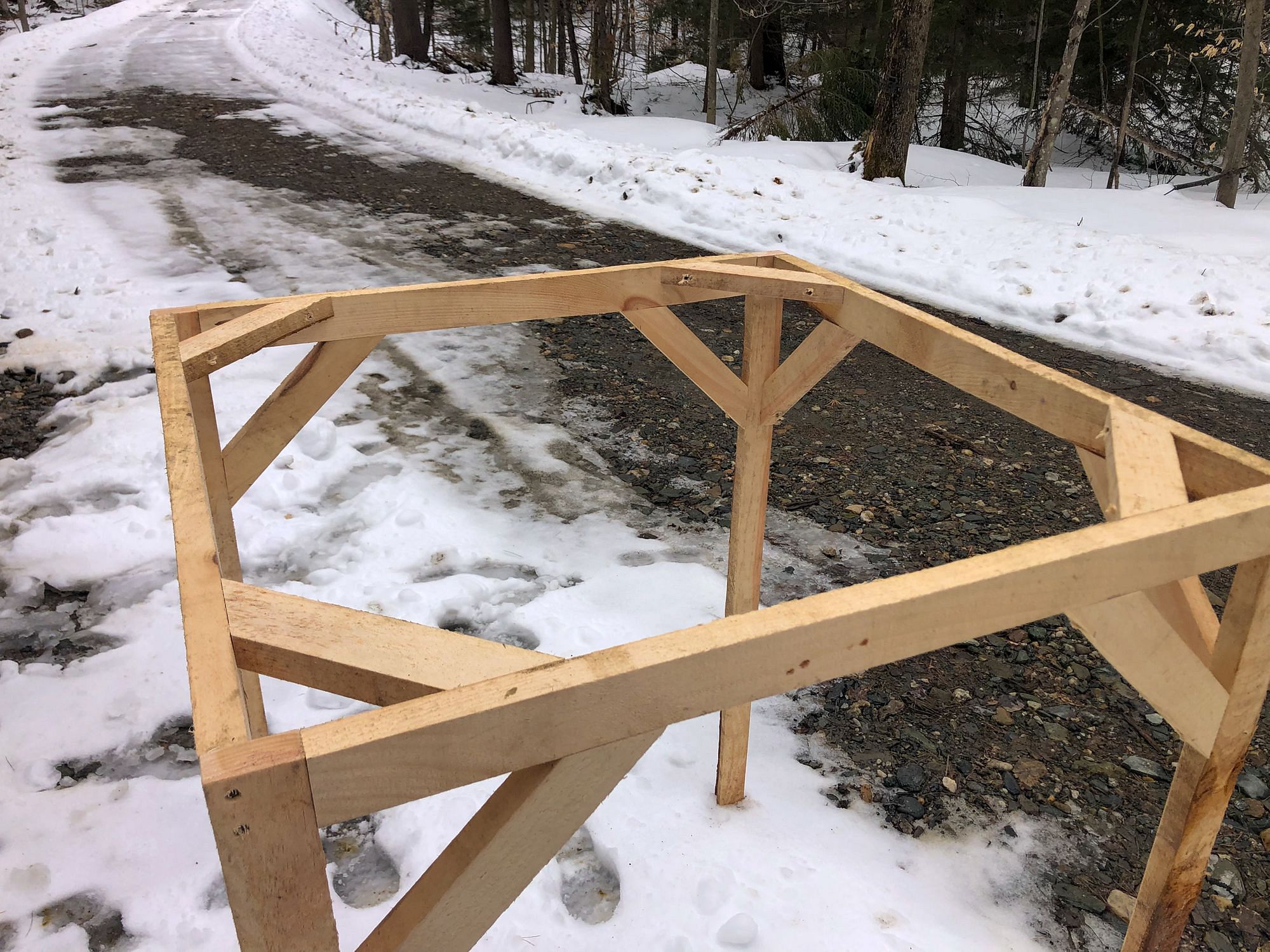 It didn't take long at all before it was all assembled. I actually built it with the legs longer than necessary and then trimmed them down once I could see how it all looked.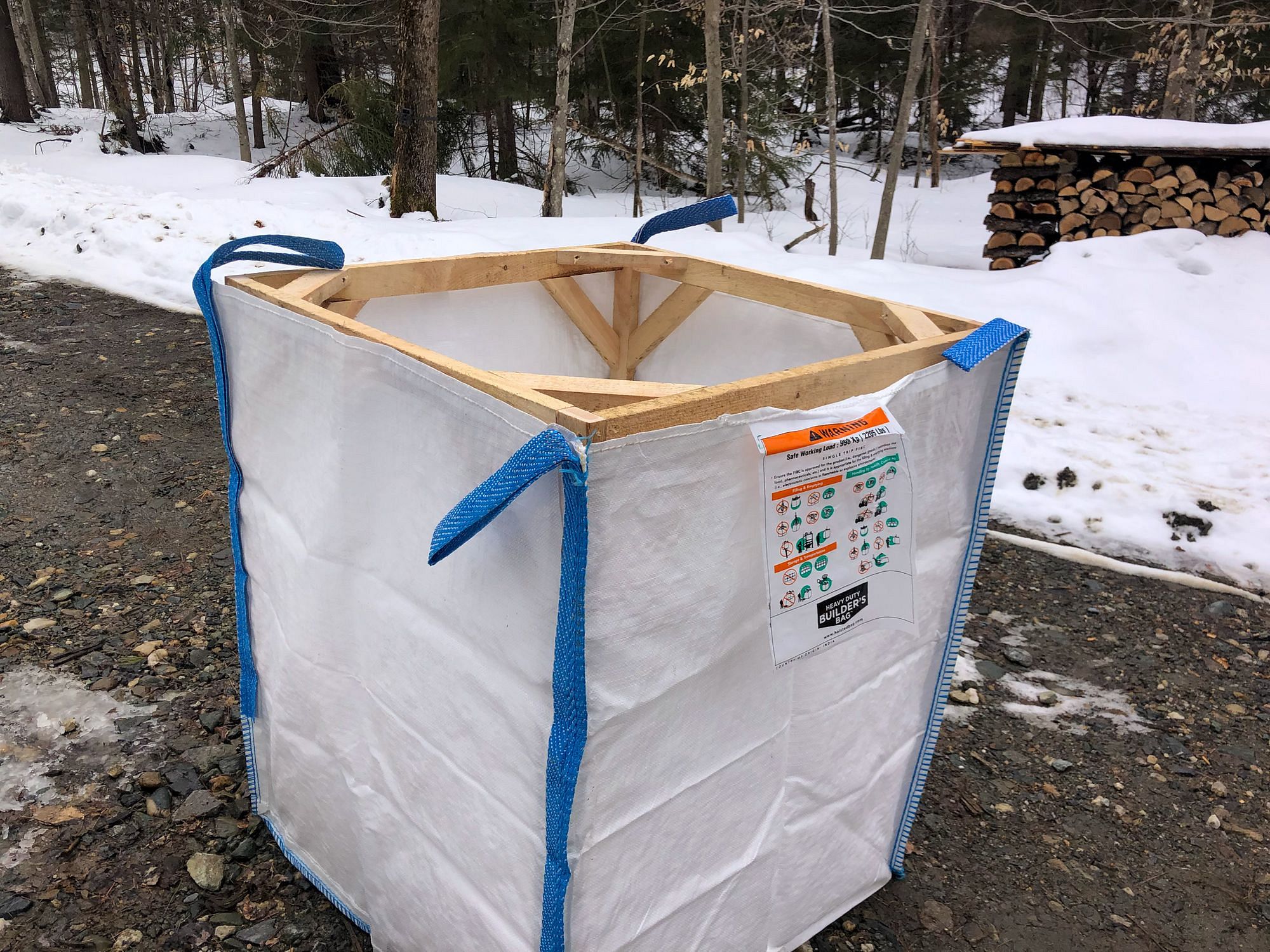 Does it work?
So, it looks good, but does it work? Is it strong enough to hold the bag open? Can it be easily removed afterwards?
Yes!
We put it to use this week with our new Woodland Mills WC68 tractor-powered wood chipper which, although less powerful than the chippers we rented last year, still packs a punch!
The frame is light enough to easily move around by hand, but the braces make it really sturdy. As I was building it I could feel how much strength the braces added as I added those in.
It is relatively easy for one person to tuck inside the bag, and once in place, holds the bag open really effectively. It's so light in fact that it's easy to move the bag with the support in place!
We lined it up next to our chipper, pointed the chipper at it, and got to work.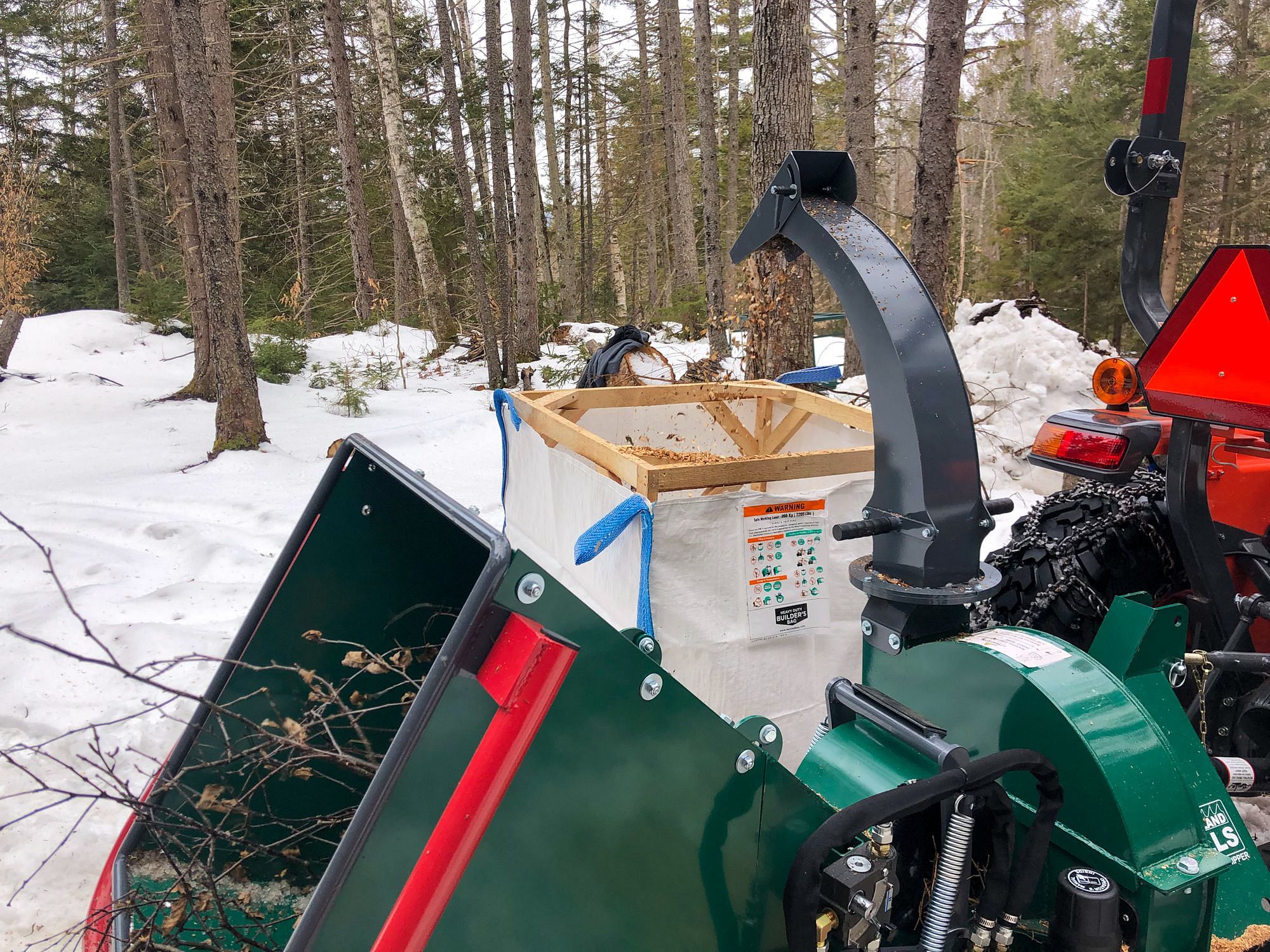 It worked perfectly. Almost all the wood chips went straight into the bag, with hardly any lost outside. The support let us fill the bag all the way to the top (or even slightly over).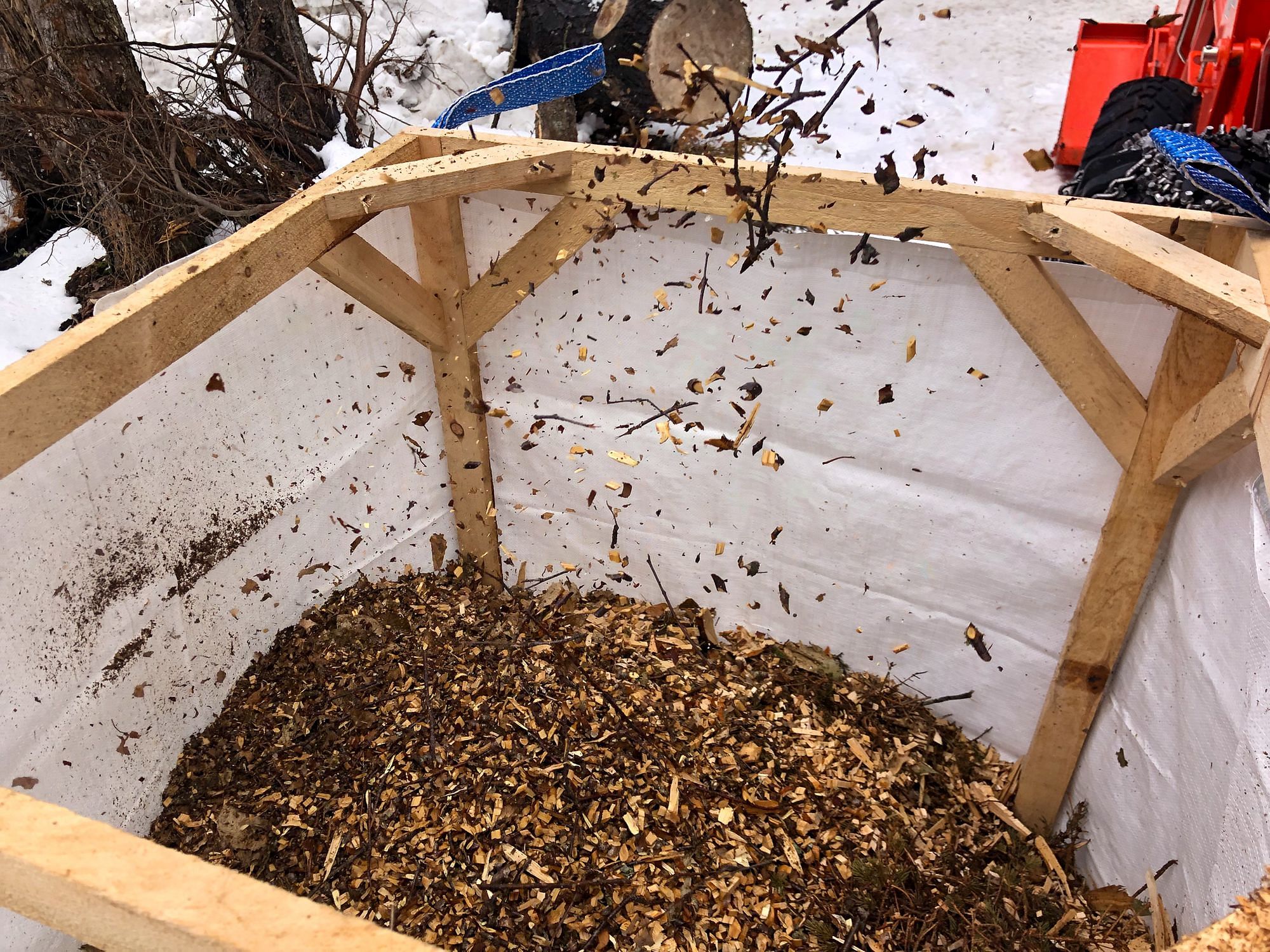 And once the bag was full, one person was able to lift the support out on their own, or we also found we could use the tractor forks to carefully lift it out too. With the support removed, the tractor can then pick up the bag and move it.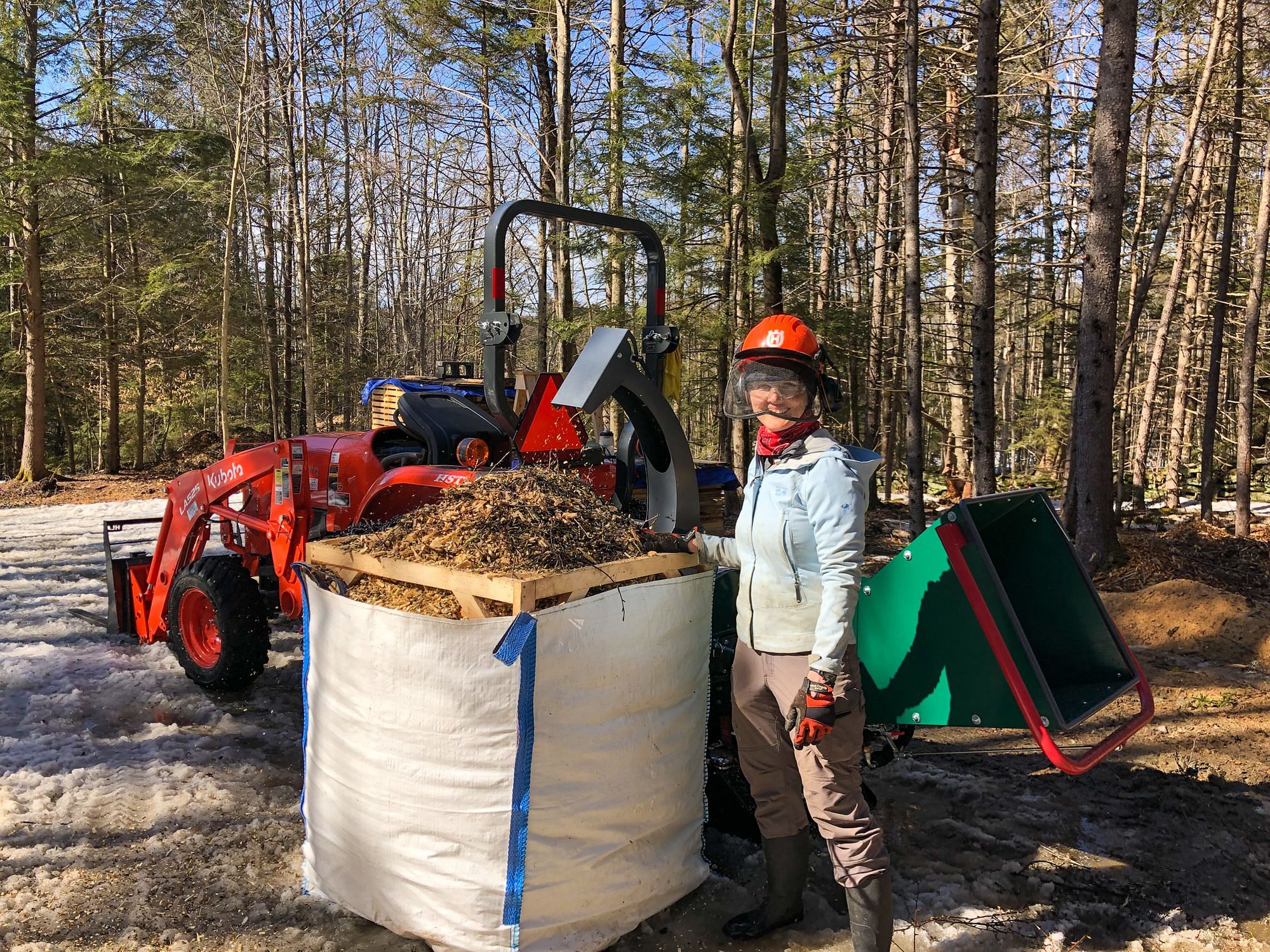 This support really isn't anything fancy, but solved a real problem we had been facing. For our needs, filling a bulk bag with wood chips, the 1x2 construction is plenty strong enough. If you're looking to fill a bag with something much heavier like rock or dirt, it may still work but you could easily adapt these designs to use stronger wood, or even metal poles.
We love being self sufficient and having the ability to solve problems ourselves. This was a great example of where we identified a problem, designed a solution, and built something that really works!