As an Amazon Associate we earn from qualifying purchases.
Today, April 22, is Earth Day - a day when we consider the fragility of the Earth and our responsibility for its protection.
As RVers, we're far more in touch with nature than we used to be. With less insulation than a house, temperature plays a big part in our comfort and where we travel. When we're boondocking we rely on the sun for solar power. Even things like the hours of sunrise and sunset affect our sleep schedule.
The RVing lifestyle is inherently minimalist in many ways - we just don't have space to accumulate "stuff". When people ask us how we manage to live in such a small space, I like to reply that "we don't live in an RV, we live out of our RV". Our RV is just a base for us, but we love spending time in and exploring the world around us.
As we think about building our home base, we're trying to be environmentally aware. We're leaning heavily towards building a Passive House - one that uses advanced design, construction and materials to minimize its primary energy consumption. We've been learning more about the Living Building Challenge and how we can build with healthy, sustainable materials. And while we may not be planning a totally off-grid house, we're of course interested in employing solar as a renewable energy source.
Final Freeze
But Mother Nature is full of surprises. Just a week ago, we were celebrating the arrival of the warmer weather and sharing how we had been enjoying grilling outside.
This morning we're sitting here in the RV, surrounded by snow and unable to shower because our water line has frozen!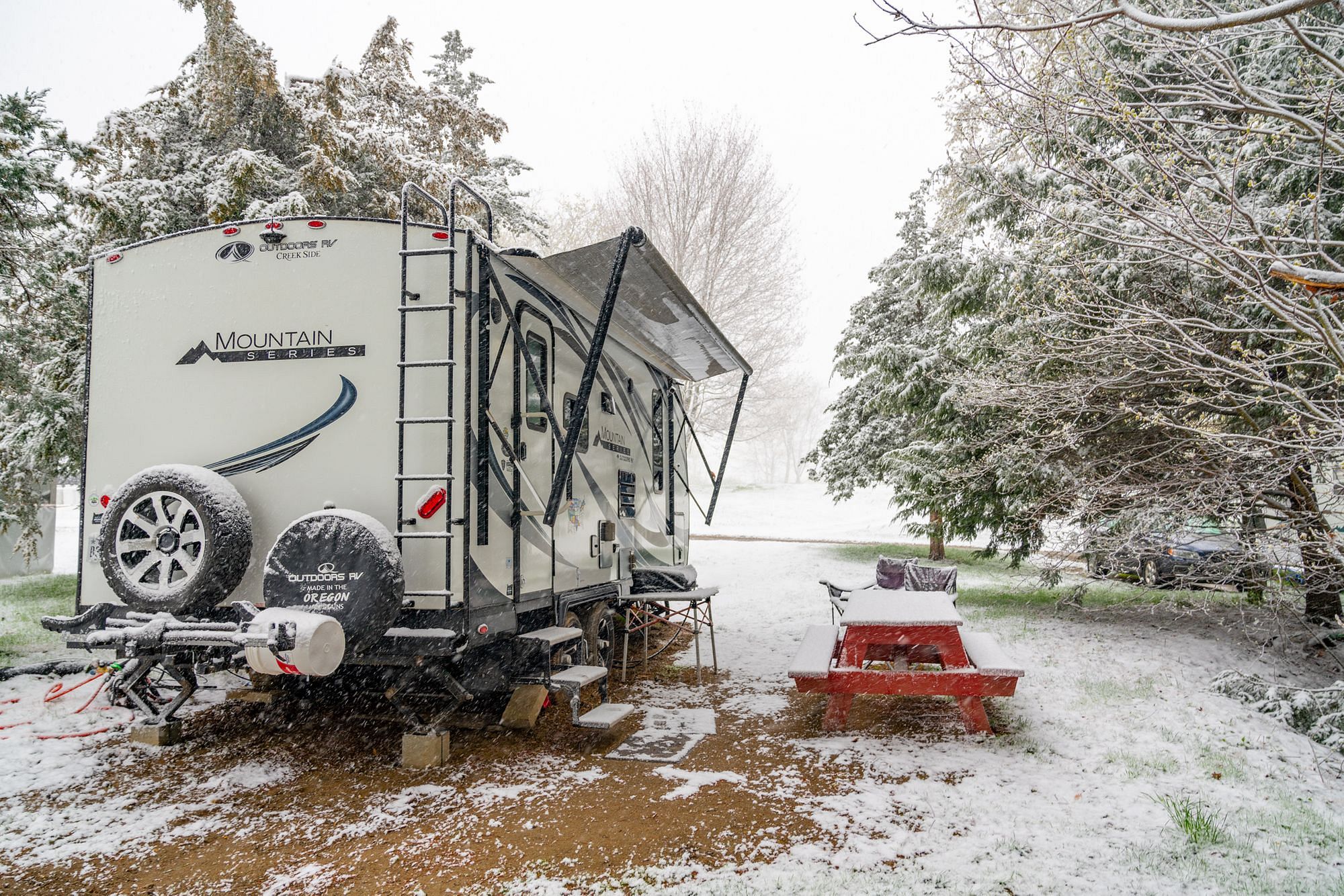 It's all our fault though - we jinxed it by getting the grill and chairs out of storage!
Temperatures last night dropped below freezing. We had already turned off our heated hoses (because a week ago it was over 70°F outside!) but I did think ahead and turned them back on again yesterday.
What I didn't remember was that I had rearranged the hoses a couple of weeks ago when I washed the trailer, and now there are several unheated sections of hose, a splitter, regulator and filter exposed to the cold outside the trailer. It only dipped just below freezing last night (a low of 26.4°F) so hopefully everything will thaw out soon enough and it doesn't look like there are more freezing temperatures in the forecast.
Speaking of the pressure regulator, we replaced that last week with a brand new one. Our old one was a simple inline, fixed regulator but we've found they eventually begin to leak over time and that's exactly what ours started doing. We replaced it with a brand new regulator with a gauge.
We've had one of these before and found it to be much more reliable. But they are a little more expensive, and we accidentally donated our last one to an RV park upon departure, so we'll have to be more careful this time!
We'd only had it installed 2 days before the gauge came in handy. We awoke on Monday morning and found low pressure from the faucets. According to the regulator gauge the pressure was just 30psi - far below the 50psi I had it set to. We notified the RV park owner who was very grateful as he had just turned on the water to a different section of the park, so our low pressure probably meant there was a leak somewhere!
Vaccinations
On Monday morning this week we received our first dose of the COVID-19 vaccination. The process was efficient and straightforward. As someone who doesn't like needles, I can honestly say it was the least painful injection I've ever had - impressive considering it was administered by a soldier and not a medic! Diana and I both had a slightly sore arm for a few days, but nothing major and that's just about gone now.
New England is leading the way with vaccination rates with all the New England states in the top 10 right now. We now include ourselves in the 49% of Vermonters who have received at least one dose. A third of Vermonters have already been fully vaccinated and our second dose is scheduled for four weeks' time.
Vermont's rules mean that we'll be considered fully vaccinated two weeks after our second dose - for us that means we'll be considered fully vaccinated on May 31st. At that time we'll be able to leave and re-enter Vermont without having to take a test, which is great.
Coincidentally, Vermont is planning to remove all their travel restrictions (including taking the test when you enter the state) just 24 hours later, on June 1st. D'oh! Ah well, at least we'll be fully vaccinated!
Land Update
We've been spending a lot of time over the last week or so on our search for land. I can't reveal too much just yet, but if things go to plan then we may also be busy with land-related activities over the next week or so in particular.
As such, we've decided to skip this week with a video. Diana's been working hard to get it ready but it's not quite there. Rather than publishing it late this week and then be rushing again next week when we may be busy with other things, we're just going to hold this video back for a week.
Electrical Tour
But the next video is a long-awaited one - it's a tour of the electrical setup in our RV. In it, I guide you through why we designed the system the way we did, as well as what we think about it after more than 2 years on the road.
If you can't wait for next week, you can get a few spoilers from our blog post about our perfect off-grid RV solar system.
Smart RV How-To Guides
We had an incredible response to last week's blog post and video about our Smart RV tour.
Although we knew a lot of people had been waiting to learn more about the DIY home automation system we've built in our RV, we were also nervous about striking the right balance between inspiration and technical detail.
We had lots of comments and messages asking for more information about how we built it. The response was so positive that it really inspired us to think about how we can share more about what we've built, and even made us consider what else we might add in to the system!
Find out what new capabilities we're planning to add to our Smart RV, the new series of how-to tutorials we're planning to publish, and who we've been speaking to about testing out a brand new pre-production product in our blog post: What next for our Smart RV?