The MicroAir EasyTouch RV promises to be the first smart thermostat that brings 21st century technology to RV climate control. In addition to its large color touchscreen, it also allows remote control via Bluetooth and WiFi.
But does it live up to its promises? We got our hands on a unit for a real world test to find out.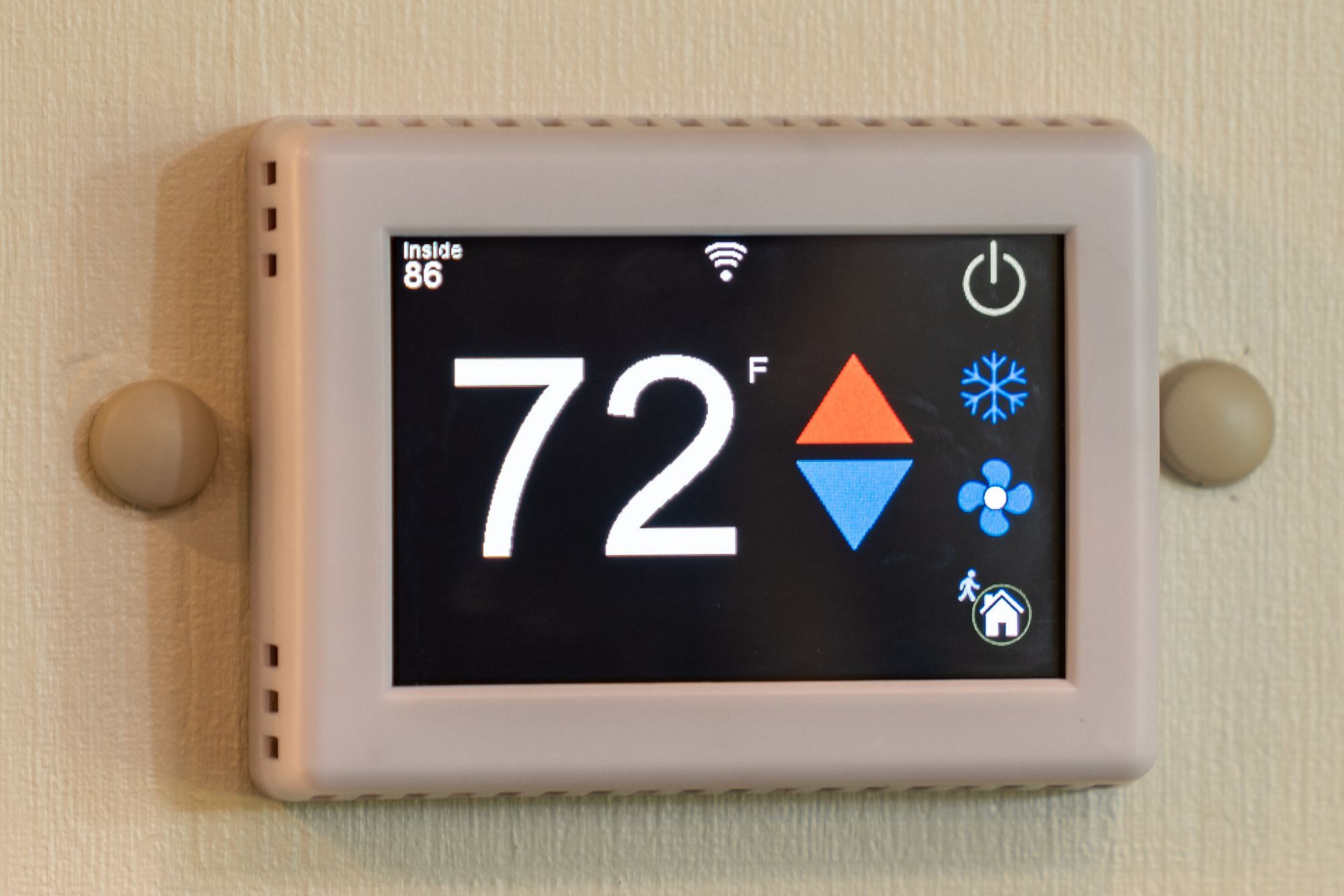 The Good: as a drop-in replacement for your existing RV thermostat, the EasyTouch RV is easy to install and adds Bluetooth and WiFi control.
The Bad: it's very expensive, and for the price it feels unpolished - the interface is sluggish and the app is buggy, clunky and poorly designed.
The Bottom Line: if you really want an off-the-shelf thermostat in your RV that gives you remote control via your phone, then the EasyTouch RV will deliver. But don't expect the same quality of hardware and interface that you'd find in smart devices like the Google Nest thermostat.
| Pros | Cons |
| --- | --- |
| Easy installation | Very expensive! |
| Drop in replacement for existing RV thermostat | Buggy and poorly designed app |
| Remote control via Bluetooth and WiFi | Sluggish interface behavior |
| Good security | No home automation integration |
| Supports basic scheduling | |
Introduction
Recently, I wrote a blog post on my first impressions of the MicroAir EasyTouch RV thermostat, based on what I could glean from the press releases, product information, and customer reviews.
My verdict was that it looked like MicroAir were taking the opportunity to innovate in the RV thermostat arena - something desperately overdue! But without getting my hands on one, I couldn't give an in-depth review.
Fortunately, a representative from MicroAir saw my blog post, and offered to send me a unit to review.
Disclaimer
The unit I am reviewing was sent to me free of charge by MicroAir for me to use for 4 weeks and then return. If I decide to keep it, they have offered me a 20% discount on the $249 retail price.
MicroAir has had no editorial oversight of this review, and all opinions in this blog post are my own.
EasyTouch RV Models
The MicroAir EasyTouch RV is available in four different models, all essentially identical except for the wiring. The model selector on their website lets you enter in your existing thermostat model number (Dometic and Coleman-Mach are both covered) and it'll tell you which model you need.
Since we've installed our own smart thermostat which obviously wasn't listed in their model selector, I found some old photos of our original thermostat. Ours was the Coleman-Mach 7330F3858 which meant we needed the EasyTouch RV 352.
Each model is available in either black or white - we chose white so it would blend in with our newly remodeled RV.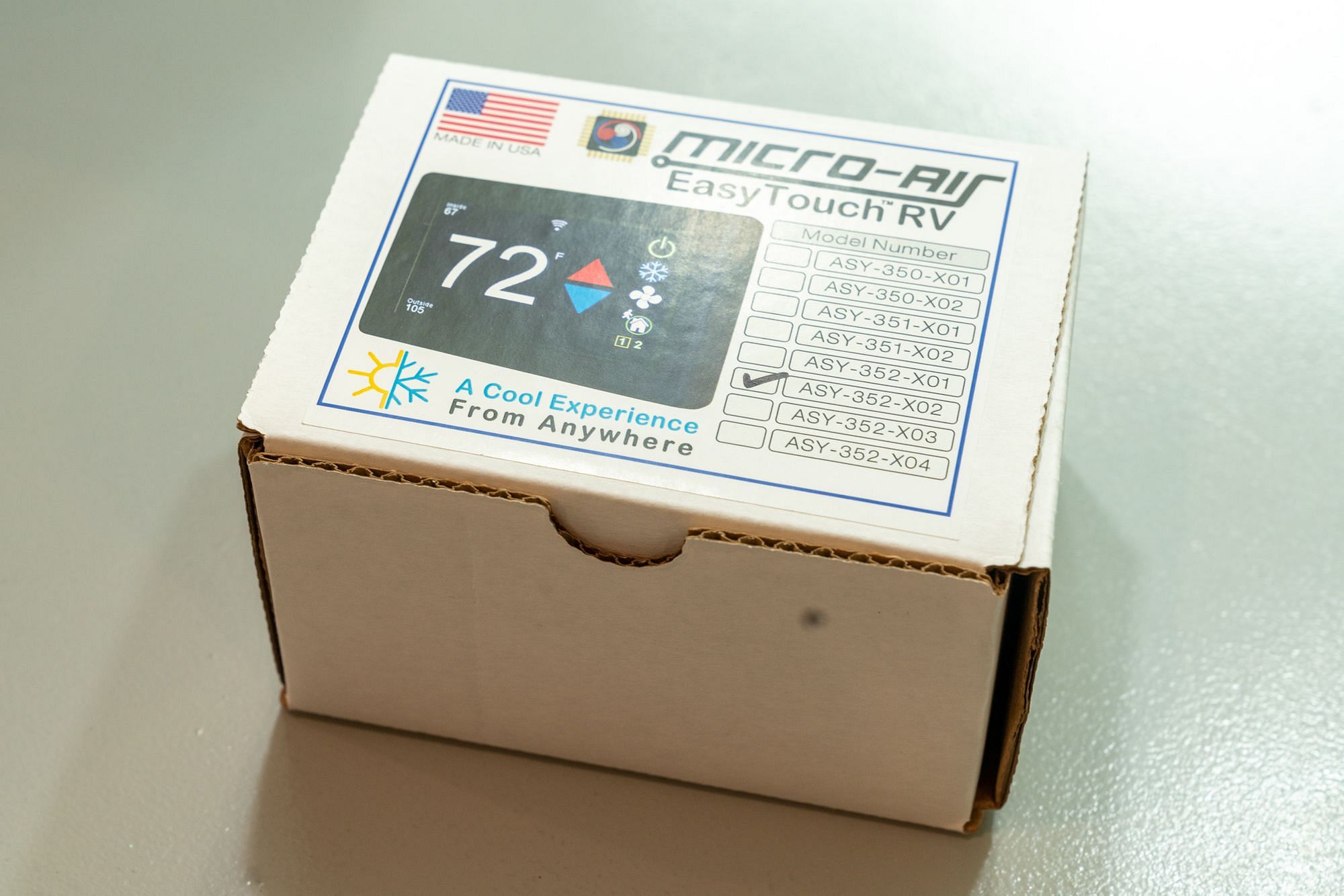 In the Box
A few days later, our EasyTouch RV arrived. It was well packaged - an outer box with air-filled packaging material protecting the product box itself. This inner box is compact - but the items inside were well protected with bubble wrap.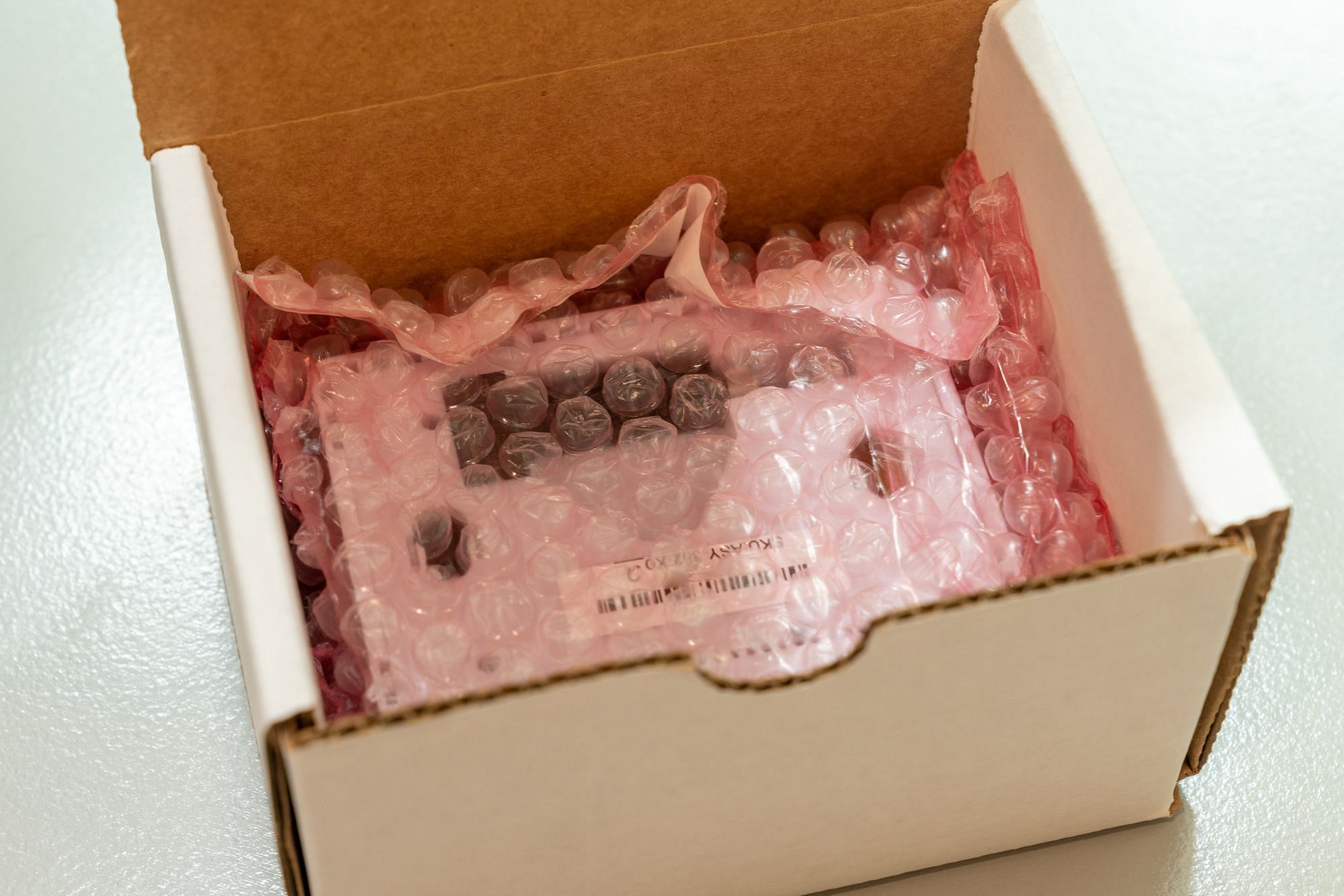 The EasyTouch RV thermostat is small - approximately 4" wide, 3" tall and 1" deep. Along with the thermostat itself, the box also contains:
wall mounting hardware - two screws with plastic offsets and wall plugs;
a set of four off-white screw covers - useful for covering up any old screw holes left by our original thermostat (quite likely as the EasyTouch RV is so small);
an icon reference guide explaining what the different on-screen symbols mean.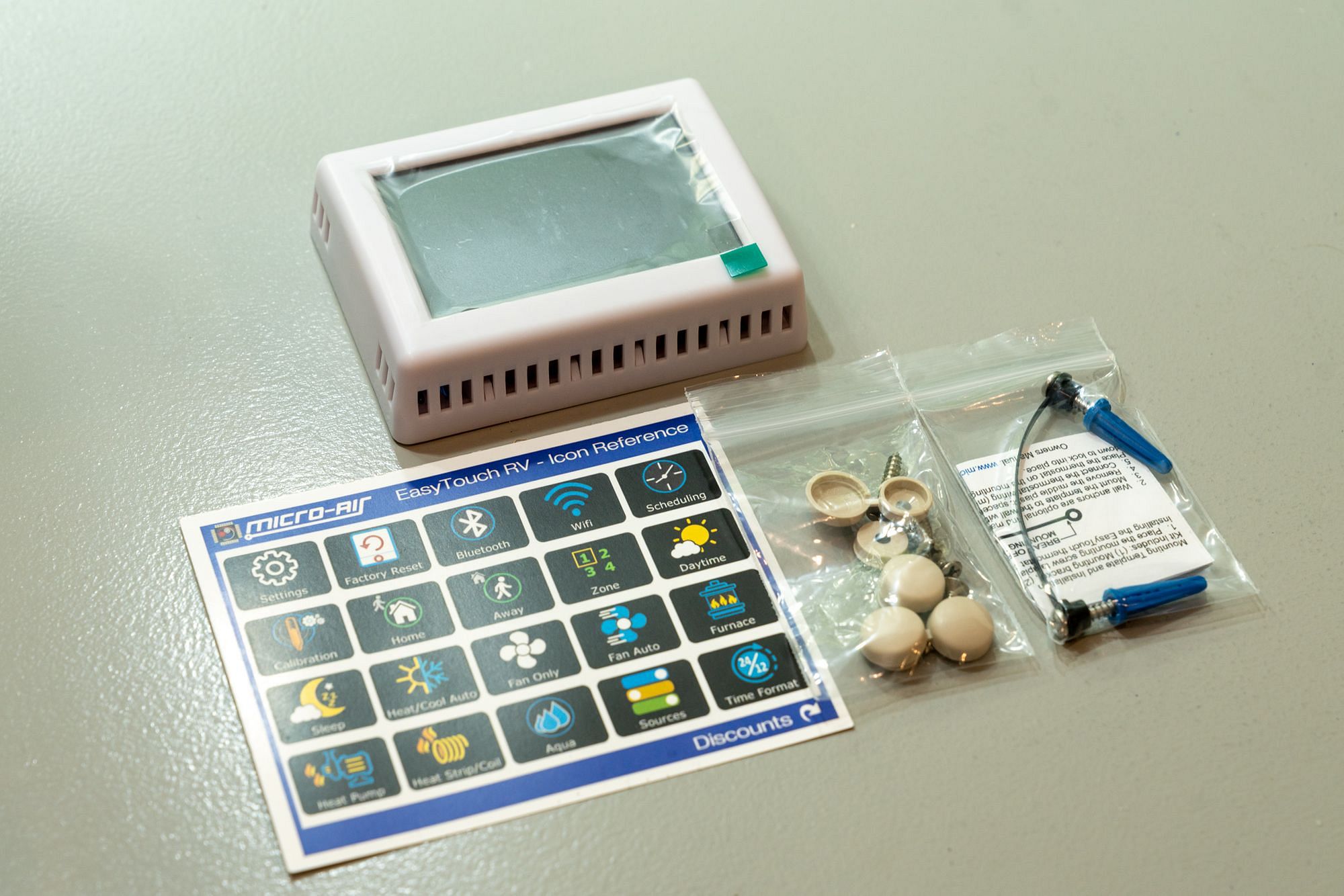 There was no instruction manual in the box, but I was sent a link to download a PDF manual from the MicroAir website. Honestly, I much prefer this approach - filing PDFs is much easier than storing printed manuals in an RV!
Installation & Wiring
While rewiring a thermostat may seem daunting, it really isn't! I had obviously had some practice when I installed our original smart thermostat, but it really is straightforward.
After turning off power to our existing thermostat by pulling the fuse (and in my case, removing the batteries from it too), I unscrewed it from the wall and removed the wires.
Wall Mounting
The provided wall mounting kit works well. No need to mess around with templates or measuring - just line the plastic strip up where you want it, and screw it in place. I chose not to use the provided wall plugs and just screwed directly into the wall.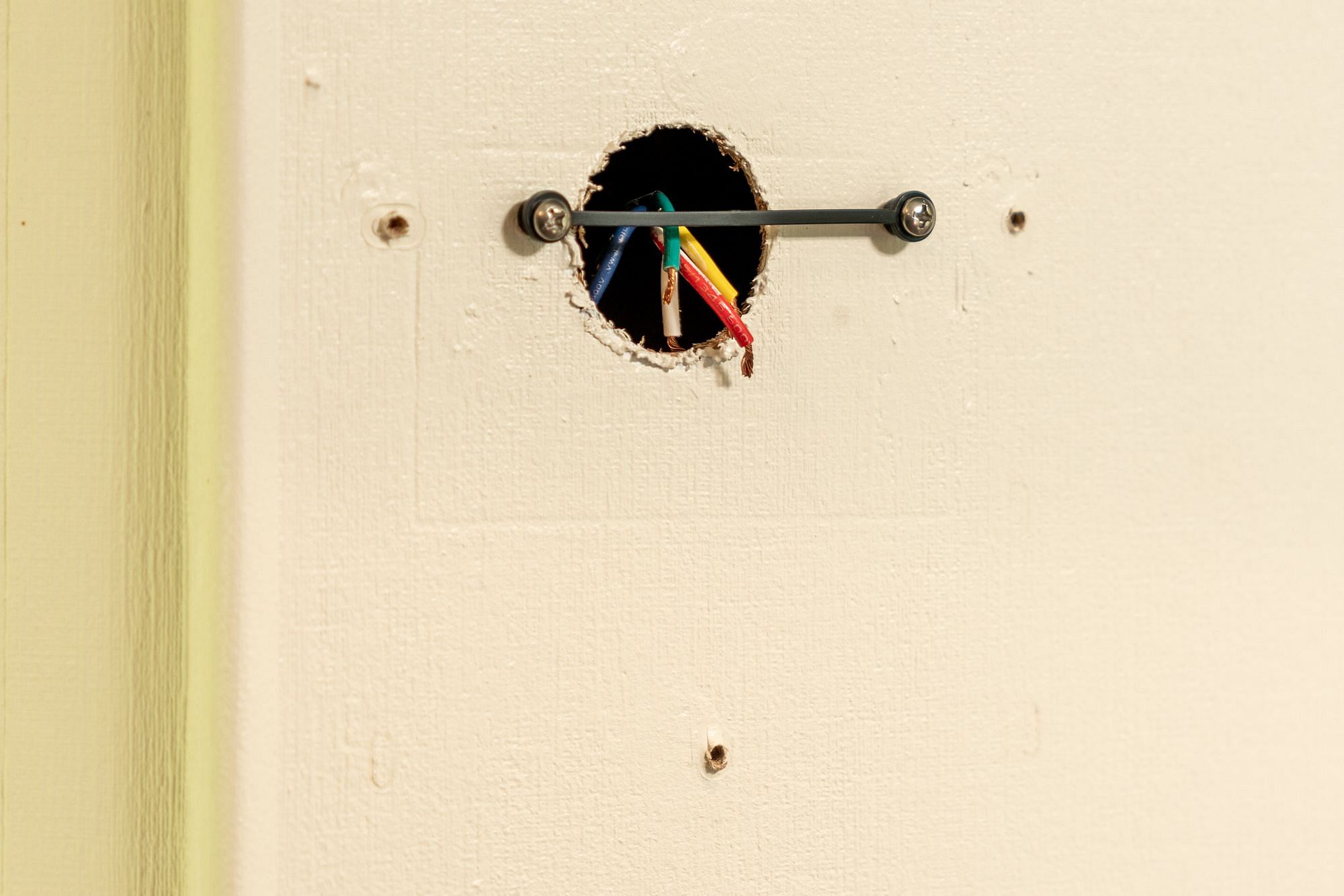 Once the plastic strip has been mounted, I cut it at either end to leave the small plastic spacers behind each screw.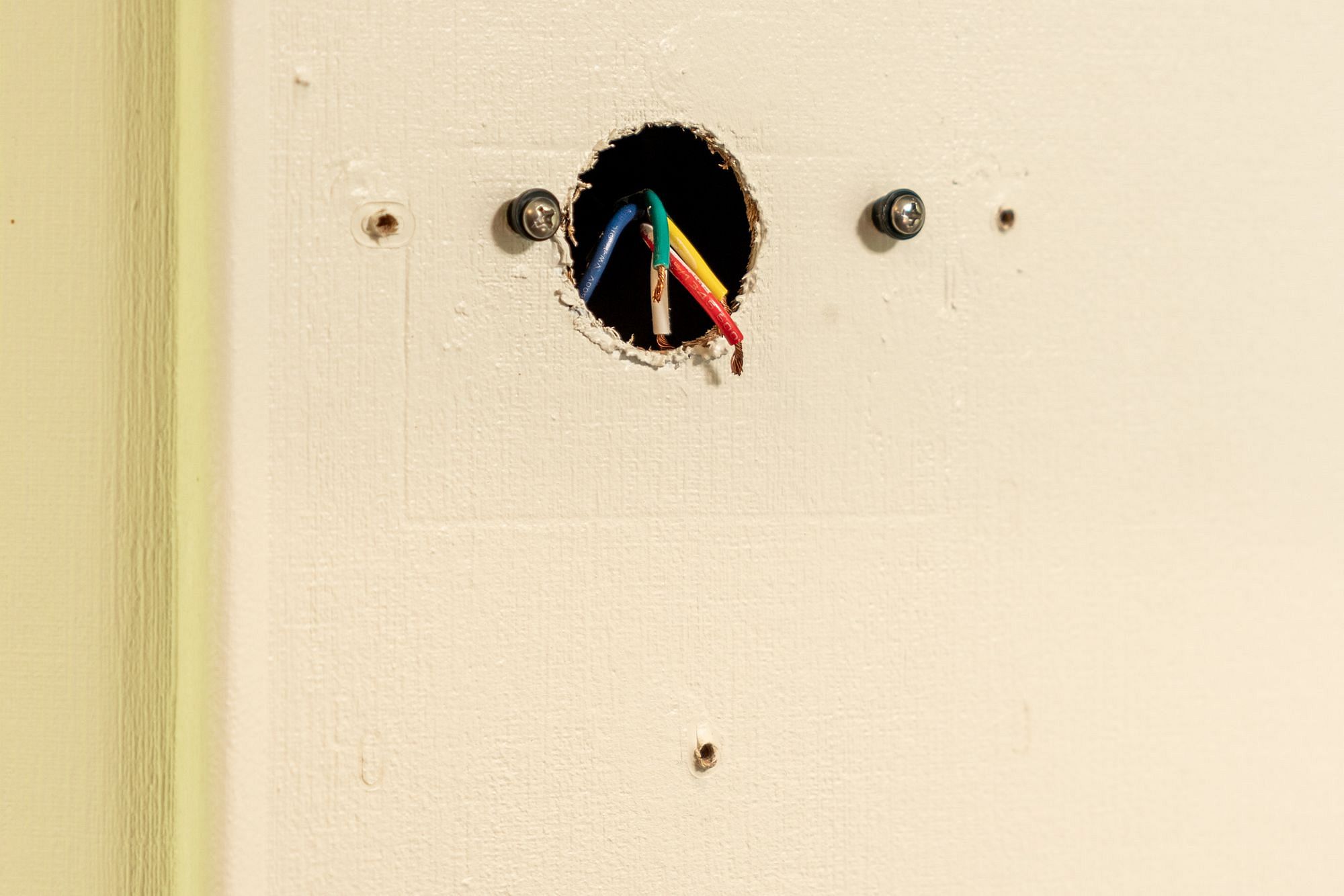 Wiring
Thermostat wires are color coded and the connections are each given a letter (or two). For example, the Red wire goes to the R connection, the Yellow wire goes to Y, etc. There are a couple of gotchas though: for example, GL is Grey (Low Fan) and GH is Green (High Fan).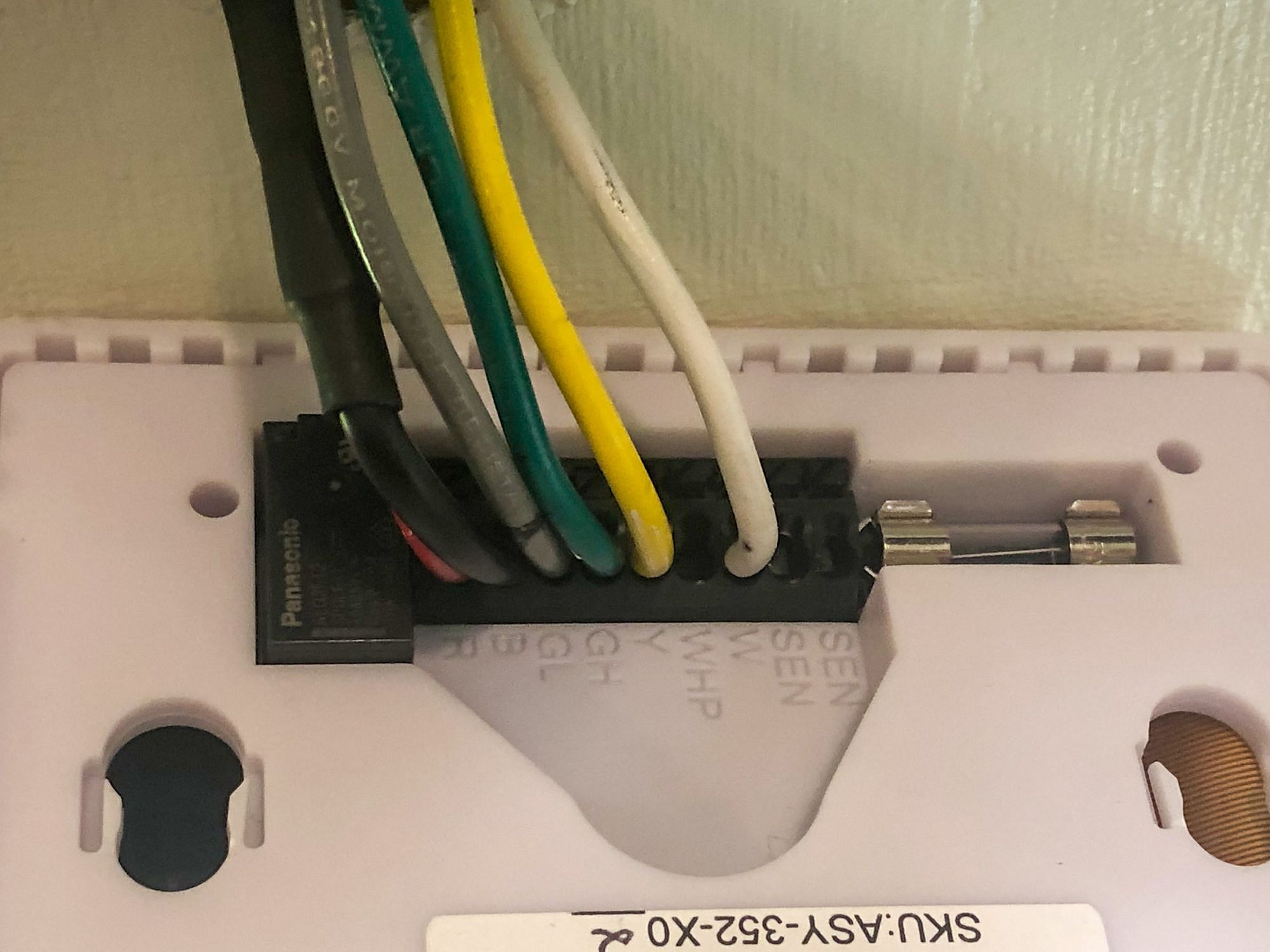 Each wire connection is a spring-loaded clamp terminal - you press down with a small screwdriver to open the connection, insert the wire and then release the screwdriver to clamp the wire firmly in place. You'll probably want to find a helper when you do this - holding the thermostat, pressing down with a screwdriver and carefully inserting each wire takes more coordination than I could muster!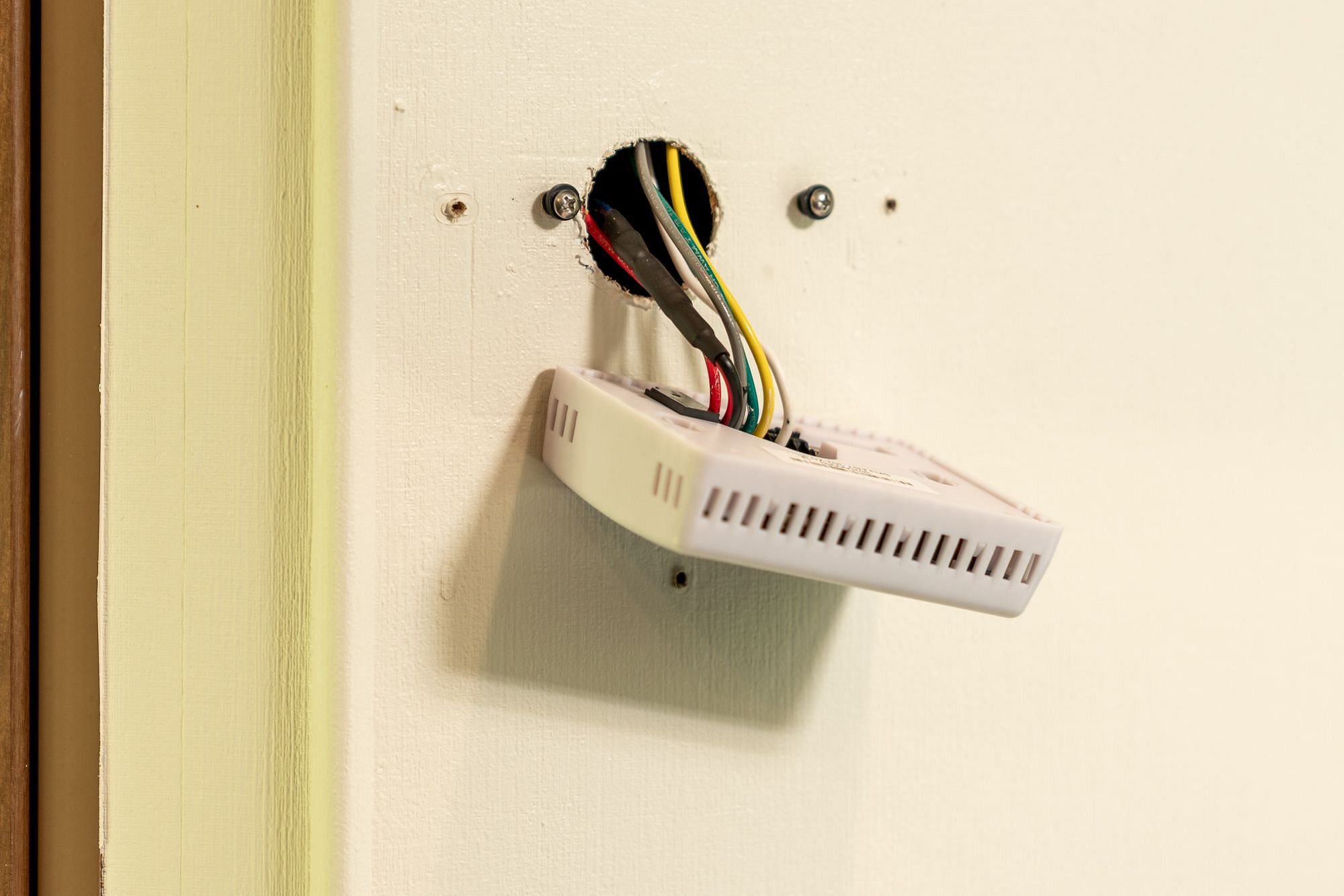 My recommendation - and echoed by the EasyTouch RV manual - is to take a photo of the wires on your original thermostat before removing them, and then simply connecting them to the matching label on the EasyTouch RV. Ours aren't a perfect match since ours isn't an RV thermostat, but it should be a simple process if you're coming from a regular Coleman-Mach or Dometic thermostat.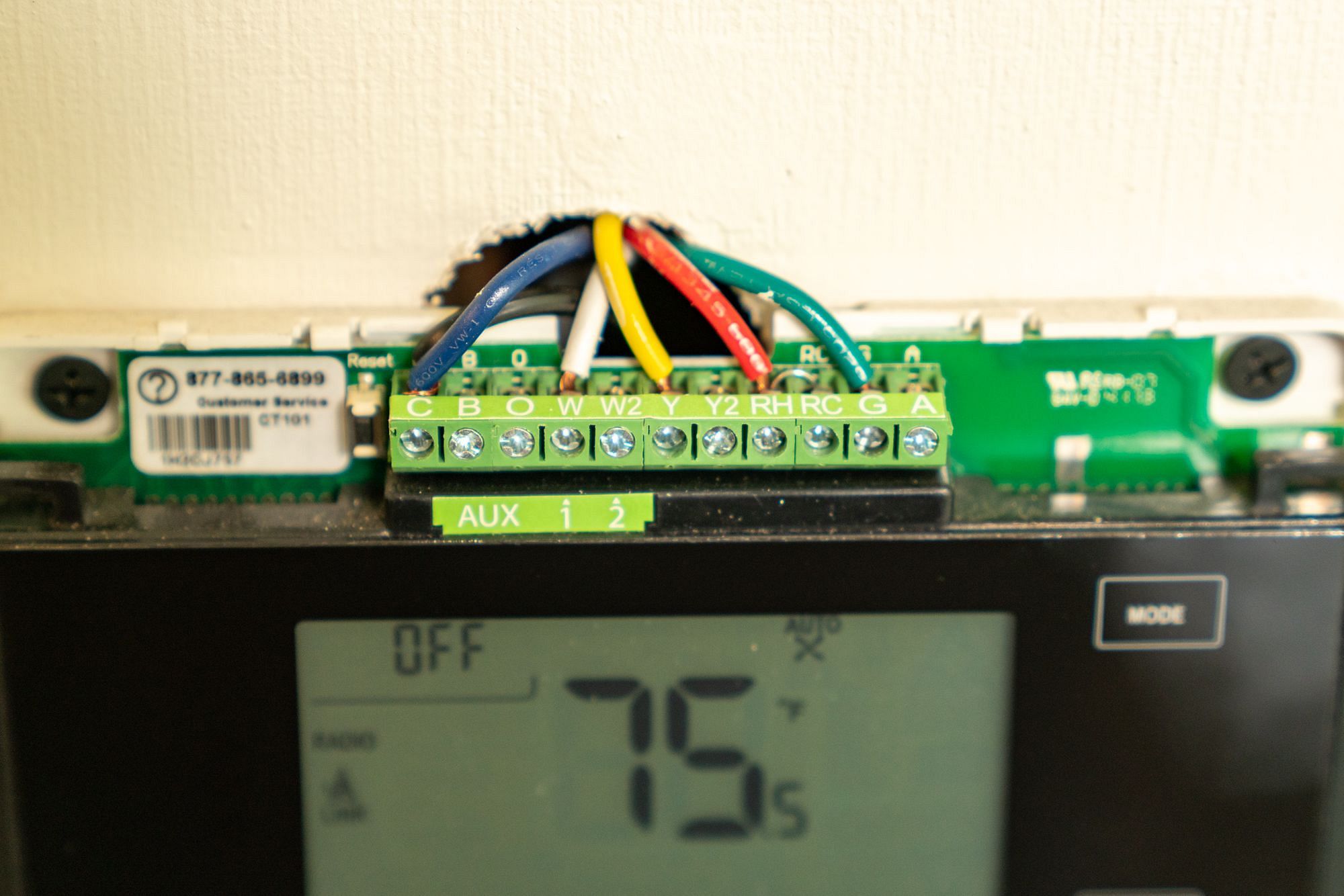 With the wiring done, the EasyTouch RV slips over the screws in the wall and drops down, holding it in place. The wall mounting holes on the back of the EasyTouch RV have little wings which help to ensure a nice secure fit. It seems really secure but is also easy to remove should you need to.
Last, if you have exposed screw holes from your old thermostat, you can screw in the provided screw hole covers if you wish. It's a nice touch to have these included, but they're not the prettiest. I would have rather had a wall-plate that would cover these holes, much like the one included with a Google Nest thermostat.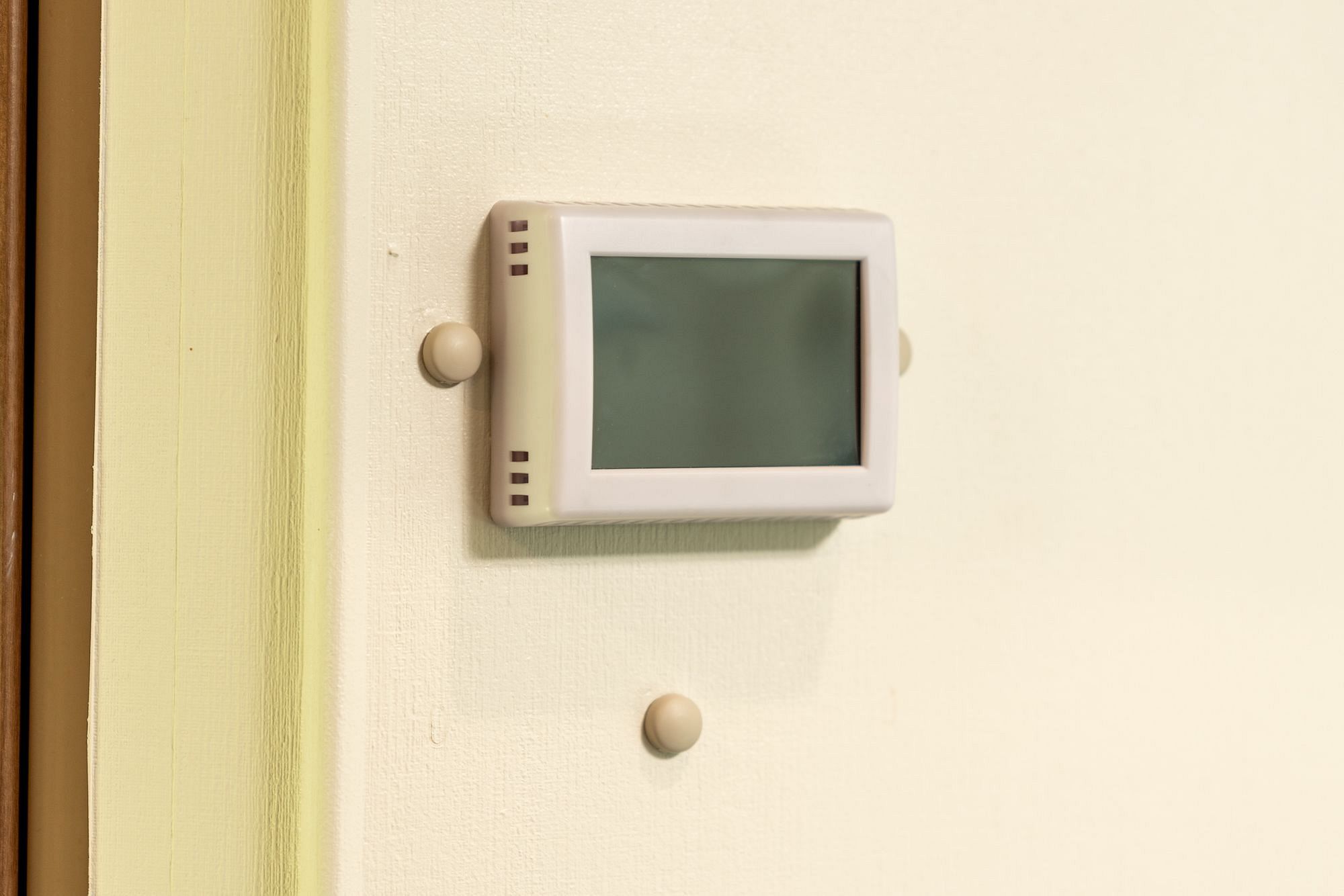 Initial Setup
With the thermostat mounted on the wall, I re-inserted the 12V fuse I had removed earlier - powering up the EasyTouch RV.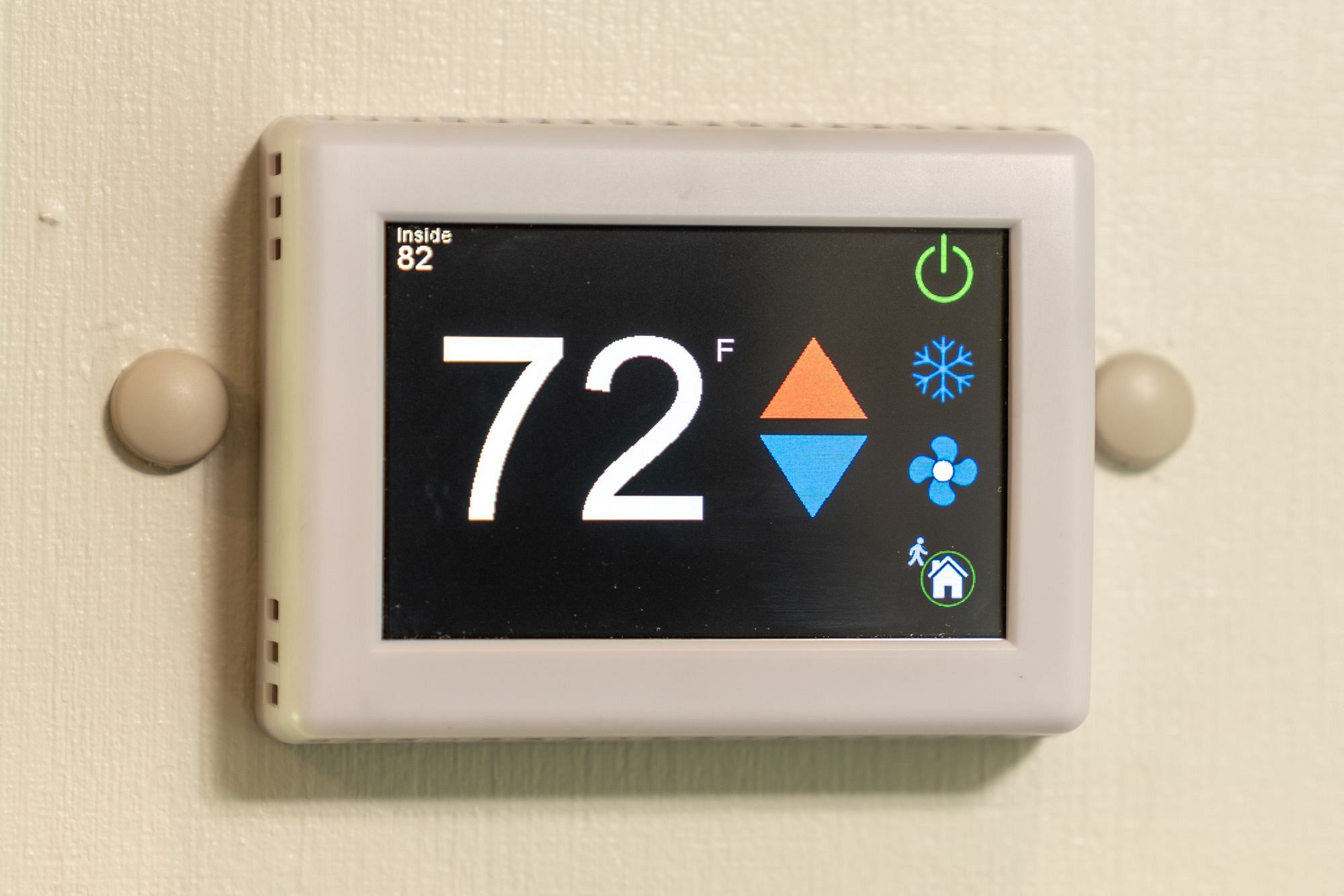 Bluetooth and WiFi
Initial setup is a little clunky, but didn't take too long. The manual does offer some guidance on this process, but it doesn't include step-by-step instructions.
The first step is to install the EasyTouch RV app on your iOS or Android device. You'll need to create an account when you first open the app - but multiple people can log into the same account from other devices if you want to share access.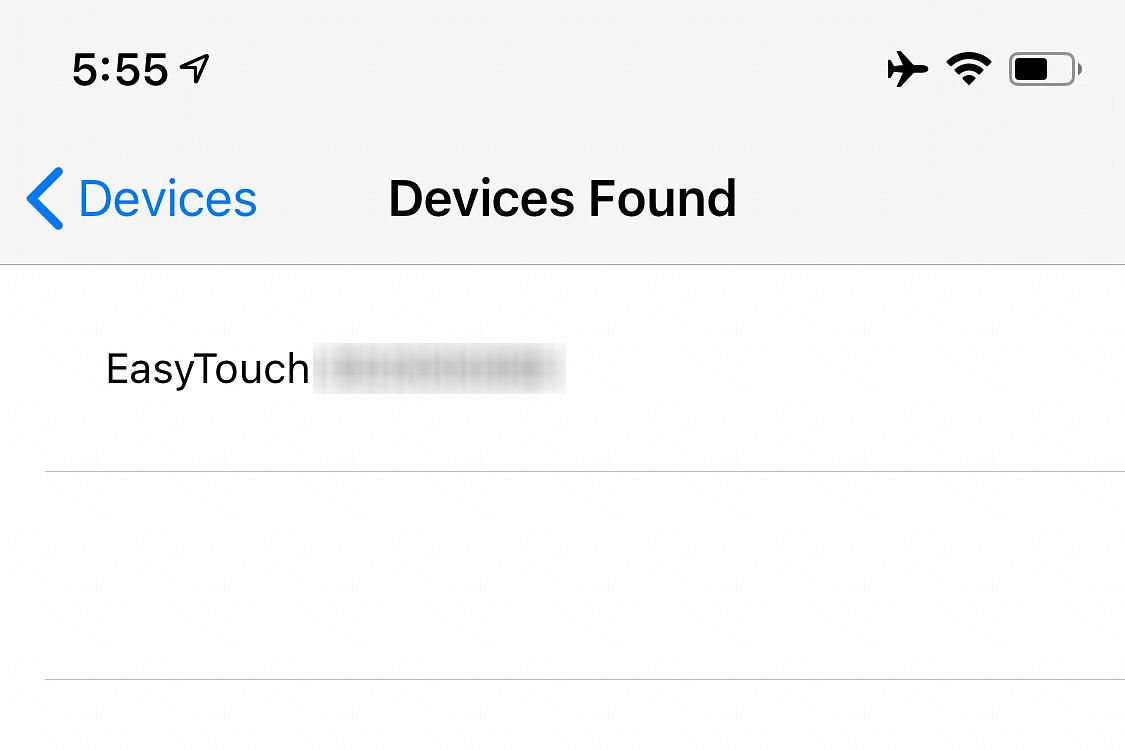 The EasyTouch RV supports both Bluetooth and WiFi. You'll need to setup Bluetooth first so you can change the settings and add your WiFi network credentials.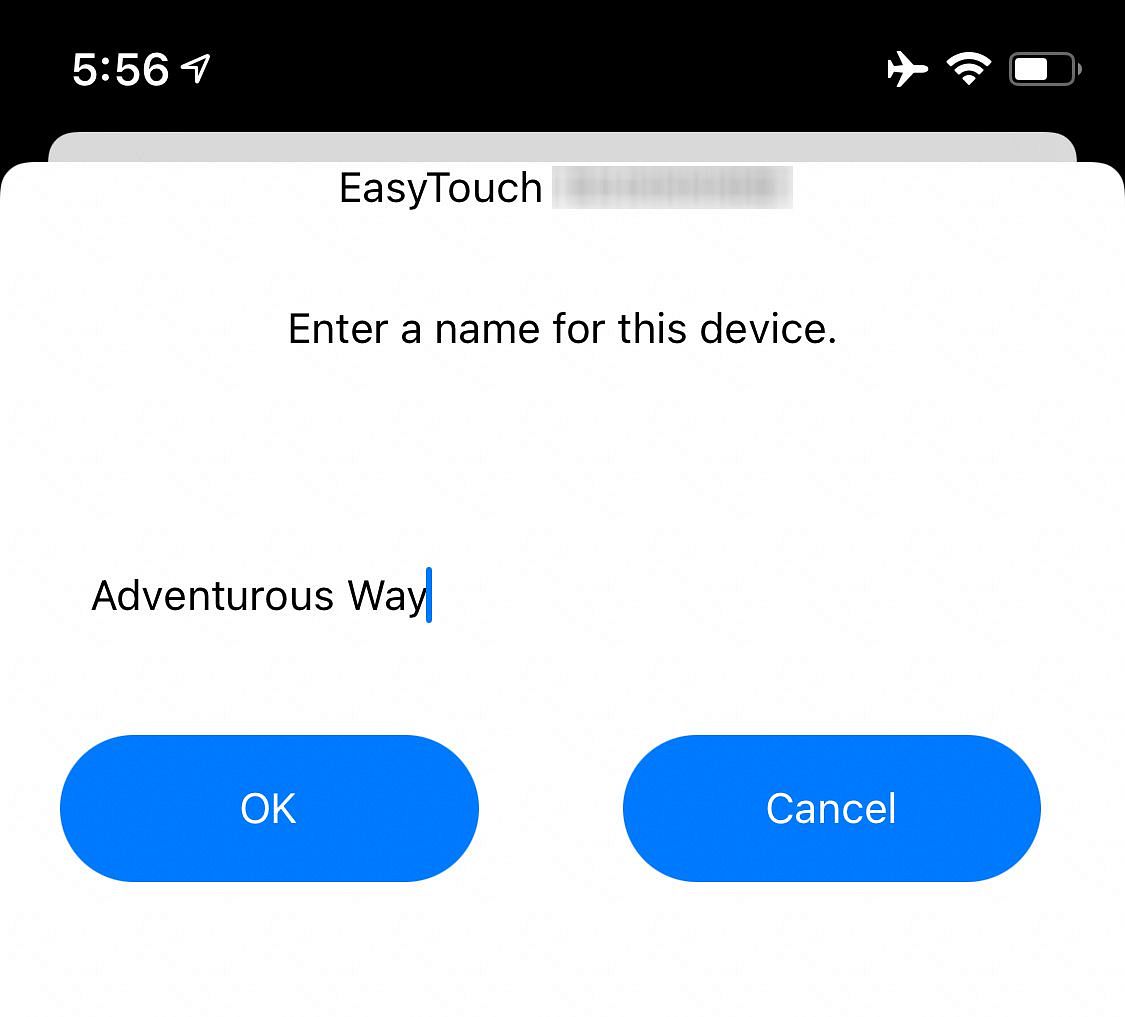 If you don't have WiFi in your RV, that's fine - you can still use the app with Bluetooth only, but you won't be able to control the thermostat unless you're within Bluetooth range of it.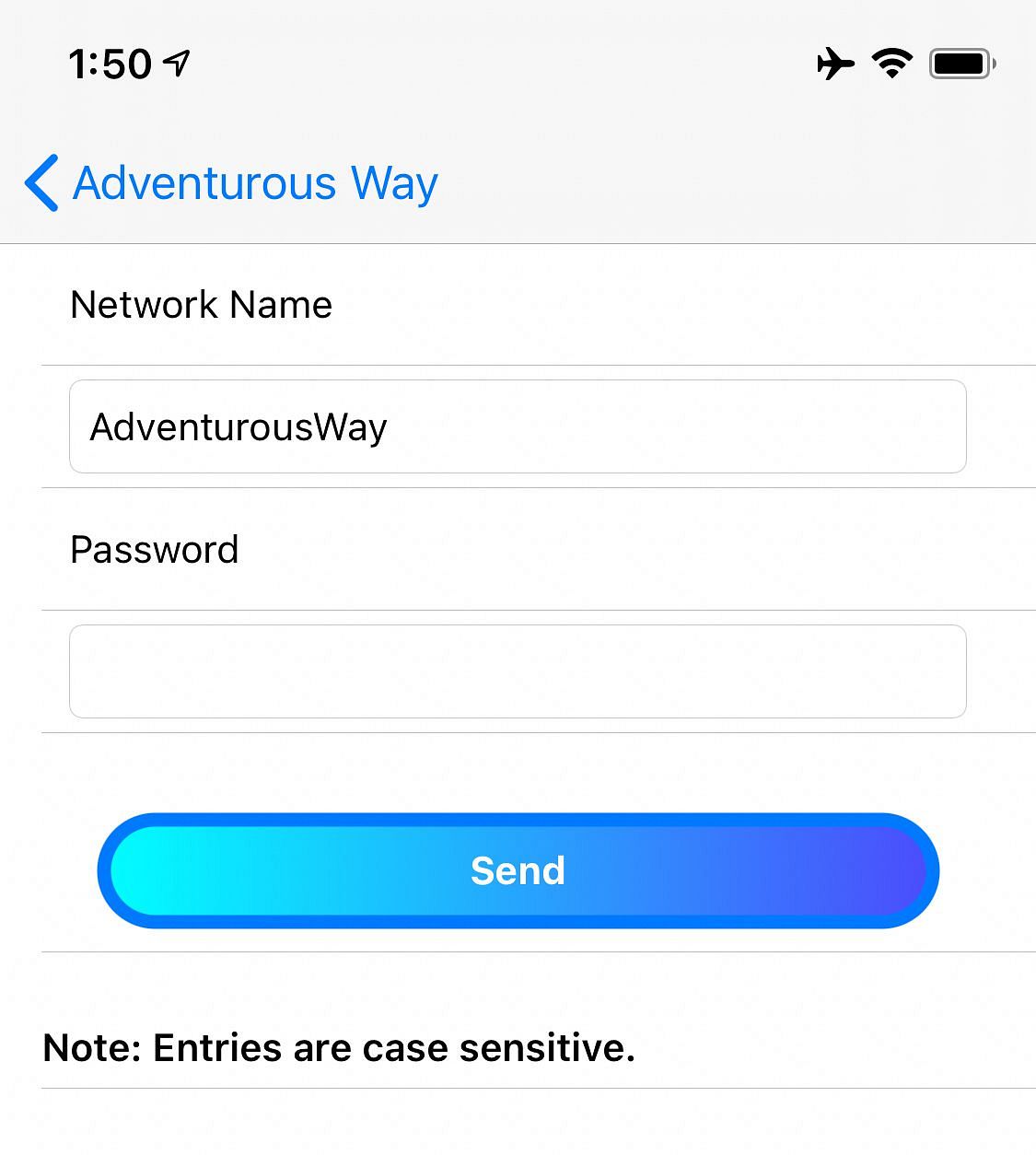 If your WiFi is configured to use WPS, then you can also set it up that way through the device itself.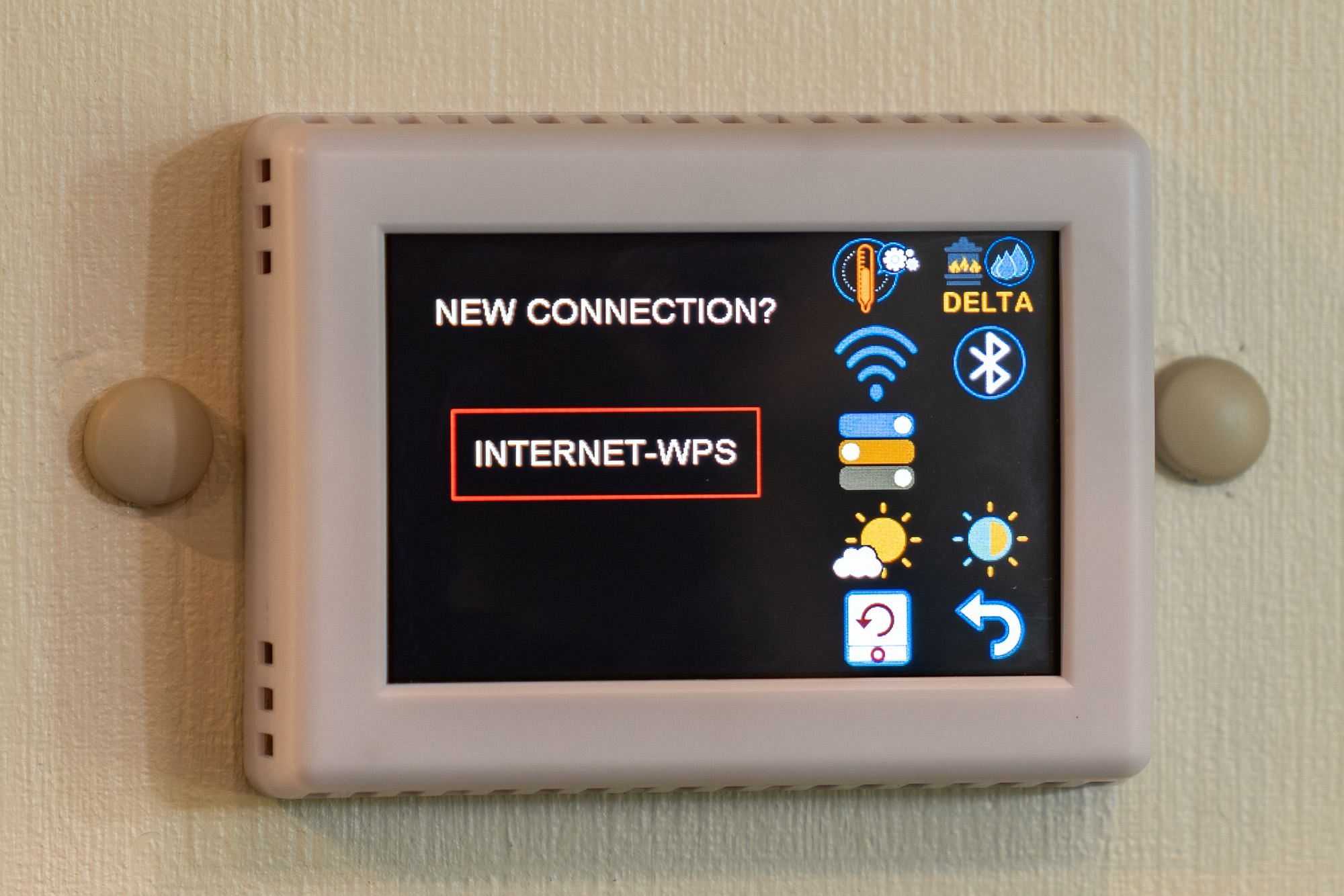 Available Heat Sources
Once I had the thermostat powered up, I obviously wanted to check that it would actually turn on our furnace and AC - that's the main purpose right?!
Well, the AC worked fine but the furnace wouldn't turn on. According to the MicroAir website, the EasyTouch RV "automatically detects system sources such as Furnace, Heat Strip and Cooling". Hmm...
I double checked the wiring. All good. And we had used the furnace the previous day on our thermostat, so I knew the furnace itself was working.
Eventually, after a lot of messing around, I found a setting on the thermostat screen itself. There is a Power icon on the thermostat screen, and when you turn the thermostat off, there is a Settings icon. Within here, one of the icons (simply named on the Icon Reference guide as "Sources") lets you choose which available heat sources you have.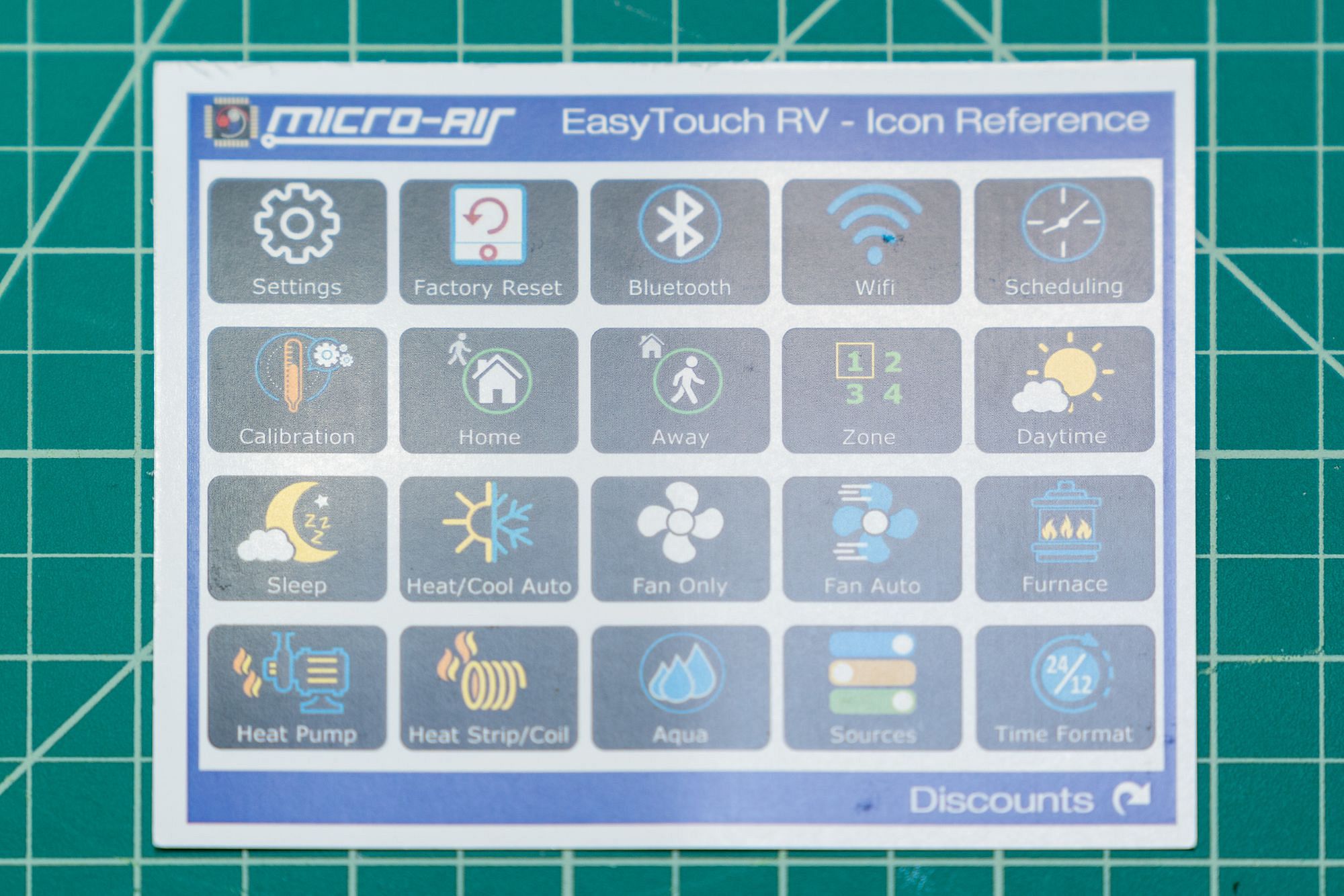 I selected Furnace (the icon on the right) and that solved it - the furnace began working correctly.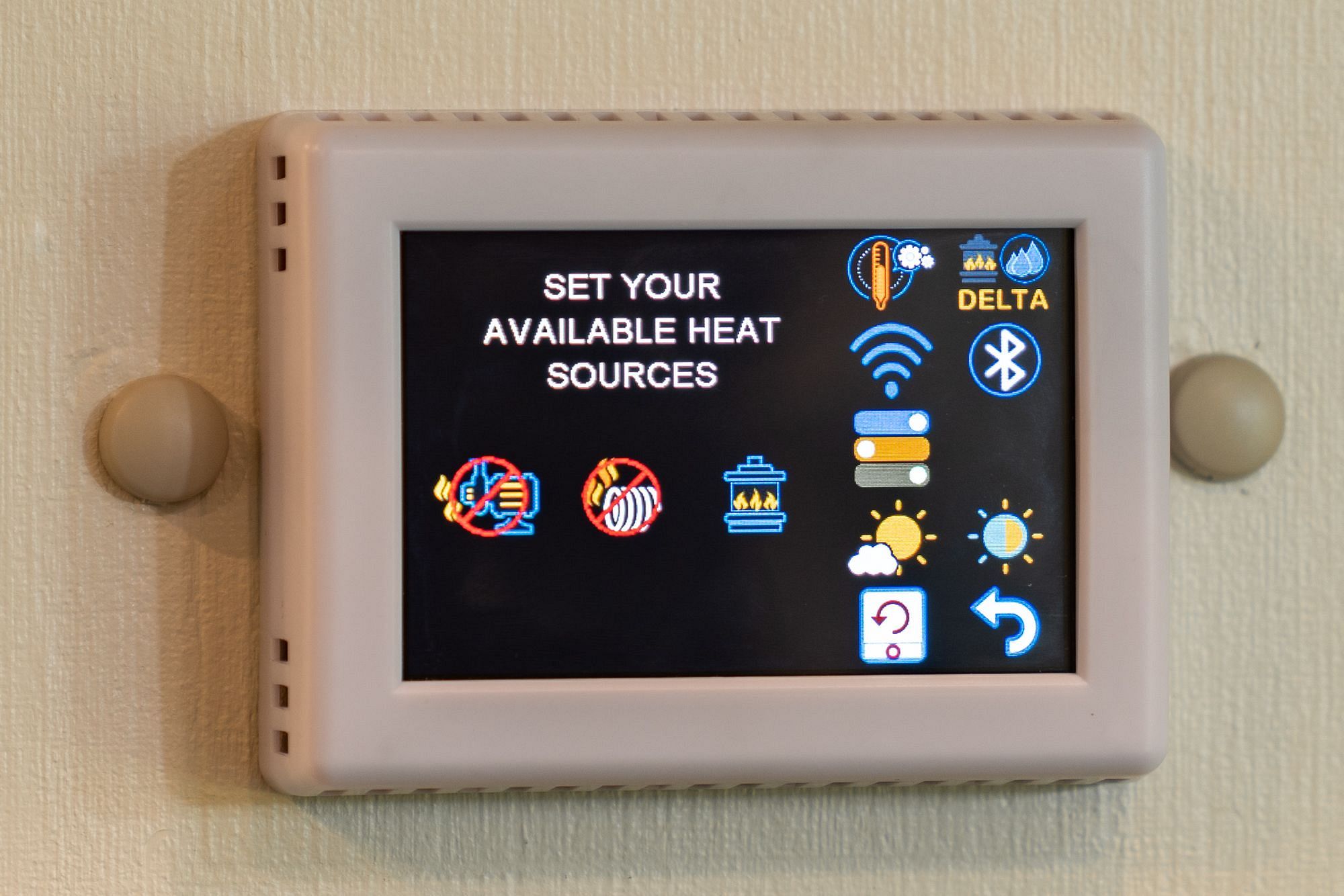 Calibration
Quickly, we ran into another problem. The temperature displayed on the screen was way off! We have a plethora of temperature sensors around the RV (10 at the last count...) so we have a good idea of the temperature inside the RV.
The EasyTouch RV was nowhere close! In fact, by placing one of my known-good temperature sensors right next to the thermostat, it turns out that the EasyTouch RV was ~8°F too high!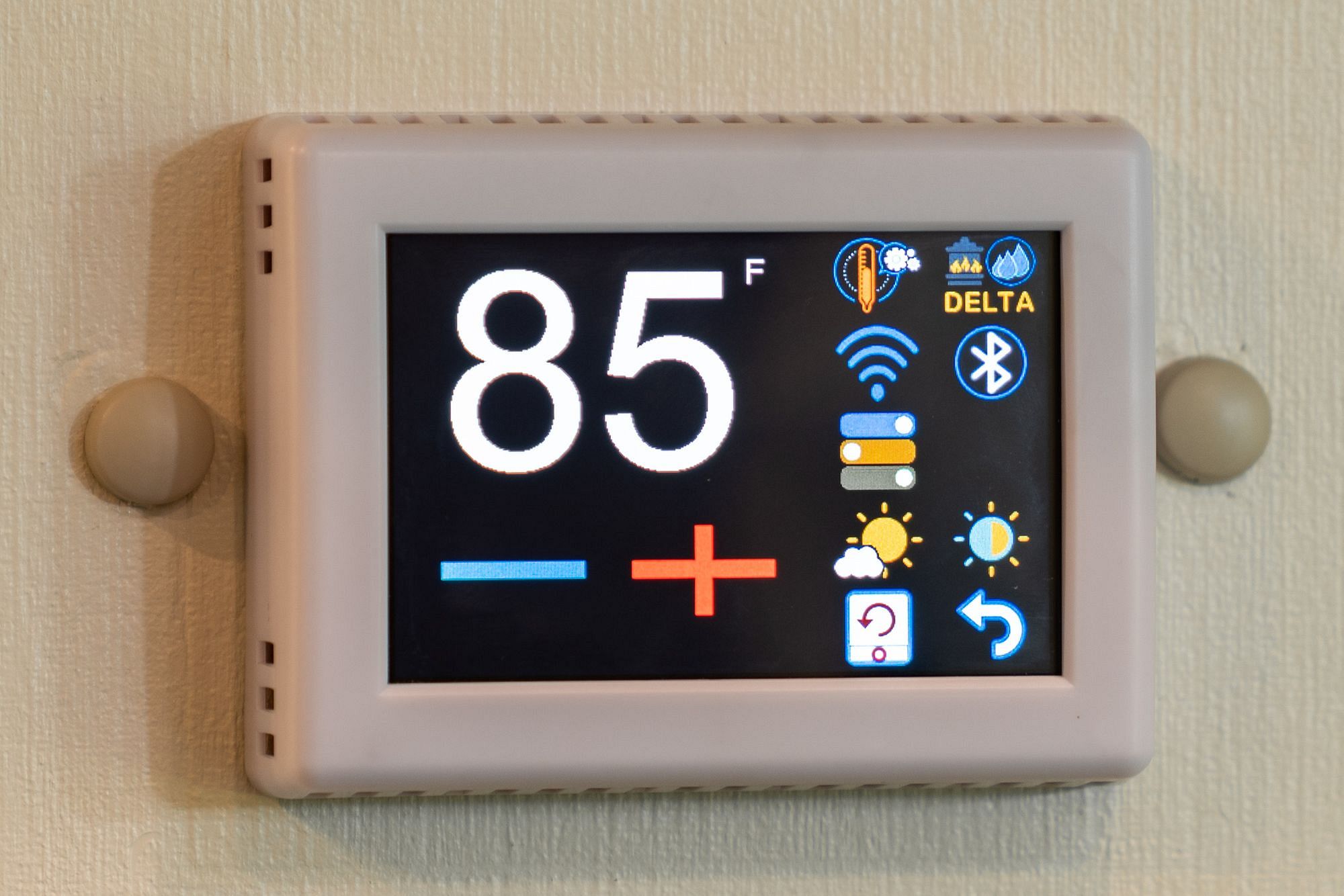 Fortunately, one of the settings allows you to calibrate it by up to 10°F, so I was able to adjust it and bring it back into alignment. Even so, it was surprising (and somewhat disappointing) that it was so far out - I can't think of any reason why it should come from the factory so badly calibrated.
Touch Screen
Before we talk about the remote control via the iOS and Android apps, let's look at the touch screen itself. There are no physical buttons on the EasyTouch RV - the only way to interact with it is via the touch screen.
Resistive Screen
Unlike the capacitive touch screens most of us are used to on our phones, the EasyTouch RV has a resistive touch screen which requires you to actually press quite firmly on the screen rather than just tap on it.
There are some advantages to a resistive touch screen - you can operate it while wearing gloves, and they're often more durable when it comes to moisture or dust. However, I suspect the main reason for this choice was cost - resistive screens are much cheaper than capacitive.
While functionally it works OK, it makes the interface seem clunky - you'll need firm presses on each icon when you want to change something. Unfortunately this also means lots of fingerprints on the screen!
Screen Brightness
There are two modes for the screen: Day and Night. You can configure the brightness of each mode through the settings menu on the device (no control via the app). At full brightness, the screen is bright and clearly read from anywhere in the RV.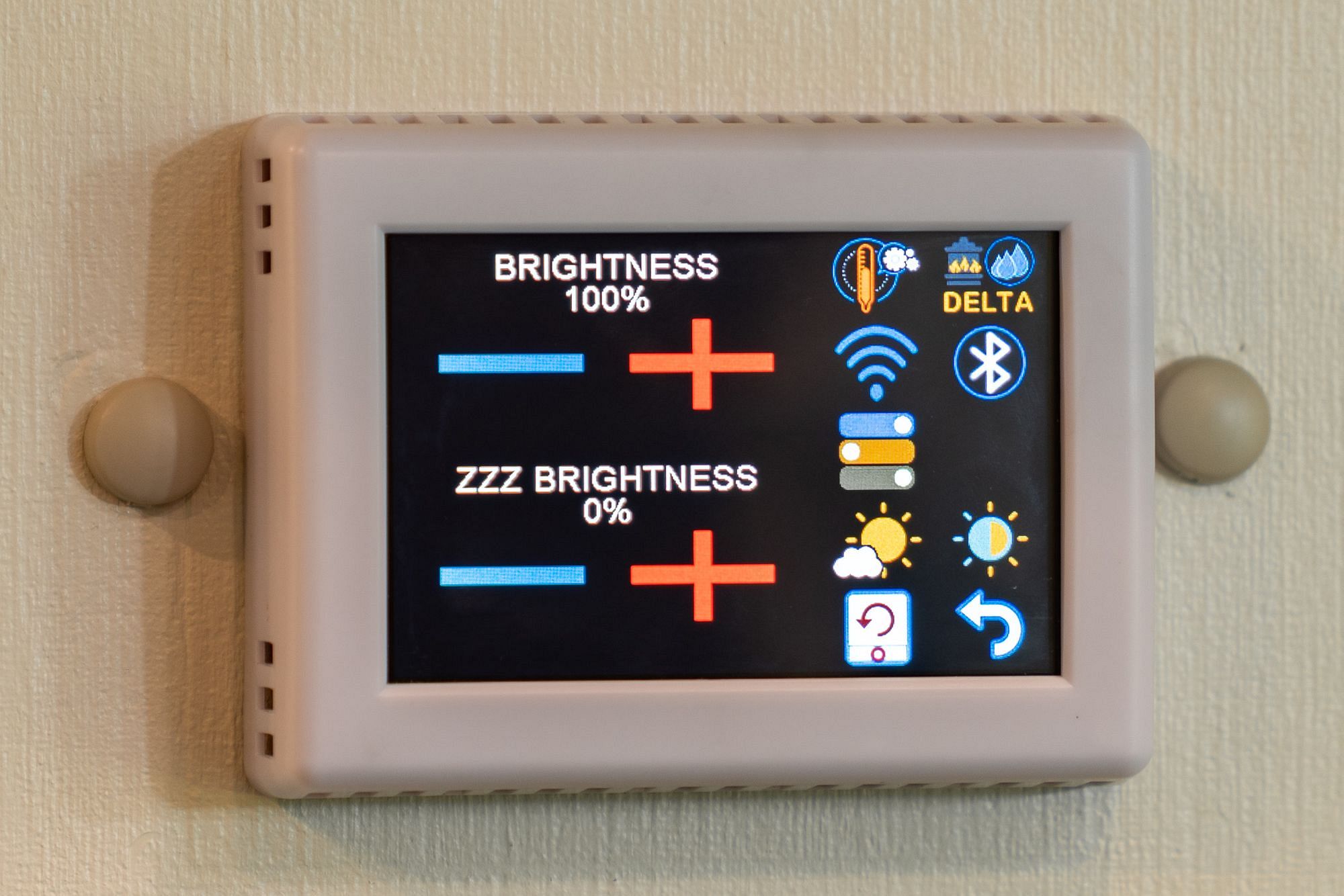 About 25 seconds after you last touched the screen, it will dim - it's still easily readable, but this helps to reduce power consumption. I did some quick testing and at full brightness the screen was using ~115mA and with the screen completely off it was using ~75mA. So dimming the screen will land you somewhere between those two numbers.
Note that unlike a Google Nest thermostat, there is no proximity sensor to automatically illuminate the screen when you walk up to it - so you may have to tap the screen to "wake it up" and you can interact with it. We used to have a Google Nest thermostat in our house, so it's hard not to make comparisons with it - after all, both are sold as smart thermostats, and the Google Nest is actually the cheaper of the two!
In Day mode, the screen dims but stays visible, whereas in Night mode the screen turns off entirely after 25 seconds.
This is a nice feature, except that toggling between Day and Night mode is entirely manual. Even though the thermostat is aware of the time (which it uses for scheduling), there is no feature to automatically switch to Night mode at a particular time. Better yet, it could sense the ambient light and dim automatically, but no such luck.
The interface is a real let down here. The toggle to switch between Day and Night mode is in the Settings menu - the same Settings menu that can only be accessed by turning the Power off. So in other words, to switch between Day and Night, you have to turn off the thermostat, switch the mode and turn it back on - which also means turning off the heating or cooling if they happen to be running.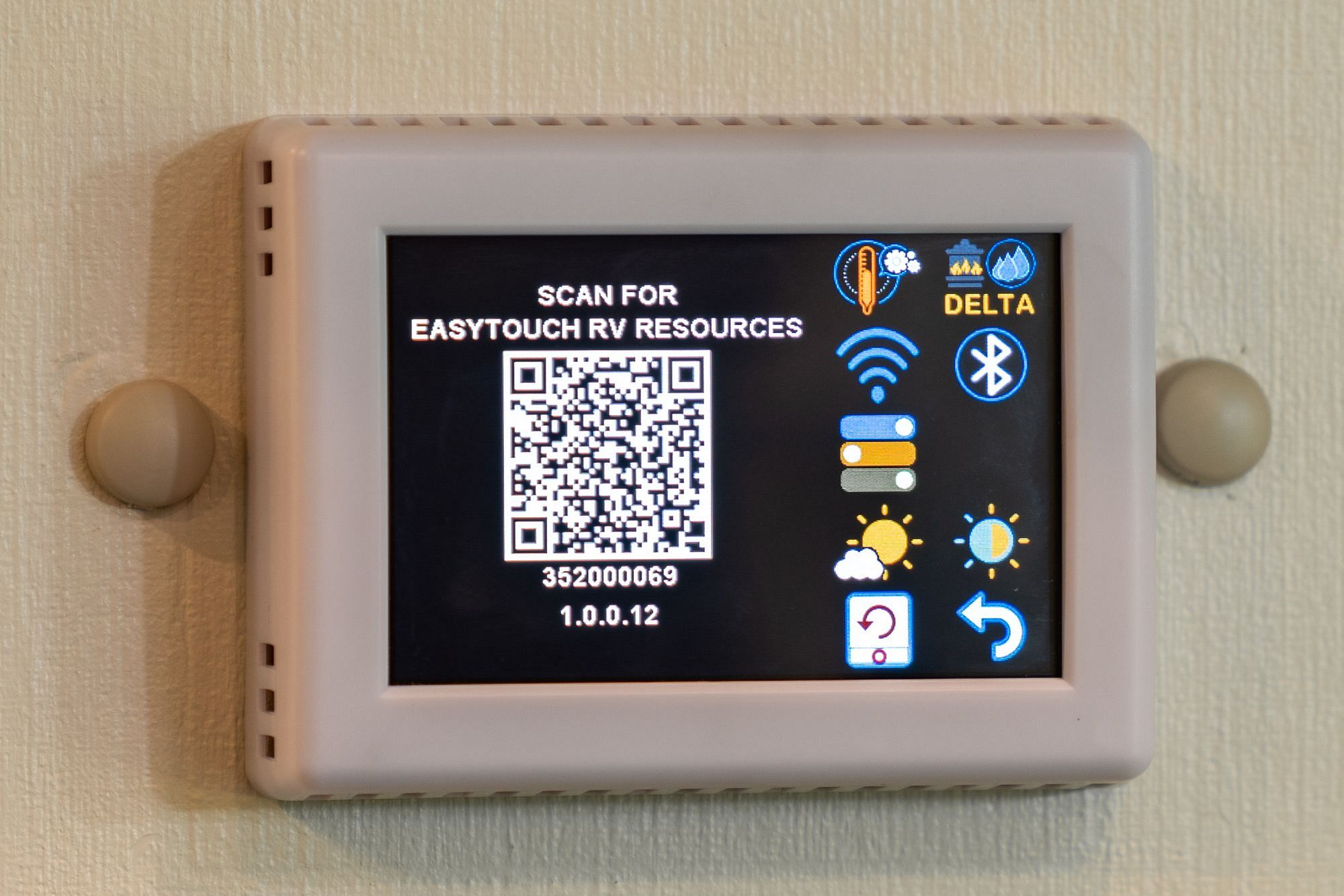 Interface
The interface is very basic. It uses icons almost exclusively, and while most are intuitive, others are not - which is, I suspect, why they felt the need to include the Icon Reference card.
In addition to the resistive touch screen requiring firm presses, interactions are slow to register and update the screen. By way of example, changing the target temperature means pressing up and down arrows on the screen. Each time you do, the screen redraws the target temperature with a very noticeable flicker. And repeatedly pressing the arrows too quickly will fail to register all your presses. Again, functionally it works, but it's clunky and awkward.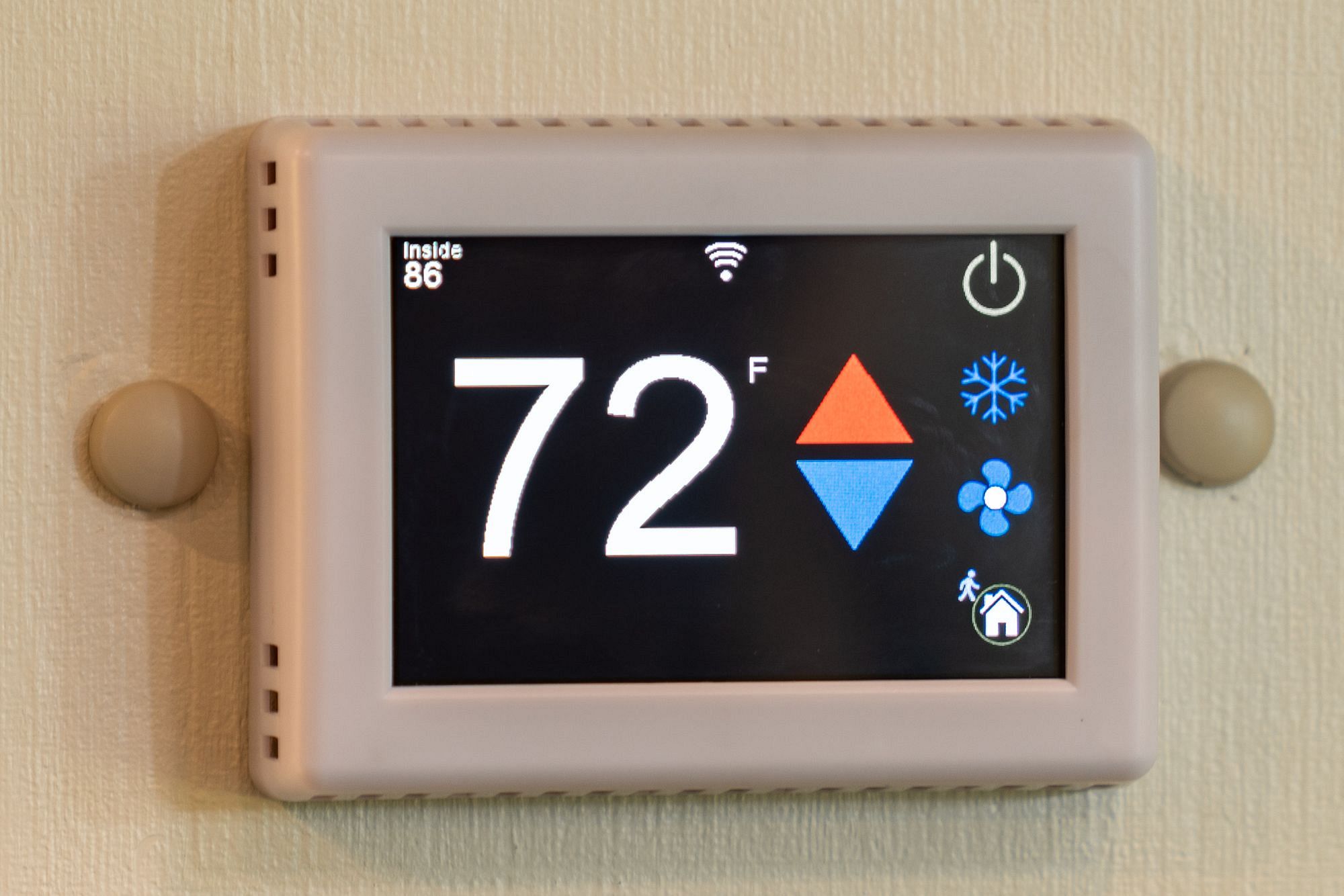 One of the complaints I'd read in customer reviews was that the current temperature displayed on the screen is too small. I would echo that! The target temperature is a massive 7/8" high, whereas the current temperature in the upper left corner is just 3/32" high. I never realized how often I look over to see what the temperature is in the RV until I installed this and realized I couldn't read it unless I was right in front of the screen - especially when the screen is dimmed.
I won't walk through every feature of the screen, but my overall assessment is that while the basic functionality is undeniably present, the user interface is poor - both in terms of the design and flow.
Temperature Control
In addition to lag on the screen, there is a significant delay in turning on or off your heating or cooling after making a change. From my testing, it seemed to take up to about 60 seconds for the furnace or AC to turn on when I adjusted the target temperature.
I'm honestly not sure whether this is an undesirable quirk of the implementation or a simple way to protect your AC and furnace from fast-toggling on and off. Either way, it's disconcerting to change the temperature and not see the thermostat react the way you expect it to.
Our DIY smart thermostat has protection for fast-toggling the AC (i.e. the first time you turn on the AC it's instantaneous, but if you turn it off and on again it'll pause), but it provides an indication on the screen so you know it's waiting deliberately.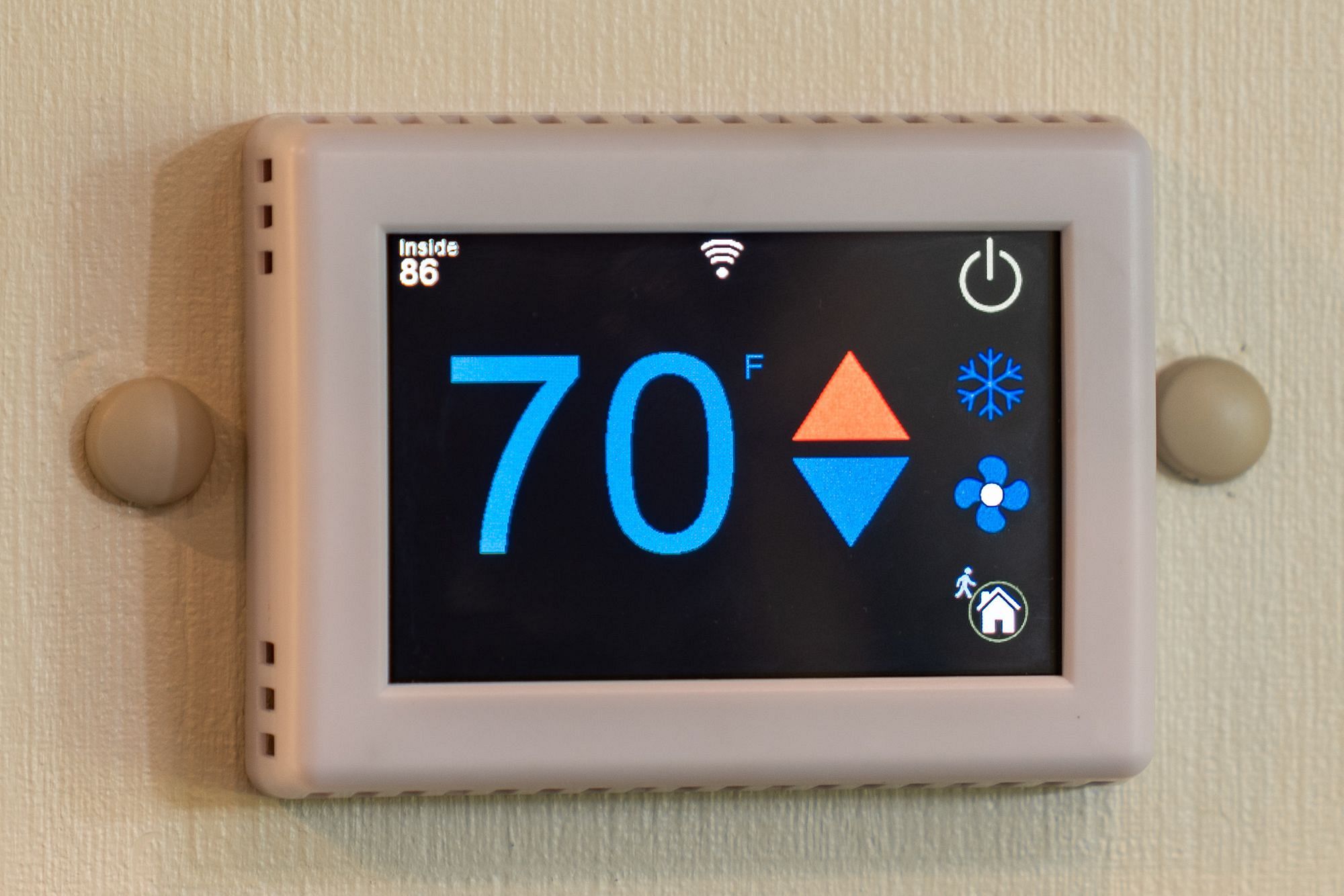 The color of the numbers on the screen changes to red when the heating is on, or blue when the AC is on, so there is some feedback - but a separate icon or message to indicate that a change is pending would, I think, be clearer.
Scheduling
The EasyTouch RV has basic scheduling control, supporting up to 4 schedules. Each schedule is a combination of a time and a temperature - in other words, "set the temperature to X at time Y".
An example of this might be, in cool weather, to run the furnace less frequently overnight by turning down the thermostat:
At 6am, set the temperature to 70°F
At 10pm, set the temperature to 55°F
This would use 2 of the 4 schedules. I couldn't see an ability to have separate daily schedules (e.g. weekday vs weekend), but perhaps that's something that will be introduced in a later update.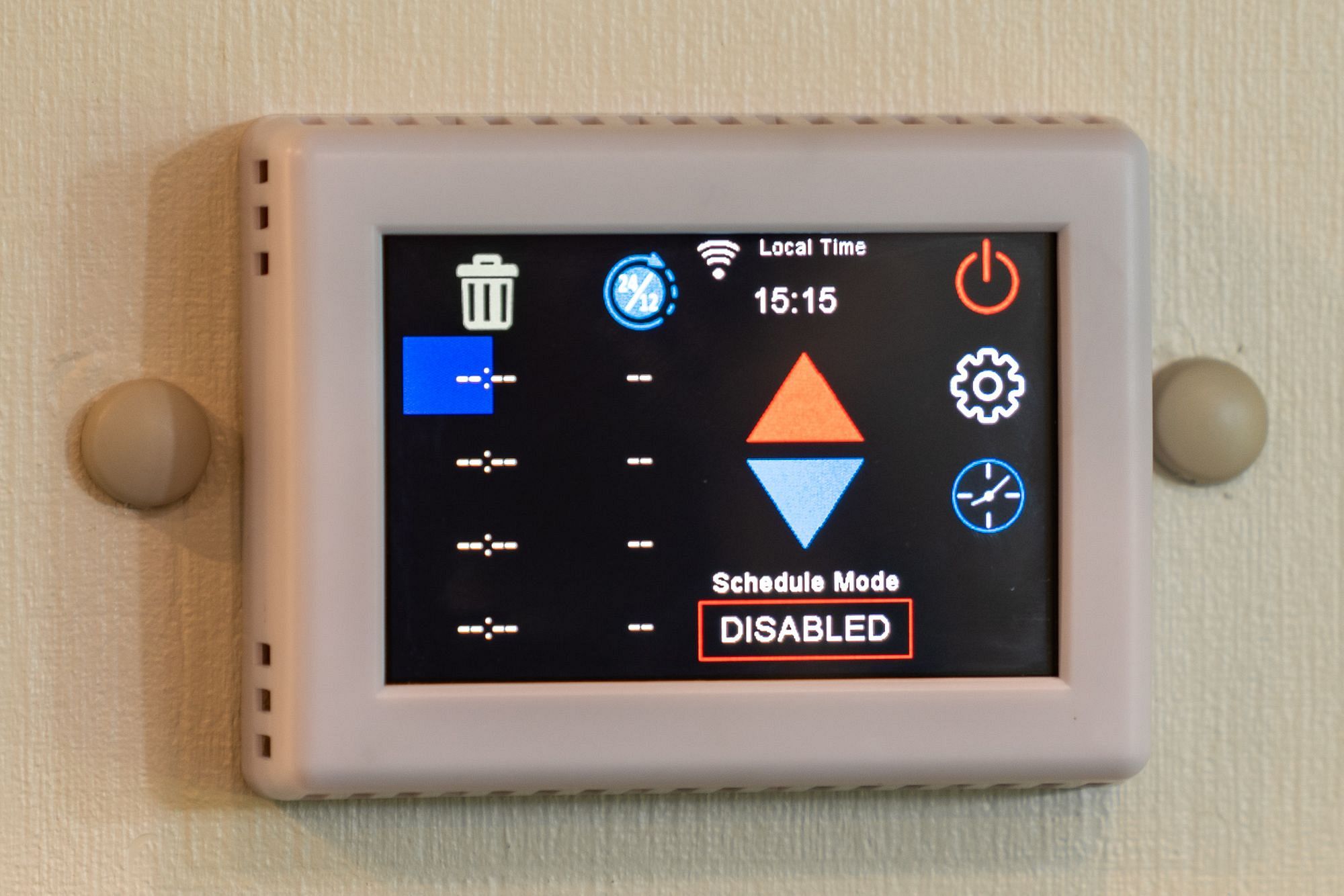 These can be configured on the touch screen through the Settings menu (yes, only after turning the thermostat off) or through the app.
iOS and Android Apps
Speaking of which, let's look at the apps.
I use an Apple iPhone X so I downloaded the EasyTouch RV app version 1.24 - it shows up as EasyTouch_RV (with an underscore) on my home screen.
To be completely honest, I was really disappointed with the app.
The design is incredibly basic - it feels more like a prototype than a production-ready app. Rather than describe each screen, here are some screenshots so you can see what I mean.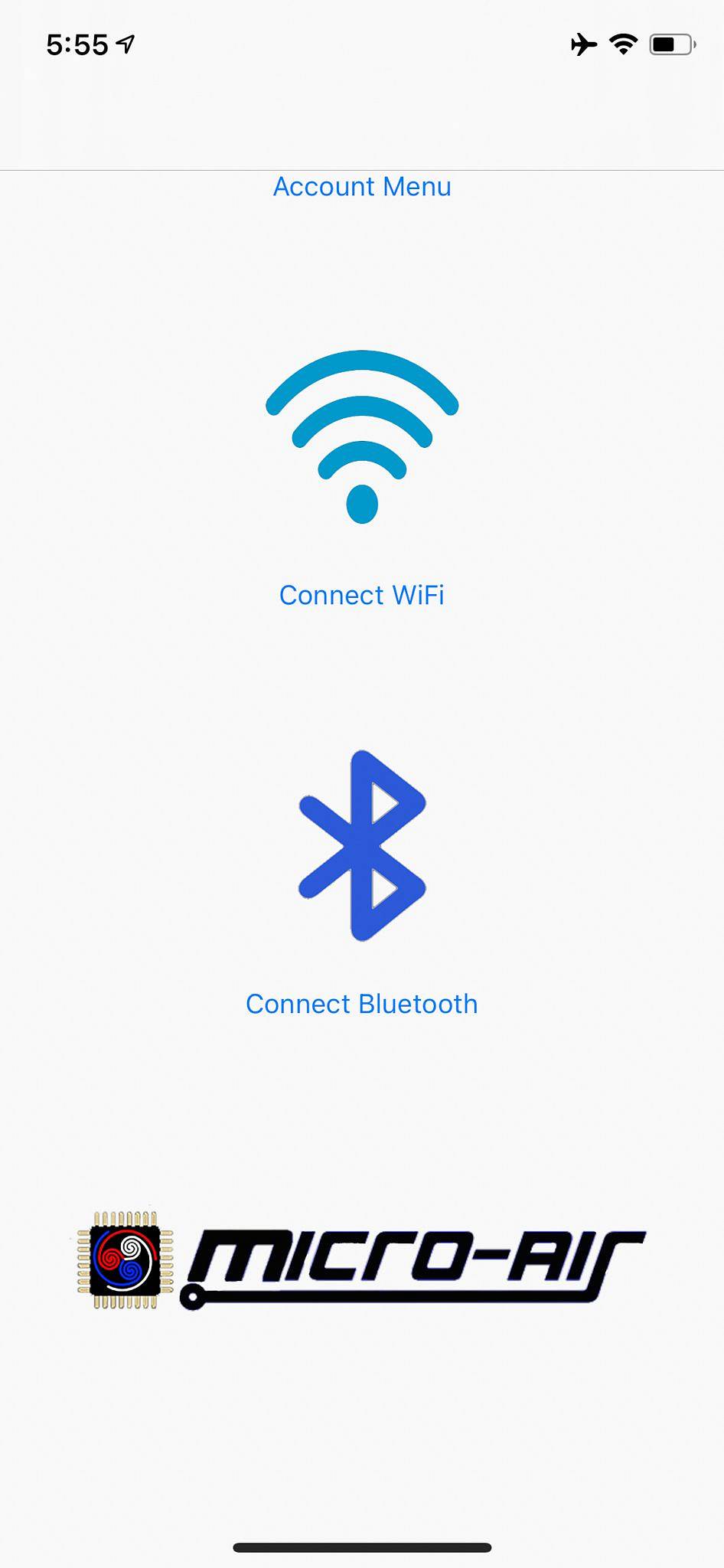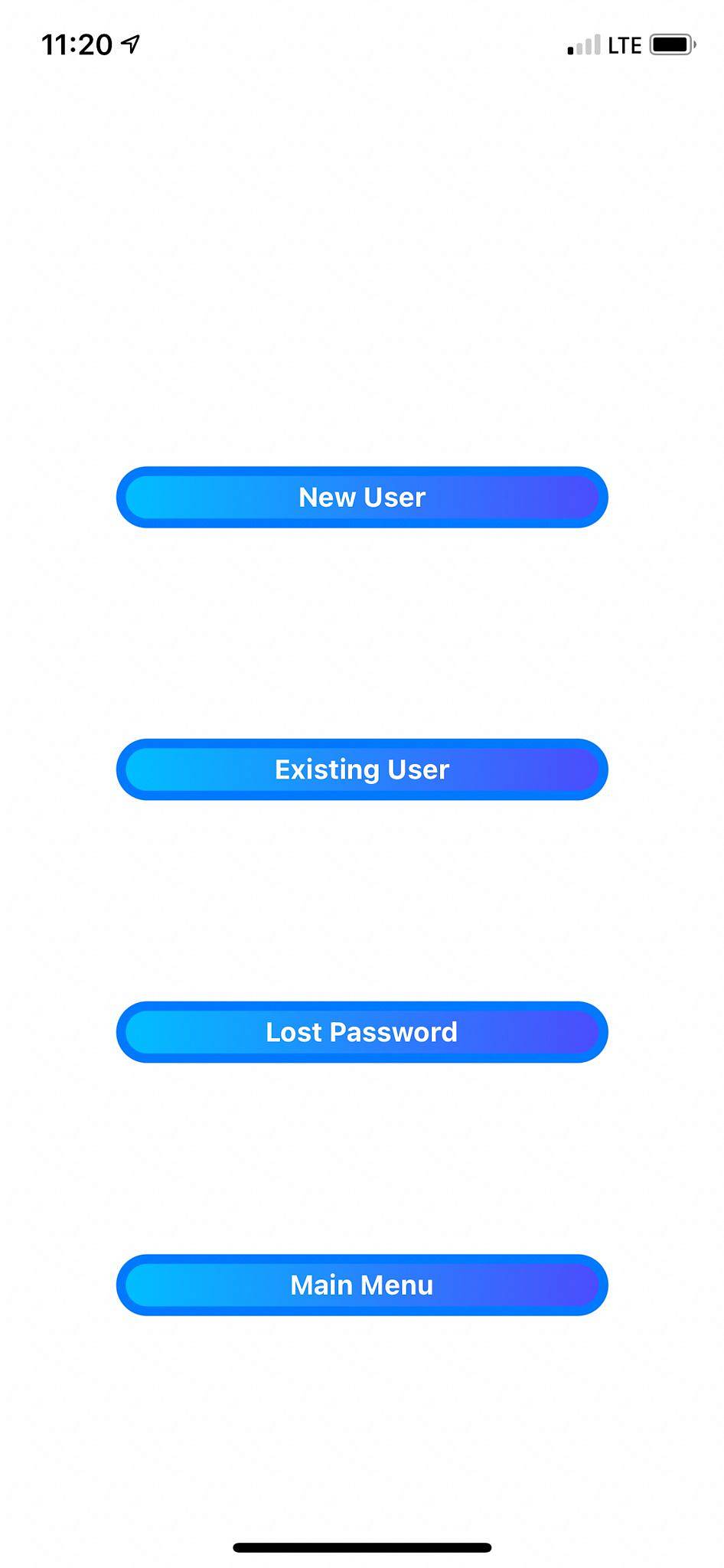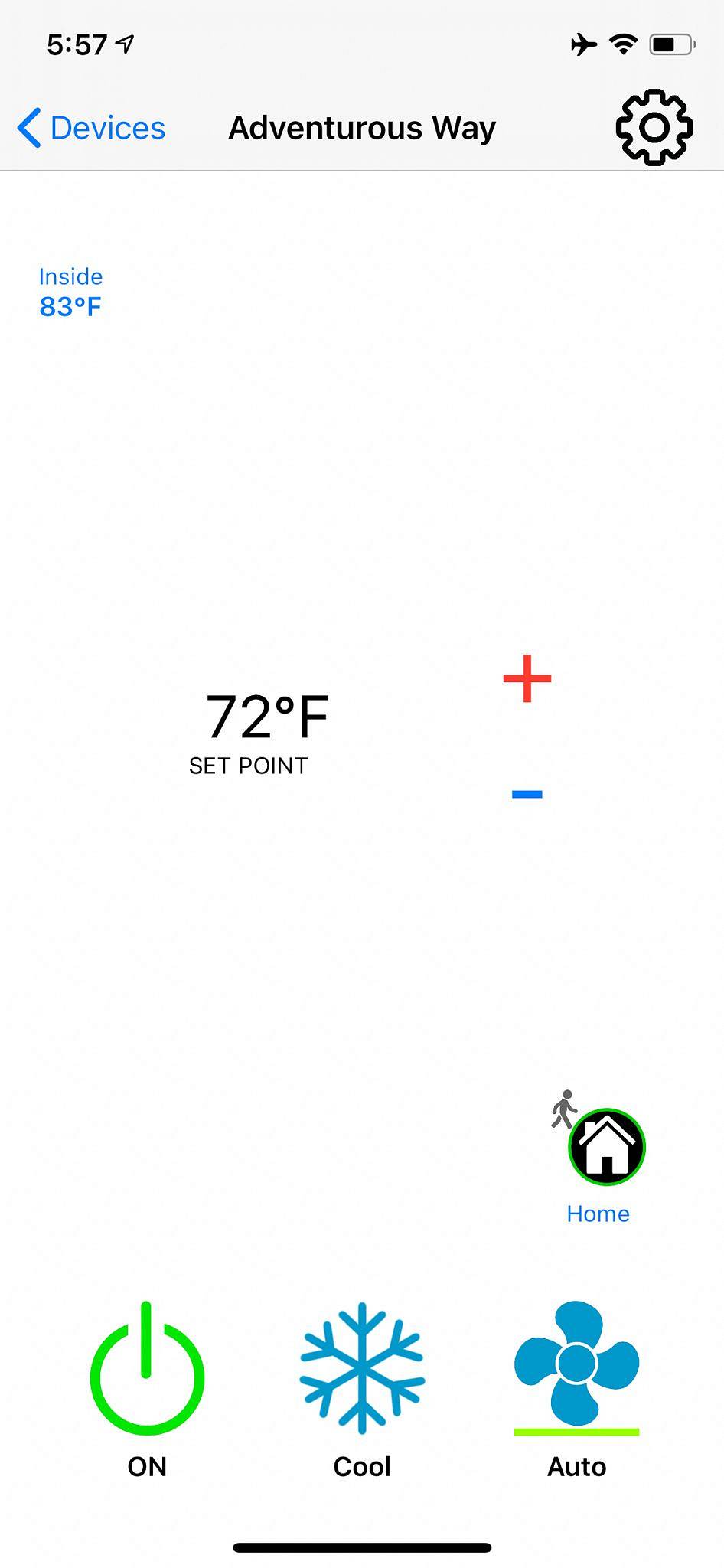 In the couple of weeks I've been using it, the app has completely crashed and exited a few times. Oftentimes screen taps don't register at all (particularly the Settings button in the top right of the Device screen), the Devices screen in particular often does a strange refresh where it redraws and slides in again when you land on it.
Remote Control
In terms of functionality, it does indeed let you control your thermostat remotely - I've tested both the Bluetooth and WiFi connections and both work as expected.
Changes made on the app are reflected on the EasyTouch RV screen within a couple of seconds, but as with changes made directly on the screen, it takes around a minute for those changes to actually turn on or off your heating or cooling.
When it works, the Settings menu on the app lets you change:
Temperature unit: Fahrenheit vs Celsius
WiFi Settings - SSID and password (changing these reboots the thermostat)
Schedules - setting schedules as well as turning scheduling on or off
From the app, there is no way to access other settings that you can control on the device.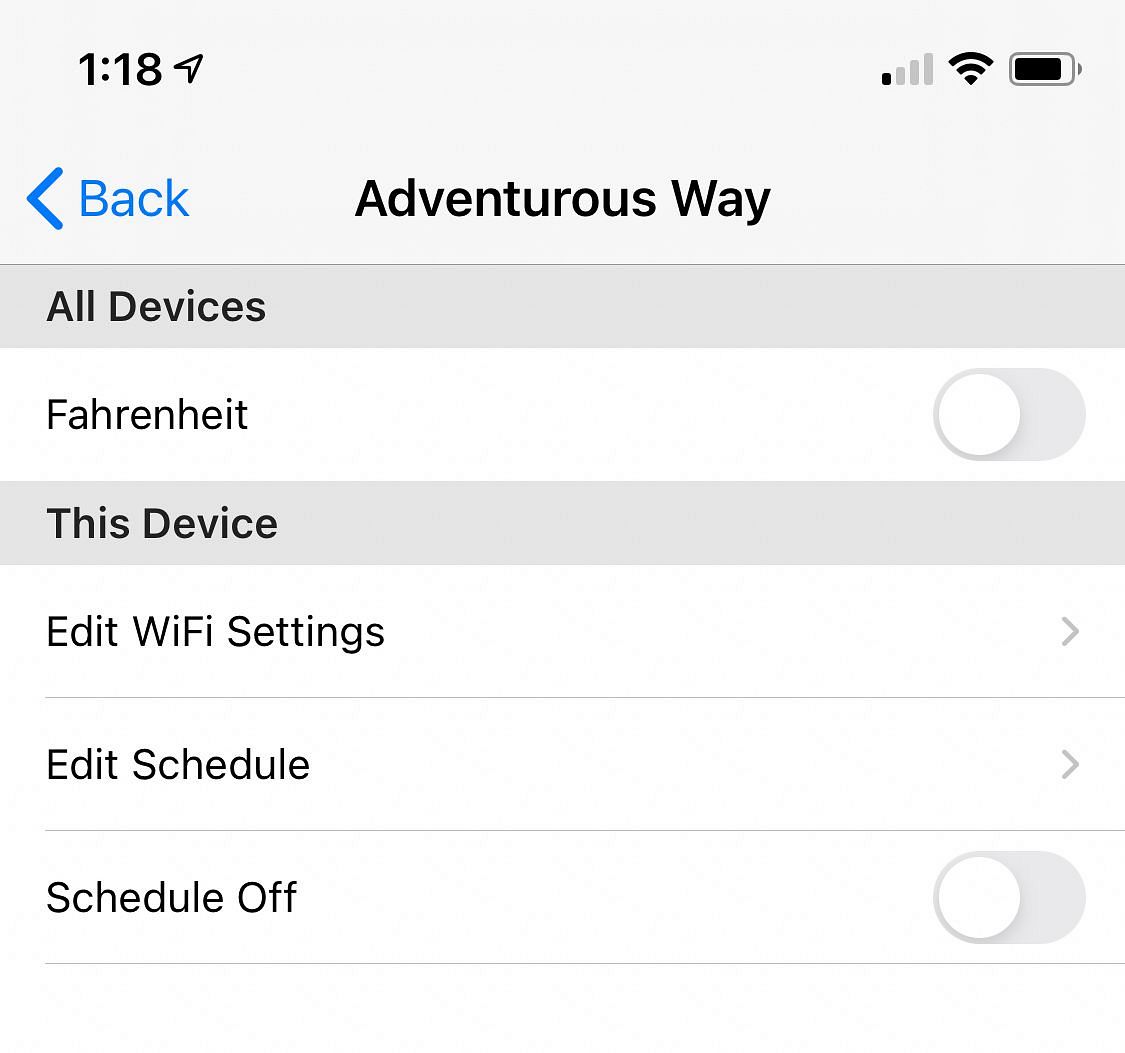 The most obvious problem here is not being able to switch between Day and Night mode. I forgot to switch it to Night mode before getting into bed one evening, but couldn't change that setting from my phone - I had to go over to the thermostat, turn it off (also turning off the heating temporarily), change the setting, turn it back on, and then get back into bed.
Security & Privacy
When dealing with smart devices (aka IoT devices), I'm always very concerned about security. In this regard, I was really impressed with the EasyTouch RV - while their design is lacking, their approach to security seems robust!
The product heavily leverages Amazon Web Services (AWS) - user accounts are created through AWS Cognito, and control of the device is done using MQTT through AWS IoT. I'll talk more about this in the next section, but as a general point, I prefer to see companies leverage proven cloud services like AWS rather than trying to reinvent the wheel - far less chance of security issues.
As far as privacy goes, it's a little harder to tell. All communication from the device is encrypted, so while that's great in the sense that nobody can intercept the data, it means we don't know for sure what data the thermostat is sharing.
I've found nothing in any of the MicroAir product literature that constitutes a privacy policy or even an explanation as to what data is collected and how it's used. The thermostat obviously has data about the temperature in the RV, and from the press release we know it can detect power outages.
One thing to note - without access to AWS, the thermostat fairly quickly becomes useless. While Bluetooth works offline, you need to log into the app (via AWS) when you first install it.
MicroAir advertises no monthly service fees, but if they ever decided to end this product line then they could close down their cloud platform and kill off your WiFi-based remote access to your thermostat. This is true with most cloud-connected smart devices though, so I don't want to judge too harshly here.
Overall, I'm pleased to see that MicroAir is taking security seriously, and from a privacy perspective I have no reason to believe it's any different to installing any other cloud-connected smart device in your RV. Nice work!
Product Teardown
OK, this next section is about to get very technical, so I won't be offended if you choose to skip over this and jump straight to the last section - the final verdict!
Analog thermostats are actually very simple devices - a comparator is used to compare a target temperature and current temperature, then trigger one or more relays to turn on or off heating and cooling devices.
Smart thermostats work on the exact same principle, except rather than using a comparator chip, they use a microcontroller to make decisions. A microcontroller is basically a small computer processor, and gives the thermostat more functionality - such as a screen, programmable schedules or remote control.
Thermostat
I wanted to see how the MicroAir EasyTouch RV works, so it was time to do a teardown!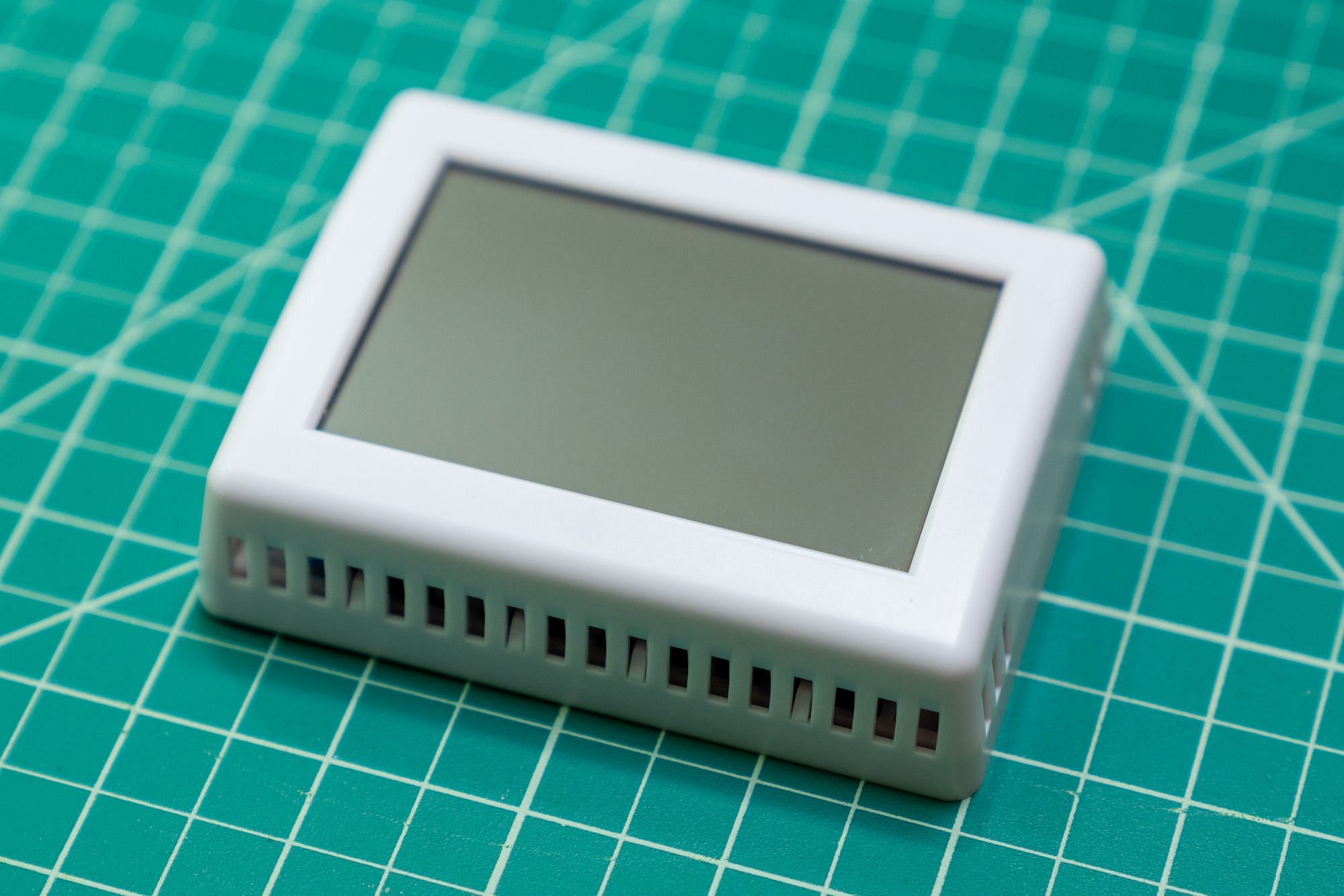 The thermostat case is a screw-less design - its two piece case is a pressure fit using small retaining clips to hold the front and back together. I was able to easily separate the case without using any tools. A simple but effective design. Inside I found a circuit board with an attached screen, as expected.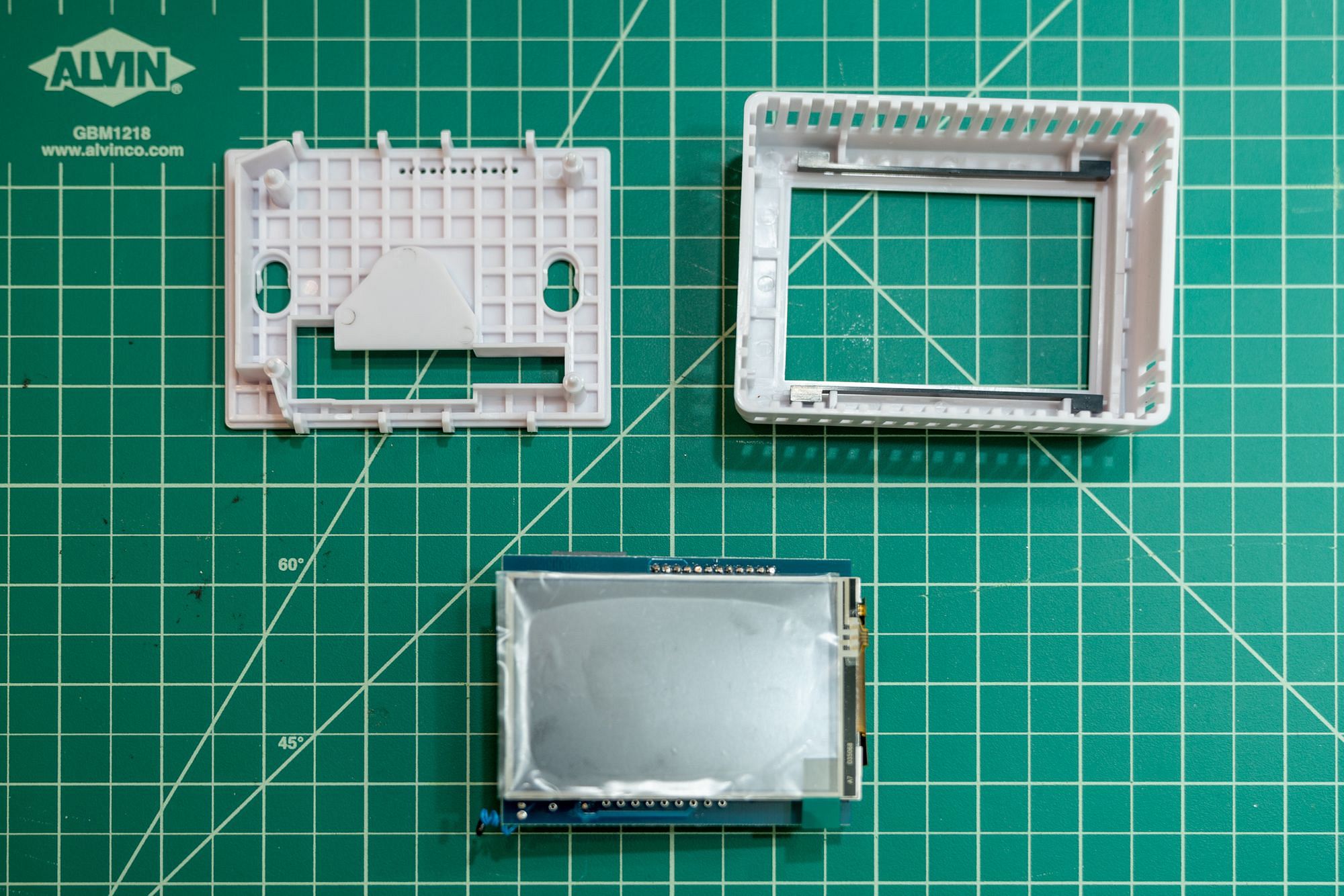 On the back of the circuit board, the microcontroller is obvious - it's an ESP32-WROVER. This is a very common microcontroller for use in small smart devices such as thermostats, so I wasn't surprised to find it there. The ESP32 is the brains of the thermostat, and includes integrated support for Bluetooth and WiFi.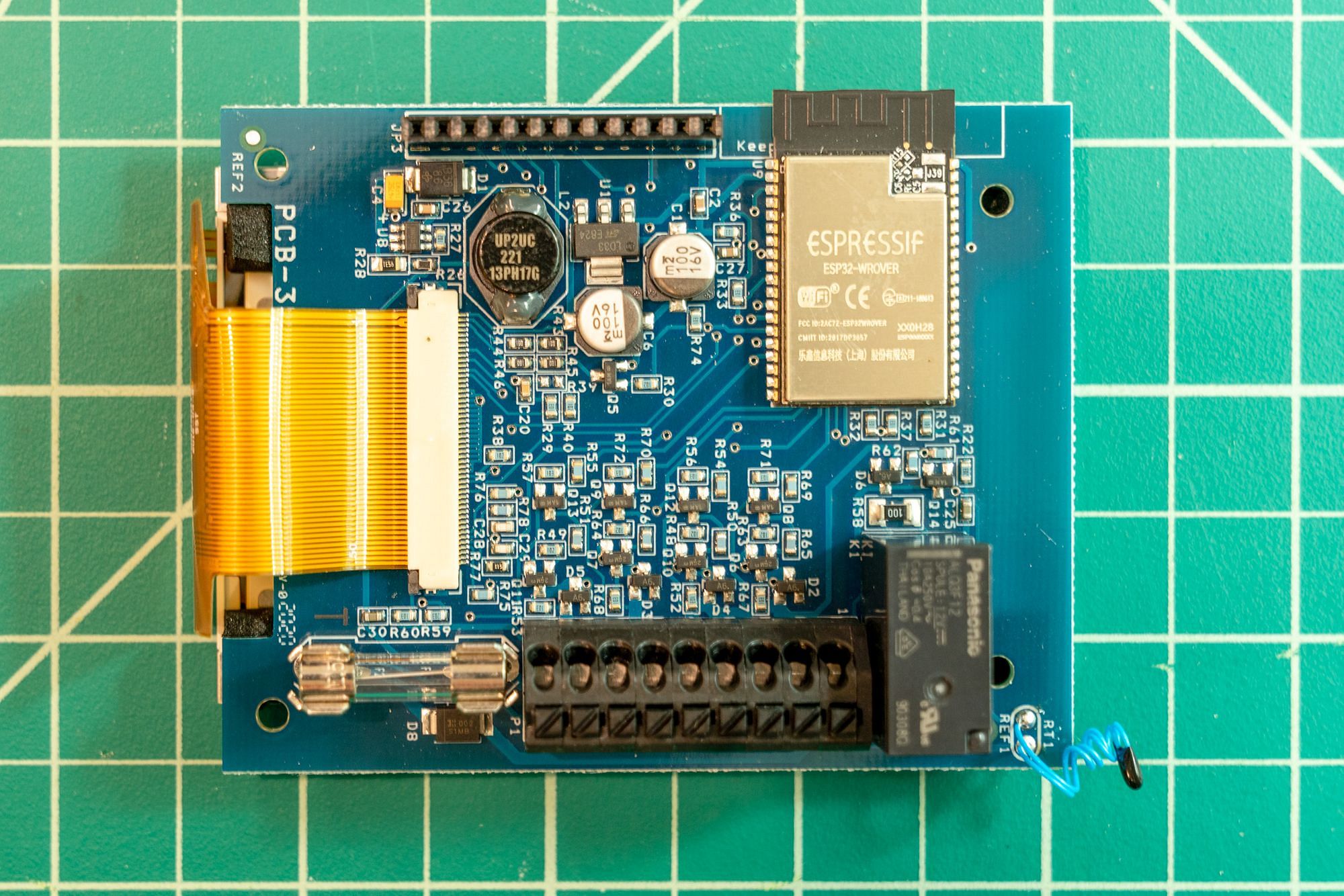 Other than the connections for the thermostat control wires (the ones you connect during installation), there's also an unlabeled header near the top. These 12 pins are accessible through small holes in the back of the case.
I was able to trace each pin in the header and found the usual suspects: GND, 3V3, TX, RX, EN and GPIO pins 0, 2, 5 and 12-15. This would provide the means to program (or reprogram) the thermostat through this header, as well as likely some diagnostic information - assuming the GPIO pins are tied to the thermostat controls. Interestingly, there is only one relay and the other terminals are switched using transistors.
Overall, while it's probably less than $25 worth of parts, the construction looks good. The layout is compact, and everything fits together snuggly.
Home Automation Integration
While cloud-connected devices are great because they provide a lot of functionality and let you get set up very quickly, I'm not always a fan.
We have our own home automation system, using Home Assistant as the hub. By running locally in the RV, not only does this give me complete control of my data, but means I can get smart devices to talk to each other.
So the big question was: can I find a way to integrate the EasyTouch RV with Home Assistant?
No, I couldn't.
I tried everything I could think of. A port scan of the device showed no open ports (good for security, bad for me!), and there was no output on the serial console (using that diagnostic header) when the device was running.
The EasyTouch RV uses AWS for all its WiFi communication, but everything was encrypted. Not only is all traffic sent over HTTPS (using TLS 1.2), but the thermostat also validates the HTTPS certificate, preventing Man-in-the-middle (MITM) attacks too. Again, great for security, bad for me!
Internally, the thermostat is using MQTT so if MicroAir wanted to, they could expose an MQTT broker endpoint on the device and allow it to accept instructions that way. That would make integration with Home Assistant very straightforward - it uses a very simple MQTT topic hierarchy and message structure.
The only thing I didn't check for weaknesses was Bluetooth. Perhaps someone with the right skills could find a way to control it that way, but I have neither the tools or knowledge!
Since it runs an ESP32, it would theoretically be possible to flash new firmware onto it - much like the Tasmota and ESPHome projects. While that's simple enough for basic devices like switches and sensors, for a more complex device with a screen it's a little more challenging.
In summary, the very strong security of the EasyTouch RV is in many ways a great thing (and one that many companies fail to appreciate), but also means there is no backdoor through which to integrate it with my home automation system.
Final Verdict
So after spending two weeks using it, what do I think of the EasyTouch RV?
I wanted to like it, I really did! While we have a DIY WiFi thermostat in our RV, it's beyond the abilities of most people to install. A simple, off-the-shelf smart RV thermostat is very attractive to many people!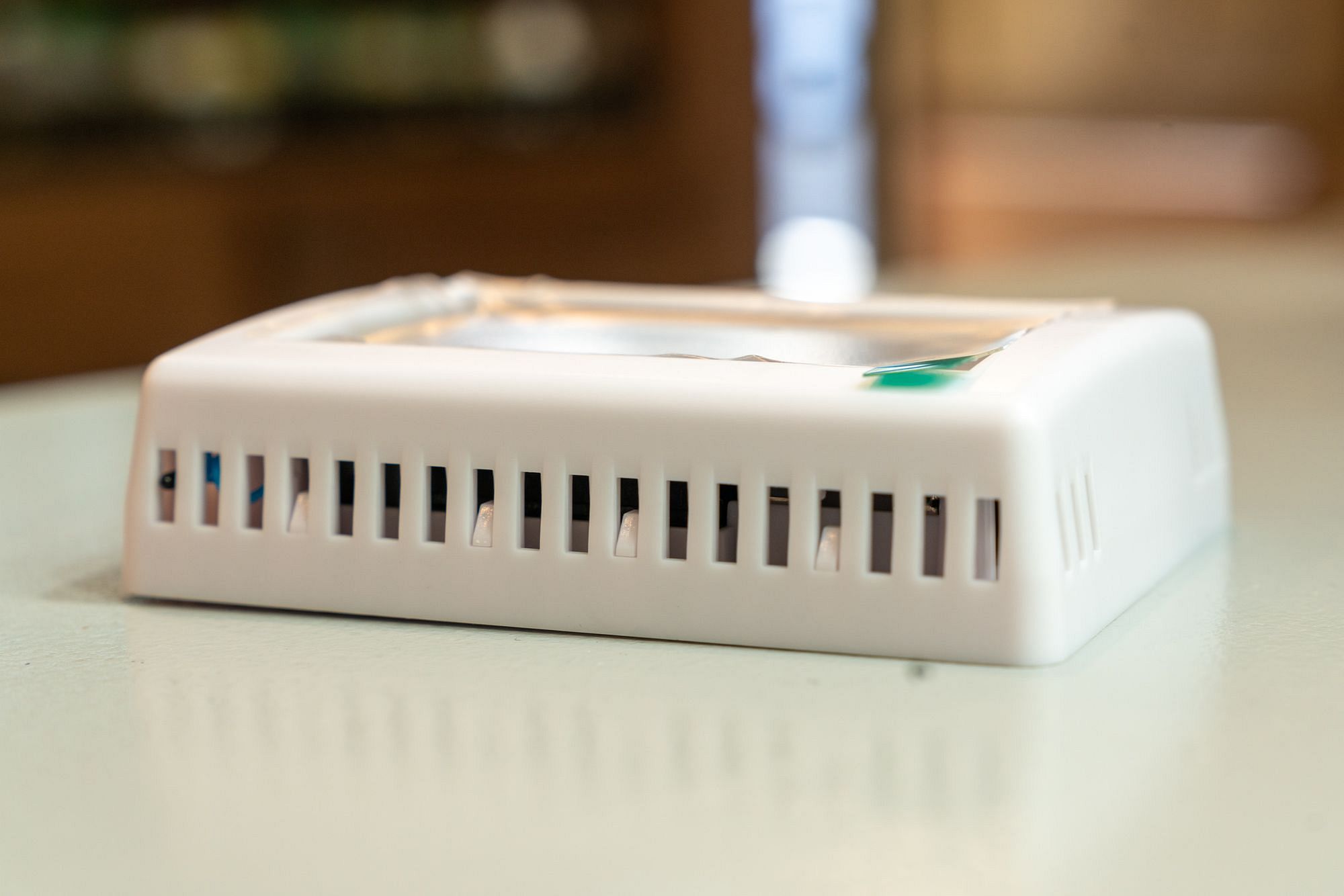 If you want Bluetooth and WiFi control of the thermostat in your RV, the EasyTouch RV delivers. The functionality is there. If you measure it against a quality bar of RV thermostats, then of course it's in its own league - almost nothing else compares to the functionality this offers as an aftermarket product.
But for a device that (at time of publication) is priced at $250, is that good enough? Personally, I don't think so. I think the EasyTouch RV is let down by poor user experience - a sluggish, clunky touch screen and a buggy, poorly-designed app.
For now, the EasyTouch RV is just an RV thermostat that provides remote control via Bluetooth and WiFi. I don't know if MicroAir can push firmware updates to the thermostat through the app, but I hope so! If so, they may be able to address most if not all of my criticisms, and that would be fantastic!
The underlying hardware is capable of providing a much better user experience - the current interface and apps feel more like a proof of concept built by an engineer (as a former engineer myself, I'm happy to admit that design is hard and I'm terrible at it).
This is MicroAir's first foray into the world of connected devices for RVers, and I'm really happy to see that! Despite its shortcomings, it's an important first step and I truly look forward to seeing their products evolve and improve.
For me personally, I'll be returning the EasyTouch RV to MicroAir. Even if I could keep it for free, I still wouldn't. Our DIY smart thermostat's integration with Home Assistant is too valuable to lose - giving us not only remote control, but tight integration with the rest of our home automation system helping to make our RV more comfortable, more efficient and more secure.