The RV industry is not generally renowned for quality and innovation. Sadly, far too many RV manufacturers are more focused on cutting costs to deliver the cheapest possible RV, rather than delivering value to customers.
But this week at the 2022 Tampa RV Supershow, we stumbled upon Ember RV and knew straightaway that something was different.
Disclaimer: We are not affiliated with Ember RV in any way whatsoever, and all opinions in this article are entirely our own.
I must confess I have something of a soft-spot for small, rugged RVs - a little larger than the true off-road teardrops (which are incredible, but another class unto themselves), but better built than the usual "rolling white box".
Unfortunately, it's all too common to find that an RV that looks rugged from the outside, isn't quite what it seems beneath the surface - poorly thought out design, inadequate non-functional specifications, and more attention to aesthetics than true build quality.
So you'll forgive me for being a little cynical when I first saw Ember RV. In fact, we walked past their booth at the 2022 RV Supershow in Tampa several times before Diana persuaded me to stop and check them out. But I'm so glad we did!
Ember RV
There were a couple of people sitting at a table near the front, a short distance from an information sign, and surrounded by half a dozen or so of their travel trailers. We headed straight for the sign to check out what they were claiming set them apart from the competition.
Reading through, it quickly became apparent that this was something different. As I read it, all I could think was "people at this company actually own and use RVs themselves!" - a rarer prospect than you might want to believe.
Their sign highlighted a number of innovative and, more importantly, valuable design features including independent suspension, more robust stabilizer jacks, and an integrated manual parking brake - all things which, ironically, I have looked at adding to our trailer over the years but have struggled to find suitable parts to make it work.
As we began to look around, we were approached by one of their team, who proceeded to show us around several of the RVs they had on display. It quickly became apparent that this is a company that was intent on doing something different - their claims weren't just superficial.
Models
Ember RV makes a series of small, rugged travel trailers ranging in size a little under 13ft long to about 23ft:
| Model | Dry Weight (lbs) | GVWR (lbs) | Length |
| --- | --- | --- | --- |
| Overland Micro ROL | 2,020 | 3,495 | 12'10" |
| Overland Micro ROK | 2,215 | 3,495 | 12'10" |
| Overland 170MRB | 4,180 | 5,460 | 20'6" |
| Overland 171FB | 4,165 | 5,440 | 20'6" |
| Overland 190MDB | 4,385 | 5,485 | 22'6" |
| Overland 191MDB | 4,670 | 5,550 | 22'6" |
Exterior & Construction
The outside of the Ember RVs is a modern, rugged aesthetic, but with clear attention to detail. The composite walls and roof are made of Azdel, all sitting on top of a rugged steel chassis.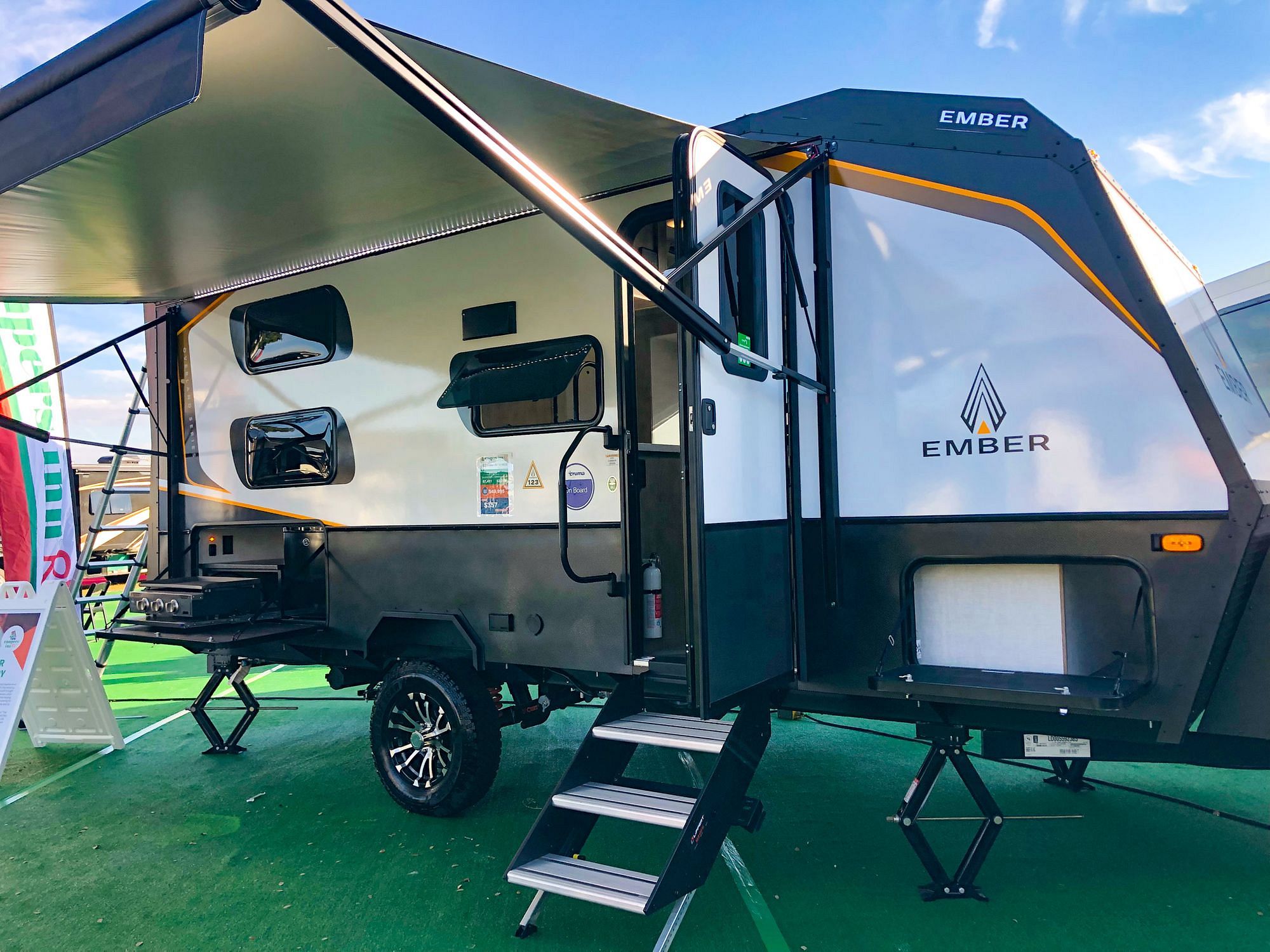 All the panel joints had been covered with aluminum plate for additional strength and weather protection. The dual-shock independent suspension gives significantly more ground clearance than conventional axles, not to mention a smoother ride across rough terrain.
European-style acrylic windows not only maximize light and open wide for improved airflow, but also provide thermal (and sound) insulation, especially with the addition of the foil-backed thermal blinds.
Propane tanks were securely enclosed on the front of the trailers, not beneath the cheap-looking plastic cover that's so familiar to many travel trailer owners, but rather in a protective metal enclosure.
Interior Details
Stepping inside the 191MDB, yet more surprises were in store. The floor is a TransCore composite material, the same as you'll find in modern Airstreams.
Under the bed were four Battle Born lithium batteries, installed with what appeared to be high quality 4/0 copper wire - a very familiar sight to us!
Heating and hot water are provided by a Truma Combi eco plus - a dual fuel (gas or electricity) combination water heater and furnace, while a 13.5k BTU roof-mounted AC unit provides cooling - if the extensive cross-breeze through the windows isn't enough.
While the layouts we saw were largely bunk models and not what we would personally choose, it was clear how much thought had gone into each one. Small details like making use of unused space above the dinette window for storage, or not hiding a window behind the Murphy bed (since when the Murphy bed is down, it's probably dark outside anyway) showed it was well thought out.
Ember RV Team
So who is Ember RV - where did they come from?
Over the past 18 months during the pandemic, demand for RVs has surged, and many manufacturers have turned their focus to maximizing production - sadly often at the expense of innovation. It is in this void that Ember RV was born.
Ember RV was founded by Ashley Bontrager, granddaughter of the founders of Jayco. In an industry dominated by middle-aged men, it's refreshing to see a young woman at the helm of a company with the potential to disrupt the industry - she is the founder, CEO and President of Ember RV.
Alongside Ashley is co-founder Chris Barth, founder and COO, who as we'd find out later, is integral to the product design.
Remember those two people sitting at the table I mentioned earlier? It turns out that was Ashley and Chris, so we couldn't resist the opportunity to meet them.
We ended up in a lengthy discussion with Chris about the RV he dreams of building. In particular, it was fascinating to learn how supply chain challenges during the pandemic forced them to innovate and to find new products - often far superior to the industry norms.
But perhaps the biggest, and most refreshing, revelation is that Ember RV isn't focusing on price - they're focusing on value. This is something which, when were were shopping for our own travel trailer back in 2018, we really struggled with.
Over the years of working with various companies across the RV industry, we have learned a lot about how it works, and the reality is that many RV manufacturers are always seeking the cheapest option in a bid to drive down the final price. By contrast, Ember RV is shaking up this concept - demanding that the components they source are well-built, durable and fit-for-purpose, with price a secondary consideration.
As a result, these aren't going to be the cheapest RVs around, but that's exactly the point. They're trying to be a better RV - in fact, Chris shared with us a fun anecdote that he had originally suggested calling the company Better RV as a reflection of their vision, and if you look on their website you'll see their goal is: "Building a better RV by building a better RV company".
Summary
What Ember RV is doing is so refreshing that of all the things we've seen at this year's RV Supershow in Tampa, FL, this was the one thing that stood out and I wanted to share.
I also had a chance to chat with Marc from RV Love and asked if they had heard of Ember RV before. It turns out that the Ember RV Overland Micro Series ROK was a finalist in the 2022 RV of the Year Awards that they presented!
We're not affiliated with Ember RV, and we're not even in the market for a new RV at the moment. But Ember RV are doing something special, interesting and long overdue, and to me that's incredibly exciting.
Their lineup of RVs is going to be for everyone, but if you're looking for a rugged, well-built travel trailer for some adventure camping, then I'd highly recommend including Ember RV on your list of options.