Typically, prospective full-time RVers consider 3 states in which to domicile:
The Escapees RV Club website has some great information about domicile, and choosing a state is outside the scope of this article. Regardless, we chose to become Texans for the following reasons:
It's the state we'd most likely consider living in after we've finished traveling
Central location in the US that's easiest for us to return to / visit when passing
Support for using a mailbox as your permanent address
We largely followed the Escapees guide for setting up domicile in Texas, but with a few tweaks of our own. We also enjoyed reading and learned a lot from the excellent post by We're the Russos on Becoming Texans via Escapees RV Club - definitely worth a read.
The process we followed is:
Establish a mailing address in Texas
Move vehicle insurance to the Texas address
Have the vehicles inspected
Transfer vehicle titles & registration to Texas
Apply for a Texas Drivers License
Request a Texas Residency Affidavit
Apply for mail scanning
Notify California DMV of new address
Update address everywhere
Apply for a library card
This article is intended as a recount of what we did, not a tutorial. The decision for which state to choose for domicile, and how to set this up, is a very personal decision - we recommend doing as we did and read through the fantastic Escapees articles linked above to help you make the decision and plan your own approach.
Establish a mailing address in Texas
This was an easy decision for us. Since moving to our apartment a few months ago, we have been using Traveling Mailbox as our mailing address for everything possible - we are absolute converts to the benefits of having mail sent to a virtual mailbox rather than your physical address.
Although we've been really happy with Traveling Mailbox, we decided to move over to the Escapees Mail Service since we felt it would be easier to have everything managed through Escapees. We chose their Category B option for $115 per year since it allows us to add on the scanning service - a feature we loved with Traveling Mailbox. When you first set up there is a $50 postage deposit and a $50 enrollment fee, bringing the first year total to $215.
We registered for this about 10 days before moving to Texas so we would have our new address for setting up USPS mail forwarding. Since we were already Escapees members, the process was simple - we applied on the Escapees website and they emailed us some forms to fill in. One form in particular, Form 1583, is an official USPS form which needs notarizing - we were able to do this quickly (and for free) at our bank, Chase. We scanned the forms and sent them back, then mailed the originals to Escapees in Texas. A few days later we had our address - this address is what we'll provide to government agencies, banks, insurance companies, etc.
Move vehicle insurance to Texas
We had arrived at the Escapees Rainbow's End campground on Saturday afternoon. Our goal was to get the domicile situation sorted as quickly as possible the following week.
On Monday morning at 6:25am, I called Progressive to take out an insurance policy on the truck and trailer. We chose Progressive as we'd heard positive reviews from other RVers, and they offer insurance for full-time RVers too. It took just under an hour to get everything set up, with a new insurance policy for both vehicles at our new Texas address.
I took a quick stroll down to the Escapees HQ on the campground at 8am when they opened, and they kindly offered to print the necessary pages for us once I emailed them through.
Have the vehicles inspected
In Texas, state law requires that all vehicles undergo a regular inspection. Since our vehicles were new into the state, we had to have them inspected before we could transfer registration and titles into Texas.
At 9am, we took our truck and trailer down to Kyle Thompson's Trailer Repair & Maintenance, just a couple miles down the road from the campground. The process is very straightforward - your vehicles (with relevant paperwork) are inspected to make sure all the lights and safety equipment works, then after paying a $7 fee per vehicle you're given a Vehicle Inspection Report. This document is needed to transfer registration, but must also be kept in the vehicle at all times.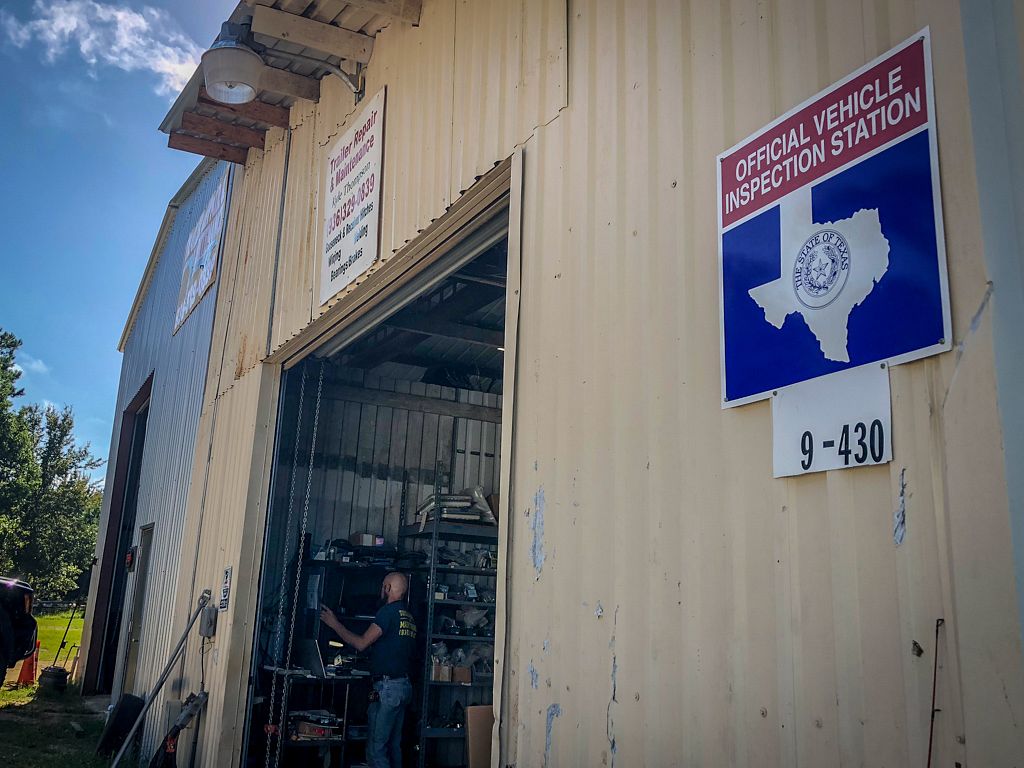 The state system was having some issues that morning which also affected other inspection points in the area so it took us a little while to get it resolved. We headed back to the campground as we didn't know how long the system would be down, but it came back up shortly and we were all done by 10:30am - now with two inspection reports, one for the truck and one for the trailer.
Transfer vehicle titles & registration to Texas
After dropping off the trailer, we drove into Livingston to go to the Polk County Tax Office. There is ample parking on the street outside, or a parking lot around the back. Inside, we spoke with a clerk and explained what we were trying to do - clearly familiar with the process, she handed us some forms and highlighted the fields to fill in.
The clerk needed to a photo of each vehicle, as well as a photo of the yellow & white stickers on the outside with the weights on them - I had these on my phone and was able to email them through. We also had to present the Vehicle Inspection Reports for both vehicles, our California Drivers Licenses and proof of insurance - which also served as proof of address.
For each vehicle you need to provide the empty weight, GVWR and cargo (payload) capacity. Our stickers didn't list the empty weight, so we simply subtracted the cargo capacity from the GVWR to calculate it. We also needed to know the exact length and width of the trailer - thanks, Internet!
We presented the completed forms, and in return for $392.50, we had registered both vehicles in Texas, applied for a Texas title on the trailer (since it was no additional cost), and had Texas plates for both truck and trailer in hand - all by 11:40am.
Apply for a Texas Drivers License
Drivers License applications are managed by the Texas Department for Public Safety, located a few blocks up the road from the Polk County Tax Office - and right next to the County Jail!
Here we would be surrendering our California Drivers Licenses and obtaining new, Texas Drivers Licenses - once we had these we would be considering ourselves Texans!
We'd heard elsewhere that the office is closed for lunch from 12-1:30pm, so turning up at 11:50am we were a little concerned - we later found out that this isn't the case and they always try to have 2 people working at a time, including a lunch rotation. We stood in line outside in the hot midday sun for about 20 minutes before being allowed inside - they operate a strict 10-person occupancy policy for the building. After registering on a check-in display, we were given a ticket number and a form to fill in whilst we waited.
Another 20 minute or so wait and we were seen by a clerk. She was very friendly and made the whole process very simple - again, clearly we were not the first people from Escapees that she has helped through this! We surrendered our California Drivers Licenses, provided proof of identity using our original Social Security Cards and Permanent Resident Cards, and proof of address using our new Vehicle Registration documents.
Since we were moving from California, we didn't have to take a written or driving test, but did have to do an eye exam - not a problem for either of us. We had our photos taken, and once we had each paid the $40 fee (it's $25 for a normal car license, and an extra $15 since we each have a motorcycle endorsement too), we were issued a temporary Drivers License. Our "real" Drivers Licenses would come through the mail in the next 2 weeks or so.
Woohoo!
To celebrate our new residency, we had lunch at the Blue Duck Kitchen & Bar, just next door to the Tax Office. The food was OK (cheeseburger for me, chicken sandwich for Diana), but the WiFi here was great (57Mbps download and upload) - we spent lunch catching up on YouTube downloads!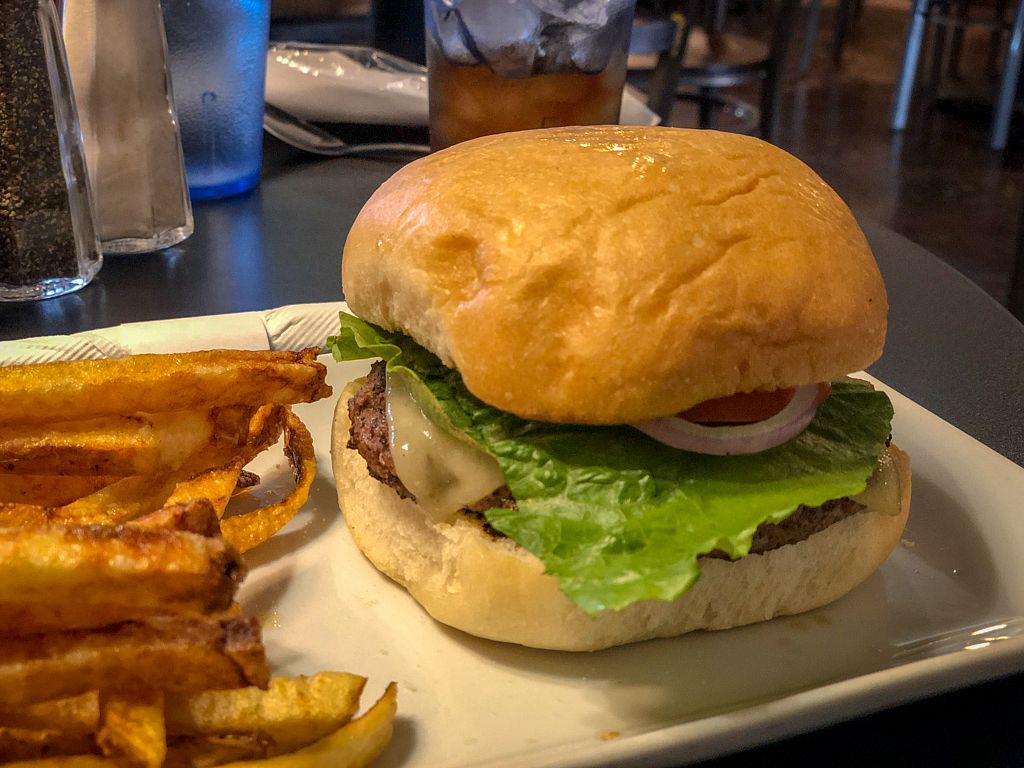 Afterwards, we went up to the Livingston Municipal Library but it was closed for a couple hours for a staff assembly meeting - signing up here wasn't urgent so we just postponed this for another day.
Request a Texas Residency Affidavit
To be honest, we had totally misunderstood what this was. We were under the impression that this is some document we register with a court to confirm our residency, but it's not. Instead, it's simply a document that helps you to confirm your residency if requested when applying for a Drivers License.
This would explain the mild confusion when we went into Escapees HQ and asked for one, despite having already successfully applied for our Texas Drivers Licenses. Regardless, they printed and signed the documents along with us - all that's required - so we've each added these to our document catalog in case we ever need further proof of our Texas residency.
Apply for mail scanning
Although we requested mail scanning when we originally set up our Escapees Mail Service, they advised we wait a couple of weeks before doing so - so we did.
One of our favorite features of Traveling Mailbox is that they scan the envelope of all new mail you receive and give you a choice - open and scan it, forward it, shred it. The Escapees Mail Service works a similar way, so we were keen to enable it. Doing so was simple - you pay up front for however many months we wanted to enable this service, at a rate of $10 per month. To keep things simple, we elected to enable it through the end of the year, which cost $48.06.
Notify California DMV of new address
Exactly the same as when you move address normally, you need to notify the DMV - California mandates you do this within 10 days. We followed the instructions on the CA DMV website, and filled in a Change of Address (DMV 14) form for each of us.
I'm sure we could have asked nicely at Escapees HQ to have them print it for us, but we had several other documents we wanted to print, copy and laminate (yes, we're those crazy organized people), so we had it printed at PostNet in Livingston - there is no FedEx or UPS office in Livingston, but PostNet offers some of those services too.
Update address everywhere
This step is neither glamorous or fun, but it is important. Now we had our new address, we had to sever all ties with California - in other words, change addresses. We each compiled a list of all the government agencies, companies, groups, associations and people we could think of that would have our address, then worked our way through this list, updating our addresses online.
There were a few gotchas here, but nothing major. Many sites like to recommend a USPS-friendly version of the Escapees mailbox address, but would change the format or omit our personal mailbox number - we confirmed the best format with Escapees and used that. Only Bank of America refused to accept the complete address with mailbox number on their website, so calling them and confirming over the phone is on our list of things to do.
Several hours later, we were done - phew! As a bonus, we use Asana to track all our to-do items, so we now have a list of companies that have our address should we ever need to go through this again - an important consideration since USPS forwarding does not let you forward mail from the Escapees Mail Service.
Apply for a library card
On Tuesday we completed our last step to become residents of Livingston, TX - we signed up at the Livingston Municipal Library. Dodging a huge, unexpected afternoon thunderstorm, we took our temporary Texas Drivers Licenses to the library and signed up. It cost $5 each since our address at Escapees is outside the city boundary (albeit still inside Polk County), but took just a few minutes to complete.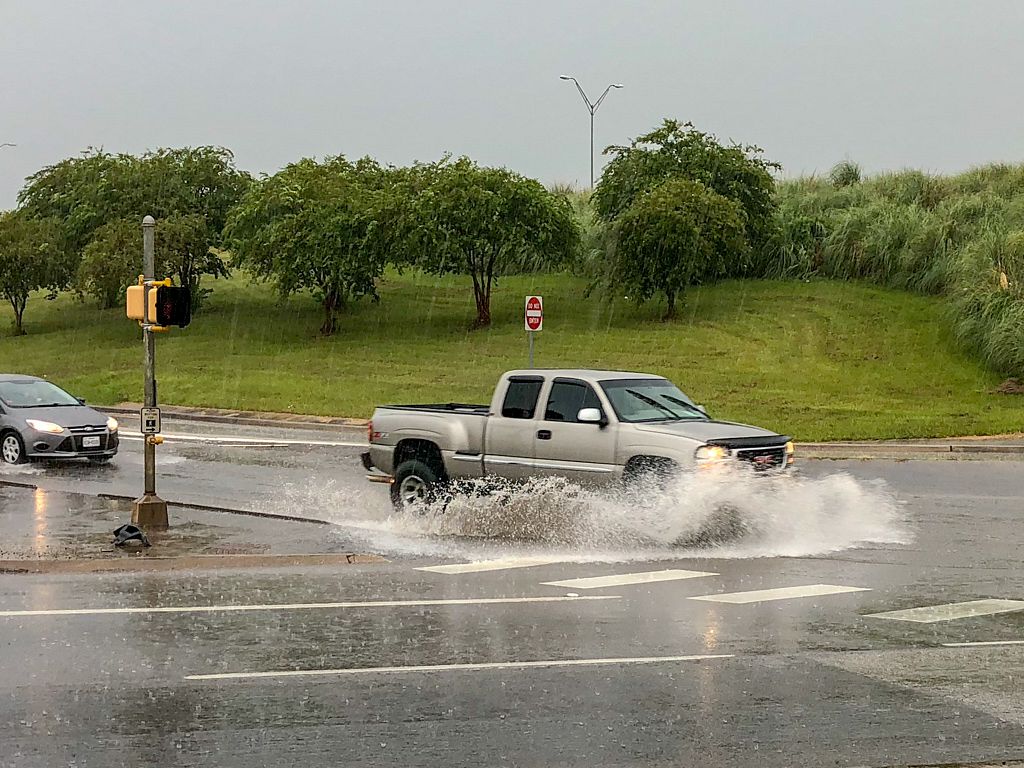 We were given a receipt with our library card number on it so we could begin using the library facilities (including renting Kindle-compatible eBooks using the Libby app) immediately, and were told to expect our library cards in the mail within a few days.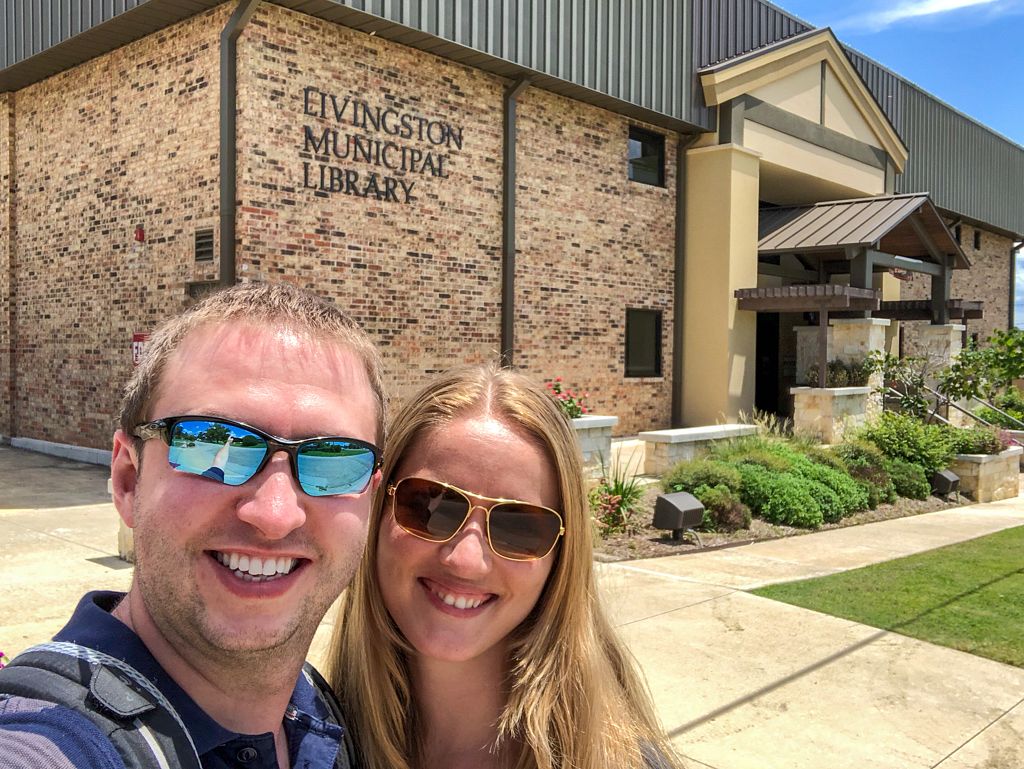 Summary
Overall, the process to establish Texas domicile was much less stressful than we had expected it to be based on what we had heard and read. With the exception of the Vehicle Inspection systems being down, everything went smoothly and we were essentially done by 1pm on our first business day in Texas - less than 7 hours from start to finish.
The total cost to set up everything above in Texas was $759.56, including 12-months of the Escapees Mail Service (with scanning through to the end of the year), but excluding the cost of our auto and RV insurance.