Remodel Update
It's been 10 days since we started remodeling our RV. You might wonder how it can possibly take 10 days (and we're still not finished) to remodel a 180sqft room - an area smaller than the average master bedroom in a house.
Fair question.
Our RV is a little more complex than a bedroom. Among other things, we have 6 windows, a kitchen, a bathroom, a sliding section and an immovable bed. We've also been living in the RV during the remodel - except for 3 nights we didn't sleep in it while the primer and paint were fresh on the walls. That means we've been constantly shuffling things around - and we have nowhere to sit!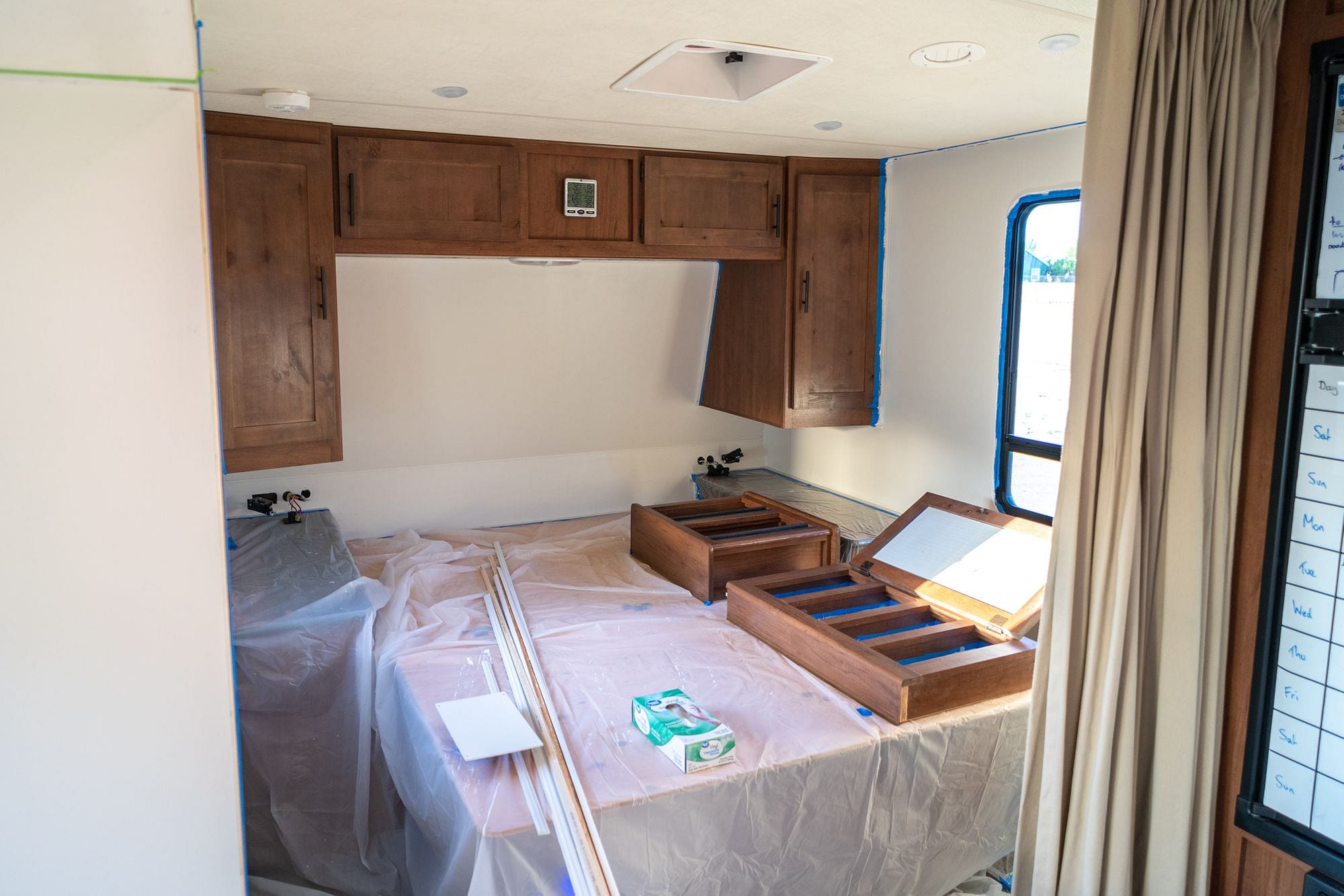 To paint an RV, it really helps if you're an ambidextrous contortionist. Neither of us are.... For several days, using the bathroom meant fighting with painting sheets, and our kitchen was our workstation (Domino's Pizza for lunch and grilling outside for dinner!). Oh, and it hit 105°F on two of the days so our AC was working overtime!
We've been taking our time, not wanting to rush - trying to do a thorough job. A job worth doing is a job worth doing right, right? Diana has never redecorated in a house before, and it's been a few years since I last did it!
Regardless, we're really pleased with the progress we've made so far. Here's a quick rundown of what's changed.
Overall
Throughout the trailer, we painted all the walls - we chose Confident White, based on feedback from our last blog post and on social media!
The color looks fantastic - it doesn't look as clinical as pure white can sometimes appear, doesn't make the ceiling look yellowy, and actually has a very homey feel to it.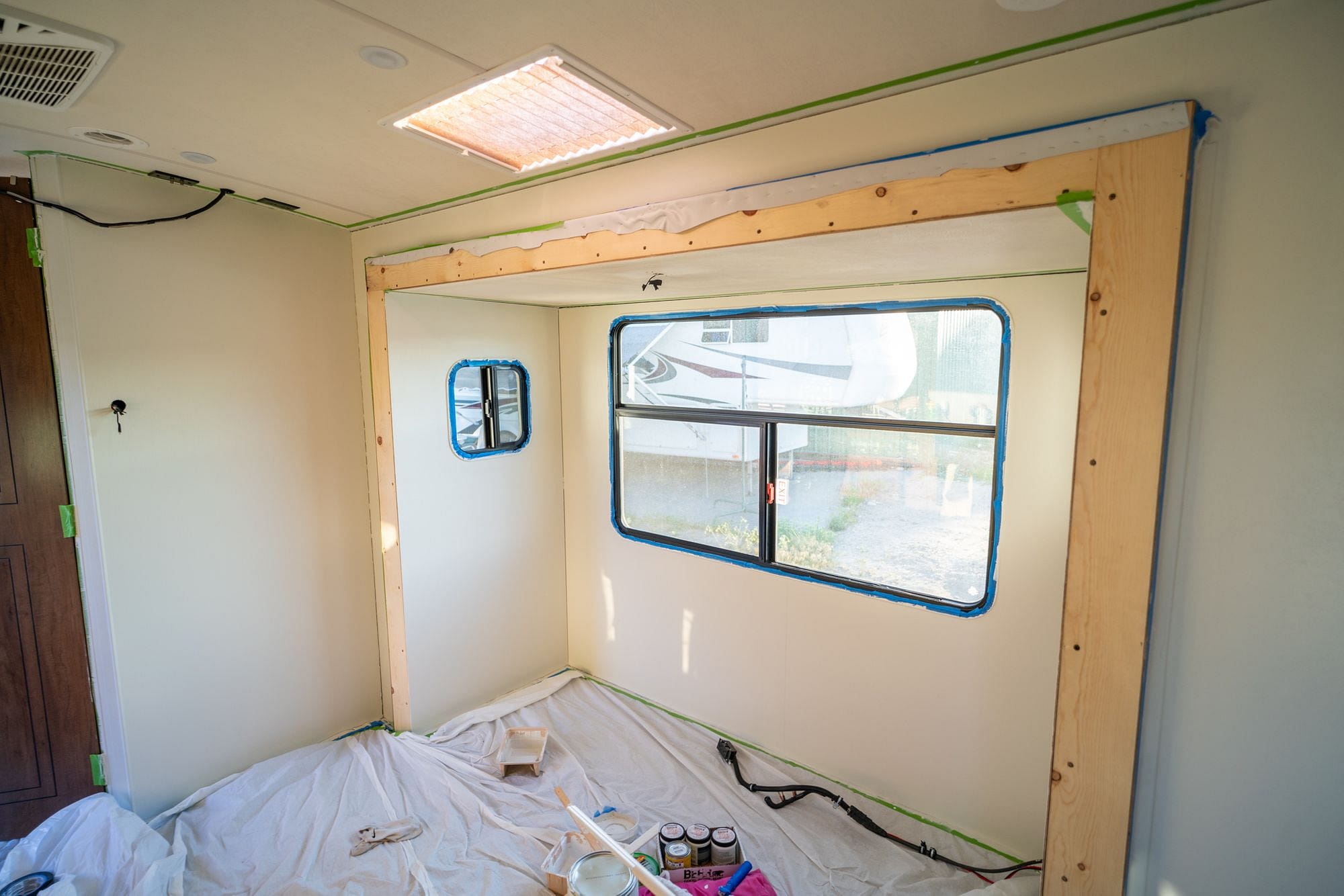 We also switched out all the cabinet and drawer handles for new ones that wouldn't catch on my cargo shorts at every possible opportunity! Otherwise, we didn't touch the cabinets - it would have been a lot of work to paint them and we quite like the appearance of the wood.
Most of our new blinds (all except the kitchen) have arrived, and look great! They were dead easy to install.
Bathroom
As well as painting the walls, we installed a peel-and-stick backsplash which took a long time but we're really pleased with the end result. We also installed a new faucet.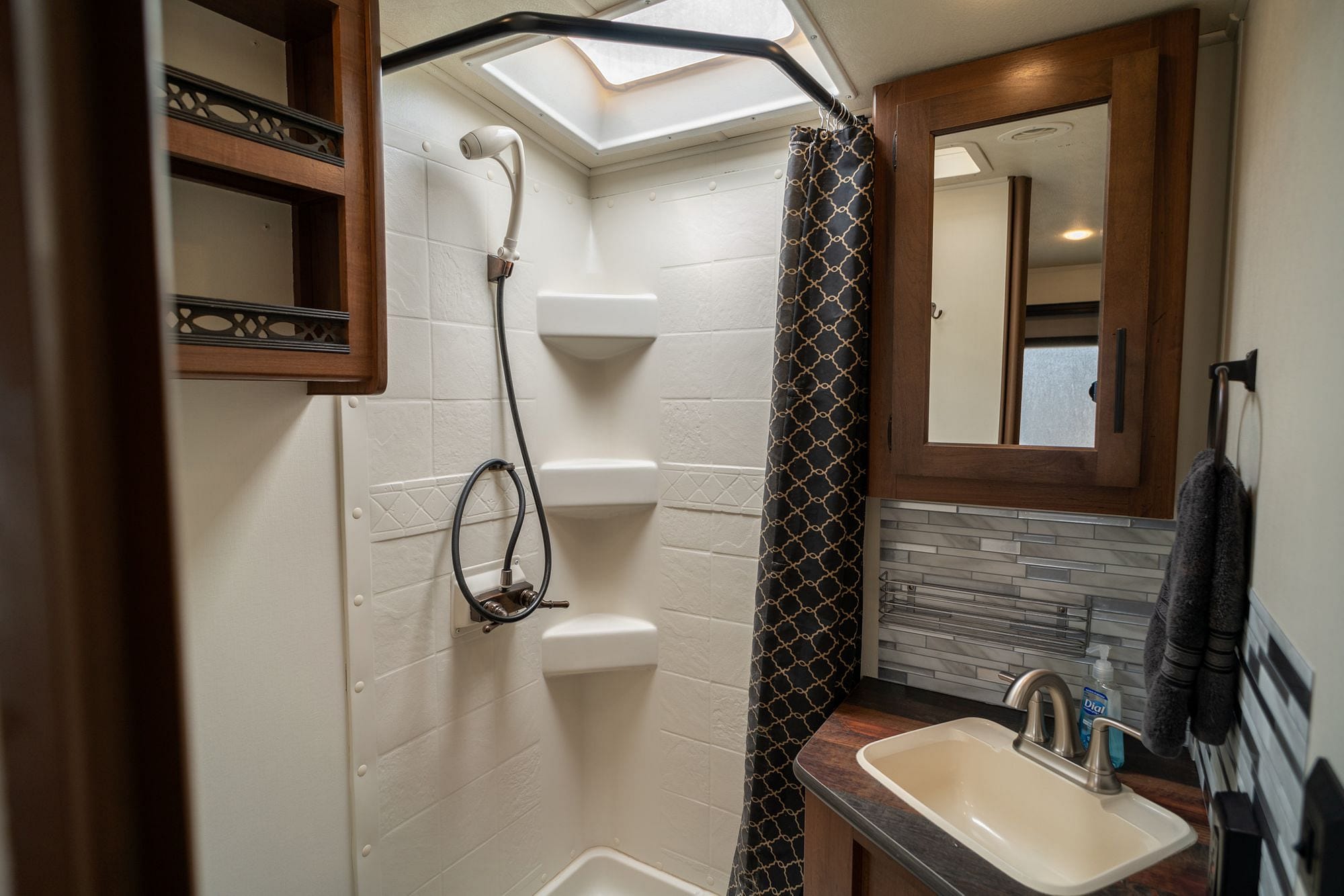 Kitchen
The backsplash in the kitchen took us 8 hours to install! We're certainly no experts, but it was fiddly working around the window, outlets and stove hood. Plus, nothing was exactly 90° which made it a little trickier in places!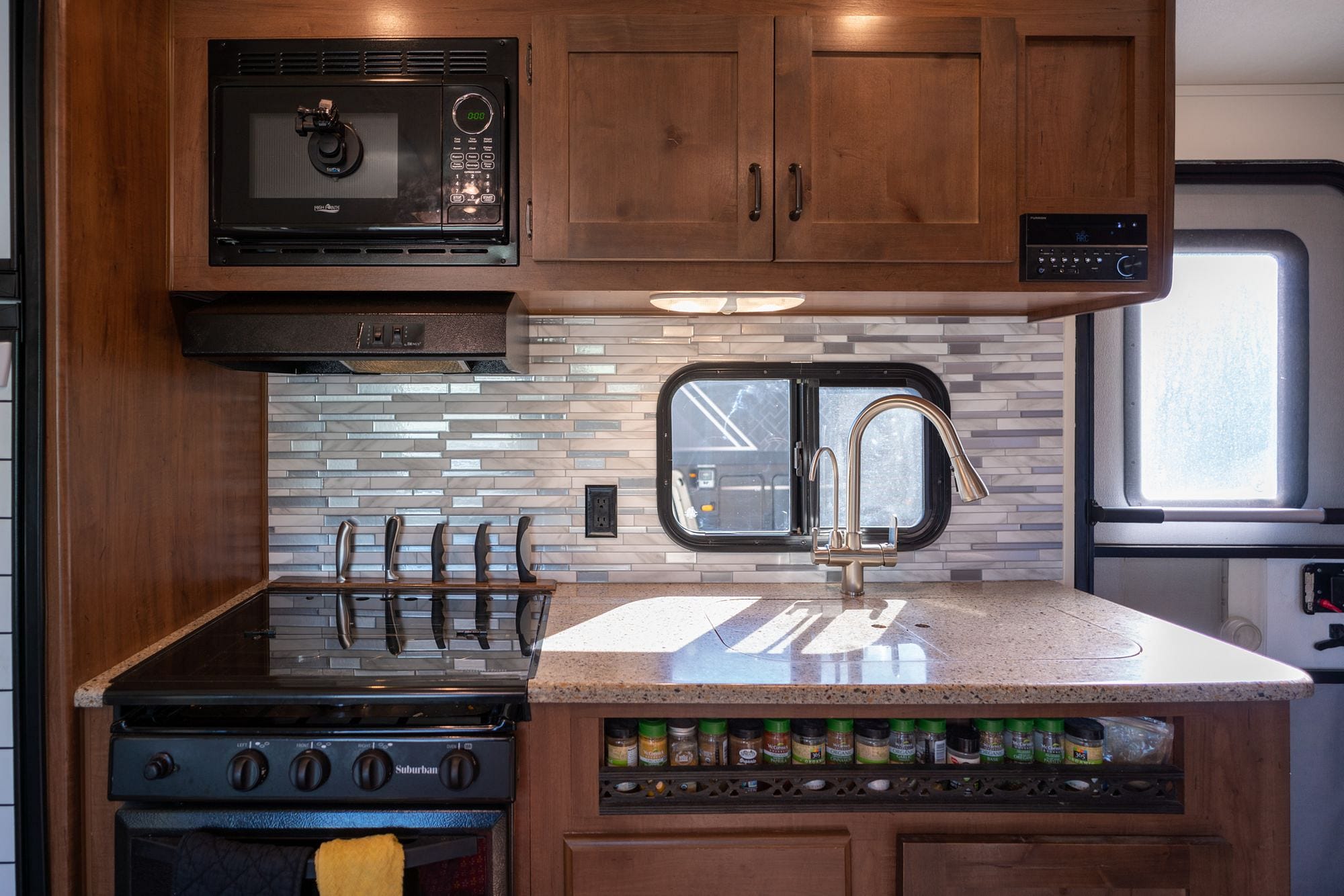 We still need to caulk around the backsplash (same in the bathroom) and put the kitchen blind up - when it arrives!
Slide
In the slide, we tore out the old dinette table and bench seats. We also removed the slide surround and have cut and painted new trim to go in - hopefully that'll be in later today.
But the big project we're currently working on is a new desk and cabinets for the slide...
Ergonomic Desk
One of the reasons we bought our Outdoors RV 21RBS was because of the large dinette in the slide. It was a great area for us both to work - plenty of space for us to have two laptops open.
But in the nearly 2 years we've lived in the RV, we've decided that as much as we like the workspace, the bench seats just weren't working for us. They're too uncomfortable to spend a full day sitting on. However, the bench seats do provide a lot of usable storage space - each has a large drawer and even more storage space behind that.
So our solution was to design and build a custom desk and cabinets - providing ergonomic workspace and at least as much, if not more, storage than we had before.
I spent hours in SketchUp, drawing out precise diagrams of the desk - taking care to ensure it would fit the storage boxes we use. This week, I'm building it, and it's beginning to take shape! I should note that although I've done some basic woodworking before (outside table, hammock stand, etc), I've never done anything like this, so I'm taking it slowly!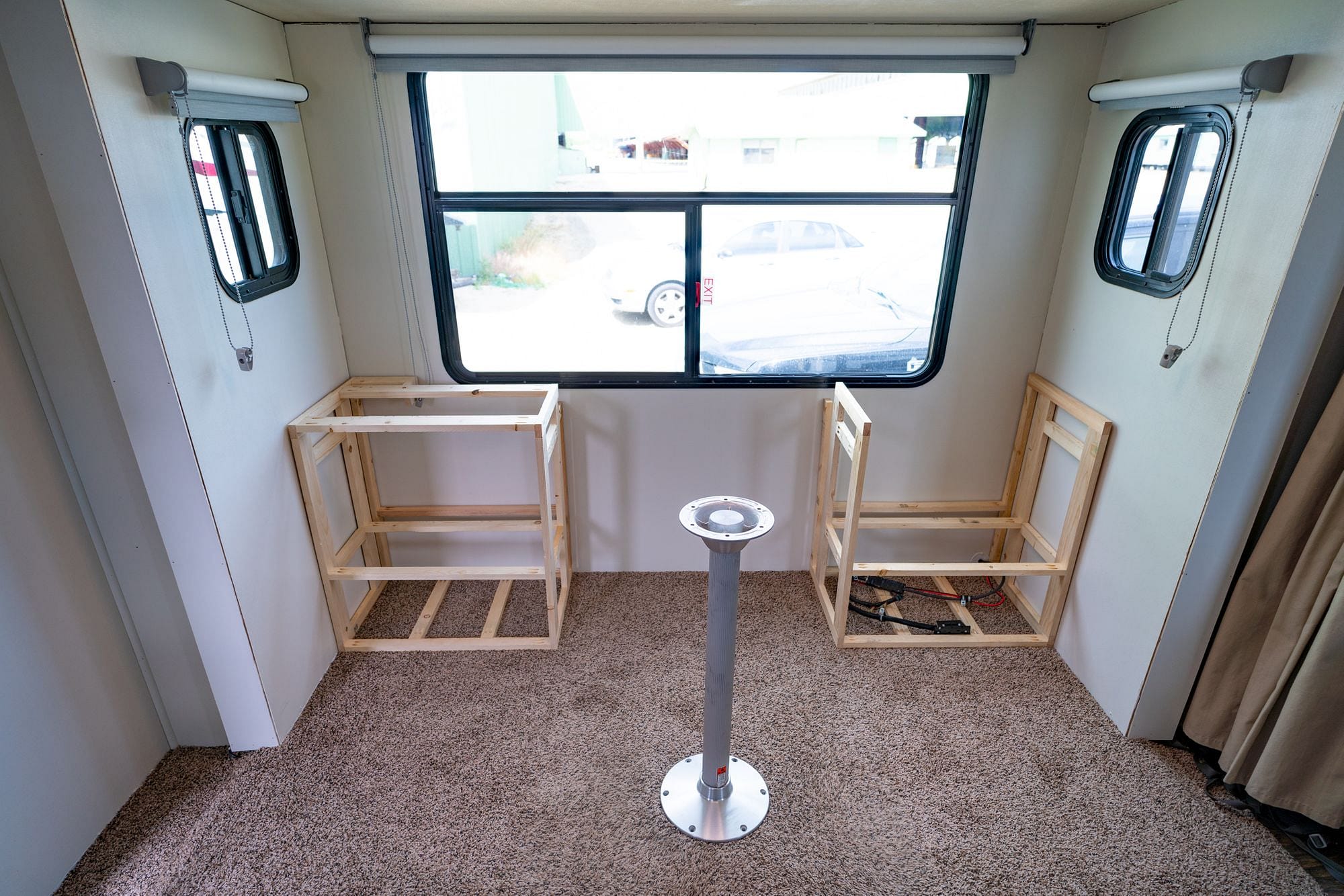 The finished design will have a double-door cabinet and drawer on each side, and an open storage space in the middle for some larger boxes and Diana's yoga mat. On top will be a T-shaped desk, giving us even more space than we had before. And underneath will be plenty of power outlets (both AC and DC) for laptops, chargers, our AeroGarden and more.
I'm hoping it'll be completed within the next week, as we honestly have nowhere to sit inside the RV - other than the floor or bed!
There are also lots of little updates and modifications we're making during the remodel - including some new lights, upgraded ceiling speakers and a few new accessories.
That's all for this week - just a quick update! But once the remodel is complete, we'll be sharing not just the end result, but also the process itself and some of the tips we've picked up along the way!