As an Amazon Associate we earn from qualifying purchases.
Our first task after buying our land was to clear the existing logging trail just enough for us to get our truck onto the land.
But really, what we've been looking forward to is the opportunity to explore the land ourselves - to go and see what secrets we could find!
Hiking the Trails
The existing logging trail leads from the road, up through the property and then forks in multiple directions. In total it's over half a mile of trail - most of it still too narrow to drive down, but perfect for hiking!
We'd already walked most of the trail during the inspection period, but every time we return to the property, something has changed. The first time we visited it was covered in snow, but as winter turned to spring and now summer, the forest is coming alive!
Foliage is blooming everywhere we look. What were once barren, snow-covered trails are now flourishing with ferns and other plants.
We're not exactly horticulturalists, so we downloaded an app called PictureThis. It lets us take a photo of a plant or tree (either a flower, leaf or even the bark) and it'll tell us what we're looking at. Having also spent 3 hours with the forestry consultants, we know roughly what's on the land, and the app agrees. We've found black cherry, sugar maple, yellow birch, white pine, spruce and more!
In addition to plants, we've also seen evidence of animals. We've seen droppings that we think belong to coyote and bear, and we've seen deer first hand running through the trees. We definitely want to get some trail cams installed!
Cutting Logs
In several places, the trail is partially blocked by fallen trees. We'd been climbing over them so far, but now the land is ours and we're armed with a chainsaw, we've been able to clear them.
The logs are large, heavy and often decaying - these aren't useful logs, they just need to be cut and moved.
Our Dewalt cordless chainsaw has been perfect for the task - it's lightweight enough to easily carry on the trails, but packs plenty of power to get the job done. We're wearing all the safety gear (chainsaw chaps, chainsaw gloves and our forestry helmets) to help make sure we only remove limbs from the trees, and not ourselves!
Game of Logging
In terms of safety, chainsaws are one of the most dangerous tools we'll be using on the property, and felling trees is even more dangerous. So far we've been doing our best based on what we've learned from watching dozens of YouTube videos and reading blog posts and operating manuals for our tools.
But is that enough?
When we were walking the land with the forestry consultants, we showed them a stump that remained from a tree we had felled and asked their opinion. Their answer: "shows inexperience".
Ouch.
We have a LOT of trees to clear, and we need to know we can do this safely.
There is an internationally accredited program known as Game of Logging that offers both training and competitions. The term "game" refers not just to the competitive side of the program, but also that you need a winning strategy for safely working with a chainsaw.
Although I have no plans to get into competitive chainsawing, the training is something I'm interested in. I had looked into it before, but their courses in this area were booked out until November!
Prompted by the forestry consultants' comments, I looked again...and I was in luck! A brand new course had appeared, so I'm now enrolled on two days of chainsaw training next week - perfect timing.
According to their website:
Level 1 focuses on introducing the participant to open face felling and the development of techniques to safely use it. Topics covered include personal protective equipment, chainsaw safety features, chainsaw reactive forces, bore cutting, pre-planning the fell, and understanding hinge wood strength.
and:
Level 2 focuses on maximizing chainsaw performance through basic maintenance, carburetor setting, and filing techniques. Limbing and bucking techniques are introduced, spring pole cutting is covered and more felling is practiced.
Sounds perfect for what we need. The course goes on for two more levels, leading into dealing with difficult trees, how to work efficiently, and handling specific situations such as storm cleanup. I'll be keeping an eye out for open spots on those levels too!
Path to the Pond
In addition to hiking existing trails, we've also been blazing new trails of our own! Our property has a pond on it, but accessing that pond from the logging trail is a little tricky. In fact, I think each time we've walked to the pond, we've ended up taking a different route, climbing through brush and over logs.
So last weekend we decided to create a new trail. Nothing fancy - just a simple footpath, marked with flags, that we cleared of logs and obstructions.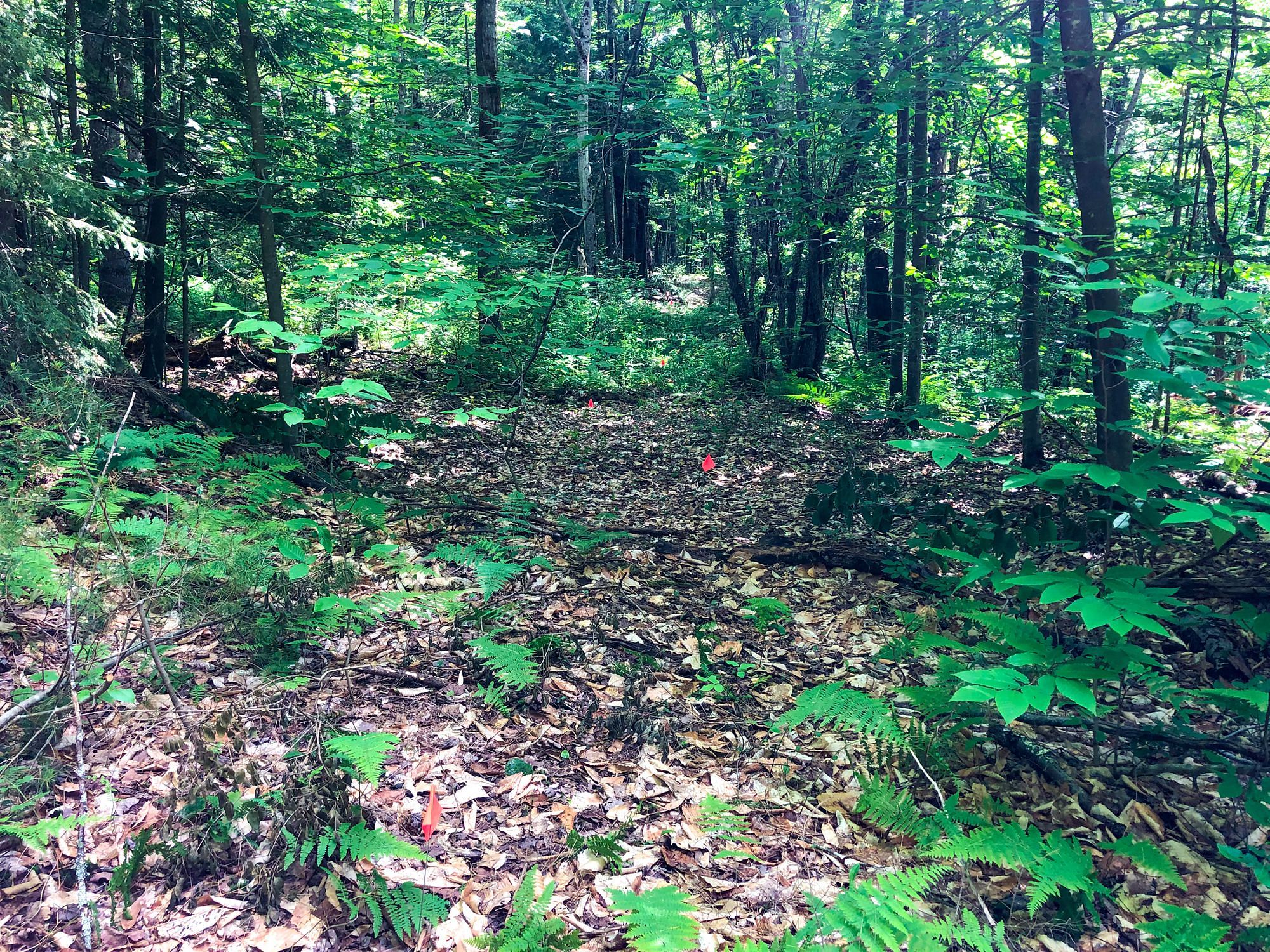 The largest obstacle on the path we chose was a single, large fallen tree. Based on how it had crushed a small tree it had landed upon, we think it had fallen recently - maybe in the last week or so.
The fallen tree was clearly dead before it fell, and had snapped about 9ft off the ground, leaving a long, very straight trunk lying on the ground. Using the chainsaw I was able to remove the limbs and then cut the trunk into two perfectly straight 12ft lengths - about 12" diameter at the fattest end of the bottom log, and still about 9.5" diameter at the thin end of the top log.
But the big question is: what type of tree is it?
Being dead, it has no leaves which makes it a little harder to identify. Based on the bark, and knowing what we have in the forest, we think it's black cherry. What do you think?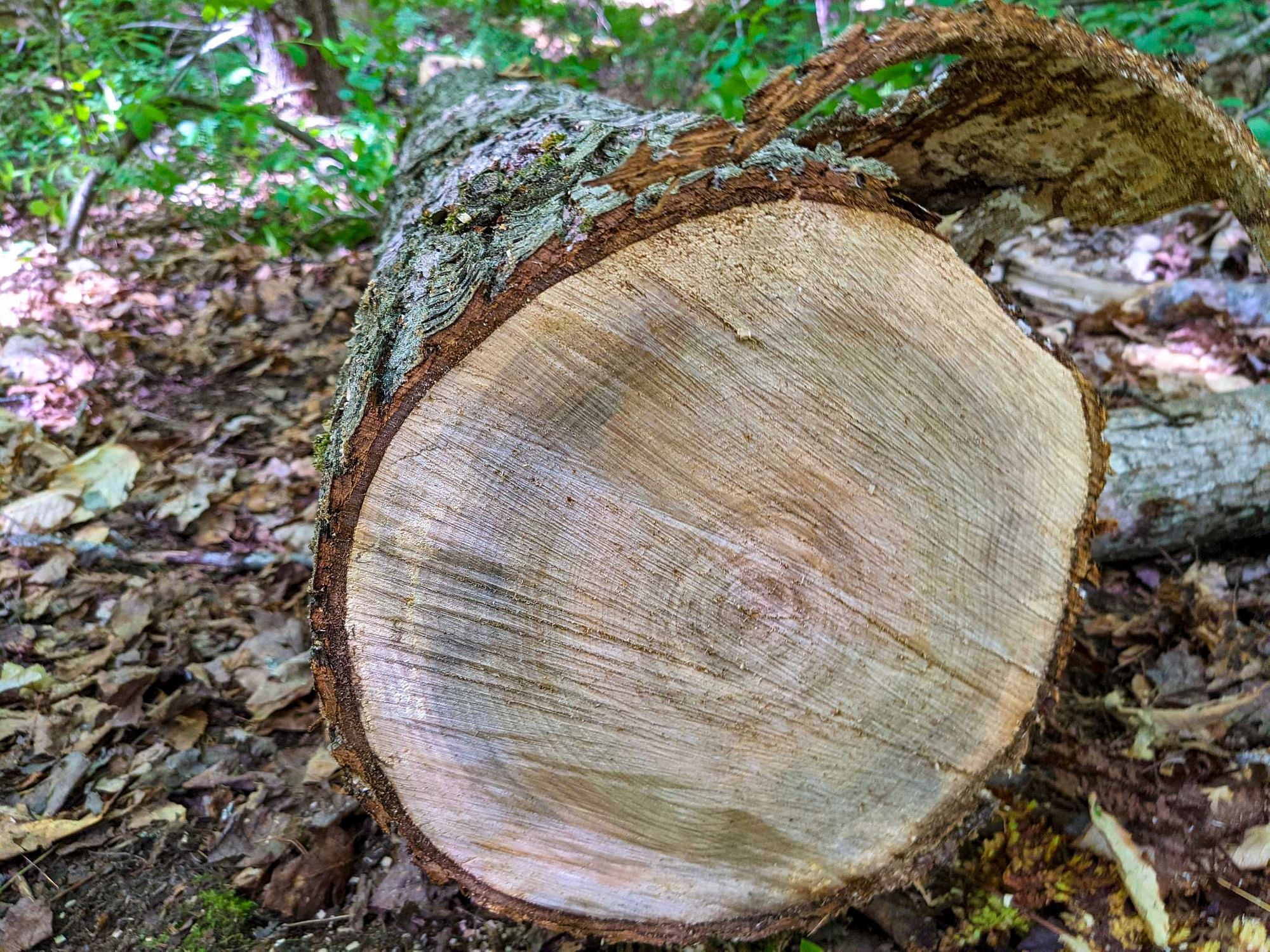 Although the tree was dead, the wood inside seems in good condition. We've raised it off the floor on some logs, and once we have the tractor, we're going to try and drag it out. Given its size, it seems like a good candidate for milling, but if not, we should get some nice firewood out of it!
Coming up
The next couple of weeks are going to be busy!
Next week is my chainsaw training course, and we're also expecting our tractor to be delivered too! Some new chainsaw skills and a tractor will really unlock a lot of things for us on the land.
One project we've identified is to clear a section of land up near where we expect the house site to be. There are a bunch of fallen trees in a nice flat area, so if we can clear that then it gives us a useful space for working.
Speaking of the house site, our architects have been working on the site plan for us, and we're very excited to see that progressing! Meanwhile the forestry consultants are preparing the documents we need to update the forest management plan and remove the necessary acreage for us to build from the current use program.
In short, there's a lot of work going on behind the scenes, and it's very exciting to see all the pieces start to come together!