When I lived in England, I spent over 8 years in and around the North Yorkshire area. It's a beautiful part of England, with several National Parks within easy reach. One of these is the North York Moors National Park, and I was excited for the opportunity to take Diana there when we were back in the UK recently.
Established as a National Park in 1952, the North York Moors covers 554 square miles, and contains one of the largest expanses of heather moorland in the UK. Unlike many of the National Parks in the US, the British National Parks often have towns and villages contained within them - the North York Moors has a population of just under 24,000 people.
I've hiked several different areas within the North York Moors, but there are a few particular spots that I really wanted to take Diana to. In typical fashion for us, with not much time, we had only a few days to explore what we could. So read on for details of our whistle-stop tour around the North York Moors.
For our trip, we decided to use Whitby as our main base - staying all 3 nights in one location. Whitby is a truly stunning seaside town, steeped in history and culture. It's arguably home to some of England's best Fish & Chips, and is centrally positioned for the things we wanted to do.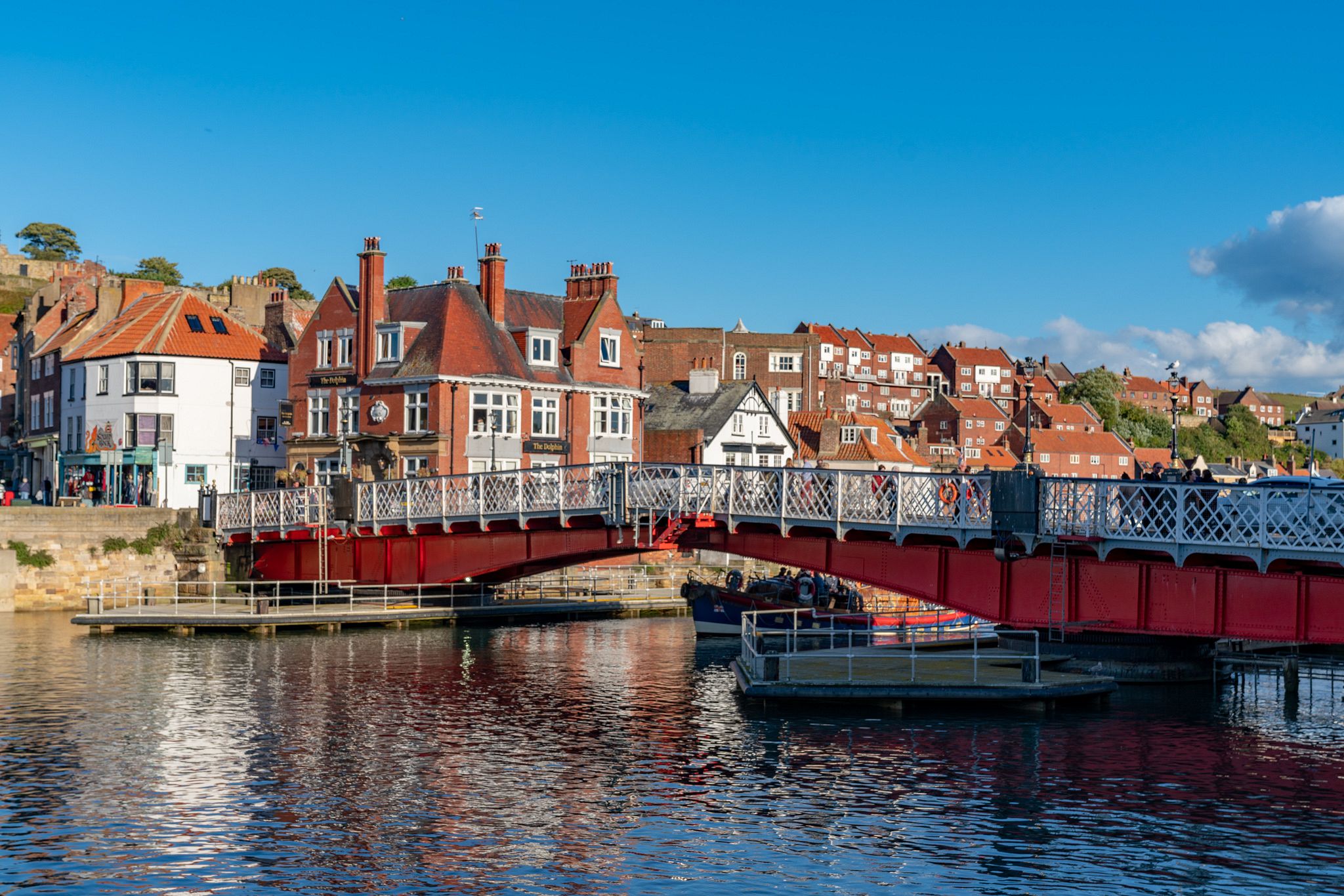 Day 1: Driving to Whitby
We had been staying with my parents the night before, roughly a 2-3 hour drive from Whitby. Although you can get to Whitby by train or bus (which both pass through some wonderful scenery), for our itinerary we needed the car.
Arriving in Whitby in the early evening, we stayed at a small guest house we found on Booking.com just a short 10-minute walk from the main harbor area. We had street parking available with a pass provided by the guest house for just $1.
That evening we took a stroll along the cliffs and down to the harbor where we found a pub to enjoy dinner overlooking the boats in the water.
Adventurous Tip: There are a lot of touristy restaurants in Whitby, but the locals know where the good places are - if you're staying at a guest house then make sure to ask for recommendations.
Day 2: North York Moors Railway
One of the most popular attractions in the North York Moors is the North Yorkshire Moors Railway - an 18-mile long heritage railway that first opened in 1836 and runs between Pickering to Grosmont with an extension onto Whitby. This was top of our list of things to do in Whitby.
We booked our tickets online the night before, and walked down to the main railway station in Whitby to catch the first train of the day. The entire process was very straightforward, and on arriving at the station we collected our tickets and walked down the platform.
The train itself was a steam train, restored and operated by the North York Moors Historical Railway Trust Ltd. Although most of the trains are steam-powered, they do sometimes operate heritage diesel locomotives on the same tracks. These are usually indicated on the timetable, but sometimes they are swapped in at the last minute if necessary.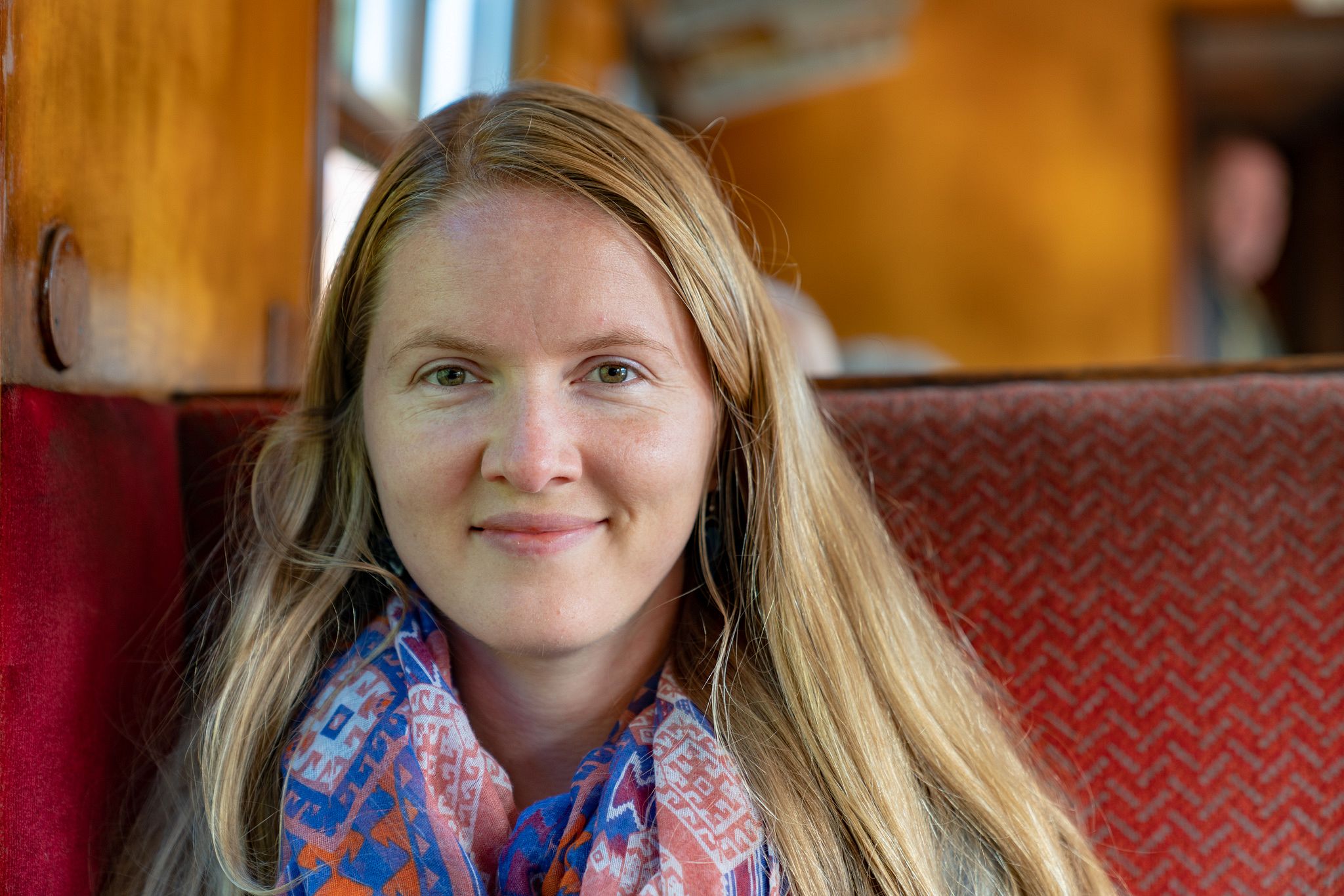 The views from the trains are absolutely stunning as the you weave through the countryside. We rode the train all the way from Whitby to Pickering, taking in the scenery as we went.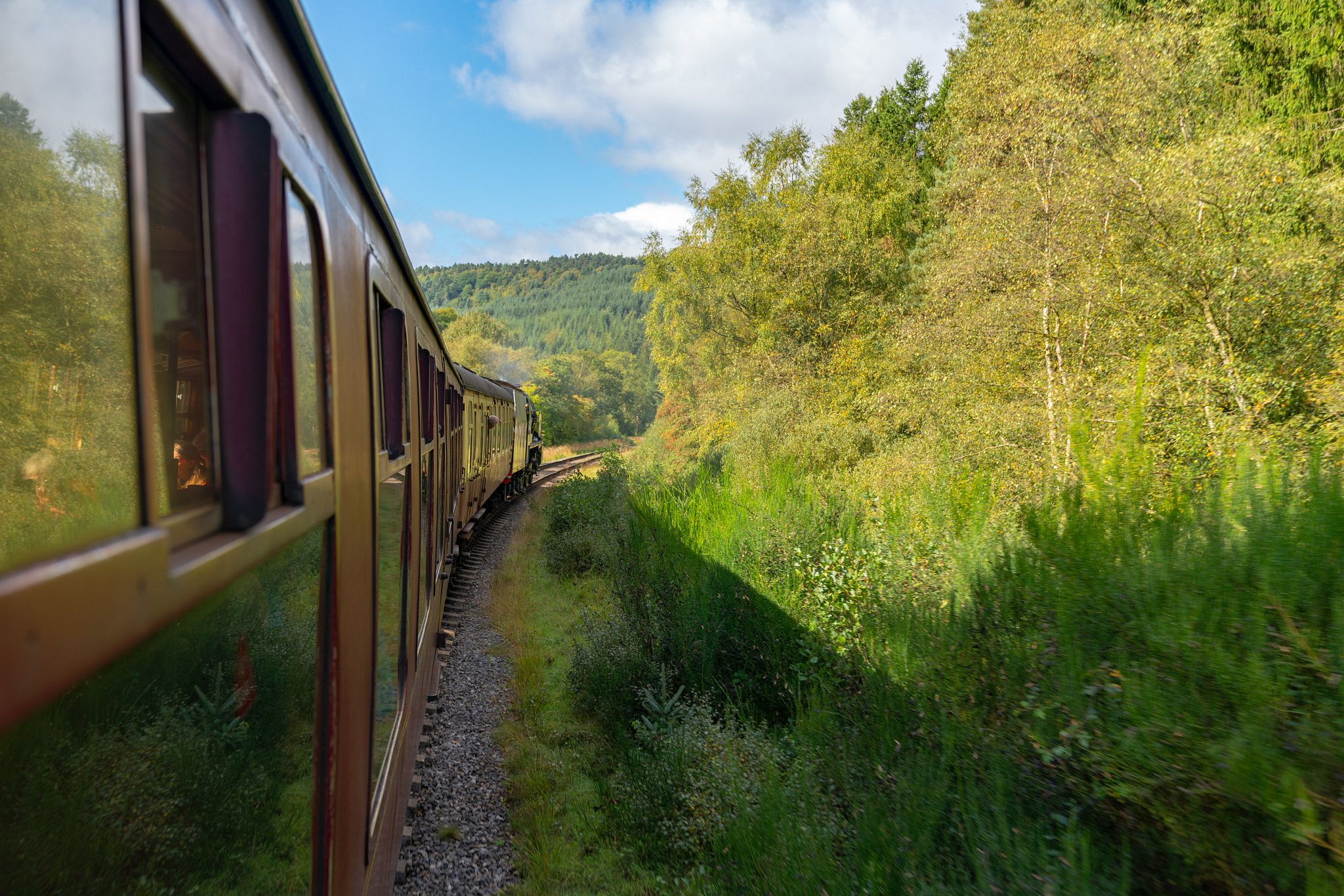 Adventurous Tip: The railway is mostly operated by volunteers, so if you have questions, be sure to ask - most of those working there are keen train enthusiasts who are happy to answer your questions.
At Pickering station we stayed on the train but switched seats to the other side of the carriage to get different views on the way back.
Adventurous Tip: Don't feel you have to stay in your seat - you can get up and walk around if you want. The windows above the doors at the ends of each car open and it's a great spot to take photos from.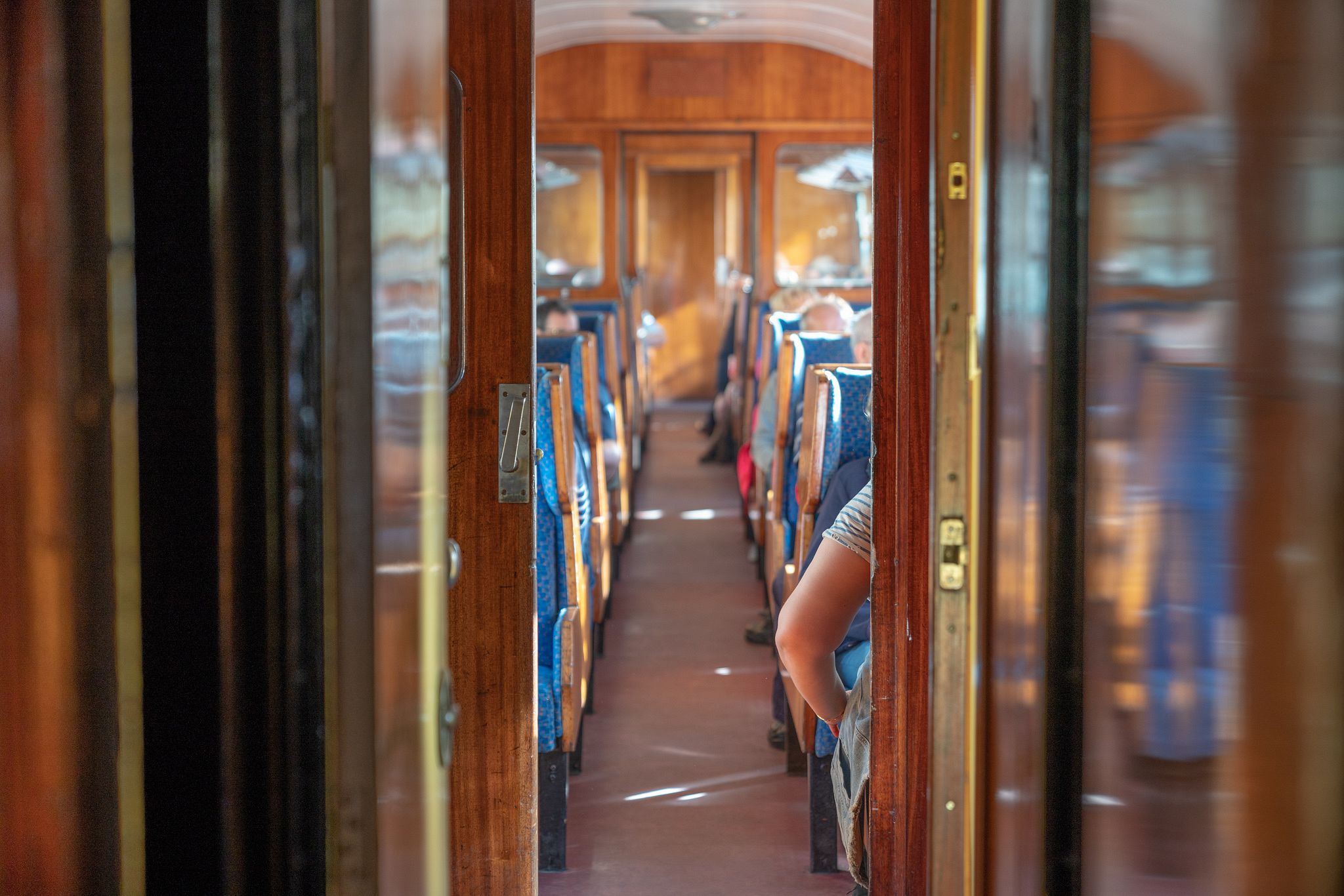 On the way back, we alighted the train at Goathland, a beautiful station almost unchanged since it was built in 1865. More importantly, as self-confessed Harry Potter geeks, Goathland Station was used in the first Harry Potter movie.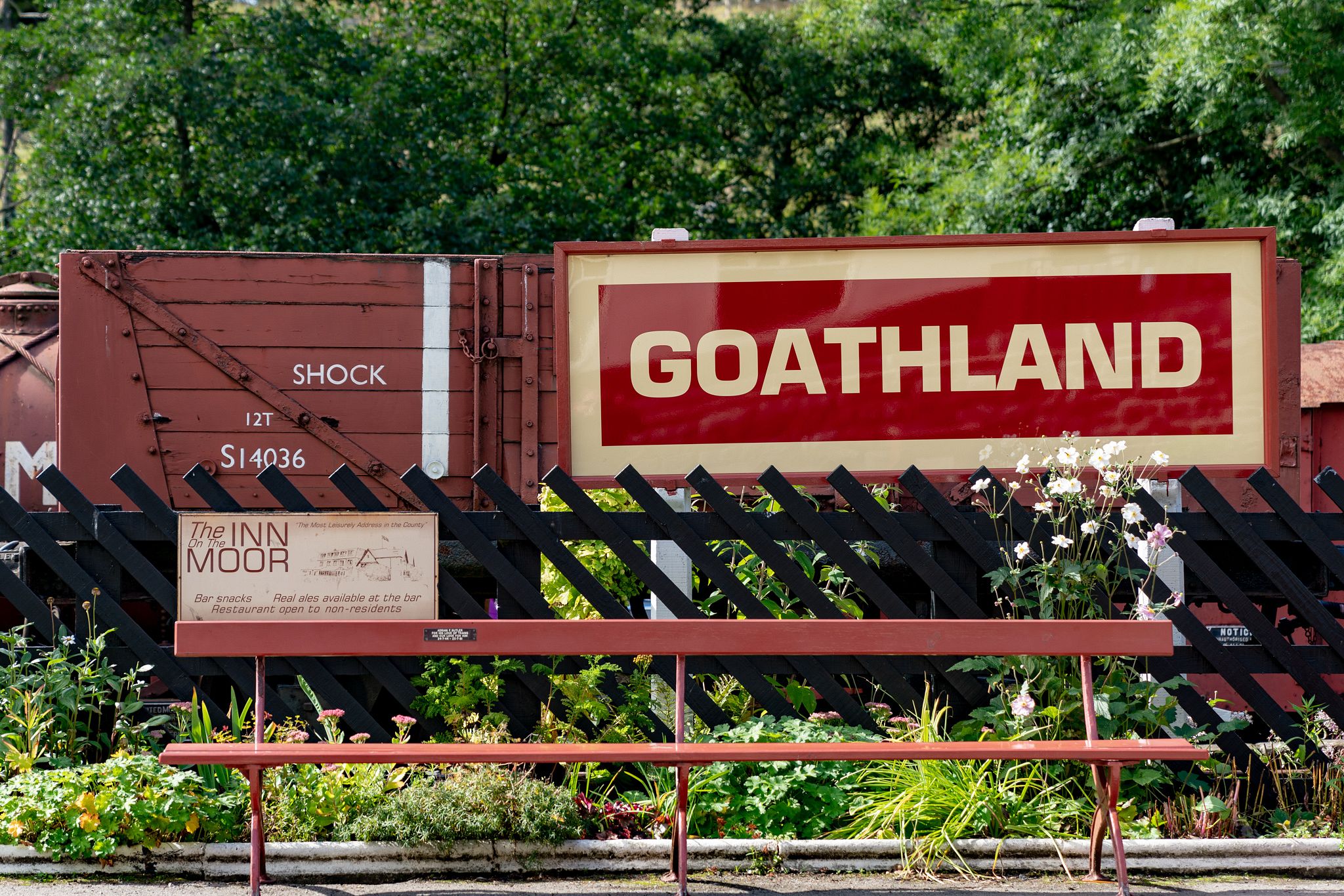 We had a bite to eat in the train station cafe (I have seriously missed good bacon & sausage sandwiches with brown sauce!), then set out on a short hike. The hike followed the Rail Trail, and it took us just under 2.5 hours to hike 5.3 miles from Goathland to Grosmont - the next station up the line from us. The hike is normally 4 miles or so, but we added an extra detour to the Mallyan Spout Waterfall since we had the time and wanted to stretch our legs.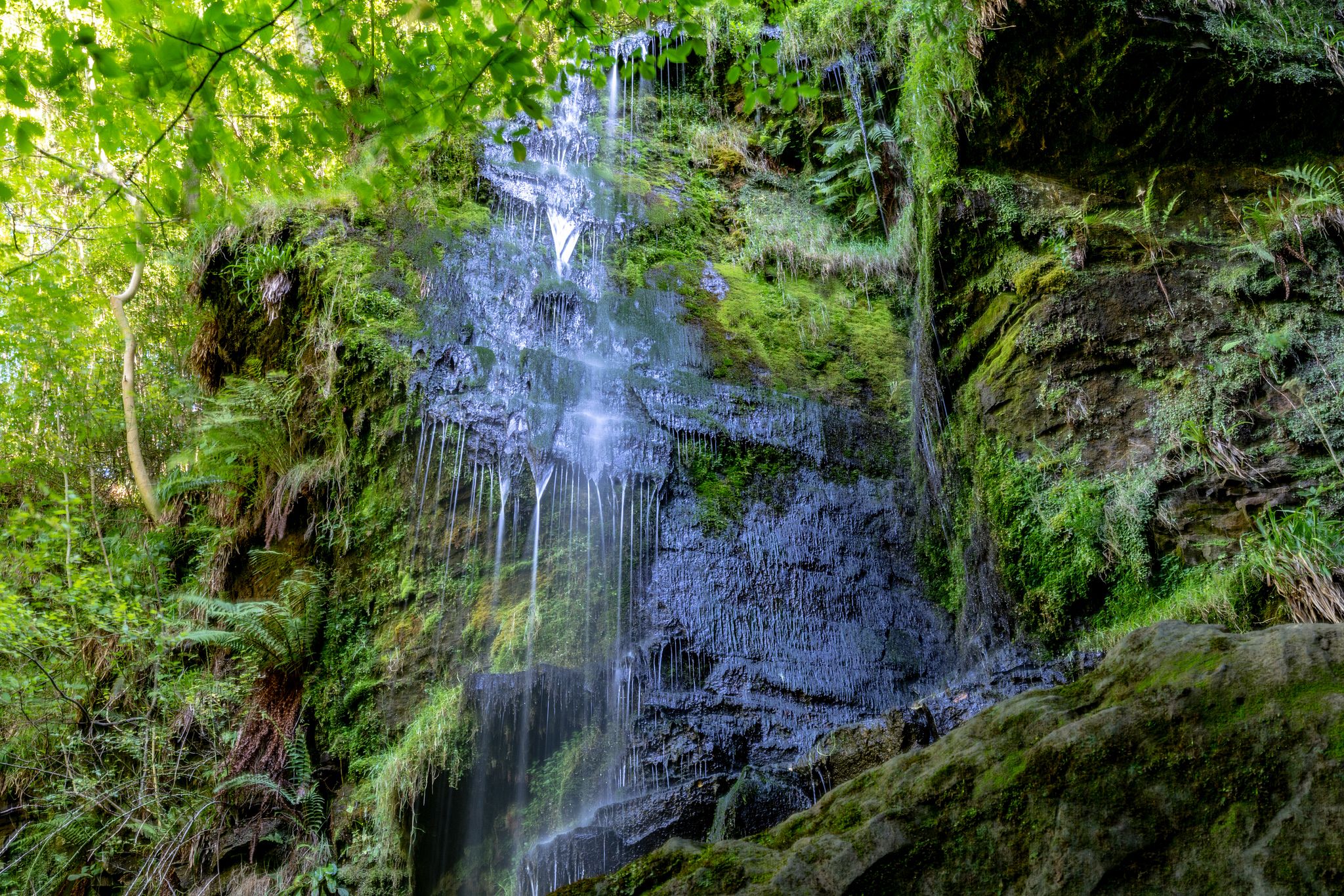 The hike is well marked and easy to follow - heading through fields (and a small RV park!). In total we had just 331ft of elevation gain, so it's not an especially strenuous hike.
[strava src="https://www.strava.com/activities/1836739110/embed/3959c127518e150801feafad6a83915be57b0d15"][/strava]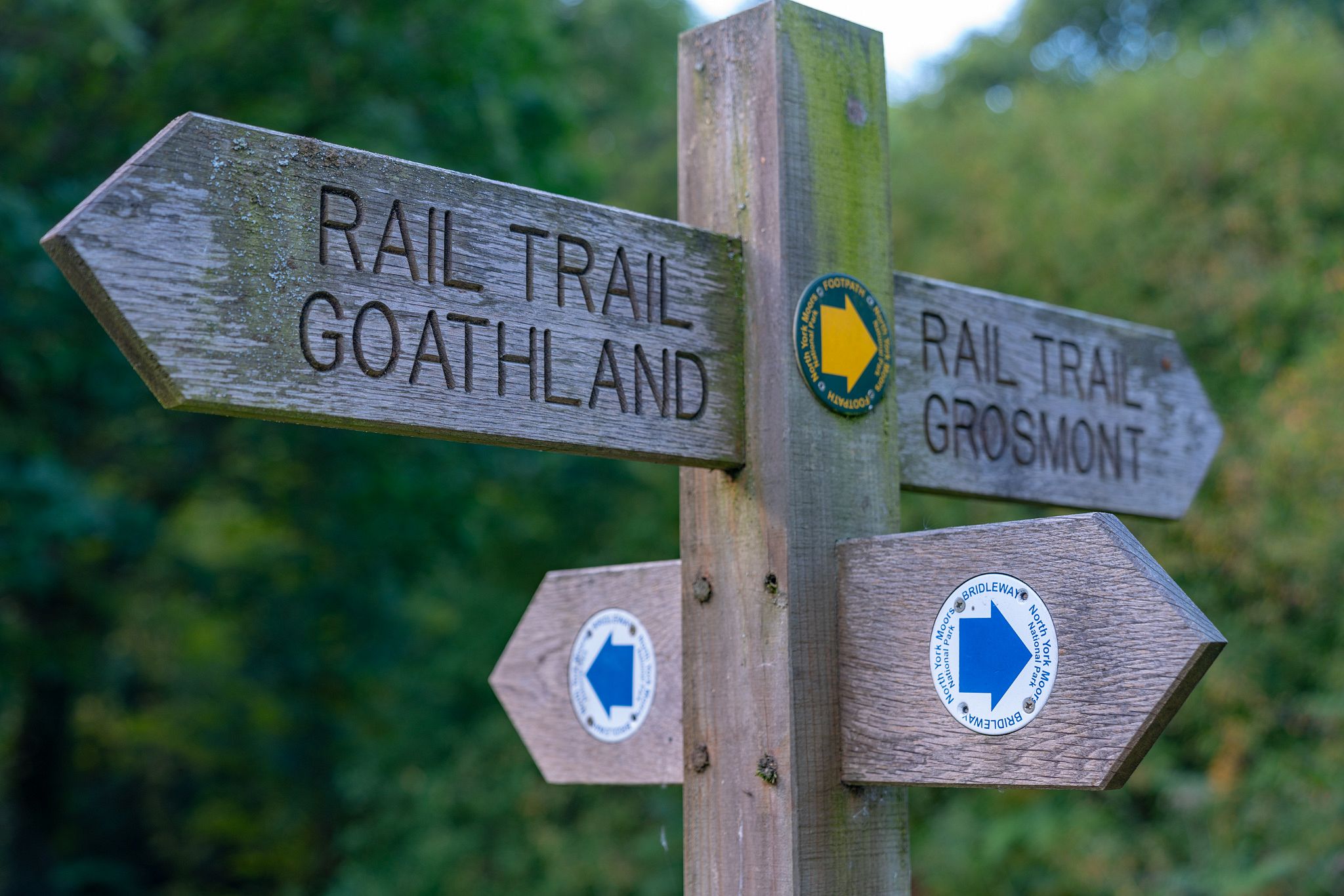 Grosmont is another beautiful station, restored to British Railways style circa 1952. Although it has cafe serving cooked meals, we chose to treat ourselves instead to an ice cream. Although our train back to Whitby was a heritage-diesel, a steam locomotive heading to Pickering pulled in whilst we were there - aren't they beautiful?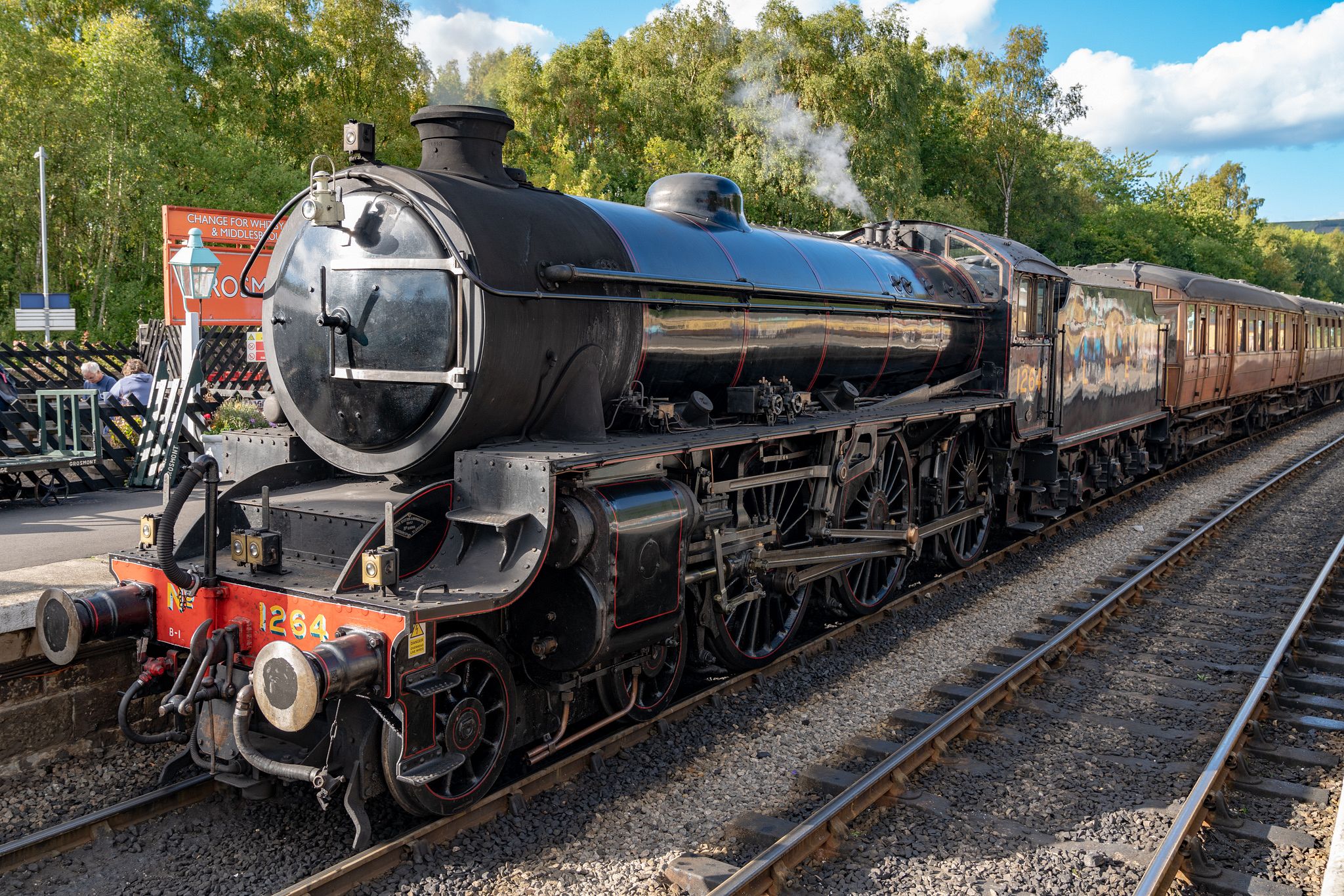 We had dinner in Whitby at The Moon & Sixpence since we were passing. Although from the front it appears it's just a loud bar, they have a quiet restaurant seating area out back and the food was incredible - definitely recommended.
Day 3: Hiking Robin Hood's Bay & the Hole of Horcum
Today we had big plans - we wanted to do two good hikes to try and see a little bit of the breadth that the North York Moors offers.
We set off at about 9am after a fantastic cooked breakfast at our guest house, our starting point for this hike. Our destination was Robin Hood's Bay, a small seaside village down the coast from Whitby.
Although we both have Garmin Felix 5S+ watches (which we love!), they only have US maps in. For the hikes today, we had downloaded maps of the local area as well as GPX tracks of the specific routes.
Adventurous Tip: The Garmin Fenix 5S+ watches are great - look out for our upcoming review and instructions on how to easily download maps and routes for free.
The hike, which follows the Cleveland Way, started by leading us down to the harbor, then up the famous 199 Steps (yes, we counted to make sure) to Whitby Abbey.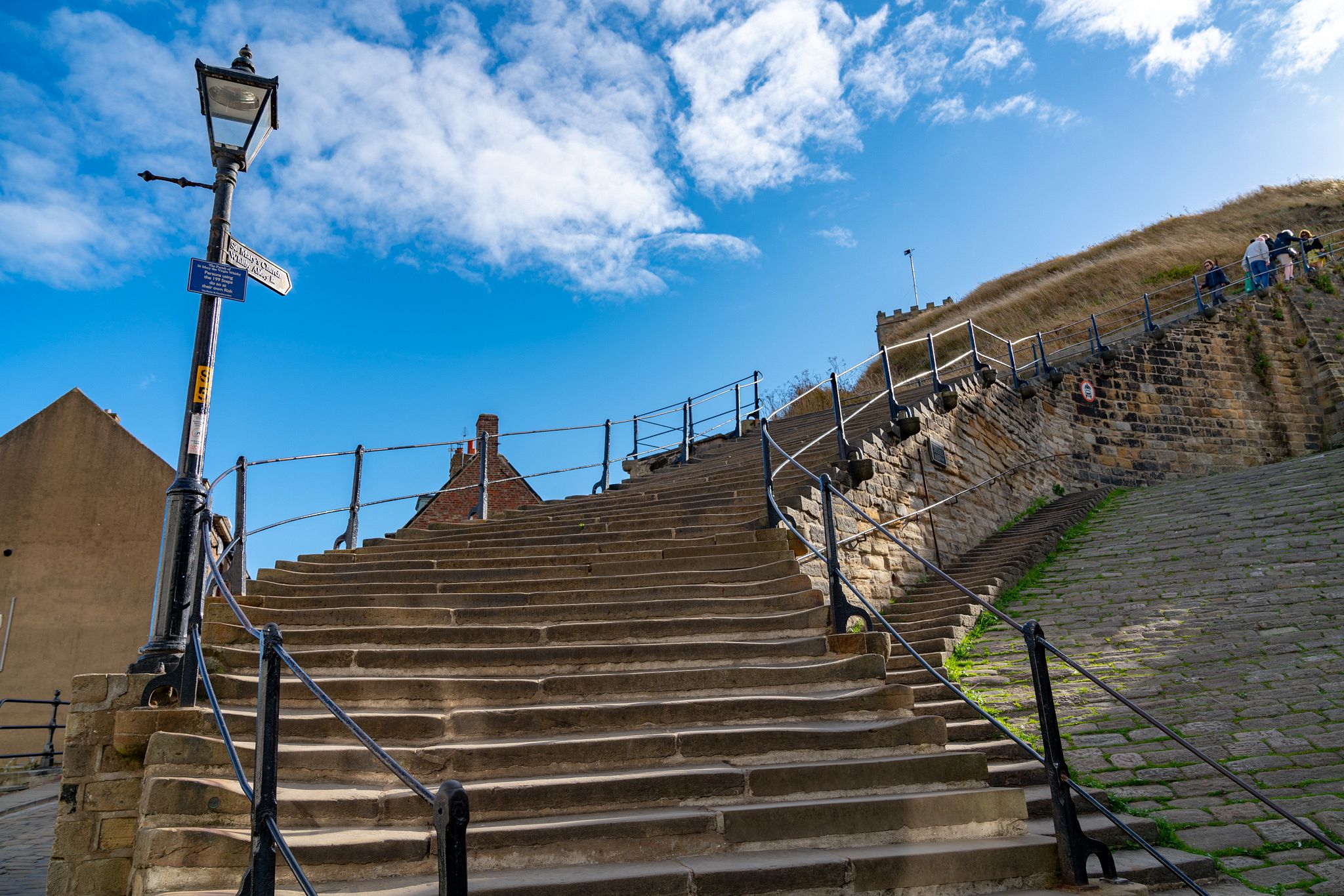 From here, we hiked along the cliffs, following signs for the Cleveland Way all the way to Robin Hood's Bay. I've hiked this path with friends before and it's still a favorite of mine - plenty of seaside fresh air and stunning views of the beaches and cliffs below.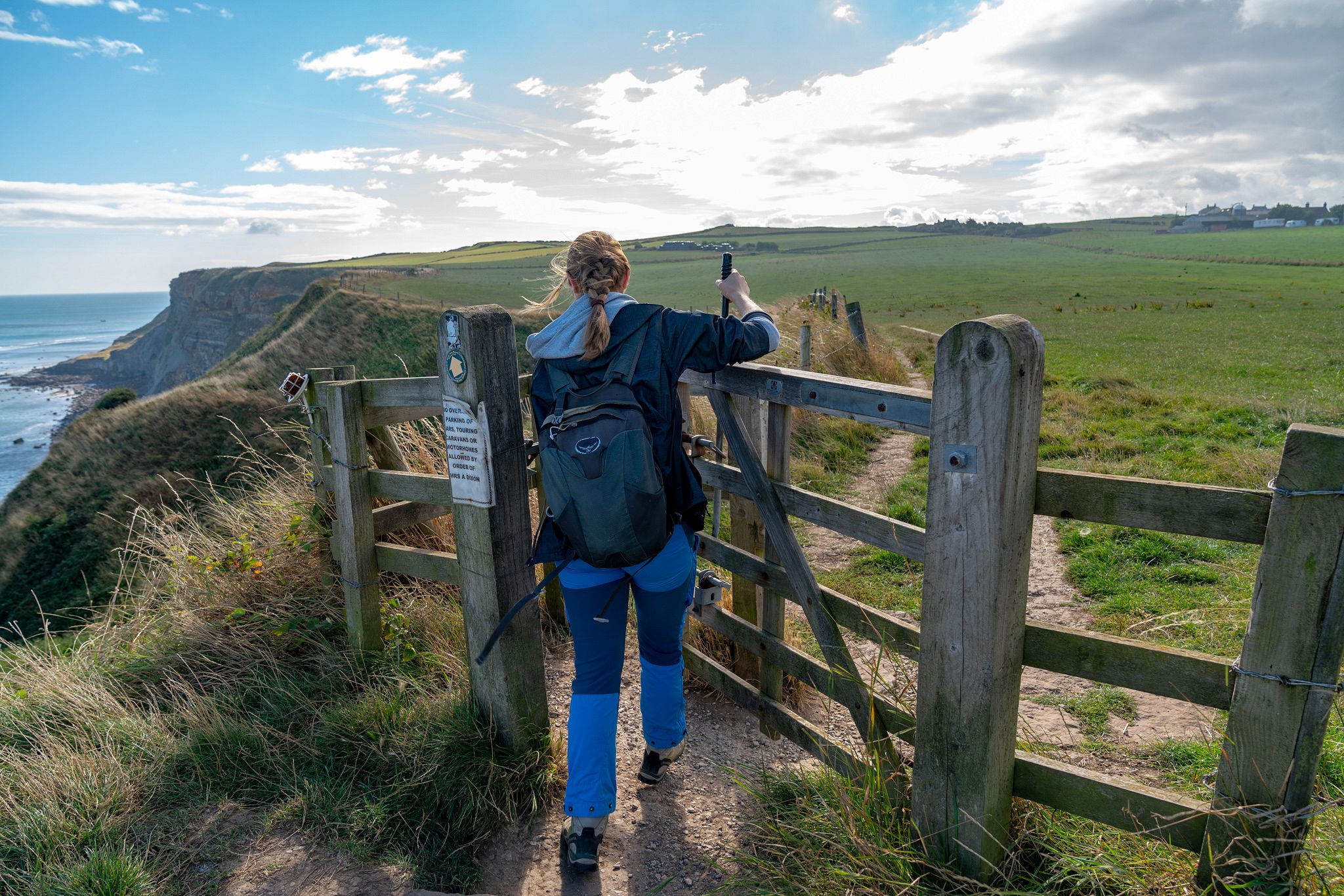 In total, the hike was 8.2 miles including 1,089ft of elevation gain.
[strava src="https://www.strava.com/activities/1838636234/embed/91fc4b74b06eb5ff6738353e25aa28f99756c2c6"][/strava]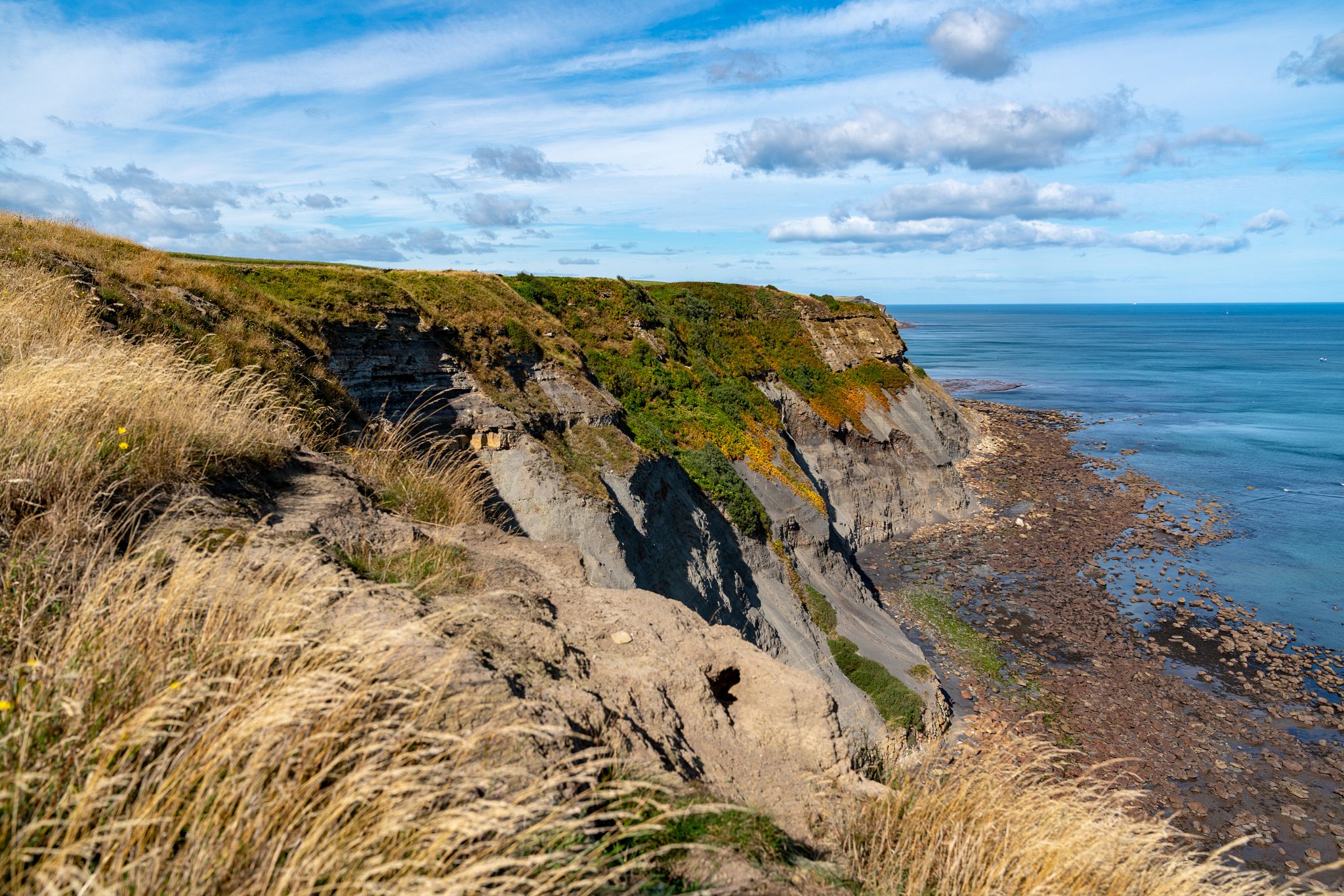 Most of the shops and restaurants in Robin Hood's Bay are down along the beach, and the path we came in on was at the top of the hill. Unmotivated to walk all the way to the bottom knowing we'd have to come back up again, we found a small Fish & Chips shop at the top for lunch - win!
Rather than hiking back to Whitby, we rode the MAX X93 bus which took just 20 minutes to get us back. It also supported contactless payments so we were able to use Google Pay on Diana's phone to pay for it!
Back at the guest house, we topped up water bottles, and repacked our bags to head straight back out for another hike - the Hole of Horcum. This 400ft deep hollow is a section of the valley of Levisham Beck, about 13 miles South from Whitby. The drive there took just over 20 minutes and there is a large parking lot at the top - there was also a tourist information booth in case you need it too.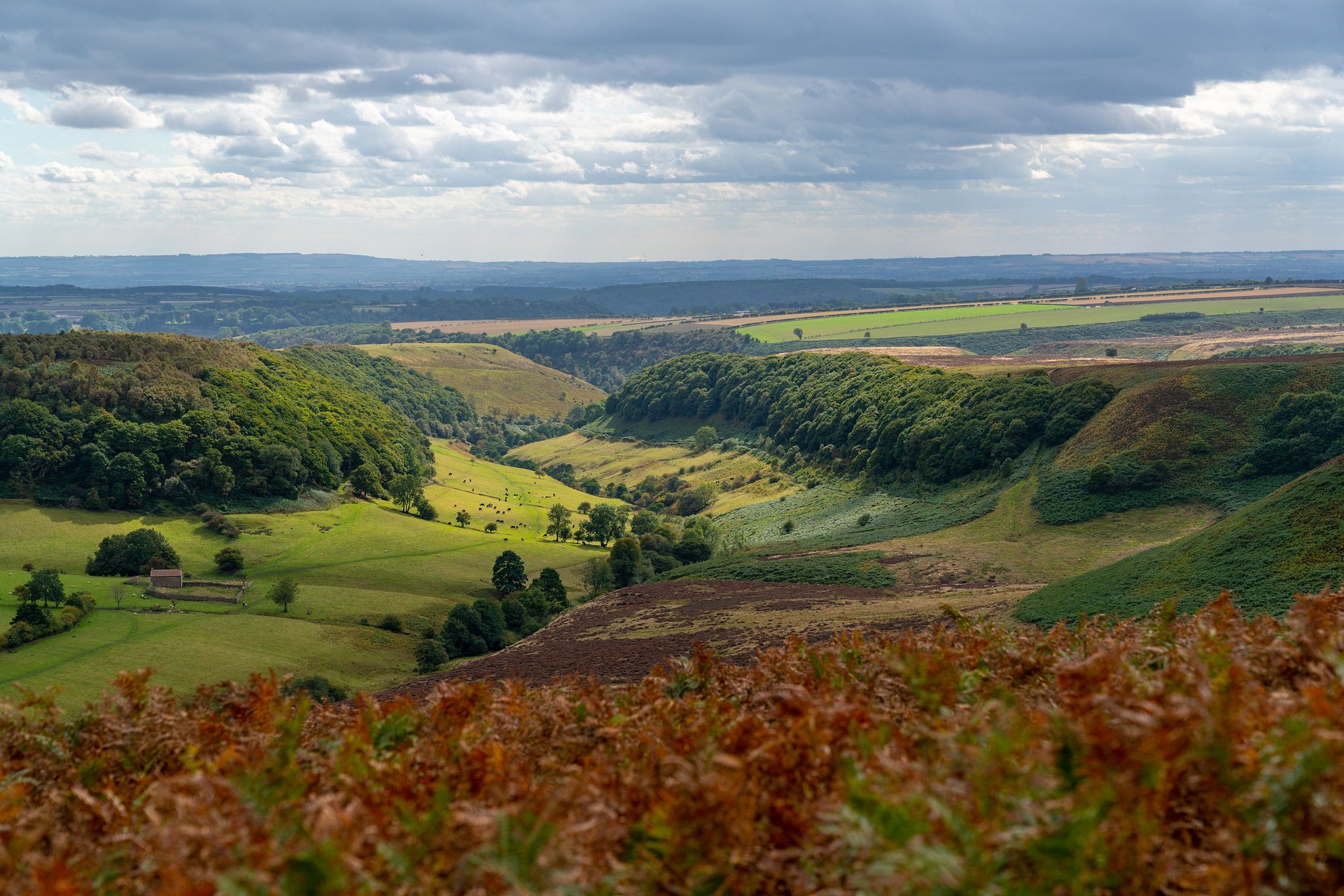 The Hole of Horcum hike is a circular route that we followed anti clockwise (the recommended direction). There are a few different options for detours to Levisham if you want them, but the route we picked was 5.3 miles with 801ft of elevation gain.
[strava src="https://www.strava.com/activities/1839027708/embed/3e750ec19c8d0e751897b96092d177f26b1e8ac8"][/strava]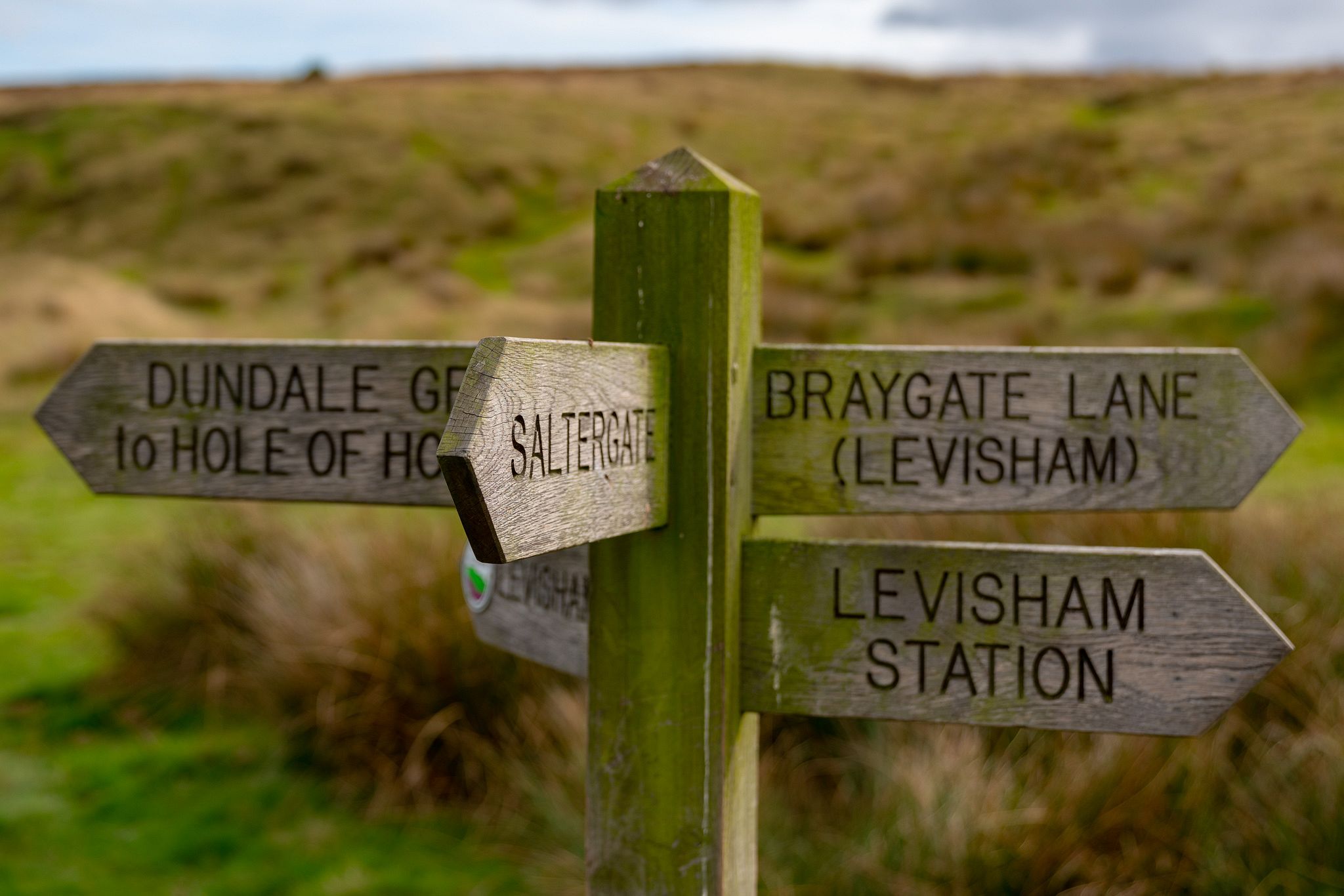 The scenery here is in stark contrast to the coastal fields we had walked on in the morning - hillsides covered in heather as far as you could see.
Adventurous Tip: Even though this was September, the weather was cooler and there is no respite from the wind out on the moors so make sure you bring warm layered clothing.
The biggest ascent is, as you might expect, at the end of the hike when you climb back out of the hollow to the road at the top.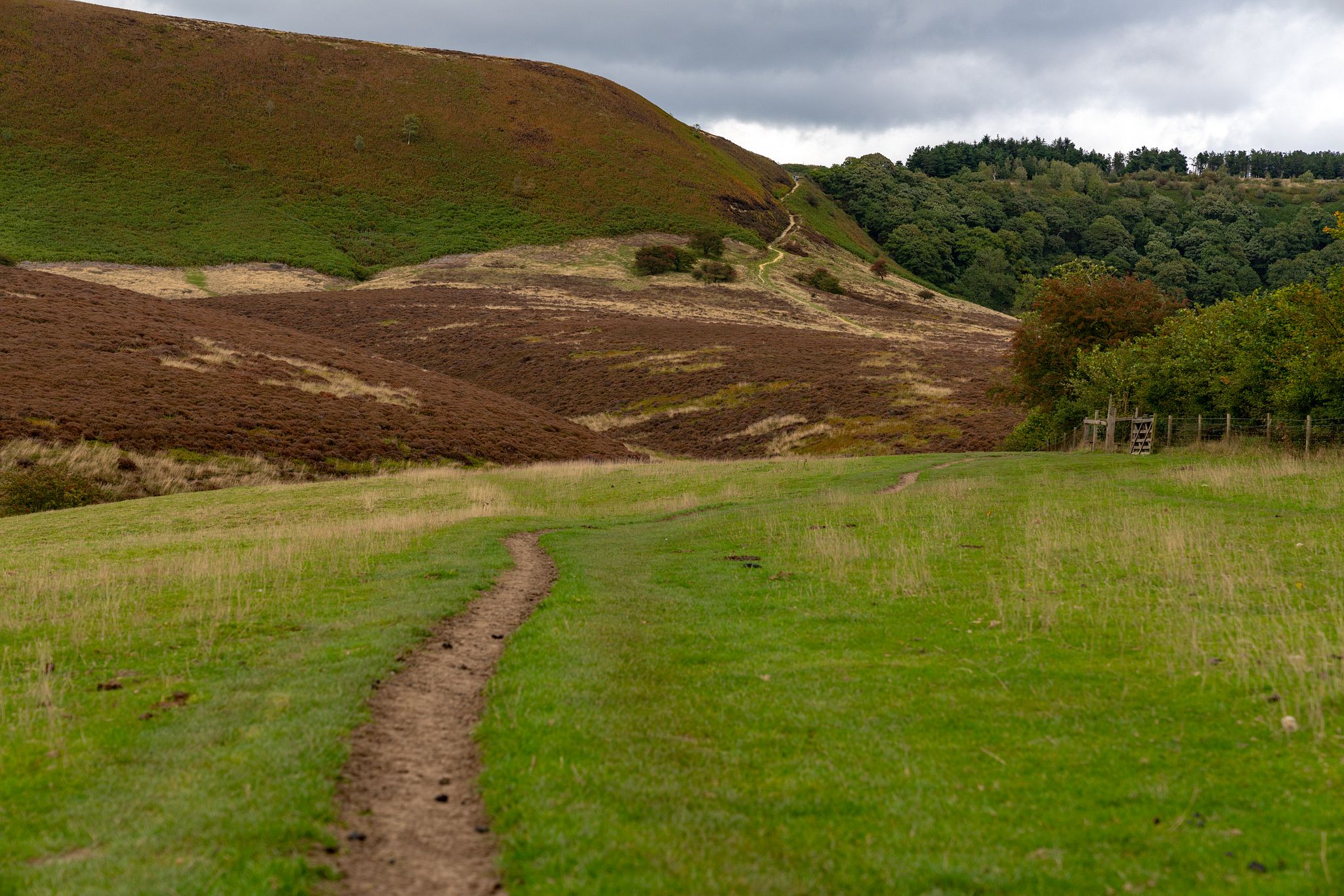 Back in Whitby and exhausted after hiking 13.5 miles, we decided to celebrate our last night in Whitby with dinner at the famous Magpie Cafe. Their fish selection is huge, dwarfed only by their portion sizes. After witnessing the couple at the next table ordering "regular" sized portions of Fish & Chips, we chose the small size - that was plenty big enough for us, even after a full day of walking.
The next morning, we left our guest house shortly after breakfast ready to hit the road for our next destination....Latvia!
Conclusion
We had a great time exploring just a few of the amazing activities that the North York Moors has to offer. Even though I've been to Whitby numerous times, it still makes me smile every time I go back.
York is less than 2 hours on the train from London, and it's easy to take the train or bus to Whitby. So if you find yourself in the UK, why not take the opportunity to explore the North York Moors.
Learn More
Finally, make sure to check out these videos on YouTube, and don't forget to subscribe to our channel to be notified when we publish new videos!