Ever since I bought my Ford F-150 in 2016, I've always wanted to change the wheels. The Platinum trim came with 20" wheels which, while they do look good, I wanted to replace with 18" wheels instead.
I even asked the dealer at the time if they could just go and swap my 20" Platinum wheels with 18" wheels from another truck, but they declined.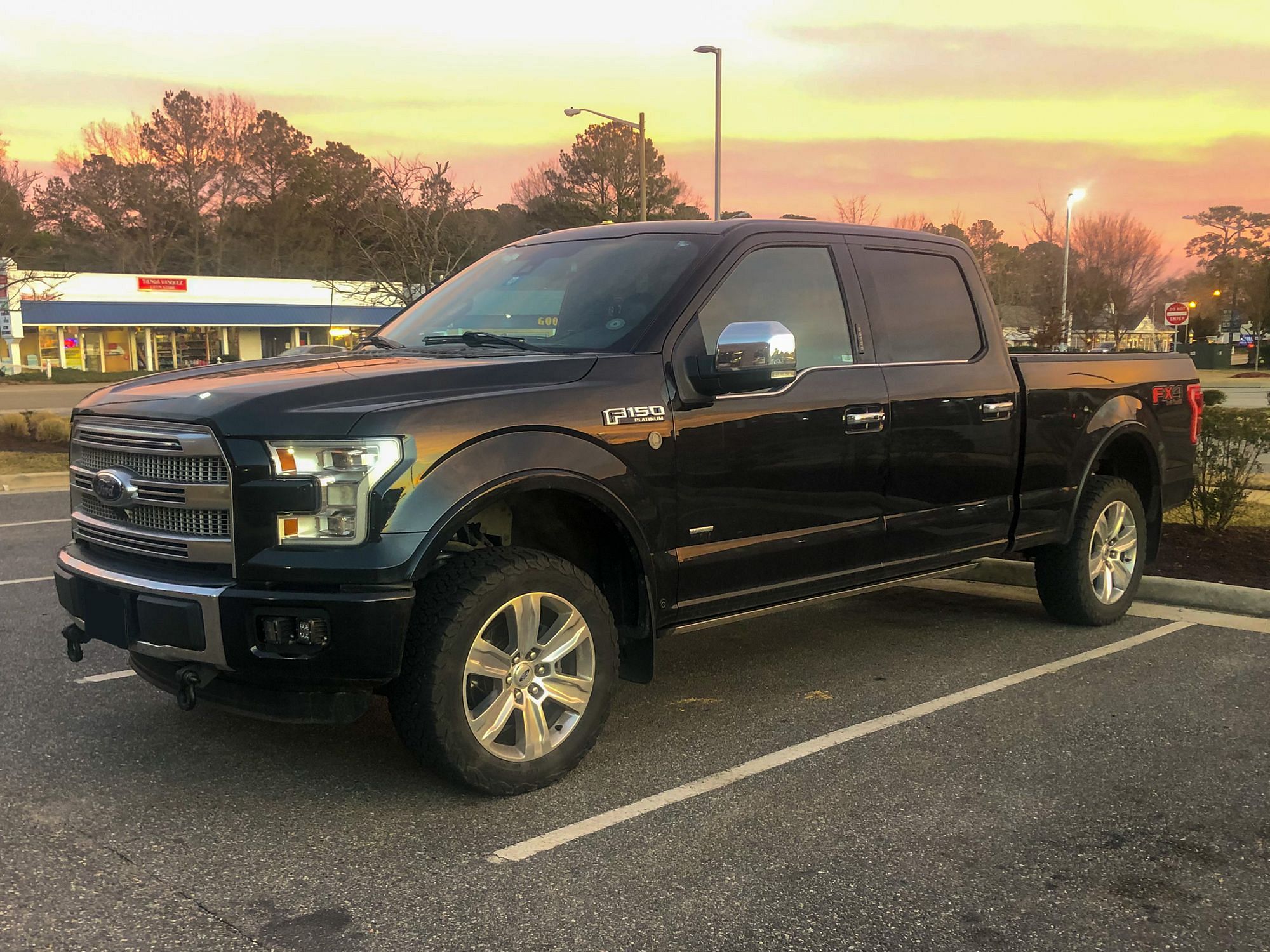 Rather than swapping out perfectly good wheels, I just decided to live with it. Over the years, they've picked up several dings and dents from off-roading and sure, maybe scraping the odd curb or two!
But then about a year ago, I noticed the air pressure in one tire was slowly dropping. Suspecting a slow puncture or leaky valve, I took it into a local tire shop in Burlington, VT. The diagnosis was much worse: I had a cracked rim, probably from hitting a pothole.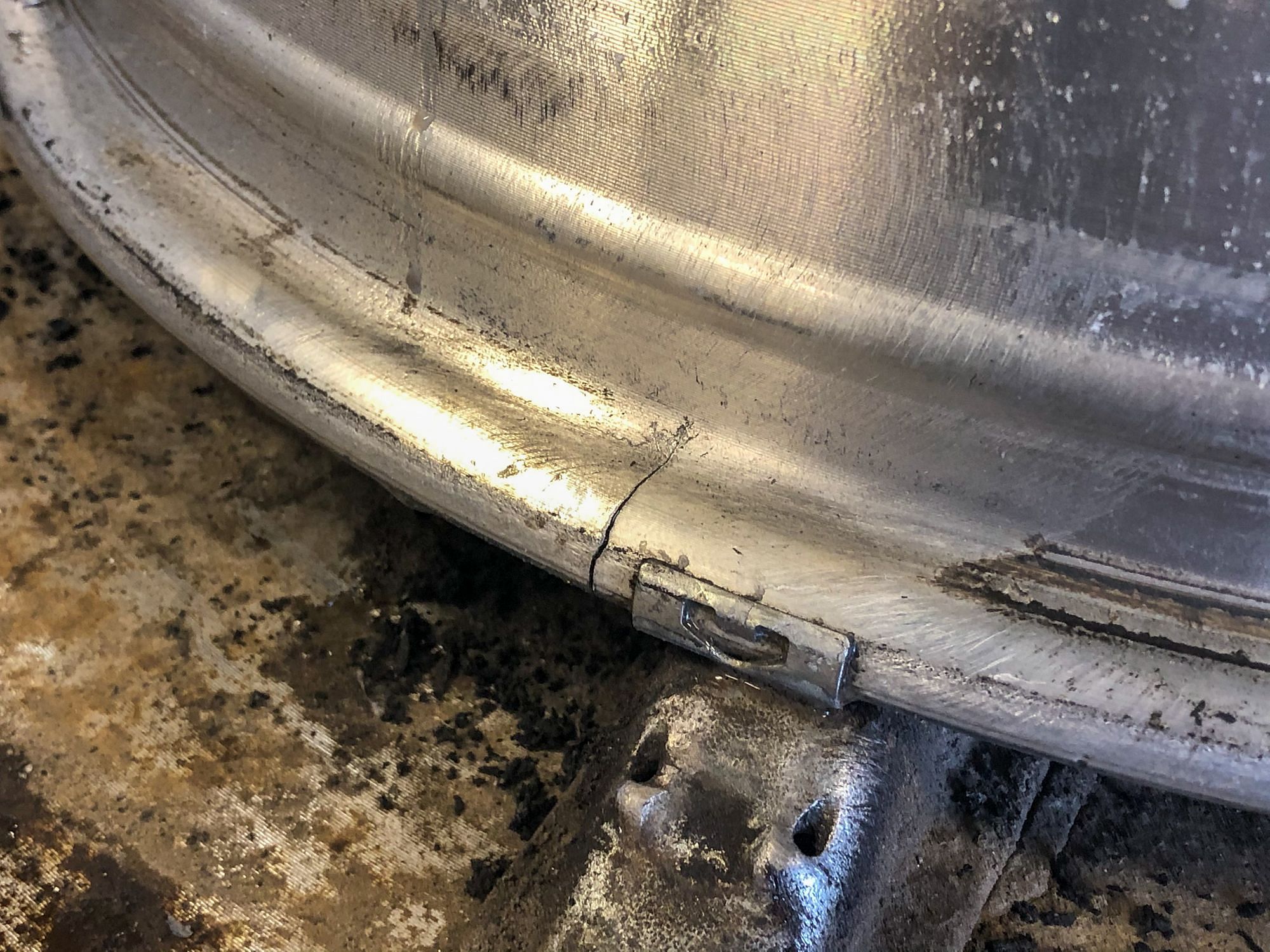 The repair shop was able to weld the wheel to prevent the crack spreading, but since then there's always been this looming fear that the weld would fail.
I still had quite a lot of tread left on my tires, so I had a choice to make:
Replace the damaged wheel with an OEM equivalent (very expensive!)
Have a non-matching wheel (no thanks!)
Keep the tires and buy 4 new 20" wheels (but, my dreams of 18" wheels?!)
Wait until the tires needed replacing and then get 4 new 18" wheels and tires
I decided to go with option 4, and hope that the cracked wheel would last longer than the tread remaining on my tires!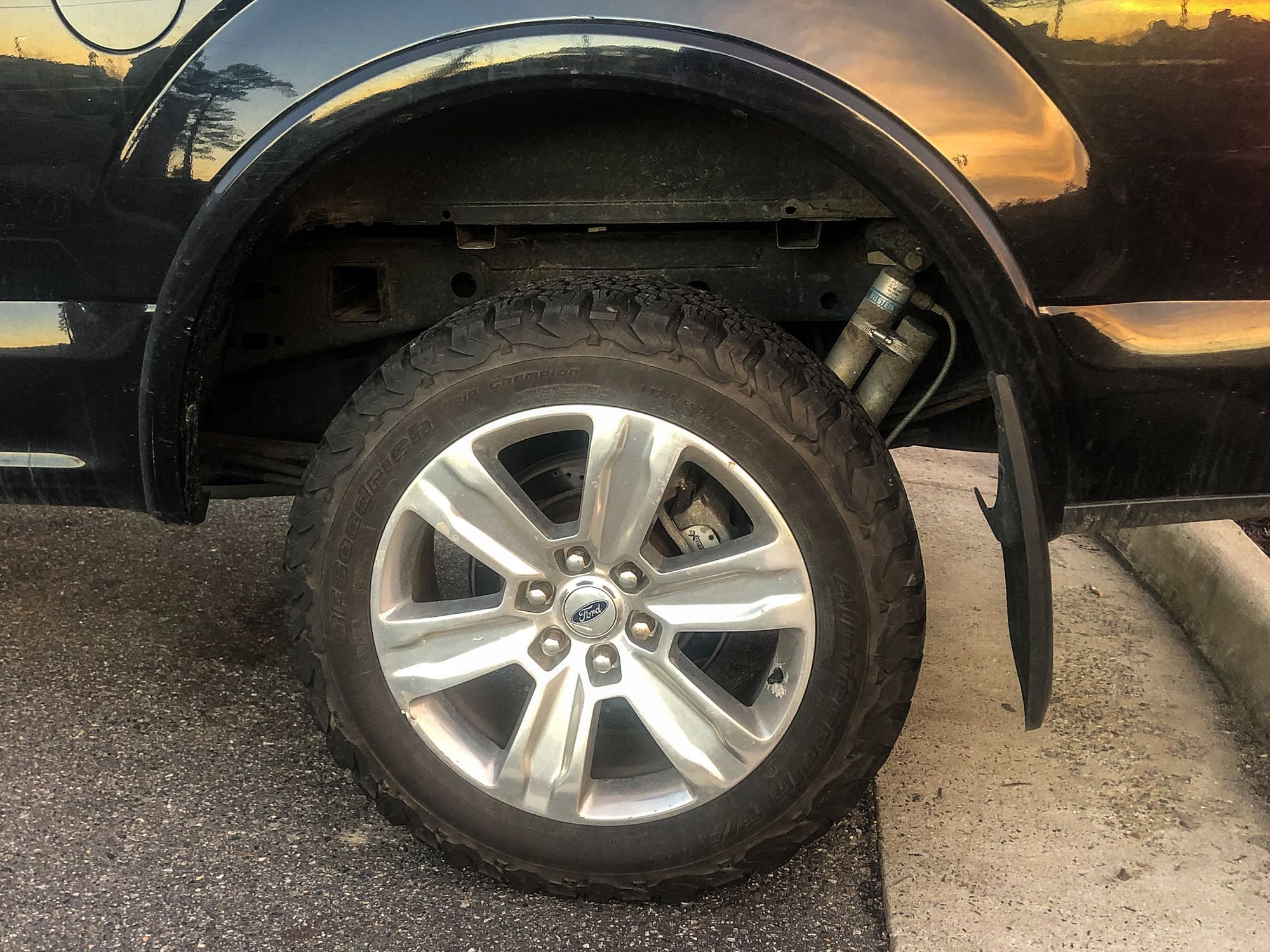 Roll the clock forward 12 months, and the tires are getting very low on tread and are in need of replacement - particularly given our imminent return to snowy Vermont in just a few weeks time.
The time has finally come!
Discount Tire
Servicing tires and wheels is one of those chores that could easily be really painful; I have memories of dirty tire shops, poor customer service and a confusing array of options.
But then I stumbled upon Discount Tire about 5 years ago back in California, and it's been a breath of fresh air. Every interaction I've ever had with them as been flawless - the staff are always helpful, the prices are very competitive, and I always feel looked after.
They also offer a Road Hazard Warranty for an additional cost per tire (I just paid a little over $40 per tire) which covers free repair or replacement of a tire damaged for any reason, including off-roading. We've invoked this warranty several times on both our truck and trailer and it's always been completely painless.
But there's just one problem - there are no Discount Tire stores in Vermont, or in fact anywhere in New England. Our closest Discount Tire from Vermont is over 500 miles away in West Virginia!
Which is why the plan was to wait until we headed south this winter and get everything done before heading back to Vermont.
Wheels
I can't deny that the 20" wheels on the F-150 Platinum do look good, but 18" wheels offer one big advantage - durability.
Size
For a given overall diameter of tire, a larger wheel means less tire sidewall, which means less cushioning for the wheel. Low profile wheels, like the 20" wheels I had, are prone to damage - as I demonstrated with both the dings and scrapes, as well as the cracked rim.
Having more tire sidewall has other advantages too though - typically the tires have a higher load rating, are slightly stronger, and perform better off-road (or in snow).
Style
Having settled on a size, the question was then which wheel to buy? There are literally thousands of styles out there!
I restricted my search to wheels sold by Discount Tire, but that still left hundreds of options. In the end I settled on the MB Legacy wheel for two main reasons:
I liked the milled metal and black finish and thought it would look good given all the chrome trim on my black truck
Large spokes are useful for standing on to reach over the side into the truck bed
I was concerned about whether the clear coat on the milled metal wheel would be sufficiently durable to withstand the harsh road chemicals used in Vermont in winter. To better understand the risk, I found the phone number of a Discount Tire store in Michigan where they use similarly harsh chemicals, and after chatting for about 10 minutes I was feeling more comfortable.
While a fully powder-coated wheel would offer more protection than a milled wheel, the difference isn't huge and I can help mitigate the issue with some basic regular cleaning and maintenance. I didn't want an all-black painted wheel so this seemed like a reasonable compromise.
MB Legacy
The other big reason I picked the MB Legacy wheel is that we actually already have one! A few years ago, I managed to get not one but two flat tires while off-roading in Arizona! Fortunately we were off-roading with Kelly Beasley from Camp Addict in her F-150 Raptor and I was able to limp home using both our spare tires.
To avoid running into the same situation again, I decided to carry a second spare tire with me, but I needed a wheel to mount it on. I didn't need anything fancy, and the MB Legacy happens to be the cheapest wheel that Discount Tire sells, so that's what I went with!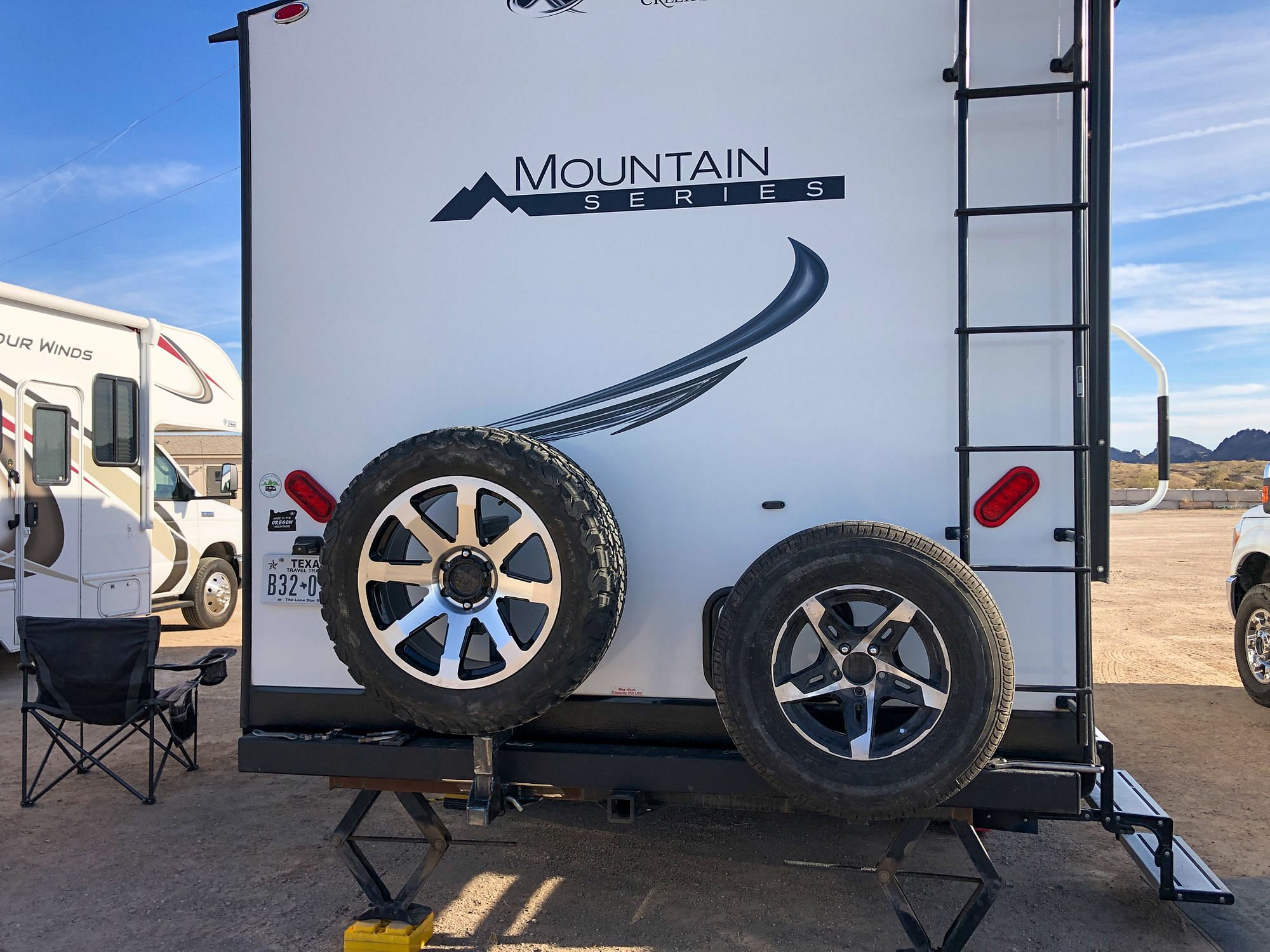 As it turns out, I really like the look of the MB Legacy wheel, so I decided to buy four more (I couldn't re-use the existing one because it's a 20" wheel and I need 18" wheels).
Tires
For over 4 years I've been using the BFGoodrich KO2 All-Terrain tires on our F-150, and we've been really happy with them!
The ride is comfortable, they handle the towing well, and they have plenty of traction off-road whether it's driving the Mojave Road or in the snow - although they're not officially winter tires, they are 3 Peak Mountain Snowflake rated.
But what size should I go with?
My OEM tires are 275/55R20 and the closest match for an 18" wheel would be a 275/65R18, however given I have a 2" lift on the truck, a 275/70R18 would also fit and would give me even more clearance, more tire sidewall and would arguably look even better - it's a full 33" tire.
After much debating back and forth, I decided to go with the 275/65R18 - the same overall size as I have today. I chose this because the functional benefits for what we need are minimal, so really I'd be choosing this tire for aesthetics. While it would look good, it comes at a cost:
Larger tires means higher unsuspended and rotating weight, which will impact fuel economy
The engine has to work harder (not ideal given we already push it quite hard with towing)
I'd have to recalibrate the speedometer (not too hard with FORScan)
My snow chains would no longer fit the truck!
The tires in that size come with Raised White Lettering (RWL), so one decision I did have to make was "white out" or "black out". I was somewhat torn but settled on "black out" - what would you do?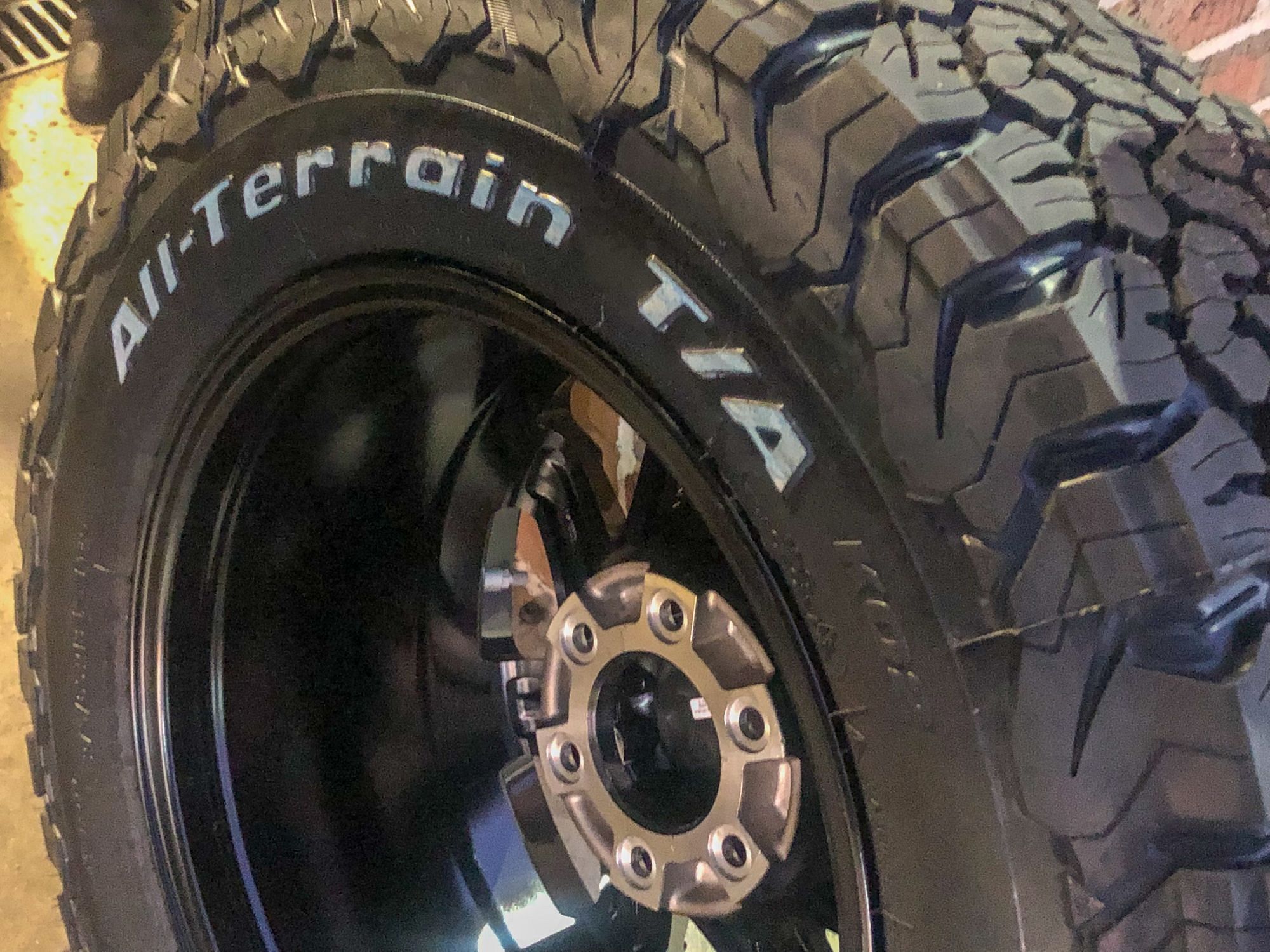 TPMS Sensors
Tire Pressure Monitoring Systems (TPMS) rely on sensors to relay data about the tire pressure and temperature. These can be valve-mounted sensors as with the aftermarket TPMS we use for our RV, or as in the case of OEM-installed TPMS systems, the sensors are inside the wheel near the valve stem.
TPMS sensors actually have a battery in them, meaning they don't last forever. As a general guide, TPMS sensors typically last 7-10 years or about 100,000-130,000 miles.
Even though our truck is only 6 years old, it had just rolled over 100,000 miles. TPMS sensors aren't cheap, but in the end I decided to install brand new TPMS sensors on the new wheels because:
It means I can sell the old wheels and tires without someone having to remove the tires to add their own sensors;
It saves the cost of having to demount my old tires to remove the sensors;
It means the wheels and tires could be mounted and balanced before arriving at the store;
I won't have to deal with the cost and hassle of having to replace the TPMS sensors in the next couple of years.
Obviously this was a personal choice and not something that everyone would choose, but that's where I landed.
Installation
Having settled on the wheels and tires I wanted, I called Discount Tire to start things rolling (pun intended!). I had already met with Mike at Discount Tire in Williamsburg, VA the prior week and we had spoken at some length about my options, so they were expecting my call.
I was expecting them to say it'd take a few days to order things in and get the wheels ready but no...my wheels and tires would be ready in a few hours! Just one problem - my truck was at the dealership for its 100,000 mile service.
Obviously there was no reason I had to get my wheels installed ASAP, but let's be honest, when you know they're just sitting there waiting for you, you want to get moving!
After my service had been completed, I left the dealership at 5:30pm and headed straight for Discount Tire, rolling into the lot at 5:40pm - just 20 minutes before they closed at 6pm. I felt guilty about arriving so late, but Mike had assured me this was totally fine, particularly since the wheels and tires were ready to go.
Within minutes, my truck was up on a lift and several technicians were working on the truck. It didn't take long at all to get the wheels installed on the truck, and I think they look awesome!
One reason I chose to have Discount Tire install them rather than doing it myself is because you have to use a special tool to tell the truck to learn about the new TPMS sensors. While you can buy tools to do this online, it was honestly easier to let them handle it!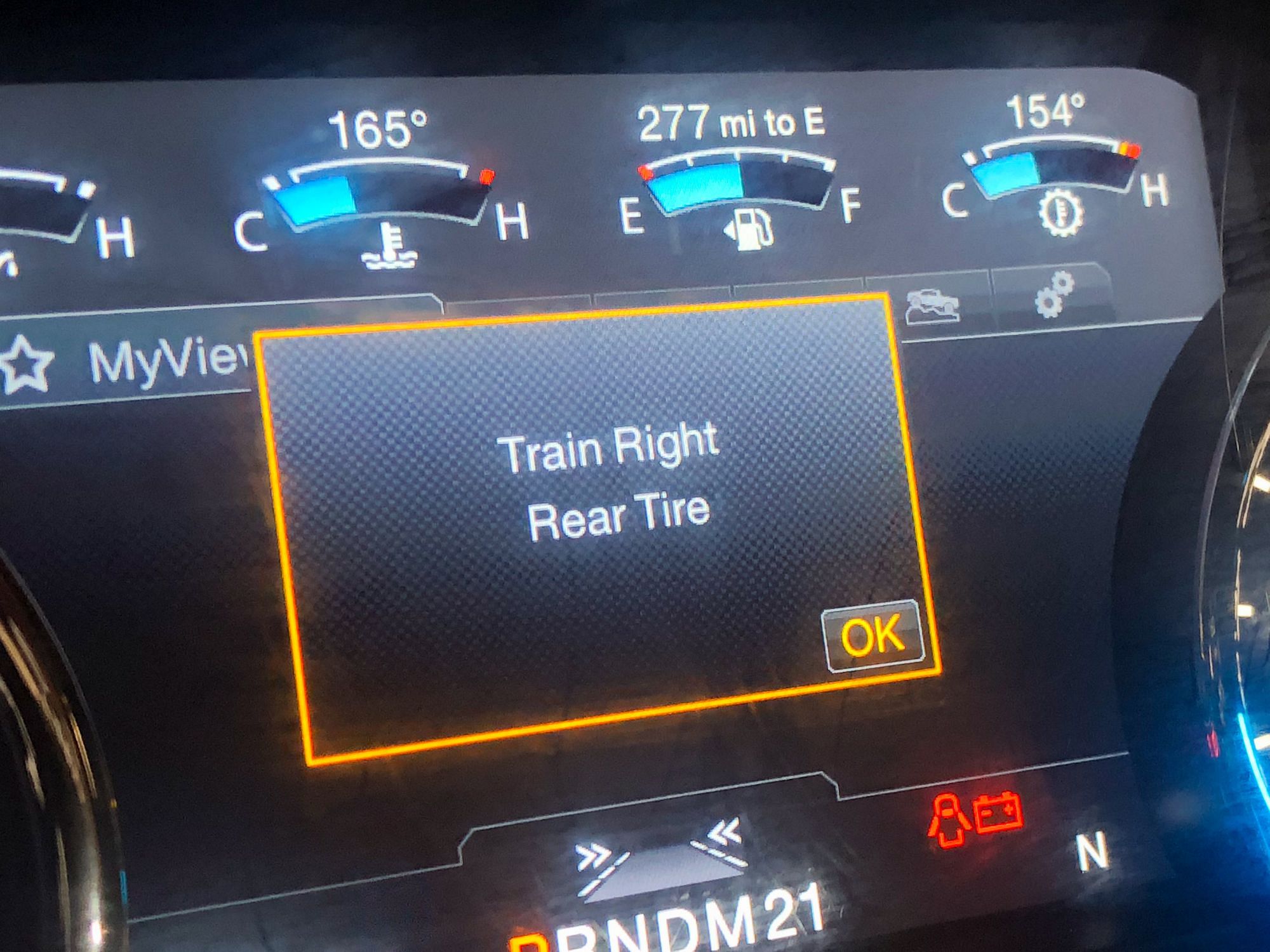 Summary
I've been waiting for almost 6 years to put new wheels on the truck, and I've finally done it! It wasn't a cheap upgrade, costing just over $600 per wheel when you factor in the cost of the wheel, tire, TPMS and new lug nuts, as well as the warranty and installation labor.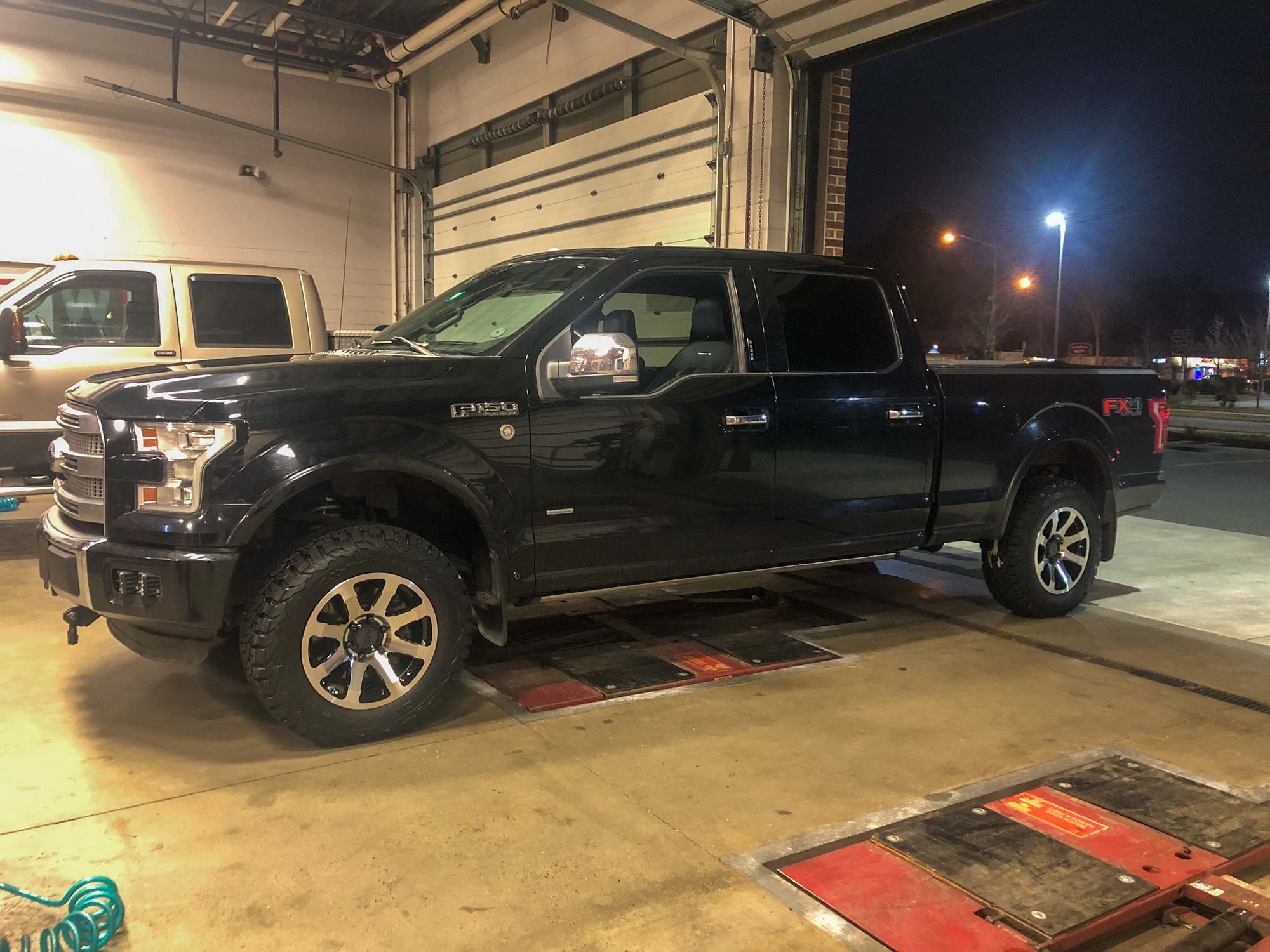 So was it worth it?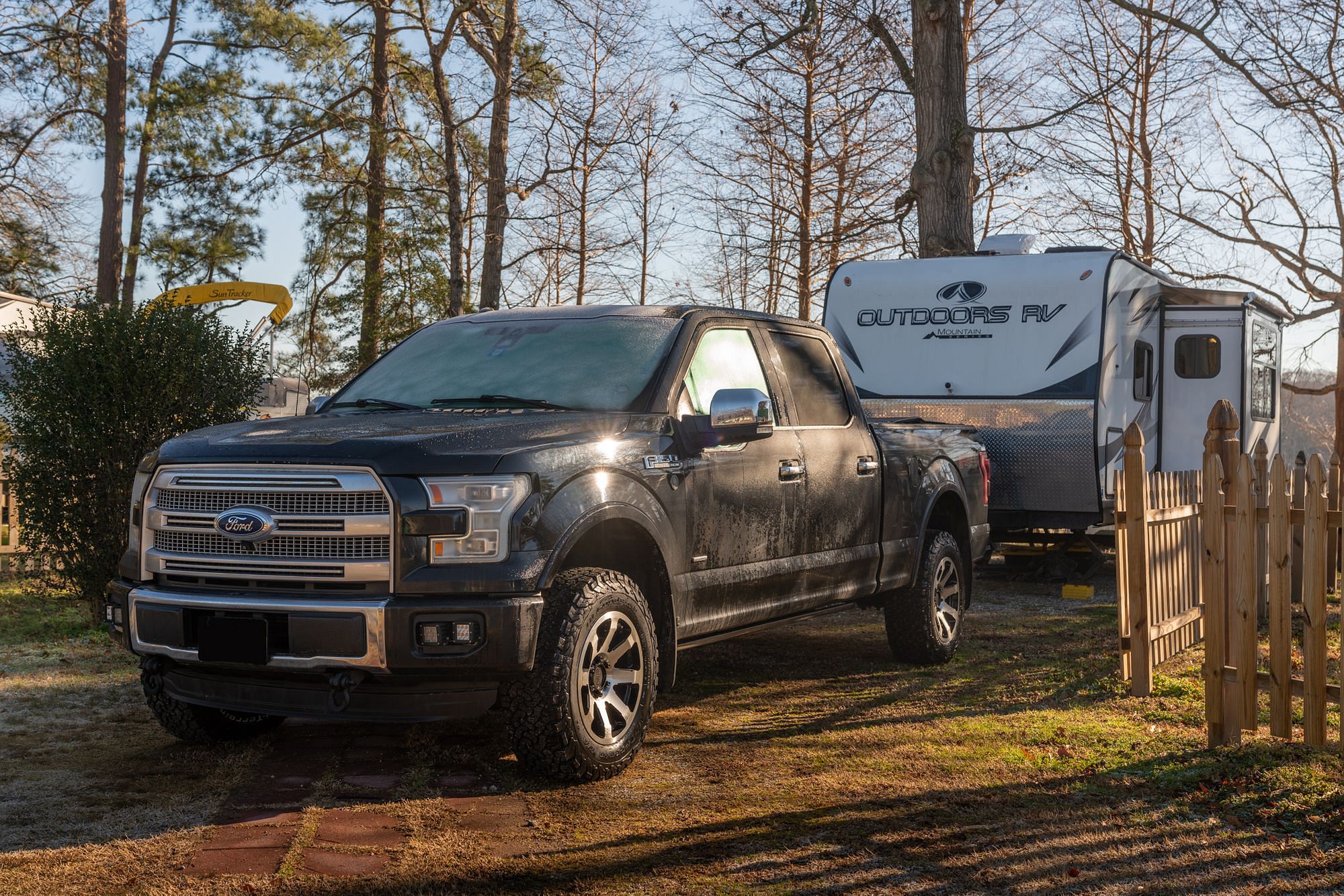 I think so! Not only do I think they look great, but it means we've got brand new all terrain tires with plenty of grip ready for our trip back to Vermont with the RV in a few weeks.