Outdoors RV Factory Tour
When we left off last week, we were about to spend a couple days at Outdoors RV, touring the factory and meeting the team.
It was amazing!
We spent a full two days with the Darin Nelson and the team who were amazing hosts. As owners of an Outdoors RV 21RBS who've been living in it full time for over a year, we thought we knew a thing or two about Outdoors RV, but we learned so much!
We collected 160GB (!!) of video footage from our time there - most of which was on our private factory tour. It was a true access-all-areas tour, and we filmed everything - the first time they've let anyone take video on the tour.
Hopefully we'll have the videos up on our Adventurous Way YouTube channel in October, and a series of blog posts to accompany them at the same time. I don't want to give away any spoilers, but we came away with a renewed sense of confidence that we made a great choice in the RV we bought.
The team at Outdoors RV is passionate about building quality products for their customers - that comes through strong! They also listen to their customers - and then act on what they hear.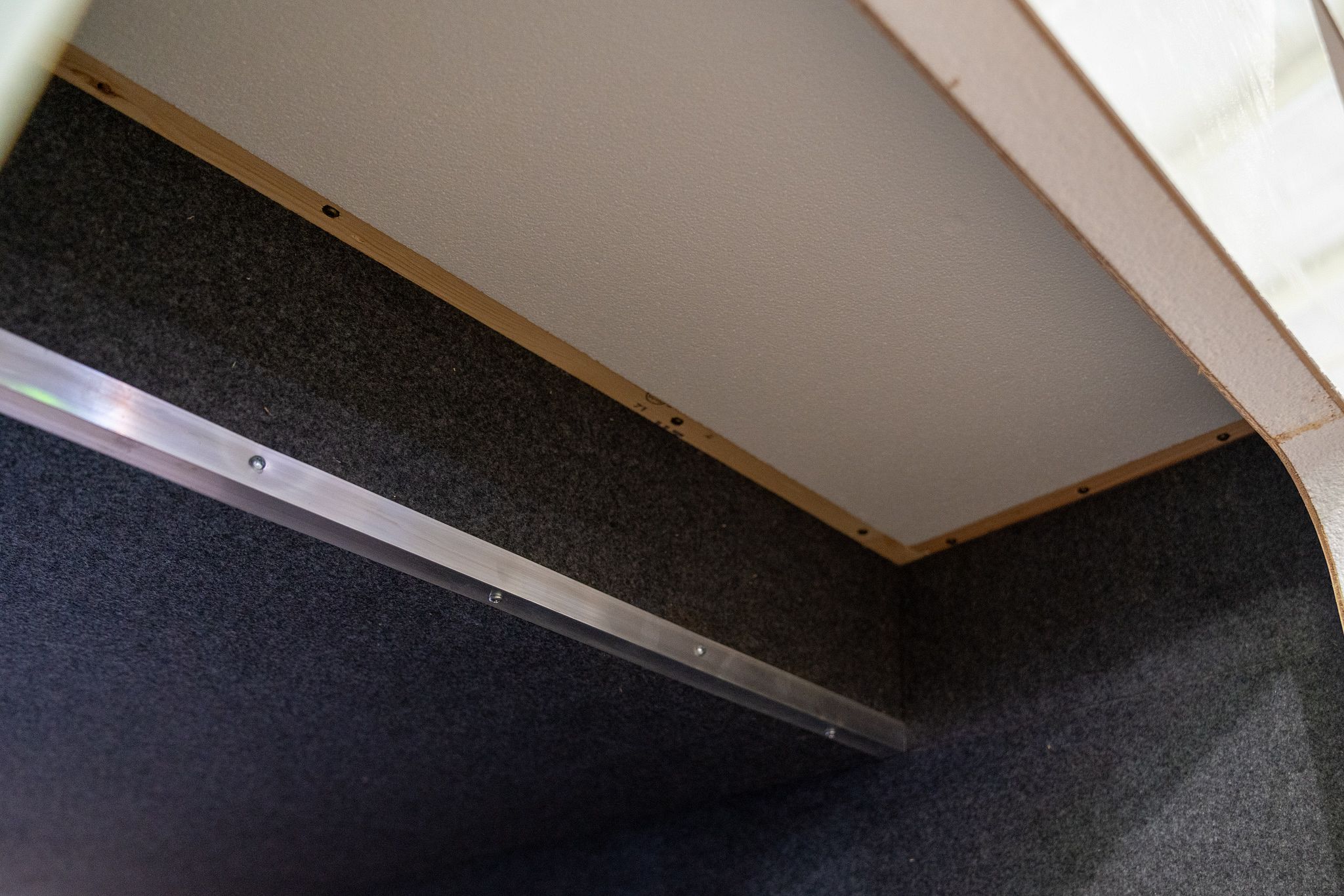 For example, in mid-July this year we published a video about a mod we did to add some more insulation to the front storage bay on our RV. They saw that video, prototyped it in one of their trailers, and found the results so compelling that they've incorporated it into their designs. In fact, while we were on the factory tour, the very first trailer with that mod included was being built - just 7 weeks after they saw our video!
Driving, lots of driving!
We've moved a lot in the past week, far more than we normally would. In fact, we've spent the night in our RV in 3 different states (Oregon, Nevada and Utah) this week, driven through another state (Idaho) and are still on the move as we head back towards New Mexico for the Albuquerque Balloon Fiesta in a few weeks.
To try and stay as productive as possible, we've ended up doing some long driving days - cramming as much driving in as possible to free us up on the other days. Normally we don't like to drive more than 200 miles or so, but this week we've driven 500+ miles on two different days! Given we don't do more than 55mph (for slightly fuel economy), that's a lot of hours sitting in a car!
Reno, Nevada
Our first big travel day last week was on Saturday - we drove 560 miles from La Grande, OR to a boondocking spot near Reno, NV called Moon Rocks.
As we neared Moon Rocks, signal on both Verizon and AT&T was good - around 30Mbps on Verizon. But as soon as we arrived, it died - no signal at all. The rough dirt road wound its way up through the rugged terrain, and undeterred, we followed in search of better signal.
The area is popular with OHV riders, and there are regular staging areas where you can also camp. We drove over a mile back into the desert, stopping at each staging area in turn to check for signal - and run a speed test.
We hit the jackpot. 115Mbps download on AT&T - and about 60Mbps down on Verizon too! That'll do nicely.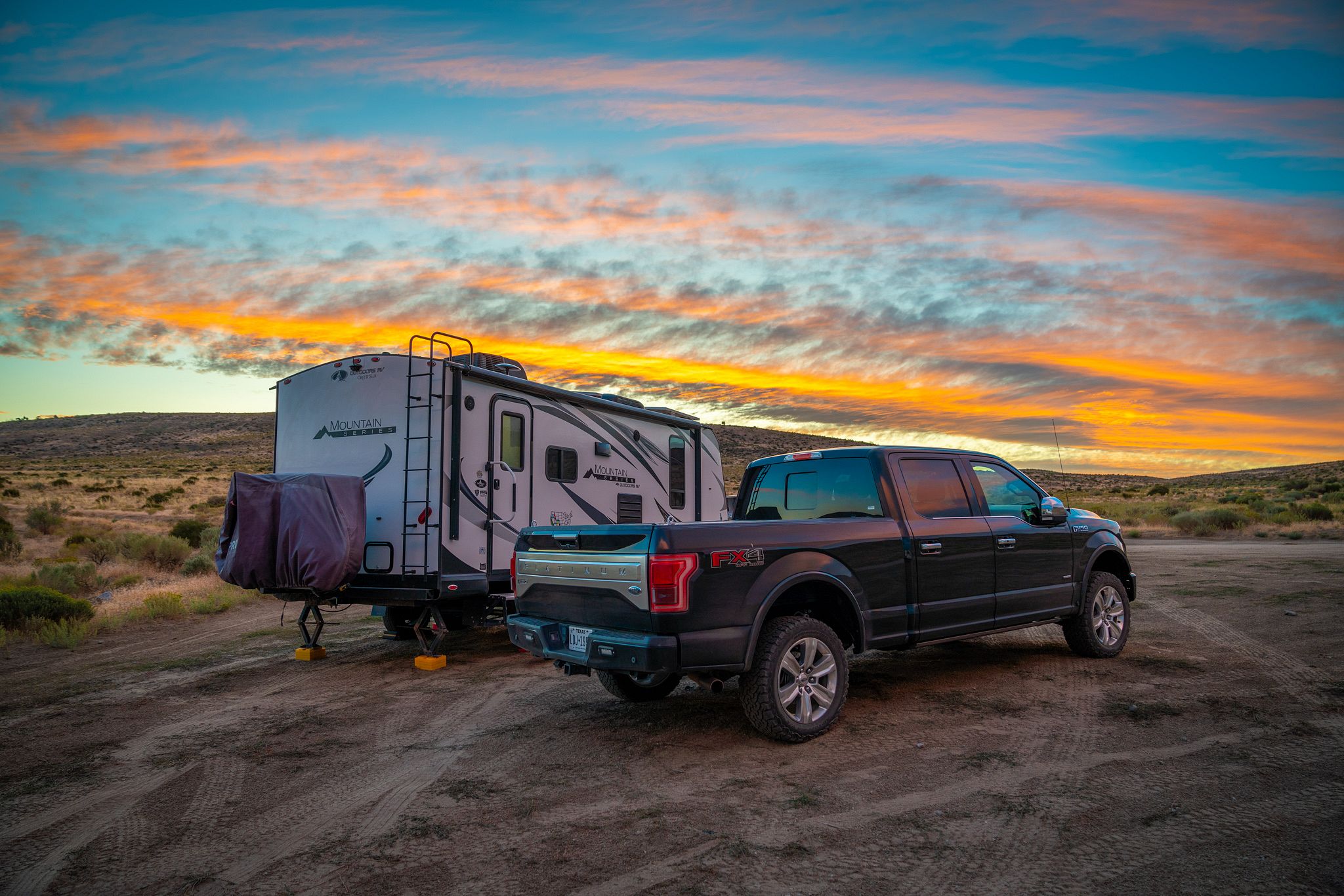 Unfortunately our delight was short-lived. We awoke the next morning, and all seemed quiet. Far too quiet for a popular OHV area in September. We opened the blinds and the reason was clear - the air was anything but clear! We thought at first that it was dust, but a quick sniff outside and some Googling told us it was smoke. It was blowing all the way from the Walker Fire in California, the state's largest fire so far this year. Although we weren't in danger from the fire 80 miles away, the smoke was forecast to get much worse with the winds picking up in the afternoon.
Time to move.
Battle Born Batteries Factory Tour
Our plan had been to boondocks at Moon Rocks on Saturday and Sunday nights, then head into Reno on Monday morning to visit Battle Born Batteries for an exclusive tour of their brand new factory. But the smoke changed that.
After a quick phone call to Battle Born, we hooked up our trailer and headed into Reno - we were going to moochdock in the parking lot at the new Battle Born Batteries factory!
The next morning was an early start - not because our schedule mandated it, but rather the freight company next door started work at 3am. And whatever they've invested in trucks is clearly tiny compared to their investment in exterior audio equipment. I awoke at 3:06am to UB40's Red Red Wine - they were busting out some classics!
Anyway, at a slightly more socially acceptable hour, we headed inside and met the wonderful Dianne from their marketing team and their CEO, Denis Phares. Denis gave us a full tour of their new facility - I was like a kid in a candy shop! My inner geek was uncontainable.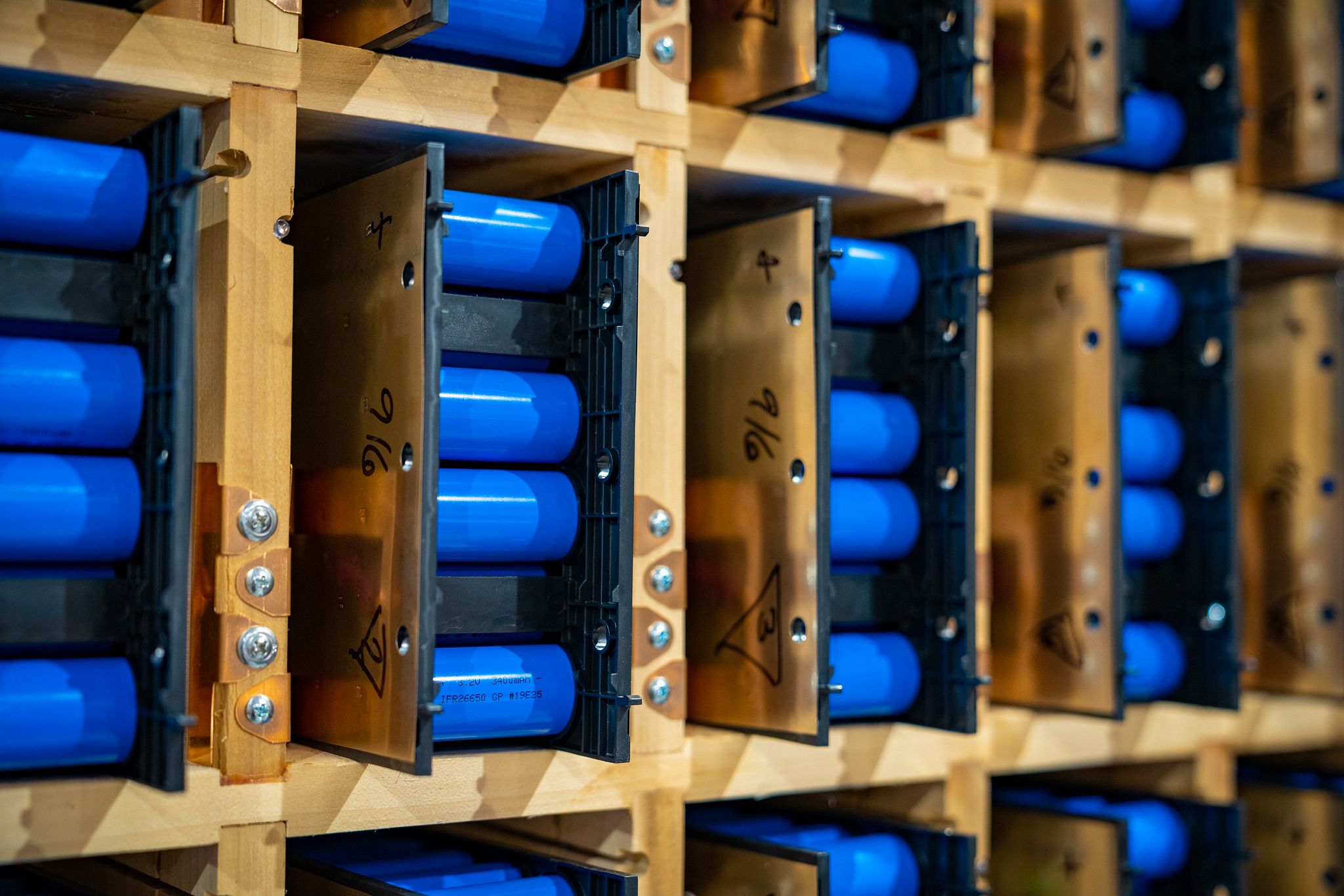 We installed three Battle Born batteries in our RV last August, and I honestly don't know what we'd do without them. They give us so much capability and convenience, and let us boondock off-grid with no hookups...and thanks to our rooftop solar, no generator either!
Look out for a video and blog post in the near future where we share all from our tour of Battle Born's new factory!
City Life
We're not really city people - which is good, because we spend most of our time boondocking in an RV in the middle of nowhere! But cities do offer some useful opportunities, so we try to make the most of it when we do visit a city.
Reno was no different. We had queued up our Amazon orders (after our Boise, ID attempt had failed) to pickup at an Amazon Locker, we visited Costco, stocked up on groceries and household essentials at Walmart.
We also made a trip to Les Schwab, and our favorite, Discount Tire!
I've been meaning to grease the axles on our trailer for months now - it's definitely due. Our trailer has E-Z Lube hubs, so in theory lubing them is as simple as squeezing grease into the zerk fitting. But doing it this way means you don't get a chance to inspect inside and make sure everything's OK.
Although it's not a difficult job, it's much harder when you live on the road and you have limited tools to work with. Plus, the amazing MORyde suspension makes lifting wheels off the floor very challenging! So we decided to take it in and have Les Schwab do it for us, as recommended by Outdoors RV.
Up in La Grande, OR, Diana had noticed one of our trailer tires had a chunk missing on the sidewall - it was still holding pressure, but not wanting to risk it, we asked the Service department at Outdoors RV to help us by swapping on the spare. Les Schwab didn't have that tire in stock, so we bought it at Discount Tire and had Les Schwab install it for us - with a bit of jiggling around so we had the two new tires on one axle, and a used good tire on the spare.
As well as running errands, city life can also be glamorous too. Reno is known for its casinos, and although neither of us are into the gambling scene, we thought we'd treat ourselves with a night in a hotel. We splurged on high-floor room with a king bed at the Grand Sierra Resort - a nice treat!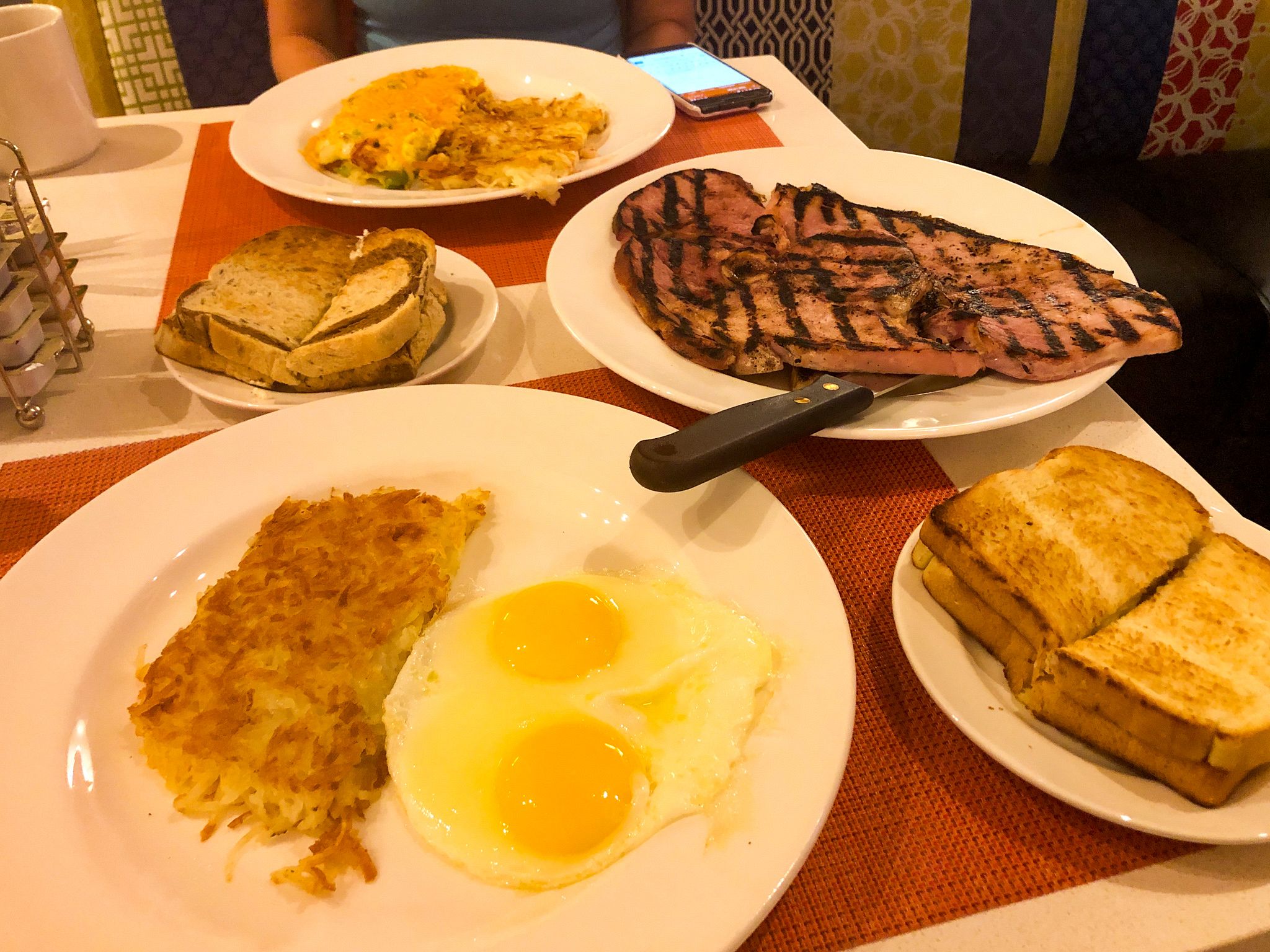 Next Week
All that video footage from Thompson RV and the Outdoors RV factory tour isn't going to edit itself, and we have a big backlog of blog posts to write. So, for the next few weeks, our plan is to hunker down and get some work done.
If you haven't already done so, be sure to check out our YouTube channel and subscribe to our newsletter to be the first to find out all about our factory tours at Outdoors RV and Battle Born Batteries.