As an Amazon Associate we earn from qualifying purchases.
Before you think we've completely lost the plot, we did have a good reason for it - we were evaporating our first batch of maple sap to produce our very own maple syrup!
Maple Sugaring
Not longer after arriving, we tapped two maple trees to begin collecting sap. The forecast looked good, but then turned warmer than expected so sap production was lower than we had hoped.
But by Monday we had collected more than a gallon (even after Diana had drunk quite a lot of it!) and it was time to process it.
The process of creating maple syrup is quite straightforward:
Collect sap from maple trees on days when overnight lows are below freezing and daytime highs are above freezing
Boil the sap to evaporate off most of the liquid, until you are left with maple syrup
There are a couple of intricacies like carefully watching the temperature, but that's basically the approach. On average it's a 40:1 reduction in liquid volume, so 40 gallons of sap makes about 1 gallon of syrup - or in our case, 1 gallon of sap should make about 3oz of syrup (it's a start!).
It's highly recommended not to boil the sap inside your kitchen (let alone an RV), so we created a fire pit to hold an evaporator pan into which we poured our sap. We built and lit a campfire using wood that we had felled, cut and split last fall - it's just about dry enough to use!
It didn't take long before the fire was burning nice and hot - in fact, more than 716°F (380°C) which is the maximum our temperature gun can measure. The chimney we had built was working really well, with the air coming out of the top at well over 500°F (260°C)!
Rather than wasting such a good fire, we decided to embrace it! We threw some potatoes wrapped in foil into the hot embers, and smoked some chicken kebabs and sausages on the chimney - the cherry wood smoke smelled so good!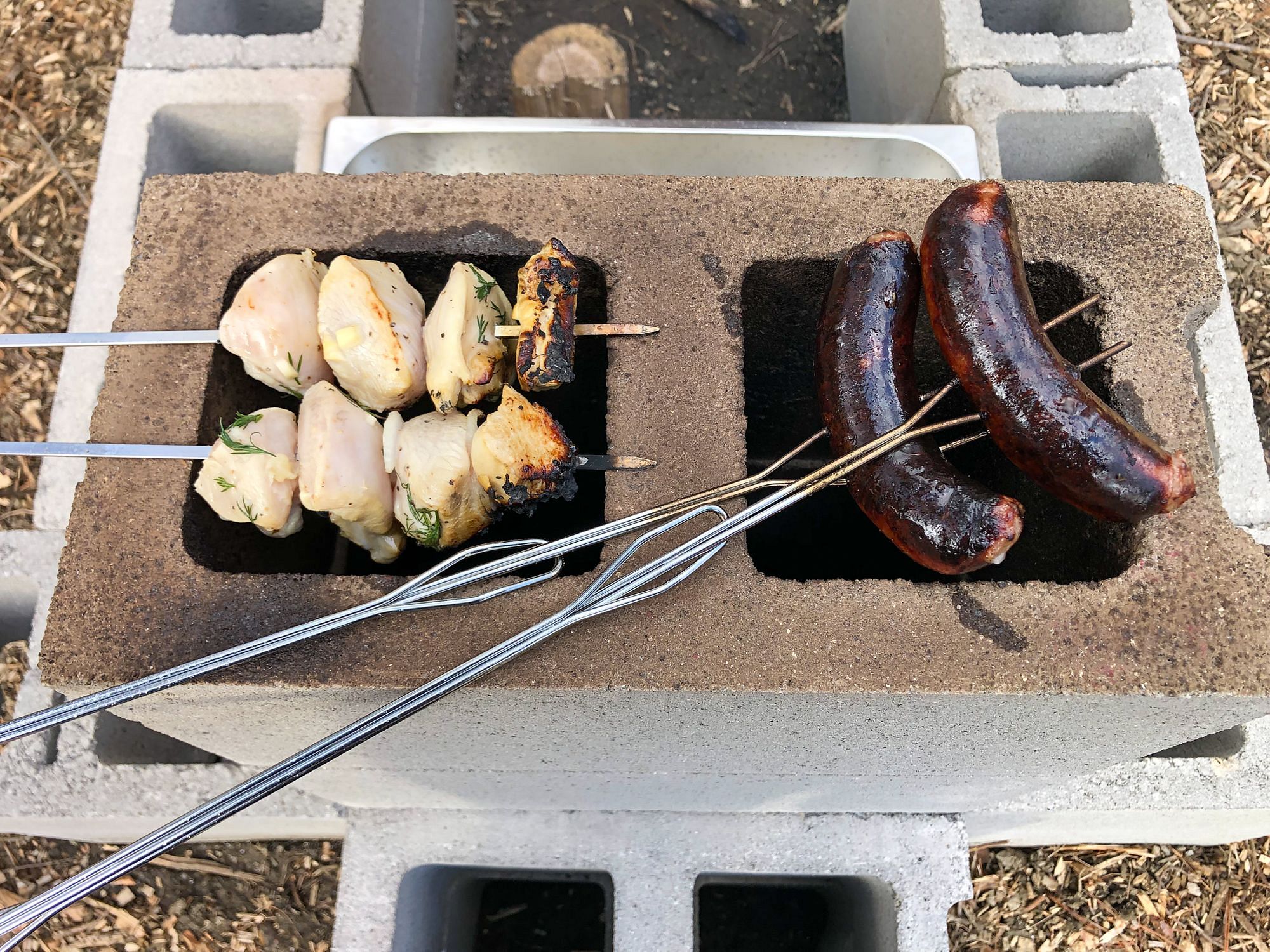 Hopefully this is the first of many campfires we have this year! After all, we've got a lot of wood to burn.
Since we were evaporating such a small amount, we stopped short of syrup since it's easy to burn when there's so little. We'll accumulate some more sap and combine it for a larger batch.
First Solar Day
Here in Vermont, we're totally off the grid in our RV. We have 600W of solar panels deployed on the ground outside, but at this time of year in a cold climate that isn't enough to provide all the power we need.
Until now.
On Tuesday this week we managed our first day running purely from solar - no running the generator for an extra boost!
Admittedly we did end the day with the batteries a little lower than 24 hours prior (84% vs 96%) but we did have enough charge that we could easily make it through the night - a first without using the generator since we've been back in Vermont!
According to our monitoring system, on Tuesday we generated 1.42kWh of solar energy from the 400W of panels connected to it - assuming our other 200W array performed similarly, then overall we generated somewhere around 2kWh in total solar energy. Not bad for mid-March in Vermont!
Fingers crossed this is the first of many days this year where we don't need to run our generator - not only is it noisy, but with the price of gas at the moment, it's not cheap to run!
Mud Season
Unfortunately the warm weather also means more mud. It's not just snow melting, but the ground itself is still frozen, and as the top layer thaws, the moisture has nowhere to go so it just sits there as a muddy swamp.
The road outside our property this week has been bad. Really bad. Several neighbors we've spoken to who've lived here for decades or more say it's the worst they've ever seen - a sentiment echoed by many online.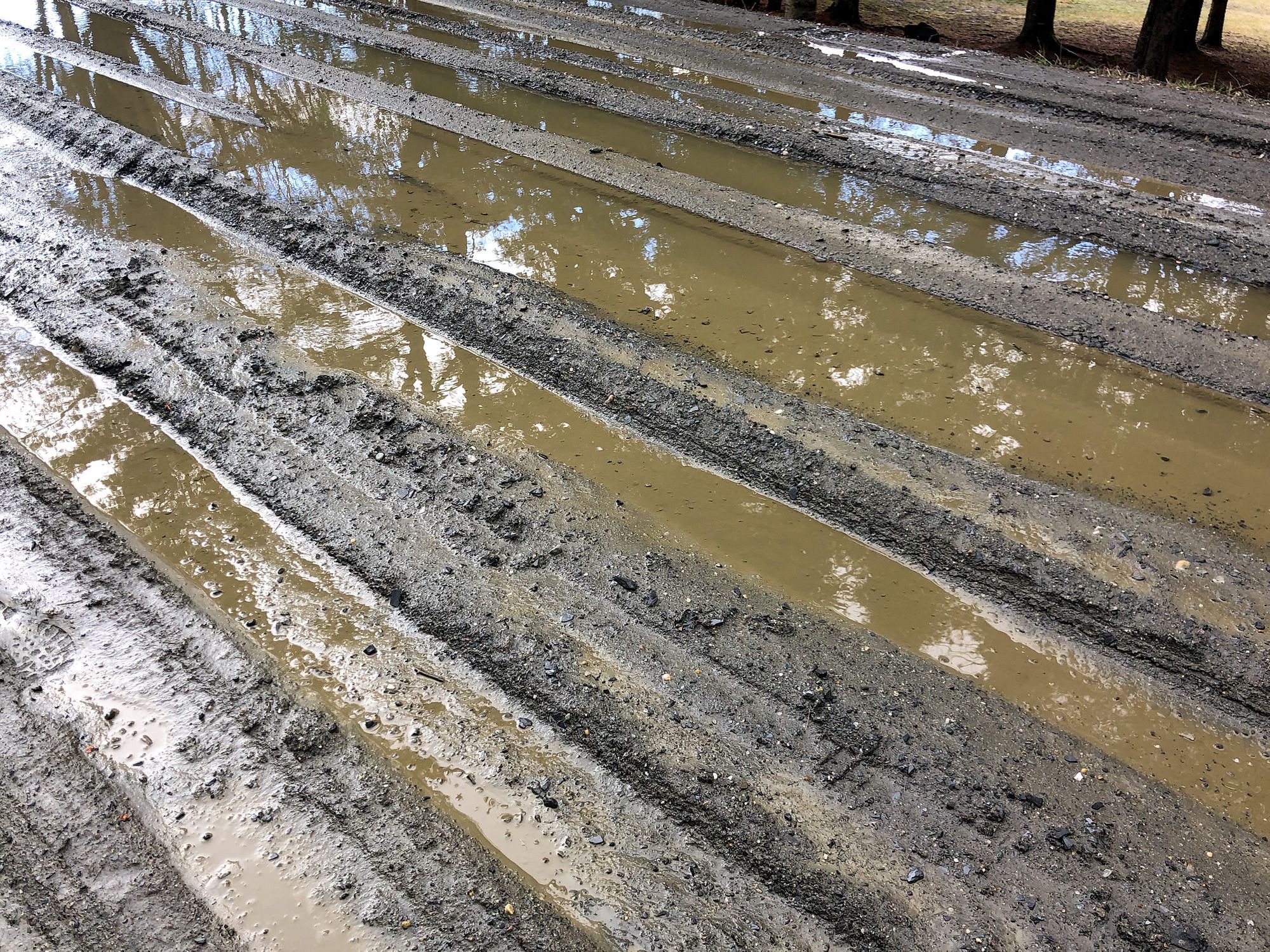 I believe it's in part thanks to our new tires that our truck hasn't had any issues getting through, but we've needed 4WD, high clearance and even the rear diff locker at times!
Unfortunately the same can't be said of other vehicles. On Sunday, it took the combined efforts of my truck pulling and our neighbor's tractor pushing to free a box van buried up to the axles in mud on the road.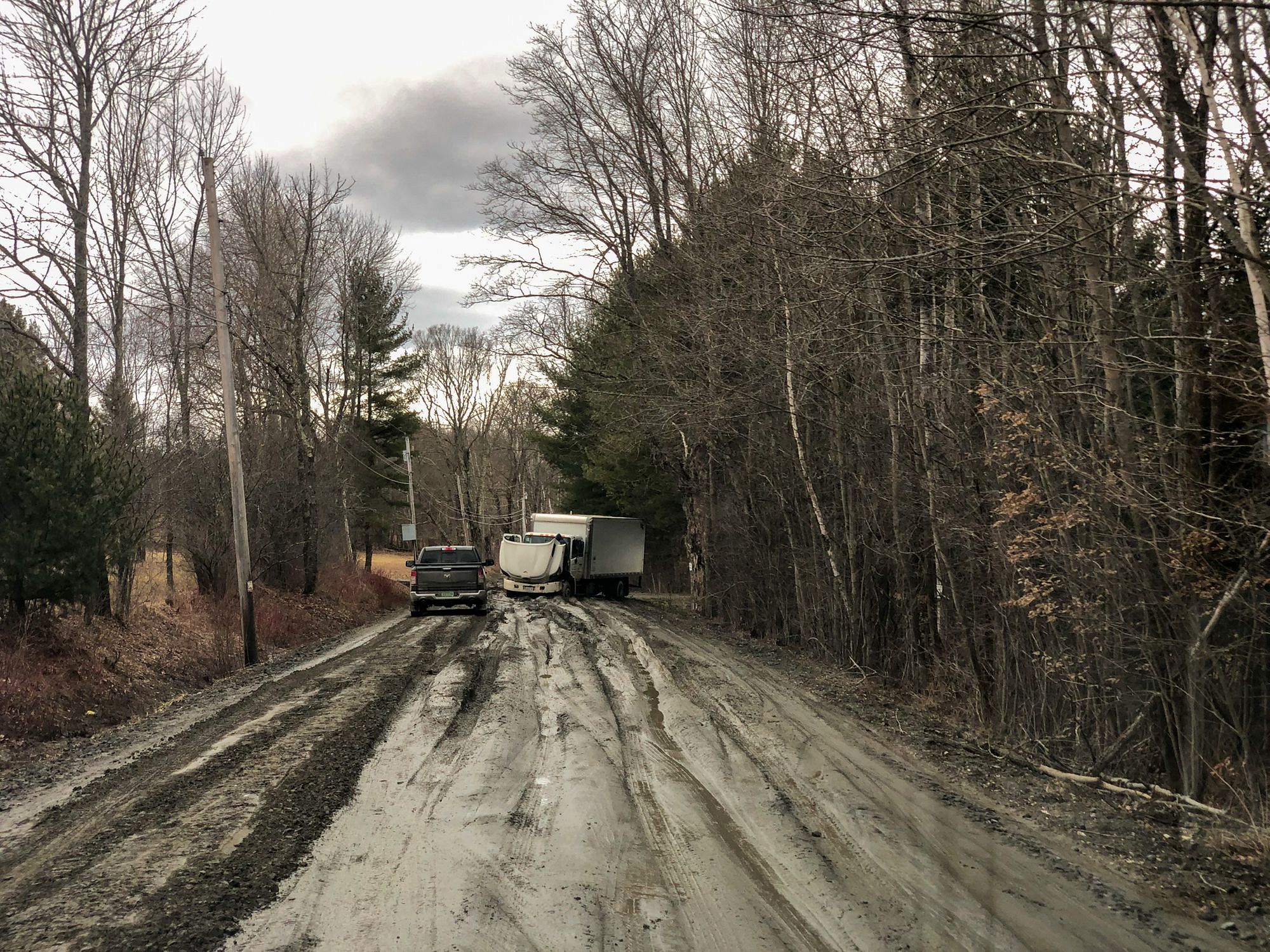 And then, by 8am on Monday morning I had recovered two more vehicles using our tractor to tow them out - an SUV and another box van.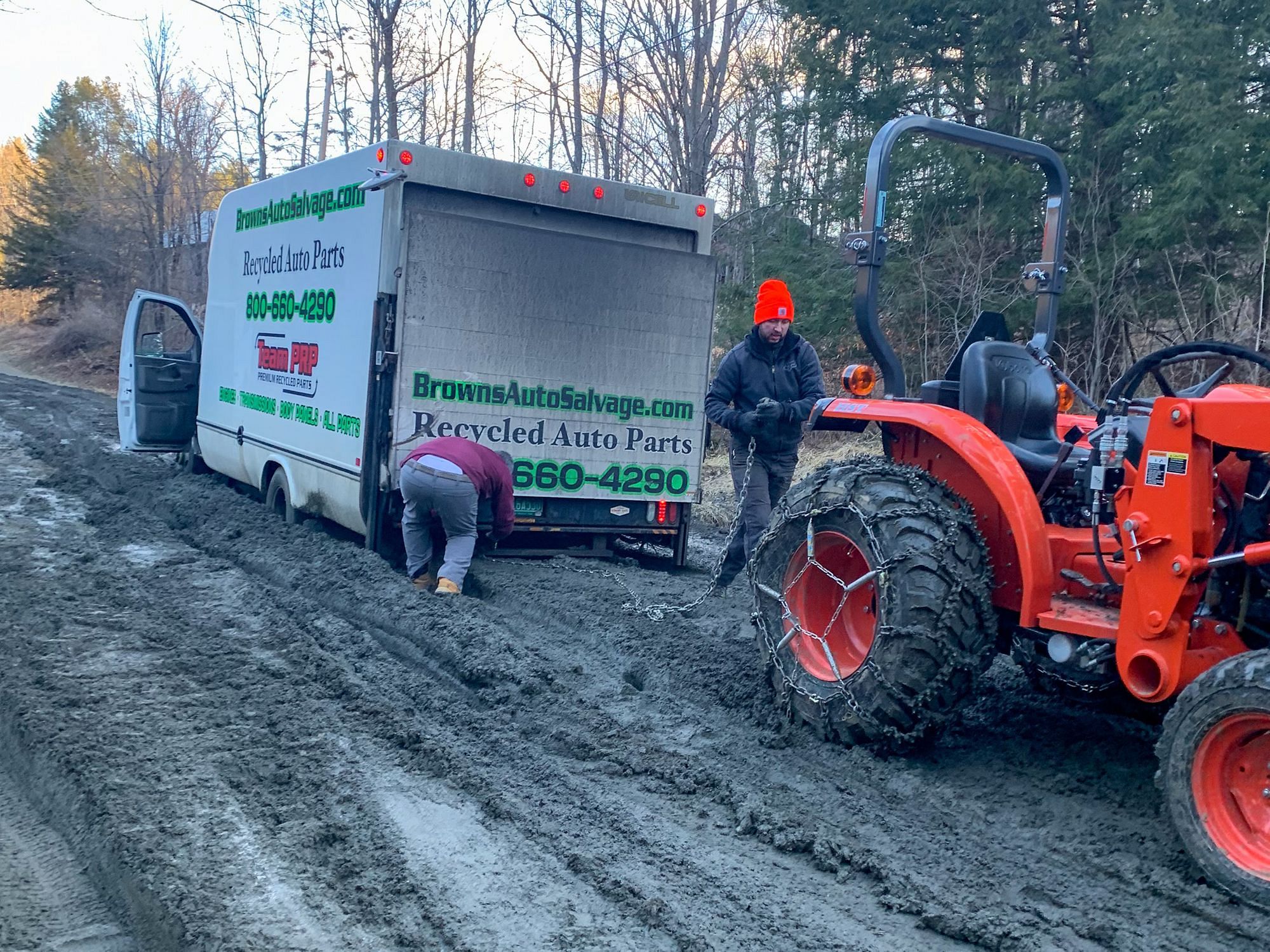 Top tip - know where your tow hooks or attachment points are on your vehicle. It's much easier to find out now than when you're buried in 12" of mud!
I had been planning to remove our tractor's tire chains this week, but I think I'll leave them on a little longer....
Sustainable Living
One of the goals for our house build is to make our home as sustainable as possible - not just in the way that it's built, but in its energy efficiency and the lifestyle it enables.
Living a sustainable lifestyle is important to us both, and something that we've tried to embrace as much as possible during our time on the road. However, now that we're settled in one spot, we're trying to take this to the next level.
Vermont has quite strict rules around trash and recycling - e.g. kitchen food scraps are not allowed to be put in the trash. We also pay by volume for all trash and recycling we take to the transfer station, so now there's a real financial incentive to the old adage of "reduce, reuse, recycle".
So far, I'd say we're doing pretty well! We've been back in Vermont for a little over 3 weeks, and we've only just filled our 2.6 gallon kitchen trash can for the first time (and that's mainly due to some bulky meat packaging that we'll be avoiding in future).
We've been dutifully collecting all food waste in our new countertop kitchen scraps bin, and when it fills we're transferring it to our compost tumbler. We're using reusable mesh bags for produce when we go grocery shopping to reduce plastic waste, refilling our own containers with bulk ingredients wherever possible, and saving jars and tubs for reuse either in the RV or for future sorting.
Meanwhile, up in the shipping container, Diana has established a selection of boxes for sorting our recycling - plastic bags to go back to the grocery store, mixed recycling for the transfer station, and various other boxes for more specialized items (e.g. batteries).
Day-to-day, Diana this week bought a stainless steel Bento box to try out as an alternative to a plastic lunch box when we're traveling, in addition to the reusable stainless steel and bamboo utensils we already travel with.
Last, we're beginning to experiment with more natural cleaners. While we've long avoided harsh cleaning chemicals in favor of gentler, greener alternatives, this week we bought a blue cobalt glass spray bottle so we can experiment cleaning with a dilute vinegar solution instead.
All of this is a great opportunity to experiment and learn what works for us.
Tree Felling
But the big news this week is that we've been hard at work felling trees! In total, we've now spent 5 days in the forest and are making slow but steady progress.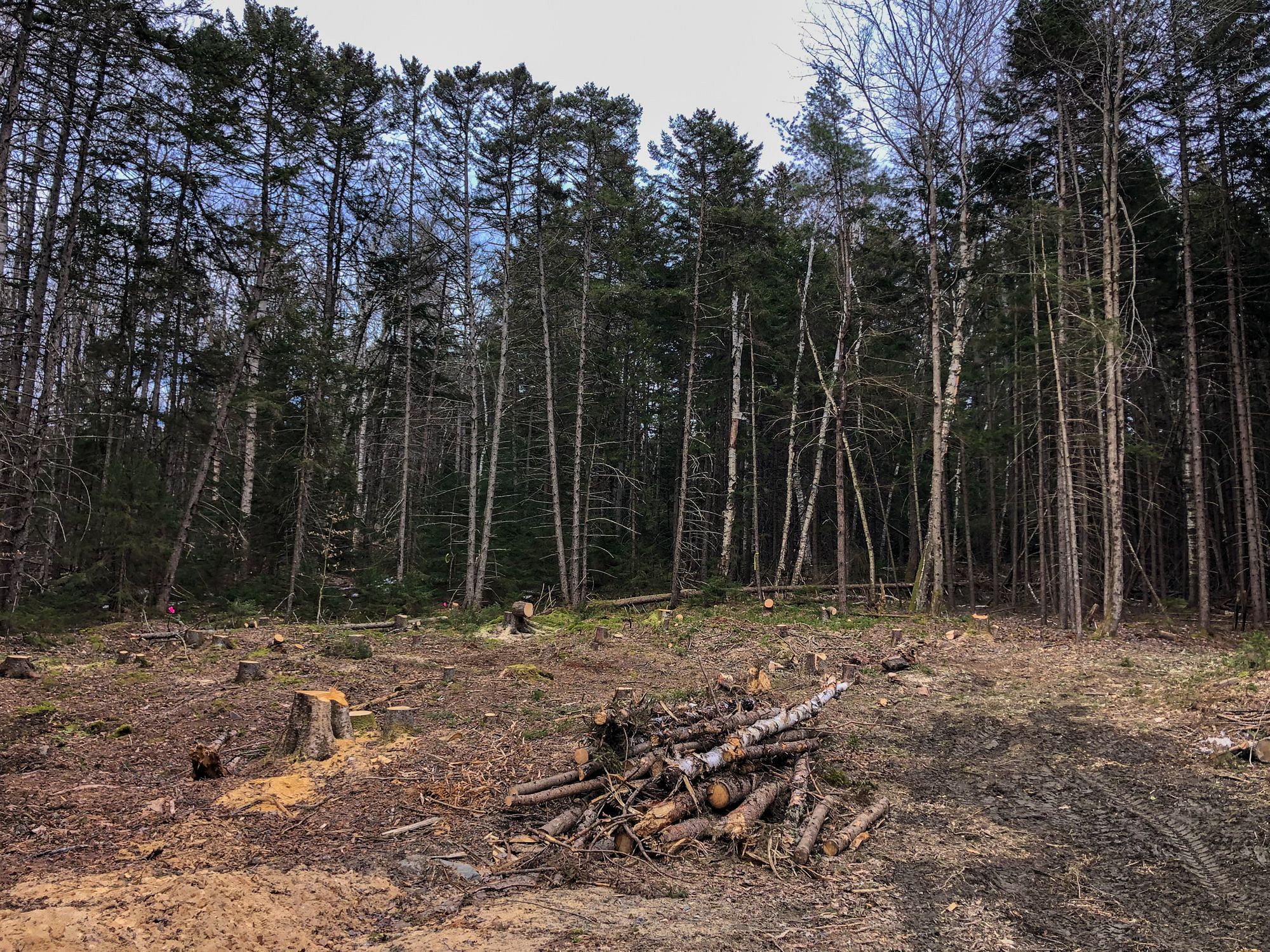 We've felled 51 trees (6 birch and 45 spruce) including a 16" birch and 13" spruce. The process we've found that works for us is to fell 3-5 trees at a time then limb and chip the branches before bucking and stacking the logs cut into 17ft lengths.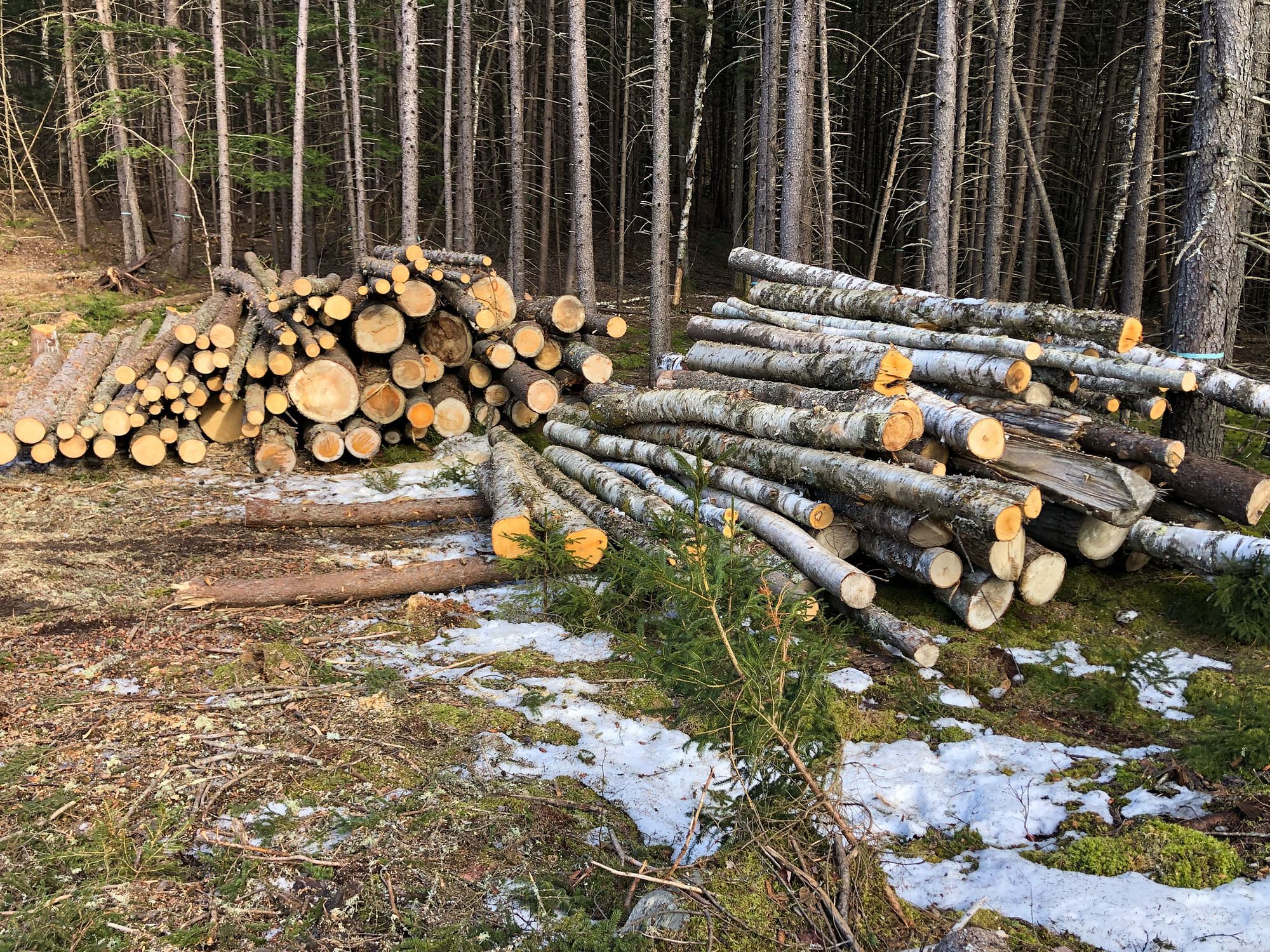 Felling the trees is pretty quick, but it's the subsequent cleanup that takes time. We're also producing a ton of wood chips and mulch - 20 full yard bags so far, and our DIY bulk bag support is working really well.
There's still a long way to go (I'm roughly estimating we need to clear about 300 trees in total, but we haven't counted), and at the rate we're going that means we'll have well over 100 cubic yards of wood chips and mulch by the end! While we do plan to compost a lot of it, we've also found some neighbors willing to trade us eggs and garden produce for mulch - win win!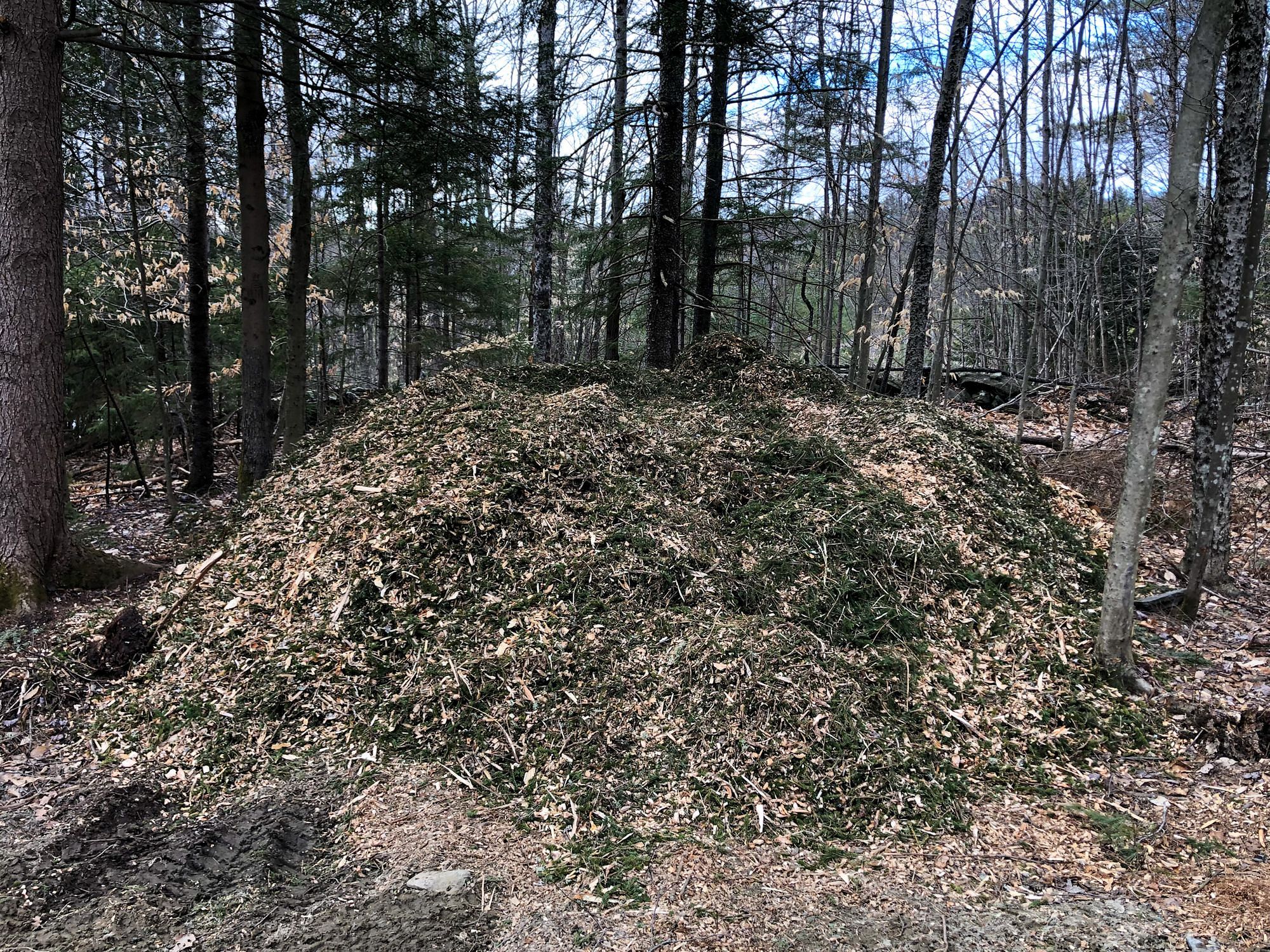 So far we've put about 25 hours on our new Woodland Mills WC68 wood chipper and we're really impressed. It can eat through branches as fast as we can load them, and while it can't handle as big material as the chippers we rented, it's impressive what it can do! It's honestly a perfect match for what we need.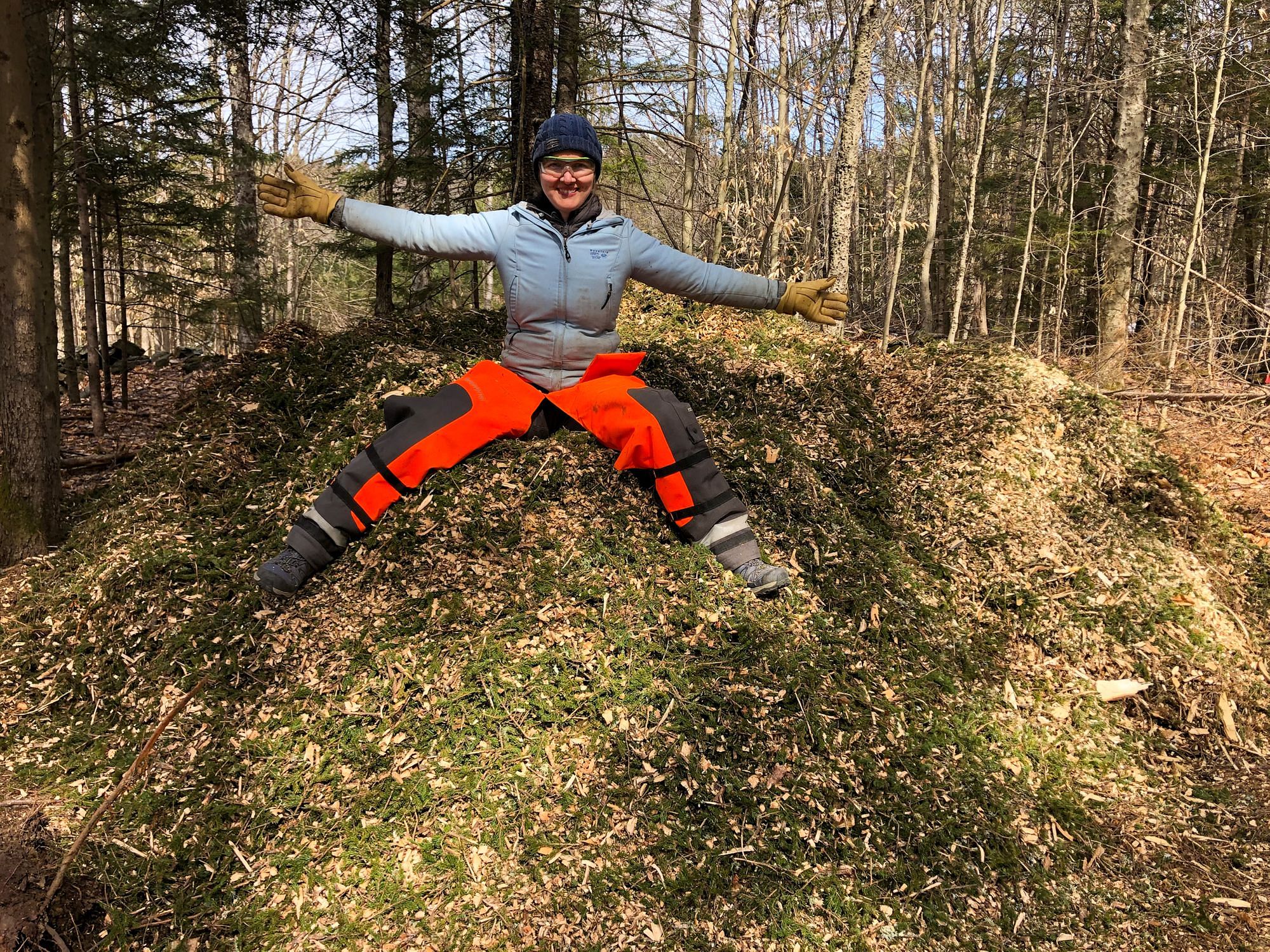 Even though it's slow progress clearing just 10-15 trees per day, it's incredibly rewarding seeing the space open up in front of our eyes. We've now reached both the location of the well and the edge of the utility building, and there's a long way to go but we're getting there!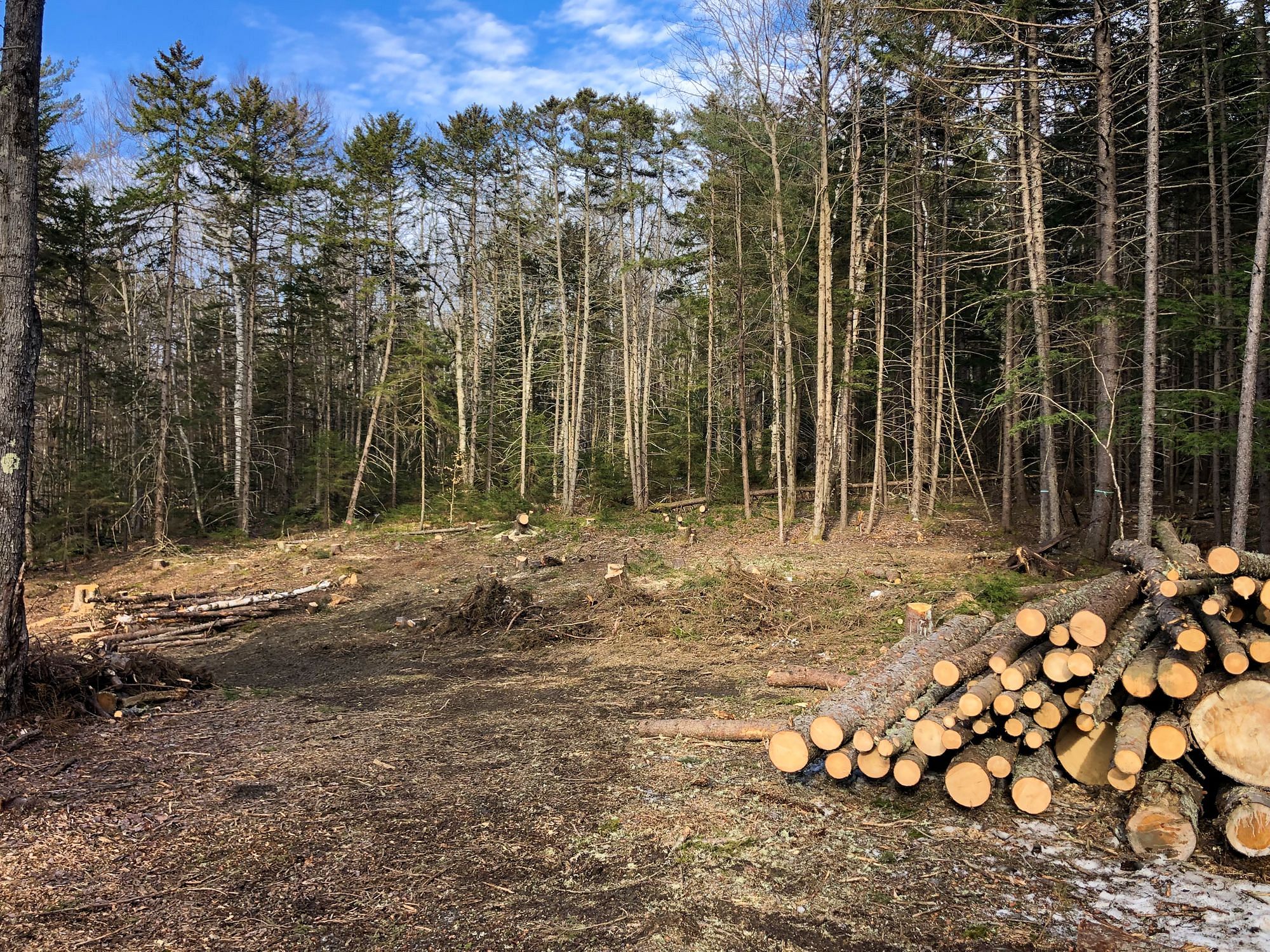 Each day we're getting a little bit more streamlined, finding new ways to make the job easier, and learning to work more efficiently together. We're also building some new muscles too - waking up after the first couple of days I could barely move!
We're choosing only to fell trees in dry weather - not only is working in the forest in the rain not as enjoyable, it's also not as safe. Sadly this week's dry weather is behind us - it's been sleeting / snowing / raining throughout the night and is forecast to rain for the next few days. But this time won't be wasted - we can catch up on blog posts, video editing, maintenance and other errands that don't need us to be outdoors.
There's a long way to go on this project, but right now we couldn't be happier!