Introduction
I love building things - I'm a maker. From software to microelectronics, from tinkering with the ATV engines to woodworking - I find it incredibly satisfying to produce something. Back in our sticks-and-bricks house, I had a basic woodworking shop, and made several basic items - including a patio table with built-in planter (aka drinks cooler) and a hammock stand for Diana.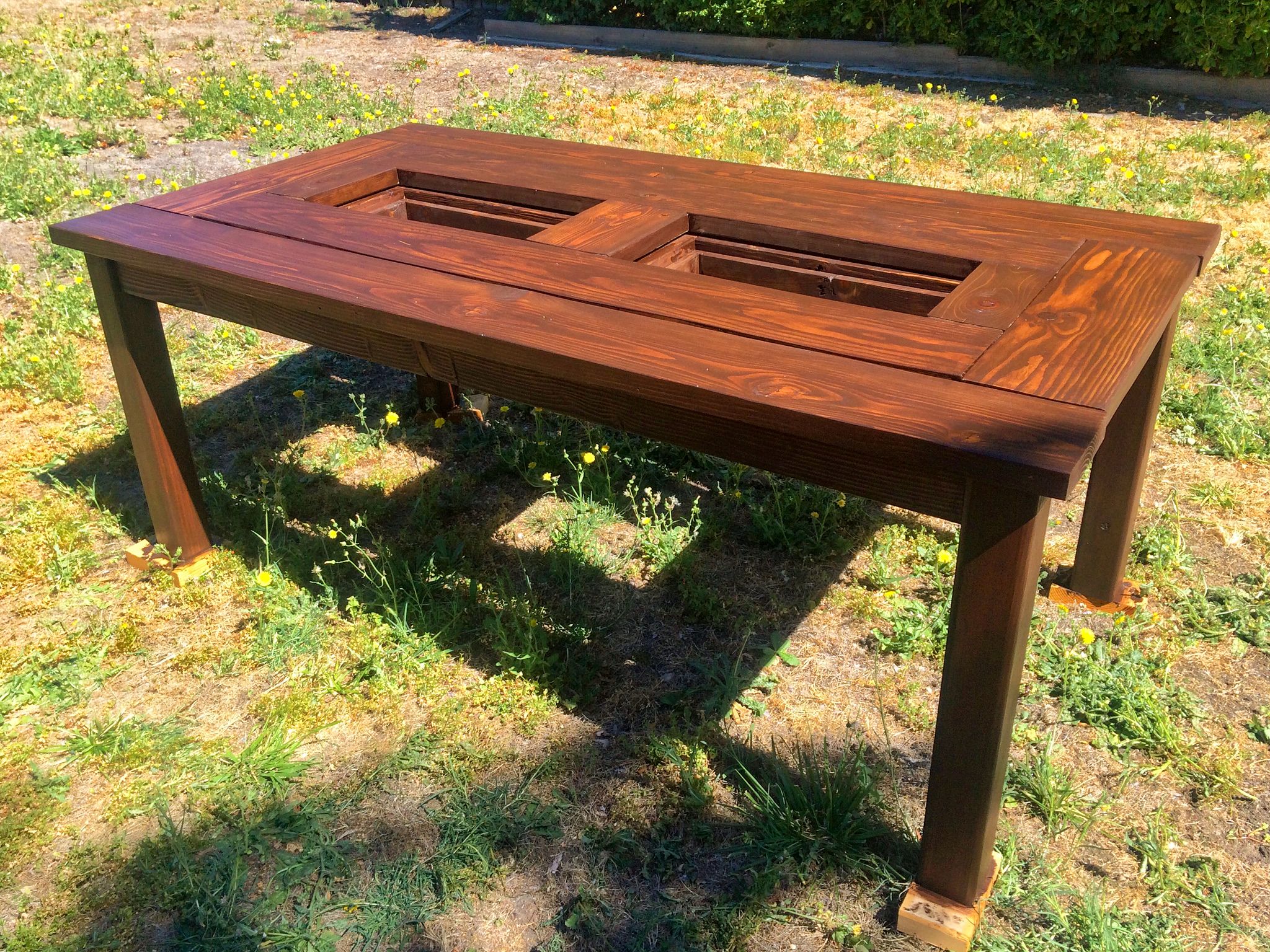 But nearly all that stuff was sold, donated to goodwill or put in storage. I kept some of my electronics kit because that's smaller, but it's hard to find somewhere to keep a table saw in a 21ft trailer!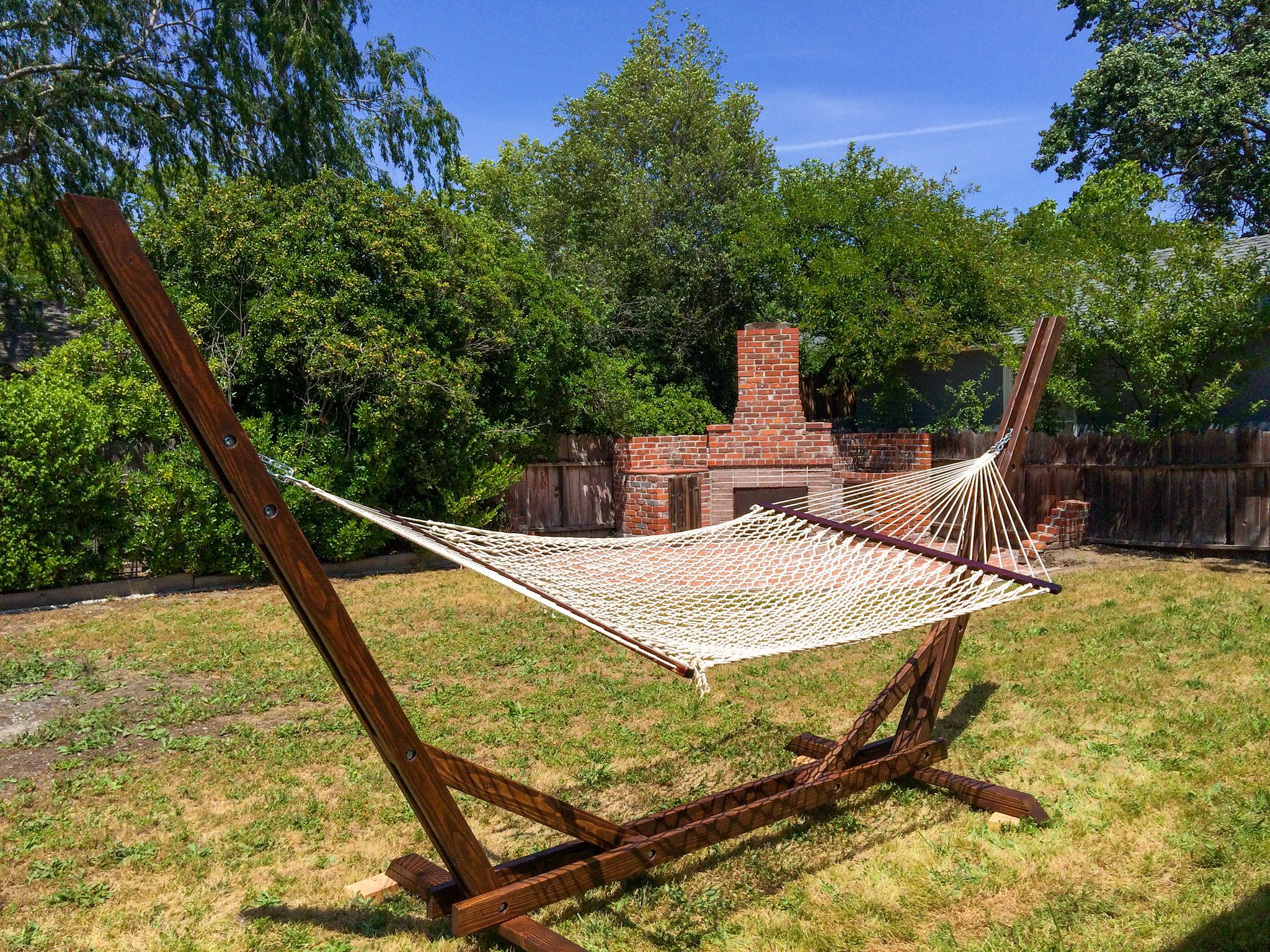 Over the past several months I've felt my maker-urge growing. I found myself watching DIY YouTube channels about renovation, building and restoration. I needed to build something physical. Something big. A house!
And that's how I stumbled upon Habitat for Humanity. They're a US-based non-profit organization that builds homes with volunteers. Although their homes are for low income people and families, the money they save with volunteer efforts means a real emphasis is placed on quality construction with low ongoing maintenance, and they're tailored to the individuals who'll live there.
RV Care-A-Vanners
In my research, I came across a Habitat for Humanity program called RV Care-A-Vanners. This is a program for full-time RVers to join a project, usually for a couple weeks. Sounded perfect.
Unfortunately not. Through conversation with them, it didn't make sense for us. RV Care-A-Vanners is designed as a program that you join for the duration - you're expected to camp with them, and there are social activities planned around it too.
For the build site I was looking at, the camp site was $49 per night - over the 2 week duration, that would be nearly $700. That's more than we've spent on campgrounds all year! If you're an RVer that typically stays in RV parks then that could work out great - but we wanted to boondock.
La Plata County / Durango HfH
I wanted to join a build being run by the La Plata County chapter of Habitat for Humanity, based out of Durango, CO. I phoned and spoke with the Director for the region, Taylor. She was incredibly helpful, and answered all my questions!
The plan is simple: you show up as little or as much as you can, wear suitable clothing and bring lunch - they'll provide the rest! She gave me the details for the build site in Bayfield, CO (about 20 miles east of Durango), and I told her I would start in a couple weeks.
Bayfield Build
With no idea what to expect (and let's be clear, no experience building a house!), I turned up bright and early at 8:30am on a Tuesday morning. In this area, Habitat for Humanity owns a 50-lot subdivision, and has been working around the area for the past several years, building homes for those in need.
This year's project is a single-story duplex, and when I arrived, the walls were up and the roof trusses were on. What on earth had I let myself in for?!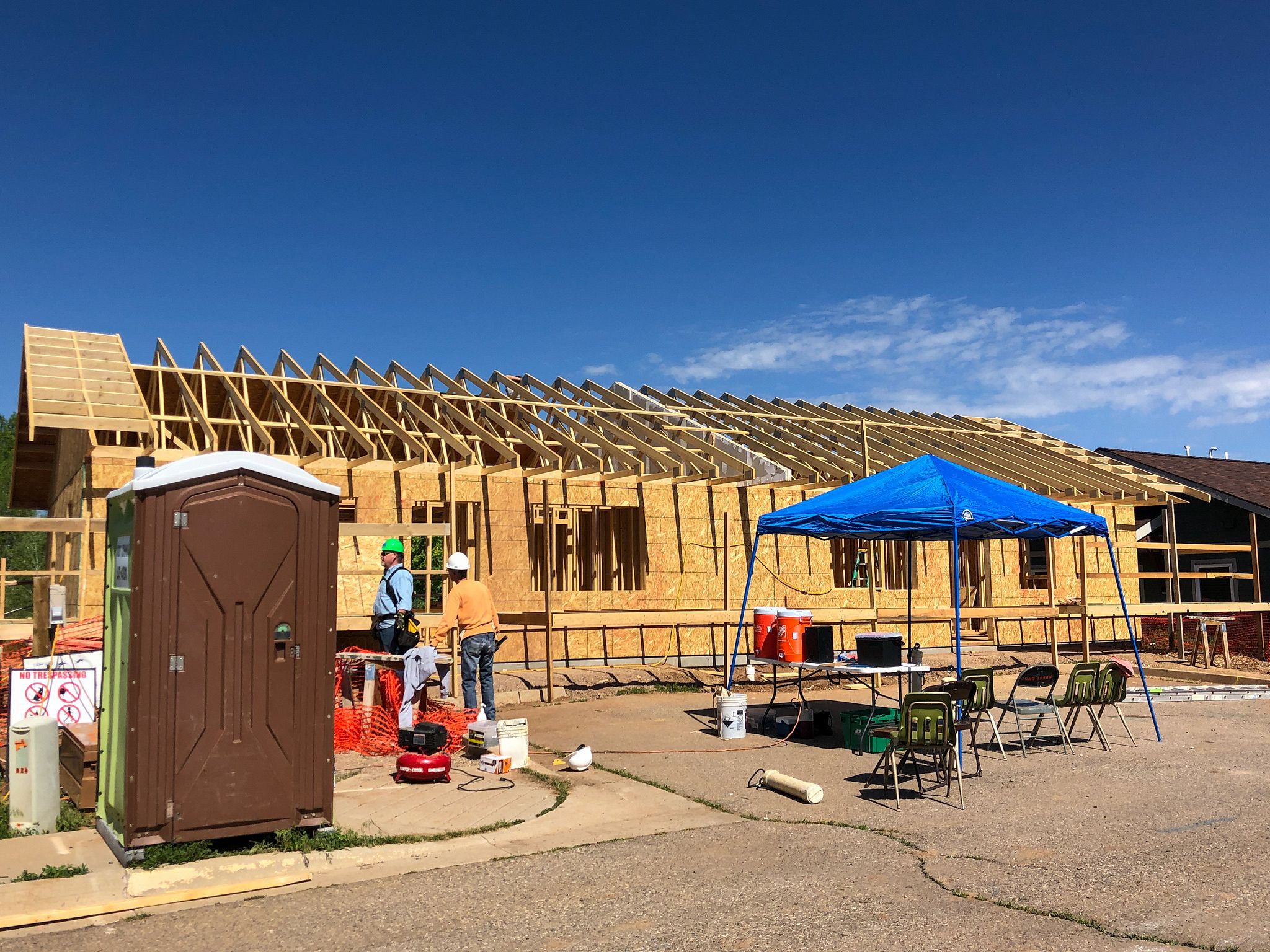 I introduced myself to Steve, the project supervisor and signed the obligatory waiver, presumably releasing Habitat for Humanity from any liability from my mistakes! Steve showed me around the site - explaining how things work and what the plan was.
Also on site were about 8 people from AmeriCorps NCCC. Having grown up outside the US, this was an organization I've never come across. In case you haven't either, it's a voluntary civil society program, supported by the US government, providing residential team-based work for young adults aged 18-24. We were also joined by several other volunteers, each of whom helps out at the build site when they can - usually a day or two per week.
Our first project was to build some scaffolding at the front of the house that we could use during the week. I was relieved to hear that my first project would be a temporary, non-structural component of the house! The other volunteers were incredibly friendly - but more important, patient. They showed me what to do and happily helped out when I had questions.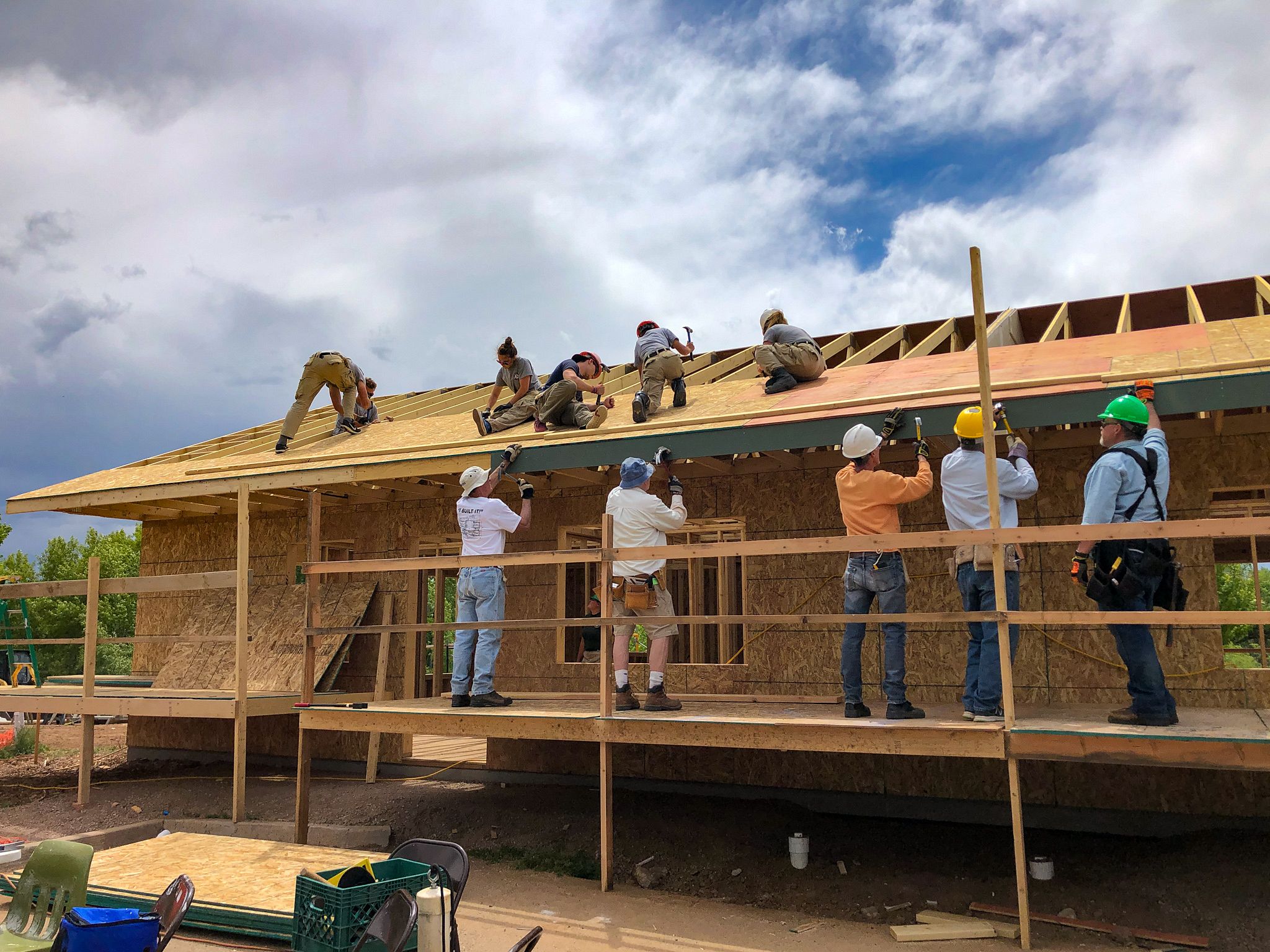 I spent 9 days over 2 weeks working with Habitat for Humanity on the Bayfield build site. During that time I had an opportunity to learn so many new skills, and help out on lots of areas of the build - from basic manual labor, to installing siding, and hanging doors. There was no pressure to do something you didn't want to - for example, I asked not to do any painting since I had donated all my old clothes in our latest downsizing and didn't want paint all over my good clothes!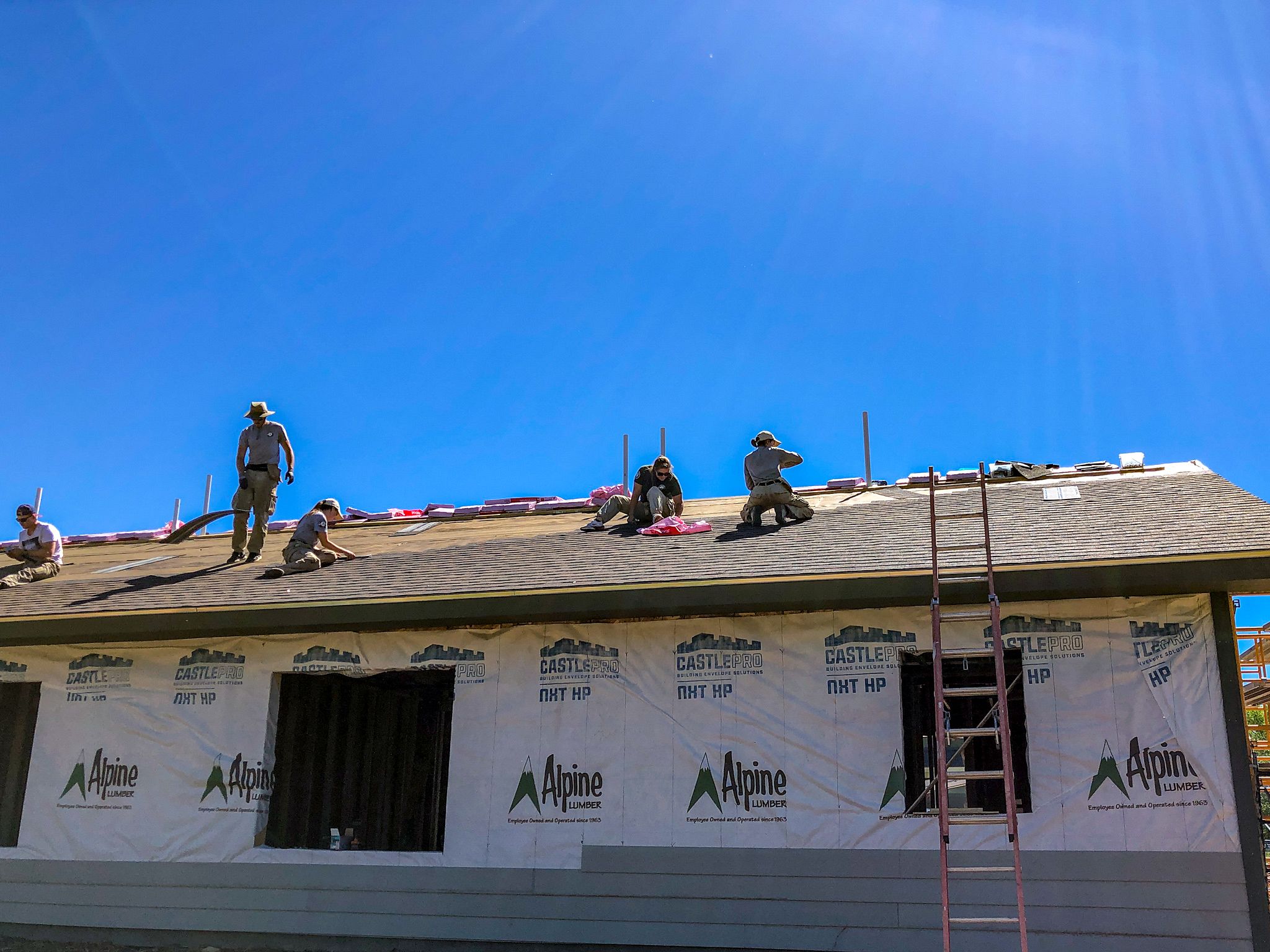 In just 2 short weeks, it feels like we accomplished so much - the gables have been installed, the roof is almost finished, the siding is up to window level and the doors are in. We were hoping to have windows in and the siding complete, but unfortunately the windows didn't arrive on time! Regardless, I left with a huge sense of achievement and admiration at the end of my time there.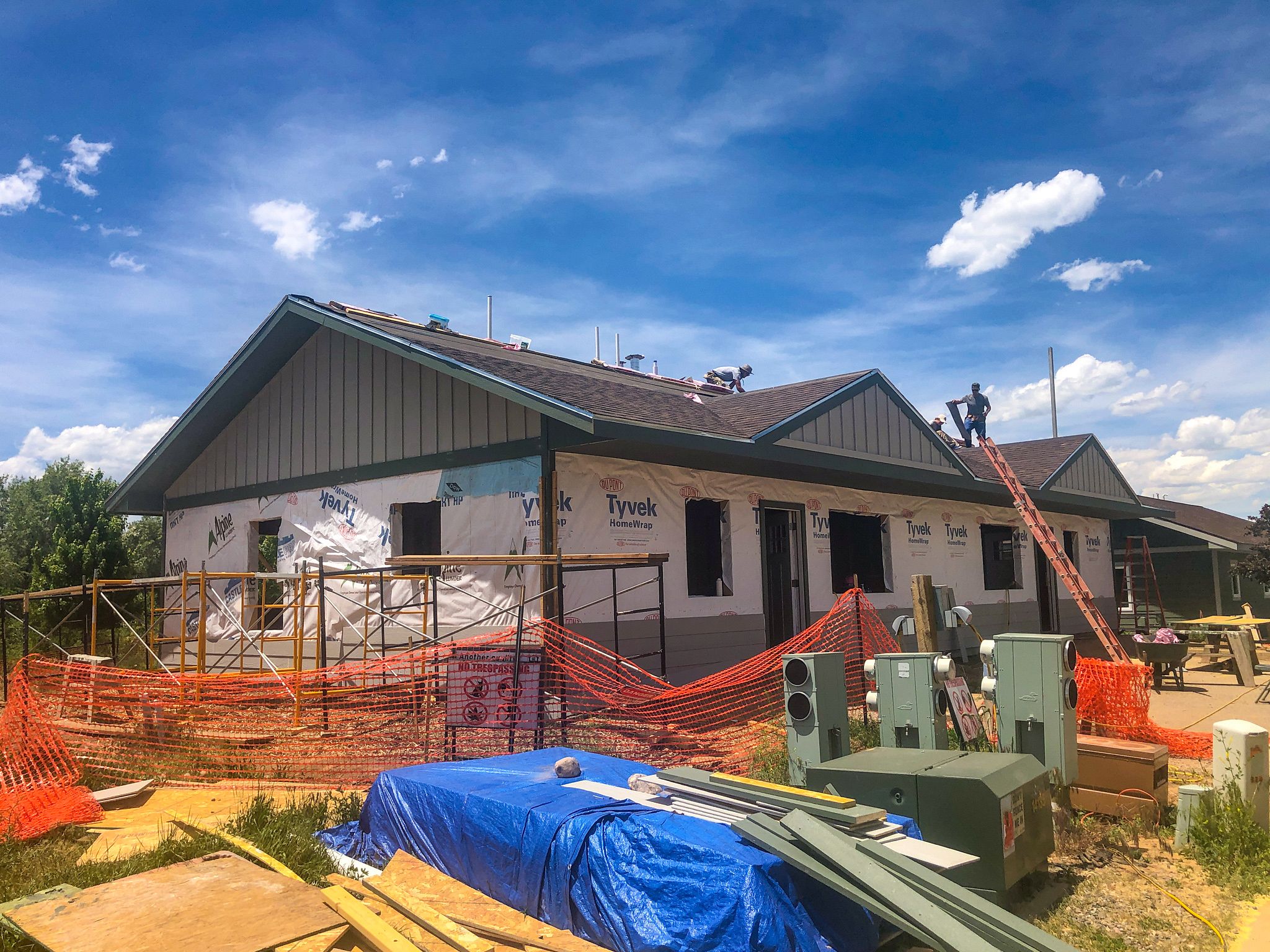 The People
Habitat for Humanity is about building homes, and people are such an important part of that. I was lucky enough to meet Julie, the future occupant of one of the duplexes we were building. It was so inspiring to see how excited she was about her new home. We almost met Bruce, the resident of the house next door that Habitat had built last year. It was great to hear how his home had been custom designed to take his disabilities into consideration - he was so happy!
I mentioned Steve earlier, the project supervisor. I can only imagine the difficulty of herding a dozen or more, largely untrained and unskilled volunteers to build a house. But he did it day-in, day-out with incredible patience, and always a smile on his face. He knew exactly what was going on, and if when we made mistakes, he would always calmly help us find a solution. I felt very privileged to be learning so much from him - if you read this, thank you Steve!
The volunteers who joined each day came from all kinds of backgrounds - construction, medical, military and more. It was fun hearing their stories each lunch time, and as someone unfamiliar with the area, they were able to share great ideas for hiking and other activities.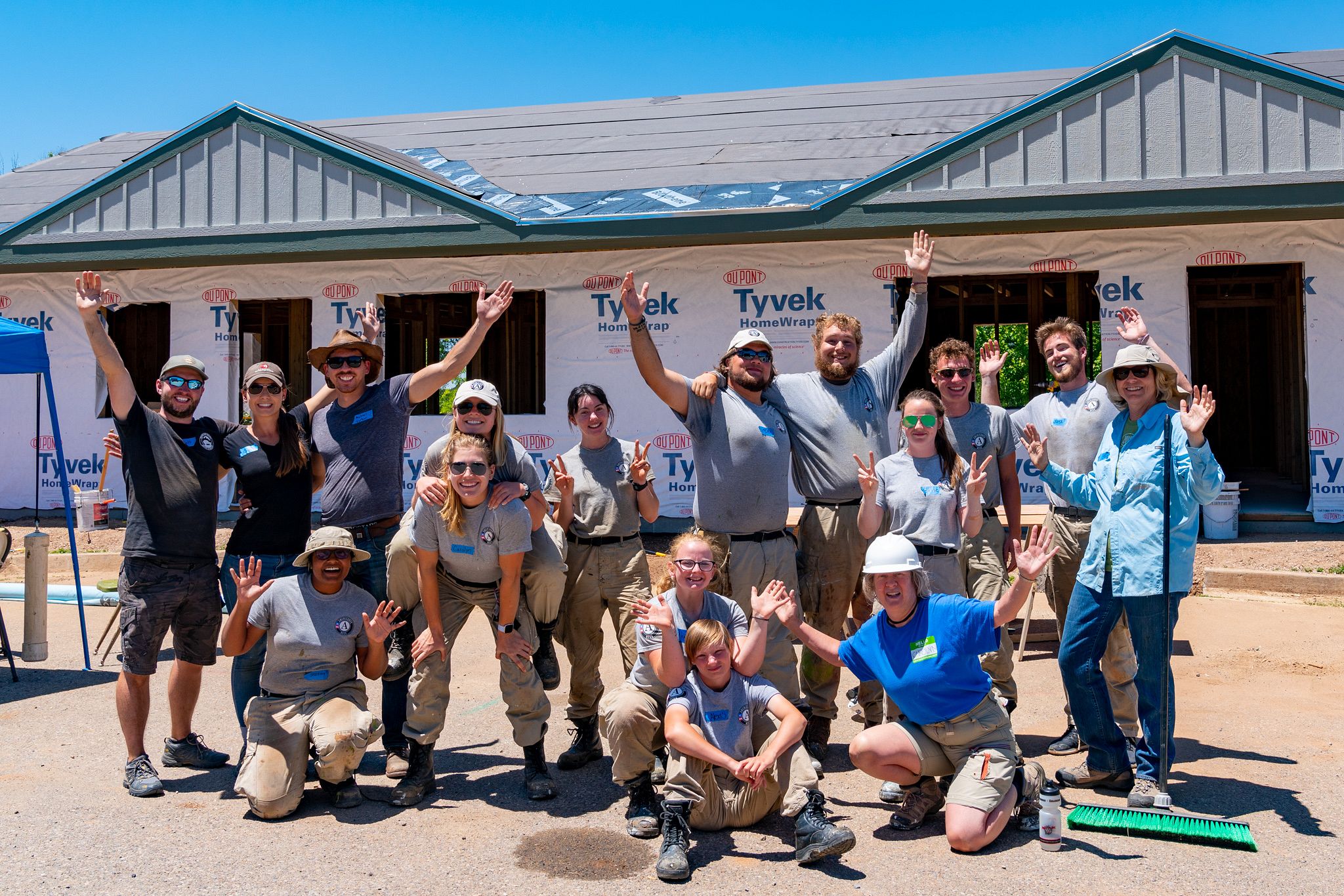 As other volunteers came and went, the AmeriCorps NCCC crew were constant. They were there every day from 8am (and even moved to a 7am start during the roofing phase), and were still there after I left at 3pm each day. Every single one of them was friendly, respectful, hardworking and helpful. As someone who has never come across AmeriCorps before, I was incredibly impressed - they are a credit to the organization!
Lastly, we were joined by our friend Cass from Tails of Wanderlust for a day too. She took a day off work and came along to help the build.
Conclusion
I was skeptical at first. Can someone with no experience of building a house really be a valuable volunteer at a build site like this? Will I enjoy it? Will I learn anything? Will I be made to feel welcome? Will it help satiate my maker-needs?
The answer is: yes. Yes to all of those questions.
Without doubt, it's been one of the most rewarding experiences I've ever had. Going forward, I'll be keeping an eye out for other builds happening along our route, and if I have a little time to spare (or maybe a growing thirst to build something), I'll definitely be joining in again!
So I encourage you to do the same. There are Habitat for Humanity chapters all around the country - look up your local one and see if there's a build going on near you. It's a great way to meet new people, learn new skills, and most importantly, help someone in need.