We've owned our 2016 Ford F-150 Platinum since new, and honestly, we love it! It's our daily driver, our off-road adventure vehicle, and perhaps most importantly, for the past 3½ years it has been towing our RV around the country on our travels!
So it should come as no surprise that we've tried to take good care of it. We've been diligent about fixing things when they come up - like the blown exhaust gasket back in 2019.
We typically change the oil every 5,000 - 7,000 miles, and I prefer to use full synthetic oil to help offer the engine just a little more protection from the stresses of towing.
But a big part of being a responsible vehicle owner are the big scheduled services, and on our recent epic road trip from Virginia to Florida, Texas, Vermont and finally back to Virginia, we rolled over a big milestone - 100,000 miles!
The 100k mile service on an F-150 is a pretty big deal - in addition to a thorough check of the entire vehicle, it also involves changing most fluids, the spark plugs, and checking the timing belt. Although we've not noticed anything wrong with the truck recently, you never quite know what the service technician will find when they put it under the microscope!
Choosing a Ford Dealer
As RVers, visiting a new Ford dealership is always a bit of a gamble. Short of outright lying, there's no way to conceal the fact that we're from out of state and our visit to the dealer is probably a one-off, so who knows what quality of service you'll get?!
Over the years we've stumbled upon some absolute gems - like Hatch Ford in Silver City, NM where they installed our new brakes and suspension, and Durango Ford in Durango, CO where they repaired our blown exhaust manifold. In each case, the service was exemplary and they went out of their way to accommodate our needs as RVers - I would highly recommend either!
CMA's Williamsburg Ford
This winter we're in Virginia, and as I looked around the local area, CMA's Williamsburg Ford had some of the best reviews. I also inquired at a local tire shop to see if they could offer any insight, and they hadn't heard anything that would give cause for concern.
So I called CMA's Williamsburg Ford last week, explained what I was looking for and our situation - I'd need a shuttle ride almost 20 miles away and as full-time RVers we're incredibly dependent on the truck so getting the work done on time is a priority.
Dave who I spoke with was great. He explained the process and how they would start with a complete inspection of the entire vehicle, including checking the fluids. They would then call me to explain what had been found and what they recommended, at which point I could decide how to proceed - perfect!
I booked an appointment for the following week, and yesterday at 7am I dropped off the truck with their Service department. They had a Ford master technician lined up to work solely on my vehicle all day, and a shuttle ready for me - 45 minutes after arriving, I was back at home in our RV.
100,000 Mile Service
A few hours later I received a call from Dave with the results of their inspection.
Mechanically, everything on the vehicle was sound - they hadn't uncovered any issues and everything on the vehicle was in good condition. Excellent!
The only problem they had found was a small leak from the rear differential, and as such they recommended removing the cover to completely drain it before re-seating it properly, rather than draining with a siphon which would be cheaper and quicker but would not allow them to fix the leak.
As a precautionary measure, they also recommended performing a similar service on the front differential and transfer case. While this may not have been strictly necessary, given the stress we put on the engine in both 2WD (towing) and 4WD (off-roading), I authorized them to go ahead with the work.
In addition to the regular service activities, there were also a couple of minor recalls on the vehicle that they planned to look at.
Dave kept me updated with progress during the day, conscious that I was keen to get the truck back that day if possible but if they needed to keep it overnight then that wouldn't be catastrophic.
Around 4pm I had a call from Dave - the work was nearly complete and if I was ready they could send a shuttle to collect me. Perfect!
Price Breakdown
Big interval services aren't cheap - there's a lot of labor and even just the cost of fluids is significant. But servicing costs are a reality of owning a vehicle, and when the vehicle is as critical to your lifestyle as our truck is to us as RVers, it's worth spending the money to do things right.
Dave did a great job of setting expectations up front as to what things would cost, so there were no surprises. The work broke down as follows:
| Service | Parts | Labor |
| --- | --- | --- |
| Front Differential Service | Oil: $82.82 | $159.99 |
| Rear Differential Service | Oil: $207.05 <br /> Sealant: $19.21 | $104.57 |
| Transfer Case Service | Oil: $26.72 | $68.19 |
| Tune Up, Spark Plug & Boot Replacement | Spark Plugs: $112.98 <br /> Boots: $83.46 | $426.24 |
| Transmission Fluid Change | Oil: $213.76 | $129.97 |
| Coolant Fluid Change | Anti-Freeze: $48.36 | $131.24 |
| TOTAL | $794.36 | $1,020.20 |
Along with $49.99 of shop charges and $59.11 in sales tax (labor isn't taxed in Virginia), it came to a total of $1,923.66.
Summary
A big service like this is never cheap, but knowing that the vehicle is being well maintained and is in great condition for its mileage is very good peace of mind.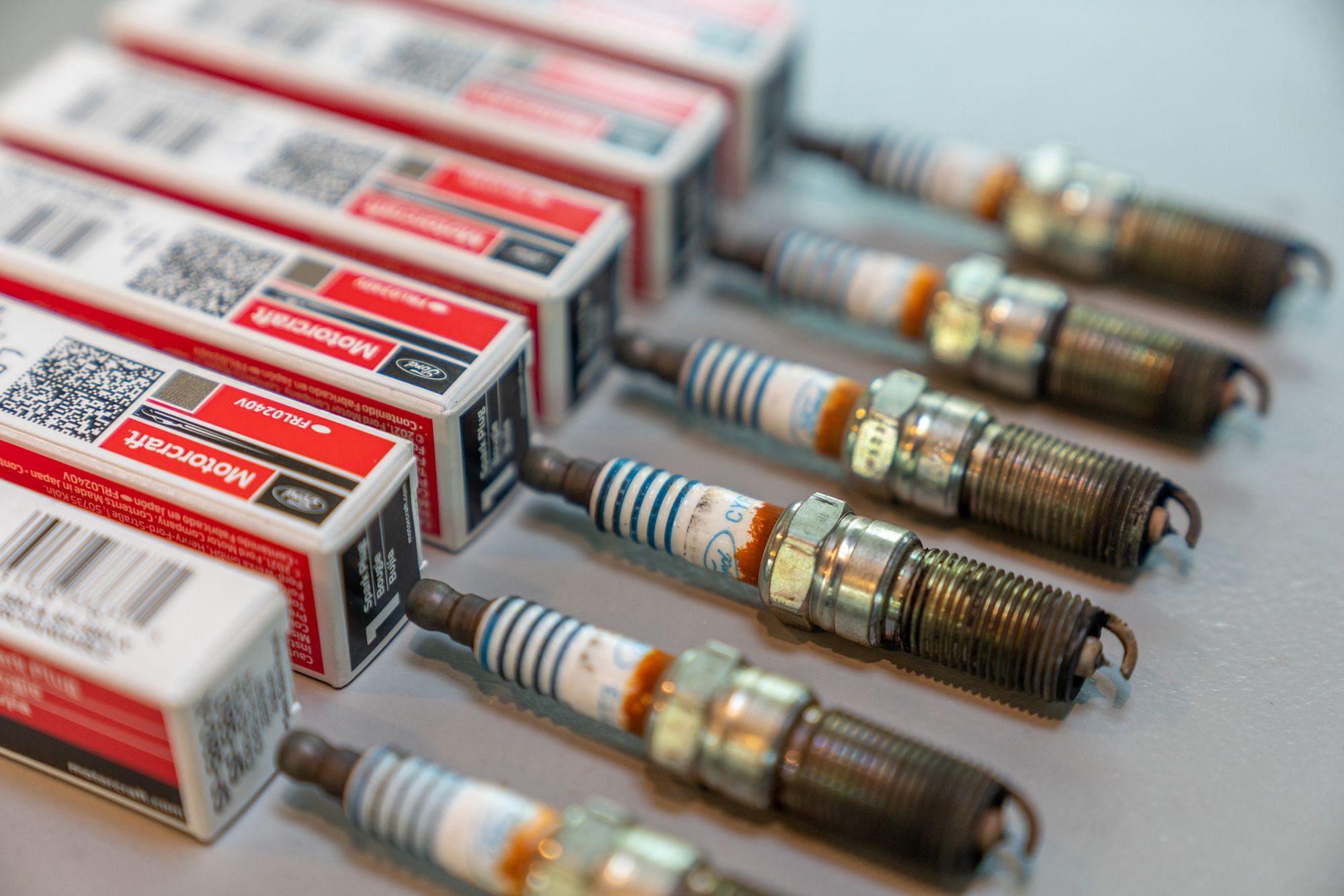 I'm not sponsored or affiliated with CMA's Williamsburg Ford in any way - as you can see above, I paid full retail pricing on everything, and they don't know I'm even publishing this blog post.
Since finding a reputable dealership to have work done can be such a gamble as RVers, I always like to share examples of exceptional service, and that's exactly what I received here. I dropped the vehicle off at 7am and by 5:30pm I was back on the road in my truck again - just in time for one more appointment with my truck, but that's a story for next time....
I also hope this blog post helps fellow F-150 owners in understanding what some of the likely costs might be for your own 100,000 mile service. The leaking rear differential added about $668 to the total cost of the service due to the precautionary servicing of both differentials and transfer case - without that, the price of the service would have been around $1,250 but as always, your mileage may vary.