Settling In
Last week I spoke about how most of the snow had melted and we were in the midst of mud season here in Vermont.
But that wasn't the whole story.... As some people messaged us about, there was a big storm due to hit the area last weekend, with the forecast suggesting we may get as much as 10" of snow! Well, the storm did hit, and we did get snow! I don't think it was quite 10", but we still got maybe 5-6".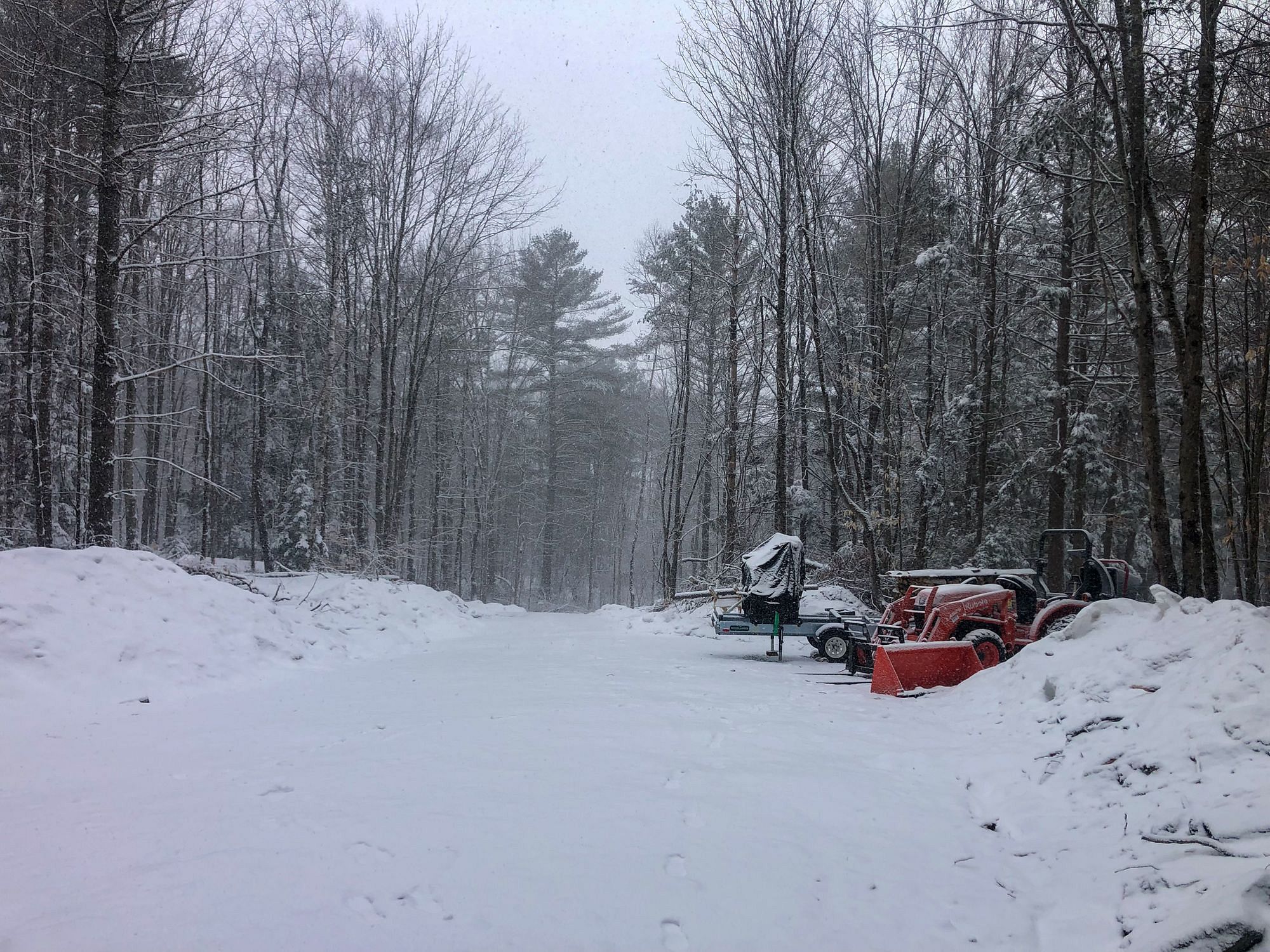 But temperatures have barely dropped below freezing in the last week so the snow we did get was wet and heavy, and as of writing this on Thursday morning, there's really not much snow left to speak of!
In fact, we're pretty much where we were a week ago - lots of mud!
But last week's snow meant we had to find something to do at the weekend. This year we're trying to use our weekends to get out and explore the local area, but with the big storm it didn't seem sensible to be out on the roads - nor much fun to be out in a snowstorm!
Instead we had to find some indoor projects to work on....
Pallet Projects
Rather than staying in the RV, we decided to head to the shipping container. Spurred on by the previous week's success with the new shelving, we had visited Home Depot earlier in the week and picked up another set, saving assembly for the weekend.
After I had assembled the shelves, I called the inspector (Diana) to give her approval. My work passed, and Diana set about organizing the boxes on our new shelves.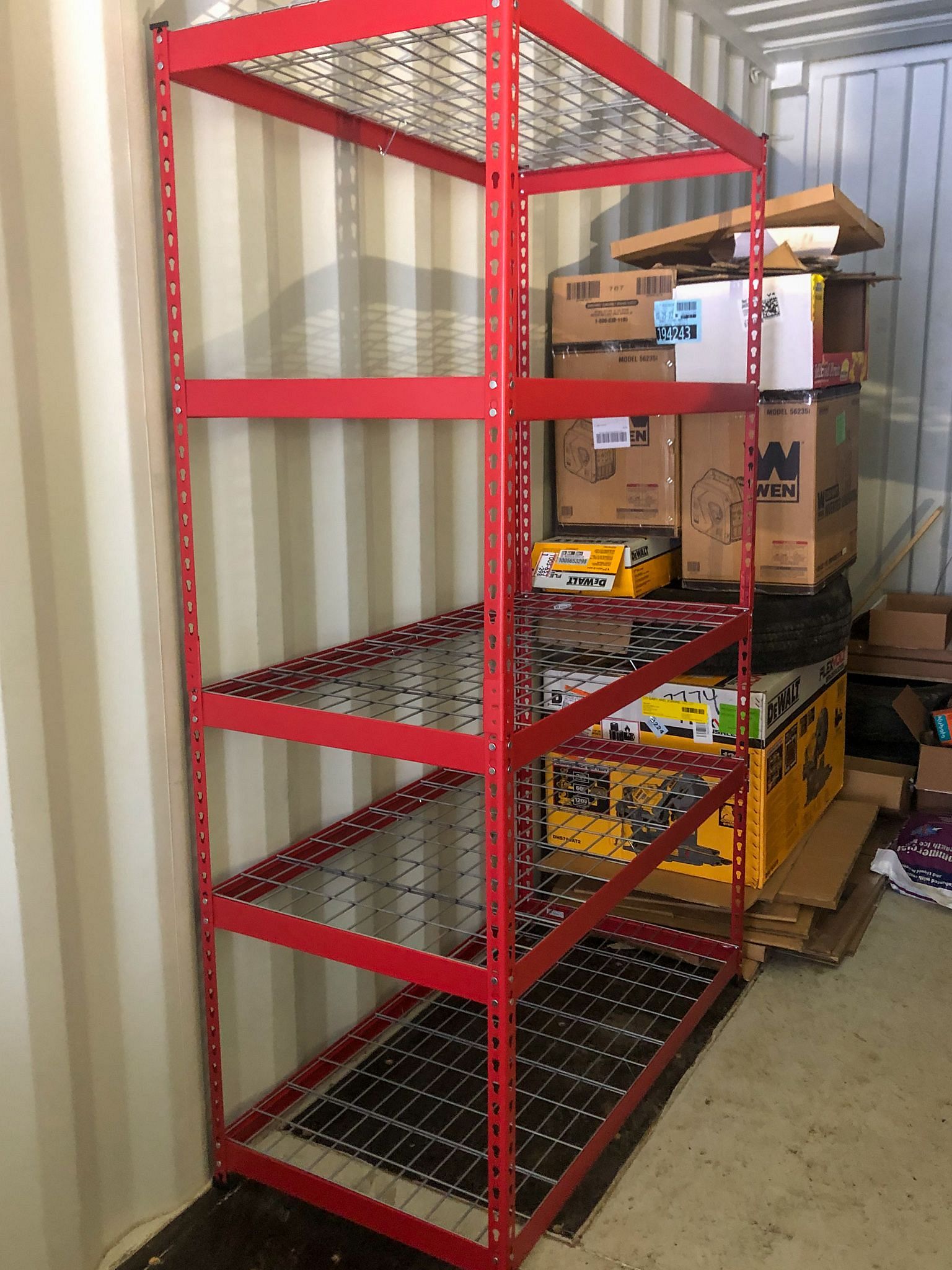 Meanwhile, I continued on with building more projects using the free pallet wood we've been collecting.
One thing we're seriously in need of us some countertop space. We have picked up a folding table we can use, but I wanted something a little smaller and sturdier inside the shipping container to use as a workbench. So I decided to build one!
Check out our blog post all about the pallet projects we've been building, including the tool caddy, storage crate and workbench.
Site Plan Layout
On Friday, before the storm hit, our architects visited the property so we could walk through the site plan on the ground, and also take a look at some concepts for the utility building we'll be constructing this year. It's starting to get really exciting!
Walking the site with them was great, but it's so easy to become disoriented among the trees. So earlier this week we decided to mark out the key building locations on the ground using marker flags. It took us an hour or so to do, but the end result was well worth it.
With colored flags and tape on the trees, it gives us a real sense for where the buildings will go, what site work is needed, and how things will look once it's all done!
Felling Trees
Knowing where the buildings will go is really important because our big task for the next month or so is clearing all the trees - about an acre of land in total, covering the whole house site as well as the location of the septic system.
While we could outsource this to professionals, we want to do as much as possible ourselves and this is something we feel we can do. Last year I attended a training course on how to safely and effectively fell trees with a chainsaw.
Armed with our Husqvarna 550XP Mk II chainsaw, and all the appropriate safety gear, we're ready to start felling trees! Felling trees is one thing, but clearing up the fallen trees is a whole different problem. First, the tree needs bucking into logs that we can use to mill on our sawmill.
Next, anything too small to mill but still useful we'll save for firewood.
Then comes the hard work of limbing the branches. But this year we have another tool in our arsenal - our new Woodland Mills WC68 wood chipper. Mounted on and powered by the tractor, this chipper means we can instantly chip the branches rather than building huge slash piles that we have to deal with later.
If you remember our videos about wood chipping from last year, you may remember that we tried to collect the wood chips in bulk bags that we could then move with the tractor. The problem was keeping the bulk bags open while the wood chipper sprayed wood chips into them.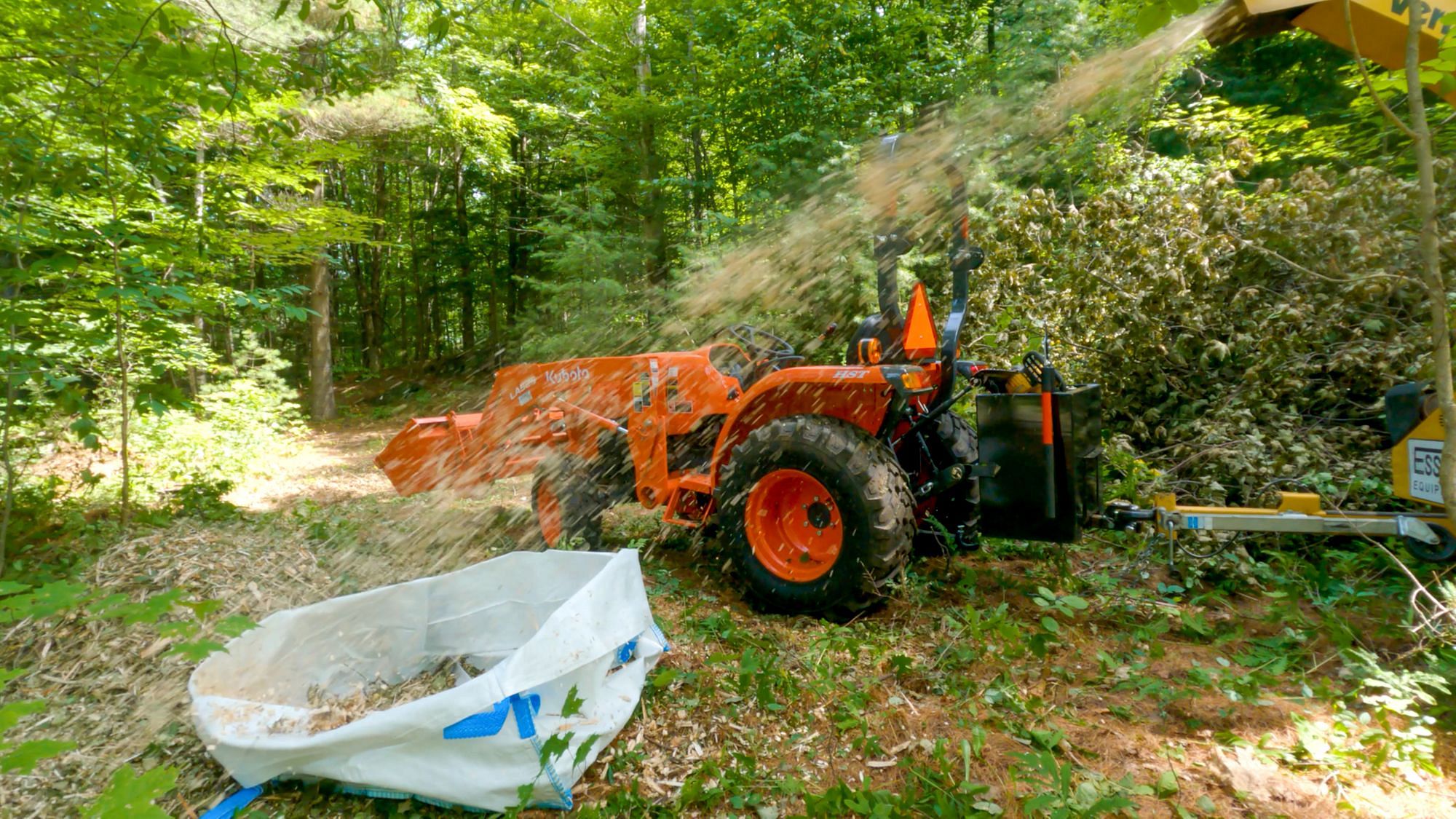 To solve this problem, we went back to the drawing board - literally! Using SketchUp, I designed a simple wood structure that would support the bulk bags while filling.
I built it last weekend and we've been putting it to good use this week already.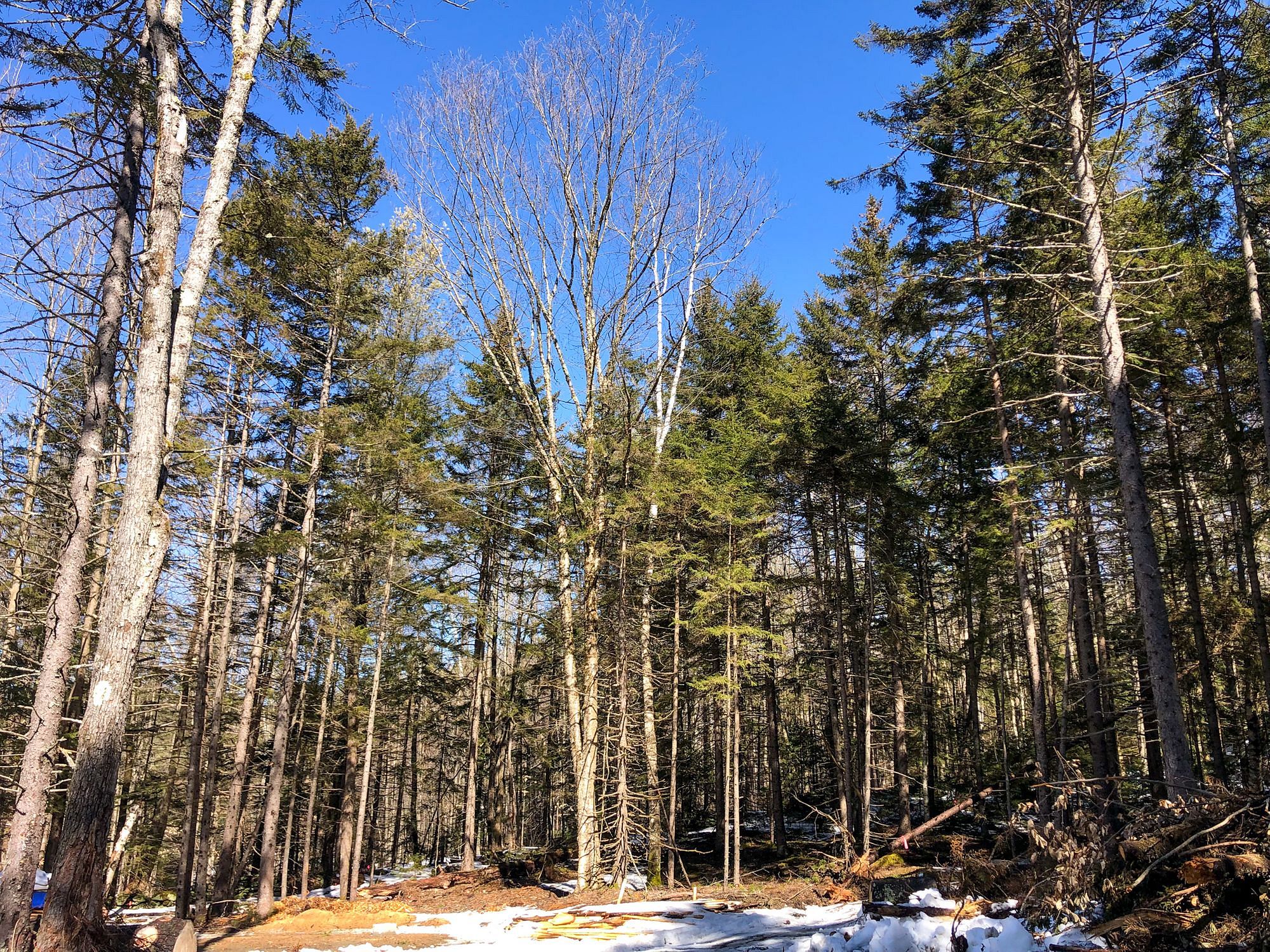 Yesterday was our first day felling trees. We're keeping track of how many trees we fell, how big and what species they are. On our first day we felled 8 trees, including 7 spruce and 1 beautiful birch measuring 16" diameter.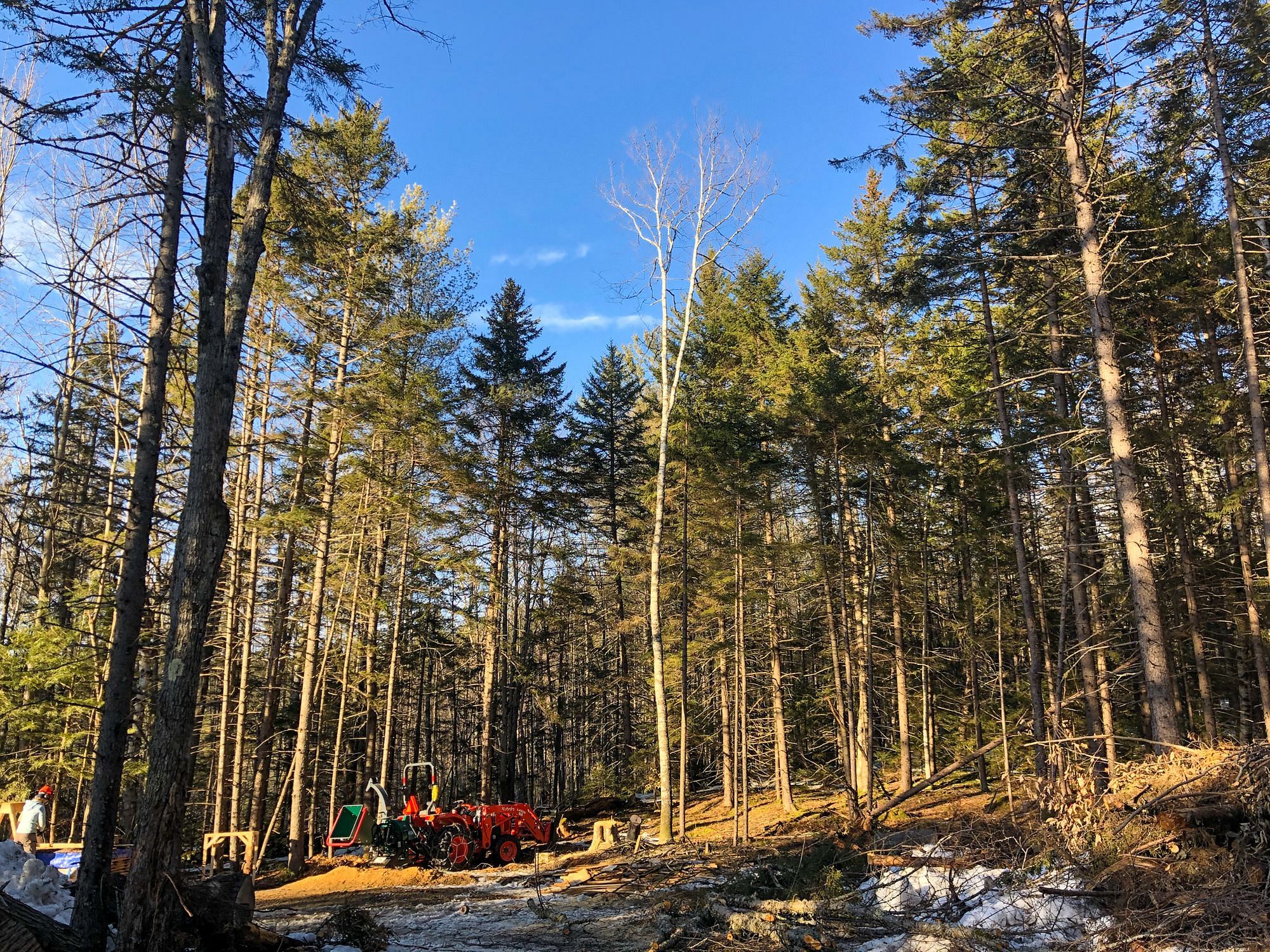 While on the one hand it's somewhat sad to clear so many trees, we need to do so in order to clear space for our house and other buildings. Also, we're trying to reuse as much as the tree as possible - saving the logs for milling into lumber or cutting for firewood, and chipping everything else to use as mulch and compost later.
The weather forecast for today and tomorrow is good, so we want to make the most of it and get back out there to fell some more trees - 8 down, about 300 left to go!