Introduction
After our time at White Sands, we spend a several days boondocking at the Sierra Vista Trailhead BLM land near Las Cruces. If you're in the area, I'd definitely recommend checking it out - we liked it so much when we stayed there before White Sands that we chose to stay there again afterwards! From there we headed to the Rose Valley RV Ranch in Silver City, NM - about 120 miles west of Las Cruces and 45 miles south of Gila Cliff Dwellings National Monument.
We chose to spend a few days in and around Silver City itself, and I'm glad we did. The Continental Divide Trail runs through the area, so we took the opportunity to hike a few segments. The town caters well to hikers and visitors - the Post Office can accept General Delivery (you will need to sign a form for them first) and there are some great coffee shops in town.
Since our underwhelming experience at the Ford dealer in El Paso, the truck had also developed an issue where the auto-headlamps wouldn't work properly, so we visited Lawley's Team Ford dealership in Silver City. What a difference. The service we had there was first class - even knowing we were from out of town, they took great care of us from start to finish, even persuading Ford to cover most of the cost of the repair. I was so impressed, I had them install new brakes on the truck too - it was something I'd been toying with for a while, so we had 4 new slotted and drilled rotors and pads delivered to their service department and they fitted them for me. I wouldn't hesitate to go back there - best service bar none I've ever had at a car dealership.
Location
Know Before You Go
There's not much near Gila Cliff Dwellings National Monument - it's a long drive on a winding mountain road to the nearest city. Drivers of large RVs or towing trailers are advised not to take Highway 15 and instead use Highway 35 - this is what we did.
In Silver City, we stayed at the Rose Valley RV Ranch - they accept Passport America for a 50% discount on 2-night stays and it's one of the nicest RV parks we've stayed in so far. It was quiet and clean with antique farm equipment laid out around the park to add some character. We used it as our base both before and after visiting Gila Cliff Dwellings National Monument.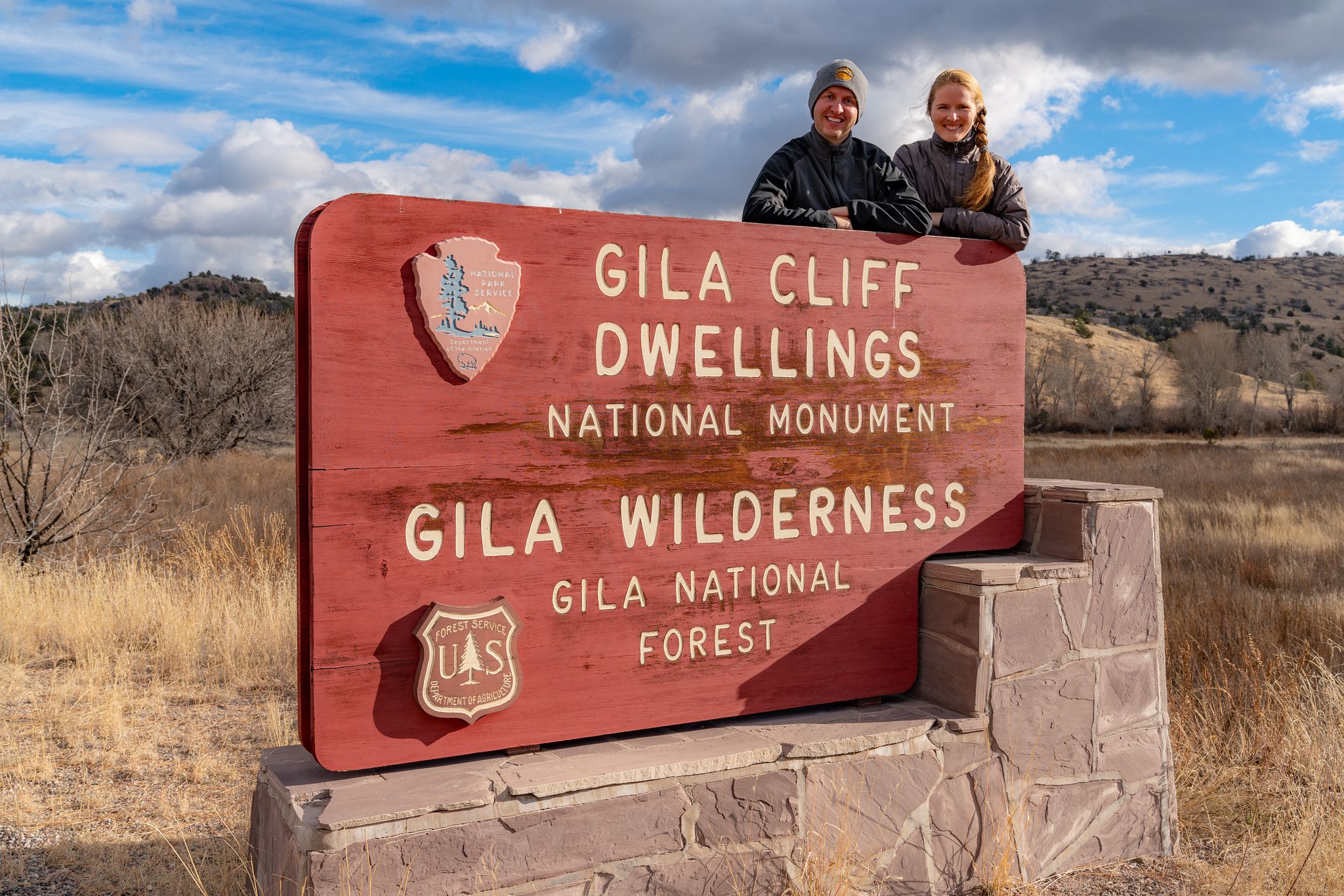 There are several National Forest campgrounds in the area around Gila Cliffs, but several were closed for the winter. We chose to camp at the Gila Cliffs Hot Springs Campground - it has around a dozen sites nestled around some naturally sourced hot spring pools. We loved it there, but if you're planning to visit be aware that they have a length restriction of 21ft on trailers. We spoke to them in advance, and allowed us to visit even though our trailer is 25ft long. It was tight! The sites are not designed for big trailers, but more importantly the access road is a steep dirt road - we needed 4WD to get out as the truck couldn't tow the trailer up the last section in 2WD mode. If in doubt, give them a call - they're really friendly and will help you decide if you can make it or not.
Cliff Dwellings
The highlight of the Gila Cliff Dwellings National Monument is, perhaps unsurprisingly, the cliff dwellings themselves. These were built by the Mogollon people around 1270 but were abandoned after just a few decades. Although the caves had been used for thousands of years by groups of nomadic people, the Mogollon were the first to settle here and build structures. Contained within 5 caves are as many as 46 rooms built by the Mogollon to live in.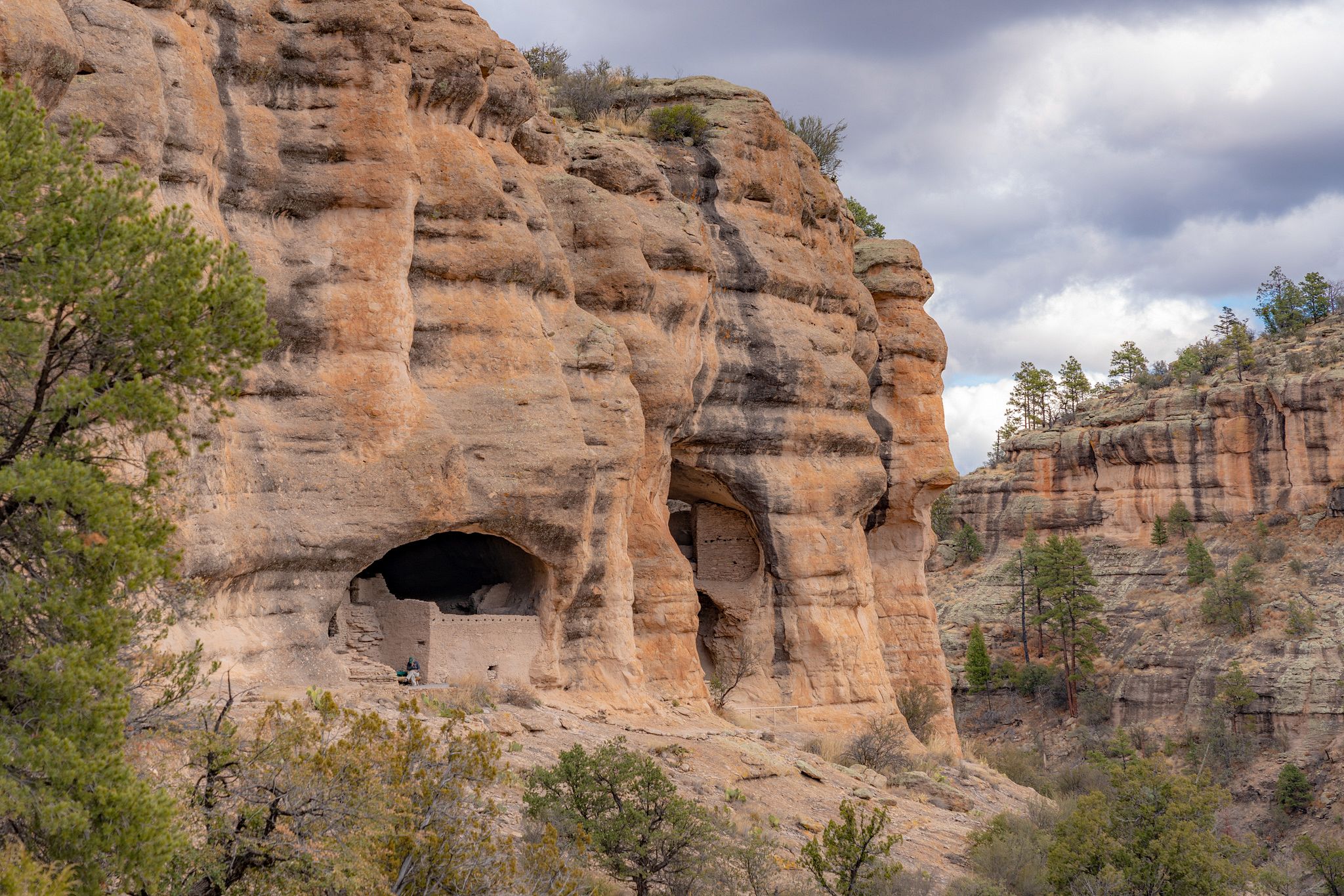 After stopping by the Visitor Center to get our Park Passport stamped, we drove the few miles to the trailhead where the hike to the caves begins. The circular hike is only short, around 1-mile, and has about 180ft of elevation gain. The trail leads up through the canyon before climbing sharply up to the first cave entrance. In case heights aren't your thing (like me), don't worry - the trail has no particularly scary sections and the caves are set well back from the edge. That being said, if you're hiking with children then you'll want to keep them close by.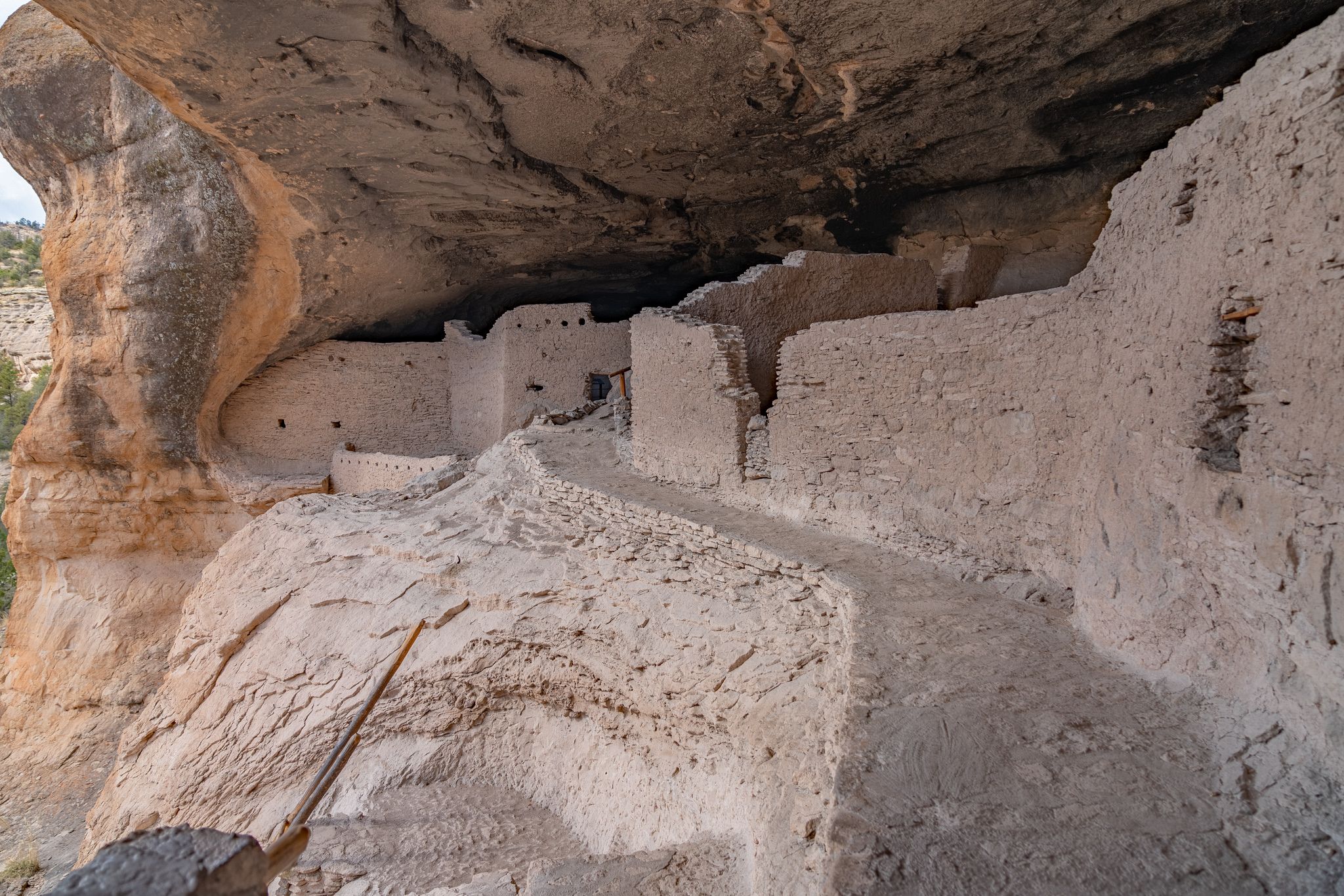 Once at the cave entrance, we met another park volunteer who led us round and answered our questions. It's incredible to see the black marks on the cave roof from fires that burned centuries ago. For obvious reasons, the staff are keen that you don't touch the structures - we enjoyed being able to get so close to them and imagine what it would have felt like all those years ago.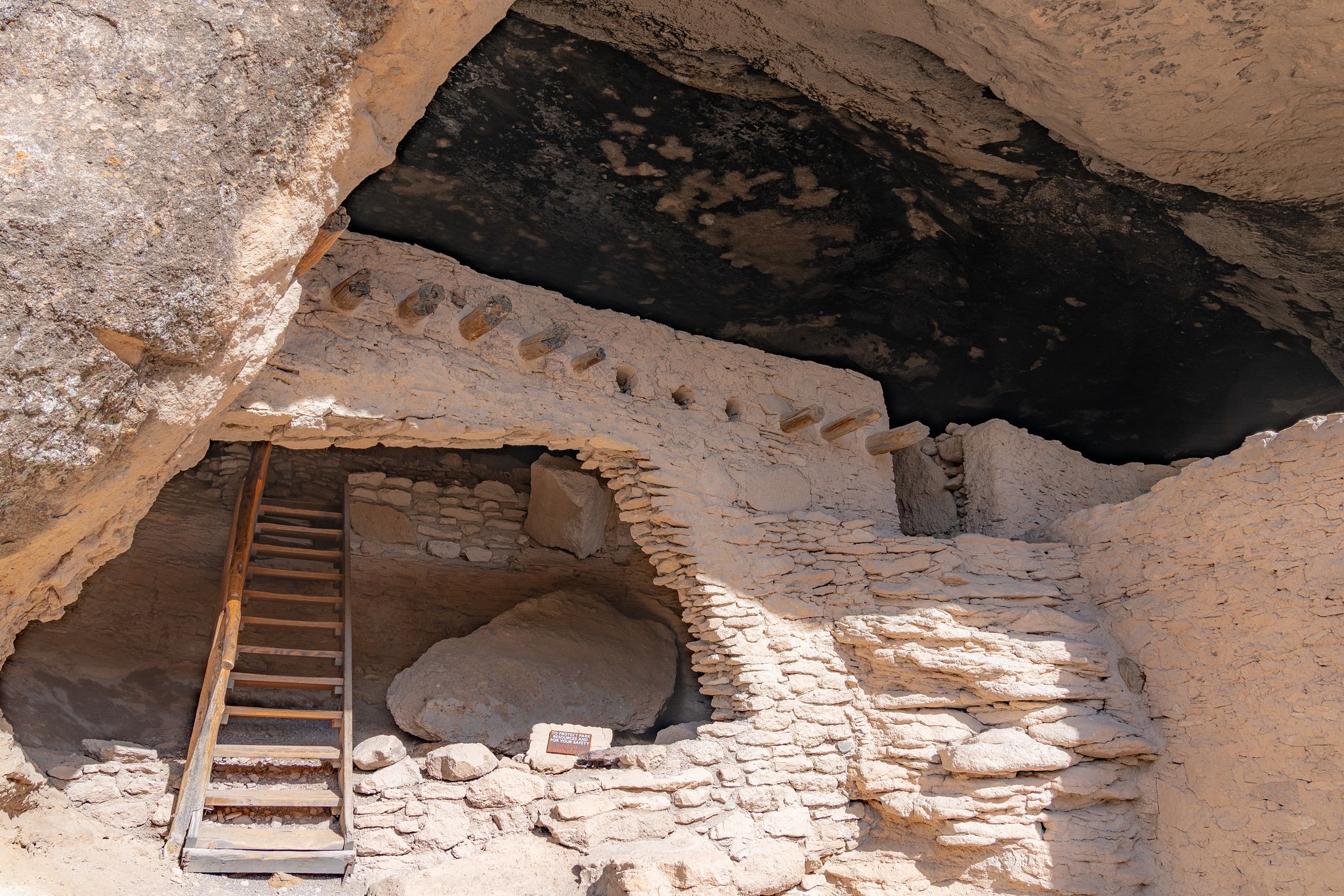 We spent about half an hour walking through, soaking it all in. Once you're inside, it's easy to see the appeal - and understand how the caves would have felt like a refuge from the baking summers and the cold winter nights. We learned that the depth of the caves and the relatively low entrance would have kept the direct sun out in the summer when the sun was high in the sky, but the low winter sky would have shone in and warmed the caves.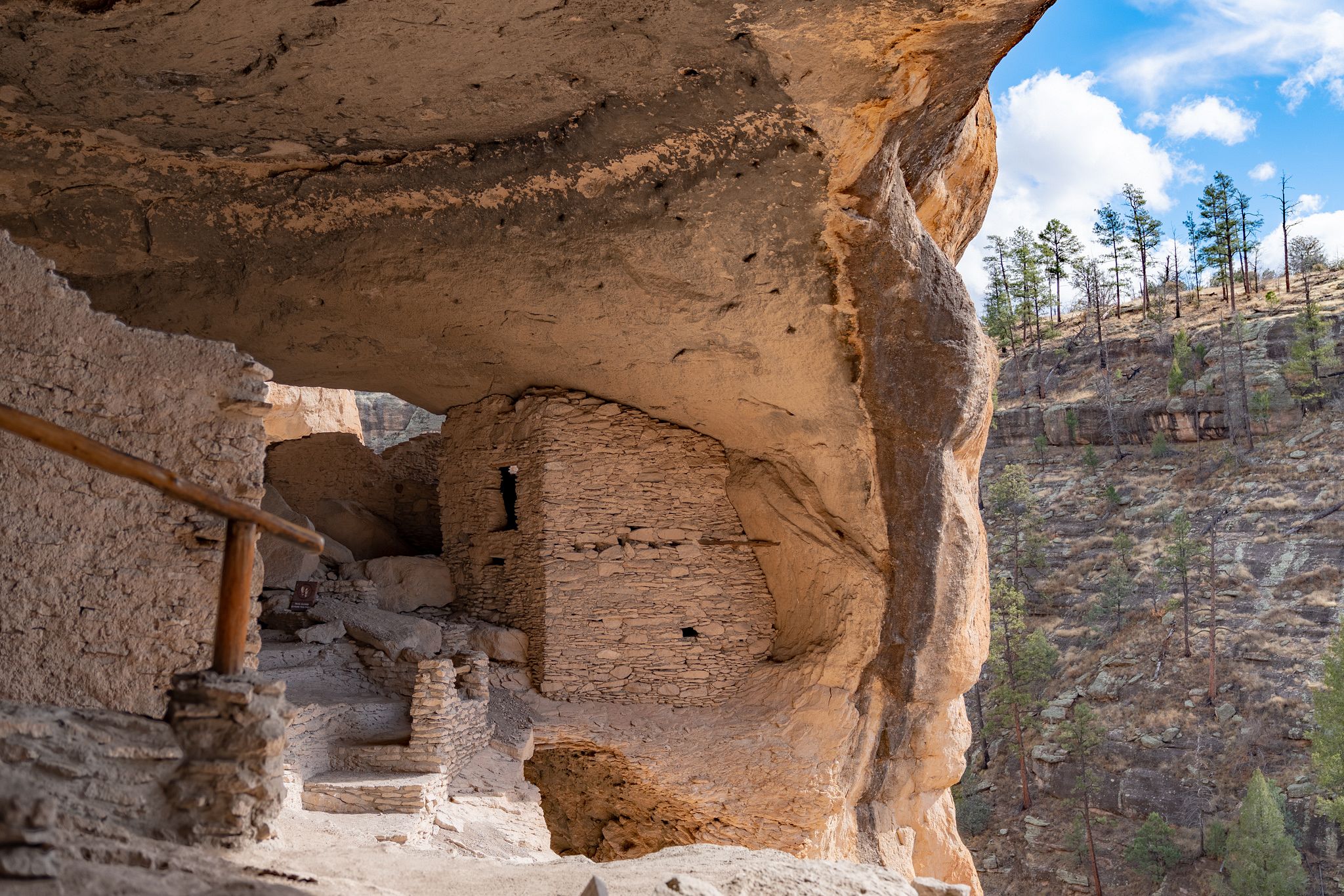 It goes without saying, but if you visit Gila Cliff Dwellings National Monument, then hiking to the cliff dwellings is a must. Although we were told by staff several times that the trail is steep, compared to what we had done recently in Guadalupe Mountains National Park, it was very mild!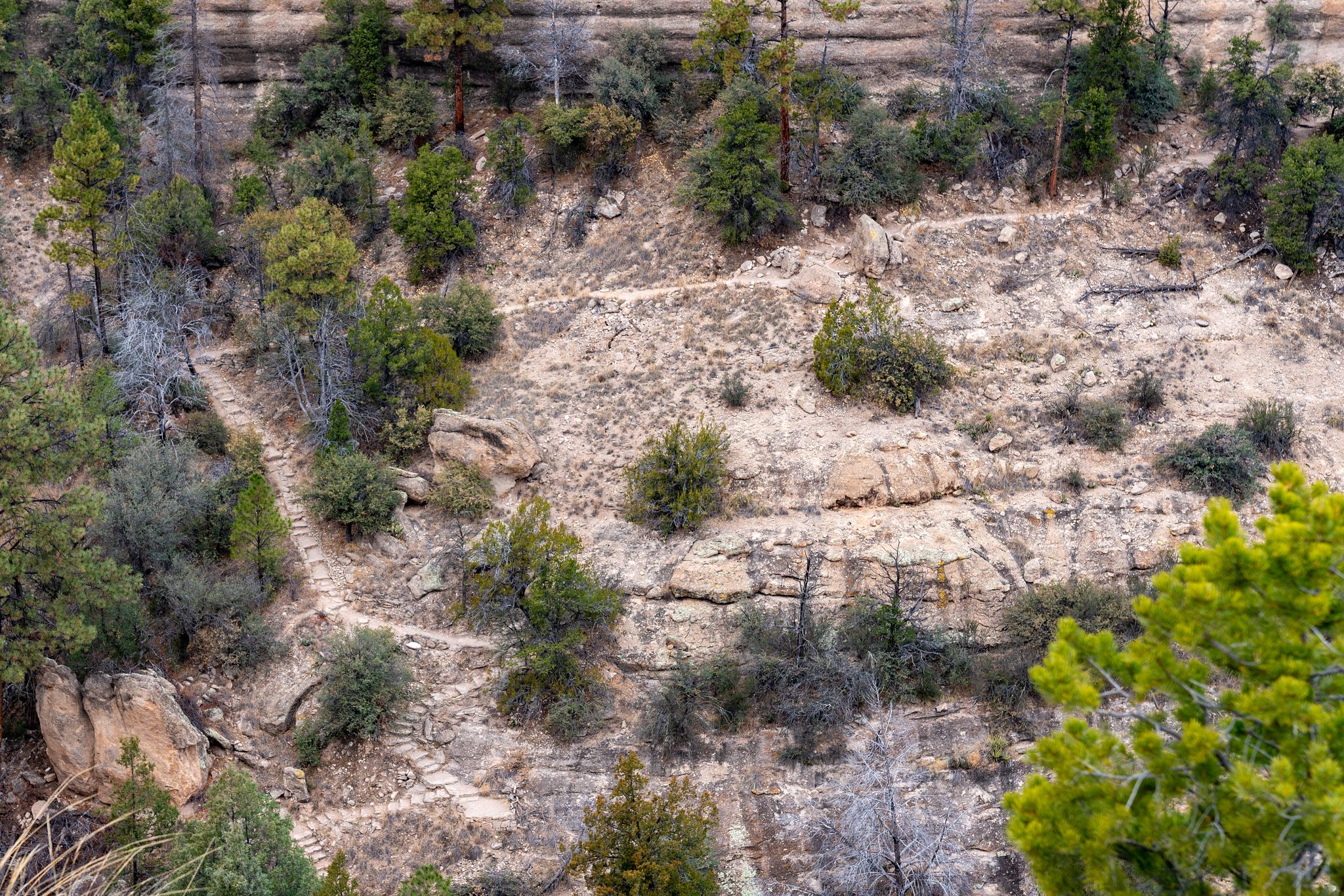 Hiking
If hiking is your thing, there are a lot of hikes in the area. The National Monument is surrounded by the Gila Wilderness which itself is part of the larger Gila National Forest area. In the immediate vicinity of the monument are several canyon hiking trails. We were limited on time, so unfortunately weren't able to squeeze any of these in.
You should also be aware that most of these trails include river crossings - sometimes several dozen up to knee height. Since we were visiting in December (and we're wimps) we didn't fancy the idea of hiking with cold wet feet, so we opted out of these.
Adventurous Tip: If you're thinking of hiking any of the canyon trails, be prepared for the river crossings - either bring appropriate waterproof clothing or a change of footwear!
We did, however, manage to do a short hike of around 4 miles to see the cliff dwellings from another angle. This hike was not shown on the map, but one of the volunteers at the Visitor Center showed us how to get there. Ordinarily we include GPS tracks of our hikes, however I'm not including this one as it's a backcountry hike without a marked trail, and we think it's only responsible that if you're considering doing it then you should speak with the Park staff directly for more information. That being said, the views it afforded us were spectacular!
There are lots of opportunities to hike in the area, so for more information, check out the official Gila Cliffs National Monument website.
Hot Springs
Who doesn't love hot springs? We sure do! After all, when you live in an RV where hot water for a shower is a scarce commodity, a long soak in a natural hot spring sounds wonderful. So when we found out that there were hot springs in the area, we knew we had to visit them!
We stayed at the Gila Hot Springs Campground which has a maximum length limit on RVs (see the Introduction section above for more information). However, if you have a longer RV, don't have an RV or want to stay somewhere else, there are several National Forest campgrounds in the area as well as a private RV Park, and the Gila Hot Springs is open for day use.
Conclusion
Gila Cliff Dwellings National Monument takes effort to get to - it's over an hour away from the nearest city (Silver City, NM). In peak season the road can be congested, and in winter the road can be icy.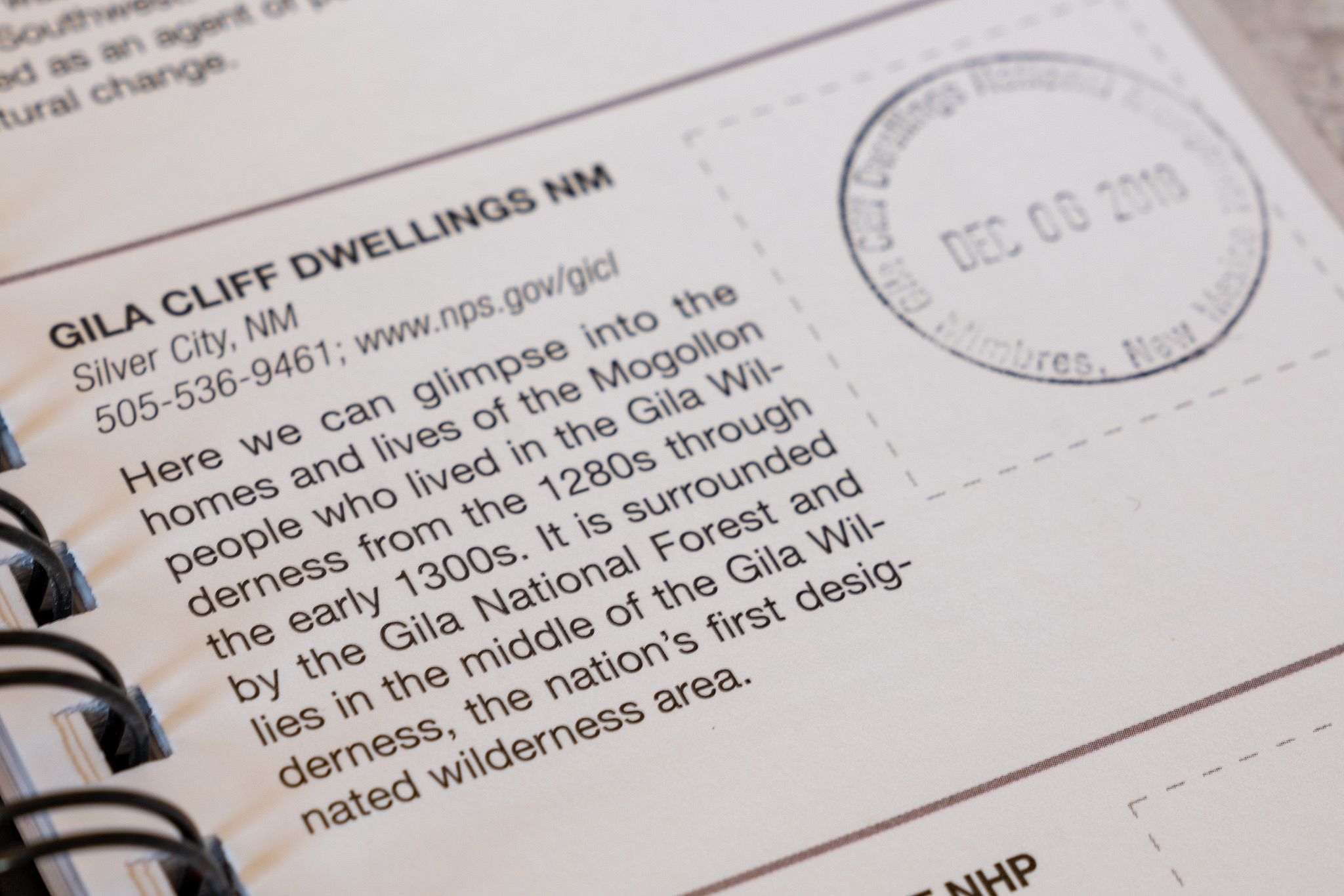 But the reward more than justifies that journey in. Nestled in the heart of the Gila Wilderness, the Gila Cliff Dwellings National Monument protects something both truly special and historically valuable. With so many hiking opportunities around the area, Silver City can be a great base, and from there the National Monument is doable as a day trip.
Gila Cliff Dwellings National Monument was our last stop in New Mexico before heading to Arizona - we're planning to be back in northern New Mexico in the fall, but for now we're continuing west into Arizona. Our first stop will be Fort Bowie National Historic Site, so make sure you subscribe to our newsletter and follow our journey on Facebook, Instagram and YouTube.