Introduction
On our drive from Colorado up to Oregon where we would be visiting the Outdoors RV factory, we stopped in for a couple of nights at the Willard Bay South Marina Campground, a little north of Salt Lake City, UT.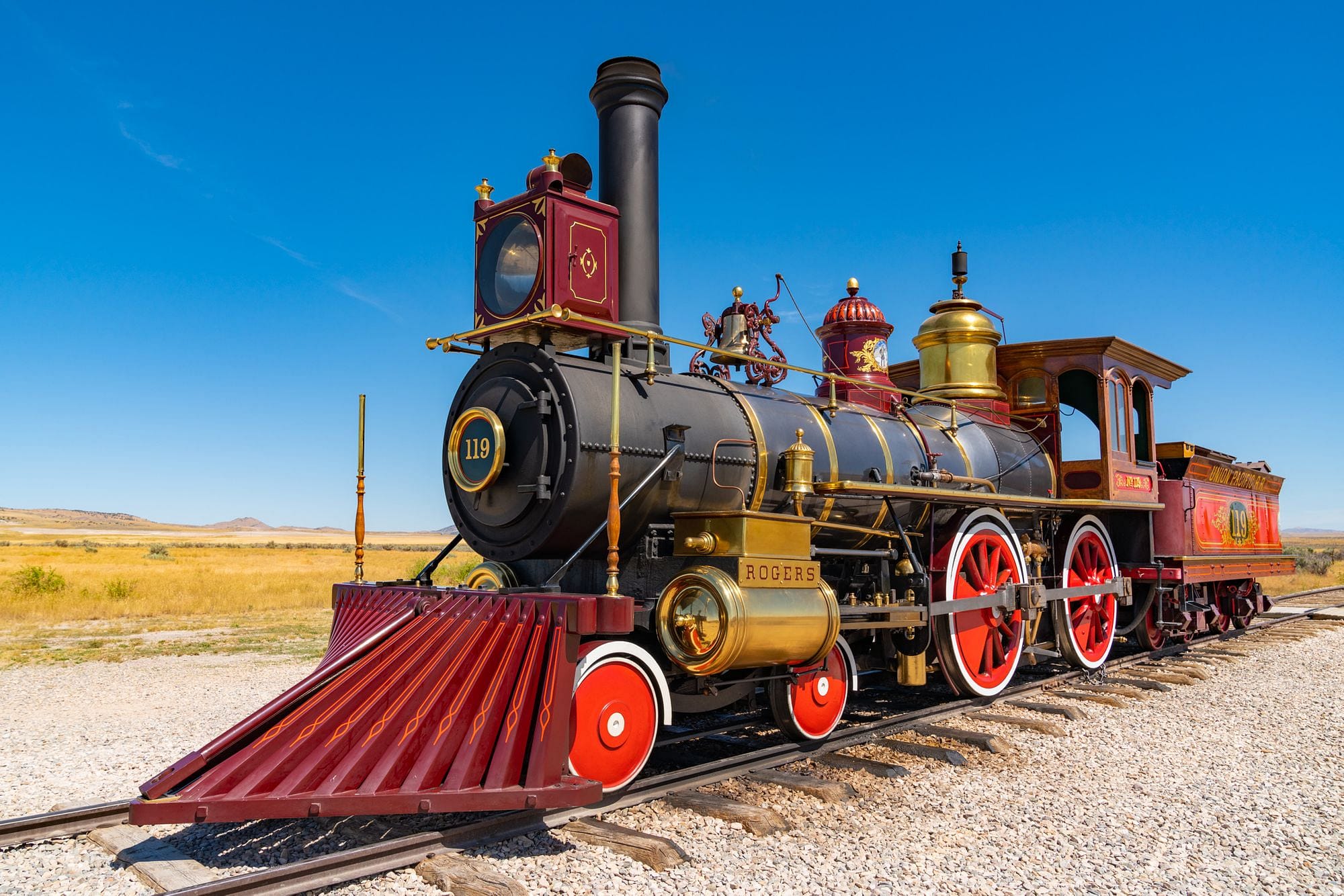 We were visiting in late August 2019, and the temperatures were soaring! Fortunately, we had hookups and could run the AC to cool down. Thanks to our WiFi thermostat, we were able to run our AC most of the day while we were driving from our boondocking spot near Dinosaur National Monument, so at least the RV wasn't too hot inside!
But our batteries were down to 20% by the time we arrived, even with our truck charging system and rooftop solar running flat-out all day long.
While we were there, it was the perfect time to go and visit Golden Spike National Historical Park, our 35th stop on our quest to visit all the National Park Units in the US.
Location
Golden Spike National Historical Park is located in northern Utah at Promontory Summit, about 90 miles north of Salt Lake City, UT.
Video
Background
While the site is associated with the railroad, its story is integral to far broader elements of American history.
History
May 10, 1869, was a landmark in American history, for it was on this date that the Transcontinental Railroad was completed - the first time a single railroad joined the East and West coasts of this vast country.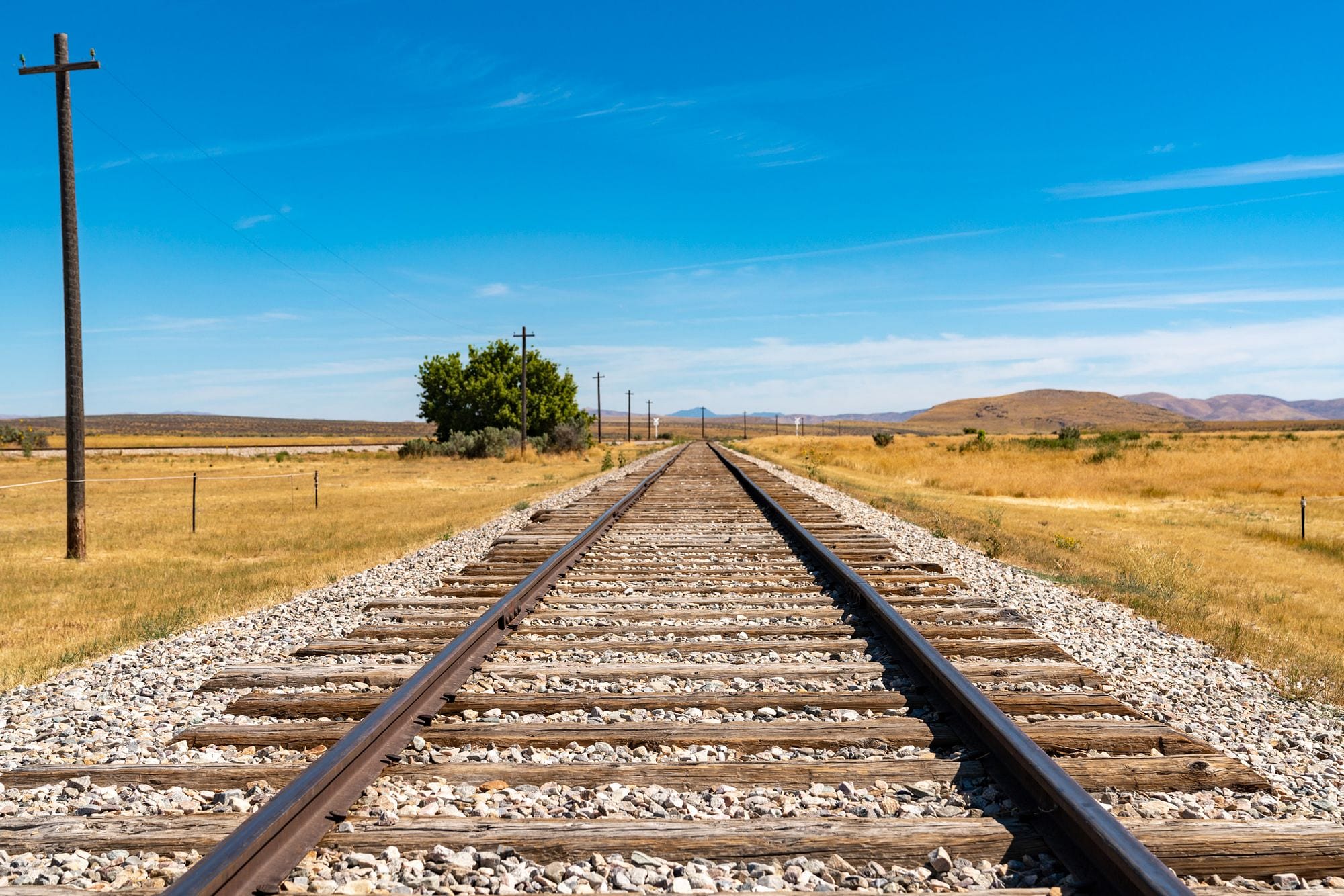 On July 1, 1862, President Lincoln signed the Pacific Railroad Act of 1862 into law, establishing two companies to build the railroad: Central Pacific from the west, and Union Pacific from the east.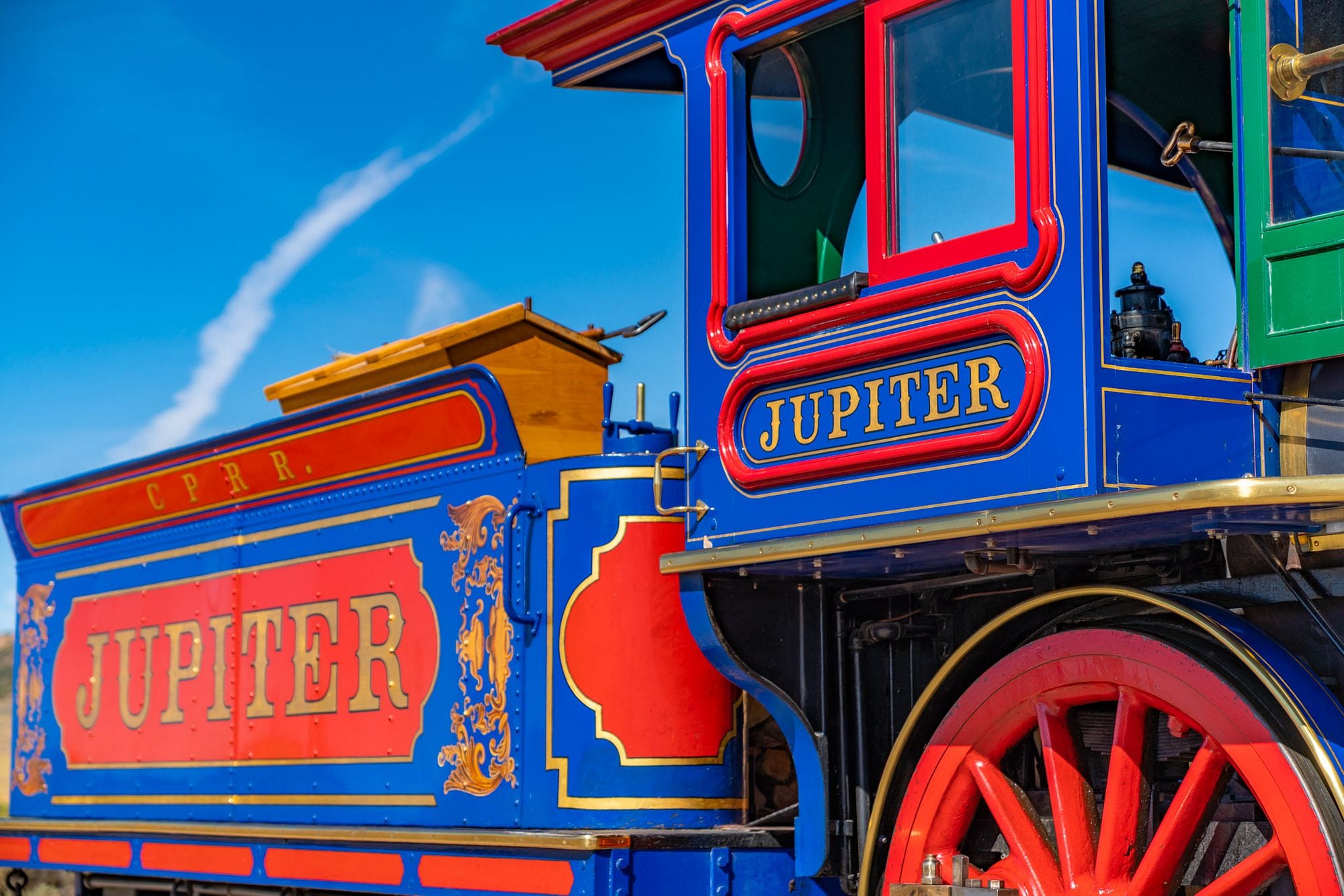 The railroad was built out from both coasts, with the Central Pacific Railroad Company of California heading east while the Union Pacific Railroad headed west to meet them.
Each company was incentivized to build fast, as they were paid for every mile of track laid - $16,000 per mile on level grade, and up to $48,000 per mile for track laid in mountains. They were further granted land rights extending up to a mile alongside the track they laid, allowing them to raise money by selling bonds based on the value of the land.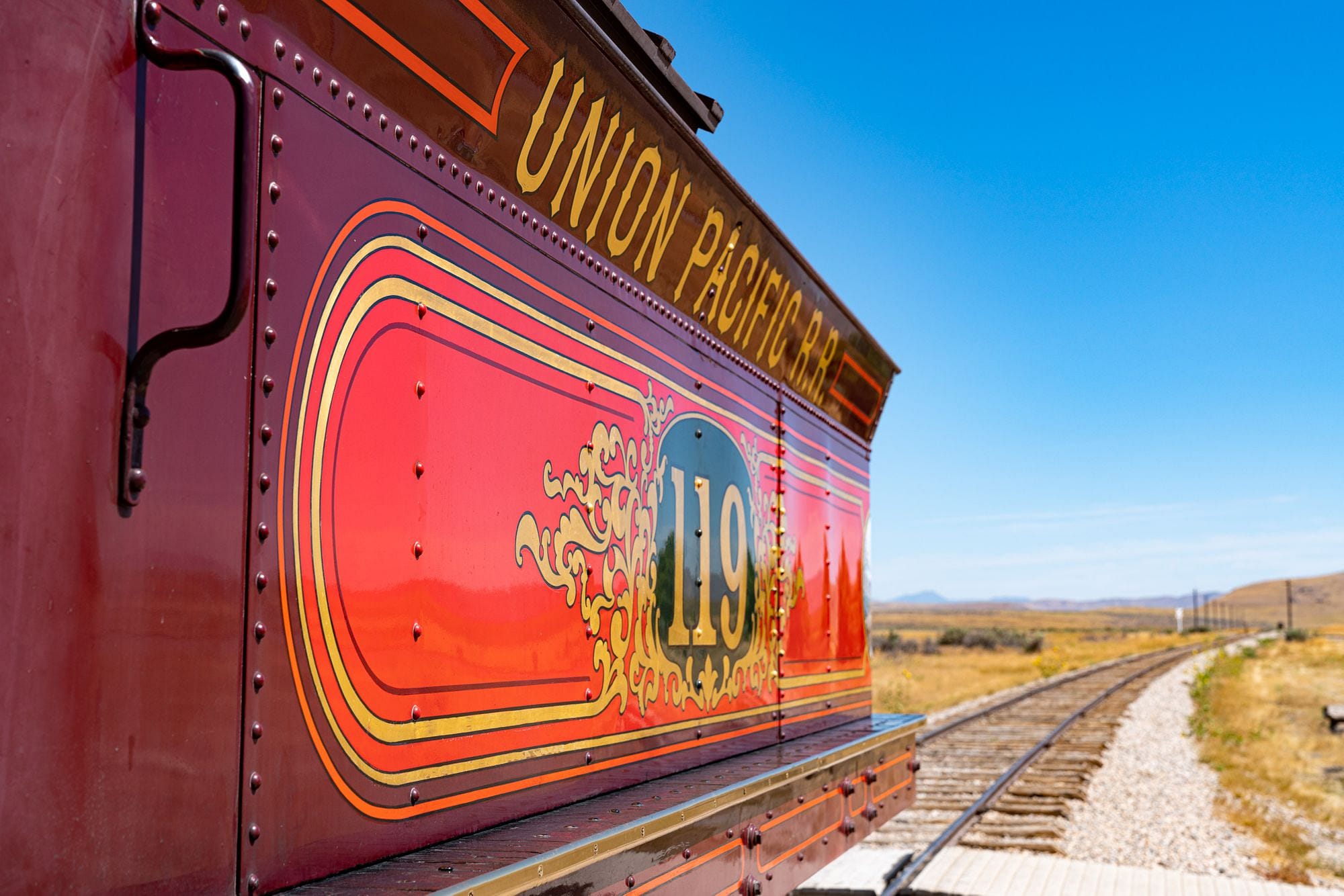 It was at this exact spot, high on Promontory Summit, that the two railroads finally met.
The construction was filled with scandal, corruption and conflict, and there is lots to be learned at Golden Spike National Historical Park.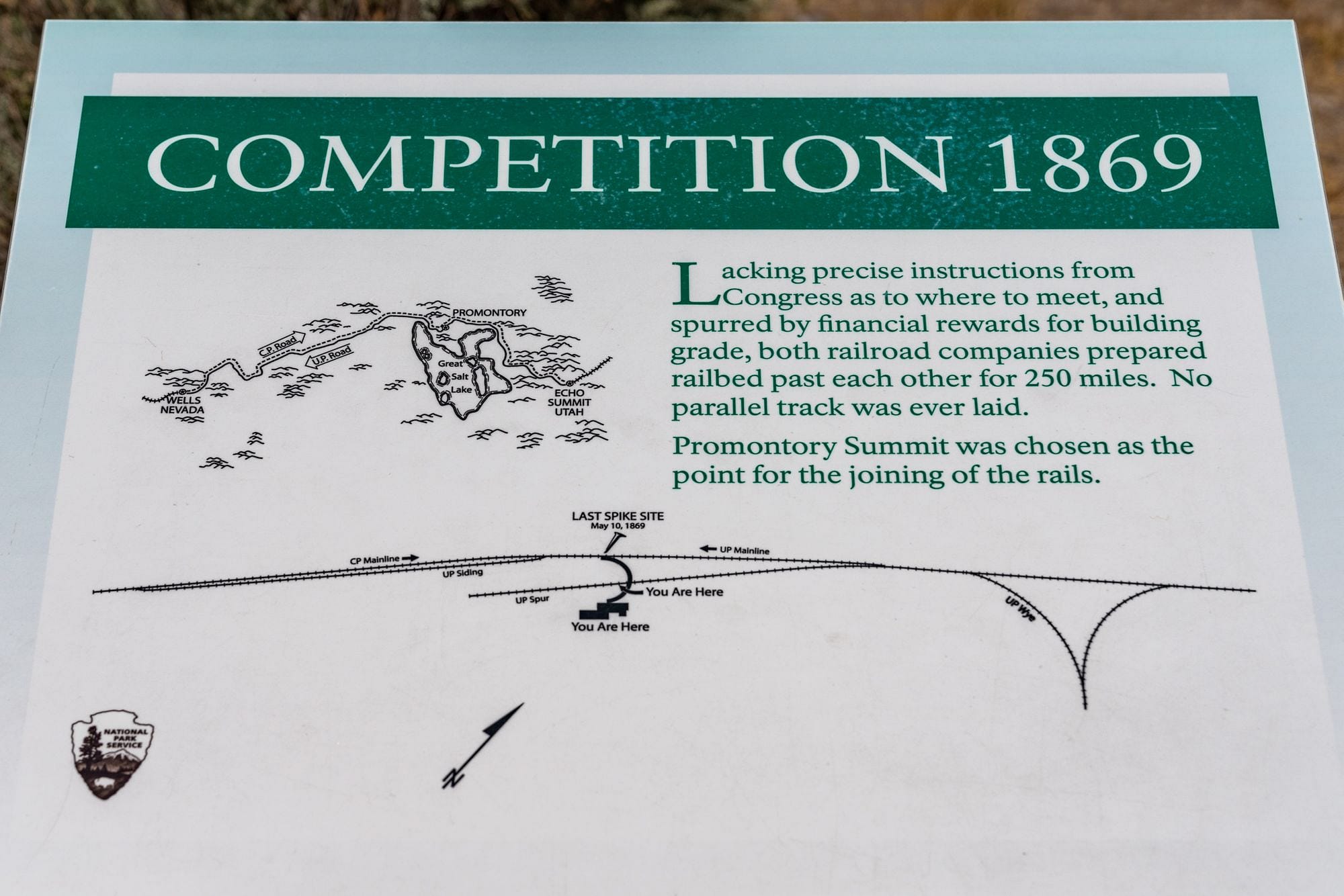 Locomotives
On that eventful day in May, 1869, two locomotives rolled into Promontory - Central Pacific's Jupiter and Union Pacific's No. 119.
Neither locomotive had been originally chosen to appear at the Golden Spike Ceremony, but circumstances conspired in their favor.
Despite their historical significance, both Jupiter and No. 119 were scrapped in the early 1900s for $1,000 apiece.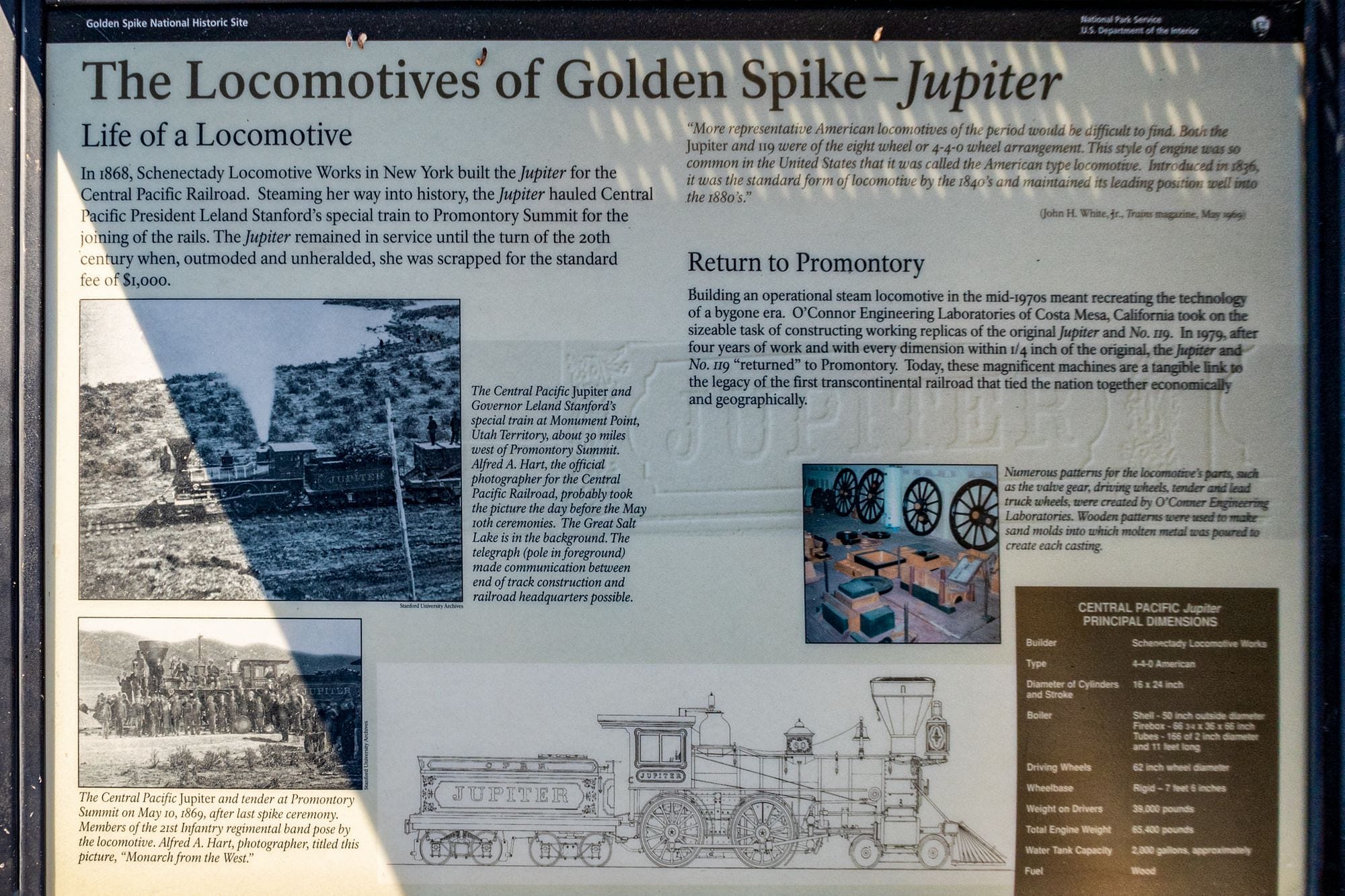 In 1975, O'Connor Engineering Laboratories in California were commissioned to reproduce them. Without the help of plans or blueprints, the engineers relied on an engineer's handbook from 1870 and photographs! After 4 years of tireless effort, the two locomotives were completed - within 1/4 inch in every dimension of the originals!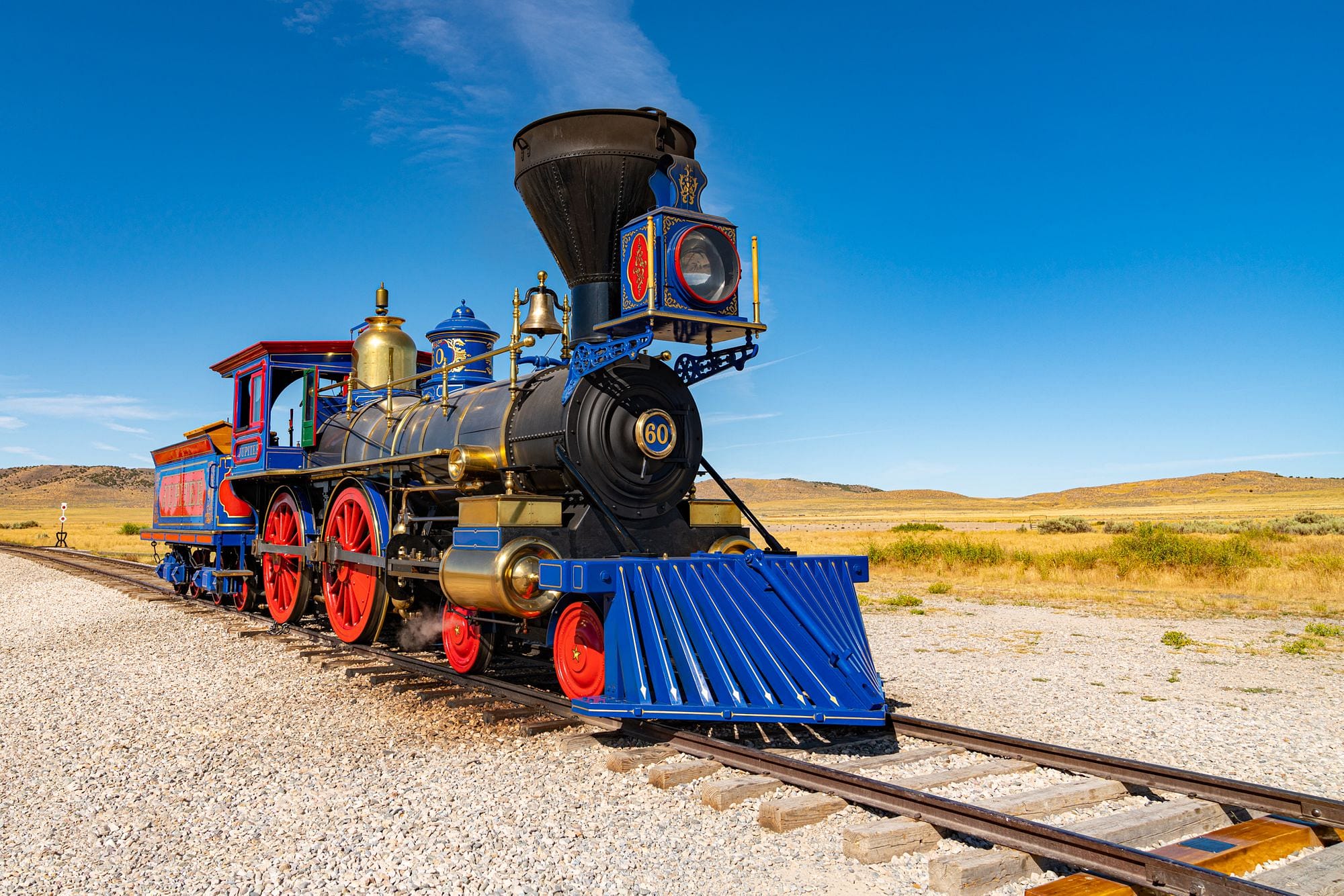 They were commissioned into service with water from the Atlantic and Pacific oceans on May 10, 1979 - the 110th anniversary of the original Golden Spike Ceremony.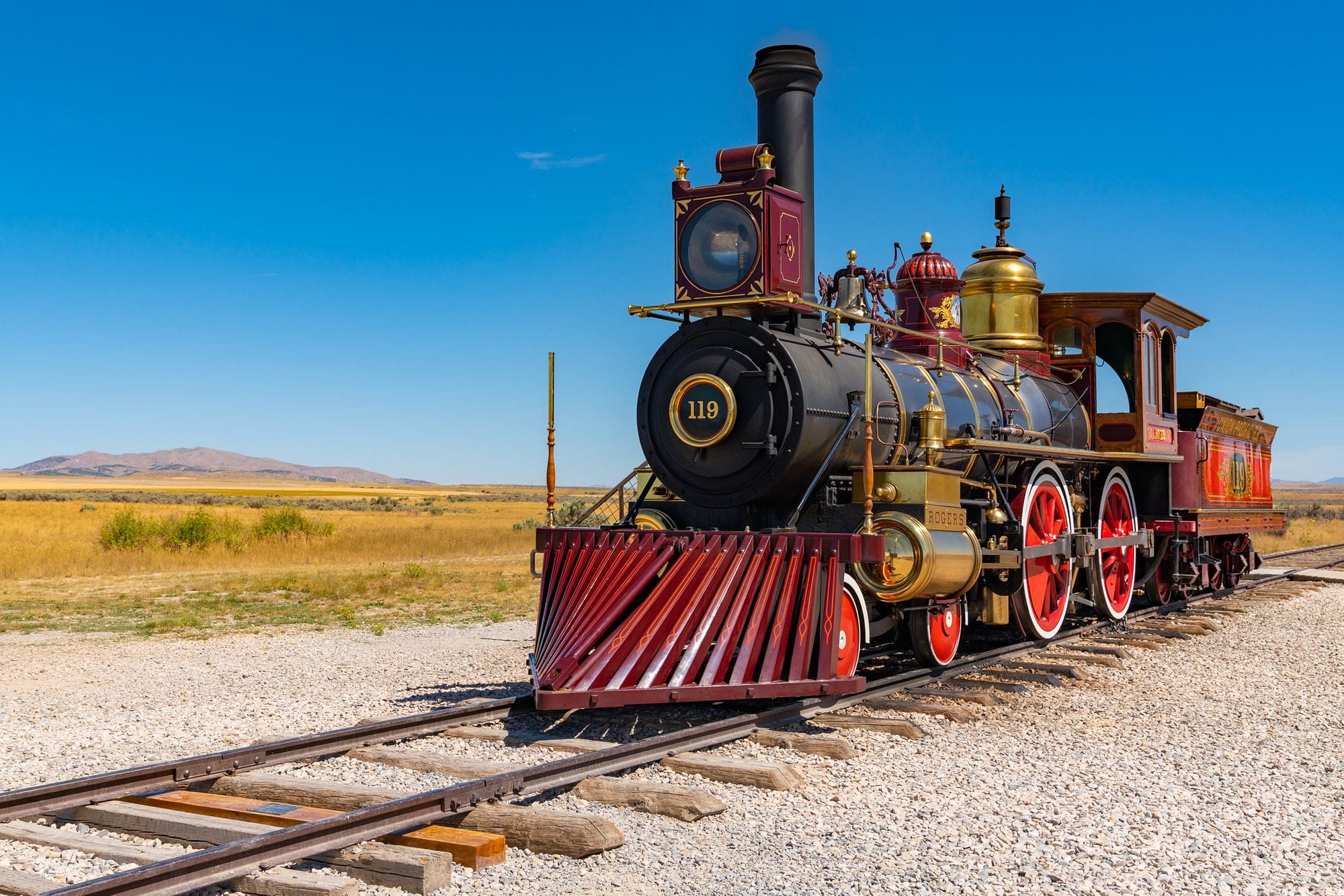 These two replica locomotives can now be seen at Golden Spike National Historical Park.
Golden Spike
The park's namesake is a 14oz Golden Spike, commissioned by David Hewes, a friend of the Central Pacific President.
However, it was one of just four commemorative spikes created to mark the occasion - including Nevada's Silver Spike, Arizona's Gold and Silver Spike, and a smaller Golden Spike donated by the San Francisco News Letter newspaper company.
Furthermore, a silver-plated spike hammer, or maul was manufactured at the bequest of San Francisco's Pacific Express Company, and a highly polished California Laurelwood tie was offered by West Evans, a tie contractor.
After the spikes had been ceremonially tapped with the silver-plated maul by Central Pacific President Leland Stanford and Union Pacific Vice-President Thomas Durant, they were replaced with a pine tie holding a plaque and fastened with three regular iron spikes.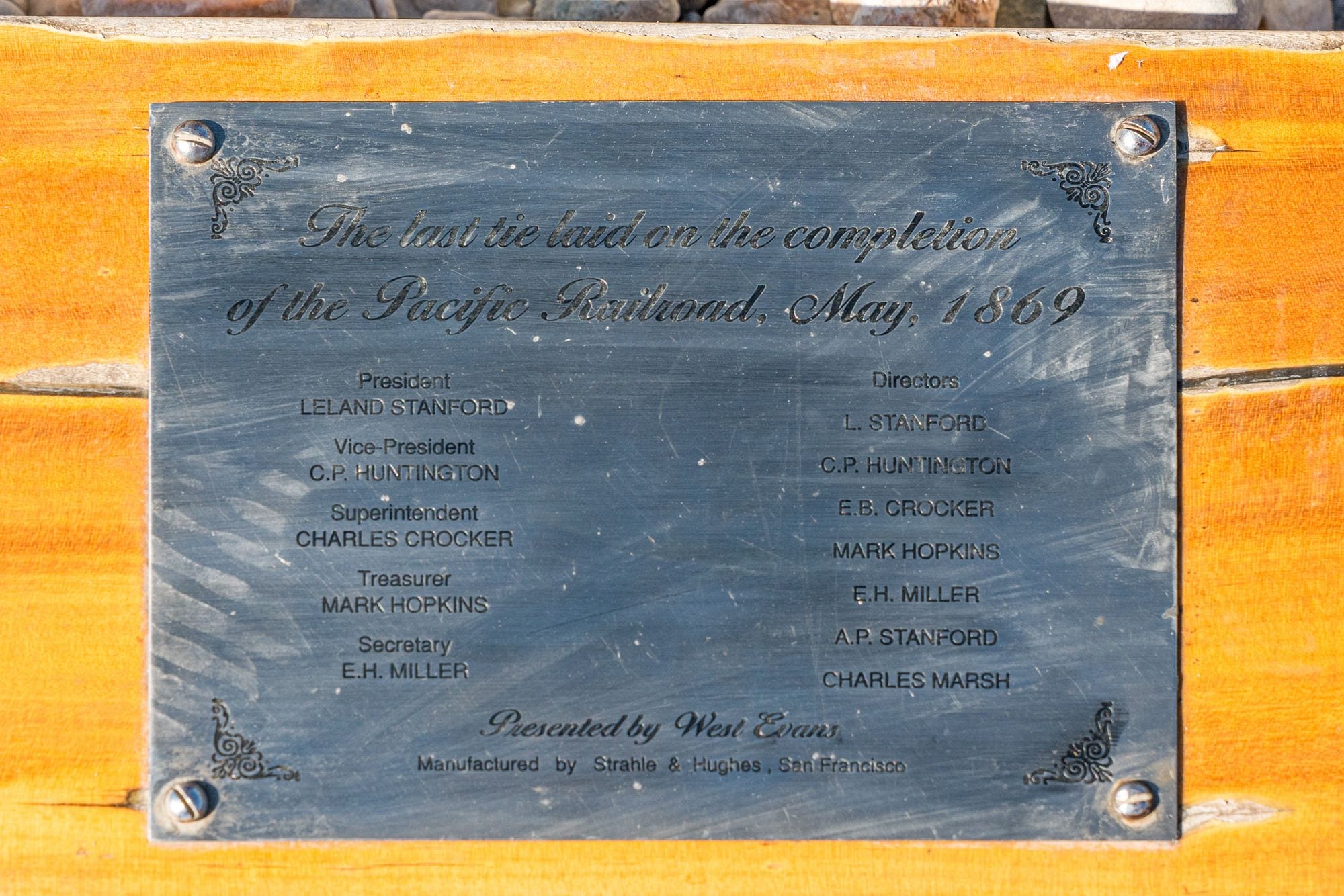 The fourth and final spike was wired into the transcontinental telegraph line so the entire country would hear the hammer blows as the spike was driven in. Showing his inexperienced, Stanford swung and missed - striking the tie instead. Durant, likely hungover from the previous night's festivities, failed to hit either the spike or the tie!
A rail worker stepped in and cleanly drove home the final spike. At 12:47pm on Monday, May 10, 1869, the message "D-O-N-E" was sent by telegraph, confirming the railroad was complete.
The spikes were distributed around the country and are now held in museums - with the exception of the second golden spike, whose whereabouts is a mystery. Perhaps it was returned to the San Francisco News Letter company and was destroyed when their building burned down following the San Francisco earthquake of 1906.
This was the fate of the Laurelwood Tie - it burned when the Flood Building where it was kept was destroyed in the same 1906 earthquake.
National Historical Park Designation
It took almost 100 years before the historical significance of Promontory Summit was appreciated. Nowadays, some historians consider the "Last Spike Site" to be the most important American historical site west of Independence Hall.
On April 2, 1957, the area was established as a National Historic Site, albeit under non-federal ownership.
It wasn't until July 30, 1965 that it was authorized by Congress for federal ownership and administration as Golden Spike National Historic Site, thanks to tireless campaigning by Bernice Gibbs Anderson for 38 years!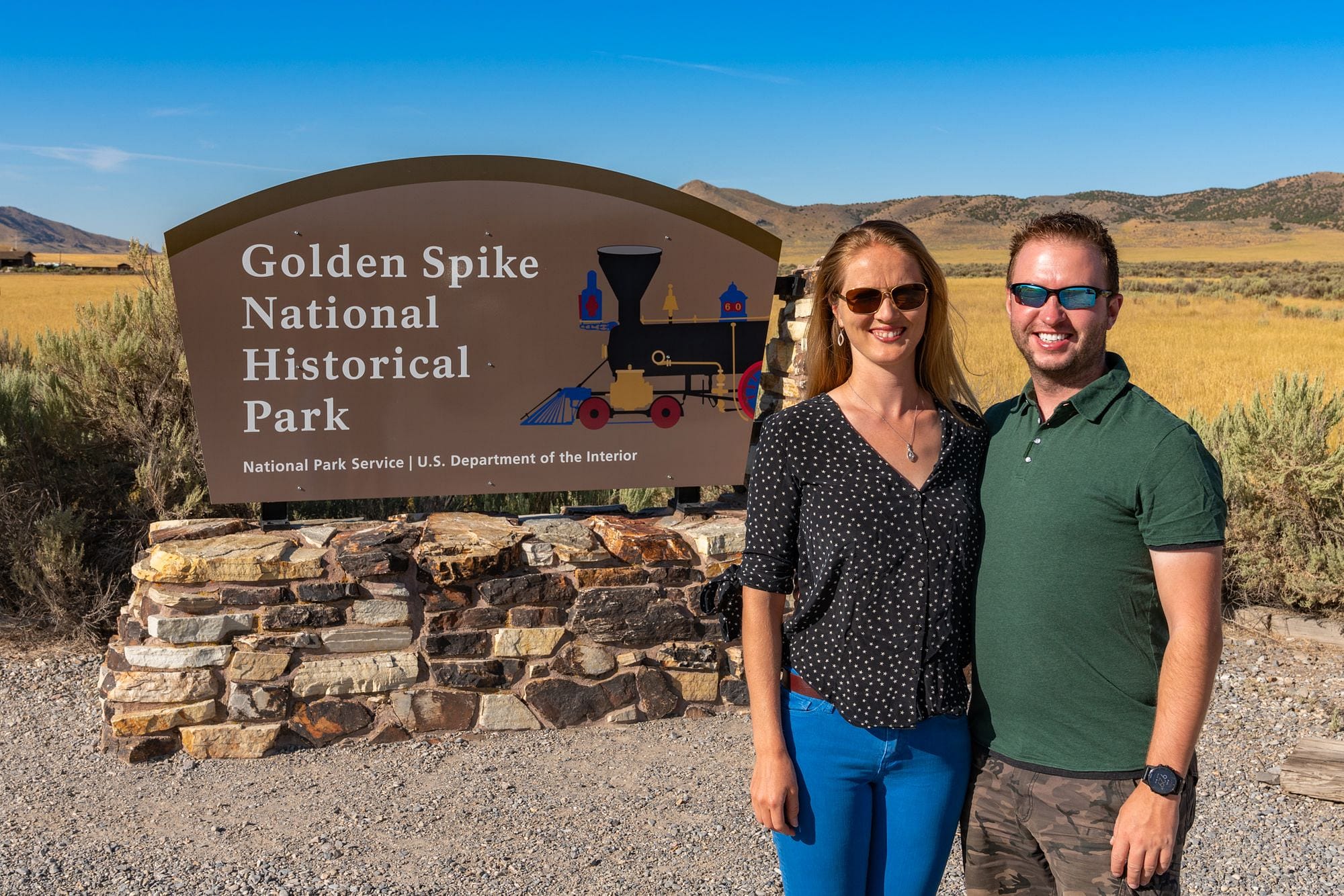 Then, on March 12, 2019, shortly before the 150th anniversary of the Golden Spike Ceremony, the John D. Dingell, Jr. Conservation, Management, and Recreation Act was signed into law, redesignating it as Golden Spike National Historical Park.
Itinerary
We love trains, so we were pretty excited to visit Golden Spike National Historical Park.
We timed our visit to see the locomotives and the reenactment - be sure to check the schedule on the NPS website for the latest details. When we visited, the reenactments were happening at 11am and 1pm on Saturdays and Holidays between Memorial Day and Labor Day.
Give yourself time to get there - it's still another 28 miles after exiting I-15 if you're coming from the south.
Visitor Center
Upon arriving, we parked in the parking lot and headed inside to the Visitor Center where, as usual, we stamped our Park Passport.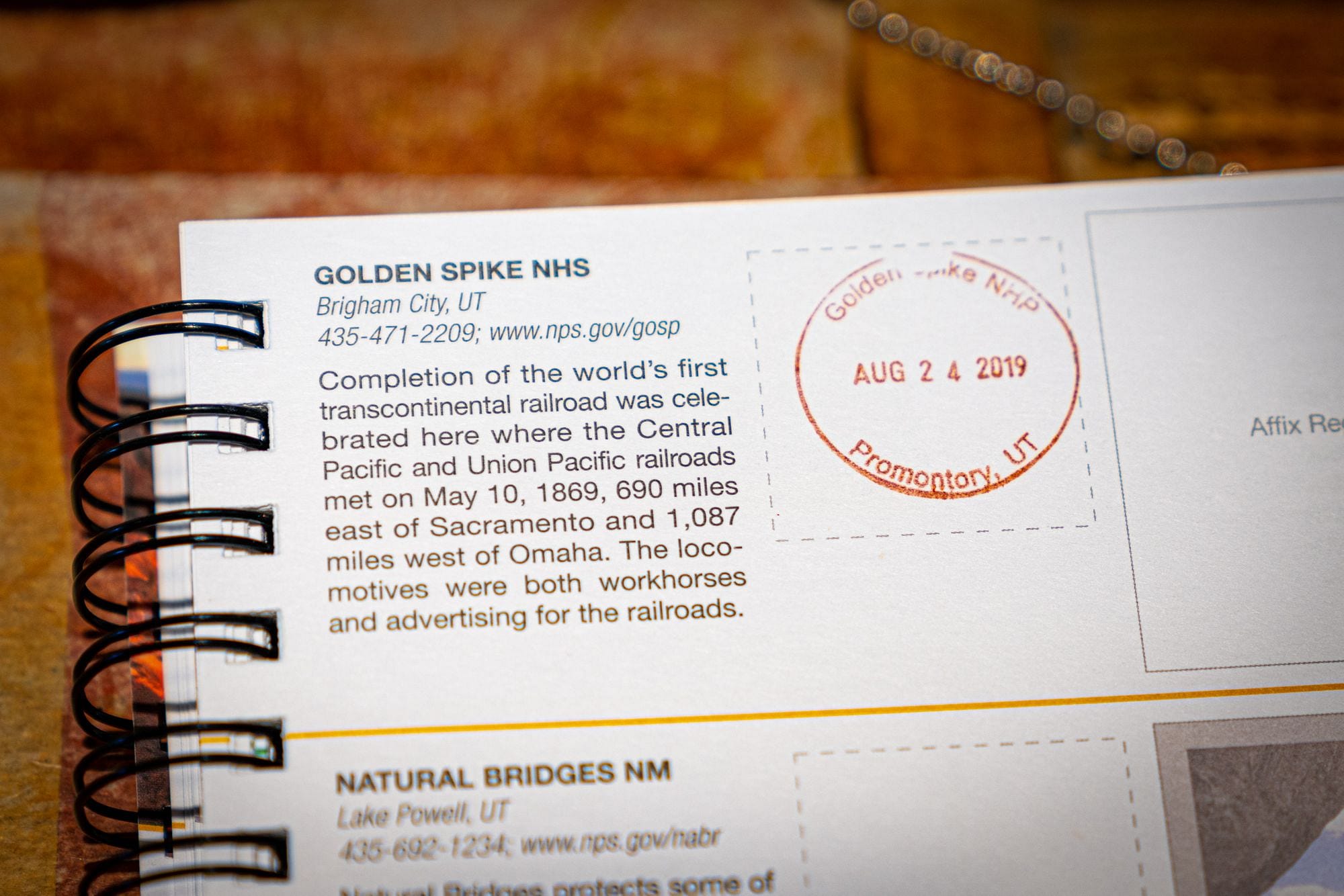 Inside the Visitor Center is also a small auditorium-type area where we watched a short film about the history of the site. We found it absolutely fascinating - the events that led up to the ceremony were anything but boring!
Locomotive Display
Shortly before 10am, we headed outside to witness the arrival of Jupiter. Then at 10:30am, engine No 119 arrived on the opposite track.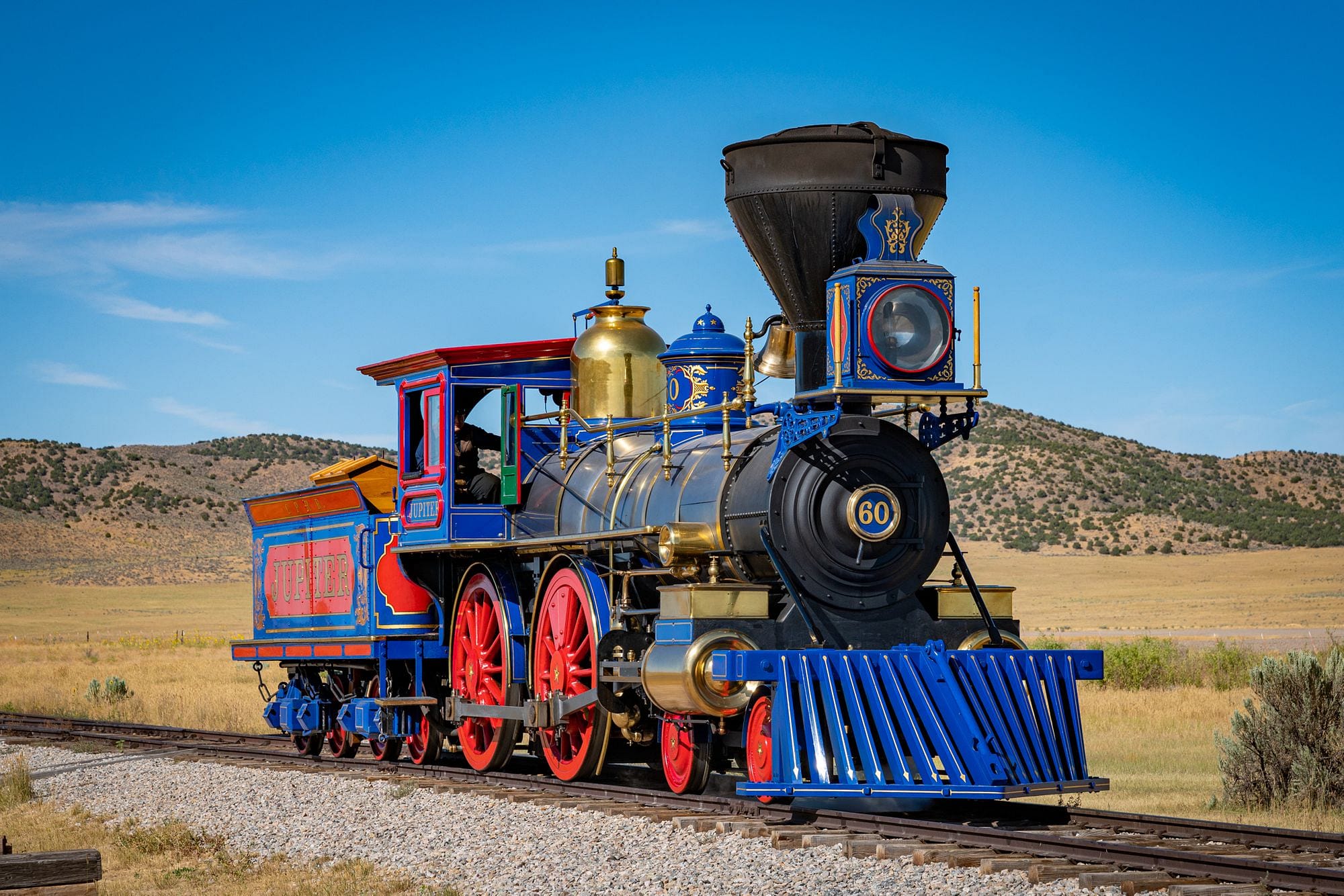 These locomotives are absolutely magnificent!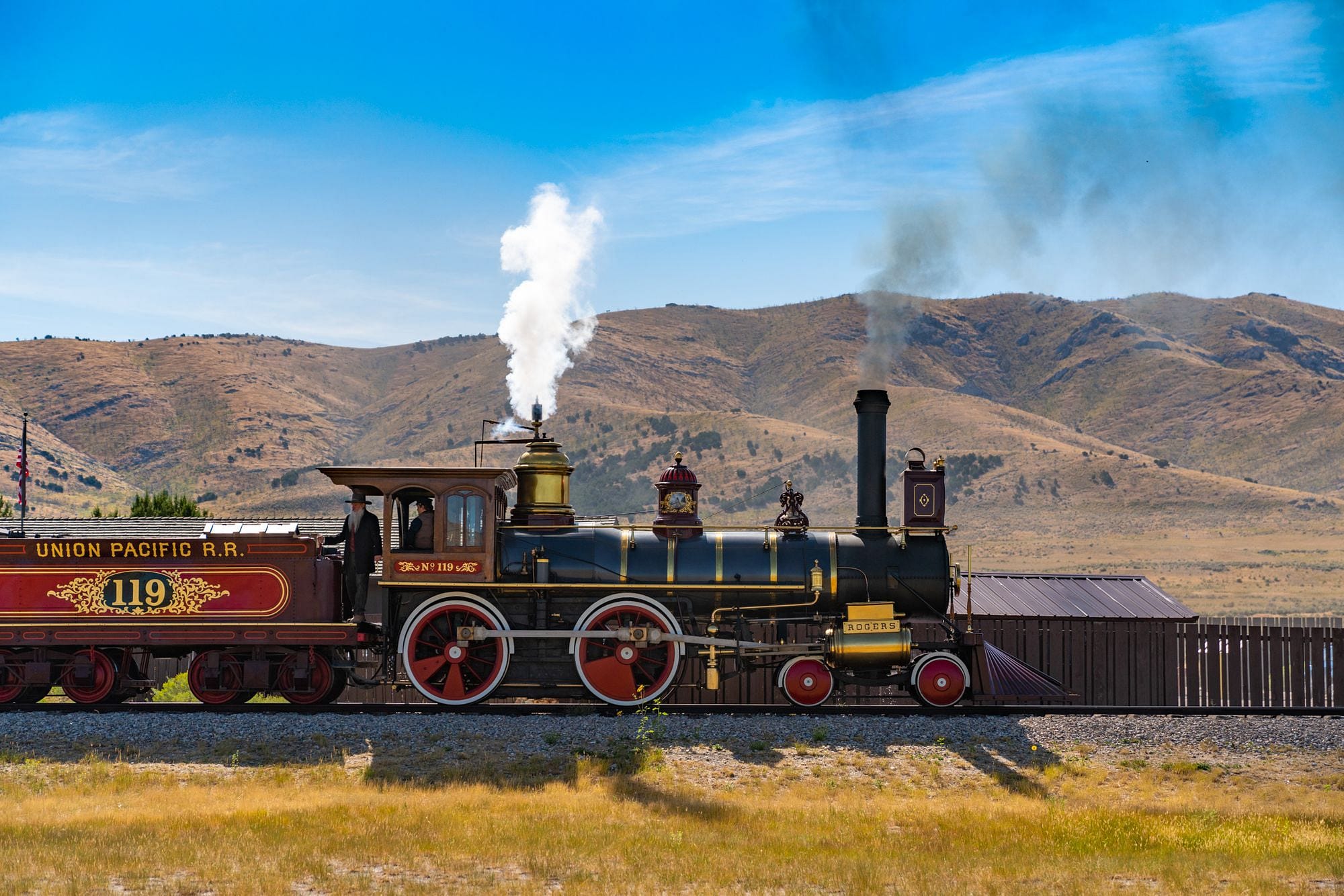 In the sunny summer weather, both engines were glistening under the blue skies. They were immaculately presented, and once they had stopped we were able to get up close and personal with them.
Plus, since they have viewing platforms adjacent to the tracks, we were able to climb up and look inside.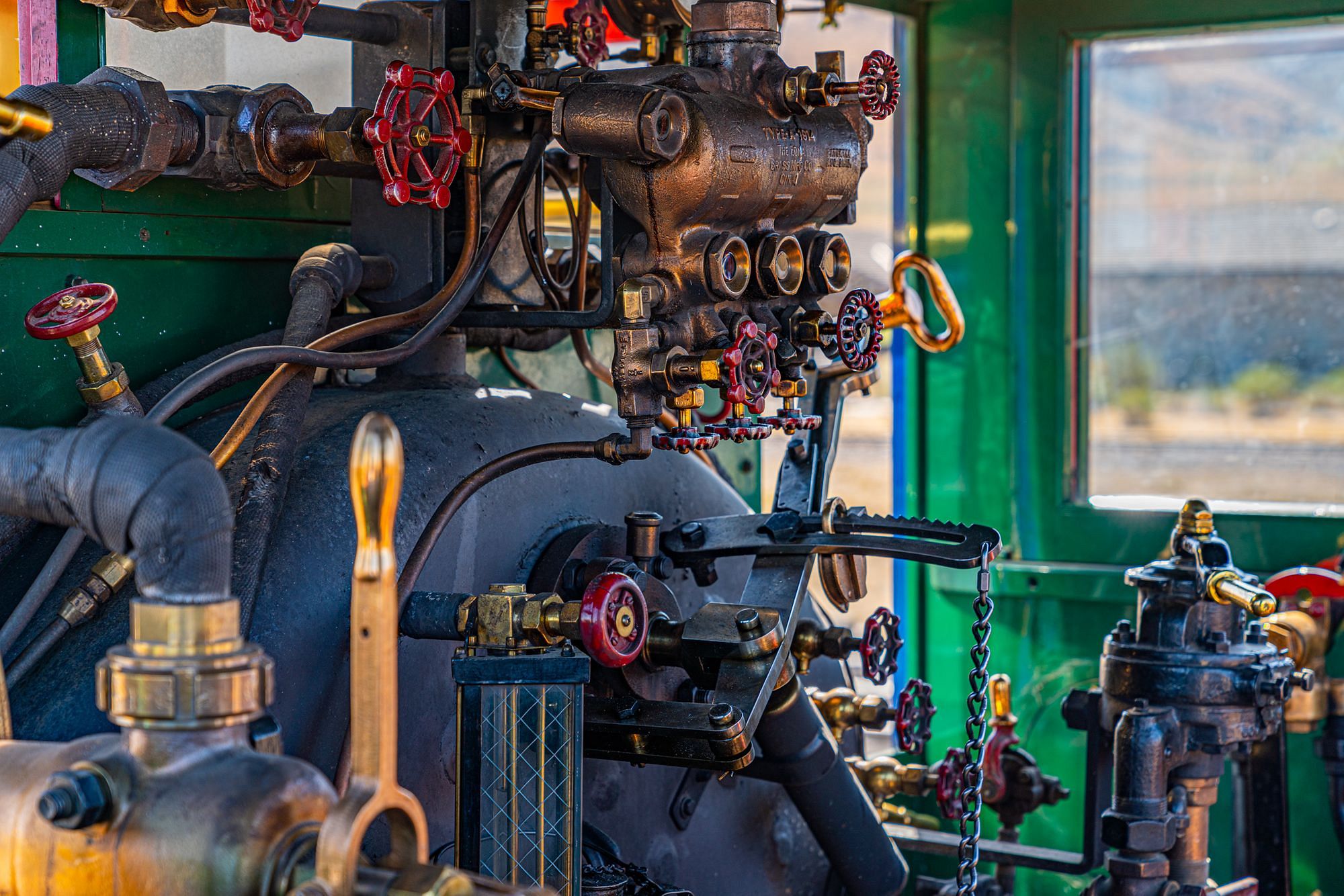 Whether you're into trains or not, there is no denying how cool this is! And if you have kids (or like us, you're just big kids at heart), then this is an absolute must-do.
We spent about an hour wandering around the trains, admiring them, asking questions of the staff and taking photos.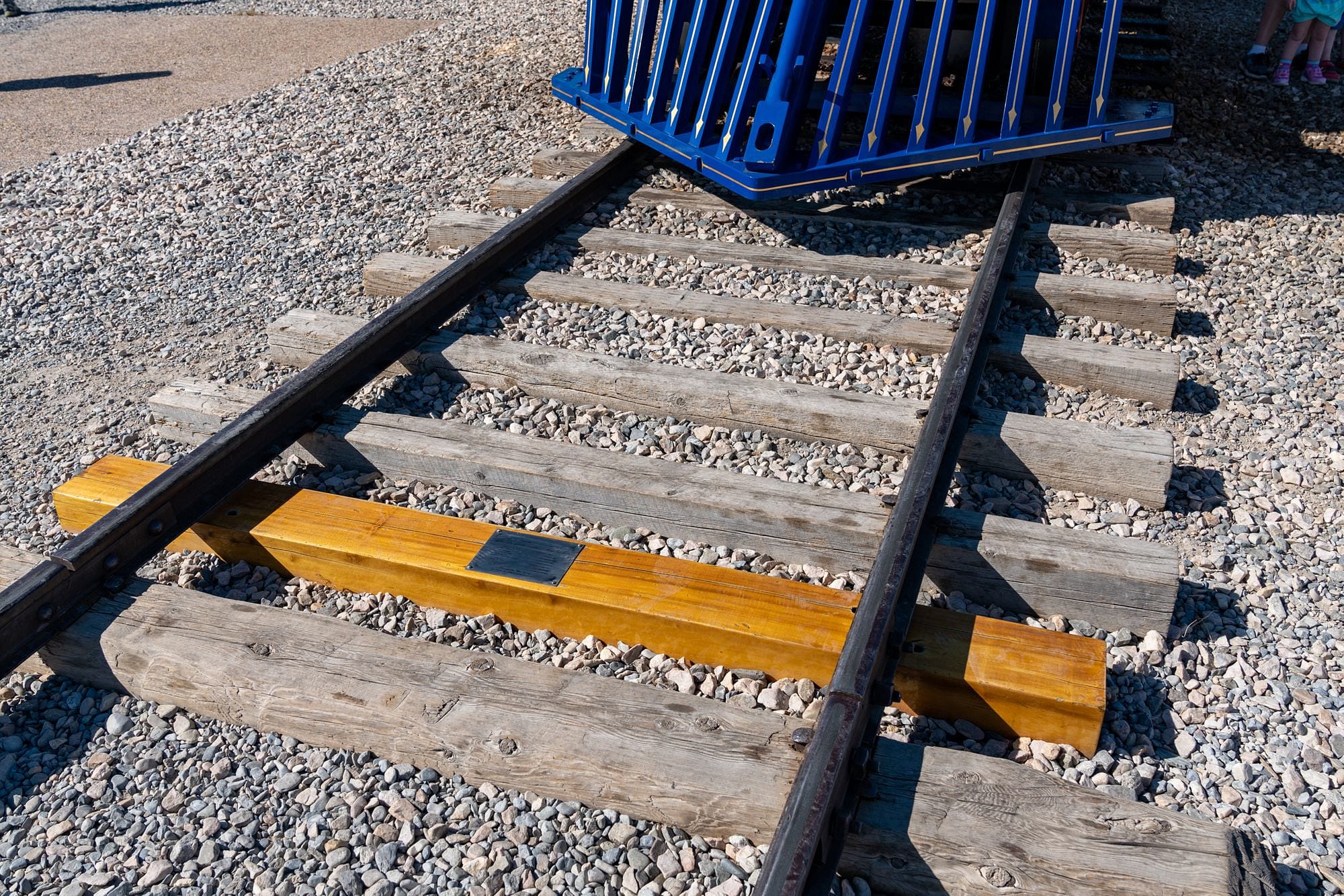 And of course, we found the final tie laid in 1869, complete with commemorative plaque.
Reenactment
After a while, everyone sat down to watch a reenactment of the Last Spike Ceremony. We were really impressed with this, and learned a lot of history during it.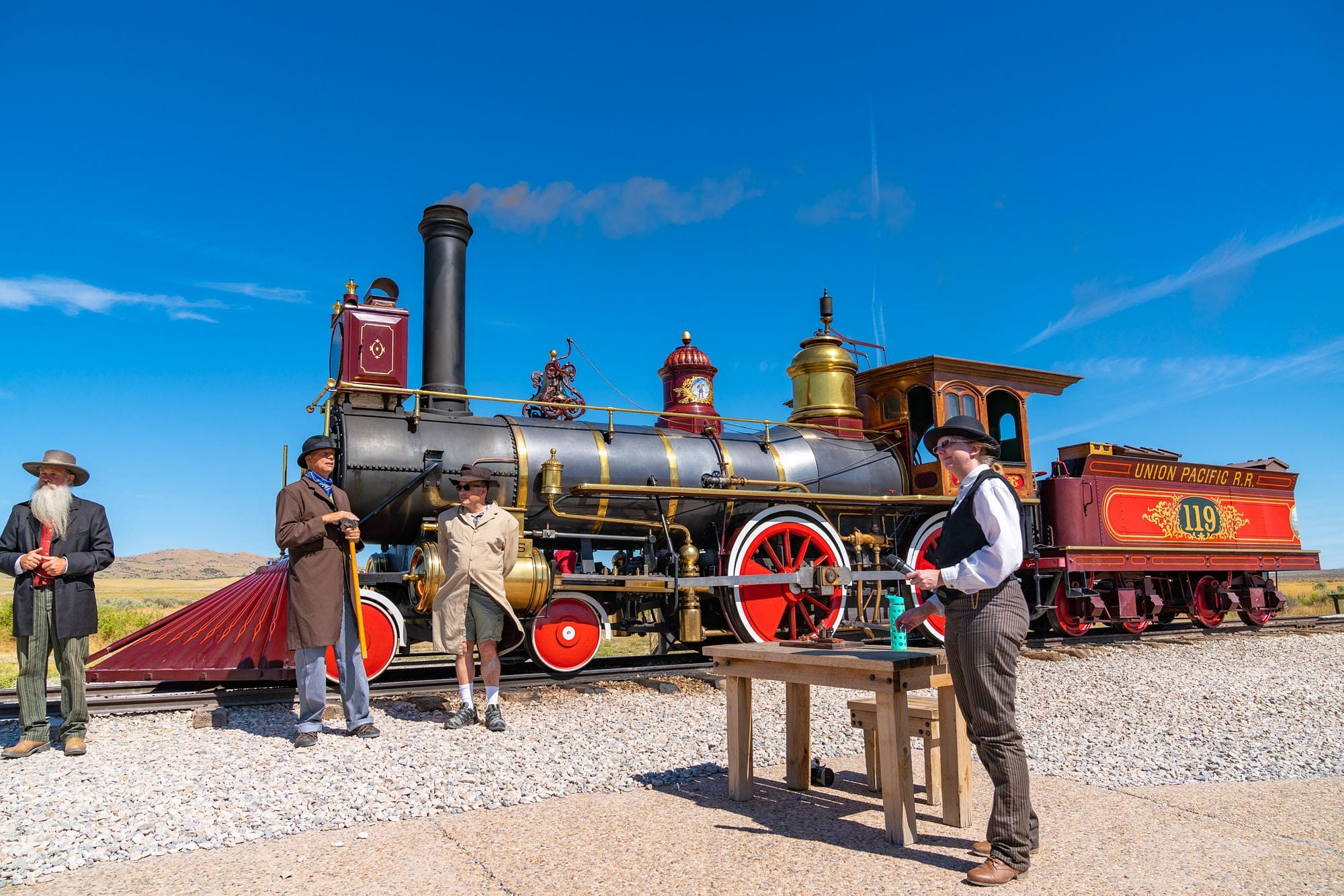 It was lighthearted and entertaining, and even included some audience participation! It really helped us to understand the timeline of events that had led up to the monumental occasion 150 years prior, and get a sense of some of the political forces that had been at play.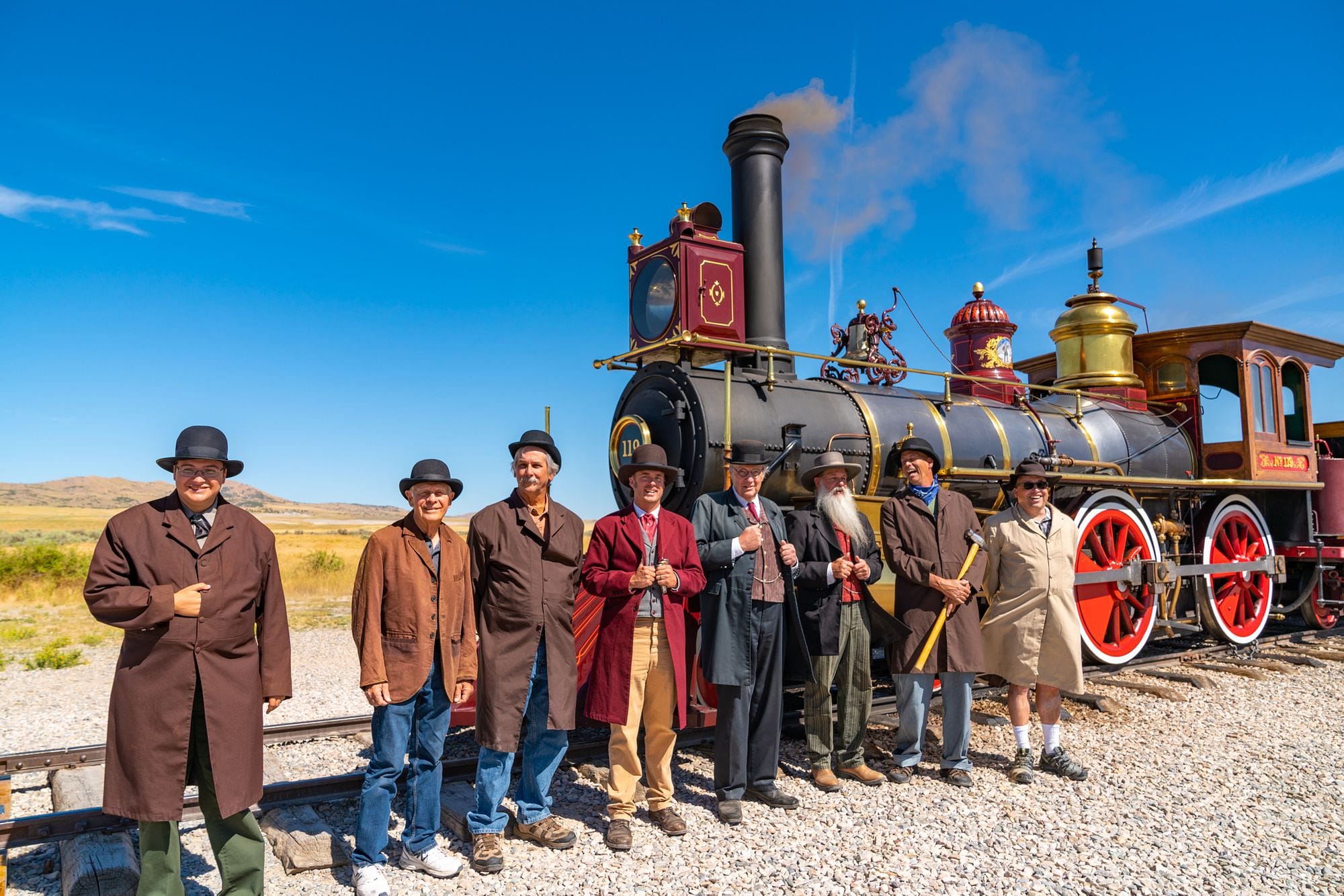 After the reenactment, we followed everyone else inside, before realizing there was now nobody outside looking at the trains. So I quickly ran out and spent 10 minutes taking more photos!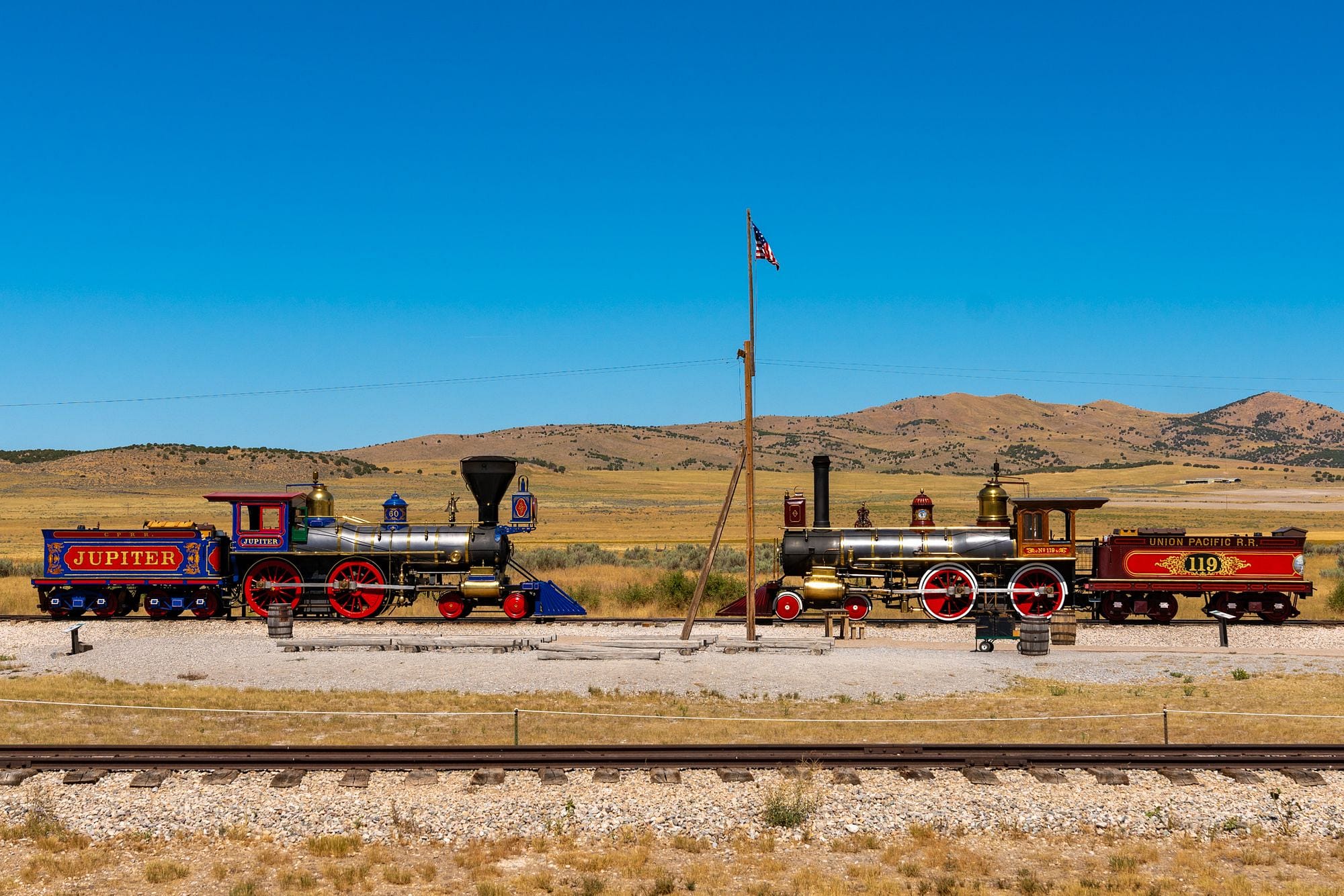 Before leaving, we stayed to watch one more short film in the Visitor Center. Having seen the trains up close and seen the reenactment, things were slotting into place much more easily!
West Grade Auto Tour
The last item on our itinerary was to drive the West Grade Auto Tour. It's about 7.5 miles to the start of this drive, and then the 7-mile unpaved road leads back to the Visitor Center along the historical railroad grade.
The road passes a sign which reads "10 Miles of Track, Laid in one Day" - commemorating the location where the Central Pacific Railroad company built 10 miles and 56 feet of railroad on April 28, 1869.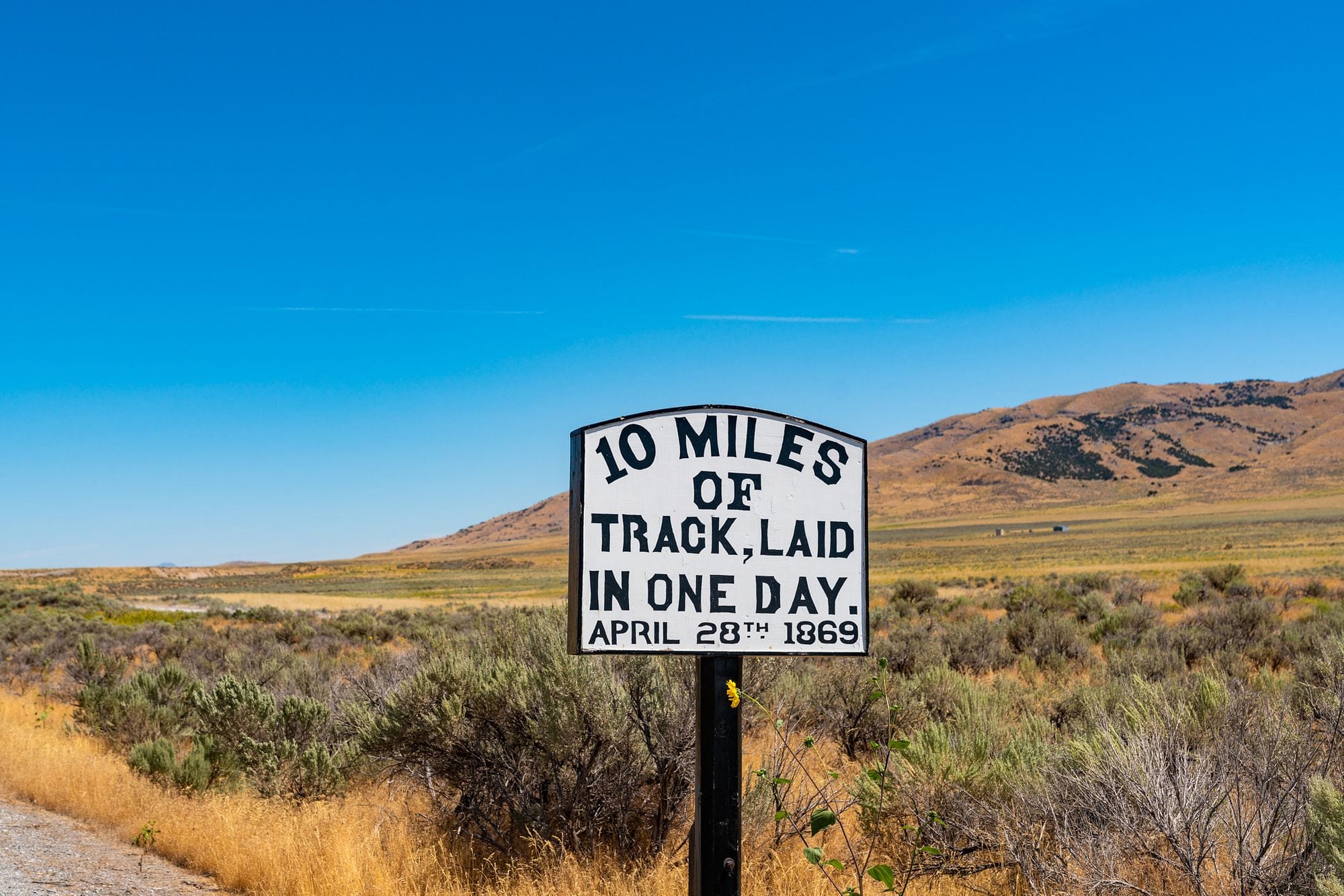 Be aware that the West Grade Auto Tour is typically closed until early June, and it's not suitable for RVs or vehicles pulling a trailer.
Conclusion
Did we enjoy visiting Golden Spike National Historical Park?
You bet we did!
From time to time we come across an unexpected gem in the National Park system, and this is one of ours. While we were looking forward to seeing the trains, the experience still surpassed all our expectations!
We like trains anyway, but seeing these two immaculately presented historical replicas was a real treat. The reenactment helped to add context to the event as we learned about such a key part of American history.
I highly recommend timing your visit to coincide with not just the locomotives appearing, but also the historical reenactment.
While there are other National Park Units in the area that we are yet to visit, our itinerary takes us further north on our journey towards Oregon. But don't worry, we'll be back!