It's official: summer is over and fall is here.
It's almost exactly a year since we first visited Vermont with the RV - we took a detour on our way from Massachusetts to New Hampshire to visit a campground we were considering staying in over the winter. Little did we know that not only would we be in that campground for almost a year, but that a year later we would call Vermont our home!
It was the fall colors that drew us to New England in the first place - an opportunity to see the area at arguably its most beautiful time of year before spending a harsh winter in the RV to see if we could handle Vermont at its coldest.
Once again, the leaves are beginning to change color, and this time we get to experience it on our own property too!
Self-Hosted Podcast
Before we jump in, a quick aside! Last week I was invited to join Self-Hosted show hosts Chris Fisher and Alex Kretzschmar to talk about my experience with self-hosting in the RV. It's a very technical podcast but if you want to learn more then check it out.
Driveway Cleanup
Our new driveway is in, and it still makes us smile every time we drive up and down! It's rained several times in the past week or two, and along with driving our truck and tractor along it, the road is packing down even harder. Honestly, it's absolutely solid and gives us huge confidence that we'll have no problems getting our RV or large construction trucks up to the house site.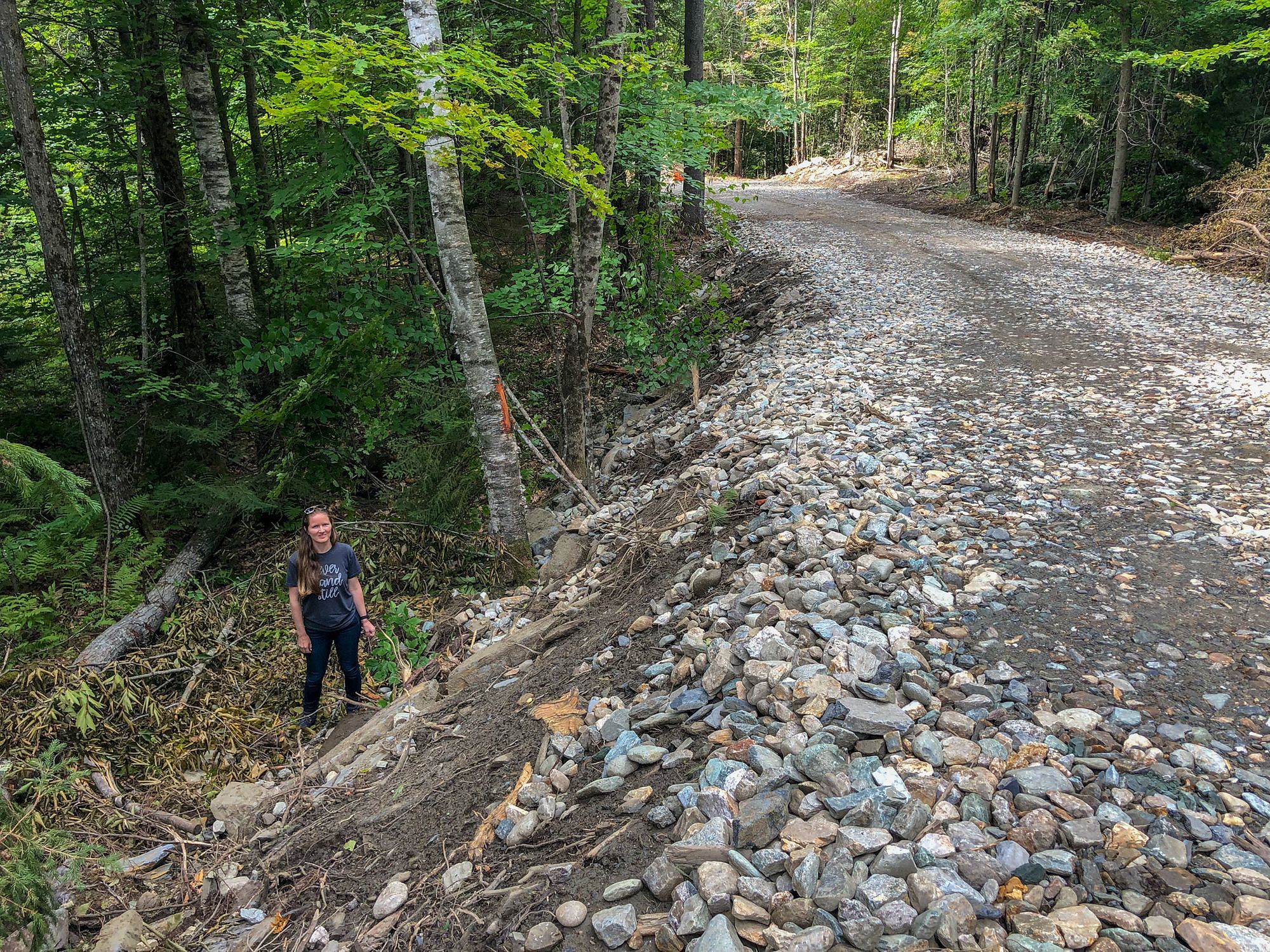 One of the things we asked the construction crew to do a little differently was not to spend too much time cleaning up all the trees, logs and brush but instead just to leave it in piles along the sides of the driveway. With the tractor, we can do that cleanup ourselves which helped us save some money on the job. Plus, the crew were keen to move onto the next job so this worked out well for them too.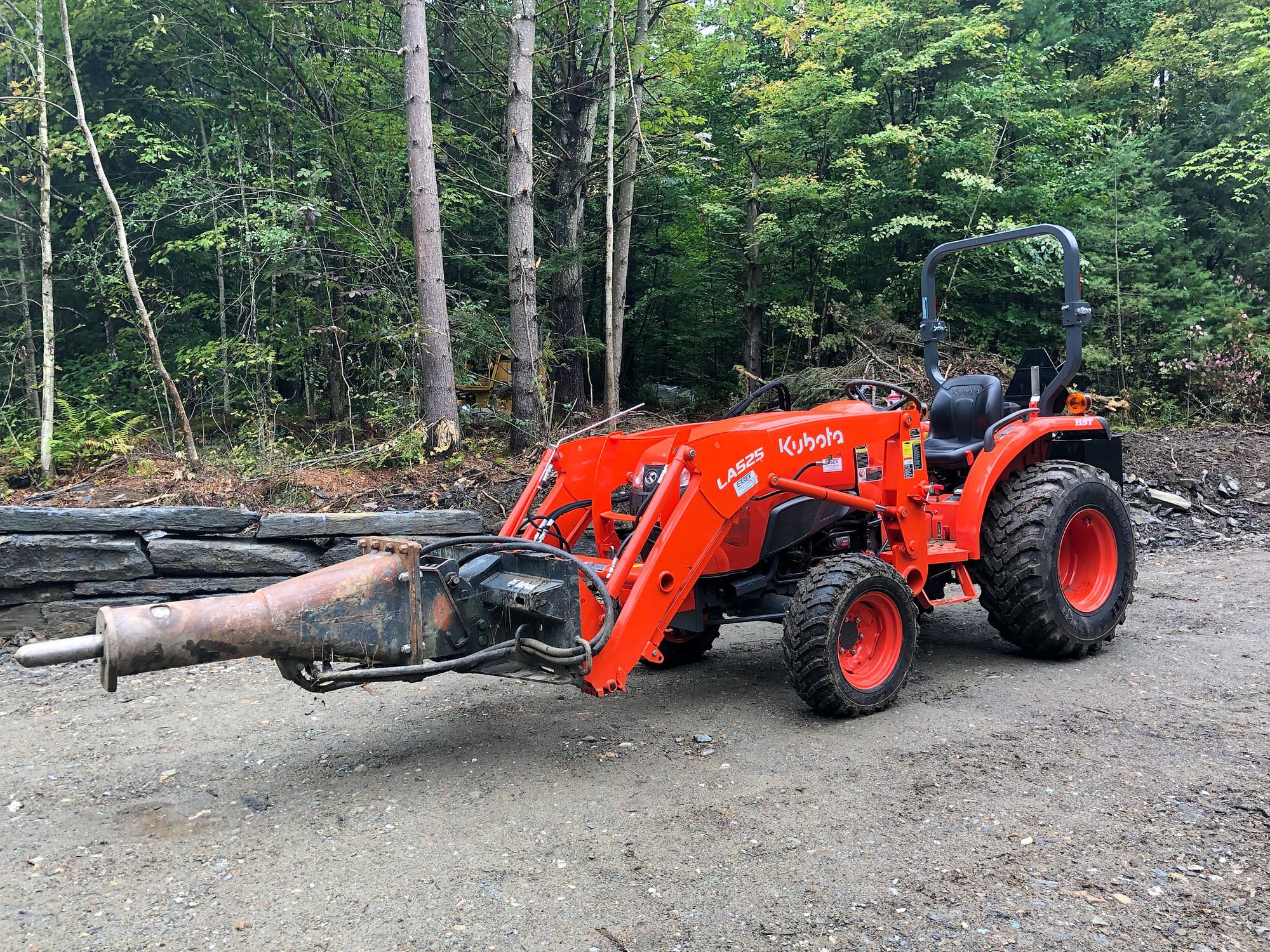 However, now we've got the cleanup to do! I've started pulling out some of the larger logs and taking them up to the top where we'll mill them later. Doing some rough math on the logs that we've piled up so far, we think there's about 4-5,000 board feet stacked already - not to mention the remaining logs we still need to bring up, or the trees we'll fell to clear the house site!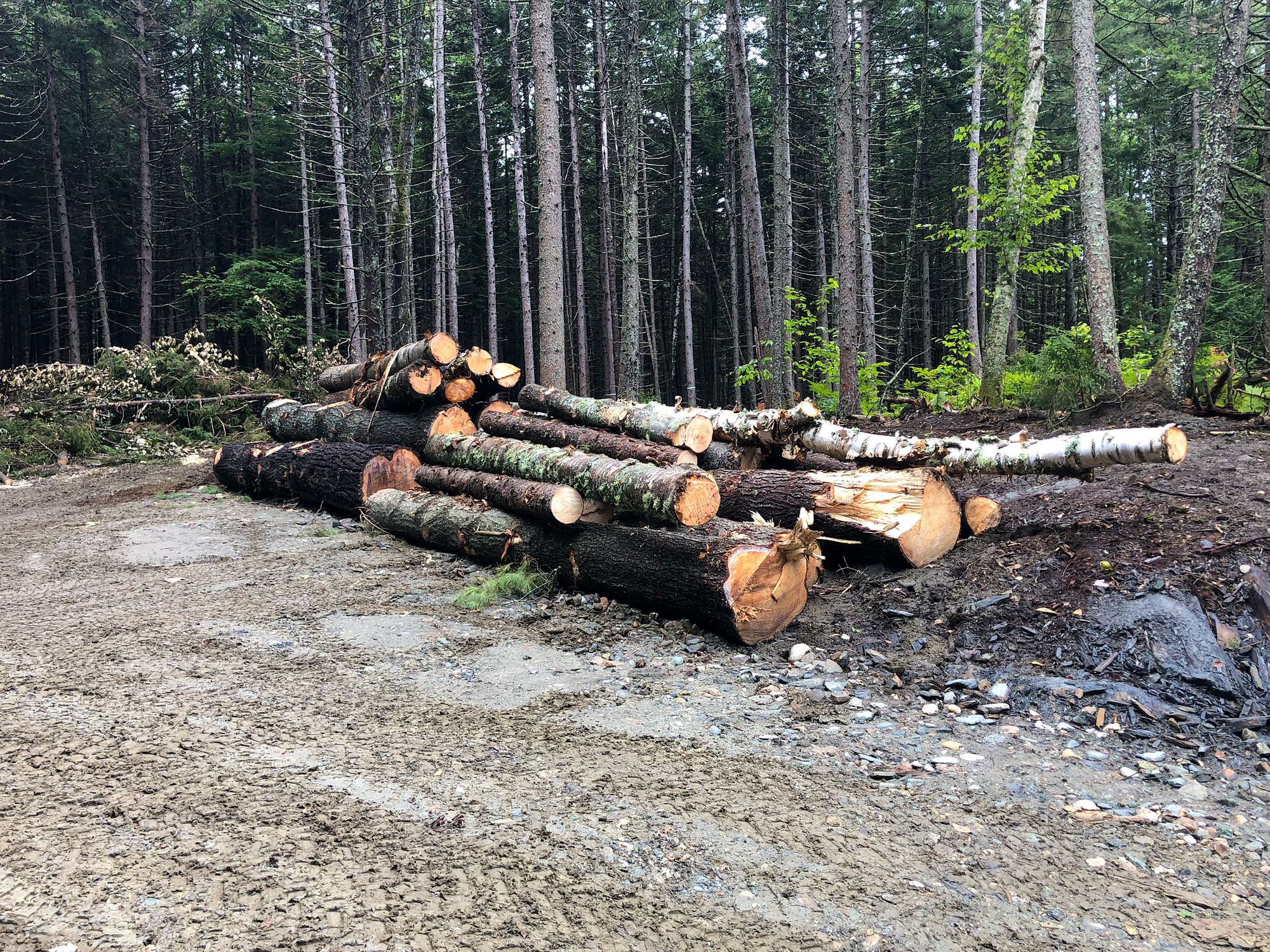 In case you're not familiar with "board feet", it's a measurement for lumber quantity - 1 board foot is equivalent to a piece of wood 12" by 12" by 1" thick, or a piece of 2x6 about 1ft long (assuming full dimension, not nominal). So in other words, if we milled all our logs into full-size 2x6s, we could produce over six hundred 8ft long 2x6s!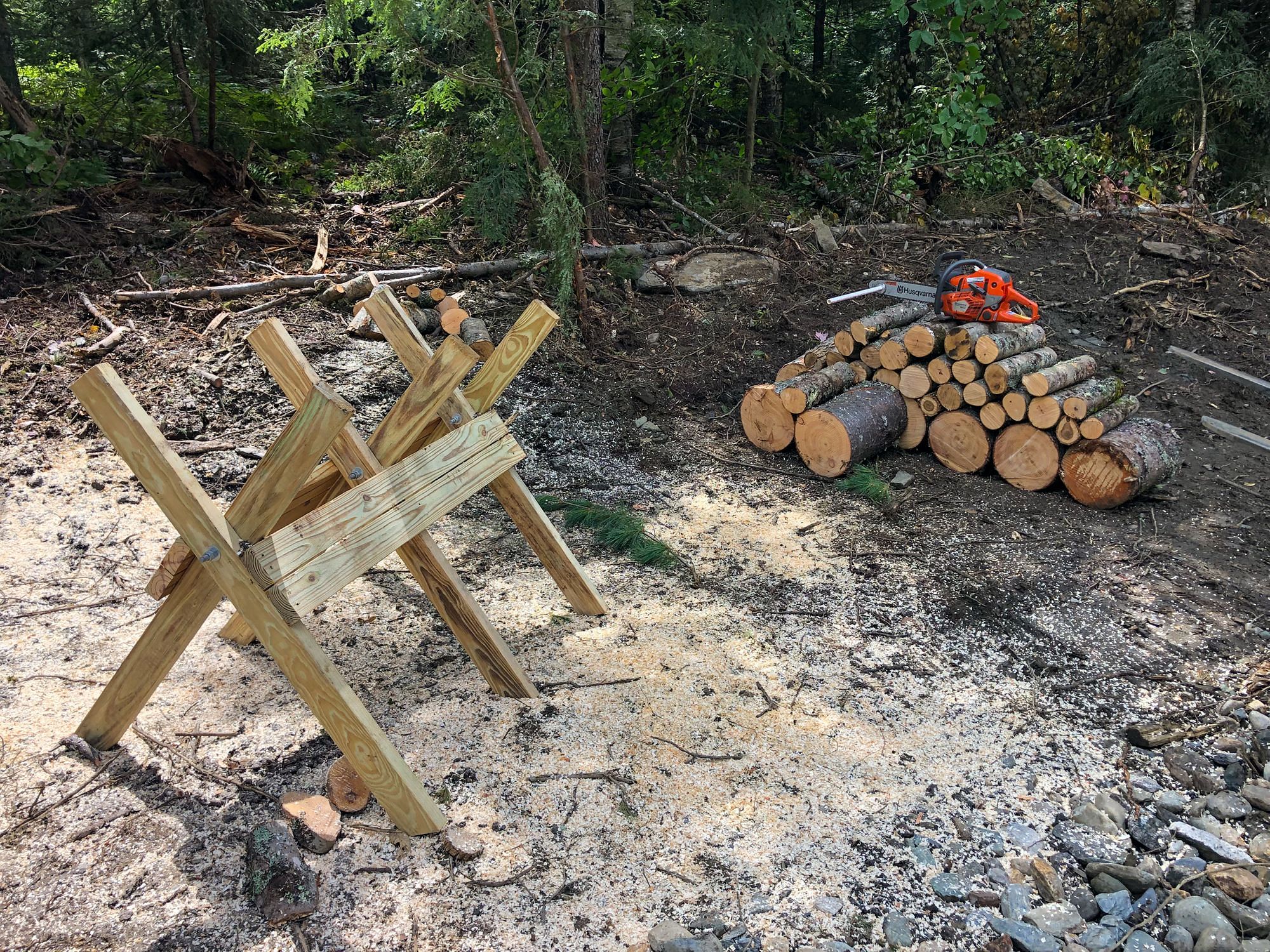 Smaller or crooked logs will be cut up for firewood, and we'll rent the wood chipper again to deal with everything that's left. To help with cutting up the firewood, I built a simple sawbuck and made a nifty attachment for our new chainsaw (look out for an upcoming blog post on why we switched to a gas chainsaw) to help quickly cut accurate 16" logs.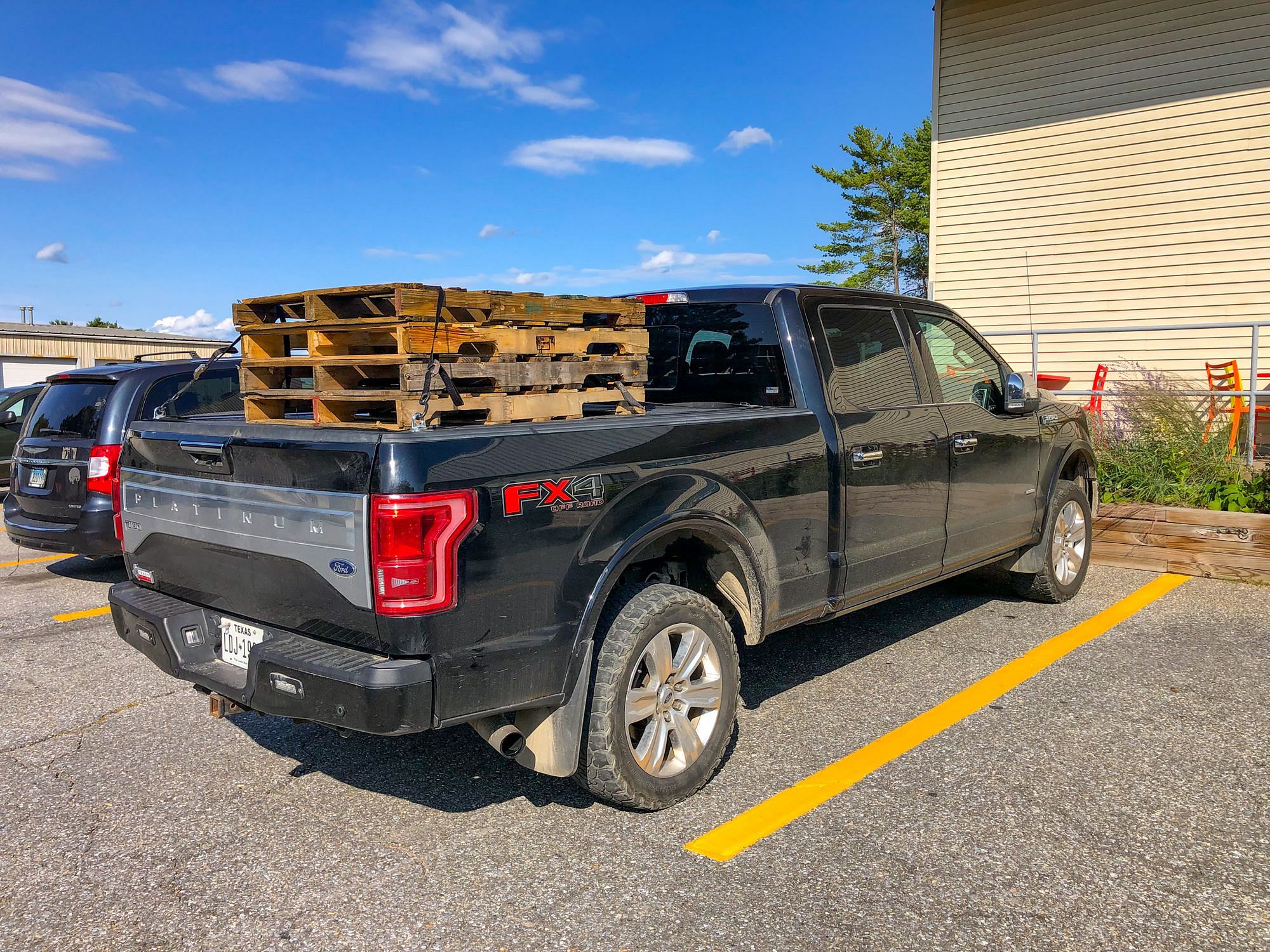 Entrance Landscaping
The driveway is all about utility - a sturdy, well-built road so we can safely and easily get to the house site. But after all that construction work, things were looking a little messy down by the road!
This is somewhat inevitable, and honestly, it'll stay this way for a little longer as we still need to bring utilities in which may involve some more excavation. But that doesn't mean we can't make it look a little neater in the meantime.
We really like the large stone wall that Kolbey built for us, and while we're still trying to figure out exactly how to join it up with the existing wall, we can at least fill in behind it.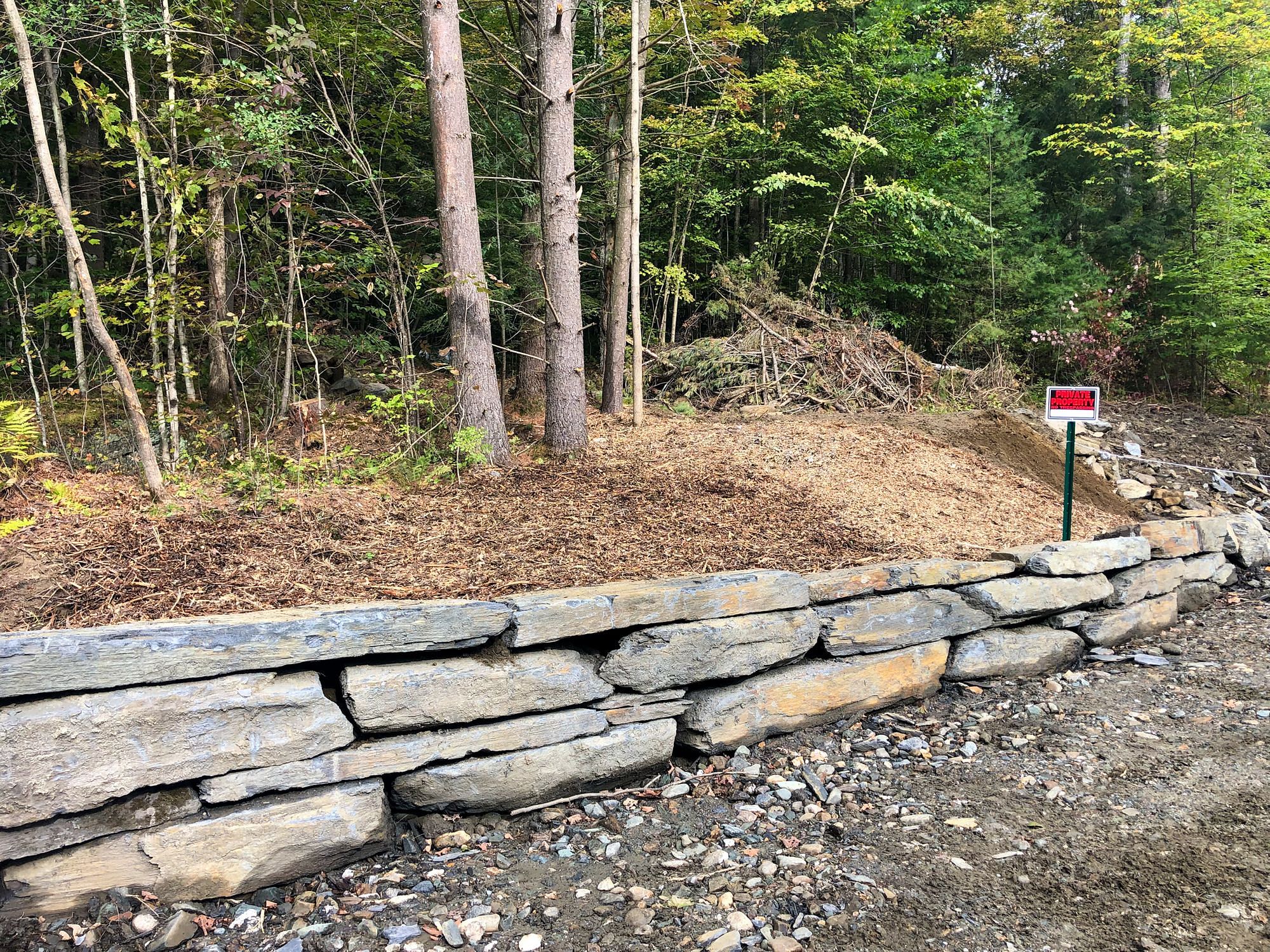 We have a couple of big piles of fill dirt, so using the tractor we've been able to start filling that in - although it's been a lot of manual labor to pull the rocks out to leave us with somewhat loose soil. Those rocks are HEAVY! I looked up online and the slate weighs about 170lbs per cubic foot!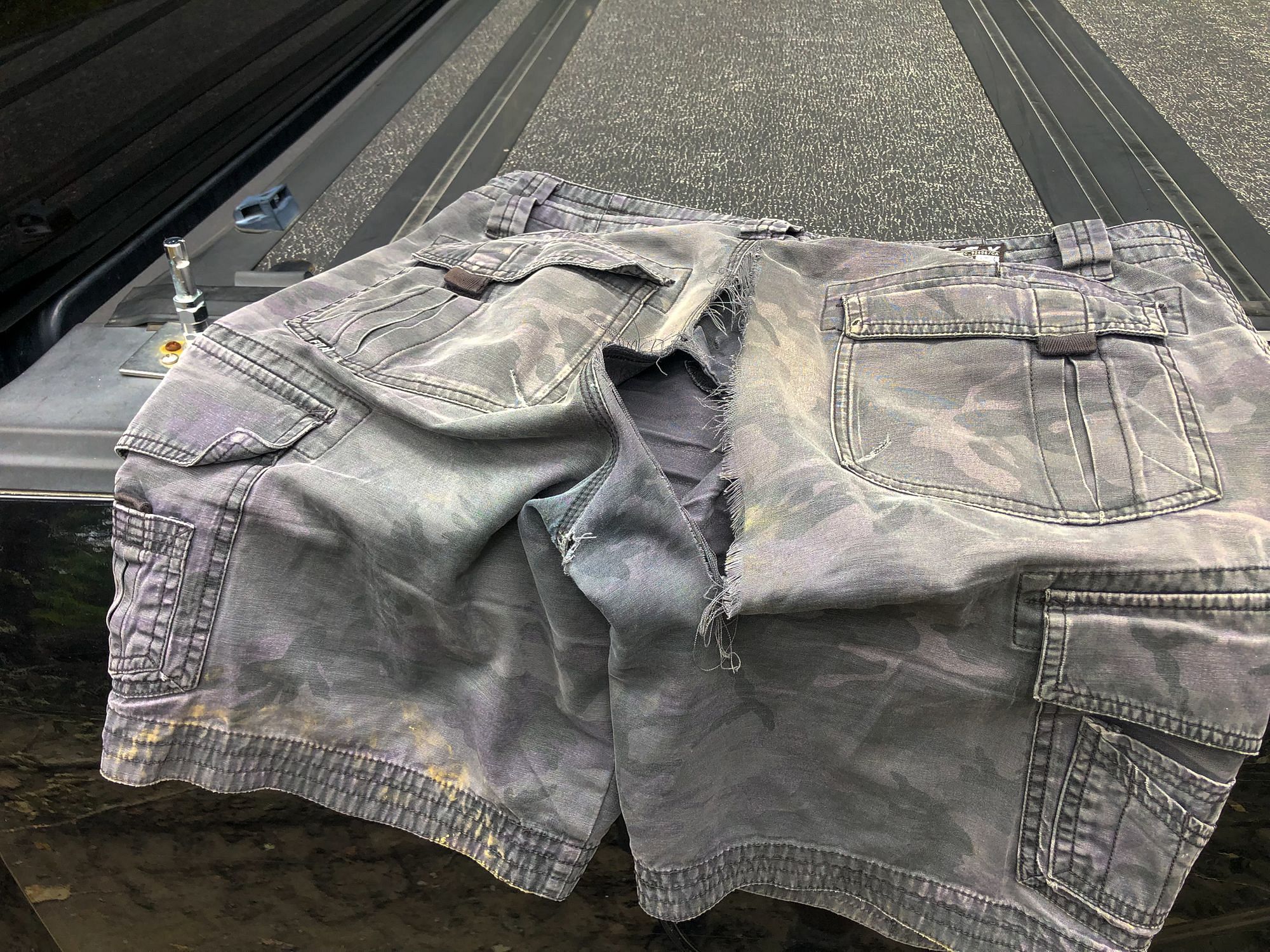 Once we had back-filled the area with dirt, we spread two of the three yard bags full of mulch that we had saved from chipping the slash piles from the driveway.
Our plan is to seed the area with a wildflower and grass mix which should hopefully stabilize the soil and reduce erosion, but also look good! We'll be back out at the site this week trying to get it finished off.
Installing our Mailbox
One big exciting development of the past couple of weeks is that we finally have an address for the property! We submitted the request a couple of months ago, but things have been moving very slowly.
We met our mailman at the property and agreed a location for our new mailbox. It's a little tricky as there's a drainage ditch and culvert at the front by the road, but we think we've found a good spot. Installing the mailbox will be one of our first jobs this week.
Once we have the mailbox in and everything is set up, we'll finally be able to switch everything over and officially become Vermonters - very exciting!
Yestermorrow Design & Build Course
Last weekend, Diana finished the design & build course she had been doing at Yestermorrow. In addition to 5 weeks of online classes ahead of time, she then spent 3 weeks on-site doing hands-on building.
Although Yestermorrow isn't too far away from where we are in the RV, it didn't make sense to drive there and back (or for me to drop her off and collect her each day), so she tent-camped on-site - along with several others from out of state.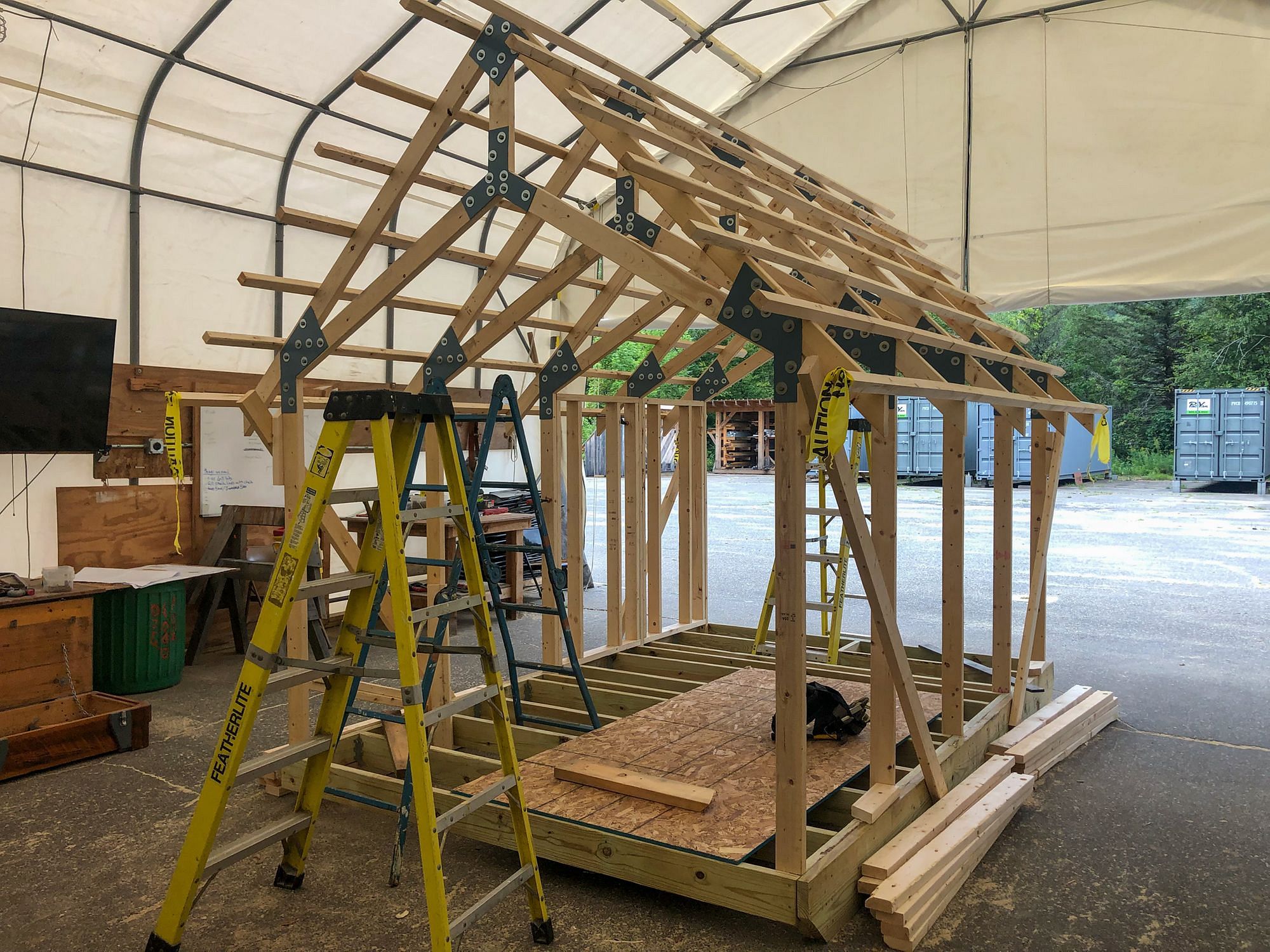 Diana's group worked on two building projects, covering everything from framing and roofing to electrical and plumbing.
She really enjoyed the course and is already eyeing up a few other courses that she might take in future. We're keen to do as much of the house build as possible ourselves, so educational opportunities like this are incredibly valuable.
RV Electrical Upgrades
While Diana was away at Yestermorrow for three weeks, I took the opportunity to start working on a few projects. The first of these was to install an additional Battleborn battery in our RV, bringing us to a total of 400Ah of lithium batteries.
Fitting the battery in was a little tight, but it all worked out nicely. The installation was incredibly easy - I had enough cable and terminals in my spares bag that I was able to do it without buying any more supplies. I'll be doing a blog post soon with more details.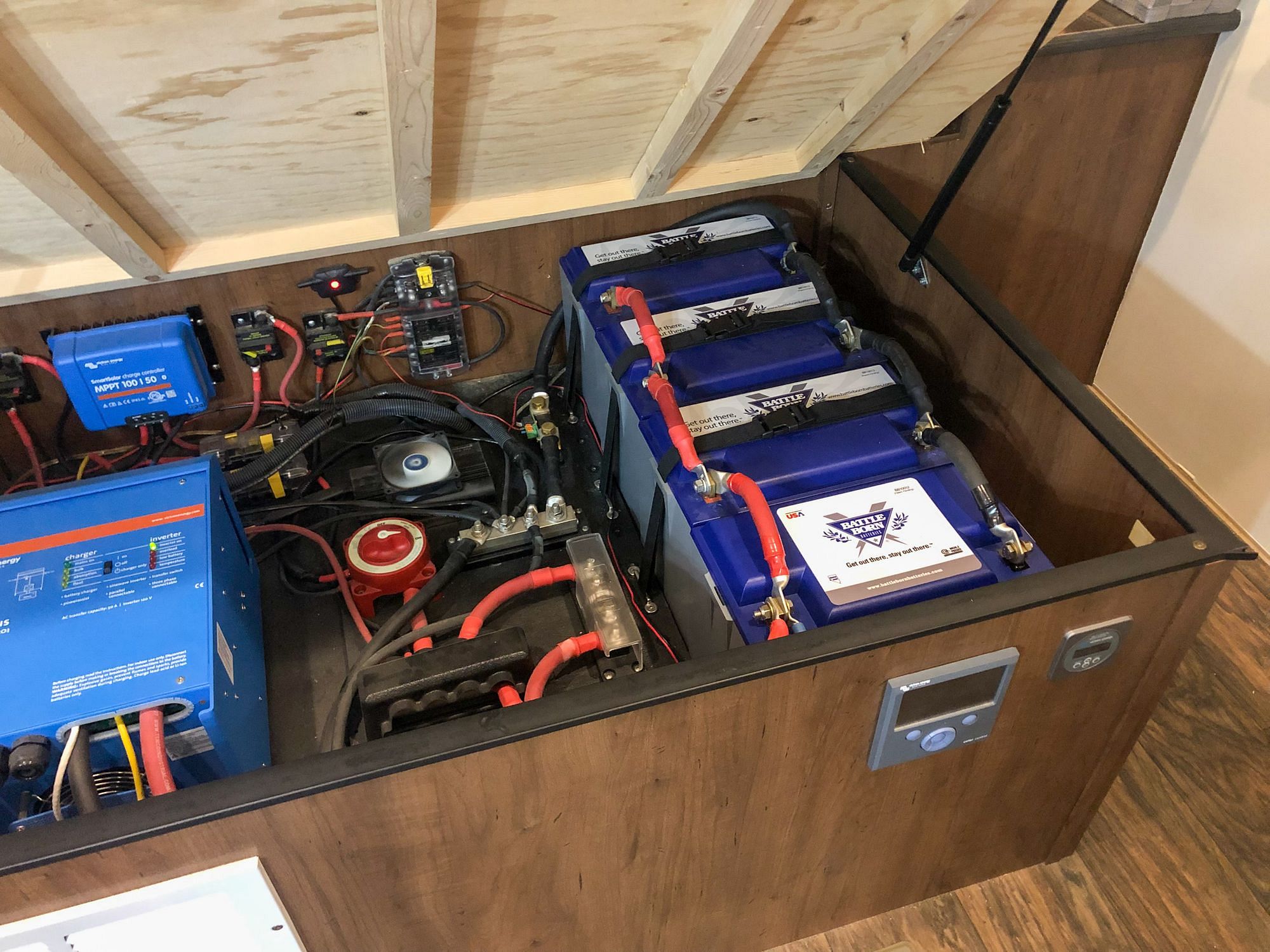 Earlier this year we had to travel to Oregon to have the roof replaced on our RV.
One consequence of this was the removal of our 600W of rooftop solar panels! We've been debating what to do about it - just put the panels back on the same as before, or maybe something a little different?
Well, for the time being we've decided to just create another DIY portable solar panel like the one we already have.
In winter, the ability to tilt panels is really useful, and since we made the portable panel out of the exact same panels we used on the roof, it's pretty straightforward to repurpose our old roof panels to make another ground deploy array.
Moving the RV
In a couple of weeks we're going to move the RV to our land, just for a few days. Some of our new neighbors have very kindly offered to host a little welcome party for us, and we thought it'd be nice to have the RV on site too. Our upgraded battery bank and ground deploy solar panels should be enough to get us through a few days of dry camping.
It'll be nice to wake up on our property for the first time, and also be able to get lots done while we're there without having to drive more than an hour each way to get there!
Then, our new sawmill should be arriving in late October. Our goal is to have everything lined up and ready so that when it arrives, we can assemble it and start milling straightaway. That should keep us busy well into November.
Since our land won't be ready for us to move the RV onto full-time, we've been debating what to do this winter - do we stay here at the campground in Vermont, head somewhere warmer with the RV, or maybe even travel internationally?
Destination Virginia
Our latest thinking is to travel south with the RV, aiming to leave Vermont just before the first real snowfall, so maybe late November or early December, and head to Virginia.
It's a part of the country that we'd love to spend some time in and explore. Winter low temperatures will likely skirt somewhere around freezing, but that's a good deal warmer than it'll be here in Vermont! While we're there, we want to get out and explore as many of the National Park Units including Shenandoah National Park of course!
So, if you have any recommendations for good RV parks for monthly stays, or places to visit and things to do in Virginia, please leave us a comment below!