As an Amazon Associate we earn from qualifying purchases.
We have a policy of not sharing our current location - whether a campground or boondocking spot - until after we've left. The last thing we want is an unknown individual, regardless of their intentions, turning up unannounced because we're there.
Which made sharing the last campground we stayed in a little difficult...because we'd been there more than 12 months!
In April last year, we shared a blog post about how we had just finished 100 days of boondocking (living in our RV off-grid with no hookups), mainly in the Arizona desert.
But the pandemic forced us to change our plans, and we decided to head to New England in the fall of 2020. One big difference between camping out west and in New England is that there are far fewer opportunities for boondocking - although given the winters in New England, hookups were a necessity for us anyway!
Winter RVing
Winter camping isn't particularly popular, and as a result not many RV parks stay open during the winter. In fact, from our research we were only able to find two RV parks that fitted our needs - one in New Hampshire and one in Vermont. Our plan was to find somewhere to camp for the winter - from around mid-November until March or so.
Our first candidate was Friendly Beaver Campground in New Boston, NH. We stayed here for a few nights in late September as we explored the fall colors.
I would describe Friendly Beaver Campground as a fairly typical resort-like RV park. It has 3 outdoor pools, an indoor heated pool, a sports complex, multiple rec halls, laundromat and an on-site store. The WiFi was usable and reliable (very unusual!), albeit at an extra cost. Overall it was pleasant, although not our preferred camping experience - it was a strong contender.
As we headed north, we decided to take a detour and stop in at our other candidate: Green Mountain Family Campground, just north of Middlebury, VT. We had emailed back and forth with the owner, Gary, and had arranged to meet him so we could take a look around the campground.
First Impressions
With our typical, nonchalant, "RVing out west with a small travel trailer is easy" mentality, we followed directions from Google Maps...over two steep and winding mountain passes! Lesson learned - check roads ahead of time in New England! It was the first time in almost 3 years of RVing that our truck hadn't been able to hold its speed in 1st gear while towing - yeah, steep climb!
Our goal was to decide which of the two campgrounds we'd prefer to stay in, and that meant checking out the site we'd likely be in, the roads for winter access, the campground vibe as a whole, and most importantly...cell signal!
We pulled into the entrance and were immediately struck - this was a very different type of campground to where we had been previously.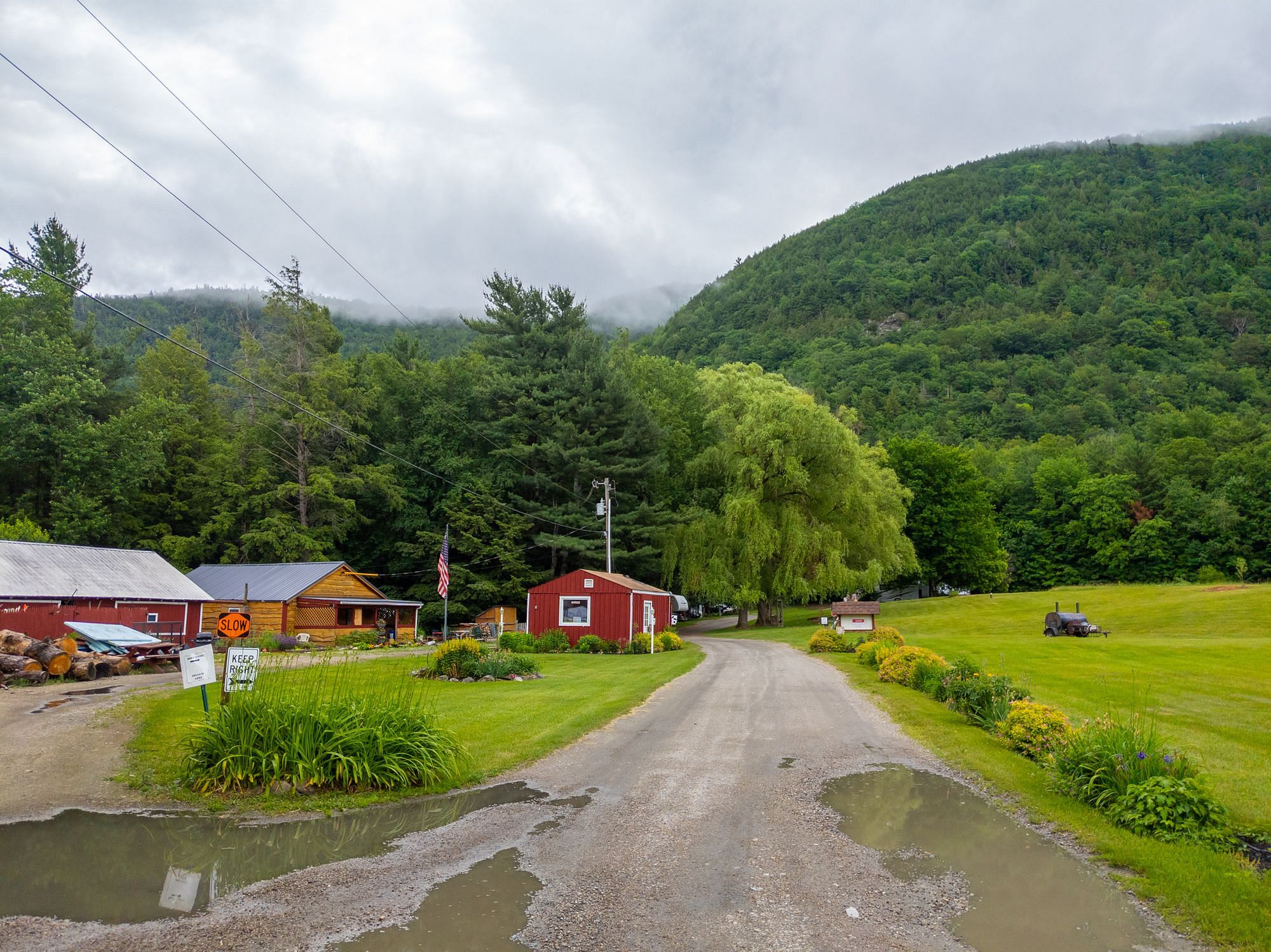 If I had to describe Green Mountain Family Campground in three words, I'd say: simple, charming, peaceful.
Yes, it does have a swimming pool - two in fact if you include the children's pool - and a laundromat. But both of these would be shut off in winter. As would the whole back side of the campground in fact - leaving just 20 or so sites that would be open year round. Very different from the hundreds of sites at Friendly Beaver!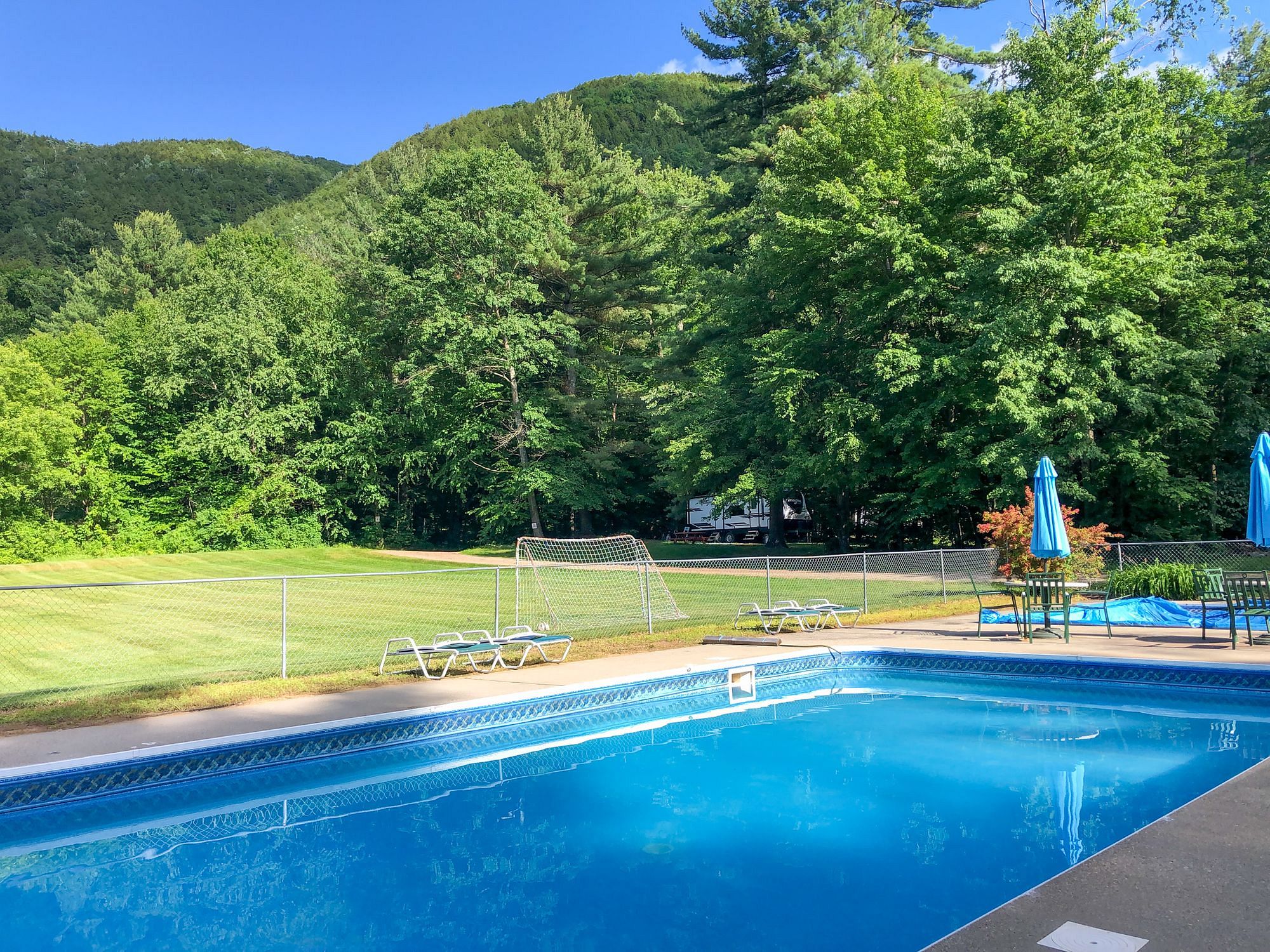 The sites are rustic. Far from the concrete cities of other RV parks we've been to in the past, each site is nestled amongst the trees, surrounded by nature. If we're going to stay in an RV park, this is our kind of park!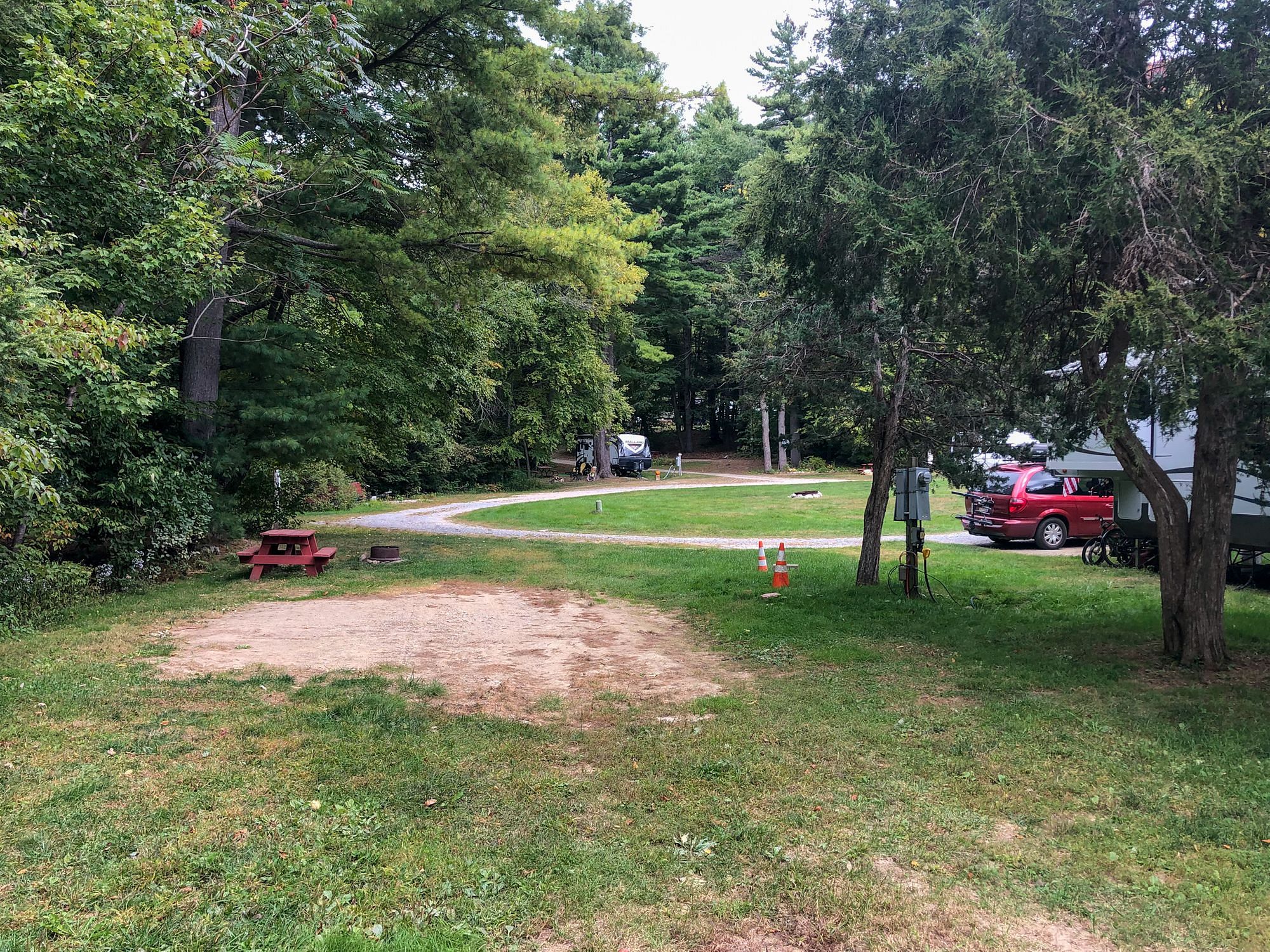 Gary was friendly and helpful, even if a little bemused when we started wandering around with our phones checking signal at various parts of the campground! AT&T was strong near the road although weak in the park itself, but Verizon seemed pretty respectable in most places we tried, around 5-20Mbps or so.
So after about 20 minutes, we thanked Gary and set off on the road again, back to a new campground in New Hampshire where we'd be spending the next few weeks.
Decisions, Decisions
We spent the next couple of days weighing up our options. This is an incredibly personal decision but here's what it came down to for us.
Friendly Beaver Campground: 30 minutes from Manchester, NH (a major city), known quantity (we had already spent time there with our RV), lots of amenities on-site, poor cell signal but reliable (if a little slow) WiFi, more expensive (~$900/mo).
Green Mountain Family Campground: rustic charm, quiet vibe, small community feel vs large RV park, cell signal but spotty campground WiFi, choice of several big ski resorts within an hour (Killington, Pico, Sugarbush, Mad River Glen, etc), cheaper ($600-650/mo).
Two days later we had made our decision - we emailed Gary and made a reservation, arriving on November 7th. We elected for the 50 Amp site for $50/mo more than a 30 Amp site - our rationale being that even though our RV is a 30A RV, we could use a splitter to power our heated hoses and in our experience, 50A sites tend to have less voltage drop due to lower impedance from the thicker wiring.
Arrival
6 weeks after our initial visit, we arrived back at Green Mountain Family Campground.
Our arrival took a little bit of planning since we would have to quarantine for 14 days upon arrival - no trips to the grocery store, but more importantly, no trips to the hardware store to get what we needed to skirt our RV, so all that had to be done in advance.
It didn't take us long to get everything set up and begin settling in!
Hiking Trails
Green Mountain Family Campground sits on 42 acres, and one of the things we enjoyed most about our year-long stay there is the hiking trails.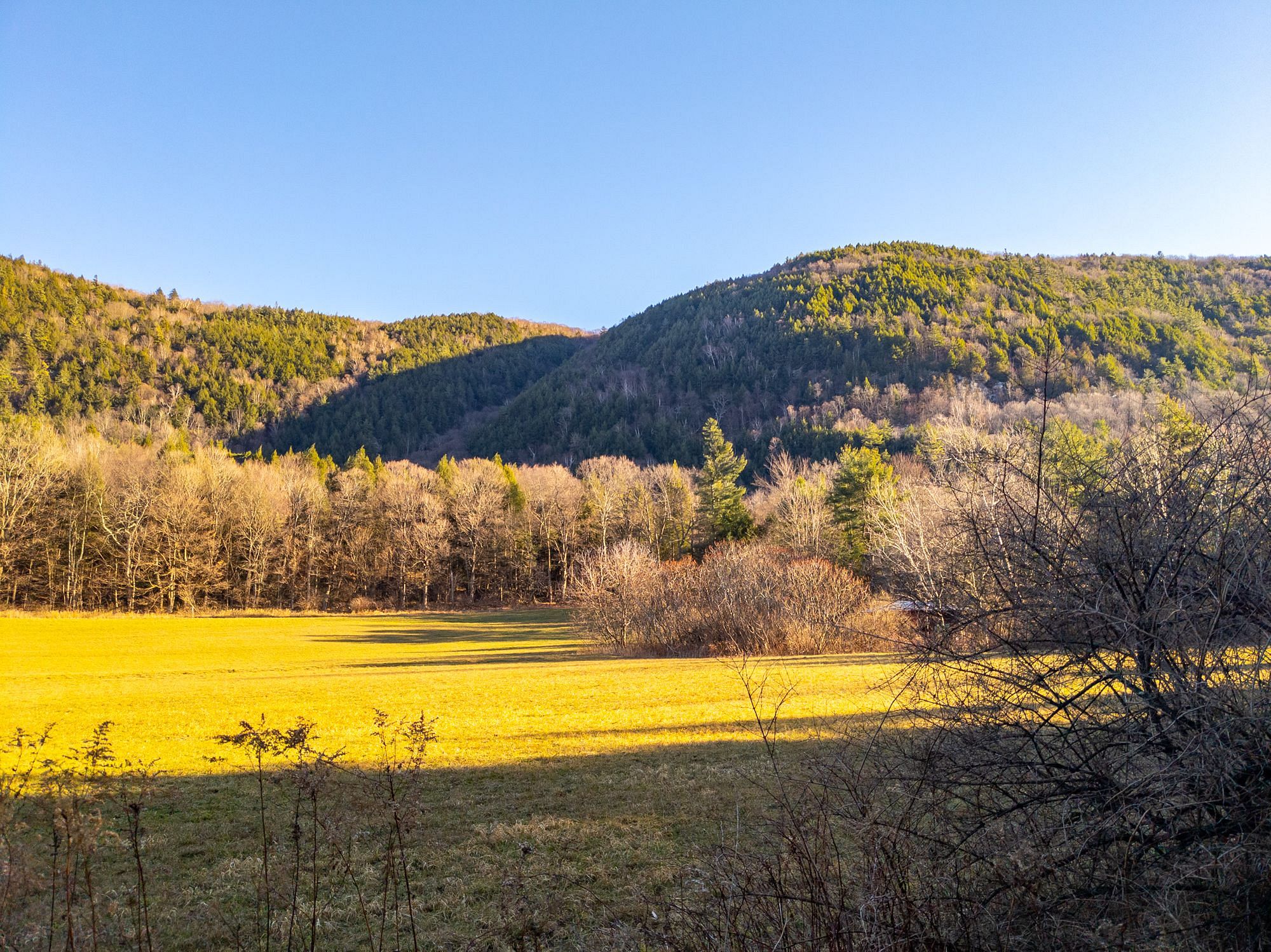 During the summer months before we were working on our property, we were spending most of each day in meetings and working inside the RV on our laptops. It was so nice to be able to take several short hikes during the day around the campground to stretch our legs and enjoy the sunshine!
In addition to the roads that weave around the campground, there are several single-track hiking trails that extend up into the forest on the mountain-side. In winter these are more suitable for snow-shoeing (we didn't try it, but our neighbor was out most days).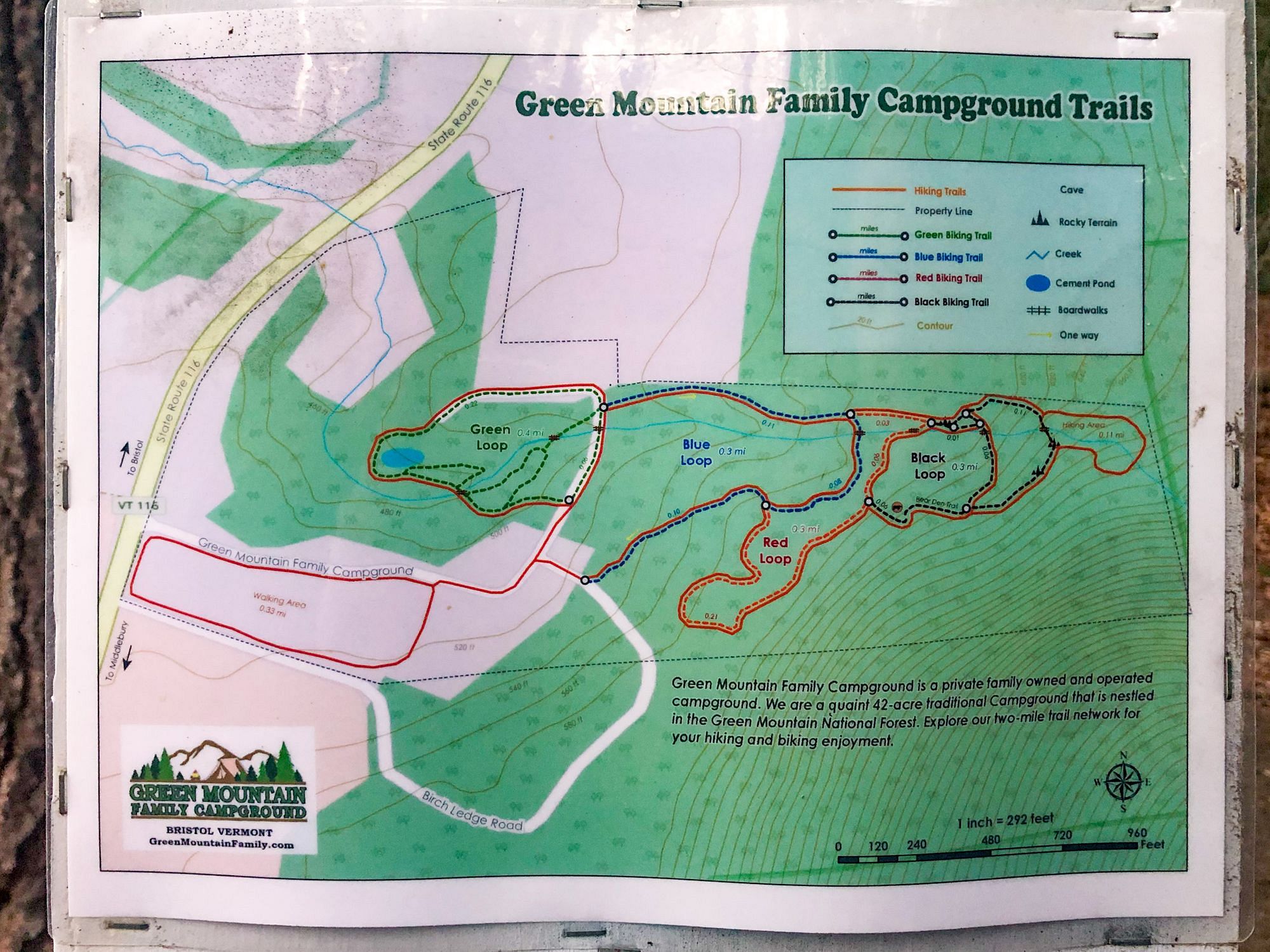 We headed out in early spring and ran across an unexpected guest - a large black bear! It was just off the trail, just 50ft or so from where we were. Fortunately, having lived in California we are well accustomed to dealing with bears and soon enough the bear scurried off into the forest.
Still, a good reminder that this is a campground surrounded by nature - beautiful, but something to always be aware of.
Winter RVing
The freak heatwave that hit Vermont when we first arrived in November quickly gave way to cooler weather - winter was coming.
In addition to the rapidly cooling temperatures, we also had to contend with snow. While neither of us are strangers to snow, we had heard horror stories about the brutal Vermont winters and were anxious about what lie ahead of us. Fortunately, it turned out that Green Mountain Family Campground was a fantastic place to spend the winter.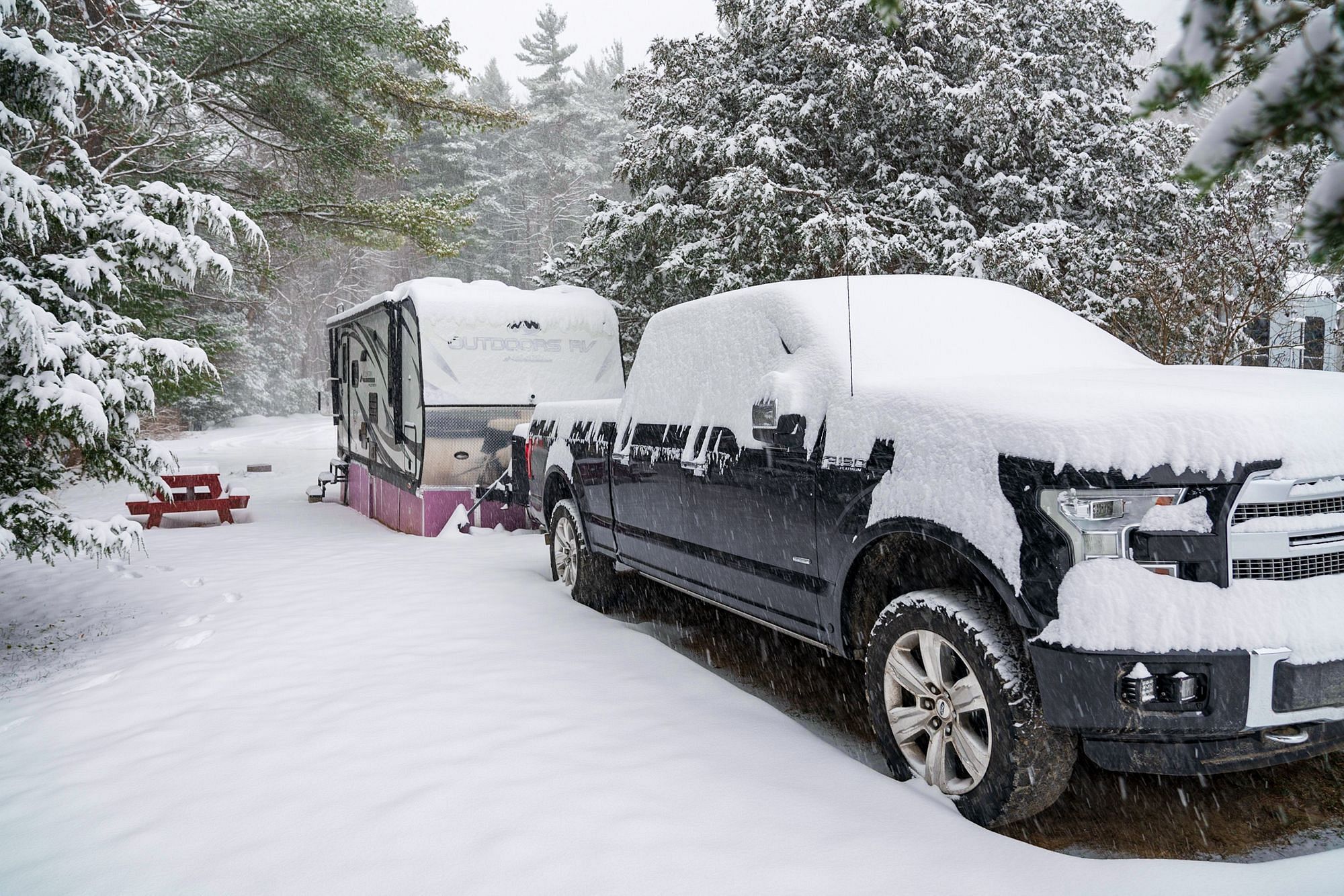 As the snow fell, the plow truck became a regular site as it worked its way around the campground to clear the roads. We drive a 4WD truck with winter-rated tires, but we never had any issues getting our truck in and out of our site. In fact, the only time we were concerned was when we moved our trailer in February, but even that was painless.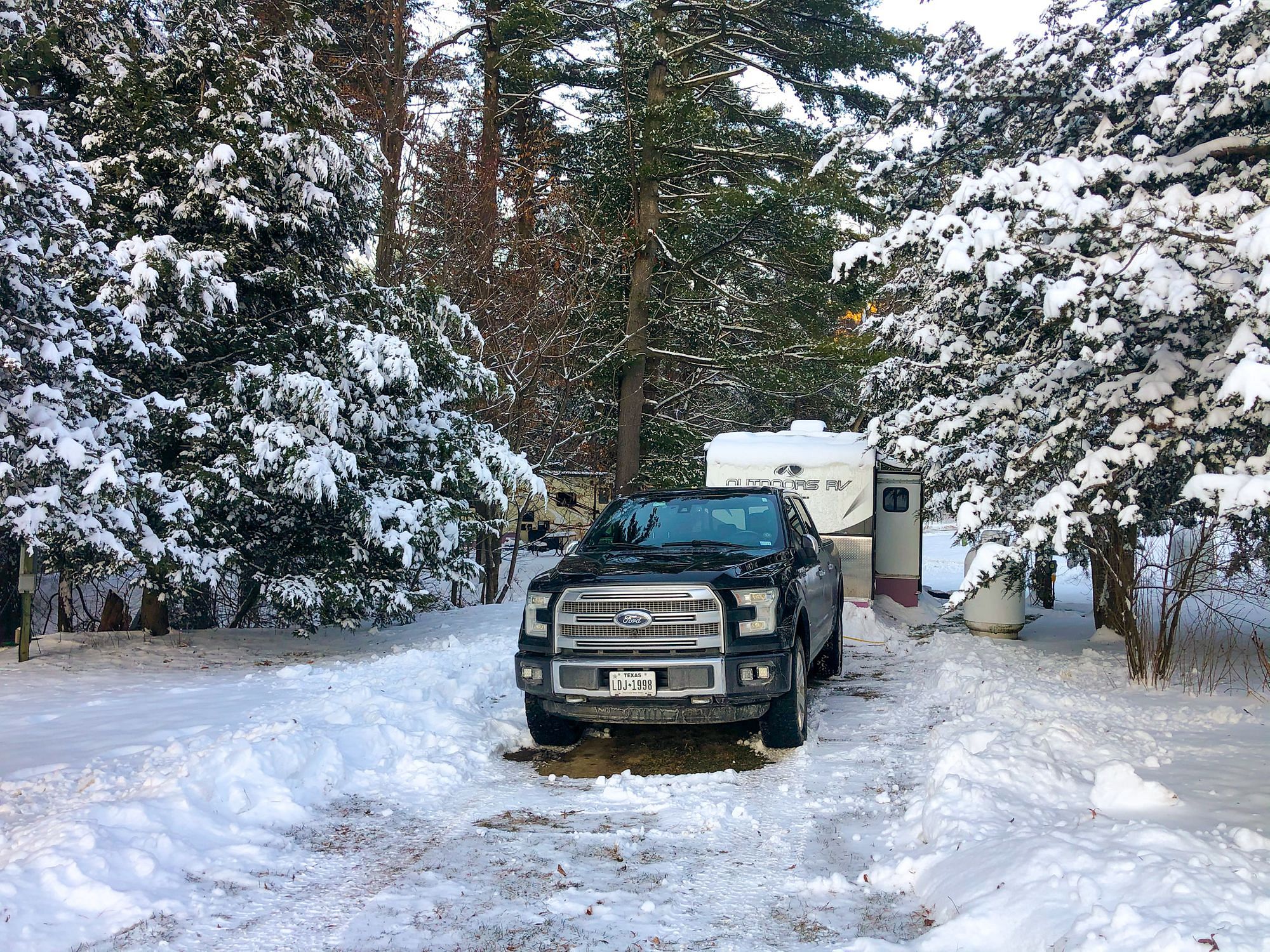 Soon after arriving, we had a 100-gallon propane tank delivered by a local propane company - something most of our neighbors did too. Every couple of weeks the propane company drove by to check on levels so we never had to worry about running out of propane (although we did ensure our two 30-pound tanks were full just in case).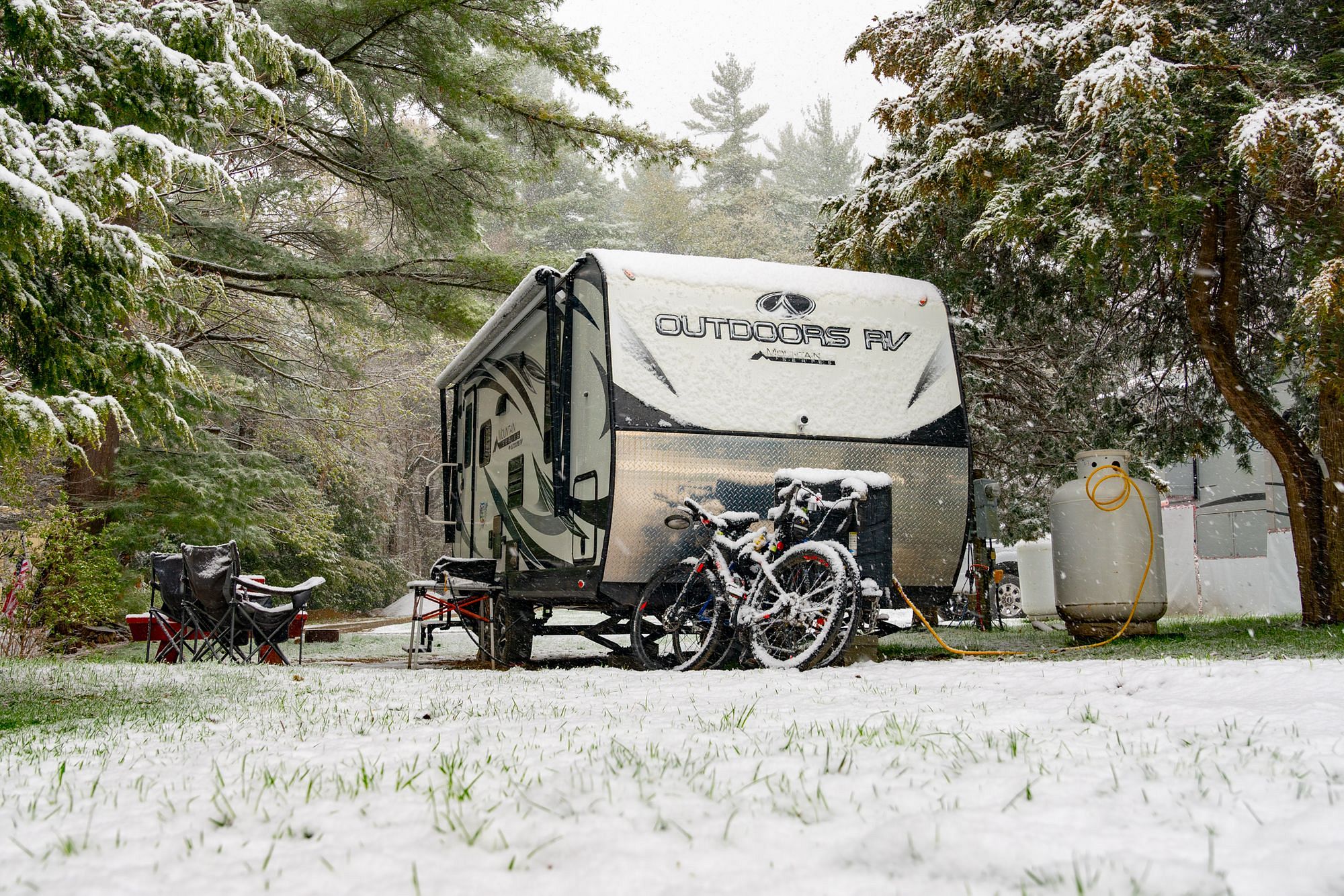 Heated Hoses
We had installed a heated fresh hose and sewer hose on our RV to make sure we didn't have any problems with frozen water lines - or worse, the dread poopsicle!
The water connection for our RV was underground, packed in securely with lots of insulation. With the combined heat output from our self-regulating hose and our neighbor's thermostatically controlled heated hose, it was kept toasty all winter long!
Only once all winter did we have an issue with the water - a pipe had burst elsewhere in the park and the water was shut off to the whole park for a couple of hours while it was fixed. In anticipation of this exact situation we kept our fresh tank about half full - and our temperature monitoring system included sensors on the water pump and tank valves to ensure they never froze.
Electricity
Power outages, especially in winter, are always a concern - whether you're in an RV or living in a sticks-and-bricks house. We found the electrical supply at Green Mountain Family Campground to be very reliable for the duration of our stay.
The campground sits on VT Route 116, mid-way between Middlebury and Bristol, and the supply lines here are considered a priority in the event of any issues. Aside from a few brief outages during storms (a few seconds or so each, which our hybrid inverter insulated us from), we only had one major power outage in the 12 months we were there - a few hours in fall following heavy winds in the area.
One thing we're always aware of in RV parks is low voltage, particularly on 30A sites which tend to use thinner wires (and hence higher impedance) than 50A hookups. For this reason we chose a 50A site.
The only time we had an issue was on the hottest summer days in summer when everyone was running their AC. If our neighbors had their AC running (along with probably some other appliances) at the same time we did, we'd see the voltage drop. Just occasionally this was enough for our EMS to trip the connection due to low voltage.
Internet
Since we work full-time on the road, fast and reliable internet connectivity is essential to us - and hence the reason we visited the campground to check cell signal before booking our stay there.
As it turned out, we needn't have worried. We were able to get cable internet straight to our RV!
When most RV parks say they have cable hookups at each site, this is for cable TV. But some of the sites at Green Mountain Family Campground actually have Xfinity cable directly to the site.
Speaking with Gary, our site didn't, but he was happy for us to contact Xfinity and have it installed. As it turned out they didn't have to bury a new cable but were able to upgrade the cable and install a splitter between us and our neighbors (who already had cable internet).
While Xfinity may not typically be regarded as fast or reliable, compared to the cellular connection we had become accustomed to, it was a huge improvement! We ended up paying $60 per month for 400Mbps download and about 14Mbps upload - luxury!
Community
With the global COVID-19 pandemic prevalent throughout our stay from November 2020 until November 2021, it's hard to say how things would have been during more normal times.
But despite COVID, there was still a strong sense of community throughout those staying at the campground - particularly during the winter. Our experience of the RVing community is that people always try to look out for one another, and this is exactly what we found here too.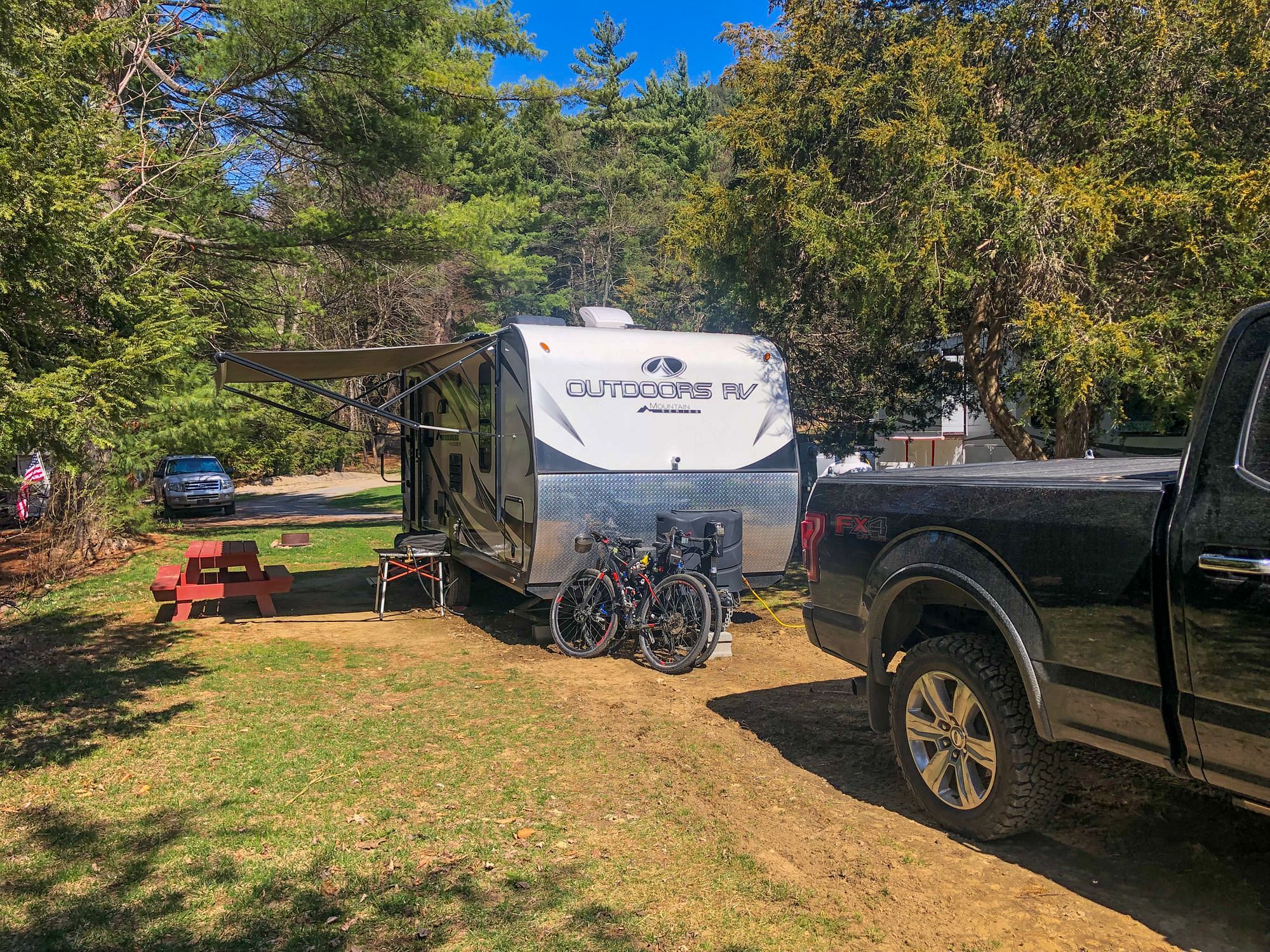 In our time there I helped charge someone's dead truck battery just after Christmas, provided an emergency fix when our neighbor's converter failed so they wouldn't lose the contents of their fridge & freezer before the replacement arrived, and flush out another neighbor's blocked black tank (fun times!).
I'm sure there are countless other examples of people helping one another. It's called "Family Campground" and I think a big part of this is that the people staying there felt like one big family!
The campground owners also hosted a handful of events during the year - including a summer BBQ. I strongly suspect in normal times there would be much more activity!
If socializing with people isn't your thing, the campground has one more surprise for you...goats!
Summary
Our time at Green Mountain Family Campground was an order of magnitude longer than any other RV park we had stayed at. But there's a reason we chose to stay - we loved it there!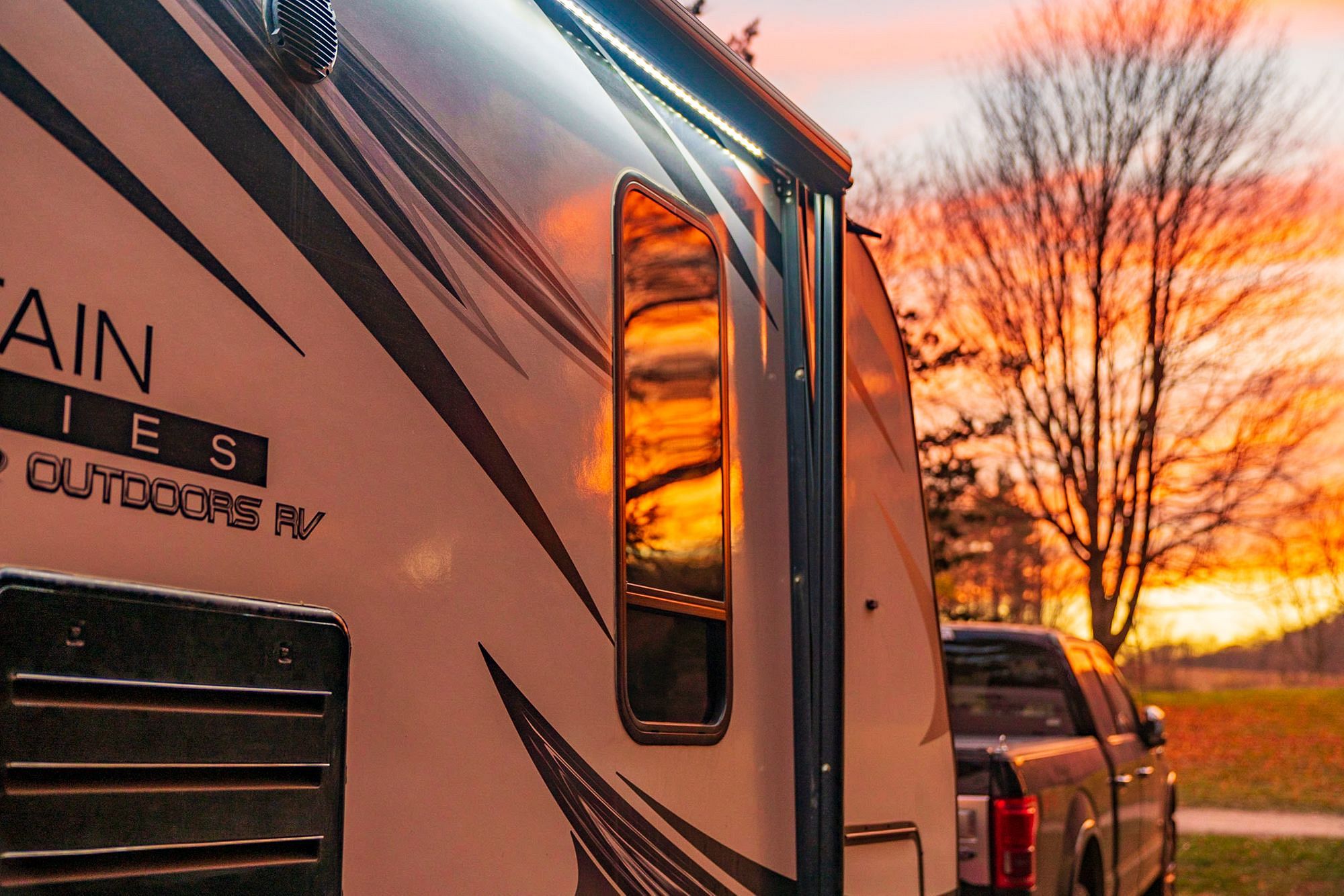 Green Mountain Family Campground might be a simple, no-frills RV park but it was exactly what we were looking for. The owners, Gary & Joanne, are friendly and accommodating. The RV park itself was clean, comfortable and feels much more natural than the typical concrete parking lots that are so common these days.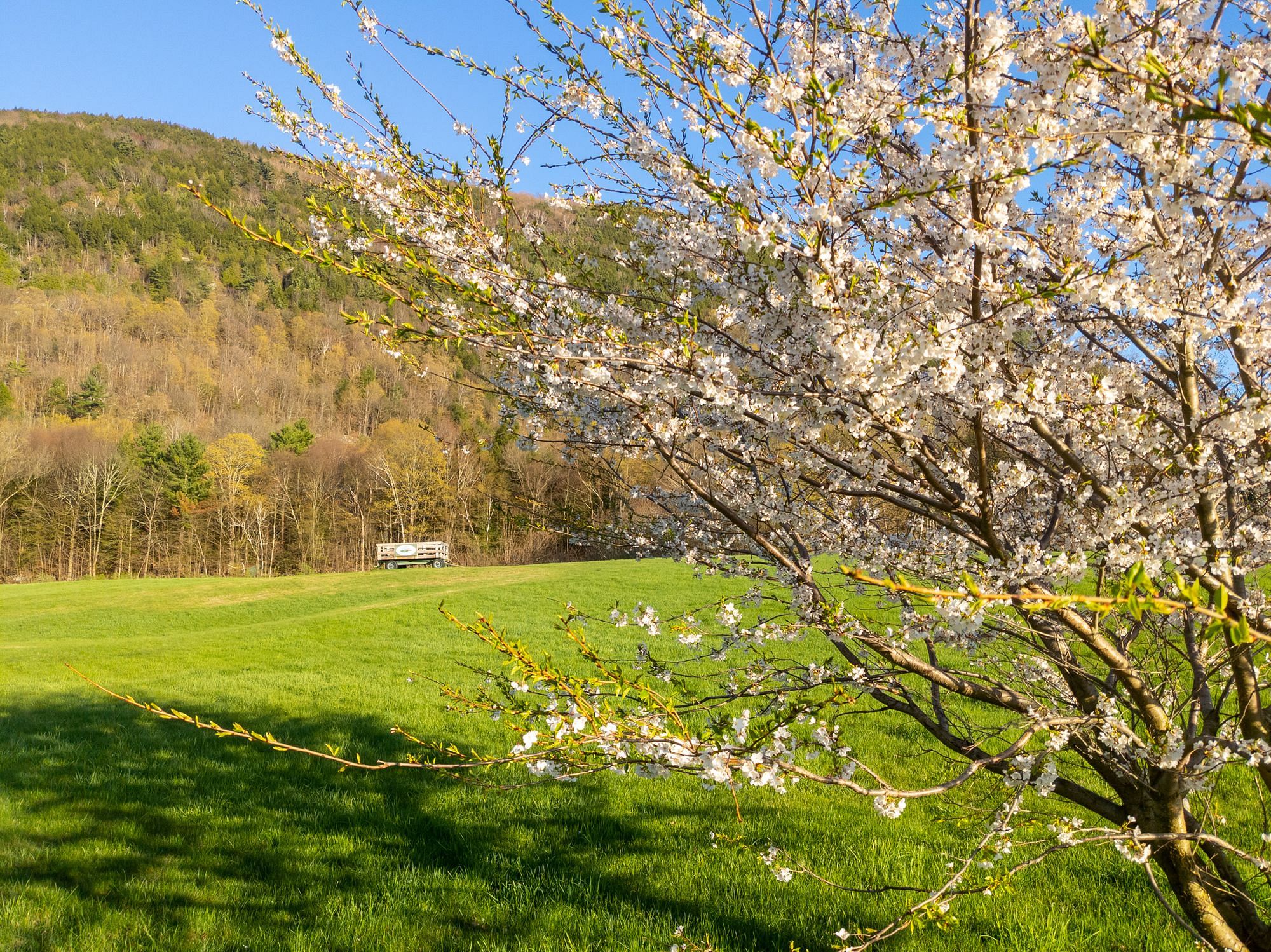 Our plan when we return to Vermont in spring is to take our RV straight to our property, but if we were looking for an RV park in Vermont again, we wouldn't hesitate to stay at the Green Mountain Family Campground!