Introduction
We're still camping in the desert near Quartzsite, AZ. While we'd much rather be traveling, we're trying to make good use of the time to be as productive as possible.
In fact, we're being more productive than ever with this uninterrupted solitude - there are literally no distractions. Well, except for the essentials.
As much as it seems like everything is on pause, there are some things that still need doing. For example, there is still a 14-day stay limit in effect on the public lands in the area, which means every 2 weeks we have to move to a new spot at least 25 miles away.
Otherwise, we're trying to avoid any trips where possible due to the quarantine. We're avoiding laundry by hand-washing our own clothes. And, we haven't been grocery shopping for over 4 weeks.
But this week we had to run an essential medical errand in Blythe, CA - our nearest town (other than Quartzsite itself) - about 45 miles away. Since we were driving all that way, it only made sense to do a grocery shop while were there.
Personal Protective Equipment (PPE)
Blythe, CA is part of Riverside County which currently has some of the strictest pandemic controls in the nation. Specifically, as of April 5, 2020, Riverside County has amended its Order of the Health Officer to mandate that "[a]ll persons, including Essential Workers[,] shall wear face coverings, such as scarves (dense fabric, without holes), bandanas, neck gaiter[s], or other fabric face coverings" when they leave their homes.
In other words, we had to wear masks.
Like most, we don't have N95 masks lying around in our RV, so we had to improvise. To cover our faces we used our snoods - the microfleece lined tubular garments we wear to cover our neck and face when skiing. Just what you want on an 80°F day in California!
To add more protection, we doubled it over (yay!) to hold a sheet of blue shop towel - the best thing we could find in the RV to use as a filter.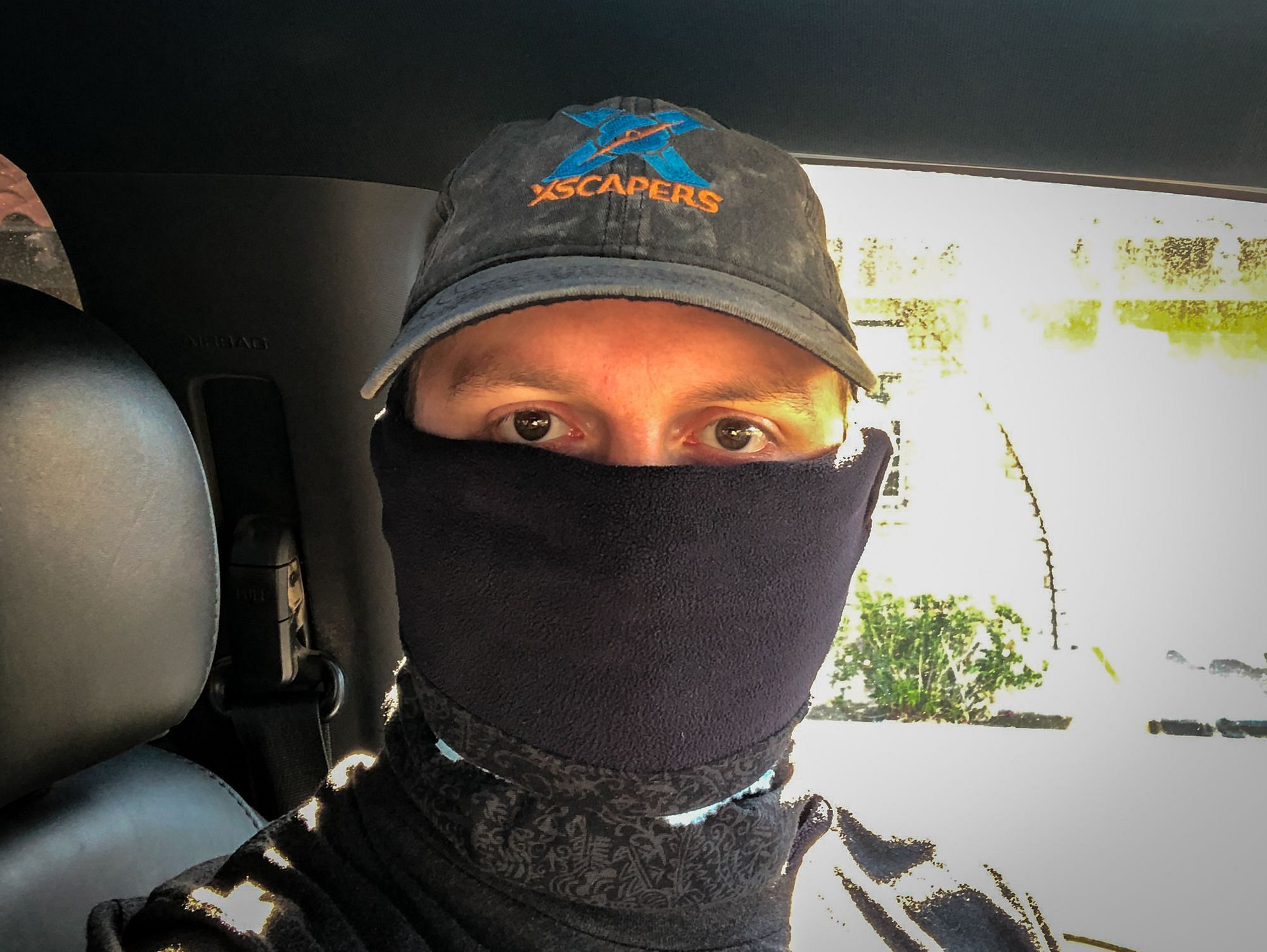 Does the mask actually make us safer? I think so.
The data suggests that a crude face mask like this won't stop us inhaling aerosolized viral "particles" from other people. And since we've been self-isolating almost perfectly for a month, we're both fairly confident that we're not currently infected.
But, nobody else around us knows we're not infected, so a face mask helps to show that we're taking it seriously. Plus, wearing a face mask does make me think (and stop) before I touch my face, so that's good. And honestly, it wasn't that uncomfortable.
We also decided to wear gloves, being acutely aware of cross-contamination and being mindful of everything we touched. Given water is a limited resource for us, keeping hands clean is preferable to lots of hand washing. Obviously we were using copious amounts of hand sanitizer too.
We were really impressed by what we saw in the grocery store. Everyone was taking the PPE requirement and distancing advice seriously. There was a one-way system in effect down the aisles, and almost everyone was abiding by it (there's always one who has to be different, right?).
More than that, everyone was taking it in their stride. The staff were all very friendly and positive. The strangest part about wearing a mask is people can't see your facial expressions, so I made a particular point of being very polite and showing my appreciation for what they're doing.
Honestly, it was a painless encounter overall, and kudos to the staff for that!
Grocery Planning
When we used to live in our house in Fremont, CA, we would go to the grocery store most days. We would very rarely do a "big shop" and the idea of buying groceries for a week was alien to us. Why would we? The grocery store is 5 minutes away!
But since living in the RV, that's changed. We enjoy the solitude of our camping spots. Oftentimes we're many miles away from the nearest grocery store, and we don't want to keep driving back into town. Ironically, although our food storage space is a fraction of what we had in the house, we do bigger shops less frequently now.
And that takes planning.
When we first hit the road we would shop for several days at a time - we were moving every 3-5 days so that worked well. Then as we started camping in more and more remote areas, we began to shop for longer and longer periods. Over time it became a week, then 10 days, then 2 weeks.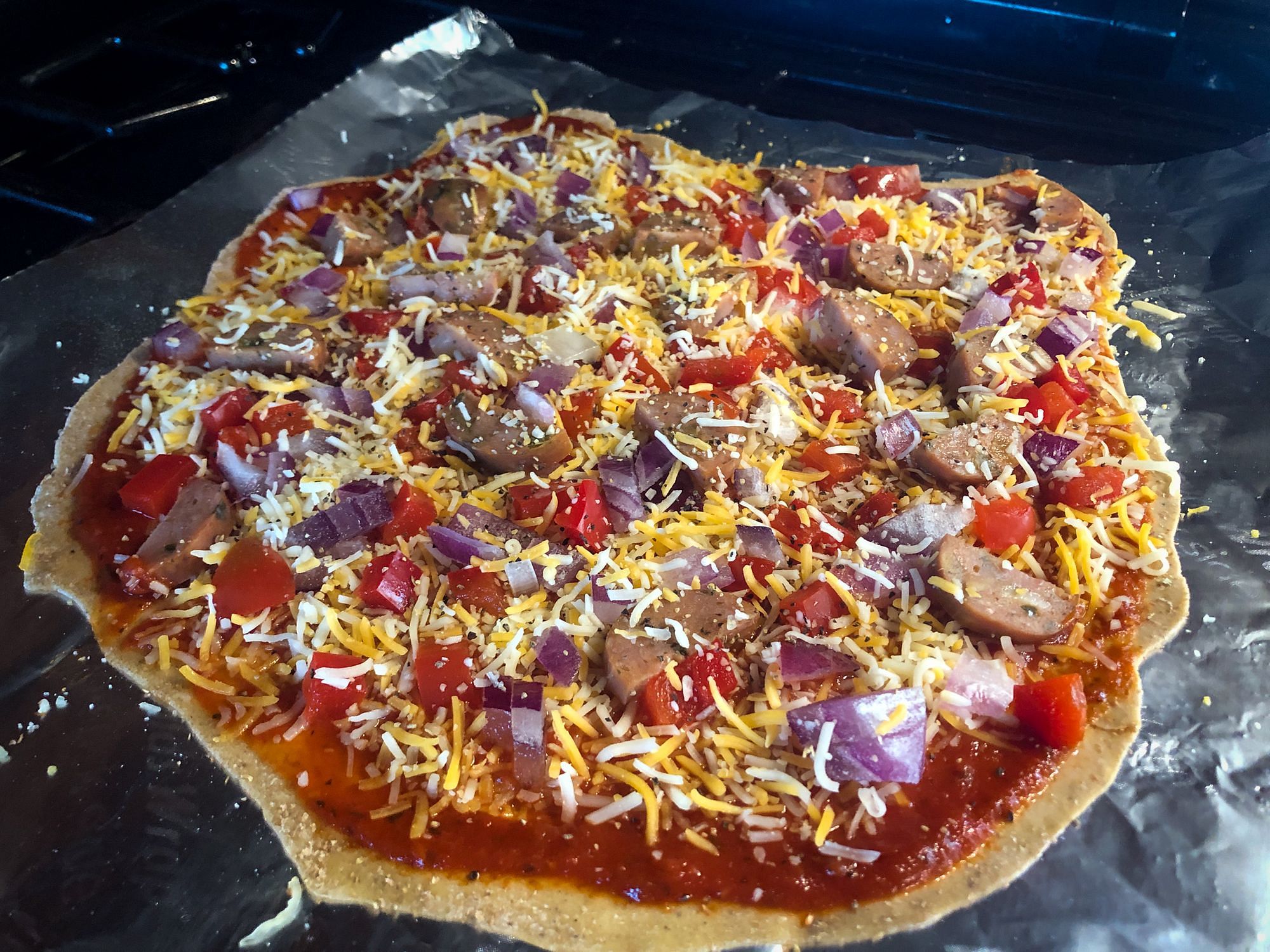 Well, until about a month ago. That's when the pandemic really started getting a grip on things. And we were a long way from our nearest grocery store! We wanted to ensure we could go 1-2 months between trips to the grocery store.
We last went grocery shopping about a month ago, in mid-March. It was a last minute decision and we literally wrote out our shopping list on the drive to the grocery store. We then made on-the-fly adjustments if they were out of particular items. It worked OK and kept us fed for a month (plus we still had food for another month or so left), but this time we wanted to be better organized.
For the past 6 months we have been using Plan To Eat (affiliate link), an app recommended to us by Phil and Stacy from You, Me & the RV. Diana and I each have it on our phones and it syncs between them - there's also a website version too.
It allows us to store recipes, but also has a built-in meal planner that we fill in with the meals we're going to eat each day. It uses that information to populate a shopping list - complete with the quantities required. It will even remember which stores you prefer to buy different items from in order to help categorize the list.
Did we really plan our meals for 2 months?! Of course not! We're crazy, but not that crazy!
However, having used it for 6 months or so, we've become really tuned into the ingredients we typically buy. So we planned out about 2 weeks or so to give us a baseline list, and then increased the quantities of food we could store in the freezer or could sit in the pantry for at least a couple of months.
The result was a fairly painless trip to the grocery store where we picked up enough food to keep us going for at least a month or two.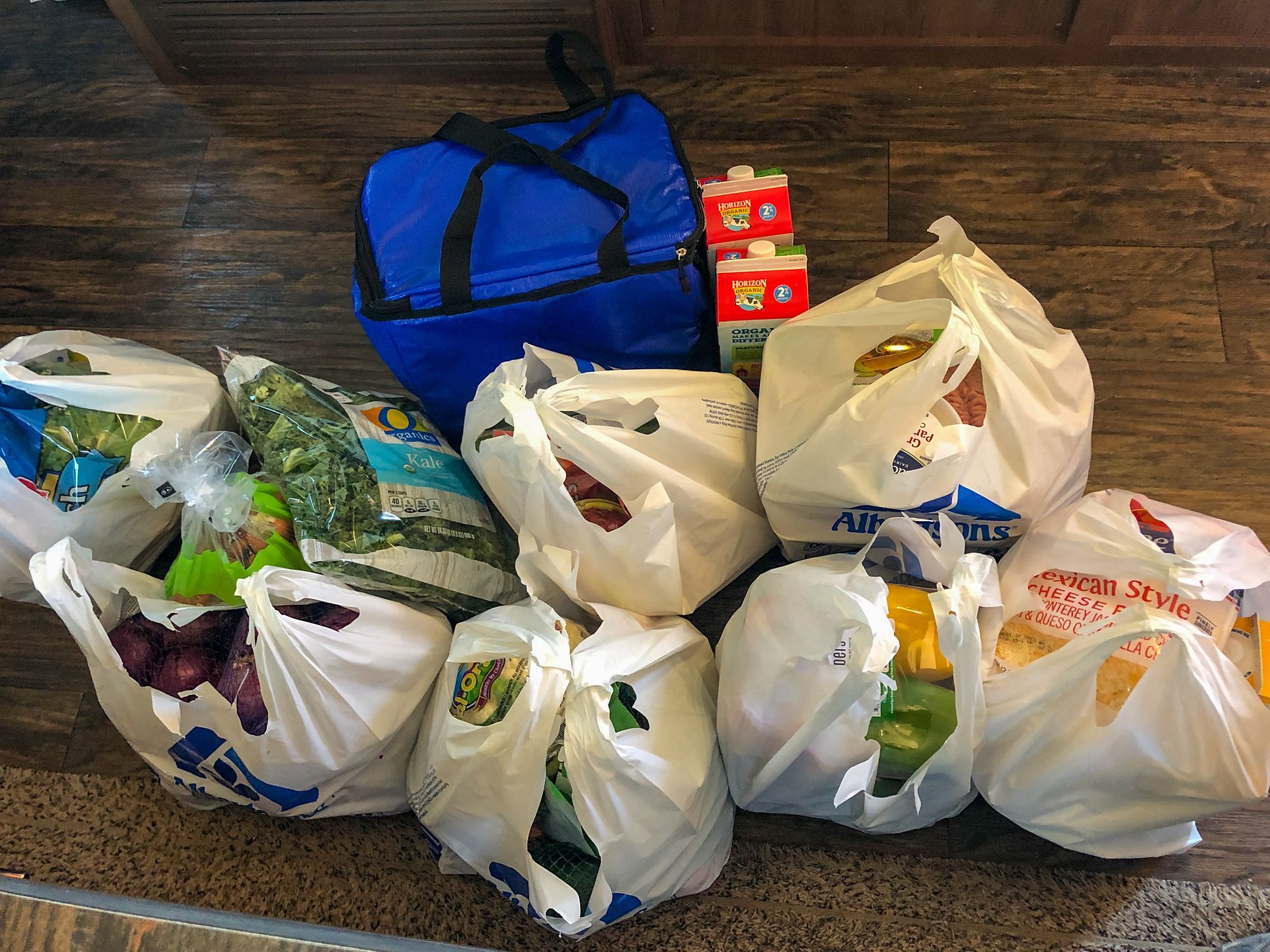 The next question is how on earth to store all this food? The answer is some pretty crazy 3D Tetris skills!
Now I certainly wouldn't recommend packing a fridge like this. RV fridges, unlike residential fridges, need airflow to keep everything at a steady temperature. However, the current situation is unusual so we had to do our best.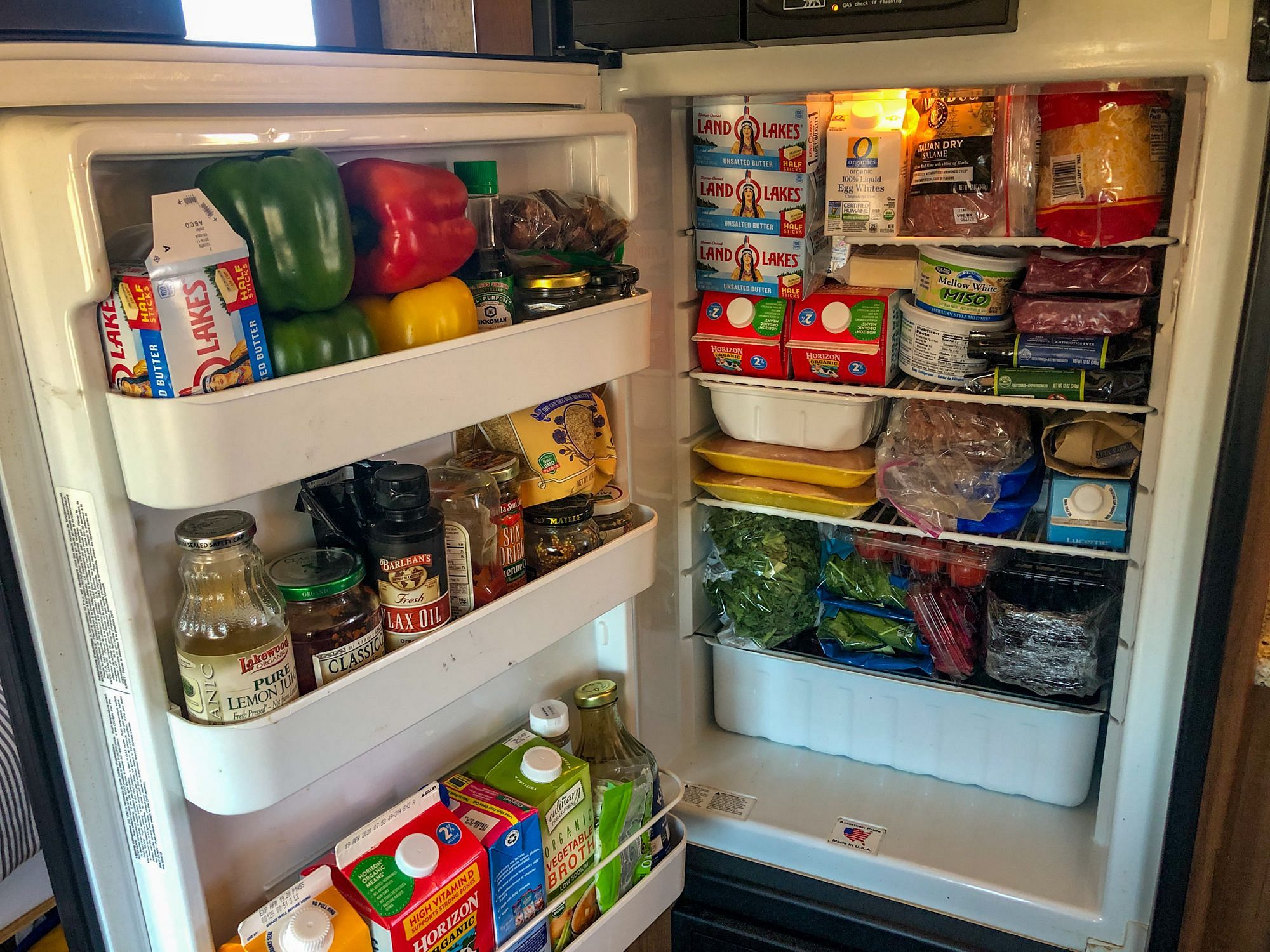 Fortunately, most things going into the fridge were already chilled (so the fridge had less work to do) and there was very little frost or ice buildup on the cooling element at the top. As soon as possible, we'll clear some space in the fridge to let the air circulate better.
The fridge will be coldest at the top and warmest at the bottom, so we keep anything that we definitely don't want to freeze (e.g. salad vegetables) at the bottom and things that are OK getting very cold at the top. It's not the first time we've loaded it up like this, and so far the fridge seems to be handling things pretty well.
We also decided to put a few items in the fridge that don't strictly need refrigerating, but we've found last much better in the fridge than they do in the 85°F / 10% humidity climate of the RV in the Arizona desert.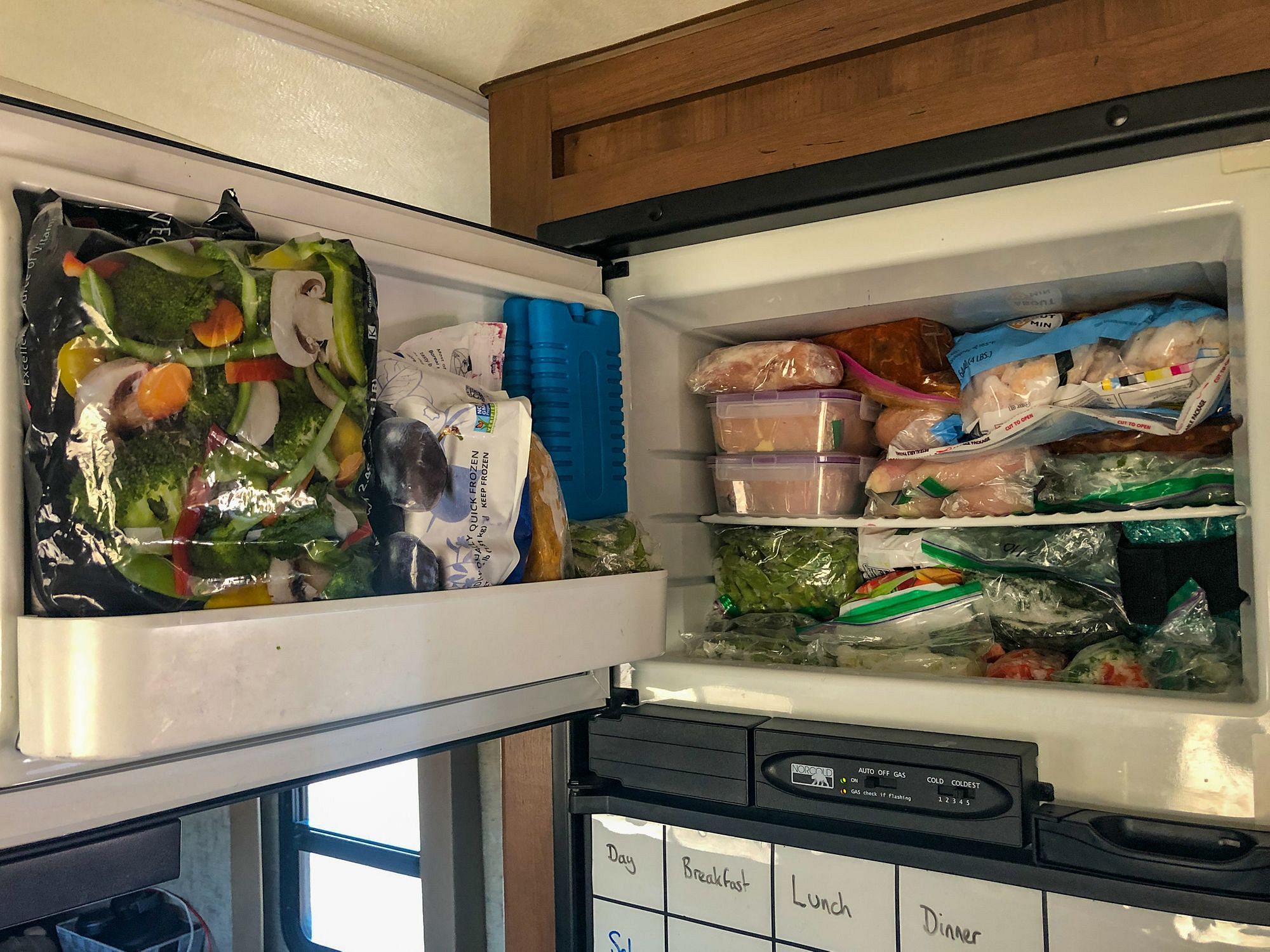 We'll plan our meals, 1-2 weeks at a time, using up the food we have. We'll prioritize eating up food that will go bad the soonest, but also trying to keep some variety in the meals so we're not just eating plain rice in 6 weeks time!
Today is moving day again, so we'll be hoping to find a new spot where we can safely settle down for another 14 days. We're just taking each day as it comes - sooner or later the weather is going to force us north, so we're keeping a close eye on our options to make sure we don't get stranded in the desert.
For now though, we're safe and healthy; fingers crossed things start to improve soon!
Oh, and if you were wondering why we've bought so much butter....well, we quite like baking these!