As an Amazon Associate we earn from qualifying purchases.
Hitting the road
It seems like just last week we left Idaho and made the drive up to Washington, stopping in at the Outdoors RV factory along the way. But in reality, that was 6 weeks ago - time has flown by!
While we had a great time in Idaho, and being just outside Boise was great for getting things done - including our big remodel - it's been nice to be back off-grid out in nature, just camping with friends.
However, all good things must come to an end, and next week we'll be leaving here. Next Thursday we'll be hitting the road, spending the next 8 days driving almost 2,800 miles all the way from Washington to New York! In our 2 years of full-time RVing, we've spent almost all that time out west - this'll be our first time on the east coast with the RV.
We're aiming to travel as light as possible to help with fuel economy, but we still want to be comfortable so we'll leave with our fresh tank about half full. Thanks to our truck charging system, we can run the fridge on AC but more importantly we can run the electric water heater as we drive - meaning a nice hot shower at the end of each day. We'll plan on dumping and partially refilling along the way if necessary.
It's a long drive, and because of COVID restrictions we'll be limiting our interactions along the way - stopping mainly at rest stops overnight, and maybe even our first time staying at a Walmart! It's a shame since we'll be driving past lots of places we'd like to visit, but we don't feel now is the time to be exploring. Oh well, it just gives us a reason to return!
New York state still requires new arrivals to quarantine for 14 days, so we're heading to some friends' house where we'll quarantine ourselves. To make that a little easier, we're going to stay in an RV park the night before we arrive in New York state - we can make full use of the electric hookups, fill our fresh tank, and dump and flush our grey and black tanks. That will be our first night in an RV park in 2020!
Once we've quarantined in New York, we'll then be free to travel around New England.
Fall in New England
And traveling around New England is exactly what we plan to do! After my parents visited us in New Orleans and Texas last October, we had planned for them to fly out again from the UK this year and explore New England in fall with us.
Unfortunately, given the situation with COVID, they're not able to fly out to us. However, that doesn't mean that Diana and I can't spend fall in New England - sorry mum and dad!
So that's the plan. After quarantining in New York, we'll drive up to northeastern Maine where the colors will start to turn first. Then we'll follow the fall colors back down towards New York.
That's as detailed as our plan gets. We don't have specific places in mind to visit or stay, so if you have recommendations please let us know - either send us an email or drop a comment below.
As fall turns to winter, we're planning to find somewhere near good skiing to spend at least a couple of months during winter. Again, if you have recommendations for RV parks that will be open through winter, we'd love to hear your suggestions!
Airstream electrical upgrade
Since we're leaving here in a week, we're pushing to get the rest of the electrical upgrade done on our friends' Airstream.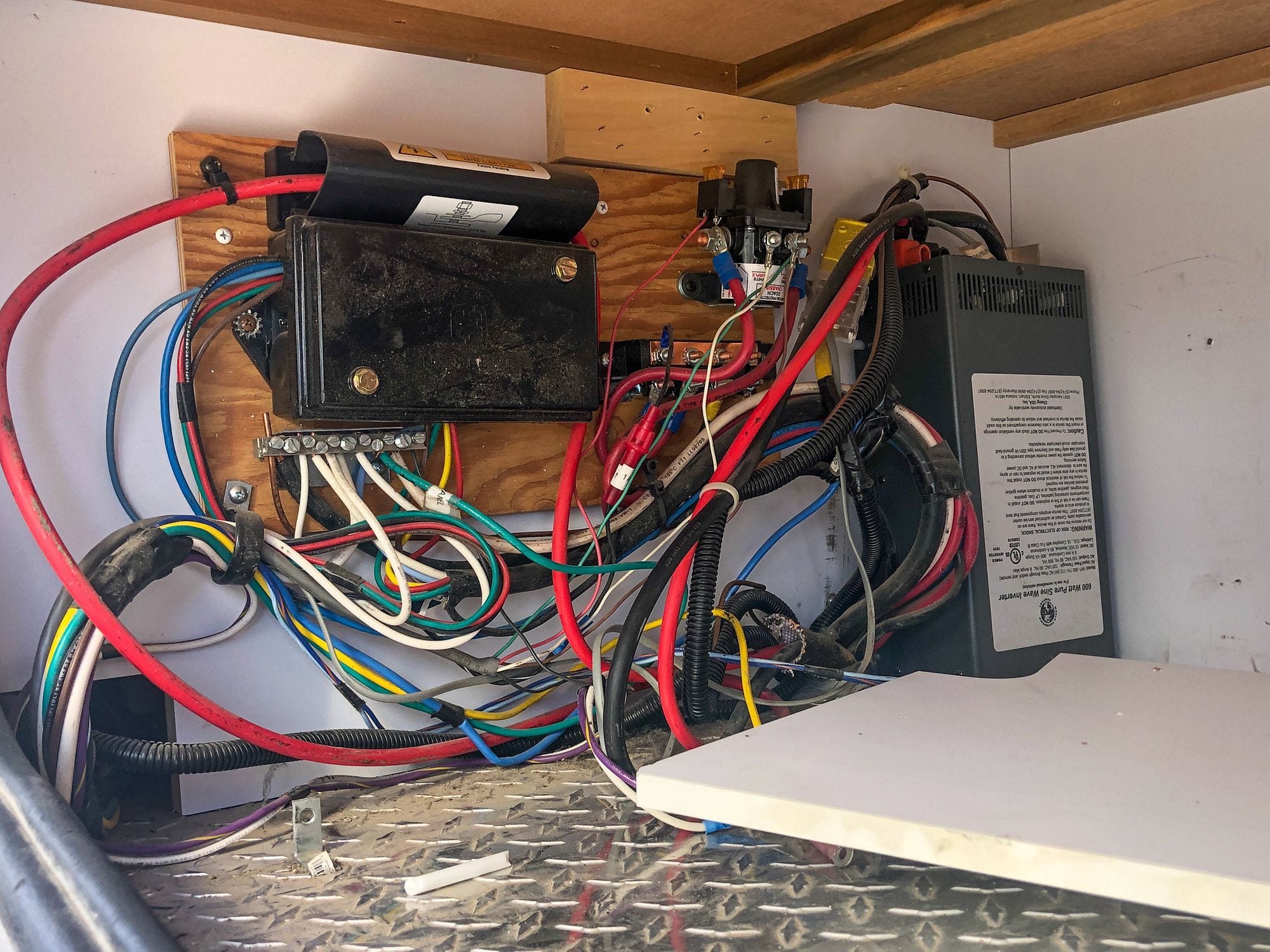 So far, we've installed six RELiON 100Ah batteries under the bed, moved the solar charge controller to the front storage bay where we've also installed a Victron MultiPlus 12/3000 hybrid inverter charger, and wired up two (!!) REDARC 50A DC-to-DC chargers on the tongue!
There are still a few things left to do though: replace their old rooftop solar with six 100W Renogy panels, mount portable solar connectors on the tongue, wire up the truck to connect to the REDARC chargers, and mount the Victron CCGX and Victron BMV-712 in their final locations.
We'll be busy the next few days!
Once it's all done, I'm planning to write up a blog post with all the details of what we added. It's a pretty cool install and it'll give them some serious off-grid capability!
Azure Standard
Have you heard of Azure Standard before?
Based out of Oregon, Azure Standard delivers natural foods around the country (except some parts of the northeast). I came across the company through some YouTube videos earlier this year, and we figured we'd give it a go - especially since they don't deliver to New England.
While you can get normal food deliveries via UPS or USPS, their specialty is their network of drop points - volunteer-organized meeting points where a semi-truck will drop off food for people in the area. If you order over $50, the delivery to a drop point is free.
Azure Standard has a good selection of organic food, and you can buy in quantities as small as what you'd buy in a grocery store, up to crazy quantities - 1,200lb tote of flour anyone?
We placed an order for around $100 of items, and picked it up from the drop point last Friday - it was delayed for two days, apparently because they're so overwhelmed with orders at the moment.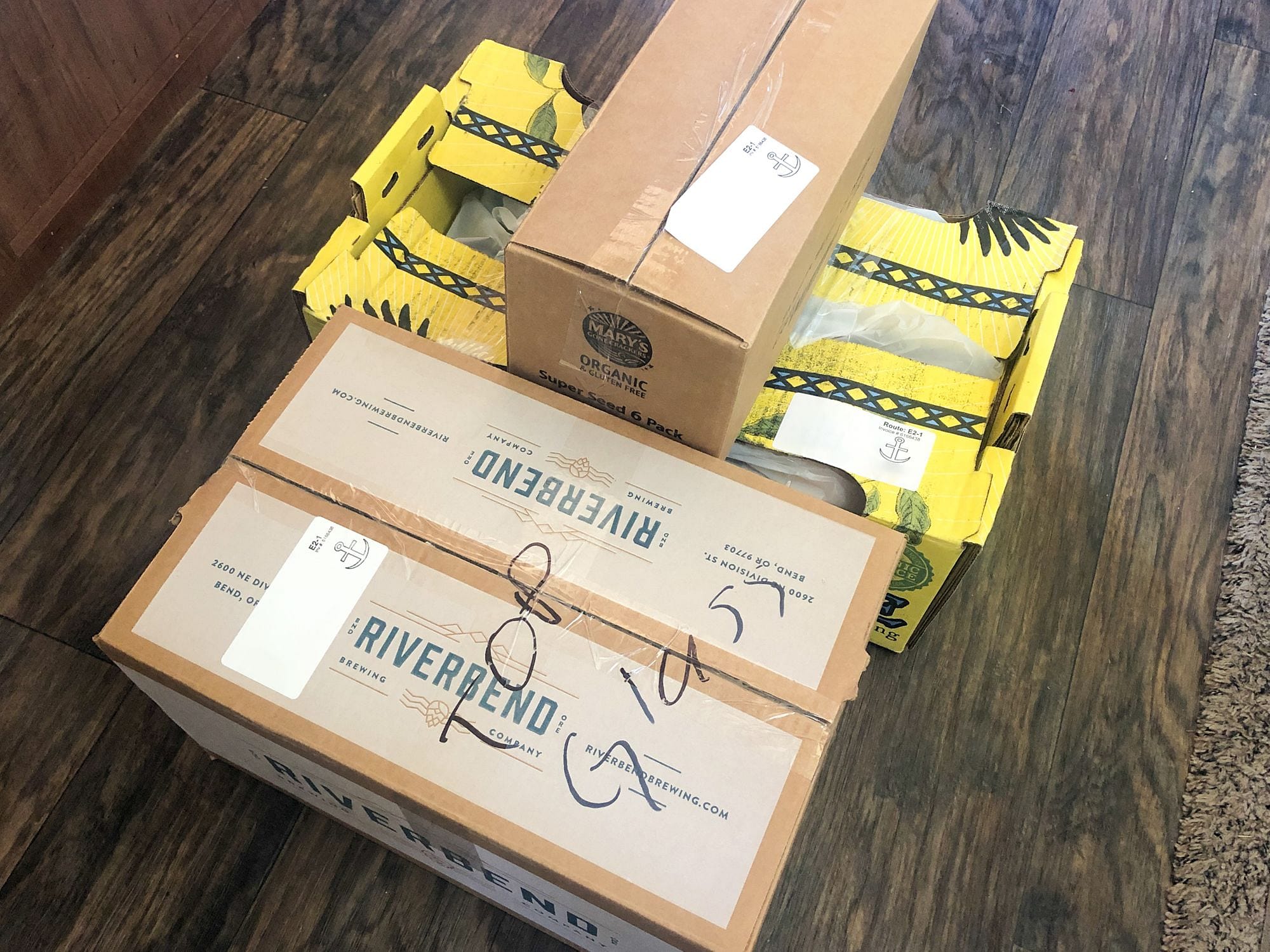 Our opinions overall were mixed - the experience was good (except for the two day delay) and the items we ordered were excellent, but price-wise we didn't find much to shout about.
Look out for an upcoming blog post with more details!